Skoda Enyaq iV Review 2022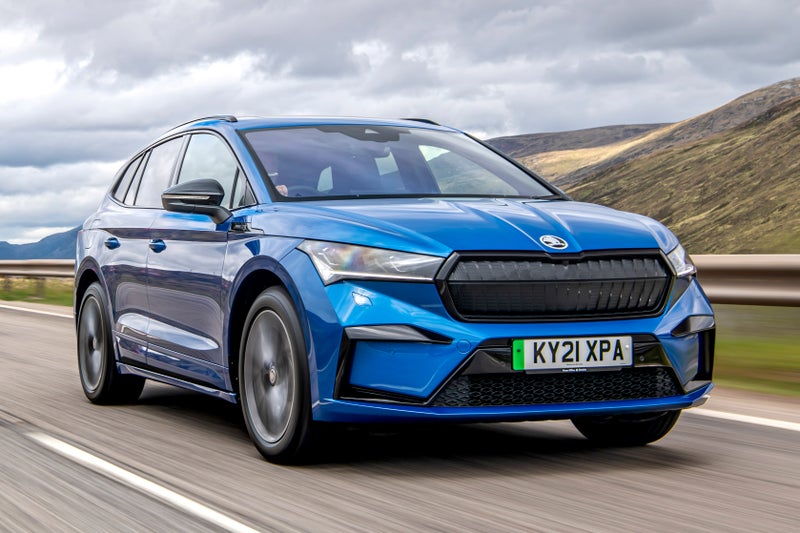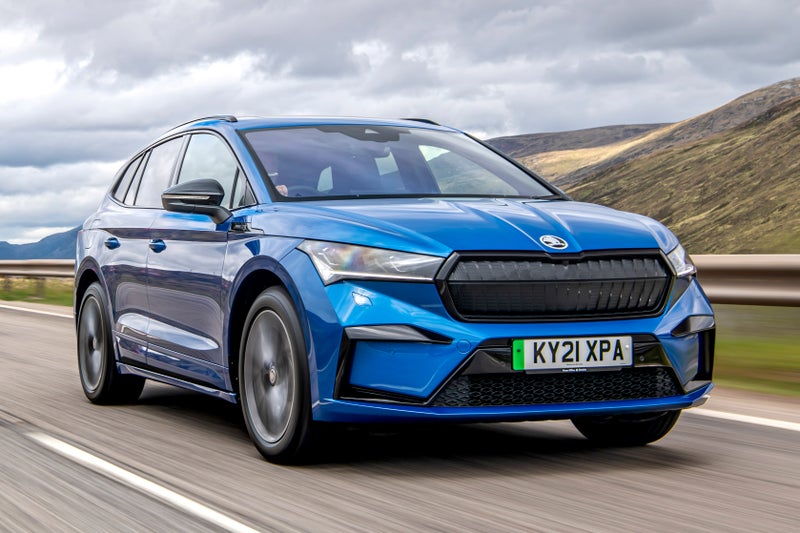 1/10
heycar rating
"Possibly the best EV yet"
Quick overview
Pros
Very comfortable and versatile electric SUV
Affordable enough to bring electric cars to the masses
Easy to drive
Cons
Volkswagen ID.4 is perhaps more visually appealing
Not available with seven seats
It'll be a while before nearly-new examples hit the market
Overall verdict
On the inside
Driving
Cost to run
Prices and Specs
Common questions
Overall verdict on the Skoda Enyaq iV
"The Skoda Enyaq iV is a solid example of the Czech brand doing what it does best – making no-nonsense, versatile family cars that undercut premium rivals in price yet beats them when it comes to standard equipment and practicality. It's up there with some of the best electric vehicles currently on sale, including the Hyundai Ioniq 5 and even pricier alternatives like the Mercedes EQC."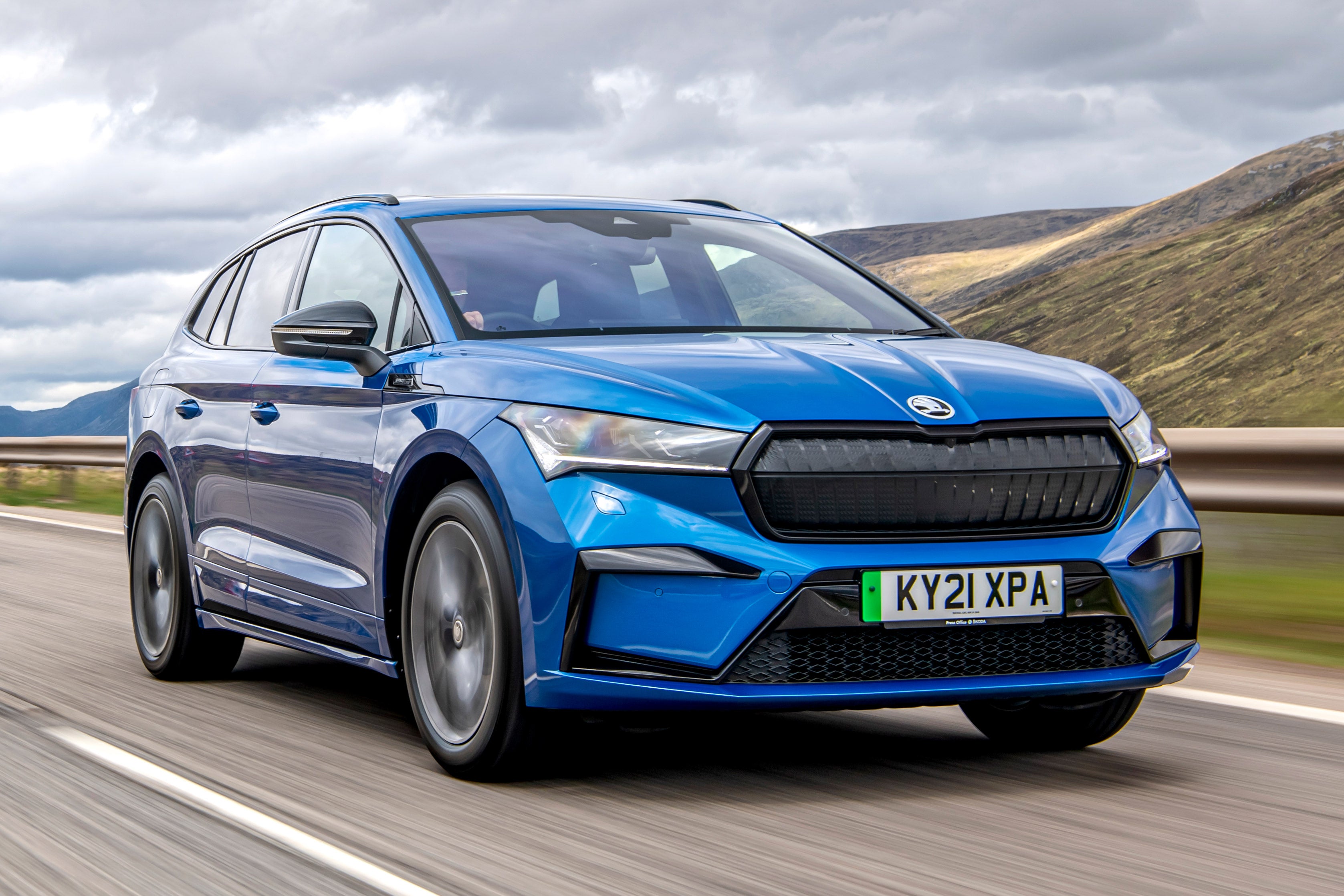 If you're looking for a new family SUV and think it might be the time to make the leap into an electric vehicle, the Skoda Enyaq iV is the car that's going to convince you to make the move. It shares its mechanicals with the Volkswagen ID.4 and Audi Q4 e-tron, yet it beats them both in terms of practicality and value for money.
There are two battery sizes available with the Skoda Enyaq – the smaller one (badged the Skoda Enyaq iV 60) is priced from around £32,000 and has a range of up to 256 miles between charges. The bigger one (badged the Skoda Enyaq iV 80) will cost you a little more than £39,000 and has an official range of up to 333 miles. Charging takes around an hour using a 50kW charger, while the Skoda Enyaq iV is available with an optional 125kW rapid charging capability – adding 80% of range in 38 minutes.
At almost 4.7m long and just under 1.9m wide, the Skoda Enyaq is similar in size to the popular Skoda Kodiaq but, unlike the Kodiaq, it's not available with seven seats. That doesn't detract from its overall usability, though – it's cavernous inside, with loads of space for front and rear passengers alike. The Skoda Enyaq's boot space is big, too, at 585 litres with the seats in place. Towing isn't something that can be taken for granted with an electric car, so it's impressive to see the Enyaq able to tow up to 1000kg.
While it might have a Skoda badge on the front, the Skoda Enyaq feels every bit as posh as the Volkswagen ID.4. It helps that all models come with the same 13-inch navigation system, while there are a variety of distinctive interior trims to choose from. It's loaded with what Skoda calls 'Simply Clever' features – things like a handy umbrella storage compartment in the driver's door.
The Skoda Enyaq's not exciting to drive and it won't surge forwards like a higher-powered Ford Mustang Mach-E, but rushing towards the horizon soon gets tiring. It is comfortable, though, while there's a long list of driver-assist technology on hand to keep you and your family safe.
If you're looking for something a little more stylish, you can now buy a coupe-SUV model in the form of the Skoda Enyaq Coupe iV. This loses a little of the Enyaq's practicality (boot space is down around 15 litres), but a clever panoramic sunroof design means you don't really lose out on space for rear-seat passengers. You can also get a sporty range-topper derivative, badged the Skoda Enyaq Coupe iV vRS which we've reviewed here.
Overall, we think the Skoda Enyaq iV represents remarkable value for money – especially when you can pick one up for the price of a high-spec Renault Zoe. It's more comfortable than a Ford Mustang Mach-E, more affordable than a Polestar 2 and just as premium as a Volkswagen ID.4. We wouldn't stretch the budget to the priciest Enyaq models, though – the more affordable derivatives are more than adequate.
What's the best Skoda Enyaq iV model/engine to choose?
While the Skoda Enyaq iV 80 impresses with its 333-mile range, we actually reckon the Enyaq iV 60 is the one to go for. The entry-level model is well-equipped, not missing out on any 'must-have' features, and its 256-mile range is pretty good. The difference in performance between the Enyaq iV 60 and the Enyaq iV 80 is barely noticeable, and a quirk of the plug-in car grant means you'll save quite a hefty amount of money by buying the lower-powered model.
What other cars are similar to the 2022 Skoda Enyaq iV?
Comfort and design: Skoda Enyaq iV interior
"You can choose from a range of different interior finishes in the Skoda Enyaq iV. Each has its own individual character and all are much more attractive than the overload of black plastic you might find in some rivals."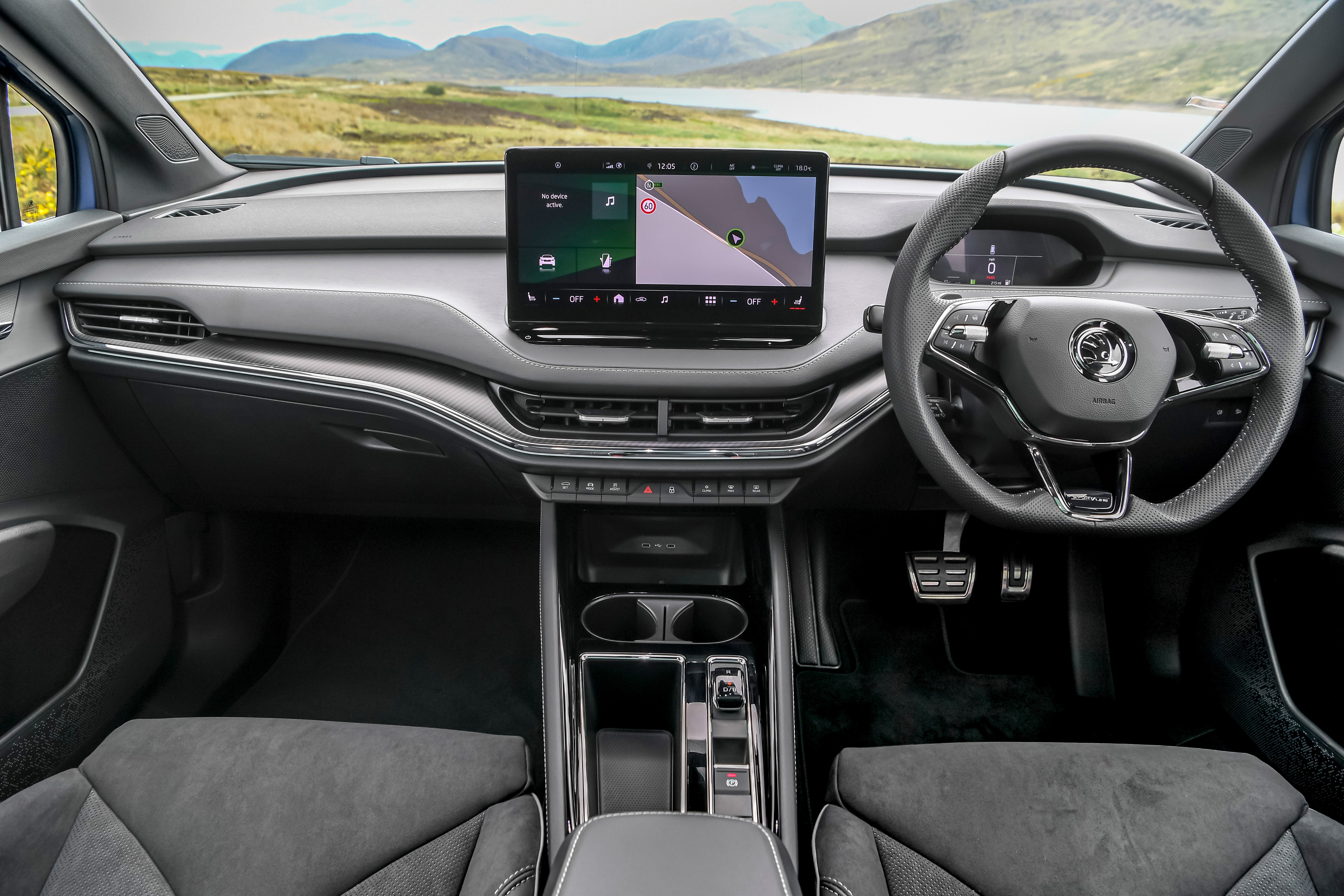 Even the most affordable Loft finish for the Skoda Enyaq's interior feels anything but entry-level, with its grey fabric-covered dashboard (it looks smarter than it sounds) and cool aluminium trim. The relatively small price walk up to the more lavishly-finished models means you might as well splash the cash, though.
Cars with the Suite design selection get black leather upholstery and a piano black decor, while Lounge models feature a mix of leather and microfibre. We're particularly keen on the Ecosuite option with its cognac brown leather upholstery, while the Lodge selection is more of an eco-friendly option – with seat covers made from a mixture of natural wool and polyester from recycled bottles.
The Skoda Enyaq iV's cabin is smart and functional, although you don't sit as high as you do in a Skoda Kodiaq, for example. It's easy to get comfortable, though, and adjustable lumbar support is standard across the Enyaq range.
A panoramic sunroof is available as an option but even without this, the Enyaq iV feels refreshingly airy inside. That's helped by the big side windows, while the large, deep windscreen stretches out almost to the front of the bonnet. Or at least, it feels that way inside.
Quality and finish
The Skoda Enyaq manages to demonstrate more character inside than the majority of electric cars that have come before it, without stepping on the toes of the pricier Audi Q4 e-tron in terms of plushness.
It looks smart inside, particularly if you spec one of the quirkier interior design selections and it feels like it will happily deflect whatever you may throw in it (kids and dogs, for example). It's not the last world in knurled knobs and soft-touch finishes, but you're not going to find any seriously flimsy plastics.
Infotainment: Touchscreen, USB, nav and stereo in the Skoda Enyaq iV
An iPad plonked on the dashboard seems to be par for the norm in electric cars at this price point, and the Enyaq hasn't escaped this trend. It's refreshing, though, that Skoda hasn't used it as a way to upsell pricier models – all have the same 13-inch navigation system with DAB radio, Apple CarPlay and Android Auto.
It's easy to operate with quick responses to jabs of the finger, while its graphics are typical Volkswagen Group smart. It's not perfect, though – we noticed that its position means it does seem to attract reflections on a sunny day, while we hate the fashion for lumping in climate control functions and the like into the infotainment system.
All Skoda Enyaq models get a digital display rather than conventional dials. This is functional rather than fancy - buy the Audi Q4 e-tron if you want something a bit swisher.
A head-up display system is available as part of the infotainment package plus. This projects key data like your current speed and navigation directions into your field of view – useful, but probably not worth the £740 retail price.
Space and practicality: Skoda Enyaq iV boot space
Whether it's the incredibly versatile Octavia Estate, surprisingly practical Kamiq or simply huge Superb, Skoda has form for cars that trounce rivals in terms of luggage space. And, pleasingly, the Skoda Enyaq iV doesn't disappoint.
The Skoda Enyaq's boot can carry 585 litres of luggage with the rear seats in use, which is more than the Volkswagen ID.4, Kia EV6 and Ford Mustang Mach-e. And there's loads of room for people, too, with enough room in the back to fit three adults side-by-side (helped by a flat floor). Headroom is particularly impressive, while large side windows will prevent kids from feeling claustrophobic.
One slight disappointment is that the Enyaq iV isn't available with seven seats – you'll have to look at bigger and pricier models like the Tesla Model X (or van-based people carriers like the Citroen e-Berlingo) if that's what you're after.
And, while the Enyaq is full of Skoda's trademark clever features (like the umbrella storage compartment in the driver's door), you won't find a sliding rear bench to let you decide between people- or load-carrying space. You will, though, find a remote release button in the boot to drop the rear seats, and with them folded down there's a massive 1710 litres of space available.
If you're happy to sacrifice a little bit of practicality for an extra dose of style, take a look at the Skoda Enyaq Coupe iV. This does have a slightly smaller boot than the SUV model (it loses about 15 litres of space), but it's not as impractical as you might expect. All Enyaq Coupe iV models come with a panoramic sunroof which has been designed not to intrude on rear headroom, so it's perfectly pleasant back there.
Handling and ride quality: What is the Skoda Enyaq iV like to drive?
"The Skoda Enyaq iV has been designed as an electric car from the outset. That means it's not compromised by taking out a heavy conventional engine at the front and having to accommodate the electric motor and batteries."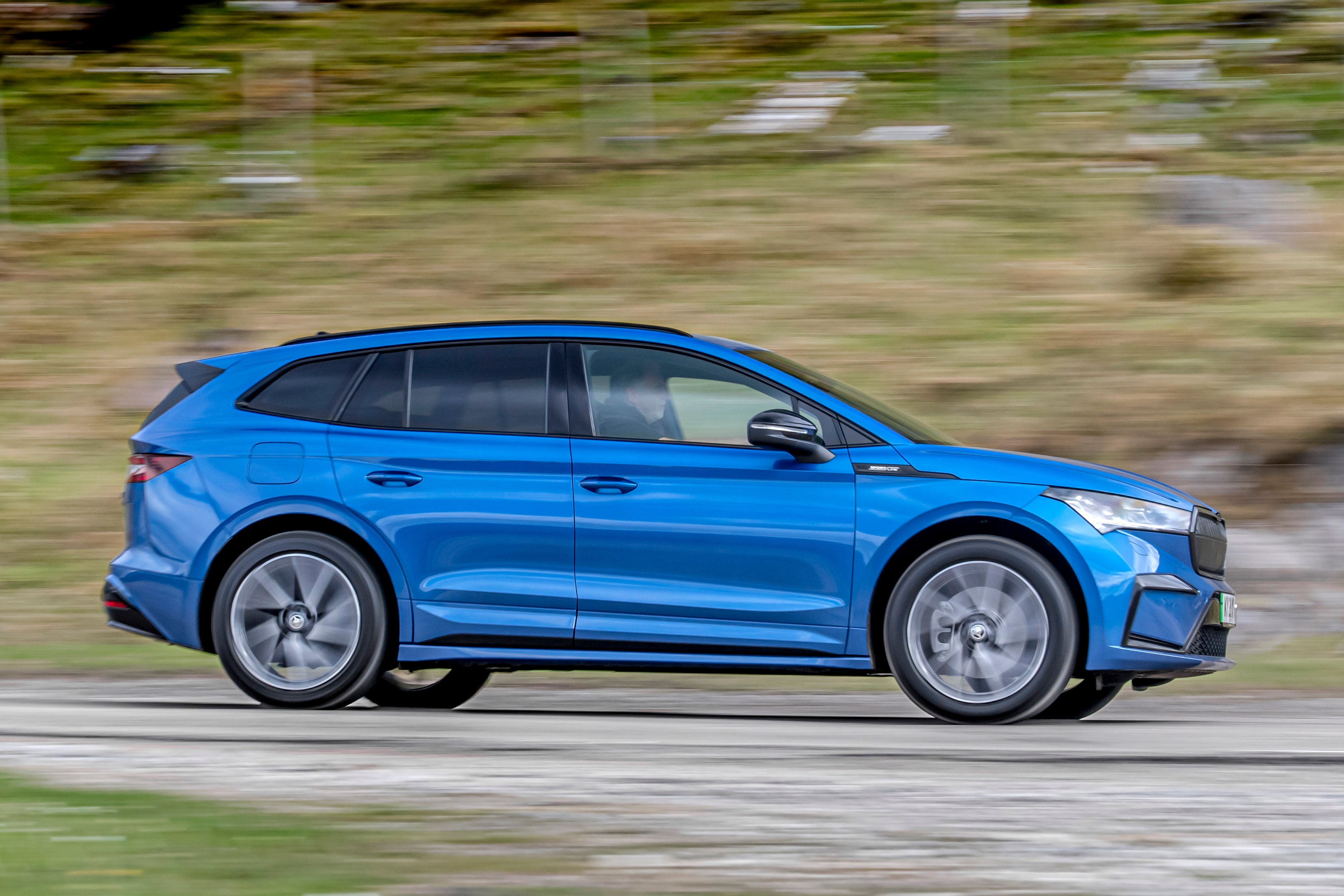 The Enyaq's batteries are positioned under the floor, meaning they lower the car's centre of gravity and don't compromise on luggage space. The electric motor drives the rear wheels, giving the Skoda Enyaq a surprisingly nimble feel – particularly around town, where a tight turning circle will have you darting in and out of tight spaces like a London cabby.
At higher speeds, the steering is typically numb for a modern Volkswagen Group SUV (electric or otherwise). There's nothing wrong with it, but if you want a car that's going to be exciting to drive, you'd be better looking at the Ford Mustang Mach-E.
Skoda Enyaq iV 80 models come with selectable drive modes (available as an option on the 60 Nav). Selecting the sportier drive modes does little to tighten up the handling, but you'll notice the stability control light flickering during constantly during enthusiastic cornering. There's no hiding that this is a heavy SUV, and it does thump over broken road surfaces, particularly with the bigger 20- or 21-inch alloy wheels. It's no worse than rivals in that regard, though.
While the Skoda Enyaq's a fairly big car, it doesn't feel particularly intimidating to drive. We've driven it on tiny roads in the Highlands of Scotland and didn't wince every time we met a motorhome heading in the opposite direction. If you're concerned about parking, look for one with the parking package (standard on the Enyaq iV 80) with its front parking sensors and rear-view camera. Rear parking sensors are fitted as standard across the range.
What engines and gearboxes are available in the Skoda Enyaq iV?
You can currently choose from two core models: the Skoda Enyaq iV 60 (with a 62kWh battery) and Skoda Enyaq iV 80 (with an 82kWh battery). Both have the batteries positioned under the floor, with the electric motor driving the rear wheels.
The bigger battery provides more power (204PS compared to the iV 60's 179PS), but that's partly offset by the extra weight of the bigger battery pack. As such, the Enyaq iV 60 will cover 0-60mph in 8.4 seconds, while the iV 80 completes the sprint in 8.2 seconds.
In reality, both feel quick enough, without pushing you back in your seat the same way a Ford Mustang Mach-E or Tesla Model 3 might. That's no real hardship – rapid acceleration is great for giggles but rubbish for reaching your destination on a charge. Besides, in typical EV form, there's no hesitation or delay when you hit the Skoda Enyaq's accelerator. That means it feels a fair bit quicker than it actually is, and takes a lot of the effort out of overtakes or joining traffic.
If you want a quicker Enyaq, take a look at the vRS model.
Maximum EV range in the Skoda Enyaq iV
Buy a Skoda Enyaq iV with the bigger 82kWh battery and it'll officially be able to travel 333 miles between charges. That's almost comparable with a petrol model. The Enyaq iV 60, meanwhile, can still handle a more-than-acceptable 256 miles.
Of course, just like fuel economy figures for petrol and diesel models, the real-world range of an Skoda Enyaq iV will be very dependent on factors like how it's driven and even what the weather's doing. Driving around town, making full use of the regenerative braking to slow down will see the best results. Speeding down the motorway with the wipers going and headlights shining will have a bigger impact on range, but our initial drives have found the Skoda Enyaq iV more than usable in terms of range.
Refinement and noise levels
The Skoda Enyaq iV makes conventional petrol and diesel rivals look rather uncouth in terms of refinement. It's astonishingly refined, particularly at motorway speeds, without the usual intruding rumble of a combustion engine. At low speeds, it emits a slightly weird (almost spaceship-like) tone in order to discourage unwanted car/human interaction, but you're not going to notice it inside the cabin.
Like all electric vehicles, the lack of an engine in the Enyaq iV has given Skoda a few challenges in terms of refinement. A grumbling diesel can often be used to mask quieter noises, but we haven't noticed any creaks or rattles from any of the test cars we've sampled. There's a bit of noise from the suspension on bumpier roads and you'll notice a bit of wind noise at higher speeds, but tyre roar is well hushed. None of this should impact on your enjoyment of the Skoda Enyaq.
Safety equipment: How safe is the Skoda Enyaq iV?
Standard safety equipment includes front side airbags and curtain airbags, driver and front passenger airbags with passenger airbag deactivation, lane assist and front assist with assisted automatic braking. There are Isofix child seat points on the front passenger seat and outer rear seats. Rear side airbags are available as an optional extra.
For the full range of driver-assist features, you'll have to look for an Skoda Enyaq with one of the Assisted Drive packages. The basic pack costs £685 and comes with adaptive cruise control, blind spot detection, crew protect assist and lane assist with traffic jam assist. The Assisted Drive Package Plus adds emergency assist, which can bring the car to a stop with the hazard lights activated if it detects a lack of input from the driver. The Enyaq has been awarded a five star safety rating by Euro NCAP.
Charging times: How much does it cost to charge the Skoda Enyaq iV?
A standard Enyaq iV can take rapid charging at a rate of up to 50kW. That means, if you find an appropriate public charger, you can add 80% of charge in around 55 minutes for the Enyaq iV 60 and one hour 10 minutes in an Enyaq iV 80.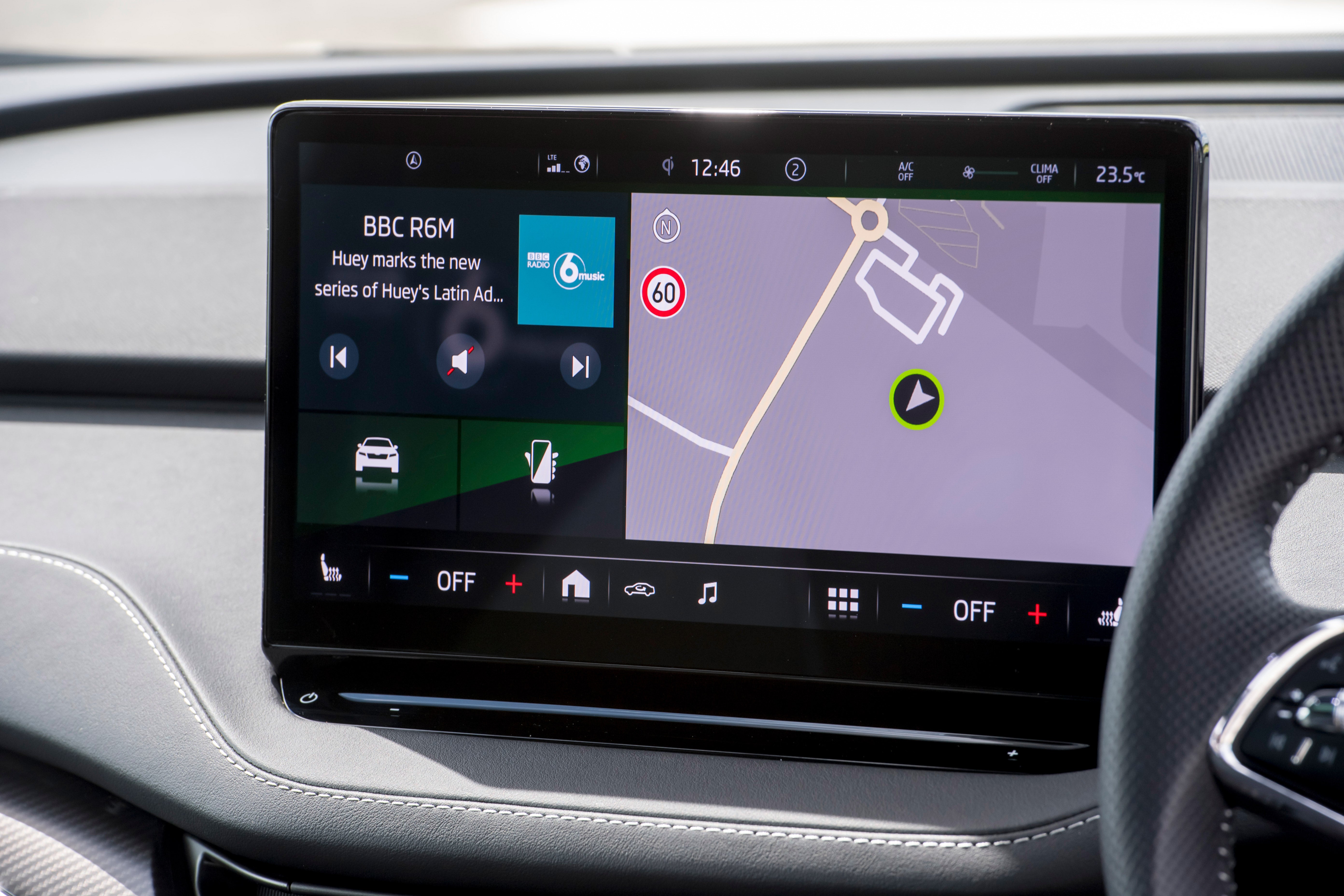 If you're expecting to cover a lot of long journeys in your Enyaq iV, look for one with optional 125kW charging capability. Only available on the bigger-batteried Enyaq, this'll add 80% of charge in less than 40 minutes.
It's worth investing in a home wallbox for overnight charging. A 7kW unit will fully charge the Enyaq iV 60 in nine and a half hours, while the Enyaq iV 80 will be charged in 13 hours. Depending on your electricity rate, you can expect to pay around £10 to fully charge an Enyaq iV 60 at home, and £14 to top up an Enyaq iV 80.
How reliable is a Skoda Enyaq iV?
The Skoda Enyaq iV is still a very new model, but we've had very few reports of issues from owners. It seems to be proving more reliable the Volkswagen ID.3 – a car that was seemingly hurried into showrooms and plagued with electrical gremlins.
Skoda as a brand performed well in the 2020 HonestJohn.co.uk Satisfaction Index. It achieved a reliability rating of 9.4 out of 10.
Insurance groups and costs
The Skoda Enyaq iV 60 Nav has been placed into insurance group 23E, while the Enyaq iV 80 is in group 26E. The Enyaq iV 80 SportLine is currently the most expensive to insure, sitting in insurance group 27E.
As ever, we'd recommend shopping around for a competitive car insurance quote. There are specialist electric car insurance providers, but it's worth trying out a few comparison websites if you want to save money on car insurance.
VED car tax: What is the annual road tax on a Skoda Enyaq iV?
Pure-electric cars like the Skoda Enyaq iV are exempt from road tax. That means you won't pay anything in tax for the Enyaq iV.
How much should you be paying for a Skoda Enyaq iV?
"Only the smaller-battery Enyaq qualifies for the Government's plug-in car grant which means there's quite a big price jump from the Enyaq iV 60 to the iV 80."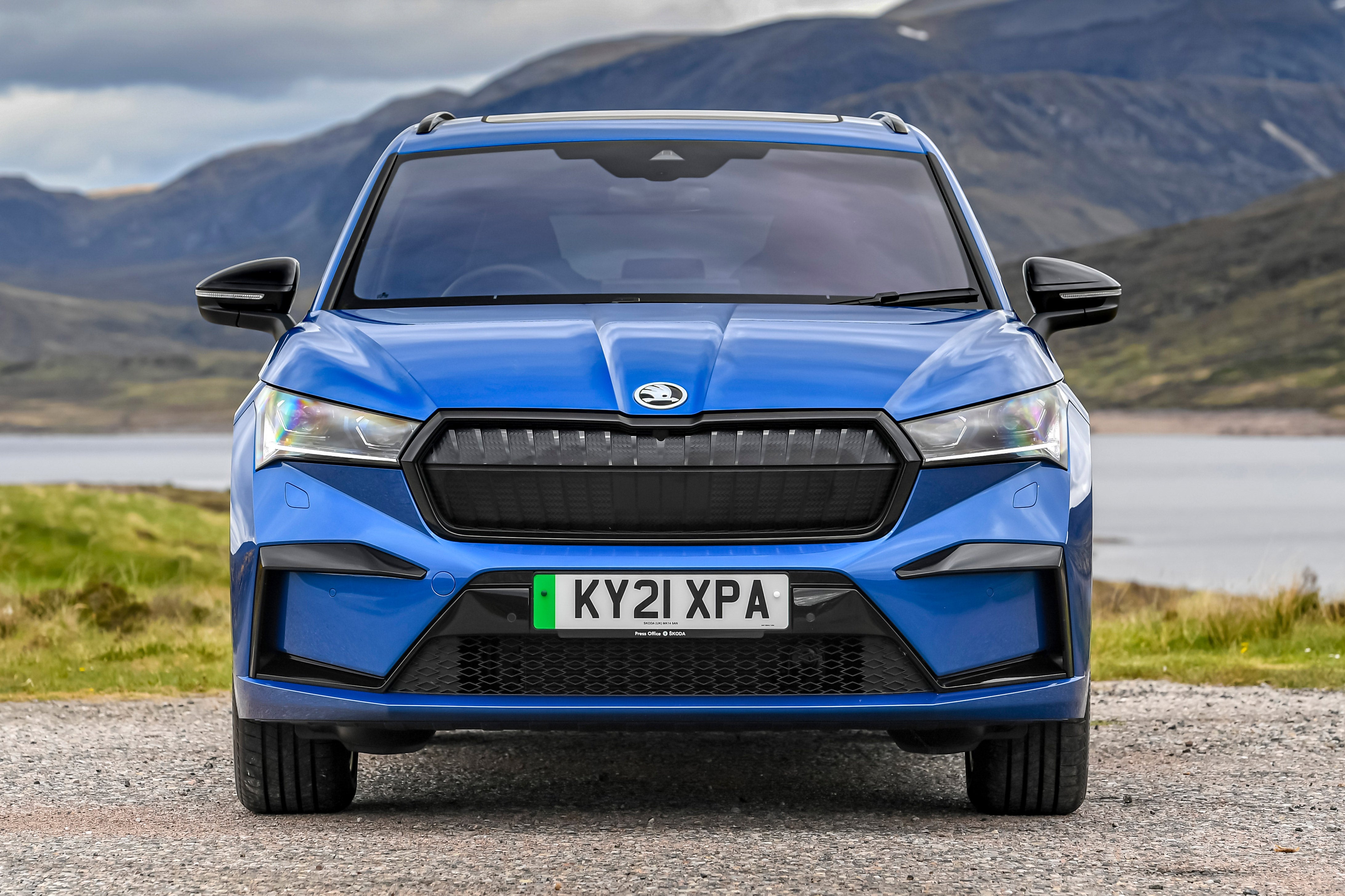 Prices for a Skoda Enyaq start from around £32,000 (after the grant) for the Enyaq iV 60 with the Loft interior trim, while an Enyaq iV 80 will cost you closer to £40,000. The Enyaq iV 80 SportLine starts from a smidgen under £43,000, with the current range-topping Enyaq iV 80X SportLine at just under £47,000.
That's marginally cheaper like-for-like than the very similar Volkswagen ID.4, while a Mustang Mach-E will cost you upwards of £40,000. As will the Tesla Model 3, which is a much smaller car for the money.
As the Enyaq iV is such a new model, it'll be a while before we start seeing huge savings available on the used market. There are dealer demonstrators available to buy now, though, allowing you to skip the waiting list.
Trim levels and standard equipment
You get a pretty comprehensive list of standard equipment on the Enyaq iV 60. The exterior of the most affordable model features 19-inch alloy wheels, LED lights (front and rear), a matt black radiator grille with chrome surround and black roof rails. Inside, the standard car comes in Loft interior trim with LED ambient lighting and height-adjustable front seats with manual lumbar support.
There's a 13-inch touchscreen navigation system, Virtual Cockpit and DAB radio. Technology includes rear parking sensors, cruise control and rain-sensing wipers. Lane assist is standard, as well as front assist with automatic braking.
As well as a bigger battery, the Enyaq iV 80 features a different 19-inch alloy wheel design, chrome exterior highlights (including roof rails and window surrounds) and a two-spoke leather heated steering wheel. There are front and rear parking sensors, a rear-view camera and a selection of drive modes.
As its name suggests, the Enyaq iV 80 Sportline is a sportier choice, with 20-inch Anthracite alloy wheels, full LED matrix beam headlights and sport bumpers. Inside, you'll find Alcantara/leather upholstery and carbon effect decor.
As well as the core trim levels, Skoda offers a variety of interior design selections. The standard Loft interior is finished in grey and black, with a combination of fabric and artificial leather. The Suite adds soft black leather and piano black decor, while an electric drivers seat with massage function is available as an optional extra.
The Lounge interior trim features a combination of leather and microfibre with a soft suede finish. The microfibre fabric pad on the dashboard is quite something, complemented by mustard stitching and fabric door inserts. The Ecosuite design selection is even bolder, with cognac brown leather upholstery and contrasting stone interior details.
Ask the heycar experts:
common questions
How much does the Skoda Enyaq iV cost?
The Skoda Enyaq iV starts from £31,995 in entry-level Enyaq iV 60 form. That's after the Government's plug-in car grant.

How far will the Skoda Enyaq iV travel on a charge?
The Skoda Enyaq iV 60 has an official WLTP combined range of 256 miles while the Enyaq iV 80, with its bigger battery, can cover up to 333 miles between charges. A 7.2kW home wallbox will fully charge the Enyaq iV 60 in around 9 hours and 30 minutes, while the Enyaq iV 80 takes approximately 13 hours.

Is the Skoda Enyaq iV a seven-seater?
Unlike the bigger Skoda Kodiaq, the Skoda Enyaq iV can only carry five adults. There's loads of space, though, even for rear-seat passengers. It has a massive boot, too, capable of lugging up to 585 litres of luggage.

What does Enyaq mean?
The name of the new Skoda Enyaq comes from the Irish name 'enya', meaning 'source of life'. Enya itself comes from the Irish Gaelic word 'Eithne', meaning 'essence', 'spirit' or 'principle'. The added 'Q' on the end means its part of Skoda's SUV line-up, alongside the Kamiq, Karoq and Kodiaq.

Skoda Enyaq cars for sale on heycar
5,096
Number of cars available
£40K - £76K
Price bracket of these cars
Colours available on heycar
Keep me updated by email with the latest advice, news and offers from heycar
By submitting, you agree to our
privacy policy
.