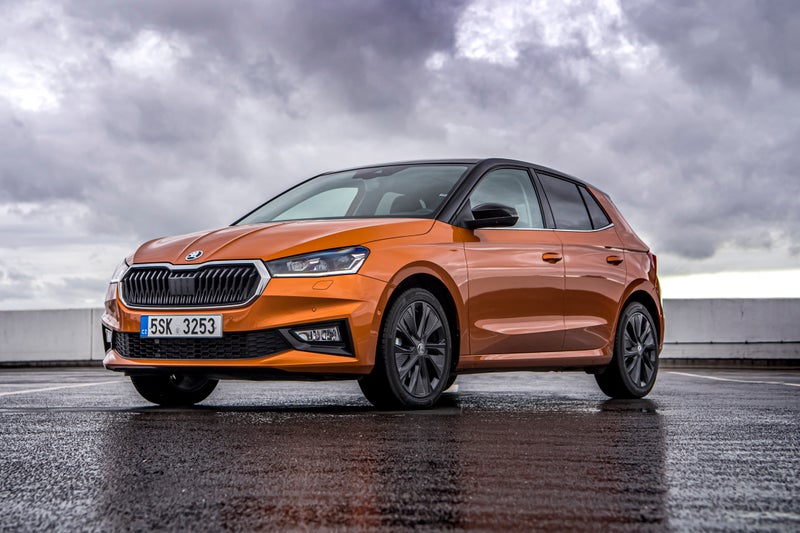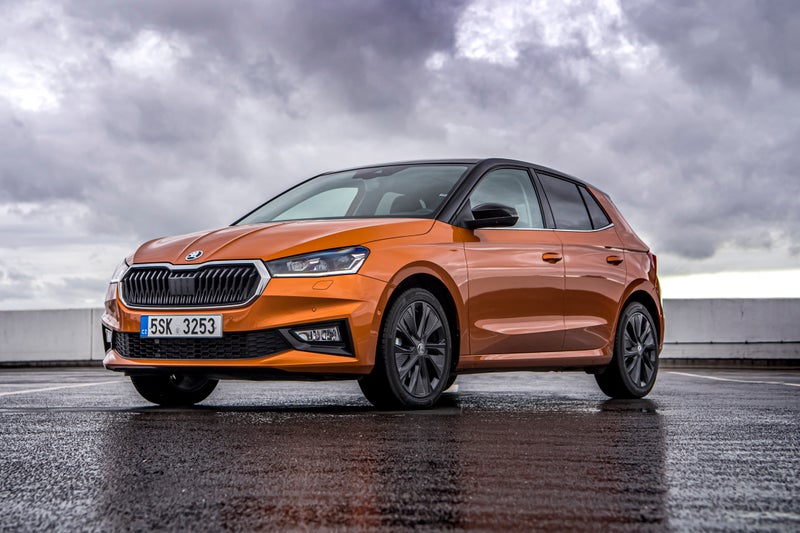 1/10
heycar rating
"Pretty much the perfect hatchback"
Launched: 2021

Small hatch

Petrol
Quick overview
Pros
Incredibly refined and comfortable for a small hatch
More stylish than before
Cheap to run
Cons
No hybrid or electric versions
Not the most youthful image...
A Ford Fiesta is more fun to drive
Overall verdict
On the inside
Driving
Cost to run
Prices and Specs
Common questions
Overall verdict on the Skoda Fabia
"The 2022 Skoda Fabia has ditched its boxy appearance in favour of a far more sleek and stylish look. Yet it's as practical and comfortable as ever. Good to drive and with a quality interior, we think it's one of the best small hatchbacks around."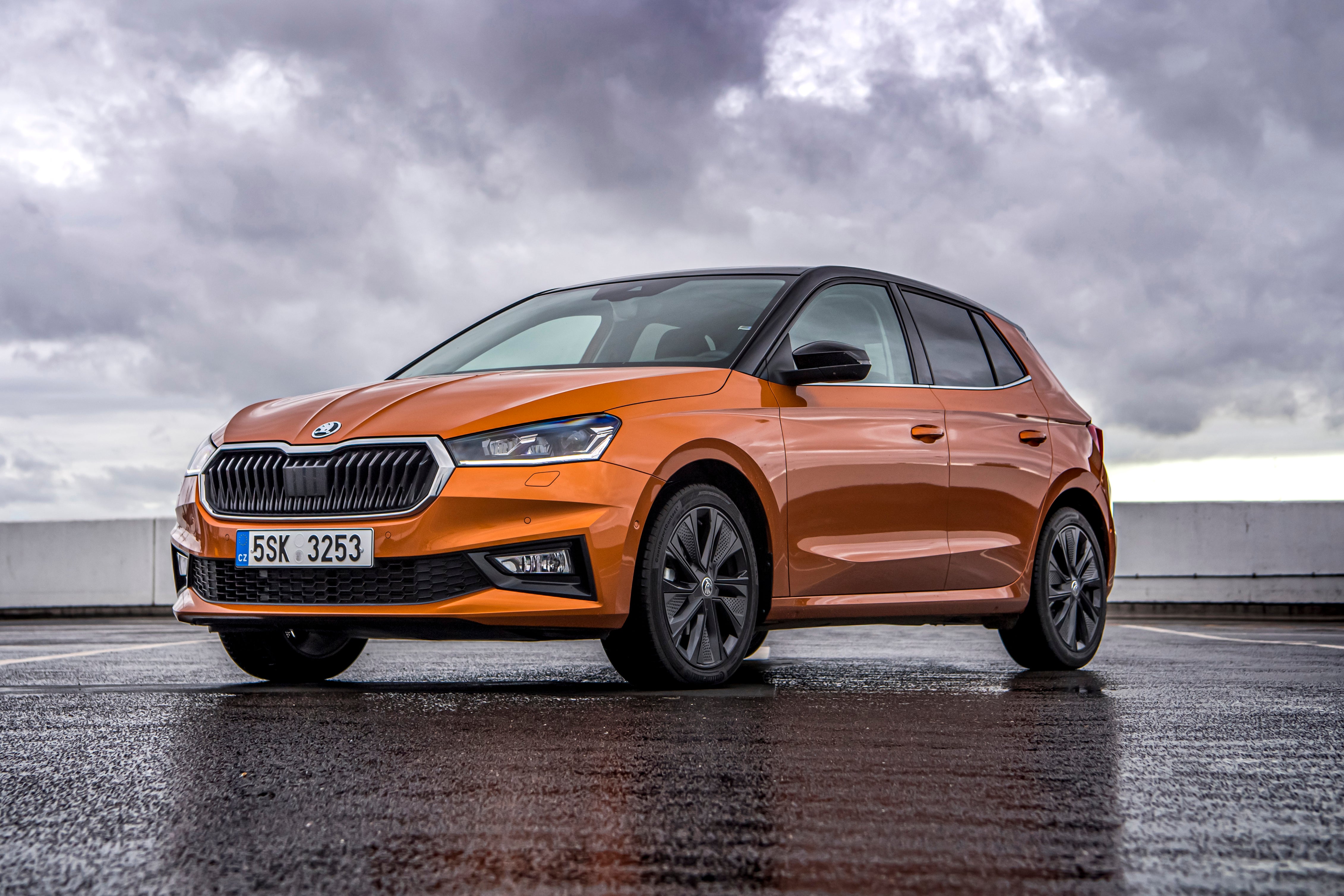 We know what you're thinking. Is that really a Skoda Fabia? Well, yes. Because Skoda has decided to make the latest Skoda Fabia actually look appealing, which we can't really say of its predecessor, however worthy it was.
So with its fresh new makeover, this Skoda Fabia is gunning for a wider audience than before. But does it have what it takes to match the likes of the ever-popular Ford Fiesta and the upmarket Volkswagen Polo?
First off, the new Skoda Fabia looks far better, with a clear influence from the Skoda Kamiq. Which is a good thing. But this is still a Skoda, so it's comfortable, practical and well, sensible. You all know the drill by now.
So, it won't surprise you to find out that the Skoda Fabia's real strength is its ride quality. It's superb for a small car and combined with impressive refinement makes this a surprisingly good motorway cruiser while able to soak up rough surfaces and potholes around town. It's also incredibly easy to drive.
Yes, the steering could do with a bit more feel (what modern car couldn't?). And no, we wouldn't describe the Skoda Fabia as a sporty car to drive. But that's no bad thing. The Fabia's a car that's designed to get you from A to B in a cheap and comfy manner, with its range of frugal 1.0-litre engines all being capable of 50mpg+.
Bigger than before - and for the first time longer than four metres - the Skoda Fabia has plenty of space for a small car which is good news if you have children and car seats to consider. The boot is mighty impressive for a small car and by far the biggest around when compared with the small hatch competition.
Being a Skoda you also get lots of simply clever features like an ice scraper in the fuel filler cap and an umbrella in the driver's door. Things that are actually useful.
But while the Skoda may have a stylish new look, shaking off its rather staid image is a much harder task. Whether younger buyers will choose a Skoda Fabia over the likes of the Ford Fiesta or SEAT Ibiza remains to be seen.
But there's no doubt that this is one of the best small hatchbacks on the market. True the Ford Fiesta may be better to drive and the Volkswagen Polo is, well a Volkswagen, but we think the smart money goes on the Skoda Fabia. It's simply a great all-rounder.
If you're looking for the older version, you need our Skoda Fabia (2015-2021) review.
Is the Skoda Fabia right for you?
If you want a sensible and high quality small hatch that's also good value then look no further than the Skoda Fabia. It may not have the most youthful of images, but there's no car that's more of a match for the impressive Volkswagen Polo.
But with its new, more dynamic design and stylish looks, we think this Fabia has far more appeal than the previous model. It is also cheap to run and should prove reliable, making it a good long term buy. The only downside is the lack of electric or hybrid power which may put some off.
What's the best Skoda Fabia model/engine to choose?
The Skoda Fabia range is pretty straightforward, although we're surprised there are no hybrid or even mild-hybrid versions in the range like you get with the Toyota Yaris. That's not a huge issue as Skoda's 1.0-litre engine - in its various guises - is cheap to run thanks to its good economy.
We'd suggest the best variant is the 1.0 TSI 95PS which has more than enough get up and go to it, while still delivering on the economy front. Go for one in SE Comfort trim and you'll get plenty of kit including a multifunction steering wheel, rear parking sensors, front fog lights and height-adjustable front seats. It represents the best value for money in the range.
What other cars are similar to the Skoda Fabia?
There's no shortage of small hatchbacks around with the Volkswagen Polo and Ford Fiesta two of the most popular - and the best - on the market. The Skoda Fabia compares very favourably to both in our opinion.
If you're looking at a Skoda Fabia we'd also suggest checking out some of its other rivals like the latest Vauxhall Corsa, the value for money Kia Rio, fellow Volkswagen Group counterpart, the SEAT Ibiza and the impressive Hyundai i20.
Also check out the Renault Clio, Citroen C3 and the Peugeot 208, while the practical Honda Jazz and the excellent Toyota Yaris are both comfortable and cheap to run thanks to hybrid power, something the Skoda Fabia doesn't have.
Comfort and design: Skoda Fabia interior
"The Skoda Fabia gets all the interior basics spot on. It's more spacious than before, well built and easy to use. But it's the 'simply clever' features which really make it stand apart from the competition."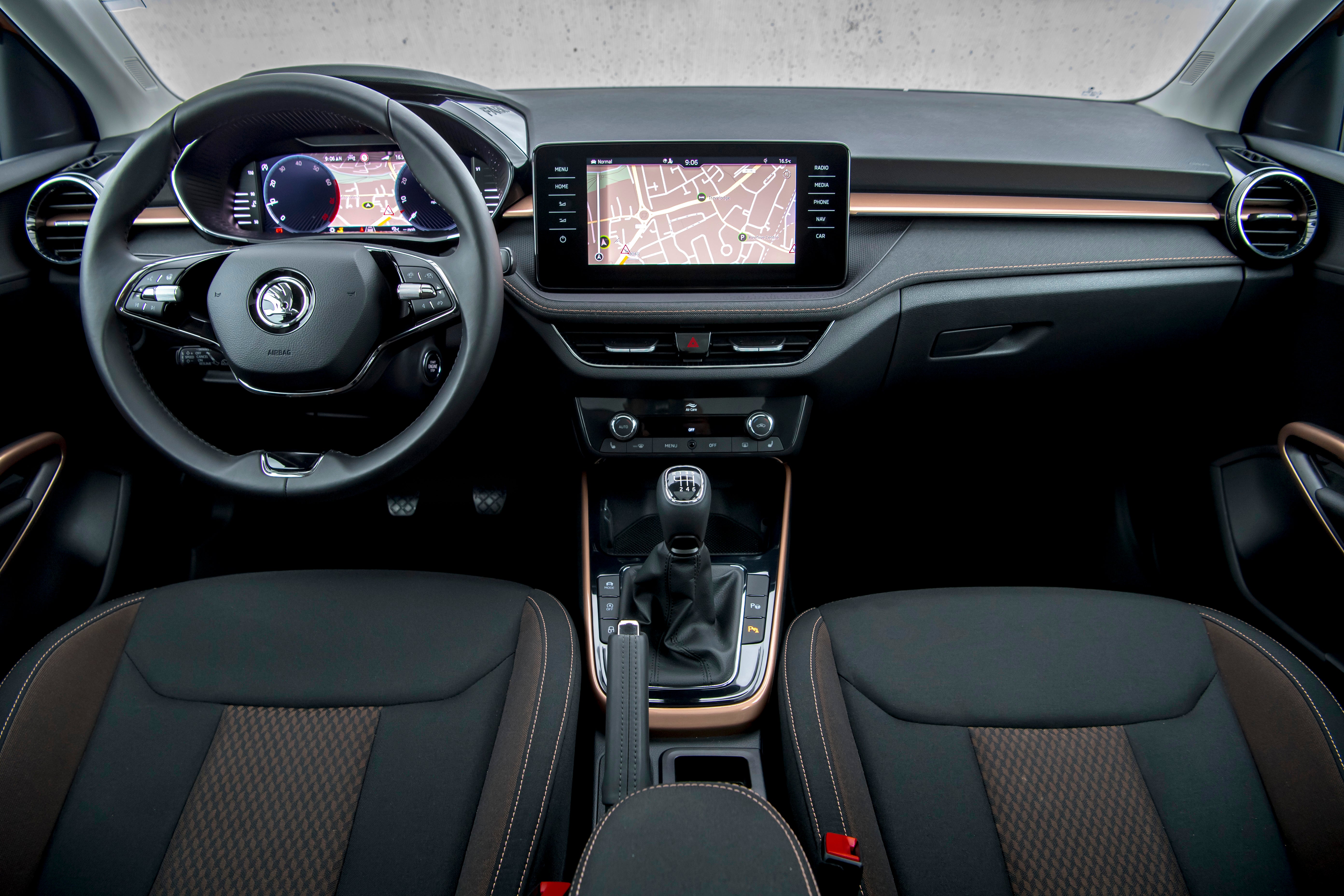 Bigger than before, the Skoda Fabia feels more spacious inside, which those in the back will appreciate. The quality of the finish is excellent and it's well designed too, with everything close at hand and clearly labelled. There's no searching for hidden buttons here.
The seats are comfortable enough with decent support and there's plenty of adjustment in both the driver's seat and steering column, so even the long-limbed can find a comfortable driving position. Despite not having the same boxy design as the old model, there's still good headroom so your quiff won't get squashed.
User-friendly is the name of the game here and the Fabia, like all Skodas, has a series of 'simply clever' features. These are small but handy extras designed to make life easier, such as an optional USB socket on the rear view mirror for powering a dash cam. The Fabia also has pockets for smartphones on the front seatbacks, a clip on the windscreen for holding a parking ticket and wireless charging for electrical devices.
However, the stand out ones are the ice scraper in the fuel filler cover (complete with a tyre tread depth gauge) and the umbrella in the door. The new features include a removable cup holder between the front seats, a box that locks on the rear tunnel for storing small items (handy for the kids) plus a boot tidy that fits on the side wall and can be pulled out to keep items from sliding around.
Quality and finish
While there are the usual hard plastics you'd expect in a small hatchback this size, they don't feel cheap. In fact, the interior of the latest Skoda Fabia is one of the best around for quality, we'd say it's on a par with the Volkswagen Polo.
Higher spec models get Metallic grey trim to give a more upmarket feel but even the entry-level S models don't feel especially 'entry-level' as such, although you do get plastic rather than leather on the steering wheel and gear lever. That said, compared to the previous Skoda Fabia, there's a significant improvement in quality throughout the cabin.
All the switches have a nice solid feel to them - it's a car that feels built to last - and there are no squeaks or rattles on the move either.
Infotainment: Touchscreen, USB, nav and stereo in the Skoda Fabia
The Skoda Fabia is every inch a modern small hatchback so it's no surprise to see a large, bright, high resolution touchscreen dominating the centre console. S and SE Comfort models get a 6.5-inch colour while the Colour Edition gets an 8-inch colour display. Go for a posh SE L and you get a big 9.2-inch screen. If size matters to you.
Luckily, this isn't the same system that's used in larger Skoda models, instead it's much easier to use. For starters, things like the air conditioning are controlled through proper dials and buttons, which we think is far simpler (and less distracting) than having to go through menus on the touchscreen. Skoda knows its audience with the Fabia.
The system is intuitive and easy to use, whichever size screen you end up with. SE L gets navigation as standard. The Fabia can also be fitted with a virtual cockpit, which replaces the instrument display with a 10.2-inch screen that can be customised with maps, car data and route directions.
All models have DAB and Bluetooth (for music streaming) while a smartphone can be connected without the need of a cable via Wireless SmartLink and Android Auto or Apple CarPlay, which is an affordable optional extra that we'd recommend.
Space and practicality: Skoda Fabia boot space
The Skoda Fabia has always been one of the most practical small cars out there and this latest generation continues in that mould.
With a 380-litre boot the Skoda Fabia's boot is actually 50 litres bigger than before making it the best small car around for carrying space and you can squeeze in significantly more than rivals like the Ford Fiesta with 292 litres and the Vauxhall Corsa at 309 litres. It's even bigger than the Honda Jazz.
There is quite a high boot lip, but the tailgate opening is wide, making it easy to get things like pushchairs or bags of compost in there. Or indeed, both.
The Skoda Fabia is bigger than before, so worth noting if you have a narrow drive or parking spot. Its dimensions are 4108mm in length (the first time the Fabia is more than four metres long) while the width has upped to 1780mm.
The good news is that these increases mean more interior room, which will be especially noticeable for those who sit in the back and is handy if you have child seats (and the accompanying children...).
Handling and ride quality: What is the Skoda Fabia like to drive?
"The Skoda Fabia isn't going to rock your world from behind the wheel. Yes, a Ford Fiesta is more fun, but the Fabia is reassuringly easy to drive, comfortable and a doddle to park too. In short, it's exactly what a Skoda Fabia should be."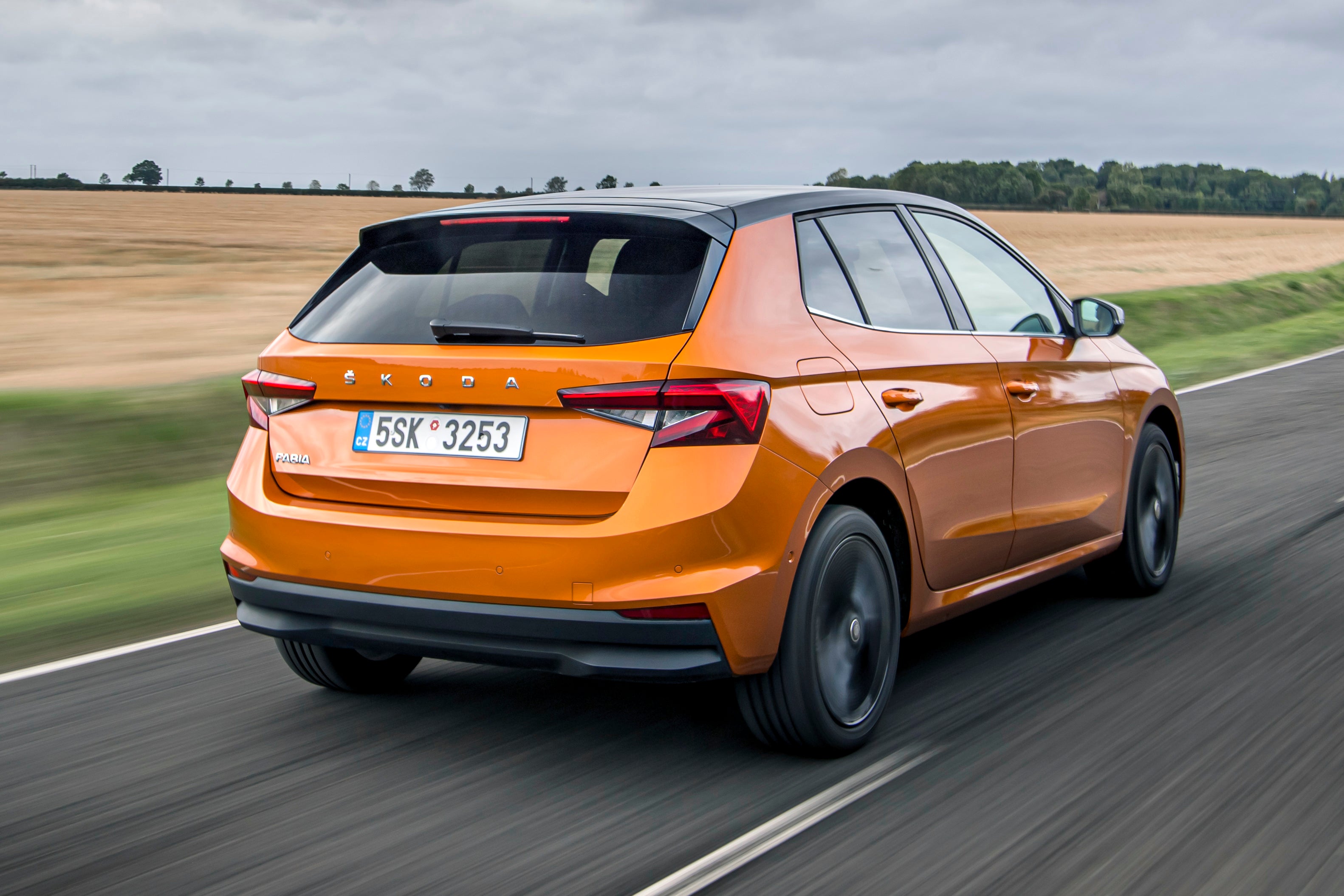 This generation of Skoda Fabia feels a lot more 'grown up' than the old one. What do we mean by that? Well, it's quieter, it rides better and has all the qualities of a car from the class above. Be prepared to see the word 'refinement' bandied around a lot here.
Yes, there are other small hatchbacks that are better to drive - the Ford Fiesta and SEAT Ibiza spring to mind - but the Skoda Fabia goes about its business of being a no nonsense hatchback with impeccable proficiency.
Indeed, it's hard to find fault. The Fabia is reassuring through corners with nicely weighted steering and lots of front-end grip, while body roll is kept well in check. True the steering can feel a little artificial at times but you'd be hard pressed to find a small hatchback where it doesn't.
The ride is perhaps the Fabia's standout quality. We'd say this is the most refined and comfortable small car around, feeling very much like a scaled down Skoda Octavia in that respect. It's excellent over uneven roads and broken surfaces, while on the motorway it covers miles with effortless ease.
Rear visibility isn't quite as good as the old Skoda Fabia, but it's still easy to park thanks to the light steering and rear parking sensors which are standard fit on all but the entry-level Fabia S model.
What engines and gearboxes are available in the Skoda Fabia?
The first thing you notice about the Skoda Fabia range is what there isn't. And that's no electric version, no plug-in hybrid and not even a hybrid. Instead, Skoda is sticking to a straightforward petrol-only line-up. Hurrah for simplicity.
The Skoda Fabia has always been a sensible small hatch and that's not changing any time soon. So the engine range is made up of various 1.0-litre models, all of which are cheap to run if hardly balls of fire.
The cheapest is the 1.0 MPI with a modest 65PS and a five-speed gearbox. It only comes in Fabia S trim, so we'd recommend something with a bit more oomph if your budget allows. Spend a bit more and you can get the 1.0 MPI with 80PS which is a lot better and comes in SE Comfort trim which gets you more toys. It's ideal for around town.
However, if you are going to spend time on dual carriageways and the like, we'd recommend the 1.0 TSI. The 95PS version is more than quick enough and thanks to the fact it's a three-cylinder engine, not only is it nippy at low speeds but it also has a bit of character. Shocker.
The top of the range version is the 1.0 TSI 110PS which is the only engine to get a six-speed gearbox and also the only one available with an automatic, a much improved DSG in this case. You'll pay £1000 premium for the latter though and unless you must have an auto, we'd stick to the positive shifting and enjoyable to use manual.
With no Skoda Fabia vRS model - and nothing on the horizon - the Fabia Monte Carlo with the 150PS 1.5 TSI engine is probably the closest you're going to get to a hot hatch with the 0-62mph sprint taking a leisurely eight seconds.
Refinement and noise levels
If there's one area the Skoda Fabia really excels at, it's refinement. Not only does it ride well, but it's very quiet on the move with very little engine or road noise. In fact, it feels like a much bigger car in this respect. All the engines are quiet and you'll only really hear them if you push them to the limit - even then the sound isn't coarse or intrusive.
Rough roads and big potholes don't pose any issues, with the cabin well insulated against vibrations and harshness. The ride quality can become a little harder on 17-inch wheels - standard on the Fabia Monte Carlo - but it is always on the comfortable side of firm.
On bigger roads the Fabia cruises along at the speed limit in quiet contentment, so while it may be a small car, it's actually very adept for motorway driving.
Safety equipment: How safe is the Skoda Fabia?
This generation of the Skoda Fabia has a maximum five star Euro NCAP rating with an 85% rating for adult occupant protection and 81% for a child.
Driver and front passenger airbags, curtain airbags and front side airbags are fitted as standard in the Skoda Fabia. A knee airbag for the driver and side airbags for the rear can be added with the Safety Package - a £455 extra. You can also add Adaptive Cruise Control but it costs a further £460.
MPG and fuel costs: What does a Skoda Fabia cost to run?
"As you'd expect, the Skoda Fabia is cheap to run with all the engines proving economical and returning at least 50mpg."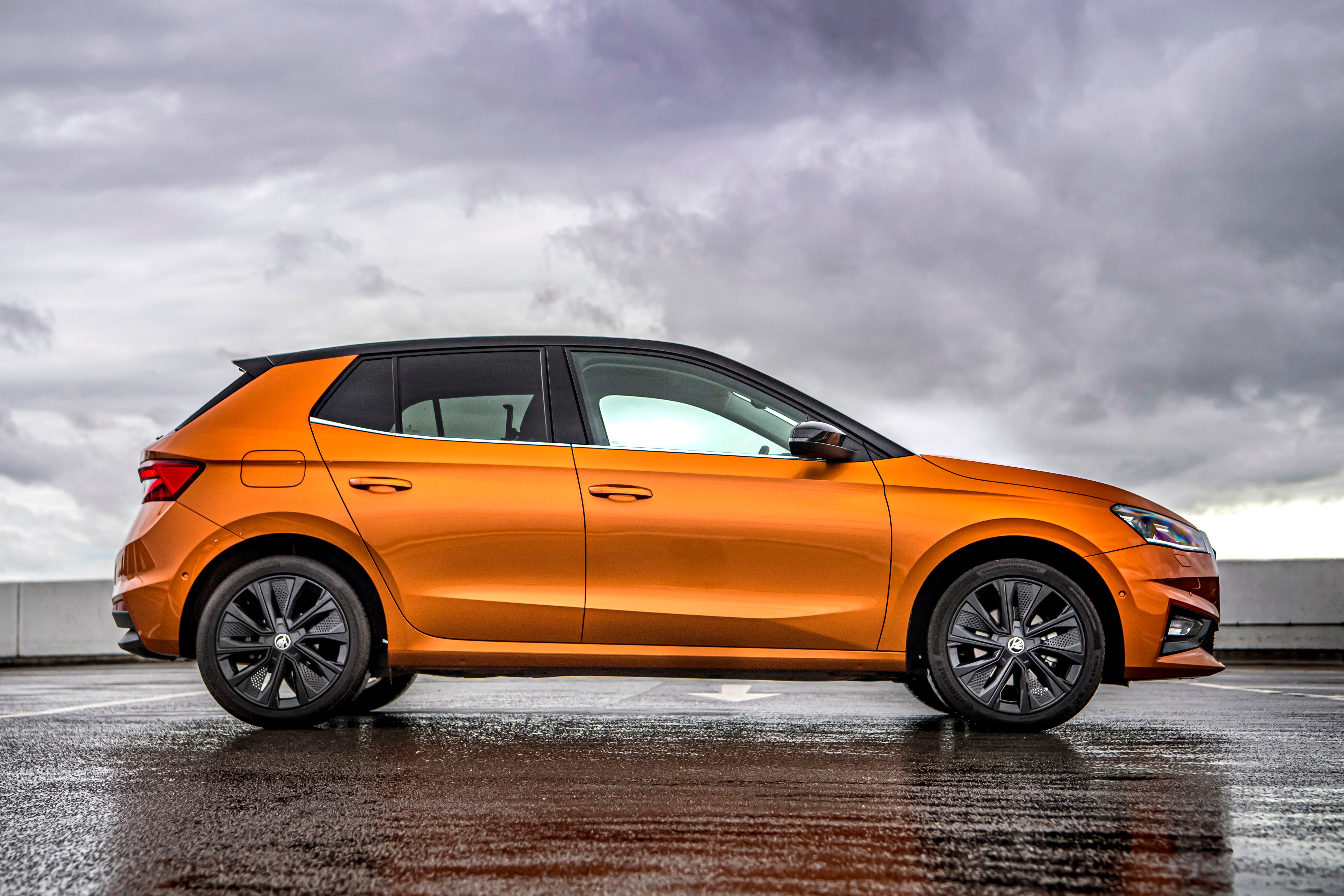 All manual 1.0-litre versions of the Skoda Fabia, whether MPI or TSI, will return at least 55mpg regardless of power. So you won't be punished at the pumps if you choose a model with a bit of oomph.
How reliable is the Skoda Fabia?
Skoda has a strong reputation for reliability and owner satisfaction, performing strongly in the annual Honest John Satisfaction Index.
It's not all good news though. The previous Fabia had a chequered reliability record, mainly to do with the seven-speed DSG semi-automatic gearbox. Manual cars didn't suffer from the same issues and since then Skoda has improved the DSG gearbox so we don't expect this model to suffer from the same issues.
Insurance groups and costs
Insurance groups haven't been sorted out yet - this Fabia is a bit too new - but expect it to be similar to the old model which started at Group 1 for some models. The Fabia has always been a cheap car to insure which helps with its low running costs.
VED car tax: What is the annual road tax on a Skoda Fabia?
As there are no electric or PHEV versions of the Skoda Fabia, all models qualify for the standard annual VED rate - £155 as of 2021. There's no danger of any Fabia costing more than £40,000, no matter how tick happy you get on the options list, so no worries on showroom tax.
First year tax will set you back £180 for all 1.0-litre engines, regardless of power and gearbox.
How much should you be paying for a Skoda Fabia?
"The Skoda Fabia is not the bargain basement deal it once was, but you should still be able to get a decent deal on a nearly new pre-registered model."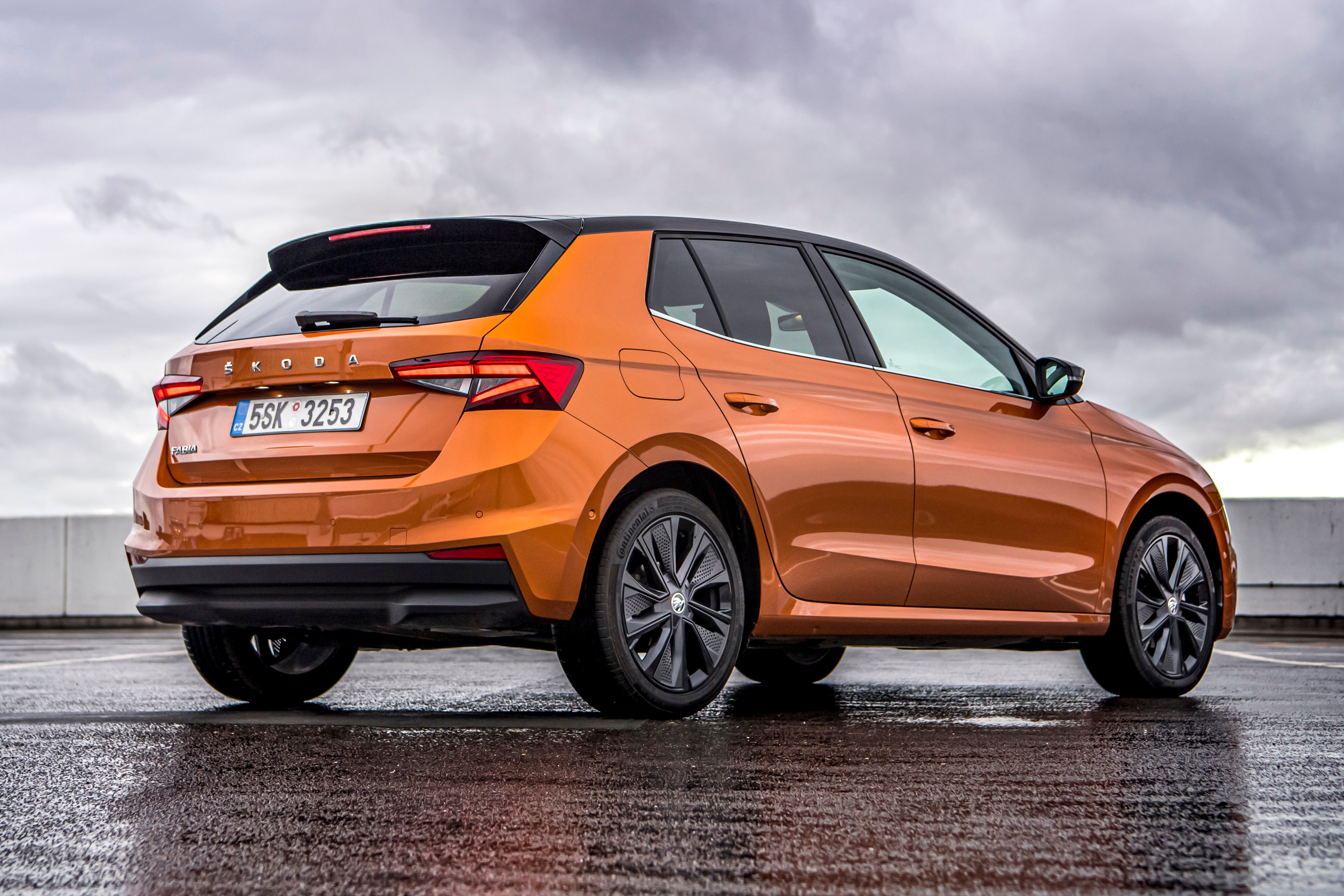 List prices start at £15k for the S model which is reasonably well equipped but most people will want at least an SE Comfort which costs closer to £17k book price. But look at a pre-registered model and you should be able to knock a decent amount of those prices.
Trim levels and standard equipment
The entry-level model is the Skoda Fabia S which has LED headlights, Front Assist, Pedestrian Protection and Lane Assist including road edge detection, DAB, a 6.5-inch colour screen infotainment system and manual air conditioning. It also has e-Call+, a system that establishes an audio and data connection to a dedicated emergency call centre if sensors within the car detect a major accident.
Skoda Fabia SE Comfort models have 15-inch Rotare alloy wheels, front fog lights and a two-spoke leather multifunction steering wheel along with rear parking sensors, height-adjustable front seats, adjustable lumbar support in front seats and leather-wrapped handbrake lever and gearshift knob.
The high spec Skoda Fabia SE L comes with 16-inch silver Proxima alloy wheels, chrome window surrounds and electric windows front and rear, comfort seats, chrome-edged air vents, ambient lighting package and microsuede grey lower decorative trim with art grey stitching. Inside there's an Amundsen navigation system with 9.2-inch colour display, Care connect and Infotainment online (1 year), web radio and six speakers. Dual-zone air-conditioning, along with two LED reading lights, a removable cup-holder and a front centre armrest are also standard.
The stylish Fabia Colour Edition gets 16-inch Proxima black alloy wheels, privacy glass and door mirrors painted in roof colour. Inside, Fabia Colour Edition models have a Bolero radio with 8-inch colour display, Virtual Cockpit with 10-inch colour display and KESSY keyless engine start/stop. There's even an umbrella in the door pocket.
The range-topping Fabia Monte Carlo adds sports bumpers, 17-inch Procyon black painted diamond cut alloy wheels and artificial leather sports seats. You also get a leather 3-spoke sports steering wheel, ambient interior lighting and a black headlining, while the door and side trim panels are finished in carbon effect decorative trim.
Ask the heycar experts:
common questions
Is the Skoda Fabia reliable?
The previous generation Skoda Fabia, launched in 2015, was not without its issues, the main cuplrit being the DSG semi-automatic gearbox fitted to some models. That aside, the Fabia has proved reasonably reliable overall.

Is Skoda Fabia a good buy?
The Skoda Fabia makes an excellent buy, especially as a used car. It's cheaper than an equivalent Volkswagen Polo but is as well built and cheap to run with a hard wearing interior. Regularly service it and there's no reason you won't get years of reliable and trouble free motoring.

Is a Skoda Fabia a good first car?
It may not have the most youthful image but the Fabia makes an ideal first car thanks to its easy to drive nature, cheap running costs and low insurance group ratings. Used examples are good value and with plenty around you can afford to be choosy.

Skoda Fabia cars for sale on heycar
3,721
Number of cars available
£5.5K - £30K
Price bracket of these cars
Colours available on heycar
Keep me updated by email with the latest advice, news and offers from heycar
By submitting, you agree to our
privacy policy
.