Written by
heycar editorial team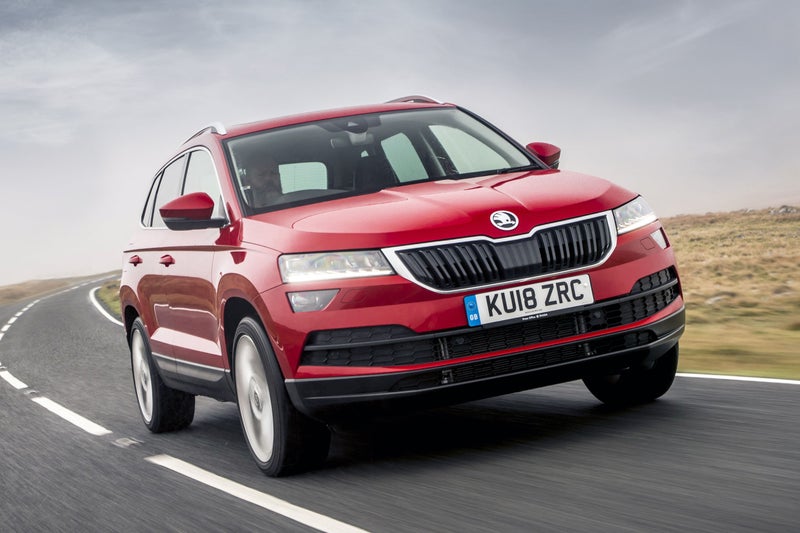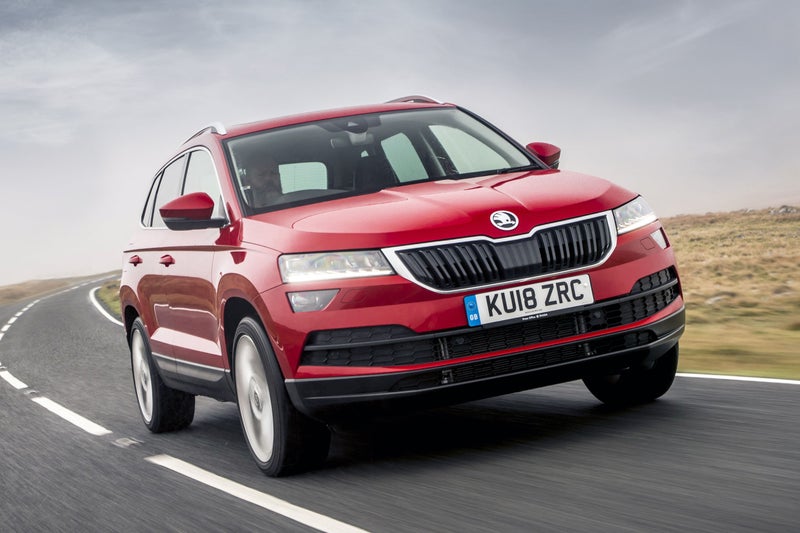 1/10
heycar rating
"Perhaps the best small SUV"
Launched: 2018

SUV

Petrol, Diesel
Quick overview
Pros
Softer and more comfortable than rivals like the SEAT Ateca
Incredibly versatile thanks to clever, flexible seats
Used examples represent excellent value for money
Cons
Slightly dull exterior styling
Hesitant automatic gearbox
No hybrid option
Overall verdict
On the inside
Driving
Cost to run
Prices and Specs
Common questions
Overall verdict on the Skoda Karoq
"If you're looking for a family SUV that puts comfort and practicality over pretty much everything else, the Skoda Karoq knocks it out of the park. It's available with a wide range of efficient petrol and diesel engines, as well as two- or four-wheel drive. All models are well-equipped and, providing you avoid the glitzier high-spec trim levels, none will break the bank."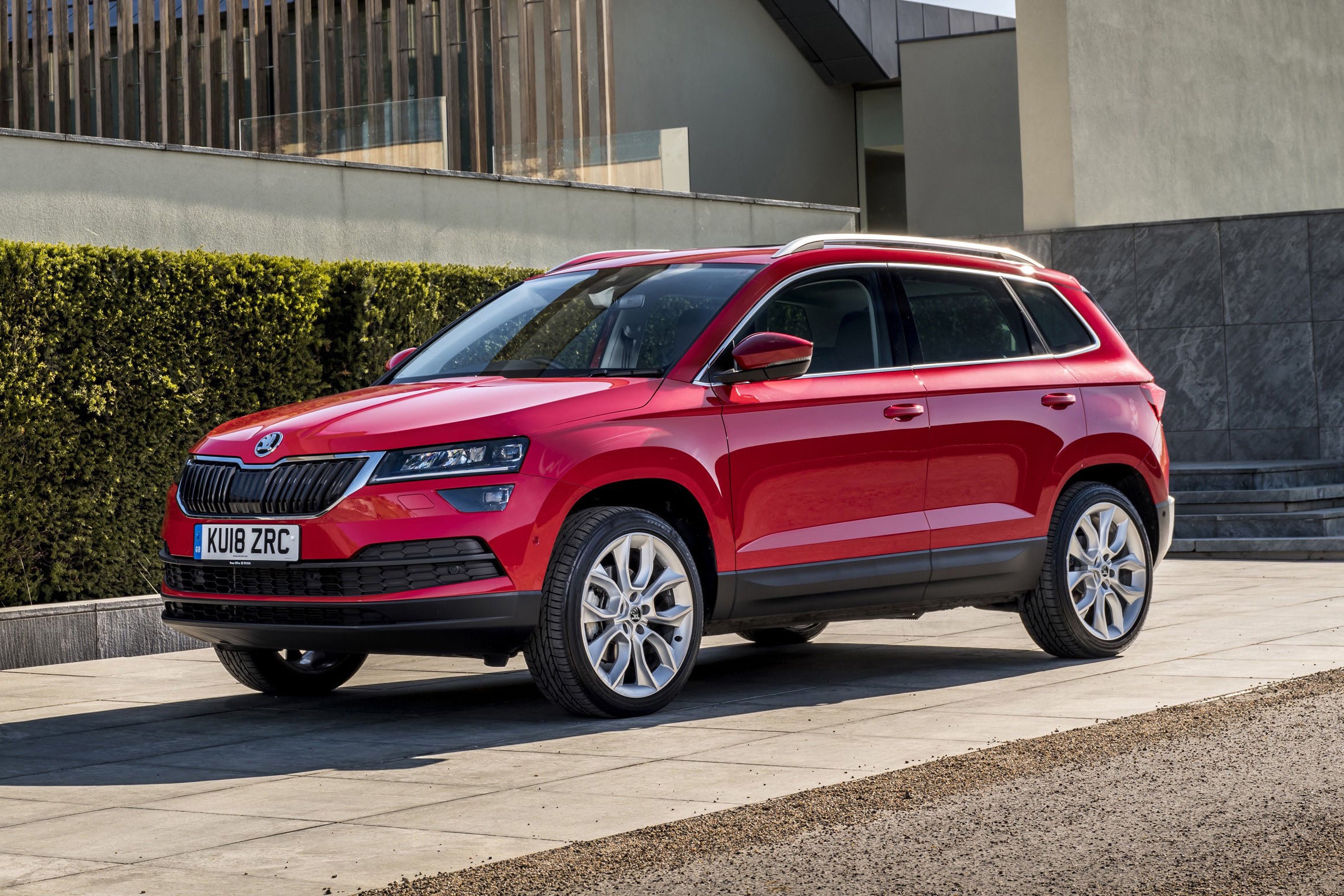 The compact family SUV sector is booming – and it's easy to see why. Cars like the Peugeot 3008 and Nissan Qashqai provide more space than the equivalent hatchback, while also being cheap to buy and run. Volkswagen Group provides a trio of offerings in this class – the stylish Volkswagen Tiguan, the sporty SEAT Ateca, and the car we're reviewing here, the sensible Skoda Karoq.
Sensible doesn't mean boring, though. While the 2022 Skoda Karoq certainly doesn't look as bold as its predecessor, the quirky Yeti, it looks more upmarket than you'd expect from a relatively affordable SUV, and you can get stylish SportLine or rugged Scout models if you do want to stand out a bit.
It's also more comfortable than the Yeti and has an interior that could put much more expensive rivals to shame. If you want a relaxing, sensible (and sensibly priced) SUV, the Karoq is one of the best in the business.
The Skoda Karoq has tonnes of passenger space, whether you're sat in the front or the back. And while a few rivals are better for carrying five adults, almost none can beat it for clever on-board storage or load-lugging capacity.
That's because the higher trims on the Skoda Karoq come with clever 'VarioFlex' seats. These slide and recline individually, fold down in a flexible 40/20/40 configuration and can even be totally removed to free up a van-like 1810 litre capacity. The downside is that the seats are really heavy, so you won't be taking them in and out often. Still, knowing you have the flexibility to stack it to the roof when needed definitely adds another feather to the Skoda's cap.
Every Skoda Karoq model comes with a generous amount of equipment, including an 8.0-inch touchscreen that's up there with the best in class in terms of its functionality and graphics, climate control and rear parking sensors too. Entry-level SE trim is the best value, but even if you do feel like splashing out, the luxurious SE L trim won't break the bank, adding navigation, heated seats and bright LED headlights, although top-spec cars start to get expensive.
Most versions of the Skoda Karoq are front-wheel drive with a six-speed manual gearbox, but you can buy the most powerful diesel and petrol variants with four-wheel drive, paired up with a seven-speed automatic gearbox. We like the manual, which is light and precise, but the twin-clutch auto (optional on cheaper models) can be a little jerky.
Kicking the range off is the 1.0-litre three-cylinder TSI petrol with 115PS but there's also a 1.5-litre that is a lot quicker (but just as efficient) and a range-topping 2.0-litre with 190PS. We think most buyers will be best off with the 1.5 TSI. It's a smooth quiet engine, with enough urge to overtake and make relaxed progress. There were issues with this engine early in its life but Volkswagen assures us these have been solved.
On the diesel side, buyers can pick between a 1.6-litre or 2.0-litre TDI. The bigger engine is available with four-wheel drive, with either 150PS and 190PS. Both are great for towing, and can haul over two tonnes. It also has decent off-road ability, and will happily tackle a slippery grass field or muddy country lane with no sweat.
In normal driving, the Karoq is really comfortable cruiser, with soft suspension and a cushioned ride. It has accurate, confidence-inspiring steering, lots of grip and neat handling, but is not as sporty as SEAT's Ateca. Still, for the things most family buyers will prioritise, the Skoda Karoq delivers in spades, and is a great all-rounder.
Is the 2022 Skoda Karoq right for you?
There's a whiff of the emperor's new clothes about small SUVs that promise practicality but fail to deliver. For buyers who genuinely need a roomy interior and load-lugging ability, the Karoq will be the perfect workhorse.
The Skoda Karoq's clever removable seats, massive boot and generous passenger space mean it will cope with the rigours of family life far better than a standard five-door hatch plus it comes with four-wheel drive should you need it.
It's no one trick pony though. A surprisingly posh interior, generous level of equipment and very comfortable, easy-to-drive nature make the Skoda Karoq feel competitive with the best family SUVs.
Avoid the underpowered 1.0-litre petrol and 1.6-litre diesel and it's a spritely performer too. But if you are the kind of buyer who wants to turn heads, its generic exterior and conservative cabin might not scratch that itch.
What's the best Skoda Karoq model/engine to choose from?
We think the Skoda Karoq SE offers the best value, whether you are planning to buy the Karoq new or second hand. If you are looking for a used example it's worth finding one with those clever optional VarioFlex seats fitted.
Navigation can be deal breaker for some buyers though and we wouldn't steer you away from the Skoda Karoq SE Drive that comes with it fitted, or stepping up to SE L for more extras. The Skoda Karoq Scout and Sportline are too pricey to recommend unless you want their looks, and Edition trim, while very impressive, is too expensive full stop.
If you want four-wheel drive capability, then the 2.0-litre TDI is the only choice. For most buyers however, the excellent 1.5-litre TSI petrol is the one to go for, with its smooth performance and fairly reasonable efficiency. We would pair this up with a manual gearbox to save some money, but the dual-clutch auto also works well.
What other cars are similar to the Skoda Karoq?
There's no shortage of talented compact SUVs capable of matching the Skoda Karoq's usability and rugged image. Pick up a Peugeot 3008 or Mazda CX-3 if you want a dash of style with your practical five-door SUV.
From the Volkswagen Group, sister cars the SEAT Ateca and Volkswagen Tiguan are two sides of the same coin. Get the former for a keen price and tidy handling, while the latter has a plusher ride and better finished interior.
Buyers who want to push the boat out a little with a premium alternative should try the smart and spacious Volvo XC40, or if you are more interested in muddy fields than modern architecture, a Range Rover Evoque.
Those on a tighter budget should consider looking at the smaller Skoda Kamiq or Citroen C3 Aircross. The latter is very efficient for an SUV, and surprisingly spacious inside despite being a lot shorter than the Karoq. For really low running costs or company car buyers, the efficient petrol-electric Toyota C-HR is a fine choice.
Comfort and design: Skoda Karoq interior
"Skoda has taken a sensible approach to designing the cabin of the Karoq. The good news is it gets the basics all spot-on. It has a raised driving position that gives a great view of road ahead and the slender window pillars mean it never feels daunting to manoeuvre around a tightly-packed multi-storey or reverse into a tricky parking spot."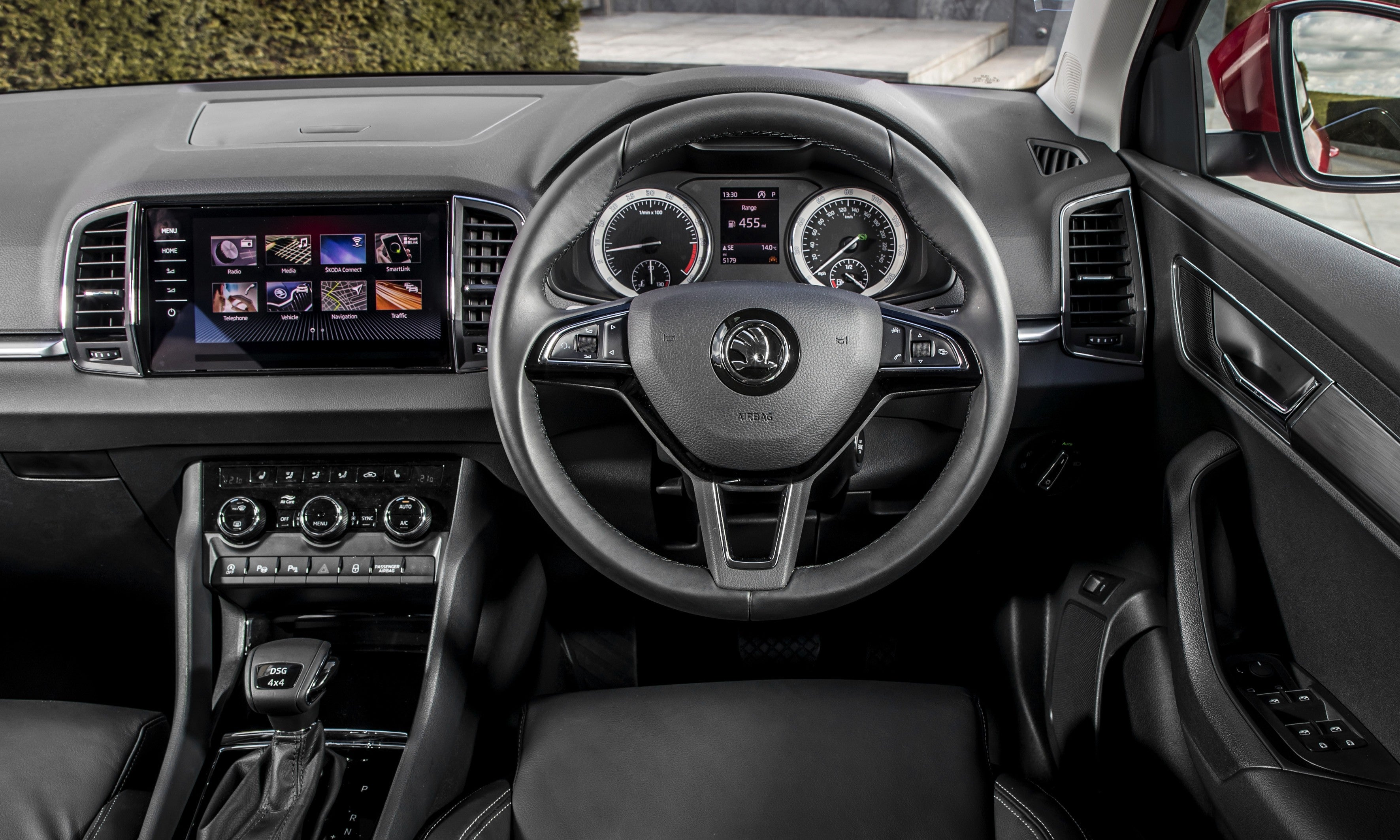 No matter what your build, you'll be able to find a comfortable position in the supportive front seats of the Skoda Karoq. They get height adjustment and lumbar support across the range plus you can move the steering wheel in a wide arc. Pricier trims have seat heaters, while the top spec models come with electric adjustment for more fine tuning.
The layout of the Skoda Karoq's interior is plainer than what you'll find in style-led rivals such as the the Peugeot 3008 or Mazda CX-3, but all the controls are logically placed and clearly labelled. There is nothing to confuse or irritate here.
Stick with the standard 8.0-inch touchscreen if you want something simple to use as it has more physical controls and shortcut buttons than the upgraded unit. Luckily, both keep the climate dials totally separate from the display, a major plus compared with cars that force you to use the screen to adjust the temperature.
Our only minor gripes with the Skoda Karoq's interior are with the dials, which feature an inexplicable silver ring around the rev counter and speedo that makes them harder to read at a glance, and the display, since it catches a lot of glare in sunlight.
Quality and design
The Karoq may have borrowed heavily from the Kodiaq when it comes to cabin layout, but it also copied the excellent material quality and high level of fit-and-finish that make its big brother feel so elegant and solid.
With such a conservative design, the Skoda Karoq could so easily feel dreary inside, but the bright flashes of metal around the air vents and steering wheel spokes along with the glossy piano black centre console add a touch of class.
Areas you'll come into contact with regularly are draped in soft-touch materials and any harder plastics are hidden far from view - not that you'll find too many of them. All the controls on the Skoda Karoq operate with slick precision. Overlapping panels leave tiny gaps between them and nothing creaks or spoils the upmarket appearance. It not only looks good, it feels robust enough to cope with daily abuse.
The LED lighting in Skoda Karoq SE Drive models bathes the cabin in a soft red glow, but things don't drastically change as you travel up the range. The seat fabrics get progressively nicer, going from fabric, to suede and then leather, while the Scout versions have some questionable faux wood inlays, but all feel high quality to sit in.
Infotainment: touchscreen, USB, nav and stereo in the Skoda Karoq
Staying connected on the move is no hassle inside the Karoq. Even SE models come with a bright 8.0-inch touchscreen set into the centre of the dash, with standard Bluetooth, DAB radio and smartphone mirroring - Apple CarPlay and Android Auto.
The latter means the system will play nice with the latest Apple and Android phones, allowing you to plug in and access most of your apps via the built-in display, which is the safest way to use your phone while driving.
Using the screen is very intuitive on the Skoda Karoq. There are large on-screen icons that are easy to hit on the move, it has snappy responses to your inputs and touch-sensitive shortcut buttons if you happen to get lost in the menus. Upgrade to SE Drive and you get an integrated navigation system that's quick at route planning, coming with on-board WiFi and live traffic updates, but since you can just use Google Maps, the SE does fine without it.
The priciest Edition trim comes with an upgraded 9.2-inch screen with sharper graphics and basic gesture controls, so you can swipe in the air to scroll through radio stations or albums. It looks great, but is harder to use than the normal setup, with no volume knob, and just one row of buttons on the wrong side for the driver.
It's also possible to replace the normal instruments with a digital screen that can show a wider range of driver information and works with the nav so that you only need to glance down to see which turn you're taking. However, we think a better way to spend your £500 or so in the options list is to upgrade the slightly weedy eight-speaker stereo for the punchier 'Canton' system, which gets ten speakers and a robust 550W output.
Space and practicality: Skoda Karoq boot space
The Skoda Karoq's dimensions are actually surprisingly compact for the space on offer. It's 4282mm long, 2025mm wide (including the door mirrors) and 1603mm tall. Its footprint is essentially the same as a Volkswagen Golf's, although its 178mm ride height will come in handy on those occasions when you need increased ground clearance.
Where some compact SUVs flatter to deceive with their rugged looks but cramped interiors, this car offers a proper level of versatility and spaciousness that you simply won't find in any run-of-the-mill family hatchback.
Largely, that's down to the ingenious VarioFlex seats. Standard from the Karoq SE L upwards - and optional on the cheaper models - they replace the rear bench with three individual chairs that can slide to trade legroom for boot space, recline, or be taken out entirely. This gives the Karoq interior flexibility that's simply unrivalled in this class.
This means that if you've only got small kids in the back (but a lot of luggage) you can pull the seats forward, leaving a massive 588-litre loading space for their kit and caboodle in the boot. Even set in the farthest back position, the Skoda Karoq can still carry 479 litres worth of stuff, or a whopping 1810 litres if you take them all out.
So, if you're moonlighting as a removals service, it's hard to beat then. But what about more mundane tasks? Well, the boot isn't just enormous, it's smartly designed too. There are a plethora of hooks and lashing eyes designed to help prevent your groceries from rolling around, plus a removable torch for night time pit stops.
The rear doors open up very wide, which means fitting a child seat should pose few issues, especially as the passenger space is as generous as the boot. Taller passengers will still have a couple of inches of leg room and even with a cumbersome rear-facing child seat in the back row, you'll be able to fit a passenger up front.
It feels like there are more storage solutions in this Skoda Karoq than half an IKEA catalogue. Along with supersize versions of the usual spots under the central armrest, the glovebox and door pockets, there's a huge cubby perfect for stashing valuables built into the dash along with two neat picnic tables (with drinks holders) in the back.
That's before you factor in the umbrella stashed under the front passenger seat, plastic ice scraper hidden in the fuel filler cap and cupholders that have a grippy base, allowing you to open a bottle with just one hand.
Handling and ride quality: What is the Skoda Karoq like to drive?
"With many SUVs, the combination of raised suspension, big wheels and extra weight all conspire to make them feel a bit lumpen in corners and too stiff to be comfortable family transport. Not so in the Karoq."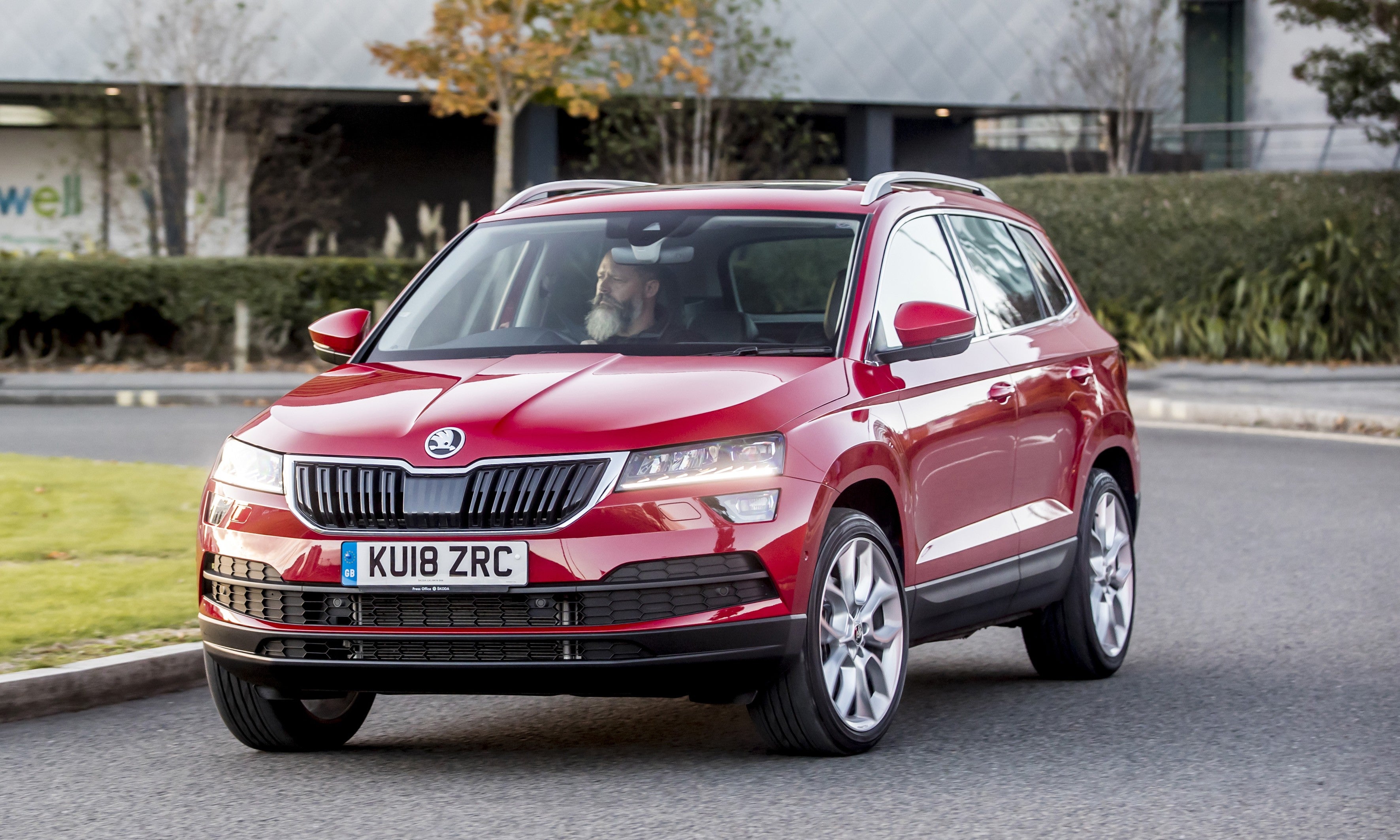 The Skoda Karoq is one of the most comfortable cars in this class in fact, doing an excellent job of smothering any lumps in the road. That's especially true if you stick to models with smaller wheels, which glide over imperfections.
That's great for town driving, where the Karoq feels very manageable to drive. The steering is precise and it has good body control, which means it doesn't float over big bumps or lean too heavily into tighter corners. While some rivals (including its sibling the Ateca) do feel sportier to drive, many will prefer this relaxed setup.
Pick the Karoq in Sportline trim - with its 19-inch rims - and you might want to think about adding the optional adaptive dampers too, as this version definitely transmits more road buzz into the cabin than the standard car. These allow you to tighten up or slacken off the suspension at the press of a button, taking the edge out of the ride.
On more open and flowing roads, the Karoq acquits itself admirably, especially when you consider that it isn't trying to be even remotely sporty. The body rolls a tad more than some rivals as you turn into a bend, but this never feels unsafe, with loads of grip from the tyres (especially with four-wheel drive) giving you confidence.
Speaking of the latter, should you wish to do a little light off-roading, the Karoq should be up to the task, just like its predecessor the Yeti was. Every 4x4 model comes with hill descent control to help you tackle steep, slippery inclines safely plus an off-road driving mode and you can also add extra underbody protection.
What engines and gearboxes are available in the Skoda Karoq?
At present, the Karoq is not offered with a hybrid or electrified option (unlike the Ford Kuga or Volkswagen Tiguan) so your choice is limited to a range of conventional diesels and petrols. A six-speed manual gearbox is standard on most, with the option of fitting a fairly slick dual-clutch automatic.
The entry-level engine is a 1.0-litre three-cylinder petrol turbo with 115PS that frankly, feels a bit too small for this type of car. It makes a characterful noise and revs eagerly, but this song and dance is not accompanied by much meaningful forward momentum. It'll struggle when the car is fully loaded, going uphill or overtaking.
By contrast, the 1.5-litre petrol with 150PS is a really nice alternative to diesel. It's got enough pulling power to feel urgent, even from low revs, is really refined and can shut down half of its cylinders to help save fuel. Unless you plan on using your Karoq for towing, or drive very high mileages, this is the one we would go for.
Of the three diesels, the 2.0-litre 150PS car is the sweet spot in the range. The cheaper 1.6 TDI feels rather strangled by its narrow power band, making more of a diesel clatter at low revs, where the former just goes. It comes with a choice of front- or four-wheel drive, but pick the latter and you're limited to the automatic gearbox.
On top trims this engine comes with more power, boosting its outputs to a healthy 190PS and 400Nm. Great for hauling a heavy load, but the standard 2.0-litre feels pretty stout already, so we wouldn't bother. It's also being phased out of the range, so along with the 1.6 TDI this engine is only available from current stock.
For buyers who want a wolf in sheep's clothing, there's a 2.0-litre TSI petrol with four-wheel drive and power to match the fastest diesel. It's smooth and rapid, but only available in Sportline trim and very thirsty on fuel.
Refinement and noise levels
The mature and sensible way that the Karoq goes about its business extends to how deals with cabin noise. It does a nice job of isolating you from the outside world and you won't feel drained after a few hours driving.
At motorway speeds there's a little more wind rustle than in say - a Mazda CX-3 - but tyre noise fades right into the background especially on sensible wheels and most of the engines will rarely disturb the tranquility.
We say - most - because there are exceptions. The 1.5 TSI is the smoothest motor of the bunch, especially around town, but at higher revs it can sound strained. Pick the 1.0-litre three-cylinder though and you'll hear the engine more often. It's not unpleasant, but can be quite vocal, sending a light buzz through the controls.
Pick any of the diesels with the Skoda Karoq and you won't have to use the gears as often. They'll settle into a hushed cruise, but they can be rather gruff at low revs, especially the 1.6-litre model. Shifting with the manual is a light and precise process, but the optional twin-clutch automatic can be a bit abrupt, lurching forward when parking.
Safety equipment: How safe is the Skoda Karoq?
Family buyers that have fallen in love with compact SUVs like the Karoq are some of the most demanding when it comes to vehicle safety. Luckily, the Skoda got the maximum five-star rating from crash testers Euro NCAP.
That puts it in-step with other heavy hitters in this class, including the Nissan Qashqai, Hyundai Tucson and Peugeot 3008. A closer look at the individual categories revealed it bested all these cars for adult protection.
However, the Skoda Karoq only achieved a 79% rating for child protection, which is lower than almost all its competitors. It was particularly ineffective at safeguarding children on-board, especially smaller kids under the age of ten.
Perhaps that's because even on the priciest trims, rear curtain and side airbags are optional extras. In most other respects the Skoda Karoq has an impressive roster of electronic safety nets and protective equipment. All models come with automatic emergency braking (AEB) that can intervene to prevent low-speed city shunts.
Every trim apart from the entry-level SE gets useful acoustic parking sensors fore and aft plus a reversing camera to help negotiate tight parking spaces or backing into the garage without knocking a tin of paint over.
Still, where some rivals (Toyota's CH-R for example) provide traffic sign recognition system, lane departure warning, and adaptive cruise control across the range, in the Karoq these are all expensive optional extras.
If you're a nervous driver and want as much help as possible, the Driver Assistance Pack on the Skoda Karoq is there to help you. This comprehensive bundle includes most of what we mentioned above, plus blind spot detection to alert you to motorbikes and a semi-autonomous systems that can steer, stop and accelerate by itself in traffic jams.
One thing to note is that the latter only works in conjunction with automatic models and costs a hefty £1240. A cheaper option worth considering is an extra set of ISOFIX mounting points on the front seat, for just £35.
MPG and fuel costs: What does a Skoda Karoq cost to run?
"According to the figures conducted under the stricter WLTP test regime, the most efficient Karoq models are those with the 1.6-litre TDI engine, paired with a manual gearbox. It's the only model in the range capable of 50mpg."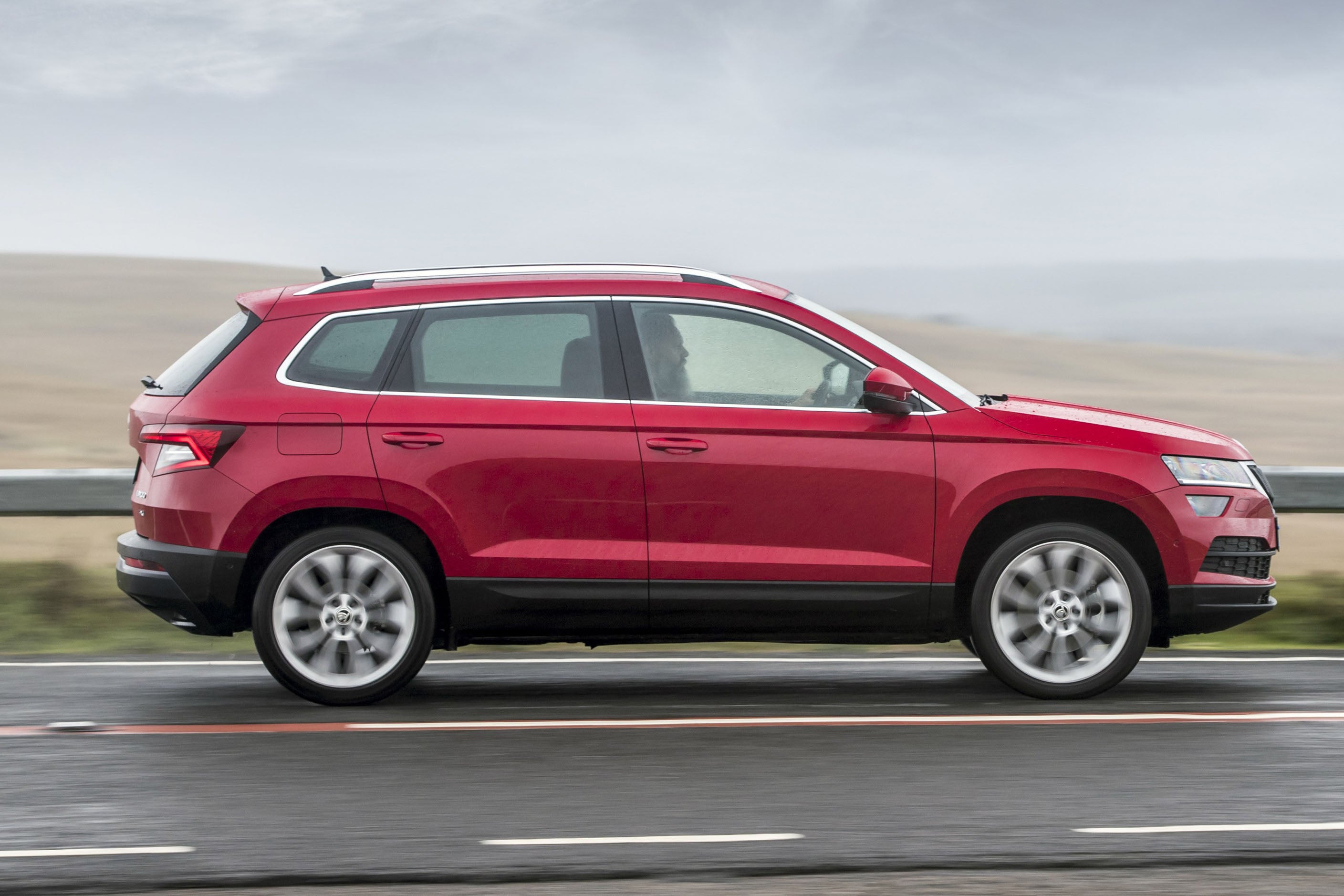 Skoda Karoq owners back that up, with a combined average of 50mpg for this engine, on a mixed route. Weirdly, the official stats are identical for the front-wheel drive 2.0-litre diesel. Still, our experience suggests a realistic 45mpg with the larger engine. Adding four-wheel drive and an automatic will put a small dent in that.
Apart from the quickest 2.0-litre TSI (which is a thirsty beast) the petrols stick surprisingly close to the diesels and claim mid-forties fuel economy whether you pick the 1.0 three-cylinder or the much punchier 1.5-litre car.
How reliable is the Skoda Karoq?
Skoda may have once been the butt of jokes but the modern Skoda brand is the best performing make in the Volkswagen Group when it comes to reliability and owner satisfaction. Need proof? Well Skoda placed second in the 2020 HonestJohn.co.uk Satisfaction Index, behind only Lexus.
The Skoda Karoq is proving reliable too and although not Skoda's best performing model in the Index (that would be the Superb Estate), the small SUV still scored 9.5 for reliability. The one fly in the ointment here is issues with the 1.5 TSI that were common across Volkswagen Group models, however, Skoda says these have now been sorted to prevent the 'kangarooing' that owners were experiencing and we have not had any recent reports.
Insurance group and costs
Paying for your annual premiums in the Karoq should be a relatively pain-free process. It's either cheaper or right in-line with most of its compact SUV peers, with the least powerful 1.0 TSI sitting in insurance group 10.
A basic SEAT Ateca is a little cheaper with the same engine (group 8) so is a better choice for those looking to insure a young driver on their policy. Our preferred engine is only a few notches higher up, in group 14.
For diesel buyers the 1.6 TDI will be just as affordable as the 1.0-litre petrol. The front-drive 2.0 TDI 150 will cost a tad more in group 16, but strangely adding four-wheel drive to this engines drops it down two bands.
VED car tax: What is the annual road tax on a Skoda Karoq?
There are no hybrid or electrified versions of the Karoq, so every model is liable for the same standard £150 flat-rate of road tax that applies to all petrol and diesel cars costing less than £40,000 when they were new.
However, if you happen splash out on the top Karoq Edition (and tick ever conceivable options box) to push the asking price over that barrier, then you'll also have to pay a 'Premium' rate of £325 for the first five years.
With big diesel surcharges for company car buyers, the most affordable option for this group is going to be the 1.0-litre TSI, which is still in the fairly 31% BIK bracket. For a low-rate taxpayer it will be £116 per month.
How much should you be paying for a used Skoda Karoq?
"Buying a used Karoq is a great way to get an even better deal off new prices ranging from £22k to £37k. This car hasn't been on sale long enough for prices to soften as much as in say, the SEAT Ateca or Peugeot 3008."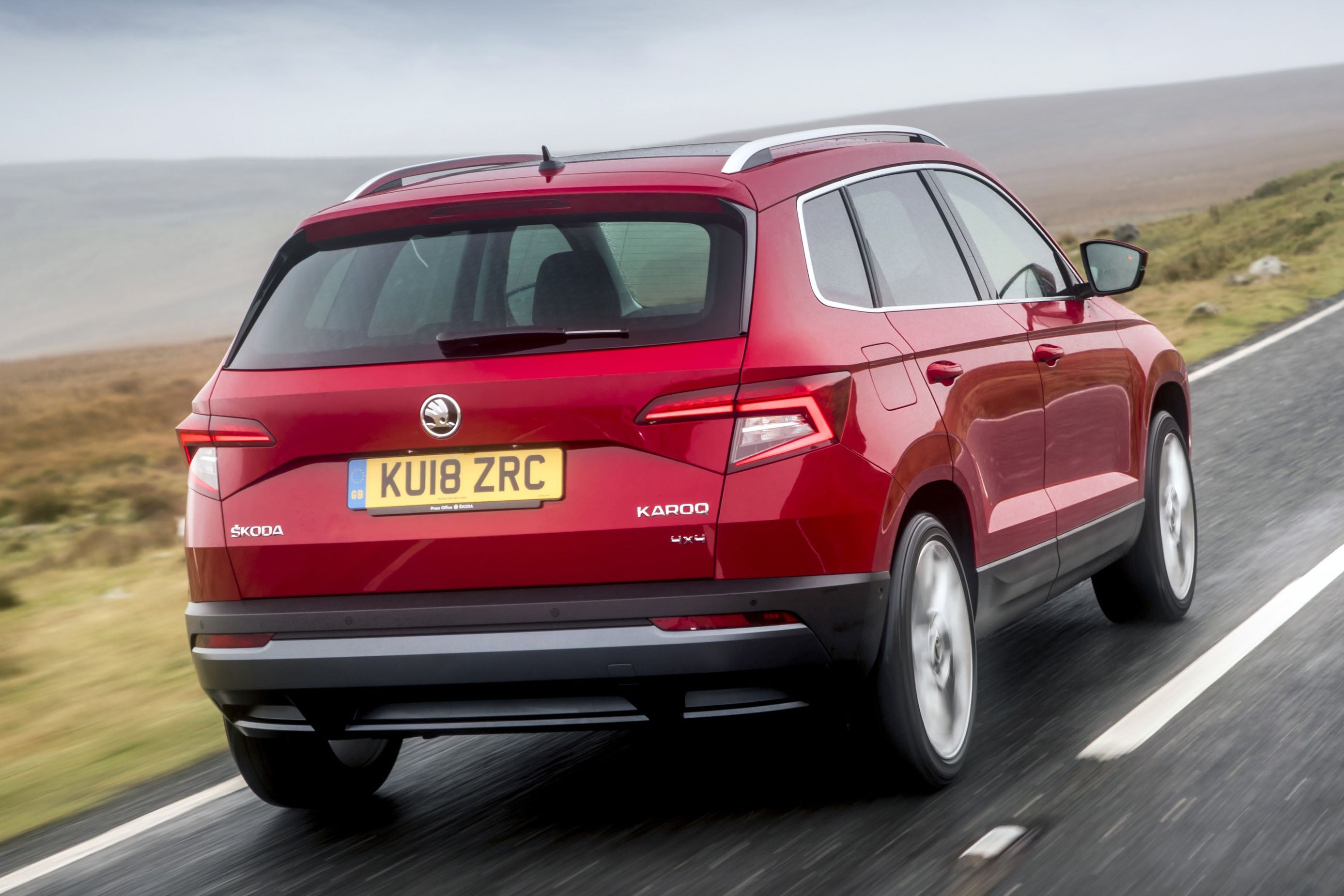 You'll need at least £14,000 to get behind the wheel of a Skoda Karoq. At that price, it'll almost certainly be from 2018, powered by the 1.0-litre petrol engine, and in the entry-level SE specification with a fair few miles covered.
For one of our preferred engines, up the budget to between £16,000 and £18,000. You'll get a wider choice of trims and cars with manual or automatic transmissions, including our favourite the 1.5-litre 150PS petrol.
If you want a Karoq with four-wheel drive, then SE L models start from around £19,000 for a 2018 example. While a nearly new Scout with only a few thousand miles on the clock is around £25,000 with a few options.
Trim levels and standard equipment
For a sensible car with a practical focus the Skoda Karoq certainly does come in a bewildering array of trims. There are four main grades the hierarchy - SE, SE Drive, SE L. Sat at the top of the pyramid is the Karoq Edition.
That last one sounds a bit like a snobby boutique hotel, but it could easily just be called 'the posh one'. It's the money-no-object Skoda, with prices starting from over £30,000 and getting close to £40,000 in its 4x4 guise. Predictably enough, it's not the one we'd recommend. Luckily, most buyers won't have to scale those heady heights. The entry-level SE comes with climate and cruise control, rear parking sensors, and lumbar support.
The Czech brand made a name for itself offering great value, but it's not longer a budget option. There is no cheap as chips 'S' version of the Karoq. One rung up, the Skoda Karoq SE Drive adds colourful LED interior lights, brushed chrome trim, a reversing camera, and nav, while the SE L models get suede upholstery, heated front seats, LED headlights and keyless.
Top spec Edition Karoqs feature an upgraded 9.2-inch central screen, with integrated in-car WiFi, gesture controls and extra driving aids, plus the option to swap the conventional dials for a digital driver's display.
The last two grades, Skoda Karoq Scout and Sportline, are more like standalone models. Separating themselves visually from the other cars, with bespoke bumpers and tweaked styling.
The Scout gets a tougher off-road biased look that includes scuff plates, extra plastic protective side skirts and is only available with four-wheel drive. With both models, you're mainly paying for the looks. For buyers on a budget, the SE is a great choice, but we'd recommend the SE L, mainly for its clever VarioFlex seats.
Potential upgrades worth getting for those with deep pockets are the larger media screen (£1535), adaptive dampers for comfort (£1085), or at the lower end a heated screen (£280) and double-sided boot floor (£50).
Ask the heycar experts:
common questions
How much boot space does the Skoda Karoq have?
Posher Skoda Karoq models have sliding rear seats that allow you to vary the boot space from 479 to 588 litres with the back seats up, and a 1,810-litre capacity with the seats totally removed. Entry-level cars are a bit less flexible, but you still get 521 or 1,630 litres of luggage space.

Is the Skoda Karoq any good?
The Skoda Karoq is one of the best family SUVs on the market. It features a high-quality interior, excellent practicality, and a comfortable driving experience, and it's affordably priced too.

Is the Skoda Karoq a 4x4?
Most versions of the Karoq are front-wheel drive, but you can buy the most powerful diesel and petrol variants with four-wheel drive, paired up with a seven-speed DSG automatic 'box.

Answered by
heycar editorial team
What does Karoq mean?
Skoda wants its entire SUV line-up to build on the success of the seven-seater Kodiaq. So all of its SUVs now start with a 'K' and end with a 'Q'. According to the brand, the larger Kodiaq gets its name from Kodiak Island in Alaska (whose inhabitants speak Alutiiq) and call a car 'kaa'raq' and an arrow (like the one in the Skoda logo) a 'ruq' hence: The Karoq.

Is the Skoda Karoq a seven seater?
No. The Karoq is a mid-size SUV that sits above the Kamiq and below the Kodiaq in the range, but only the bigger car comes with the option of space for up to seven passengers.

Skoda Karoq cars for sale on heycar
5,314
Number of cars available
£14K - £40K
Price bracket of these cars
Colours available on heycar
Keep me updated by email with the latest advice, news and offers from heycar
By submitting, you agree to our
privacy policy
.