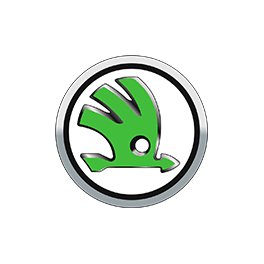 Skoda Kodiaq Review 2021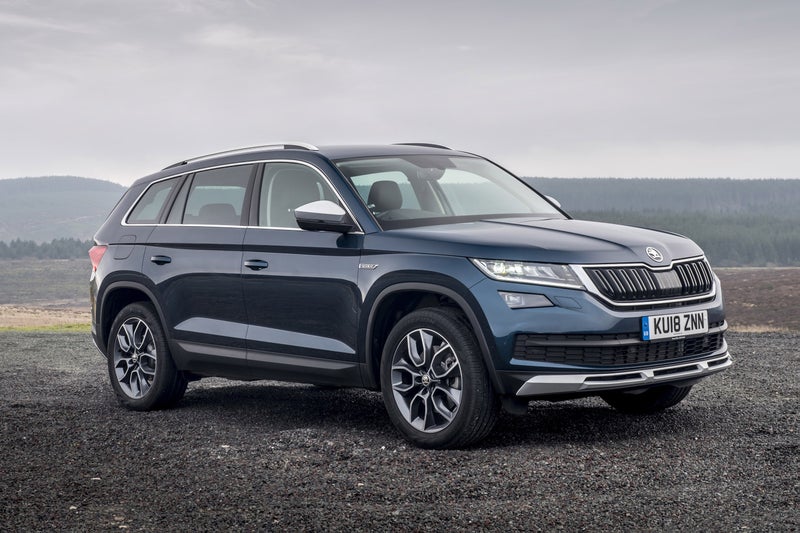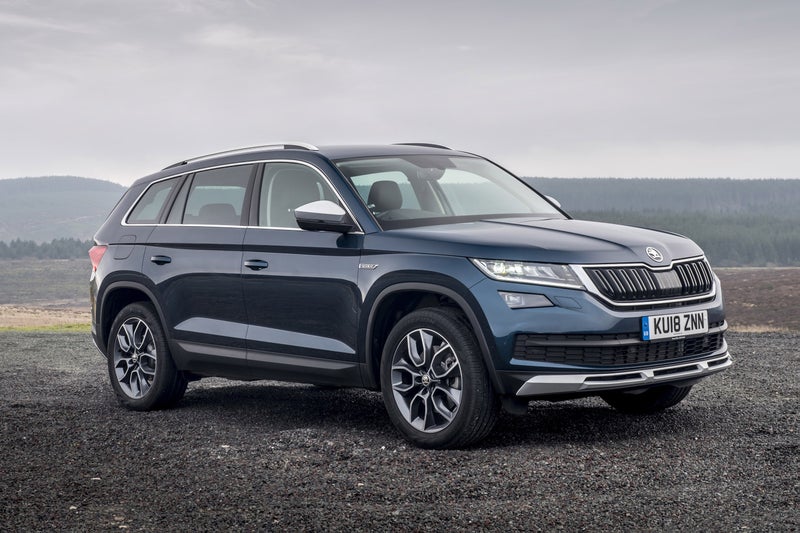 1/10

heycar rating
"The world's most sensible SUV"
Launched: 2016

SUV

Petrol, Diesel
Quick overview
Pros
Spacious family SUV available with seven seats
Interior feels well-designed and classy - especially on higher-spec models
Diesel engines offer decent performance
Cons
1.5 petrol feels a bit weak
Many confusing trim levels and options
Only an occasional seven-seater, really
Skoda Kodiaq cars for sale on heycar
325
Number of cars available
£20K - £50K
Price bracket of these cars
Colours available on heycar
Overall verdict
On the inside
Driving
Cost to run
Prices and Specs
Common questions
Overall verdict on the Skoda Kodiaq
"The Skoda Kodiaq is a genuinely excellent family SUV. It's a versatile choice, with a big boot and seven seats on most models. A nearly-new example represents strong value for money and mid-spec trim levels come with plenty of kit. It's easy to drive - despite its size - and it shouldn't cost a fortune to run, providing you avoid the thirsty 2.0-litre petrol."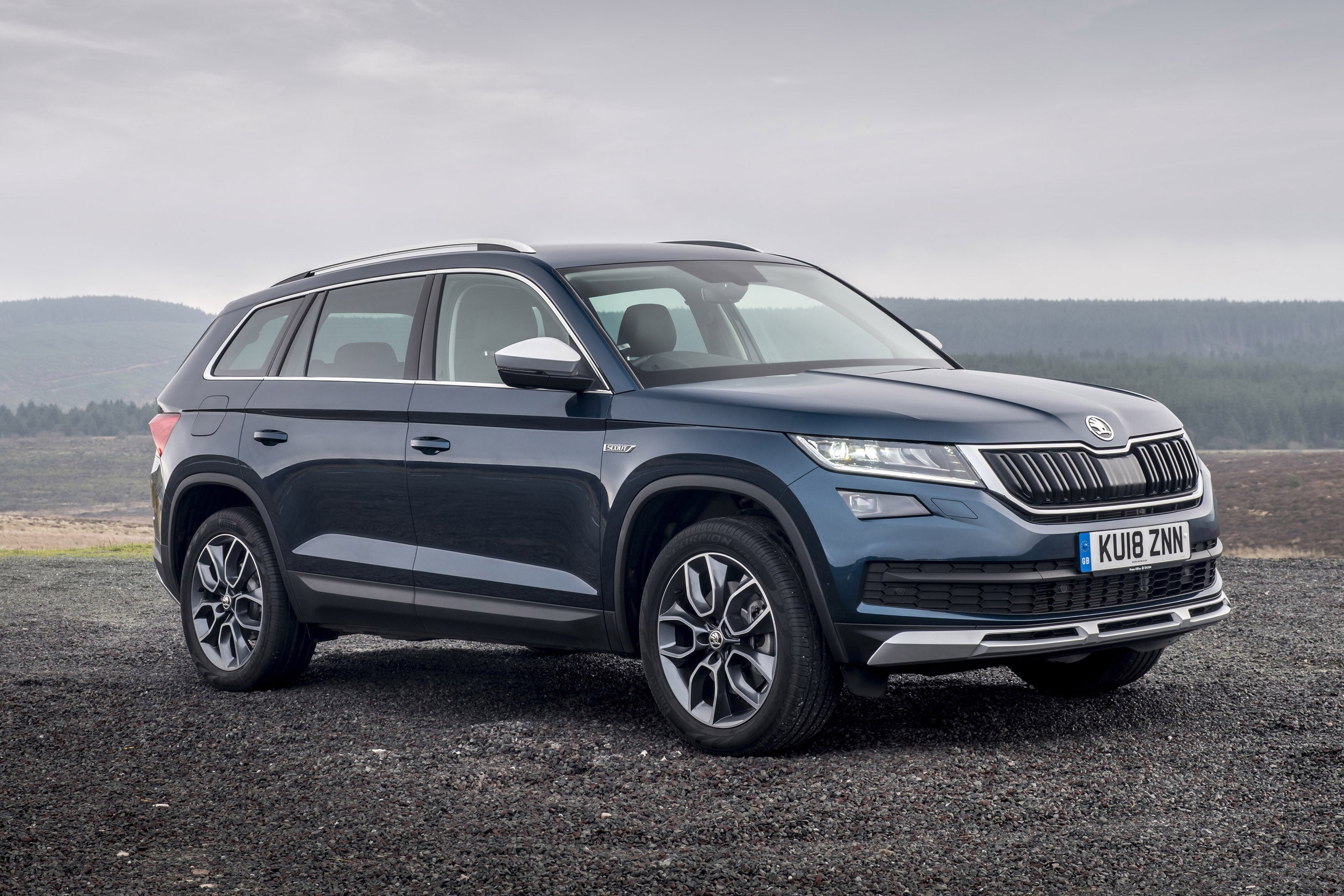 If your decision to buy a new car is being led by a growing family, we'd stick the Skoda Kodiaq high up on your shortlist. One of the best SUVs going, it represents very good value for money and won't cost a fortune to run, while its interior is packed with clever features designed to make family life that bit easier. Get all the info you need with our Skoda Kodiaq review.
Most Skoda Kodiaq models come with seven seats but, if you're looking to regularly travel seven-up, you might be better looking at an MPV such as the SEAT Alhambra or Ford Galaxy instead. Yes, we know an SUV is a much more stylish choice, but the third row of seats in the Kodiaq are difficult to access and render the boot almost useless.
With the rear-most seats dropped to the floor, the Skoda Kodiaq is a very practical car with a huge boot. The seats on the second row slide back and forth, while the outer rear seats come with ISOFIX mounting points for easy fitting of child seats. Annoyingly, the middle seat doesn't get these, but they are offered as an option on the front passenger seat.
The interior of the Skoda Kodiaq might lack the flair of the Peugeot 5008, but it feels well made and looks pretty upmarket - especially in the posher trim levels. It's a comfortable car, with supportive seats positioned nice and high - great for letting you (and the kids) grab a sneaky glimpse over hedges. The soft suspension helps with comfort, too, although it does crash over bumpy road surfaces a bit more if you buy one with bigger alloy wheels.
Aside from hybrid powertrains, there's an engine to suit more buyers. We rate the 2.0-litre TDI diesel. This is available with 150 or 190PS, with both providing more than adequate performance and decent fuel economy. You'd be better with the 1.5-litre TSI petrol if you don't cover many miles, but it does feel a bit underpowered - especially when the car's full of passengers and their luggage.
You'll also find four-wheel-drive models of the Skoda Kodiaq (great if you plan to tow or need to venture off-road), as well as manual or automatic gearboxes. Most used Kodiaqs will come with the seven-speed DSG auto transmission - good news as it's pretty slick and suits its laid-back nature well.
The Skoda Kodiaq isn't an exciting choice and alternatives offer strong competition in the form of the SEAT Terraco and Peugeot 5008. That said, it does everything you could possibly want it to and won't cost the bank to buy or run. It's a very easy car to recommend.
Is the 2021 Skoda Kodiaq right for you?
If you're looking for a practical family SUV, the Skoda Kodiaq ought to be a really strong contender. It won't cut the mustard if you need to carry seven people regularly (but find us an SUV which can...), while high-spec models can be surprisingly expensive. The engine line-up's pretty strong, while buyers get the choice of manual and automatic gearboxes as well as two- or four-wheel drive.
It might not have the image of the Volkswagen Tiguan Allspace - nor the quirky cabin of the Peugeot 5008 - but it's incredibly good at ticking all the boxes for the vast majority of buyers.
What's the best Skoda Kodiaq model/engine to choose?
We like the 2.0-litre diesel in the Skoda Kodiaq, although it won't suit everyone. If you cover high motorway miles or need to tow a caravan, it's undoubtedly the engine of choice. The 150PS version is fine, but go for the 190PS if you'd like a little extra power. Otherwise, look for a petrol. The 1.5 might feel a little underpowered but it'll be refined and cheap to run.
In terms of trim level, there's no shortage of models for you to choose from. We'd avoid the most basic S model - it's pretty basic and didn't sell in huge numbers before it was withdrawn from sale. A Skoda Kodiaq SE Technology, SE Drive or SE L will tick all the boxes for most buyers without being too expensive. That said, some of the pricier models are very nice indeed, particularly the top-spec Kodiaq L&K. There is also the sporty Skoda Kodiaq vRS.
What other cars are similar to the Skoda Kodiaq?
The Skoda Kodiaq's closest rivals are arguably in-house alternatives, the SEAT Tarraco and Volkswagen Tiguan Allspace. Both share a platform and engines with the Kodiaq, making choosing between them a difficult choice. The Kodiaq offers the best value for money, in our opinion, especially on the used market.
You should also consider the excellent Peugeot 5008. We reckon it's a more interesting choice than the boringly-good Kodiaq and we like the individual rear seats which offer a bit more flexibility. There's also strong competition from Korea in the form if Hyundai Santa Fe and Kia Sorento, both of which offer decent value for money and long warranties. Finally, you could also consider the Nissan X-Trail, but it's a bit old fashioned in this company.
Comfort and design: Skoda Kodiaq interior
"A high seating position is a desirable feature in a car like the Kodiaq. Many SUVs position the seats fairly low down, however, in order to increase the feeling of space. While the Kodiaq has loads of adjustment in its seats, you do generally get that feeling of being high up and looking down at other traffic."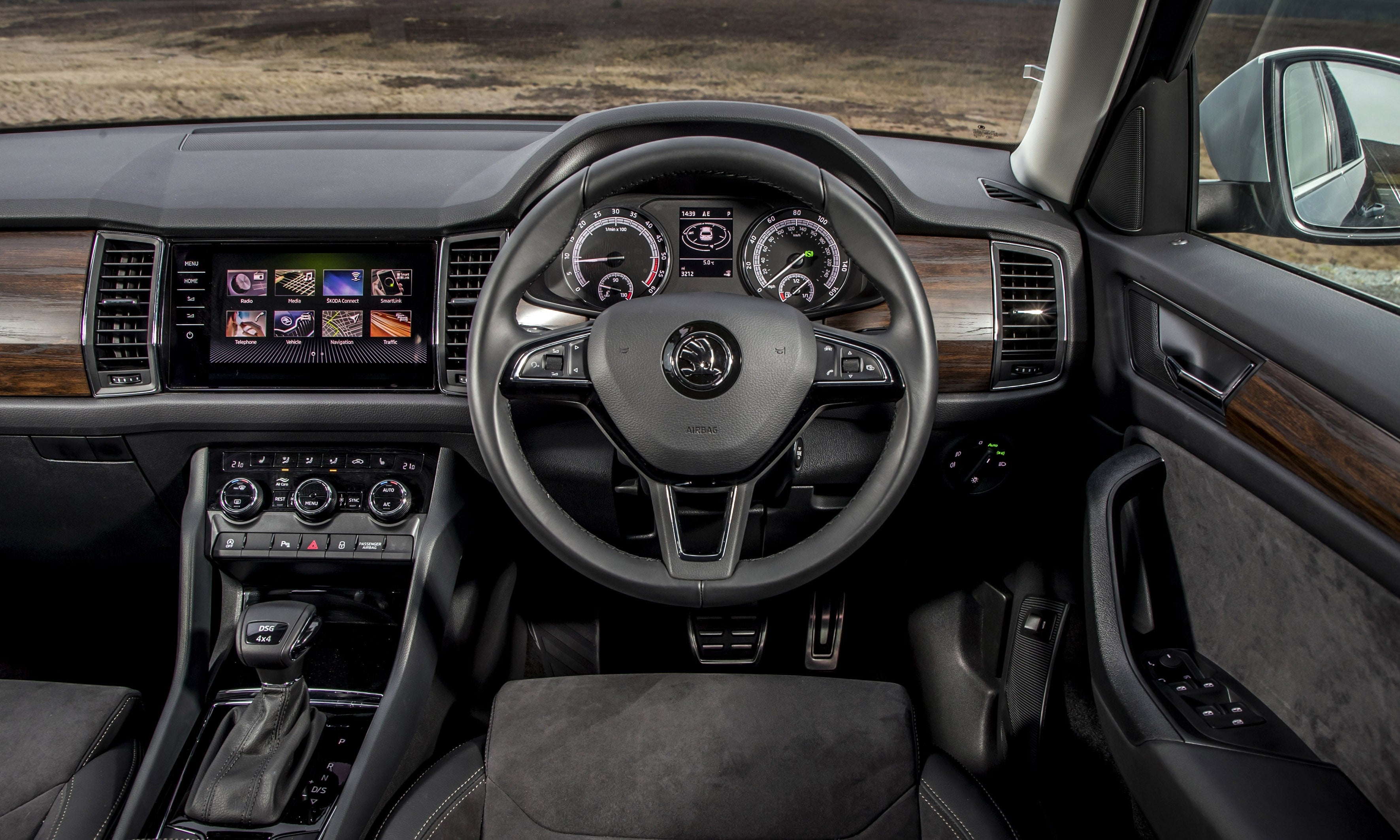 The seats are very wide and supportive, while it's easy to find a comfortable seating position. Higher-spec models come with electrically-adjustable front seats, including adjustable lumbar support, while you'll get manually-adjustable lumbar support on certain lower-spec models. This makes a big difference in supporting your lower back on long journeys.
Comfort aside, the Kodiaq's cabin is functional yet unexciting. You get an infotainment display high up on the dash, flanked by big air vents and with rotary buttons for doing things like adjusting the volume. Underneath, there are buttons and switches for the climate control system.
There are some useful features which are offered as optional extras and might be worth looking out for. These include the Family Pack (£150 when new), which adds handy little touches like flip-out door edge protectors, roller blinds for the rear side windows and a small bin in the door pocket. The Sleep Pack, meanwhile, costs £325 when new and adds things like acoustic glass and special rear headrests designed to help you take a kip. It also gets tinted windows and mechanical sun blinds in the rear.
All in all, the Skoda Kodiaq has an interior which has been designed with family life in mind and, while it's not going to win any awards for style, it'll also unlikely to leave you wanting more.
Quality and finish
Build quality throughout the Skoda Kodiaq's cabin is generally excellent. Sure, you'll find some flimsy finishes if you look for them, but you could easily be fooled into thinking the Kodiaq wears a Volkswagen badge. It certainly feels well up to the job of handling the kind of abuse family life will throw at it.
High-spec Skoda Kodiaq Edition and L&K models get full leather upholstery, which manages to make the Kodiaq's cabin feel like a very classy affair. The SE L features part-leather seats which also look pretty smart, if not as luxurious as the full leather.
Everything you touch feels well-finished, with even the buttons and switchgear having a premium vibe about them. Features like an electronic parking brake (rather than an old-fashioned manual one) add to the premium ambience.
Infotainment: touchscreen, USB, nav and stereo in the Skoda Kodiaq
For buyers on a budget, the entry-level Skoda Kodiaq S came with a tiny 6.5-inch infotainment system. It might sound small but it does the job, with useful buttons providing access to its rather limited features. Apple CarPlay and Android Auto are available via Skoda's SmartLink system, allowing you to access your phone's features on the move.
Kodiaq SE models and above will have an eight-inch system as a minimum. It's worth looking for a higher-spec model for this feature alone. We rate the eight-inch Bolero infotainment display highly - it looks the part, with enough buttons to prevent it from being too distracting on the move. It also has fast responses and again comes with Apple CarPlay and Android Auto. Note, however, that navigation isn't standard on the SE - you'll need an SE Drive or above for that.
The Columbus 9.2-inch navigation system is standard on Skoda Kodiaq SE L models and above. This is very similar to the Bolero unit, but with in-built navigation as standard and a bigger screen. Again, it's very impressive, with sharp graphics and all the features you could possibly want. It also brings with it onboard WiFi, which will appeal to families and business people alike. On the downside, it comes with fewer physical buttons.
As well as the infotainment, further tech highlights include a premium Canton sound system which is standard on the Kodiaq L&K. There's also a 10.25-inch Virtual Cockpit offered across most of the range, replacing the conventional dials and giving you the ability to select from a number of different views. It looks pretty smart and is a desirable extra if you find one on the used market.
Space and practicality: Skoda Kodiaq boot space
There's no denying that the Skoda Kodiaq's a big car. In terms of dimensions, it's 4697mm long, 2087mm wide (including door mirrors) and 1680mm high.
As you'd expect for an SUV of this size, there's a huge amount of room in the front of the Skoda Kodiaq. Sure, the seats are positioned fairly high, but you're not going to struggle for headroom. Legroom is generous too, and there's plenty of room between the front seats to prevent any awkward elbow bashing.
There's enough space for a couple of tall adults in the back, while a sliding bench lets you prioritise boot space or legroom. Individual reclining backrests are a nice feature, too.
Access to the rear seats is easy, with Isofix points on the outer seats (and on the front passenger seat as an optional extra when new). Middle-seat passengers might find the seating position a bit narrow and awkward, but who carries three people in the back regularly? It's definitely for occasional use only.
Talking of 'occasional use'... most Kodiaqs will have seven seats. You won't want to be using the rear-most pair regularly, however. Kids will relish the challenge of getting into them, but they're too cramped to use on a daily basis and, if you've got a big family, you'd be much better with an MPV like a Volkswagen Sharan.
With all seven seats in use, you'll find the boot's quite tight. There's only 270 litres of luggage space, which amounts to a few shopping bags and not a great deal more. Fortunately, the third row of seats easily drops entirely flat, providing a much bigger 835 litres of space. That should be enough for all the family paraphernalia you could possibly wish to carry - and if it's not, a Skoda dealer will sell you an optional roof box.
Five-seat Skoda Kodiaq models are offered with a temporary space-saver spare wheel when new, but most Kodiaqs will come with a tyre repair kit. Not as useful in the case of a puncture, but practicality takes priority here…
Handling and ride quality: What is the Skoda Kodiaq like to drive?
"There's no getting around the fact that the Skoda Kodiaq is a big car but, once behind the wheel, it's not as daunting to drive as you might expect. Most come with front and rear parking sensors but, for the ultimate in parking assistance, look for one with the optional 360-degree area view camera. You can even get one with Skoda's Park Assist, which can steer the Kodiaq into a space."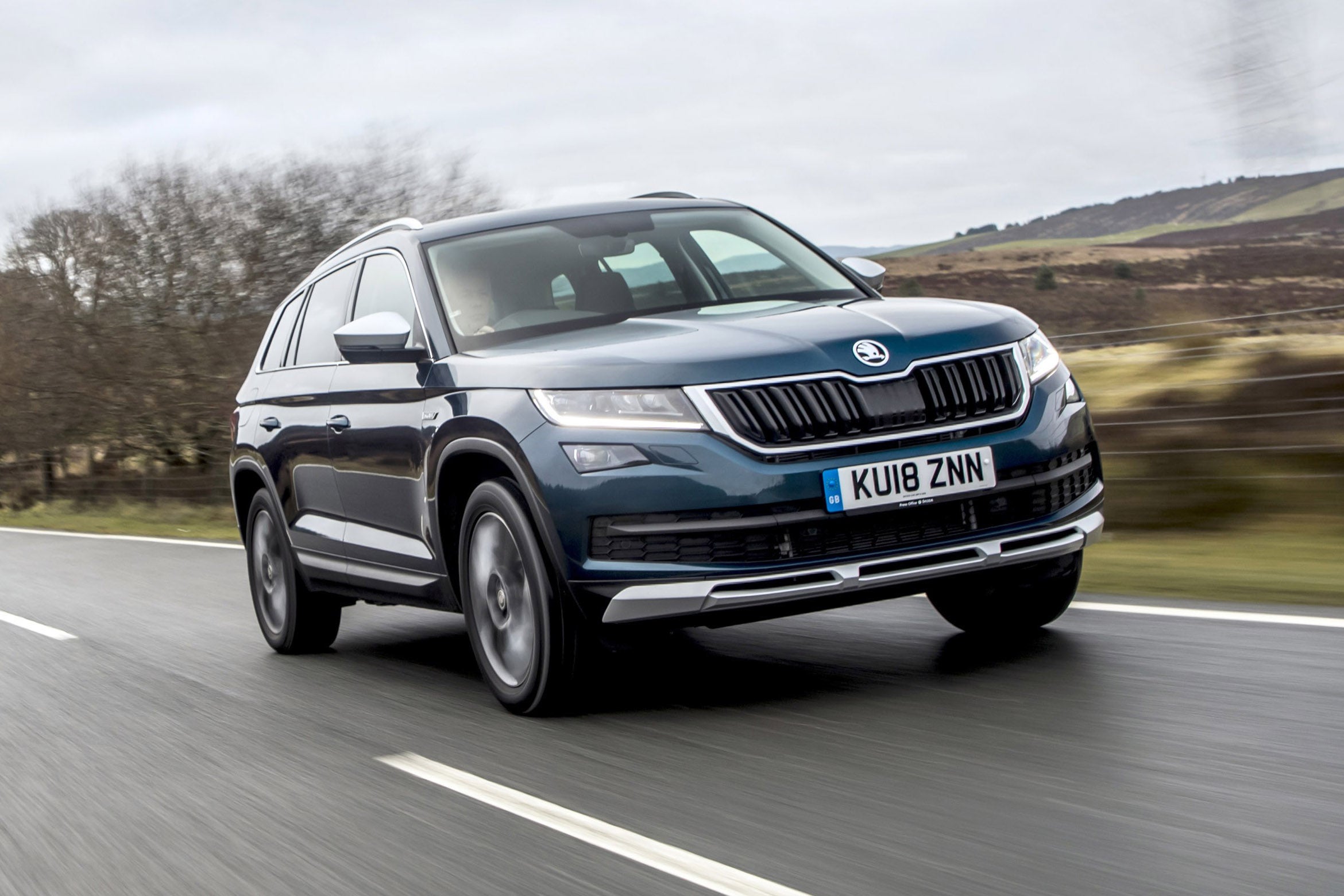 Despite its size, the Skoda Kodiaq is quite an easy car to drive around town, with a genuinely high-up seating position, big door mirrors and light steering. Out of town, it strikes a good balance between handling and ride quality - especially if you buy one with small wheels. It's not quite as agile as the smaller SEAT Ateca, but it can be hustled down a road quicker than something like a Hyundai Santa Fe.
One option box that's rarely ticked is the Dynamic Chassis Control. This is Skoda language for adaptive suspension, giving the driver a choice of three different drive modes (normal, comfort and sport) - each with their own suspension settings. Four-wheel-drive models also get an off-road mode.
It's an expensive option when new so most buyers won't bother and we wouldn't pay extra for it on the used market. Sure, it's slightly softer than the standard suspension in comfort mode, but you're not going to notice a huge difference day-to-day. Not as much as fitting smaller wheels, anyway.
Four-wheel-drive models provide a little more security on slippery roads but it's an expensive option in terms of buying and running costs. Unless you're planning to lug a caravan across a field, we'd stick with one of the two-wheel-drive models.
What engines and gearboxes are available in the Skoda Kodiaq?
Diesel might be a bad word these days, but the 2.0 TDI suits the Skoda Kodiaq well. Even the lower-powered 150PS models feel pretty brisk, thanks to a useful amount of torque available early in the rev range. If you want one with a bit more poke, look for a 190PS version. This is available on SE L models and above and makes for a very relaxing drive, with enough power for overtaking with little hassle.
The Skoda Kodiaq was initially offered with a 1.4 TSI engine, which was replaced by 1.5 in a mid-2018. While we rate the 1.5 in other Volkswagen Group models, it's a bit underpowered for a car the size of the Kodiaq. It'll be fine if most of your driving is around town but, as soon as you fill the car with passengers and head for the hills, it'll start to feel out of its depth. It'll shift OK if you work it hard, but doing so will impact fuel economy.
If a petrol is a must but you're after more power than the 1.5, look for one with the 190PS 2.0 TSI petrol engine. This feels effortlessly quick but, as it's only available with the DSG automatic gearbox and four-wheel drive, it's far from frugal.
Most Kodiaq models on the used market will come with the DSG automatic gearbox. This is good news as it suits the car well, providing an effortless drive and generally changing gears smoothly. If you'd prefer to change gears yourself, the Kodiaq is available with a six-speed manual transmission with most engines. It's precise enough with a clean change and a light clutch pedal but we'd still prefer the auto.
Refinement and noise levels
The Skoda Kodiaq's refinement is definitely one of its key selling points. It does a brilliant job of filtering out noise from external factors, leaving you inside a car that'll provide a comfortable sanctuary for many miles. There's little in the way of vibration that makes its way into the cabin, which isn't something that can be said for all of the Kodiaq's mainstream rivals.
The 1.4- and 1.5-litre petrols are the quietest around town and at a standstill, although you'll notice a clear thrum when you build the revs (something you'll need to do if you wish to make progress or join a motorway). It's a shame the Kodiaq isn't available as a hybrid - you'd be better looking at the Toyota RAV4 if you want serene stop-start driving.
The diesels have a noticeable rumble - especially when cold - but once you're up to speed (and temperature) on the motorway, they settle down into a quiet enough cruise.
The DSG gearbox generally changes gear early enough for refinement levels not to be hit, although it can occasionally be a little jerky when setting off from a standstill. You might notice your passengers heads bobbing if you try to make a hasty entry onto a roundabout...
Safety equipment: How safe is the Skoda Kodiaq?
There's a whole host of clever safety assist features available on the Skoda Kodiaq but many of them are only available as optional extras, particularly on lower-spec models.
If you want the latest driver assistance features, we'd recommend looking for a Kodiaq with the driver assistance package (a £1320 option when new). It's only available on DSG models, adding things like lane assist with blind-spot detection - a system which uses cameras to nudge your steering if you start to wander from your lane, while also notifying you of vehicles in your blind spot using a light on the door mirror. This feature's also offered as a £980 option on its own.
Other highlights of the driver assistance package include adaptive cruise control, traffic jam assist (which can control the steering, braking and acceleration in a low-speed traffic jam), rear traffic alert (which notifies you of an approaching vehicle when reversing out of parking bays) and emergency assist (which can automatically bring the car to a standstill with the hazard lights on if it detects a driver who's no longer responding).
A driver alert system uses a fatigue sensor to warn you when to take a break, but it's only available for an extra £50 when new. High-beam assist, which will automatically switch high-beam lights on and off when driving at night, is standard on Edition and L&K models, but a £205 option on lesser trim levels.
If you've got young children, you might want to look for a Kodiaq with the optional Isofix child seat mounting point on the front passenger seat. This is a £45 option when new and is in addition to the standard Isofix points on the outer rear seats.
When Euro NCAP crash tested the Kodiaq in 2017, it was awarded a maximum five-star safety rating - so you can be assured it's a safe choice for families.
MPG and fuel costs: What does a Skoda Kodiaq cost to run?
"If you're a high-mileage driver and looking for a frugal Kodiaq, we'd recommend one with the 2.0 TDI diesel engine. The 150PS version with DSG gearbox officially up to 47.9mpg, dropping to 44.8mpg with four-wheel drive and the manual gearbox. A 2.0 TDI 150 DSG 4x4 achieves up to 44.1mpg in WLTP fuel economy tests."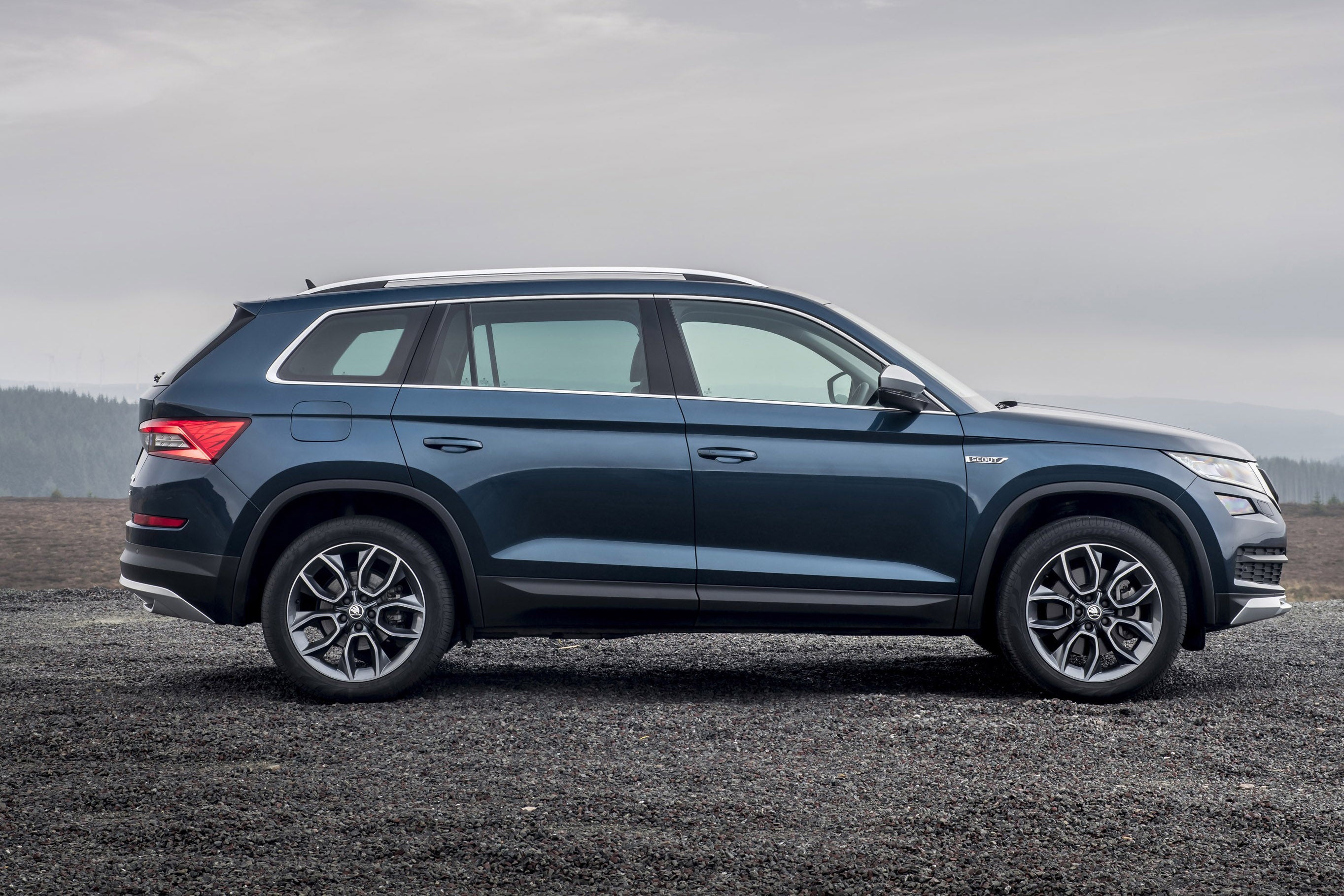 The more powerful 2.0 TDI 190 is slightly thirstier, particularly as it's only available with the DSG gearbox and four-wheel drive. Officially, it returns up to 40.4mpg.
That said, petrol models aren't necessarily thirsty. The standard 1.5 TSI 150 officially returns up to 39.2mpg in combined WLTP fuel economy tests, no matter which gearbox it's paired with. The 2.0 TSI 190 DSG 4x4 is, unsurprisingly, not such a frugal choice - officially capable of up to 32.1mpg. You'd have to really want a petrol...
How reliable is a Skoda Kodiaq?
Reliability is important in a family SUV and, fortunately, the Kodiaq delivers. The popular SUV achieved an impressive average rating of 9.59 out of 10 for reliability in the 2020 HonestJohn.co.uk Satisfaction Index, while Skoda was the second most highly rated brand overall.
That's not to say the Skoda Kodiaq is entirely without issues. The 1.5 TSI engine has previously suffered from 'kangarooing' at low speeds, but this was fixed by an update in 2020.
Insurance groups and costs
The cheapest model to insure will be the Skoda Kodiaq SE with the 1.5 TSI petrol engine, as this falls into insurance group 15. Generally, the higher-spec and more powerful models gradually increase in insurance costs, with the 2.0 TDI 190 being noticeably costly - placed in insurance groups 23 to 25, depending on trim level. Aside from the sporty Skoda Kodiaq vRS, the L&K model with the 2.0 TSI 190 engine with DSG and 4x4 is the most expensive, placed in insurance group 26.
This is comparable to rivals and no Kodiaq should cost a fortune to insure unless you're a young or inexperienced driver. If you're concerned, it might be worth shopping around for quotes.
VED car tax: What is the annual road tax on a Skoda Kodiaq?
Most Kodiaq models will have been registered on or after 1 April 2017, meaning you'll pay a flat rate of £150 a year in tax after the first year (which is lumped into the 'on the road' price for new cars). Be careful, though, as cars with a list price of more than £40,000 will cost an extra £325 a year in tax for five years (from the second time the car is taxed).
It's surprisingly easy for a high-spec Kodiaq to cost more than £40,000 when new. Even if you're not paying anywhere near this, if its list price was more than £40,000, you'll be responsible for the tax.
How much should you be paying for a used Skoda Kodiaq?
"If you'd like to buy an as-new Skoda Kodiaq but don't want to pay retail prices, we've got some good news for you. Dealers regularly order new cars before registering them and selling them below list price with only a handful of miles on the clock. This means you can skip the queue and save money on a 'new' car, provided you're not fussed about choosing things like the colour yourself."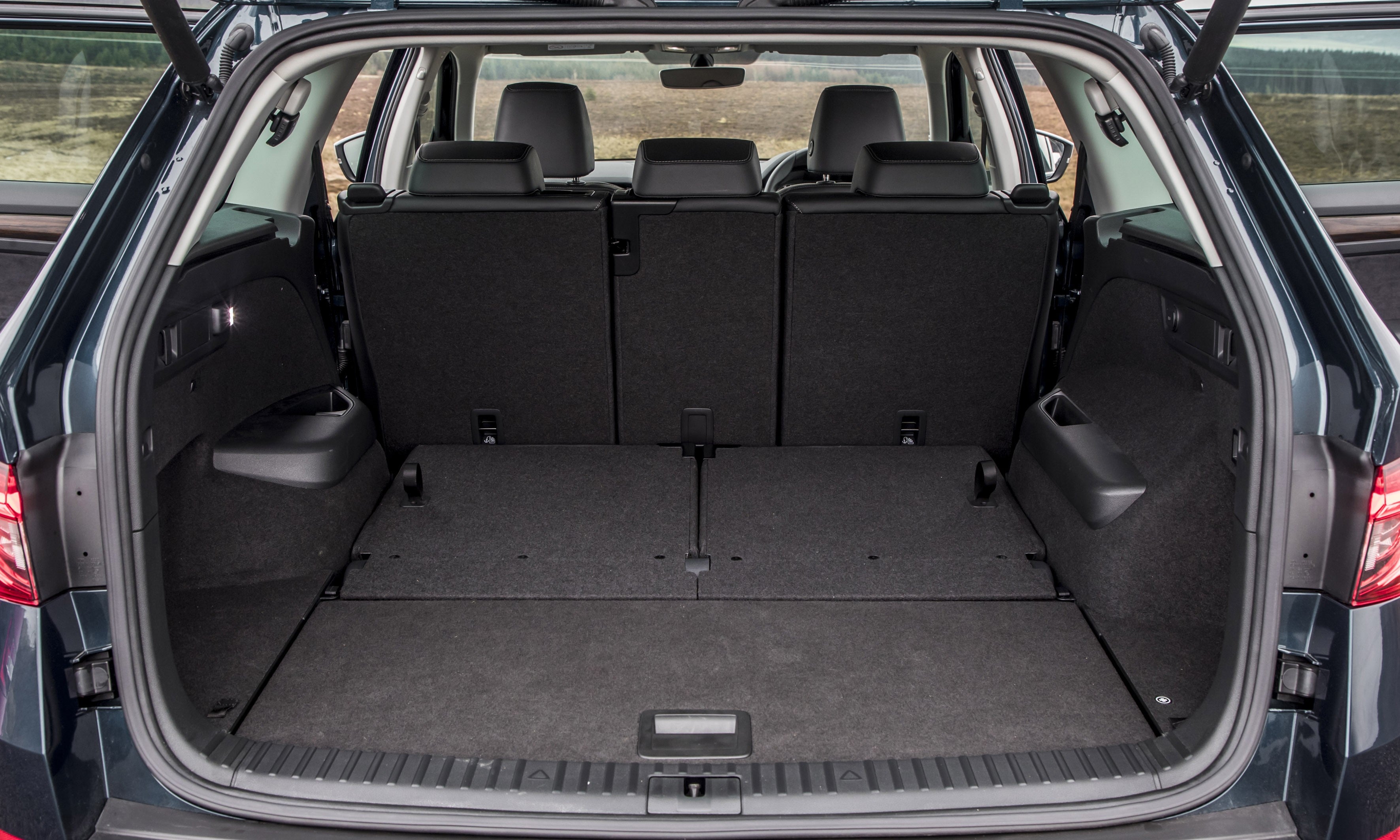 We've seen pre-registered Skoda Kodiaq SE models with the 2.0 TDI engine advertised for around £27,000 - a saving of nearly £4000. A Kodiaq Scout with the same engine can be bought for around £31,000, which is a hefty £7000 below list. A posh L&K model with the 2.0 TDI 190 engine, DSG gearbox an four-wheel drive will set you back around £37,000 - a saving of around £5000.
If you'd prefer a slightly older Kodiaq, there are lots of three-year-old examples hitting the market as they come out of lease and finance deals. Budget around £17,500 for an SE model with the 125PS 1.4-litre petrol engine, or £18,500 for one with the 2.0-litre TDI. An Edition model will set you back around £23,000, with little variance in cost for petrol or diesel engines.
Trim levels and standard equipment
The trim levels available will depend on the age of the Kodiaq you're looking at. When the Kodiaq first went on sale in 2016, this is what the hierarchy looked like:
The basic Skoda Kodiaq S model was only offered with the 1.4 TSI petrol engine and was only sold for a limited period. It featured LED daytime running lights, 17-inch Ratikon alloy wheels, leather multifunction steering wheel and manual air-conditioning. Further highlights included Front Assist, KESSY Go, Swing touchscreen infotainment system, DAB digital radio and SmartLink for seamless smartphone connectivity.
Kodiaq SE models added 18-inch Elbrus alloy wheels, sunset glass, cruise control and rear parking sensors. An eight-inch Bolero touchscreen infotainment system is standard, as well as dual-zone climate control, rain and light sensors and auto-dimming rear-view mirrors. Seven seats were available as a £1000 option on SE trim.
The Skoda Kodiaq SE Technology was introduced late in 2017, aimed at company car drivers. This was only available with the 2.0-litre TDI 150 diesel engine, and built on the SE trim with Skoda Connect with Infotainment Online providing satellite navigation, traffic reports and calendar updates. Adaptive cruise control was available as an option.
This was replaced by the Kodiaq SE Drive in 2020, available with two engine options: a 1.5 TSI 150PS petrol (manual or DSG) and a 2.0 TDI 150PS diesel (DSG only. Standard equipment includes an Amundsen satellite navigation system with Infotainment Online for a year, a colour trip computer, a rear-view camera, rear LED taillights and front and rear parking sensors.
Customers also got 19-inch Aero alloy wheels, unique SE Drive fabric upholstery, Mythos glossy black decor and LED ambient lighting.
The Skoda Kodiaq SE L came with seven seats as standard, along with a powered tailgate, 19-inch Sirius alloy wheels, and Columbus navigation system with WiFi. Drive Mode Select, Alcantara upholstery, heated front seats and full LED headlights are also included as standard on all SE L models.
The Kodiaq Edition model was launched to showcase the SUV's exceptional range of equipment including 19-inch Triglav alloy wheels, leather upholstery, metallic paint and chrome roof rails. Technology features include Lane Assist, High Beam Assist, wireless charging and phone box and Blind spot detection.
The rugged Skoda Kodiaq Scout arrived late in 2017, slotting between the SE L and Edition models. It featured four-wheel drive as standard and was offered with a range of petrol and diesel engines. Highlights include special 'off-road' front and rear bumpers as well as 19-inch alloy wheels. Inside, the Scout's cabin features a wood-finished dashboard, Alcantara upholstery and LED ambient lighting. It also got aluminium pedals and seven seats as standard.
The Kodiaq SportLine went on sale soon after, also sliding in between the SE L and Edition in the range. This took a sportier approach than the Scout, with 20-inch alloy wheels and sporty front and rear bumpers as well as black exterior detailing. Inside, the Kodiaq SportLine features a leather sports steering wheel, carbon effect dashboard and door inserts, along with Alcantara-trimmed sports bucket seats and door panels. An LED interior lighting pack, SportLine plaque and black trim complete the interior design package.
A posh Skoda Kodiaq L&K model arrived in mid-2018. It features a chrome grille, 19-inch alloy wheels and bespoke front and rear bumpers. A panoramic sunroof is standard while the seats are trimmed in leather. You'll also find piano black interior trims, aluminium pedals and ambient lighting.
A hot Skoda Kodiaq vRS arrived in 2019 and is covered here.
Ask the heycar experts:
common questions
Is the Skoda Kodiaq a seven-seater?
Yes. Although most versions of the Kodiaq have five seats, all have the option to add a third row if required. On high-spec models like the Skoda Kodiaq Sportline and Scout, seven seats are standard.

Is the Skoda Kodiaq available as a 4x4?
All of the more powerful engine options come with both four-wheel drive and a dual-clutch automatic gearbox as standard, however the entry 1.5-litre petrol is front-wheel drive only.

Where is the Skoda Kodiaq made?
Skoda builds the Kodiaq in several different regions around the globe for different markets. European models are all assembled in the brand's native Czech Republic facility in Kvasiny.

Answered by
Russell Campbell
Is the Skoda Kodiaq a good car?
Many buyers in the market for a large seven-seat SUV can't afford to step up to the high prices of cars such as the Audi Q7 and Volvo XC90. The Kodiaq offers most of what those premium rivals do in terms of space, equipment and capability, at a far more affordable price.

Answered by
heycar editorial team
How much boot space is there inside?
As a five seater, very few cars can match the Kodiaq for practicality. Its cavernous boot will swallow up to 720 litres of luggage with the seats up, rising to over 2000 litres with them folded. Nothing else in this price range comes close. Those figures fall slightly if you spec the third row of seats, to a 630-litre capacity in five-seat mode and a modest 270 litres with seven.

Keep me updated by email with the latest advice, news and offers from heycar
By submitting, you agree to our
privacy policy
.