Skoda Octavia vRS Review

Written by
Russell Campbell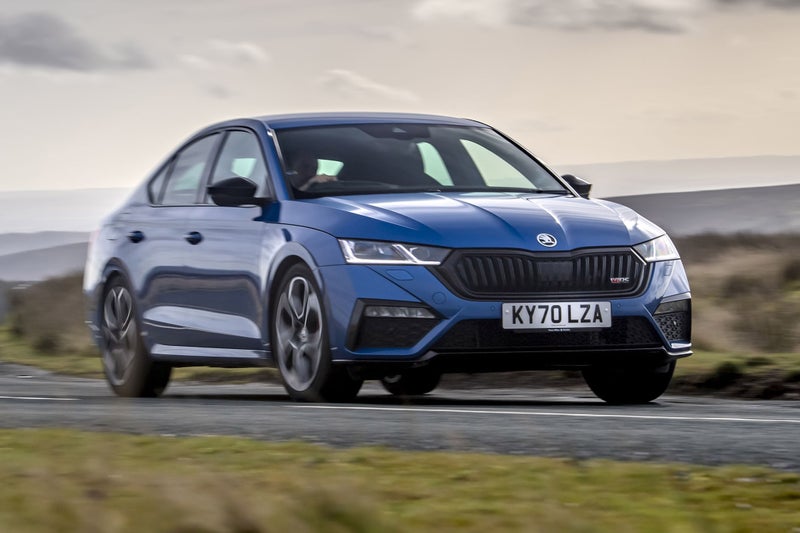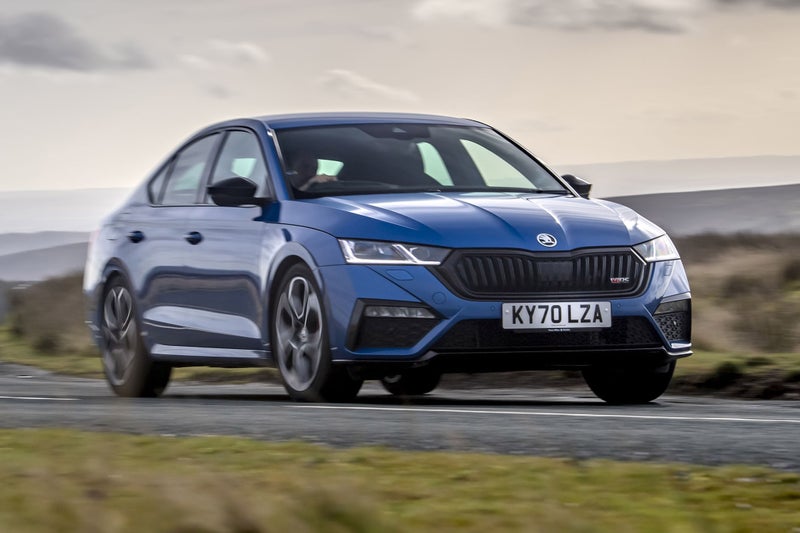 1/10

heycar rating
"Fast, fun and family friendly"
Launched: 2020

Hot hatch

Petrol, Diesel, PHEV
Quick overview
Pros
Fun without compromise
Three engines and optional four-wheel drive
Cabin high-quality and spacious
Cons
Not the most engaging hot hatch
Or the out-and-out quickest
Sometimes glitchy infotainment
Overall verdict
On the inside
Driving
Cost to run
Prices and Specs
Common questions
Overall verdict on the Skoda Octavia vRS
"The Skoda Octavia vRS is the F117 stealth jet of the car world – powerful but not shouty, it'll fly through most people's radar completely undetected. it's the kind of car that'll appeal to you if you have no interest in turning the school run into your own personal trailer for the Fast and Furious film franchise".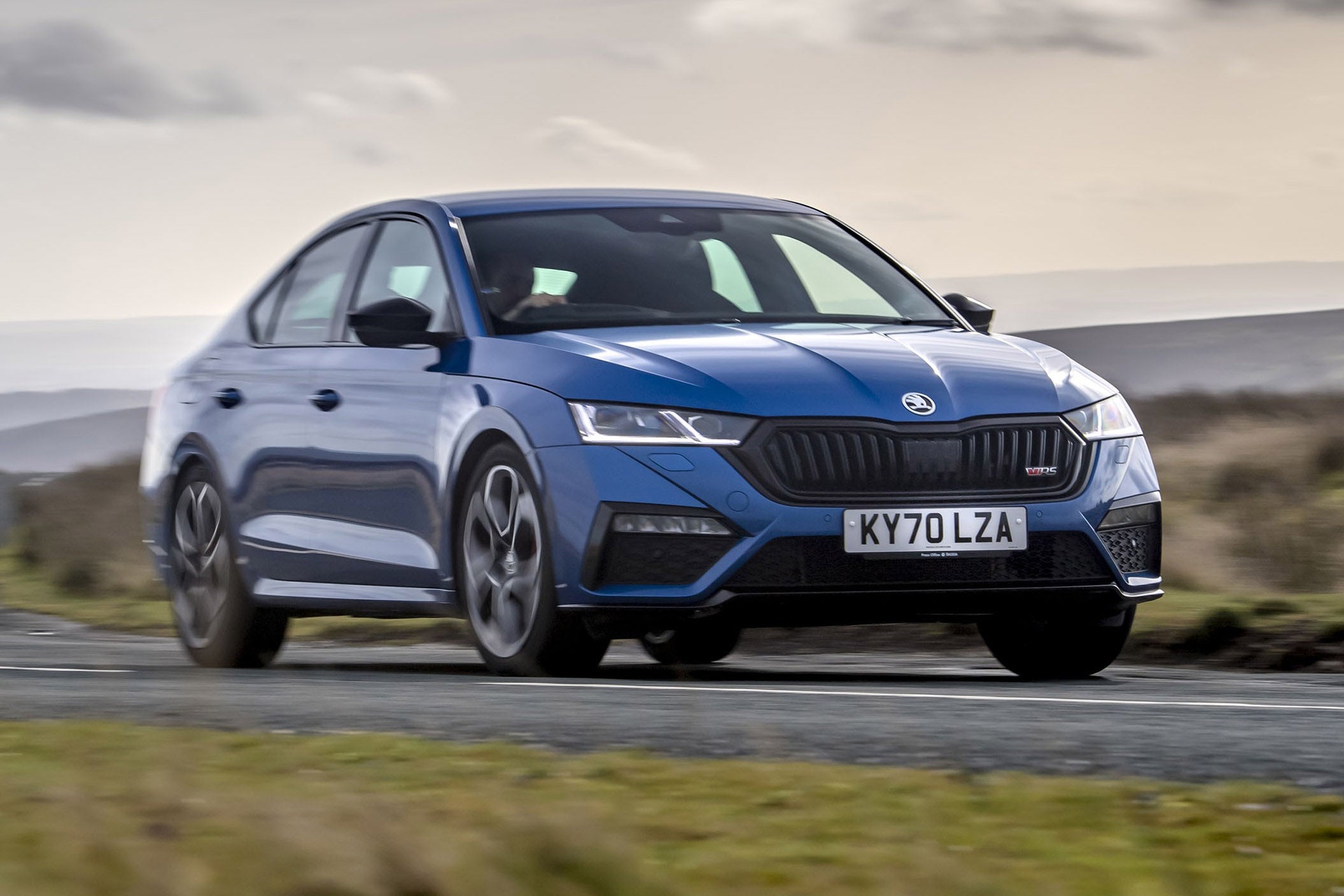 It's not just more subtle looking than the Honda Civic Type R (frankly, what isn't?), it'll also grab fewer stares than the likes of the Volkswagen Golf GTI with its honeycomb grille and chequered flag style fog lights. In the Skoda, you get an understated body kit, 19-inch alloy wheels, a sprinkling of vRS badges and that's about your lot.
The same mature approach has been taken on the inside. Despite giving its car a pair of huge infotainment screens, Skoda has managed to increase interior quality compared to the old model, most notably thanks to the padded Alcantara that's found on the dashboard and the doors. You also get smart looking diamond-stitched upholstery throughout, with vRS branded sports seats up front, carbon-fibre look trims, mood lighting and aluminium pedals.
Those new infotainment screens also look great. Their graphics are clear and the 10.25-inch display behind the steering wheel means you can choose from a number of dashboard layouts, including one that gives you a full-size sat-nav map right where you want it. The 10-inch centre screen, meanwhile, has all the features you need – including Apple CarPlay and Android Auto – and, when it's not suffering from the occasional glitch, it's slick to use.
Something else that makes the Skoda easy to live with is the sheer space it has inside. It's available as a hatch or estate model (the latter unusual in the hot hatch sector); both with plenty of room for four adults and a huge boot.
Combine all of the above with a powerful engine – you get three to choose from – and taut handling, and you get one of the best all-rounders you can have for the money. Engines comprise of a 200PS 2.0-litre diesel (it's available with four-wheel drive) that's great if you pound the motorway and a 245PS petrol-electric plug-in hybrid that can slash running costs if you have a short commute. It's a great choice if you're looking for one of the best hybrid cars.
We'd still be inclined to go for the 245PS petrol, which is the only model available with a six-speed manual gearbox – a seven-speed DSG is an option that's standard on the other models. The petrol's lighter than the diesel and hybrid, so it feels nimbler on its feet and it's the only car to get a limited-slip differential. It adds another dimension allowing the Skoda to tighten its line mid-corner and gives it more grip to power out of them.
The Skoda's a car that feels comfortable doing any kind of driving, though. Its light controls make it easy to drive in town – jerky DSG notwithstanding – standard front and rear parking sensors make it easy to slot into tight spaces and, when you get onto the motorway, it's a quiet and comfortable cruiser.
Funnily enough, the hot hatch that shouts the least, is the one that has the most to shout about if you're looking for a family car that can also be fun. Sure, it's not the most pinned in corners or the most aggressive on the straights, but it has overtaking power in abundance and an ability to make you smile that's perhaps surprising given how good it is at everything else.
If you're looking for the older version, you need our Skoda Octavia vRS (2013-2020) review.
What's the best Skoda Octavia vRS model/engine to choose?
Without a doubt it's the petrol model. It gives you the full hot hatch driving experience, being the most agile in corners and the fastest in a straight line. It's the only model available with a manual gearbox, meaning it's also the cheapest – further confirming why it's our top pick.
What other cars are similar to the Skoda Octavia vRS?
The Skoda Octavia vRS is a hot hatch based on a regular family car, so it competes with the likes of the slightly flasher, but more expensive and mechanically identical Volkswagen Golf GTI, loony-tune but more focussed and quicker Honda Civic Type R, sweeter handling Ford Focus ST and a host of other models including the Renault Megane R.S., Hyundai i30 N and Peugeot 308 GTI.
Comfort and design: Skoda Octavia vRS interior
"The Skoda Octavia vRS sits at the top of the Octavia range and from the inside, it feels a cut above the models that sit below it."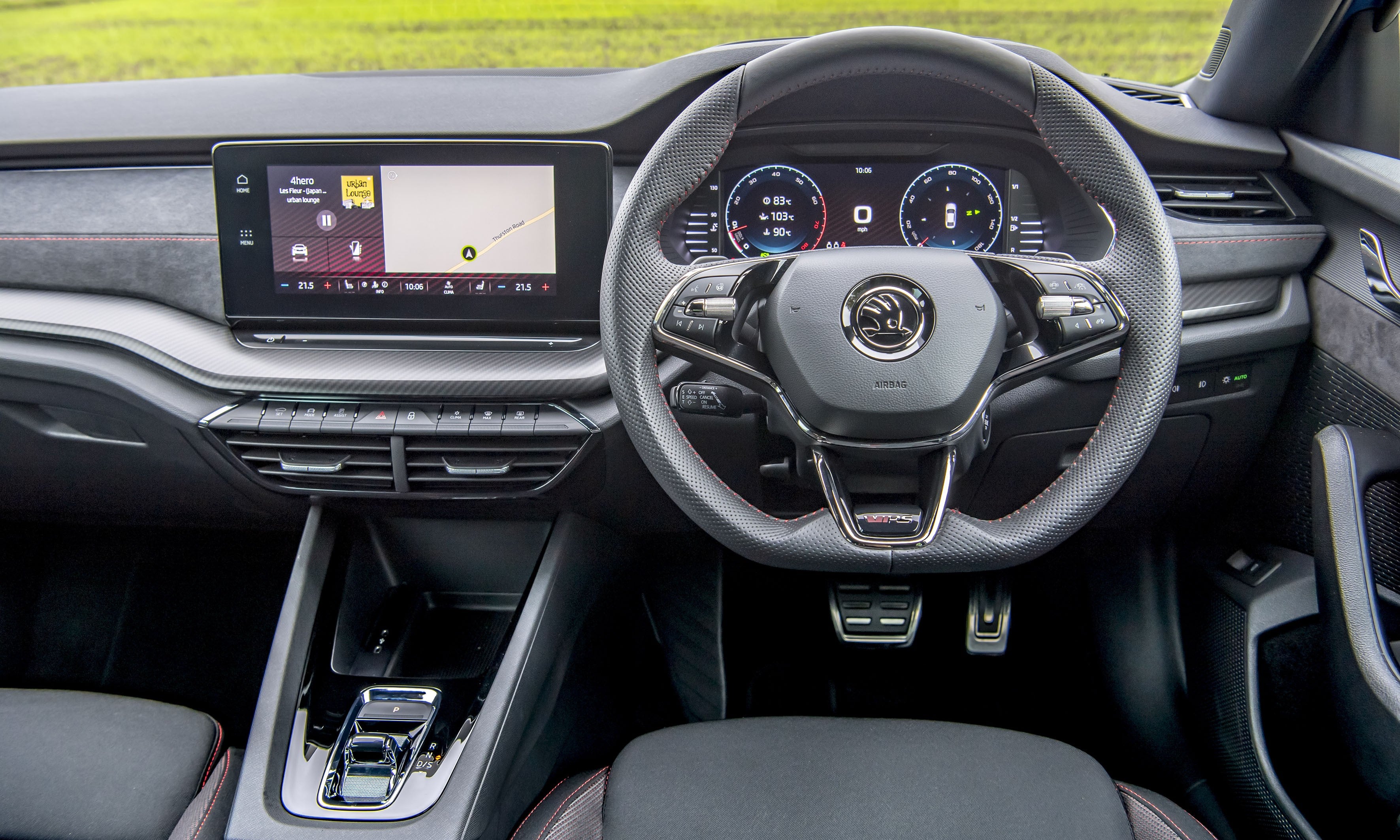 You get the top-of-the-range infotainment system with two large screens but also padded Alcantara on the dashboard and doors, a pair of figure-hugging, vRS branded sports seats and sporty aluminium pedals.
Aside from this go-faster tinsel, however, it keeps all the fundamentals of the normal cars – which is a good thing. You get loads of adjustment for both the steering wheel and driver's seat, so it is easy to get a comfortable driving position and the front seats are firm and supportive.
The controls, meanwhile, are intuitive to use and clear to see. The ledge in the dashboard is also handy, giving you somewhere to lean the palm of your hand as you swipe through the infotainment screen's menus. The lack of a volume knob is an annoying omission, though, it's been swapped for a touch sensitive strip which isn't illuminated and can be tricky to find at night when you're still getting used to the car. At times it also refuses to respond to your finger strokes.
Quality and finish
The Skoda Octavia vRS' plastic quality is amongst the best in class with soft materials used up top, while sturdier surfaces are found in the lower half of the cabin. None of them feel cheap.
The Alcantara trim is also worthy of a second mention, it's finished with red stitching and represents a pleasing contrast to the fake stitching you see moulded into the plastics of other cars this price – it's a sporty touch in the combination with the tasteful carbon-fibre look trims. We're also a big fan of the metal door handles which aren't enclosed into the doors like they are in other cars. The vRS even looks nice at night thanks to mood lighting that's fully customisable.
It all feels properly constructed too – with even gaps between trims, you get the sense they'll feel just as solid 100,000 miles down the line. That goes for most of the switchgear, as well. The stalks behind the steering wheel operate with an oily smoothness and the indicator self corrects with a satisfying thunk. The only bit we're not so keen on is the single row of buttons that have a clicky, hollow action that's unsatisfying.
Infotainment: Touchscreen, USB, nav and stereo in the Skoda Octavia vRS
The most significant changes made in the new Skoda Octavia vRS can be found in the infotainment. You get a 10.25-inch digital instrument binnacle behind the steering wheel that can mirror the sat-nav's maps on the car's big screen and also has a unique sporty display in this vRS model.
Instead of being integrated into the centre console, the screen now sits proud of the dashboard – with the pretty Alcantara trim flowing in behind it – so it's perfectly positioned for your eyes. They'll be in for a treat because the graphics are well defined and colourful and this sense of modernity is backed up by the fact that the screen responds to gestures like pinch and swipe, quickly.
Sat-nav is fitted as standard and the vRS also comes with a year's subscription to Skoda's connected services, so it can do things like route around congestion and check fuel prices at petrol stations on your route.
It's a good system, but you'll probably revert to using the standard Apple CarPlay and Android Auto. They allow you to use your phone's apps – for functions such as nav and music playback – mirrored on the car's big screen. Unfortunately, our car's screen froze on more than occasion with our phone connected. On the upside, your phone's voice activation system is much more reliable than Skoda's.
Options worth considering include the £335 wireless phone charging – it's placed under the tray in the centre console – and upgraded £590 Canton stereo. It's a 610W system with 12 speakers and a subwoofer in the boot, to offer up Dolby 5.1 surround sound, although it doesn't have the crystal clear clarity of the very best systems.
Space and practicality: Skoda Octavia vRS boot space
Something that distinguishes the Skoda Octavia vRS from the mechanically identical Volkswagen Golf GTI is that you can have it as a hatchback or as an estate.
Both cars have loads of room for adults up front and while the driver's seat doesn't place you low enough to make you feel snug in the cabin, it's not so high that it makes you feel like you're sitting on the car rather than in it. The 'vRS' branded, diamond-stitched sports seats are tastefully done – giving a sporty flavour without being OTT. They also give you a decent amount of lateral support without clamping to you, like your mother after lockdown lifts.
The back seat are also spacious and the Skoda should be commended for being a car that offers a big boot, but not at the expense of passenger space. Its rear doors open wide to make access easy and, once you're sat in place, there's space to slide you feet under the seats in front. You also get plenty of headroom even in cars with the space-eating sunroof (£1,175). Something minor, but worthy of note are the small neck-height cut outs in the front seats that makes the back seats feel a hint less claustrophobic.
You get the best view in the middle of the back seat but, as is often the way, its firm bolstering makes it feel like you're straddling a tree trunk. Three up, elbow and hip room will be tight, but there's plenty of space for everyone's feet. Estate models larger windows also mean they feel a tad brighter and airier.
The main reason you'll choose the estate is for its larger and more practical boot. It's a consumer car journalist's dream with a 640-litre capacity – up from 610 in the old model – and a flat, square shape. You also get a pair of sturdy fold-down shopping hooks and sectioned off smaller storage areas on either side that'll be handy for bottles of engine oil and screen wash.
Another useful feature are the back seats that fold down by yanking a couple of latches at the front of the the boot. The seats fold down almost completely flat so you can slide long heavy cargo into place. It's worth noting that the £185 space saver spare wheel doesn't impact boot space, while the £180 adjustable boot floor gives you a flat floor from the boot opening to the backs of the front seats.
An electrically operated boot lid comes as standard and it can be closed remotely using the key fob - emitting a nanny-state warning tone as it does it. It negates the need for the footery hands-free boot release (£190) which opens when you waggle your foot under the rear bumper.
While the vRS we drove was an estate model, the hatchback's 600-litre boot is large for a care this size and very practical, if lacking the more useful shape of its boxier sibling.
Handling and ride quality: What is the Skoda vRS like to drive?
"The Skoda Octavia vRS is the guilt-free hot hatch. It's a brilliant family car not just because it's hugely spacious for its size, but because it is also quiet and comfortable. It's a hot hatch with a softer edge, but it's still a car that you can enjoy driving when the stars align and you find yourself in an empty car on a great road."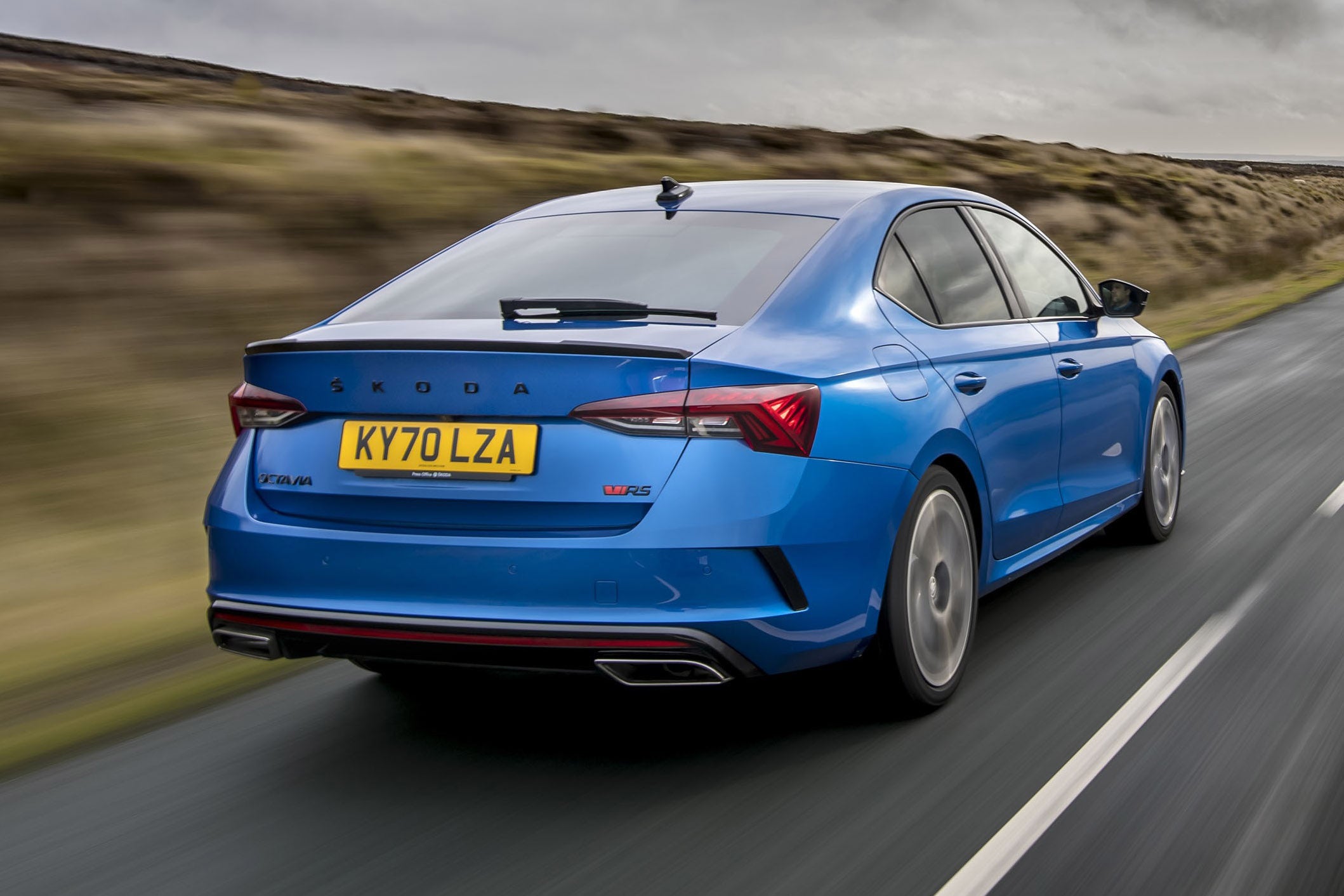 As such, the changes made to the vRS make it tauter and more engaging, but don't give it a completely different character to the standard car. All models get a sports chassis that sits 15mm lower on 19-inch alloy wheels, quicker steering (2.13 turns lock-to-lock instead of 2.7), plus petrol cars come with an electronically controlled limited-slip differential (LSD).
The effect of these upgrades is to make the Octavia vRS more well-rounded than a Premiership grade Nike Flight football – a proverbial jack-of-all-trades that's as happy stop-starting through town as it is cruising up the motorway or gobbling up the twists and turns of your favourite country road.
That quicker steering means it feels keener in bends than the standard car, the stiffer suspension gives you more control and there's plenty of grip. Turn into a corner and you do get body roll – much more than you would in the far more focussed Honda Civic Type R – but the Octavia feels eager and controlled. Its £1680 optional seven-speed DSG automatic gearbox changes gears quickly and smoothly, although we'd stick with the more engaging six-speed manual.
The LSD, meanwhile, adds another dimension to the experience. Push the accelerator mid corner and it feels a bit like the front tyres have sprouted suckers that tighten your line and drag you out of a bend, rather than the car washing wide like physics dictate.
The LSD is only active in the drive select's Normal and Sport modes (you also get Eco and Individual, the latter lets you choose your own bespoke setup), which also adjust the responsiveness of the gearbox and throttle, as well as adding weight to the steering that, no matter how it's setup, never gives you the cast-iron confidence you get in the head-banging Honda.
The drive select also adjust the suspension if you option the £945 Dynamic Chassis Control. These adjustable dampers are well worth considering, allowing you to choose between more control in corners or added comfort over bumps – either by choosing between the Eco, Normal Sport or Individual, or by selecting between a 15-stage slider on the infotainment screen.
At the looser end of the scale, the Octavia wallows on the motorway like an American saloon from the '70s and as a result we prefer the compliant but more controlled Normal setting. It's a relaxed cruiser, which comes with active cruise control as standard that can brake and accelerate the car for you, although the lane-assist won't steer the Skoda around bends like the best systems. It's still an excellent cruiser and the extra gear of the DSG gearbox makes it even more relaxed.
The DSG does come unstuck in town. It's jerky engagement can give you some heart-in-mouth moments as you lurch in and out of parking spaces, but you learn to be gentle with the accelerator pedal. The Octavia's standard front and rear parking sensors also help allowing you to get close up to parked cars before warning you to stop.
The reversing camera is a steep, £605 option that includes scrolling indicators but if you really hate squeezing into tight spots the £305 Park Assist might be a better option – it'll park the car for you into bay and parallel spaces.
It's one more thing that makes the vRS a great car to live with. Sure, it won't leave you sweaty-handed and hyper-engaged like a Honda Civic Type R but the majority of time, when you can't drive like you're on a mission, it's the vRS that you'd rather be in.
What engines and gearboxes are available in the Skoda Octavia vRS?
While most hot hatches come with one engine option, in the vRS you get three – you can choose from petrol, diesel or a petrol-electric hybrid.
The 245PS 2.0-litre four-cylinder petrol is the most conventional option and the only one which comes as standard with a six-speed manual gearbox. While it doesn't have a headline-grabbing power figure, it is extremely flexible with maximum torque (370Nm) available from a little over tickover. It gets from 0-62mph in 6.8 seconds (6.7 with the DSG) and hits a top speed of 155mph.
It does it with maturity, however, sure you get a more focussed engine note in Sport mode, but the manufactured pops and bangs you get out of some hot hatches' exhausts are noticeably absent, here.
If you want to ramp the maturity levels up another notch, the diesel model is worth considering but only if you do most of your driving on the motorway. With 200PS, the 2.0-litre four-cylinder is the most powerful diesel ever fitted to the Octavia – with 16PS more than the old version – it gets from 0-62mph in 7.4 seconds (6.8 if you specify the DSG gearbox) but that's only half the story because its 400NM of torque translates into effortless overtaking.
The diesel is also the only model available with four-wheel drive, it's a £1485 option but with considering if you have a caravan to pull because it raises the Octavia's maximum braked trailer towing weight from from 1600 to 2000kg.
The final option is arguably the most sensible of the lot. Called the vRS iV, it's a plug-in hybrid with a 1.4-litre four-cylinder petrol that's boosted by an electric motor to produce 245PS – it gets from 0-62mph in 7.3 seconds and hits a top speed of 139mph. Surprisingly, its 400Nm torque figure and the instant get-up-and-go of the electric motor means it gets from 50-70mph 2.2 seconds quicker than the petrol model – handy when you're joining a motorway.
It's the hybrid's ability to travel up to 39 miles on electric power alone that makes it a compelling option if you live in a city – it could mean you can commute to work for a fraction of the cost of a petrol or diesel. Plus, its low CO2s (no more than 36g/km) mean it is exempt from paying the London Congestion Charge. It takes 3.5 hours to charge from a wall-mounted charger or five hours from a three-pin plug.
Refinement and noise levels
This is one of the Octavia vRS' biggest strengths because it is one of the easiest hot hatches you could live with every day. It's light controls might not offer megaphone levels of communication, but feather weight pedals and steering that offers little resistance in comfort mode makes it a very relaxing car to drive in town and cover distances in.
By the same token, while the exhaust doesn't give the big-grin pops and gurgles offered by some rivals, it won't make you feel like a prat or get wearing. In fact, noise in general is very well hushed, at a cruise all you notice is the extra thrum created by the vRS larger 225-section tyres. Engine roar is also well contained, particularly true if you have the DSG gearbox – its extra gear meaning the engine's barely audible at the legal limit.
Another option you might consider if you do lots of motorway miles is the £1020 travel assistance pack. Add this pack and the Skoda will more or less drive itself – it can steer around corners, take over when you're stuck in queuing traffic and can even set your speed in accordance with the limit if you want it to. It's the kind of tech that makes long journeys much less of a chore.
Safety equipment: How safe is the Skoda vRS?
The Skoda Octavia was awarded a five-star rating for safety when it was crash tested by Euro NCAP in 2019 and the vRS models gets extra kit that makes it even safer than the standard car.
These include its matrix LED headlights. These clever headlight units use multiple LEDs – rather than a single bulb – to light up the road, and the car's ability to operate them individually means it can cast dark spots over other cars while the keeping the road around them fully illuminated. It means you can use the full beams all of the time.
Adaptive cruise control – which can accelerate and brake the car for you on the motorway – is another feature that comes standard on the vRS model. Factor in its full complement of airbags (including one for your knees), lane assist and automatic emergency brakes and it's fair to say the Octavia is very safe.
MPG and fuel costs: What does a Skoda Octavia vRS cost to run?
"The Skoda Octavia vRS won't cost a fortune to run and its engine range means you can choose an option that suits the kind of driving you do. Road tax is also reasonable and its reputation as the sensible hot hatch should prove helpful when you're paying your insurance premium".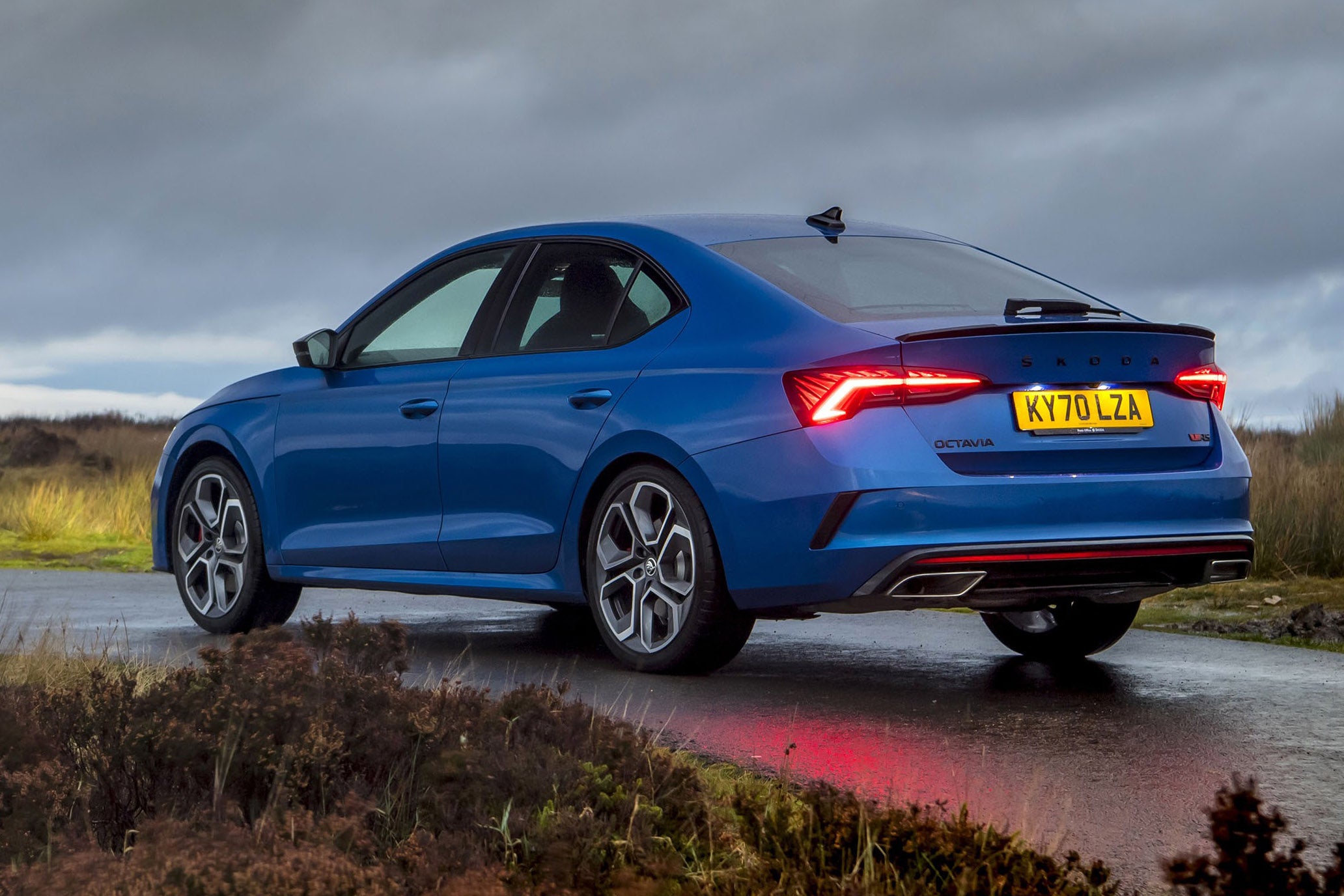 It wont surprise you to learn that the most expensive Octavia vRS to fuel is the petrol model which will return just over 40mpg in normal driving – a figure that should be achievable as it was recorded under real-world WLTP test conditions.
The diesel model – which comes with a DSG gearbox as standard – is more than £2,000 more expensive so bear that and the added cost of diesel in mind when you're number crunching. Those costs will take some time to recoup, despite the fact that it can return 55mpg – 50 if you go for the optional four-wheel drive.
Finally, there's the plug-in hybrid iV which boasts a predictable ambitious figure of up to 253mpg. It'll be great if you have a short commute that means you can run purely on electricity, but the fuel economy won't be anything to write home about once the battery is flat.
Insurance groups and costs
The Skoda Octavia vRS ranges from insurance Group 24 (diesel and PHEV) to Group 25 (petrol), so you can expect the car to cost an average of about £750 a year to insure if you're in your 40s or £560 if you're in your 50s. By comparison, a more hardcore hot hatch like the Honda Civic Type R sits in Group 40 and will likely cost at least £100 more to get covered.
VED car tax: What is the annual road tax on a xx?
Thanks to it's tiny CO2 emissions figure of 26g/km, the iV hybrid is the cheapest model to tax in year one and costs £140 every year after that, £10 cheaper than the rest of the range. The diesel model (130g/km), meanwhile, costs £175 and adding the optional four-wheel drive increases that to £215 (145g/km). The priciest model of the lot is the petrol, its 157g/km emissions figure means it costs a substantial £540 to tax in year one. This is lumped into the on-the-road price when new, though, so the first owner will take care of that.
How much should you be paying for a Skoda Octavia vRS?
"The Skoda Octavia vRS costs from £30,605 for a manual petrol to £35,645 for the plug-in hybrid iV model."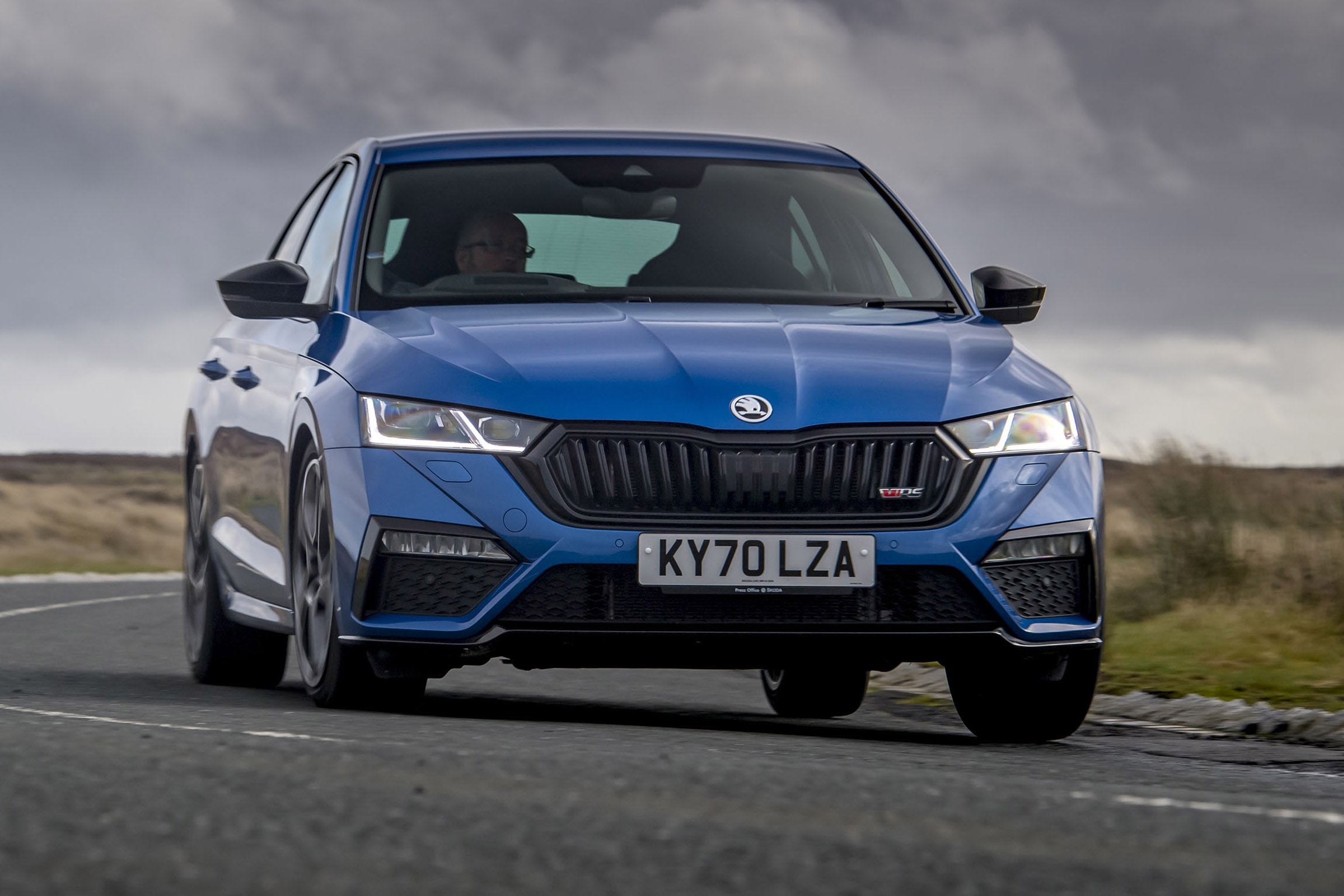 Thankfully, that's the list price and despite the vRS being no more than a few months old, you'll already find petrol cars on sale for £27,000, rising by £500 if you want to swap the hatchback version for the more capacious estate. Diesel models can be picked for £28,000, but we couldn't find a four-wheel-drive version for less than £31,500. Even the expensive hybrid models can be had with big discounts – we've seen unregistered cars available from £31,295.
Trim levels and standard equipment
There are no glaring omissions on the Skoda Octavia vRS' specification list. All models look sporty but subtle thanks to their 19-inch alloy wheels and revised front and rear bumpers. Hatchback models also get a discreet lip spoiler.
The inside follows the same recipe, so you get Alcantara on the dashboard, aluminium pedals and sports seats with red stitching – significant upgrades that raise the vRS above the rest of the range. You also get plenty of toys including adaptive cruise control, a 10-inch sat-nav/10.25-inch digital instrument screens, heated seats and a heated steering wheel, keyless entry, auto lights and wipers, as well as an electrically operated boot.
Ask the heycar experts:
common questions
Is the Skoda Octavia vRS a good car?
Yes. It might sit on the sensible side of the hot hatch spectrum, but the Skoda Octavia vRS is fun to drive when you're in the mood and very comfortable when you're not. It shares its mechanicals with the Volkswagen Golf GTI, but with a larger body it has more passenger space and a bigger boot. It's the perfect family hot hatch.

Answered by
Russell Campbell
Is Skoda Octavia vRS a 4x4?
The Skoda vRS is available as a 4x4. The 200PS diesel can have four-wheel drive as an option making it ideal for towing – it can tow braked trailers up to 2000kg in weight and will also cope better with snow and ice.

What is the most powerful Skoda?
The most powerful Skoda is the Superb, which is available with a 280PS 2.0-litre engine. It's actually a detuned version of the 2.0-litre turbocharged petrol that you'll find in the Volkswagen Golf R.

Keep me updated by email with the latest advice, news and offers from heycar
By submitting, you agree to our
privacy policy
.