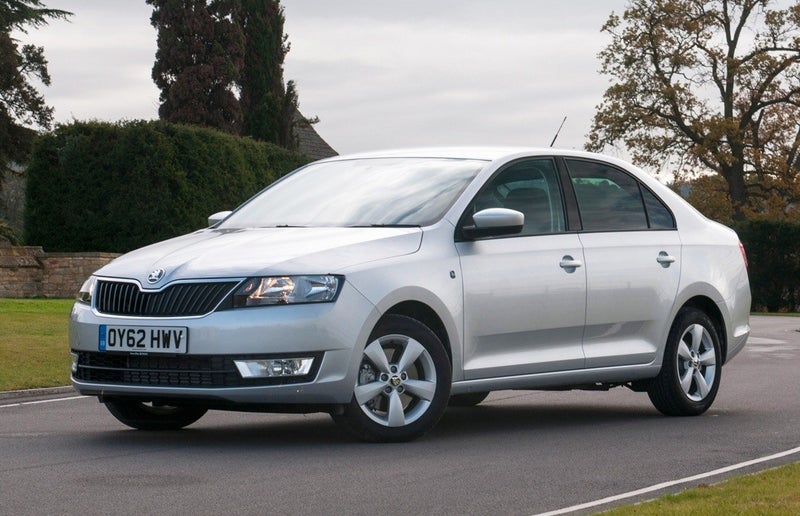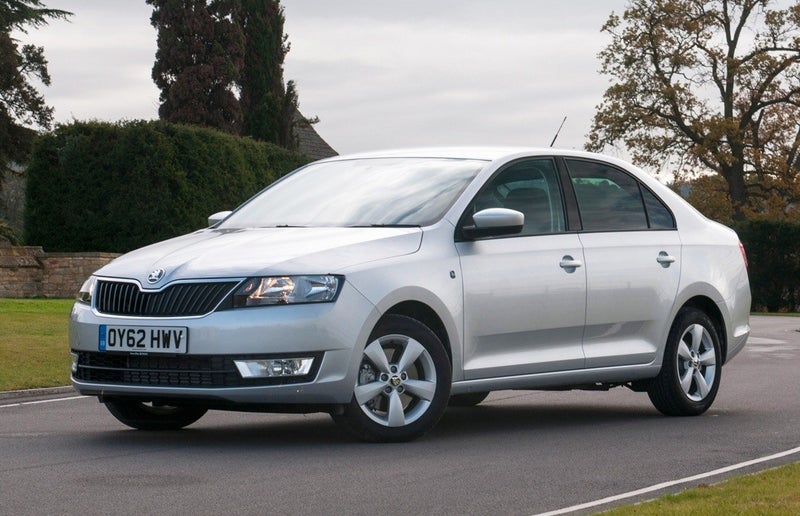 1/9
heycar rating
"Spacious but compact family hatch"
Launched: 2012

Small hatch

Petrol, Diesel
Quick overview
Pros
Very roomy inside for a small car with a vast boot
Cheap to run
Five star Euro NCAP rating
Cons
Cabin quality isn't great with cheap feeling plastics
Rapid Spaceback makes more sense
Diesels are noisy and the 1.4 TDI is slow
Overall verdict
On the inside
Driving
Cost to run
Prices and Specs
Overall verdict
"You've probably seen a Skoda Rapid on the roads but you probably didn't notice it. Bland probably best sums up the looks of the Rapid - Skoda's small hatchback that sort of sits between the Fabia and Octavia. "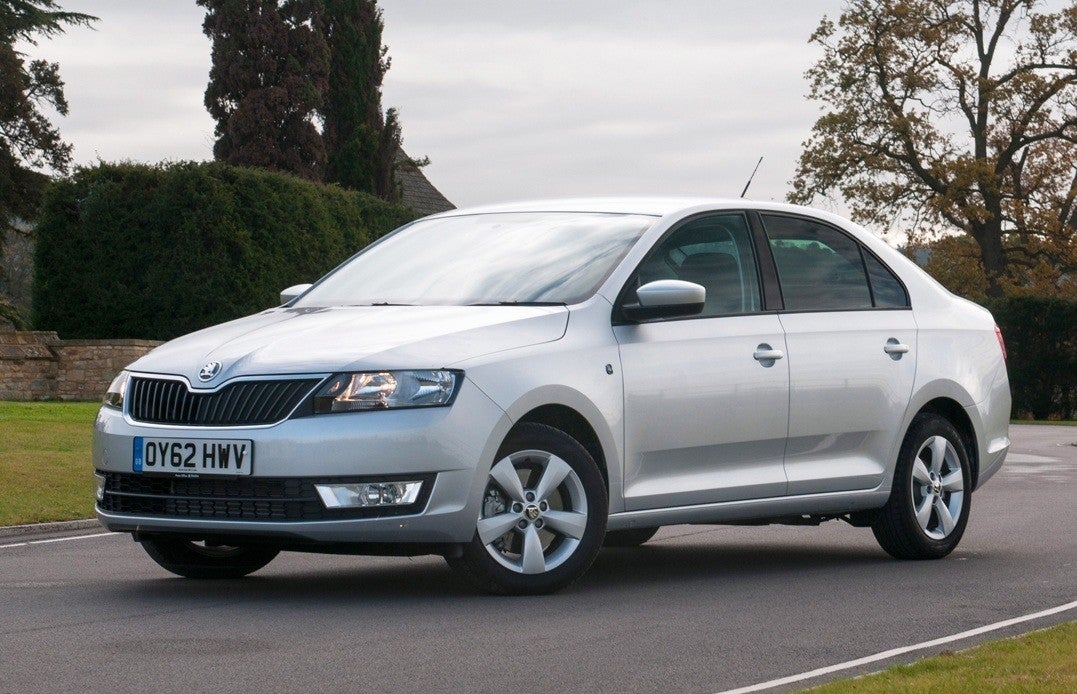 And that's sort of the problem with the Skoda Rapid. No one, not even some of the people at Skoda we expect, was ever quite sure how it fitted into the line-up. And indeed why you'd buy one over a Fabia Estate or the bigger Octavia.
The fact it looked like a small saloon didn't help either, as these have never been popular with UK buyers. It is in fact a hatchback and a very spacious one at that with lots of rear space and a whopping boot.
There are actually few cars this size that offer as much room inside. There's plenty of legroom for anyone sat in the back, even with the front seats moved all the back. It makes it ideal for kids in car seats, especially rear facing. It even has a five star Euro NCAP rating.
Then there's the huge boot. The big tailgate with its wide opening reveals a cavernous area that's able to carry a lot more than you'd imagine. With 550 litres of cargo space, the boot is not far short of that you'd find in an Audi A6 Avant.
Being a Skoda, it has plenty of storage space and is full of useful features too such as a handy ice scraper in the fuel filler cap. It's a shame then that the interior feels very cheap in places. It's doubtless well put together, but the plastics used tend to be hard and scratchy. The seats are narrow and don't offer much support either.
It does however drive well, with decent steering and a safe feel from behind the wheel. Fun is way down the menu, but it's reassuring nonetheless. The ride quality lets it down though and around town, over potholes and basically on anything other than a smooth bit of tarmac, it's not particularly sophisticated.
The Rapid is, however, cheap to buy and cheap to run. All the engines are focussed on economy and while the 1.4 TDI and 1.6 TDI diesels are the most frugal, we'd suggest the 1.2 TSI or the newer 1.0 TSI, both of which will return at least 50mpg in actual real world driving.
Perhaps the biggest issue with the Rapid is its counterpart the Rapid Spaceback. It may have a smaller boot, but with a more conventional hatchback design it's more versatile and makes more sense for most buyers.
Is the Skoda Rapid right for you?
It may look like a saloon, but the Rapid is actually a hatchback and a practical one at that. If you want a car that's easy to park and doesn't take up much room on your driveway, but that still has lots of room in the back and a big boot, the Rapid could fit the bill.
The Rapid might not be a striking design, if you want a car that's going to make an impression, look elsewhere. However, it will appeal to those less worried about whether the neighbours are impressed by what you drive and are more concerned with getting lots of space for their money.
It's good for families who don't want a huge car yet still need good rear space and a big boot. It's also ideal as a second runabout or for retired couples who still want to be able to take the grandchildren out occasionally.
What's the best Skoda Rapid model/engine to choose?
The Skoda Rapid shares the usual engines you'll find in most small Volkswagen Group cars and it's very much a car focussed on low running costs rather than performance. The best, in our opinion, is the turbocharged 1.2 TSI which comes in two versions.
The more powerful is the better choice if you're going to be carrying a lot of kit in your Rapid. But the lower powered model is still more than adequate around town. The basic 1.2 MPI is slow though and best avoided unless you just want a basic A to B car.
The 1.2 TSI was later replaced by the 1.0 TSI, which isn't as smooth as the 1.2-litre but is still just as nippy. SE models are the ones to go for and there are plenty around. SE L and Elegance get more kit but we wouldn't pay much more for them on the used market.
What other cars are similar to the Skoda Rapid?
If you haven't already worked it out, the Skoda Rapid is the sister car to the SEAT Toledo. They have the same engines, interior and basic design. In fact only the headlights and grille are different. The Rapid was more popular though and so there are more used examples about.
To slightly confuse things there's also the Skoda Rapid Spaceback which is a more conventional hatchback but offers the same lots-of-space-in-a-small-package design. There are also more of them about on the used car market.
If you want a practical hatch that's not too big, there is a lot of choice out there. The Kia Cee'd and Hyundai i30 are obvious choices or you could consider a small crossover like a Suzuki SX4 S-Cross or even a Citroen C4 Cactus.
Comfort and design
"We'd stop short of calling the interior of the Skoda Rapid utilitarian, but it definitely feels as though it was designed with practicality in mind rather than having any pretensions of being upmarket. The design and layout are functional but that does mean everything is easy to work."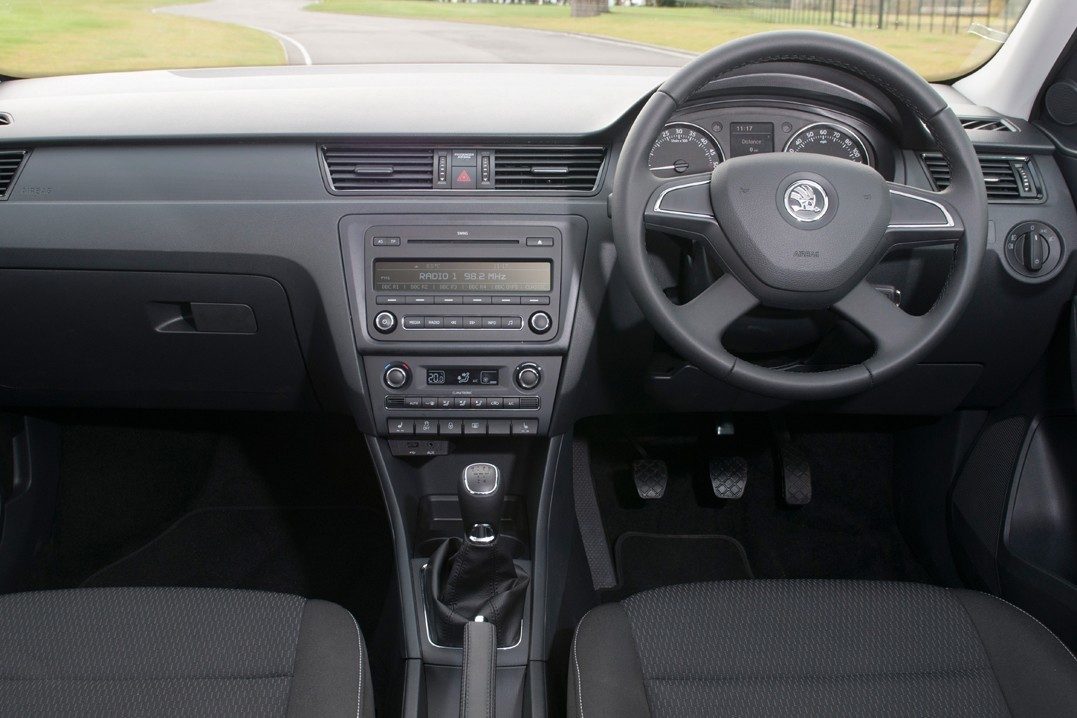 The simple and clear instrument dials are easy to read while the old school layout with lots of buttons rather than everything being controlled through a touchscreen, means it's simple to get to grips with. You don't have to go rooting for the owner's manual when all you want to do is turn the air conditioning on.
The seats are narrow and don't offer much in the way of side support. They're fine for trips to the shops but you wouldn't want to spend all day behind the wheel of the Rapid, especially if you suffer from a bad back as there's no lumbar support.
If you're tall, you'll find that the driving position could do with being lower, but the pedals are well spaced and there's good room for your left leg to rest when it's not on the clutch.
Quality and finish
You can tell the Rapid has been built to a price with lots of hard plastics everywhere and little in the way of luxury. There's nothing wrong with this of course, but it makes the Rapid feel like a dentist's waiting room - a place you have to spend time in but rarely enjoy.
The plastics used are not only hard but they're also scratchy and car mark quite easily. Compared to newer Skoda models, the Rapid feels distinctly old fashioned in this respect. It means older models that aren't well cared for can look tired.
On the plus side, all the buttons and switches feel good quality and the controls, like the clutch and gearbox, all work solidly. It's a well-finished car and certainly not flimsy. Higher spec models get a leather steering wheel and leather gear lever surround which at least gives the interior a bit more appeal and gloss black trim on newer models.
Infotainment
Another area where the Rapid is showing its age is in infotainment. Or rather the lack of it. Basic models get a simple-to-use stereo with a black and white display. If you're not fussed by having the latest tech and aren't worried about playing music from your phone, this works more than well enough. It also has a CD slot (remember those) which are becoming a rarity on new cars, much to the disappointment of a large number of drivers.
SE models are better and at least give you the ability to connect your phone for calls and to play music. Look out for models with the Multi Device Interface (MDI) which has a colour screen, albeit small by modern standards.
Fortunately things improved in models from 2017 which get an updated infotainment system with Bluetooth, an Apple compatible USB port plus modern touches like Apple CarPlay and Android Auto. The touchscreen is now much improved too with a bigger and clearer display.
Space and practicality
Skoda is well known for its 'simple clever' features. The big Superb has umbrellas built into the door for example. And the Rapid doesn't miss out on these. There's an ice scraper built into the fuel filler flat, a little clip for holding parking tickets on the windscreen and even a removable rubbish bin in the door.
The boot liner is reversible too with one side fabric and the other wipe-clean rubber which is ideal for muddy dog paws and even muddier wellies.
It may not be a big car, but the Rapid makes the best use of its space. There are few cars this small that offer this much space inside. Those in the back get plenty of room and even with the front seats all the way back, there is still good legroom for those behind. It also means extra room for children and car seats.
Then there's the vast boot which at 550 litres is bigger than a Ford Mondeo's. A Golf, for comparison, has 380 litres of cargo room. It's a useful space too so despite the rather prominent lip, the boot itself can carry a lot more than you'd expect, helped by the wide opening and vertical sides.
Handling and ride quality
"There's little to get excited about from behind the wheel of the Rapid. It's just what you'd expect - predictable and easy to drive. The steering is light and precise enough but won't engage you into thinking this is particularly fun to drive."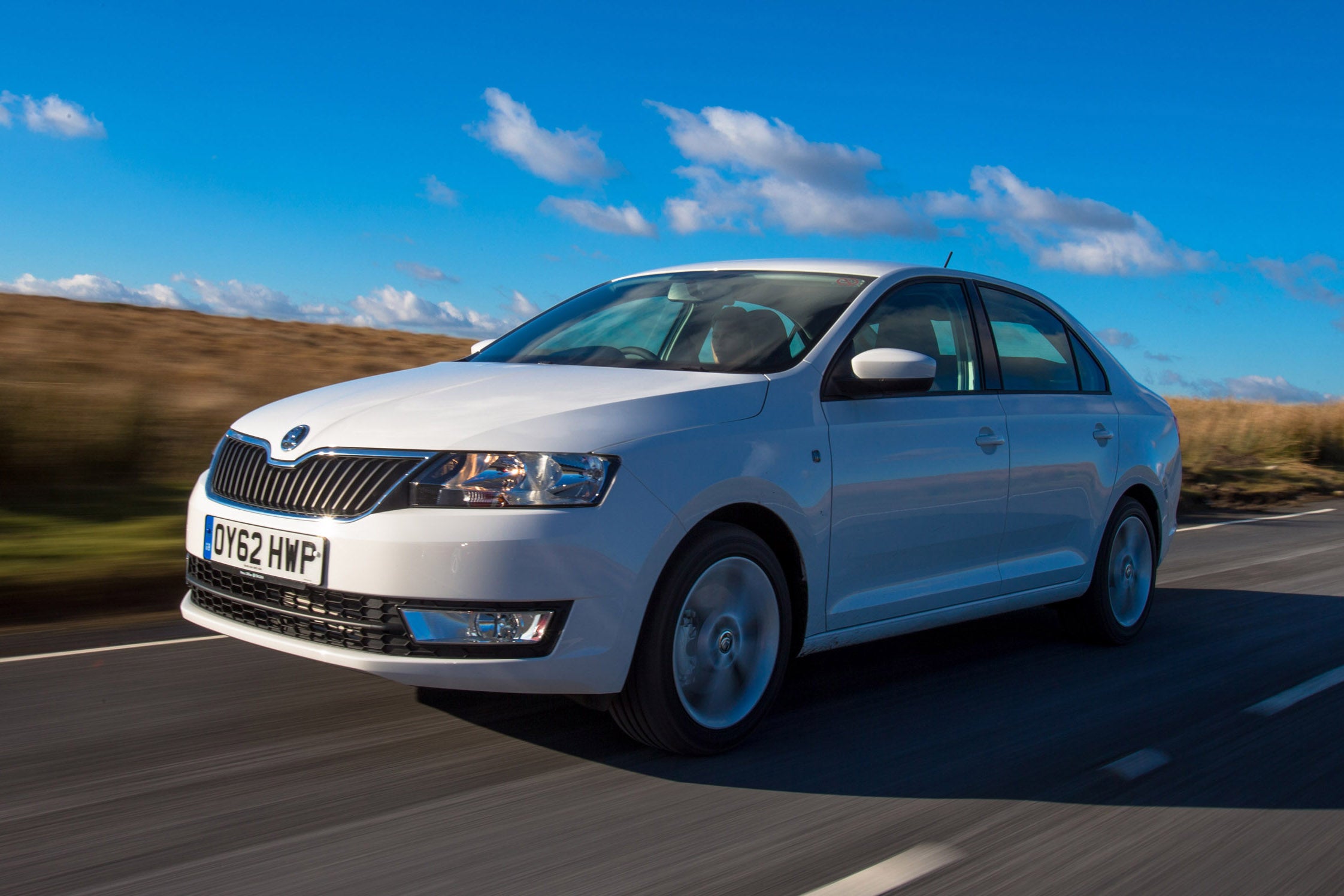 Not that it needs to be of course. It gets all the basics right and feels safe, even through tight corners on a wet day. There's not too much body roll and decent grip from the front tyres too. Around town, it's easy to park in small spaces and navigate down narrow streets,, although the rear windscreen is quite shallow and parking sensors were only an optional extra.
What lets the Rapid down here is the ride quality. It's overly stiff which may be good for controlling body roll in corners but does little for comfort. Over poor surfaces it's bouncy and can't quite settle down, feeling jittery. It's much happier on smooth motorway surfaces where it happily cruises along.
Engines and gearboxes
The Rapid engine line-up reflects the car's practical nature. You get the usual small petrols and diesels starting with a 1.2-litre 12V in the entry-level model. It's fine for getting around but we'd avoid it if possible and go for the 1.2 TSI.
There are two versions and even the lesser powered one provides good get up and go at low speeds, thanks to the fact it's turbocharged. It may seem small but it's a great little engine and suits the Skoda perfectly giving it a surprisingly rapid turn of pace (if you'll pardon the pun).
This engine was later replaced by a 1.0 TSI which is a three-cylinder engine and has a more eager nature, but isn't as smooth as the four-cylinder 1.2 TSI. The most powerful petrol is the 1.4 TSI available with a DSG automatic which we'd avoid as it has a high failure rate.
Most models get a five-speed manual gearbox that's easy to use with a nicely positive shift. The more powerful 1.2 TSI gets a six-speed gearbox, so it's quieter and more relaxed at speed.
If you want outright economy and are covering lots of miles the TDI diesels make sense. Sadly they're not very refined and are pretty noisy. The 1.4 TDI is slow and really not pleasant so go for the better 1.6 TDI. It's so no bundle of fun but has more pulling power and there's little difference between the two in terms of economy.
Refinement and noise levels
The poor ride quality of the Rapid on rough roads means refinement isn't great and it tends to thud over potholes, which isn't pleasant for anyone on board. This is one area where it feels like a cheap car. A Hyundai i30 is a lot better in this respect.
Things improve at motorway speeds where the Rapid is smoother and surprisingly relaxed at a gentle cruise, especially with one of the more powerful engines. The 1.6 TDI for instance, is barely working at 70mph.
Wind and road noise are both kept respectably low and the engines aren't intrusive either. That can't be said for around town though where both TDI units are noisy and clatter on start up. There is also considerable vibration through the steering wheel from the diesel engines and the later 1.0 TSI isn't that smooth either, albeit not as bad.
Safety equipment
The Rapid was awarded the maximum five-star rating when it was crash-tested by Euro NCAP in 2012. This means the identical SEAT Toledo also has the highest rating possible. Adult occupant safety scored high with 94% although the report did highlight that the seat and head restraint only provided marginal protection against whiplash.
There's good safety kit with ESC stability control standard on all models along with driver and front-seat passenger airbags, head airbags and side airbags for front passengers. There are Isofix mounts on the two outer rear seats.
MPG fuel costs
"Little surprise that it's the diesels that return the best economy and you can expect more than 55mpg from the 1.6 TDI and close to 60mpg if you're gentle. There's no real difference in economy between the 1.4 and 1.6 TDI, so don't be fooled into going for a 1.4 TDI because you think it will be better on fuel. It won't."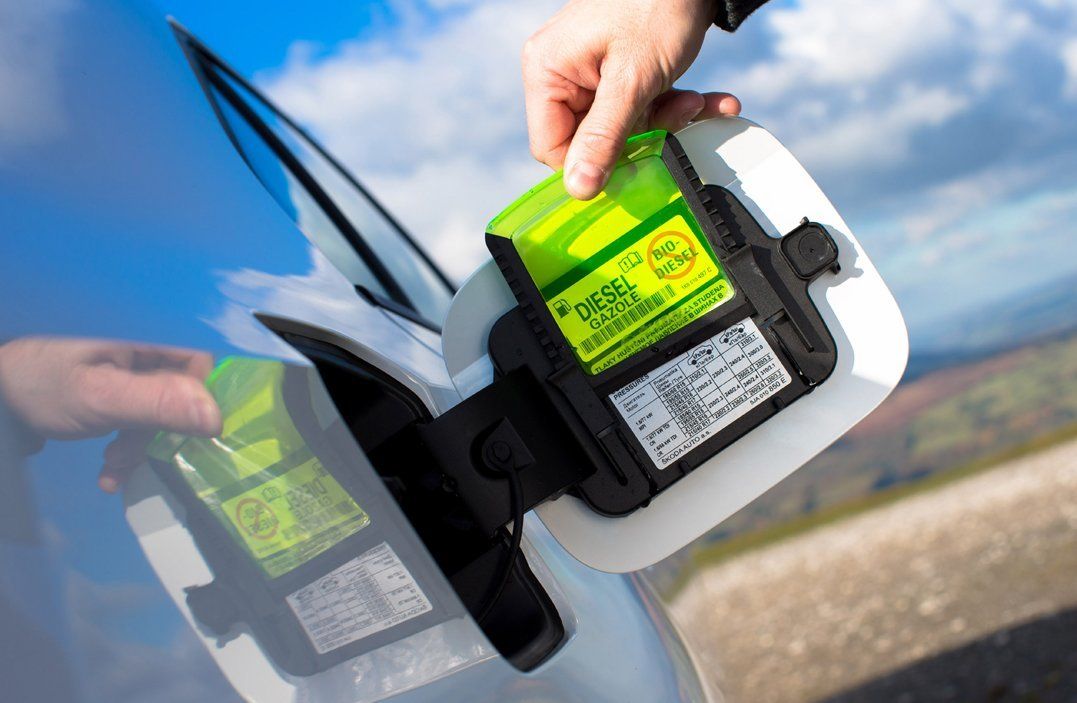 The petrols are still very economical and cheap to run, which is why we'd recommend them over the diesels. The 1.2 TSI was available in several different versions over the years (Skoda likes to keep everyone on their toes) but you'll see around 50mpg from most. The 1.0 TSI is better still, although not as smooth as the 1.2.
Insurance groups and costs
As well as being economical, the Rapid is also cheap to insure with most models hovering around group 15 and 16 for insurance, so expect premiums to be very affordable.
Even the highest-rated models are only group 19, but they're DSG automatics which we wouldn't recommend as it's a gearbox with a poor reliability record. The basic S is the most affordable for insurance as it's a group 7 while the economical 1.6 TDI Greentech is group 15.
VED
Amazingly, Skoda was still selling the Rapid as late as 2019, so newer models will fall into the current VED system based on a flat rate of tax, making things nice and simple.
But cars registered before April 2017 fall under the old system which is a bit more complicated as it's based on CO2 emissions. This means the 1.4 TDI qualifies for free annual VED so you'll have to pay precisely zero. The 1.6 TDI is a much better engine and still only Band B, so just £20 a year.
The 1.2 TSI which we recommend is Band C so costs just £30 a year for VED. Surprisingly, the basic 1.2 E model is more expensive to tax due to its inefficient engine. It will cost you £150 in VED a year.
How much should you be paying?
"You may find attractively priced 1.6 TDI models around with galactic mileages, but be aware that they've likely been used as taxis and minicabs. They're cheap, but for a reason. If you want a more presentable diesel, you'll be looking at around £4000."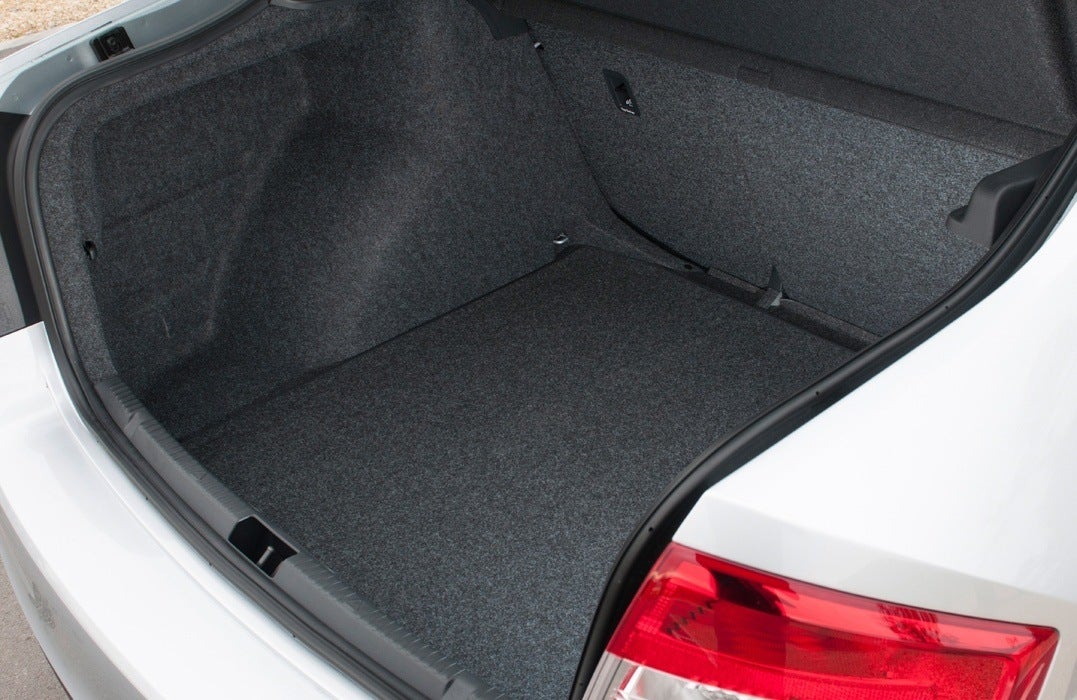 The petrol is the better choice in our opinion and you can get a low mileage 1.2 TSI for less than £5000. There aren't huge numbers of Rapid models on the used market and even fewer examples of the SEAT Toledo so don't expect masses of choice.
Trim levels and standard equipment
Skoda pretty much stuck with the same trim levels throughout the life of the Rapid, which makes working out what you're looking at on the used market a lot easier. Essentially, S models are entry-level and are a bit back to basics although you do get central locking and electric front windows.
SE trim is much better and has 15-inch alloys, air-con and electric front windows along with a height-adjustable driver's seat. The top Elegance version has 16-inch alloys, cruise control, rear electric windows and a multi-function steering wheel. Elegance was later replaced by the SE L.
It's worth looking out for the limited edition Rapid Sport. It only comes in white but has extra kit including 17-inch black alloy wheels, front fog lights, sports seats and a rear spoiler.
Skoda Rapid cars for sale on heycar
5,122
Number of cars available
£9K - £12K
Price bracket of these cars
Colours available on heycar
Keep me updated by email with the latest advice, news and offers from heycar
By submitting, you agree to our
privacy policy
.