Skoda Rapid Spaceback Review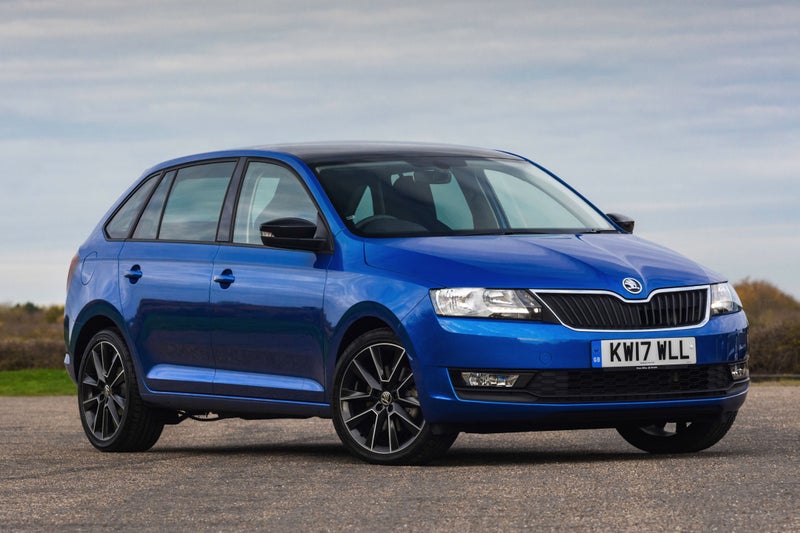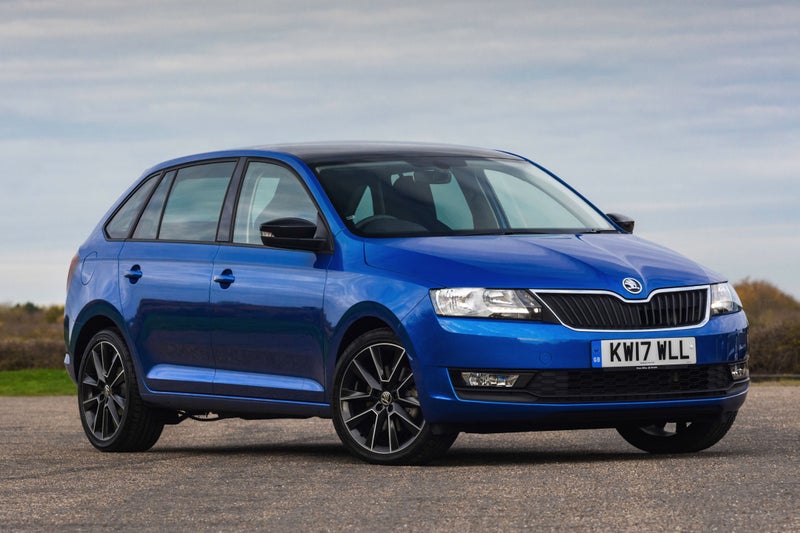 1/9
heycar rating
"Quirky but practical family hatch"
Launched: 2013

Small hatch

Petrol, Diesel
Quick overview
Pros
Lots of room inside for what is a small car
Excellent 1.2 TSI engine
More practical than the standard Rapid
Cons
Interior lets it down with hard plastics
1.4 TDI is slow and noisy
Poor ride quality around town
Overall verdict
On the inside
Driving
Cost to run
Prices and Specs
Overall verdict
"While Skoda may have had much success with the quirky Yeti, that wasn't repeated with the rather oddball Rapid Spaceback. Designed to sit between the Fabia and the Octavia, it drifts in a no man's land. "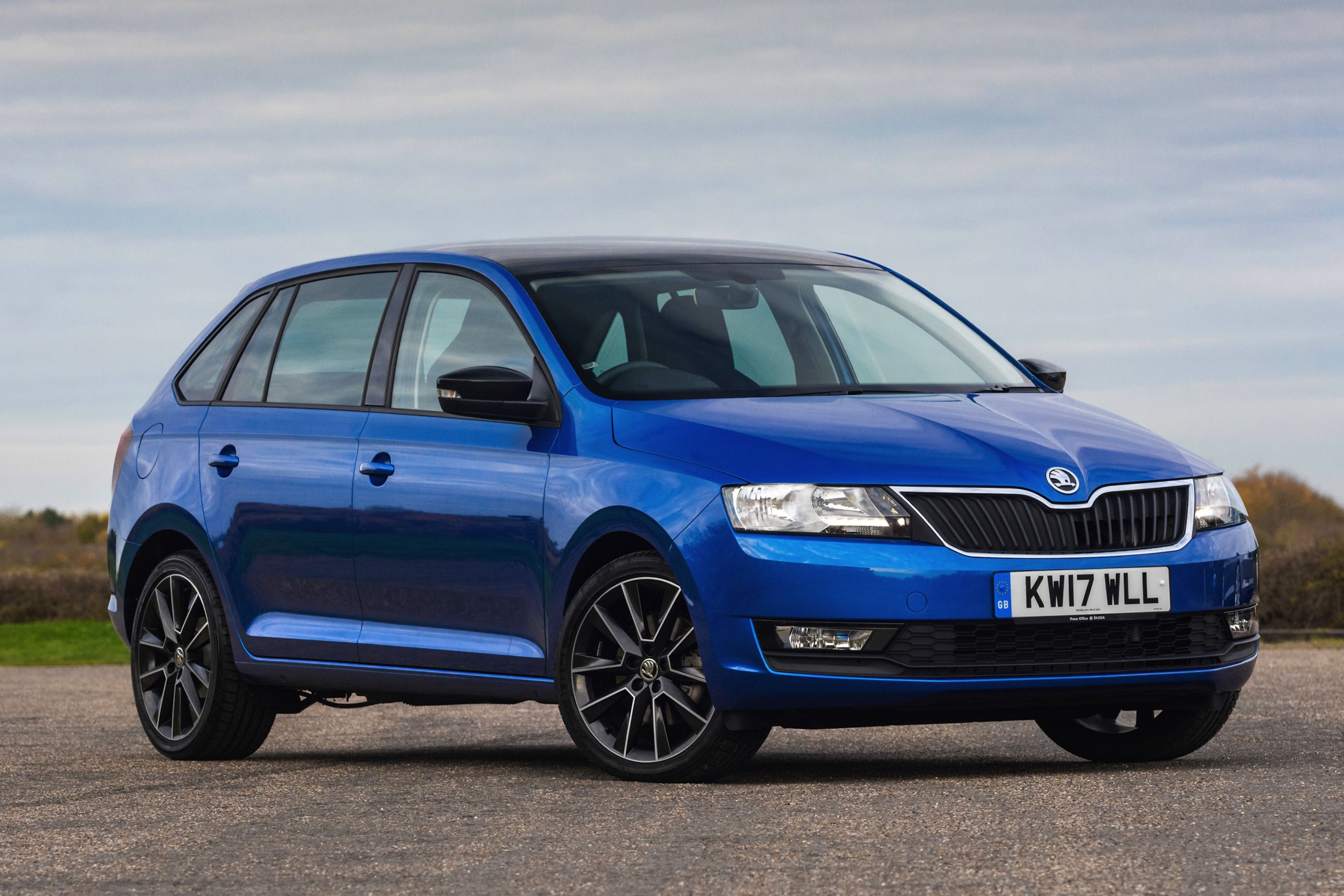 It does at least make more sense than the standard Skoda Rapid - and it's better looking (or at least less bland) too. With a more conventional hatchback shape, big boot and lots of space for those sat in the back, the Rapid Spaceback has some good strengths as a family car.
Unfortunately the interior quality isn't one of them. There are lots of hard and scratchy plastics that mark easily and make the Rapid Spaceback feel like a cheap car from behind the wheel. Compared to Skoda's later models, the interior feels very much stuck in the past.
That's not the be all and end all of course. What the Rapid Spaceback does offer is space. It has a bigger boot than your common-or-garden Focus-sized hatch and plenty of room for those sat in the back. This is also good news if you want to fit child seats.
The boot is bigger than a Golf and the hatch makes it very useful. True the seats don't fold down flat and there's a big drop over the boot lip to the load floor, but it's nonetheless practical in a no nonsense way. And as this is a Skoda there are lots of 'simply clever' features such as an ice scraper in the fuel filler cap and an umbrella under the passenger seat.
It's also cheap to run with low VED rates, cheap insurance and economical engines. There are TDI diesels but they're pretty coarse. We'd suggest going for the impressive little 1.2 TSI engine which is smooth yet sprightly. The 1.6 TDI is the champion for economy but is hardly the last word in refinement.
The ride isn't the best around town but the Rapid Spaceback does at least handle neatly making it easy and reassuring to drive. The light steering isn't great for corners and there's not much in the way of fun to be had, but makes parking in a multi-storey a doddle.
It's good value too, although we'd avoid the basic S model and look for an SE (or SE Tech) which are much better equipped for the money. They have better standard kit including things like navigation, cruise control and rear parking sensors.
Is the Skoda Rapid Spaceback right for you?
If you value practicality and space above driving excitement or the latest technology, the Rapid Spaceback is a good choice. In fact that is one of its strengths, it's a very simple and no-nonsense hatchback so for people who want a straightforward car that's not complicated to get to grips with, the Rapid Spaceback will tick lots of boxes.
The big and practical boot makes it ideal if you're enjoying your retirement but still want to take the grandkids on a day out or nip to the local garden centre to buy an awkwardly large plant. The Rapid has more space than your average Golf-size hatch and while it may not have the same image, it's also much better value.
What's the best Skoda Rapid model/engine to choose?
The Rapid Spackback has the familiar engines used in many a small Volkswagen, SEAT and of course fellow Skoda models.
The 1.2 TSI is our choice, in particularly the higher powered version which is a great little engine in our opinion. The 1.0 TSI which later replaced this isn't as smooth but is equally as good to drive. Unless you're doing big mileages, give the TDI diesels a swerve as they're noisy around town.
Skoda trim levels are nice and simple with S the basic model followed by SE which we'd recommend as the one to go for. SE Sport models look good and are well equipped so worth keeping an eye out for.
What other cars are similar to the Skoda Rapid?
The Rapid is a bit of an oddball car to pigeonhole. Indeed, it's sort of confusing even in the Skoda line-up, even though it's supposed to fit between the Skoda Fabia and the Skoda Octavia.
If it's practicality you want, a Kia Soul would be a good alternative with the same feel of lots of space in not a big package. See also the Citroen C4 Cactus which is very good value and nicer inside. Of course the Fabia Estate has a massive boot too.
If you want rear passenger space, look at a Nissan Pulsar while the Fiat Tipo is a similar no nonsense hatchback that's cheap to buy and run. Of course if reliability is your priority, the answer is to go Japanese and look for a Toyota Auris.
Comfort and design
"The Rapid Spaceback has a neat and user-friendly interior. It's not what you'd call innovative but everything is easy to find and simple to use. The dials in front of the driver are clear and easy to read as is the digital trip computer which handily will also show your speed so it's easy to see exactly how fast you're going at first glance. "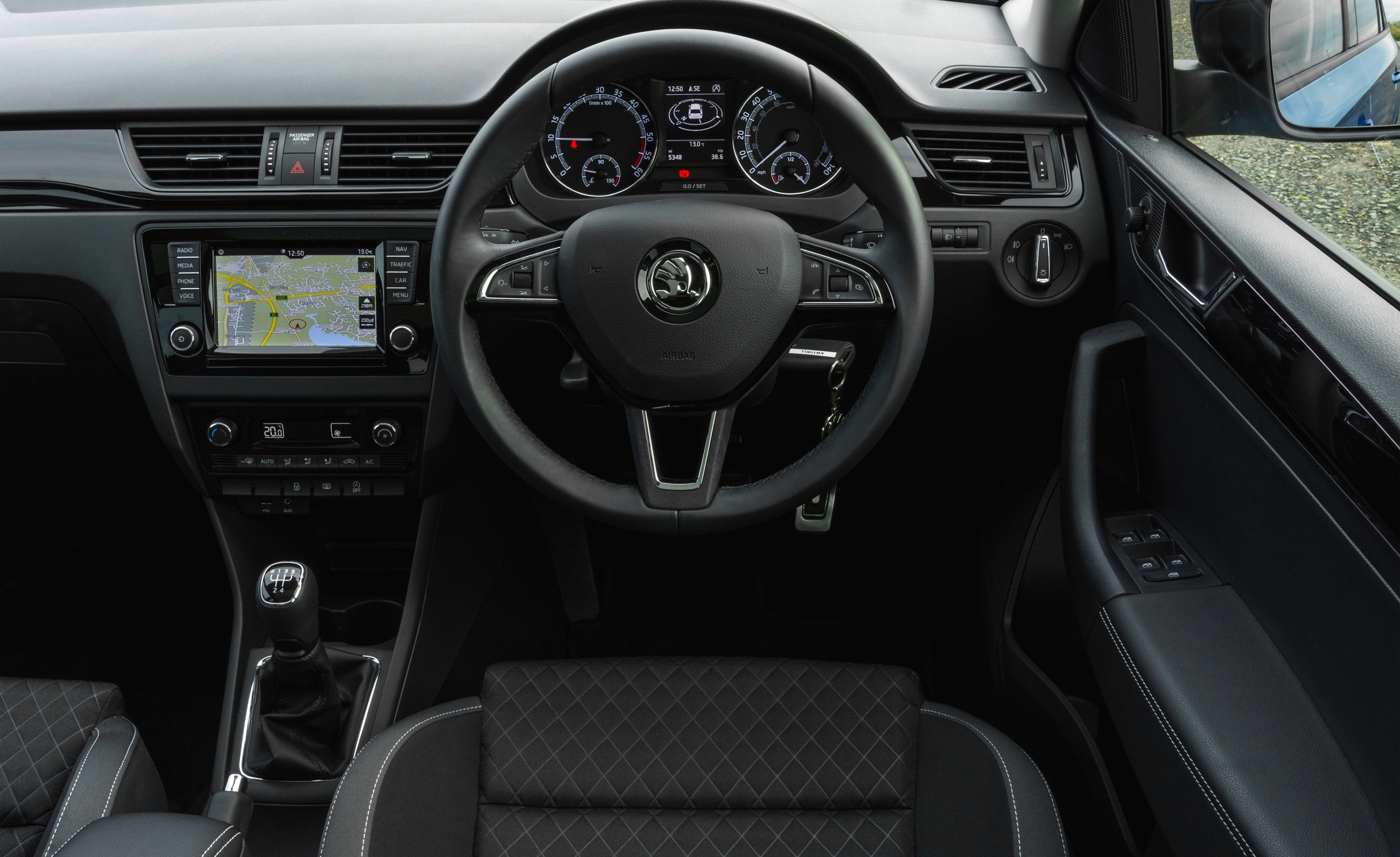 We found the seats to be lacking support though. There's no adjustable lumbar support, which you'll notice if you spend a long time behind the wheel, plus there's zero side support. Combine this with the narrow seats themselves and it's not a great recipe, especially for taller drivers.
At least the driving position is good with well-angled pedals while the driver's seat adjusts for height so it can be moved to suit adults of both the taller and shorter persuasion. The former will wish the seat went a little lower though. Still, at least there's somewhere to rest your left leg.
Quality and finish
This is one area that lets the Rapid Spaceback down. Yes this is a cheap car but inside it feels it, especially in lower-spec models. There are lots of hard plastics that mark easily and do it few favours if you're comparing this with something like a Kia Soul.
It feels well built, don't get us wrong, indeed the Rapid Spaceback is well screwed together and everything inside feels solid, even the doors close with a nice thud. But the scratchy plastics mean that after a few years, the interior, unless it's been extremely well cared for, can look very tired with marks on the doors and on the centre console. Compared to the latest Skoda models, it feels very old-school and dated.
Higher spec models get a leather steering wheel and leather gear lever surround which lifts things a bit more while newer models have a gloss black trim around the air-con and infotainment.
Infotainment
The basic S version of the Rapid Spaceback feels just that. There are no fancy colour screens here, just a basic CD radio with a black and white display. It works well though and is a lot better than many other radios you'll find on entry-level hatchbacks. If all you need is something to listen to Radio 4 on and play the odd CD, it's perfect.
SE models are better and come with navigation which adds a proper colour screen although by modern standards it's far from the best with a low-resolution small display. At least you can Bluetooth your phone to it for both calls and playing music.
Things improved in models from 2017 which get an updated infotainment system, an Apple-compatible USB port plus modern touches like Apple CarPlay and Android Auto. The touchscreen is now much bigger with a clearer display.
Space and practicality
Like all Skoda models, the Rapid Spaceback comes with plenty of 'simply clever' features, designed to make life with a car that bit easier.
So there's an ice scraper built into the fuel filler flat, a little clip for holding parking tickets on the windscreen and even an umbrella tucked away under the passenger seat. Really handy for dog walkers (or even just walkers) is the reversible boot liner which has rubber on one side which can be hosed down, with carpet on the other.
For a relatively small car, the Rapid Spaceback has a surprising amount of room inside. Slide the front seats all the way back and there's still plenty of space behind for actual adults to sit in comfort without feeling like their knees are giving those in front an unintended massage…
If you have child seats, especially rear-facing ones, this space reality comes into its own and it's roomier than something like a Ford Focus. There's no problem with headroom and unless you're built like Giant Haystacks, you won't find yourself rubbing shoulders with your passengers. Even if you want to.
At 415 litres the boot is oddly smaller than the standard Rapid, but it makes up for this with a more useable space, especially when you drop the rear seats, although they don't fold down flat and create a 'step'. There is also quite a drop-down so it's not that easy to lift heavy boxes in and out. Look out for models that have the dual-height boot floor, it was optional on SE Tech and SE Sport models.
Handling and ride quality
"While the Spaceback may be based on the standard Rapid, it actually rides better, which is particularly noticeable on poor roads. "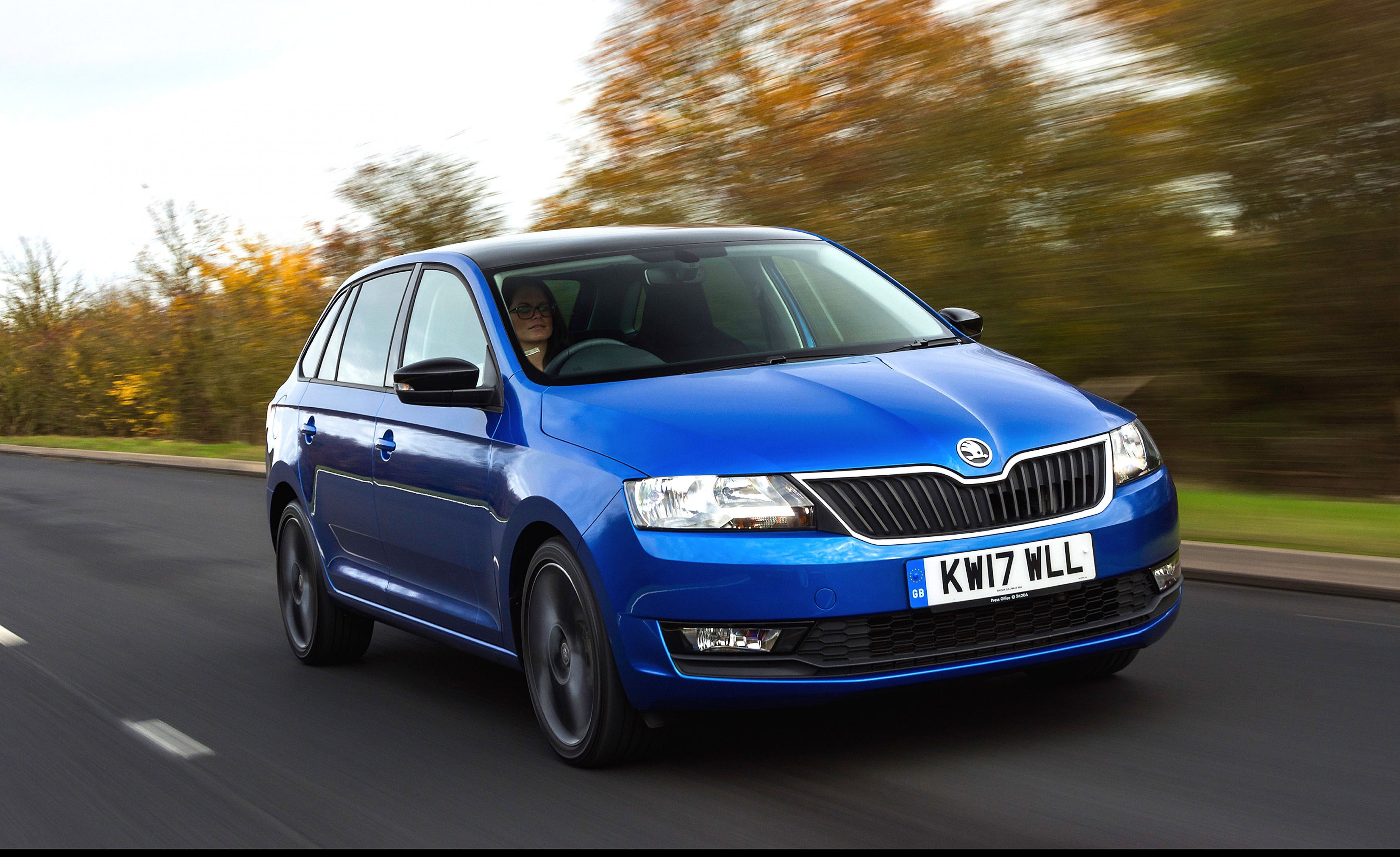 For the most part it's smooth and actually quiet, but it's still caught out by bigger potholes which send a thud into the cabin. It's worse on models with 17-inch alloys so stick to the smaller wheels.
It's an easy car to drive though and ideal for pottering around town and parking at the local shops. The steering has very little feel but it's light enough that squeezing into tight spots isn't going to be a strain.
Despite the artificial steering, the Rapid Spaceback actually corners very well with not too much body roll, giving you confidence on roundabouts and through corners. It's far from engaging but then the Rapid Spaceback is not really designed to be. Instead it's a reassuringly safe and simple car to drive.
Engines and gearboxes
Fitted with the same engines you'll find on most small Volkswagen cars, the Rapid Spaceback is all about economy rather than performance. It doesn't have the basic 1.2 engine of the standard Rapid, instead sticking with the much better turbocharged 1.2 TSI.
There are two versions of this - a lower and a higher-powered model. The standard version is more than enough for around town while being smooth and generally pleasant to drive. However, we'd look for the more powerful 1.2 TSI (originally with 105PS and later upped to 110PS). It's quite a hidden gem in the Skoda range and gives the Rapid Spaceback a nippy turn of pace when needed.
This was later replaced by a 1.0 TSI which although smaller, is just as quick. The one thing to note here is that it's a three-cylinder engine so by its very nature it's not as smooth as the 1.2 TSI. However, it's sprightly and good fun to drive.
The top petrol is the 1.4 TSI but we don't think the Rapid Spaceback really needs it - the 1.2 TSI is plenty quick enough for most drivers.
Rapid Spaceback models get a five-speed manual gearbox with a rewardingly positive shift. The more powerful 1.2 TSI gets a six-speed gearbox, so it's quieter and more relaxed at speed.
If you are covering lots of miles the TDI diesels make sense. Sadly they're not very refined and are pretty noisy. The 1.4 TDI is slow and really not pleasant so go for the better 1.6 TDI. It's no bundle of fun but has more pulling power.
Refinement and noise levels
Get the Rapid Spaceback on the motorway and the one thing you'll notice is the noise. There's a fair amount of wind noise around the front pillars while you feel there could be more sound insulation between you and the engines.
True the diesels are barely working at 70mph but there's still a low constant rumble which soon gets tiring. The petrols, especially those with the five-speed gearbox, are equally vocal. It's not terrible but a Ford Focus or Vauxhall Astra are both quieter here.
While it arguably rides better than the standard Rapid, the Spaceback's suspension still tends to make a lot of noise over rough roads. There is also considerable vibration through the steering wheel from the diesel engines and the later 1.0 TSI isn't that smooth either.
Safety equipment
The standard Rapid (which the Spaceback is based on) was awarded the maximum five-star rating when it was crash-tested by Euro NCAP in 2012 so it's pretty safe (no pun intended) to assume the Spaceback is just as safe.
Standard safety kit on all models includes ESC stability control along with driver and front-seat passenger airbags, head airbags and side airbags for front passengers. There are Isofix mounts on the two outer rear seats for child seats too.
City Emergency Braking, which will automatically try and stop the car if it detects a collision is imminent, is an option on SE Tech and SE Sport models but was never standard fit.
MPG fuel costs
"All the engines in the Rapid Spaceback range are designed to be cheap to run. Of course, if it's big mileage economy you want, the diesels have that sewn up. The 1.4 TDI will do more than 60mpg in the real world while the 1.6 TDI should see 50mpg."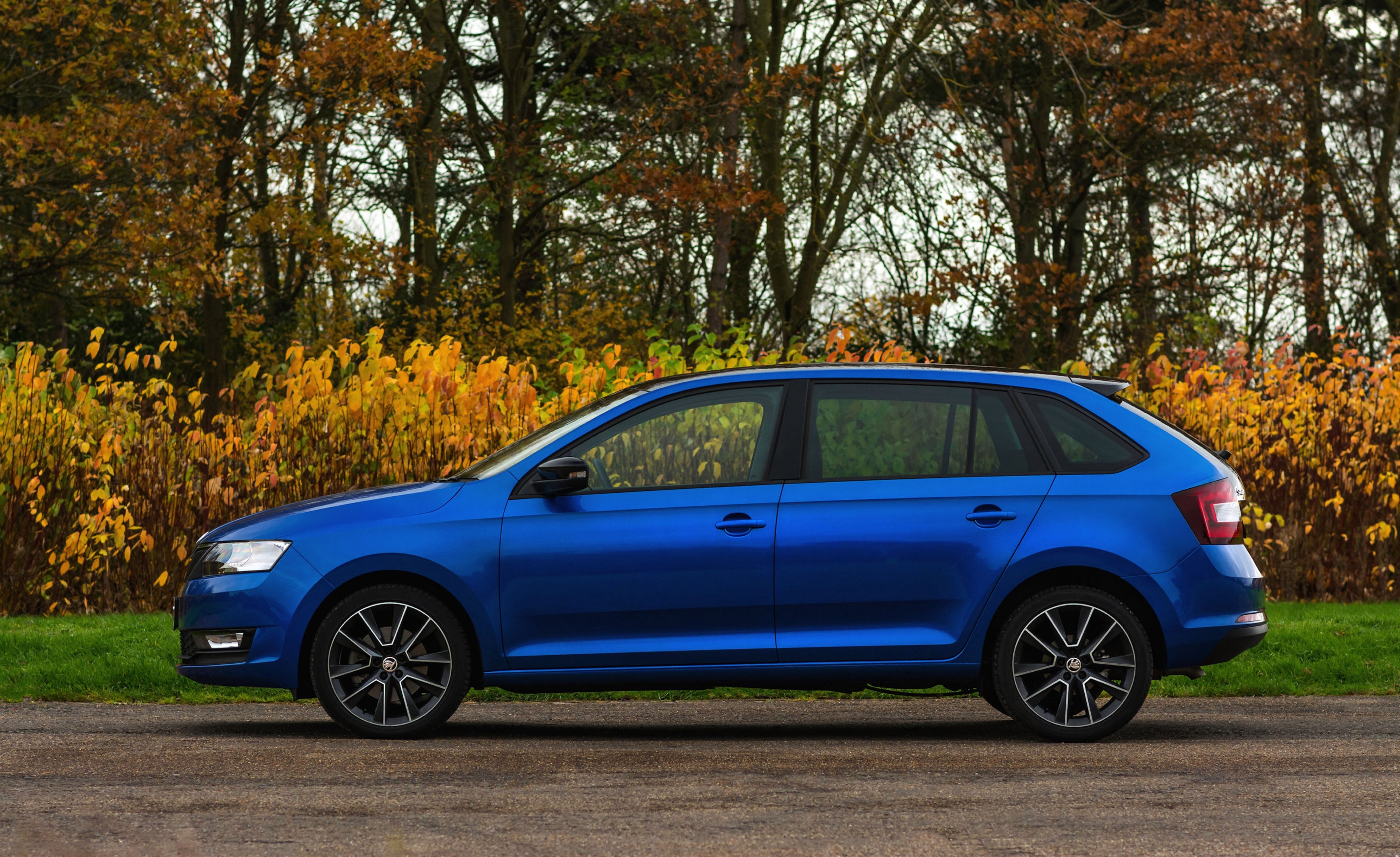 But the petrols aren't far behind which is why we'd choose one over a diesel. They're much smoother and ideal for round town, yet you can still expect 45mpg to 50mpg, making them very cheap to run. The 1.4 TSI is a thirstier as you'd expect and you'll be seeing closer to 40mpg in real-world conditions.
Insurance groups and costs
Thanks to its small engines, the Rapid Spaceback is cheap to insure for most drivers with entry-level S models starting at group 12 and 13. With a few years no claims, you can expect your insurance premium to be pleasantly affordable.
The higher-spec models are naturally more expensive to insure and if you go for the 1.4 TSI engine you'll see the insurance rating jump to group 18. This isn't a problem for most but if you want to put a new or learner driver on the insurance, it will make a big difference.
VED car tax
The Rapid Spaceback was still on sale until 2019 and newer models fall into the current VED system based on a flat rate of tax.
For older cars registered before April 2017, the system is a little more complicated. Based on CO2 emissions it means diesels are usually cheaper to tax. If you want to pay nothing for your VED you'll want a model that emits less than 100g/km of CO2. That will be the 1.4 TDI.
Not that the other models exactly break the bank. The 1.6 TDI is Band B so only costs £20 a year as does the less powerful 1.2 TSI. Upgrade to the higher-powered (and much better) 1.2 TSI with 110PS and tax is still only £30 a year in Band C.
How much should you be paying?
"The Rapid Spaceback has held its value better than the standard Rapid but that's partly down to the fact there are fewer around that have intergalactic mileages and have been used as taxis for most of their life... "
In fact there are plenty of 1.6 TDI models around with low mileages, which may seem good news but you'll want to check for problems with the diesel particulate filter as diesels do not like lots of short journeys.
The petrol is the better choice all round and there are lots of well cared for 1.2 TSI models around. A budget of £6000 will give you lots of choice. There are more Rapid Spaceback models on the used market than the standard Rapid but it's still a fairly niche model so you may have to travel for the right car or just be patient. On the plus side, there's no much demand so you've got a strong position to negotiate on price.
Trim levels and standard equipment
The Rapid Spaceback is better equipped than the standard Rapid. S is the basic model and has steel wheels, daytime running lights, electrically adjustable and heated door mirrors, front electric windows, air conditioning, remote central locking plus a reversible (rubber/carpet) boot mat.
But we suggest the SE which is better value and gets 15-inch alloys, a leather steering wheel with controls for radio and telephone, rear parking sensors, cruise control, front centre armrest, front fog lights, a trip computer, navigation, tinted glass and Bluetooth.
Elegance was originally the top trim and gets 16-inch alloys, climate control, cornering front fog lights, front and rear floor mats and a height-adjustable passenger seat.
The trims were later changed (just to add to the confusion) with S, SE Tech and SE Sport models. Again it's the middle one to go for as it effectively replaced the SE.
Skoda Rapid Spaceback cars for sale on heycar
3,249
Number of cars available
£8.6K - £16K
Price bracket of these cars
Colours available on heycar
Keep me updated by email with the latest advice, news and offers from heycar
By submitting, you agree to our
privacy policy
.