Written by
heycar editorial team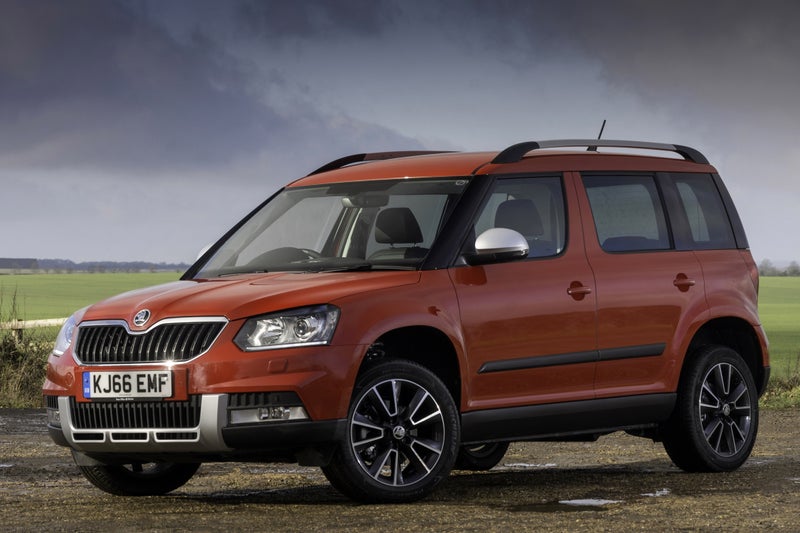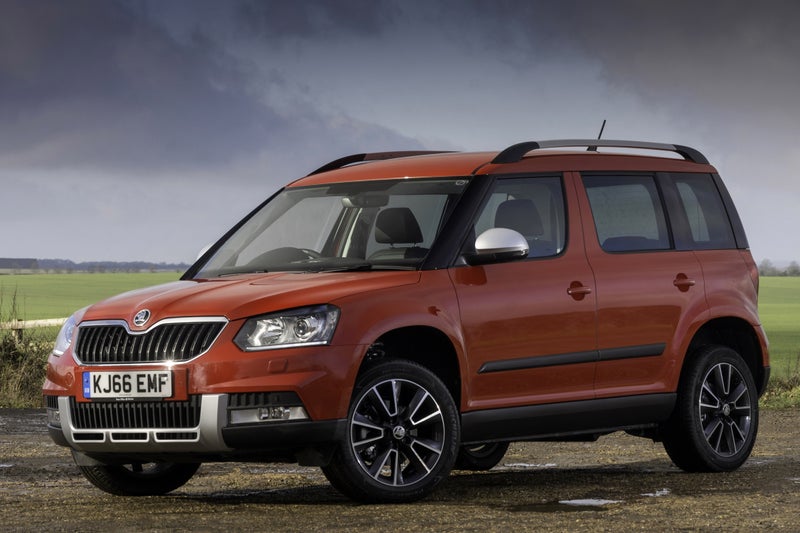 1/10
heycar rating
"Weird but wonderful family SUV"
Launched: 2009

SUV

Petrol, Diesel
Quick overview
Pros
Excellent practicality and space efficiency
Genuine off-road ability
Appealing driving experience
Cons
Occasionally poor ride quality
Noisy at higher speeds
Questionable reliability record
Overall verdict
On the inside
Driving
Cost to run
Prices and Specs
Common questions
Overall verdict on the Skoda Yeti
"Enough has been written about how Skoda was transformed from an Eastern bloc manufacturer to a highly-competitive brand with a loyal following, but what is less well recognised is that it used the backing of Volkswagen to really push the boat out and turn some radical ideas like the Skoda Yeti into production reality."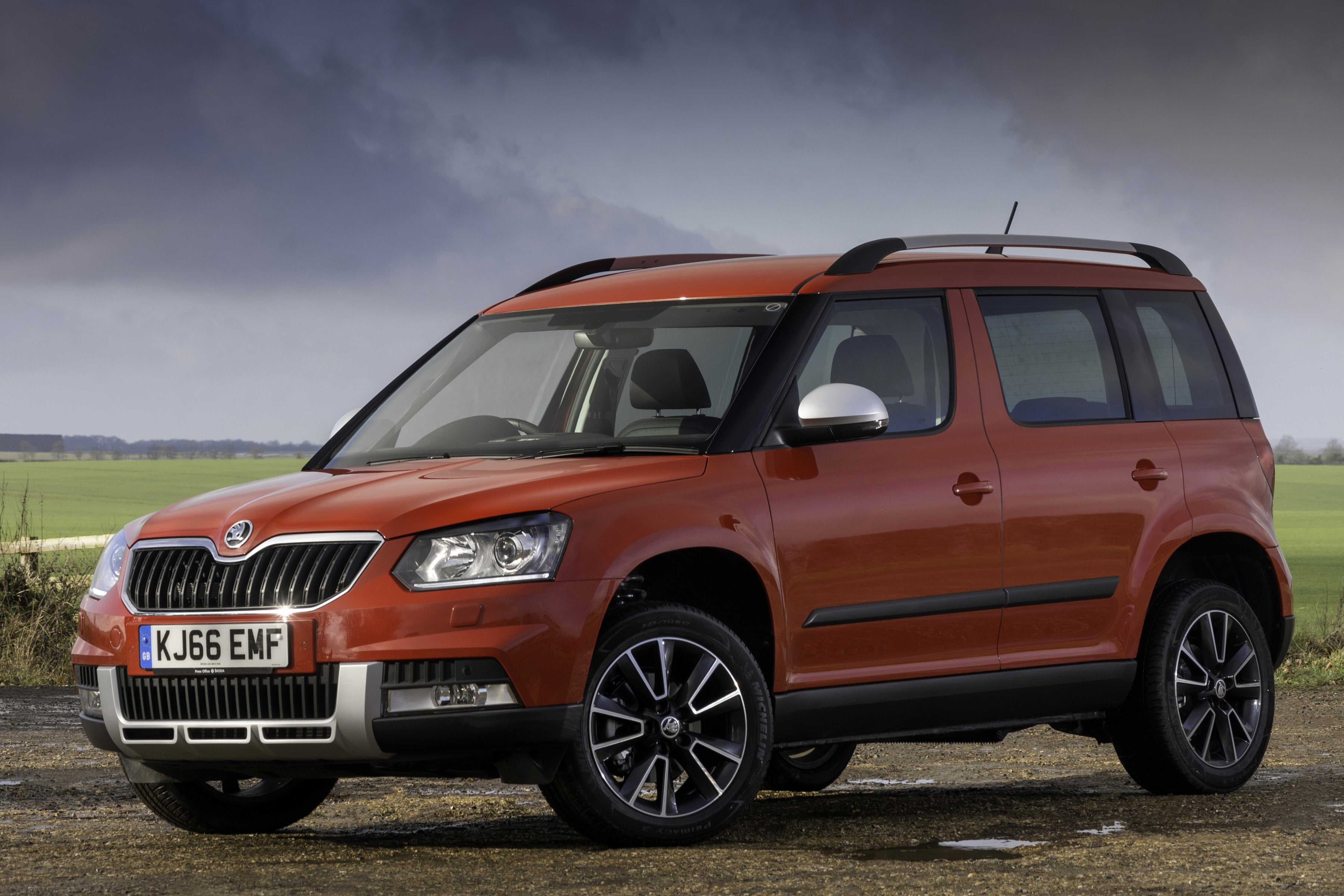 Not long after Nissan cracked the SUV formula with its Qashqai, Skoda introduced the Yeti, with a name that was as wild and wacky as the car it was applied to. Looking far more like an SUV than most of its rivals, the Yeti had a butch, squared-off design that gave off all the right 4x4 signals but was relatively compact, and although its ride height was raised a little it certainly didn't tower over you. Our 2022 Skoda Yeti review explores all this and more.
The relatively bluff exterior design of the Skoda Yeti was for a reason though, namely to free up as much interior space as possible. The Yeti offers an impressive amount of interior space given that it is still quite a compact car on the outside; it's shorter than a current Ford Focus, but the tall, box-like rear end means an immense amount of practicality.
The Skoda Yeti is also one of the first Skodas that really demonstrated the extra thought going into how people use the space; you can move the rear seats forwards and backwards independently and even remove the central seat and push the outer two closer together.
On the mechanical side the Skoda Yeti mixes conventional hatchback with actual off-road ability. The petrol engine range includes everything from a 1.2-litre petrol to a 1.8-litre with 160PS and lively acceleration, while there are four diesel options made up of a 1.6-litre and a 2.0-litre in three power outputs.
The Skoda Yeti is also available with four-wheel-drive depending on the engine choice; some came with 4WD as standard, some were front-wheel-drive only and others could be had with either. Following a facelift in 2013 the range was revised and a Yeti Outdoor model was added, which had different bumpers and came with four-wheel-drive as standard to suit buyers who really needed the off-road ability.
The Skoda Yeti offers a driving experience that is probably more conventional than you might expect. For all the visual toughness and slightly elevated driving position it is undemanding, comfortable and capable from behind the wheel, and it is this ease of use with the added practicality that makes the Yeti such a compelling proposition.
It's certainly something of a leftfield option, but the secret to the Yeti's appeal is actually quite straightforward. It's a great example of the SUV formula, mixing the visual appeal and space of a 4x4 (and the ability if you want it) with the ease of use and running costs of a conventional car.
The Yeti was essentially replaced by two models - the Skoda Karoq and the Skoda Kamiq.
Is the Skoda Yeti right for you?
There are more than enough - probably too many in fact - compact hatchbacks that can carry people and stuff in comfort, but the Skoda Yeti delivers those same attributes with a bit more flair and personality. It's a car that will suit a broad demographic; it's arguably stylish enough for a singleton or couple, is practical enough for a family and is sufficiently easy to drive and comfortable that it could be used for slogging through urban traffic on a regular basis.
Where the Yeti is a little less capable is for anyone who is after a fun driving experience. There's nothing wrong with the way it drives, and the 1.8-litre TSI version is actually impressive quick, but more conventional hatchbacks benefit from a lower centre of gravity which contributes to better handling. The Yeti is also not the most refined vehicle of this size, so if you regularly travel long distances you may be better off with a regular saloon or hatch.
What's the best Skoda Yeti model/engine to choose?
Because the Skoda Yeti is quite a versatile machine the best engine choice depends a great deal on what kind of driving you expect to do. If it's running about town on a regular basis then the 1.2-litre TSI is probably all you'll ever need.
It's quite refined, usefully torquey and economical with it, and you won't be bothered by its modest high-speed performance. For most buyers however, the diesel option makes the most sense. If you don't need four-wheel-drive, and most people don't, then go for the 110PS version in two-wheel-drive guise - otherwise the more potent 140PS 2.0-litre TDI has the 4x4 option as standard and is ready for anything.
As for trim levels, for pre-facelift cars the Skoda Yeti SE offers the best balance of price and equipment and is one of the more popular options, with rear parking sensors, air con, cruise control and an MP3-compatible CD player as standard. On post-2014 models the basic Skoda Yeti S spec is quite generous, but the SE again adds the same useful features.
What other cars are similar to the Skoda Yeti?
There are few cars that look quite like the Yeti, but there are a few alternatives that are aimed at the same target audience. Nissan's Qashqai was one of the cars responsible for the boom in SUVs, combining the easy driving dynamics of a regular car with the practicality and high driving position of a 4x4.
Similarly Toyota's RAV4 and the Honda CR-V were on a similar path even before the Qashqai, mixing SUV styling with car-derived mechanicals. Skoda's parent Volkswagen also got in on the act with its Volkswagen Tiguan, with a more premium approach to the segment.
Comfort and design: Skoda Yeti interior
"If you've not experienced an SUV before you might wonder exactly what to expect when opening the driver's door and climbing inside. As far as the Yeti is concerned at least, it's plenty of good news."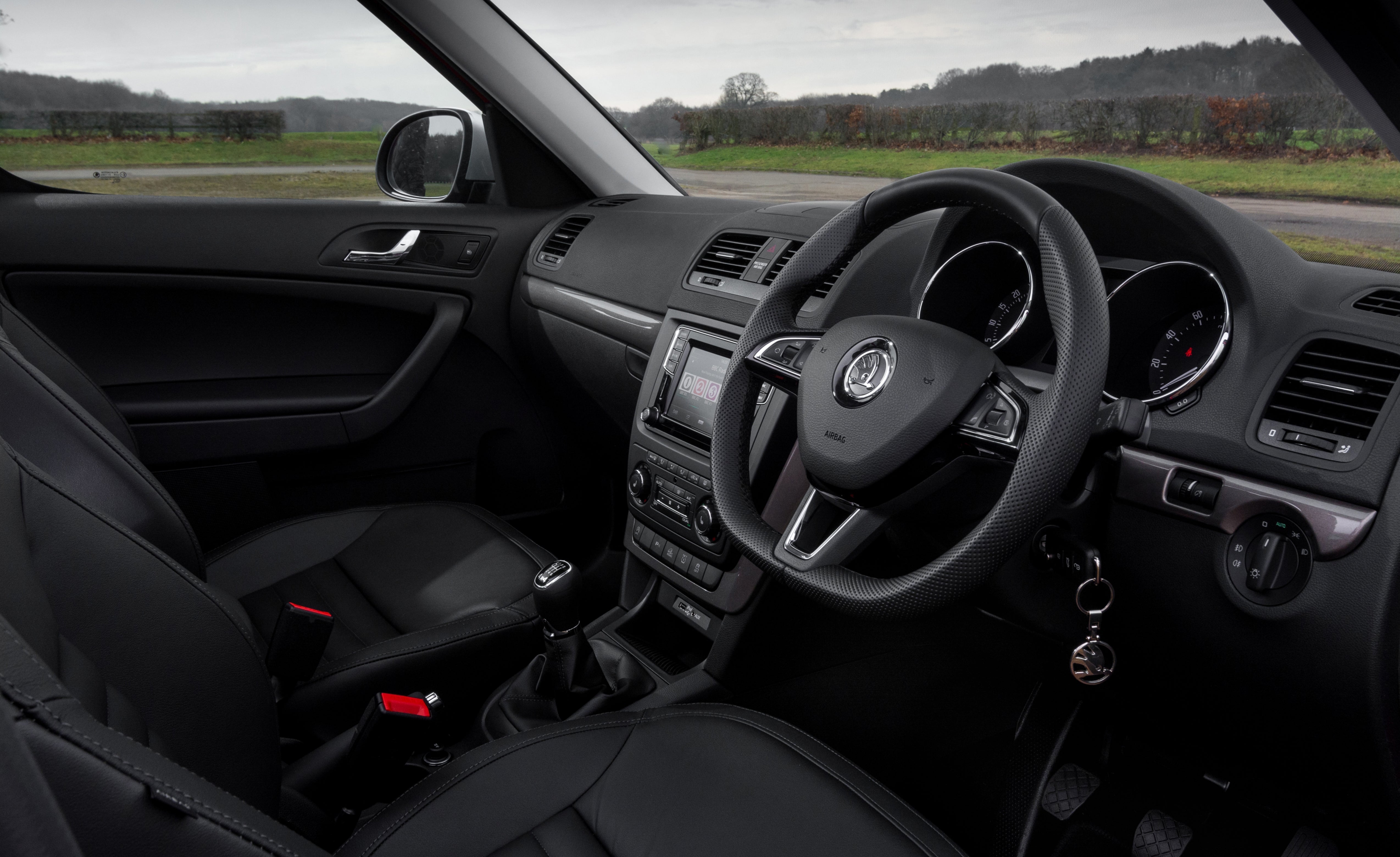 For starters, the Skoda Yeti has a tall body but isn't particularly high-riding, so that means a nice big door aperture for easy entry and exit. The same applies to the seating position; it's slightly raised compared to a conventional car but neither is it so high you have to climb into it; whether you're physically limited or young and sprightly, small details like this can make living with a car a great deal easier.
The good news continues once you're sat in the driver's seat too. Finding the right driving position won't be difficult, as the steering wheel adjusts for rake and reach, while seat height adjustment is standard on all models too.
What is more, the Yeti's dashboard is set quite low relative to the seat and steering wheel position, so even if you're not particularly tall you should find yourself looking over the top of the dashboard rather than across it, which is good news for visibility and gives the raised driving position that many SUV buyers are looking for.
The layout of the cabin is pleasingly straightforward too. Because it is a slightly older design there's no digital instrument display, just two big dials with a small trip computer between them. The centre console is simply laid out too, with a CD/radio or touchscreen depending on the specification above the ventilation controls. It might not be flashy, but it's easy to understand and to operate.
Quality and finish
You wouldn't call the Skoda Yeti's interior particularly luxurious - even if you go for a top-spec Elegance model with leather seats - but that's not to say it doesn't have appeal or feel of good quality. The emphasis here is clearly on functionality and robustness (with one eye on value), and it feels like a cabin that would stand the test of time. There's a mix of soft and not-so-soft plastics and some of those feel a little thin, but still sufficiently sturdy to cope with regular use.
You'll need a Skoda Yeti SE to get leather on the steering wheel, and the later Yeti SE Plus adds a better quality of cloth trim. Elegance models have leather seats which are more attractive and likely more resistant to wear too.
If you choose a Skoda Yeti there's a good chance you'll be doing a bit more loading and shuffling around of seats than in a conventional hatch, so the fact that it feels built to tough out this kind of work is good news. It's also important to remember that the design dates back to 2009, so don't expect current-era quality levels and you'll avoid disappointment.
Infotainment: Touchscreen, USB, nav and stereo in the Skoda Yeti
The earliest Yeti models date back to when touchscreen systems were more the preserve of luxury cars, so it's not a feature you get on every model. The entry-level (and short-lived) Skoda Yeti E and S models get a CD/radio unit and nothing else. The Skoda Yeti SE adds a six-CD changer with a bigger display screen, while SE Plus and Elegance get Bluetooth and a navigation system. Lately all models received a touchscreen system and Bluetooth, with in-built navigation reserved for the higher-spec models.
As with pretty much all of Skoda's products during this era, the infotainment setup is functional and easy to understand rather than packed with features. The more basic systems have widely-spaced buttons with clear labelling and a clear display which makes it easy to operate, and the sound quality is respectable too. The earlier touchscreen systems feel a little clunky by modern standards, although they do have hard keys and selections can be made using a turn and push knob as a useful backup.
The most recent systems fitted from early 2014 onwards are the best of the bunch, with the Smart Link+ system included so you can connect and Android or Apple smartphone with ease for music streaming and navigation.
Space and practicality: Skoda Yeti boot space
The Skoda Yeti is not a particularly large car, measuring 4222mm in length and 1956mm in width. While that's relatively compact compared to newer alternatives, its height of 1671mm helps considerably when it comes to interior space.
If you're sat up front, the most obvious positive is the amount of headroom; the high roof means there is more than most people could possibly need. It's a similar story in respect of legroom, with plenty of scope for rolling the seats rearward and there's plenty of space in the footwell too. Width across the cabin is also good, especially considering the Yeti is still quite a compact car.
Similarly the rear seat space is impressive; it's not just spacious, but also more flexible than many rivals. With such a squared-off rear end the roofline barely dips down at all, so although headroom isn't quite as generous as in the front - the seating position is a little higher - it's still one of the few cars of this size that can comfortably accommodate taller adults in the rear.
Legroom is good too, even if the front seat passengers have moved their own seats far back. Shoulder room is more of an issue when you have three adults across the rear; it's perfectly possible but they'll need to be friends.
Where the Yeti really pulls out an advantage is in the flexibility of the space. Because the rear three seats are separate, they can be moved forwards or backwards individually to change the amount of boot space and legroom, but they can also be removed. You can take the centre seat out and move the outer two into the middle to give more space either side, or remove all three for a huge boot. They can be a little fiddly to remove and reattach, but it's a small price to pay for such flexibility.
There's also some clever ideas in the boot itself, like a pair of plastic dividers that can be fixed in various positions to keep your items separated or upright, and you can even get a bike holder that allows you to store bicycles upright. It's this kind of thinking that gives the Yeti a significant edge over its competitors.
In terms of litreage, the Skoda Yeti's boot can accommodate 416 litres of luggage, rising to 1580 litres with the rear seats dropped. Take them out completely, and the Skoda Yeti can take 1760 litres of belongings.
Handling and ride quality: What is the Skoda Yeti like to drive?
"The Yeti's driving experience neatly explains just how the car itself fits into the automotive world. Broadly speaking it's more comfortable and easy to drive than a proper 4x4, but neither does it handle quite as tidily as a conventional car of the same size. But this is a car that's intended to be practical and usable, so the fact that it won't be tearing up the nearest country road is no massive loss."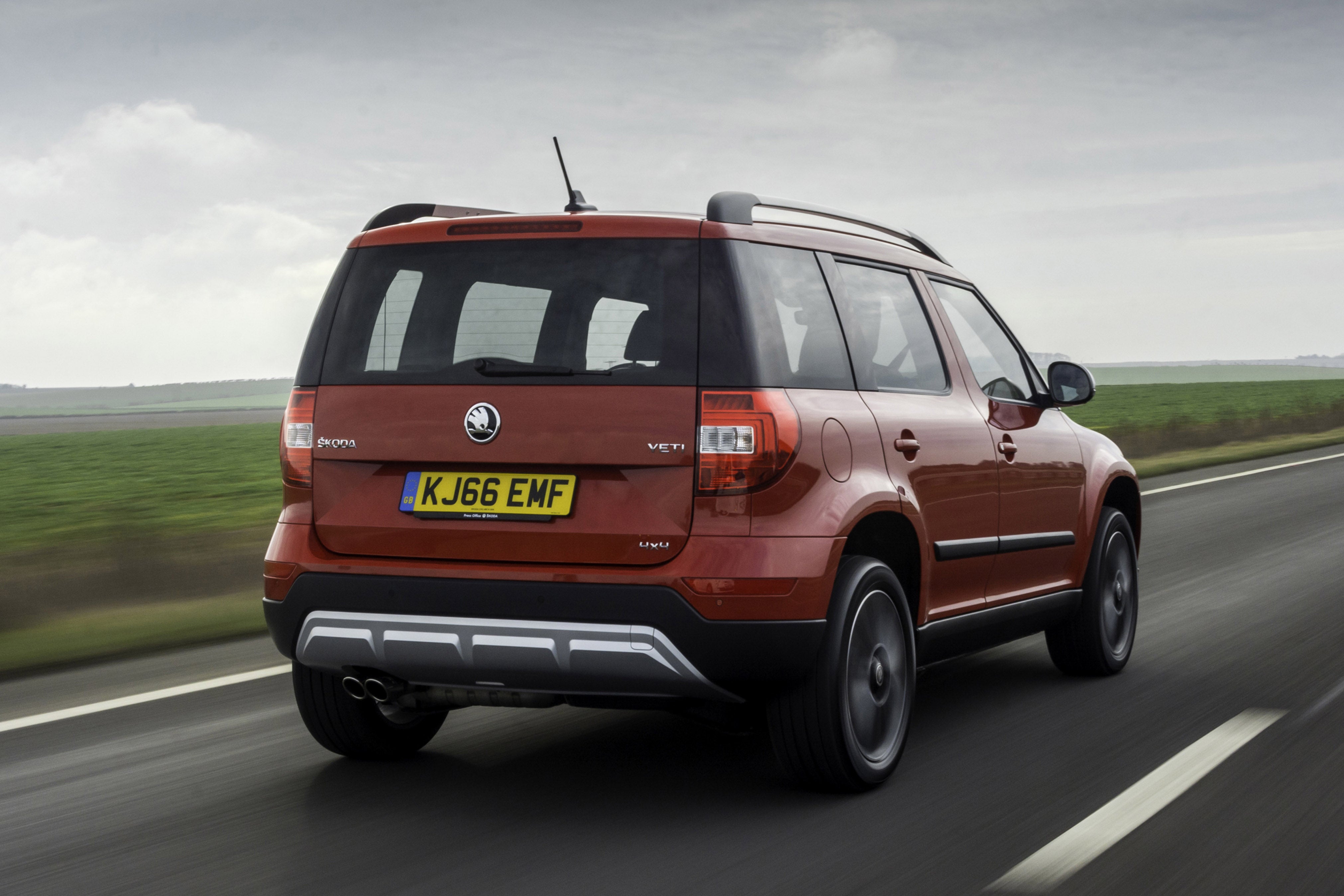 Like a lot of modern cars, the Yeti is somewhat sensitive to the size of wheels and tyres that are fitted. Thankfully it avoids going down the route of the comically huge wheels you'll find on some SUVs, but the Yeti E and S models are fitted with 16-inch wheels while SE and above come with bigger 17-inch wheels.
Some special editions are fitted with 18-inch wheels which are best avoided. The Yeti rides well in most conditions, but the suspension is set relatively firm in order to contain bodyroll during quick cornering. The result is that it can be caught out by sharper bumps, particularly at lower speeds, but in general it offers a good level of composure and comfort.
Given it is a relatively tall car with a short wheelbase, the Yeti also handles pretty well. If you've just stepped from a decent compact hatchback you'll instantly notice the differences; there's more bodyroll for starters, which means it feels less settled when you turn into a bend. However, the steering is good, with a positive and weighty feel, and there is good grip in all conditions.
The Yeti delivers all you could reasonably expect from a car like this, and it is good fun to drive quickly should you feel the need, although there are better alternatives if you are really looking for big thrills.
What engines and gearboxes are available in the Skoda Yeti?
The Skoda Yeti has had a broad range of engines during its lifetime, so that means there's plenty of choice for the buyer and something to suit all budgets and needs.
The 1.2-litre TSI turbocharged petrol is the most basic option, but it's better than you might think. The turbocharger means it has 105PS and offers useful acceleration, as well as being impressively frugal. If you plan to load up your Yeti on a regular basis you should consider a more powerful option though. A 1.4-litre TSI engine was also available, with similar economy and a little more performance, and is probably the best choice if you need to have petrol.
At the top of the tree is the 1.8-litre TSI, which offers up a very sprightly 160PS and gives the Yeti a bit more performance than it really needs; it's hilariously quick and will trouble performance cars with its speed, but it's not really a car designed for this kind of tomfoolery and will be quite expensive to fuel.
If you need proper versatility, then one of the diesel offerings will probably make the most sense. The basic 1.6-litre diesel has a similar 103PS output to the 1.2-litre petrol, but offers slightly less performance. It is very economical though - the most economical of all the options in fact - but isn't particularly comfortable out of town.
The best blend of performance and economy comes from one of the 2.0-litre diesel engines. The 110PS version has a little more grunt than the 1.6-litre diesel and is similarly economical, but the 140PS and 150PS versions can tow, are refined, quick and economical too.
Refinement and noise levels
One of the main downsides of choosing an SUV instead of a conventional hatchback is that the chunky looks and high ride height aren't the ideal combination for low noise levels and refinement. The Yeti is reasonably quiet in the right conditions and with some of the engine options, but it is something to bear in mind if ultimate refinement is something you are looking for.
In particular, the diesel engines do transfer a fair amount of noise and vibration into the cabin. The 2.0-litre units are less susceptible to this, which is another reason to choose one over the 1.6-litre option. The petrol units are better again, particularly with less vibration - if you want the quietest Yeti there is you need the 1.4-litre petrol.
Road noise is also something that affects the Yeti, especially at higher speeds and if the road surface is poor. The design doesn't help here, with big wheel arches that look good but allow the road noise to echo around the body. Models on the 16-inch wheel option are better here. Wind noise is also an issue with the Yeti, as at higher speeds it is noticeable around the doors - something else not aided by the chunky exterior.
Safety equipment: How safe is the Skoda Yeti?
The Skoda Yeti was tested by EuroNCAP in 2009 when it was first launched, and has not been tested again before being discontinued in 2017. EuroNCAP awarded it an impressive five star rating, with 92 per cent for adult protection, alongside a score of 78 per cent for child protection. A little less impressive is the score for pedestrian mitigation at 46 per cent, but this is countered by a strong 71 per cent score for safety assist.
As standard, all Skoda Yetis are fitted with front airbags, with side chest and pelvis airbags for the front seat passengers, curtain airbags for front and rear passengers and a driver's knee airbag all available as options rather than as standard fitment. Isofix child seat mounting points are fitted in the outer rear seats as well as an airbag deactivation switch for the front passenger seat, with ESC as standard on all models.
Because the Yeti was tested so long ago, the criteria on which it was judged was not the same as today and a lot of the safety systems that modern cars require for a strong safety assist score were not available at the time - features such as lane keeping assist, automatic cruise control and automatic emergency braking are not fitted as standard or available as an option.
This may be a sticking point for some buyers, but the same issue applies to many alternatives that were first introduced around the same time as the Yeti.
MPG and fuel costs: What does a Skoda Yeti cost to run?
"With such a broad engine range it should come as no surprise that the Yeti's economy can vary quite significantly. "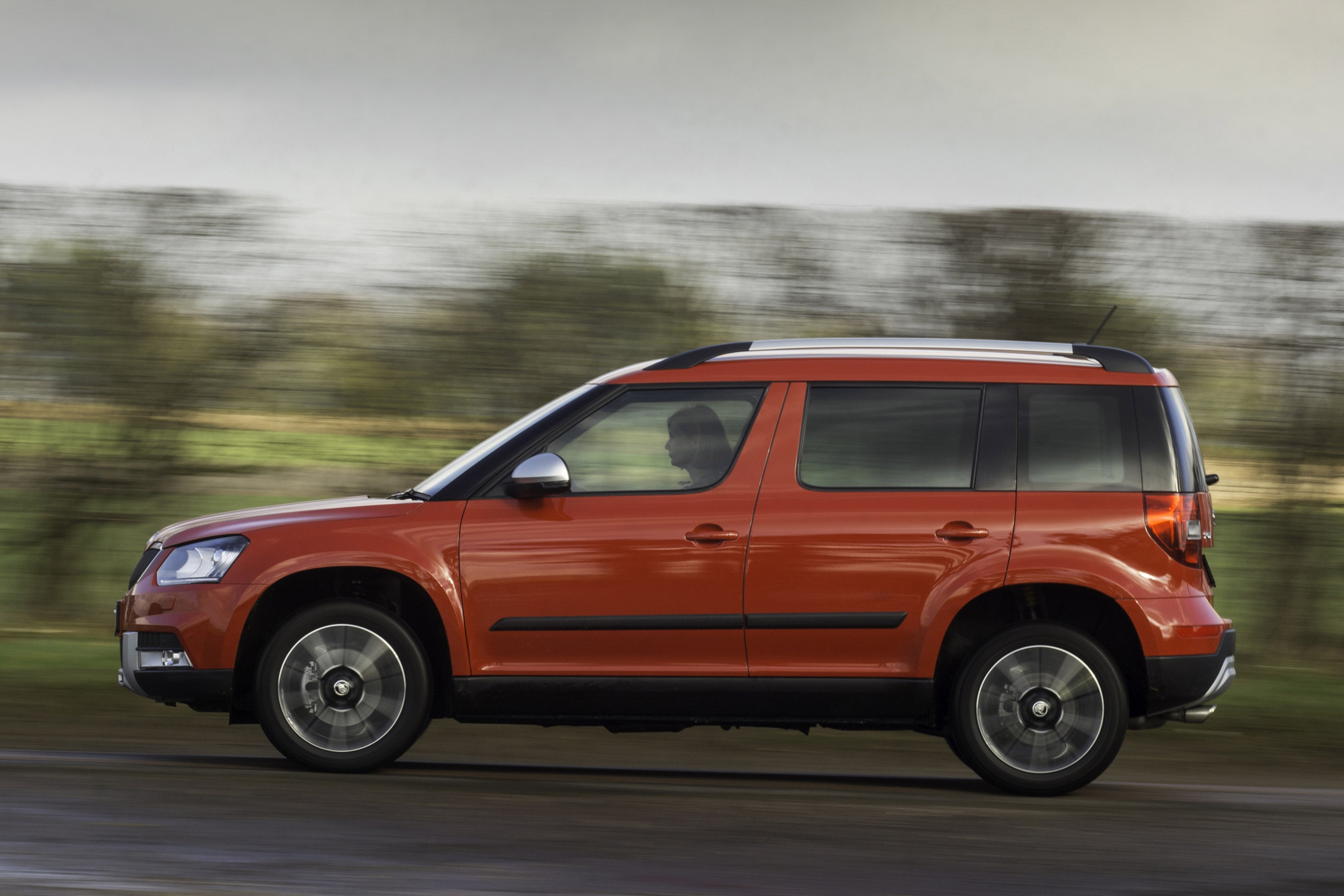 Firmly at the bottom of the tree is the 1.8-litre petrol TSI - its claimed combined figure of 35mpg is under the old and generous NEDC rules, so expect even less. Of the more sensible options, the two smaller petrols are reasonably frugal with a claimed combined figure around 41mpg.
Of the diesels, the 1.6-litre is the most frugal, but the 110PS 2.0-litre is close behind with a claimed figure of 62mpg - expect to achieve 50mpg and more in normal use.
How reliable is a Skoda Yeti?
Unfortunately, it seems that reliability might be the Skoda Yeti's downfall. Owners have reported an extensive amount of issues to HonestJohn.co.uk, ranging from gremlins with the DSG automatic gearbox to leaking sunroofs and high oil consumption on 1.8 TSI petrol engines.
That said, Skoda is generally a very dependable car brand. And owners like their Yetis enough for it to score an overall score of 9.05 out of 10 in HonestJohn.co.uk's Satisfaction Index.
Insurance groups and costs
Choose the right engine and trim, and you can get a very low insurance group on a Yeti. Pick of the bunch is the 1.2-litre petrol in E or S trim, which manages to get into group 9.
Even the better equipped Skoda Yeti SE is in group 10 with this engine. The 1.6-litre diesel is between groups 12 and 15 depending on the specification, but even the Laurin & Klement model with the 2.0-litre TDI 150PS engine is group 21, so unless your premiums are already high you should find this a relatively inexpensive car to insure.
VED car tax: What is the annual road tax on a Skoda Yeti?
The Skoda Yeti is another car that is affected by the April 2017 VED changes as it has been on sale since 2009, so how old your car is as well as the engine you choose will affect your annual bill.
No Yeti is cheap enough to qualify for zero VED, but a 1.2-litre petrol as well as 1.6-litre diesel and 2.0-litre 110PS diesel only incur a charge of £30 per year if you go for a car registered before 31st March 2017. The same car registered a day after gets hit with a £150 annual VED bill instead and given this is right at the end of the Yeti production run, it is worth seeking out a car registered before this cut-off date. If you go for one of the more powerful diesel or petrols however it makes little difference, as they only vary between £120 and £150.
How much should you be paying for a used Skoda Yeti?
"The Yeti was a popular car and was on sale for eight years, so you should have little trouble finding an example to suit your needs. "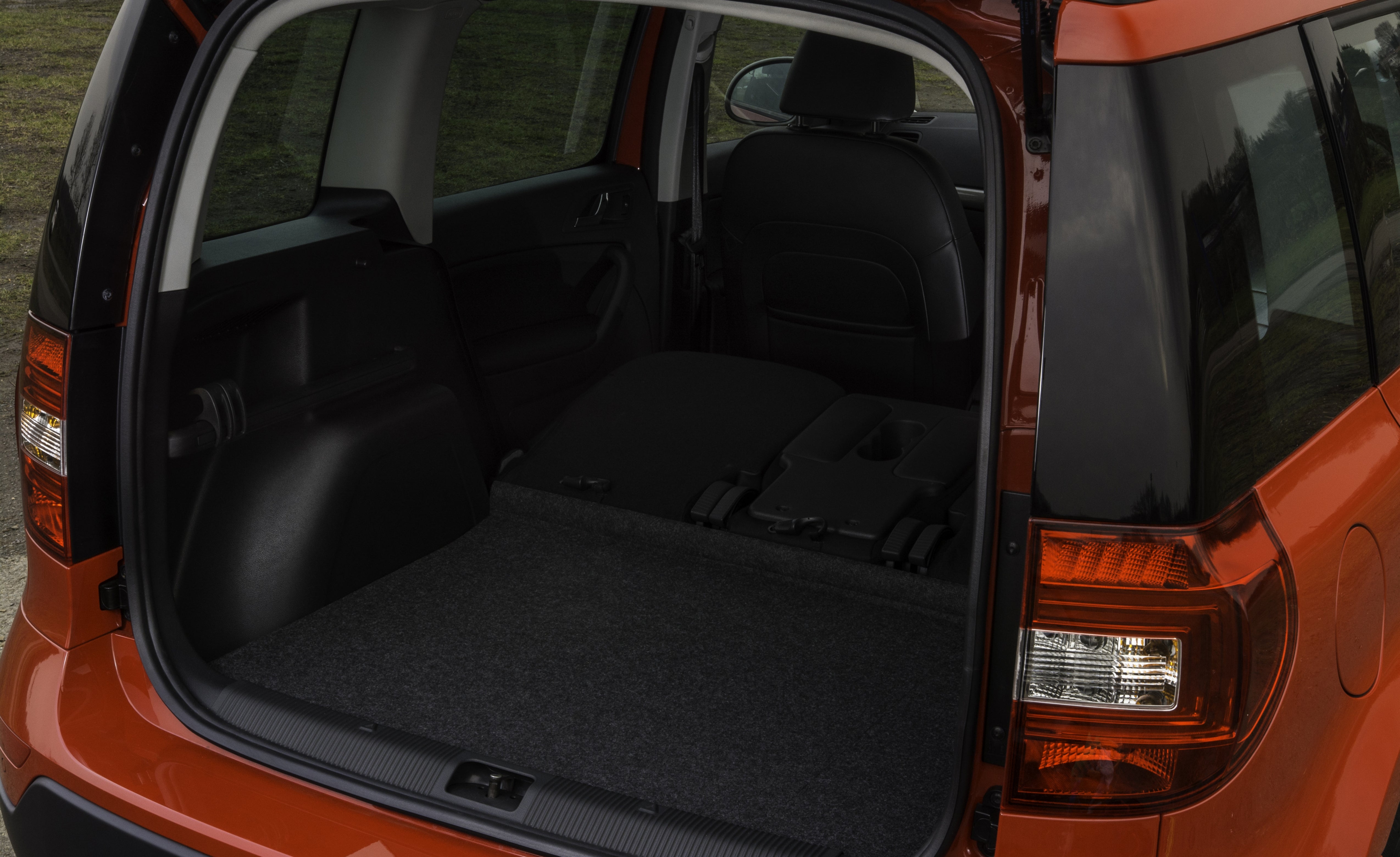 The most recent cars are still pretty young - a quick search of the heycar classifieds turned up plenty of 2017 examples with low mileages. We found a 2017 1.2 TSI Skoda Yeti Monte Carlo with a DSG automatic gearbox and only 10,000 miles for £14,000.
As for the cheapest examples, we found a 2013 2.0-litre TDI Skoda Yeti S with 55,000 miles for only £6,000, or a similar model in SE trim with the same mileage for £6,500.
Trim levels and standard equipment
The Skoda Yeti E is the entry-level model and is fitted with steel wheels, an alarm, black door mirrors and door handles, black roof rails, electrically adjustable and heated door mirrors, front electric windows, height and reach adjustable four-spoke steering wheel, multi-adjustable driver and passenger seat, manual air conditioning, CD stereo, remote central locking, trip computer, tyre repair set and the Varioflex seating.
Yeti S adds 16-inch alloy wheels, driver's knee airbag, front fog lights, rear electric windows and ESP stability control.
The Skoda Yeti SE comes with 17-inch alloys, a multi-function steering wheel, rear parking sensors, body coloured door mirrors and door handles, cruise control, dual-zone air conditioning, integrated headlight washers, leather steering wheel and a six-CD changer.
Elegance is the top of the range model and gets xenon headlights, cornering front fog lights, double lumbar supports, full leather upholstery, heated front seats, hill hold control, off-road button (4x4 models only), rain sensitive wipers and Bluetooth.
The Skoda Yeti SE Plus (from May 2011) sits between SE and Elegance and adds unique Kristal upholstery, Amundsen touch-screen satellite navigation system, a CD autochanger, Bluetooth, a multi-function steering wheel, electric driver and passenger seats plus rear passenger folding tables on back of front seats.
Ask the heycar experts:
common questions
How expensive is a Skoda Yeti?
The Skoda Yeti is no longer on sale, but you can pick up a late example for around £14,000. Early Skoda Yeti models can now be picked up for as little as £3,000.

How long is a Skoda Yeti?
The Skoda Yeti has surprisingly compact dimensions. It's 4222mm long, 1793mm wide and has a wheelbase of 2578mm.

What replaced the Skoda Yeti?
The Skoda Yeti was replaced indirectly by the Skoda Karoq SUV, as well as the slightly smaller Kamiq. Both are excellent cars but, arguably, don't have the character of the original Yeti.

Skoda Yeti cars for sale on heycar
5,240
Number of cars available
£9.7K - £18K
Price bracket of these cars
Colours available on heycar
Keep me updated by email with the latest advice, news and offers from heycar
By submitting, you agree to our
privacy policy
.