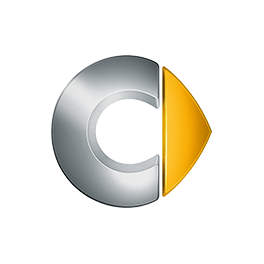 Smart Forfour Review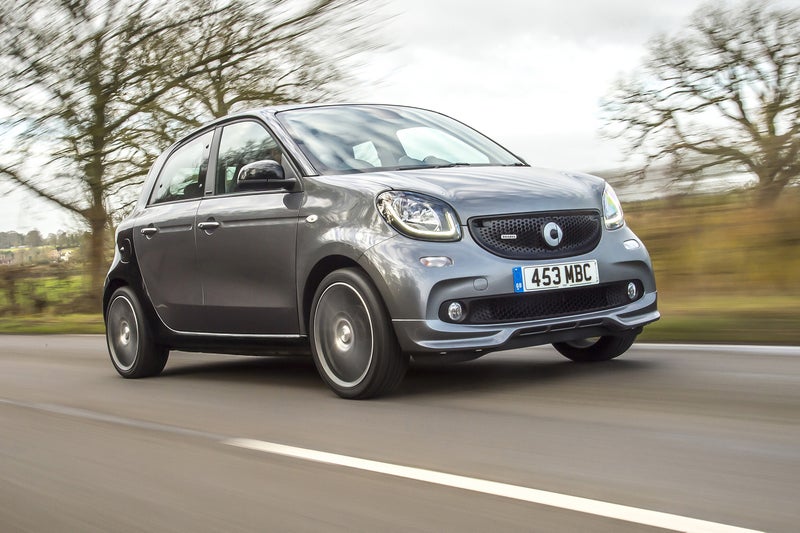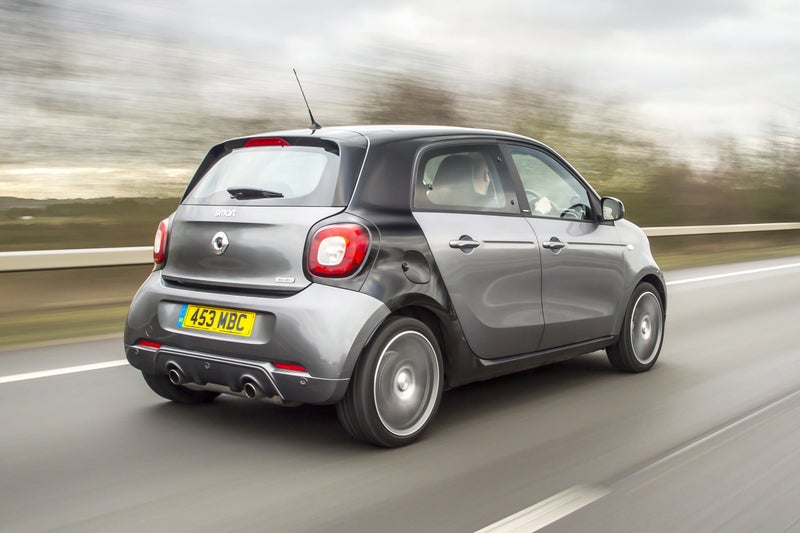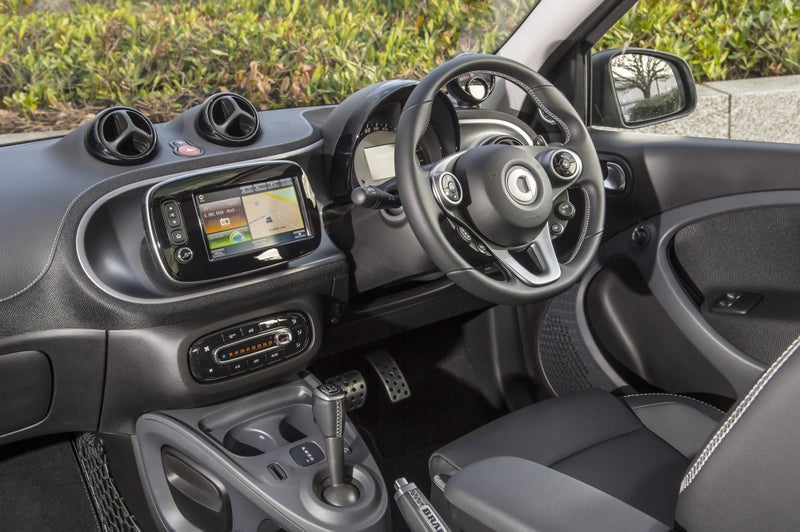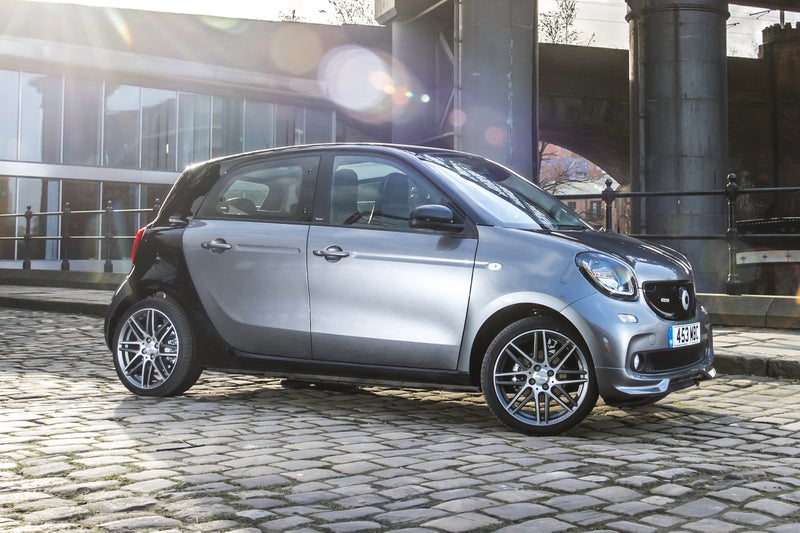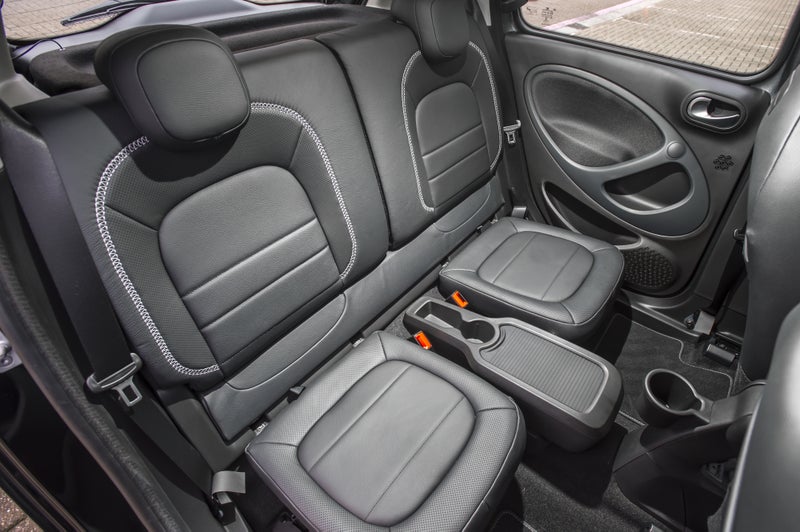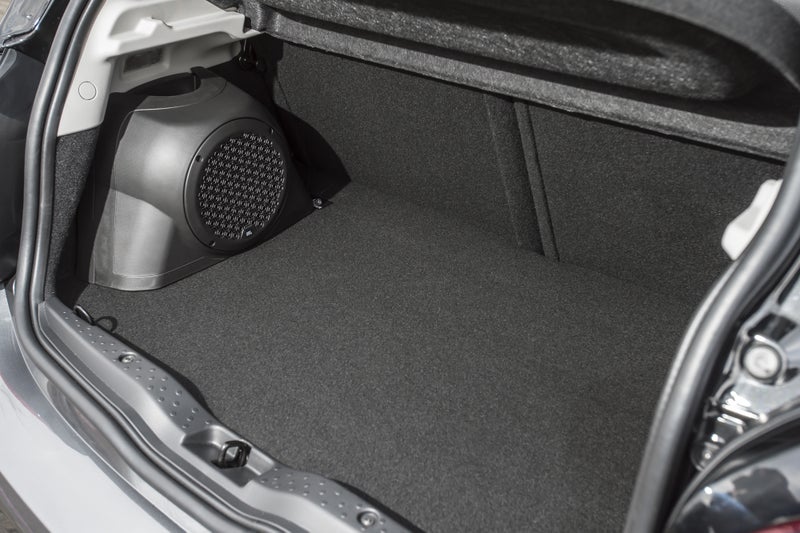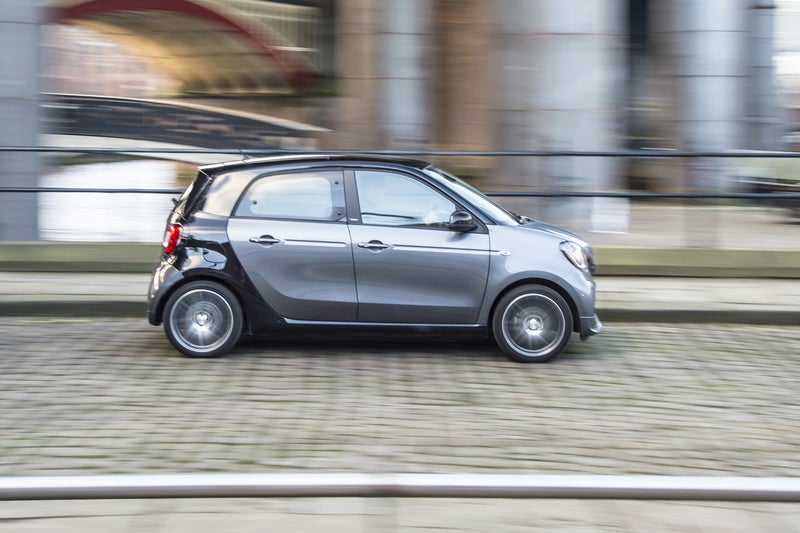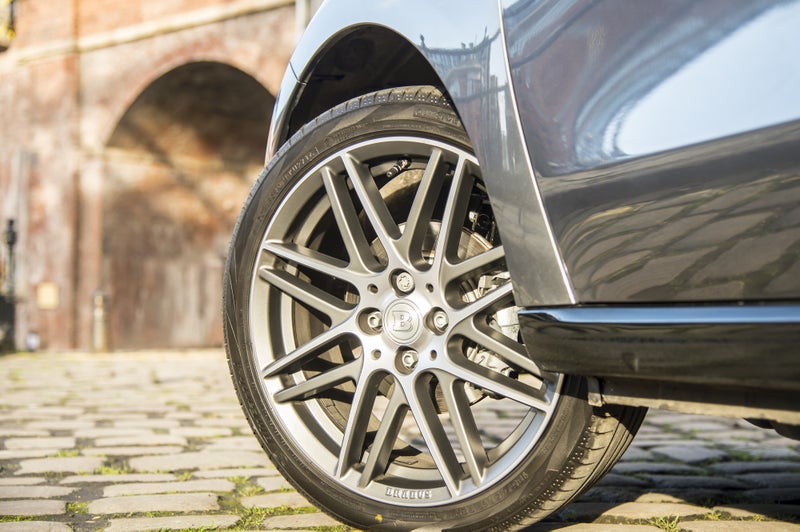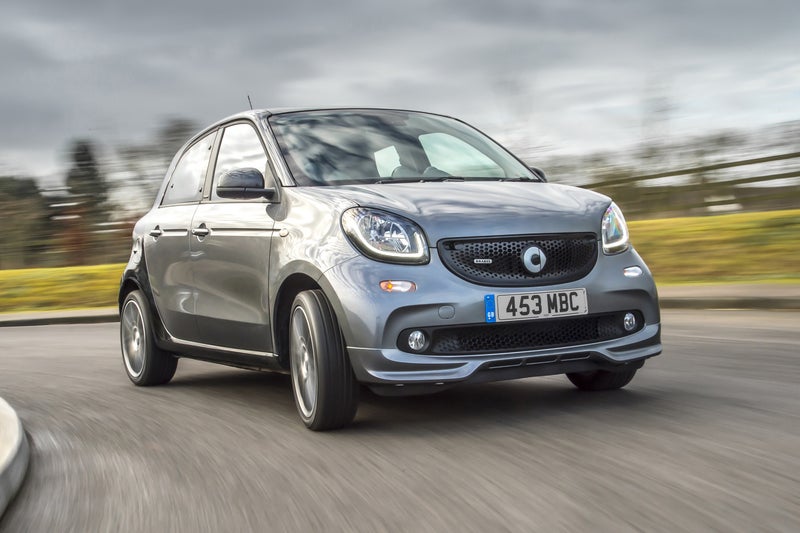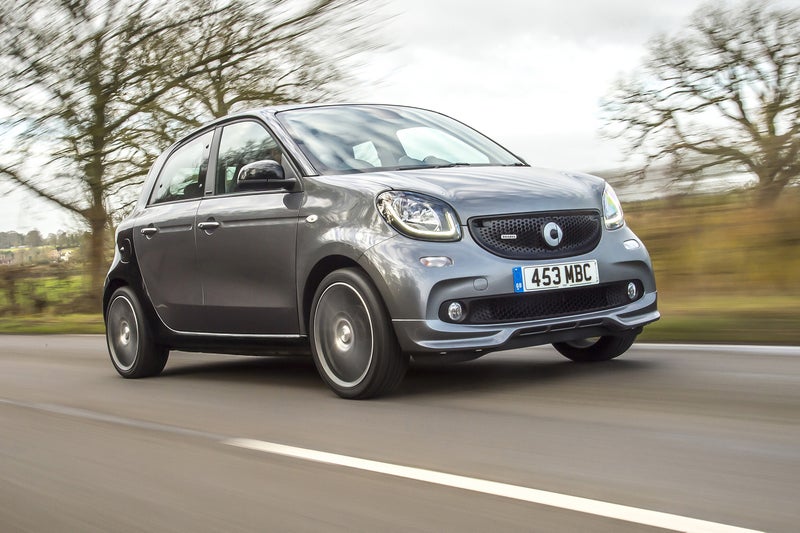 1/10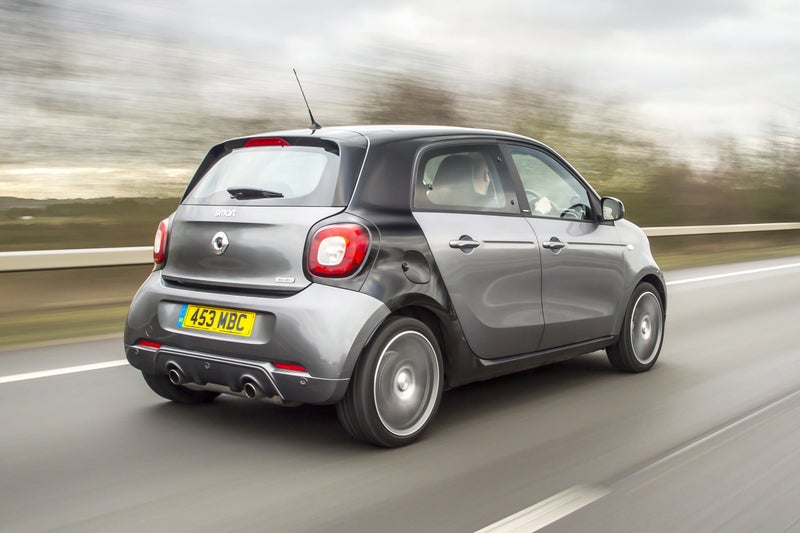 2/10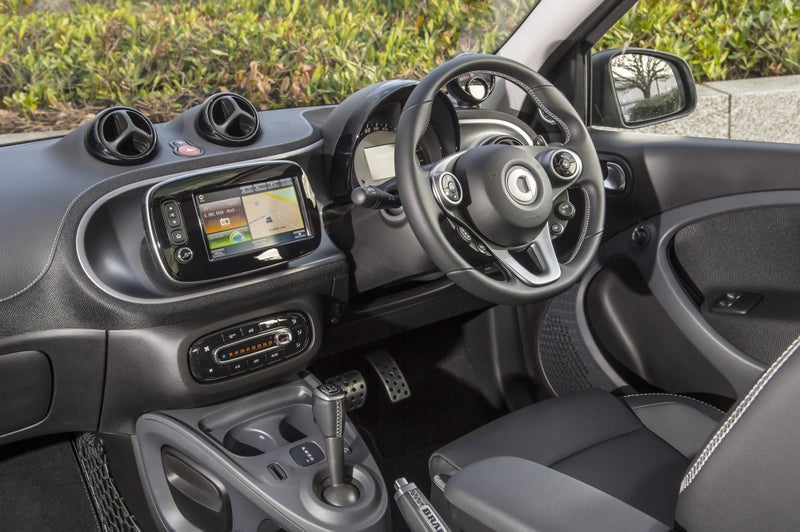 3/10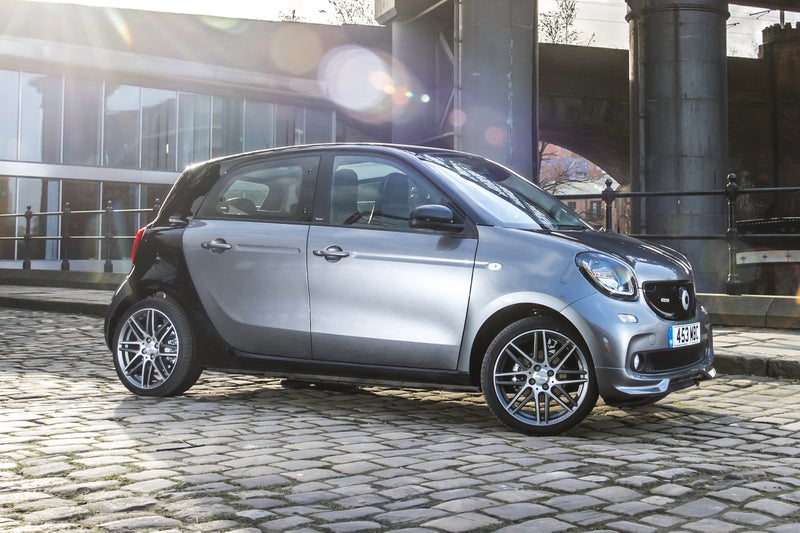 4/10
5/10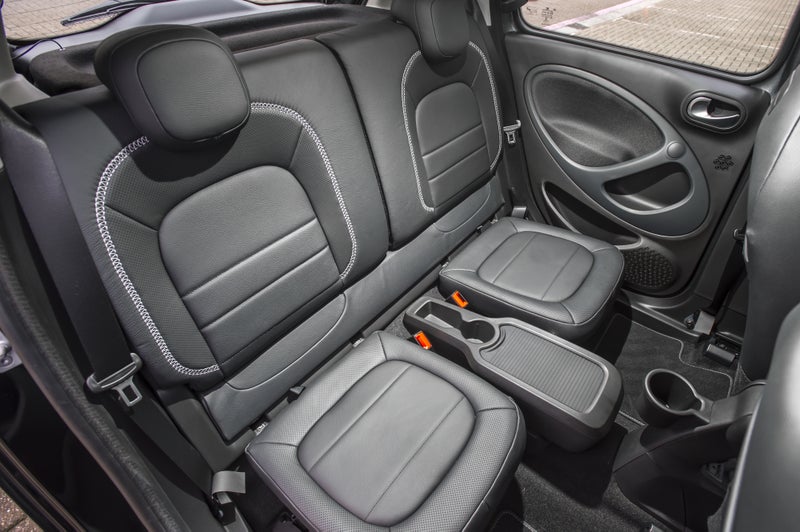 6/10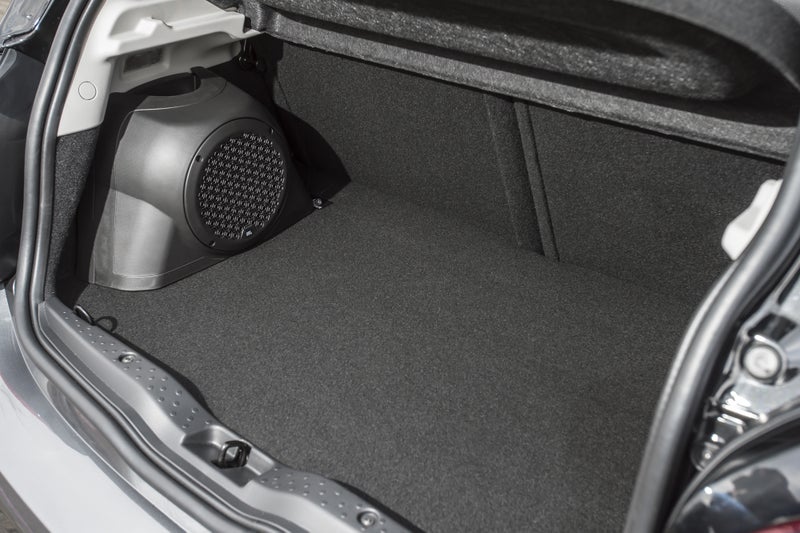 7/10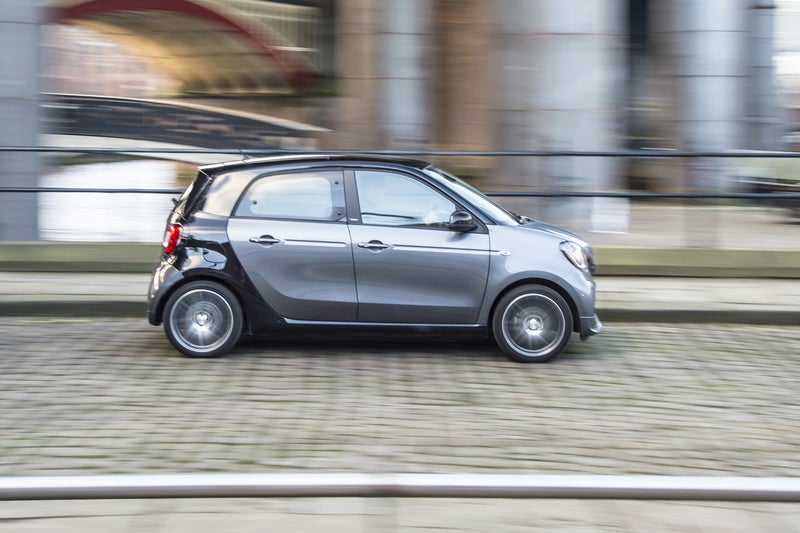 8/10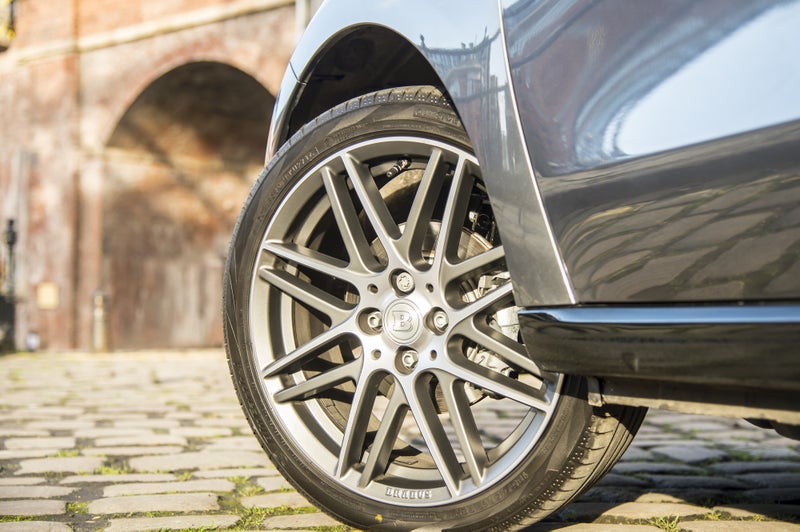 9/10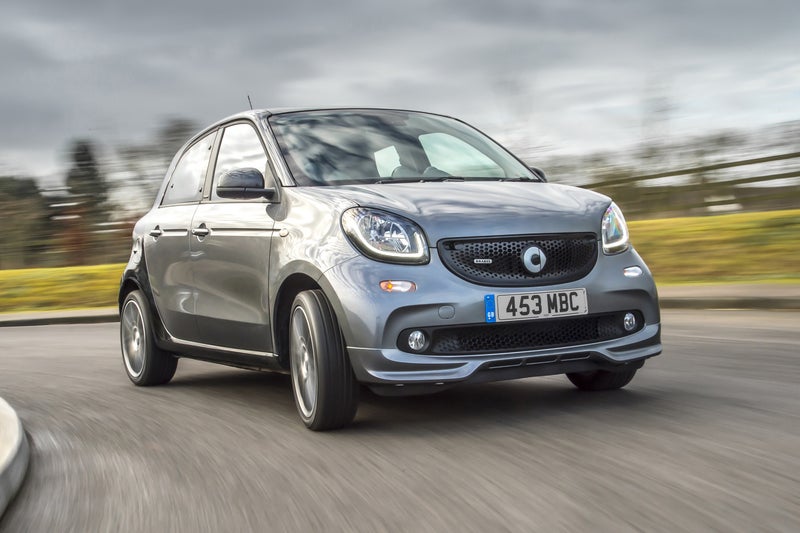 10/10
Launched in 2014

City car

Petrol
Launch year

2014

Body type

City car

Fuel type

Petrol

Written by
heycar editorial team

heycar rating
Bigger Smart is still small
Best bits
Strong exterior and interior design is appealing
Standard specification on most models is good
Tight turning circle helps excellent manoeuvrability
Not so great
Boot is one of the smallest in the class
Indifferent ride quality
Offers no discernible advantages over cheaper Renault Twingo
Read by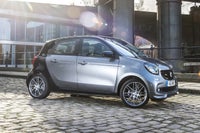 Overall verdict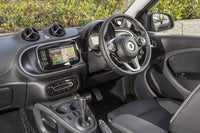 On the inside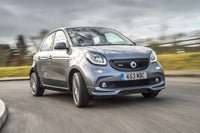 Driving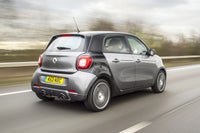 How much does it cost to run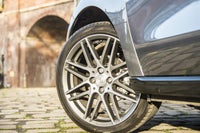 Prices, versions and specification
Overall verdict
"If it's a wacky approach to small cars you're looking for then you've come to the right place. Smart tore up the rule book when it first introduced the tiny Fortwo in the late 1990s, and followed that up with the slightly more conventional Forfour in 2004. That car only lasted a couple of years, but the Forfour returned in 2014 and had a lot more in common with the contemporary Fortwo."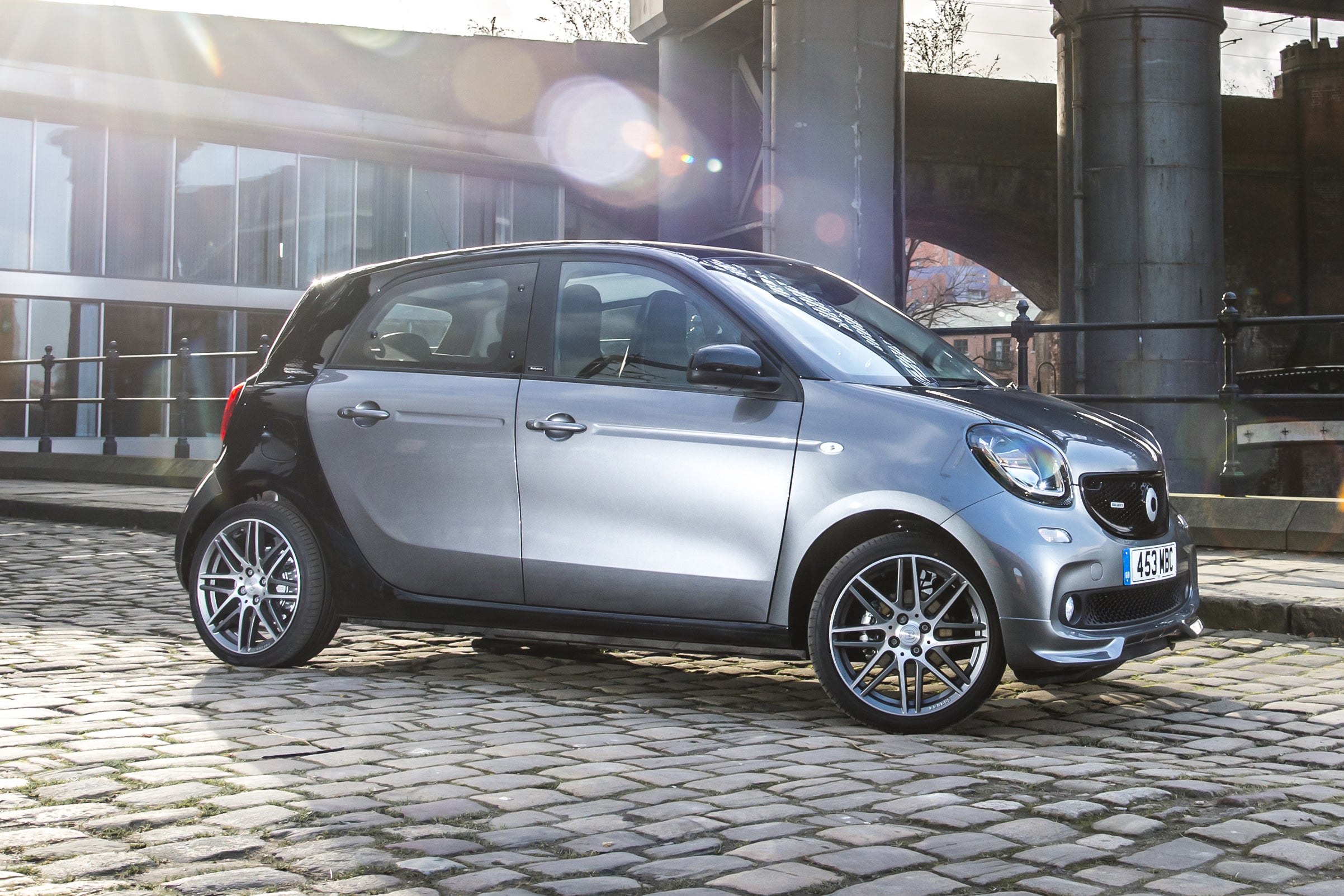 Designed and built in collaboration with Renault, who produced the mechanically-similar Twingo, the Forfour aped the mechanical layout of the smaller Fortwo by placing the engine at the rear of the car and driving the rear wheels, unlike the front-engine, front-wheel-drive approach of every other small car on the market.
The theory is that you can package up the engine and drivetrain together and use less space, leaving more room in the rest of the car for people and stuff. It also means the front wheels just have to steer rather than drive, which is good for manoeuvrability.
You'd do well to spot that's the case from the outside though. There's almost nothing to indicate that there isn't a tiny engine nestling under the short bonnet, or that there's anything other than luggage space in the boot. It also borrows the visual cues of its smaller sibling, with lots of soft curves, very short overhangs front and rear, a cute 'face' and the option to have the body finished in contrasting colours.
The Forfour is available with a choice of two petrol engine options - a 900cc turbocharged unit and a 1.0-litre non-turbocharged alternative, both with three cylinders only.
The turbocharged option is slightly smaller in capacity but is the more powerful of the two, offering up 90PS and 135Nm of torque, while the 1.0-litre is the cheaper alternative with 71PS and 91Nm of torque. Most models are fitted with a five-speed manual gearbox, but a dual-clutch six-speed automatic is available with the turbocharged engine. Smart also offered a high-spec Brabus version with 108PS, but this model is more expensive again.
The mechanical layout of the Forfour makes its presence felt when you step inside the cabin. This is still a small car remember - it might have four doors but it's still less than 3.5 metres in length - but it can seat four adults in reasonable comfort, even if the rear seats are best left for children.
One small niggle with the Forfour is that the driver's seat and steering wheel doesn't have a large range of adjustment, so taller drivers may find it harder to get into a comfortable driving position. Rather disappointingly, the luggage area only offers 185 litres with the seats in place, less than the identical Twingo and less even than the Smart Fortwo. This does increase to an impressive 975 litres with the seats folded.
The Forfour came in three standard trim levels - Pure, Passion, Prime and Proxy in ascending order. There were also a number of special editions throughout the car's life, although most of these centred on visual upgrades. The basic Pure model is light on equipment and was dropped later in the car's life, so Passion models upwards all get air conditioning, cruise control, hill start assist, electric front windows, AUX input and Bluetooth.
To drive, the Forfour is still at its best in the city. The super-tight turning circle is a boon in lots of situations, while of the two engine options the more powerful turbocharged unit is preferable, providing a useful surge of acceleration at low speeds and is happier at higher speeds too.
The Forfour is an odd mix of compromises, with its unusual layout not really aiding its space efficiency or its performance out of town. There's also little to recommend it over its Twingo sister car, which is likely to be cheaper to buy too.
If you're looking for the EV version, you need our Smart EQ Forfour (2017-) review.
Comfort and design
"Step inside the Forfour and you can begin to understand the purpose behind the complex and unusual mechanical layout. Get into the driver's seat and in many ways it feels like a bigger car."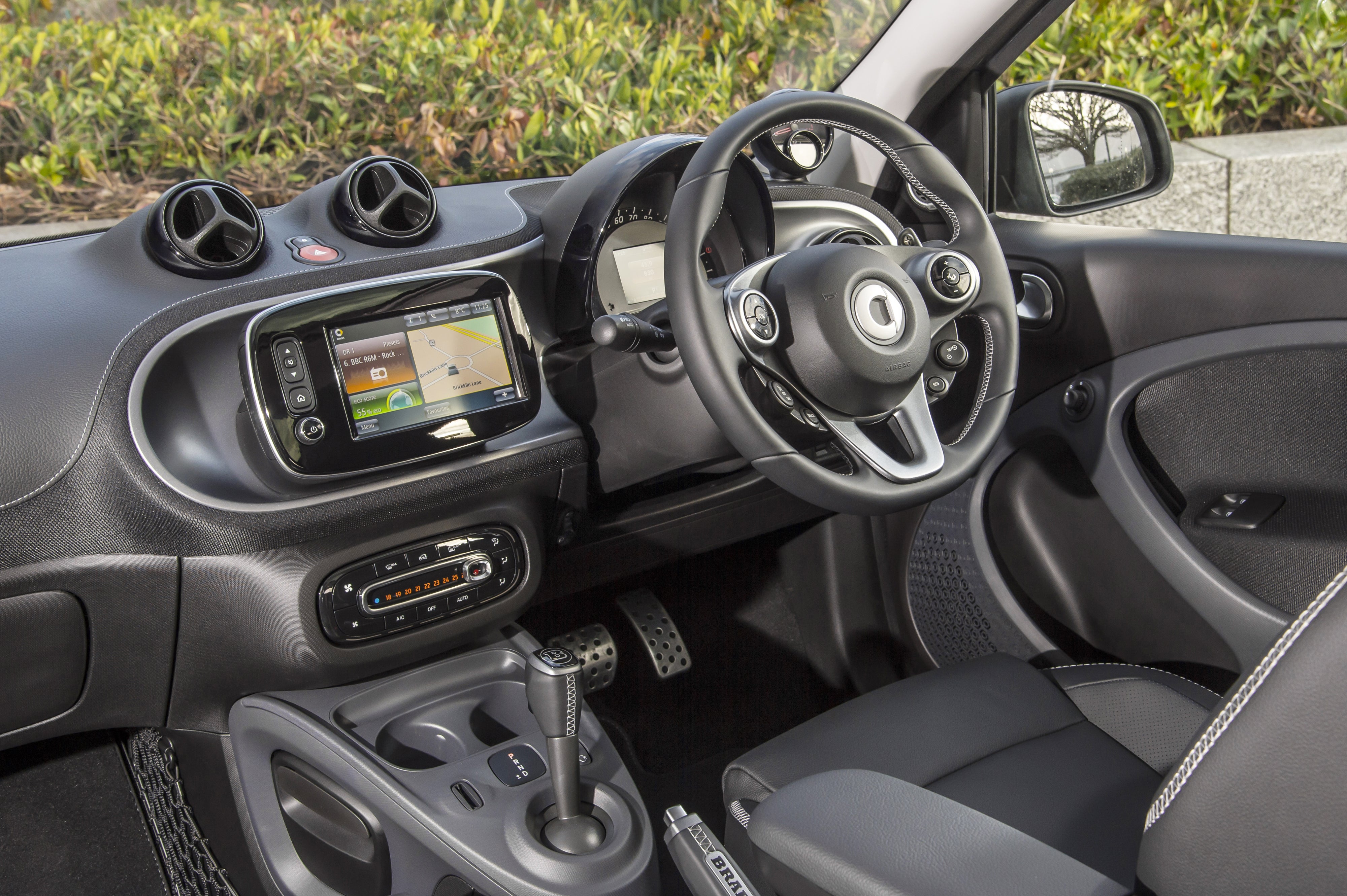 There's plenty of light coming into the cabin, the roofline is high and the dashboard doesn't steal all the space, so it provides a sense of comfort and calm whether you're sat up front or in the back. It's also a bit more interesting in here than in many small cars, because it borrows the design from the smaller Fortwo.
That gets you an attractive fabric-covered dash, contrasting colours depending on the model and a mix of materials. It's not all roses of course - some of the plastics are a little bit cheap to the touch, but on balance it feels a cut above the standard.
While the seats looks quite smart, they are not as comfortable as they appear. Both front seats are quite firm in their support, so depending on your own frame they can be uncomfortable on longer journeys. Taller drivers may also find the seat is set too high to get properly comfortable, with the low-set dashboard and small range of adjustment on the steering wheel.
Early models with the Comfort pack have the greater range of adjustment, but later models have both seat height adjustment and a height adjustable steering wheel as standard.
Handling and ride quality
"Rear-engined cars fell out of favour because front-engined, front-wheel-drive layouts became the norm - not least because they were easier to drive with all the weight at the front of the car."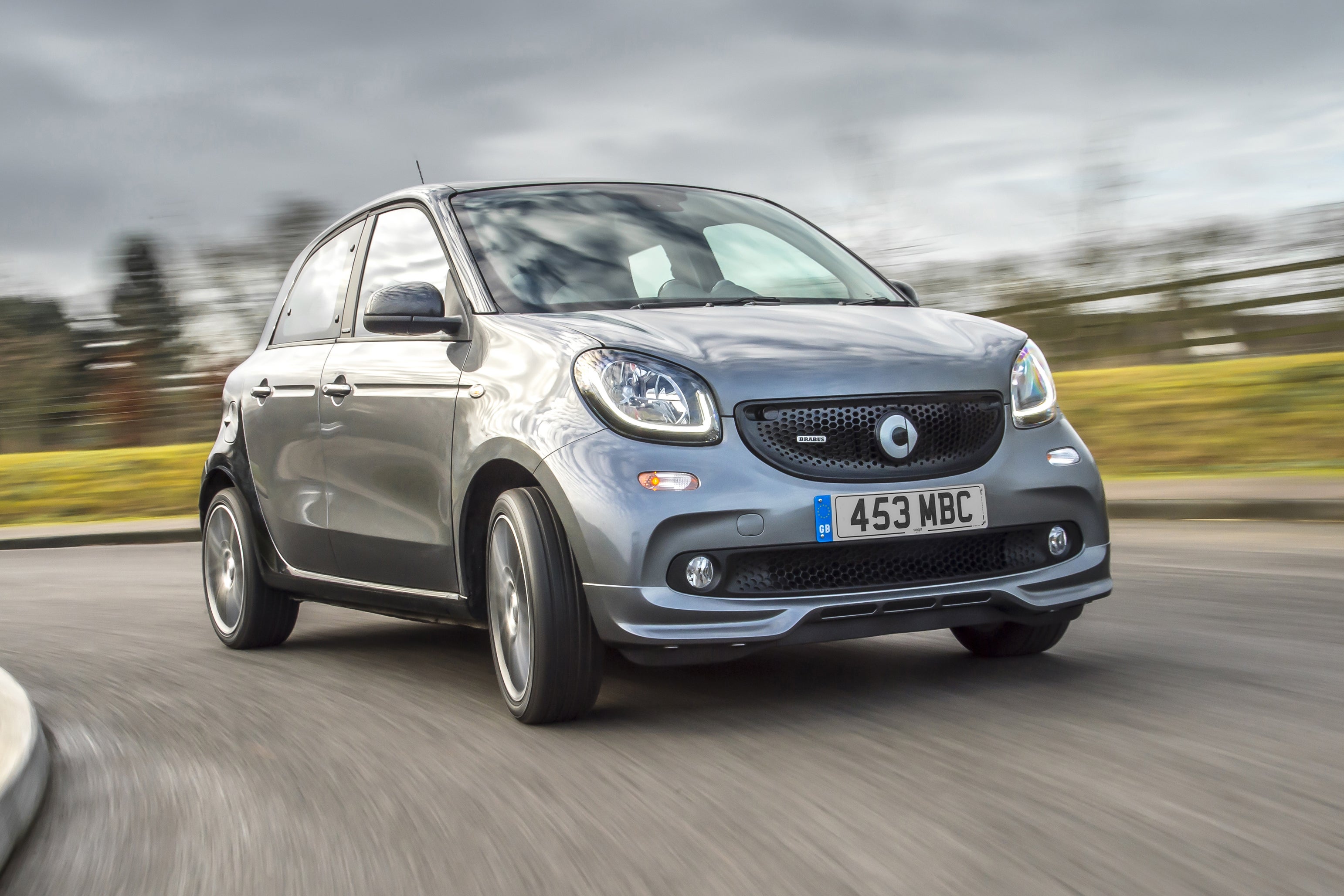 With the exact opposite arrangement in the Fortwo it's easy to see why an inexperienced driver might see one as a tricky prospect, but the reality is that Smart has effectively engineered out any of the issues you get with a rear-engined car.
One of the big benefits is the super-tight turning circle, thanks to the absence of a big lump of metal in the nose allowing the front wheels to turn to a greater degree. That means you'll have to do fewer three-point turns and parking is easier too, which is also ideal for inexperienced drivers.
It is important to note though that the steering itself is low-geared to stop drivers getting themselves into bother. Power steering means it is light, but it takes several turns to go from lock to lock. It stops the Forfour from being as much fun to drive as it could be, but for most buyers this is the sensible option. There is fun to be had still, particularly as you can feel the car moving around in corners before the ESC kicks in, but it is safe rather than thrilling.
Overall, the ride quality is a little below average. The suspension setup is relatively stiff, so that at lower speeds in particular, sharper bumps are felt more easily in the cabin. It's less of an issue at higher speeds and over longer undulations, but for a car with its primary role being city driving, it's a little disappointing that it is not more comfortable in these conditions.
MPG and fuel costs
"Because the Forfour went on sale in 2014 but was still being sold right up until 2019, there are official fuel consumption figures under both the old NEDC and new, tougher WLTP systems."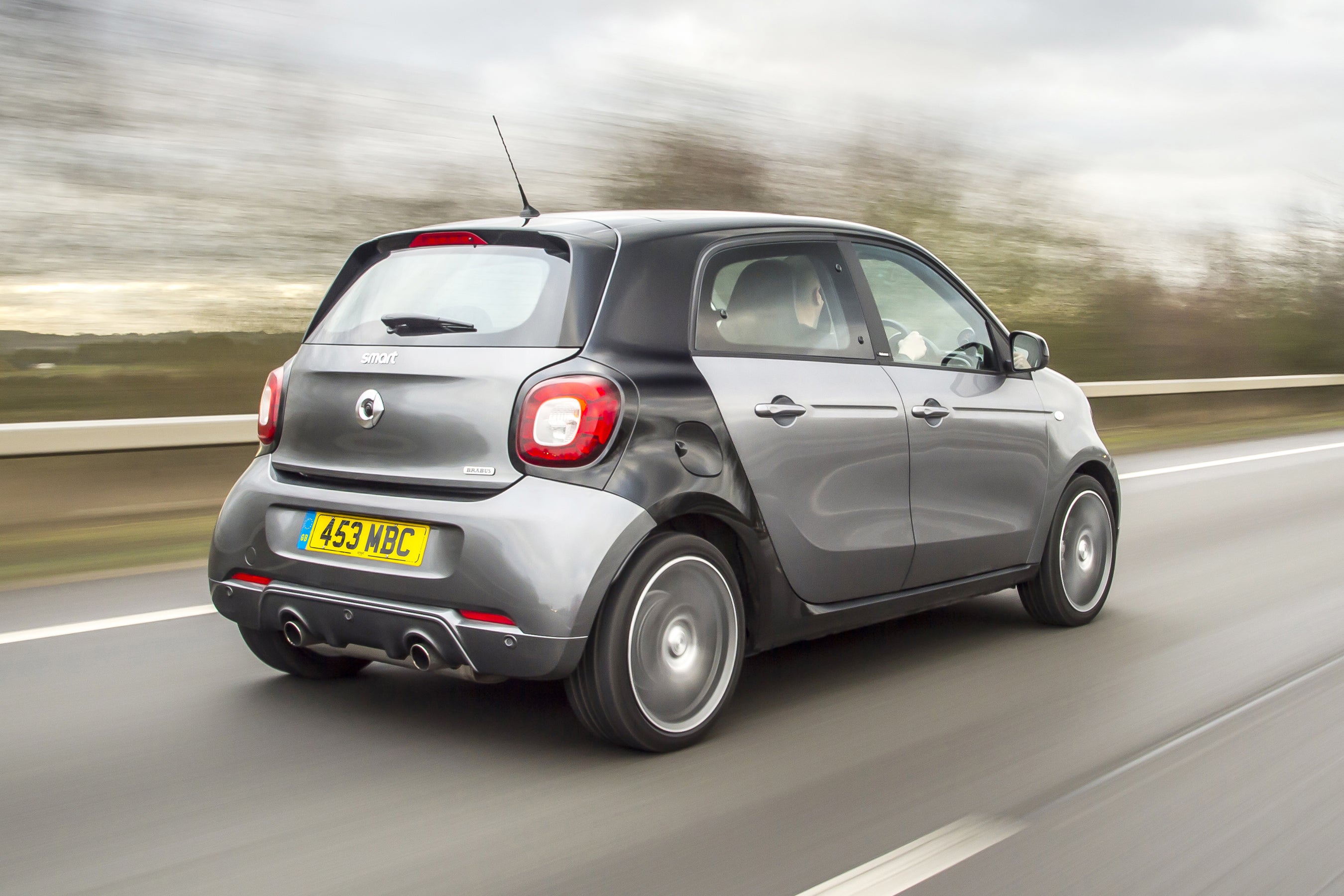 Sticking to the more realistic set of numbers, even the thirstiest version of the Forfour claims 43.5mpg to 47.1mpg combined - pricier models with larger wheels have higher fuel consumption due to increased rolling resistance, which is another reason to steer clear.
On a model-for-model basis, the 0.9-litre version is more economical than the 1.0-litre version - if only by approximately 2 miles per gallon, while choosing the dual-clutch gearbox adds another 2 miles per gallon to the claimed average.
How much should you be paying for a used Smart Forfour?
"The Forfour was quite a popular car, if not as popular as Smart would have liked, but that does mean you should be able to find a car in the specification and price range that suits your needs."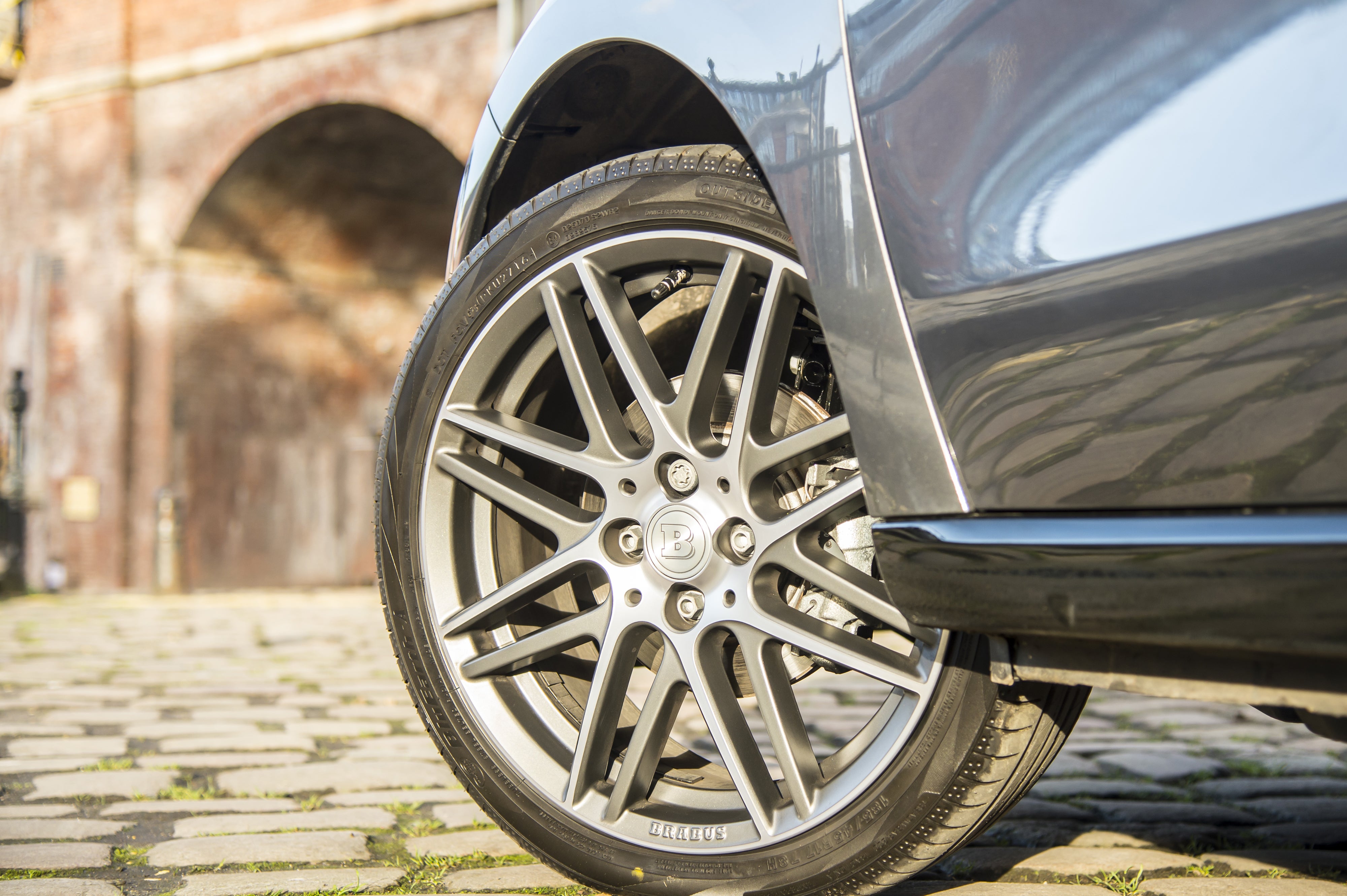 A search of the classifieds brought up plenty of 2019 examples that would have been right at the end of the production run, with one example of the Urban Shadow special edition, the 1.0-litre engine and under 4000 miles coming in at under £10,000.
Going back to the earliest cars, there are plenty of examples from 2015 at more affordable prices. A quick search brought up a 2015 model with under 50,000 miles in Passion trim for £5,000, while a Prime Premium model with under 30,000 miles was listed for only £5750.
Ready to get your top quality Smart Forfour?
All cars come with a warranty
Selected dealers only
All quality checked
Smart Forfour
1.0 Prime Premium 5dr Auto
Klic Cars

Dumfriesshire, DG13EQ
PCP: £193.64/mo
Representative example: Contract Length: 37 months, 36 Monthly Payments: £193.64, Customer Deposit: £1,649.00, Total Deposit: £1,649.25, Optional Final Payment: £3,528.50, Total Charge For Credit: £1,153.79, Total Amount Payable: £12,148.79, Representative APR: 5.9%, Interest Rate (Fixed): 2.94%, Excess Mileage Charge: 3.9ppm, Mileage Per Annum: 10,000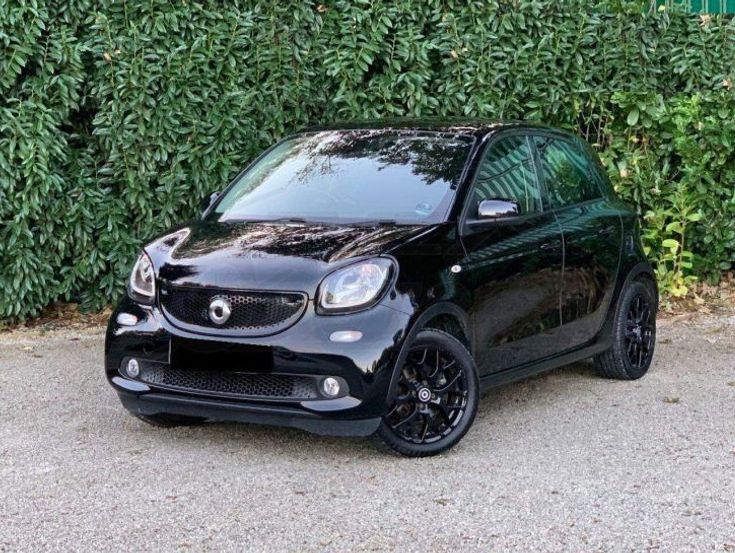 Smart Forfour
1.0 Prime Premium 5dr Auto
Renault Retail Group Wolverhampton

West Midlands, WV22PT
HP: £299.41/mo
Representative example: Contract Length: 36 months, 36 Monthly Payments: £299.41, Customer Deposit: £1,650.00, Total Deposit: £1,650.00, Total Charge For Credit: £1,428.76, Total Amount Payable: £12,428.76, Representative APR: 9.9%, Interest Rate (Fixed): 9.9%
Is the Smart Forfour right for you?
The Forfour tries to build on the city abilities of the Fortwo but with additional space, so if you spend most of your time in the city but need the extra versatility of being able to carry passengers in the back, then it makes sense over the Fortwo. However, this does mean it is more similar to most of its city car rivals, some of which are better-rounded cars with superior driving manners and more space.
The Forfour would make a good choice for a new driver as it offers an easy driving experience and a high level of standard safety equipment. It also would serve as a useful second car with low running costs but space for four people if required.
What's the best Smart Forfour model to choose?
The cheaper 1.0-litre engine is adequate, but really the 0.9-litre turbocharged unit is the better option. It only has a small penalty in respect of fuel consumption and emissions but delivers a much superior driving experience, particularly out of town. The five-speed manual gearbox is sufficient, but the dual-clutch automatic is actually the better option as it is more fuel efficient and makes life much easier in town driving.
As for the trim level to go for, we would suggest skipping the too-basic Pure model and choosing either the Passion model which adds some key features like air conditioning and Bluetooth, or the Prime model if you want a more up-spec option.
What other cars are similar to the Smart Forfour?
The closest thing you can get to the Forfour is the Renault Twingo, its sister car that shares a body structure and mechanicals, although there are many visual differences. It's likely to be cheaper to buy and has more boot space, but the cabin is not as attractive as the Smart's.
The SEAT Mii and Skoda Citigo are Volkswagen Group spin-offs of the Volkswagen Up, and bring the solid engineering and efficiency you usually get, just with a smaller price tag than the Volkswagen version. Smart-looking and good to drive, both the Mii and Citigo are attractive options.
The Hyundai i10 is also a strong contender, and although the cheapest model is some way from the cheapest Citroen C1, it brings a quality feel and good specification.
Quality and finish
The Smart is sold as something approaching a premium product, and while it's not Mercedes-level fancy, it does have a feel that is a little above a typical city car.
There are some nice touches dotted around the cabin and it feels mostly of good quality. Even if you go for a basic version in Passion trim, there's enough good stuff here to raise a smile. There are a mixture of materials and finishes, like gloss black details contrasting with the fabric covering on the dashboard - small things that do make a difference. It's also worth seeking out a car that's had a bit of colour injected into it - even on the basic Passion model you could add a coloured trim pack and this helps to boost the appeal of the interior.
It's not all good news unfortunately, as some penny-pinching has taken place in terms of the quality of some of materials. That's true for every other car in this sector, but this also reflects that the Forfour isn't a totally premium car. Smart's relationship with Renault is also evident (the Smart Forfour and Renault Twingo are sister cars) with the occasional item of Renault switchgear dotted around the cabin.
Infotainment
The standard infotainment system on the FourFour depends on how old the car is as well as the trim level, so it pays to look closely. For the earliest 2014 cars, the basic provision is two-speaker FM/AM radio that also includes Bluetooth, so you can stream audio and make telephone calls. It'll do, but with just two speakers it's not really equipped for modern motoring.
From 2016 onwards this system included a phone cradle to make it easier to hook up your smartphone, and also introduced the Smart Media System, standard on Passion models but also available as a standalone option or as part of the Premium package. This adds a 7.0-inch touchscreen, navigation depending on the model, Android Auto and DAB, and is a significant upgrade. Unfortunately it isn't compatible with Apple CarPlay, so you'll have to make do with just the Bluetooth connection if you have an apple device. Later cars also add a USB connection, so you can charge and stream from your phone at the same time.
When buying a used Forfour check the standard specification carefully as well as any options fitted so you can get the best infotainment provision - a Smart dealer can help you with this if you want to check on a particular car.
Space and practicality
The Forfour has its engine in the rear partly as a cost-saving measure (so it can share hardware with the Fortwo) but also because it saves space in the rest of the car. By packaging the engine and transmission closely together in the rear and driving the rear wheels, it means the front wheels are free to steer alone and also leaves more space in the cabin.
You have to say it's worked too. Not many cars manage to be so small on the outside but feel so spacious on the inside, and while it's never going to feel like a car from the class above, it does feel like you're getting a little bit extra from the car. Whether you sit up front or in the rear, there is a good deal of legroom available even for taller passengers, while the headroom is also impressive, making the most of the tall body shape.
It's a shame that the front seats, in particular the driver's seat, are set so high, as this can leave taller drivers feeling wedged under the dashboard despite the actual legroom on offer.
Even though there's already an engine back there you'll find 185 litres of luggage space with the rear seats in place, which is a little less than many of its rivals and somehow three litres fewer than the identical Twingo.
You have the option to tilt the rear-seat backrest to 90 degrees to boost the space available to 219 litres, but that makes them largely unusable. However you can fold the rear seats to give you 975 litres of space in total, and even fold the front passenger seat forward to swallow loads of up to 2.3m in length. Anyone hoping for a second 'boot' up front will be disappointed, the space is taken up with a crash structure and can't be filled with your stuff.
Storage in the cabin is good too, with a stack of storage areas and some clever touches, like the removable bag instead of a glovebox and space under the rear seats, with 51 litres of space in total.
Engines and gearboxes
The basic engine option in the Forfour is the 1.0-litre three-cylinder unit, which provides a modest 71PS and 91Nm of torque, taking drive to the rear wheels through a five-speed manual gearbox only.
71PS might not sound like much but it is pretty much the default standard output for low-price city cars, and is less of an issue in cars of this size because they are usually very light too. The 1.0-litre Forfour isn't what you could call quick though, lacking the urge to better 95mph and requiring significant use of the gears and lots of revs to make reasonable progress. It's better in town where it doesn't have to work as hard.
The better option is definitely the more powerful 999cc engine, which might be smaller in capacity but has a turbo to fill in the gap. With 90PS but a far more generous 135Nm of torque, the 0.9-litre unit is more capable at handling out-of-town driving, while the extra torque makes it quicker away from the traffic lights too. You won't even pay much extra in terms of fuel consumption either, with official figures between the two engines, on models where both options are available, the difference is no more than a couple of miles per gallon, and there's something to be said for having to work the less powerful engine harder for more of the time too.
The standard five-speed gearbox fitted to most versions is decent enough, but not particularly pleasurable to use. The shift action is a bit vague and doesn't really feel like it is connected to the rest of the car. The optional dual-clutch automatic is a superior choice, being more efficient than the manual thanks to an extra ratio and is less work in traffic too.
Refinement and noise levels
Don't expect an oasis of calm inside the Forfour because the engine is way out at the back of the car. It's still a three cylinder unit with a bit to say for itself, although the Forfour does benefit from extra sound deadening compared to the Renault Twingo, so it performs better in this area.
In terms of noise as well as performance, the 0.9-litre turbocharged engine is the better of the two options. The turbocharger helps to quell some of the noise, as well offering better torque with less engine revs. In contrast, the 1.0-litre engine needs to be worked harder for more of the time, particularly if you are trying to reach higher speeds.
Although both options settle down at a cruise, city driving rarely gives you much chance to sit at a steady speed and let the engine settle, so expect to be turning up the volume on the infotainment system often.
Other elements of the car also contribute to the overall noise levels. At lower speeds the Forfour is acceptably quiet, but road noise begins to creep in at modest speeds and wind noise is also painfully apparent too often, which harms its usability outside of the city.
Safety equipment
Euro NCAP tested the Smart Forfour when it was first launched in 2014, and it scored a strong four-star result overall. It scored 78% for adult protection and 77% for child protection, and no doubt helped by the rear engine configuration it achieved 65% for pedestrian mitigation. Euro NCAP also awarded the Forfour 56% for safety assist.
As standard, all Forfour models are fitted with ESC, front, side and curtain airbags as well as seat-belt pre-tensioners in the front seats only. A speed limiter is also fitted to all models, which is a useful safety feature even if it requires the driver to resist the temptation to turn it off, and hill start assist is also standard across the range.
Where the Forfour falls down a little is it lacks some of the more sophisticated active safety systems, neither fitted as standard or available as an option. Automatic emergency braking and traffic sign recognition are not available on any trim level, with the sole safety upgrade being lane keeping assist as a cost option.
All versions of the Forfour are fitted with a tyre inflation kit as standard, while a space saver or full-size spare is not an option, which for some buyers may be something of a sticking point. The main issue is that there is nowhere for the extra wheel to go, as the space under the boot floor is taken by the engine.
Insurance groups and costs
If you can find one, a basic Pure Forfour with the 1.0-litre engine falls into insurance group 1, which can't really be beaten. Where trim levels are available with both engine options, the gap between the 1.0-litre and the turbocharged 0.9-litre is approximately six groups - 2 to 3 for the bigger engine and between 8 and 9 for the turbo engine. It's a matter of what your premium usually looks like as to whether that is worth the extra money, as you might make a saving on fuel that is completely wiped out by the higher insurance costs.
VED
The Forfour is yet another car that flirts around the magic 100g/km CO2 threshold depending on the model and the date of first registration, so it's worth doing your homework before choosing a model and checking the classifieds. As an example, the Passion model with either engine is VED-free if it was registered before 1st April 2016, but jumps to £150 after.
One outlier here is the Brabus model, which has a higher CO2 rating on account of its more powerful engine. It will cost £20 per year before April 2016 and £150 after that date.
Trim levels and standard equipment
The Pure model is the bottom rung of the range, and because the Forfour was sold as a more upmarket offering there are relatively few examples of this trim level on the market. It doesn't have much in the way of standard equipment either, so unless you're desperate for the cheapest model possible look for something higher up the range.
We would suggest choosing one of the mid-range trims such as Passion or Prime, as they add desirable extras such as climate control and parking sensors. It's also worth considering one of the special editions, as they usually add lots of coloured interior detailing that costs extra on a standard car. Steer clear of models that come with sports suspension however, as they have even stiffer settings that make the ride quality quite a bit worse.
Learn more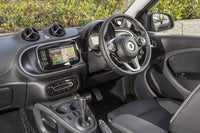 On the inside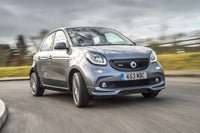 Driving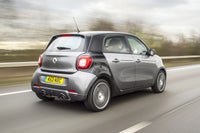 How much does it cost to run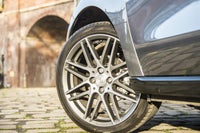 Prices, versions and specification
Reviews of similar cars
Quality checked, all cars less than 8 years old and warranty included
Looking for other Smart cars?
Quality checked, all cars less than 8 years old and warranty included
Keep me updated by email with the latest advice, news and offers from heycar
By submitting, you agree to our
privacy policy
.