Smart Fortwo Cabriolet Review

Written by
heycar editorial team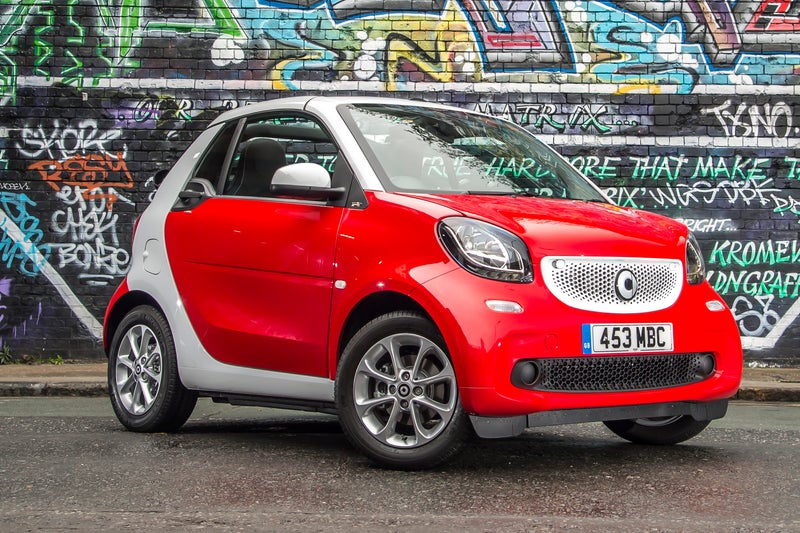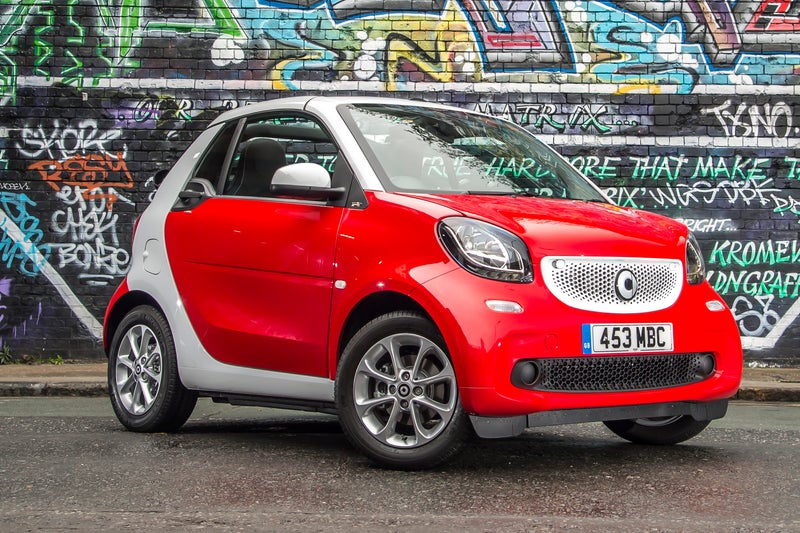 1/10

heycar rating
"The smallest convertible there is"
Launched: 2016

Convertible

Petrol
Quick overview
Pros
Tiny dimensions make for easy parking and city life
Roof is easy to operate and adds to the experience
Probably the cheapest convertible to run
Cons
Expensive for what you get
Compromised drive means poor ride quality
Reduced practicality compared to standard Fortwo
Overall verdict
On the inside
Driving
Cost to run
Prices and Specs
Overall verdict
"If you have a very specific and narrow idea of what you want from a car - good in the city, unbelievably tiny and with a convertible roof - then the Fortwo Cabriolet will tick all of your boxes. For most people however it probably demands too many compromises to be a sensible choice."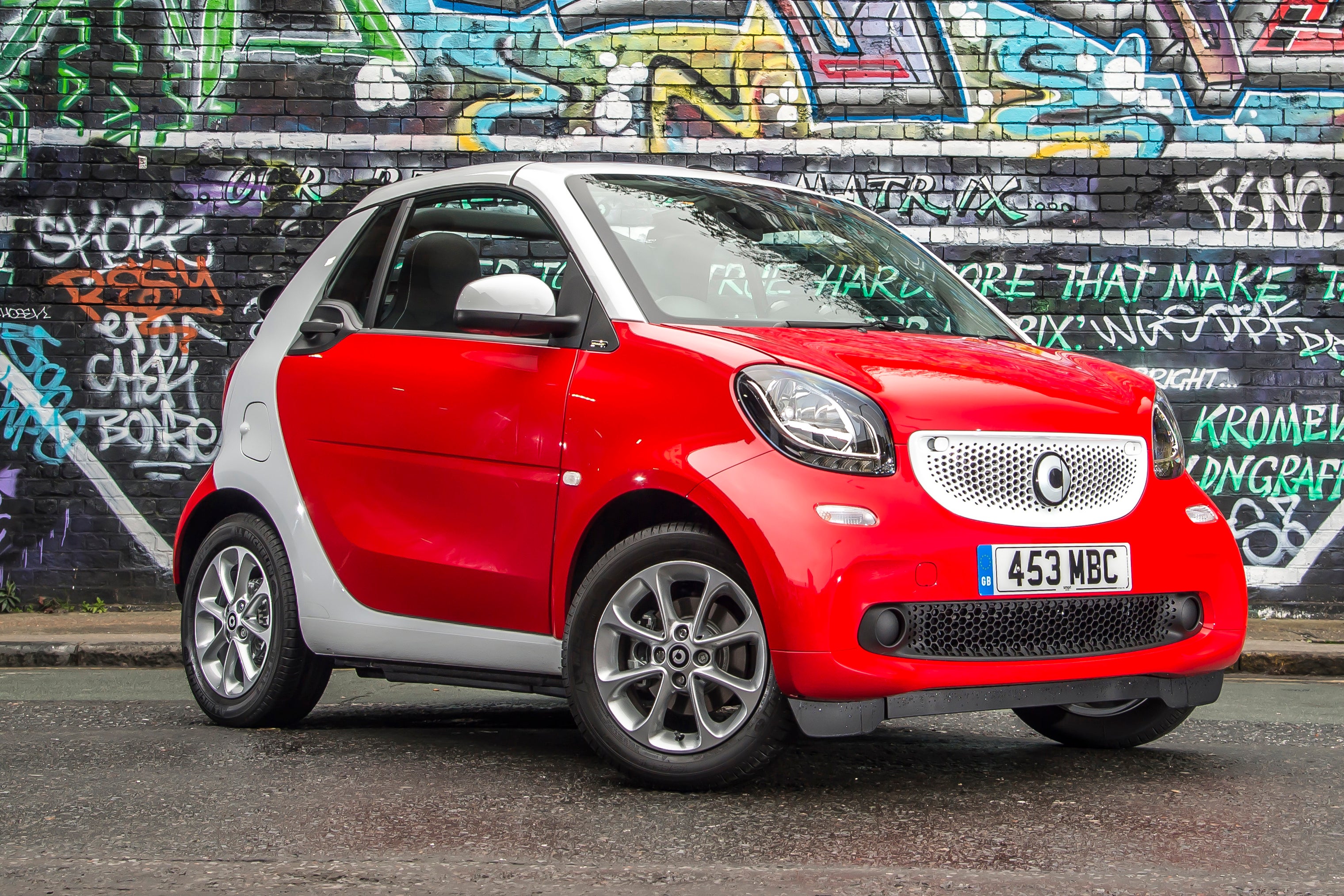 The Smart Fortwo is one of the most unusual cars ever to reach production, and even the story of its birth is hardly straightforward. Originally conceived by Swatch - yes, the people who make snazzy watches - it became a joint project with Mercedes-Benz and eventually came to fruition in 1998 as the Smart City Coupe.
The most recent version of the Smart Fortwo was introduced in 2014, with the Convertible version following along in 2016. For the most part it follows the same template as the Coupe version - it is still the smallest car on sale today at 2695mm long and is a strict two-seater.
Designed to be the ultimate city car by virtue of its size, the Smart Fortwo Cabriolet has a rear-mounted engine that sits beneath the boot floor and sends power to the rear wheels - both of which are quite unusual features in modern cars. All models are fitted with a 1.0-litre, three cylinder turbocharged engine, with varying outputs depending on the model and trim. Smart also sells the ForTwo in electric form, and you can read a review of that car separately.
There's also the small matter of the Fortwo's bodystyle. As well as the Cabriolet, you can have the Fortwo as a Coupe - you can read a review of that car separately too - which seems a little like an odd description for something so small. The Cabriolet gets a different arrangement from the Coupe at the rear. Instead of the two-piece tailgate with an openable top window, it essentially becomes a saloon with just the lower half opening to reveal the slot-like boot.
Once inside the story is much the same as the standard Smart Fortwo. Whether you're a driver or passenger, you sit higher up than in most cars, which is good for improving your view out. Understandably, with a car small enough that you can almost touch all four corners from the driver's seat, it's easy to judge where the car's extremities are. The roof can be operated in two open positions - firstly as an extended sunroof, or rolled all the way back so it sits on top of the boot. You can also remove the roof pillars on each side for a more open feeling.
The Fortwo's driving experience is something of a mixed bag. In some respects it is way ahead of everything else - its size allows you to do things you can't in any other car, with a super-tight turning circle and excellent manoeuvrability.
The turbocharged engine is also pretty fizzy, especially the more powerful 90PS version, making it eager in town. On the downside, the ultra-short wheelbase and relatively stiff suspension means the ride quality is poor on some surfaces, and although it never feels like it is going to tip over, its height and the amount of bodyroll during cornering can chip away at the driver's confidence.
In many ways the folding roof adds something to the Fortwo experience, but it comes at a greater cost and a loss of some practicality.
Is the Smart Fortwo Cabriolet right for you?
The fabric roof does little to impact on the Fortwo's strengths, namely that it can zip through traffic and park more easily than any rival, so it is a good choice for someone who wants to stay in the city but enjoy a bit of sunshine while they're doing so.
Unlike some of its city car rivals however, the Fortwo is less capable outside of the city, and the fact it is a two-seater means it will hardly work for many families either. The roof also increases the amount of noise at speed in what was already a relatively noisy machine.
What's the best Fortwo Cabriolet model to choose?
The entry-level 71PS engine option is good enough if you're sticking to town driving, but it doesn't take long for it to feel short of puff on quicker roads, and even if that isn't very often it can be frustrating making decent progress. We'd suggest choosing a model with the more powerful 90PS engine, as there's little penalty in terms of economy but it is much more usable. The Brabus model has even more grunt with 109PS, but is more expensive as a result and comes with its own set of issues so we'd suggest steering clear unless you really want one.
Because the Fortwo was sold as premium small car rather than a cut-price special, the standard specification is actually pretty strong. Passion models come with alloy wheels, climate control and Bluetooth, which will be enough for a lot of buyers. The mid-spec Prime is a good choice however, adding smarter alloy wheels, heated seats and brighter interior trim.
What other cars are similar to the Smart Fortwo Cabriolet?
There are very few cars that match the tight brief of the Smart Fortwo Cabriolet - in fact the only car that is even remotely close to being this small, with a folding roof and a semi-premium, high on style approach is the Fiat 500 Convertible.
However, the Citroen C1 and Peugeot 108 are also city cars that can be specified with a folding fabric roof. They are more like a big sunroof than a proper convertible however, but they do offer the added practicality of rear seats so your friends and family can enjoy the fresh air too.
Comfort and design
"One obvious plus point with the Fortwo Cabriolet is the increase in headroom, although in truth there was already plenty of that to start with."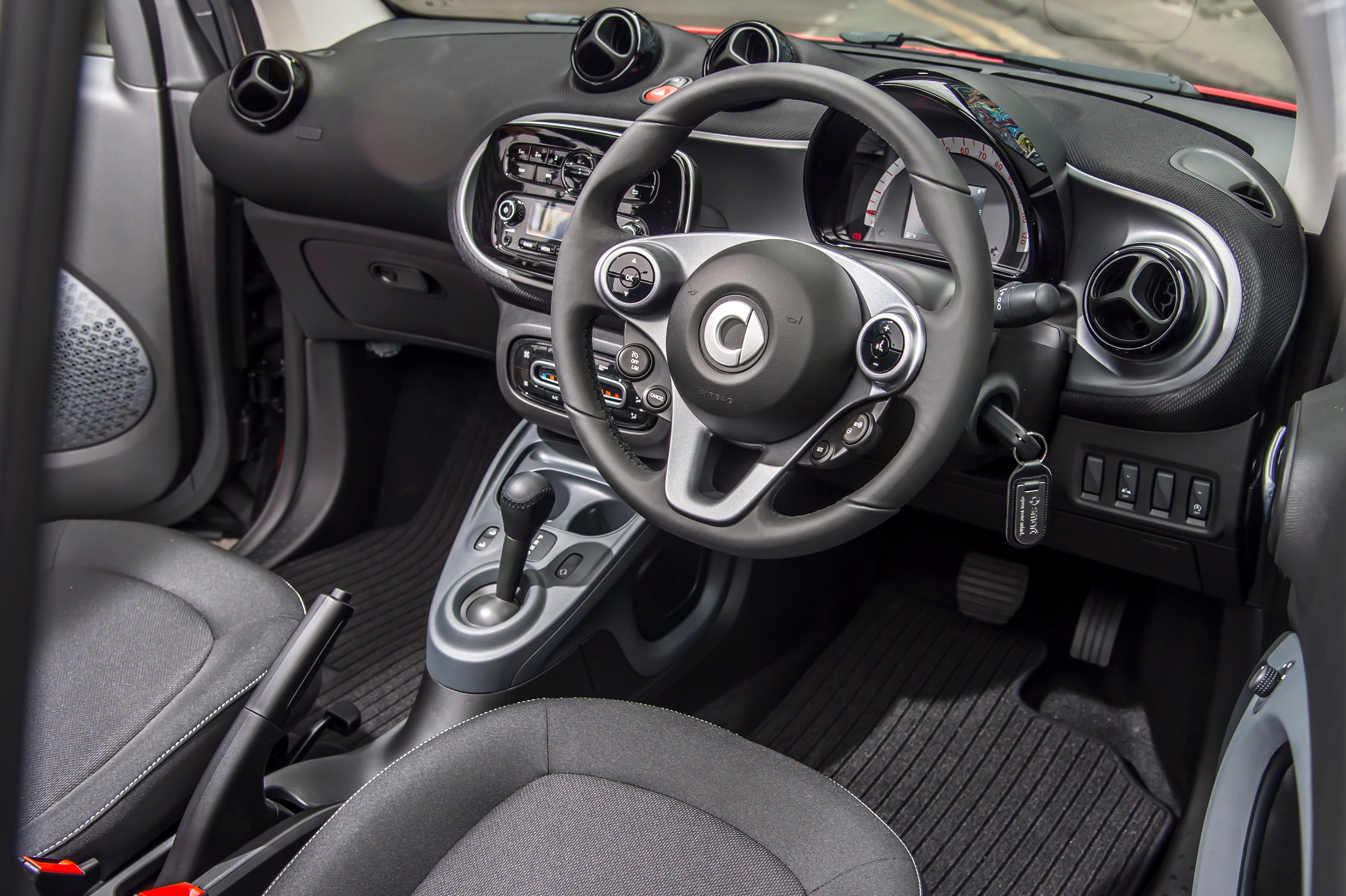 At first glance it's easy to think it would be as spacious and accommodating a polling booth, but the reality is that the two occupants aren't short changed. There's a large single door on each side giving a wide opening and easy access to the front. Because it's so tall, you almost step across into it rather than having to sit down, which is a bonus if you're less physically able.
The driving position is also quite high-set, but that helps visibility - it's easy to see out and you can judge the car's extremities easily, although the over the shoulder view is even worse than the Coupe, especially if you have the roof folded down. You get seat height adjustment as standard, and the steering wheel adjusts for height too, so most people should be able to find a decent driving position. The wheel doesn't adjust for reach, but that's true for almost all its rivals too. It might seem compromised but actually it should be comfortable for most people.
The inside is not exactly standard fayre either, although it does depend on the model you choose. There's plenty to look at with a giant central speedometer, some instruments stuck on top of the dash in separate pods (depending on the model) and the dashboard itself is covered in fabric rather than plastic. If that sounds like an ergonomic nightmare then be assured, it actually hangs together rather well and everything is logically placed.
Quality and finish
The Smart is sold as a premium product (of sorts) and while it's not posh enough to pull off the fabled three-pointed star of a Mercedes, it is still pitched as something a cut above the humdrum.
It manages to justify this billing, at least partly, because there are some nice touches dotted around the cabin and it feels mostly of good quality too. Even if you go for a basic version in Passion trim, it gives off the vibes of a quality product. There are a mixture of materials and finishes, like gloss black details contrasting with the fabric covering on the dashboard, all of which are good enough to fool you into grinning. It's also worth seeking out a car that's had a bit of colour injected into it. Even on the basic Passion model you could add a coloured trim pack and this helps to boost the appeal of the interior.
It's not all good news unfortunately, as a bit of poking around reveals that some of the materials in here are actually pretty cheap. That's true for every other car in this sector, but this also reflects that the Fortwo isn't really a wholly premium product. Smart's relationship with Renault is also evident (the Smart Forfour and Renault Twingo are sister cars) with the occasional item of Renault switchgear dotted around the cabin.
Infotainment
All versions of the Fortwo Cabriolet come with a radio, Bluetooth connection, auxiliary input and a USB input as standard, so even the most basic model has a decent audio provision with respectable sound quality.
Available as an extra or fitted as standard on later models is the Smart Media System, which adds a 7-inch touchscreen, navigation depending on the model, Android Auto and DAB, and is a significant upgrade. Unfortunately it isn't compatible with Apple CarPlay, so you'll have to make do with just the Bluetooth connection if you have an Apple device. The in-built navigation system isn't brilliant however - it's a bit clunky to use - so you might be better off simply mirroring your smartphone screen and using a native navigation app.
When buying a used Fortwo be sure to check the standard specification as well as any options fitted so you can get the best infotainment provision - a Smart dealer can help you with this if you want to check on a particular car.
Space and practicality
More so than any other car you can buy, space and practicality are terms relative to the size of the car and what the competition is like. The two occupants of the Smart Fortwo have a good deal of space to play with. Even if you're tall there's plenty of headroom, and with no rear seats to interfere with, you can slide the fronts back almost as far as you like, giving plenty of legroom too.
Of course, the Fortwo is a strict two-seater, and as well as the obvious restriction of only allowing you to carry one passenger, it also means that the driver and passenger can't fully recline their seats should they wish to do so.
Storage space in the cabin is also reasonable and similar to that offered on most of its rivals. The glovebox is quite small, but the door pockets are a useful size and there's a pair of cupholders - clearly you won't need more than two. It's not something you could officially call storage space, but with no one sitting behind you it's easy to stuff items in the space behind the seats, as long as it's not something that could roll around and cause problems.
As for the boot itself, it offers 260 litres, which is actually more than the Volkswagen Up and its siblings. The Cabriolet does without the clever two-piece tailgate that you get on the Coupe, so instead you have to make do with the single lower section, leaving a relatively narrow slot in which to feed in your luggage.
With just a single passenger seat, installing a child seat is pretty easy, and you have the added bonus of your child being much closer to you while you drive. Passenger airbag deactivation is also standard as is Isofix, so you can get your child's car seat securely in place.
Unsurprisingly, the Fortwo does not come with any kind of spare wheel - instead you get a tyre inflation kit, and all the fun that goes with it.
Handling and ride quality
"No one should approach a Smart Fortwo thinking they are about to experience the last word in handling dynamics."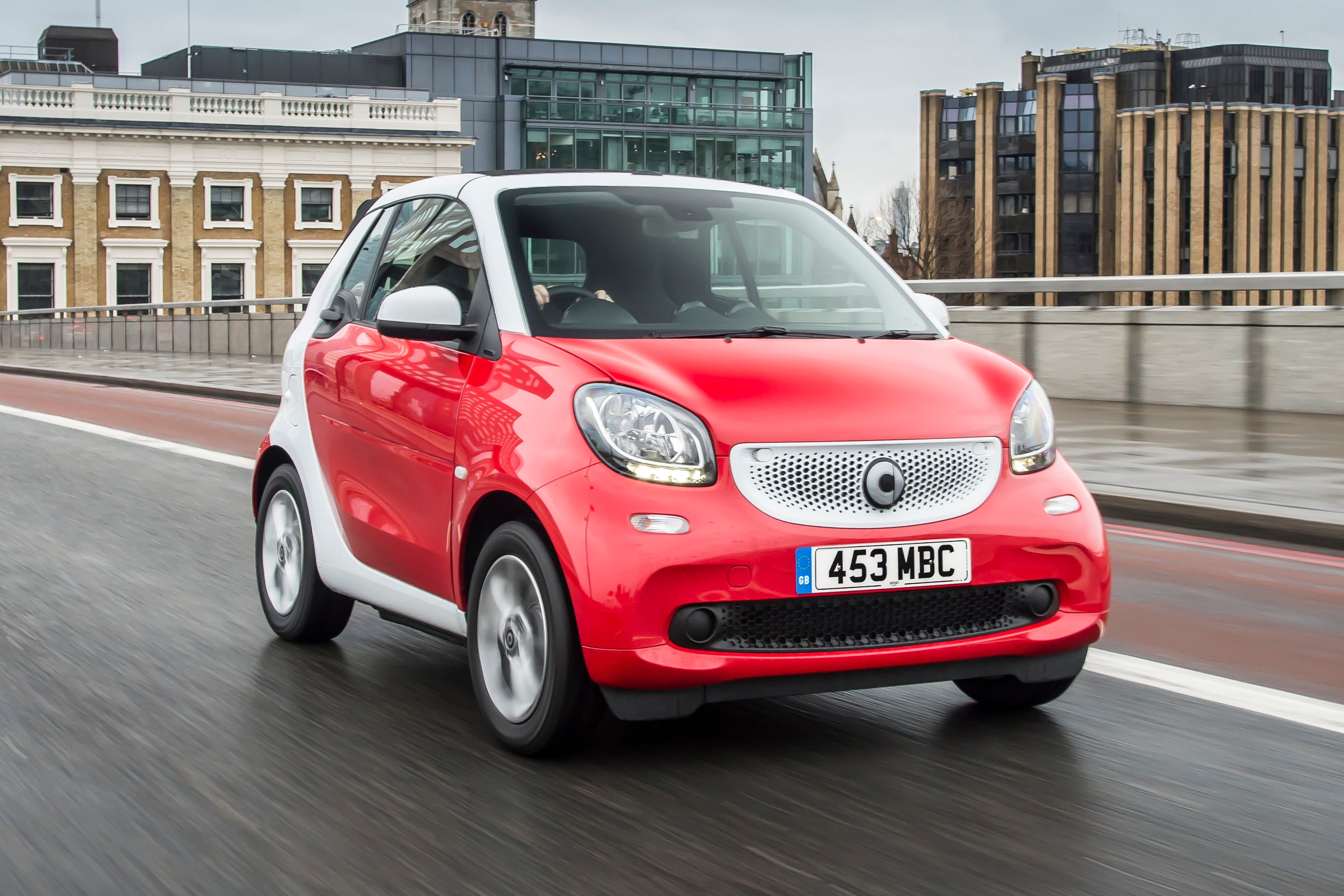 ...but at the same time it's not unreasonable to expect a modern car to deal with modern driving conditions with relative ease.
Get behind the wheel and you quickly realise that it is more stable than first appearances might suggest, and that the quickness of the steering and the short wheelbase means you can change direction with impressive ease. You can almost feel the car pivoting around you - not least when you go to perform a three-point turn and successfully manage to rotate the vehicle in a single turn. This is a huge boon in the city and in traffic, where you can park in spaces other cars wouldn't even slow for.
Out on the open road however those characteristics are less welcome. That same eagerness in the steering and ability to turn quickly feels less natural at higher speeds, and although your brain is telling you this is perfectly safe - and it is - the feeling of being perched up so high starts to chip away at your confidence. If you like to have a bit of fun in your city car this might not be the one for you.
What doesn't help matters is the ride quality. It's more difficult for a car with a short wheelbase to deal with road imperfections, and wheelbases don't come any shorter than on the Fortwo. Because of its length it sometimes feels like you're being pitched around over larger undulations, while the stiffness of the suspension means it picks out smaller lumps and bumps rather than smoothing them out. The ride quality isn't terrible - it's just quite a bit behind the competition in this respect. Models with sport suspension like the Brabus and some special editions are even worse, so try and avoid these versions if possible.
Engines and gearboxes
As with most of its competitors, engine choices are relatively limited in the Fortwo. All models come with a 1.0-litre, three cylinder unit that is mounted beneath the boot floor. A turbocharger helps to boost both power and efficiency, and given how little it weighs - 890kg for the lightest versions - it doesn't need much power to offer useful performance.
The basic 71PS model is fine for town use, as the turbocharger boosts the amount of torque available at low revs, making it relatively easy to get away quickly from the lights. It also has the classic three-cylinder sound, with a busy thrum at most engine speeds, but it's worth noting that the engine is a lot closer to you than it would be in a conventional city car. Get out of the city and the 71PS version begins to struggle a little, needing to be worked hard in order to keep pace with the traffic. The 109PS version is only available in Brabus trim, and although this adds another level of performance, it's not really worth the extra expense or the other dynamic compromises that come with it.
Far better is the 90PS version, which also brings an additional 44Nm of torque (taking the total to 135Nm) and has significant impact on the way the Fortwo drives. Acceleration is significantly more rapid - it actually feels like quite a quick car in this guise - and it's also far more comfortable at higher speeds, enough to make motorway journeys far more viable.
Fortwos come with either a five-speed manual gearbox which is perfectly serviceable and works well enough, or a six-speed dual-clutch which is far better than the outgoing automatic, and has no fuel consumption or emissions penalty either.
Refinement and noise levels
The key issue with the Fortwo in terms of refinement is once again its size - because there's much less car in the first place, you're closer to all the sources of noise and there's less space to add dampening that will insulate you from it.
The engine is not what you would call a silent partner. Its three cylinder thrum is engaging, but can become wearing if you're in a hurry and it becomes something of a drone on a long motorway journey.
It's a mixed bag when it comes to other noise sources too, with the fabric roof not helping matters. At lower speeds the Fortwo feels relatively refined, with just a general hum from the engine being the dominating sound. At higher speeds however, the rush of tyre roar begins to intrude alongside the whip of wind noise from around the roof and the doors. With the roof open these factors are multiplied, but most people expect a significant increase in noise with the roof down.
Safety equipment
You'd be forgiven for thinking that a car of the Fortwo's size couldn't possibly be as safe as a conventional car, but Mercedes-Benz put a huge amount of work into its development in order to make it as safe as possible.
Euro NCAP tested the Fortwo in 2014, and it achieved a remarkable four-star rating overall. It scored 82% for adult protection and 80% for child protection, and only the less impressive scores of 56% for pedestrian mitigation and safety assist rating prevented it from a higher score overall.
As standard, all versions of the Fortwo come with twin front and side airbags, as well as a knee airbag for the driver, seatbelt pre-tensioners and load-limiters, Isofix mounting points for the passenger seat with an airbag cut-off switch, and most importantly ESC as standard. A useful addition is side wind assist, designed to help you keep the Fortwo pointing in the right direction in windy days. Higher specification models are also fitted with lane keep assist, but automatic emergency braking was not fitted as standard or available as an option, which is a disappointment on a safety-conscious car.
In terms of other items of equipment, cars fitted with the Premium package get rear parking sensors, while if you oft for a car with Premium Plus this is upgraded to a reversing camera too.
MPG and fuel costs
"The Fortwo is almost certainly one of the most fuel efficient convertibles on the market"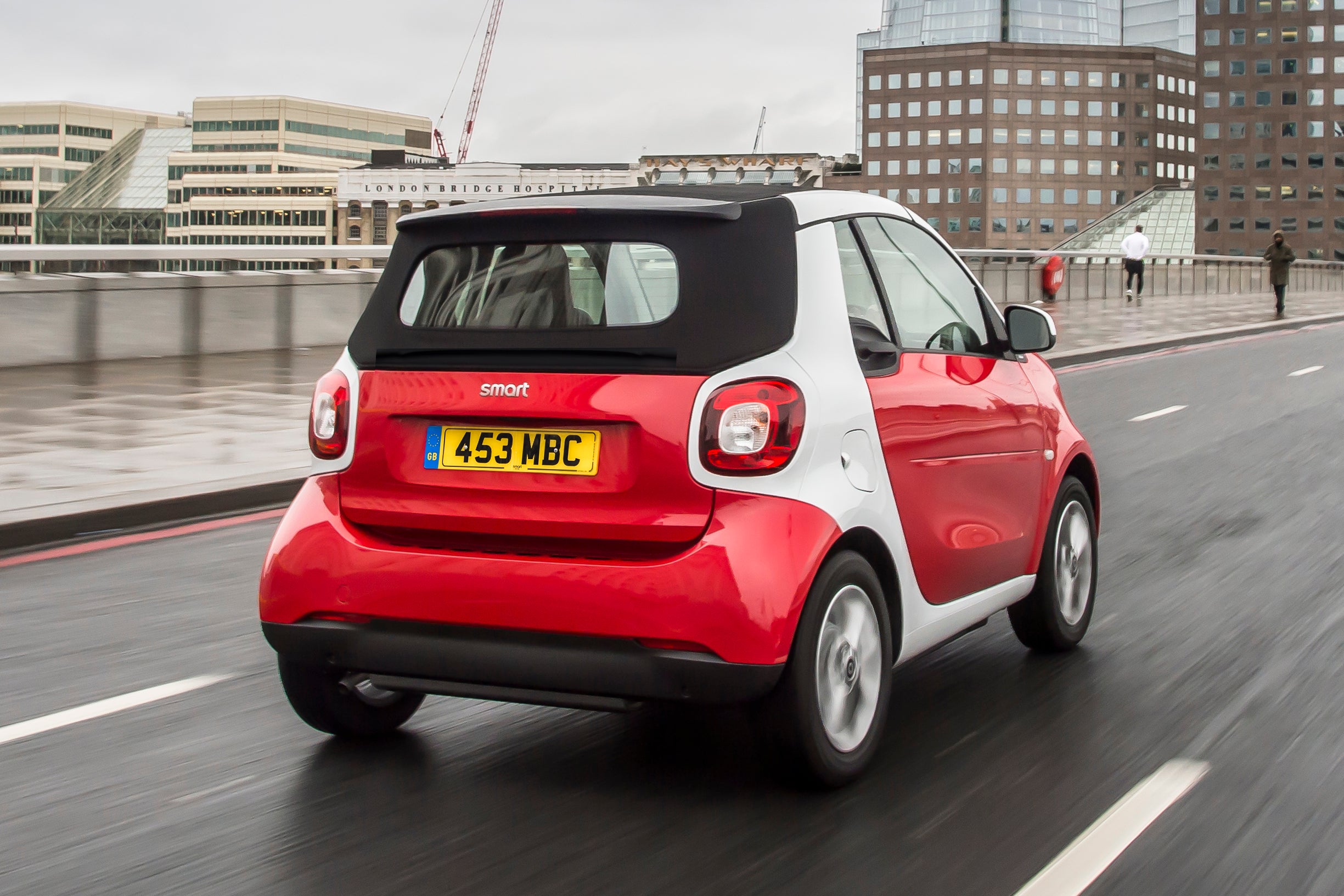 That's a good excuse for choosing one over the regular Coupe model. The official combined consumption figure for the Fortwo under the stricter WLTP regulations is between 43.5mpg and 47.9mpg, and unusually it is the higher output 90PS engine and the automatic gearbox that provides the most efficient combination.
The Fortwo is almost certainly one of the most fuel efficient convertibles on the market, which is a good excuse for choosing one over the regular Coupe model. The official combined consumption figure for the Fortwo under the stricter WLTP regulations is between 43.5mpg and 47.9mpg, and unusually it is the higher output 90PS engine and the automatic gearbox that provides the most efficient combination.
Manual gearbox models carry a small penalty compared to the dual-clutch automatic versions, while the lower output 71PS unit may prove to be something of a false economy.
Insurance groups and costs
Insurance groupings for the Fortwo are relatively low, although there is quite a jump depending on the version you go for. Most 71PS models fall into group 5, while the more powerful 90PS versions are in group 10 or 11. The top-spec Brabus version is in group 14 due to its extra performance, which means a significant premium hike compared to the most basic 70PS version.
If you are a low-risk driver there's probably not much to choose between the different versions, but at the other end of the scale you could save a significant sum by choosing a low-group specification.
VED
Because the Fortwo is another one of those cars that flirts with the 100g/km CO2 threshold - some are below, some are above - you can pay somewhere between nothing at all and a modest sum depending on what you go for.
All models registered before 1st April 2017 qualify for zero rate VED, with the exception of the Brabus - but even that only costs £20 per year if it's a pre-April 2017 car. Any car registered on or after that date pays the standard £150 per year rate. If you're looking at a car around that age, you could save by going for an earlier example.
How much should you be paying for a used Fortwo?
"Although the Fortwo Cabriolet is less popular than the Coupe version, you should still find a decent number of used examples to choose from."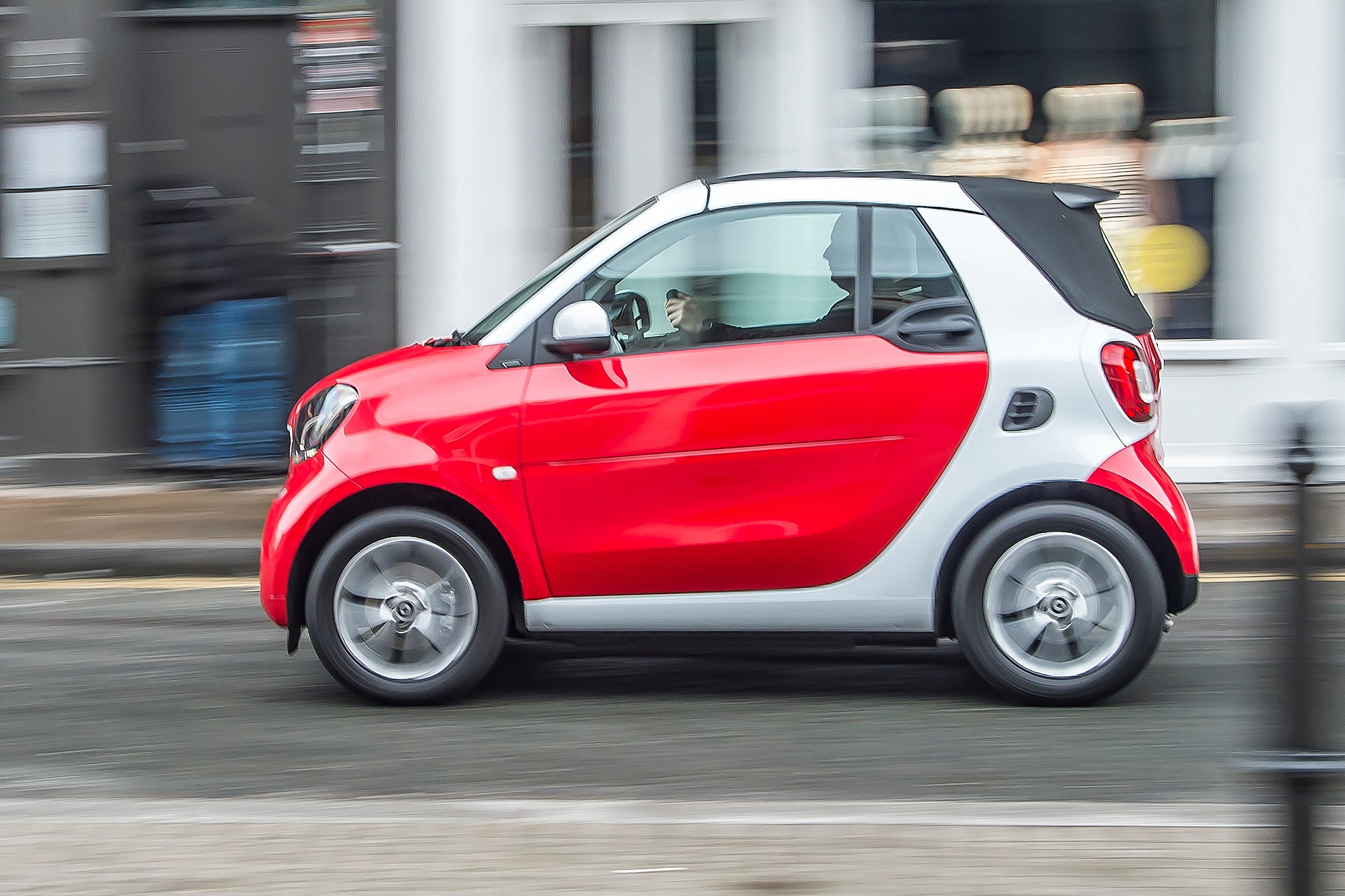 A quick search of the heycar classifieds turned up a good number of examples. We found several 2017-registered examples, including a Prime model with under 10,000 miles for less than £11,000.
Amongst the cheapest second-generation models, we found a 2016 model with a still-low mileage of 20,000 up for £7,500. With cars like these typically showing low mileages, there is plenty of life left in them.
Trim levels and standard equipment
The Cabriolet has a slightly different model range to the Coupe, with no Pure model in the range and far fewer special edition models over the years. The entry-level model is the Passion, which actually has a good specification including alloy wheels, air conditioning, Bluetooth, USB input, cruise control and hill start assist. For most people this will be more than sufficient.
Prime specification adds different alloy wheels, more colour to the cabin and heated seats which are always a bonus in a convertible. There's also a Prime Sport model, but this includes lowered suspension which doesn't little for the ride quality and is best avoided.
Smart Fortwo Cabrio cars for sale on heycar
8
Number of cars available
£9.8K - £21K
Price bracket of these cars
Colours available on heycar
Keep me updated by email with the latest advice, news and offers from heycar
By submitting, you agree to our
privacy policy
.