Smart EQ Fortwo Review 2022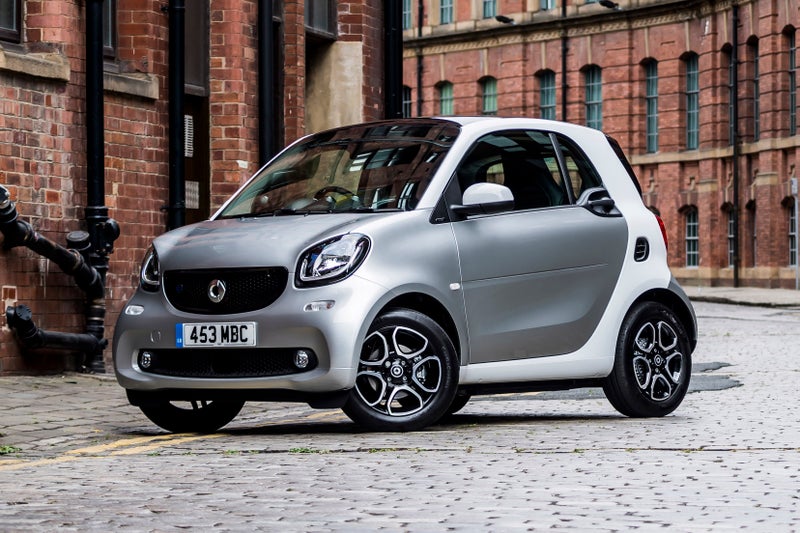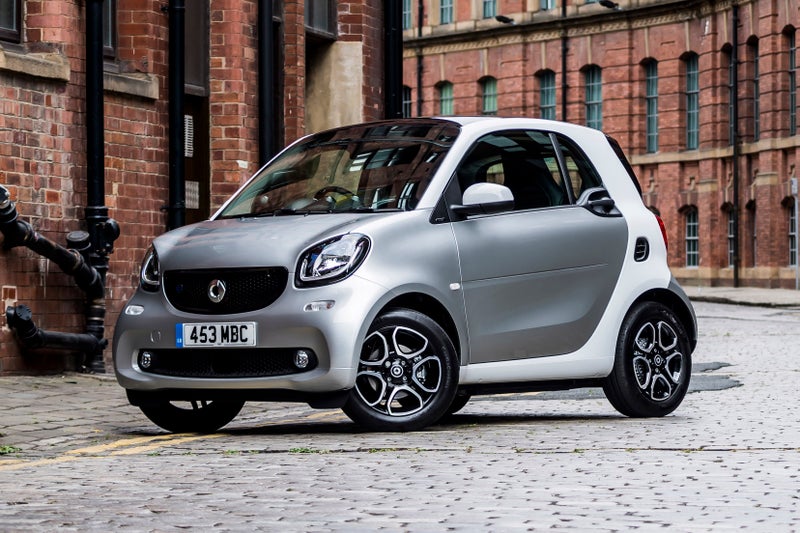 1/10
heycar rating
"Electric power adds more problems"
Quick overview
Pros
A breeze to park and great in the city
Good standard specification and quality feel
Strong low-speed acceleration
Cons
Very poor range
Handling and ride still compromised
Two seat arrangement limits effectiveness
Overall verdict
On the inside
Driving
Cost to run
Prices and Specs
Common questions
Overall verdict on the Smart EQ Fortwo
"Turning the Fortwo into an electric car was a good idea in principle, maximising its capabilities in the city and playing to its strengths of manoeuvrability and compactness. But the very limited range makes it even less versatile than the petrol-powered version, which was already compromised at higher speeds and in terms of its two-seat arrangement."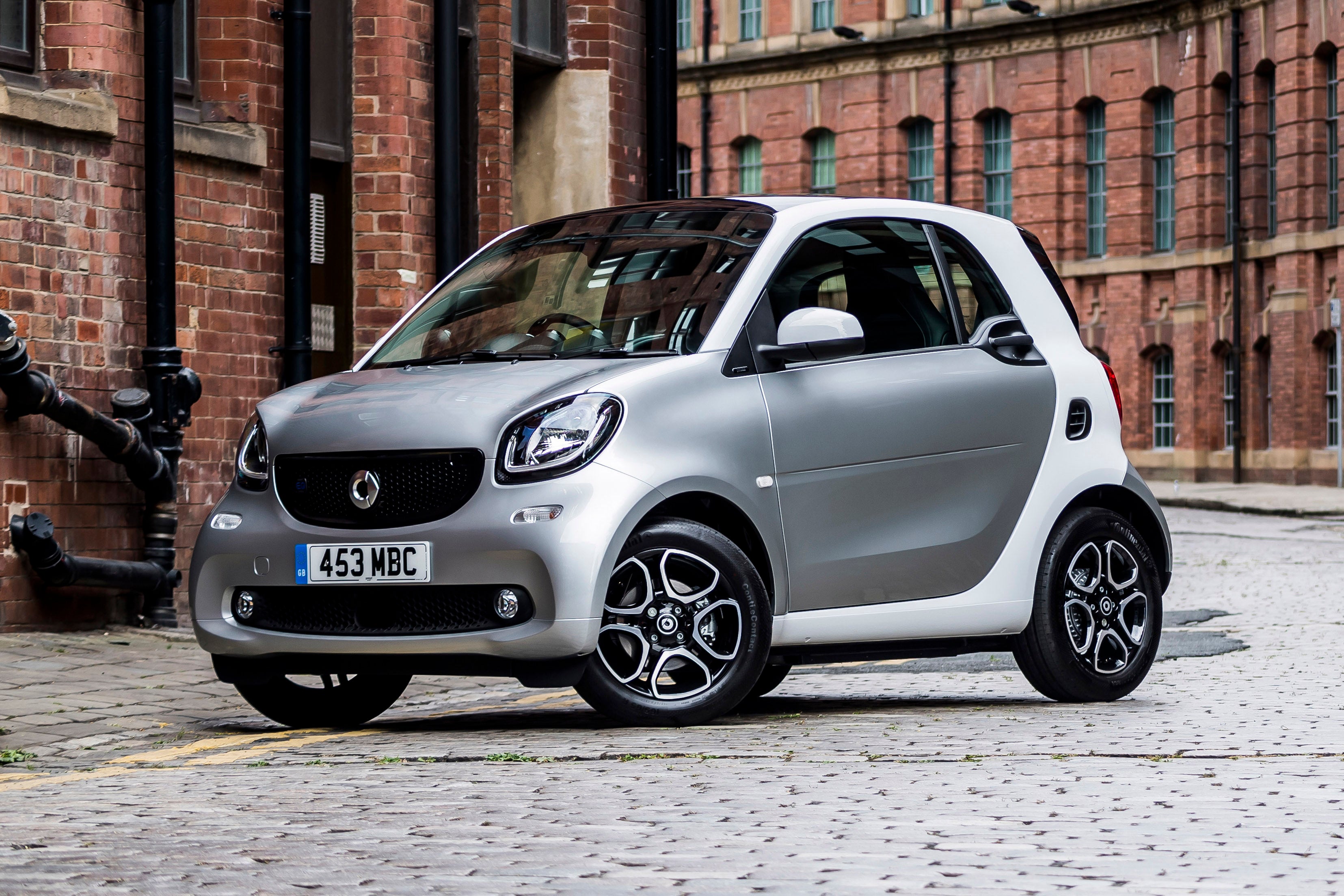 Smart aimed to reinvent the city car with the introduction of the truly tiny Fortwo, and did so by tearing up the rules and creating a car that could do things no other rival could. The Smart has gone through a second revolution too, with production of petrol-powered versions discontinuing in 2019 and concentrating on pure electric power in the form of the Smart EQ Fortwo.
This generation of the Smart Fortwo was introduced in 2014, and the EQ essentially carries over the same structure, design and mechanicals - bar the powertrain. There's no change to the dimensions so the Smart EQ Fortwo is comfortably the shortest electric car (excluding the Renault Twizy) on sale today. At 2695mm long it is almost 1.5 metres shorter than a Ford Fiesta. It's quite wide and tall given its length, and is a strict two-seater.
The biggest change between the regular Fortwo and the Smart EQ Fortwo is the electric drivetrain, which means an 82PS electric motor is placed between the rear wheels - just where the petrol engines lived - with a 17.6kWh battery pack under the floor. Also like the petrol models, the Smart EQ Fortwo is available both as a two-door coupe and a convertible - making it one of very few electric cabriolets too.
Familiarity does not lessen the impact of the Smart EQ Fortwo. This is still a shockingly small car from the outside, with tiny overhangs, a bonnet hardly big enough to be worthy of the name and a rear end that's shorter still. To this you can add a number of colour and trim options, including having a contrast colour for certain body panels.
Whether you choose the Coupe or Cabriolet, there is just a single door on each side with the luggage space at the rear. On Coupes you get a handy split tailgate where the top window can be opened separately and the lower half drops down like a pick-up. On Cabriolets however you just get the lower section, giving a narrow boot opening.
Step inside the Smart EQ Fortwo and you're immediately aware of the unusual space. Both driver and passenger sit higher up than in most cars, which increases visibility without compromising comfort. Understandably, with a car small enough that you can almost touch all four corners from the driver's seat, it's easy to judge where the car's extremities are.
The driving experience adds the plus points of electric to those of the regular Fortwo You get whizzy acceleration from low speeds thanks to the generous torque, noise levels are low at lower speeds too and the Smart EQ Fortwo's manoeuvrability comes to the fore in towns and cities.
On the downside however, the Smart EQ Fortwo's handling is still a mixed bag. Although the battery pack helps to improve the weight balance, it's still a car that can feel unsettled on quicker roads while the ride quality is also mixed, with poorly-surfaced roads causing it to fidget and transfer that into the cabin.
The Fortwo's driving experience is something of a mixed bag. In some respects it is way ahead of everything else; its size allows you to do things you can't in any other car, with a super-tight turning circle and excellent manoeuvrability. The turbocharged engine is also pretty fizzy, especially the more powerful 90PS version, making it eager in town.
On the downside, the ultra-short wheelbase and relatively stiff suspension means the ride quality is poor on some surfaces, and although it never feels like it is going to tip over, its height and the amount of body roll during cornering can chip away at the driver's confidence.
The Smart EQ Fortwo is one of the cheapest electric cars you can buy, and if you stick to the city it is fun and very useful. But heading out of the city exposes its flaws, while the range is poor - most of its rivals are too far ahead on this front.
If you're looking for the standard petrol version, you need our Smart Fortwo review.
Is the Smart EQ Fortwo right for you?
Even more so than the standard Fortwo, the Smart EQ Fortwo is a car that only really makes sense in the city. If you have to travel into a busy area that has an emissions-based congestion charge, and you have ready access to parking and charging, the Smart EQ Fortwo can be handy, useable and save you money in the long run.
But if you have to travel longer distances, or carry more than one passenger, the Smart EQ Fortwo is not equipped to do so. More than anything else, the lack of range puts it behind its key rivals and will make it a niche choice for buyers.
What's the best Smart EQ Fortwo model to choose?
All versions of the EQ Fortwo have the same battery capacity and electric motor, so there are no choices to be made there. It's also strictly an automatic only car.
The Smart EQ Fortwo model range kicks off with the Passion Advanced, which actually enjoys a strong specification. You get alloy wheels, rear parking sensors, climate control and a 7-inch touchscreen system with DAB, Bluetooth and Mirror Link, which might well be enough for most people.
Pulse Premium adds different alloy wheels, a rear view camera and slightly different interior trim, while the Prime Exclusive includes LED headlamps, rain and light sensors and heated leather seats amongst others. Above that is the range-topping Edition One, which adds a ton of Brabus-branded visual upgrades inside and out.
We'd suggest sticking with the Passion Advanced unless you particularly want the top-spec model. You can also add a winter package, which includes additional interior insulation, seat heating if not already fitted, a heated steering wheel and an energy-efficient climate control system with pre-heating function - this is a worthwhile addition if you plan to use the car in cold weather.
What other cars are similar to the Smart EQ Fortwo?
There are few cars that can realistically compare to the Smart EQ Fortwo. The only other two-seater electric car is the Renault Twizy, which is technically a quadricycle and is the only contender that is cheaper too.
More realistic alternatives come from Renault in the shape of the Zoe EV, and the Volkswagen e-Up, Skoda Citigo e iV and SEAT Mii Electric, although all of these cars are bigger and more expensive to buy. All of them do also offer far superior range, which is usually the key factor when making EV buying decisions.
Comfort and design: Smart EQ Fortwo interior
"Despite the exterior experience, the cabin of the EQ Fortwo is actually a comfortable place to be. The single door on each side is long and opens wide, giving easy access to the seats. Because it's so tall, you can almost slide across into your seat rather than having to sit down, which is a bonus if you're less physically able."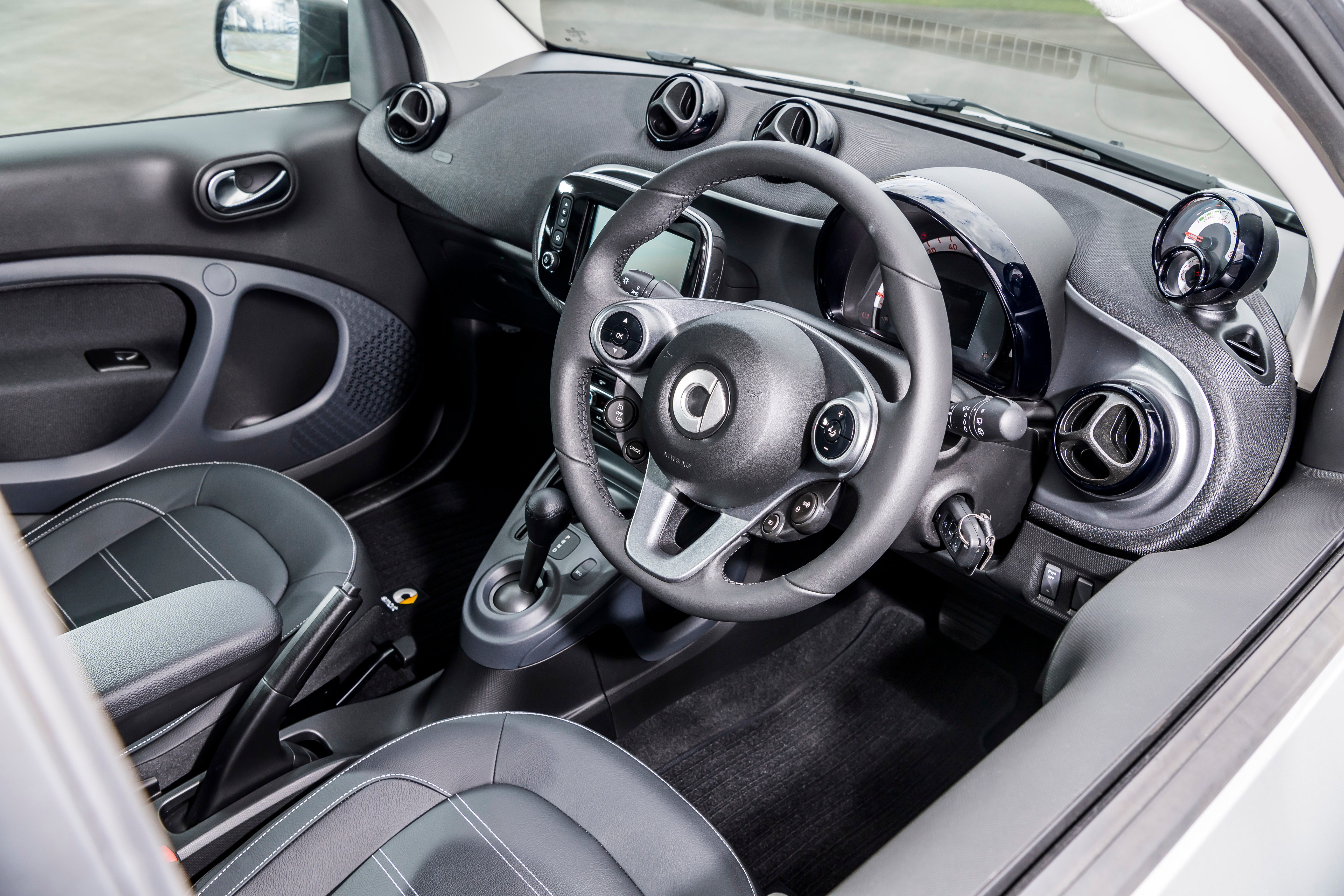 The driving position of the Smart EQ Fortwo is similarly high-set, but that helps visibility for the driver; it's easy to see out and you can judge the car's extremities accurately, although the over the shoulder view is hampered by the thickness of the rear pillar. You get seat height adjustment as standard, and the steering wheel adjusts for height too, so most people should be able to find a decent driving position.
The wheel doesn't adjust for reach, but that's true for almost all its rivals too. It might take a little getting used to from the driver's seat, but the advantages soon show through.
It's fractionally more sensible inside depending on the specification, but not by much. It's a riot of curves, with a giant pod housing the central speedometer and display screen, some instruments stuck on top of the dash in separate pods (depending on the model) and the dashboard itself is covered in fabric rather than plastic. It might sound deliberately wacky but it still works well, which is the main thing after all.
Quality and finish
The Smart EQ Fortwo is sold as a premium(ish) product and although it's not good enough to be wearing the three-pointed star of a Mercedes, it does try and distance itself from the regular mass-market brands.
It's reasonably successful too, as there are some nice touches dotted around the cabin of the Smart EQ Fortwo and in general the quality of the materials is strong too. There is a good mixture of materials and textures, not something you frequently see in cars at this price level, like gloss black details contrasting with the fabric covering on the dashboard, all of which lift the FSmart EQ Fortwo above the humdrum. There's also a good degree of personalisation available so you can add more colour to the cabin, something which isn't that common.
On the downside, some of the materials in here don't qualify as premium at all. That's true for every other car in this sector, but this also reflects that the Smart EQ Fortwo isn't really a wholly premium product. Smart's relationship with Renault is also evident (the Smart Forfour and Renault Twingo are sister cars) with the occasional item of Renault switch gear dotted around the cabin.
Infotainment: Touchscreen, USB, nav and and stereo in the Smart EQ Fortwo
Unlike older versions of the Fortwo, the Smart EQ Fortwo model benefits from a single specification infotainment as standard across the range, which means you don't have to decide which version to choose or pay extra for the privilege.
As standard the EQ gets the Smart Media System, which is made up of a 7.0-inch touchscreen, TomTom navigation including live services such as traffic reporting, Android Auto and Mirror Link and a DAB tuner.
At present, the system doesn't offer Apple CarPlay, although Smart says it will be offered later on in the vehicle's lifetime, so it would be worth checking with your friendly dealer if this is going to be a dealbreaker.
The system works pretty well, responding to the inputs of the driver accurately and the graphics are simple and easy to read. You can also use the steering wheel controls to operate certain functions. It is worth noting that this system has been in use for a while, so it's not the freshest, but it should provide enough to meet the needs of most buyers. You also get three years' subscription to the TomTom Live services, but it will require a subscription outside of that period.
Space and practicality: Smart EQ Fortwo boot space
It's important to stay realistic when considering the Smart EQ Fortwo's space efficiency. This is blatantly not going to be a car that can carry anything other than two people and some luggage, but what it does do is put the available space to good use.
The two occupants of the Smart Fortwo have a good deal of space to play with; even if you're tall there's plenty of headroom, and with no rear seats to interfere with you can slide the fronts back almost as far as you like, giving plenty of legroom too.
As the Fortwo is a strict two-seater, the driver and passenger can't fully recline their seats should they wish to do so - a quick nap while recharging the battery seems like a missed opportunity. However, the other side to this is that you can easily reach into the boot should you wish to do so even if you're still sat in the front seats.
Storage space in the cabin is also reasonable and similar to that offered on most of its rivals. The glovebox is quite small, but the door pockets are a useful size and there's a pair of cupholders - clearly you won't need more than two. There's also the rather more crude option of simply stuffing items behind the front seats, although it's important that this isn't something that could roll into the front and under the pedals.
As for the boot itself, the Smart EQ Fortwo offers 260 litres - exactly the same as the conventional petrol Fortwo as well as more than the Volkswagen Up and its siblings. The two-piece tailgate on the Coupe version is also something of a bonus, particularly when you only have a few bags or you're in a tight parking space - being able to drop items in through the window is very handy, but you don't get this facility on the Cabriolet. You even have the ability to fold the front passenger seat to increase the total space - but you only get 350 litres then, which is nothing like as much as you get from rival offerings that have two rows of seats to play with.
Handling and ride quality: What is the Smart EQ Fortwo like to drive?
"If you were designing a car from scratch that had a good ride quality and handled well, you wouldn't start by making it exceptionally short and unusually tall."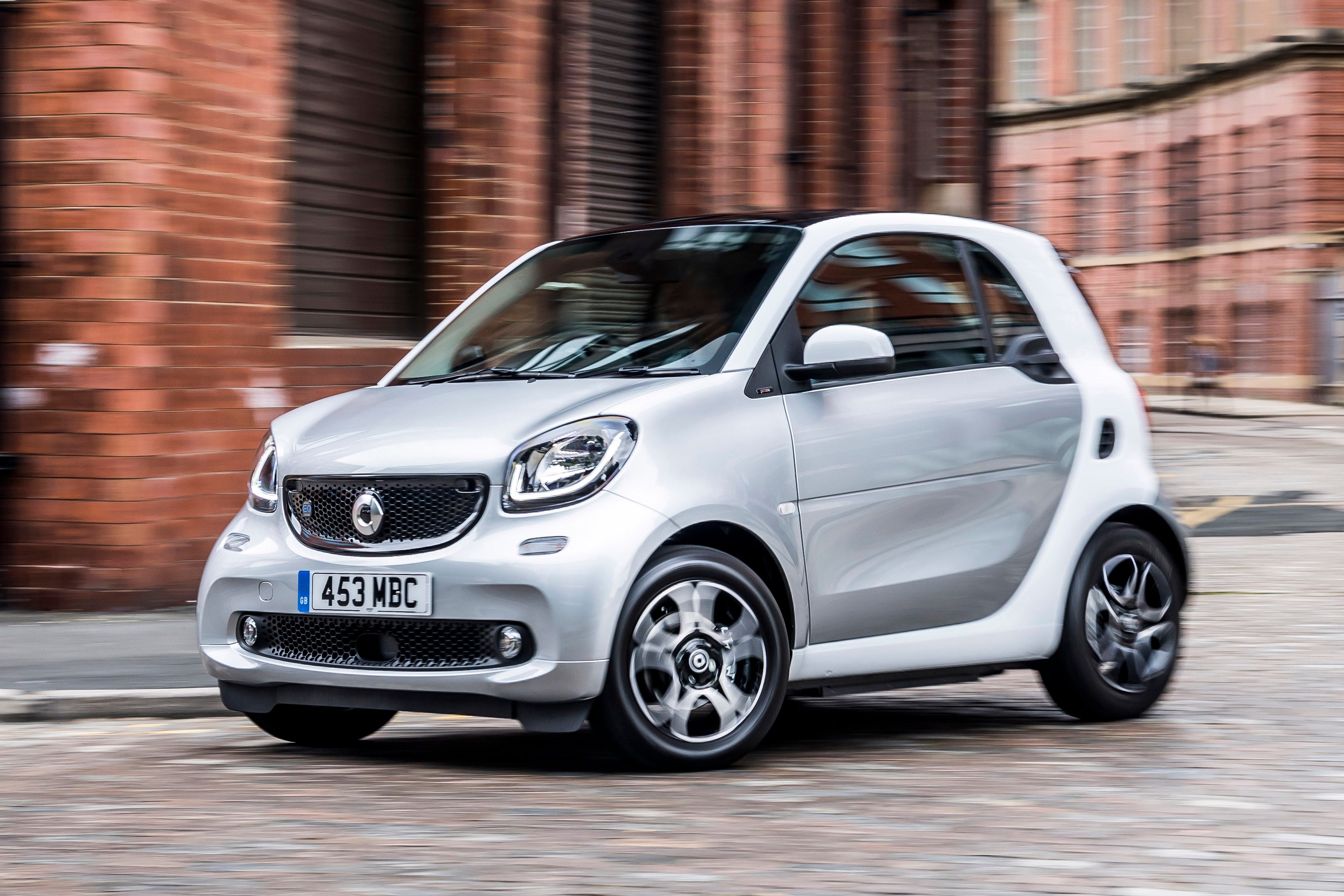 But that's what the Smart EQ Fortwo is, and it's hard not to think that it will topple over at the first sight of a corner given how tall it is. Get behind the wheel and you quickly realise that it is actually stable, and that the quickness of the steering and the short wheelbase means you can change direction with remarkable ease.
You can almost feel the car pivoting around you - not least when you go to perform a three-point turn and successfully manage to rotate the vehicle in a single turn. This is a huge boon in the city and in traffic, where you can park in spaces other cars wouldn't even slow for.
Get out of town however and there's not such good news. That same eagerness in the steering and ability to turn quickly feels less natural at higher speeds, and although your brain is telling you this is perfectly safe - and it is - the feeling of being perched up on a bar stool never really goes away. The Smart EQ Fortwo is better than the standard Fortwo in this respect, as the weight of the batteries sits low down in the body, but it doesn't solve the problem by any means.
Also disappointing is the ride quality. It's more difficult for a car with a short wheelbase to deal with road imperfections, and wheelbases don't come any shorter than on the Fortwo. Because of its length it sometimes feels like you're being pitched around over larger undulations, while the stiffness of the suspension means it picks out smaller lumps and bumps rather than smoothing them out. The ride quality isn't awful - it's just quite a bit behind the competition in this respect.
What engines and gearboxes are available in the Smart EQ Fortwo?
There's just the single motor and battery pack option for the Smart EQ Fortwo. As standard you get an 82PS electric motor that drives the rear wheels through an automatic gearbox (there's no manual option), and power is provided to the motor by a 17.6kWh battery mounted low down in the centre of the car.
Like most electric cars the motor provides strong torque - 160Nm - from zero revs, giving it the kind of buzzy, rapid acceleration that is a real bonus in the city. With no gears or clutch to worry about either it's just a matter of hanging on and squeezing the accelerator as hard as you need. It's important to note however that this acceleration is limited; get up to higher speeds on main roads and there's less go available. Get out on to the motorway and the EQ Fortwo really begins to struggle. It's capable of 81mph, but it will take you a while to get there and it will have some difficulty maintaining that speed up hills.
Like most other electric cars the Smart EQ Fortwo also feeds energy back into the battery when you come off the accelerator through regeneration. You can modulate this a little by pressing the brake pedal, but sometimes it is hard to be smooth and avoid grabbing the actual brakes, which can be irritating in busy traffic.
Refinement and noise levels
One of the main benefits of switching to electric power with a pre-existing car is that you instantly get a reduction in noise levels and an increase in refinement. This is partially true for the EQ Fortwo, not least because the petrol engine is quite a vocal one, but it is far from a complete success.
At lower speeds noise levels are commendably low. Accelerate away and all you get is a faint whine from the powertrain which is not nearly loud enough to be irritating, and the lack of noise is a plus point when in traffic - it's much easier to then hear what's going on around you.
However, it's much less impressive as the speeds increase. The powertrain remains relatively quiet, but the basic noise levels of the Fortwo itself are shown into sharp relief. Tyre noise starts to kick up at higher speeds alongside an increase in wind noise - even more so on the Cabriolet model - so that all the benefit of the electric powertrain is effectively lost.
Safety equipment: How safe is the Smart EQ Fortwo?
It might be exceptionally small but Mercedes-Benz spent a lot of time and money ensuring that the Smart EQ Fortwo could cope with severe crash impacts, even though the lack of a long bonnet to absorb crash forces makes this very difficult.
Euro NCAP tested the Fortwo in 2014, and it achieved a strong four-star rating overall. It scored 82 per cent for adult protection and 80 per cent for child protection, and only the less impressive scores of 56 per cent for pedestrian mitigation and safety assist rating prevented it from a higher score overall.
As standard, all versions of the Fortwo come with twin front and side airbags, as well as a knee airbag for the driver, seatbelt pre-tensioners and load-limiters, Isofix mounting points for the passenger seat with an airbag cut-off switch, and most importantly ESC as standard. A useful addition is side wind assist, designed to help you keep the Fortwo pointing in the right direction on windy days. Notably the EQ Fortwo benefits from an upgraded safety package compared to the old petrol Fortwo; all trim levels now get automatic emergency braking as standard, which is a significant benefit in terms of active safety.
There are essentially no options to choose from that change the safety kit specification - the only difference being that the Passion Advanced model gets rear parking sensors and the rest of the range also has a rear parking camera.
Maximum EV range in the Smart EQ Fortwo
Usually the first question that gets asked of an electric car, the range is a crucial factor and on this front the Smart EQ Fortwo is somewhat disappointing. The 17.6kWh battery is considerably smaller than rival offerings - the SEAT Mii for example has a battery with almost twice the capacity - and this restricts the range severely.
Official figures give the EQ Fortwo a range of 83.8 miles for the Coupe and 82.0 miles for the heavier Cabriolet under the stricter WLTP rules. That gives it an effective real-world range of 70 miles at most, and considerably less in adverse weather conditions. That means the EQ is not a realistic prospect for longer-distance travel.
Charging times: How much does it cost to charge a Smart EQ Fortwo?
"The plus side with every electric car is that it is (usually) considerably cheaper to charge up a battery than it is to fill a tank with fuel, although in this instance you'll have to charge it up several times in order to cover the same distance as petrol will carry you."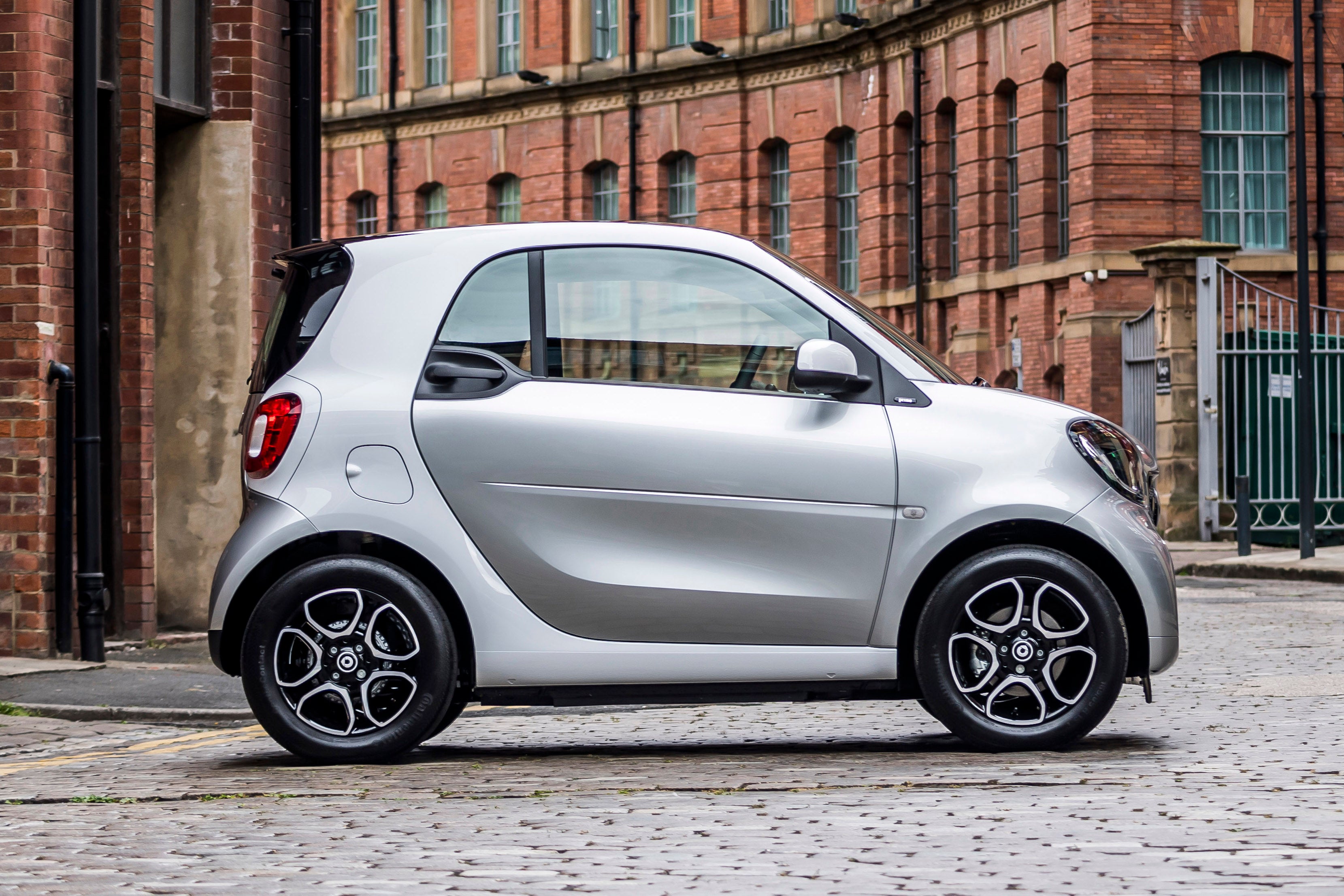 Because the Smart EQ Fortwo has a small battery in comparison to some rivals, it can get to a good level of charge quite quickly. It can take a charge of up to 22kW at a public charging point and will go from flat to 80 per cent battery capacity in 40 minutes. Smart are partnered with BP Chargemaster in the UK, and with Homecharge box installed it will go from 10 per cent to 80 per cent in 3 hours and 18 minutes.
An overnight charge from a regular 3-pin socket takes 8.5 hours. Smart says a home charge can cost under £2.50, and if you buy new you get a two-year membership to Polar Plus where a charge can cost under £3.00.
Insurance groups and costs
The Smart EQ Fortwo is relatively cheap to insure for an electric car. This sees the Smart EQ Fortwo start in insurance group 10 and rise to 13 if you find one if a limited edition trim level. Most though fall into insurance group 11.
VED car tax: What is the annual road tax on a Smart EQ Fortwo?
Happily the current rules on VED mean that zero emission cars pay zero road tax, so the whole of the EQ Fortwo range will cost you zero pounds a year. That may change of course, but as we are being encouraged to switch to EVs this is unlikely to change significantly for a while yet.
Also, the Fortwo is sufficiently cheap that there's no chance of it costing over £40,000 when new - a figure that attracts a VED penalty in the first year from the government even if it is a zero-emission electric car.
How much should you be paying for a used Smart EQ Fortwo?
Because the Smart EQ Fortwo has not been on sale for that long, and is a relatively niche choice, the supply of used cars is somewhat limited. That said, there are examples out there, so it is worth keeping an eye out."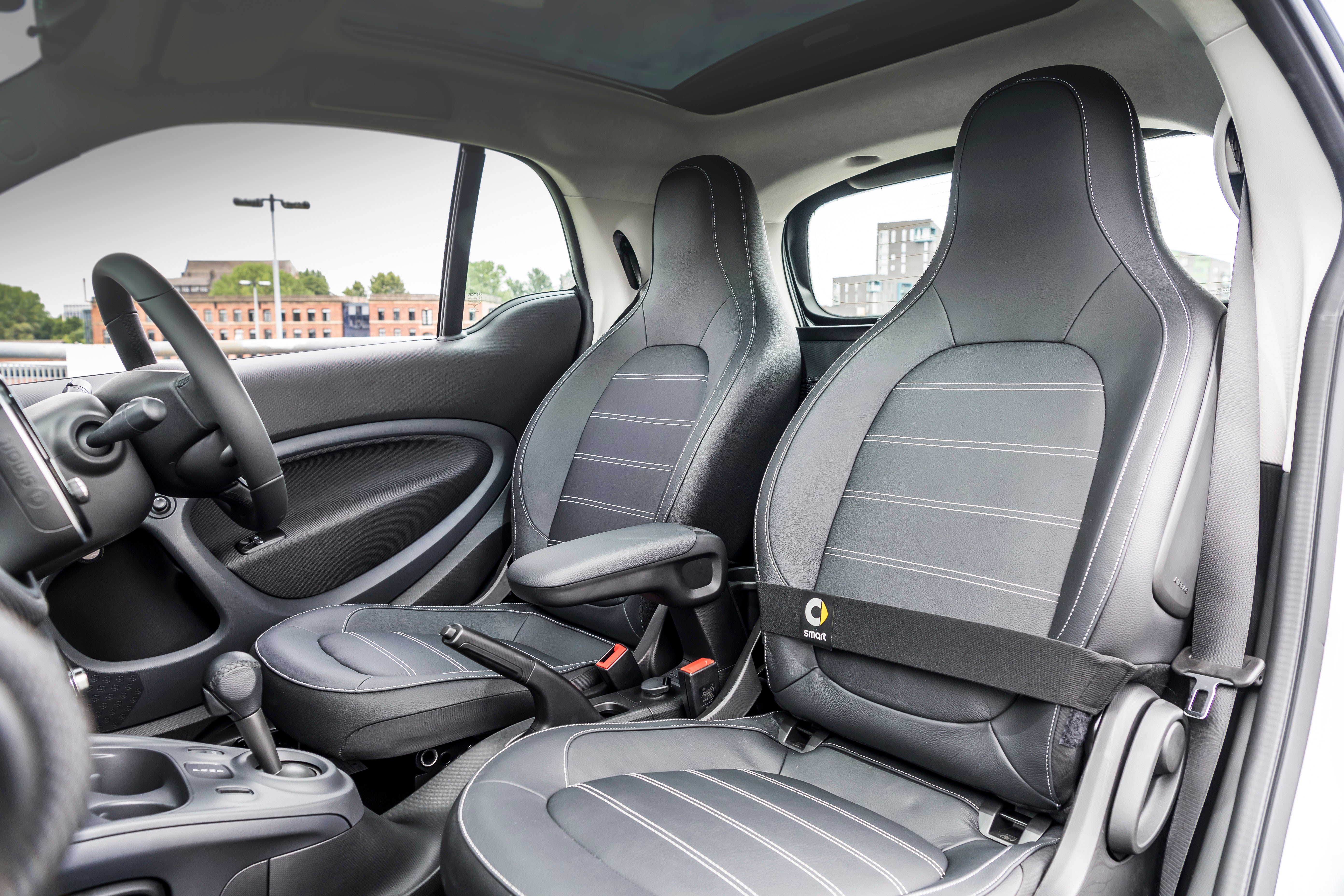 A quick search of the classifieds turned up some very fresh examples - we found a 2020 model with just 500 miles on the clock for a bargain £14,000, although this was exceptionally low - expect to pay around £16,000 for a nearly new example.
Even the oldest examples of the EQ Fortwo are still relatively new, even young enough to still be within the manufacturer warranty. We found a 2019 model with less than 1000 miles and in Prime Premium trim for less than £14,000.
Trim levels and standard equipment
The basic Passion Advanced model has a lot going for it, with a high standard specification that includes essentials like the Smart Media System, alloy wheels, rear parking sensors and climate control - that will be more than enough for many people so there's nothing wrong with sticking to the basic version.
Moving up to Pulse Premium adds different alloy wheels, a rear view camera and small interior design changes, but it's not until you move up again to the the Prime Exclusive that you get more useful extras like LED headlamps, rain and light sensors and heated leather seats. We'd skip the Edition One, which just adds visual upgrades and nothing of real substance.
Either stick with the basic Passion Advanced and save the most amount of money, or jump up to the Prime Exclusive to get all the top-level kit and avoid the unnecessary trinkets. We'd also consider the Winter Pack, which adds extra insulation, heated seats and steering wheel and the ability to pre-set the air conditioning remotely, which is a big bonus on an electric car.
Ask the heycar experts:
common questions
How fast is a Smart EQ Fortwo?
It's certainly not a hot hatch, with a 0-62mph time of 11.9 seconds and a top speed of 80mph.

What's the range of the Smart EQ Fortwo?
The Smart EQ Fortwo has an electric range of 83.8 miles for the standard coupe variant, while the cabriolet, thanks to its extra weight, has a slightly shorter range of just 81 miles.

How much is the Smart EQ Fortwo?
If you're looking to buy a new Smart EQ Fortwo, prices start at just over £20,000. Used examples start at around £16,000 for a four year old car.

Keep me updated by email with the latest advice, news and offers from heycar
By submitting, you agree to our
privacy policy
.