SsangYong Korando Review 2022
SsangYong Korando Review 2022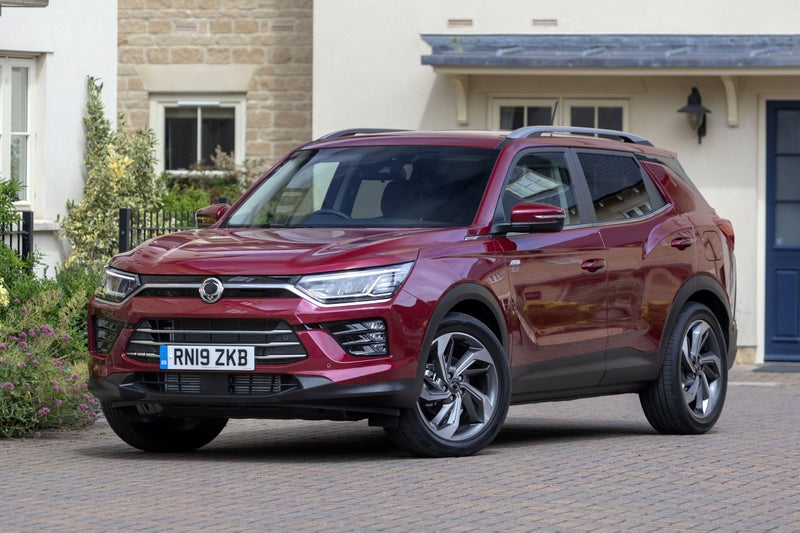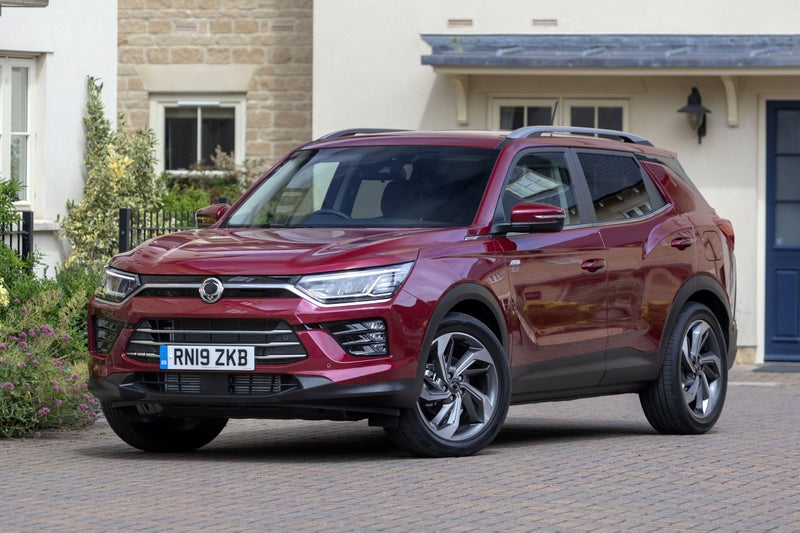 1/10
heycar rating
"Ponderous yet affordable Qashqai rival"
Launched: 2019

SUV

Petrol, Diesel
Quick overview
Pros
Practical choice with spacious rear seats and big boot
Generous equipment levels
Transferable seven-year warranty
Cons
Not as cheap as you might expect - especially high-spec models
Some of the interior finishes are a bit below-par
Quite expensive to run in terms of fuel and insurance costs
Overall verdict
On the inside
Driving
Cost to run
Prices and Specs
Common questions
Overall verdict on the SsangYong Korando
"The SsangYong Korando is now in its fourth generation - so why has it taken you until now to hear about it?"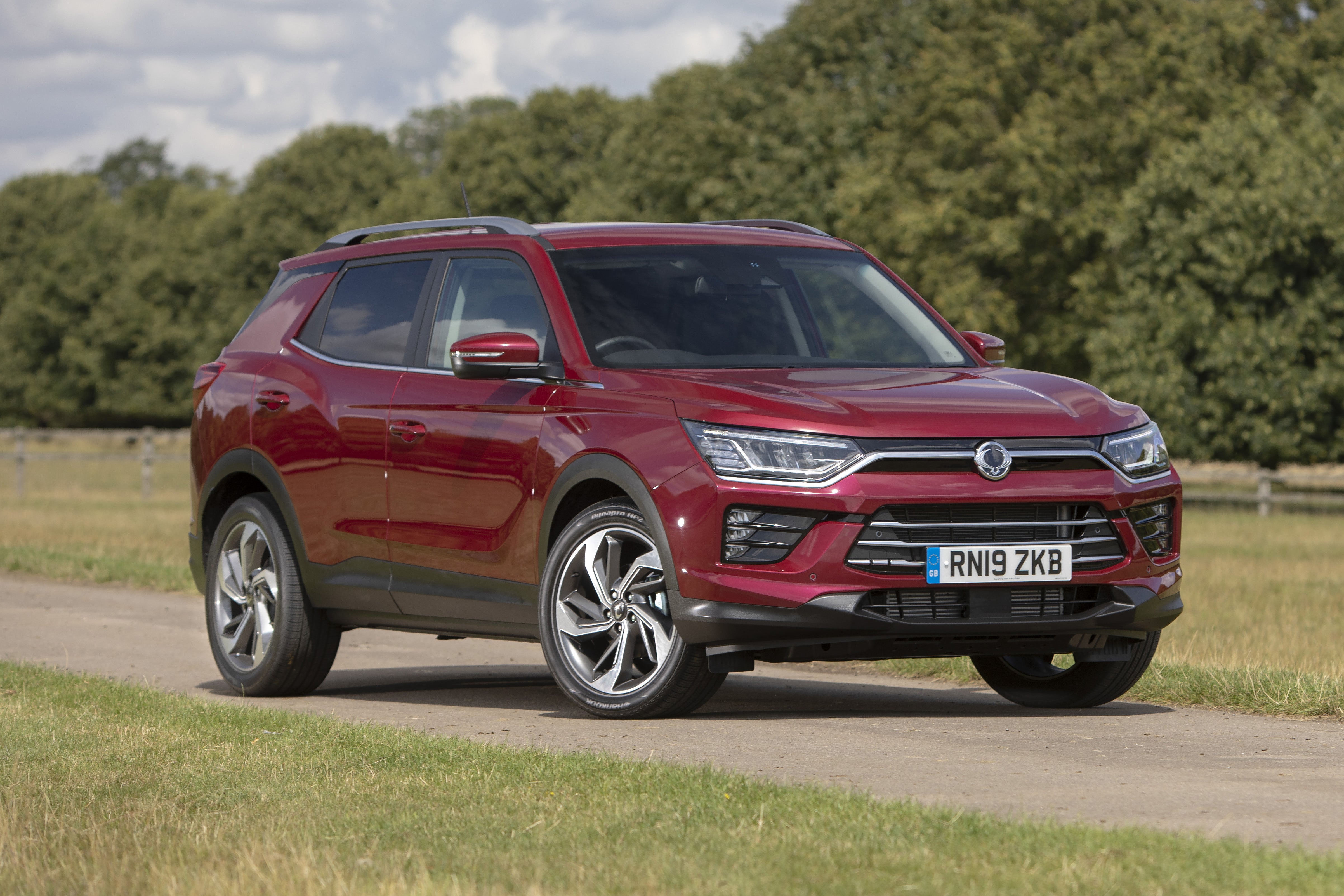 The SsangYong Korando is a bit of an obscure choice, made by Korean brand SsangYong and sold as a budget alternative to the Nissan Qashqai. It ticks all of the crossover SUV boxes. It's hugely practical, easy to drive and loaded with standard equipment. A five-star Euro NCAP safety rating (a first for SsangYong) and a seven-year, 150,000-mile transferable warranty should be enough to attract your attention, even if the sharper-than-ever looks don't quite do it for you. Read our full SsangYong Korando review to find out if it's the car for you.
Two new engines follow the downsizing trend: there's a 1.5-litre petrol and a 1.6-litre diesel, both available with manual or automatic gearboxes, and the latter with four-wheel drive. It's a car that's traditionally been popular with the towing fraternity, and that continues to be the case. The diesel can lug up to 2000kg, which is a pretty hefty caravan.
While it's better than ever to drive, it's still a long way away from being as sharp as a Peugeot 3008. We quite like it though - the (rather light and lifeless) steering takes a lot of turns from lock to lock, and it'll lurch about a bit in the bends. It's characterful.
It's also not as refined as alternatives. There's quite a lot of engine noise, particularly from the diesel, which grumbles away and makes a particular din if you floor the accelerator to keep up with traffic. This is something you might have to do quite often, as it's far from swift - most rivals will out-accelerate it from the traffic lights, if that's your thing.
The diesel feels pokier than the plodding petrol though. Even with a power output of 163PS, the petrol-powered Korando is slower than a 1.0-litre Skoda Karoq with just 115PS. There's an electric version on its way in 2021, with a real-world range of more than 200 miles - it'll be a while before these start trickling down to the used market, but it could be worth waiting for.
If you opt for the top-spec Ultimate model, you get a rather extensive list of standard equipment. One of its most impressive features is the 10.25-inch digital instrument cluster, which was only the preserve of expensive Audi models not so long ago. There's also a slick nine-inch navigation system with Apple CarPlay and Android Auto, as well as a really good reversing camera (honestly, it's more detailed than our television).
There's a caveat, of course. You can spend more than £32,000 on a new SsangYong Korando Ultimate, and that's proper money. But depreciation is your friend, and you should be able to pick up a nearly-new model for considerably less. If you're not fussed about having all the bells and whistles, lower-spec models start from around £20,000 new. It won't be long before used examples are available for around half that.
We rate the SsangYong Korando as a no-nonsense family SUV with an extensive list of standard equipment and affordable price tag. It's far from perfect though, with noisy, old-fashioned engines and high running costs. Most buyers will probably be better looking at mainstream alternatives like the Peugeot 3008 or Kia Sportage.
Is the SsangYong Korando right for you?
If you want a no-nonsense SUV and don't particularly care about badge appeal, the SsangYong Korando could be an excellent choice. It's very practical and high-spec models come loaded with standard equipment - but don't take it for granted that it'll be cheaper than the competition.
The fact SsangYong's backing it with an extensive seven-year warranty, which is transferable to second (and third, and fourth…) owners should ease your mind about buying from a manufacturer you may previously have never heard of. The five-star Euro NCAP safety rating is a green flag for family buyers too.
What's the best SsangYong Korando model/engine to choose?
The choice of engine ought to come down to what you'll use the Korando for. As is usually the case, petrols are better for low mileages and urban use. The diesels are better suited to high-mileages, longer journeys and utilitarian use, such as towing or venturing off-road. That said, the diesel does suit the Korando better, with a useful amount of torque and better fuel economy.
In terms of trim level, we reckon the SsangYong Korando Pioneer hits the sweet spot in terms of value for money. It's a bit of an oddity in terms of specification - it's aimed at caravanners, coming with a full-size spare wheel (that's a good thing), smaller 17-inch alloy wheels (a great thing for ride comfort), yet no 10.25-inch digital instrument cluster (a 'nice to have' but not essential). Go for the top-spec Ultimate if you want everything and can get a good deal on the used market.
What other cars are similar to the SsangYong Korando?
The SsangYong Korando has traditionally undercut conventional rivals although the latest model has moved towards the mainstream with a fancier cabin and stronger prices. As such, you could also consider alternatives like the Peugeot 3008 (which has a superb, futuristic cabin and is good to drive) or Skoda Karoq (which is a very sensible and practical choice).
There's also the SEAT Ateca (which is similar to the Karoq but slightly more entertaining to drive), or the age-old Nissan Qashqai (which everyone loves but actually isn't as good as its more up-to-date rivals). The Kia Sportage is showing its age a bit now but has better engines than the Korando, and also comes with a seven-year warranty.
Comfort and design: SsangYong Korando interior
"You might expect the Korando to have a plasticy, drab interior - and that was certainly true of the old model. But the latest car looks surprisingly modern and upmarket inside."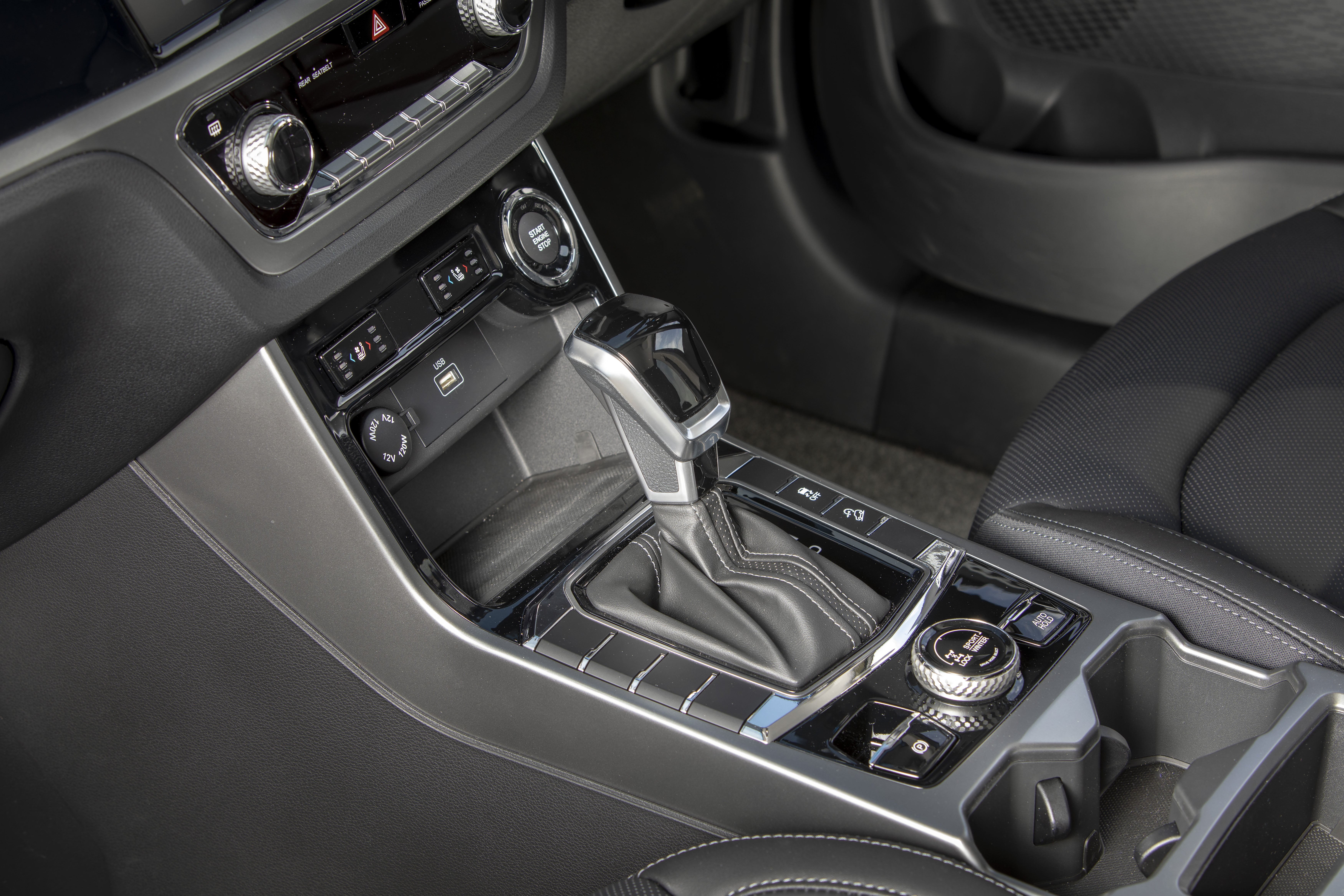 There's a large, glossy black piece of trim brightening up the dash, while silver highlights also lift the cabin. SsangYong Korando Ventura and Ultimate models come with a flashy 10.25-inch digital instrument cluster.
It's obviously not as slick as Audi's Virtual Cockpit, but it's clear to read with sharp graphics and all the information you could possibly want on hand. You can select from a number of different displays, too (great if, like us, you prefer a minimalist appearance) - while various vehicle settings can also be tweaked through the digital dash.
There are quite a lot of physical controls in the Korando's cabin. That's a good thing in our eyes - we like being able to twirl a knob to adjust the temperature of the climate control or press a button to turn the heated seats on.
It's an easy car to get comfortable in too. Only top-spec Ultimate models get electrically-adjustable front seats and lumbar support, but there's loads of adjustment. The driving position varies from 'fairly high' to 'very high', meaning you get that true high-up SUV feel. The steering wheel is adjustable for height and reach.
Quality and finish
While the interior of the SsangYong Korando looks pretty smart, you'll soon start to find issues when you start poking around. There are plenty of harsh plastics, especially on the lower half of the dashboard and door cards. Some of the switches feel a little cheap, too, although they're generally pretty well-damped. And who doesn't like a well-damped switch?
It's the little things which make the Korando feel less of a quality product than, say, a Skoda Karoq. The way the electric seats on the Ultimate trim level noisily thud to a halt when they reach their maximum adjustment, or the irritating 'welcome' sound the car makes when you get in it (you can turn that off, fortunately).
Still, we've spent an extended period with the Korando and it seems to be wearing well. The leather seats (another perk of the Ultimate model) look pretty swish, with well-finished stitching and perforated trim. A lack of soft-touch materials could be a good thing for long-term endurability.
Infotainment: Touchscreen, USB, nav and stereo in the SsangYong Korando
The cheapest SsangYong Korando ELX doesn't get a fancy infotainment system, instead using an old-fashioned four-inch display. It's easy to turn your nose up at this but it does the job - with Bluetooth, DAB radio and USB inputs. If you're not fussed about fancy media systems, it's fine.
Korando Ventura and Pioneer models come with an eight-inch infotainment system, while the top-spec Ultimate gets a fancy nine-inch display with navigation. Most customers will be happy with the smaller device, which has Apple CarPlay and Android Auto as standard - meaning you can use apps from your phone for directions.
The media system is fine - a bit laggy to respond at times and its menus aren't the simplest to navigate - but most users won't find any great cause for complaint. We also like that there's a physical knob for the volume control and shortcut buttons to various features. These mean it's easier (and less distracting) to use on the move.
Space and practicality: SsangYong Korando boot space
The SsangYong Korando measures 4450mm in length, 1870mm in width and 1629mm in height (including roof rails).
You won't have any issues with space in the front, with loads of headroom and a decent amount of room between the seats - as well a substantial centre console to prevent awkward elbow bashing. There's a fairly generous cubby below the armrest, as well as a useful place to store your phone in front of the gear lever.
The two cup holders in the centre console do a good job of holding water bottles in place - and they're big enough for a grande macchiato. There's a useful stowage space for your sunglasses too, while the door bins are fairly generous for all the rubbish that we tend to accumulate in our cars.
There's also an impressive amount of room for rear passengers. Two adults will feel very comfortable, with a huge amount of headroom and decent levels of knee room. Visibility is good, thanks to relatively large rear windows, meaning travel sickness should be kept at bay.
All Korando models get a drop-down armrest with cup holders in the back, which is a nice touch, while there are door bins big enough for a bottle of water, too. There are ISOFIX child-seat anchoring points on the outer rear seats.
As is often the case, the middle seat is for occasional use only. It's fairly narrow, and a lump in the floor means adults will find themselves perched in an unusual position. If you regularly need to carry three in the back, we'd recommend a Citroen C5 Aircross instead.
The boot is a decent (if not class-leading) size, capable of carrying 551 litres. It's a usefully-square shape, although the rear wheel arches do intrude slightly. There are various hooks for strapping items in, while a false boot floor means there isn't much of a lip for lifting bulky items over.
The SsangYong Korando Pioneer comes with a full-size spare wheel, which is very useful in the case of a puncture. It means you'll do without the extra storage under the boot floor, though, reducing boot space to a pretty average 407 litres.
The rear bench splits 60:40 on all models, dropping easily to provide a usefully flat floor for carrying large items. Only top-spec automatic models get an electric tailgate, which is no great issue as it seems to take an age to open.
Handling and ride quality: What is the SsangYong Korando like to drive?
"The first thing you'll notice about how the Korando drives is how old-school it feels. The steering takes a lot of turns from lock to lock, which is a pain for city driving."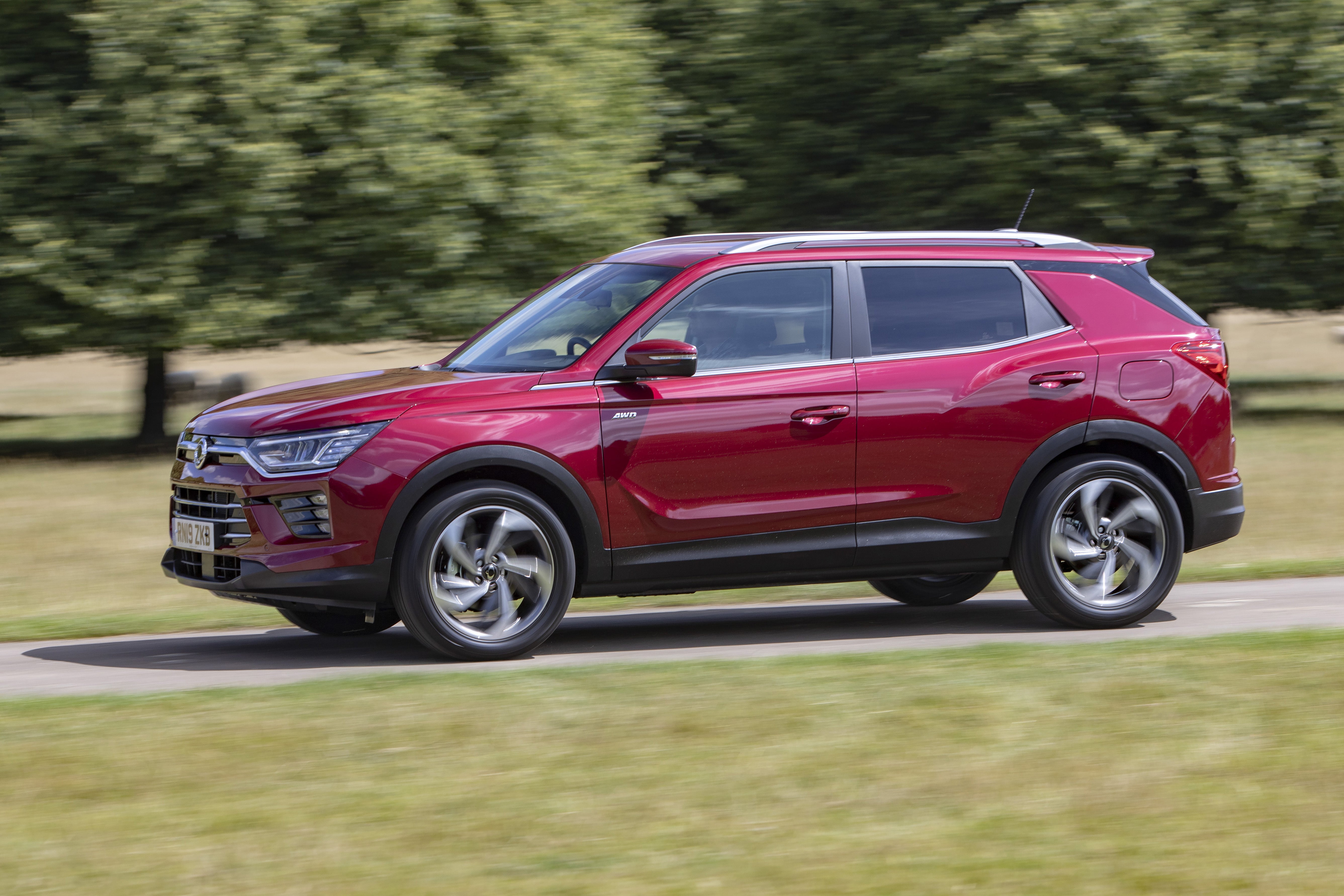 It doesn't feel particularly connected to the front wheels. Indeed the Korando is quite a ponderous crossover, and certainly no match for a SEAT Ateca or Peugeot 3008 in terms of driving dynamics.
The ride is quite firm, meaning you'll wince if you don't slow down enough for potholes or speed bumps. That's especially true for high-spec Ultimate models with their 19-inch alloy wheels and rubber-band tyres. The meatier tyre walls of the standard 17-inch wheels on ELX models do a better job of absorbing bumps in the road.
Ordinarily, the plus side of firm suspension is a car that remains relatively flat and composed in bends. While the Korando leans less than older SsangYong models, it's still not as agile as most mainstream rivals.
Still, the high up seating position and light steering mean you can drive the Korando around town fairly easily. It does feel a bit like taking a Land Rover Defender into a city centre - this is definitely a car that feels more at home in the country - but it's easy enough to negotiate narrow streets thanks to decent visibility.
Most models, aside from the cheapest ELX trim, get a reversing camera which proves very useful when reversing into tricky parking spaces (or, perhaps more appropriately, when attaching a trailer).
What engines and gearboxes are available in the SsangYong Korando?
The most affordable Korando models are petrol-powered. There's just one petrol engine: a 1.5-litre four-cylinder, available only with two-wheel drive and a six-speed manual or automatic gearbox.
It's not a fast choice. It might have a fairly generous power output of 163PS, but it'll take 12 whole seconds to reach 62mph. Even a 115PS 1.0-litre Skoda Karoq can accelerate to 62mph in 10.6 seconds. We're not quite sure how SsangYong managed to make the petrol Korando so slow.
The 1.6-litre diesel is no faster, matching the petrol's 0-62mph acceleration time. It feels gruntier, though, thanks to a hefty 324Nm of torque which is available from low revs, meaning the engine doesn't have to be worked particularly hard.
We think the diesel suits the Korando's character more than the petrol, although - like all diesels - we wouldn't recommend it if you cover mainly short journeys or frequently drive around town. Lots of stop-start driving won't let the diesel get fully up to temperature and this'll impact fuel economy and could cause reliability issues further down the line.
The six-speed automatic gearbox available with both engines seems to suit the diesel more. It's very hesitant in the petrol, constantly fidgeting about its gear selection and causing you to lurch forwards when you want to accelerate from a standstill.
Refinement and noise levels
While we quite like the diesel engine in the Korando, there's no denying that it's quite noisy. It makes a distinctive clatter at start-up before rumbling along, reminding you that you've bought a car powered by the devil's juice.
It settles down into a refined-enough cruise at speed, happily plodding along at 70mph without too much in terms of engine noise. The automatic gearbox is a bit too keen to hold onto gears when it's building up speed, but it's better in the diesel than the petrol.
Road noise is quite noticeable, not helped by the 19-inch wheels of top-spec models. The unsophisticated suspension clatters over bumps, causing a surprising amount of clatters for a modern SUV. Little things add up to hamper refinement… the indicator noise is irritatingly loud as standard, but you can turn this down in the settings.
On the plus side, you won't notice any perceptible vibration through the controls, aside from perhaps a slight thrum through the seats when the diesel engine's cold. And the petrol engine is quieter - even if you do have to rag it everywhere to make progress.
Safety equipment: How safe is the SsangYong Korando?
One area in which SsangYong hasn't cut costs is safety. The Korando is the first SsangYong ever to be given a five-star safety rating by Euro NCAP, the independent body responsible for crash testing new cars.
Standard safety equipment across the SsangYong range includes an autonomous emergency braking system, which can warn drivers before applying the brakes if it detects an impending crash.
There's also a driver attention alert, which will suggest you take a break if you start weaving about in the road and generally acting distracted, and a front vehicle start alert. This will let you know if the car ahead in traffic moves off and you don't.
The lane-keeping assist system will nudge your steering wheel if you stray from your lane on the motorway, while the emergency call service will dial 999 if you're involved in a crash.
Hill-start assist helps you take off from a standstill on a hill without rolling backwards, while hill descent control will control your speed when tackling a steep downwards descent.
Unfortunately, most models come with a tyre repair kit instead of a spare wheel. The Pioneer is an exception to the rule. This comes with a full-size spare wheel and tyre.
MPG and fuel costs: What does a SsangYong Korando cost to run?
"As is usually the case, the diesel Korando is the most efficient in terms of fuel economy. If you don't need four-wheel drive, the front-wheel-drive model - sold exclusively in Pioneer trim - officially returns 46.3mpg."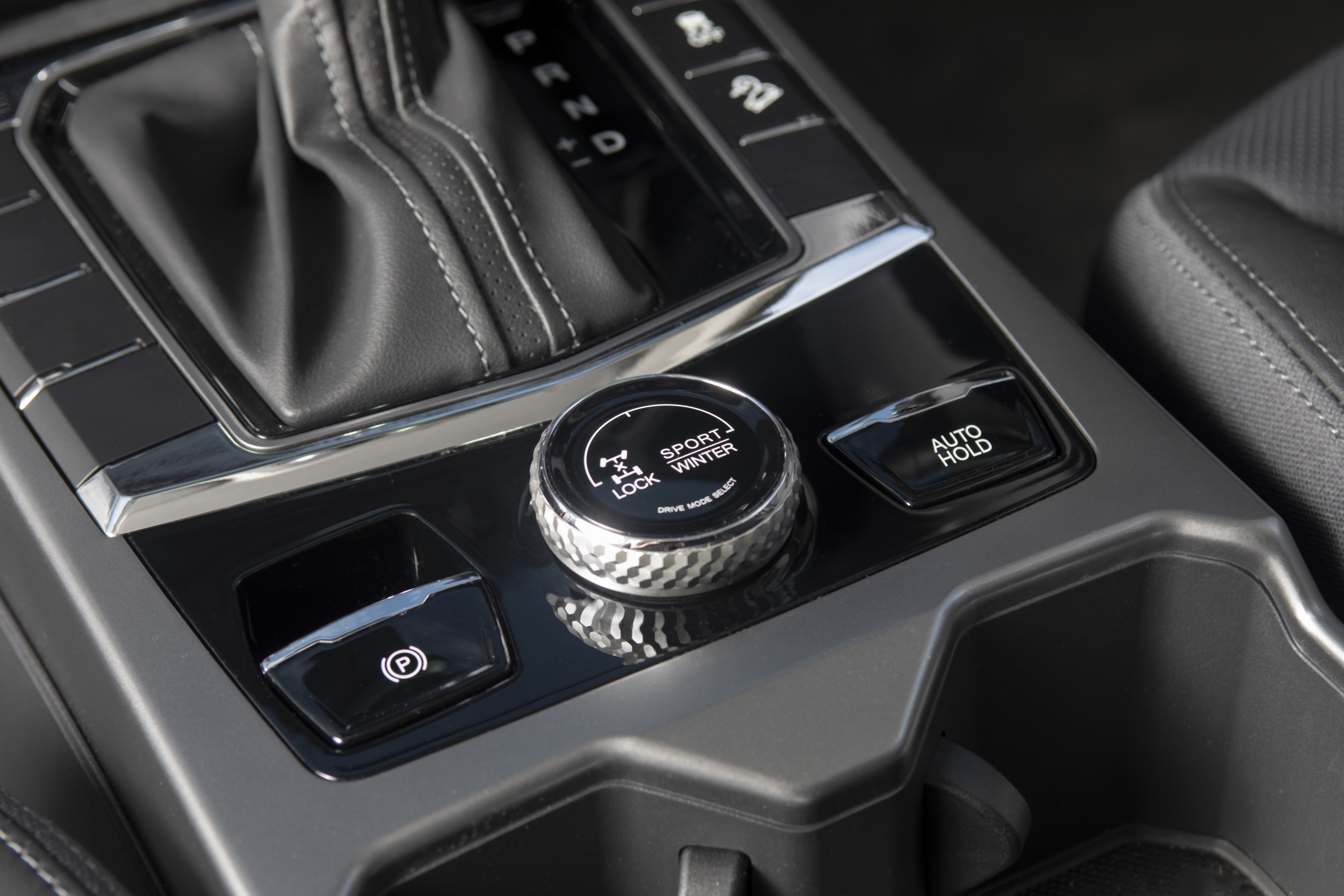 That sounds pretty good, until you realise a more powerful Nissan Qashqai is good for up to 51.4mpg (albeit without the automatic gearbox). An equivalent Skoda Karoq can return up to 52.3mpg.
Four-wheel drive impacts fuel economy too. The diesel 4WD will officially achieve 41.5mpg - a figure that's likely to drop considerably below 40.0mpg in the real world.
So, what about the petrol? With the manual gearbox, SsangYong quotes an official combined fuel consumption of 37.2mpg, dropping to 35.8mpg with the automatic transmission. That's going to hit you hard at the pumps.
How reliable is a SsangYong Korando?
With a seven-year/150,000-mile warranty, the SsangYong Korando should be a fairly safe investment in terms of reliability. While the brand isn't as well known as mainstream competitors, it does have a growing dealer network, while it's previously taken the top spot in the annual HonestJohn.co.uk Satisfaction Index.
Insurance groups and costs
While the SsangYong Korando shouldn't cost you a fortune to insure, it's worth noting that it does fall into slightly higher insurance groups than many rivals. The cheapest will be the ELX model, which is in insurance group 21, while the priciest is the automatic Ultimate with 4x4, which is classed as insurance group 26. It's probably worth shopping around for quotes before you buy a Korando - you might find that any savings in the purchase price are soon wiped out in costly insurance premiums.
VED car tax: What is the annual road tax on a SsangYong Korando?
All 2019 Korando models will be subject to the same flat rate of £150 VED after the first year. That's the same for rivals, too, unless you consider a hybrid like the Toyota RAV4, which'll save you £10 a year. Hardly seems worth the extra expense...
How much should you be paying for a used SsangYong Korando?
"SsangYong is a niche brand and its dealers are quite small affairs, so it doesn't pre-register vehicles in the same numbers as the bigger brands. That means there aren't huge savings to be had on as-new vehicles, but there are still bargains to be had."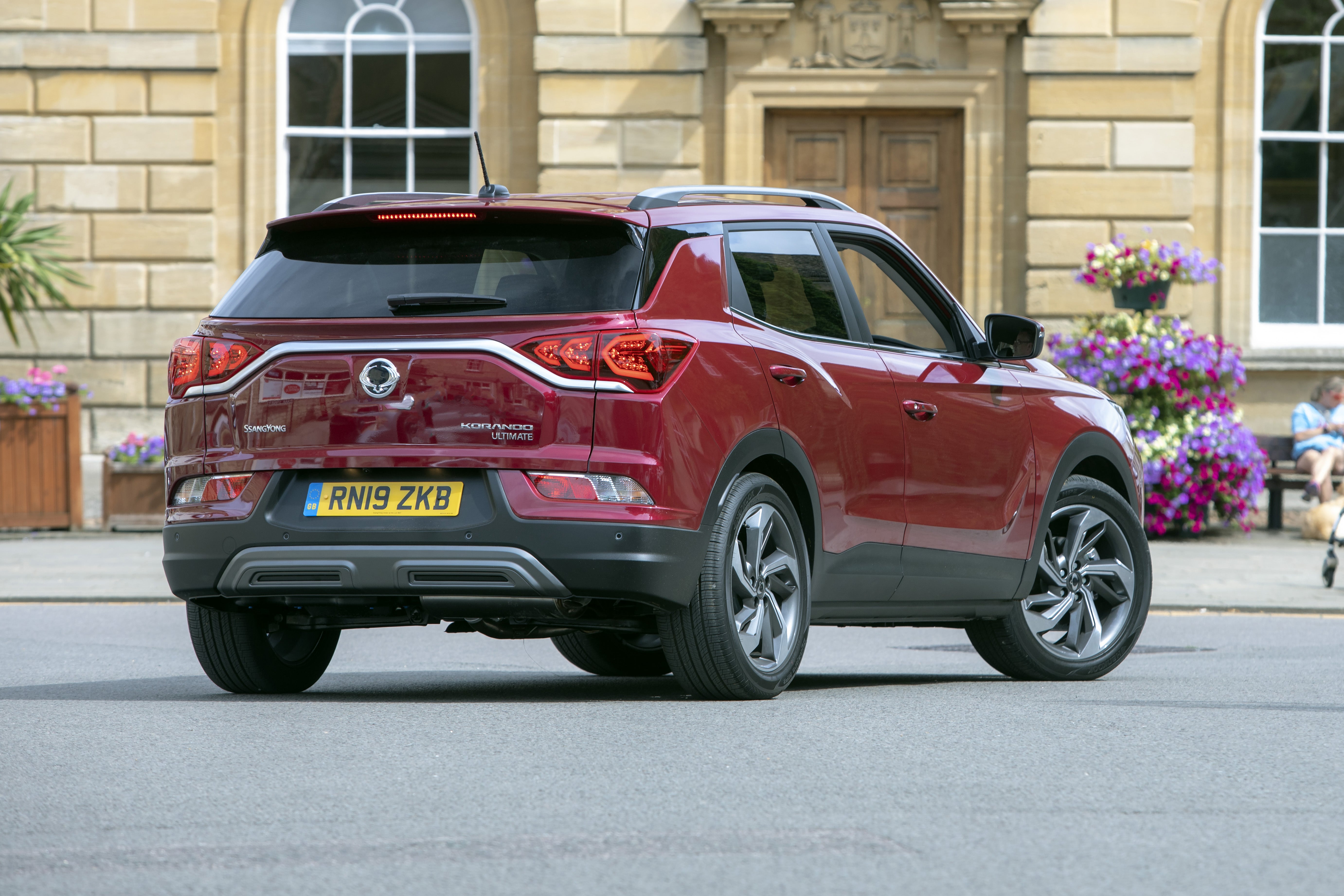 We've seen SsangYong Korando ELX models on dealer forecourts and ready to go for around £19,000, representing a saving of £1000 over list. A budget of £20,000 will get you a delivery-mileage Ventura model with the 1.5 petrol engine and manual gearbox - a saving of nearly £3500.
A pre-registered Korando Ultimate with the petrol engine and automatic gearbox can be bought for £25,000 - again, a saving of nearly £3500. A diesel in the same specification can be bought for around £28,000 - cutting nearly £4500 off retail price.
Trim levels and standard equipment
The most affordable model is the SsangYong Korando ELX, which starts from around £20,000 new and is only available with the 1.5 petrol engine with two-wheel drive and the manual gearbox. Highlights include cloth trim, 17-inch alloy wheels with all-weather tyres, cruise control, DAB radio with Bluetooth connectivity and automatic headlights/wipers.
Again, Korando Ventura models are only available with two-wheel drive and the petrol engine, albeit with the choice of a manual or automatic gearbox. These build on the spec of the ELX, with combined faux leather and fabric seats (heated in the front), 18-inch diamond-cut alloy wheels (without all-weather tyres), front and rear parking sensors, an electronic parking brake, 10.25-inch full LCD instrument cluster, and an eight-inch touchscreen media system with Apple CarPlay and Android Auto.
Unashamedly aimed at the caravan and towing market, the SsangYong Korando Pioneer is sold with the 1.6 diesel engine and automatic transmission, with the choice of two- or four-wheel drive. It has a two-tonne towing capacity, along with 17-inch alloy wheels (with all-weather tyres), a heated steering wheel, a full-sized spare wheel and a 3.5-inch LCD instrument cluster (rather than the fancy 10.25-inch display).
The top-spec SsangYong Korando Ultimate is, as its name suggests, the ultimate Korando. Sold with a petrol engine with automatic and manual transmissions, or an automatic diesel with four-wheel-drive, standard kit includes leather seats (with adjustable driver's lumbar support), dual-zone air conditioning, a nine-inch touchscreen media system with Apple CarPlay and Android Auto, 19-inch diamond-cut alloy wheels, smart keyless start, rear privacy glass, LED multi-focus headlights, 10.25" full digital cluster and mood lighting and a power tailgate.
Ask the heycar experts:
common questions
What is a SsangYong Korando?
A SsangYong Korando is a cheap-and-cheerful family SUV that rivals the likes of the Skoda Karoq and Kia Sportage. It's not as affordable as it once was, but it does offer a long warranty and generous equipment levels as standard.

Answered by
Lawrence Allan
Is the SsangYong Korando a good SUV?
The SsangYong Korando is a value SUV but there are still many reasons to buy one over conventional rivals like the Nissan Qashqai. It should be cheap to run and comes with a long warranty, while four-wheel-drive models are fairly capable off road.

Which SsangYong has a Mercedes engine?
While older SsangYong models were powered by engines developed by Mercedes, the latest Korando is not one of them. Instead, the engines in the SsangYong Korando are all the brand's own work.

Ssangyong Korando cars for sale on heycar
90
Number of cars available
£7.6K - £33K
Price bracket of these cars
Colours available on heycar
Keep me updated by email with the latest advice, news and offers from heycar
By submitting, you agree to our
privacy policy
.