SsangYong Musso Review

Written by
heycar editorial team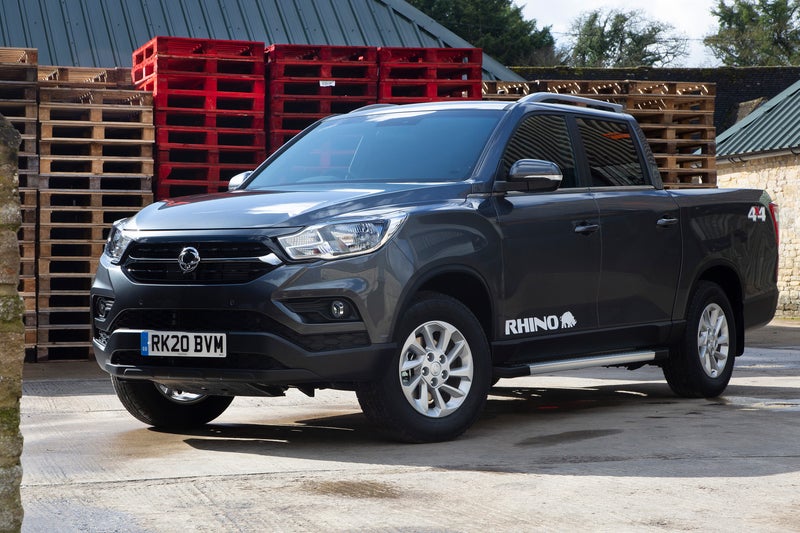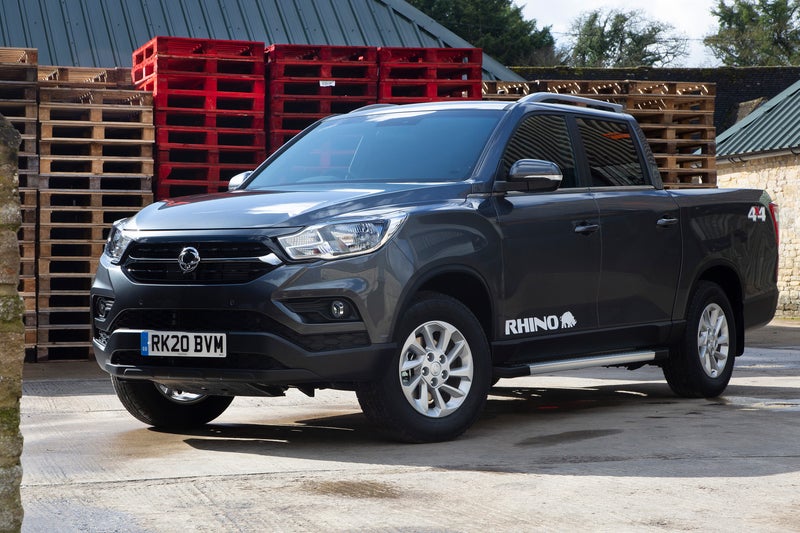 1/10

heycar rating
"Cheap but sturdy pick-up truck "
Launched: 2018

Pick-up

Diesel
Quick overview
Pros
Good value and strong pick-up that's well equipped
Excellent off-road ability
Seven-year warranty as standard
Cons
Rivals are more refined and quieter
Ride quality is poor even by pick-up standards
Name remain unfamiliar
Overall verdict
On the inside
Driving
Cost to run
Prices and Specs
Overall verdict
"There are plenty of pick-ups that try to offer SUV-like comforts, but SsangYong has arrived at its new Musso from a different direction. Based on the new Rexton, this Musso is essentially a Rexton with a loadbed."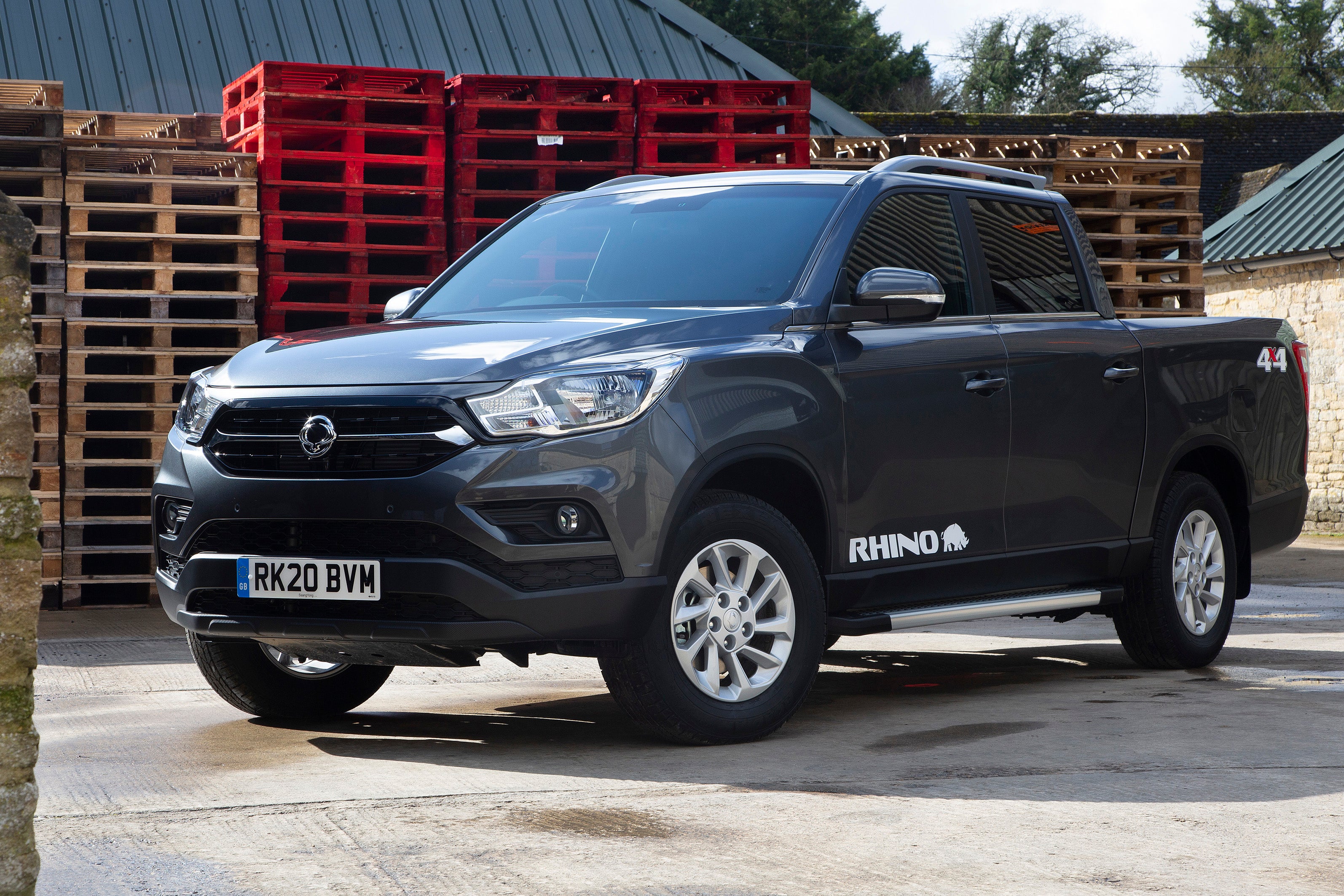 Unlike the outgoing Musso, SsangYong has made some effort to hide this transition in the styling. So, you get sculpted lines down the sides that blend in much more with the overall style than before. The upper edge of the load bed also flows better with the cab's window line and it all looks far more harmonious than the cut 'n' shut appearance of the old model.
With most pick-ups, we wouldn't dwell that much on the styling, but it's an area that has generated some resistance to the older Musso, so it's important this new version gets it right. Round the front, it could be mistaken for any of several rivals if you cover up the badge, so buyers previously put off by the SsangYong badge may well be more amenable now.
More thought is evident in the styling with all four doors that cover the lower sill section when closed. This means dirt cannot build up in there and cover your trousers as you get in and out, which is a consideration when more pick-ups are being bought to use in a wider variety of roles than just working environments.
The maximum weight for the pick-up tray is one tonne, which is less than an Isuzu D-Max but sufficient for most needs. To take weightier items, you'll need a trailer and the Musso can haul 3.5-tonne with a braked trailer if you opt for the SsangYong with an automatic gearbox. Stick with the six-speed manual and you're limited to a 3.2-tonne limit.
Pulling all of that is a 2.2-litre diesel four-cylinder engine producing 181PS and 400Nm of torque when attached to the manual gearbox or 420Nm for the auto transmission.
SsangYong reckons more buyers will choose the auto and we can see why. It's a smooth-shifting gearbox that suits the easy-going nature of this pick-up. You can put the auto into a manual override mode, which is ideal for descending steep off-road tracks, but otherwise we'd leave it to its own devices.
Factor in a seven-year warranty, and the SsangYong's higher running costs being offset by its expected lower prices. It has to be a contender for those who value comfort as well as practicality.
Similar pick-ups to consider include the Isuzu D-Max, Toyota Hilux and Mitsubishi L200. If it's value you want, look at the Great Wall Steed.
Comfort and design
"The driving position in the Musso is good and affords a fine all-round view, the dash is easy to read at a glance and the centre console groups the ventilation controls in a straightforward way with buttons big enough to use even when wearing gloves. "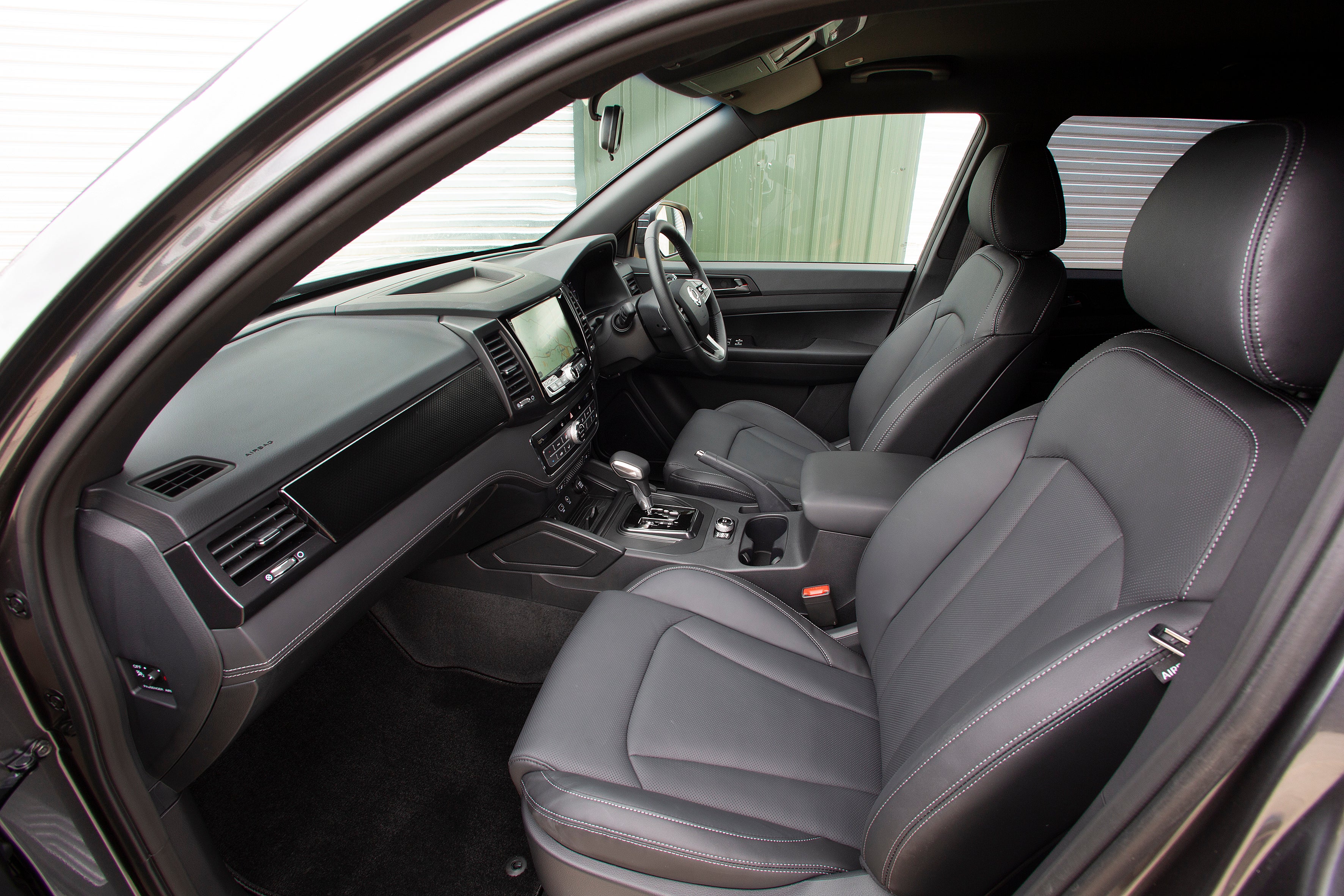 Some of the plastics don't look and feel as high grade as those in a Volkswagen Amarok, but they should be simple to wipe down and keep clean
As the Musso is derived from the Rexton, the interior is almost identical, which is welcome. Move into the rear quarters of this crew cab SsangYong and it grabs a lead over its rivals.
Using the Rexton as its base means there's more room back here for heads, legs and knees, and three adults fit comfortably thanks to the flat floor with no transmission tunnel intrusion. It adds up to a much stronger case for choosing the Musso than its predecessor.
Handling and ride quality
"Like its predecessor, the Musso is built with a body on frame construction to make it as strong as key rivals such as the Ford Ranger and Isuzu D-Max. This also endows the SsangYong with excellent off-road ability, helped by the four-wheel drive transmission."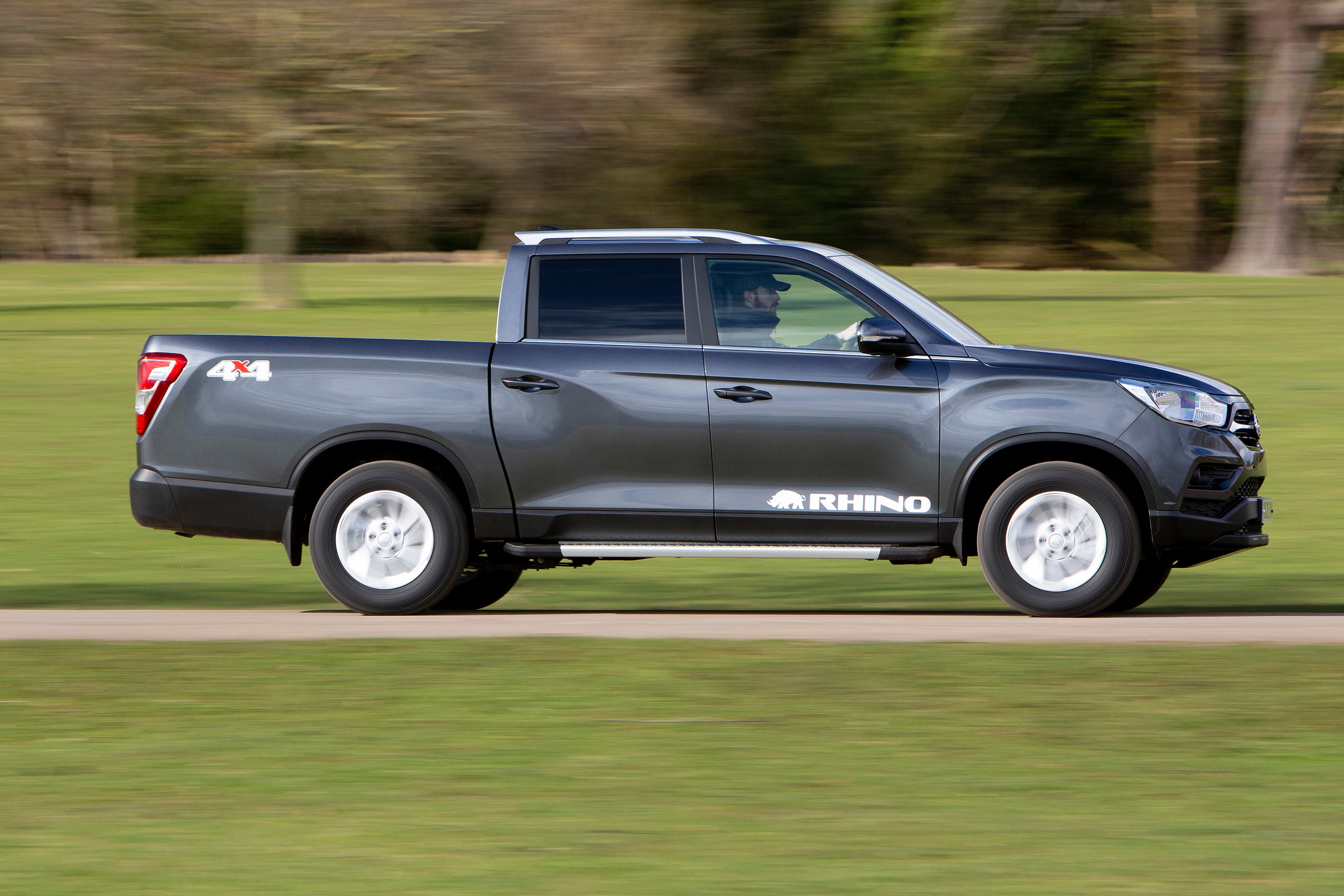 This normally runs in rear-drive but can be swapped to all-wheel drive high or low ratios with the turn of a dial positioned just behind the gear lever. In either of these two modes, the Musso is very capable.
In normal driving, the auto 'box changes up a cog long before the engine gets a chance to become vocal. Only when pushed very hard does the diesel become loud and it's easily one of the most refined in this sector.
Acceleration is not as brisk as a Ford Ranger's, but the dividend in refinement is one we'd be happy to take on longer journeys. As for the ride and handling, it's a little too soft and wallowy.
MPG fuel costs
"The new Musso can only muster 32.8mpg according to SsangYong's figures with the automatic gearbox, improving slightly to 35.8mpg with the manual transmission, but both trail the class best."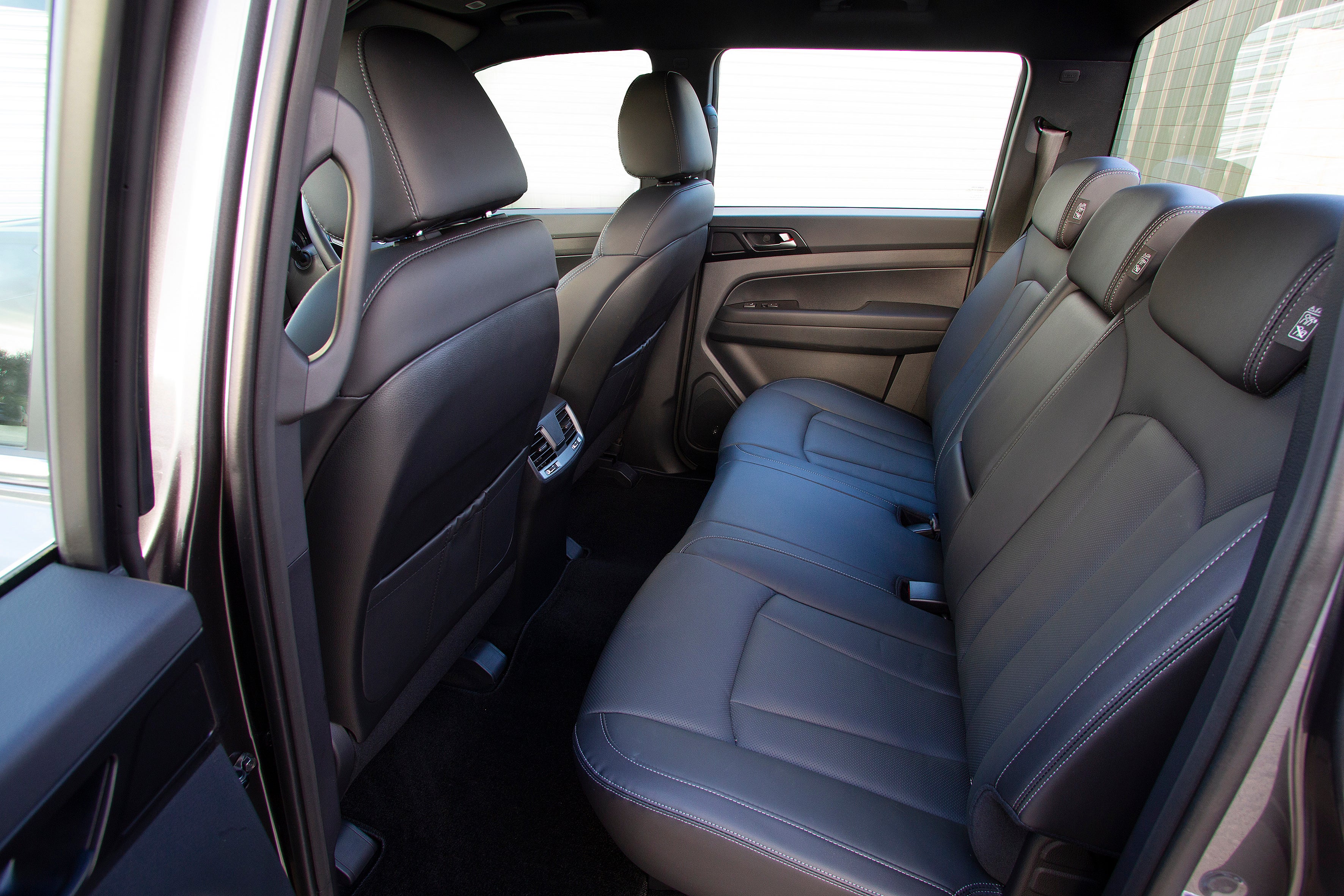 It's the same story for CO2 emissions, which work out at 211- or 226g/km depending on whether you go manual or auto.
How much should you be paying?
"The Musso was well priced to begin with so depreciation has treated it well and used cars hold their value pretty well."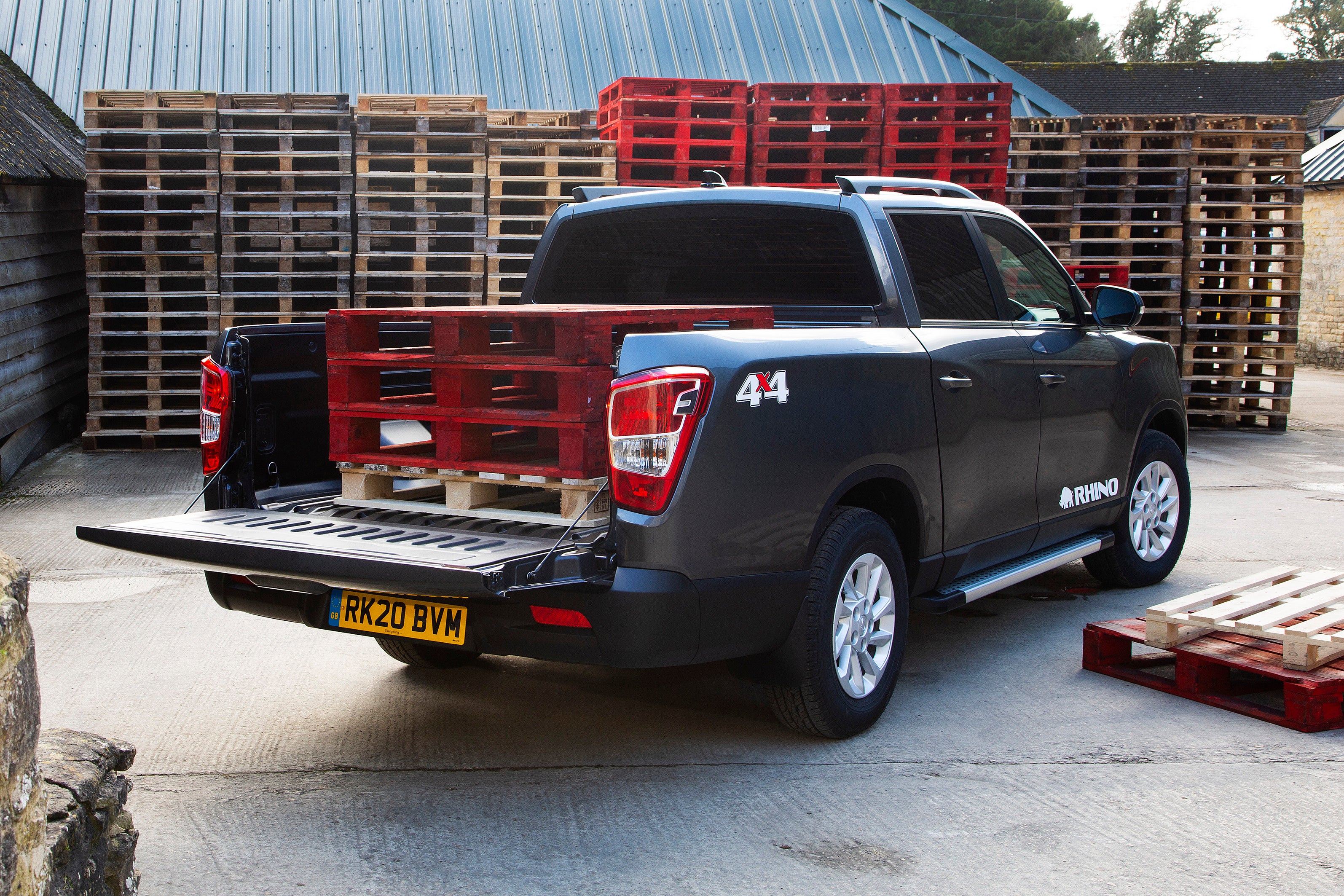 £20k will get you into a Musso while high spec models are up around the £30,000 mark on the used market.
Ssangyong Musso cars for sale on heycar
7
Number of cars available
£16K - £36K
Price bracket of these cars
Colours available on heycar
Keep me updated by email with the latest advice, news and offers from heycar
By submitting, you agree to our
privacy policy
.