SsangYong Musso Review 2022
SsangYong Musso Review 2022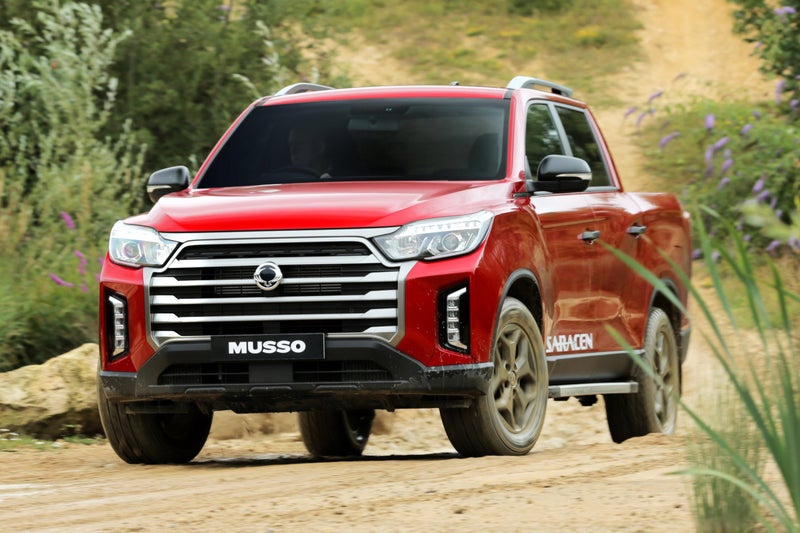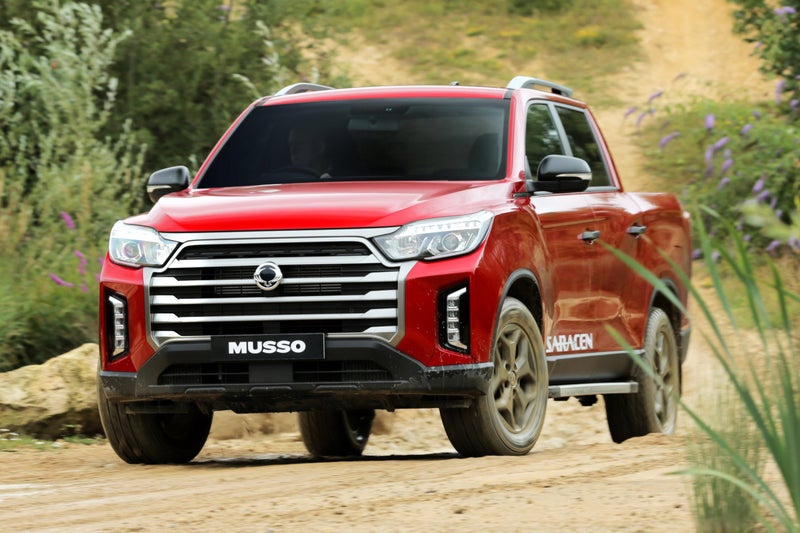 1/10
heycar rating
"Cheap but sturdy pick-up truck "
Launched: 2018

Pick-up

Diesel
Quick overview
Pros
Good value and strong pick-up that's well equipped
Excellent off-road ability
Seven-year warranty as standard
Cons
Rivals offer a wider range of bodystyles
Ride quality is poor even by pick-up standards
Not as recognisable as a Toyota Hilux
Overall verdict
On the inside
Driving
Cost to run
Prices and Specs
Common questions
Overall verdict on the SsangYong Musso
"Not only is the SsangYong Musso one of the cheapest pick-up trucks you can buy, it's also one of the best. It's a strong workhorse with a surprisingly car-like interior and an impressive list of standard equipment, while its diesel engine is strong and dependable. It might lack the recognisable badge of rivals like the Toyota Hilux and Ford Ranger – but that's not a reason to overlook it in the search for your next pick-up truck."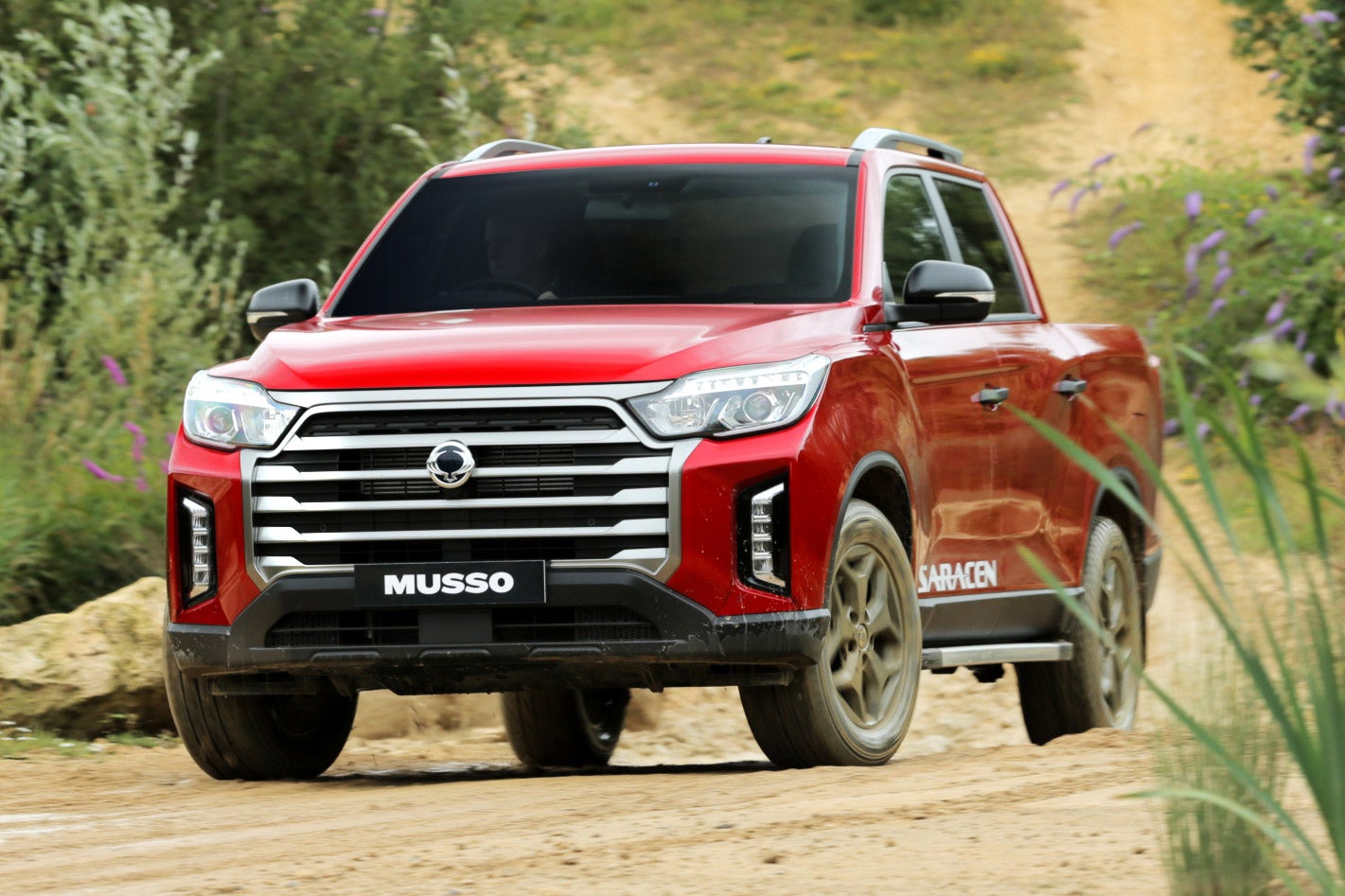 The latest SsangYong Musso first went on sale in 2018 and, while it proved to be an extremely competent all-rounder, its slightly bland looks failed to tempt buyers away from more mainstream alternatives like the Nissan Navara and Isuzu D-Max. But now the SsangYong Musso has been given quite a heavy front-end facelift for 2022, meaning it now stands out as one of the best pick-up trucks you can buy in a now rapidly shrinking market.
The Musso takes a lot of its styling (and technology) from the SsangYong Rexton SUV. That means its interior is surprisingly car-like, with some impressive soft-touch finishes and a user-friendly infotainment system. It's only available as a twin-cab model, meaning there's space (at a push) for up to five adults while an optional load cover on the back means you could use it as your main family car.
Despite this, the SsangYong Musso still has impressive credentials as a working vehicle. The load bay is 1.31 metres long, while the top-spec SsangYong Musso Rhino comes in long-wheelbase form with an extra 31cm of space in the rear. All Musso models have a payload of at least 1000kg, while those with an automatic gearbox (that's most of them) can tow up to 3500kg.
There's just one engine available in the SsangYong Musso: a four-cylinder 2.2-litre turbodiesel engine that's paired with either a six-speed manual or six-speed automatic gearbox. With a maximum power output of 181PS, it's not the most powerful engine in the pick-up market, but its 420Nm of torque means it'll accelerate from a standstill with more than enough urgency for the majority of buyers.
For its size, the SsangYong Musso isn't particularly intimidating to drive, while features like a rear-view camera (on all but the entry-level Musso EX) helps when tackling tight spaces. If you've not driven a pick-up before, it'll feel a little wayward to drive – but it's nothing you won't soon get used to (and it's actually nimbler than a lot of pick-up trucks). The low-speed ride quality is a little on the harsh side but we suspect that's something that might calm down when you're carrying a full load.
SsangYong is making a bit of a name for itself as the manufacturer of ultra-dependable 4x4s and pick-up trucks. A seven-year/150,000-mile warranty helps here, while the brand often performs well in reliability surveys such as HonestJohn.co.uk's annual Satisfaction Index.
All SsangYong Musso models represent good value for money, while even the most affordable Musso EX is pretty well-equipped (certainly more so than budget versions of the Isuzu D-Max or Toyota Hilux, for example). We'd go for one of the higher-spec models, though – the SsangYong Musso Saracen is a desirable choice, with standard kit including a 9.2-inch navigation system, heated leather seats in the front and rear and dual-zone climate control.
Is the SsangYong Musso right for you?
If you're looking for a workhorse that can double up as family transport, the SsangYong Musso is a strong alternative to trucks like the Toyota Hilux, Ford Ranger and Isuzu D-Max. It does require some compromises (it won't be cheap on fuel and ride comfort is a long way off SUV standards) but an impressive interior makes the SsangYong Musso one of the best pick-up trucks you can buy.
What's the best SsangYong Musso model/engine to choose?
We'd avoid the entry-level SsangYong Musso EX – it's not that it's particularly basic, but it's only available with a manual gearbox and lacks the desirable infotainment systems of pricier models. The SsangYong Musso Saracen is a desirable choice thanks to its leather seats, 18-inch alloy wheels and TomTom navigation system.
What other trucks are similar to the SsangYong Musso?
With trucks like the Nissan Navara, Mitsubishi L200, Volkswagen Amarok and Mercedes X-Class leaving the market, there's a bit of a dearth of pick-ups on sale. The Isuzu D-Max is a strong alternative with exceptional off-road ability and a wider range of bodystyles than the SsangYong Musso, while the Toyota Hilux is another extremely dependable choice. We'd also recommend the Ford Ranger, particularly for its blend of comfort and on-road handling.
Comfort and design: SsangYong Musso interior
"The SsangYong Musso's interior is very similar to what you'd find in the brand's large SUV, the Rexton. That means it looks pretty smart for a truck, although it doesn't compromise on useability with big, chunky buttons that can be operated wearing gloves and seats that'll still feel supportive after a full day behind the wheel."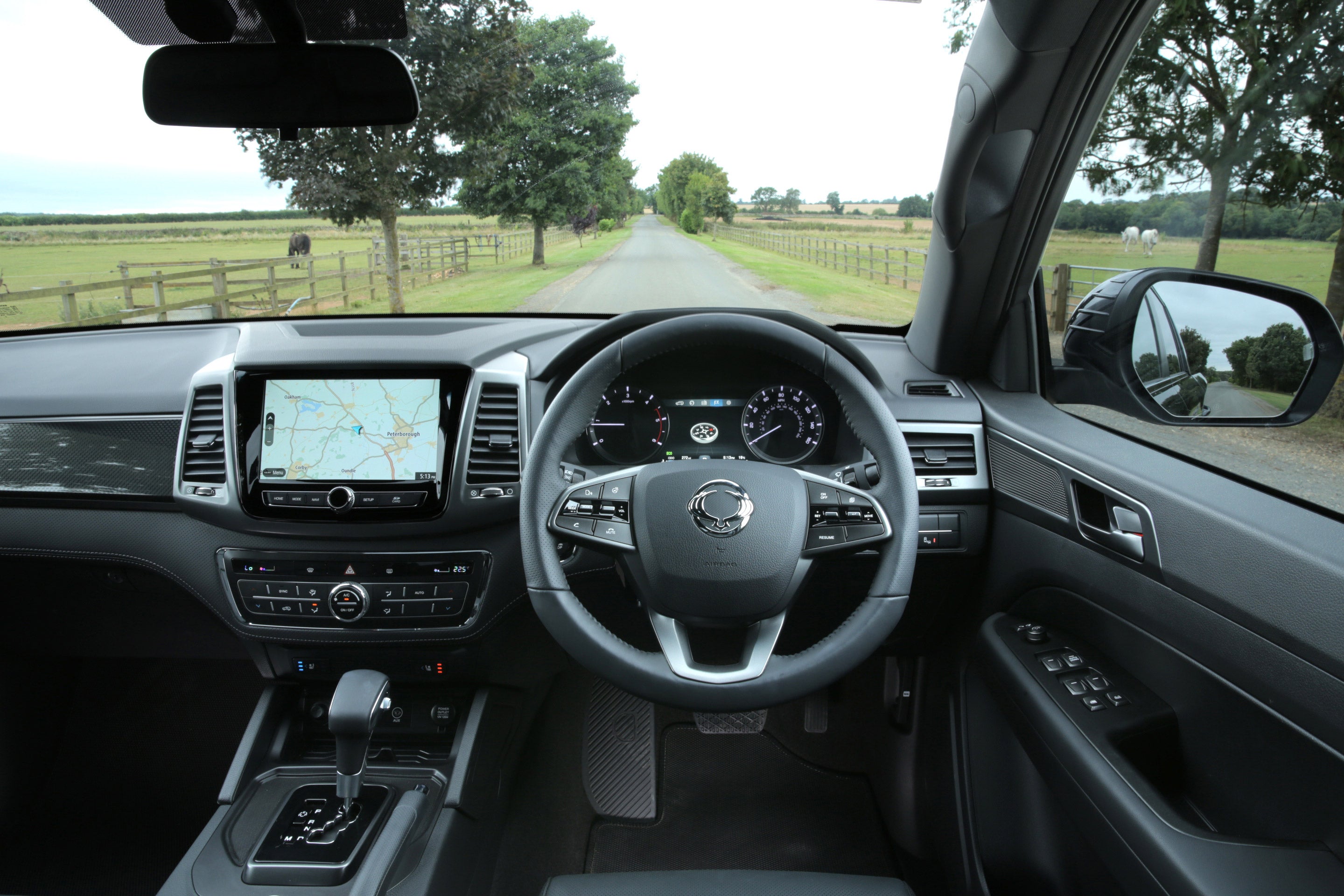 You get a higher seating position and better view out than you do in a lot of SUVs, of course, while there's loads of electrical adjustment in the seats (on Saracen and Rhino models) making it easy to get comfortable.
Move into the rear quarters of this crew cab SsangYong and it grabs a lead over its rivals. There's more room back here for heads, legs and knees, and three adults fit comfortably thanks to the almost flat floor with no transmission tunnel intrusion. It adds up to a much stronger case for choosing the Musso than its predecessor.
Quality and finish
Some of the hard plastics in the Musso's cabin would raise eyebrows if they were in an SUV, but they're a little more acceptable in the truck. Indeed, you get the feeling that the Musso's interior has been built to last.
That's not to say there aren't a few squishy materials and soft-touch fabrics here and there. Our SsangYong Musso Saracen test car was fitted had some lovely perforated leather spreading across the width of the dashboard, as well as some neat, knurled knobs and buttons. As trucks go, it feels pretty upmarket.
Infotainment: Touchscreen, USB, nav and stereo in the SsangYong Musso
The entertainment provided in the SsangYong Musso very much depends on how much money you're willing to pay. The entry-level Musso EX comes with an old-school radio, albeit with DAB and Bluetooth connectivity. Upgrade to a SsangYong Musso Rebel for an eight-inch infotainment system with Apple CarPlay and Android Auto.
SsangYong Musso Saracen and Rhino models come with a 9.2-inch display with TomTom navigation. This is a pretty good system to use with sharp graphics and logical menu layouts, although it can be a little laggy in its responses. We like that there are physical shortcut buttons below the screen as well as an old-fashioned volume control, while the display itself is positioned high up on the dashboard.
You also get a seven-inch digital display sitting between the conventional dials on Saracen and Rhino models. This can be configured to show you information such as fuel economy data, your current speed or even a compass showing which direction you're heading in. It's nothing fancy and the graphics aren't the sharpest but it's still better than you'd find in trucks from relatively recent history.
Space and practicality: SsangYong Musso boot/load space
You can only get a double-cab SsangYong Musso in the UK, which is good news if you want to carry more than two people – but bad news if you're looking to lug a lengthy load. The rear load bay is 1.3 metres long, though, and 1.57 metres wide – meaning it'll comfortably carry a standard Europallet in the back. The top-spec SsangYong Musso Rhino is slightly longer in length, providing a load bay of 1.61 metres.
You can buy a retractable load cover (a wise investment if you don't want your shopping to be nicked at the traffic lights), while a hard top is also available if you need more space in the 'boot'.
The SsangYong Musso can take a payload of between 1050kg and 1140kg (depending on specification) while automatic models can tow a brailed trailer weighing up to 3500kg. Avoid the manual transmission if you're planning to tow – it's limited to 3200kg.
Handling and ride quality: What is the SsangYong Musso like to drive?
"The SsangYong Musso is built with a body on frame construction to make it as strong as key rivals such as the Ford Ranger and Isuzu D-Max. This also endows the SsangYong with excellent off-road ability, helped by its four-wheel-drive layout as standard."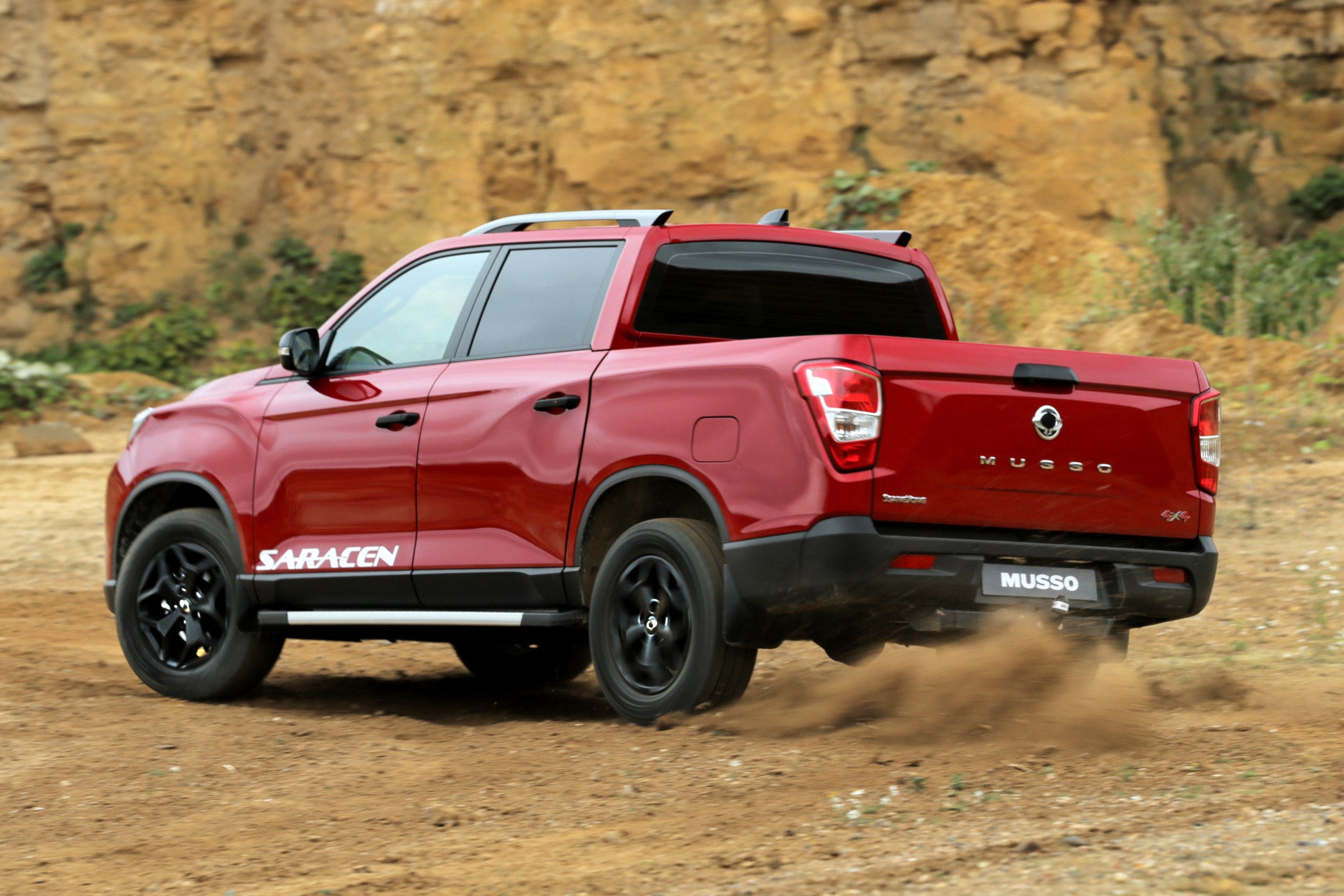 Under day-to-day driving, though, the SsangYong Musso sends its power to the rear wheels. You can manually select four-wheel drive using a toggle switch on the centre console, while there's also a four-wheel-drive low-range mode for low-speed manoeuvring.
The Musso's light steering means it feels surprisingly nimble around town, although things aren't quite so great as you pick up the pace. The steering is rather vague and inconsistent, providing a stark reminder that you're driving a commercial vehicle rather than an SUV here.
The ride quality is so-so, too. We've only tried the SsangYong Musso with an empty load bay, but it does tend to patter about over uneven road surfaces. It's fine once you're on a smooth stretch of tarmac, though, and we suspect a bit of weight in the back will make it feel more comfortable.
What engines and gearboxes are available in the SsangYong Musso?
All SsangYong Mussos are powered by the brand's own 2.2-litre diesel engine which has a maximum power output of 181PS and produces 420Nm from just 1600rpm. This low-end torque means it feels pretty effortless to drive, even when towing a trailer or tackling a steep hill.
Most SsangYong Musso buyers opt for the six-speed Aisin automatic gearbox, which is pleasantly slick in its operation. It'll change up gears quite early on, which is good news for both refinement and fuel economy. You can select gears manually if you wish but, even off-road, we've never really felt the need.
The only SsangYong Musso sold with a manual gearbox is the entry-level EX model. It's a six-speed manual transmission which we're yet to sample.
Acceleration is brisk enough, taking around 11.9 seconds to reach 62mph with the automatic gearbox and 11.3 seconds with the manual. No one buys a pick-up in order to accelerate quickly, but both the Toyota Hilux and Ford Ranger are that bit peppier.
Refinement and noise levels
As trucks go, the SsangYong Musso is pretty refined. There's a distinct diesel grumble, of course, but it's surprisingly unclattery at idle. You won't notice too much wind or road noise once up to speed, either – it's surprisingly easy to exceed the speed limit in the SsangYong Musso as, unusually for a commercial vehicle, it's not creating an absolute din at 60mph.
Safety equipment: How safe is the SsangYong Musso?
For the ultimate in car-like driver-assist technology, look for a SsangYong Musso Saracen or Rhino. Spec highlights on the higher-spec models include a lane change collision warning, which will flash a warning light on the door mirror if it detects a vehicle approaching at speed from behind when you're changing lanes, as well as a blind spot detection warning system which'll flash the same light if there's a vehicle in your blind spot.
Rear cross-traffic alert is also standard on the Musso Saracen and Rhino, alerting the driver to any approaching vehicles when you're reversing out of a parking bay.
The SsangYong Musso has not yet been crash-tested by Euro NCAP.
MPG and fuel costs: What does a SsangYong Musso cost to run?
"Capable of returning up to 31.8mpg in official fuel economy tests, you'll need to be prepared for expensive fuel bills if you buy a SsangYong Musso."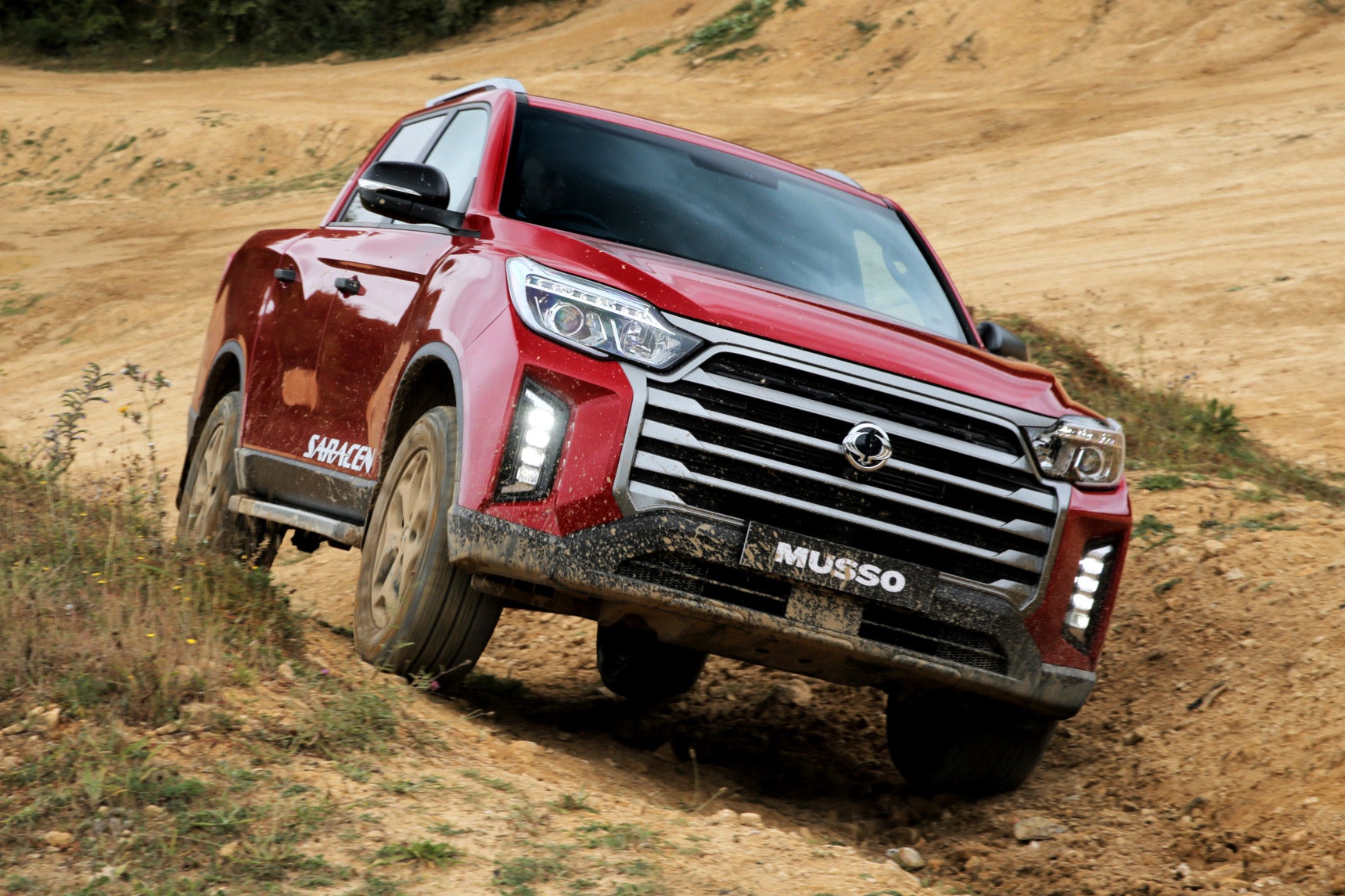 That figure's for SsangYong Musso models with the manual gearbox. Go for the auto, and the WLTP figure drops to 29.5mpg – trailing behind alternatives like the Ford Ranger and Isuzu D-Max. The long-wheelbase SsangYong Musso Rhino can only muster 28.2mpg.
It's not great in terms of CO2 emissions, either, with the most efficient manual derivatives emitting a pretty poor 231g/km. No pick-up truck is particularly impressive in this regard, though.
How reliable is a SsangYong Musso?
The SsangYong Musso ought to be a very reliable choice. The manufacturer consistently ranks highly in the HonestJohn.co.uk Satisfaction Index, while we've heard of very few issues affecting the Musso. The brand also offers a seven-year/ 150,000-mile warranty to put your mind at rest, too. The service intervals are 12 months or 12,500 miles (whichever comes sooner).
Insurance groups and costs
The SsangYong Musso is in insurance group 50, which means it might cost quite a lot to insure. This is pretty normal for pick-up trucks – it might be worth shopping around for quotes before you part with your cash.
VED car tax: What is the annual road tax on a SsangYong Musso?
Like most pick-up trucks, you'll pay a flat rate of £290/year to tax the SsangYong Musso. Six months tax is £152.25.
How much should you be paying for a used SsangYong Musso?
"With on-the-road prices starting from around £28,000, the SsangYong Musso looks competitive alongside alternatives like the Ford Ranger and Isuzu D-Max."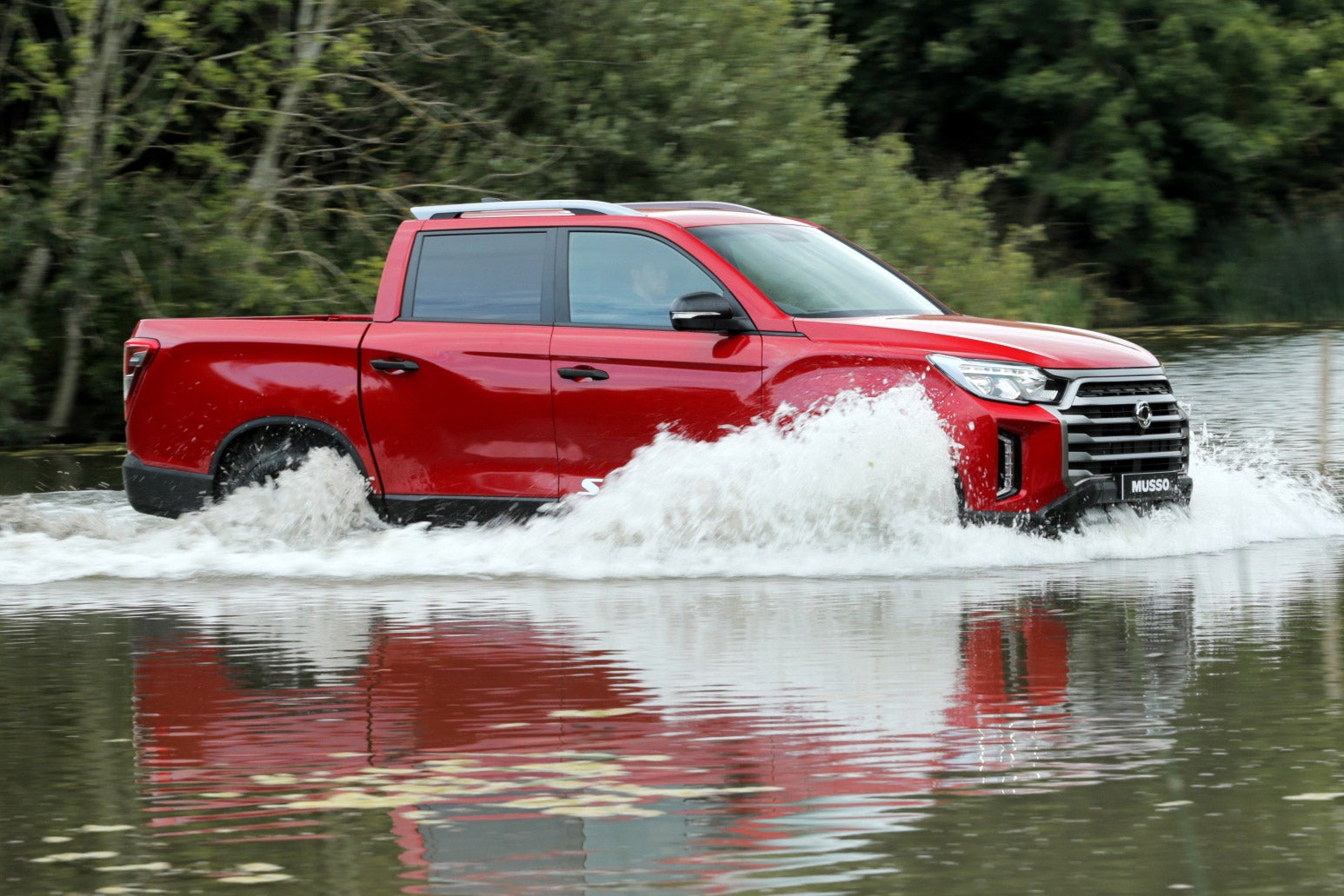 You'll pay good money for some of the more desirable trim levels, though, with the SsangYong Musso Rebel starting from around £33,000 while the Saracen is more than £36,500. These prices are inclusive of VAT, though, so you will save money here if you're a business user.
The SsangYong Musso's long warranty and reputation for dependability mean it'll hold its value on the used market. Having said that, £20,000 will find you a second-hand example of the latest model, while we've seen pre-registered examples of the latest SsangYong Musso Saracen available for around £30,000 – quite a hefty saving for a truck with just delivery miles on the clock.
Trim levels and standard equipment
The entry-level SsangYong Musso EX is a short-bed pick-up that comes as standard with 17-inch alloy wheels, a basic audio system with DAB radio and Bluetooth connectivity, six airbags, electric windows, remote central locking (including the tailgate), manual air conditioning, automatic headlights and rain-sensing wipers.
The SsangYong Musso Rebel adds roof rails, an eight-inch infotainment system with Apple CarPlay and Android Auto, a rear-view camera, faux-leather seats (heated and ventilated in the front), a heated leather steering wheel, black and silver side steps, LED front fog lights and Rebel graphics.
The SsangYong Musso Saracen is intended to be a more premium choice, with 18-inch black alloy wheels, leather seats, electric seat adjustment for the front seats, heated rear seats and dual-zone climate control. There's also a 9.2-inch TomTom navigation system, cruise control, front/rear parking sensors, black and silver side steps and Saracen exterior graphics. The SsangYong Musso Saracen also comes with a new instrument panel, LED daytime running lights, triple LED fog lights, tinted rear privacy glass, Blind Spot Detection, Lane Change Assist and Rear Cross Traffic Alert.
Topping the range is the SsangYong Musso Rhino which is available exclusively in long-wheelbase form. This comes as standard with the six-speed automatic gearbox as well as dual-zone climate control, 17-inch alloy wheels and Rhino graphics.
Ask the heycar experts:
common questions
What is the towing capacity of the SsangYong Musso?
A SsangYong Musso with the automatic gearbox has a towing capacity of 3500kg. With the manual gearbox, it can tow up to 3200kg. All SsangYong Musso models have a payload of at least 1000kg.

What engine does a SsangYong Musso have?
The SsangYong Musso is powered by a 2.2-litre diesel engine with 181PS and 420Nm of torque. It's paired with a six-speed manual gearbox or six-speed Aisin automatic transmission.

Answered by
Lawrence Allan
What warranty does a SsangYong Musso have?
The SsangYong Musso comes with a sector-leading seven-year/150,000-mile warranty.

Ssangyong Musso cars for sale on heycar
80
Number of cars available
£17K - £38K
Price bracket of these cars
Colours available on heycar
Keep me updated by email with the latest advice, news and offers from heycar
By submitting, you agree to our
privacy policy
.