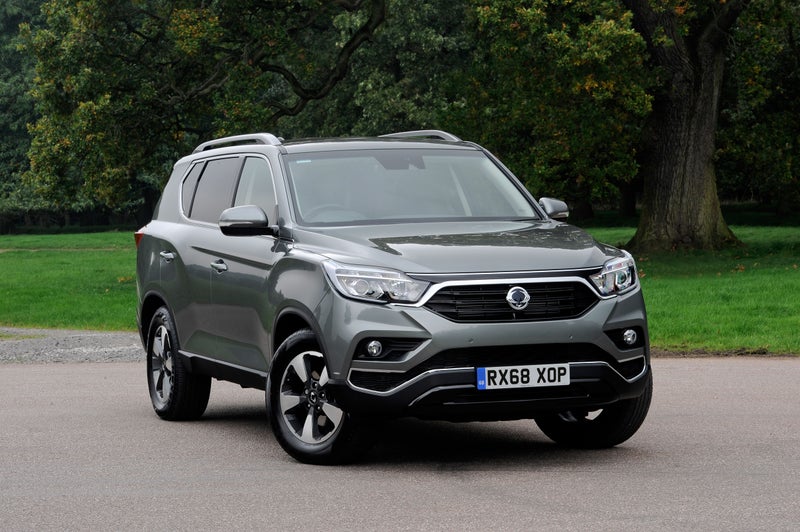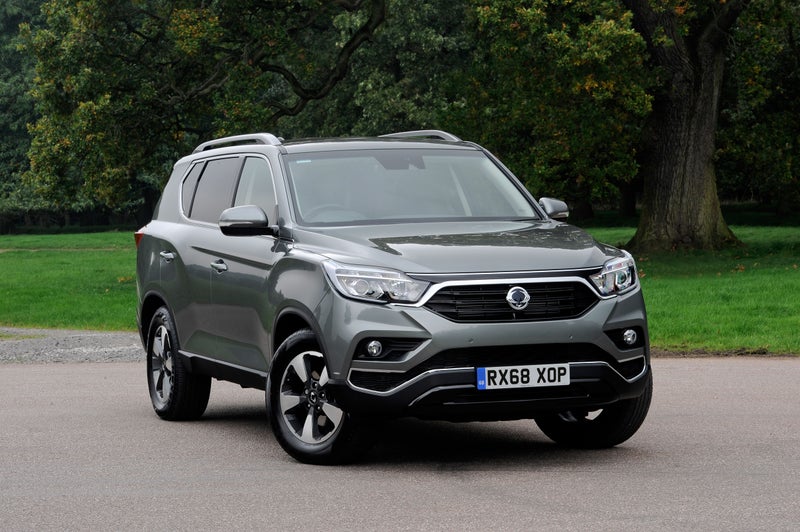 1/10
heycar rating
"Appealing budget seven-seater SUV"
Quick overview
Pros
Lots of car for the money
Seven-seat cabin and surprisingly good quality
Great off-road and when towing
Cons
Feels rather agricultural on the road
Fuel economy and emissions aren't great
Entry-level car misses out on seven seats
Overall verdict
On the inside
Driving
Cost to run
Prices and Specs
Overall verdict
"Everyone likes a bargain, and on the face of it, that's exactly what the Ssangyong Rexton gives you. It's an absolutely enormous seven-seater SUV, yet it costs the same as a mid-range Volkswagen Golf. How's that for value for money? "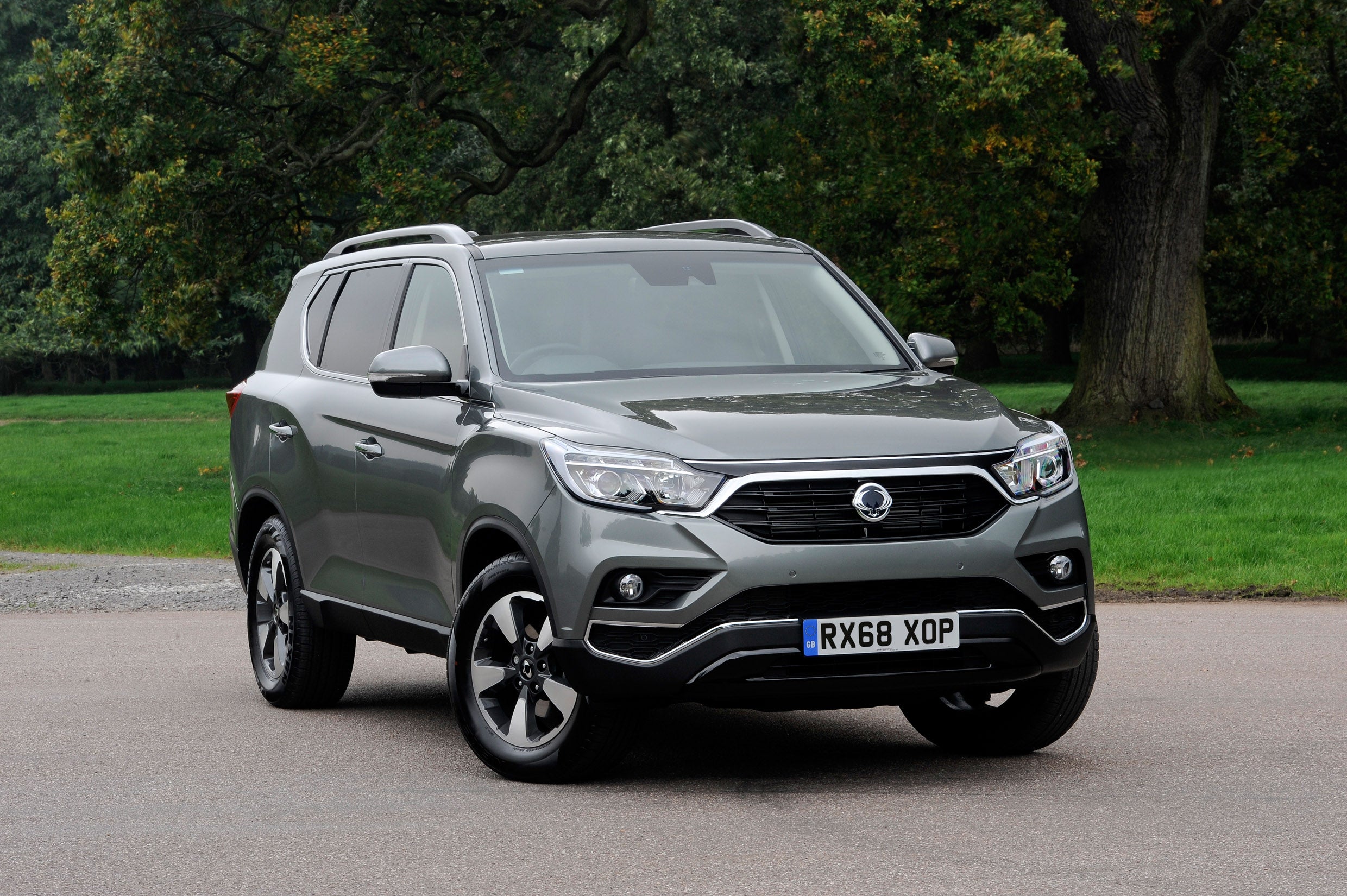 That's not where the Rexton's list of talents ends, either. It's also pretty nice to look at, and it has a nice interior, lots of interior space, a massive boot, lots of equipment, an intuitive and easy-to-use infotainment system, a strong diesel engine and very passable on-road refinement. So, where's the catch?
Well, we'd love to tell you there isn't one, but we'd be fibbing: there are one or two sacrifices you have to make. The first, and the for that matter, the biggest, is on ride comfort. That's not to say that the Rexton is an uncomfortable car - that would be harsh - but it could do a whole lot better on that score.
The issue is that the car uses a ladder-frame chassis with its bodywork bolted on top, and that's the sort of low-tech construction technique that you usually find on pick-up trucks rather than conventional modern road cars. It means that you constantly feel shakes and tremors through the whole structure of the car, no matter what sort of surface you're on, and that gives the ride a distinctly unsettled feel.
The handling is less-than-ideal, too. There's lots of body lean, even in relatively slow corners, and you don't have to be going too fast to have the tyres chirping, struggling to keep this enormous, heavy machine going in the right direction. It's not helped by slow, vague steering, either.
Perhaps the biggest pity with the Rexton, though, is that it's not as great on value as it once was. You see, you need the seven-seater version for it to really make sense, and when it was first released, the entry-level EX version gave you the extra chairs. That made it really temptingly priced next to other seven-seaters. As time has gone on, though, the EX has been made five-seat-only, so the cheapest seven-seat version is now the mid-range ELX.
This is considerably more expensive, and as a result, doesn't look like such great value. That said, if you're buying used and you find an early EX, you could be getting a real bargain. Our advice? When hunting down an EX, check under the boot floor for concealed chairs before buying.
While the Rexton only does a disappointing job in a couple of areas, and does a more-than-acceptable job in most others, there's one area in which it truly excels: towing. Its colossal weight isn't great news for its efficiency, but it does help give the car a maximum towing weight of 3.5 tonnes, which is huge. Standard on-demand four-wheel drive and a low-ratio gearbox also make the Rexton pretty good in the mud. If that sounds good to you, then it's definitely worth a look.
If you're looking for the older version, you need our SsangYong Rexton W (2013-2017) review.
Is the Ssangyong Rexton right for you?
If you need a big seven-seat SUV that's really well equipped, and you want as much metal as you can get for your cash, then the Ssangyong Rexton is difficult to beat. Yes, you have to make some sacrifices in dynamic polish to get it, but for many, that'll be a sacrifice well worth making.
Where the Rexton is even more difficult to beat, though, is if you're a member of the towing fraternity. Whether you're pulling speedboats, horseboxes or kebab vans, the Rexton will do it more effectively than most other cars on the market. That's thanks to a maximum towing weight of 3,500kg, which is a figure not many cars of any price can match.
What's more, if you need your speedboat or kebab van (or more likely, your horsebox) to be pulled across a muddy field, the Rexton's on-demand four-wheel drive and low-ratio gearbox should have that covered, too.
What's the best Ssangyong Rexton model/engine to choose?
There would've been a time when we would've urged you to go for the entry-level EX car, because it was very temptingly priced, came with the same engine as the rest, had enough luxury kit to be getting on with and it offered seven-seat practicality.
However, while most of that remains true today, the EX has since become a five-seater-only deal, which removes much of its appeal. Unfortunately, it also means the cheapest seven-seater now costs thousands more, meaning it's not all that much cheaper than some equivalent rivals. Even so, we still think you need seven seats in your Rexton, and you'll want an automatic gearbox, too. So, go for the 2.2 ELX Auto.
What other cars are similar to the Ssangyong Rexton?
Aside from huge cars like the BMW X7, Mercedes GLS and the Range Rover, there aren't too many cars as enormous as the Ssangyong Rexton. However, while all those motors sit worryingly close to the six-figure mark on price, and sometimes even overstep it, the Rexton doesn't cost you too much more than a mid-spec Volkswagen Golf.
It's by no means the only affordable seven-seat SUV, though, so it's not like it's completely without rivals. Two of them hail from Ssangyong's own homeland of South Korea, those being the Hyundai Santa Fe and Kia Sorento. Meanwhile, the SEAT Tarraco and Skoda Kodiaq will also be in the running for your cash. If you want rugged, the Mitsubishi Shogun Sport might fit the bill.
Comfort and design
"Unsurprisingly given the sheer scale of the Rexton, it has the high driving position that SUV buyers love. Getting comfy is a piece of cake thanks to the large amount of adjustment on the front seats, and on two of the three versions, that adjustment is electric. Your visibility is pretty good at the front, although it can be a little tricky to see exactly where the bonnet ends, while thick rear window pillars mean your over-the-shoulder view isn't as clear as it might be. That said, the big door mirrors help improve your view, and all versions get parking sensors at both ends and a reversing camera, while Ultimate trim gets a 360-degree camera."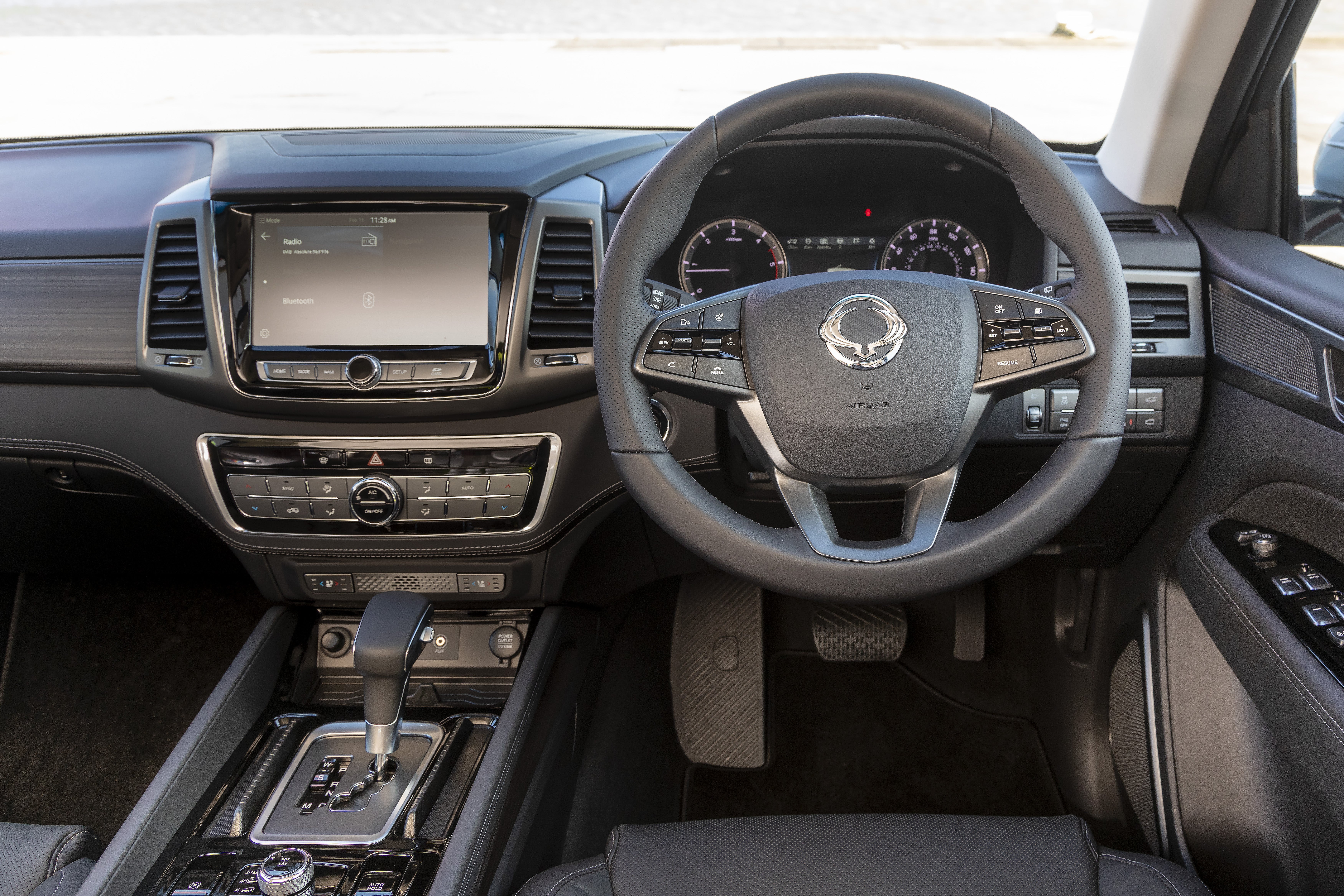 The dashboard layout puts most things where you expect to find them. The air-con controls are separate from the infotainment system so you can make adjustments without having to scroll through dozens of menus, and all the buttons are big, well marked and easy to hit. Even the buttons on the multifunction steering wheel aren't too fiddly, and the instrument panel is also nice and clear. Very few complaints here.
Quality and finish
Considering Ssangyong's budget-brand status and the Rexton's relatively low price, you might well fear that this will be an area in which you're required to make sacrifices. Well, in Ssangyongs of old, it would've been, but thankfully, that doesn't apply here.
Most of the materials on show are attractive and tactile, and there are enough varying textures and thoughtful finishes to keep things looking interesting. True, a couple of surfaces feel slightly lower-grade than others, but they certainly don't let the side down, and the solidity with which everything is assembled is also impressive. Sure, it's not going to be giving Audi's quality controllers sleepless nights, but rivals like Kia and Hyundai are easily matched. It's a very impressive job by Ssangyong.
Infotainment
The entry-level Rexton gets an 8.0-inch touchscreen system that controls various systems and supports Bluetooth, DAB radio and a rear-view camera.
There's no sat-nav, but there is Apple Carplay and Android Auto, so you can use your phone's navigation functionality through the main screen. It's all pretty easy to use, too: the graphics are sharp and quick, the screen is responsive and the menus are refreshingly logical. Granted, some of the on-screen icons are little on the small side, but that's a very minor gripe.
What's more, it's a gripe that's remedied by the bigger 9.2-inch touchscreen system, and otherwise, using the upgraded system is just as easy. It also incorporates built-in TomTom sat-nav and a 360-degree parking camera.
This system comes as standard in the range-topping Ultimate version, but whether you get it on the mid-spec ELX car will depend on the age of the car you find. The bigger screen was included on ELX cars before the 2020 model year took effect, but from 2020 onwards, it was downgraded to the 8.0-inch system.
Space and practicality
The entry-level version is a five-seater only, but from then on, all Rextons are seven-seaters. Used like a five-seater, it'll be no surprise whatsoever that a car as enormous as this is very roomy indeed. The second-row seats have very generous head- and leg-room for adult passengers, while the wide cabin means carrying three in the back is pretty comfortable, too. The rear footwell is also pretty much flat, meaning plenty of foot space to go round.
What's more, you have an enormous boot that'll swallow fertiliser bags and flatpacks with ease, and there are also movable luggage boards that let you either secure your cargo or flatten out the load bay when the rear seats are folded. The way those seats fold doesn't quite give you a flat extended load area, but it's not far off.
Those seats also shift out of the way far enough to give good access to the third row of seats once you've popped them out of the boot floor but like with most seven-seaters, they're best left to children for anything other than very short journeys. The boot's pretty tiny with all seven chairs in place, too, with room for only a few carrier bags worth of groceries.
Handling and ride quality
"We don't want to bamboozle anyone with technical detail here, but there's something pretty important you need to know about the way the Rexton is constructed. It's built on a ladder-frame chassis, with the bodywork bolted on top, and that's a very old-school approach that's usually reserved for pick-up trucks. "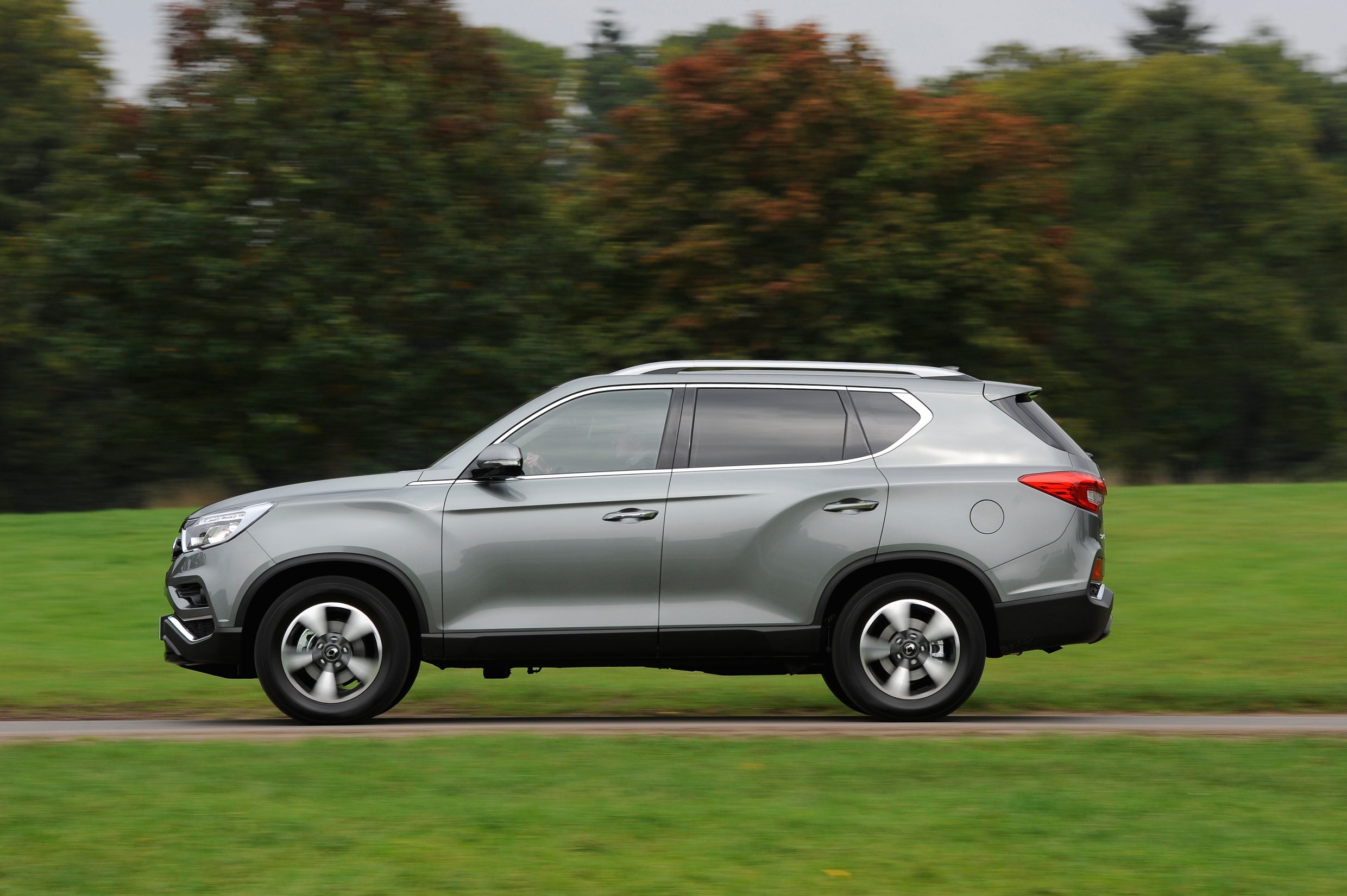 It means that driving the Rexton feels rather agricultural. Regardless of whether the surface you're on is smooth or bumpy, you'll feel plenty of shudders and tremors making their way through the floor and into the cabin, so the ride is unsettled pretty much all the time. Not uncomfortable, but definitely unsettled.
The handling doesn't exactly dazzle, either. You don't have to be too over-optimistic with your cornering speeds before the body slops over untidily and the tyres start squealing as they struggle for grip. The steering is also slow and vague, so you'll often find yourself making more than one input on the steering wheel before you get your line right around a bend.
In terms of dynamic prowess, then, the Rexton is fine when compared with pickup trucks, but pretty poor when compared with your average road car, especially other big SUVs.
However, these shortcomings become a lot more acceptable once you realise that they're the necessary price you need to pay for the Rexton's real party piece. You see, the Rexton's old-school construction means that it's incredibly heavy, and that's an extremely good thing if you tow.
The seven-seater versions can pull 3500kg worth of trailer (this drops to 3200kg for the entry-level car), and not many cars at any price can match that. The on-demand four-wheel drive system - which powers the rear wheels most of the time and only pushes the drive to the fronts when the need arises - and a low-ratio gearbox also means large loads can be pulled on slippery surfaces. That's perfect if you've got a double horsebox that needs dragging back from the gymkhana.
This ability in the sticky stuff also means that the Rexton will get you significantly further off the beaten track than many other SUVs.
Engines and gearboxes
All Rextons are powered by the same 181PS 2.2-litre diesel engine. You might worry that this sounds a bit weedy in a car weighing more than two tonnes, but in most driving situations, it actually copes surprisingly well.
The engine's muscle is available from low down in the rev range, making it flexible and eager, so the engine rarely has to work its socks off to lug the Rexton's behemothic body around. Granted, you'll never get anywhere particularly quickly, but in a car like this, a relaxed life is much more important than a speedy one, and the Rexton delivers on that score.
Two gearboxes are available, a six-speed manual which we haven't yet tried, and a seven-speed automatic sourced from Mercedes. It slurs between the gears reasonably smoothly, which contributes to the Rexton's easy-going nature. Yes, if you plant the accelerator for a sudden burst of acceleration, there's a rather pregnant pause before the engine responds, but that's the case in pretty much all large SUVs.
Refinement and noise levels
You might worry that the Rexton's old-school construction would give it all the rolling refinement of a muck spreader, but it actually does surprisingly well on this score. Treat the engine gently by only using it's generous low-down pull (which you will, because revving it hard doesn't really result in much more speed anyway), and it stays smooth and reasonably quiet.
Both wind- and road-noise are reasonably well contained at all speeds, too, so it's also pretty civilised at a steady motorway cruise. Granted, you can hear the suspension knocking and clonking away beneath you most of the time, especially over a scruffy road surface, but it's not loud and it's nothing that'll upset the general feeling of calm in the cabin.
Safety equipment
The Rexton might be a budget offering in the large SUV class, but there's been no scrimping when it comes to the amount of safety gear you get as standard.
All versions have a system that senses an impending collision and issues a warning, then applies the brakes automatically if you don't react. There's also a system that warns you if you're wandering out of your lane, and you also get headlights that automatically switch themselves between high- and dipped beams.
Six airbags are also provided, which is pretty standard, and if you upgrade from the entry-level EX trim to the ELX, that rises to nine, thanks to the addition of rear side 'bags and one for the driver's knees.
The range-topping Ultimate version gets even more, including a blind-spot monitor and rear cross traffic alert, which warns of approaching traffic when you're reversing out of a parking space. However, a spare wheel isn't provided on any version: they all get a tyre repair kit. The Rexton hasn't yet been crash tested by Euro NCAP.
MPG and fuel costs
"The entry-level EX manual has an official WLTP combined figure of 36mpg, while that drops to 32mpg for both of the seven-seat automatic versions. "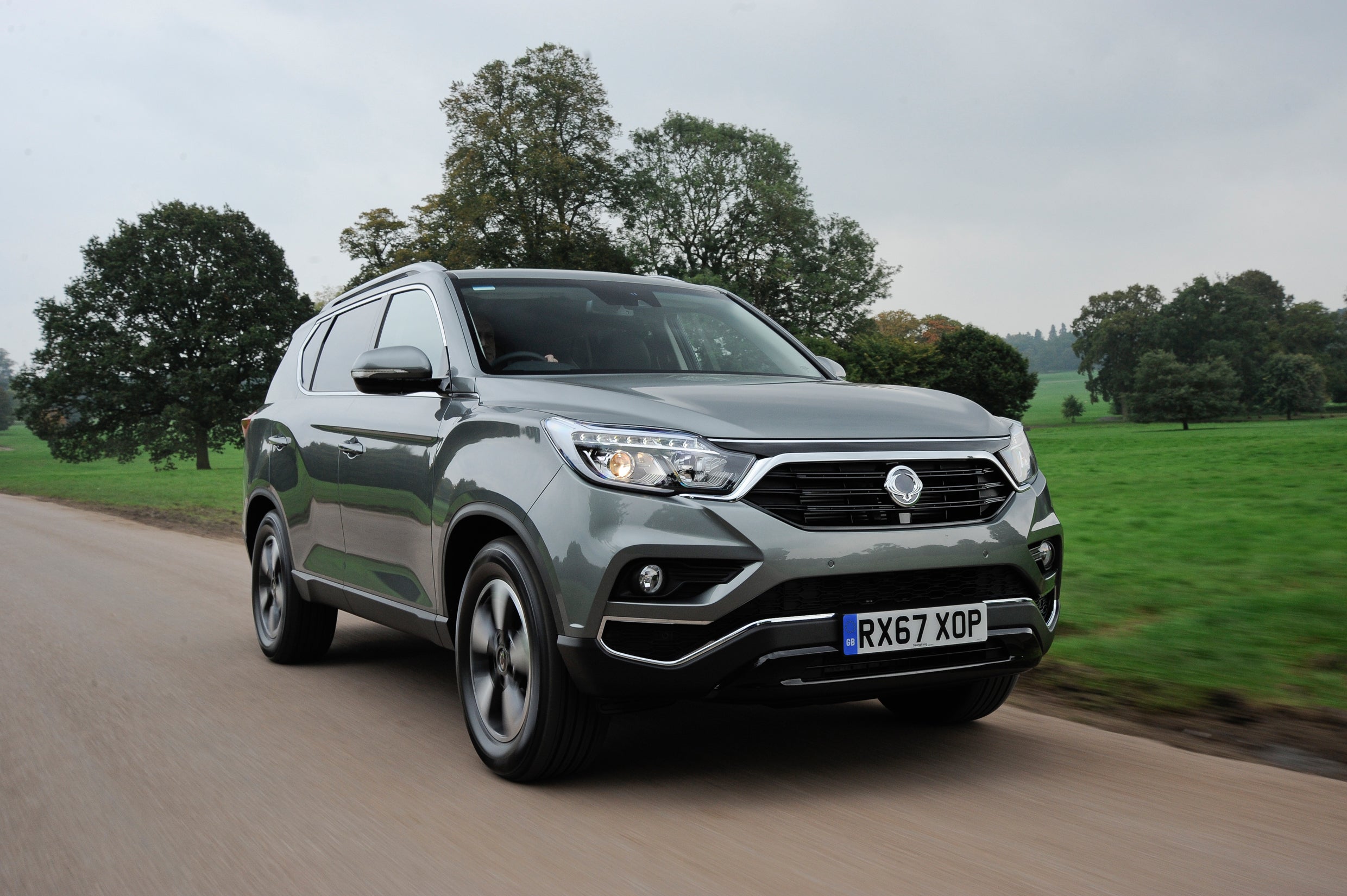 Neither figure is great, to be honest, and in this area, the Rexton trails its cleanest competitors by quite a distance. Those figures are also pretty optimistic in the real world, too, and if you manage to get anything approaching 30mpg, you'll be doing really well.
Insurance groups and costs
The EX lies in group 28 out of 50 for insurance, while the ELX ups that to 29, and the Ultimate jumps up further to group 32. Those classifications are a few groups higher than most of the car's rivals, so premiums are likely to be pricier, but not by a lot. Besides, the price you'll pay to buy your car should be more than low enough in comparison to compensate.
VED car tax
This generation of Ssangyong Rexton was released after the change in VED tax rules that imposed a flat £150 rate for petrol and diesel cars, regardless of their CO2 emissions. Good news for the Rexton, considering how relatively grubby it is (but by the same token, that means company car drivers won't want to go anywhere near this thing).
What's more, since all versions cost less than £40,000 when new, you also escape the £325 premium car surcharge applied between years two and five of the car's life. Happy days. A note of caution, though. The priciest cars only checked in just below the £40,000 threshold, and if the car you're buying has a few optional extras added, that could take you over the threshold, so the surcharge would apply. So, on used versions, check the spec carefully for optional kit.
How much should you be paying for a used Ssangyong Rexton?
"At the time of writing, prices for brand new Rextons started at £30,000 for the five-seater EX with the manual gearbox, while the cheapest seven-seater version, the ELX manual, checked in at £35,000. Those wanting the automatic gearbox (which most would) would pay an extra £2000, while the most expensive car in the range, the Ultimate Auto, came in at just under £40,000."
Compared with rivals such as the Hyundai Santa Fe, Kia Sorento, SEAT Tarraco and Skoda Kodiaq, that's cheaper than pretty much all of them. It's a good bit cheaper than some, but only a smidge cheaper than others, but do bear in mind that the Ssangyong is significantly bigger than all of them and comes with generous standard equipment.
Perhaps surprisingly, depreciation rates look to be reasonably similar across the board, too, so used prices are likely to show similar margins of difference. Also because the car has been with us since 2017, used prices have had time to come down a decent amount. We've seen the cheapest seven-seater automatics going for around £25,000, which is a lot of car for the money.
Trim levels and standard equipment
Even the base-level EX car comes with most of the equipment you'll really want, providing manual air-conditioning, the 8.0-inch touch-screen, cruise control, keyless entry, power folding door mirrors, front and rear parking sensors and automatic lights and wipers.
Many will upgrade to the ELX version for the seven seats and increased towing capacity alone, but it also provides you with faux-leather upholstery, heating for the steering wheel and seats (front and rear), and dual-zone climate-control with rear vents. Range-topping Ultimate trim gives you a bigger 9.2-inch infotainment system with sat-nav and a 360-degree camera, a powered tailgate, interior mood lighting, genuine leather upholstery and front seats that are both heated and ventilated.
Ssangyong Rexton cars for sale on heycar
88
Number of cars available
£22K - £40K
Price bracket of these cars
Colours available on heycar
Keep me updated by email with the latest advice, news and offers from heycar
By submitting, you agree to our
privacy policy
.