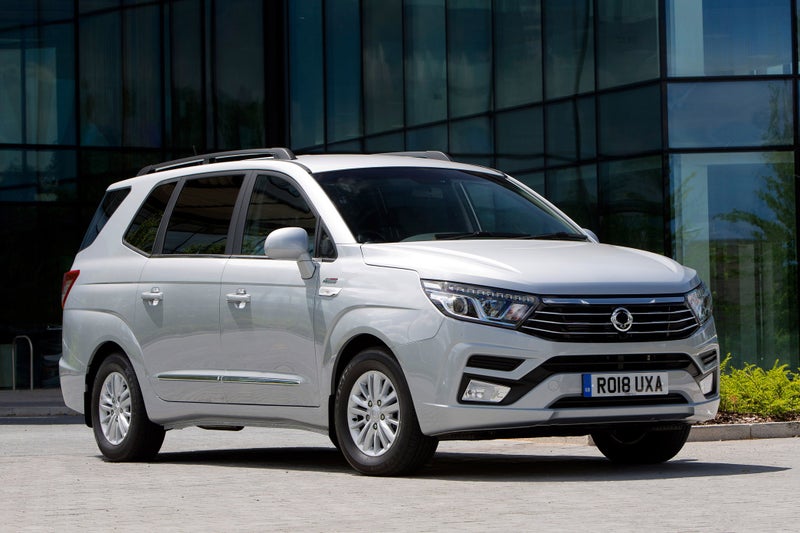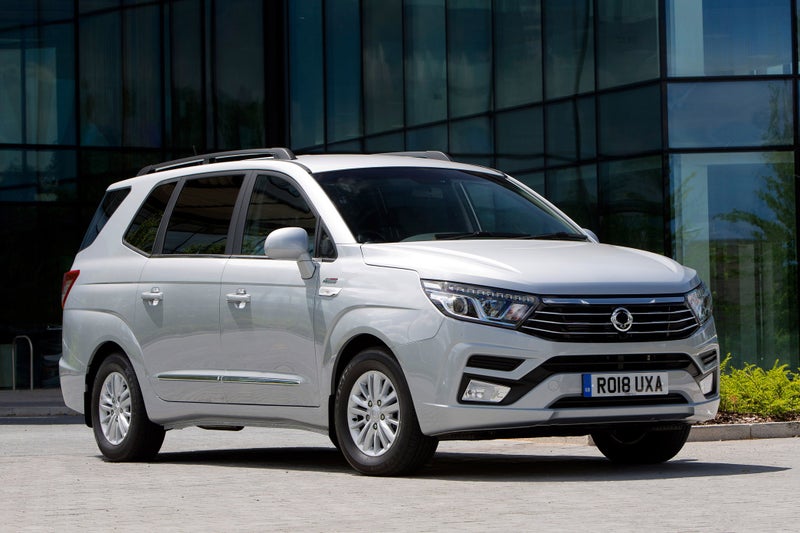 1/10
Quick overview
Pros
One of the last huge MPVs with loads of space inside
Very cheap given the level of standard equipment and the sheer amount of car
Comes with a seven-year warranty (on newer models) which transfers to future owners
Cons
Ponderous to drive and cumbersome through corners
Interior materials feel as cheap as the price would suggest
Engines are noisy, unrefined and thirsty
Overall verdict
On the inside
Driving
Cost to run
Prices and Specs
Overall verdict
"You could easily dismiss the SsangYong Turismo as a dinosaur. It's a huge five-metre long MPV with all the style and grace of a house brick. This isn't going to win any beauty contests for sure and expect a blank expression when someone asks what make it is."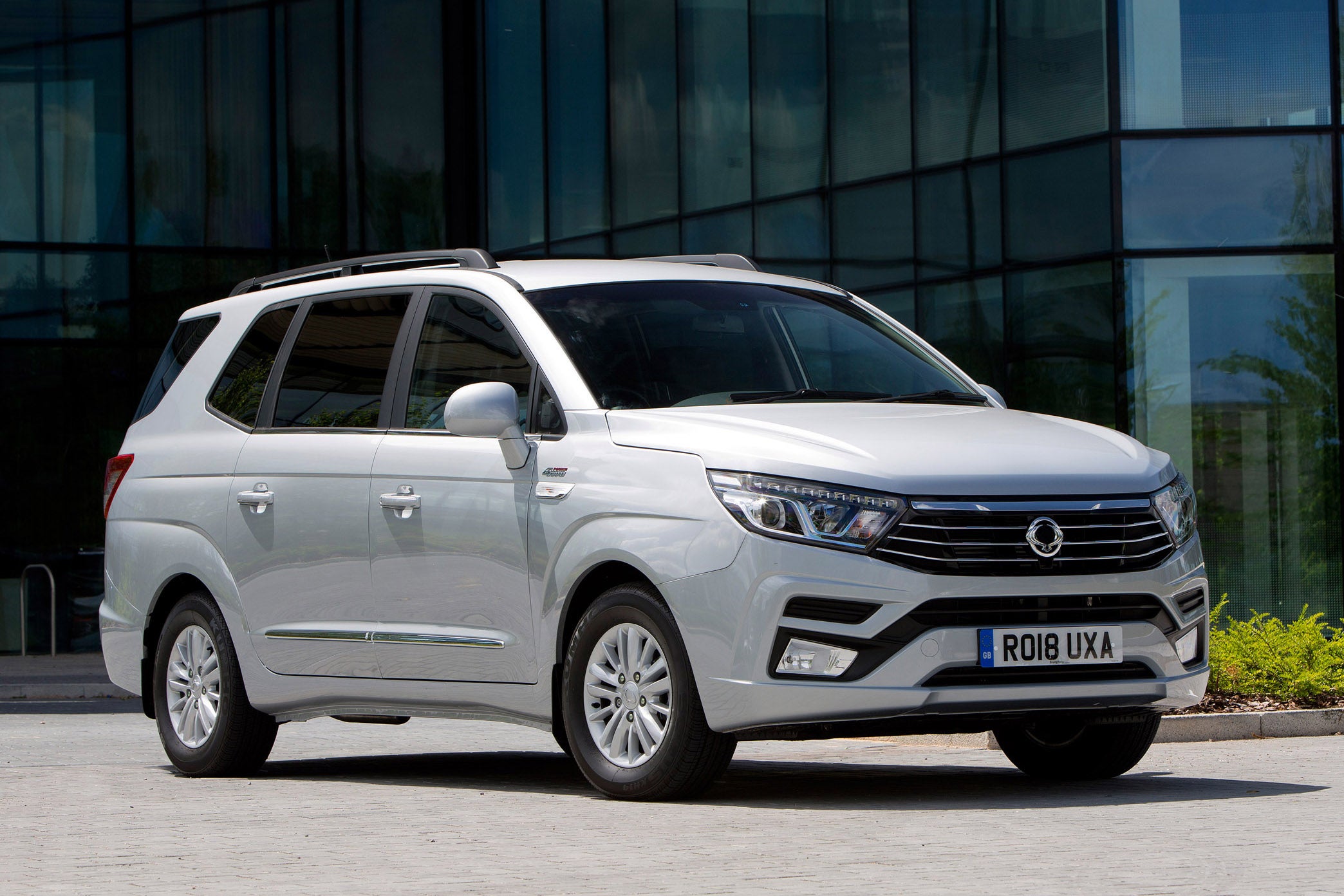 A heavily revamped version of its predecessor - the somehow even more ugly Rodius from 2005 - the Turismo looks and feels dated, both inside and to drive. The engines are coarse and the interior feels cheap. So the question is, what exactly does it have going for it?
Well, there are two things - the sheer space it offers and the fact it's so cheap. This is a genuine seven-seat people carrier and when we say genuine, we mean that actual real size adults can sit in all seven seats and not feel like they are trapped in a small cupboard.
There is not much else out there that can offer this much space aside from van-based models like the Hyundai i800 or Volkswagen Caravelle. But this is where the Turismo plays its other trump card - price.
List prices for the Turismo are way below the competition with the cheapest models less than £22k and on the used market, our old friend depreciation means you can get a real bargain. Compared to something like a Ford Galaxy, you'll be getting far more room for a lot less money with the SsangYong.
Of course, there's a reason it's so cheap. Inside it feels like a trip back to the late 90s. And like most things from that era, it's starting to look distinctly old. The interior is practical but it's hardly cutting edge and the shiny silver plastics and fake chrome trim are decidedly naff.
There are lots of hard plastics and the aftermarket infotainment system does it few favours either. However, SsangYong has thrown a lot at the Turismo in terms of standard equipment and the top models come with every bell and whistle you'll need.
The handling is as cumbersome as you'd expect and the ride, although set up for comfort, is unsophisticated meaning potholes thud into the cabin. It's also noisy, both in terms of engine and wind noise. Refined this ain't.
The Turismo originally had a 2.0-litre diesel engine which was coarse, noisy and felt lethargic. In 2016 it was replaced by a much-improved 2.2-litre with more power that does a better job of hauling the big Turismo around.
It's hardly the last word in refinement, but it's at least better. This is the one to go for. And avoid the manual and look for an auto. The later seven-speed Mercedes-sourced automatic is the best.
So yes, you can knock the Turismo. It's clearly way behind the competition and your kids will probably ask you to park around the corner when you drop them at school. But if you're not fussed about handling prowess or a fancy interior and want the maximum amount of space for the minimum amount of money, the Turismo hits the nail on the head.
Is the SsangYong Turismo right for you?
If you want the biggest family people carrier for your money, the Turismo ticks a lot of boxes. While it has its flaws and it's no looker, we can't argue with the sheer amount of space the SsangYong gives you. And it's cheap. Extremely cheap when you compare it to something like the Ford Galaxy, which isn't as big.
The Turismo makes an ideal workhorse as a taxi and as a car for big families. The fact it's a genuine seven-seater (as in grown-ups can actually use all the seats) makes it rare this side of anything like a Volkswagen Caravelle.
If you're not bothered about badge status (and can live with the bulky looks) the Turismo is actually something of a hidden gem. It's hugely spacious inside, while the fact it's so cheap makes it a bit of a bargain as a used buy.
What's the best SsangYong Turismo model to choose?
The basic Turismo S models are certainly good if you want a proper bargain basement choice but they are few and far between. EX models were the top variant and you'll find more of these around but it's the even higher spec ELX which came along in mid-2018 which is the one to go for.
The ELX comes with everything SsangYong could throw at it such as selectable four-wheel drive, a seven-speed automatic, heated seats plus Apple CarPlay and Android Auto along with a reversing camera. Which is handy given how huge this thing is. Whatever model you go for, avoid anything manual and stick to an automatic.
Neither engine is brilliant but the original 2.0-litre diesel was particularly noisy and coarse. Look for the slightly better 2.2-litre introduced in 2016.
What other cars are similar to the SsangYong Turismo?
Big and boxy people carriers are rare these days, so for an equally large alternative you'd have to look at something like the Chrysler Grand Voyager, but that went off sale in 2015 and has an atrocious reliability record. It's best avoided.
If it's space you want, something van-based like the Hyundai i800 will fit the bill and is close on price too. Others like the Ford Tourneo Custom or Volkswagen Caravelle cost considerably more. There are still, of course, conventional MPVs like the SEAT Alhambra and Ford Galaxy, but again, they will cost more for something similar in age. The Turismo has price and space on its side here.
Comfort and design
"The SsangYong Turismo isn't going to win any awards for innovative design inside but it gets the basics right. The driving position is high up so you have a good view out, which is handy given how big this thing feels. But the thick windscreen pillars mean you need to have a second and third glance at junctions and roundabouts for cyclists."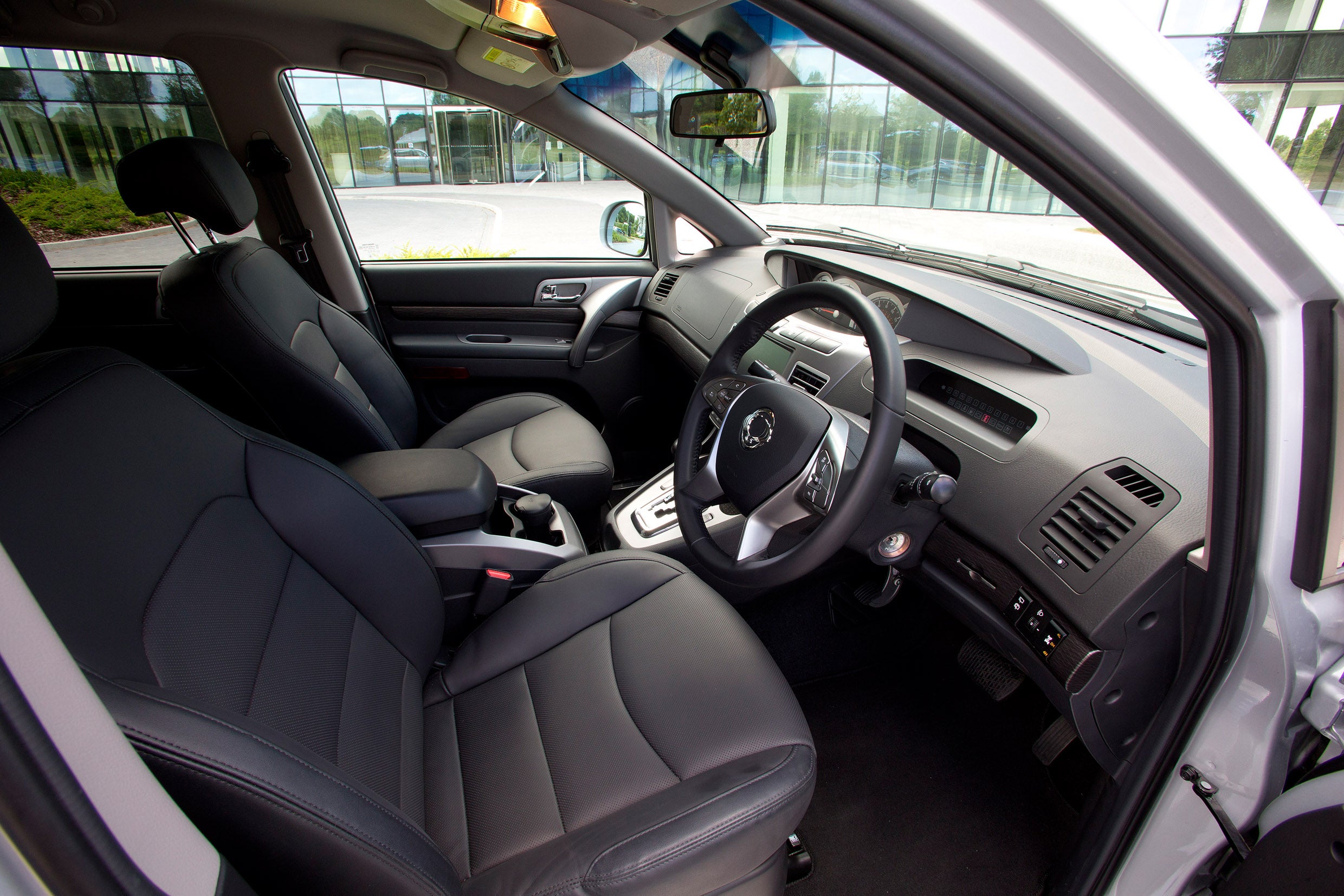 The instrument dials are all placed in the middle (making it cheaper for SsangYong to switch between left and right-hand drive) and are clear enough and there's nothing complicated here, with things like a standard old school fuel gauge.
Unfortunately, everything inside the Turismo looks like it's stuck in the 1990s - a reminder that the Turismo is essentially a heavily revamped version of its predecessor the Rodius. The silver effect plastic and fake chrome are all a bit naff.
The seats are at least comfortable though and give half decent support but avoid the S models with cloth seats. Everything else comes with leather which although not the best, is at least preferable.
Quality and finish
There's no surprise to find this is an area the Turismo struggles in. But this is all about expectations. Compare the SsangYong Turismo to something like a Ford Galaxy or a Volkswagen Sharan and it looks way off the pace, but then this is a far cheaper MPV.
We have no qualms about the finish. While the Turismo feels dated and a bit low budget inside, it's well screwed together. This is no flimsy people carrier that will fall apart. Indeed, from 2018, the Turismo comes with a seven-year warranty, so SsangYong must have some confidence in its cars.
Yes, all the materials feel like they're from something that was launched in the last century, but it's acceptable for a car at this price. There are some soft-touch materials but lower down this turns into scratchy plastic while the aforementioned silver plasticky trim harks of trying to distract from the fact it's all a bit cheap.
Infotainment
To keep costs down, SsangYong has fitted the Turismo with an aftermarket Kenwood infotainment system. Again it feels pretty dated (there's a theme developing here) but it does the job, albeit in a clunky manner.
It's not the nicest looking of things nor is it especially intuitive to use. S models don't even get this, sticking with a basic CD player (remember those) with an iPod connector.
The newer ELX model is better and at least makes an attempt at modernity with Apple CarPlay and Android Auto, so you can hook your phone up and bypass the system, instead using things like Spotify for music, Audible for books and Google Maps for navigation.
Space and practicality
We may have been negative so far, but when it comes to space and practicality, the Turismo excels. If this is what you want from an MPV, look no further. For starters, this is a proper seven-seater. And we mean proper. You'd have to go for a van-based thing like a Volkswagen Caravelle or similar to get this much space.
So seven adults can genuinely travel together in the Turismo and not feel like they're getting overly familiar with the person next to them. The layout is a little unusual for an MPV. SsangYong gives you two seats in the front and middle, and then three right at the back (as opposed to the three usually being in the middle row).
It works though and the two armchair seats in the middle row are probably the best seats in the house. Given that these are used the most, it actually makes a lot of sense.
This layout means getting to the back row is relatively easy. Unlike smaller MPVs, you don't have to be some sort of Houdini impersonator to get back here. It means that if you have growing teenagers, they can actually get to the back and sit there in comfort. Both back rows slide forward and back to give more legroom if needed.
Lots of onboard storage makes the Turismo great for family life. Things like the picnic tables will always keep younger kids happy and there are lots of bottle holders, handy pockets and little cubby holes dotted around. Our favourite is the huge storage bin hidden between the front seats.
The Turismo may be five metres long, but it still manages to fit a lot into that space. Even with the rear seats up there are 875 litres of useful boot that will easily handle luggage and a pushchair. You can turn the Turismo into a small van if you fold all the seats down. You can even take the rear seats out, although they're heavy and awkward to move.
Handling and ride quality
"The SsangYong Turismo may be good when it comes to practicality but it's back down to earth with a bang when you get it out on the road. Where to start? Well you won't be surprised to find that the Turismo handles exactly as you'd expect given its hefty size. "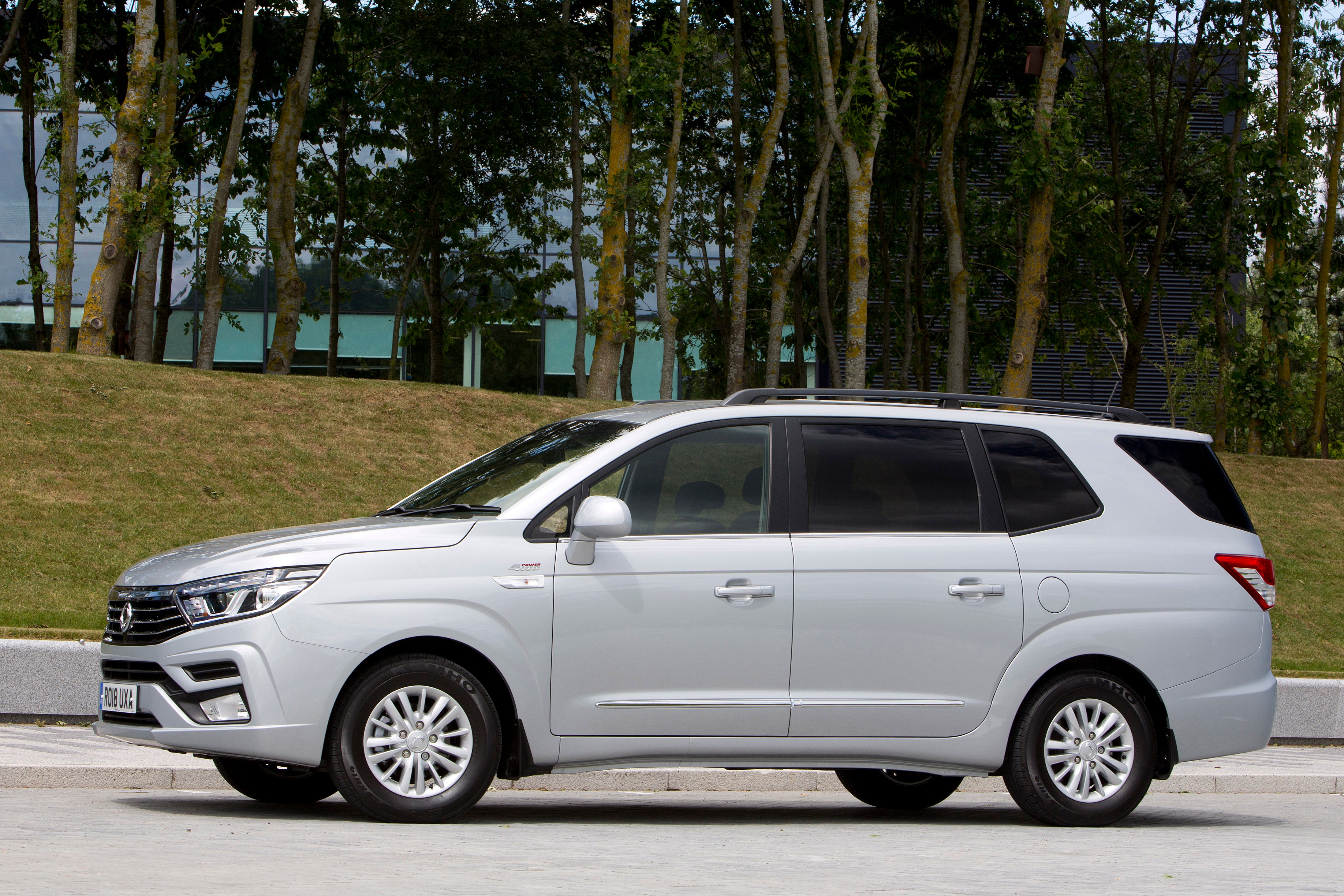 The steering is slow and the whole thing feels ponderous. Take a roundabout with any sort of gusto and you'll soon regret it with a whole load of body roll. It doesn't quite feel like it will fall over, but your passengers won't appreciate it.
It's at least easy to park and okay in slow-moving traffic, but the Turismo is never 'enjoyable' to drive. Functional would be a better description.
The Turismo is clearly set up on the soft side with a comfort bias but while the ride is acceptable, it's not especially sophisticated. It tends to crash over poor roads and things get noisy inside with a thud every time you hit a pothole.
Most Turismo models are two-wheel drive, with the rear wheels doing the driving. This set up is more than adequate and we don't think the 4x4 set-up on top models is really necessary on an MPV. It is at least a proper all-wheel drive set-up (SsangYong has lots of experience with 4x4s) with selectable high and low ranges plus a winter setting.
The Turismo is good as a tow car. Because it's fairly heavy and has lots of pulling power, it can tow a caravan or trailer of up to 2500kg. SsangYong also offered a tow bar kit as an option so it's worth seeking an ELX model with this fitted if you want to tow with your Turismo.
Engines and gearboxes
The Turismo originally had a 2.0-litre diesel engine that was hardly the best. Like the rest of the car it was dated and pretty unrefined. It does have 155PS along with 360Nm of torque but it never offers anything more than leisurely pace and is distinctly rough and ready.
Much better is the 2.2-litre diesel that was introduced in 2016 and while not up to the standard of modern diesels, it's at least an improvement. Again, don't expect whisper quiet performance, but it at least makes an attempt at being a bit quieter.
With more power - up to 178PS and 400Nm - it feels significantly stronger, especially when the thing is full of people and luggage. It's still not exactly quick, but at least feels like it now has more get up and go than a pensioner with a cold.
Cheaper models come with a six-speed manual gearbox which does the job, but we'd look for the automatic which is much better suited to a big car like the Turismo. It's a Mercedes sourced gearbox and one of the strengths of the SsangYong, with smooth if not especially quick changes. Early models were a five-speed but later versions got an improved seven-speed.
Refinement and noise levels
We've mentioned how the unsophisticated suspension transfers thuds into the cabin when you hit a pothole and unfortunately the whole driving experience of the Turismo is all a bit noisy. Both engines are loud, especially if you ask for any sort of meaningful acceleration and it's not even a pleasant engine sound.
The Turismo is much happier on a smooth motorway (few and far between) where the suspension settles down and the SsangYong feels quite comfortable. Sadly this brings more issues - noise. That boxy shape means lots of wind noise while a lack of sound insulation means intrusive road and tyre noise too.
Safety equipment
The Turismo hasn't been tested by Euro NCAP and it would unlikely get a five-star rating but there's all the safety kit you'd expect. All models get dual front airbags and side airbags, ESP stability control, active rollover protection and a brake assist system. If you're fitting child seats there are Isofix mounts on the two seats in the middle row (although none in the three rear seats).
When it comes to structural safety, SsangYong points to two high strength subframes on the front and rear of the car. These are designed to disperse the shock of an impact and minimise cabin distortion.
MPG fuel costs
"Given the sheer size and weight of the Turismo, running costs are about average. You should see around 34mpg from automatic models in real world driving - and while this is nothing to shout about, it isn't bad for a hefty seven-seater. "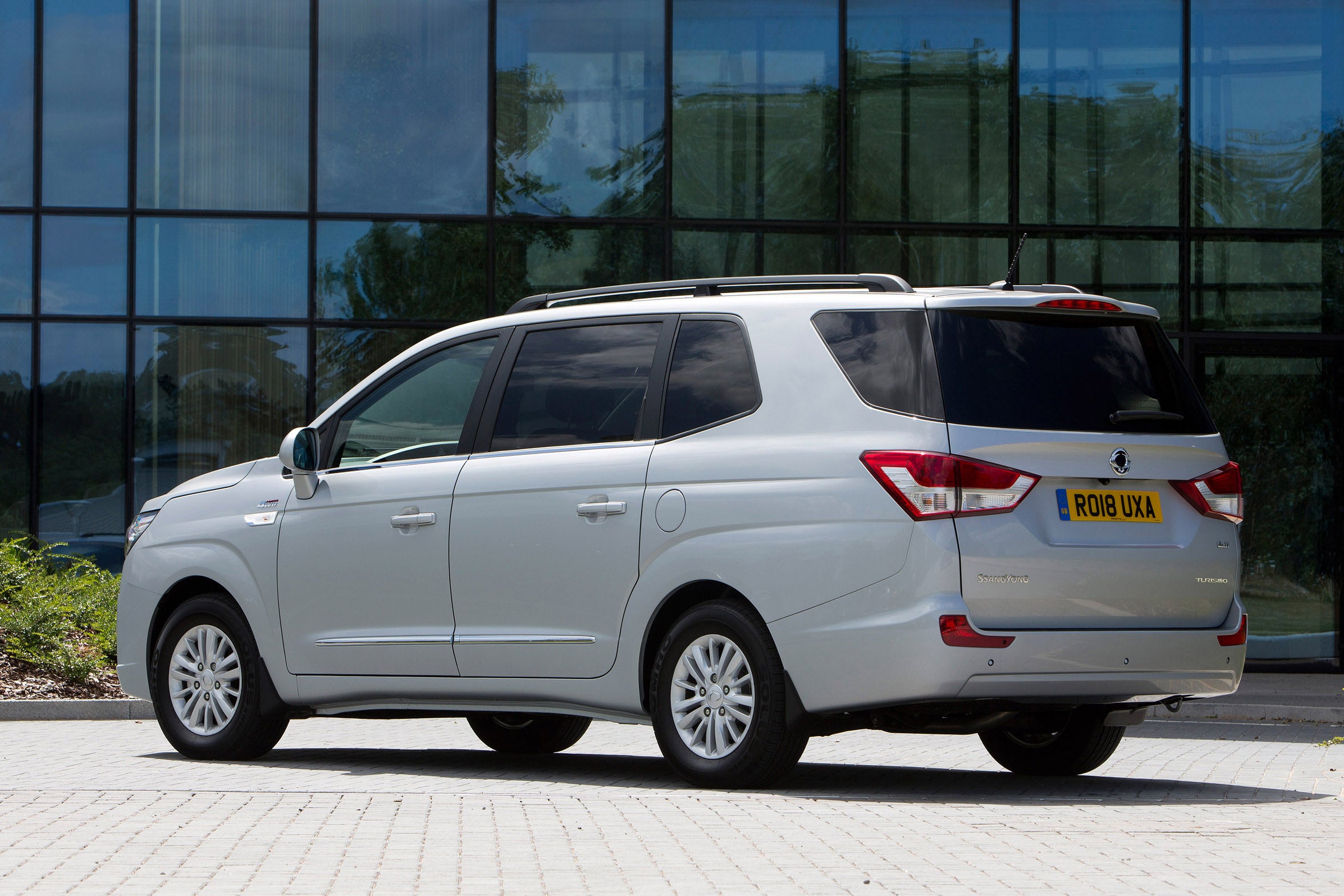 With a big 80-litre fuel tank, at least you won't have to keep filling the thing up and a full tank should see you for about 600 miles.
The manuals are a bit more economical and you can expect a few more miles per gallon, but we'd still suggest sticking to the automatic as it's far better suited to the Turismo.
Insurance groups and costs
The cheaper Turismo models sit in group 27 for insurance with the EX models group 34 and the top ELX 4WD a group 36. That's about average for a big people carrier and similar to rivals like the Hyundai i800 and the van-based (but considerably more expensive) Volkswagen Caravelle.
Smaller MPVs like the Ford Galaxy are cheaper to insure (some as low as group 17) but then don't have the space of the Turismo.
VED
With high CO2 emissions from its diesel engines, older Turismo models can incur high road tax. If you go for a model registered before April 2017, it will fall under the older VED system which was based on emissions.
With CO2 of around 200g/km, the Turismo is either a Band J or K for tax so you'll be paying more than £300 a year in VED. Ouch indeed. For models registered after April 2017, this falls to the flat rate of £150 so if you're debating whether to get that 17-plate model, this may make up your mind.
At least you don't have to worry about having to pay the extra showroom tax for vehicles with a list price of more than £40k.
How much should you be paying?
"One of the things the Turismo has on its side is the price. When it was first launched, prices started at just £18k - a remarkably low amount given its sheer size. Even the most expensive version with every bell and whistle was £24k."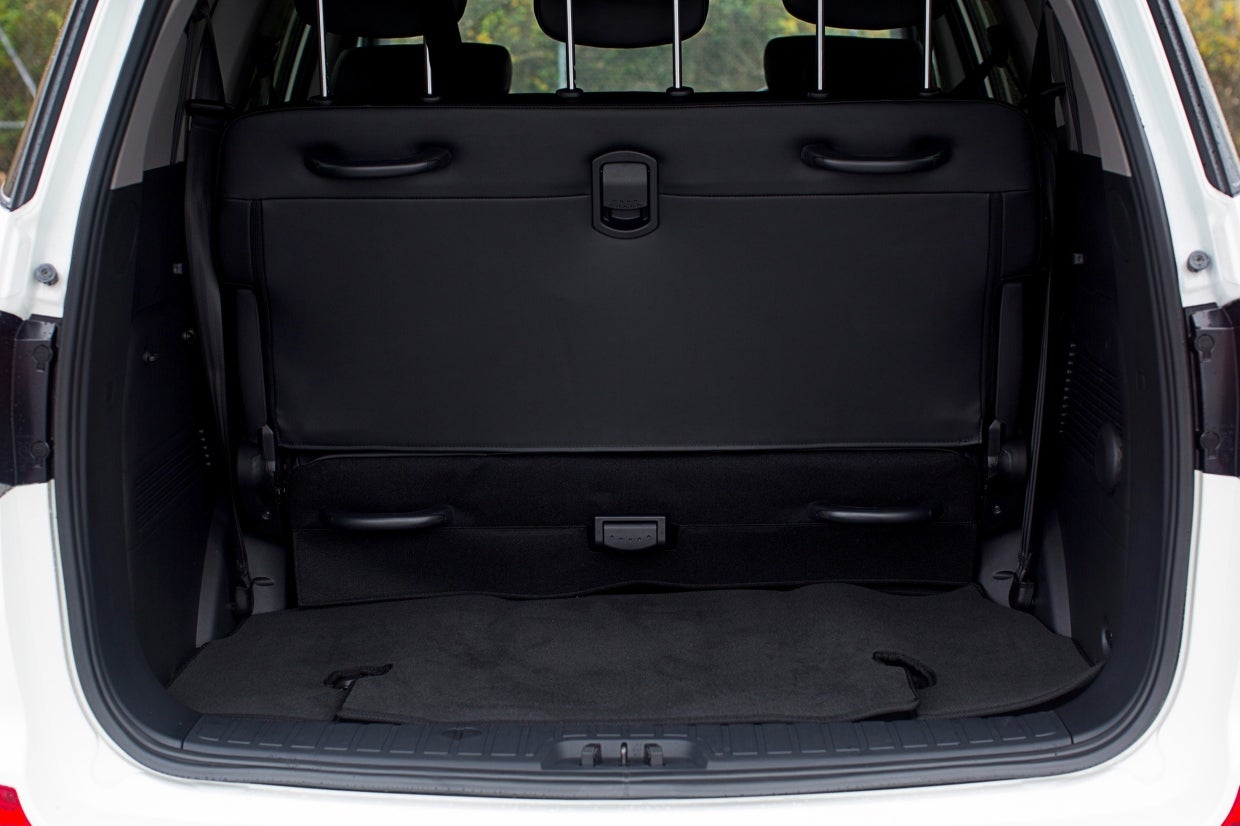 With the launch of the higher-spec ELX model in 2016, the list price moved upward with the top 4WD costing £27,000 making it not quite the bargain it once was. The good news is that on the used market, you'll be able to get a lot of Turismo for your money. That's down in part to depreciation - don't buy a Turismo if you want something that will hold its value.
There aren't huge numbers on the used market, this is a small seller, but you can get pre-reg models with about £5k off the list price. Five year old models start at around £9k.
Trim levels and standard equipment
Standard equipment on the basic Turismo includes air conditioning, electric heated door mirrors, leather steering wheel and gear lever, Bluetooth plus a USB and aux-in port. It does the job but unless you're on a really strict budget, look for an ES.
This adds leather upholstery, an electrically adjustable driver's seat, heated front seats and rear parking sensors while the top EX has a heated lower windscreen to prevent the wipers from freezing, solar controlled glass and rain sensitive wipers.
The trims were changed in 2016 and S, ES and EX were replaced with SE, EX and a new high spec ELX model. This is the one to seek out as it gets cruise control, parking sensors, privacy glass, 16-inch alloys and heated front seats. It also has Bluetooth, DAB, Apple Carplay and Android Auto plus a rear view camera.
Look out for the special Black and White editions which were based on the ELX and get a dark grey interior with new style seating and a heated steering wheel.
Ssangyong Turismo cars for sale on heycar
90
Number of cars available
£12K - £19K
Price bracket of these cars
Colours available on heycar
Keep me updated by email with the latest advice, news and offers from heycar
By submitting, you agree to our
privacy policy
.