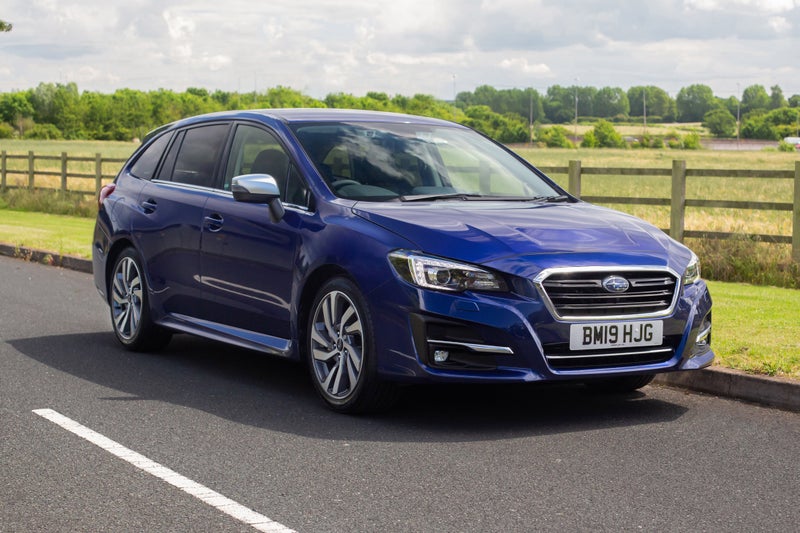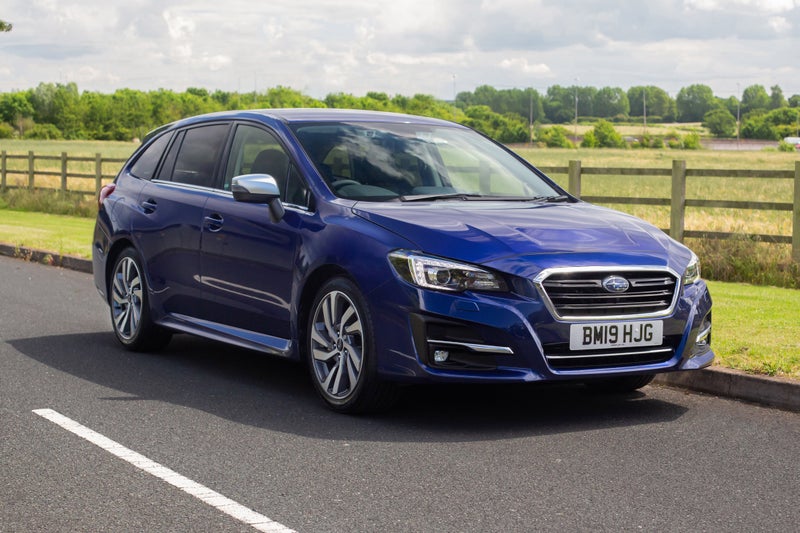 1/10
heycar rating
"Niche estate Subaru worth avoiding"
Launched: 2015

Estate

Petrol
Quick overview
Pros
It's different
Comprehensive standard passive and active safety equipment
Did we mention it's different?
Cons
Different is admirable, downright weird and compromised as a result is less so
Performance, economy and emissions are all seriously lacklustre for the class
It's significantly bettered by every rival, and even its cheaper Subaru Outback relation
Overall verdict
On the inside
Driving
Cost to run
Prices and Specs
Overall verdict
"The Levorg's sole redeeming feature is Subaru's admirable commitment to active and passive safety, the oddball estate coming with a huge suite of standard safety equipment – the likes of which you'll likely pay handsomely to option on its 'rivals'. Without that, it'd be impossible to recommend, and even with it, it's very difficult to do so. The Levorg didn't impress a great deal when it was launched in 2015, and Subaru's changes in 2019 have actually made it worse. We'd avoid it and buy a Subaru Outback, or anything else, instead."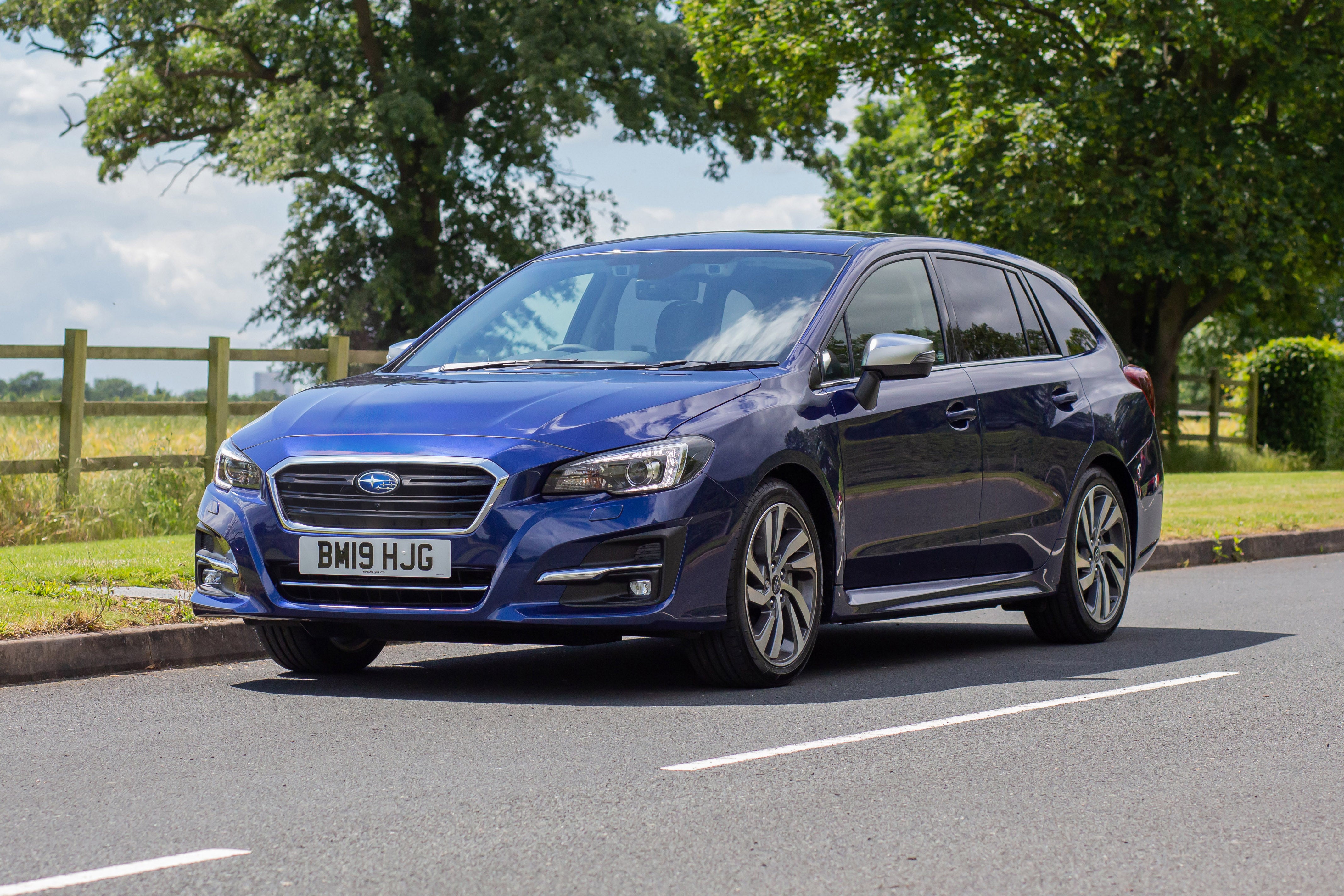 Subaru reckons its brand values are centred around robustness, practicality and fun to drive characteristics, but only two of those are apparent with its Levorg estate car.
Always a niche manufacturer, in the UK at least, the Levorg is only offered as a single, well-specified model, with a sole 2.0-litre naturally aspirated petrol engine driving through Subaru's much vaunted permanent symmetrical all-wheel drive.
The Levorg replaced the Legacy Sport Tourer in the UK back in 2015, Subaru actually referencing that car's predecessor when launching the Levorg, saying its customers preferred its more compact dimensions, but still wanted useful practicality. That explains the Levorg's relative compactness, which despite some clever engineering does impact on its capaciousness – its boot space bettered by many rivals.
When it first arrived back in 2015 it was powered by a 1.6-litre turbocharged flat-four boxer engine, but Subaru made some revisions to the Levorg in 2019, with a slightly re-profiled bumper, more comprehensive equipment levels and some new alloy wheels.
Inexplicably, while doing so, it also removed the 170PS 1.6-litre turbocharged petrol engine and replaced it with a 2.0-litre four-cylinder engine, which does without a turbocharger and produces less power. Subaru, somewhat desperately, quotes 149.5PS, that half evidently important, for the 2.0-litre engine.
More significantly, torque output also down by a hefty 52Nm over that 1.6-litre turbo's 250Nm. Subaru here seems to have wilfully bucked the current industry convention of 'downsizing' by adding smaller capacity, more efficient, and powerful turbocharged engines
While not everybody wants to drive their Subaru like a Colin McRae and Richard Burns rallying era gold wheeled, turbocharged Impreza, but a modicum of performance would be useful.
Indeed, while the original 1.6-litre turbocharged wasn't particularly brisk before, at least had some low rev torque, the 2.0-litre having less, and what little it has is higher up the rev range. It feels even more slovenly as a result.
The poor performance is exacerbated by the standard fitment of a CVT (Continuously Variable Transmission) automatic gearbox, CVT transmissions impacting negatively on not just the driving experience and performance, but also economy, while they're not much cop when it comes to refinement, either.
Subaru has always been about niche appeal, but we struggle to see quite who'd want that particular, and peculiar mix of engine and transmission, in a modestly sized estate car from a brand that's little recognised outside rural enclaves and those who enjoyed rallying's heyday.
Particularly at the circa £35,000 price point it operates in. It might make more sense if it were turbocharged as is in its Japanese home market, though even then it'd be a tricky car to recommend over newer, more spacious and far more fuel efficient rivals. If Subaru has one ace up its sleeve it's safety, the Levorg's standard kit list being extensive, in both passive and active safety aids, but it's not so far ahead of rivals here to recommend it.
It's wilfully, actually painfully, distinct from the mainstream norm. Subaru's pragmatic stance on safety and being wedded to Subaru's core engineering attributes of flat-four engines and four-wheel drive, as well as its CVT gearbox, does limit its appeal significantly, to the point we're genuinely at a loss to understand why Subaru bothers to put any on a boat to bring them to the UK, except, perhaps, to use as an anchor.
Is the Subaru Levorg right for you?
If you've gotten this far, then there's a slim possibility it is, but we'd seriously recommend you look elsewhere, even within Subaru's own range, if, as is likely, you really don't want to offend the Subaru dealer who you're on first name terms with and have always bought your cars from.
You could have a bigger Subaru Outback with its more rugged crossover looks, larger boot, four-wheel drive and much the same equipment levels, for less than the Levorg.
We'd call that an absolute no-brainer, particularly as the Outback comes with a larger 2.5-litre engine which produces more power and is actually more efficient. If you're absolutely determined to be different, perhaps being the sort of person who might run a marathon in a stiletto heels carrying a fully-loaded brick hod, then, yes, consider a Levorg, but even then, only if it comes with a massive discount.
What's the best Subaru Levorg model/engine to choose?
For best, read only, the sole Levorg option being that 2.0-litre CVT gearbox, four-wheel drive estate car. The best Levorg, then, is the only one you can have, and even then, taking the Subaru's own sales pitch on the Levorg - practicality, all-wheel drive stability and capability - then it's bettered by Subaru's own (cheaper) Outback model.
Significantly bettered, too. Indeed, it might be considered unusual for us to say so, but, in the best interests of our readers and good consumer advice, the reckon best Levorg you can buy isn't in fact a Levorg, but is Subaru's own Outback.
That the Outback does everything the Levorg does and more, and for less money. Cross the showroom then, and buy it instead, you'll thank us for it, and you won't ruin your long-standing friendship with your Subaru dealer.
What other cars are similar to the Subaru Levorg?
Ignoring that Outback across the Subaru showroom for a minute, the Levorg's price means it can count among its rivals cars like the Volkswagen Passat, Audi A4 Avant (or Audi A4 Allroad), xDrive versions of BMW 3 Series Touring models, Skoda's massive Superb Estate in 4x4 form, as well as any number of other mainstream and premium estate cars with, or without, four-wheel drive.
Muddying the buying road further is a huge choice of SUV and crossover models with greater four-wheel drive capability than the Levorg. All are similar, and, in reality, much better. However, if you want an estate with a 2.0-litre boxer engine, CVT and four-wheel drive we can't think of another car that's identical in specification, evidently, for good reason.
Comfort and design
"Subaru's pragmatic approach with its cars is fairly evident in the Levorg's interior design, which, being kind, is functional in its look, and, not, rather uninspired and boring. Not everybody wants design flair, but compared to its countless rivals, you're never going to get in it and be delighted. It might not be the most inspiring cockpit to sit in then, but at least it's comfortable. "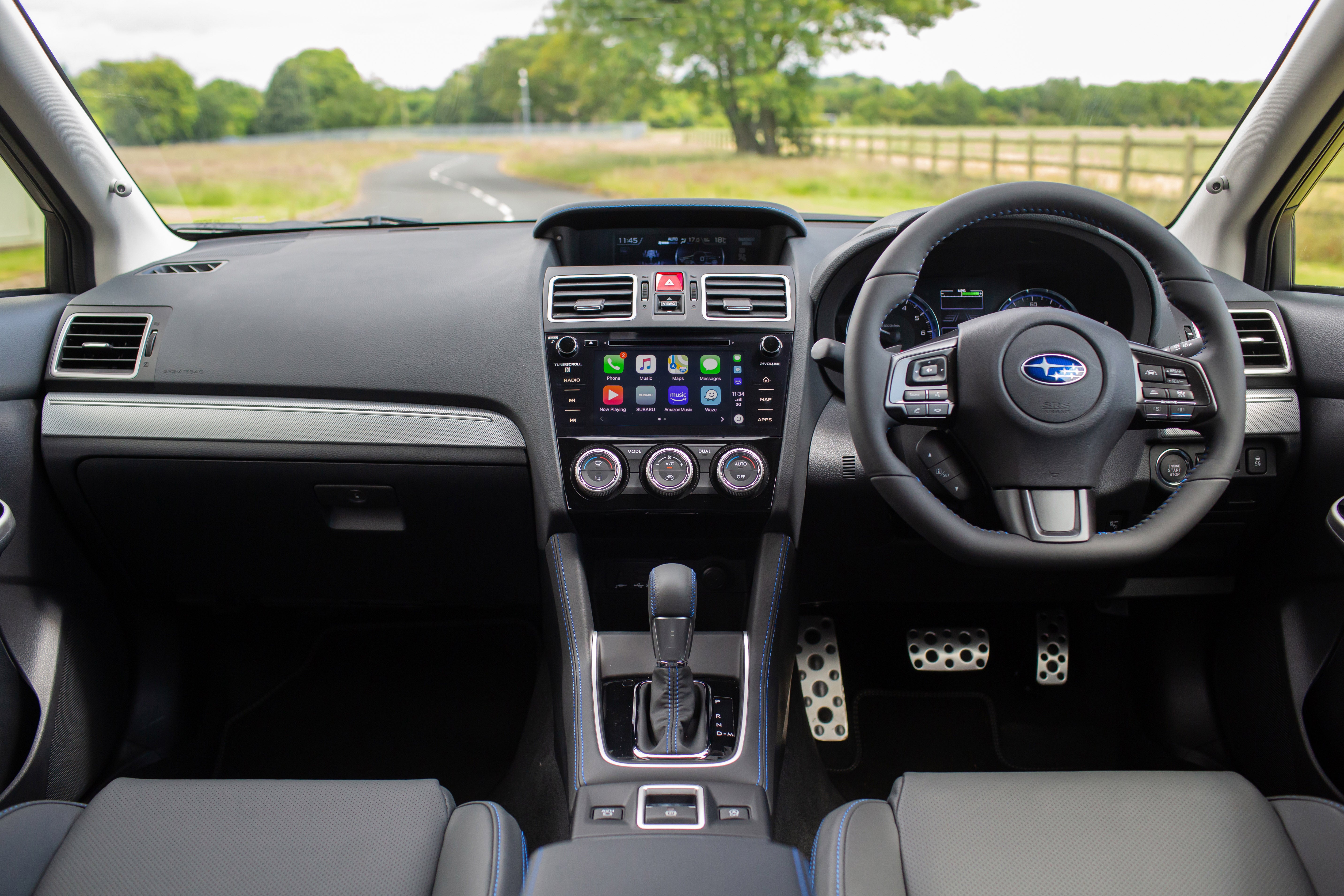 The front seats come as standard with eight-way electrical adjustment and lumbar support, and being 'sports seats' they hold you in snugly, too. They're also heated as standard.
The steering column adjusts for both rake and reach, and the pedals are well spaced, with a large footrest to the left, all of which means you'll not struggle to find a comfortable driving position. You're sat quite high, though, the driving position feeling more crossover than estate car, but that does mean the view out is pretty good. Rear seat passengers have the ability to recline their seat backs, too.
There's also standard dual-zone climate control, meaning both the driver and passenger can choose their preferred temperature.
Quality and finish
Think longevity when you look at the materials in the Subaru Levorg's interior. It's taken Japans other car brands decades to shake off reputation for hard surfaces in their cabins, but Subaru still has some way to go.
It's a cultural thing, apparently, Japanese traditionally seeing hard surfaces as high quality, which is at odds with the Western idea of soft-touch materials and tactility. In fairness to Subaru there's some softer surfaces around the Levorg's interior, the top of the dash having some give, while there's leather covering the seats and around the lower centre console.
It doesn't take too much digging to find some hard, scratchy plastics, though. In defence of Subaru, it all feels like it'll outlive you, with any squeaks or rattles evident inside certain to be coming from any errant kid's toys littered on the back seats, and not the cabin itself.
Infotainment
There's a 7-inch multifunction colour touchscreen in the centre of the dash which takes care of all the Levorg's entertainment and information functionality. It works decently enough, with practice, though the icons can be a bit fiddly with plenty of distracting sub-menus.
Within it there's DAB radio, sat nav, Bluetooth connectivity, Subaru's six-speaker audio system featuring both Apple CarPlay and Android Auto, as well as having voice recognition. There are steering wheel buttons for the audio, too. Given it was launched back in 2015 there's a surprising number of USB sockets, with three pairs of outlets offering six in total, one or two still being more normal among its rivals.
Two of those sockets are for the rear seat passengers, and in the unlikely event that you run out of USB sockets to charge smartphones, tablets and other devices, there's a pair of 12-volt sockets, too.
Above the main screen there's a second, 5.9-inch LCD display for things like the front view monitoring system, fuel economy and clocks, outside temperature and how economically you might, or not, be driving.
Space and practicality
Scroll back up the page to where we list potential rivals and you'll read Volkswagen Passat and Audi A4 Avant, among others, those picked due to the Levorg's pricing, rather than its size.
Start comparing numbers on things that matter in the estate car market, that being boot volume, seats up or down, and the reality is that the Levorg actually sits below the Volkswagen Passat Estate in size, and is more comparable to its Golf Estate relation. Indeed, the Golf Estate's 605 litres of boot capacity seats up, and 1,620 litres seats down actually better that of the Levorg, for which Subaru claims volumes of 522 litres and 1446 litres respectively.
Indeed, start looking at cars like the class load-carrying champion Skoda Octavia, and the case for the Levorg becomes even less convincing. Even the Octavia's hatchback model able to offer 590/1,580 litres of loadspace, and as an estate it'll swallow either 610 or 1,740 litres of stuff, and can be had with four-wheel drive, too, and for less money.
The Levorg's boot does offer wide access, and a flat floor when the 40/20/40 split-fold seats are dropped, and there's a useful underfloor storage area, too, which fits the boot luggage cover when it's not needed. There's also decent space for passengers inside, and two Isofix mounts on the outer rear seats.
If they're not in use, four adults should be comfortable (five being a squeeze) while there's decent cubby storage throughout that hard-wearing interior, but at the price point the Levorg operates at there are so many better load luggers out there. Not least Subaru's own Outback, which offers 559/1,848 litres of luggage capacity, a more capacious interior for passengers and all for less money.
Handling and ride quality
"It's almost impossible to mention Subaru and not reference its phenomenal success in the World Rally Championship, but the company isn't alone (think Lancia) in not capitalising on that for long-term success."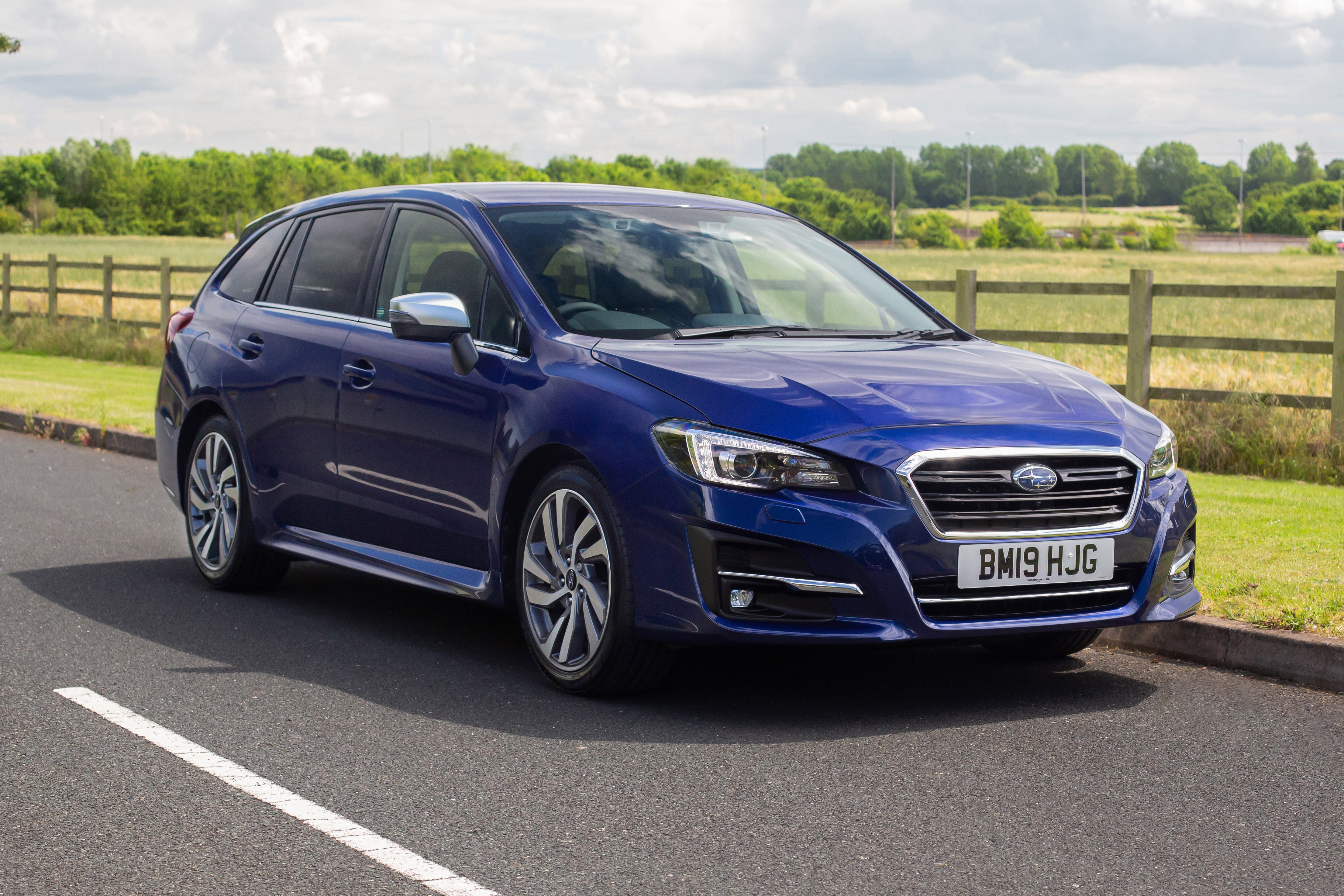 At its core, Subaru is obsessive about engineering, and specifically its Symmetrical Four-wheel drive system and its Boxer (flat) engines.
That four-wheel drive does give all Subarus fine traction and grip, while the unusual cylinder layout - Porsche being the only other firm of note to use 'flat' engines - does bring advantages to the car's weight distribution, and, more correctly, the car's centre of gravity. What does that all mean to the average consumer? Not a lot if we're being brutally honest, but if you appreciate engineering – as a Subaru customer is likely to do so – then it's sort of significant.
What you might feel on the road is a drive that's a bit more agile, keener to turn in and with a bit less body roll as a result of that lower engine.
Subaru's all tend to drive well for this very reason, and the Levorg does at least demonstrate that. There's a slight trade-off for Subaru's commitment to providing engaging handling, insomuch as the ride can be a little busy over rougher surfaces, though it's not so bad as to be unsettling.
Overall though, despite it exhibiting some familiar Subaru traits, there's just not enough of them to really recommend it over any of its rivals.
The steering is relatively mute in its feel, if accurate in its response, which, if you're used to the nicely feeling steering of Subaru's before it, you'll find disappointing. Huge four-wheel drive traction, grip and surefootedness will appeal to Subaru's traditional, mostly rural, audience, but the Levorg's not unique in this respect, with plenty of four-wheel drive rivals out there, and while its resistance to body roll is commendable, it's also likely to be pretty low on the order of qualities buyers are looking for in a practical four-wheel drive estate car.
Engines and gearboxes
A single engine is available, Subaru bucked the downsizing turbocharging trend in 2019, by chucking out its downsized turbocharged 1.6-litre boxer engine, and replacing it with a larger 2.0-litre four-cylinder boxer that does without a turbo. Odd.
Particularly as the result is less power, less torque and less flexibility, it almost like Subaru doesn't want anyone to buy the Levorg. Add in higher emissions and poorer economy over the old engine, which in fairness is now measured to tougher standards, and it's difficult to understand what Subaru was thinking when it swapped out the engine. WLTP combined consumption is 32.6mpg and196g/km.
Power is now quoted at 149.5PS and torque 198Nm, both those figures produced at fairly high revs – peak power being 6,200rpm and torque at 4,200rpm.
If you're used to a modern turbocharged petrol, or the ample mid- and low-range lug of a turbodiesel, the Levorg's engine is going to feel particularly underwhelming and very hard work – 62mph arriving in who knows, Subaru omitting to quote a figure, only saying that its top speed is 'approximately' 121mph.
All that might be okay if it were mated to a crisp-shifting manual transmission, but it's not, Subaru retaining that other Japanese car manufacturer's quirk of having a CVT automatic transmission. CVT – that's Continuously Variable Transmission – do without conventional gears, instead being, as the name suggests, continuously variable.
At low speeds CVTs are just about okay, but start asking anything brisker than urban pace and they have a tendency to hold engines at their peak revs for power. With the 2.0-litre engine here, that's high, so there's a lot of noise, but not a great deal of go to accompany it.
You can 'step' the transmission via driving modes to make it feel more conventional, but it's still not great if you do so. If the case for the Levorg was already thin, then the CVT it comes with is boxes it, wraps it up, adds a bow and should deliver you directly to any other dealership for your new estate car, or at least to an Outback if you really want a Subaru.
Refinement and noise levels
Subarus make a characteristic boxer sound, and so it proves here. It's actually welcome, and nicely muted rather than front of house. Start moving with any real intent though and the sound becomes a noise, thanks to the fitment of that CVT and its tendency to hang on to revs.
It's not a pleasant noise, either, hanging onto revs like a demented food mixer, which means you'll likely just forget about overtaking slower traffic and instead just become part of a line of it instead. Wind and road noise are otherwise decently hushed, but that transmission is so dominant to the entire driving experience so as to detract from any strengths the Levorg might have elsewhere.
Safety equipment
Finally, the one shining star in the many in the Subaru badge. Safety. Subarus have an admirable record when it comes to crash testing, while the standard suite of safety equipment is very impressive indeed.
Subaru includes its EyeSight system with the Levorg, it including Adaptive Cruise Control, Pre-collision braking, Lane sway and departure warning, Lane Keep Assist, while there's also Blind Spot Monitoring, Lane Change Assist, Rear Cross Traffic Alert, a reversing camera, a smart rear view mirror that uses a camera to show the road behind, front driver and passenger side and curtain airbags, a driver's kneebag, whiplash reducing front seats, Anti-Lock Brakes with electronic brake force distribution and a pair of Isofix child seat mounts in the rear.
Add the stability and traction control systems, with the four-wheel drive and standard torque vectoring, and the Levorg should help you avoid an accident in the first place.
A good deal of its standard safety equipment you'd have to take as a cost option on many, if not all, of its rivals, Subaru winning awards for its admirable commitment here.
MPG and fuel costs
"The 2.0-litre boxer engine consumes an official WLTP tested figure of 32.6mpg with CO2 being quoted as 196g/km."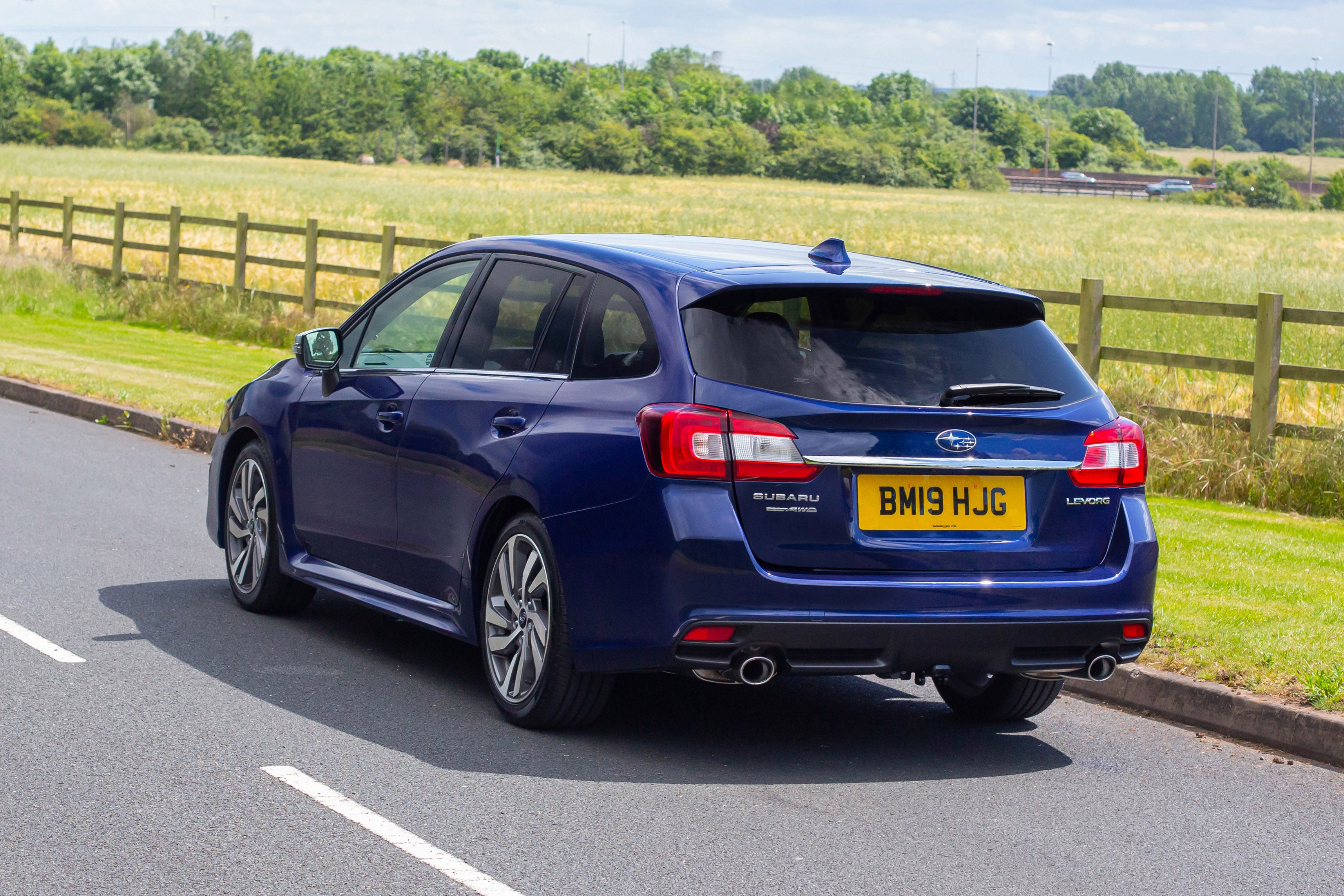 Neither are particularly great, indeed, in the class it competes in you'd be hoping for WLTP combined figures in the region of at least 40mpg, if not as high as, and possibly exceeding, 50mpg.
Insurance groups and costs
Annual or 12,000 miles for servicing, which is fine, but insurance might be higher than the mainstream norm it competes on price with, if not those in the premium class above it. Dealers aren't exactly everywhere, either, so unless you're near one then you'll have to travel to get it serviced. Your biggest likely cost is depreciation, as it's both expensive new, and little understood by the market, which means it retained values are likely to be poor.
VED car tax
The 196g/km it emits which puts it in the 191-225g/km banding, meaning a £1,305 VED rate for the first year. The Levorg comes with a 5-year, 100,000-mile warranty as standard, with three-years UK and European roadside assistance.
How much should you be paying for a used Subaru Levorg?
"Not a huge amount of choice out there in the used classifieds, but if you're after a secondhand Levorg you'll need a starting budget of around £12,000. At this price point they'll all be 1.6-litre turbocharged engine, but that's a good thing."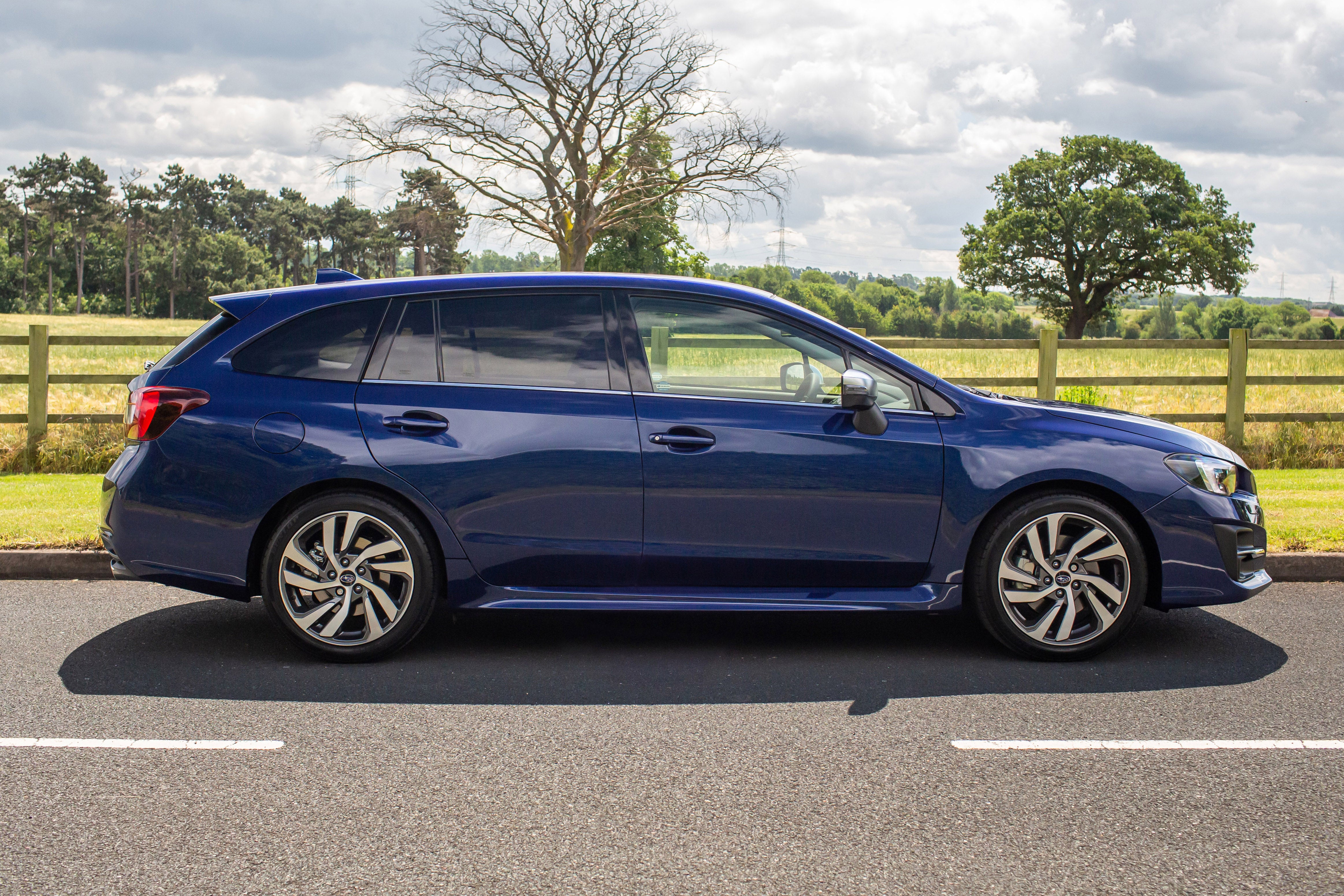 Around £15,000 will buy you a sub-20,000 mile example, which will barely feel run-in such is the Levorg's robustness. If you're really sold on a nearly-new or ex-demo 2.0-litre car, you'll make a huge saving over the new price, with these available in the mid-high £20,000 mile sphere, but that's true of its rivals. And, just in case you've gotten this far and not realised we'd suggest Subaru's Outlander as a better choice, the Outlander.
Trim levels and standard equipment
A single trim, which comes fully loaded, particularly in relation to safety equipment. On kit alone it's almost worth considering, but we'd still suggest avoiding it, as it's too compromised elsewhere to have that extensive standard kit weigh it in its favour.
Subaru Levorg cars for sale on heycar
46
Number of cars available
£11K - £26K
Price bracket of these cars
Colours available on heycar
Keep me updated by email with the latest advice, news and offers from heycar
By submitting, you agree to our
privacy policy
.