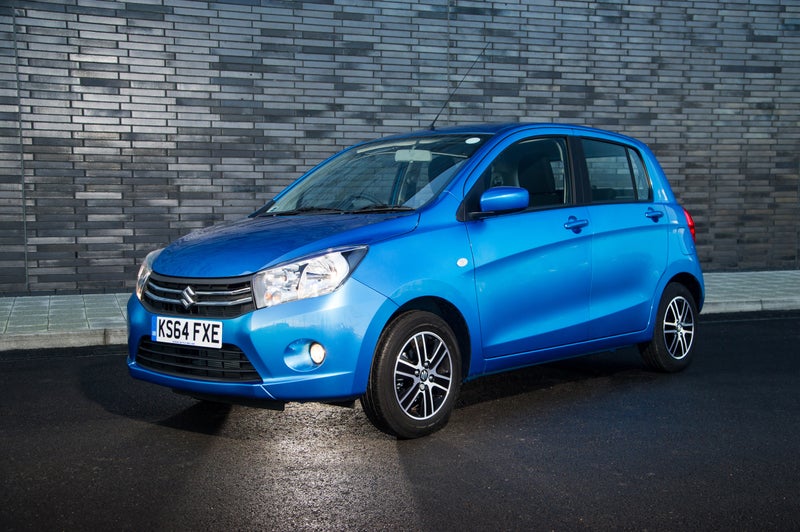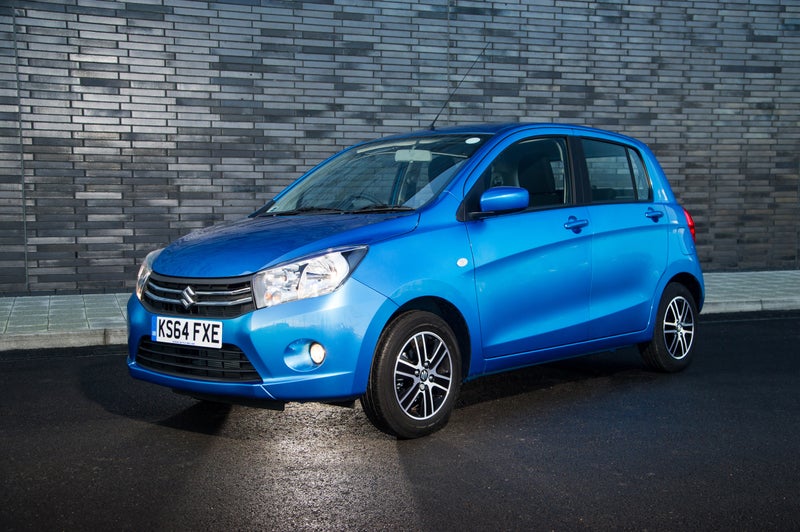 1/10
heycar rating
"Bargain basement and feels it"
Launched: 2015

City car

Petrol
Quick overview
Pros
Excellent standard specification
Easy driving experience
Impressive economy
Cons
Out of its depth at higher speeds
Cheap-feeling interior
Average Euro NCAP score
Overall verdict
On the inside
Driving
Cost to run
Prices and Specs
Overall verdict
"The Celerio takes something of an old-school approach to city car motoring, keeping the sticker price low by some fairly obvious corner-cutting on the sophistication of the design. But it is 100 per cent honest in doing so, and the result is a car that is cheap to buy and run, and is loaded with kit. For some buyers that is all that is required."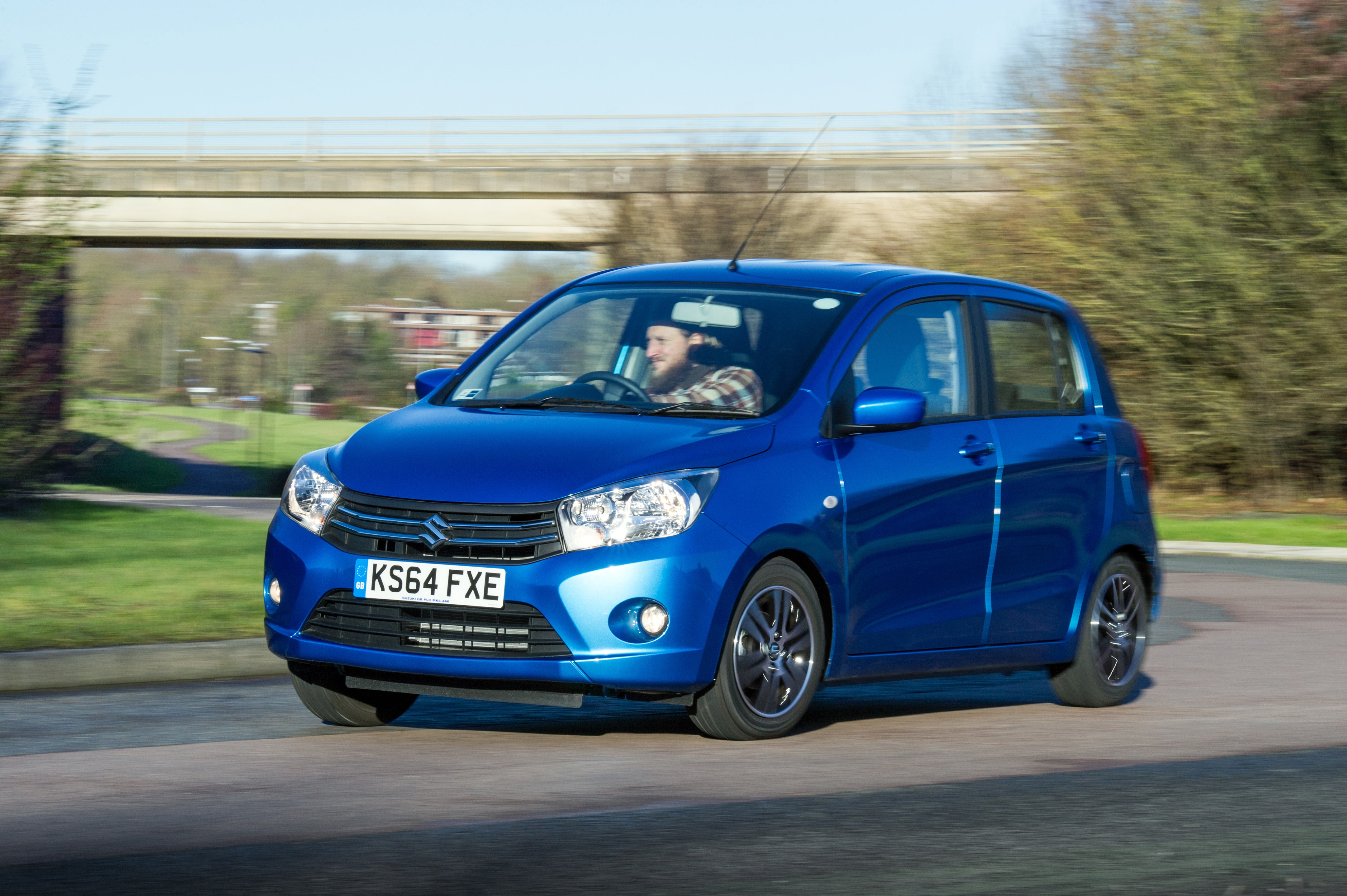 Suzuki is a textbook example of a brand that has enjoyed mixed success. Never a manufacturer that has attempted to crack big volume models, the cars in its range have always been relatively niche products, but in doing so it has frequently snared a loyal band of customers .
The Celerio is another example of this, taking on the city car segment with a blend of old-fashioned good value alongside a hefty dose of standard equipment.
If you're not well-versed on your world car family tree, the Celerio was actually manufactured in Pakistan and also sold in that country as a Pak Suzuki, in India as a Maruti and also in Thailand under the Suzuki flag. Building and selling a small car across world markets makes a lot of sense, because it helps to keep prices low which can then be passed on to the customer. What it does mean though is that it is not necessarily built and designed to cater for snooty European buyers.
A quick look at the Celerio from the outside is pretty revealing, as the basic shape of the Celerio is not massively different from its predecessors. With relatively small wheels and a simple two-box shape (one box for the cabin and a second box for the engine) this is as simple as car design gets, but that also is indicative of the Celerio's philosophy - the more simple it is, the less it costs.
Step inside the Celerio and there's a mixture of good and not-so-good news. The design of the cabin is not the prehistoric relic you may have expected; there's no bare metal on show, the instruments are clear and easy to read, and the centre console has a decent stereo and climate controls exactly where you'd hope to find them. Look a little closer and the penny-pinching is more obvious. There's very little in the way of quality materials; almost all the plastics are hard to the touch, albeit hard-wearing, and while the standard specification is excellent, you're never likely to forget this is a car built down to a price every step of the way.
Mechanically the Celerio also plays a very straight bat, but with low running costs a major priority, there are significant savings to be had. There are two engine options, both 1.0-litre in capacity, with three-cylinders and 68PS, with the basic engine offering 90Nm of torque. The higher-specification engine is called Dualjet, so-called because it has twin injectors per cylinder which boosts efficiency; as well as offering a little more torque with 93Nm, it has a significant effect on fuel consumption. Under the old NEDC measurement, the standard 1.0-litre claims 65.7mpg combined, while the Dualjet increases this to 72.4mpg combined.
On paper the Celerio has a good deal going for it, but the actual driving experience is more patchy. The engines are efficient, but the lack of sound deadening means they are both quite vocal, and noise levels increase rapidly with an increase in speed making motorway journeys a wearing experience. All the major controls are light and easy to operate which makes it well suited to town work, and the Celerio's light weight means it does a decent job of gliding over bumps and hanging on in the corners. It's unrefined, but it can do the job.
There's no questioning the Celerio's budget approach to motoring, it's just whether or not it matches up with what you expect from a city car. For the budget-conscious it's hard to beat, but it requires a degree of tolerance if you plan to venture out of the city.
Is the Celerio right for you?
If you are almost entirely city-bound, want to spend as little as possible but still want the maximum amount of kit from your small car, the Celerio should be near the top of your shopping list. However, many buyers want a bit more sophistication from their small cars, and are willing to pay for it - the Celerio's old-school approach is definitely not for everyone.
What's the best Celerio to choose?
You can't go too far wrong in choosing your Celerio, because there are only two engine options and two trim levels. On the engine front, the Dualjet motor is a no-brainer; it was the more popular option on new cars, will cost little more to buy but offers superior fuel consumption however you drive it.
Even less thought is required when it comes to choosing what trim to buy. SZ3 models are pretty stacked with kit; you get remote locking, electric front windows, air conditioning, USB input to the DAB radio, Bluetooth and alloy wheels. The SZ4 adds an extra pair of speakers, electrically adjustable door mirrors and electric rear windows - all of those things are a bonus, but it's hardly the end of the world to live without them. But given there's so little between the possible engine and trim combos it makes sense to buy the best example you can afford.
What other cars are similar to the Suzuki Celerio?
There's never a shortage of city cars to choose from, but even within that narrow definition there is quite a lot of diversity. Cars like the Toyota Aygo, Peugeot 108 and Citroen C1 triplets are big on value but deliver this by sharing design and development costs, so you get a well-built car with a good specification.
The Volkswagen Up, SEAT Mii and Skoda Citigo take a similar approach; they may be older designs but they have a quality finish and are good to drive. If budget is everything you could consider the Dacia Sandero, which is still the cheapest new car money can buy.
Comfort and design
"Low expectations are typical when climbing aboard a city car, so it's refreshing to discover that the Celerio performs better than you might expect - at least in terms of how it accommodates people. It might be a small car but it has a tall body, so getting in is thankfully a low effort task whether you're sitting up front or in the back - big doors are a big help here too."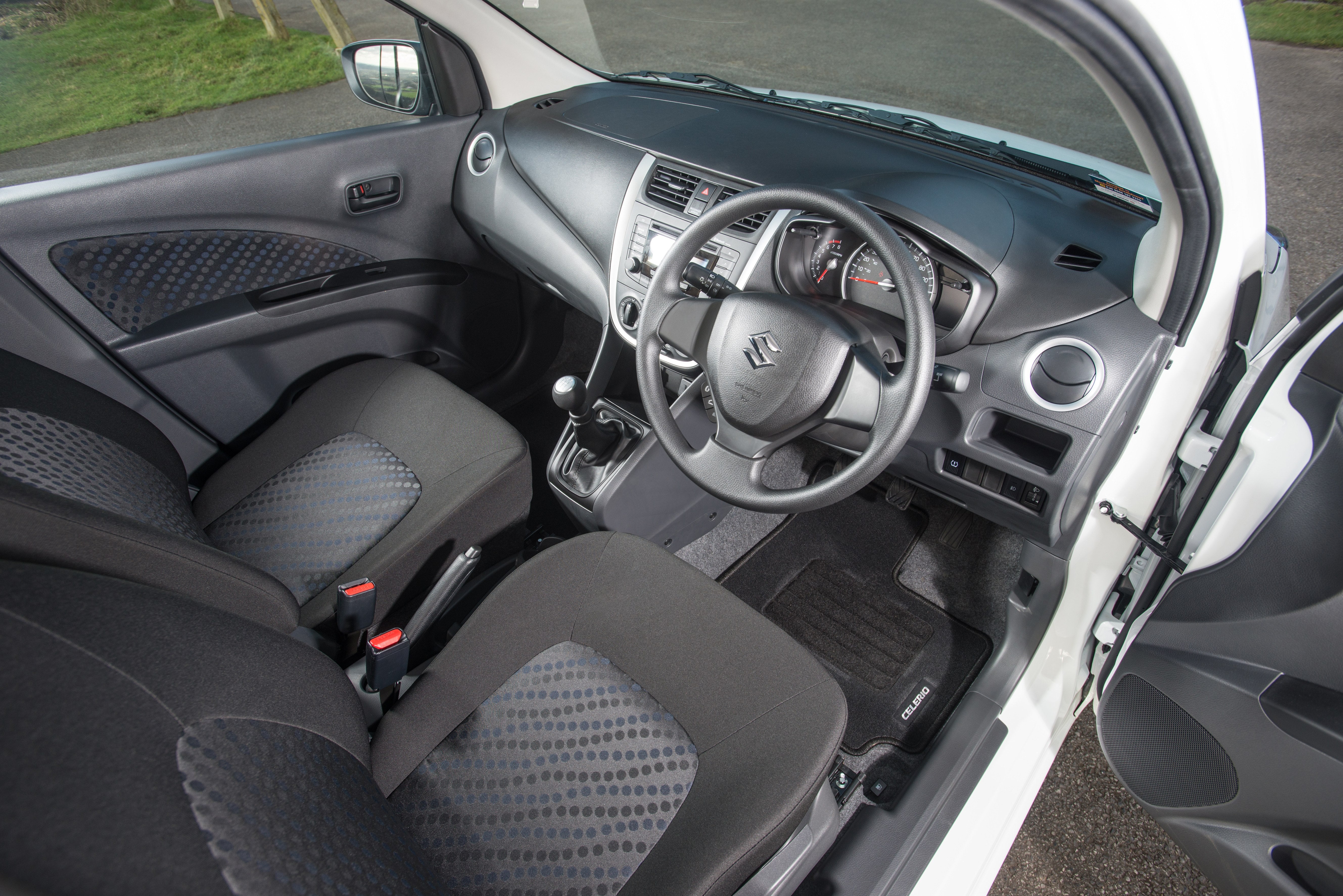 There's a decent range of adjustment for the driver too, although like many cars in this class the steering only adjusts for rake and not reach. Getting a good driving position should be easy for almost anyone though, with the gear lever mounted unusually high up in the centre console, putting it nice and close to the steering wheel, while the pedals are nicely spaced too.


The layout of the interior is a straightforward as they come. There's a massive central speedometer with the auxiliary info around the outside, while the centre console houses nothing but the controls for the audio and ventilation systems - there's no fancy touchscreens here, just old school buttons and switches. That's not necessarily a bad thing - the Celerio doesn't have sat-nav or smartphone integration, so a touchscreen isn't strictly necessary, but if you're looking for luxury or the latest gadgets then this isn't the place for you.
Quality and finish
There are several attempts to liven up the Celerio's cabin, with the odd flash of silvered plastic on the dashboard and striped fabric on the seats, but these are an attempted distraction from the harsh reality. The materials in the Celerio no doubt hard-wearing, chiefly because they are so hard; it is almost entirely black plastic in here, none of which feels particularly nice to touch and doesn't look all that wonderful either. The doors shut with a thwack rather than a reassuring thud, and many of the switches feel hollow and insubstantial. There's nothing on the options list that can help you either, so it's a case of living with it.
There's little to question in terms of the Celerio's build quality; it feels well constructed and that it would last a good number of years, and Suzuki's reliability record backs that up. It's just that when it comes to signing on the dotted line it does make it a less appealing place to be compared to most of the competition.
Infotainment
There's a single infotainment system available on the Celerio, although there is a small alteration in the specification depending on which trim level you go for. The basic provision is a CD radio with DAB (plus FM/AM) and Bluetooth, so you can stream audio as well as make and receive phonecalls. On SZ3 models this system comes with just a pair of speakers, but if you go for the higher-spec SZ4 model you get an extra pair of speakers to bring the total to four.
For a car at this price point the infotainment system is pretty well-specified. DAB as standard and the ability to stream audio will cover the essentials for most people, and many rivals have done without CD players for some time. There are basic buttons on the steering wheel for operating the phone system, but the biggest issue is the display and the control system. Whether it's trying to find a DAB station or scrolling through a playlist from your phone, using buttons and switches to do this while looking at a small display is a frustrating experience, and just emphasises how much easier these kind of tasks are with a touchscreen system.
Space and practicality
Where the Celerio really claws back some ground on the competition is in terms of space. The simplicity of the exterior design frees up plenty of space within for passengers and luggage; it might not make it especially pretty but it pays dividends when you're actually putting stuff in it.
Up front it's the headroom that is the most impressive, with the high roofline making it possible for almost anyone to get comfortable. There's plenty of adjustment forwards and backwards on the front seats too so you can stretch out and get comfortable. Shoulder room is a little less generous, but that's hardly a surprise given that this is a relatively narrow car.
In the rear it's also impressively spacious. Unlike almost every other car in this class, the Celerio actually has three rear seat belts so you can carry three people securely. However, actually fitting three adults across the rear might be a stretch too far, but children old enough not to need car seats should be able to fit. Legroom and headroom is also good back here - the roofline barely dips down towards the rear of the car which is a big plus. It's certainly one of the most spacious city cars in the class, so in terms of space versus value it scores highly.
The good news continues when you get to the boot too, with 254 litres of space available with the rear seats in place. That's more than almost all of the competition including the Hyundai i10 and the Mii/Citigo/Up cars, albeit by just a couple of litres. Drop the rear seats and the available space goes up to 726 litres, although this is quite a bit less than those same competitors. This is partially down to the fact that the seats don't fold entirely flat, robbing some of the available space.
Storage space in the cabin is decent, with cupholders and storage bins, but the door bins are pretty narrow and can't hold anything other than slim items.
Handling and ride quality
"Given the Celerio's humble origins you might expect the driving experience to be a painfully basic experience, but in fact the little Suzuki is a bit better than that. For starters, the Celerio is very low in weight - just 840kg - but benefits from quite a long wheelbase given its compact dimensions, both of which are plus points when it comes to ride quality and handling."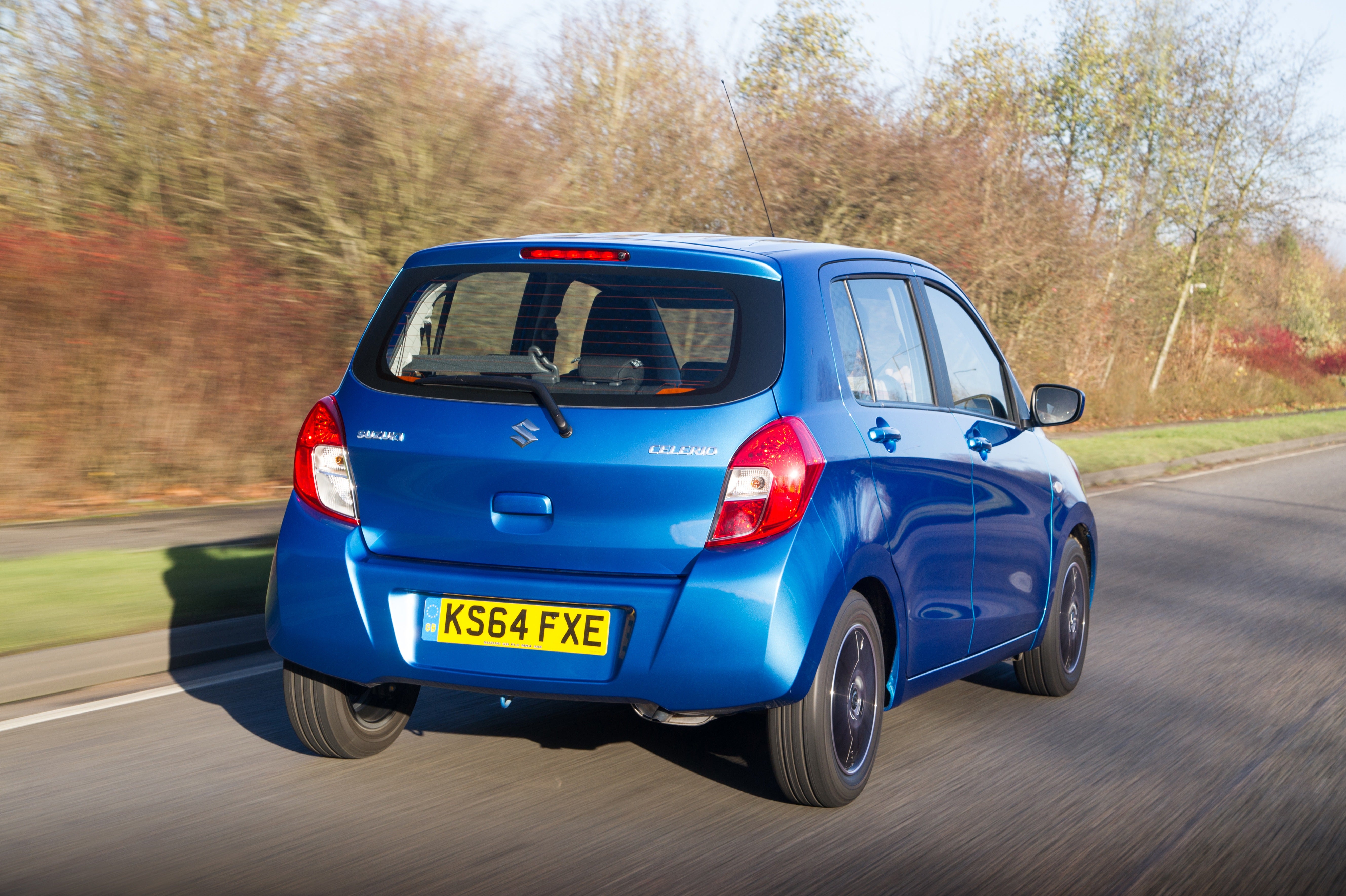 Particularly at lower speeds and in town, the Celerio does a good job of filtering out lumps and bumps in the road. It can't quite deal with everything that a bad road can throw at it, but in most conditions it offers a comfortable and controlled ride. At higher speeds it can quite match that same level of composure, but you can tackle motorway journeys and not feel like you're going to be blown around by a lack of stability or pick up every imperfection.
The Celerio isn't going to worry anything wearing a GTI badge of course, but given its lowly status it actually handles quite well too. The steering is very light and doesn't offer a huge amount of feel, but it is quick and accurate, and because it is so light on its toes it's good fun to hustle along, even if that's just negotiating a tight roundabout in town. There's good grip too, despite the skinny-looking wheels and tyres, and should you really try and push the Celerio hard it gently defaults into safe and controllable understeer from the front. No one is going to buy a Celerio for the driving experience, but the fact that it offers a bit more than the bare minimum is definitely a bonus.
Engines and gearboxes
With just two engine options, both of which are 1.0-litre, three cylinder units and with the exact same power output, it would seem on the face of it that there's not much to choose between the two. In many respects they drive exactly the same too; because they are non-turbocharged units, they don't have a huge amount of torque at low revs and so you have to work them a bit harder to make decent progress.
That's not a big issue though, as both versions of the 1.0-litre are keen, responding well to inputs on the accelerator and are happy to rev too. They're not the quietest of units, and should you need to wind them up to the higher end of the rev range there's a bit of a din, but this is typical of most of its rivals too.
More importantly, the Dualjet version of the 1.0-litre offers a significant advantage in terms of fuel consumption. It also has more torque - just 3Nm - which is not enough to make it feel noticeably quicker, although the stopwatch says otherwise. But it is the extra efficiency that really makes it worthwhile, thanks to the twin injectors per engine cylinder.
The standard five-speed manual gearbox is perfectly fine, with a light and accurate shift quality and ratios that offer acceptable acceleration and reasonable cruising refinement at 70mph. There is also a five-speed automated manual transmission available, but like most of these offerings it is quite a compromise, and is best avoided unless you really have to drive auto.
Refinement and noise levels
City cars tend not to be the most refined of vehicles because they are designed to be inexpensive and also there's less bodywork to distance noise making elements and fit insulation. The Celerio sits somewhere in the middle of the pack here; at lower speeds both engine options are reasonably refined with little vibration and just a distant thrum from the three cylinders. Should you need to work the engine it can get a little rowdy at higher revs, but steer clear of the red paint and your ears will remain largely unperturbed.
It's a similar story when it comes to other noise sources, particularly at lower speeds. In the city there's a faint background hum of tyre noise, but get out on to faster roads and it's less impressive. Tyre noise becomes quite prominent, the wind noise is quite apparent around the tops of the doors and the drone of the engine increases. You can survive motorway trips, but you'll need to be patient or turn the stereo up louder.
Safety equipment
EuroNCAP tested the Celerio back in 2014, and it achieved a modest three star rating overall. The adult occupant score of 61 per cent is low in comparison with key rivals, although the child occupant score of 74 per cent is more impressive. The pedestrian mitigation score of 68 per cent is also very good, but the Celerio is mostly let down by its safety assist score of just 38 per cent, reflecting the fact that it does without many of the safety systems that are standard or optional on its rivals.
As standard, all Celerio models are fitted with six airbags - driver and passenger plus side and curtain airbags, but there is no knee airbag for driver or passenger. There are two Isofix points in the rear seats, plus seatbelt pre-tensioners and load-limiters for front seat passengers.
ESC is standard on all Celerio models, but features such as automatic emergency braking, traffic sign recognition or lane assist are not available as standard or as an option, putting it behind almost all of its rivals in this respect.
When the Celerio was first introduced to the UK a problem with the brake pedal was detected on the first batch of cars, leading to an immediate recall for rectifications. All cars sold will have had the upgraded parts fitted or been rectified at the factory, but it is worth checking with a dealer for complete peace of mind.
MPG and fuel costs
"With a pair of frugal engines to choose from, you can't go too far wrong when it comes to fuelling up your Celerio. Measured under the old NEDC system, the combined consumption figure for the basic Celerio is still a healthy 65.7mpg - and perhaps more importantly, 99g/km of CO2 - so even in more realistic everyday driving you should easily better 50mpg."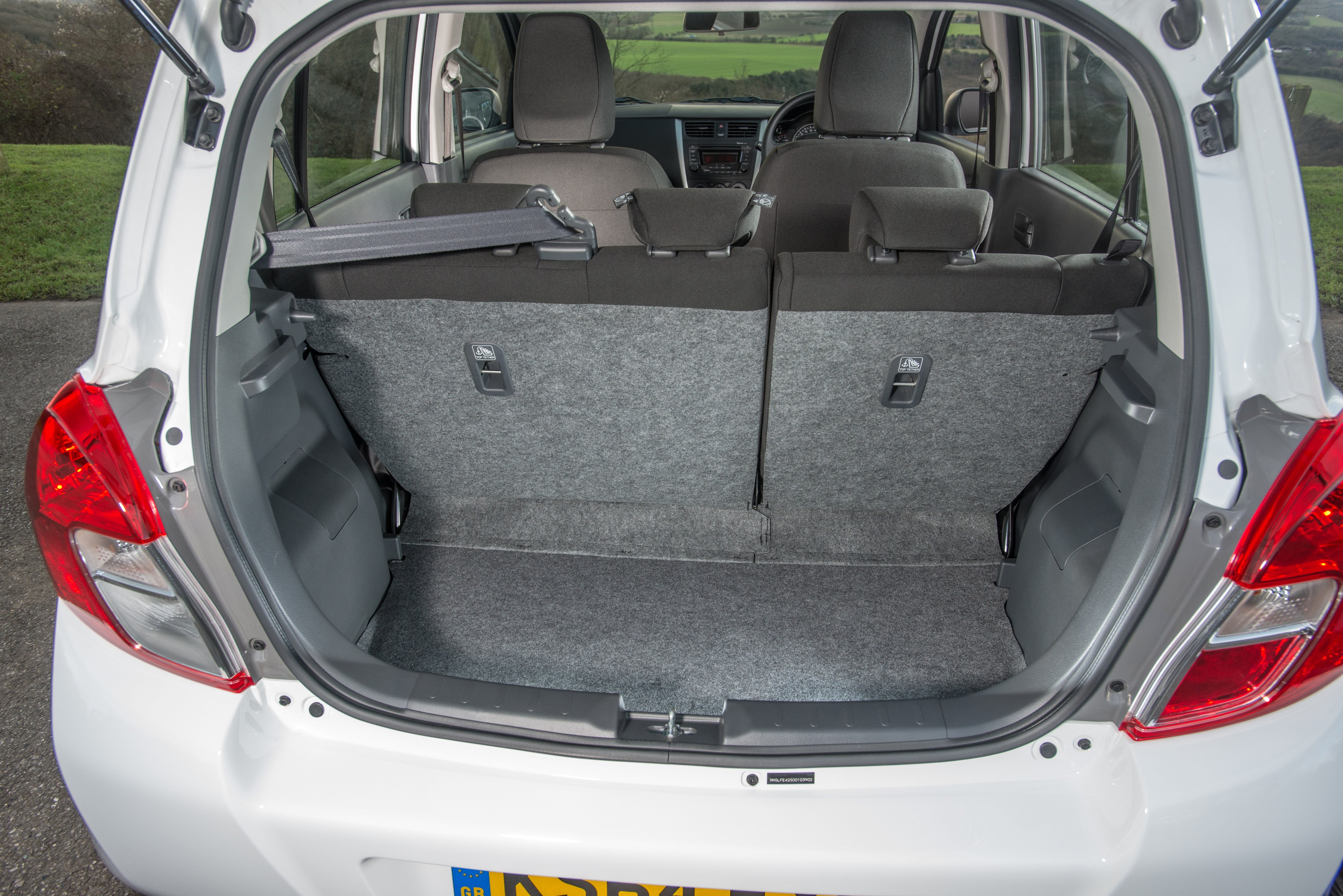 Go for the Dualjet version however and the combined figure jumps to 78.4mpg, an improvement of more than 10 per cent. That should translate to real-world driving too, so 60mpg and more should be achievable without having to try too hard, making the Celerio one of the most fuel-efficient cars in the class.
Insurance groups and costs
Cars like the Celerio are aimed squarely at new drivers (as well as the cost-conscious) and it scores relatively well on insurance groupings, with all versions dropping in to group 7. That's not quite as low as some of the competition though, mainly because it doesn't offer quite as much in the way of safety systems, something which insurers do take into account. It also shows that the insurance group is the same regardless of spec, so you might as well go for a higher-spec SZ4 and get the better Dualjet engine too.
VED car tax
Because both engines fall under the important 100g/km CO2 barrier, you can enjoy zero VED costs - if your car is the right age. The rules changed on 1st April 2017, so either version of the Celerio registered before this date qualifies for the zero VED rate. However, cars registered on or after 1st April 2017 have to pay £150 a year - so it's worth doing some sums to calculate if it makes more sense to look at a slightly older car and save yourself £150 a year.
How much should you be paying for a used Celerio?
"The Suzuki Celerio has been modestly successful in the UK, so you will have a reasonable choice of examples to look at but not as many as rivals like the Toyota Aygo or Skoda Citigo."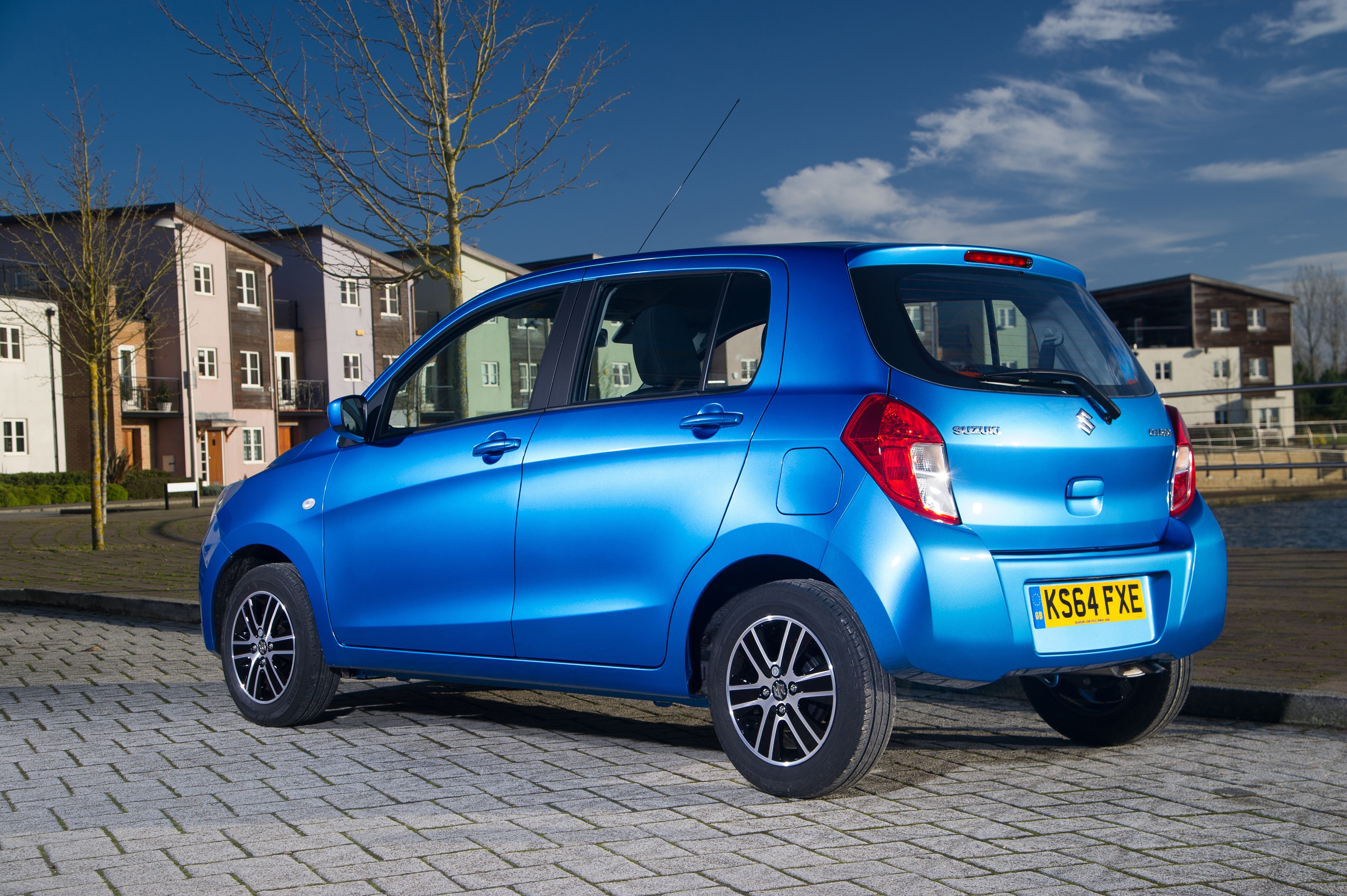 A quick search of the HeyCar classifieds revealed several examples of cars that were still only carrying delivery mileage or close to it, and still with a generous balance of manufacturer warranty. We found a number of Dualjet SZ3s with under 500 miles for around £7,500.
At the other end of the scale, the earliest 2015 cars are now down to around £4,000. The cheapest Celerio we found was a 2015 SZ2 model, still with less than 40,000 miles at just over £4,000.
Trim levels and standard equipment
At launch the Celerio was available only in SZ3 and SZ4 trim. The standard specification was impressive, while the SZ4 added alloy wheels, a pair of extra audio speakers, electric door mirrors and electric rear windows - so a worthwhile upgrade if the price difference is minimal.
In 2015 Suzuki added a low-price SZ2 model to the range, but still included electric front windows, ESC and a DAB radio with CD player. Later the same year the City model was also introduced, based on the SZ2 and adding alloy wheels, rear parking sensors and black exterior details.
We would suggest going for either the SZ3 or SZ4 models - there's not much to choose between them on specification, but only these trims can be specified with the Dualjet engine which is worth the upgrade.
Suzuki Celerio cars for sale on heycar
952
Number of cars available
£5.1K - £10K
Price bracket of these cars
Colours available on heycar
Keep me updated by email with the latest advice, news and offers from heycar
By submitting, you agree to our
privacy policy
.