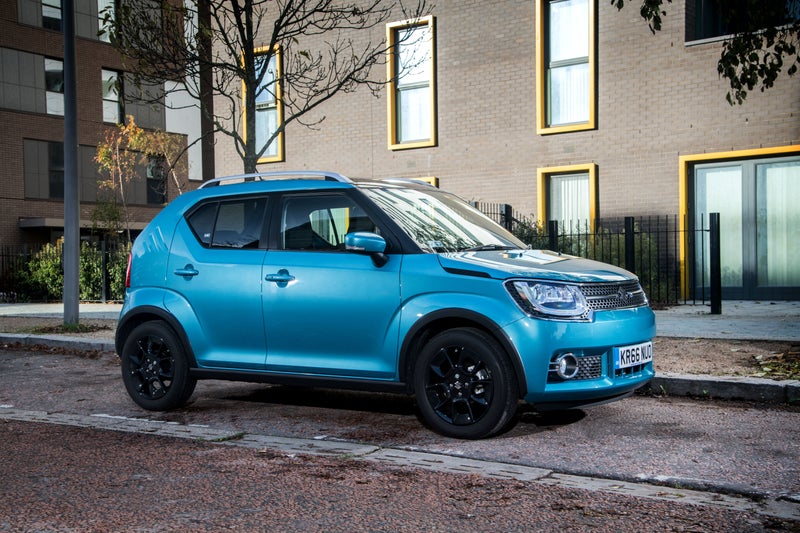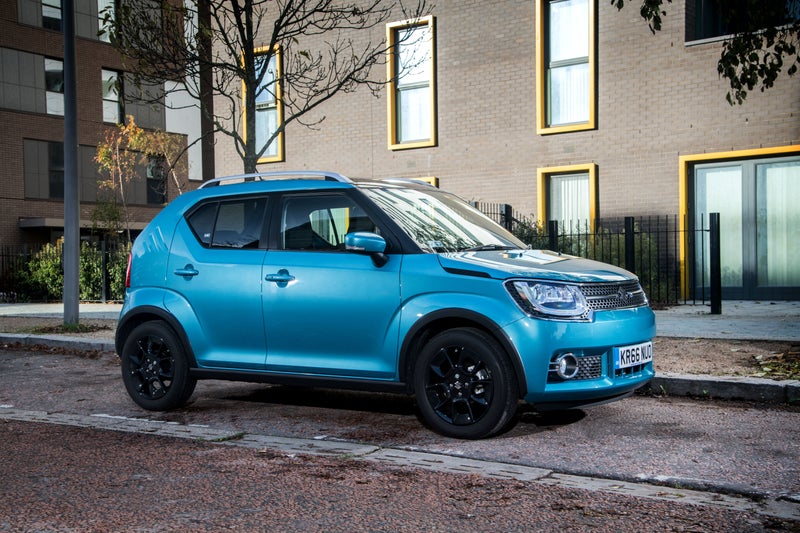 1/10
heycar rating
"Pseudo SUV for the city"
Launched: 2017

City car

Petrol
Quick overview
Pros
Interesting design inside and out
Low running costs
Good standard specification
Cons
Some cheap-feeling interior elements
Top models expensive
Ride upset by some surfaces
Overall verdict
On the inside
Driving
Cost to run
Prices and Specs
Common questions
Overall verdict on the Suzuki Ignis
"There's a lot to like about the Ignis, not least because it's something a bit different. It looks great, is well specified, decent to drive and should be cheap to run too. It's not as classy or as nicely finished as some rivals and gets expensive if you choose the wrong spec, but it's a good choice if you don't want to follow the herd."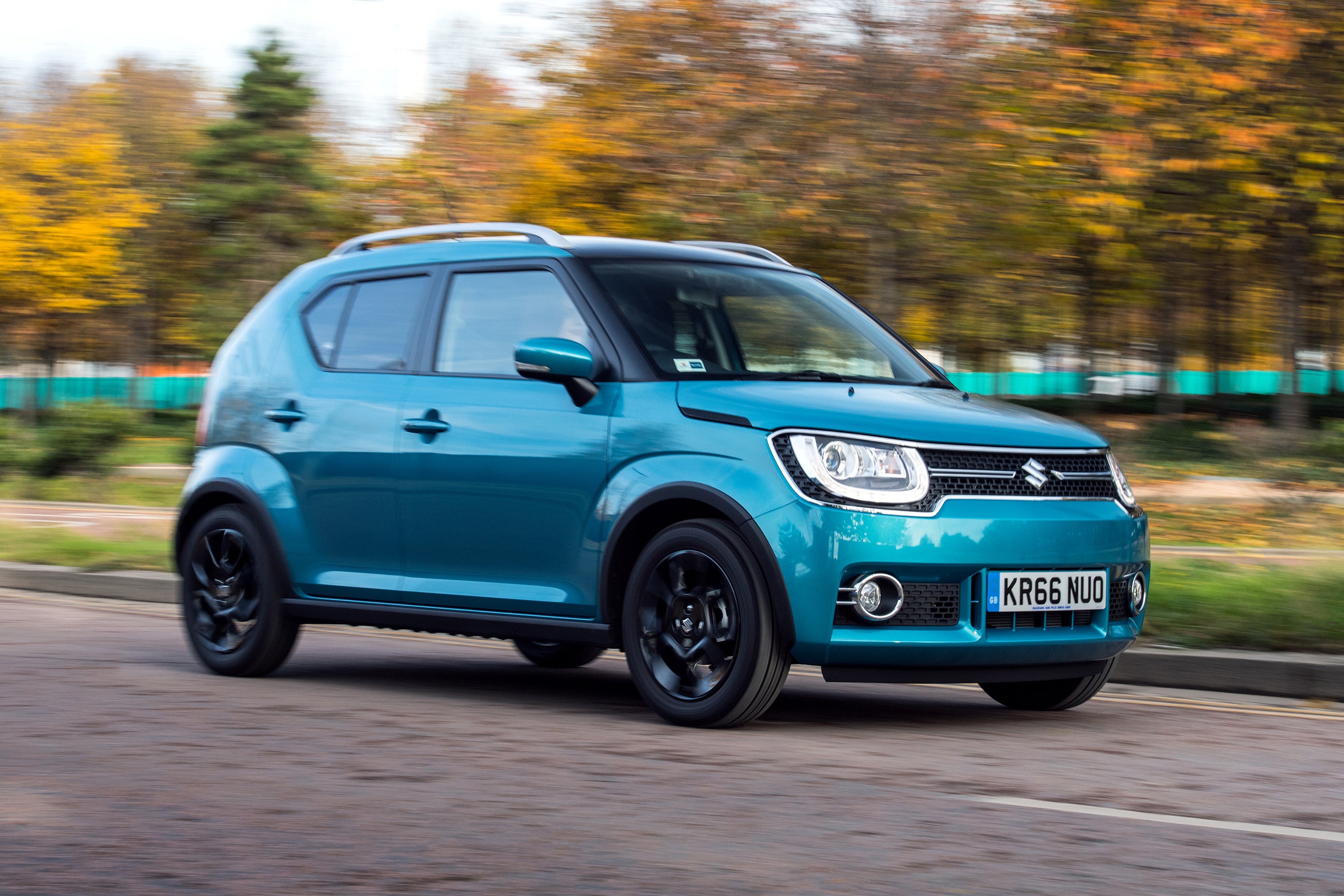 Suzuki is a brand that has concentrated on smaller cars in recent years, and enjoyed a good deal of success with the excellent Swift in particular.
In the city car class it previously offered the Celerio, which majored on value and equipment but lacked much in the way of style or driver appeal. Suzuki took a different approach with the introduction of the Ignis, which is somewhere between a city car and a crossover SUV.
The dimensions certainly qualify it for the city car class. Being exactly 3.7 metres long it is just 10 centimetres longer than a Volkswagen Up, and at 1.7 metres wide it's certainly narrow. Where the Suzuki Ignis differs from pretty much every other city car in the class is in its height. It might be more of a crossover than a proper SUV, but it gives the kind of upright stance and improved view out that makes this type of car so appealing to buyers.
The Ignis also makes a much stronger style statement than the more conventional Celerio, and taps into the current fashion for SUVs with its chunky styling, higher than average ride height and bold detailing. More importantly however, the Ignis actually offers SUV-like space, at least for a car of this size anyway. Thanks to the tall body it can fit four adults with ease and comfort, and the boot space is right up with the best in class.
The engine options for the Ignis are straightforward - there's a single 1.2-litre, four-cylinder petrol engine in two different guises although the power and torque outputs are identical at 90PS and 120Nm of torque. The standard Ignis 1.2 has Dualjet technology that has two injectors per engine cylinder for maximum efficiency, and alongside this Suzuki offers an SHVS version - a mild hybrid that harvests lost energy under braking and uses it to boost acceleration at low speeds for better performance and enhanced fuel economy.
On the inside, the Ignis provides an impressive amount of space for a car of this size. The tall body comes to the forefront here, as it means excellent headroom for both front and rear seat passengers. Legroom isn't quite as generous in the back, but this is a small car that can take four adults comfortably.
To drive, the Ignis is relatively good fun, if not exactly flawless. Most importantly it's great in town, where its compact dimensions and lack of weight make it highly manoeuvrable and easy to park.
The ride quality is good in most conditions too, with a suspension setup designed primarily with comfort in mind. Occasionally it is caught out by sharper bumps, but it's well up with key rivals in this respect. Both engine options offer useful performance too. The SHVS version is a fraction quicker and more frugal but it's not necessarily worth the extra cash.
The Ignis puts a kooky spin on the city car formula, and although its SUV-like approach won't suit everyone it will also attract buyers who fall for its unusual charms and won't want any of the more conventional alternatives.
Is the Suzuki Ignis right for you?
The Ignis is as capable in the city as anything else in the class, and with its generous passenger space it is a sensible choice if you need a small car that can regularly carry four people. It also has an extra string in its bow with the option of four-wheel-drive, although this means it can tackle a muddy field rather than traverse the Alps. It's also an appealing choice for new drivers, with distinctive looks and a strong standard specification.
If you regularly plan to travel long distances or hit the motorway frequently, you might want to choose an alternative with a bit more refinement however, and if you want a city car that's as good to drive as it is to look at, you probably need to take a look at one of the Up/Citigo/Mii triplets.
What's the best Suzuki Ignis model/engine to choose?
Such is the strong engine range and good specification offered on the Ignis, you can't really make any bad decisions here. The entry-level SZ3 Ignis comes with a lot of the key equipment that you might want, including ESC, air con, LED daytime running lights, and a DAB audio system with USB input.
However, we'd suggest going for the mid-range SZ-T, which adds alloy wheels and a touchscreen system with Apple CarPlay and Android Auto, but also switches the fixed rear bench (with three seat belts) for a two-seat arrangement but with sliding rear seats, so you can adjust the space for passengers and increase the luggage area easily. The top-spec SZ5 takes this a step further with climate control, cruise control and a reversing camera, but there is little here that you'll miss if you go for the SZ-T instead.
As for the engine options, even though the hybrid is a little quicker and more fuel efficient, it also requires a premium of around £1500 to get it. The All-Grip four-wheel-drive option might also be useful if you regularly cover difficult terrain, but for most people it's not worth the extra £1000 either.
What other cars are similar to the Suzuki Ignis?
Because the Ignis is something of an oddball in this sector there are few cars that really qualify as direct rivals. Fiat's diminutive Panda is available as a Panda 4x4 and costs similar money, and although it's a good car it's feeling its age and is quite cramped inside.
Of the more mainstream alternatives, the Toyota Aygo, Peugeot 108 and Citroen C1 are big on value and equipment, while the Skoda Citigo and SEAT Mii are classier alternatives - although only the Volkswagen Up is still available to buy new with a petrol engine rather than electric.
Comfort and design: Suzuki Ignis interior
"Just like the Suzuki Celerio, an older stablemate of the Ignis, a high body is a real bonus when getting in or out of a car."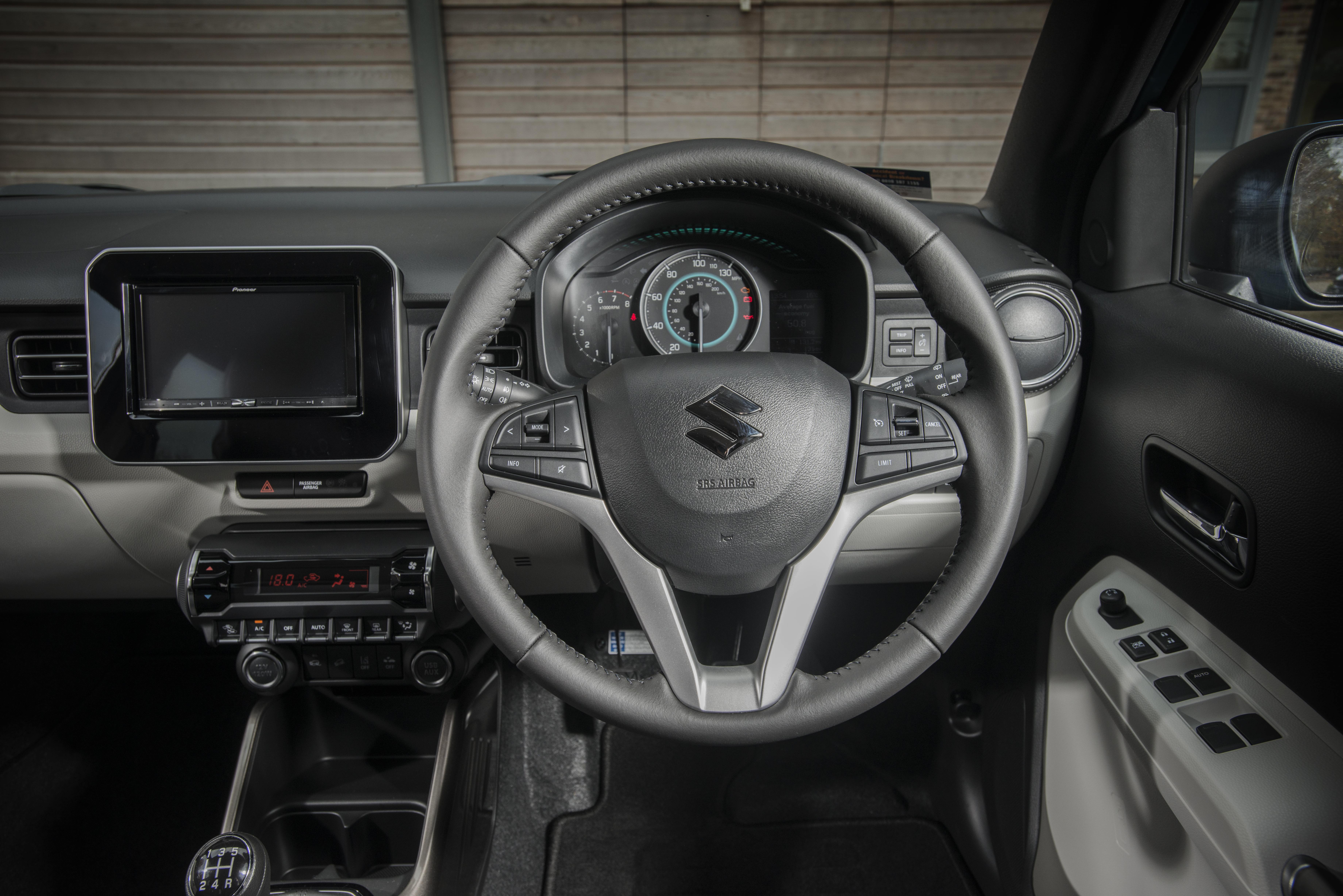 Like bigger SUVs, a slightly raised seating position and a taller roof mean you don't have so far to duck down to get into the seat, which is good news however old you might be. Once in the driver's seat there is a good amount of adjustment for the steering wheel and seat itself, although the basic SZ3 models doesn't have height adjustment for the driver. Like almost every city car there's no reach adjustment for the steering wheel either.
The seats themselves offer a reasonable level of comfort for most shapes and sizes, although in terms of support they are a little lacking. There's not much in the way of side bolsters, so anything approaching enthusiastic cornering will get you lolling around somewhat.
Another plus point of the squared-off design and SUV-light approach is a good view out for the driver. The windscreen is generously sized, and although the rising window line towards the rear does cut down the over-shoulder view a little, the compact nature of its dimensions means it's easy to judge where everything is when it comes to parking up.
The layout of the cabin is also refreshingly straightforward, with the audio system (depending on specification) set high up on the dash, with ventilation and minor controls set below - in truth it would have been more convenient for these to be set higher up on the centre console.
Quality and finish
Climb into the cabin of the Ignis and the initial impressions are good. It looks pretty smart in here, with a two-tone finish to the dash that feels like a step above the usual uniform grey finish, and particularly in SZ-T and SZ5 models with the touchscreen infotainment system the interior gives off quality vibes.
Get a bit closer however and it becomes clear that the materials aren't quite as fancy as they first appear. Although the steering wheel and gear lever are leather-wrapped on SZ-T models and above, most of the materials are actually quite hard to the touch and do not feel particularly substantial, which takes some of the shine off the interior.
Suzukis generally offer a good standard of build quality and reliability, and although the Ignis appears to be well-built, the fact that some of the cabin materials are a little flimsy as well as cheap-feeling suggests they might not last as well as you would hope. There are a number of optional upgrades to the cabin too, but they are added colourisation rather than adding anything of substance to the mix.
Infotainment: Touchscreen, USB, nav and stereo in the Suzuki Ignis
The entry level SZ3 Ignis still has a decent specification infotainment system, which includes an FM/AM radio with DAB and a USB input as well as Bluetooth for phone connectivity and audio streaming. Move up to the SZ-T or SZ4 models and this is upgraded to a 6.2-inch touchscreen system that includes both Apple CarPlay and Android Auto as well as Bluetooth, with additional controls on the steering wheel for the major functions.
In the SZ3, the system has an old-fashioned digital display which can make flicking through DAB stations or streamed music a bit of a faff, although having physical buttons to press can also be the better option at times.
The touchscreen system looks quite fancy but can be fiddly to use on occasion. Pair it up to your smartphone and it works well enough, replicating the functions of your phone and being easy to control. If you use the system's internal functions however, including the sat nav, it's less impressive, with the occasional lack of response when you tap the screen and a mediocre screen resolution. Even so, once you've actually got the system doing what you want, whether that's playing audio or connecting to your phone it works well enough, so while it might occasionally frustrate it does still provide the functions it promises.
Space and practicality: Suzuki Ignis boot space
This isn't the first car Suzuki has had in the city car class, and like its predecessors the Ignis makes the most of its footprint on the road by building upwards. All city cars are up against the same conflicting need to be small on the road and big inside, but the Ignis does a pretty good job on both fronts. Up front, adults of all sizes should find there is enough head and legroom, even if the lack of reach adjustment on the steering wheel means the tallest drivers may find their view of the instruments slightly hampered.
In the rear it's also impressive, big enough for adults to travel in reasonable comfort. If you go for a SZ3 model you get bench rear seat that has three seat belts, although you would do well to get three normal-sized adults across the back. SZ-T and SZ4s have a more sensible option, with a rear seat designed for two with a pair of seat belts and the option to slide them forwards or backwards to increase the amount of legroom or boot space. Taller adults may start to feel a little cramped, but it is a realistic prospect to travel four-up on a regular basis.
Head for the boot and there's more good news, as the Ignis offers up a handy 260 litres of space with the rear seats in place, a little more than most of its rivals. That increases to 514 litres when you fold the rear seats which is quite a bit less than the competition, and the design of those seats means they don't fold completely flat. It's also worth noting that should you go for the AllGrip four-wheel-drive version the boot is smaller by 60 litres because of the extra hardware required.
Storage space in the cabin is good though, with reasonably-sized door pockets that can hold a water bottle, four cupholders dotted around the cabin and a glovebox that can hold more than just a pair of gloves.
Handling and ride quality: What is the Suzuki Ignis like to drive?
"It might be hard to take the Ignis seriously as an SUV, but take a drive in one and you can see that it's more than just a visual thing."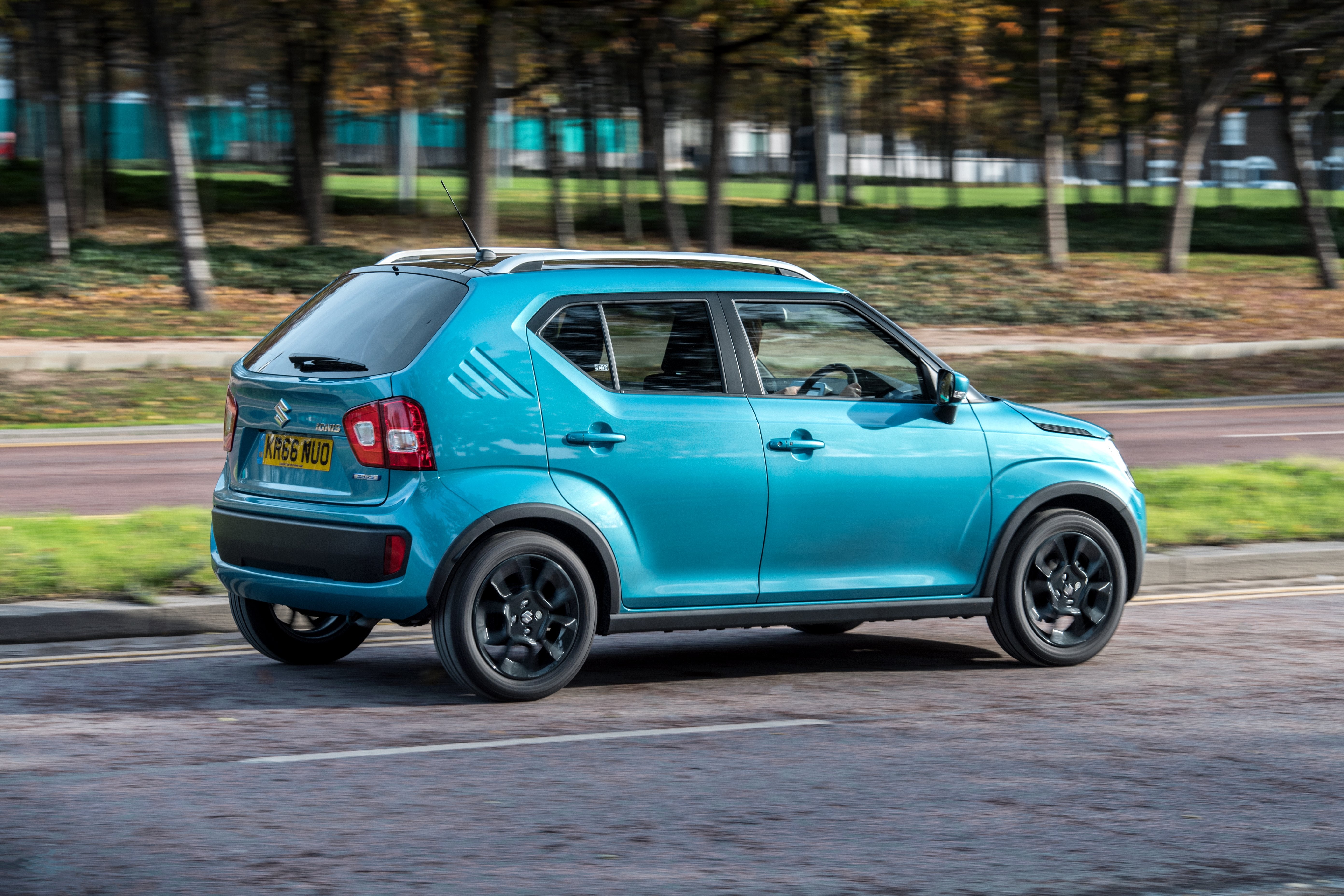 Given a relatively soft suspension setup, the Ignis is clearly designed to deal with poor road surfaces as a priority, and on this front it does a good job - most of the time. It manages to filter out much of the typical grainy mess that makes up urban road surfaces, it is just the occasional bigger imperfection that the Ignis struggles to cope with, resulting in a noticeable thud resonating through the cabin. For the most part however, the Ignis is in contention with the main players in the segment.
With quite a tall body and that soft suspension, it should come as no surprise to discover that the Ignis rolls quite a bit when you start to corner at speed. Not alarmingly so - there's never any fear it's going to turn turtle, but you're aware of its height and that isn't the ideal thing for going around corners. Matters aren't helped by the steering, which is accurate and plenty quick enough but lacks any real feel and can appear a little dead in your hands.
That said, there's still fun to be had in punting the Ignis around simply because it is so short, light and happy to change direction. There's also plenty of grip, so you need to become a bit of a hooligan before it gets out of hand.
If you have designs on the AllGrip version being some kind of cut-price Audi Quattro, forget it. There's not enough performance here to really trouble the amount of traction available, so you're better off saving money, weight and boot space.
What engines and gearboxes are in the Suzuki Ignis
The Ignis's 1.2-litre engine almost seems a little old hat now as it does without a turbocharger, but in fact Suzuki are a little ahead of the curve by using other methods to boost the performance and efficiency of its engines.
The standard 1.2-litre unit has Dualjet technology, which in simple terms means it has a pair of fuel injectors per cylinder instead of the usual one, allowing more precise control and increasing efficiency. The other option is called SHVS, which is a mild hybrid system. It harvests energy that would otherwise be lost during braking and stores it in a small battery pack, and this energy is then used during acceleration to boost torque levels. Mild hybrid means it is a system with limited power, not enough to drive the car on battery power alone, but it does increase performance without using any additional fuel.
Both engines offer genuinely useful performance. No one expects a car of this size to be rapid, but there is useful acceleration available without having to thrash the engine from a standstill. As for choosing between the two units, the mild hybrid does offer slightly improved acceleration and better fuel consumption but does cost more than £1,000 extra when buying new.
The standard five-speed gearbox is an able companion too, with a positive shift action that is accurate and easy to use. Suzuki also offers the Ignis with a five-speed automated manual shift, but unless you really need an auto we'd stick with the regular manual.
Refinement and noise levels
Thanks in part to the modern engine design the Ignis offers competitive levels of refinement, even at higher speeds. In town the engine is audible but never intrusive, and even at higher speeds it is usually a background thrum rather than anything more significant or bothersome. In fact, the engine has a pleasing, eager sound to it.
Road noise is also largely kept in check, regardless of how fast you're going. In town you'll not notice any kind of hum coming from the tyres, largely due to the fact that they are quite narrow in profile. Get up to speed on dual carriageways and motorways and the volume increases - not helped by the fact that the interior lacks a great deal of substance.
More of a factor is wind noise, which is a downside of the Ignis's bulky and bluff design. Once again, low speeds are not much of a problem but at out of town speeds you can hear the wind whipping around the windscreen and the door mirrors, with the only solution to slow down. Overall, the Ignis is a little less refined than the better cars in the class, but this only really becomes an issue at higher speeds.
Safety equipment: how safe is the Suzuki Ignis
Euro NCAP tested the Ignis when it was launched in 2017, and was awarded two scores depending on the level of equipment. The standard version scored three stars overall, with an adult occupant score of 79 per cent, child occupant score of 79 per cent, a pedestrian mitigation score of 67 per cent and a low safety assist score of just 25 per cent.
The version with the safety pack, which adds automatic emergency braking among other features, scored 87 per cent for adult protection, 79 per cent for child protection, 77 per cent pedestrian mitigation and a much-improved 60 per cent for safety assist.
As standard, all Ignis models are fitted with six airbags - driver and passenger plus side and curtain airbags, but there is no knee airbag for driver or passenger. There are two Isofix points in the rear seats, plus seatbelt pre-tensioners and load-limiters for front seat passengers.
ESC is standard on all models, while the safety pack is standard on the top SZ5 models but optional on the rest of the range. It includes automatic emergency braking, including pedestrian detection, a speed limiter and lane departure warning, and to achieve the five star Euro NCAP rating this pack is required. Go for the AllGrip option and the Ignis also comes with hill descent control, which is a useful additional feature if you regularly need to travel off-road.
MPG and fuel costs: What does a Suzuki Ignis cost to run?
"Both versions of the Ignis should be cheap to run, thanks to a combination of light weight and modern, efficient engines. Both versions of the Ignis have the same combined fuel consumption and CO2 figures under the more strict WLTP rules - 51.4mpg and 117g/km of CO2."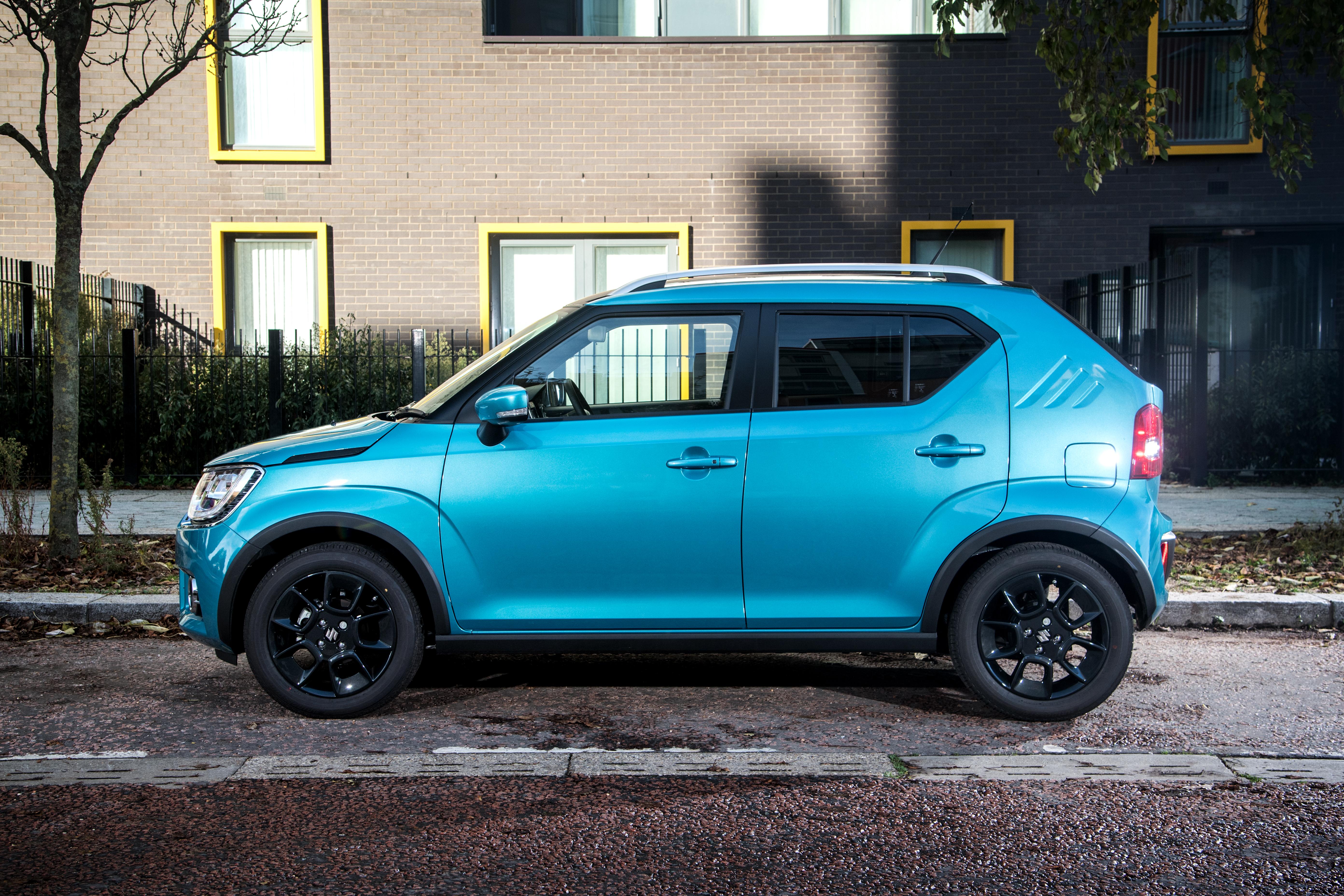 However, with the hybrid version offering additional torque it should deliver better fuel consumption in the real world than the non-hybrid version - but you're guaranteed a saving if you don't pay the extra in the first place.
Insurance groups and costs
One area where the Ignis falls down compared to much of the competition is in car insurance costs. The cheapest version of the Ignis - the non-hybrid SZ3 and SZ-T - are in group 15, hybrid versions are in group 17 and the AllGrip hybrid is in group 18. Many of its city car rivals are comfortably ten groups lower, so if you are in a demographic that has to endure high insurance premiums, the Ignis is going to cost you extra for the privilege. It may well also make it unsuitable as a car for newly-qualified drivers.
VED car tax: What is the annual road tax on a Suzuki Ignis?
The very earliest versions of the Ignis will have been registered just before the rules changed for VED and the 100g/km CO2 threshold became less meaningful, so if you manage to track down one of these early cars you can have an annual VED bill that is just £20 or even zero. However, most cars were registered after this date and of course all new examples will pay the higher rate too. Expect to pay £150 per year for most models.
How much should you be paying for a used Suzuki Ignis?
"As the Ignis is still on sale as a new car, it's quite easy to find pre-registered examples if you don't fancy the trouble of ordering yourself one. A quick search of the HeyCar classifieds turned up hundreds of examples, in a variety of specifications and colours, and with just a handful of miles on the clock. We found an Ignis in SZ3 spec with delivery miles for bang on £10,000."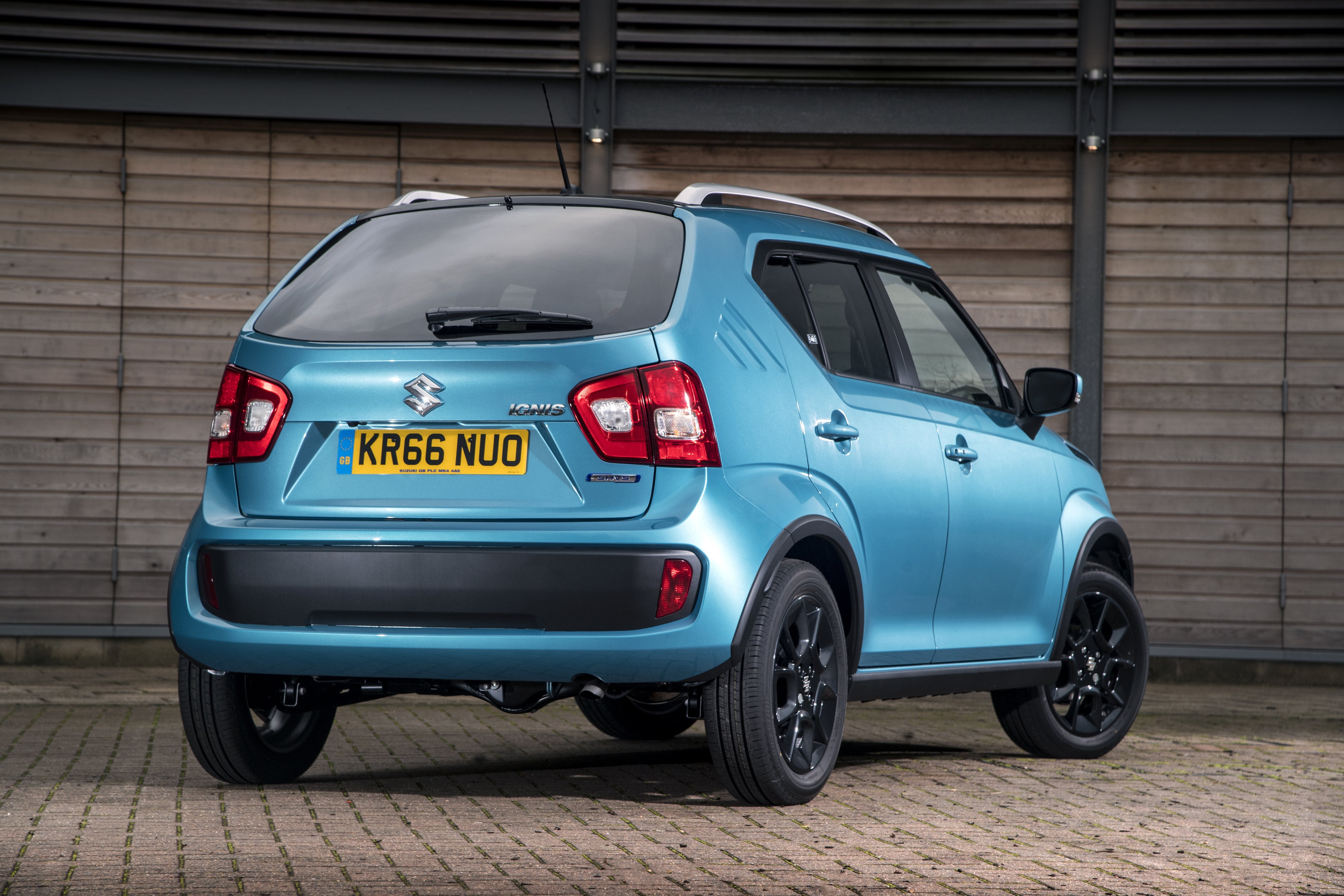 As for older examples, the earliest 2017 cars should still be in good health, and are available for around £7,000. The HeyCar classifieds turned up a 2018 car with only 8,000 miles, in SZ-T specification for £6,500, a significant saving on a car that is still short of 10,000 miles.
Trim levels and standard equipment
There's no shame in choosing the basic SZ3 trim for the Ignis. It includes the basic essentials such as air con but also a few more of the useful extras like Bluetooth, DAB and daytime running lights.
Pick of the range however is the SZ-T model, which introduces the touchscreen infotainment system - no, it's not perfect, but crucially it adds Apple CarPlay and Android Auto, which is a must-have for modern drivers. It also includes the sliding rear seat, which for most people will be more useful than the three-seat rear bench on the SZ3.
If you're buying new we'd suggest skipping the hybrid version as the cost isn't outweighed by the potential fuel saving. On used cars however, you may find a hybrid example costs little more than an equivalent non-hybrid. We'd also suggest that, unless you regularly need to cross farm tracks or venture into fields, the AllGrip four-wheel-drive system isn't worth the extra expense, nor the loss of boot space.
Ask the heycar experts:
common questions
Is the Suzuki Ignis a good car?
It certainly looks different, and it also offers low running costs and has good standard specification.

Answered by
heycar editorial team
Is the Suzuki Ignis worth buying?
There's no doubt that it has some cheap-feeling interior elements and the top models are expensive, it also has fairly high insurance costs.

Is the Suzuki Ignis good for long journeys?
While the Suzuki Ignis is primarily a city car, it's certainly comfortable enough. But if you're really going to be clocking up the miles at motorway speeds, you might find living with that 1.2-litre engine a bit stressful.

Suzuki Ignis cars for sale on heycar
965
Number of cars available
£8.4K - £20K
Price bracket of these cars
Colours available on heycar
Keep me updated by email with the latest advice, news and offers from heycar
By submitting, you agree to our
privacy policy
.