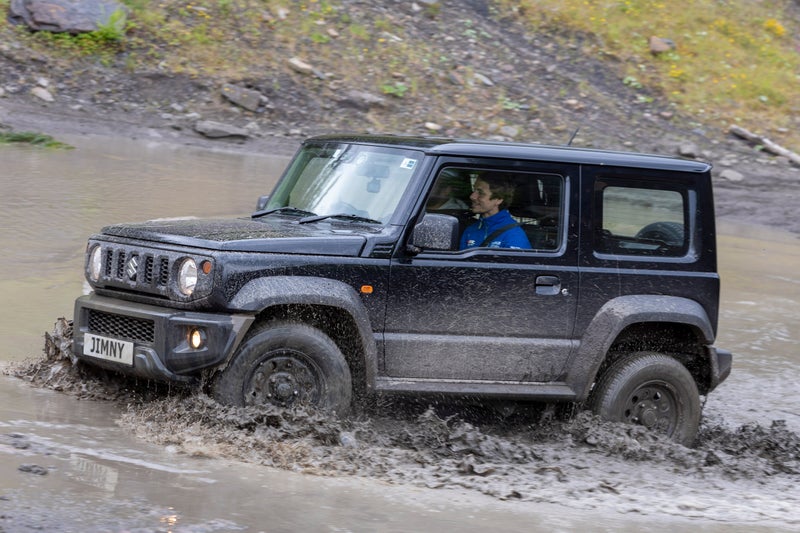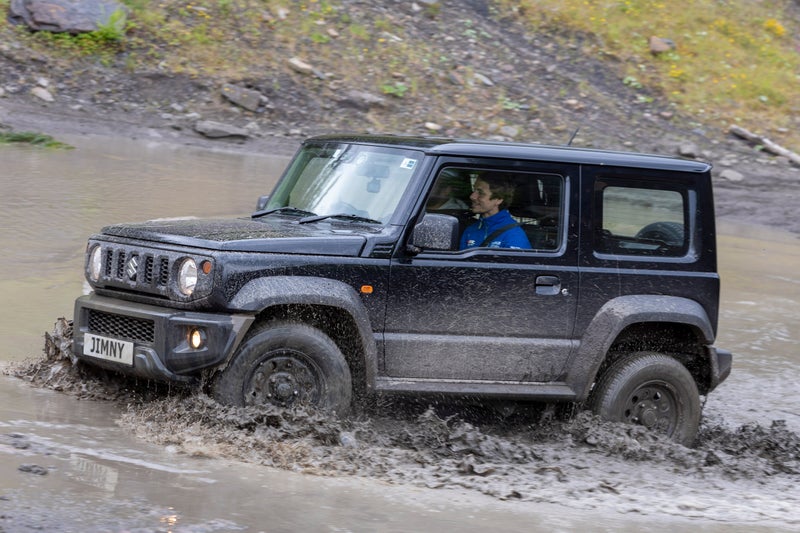 1/10
heycar rating
"Rubbish (in a good way)"
Quick overview
Pros
Quirky and characterful little 4x4
Very capable off road
Maintenance costs should be low
Cons
Now strictly a two-seater
You'll pay a premium for one
Hilariously bad to drive on the road
Overall verdict
On the inside
Driving
Cost to run
Prices and Specs
Common questions
Overall verdict on the Suzuki Jimny
"The Suzuki Jimny is a flawed 4x4 that sells in small numbers. It's cramped, unrefined and – from 2021 – only available with two seats. Despite that, buyers are happy to pay a premium for one of the trendiest off-roaders on sale today."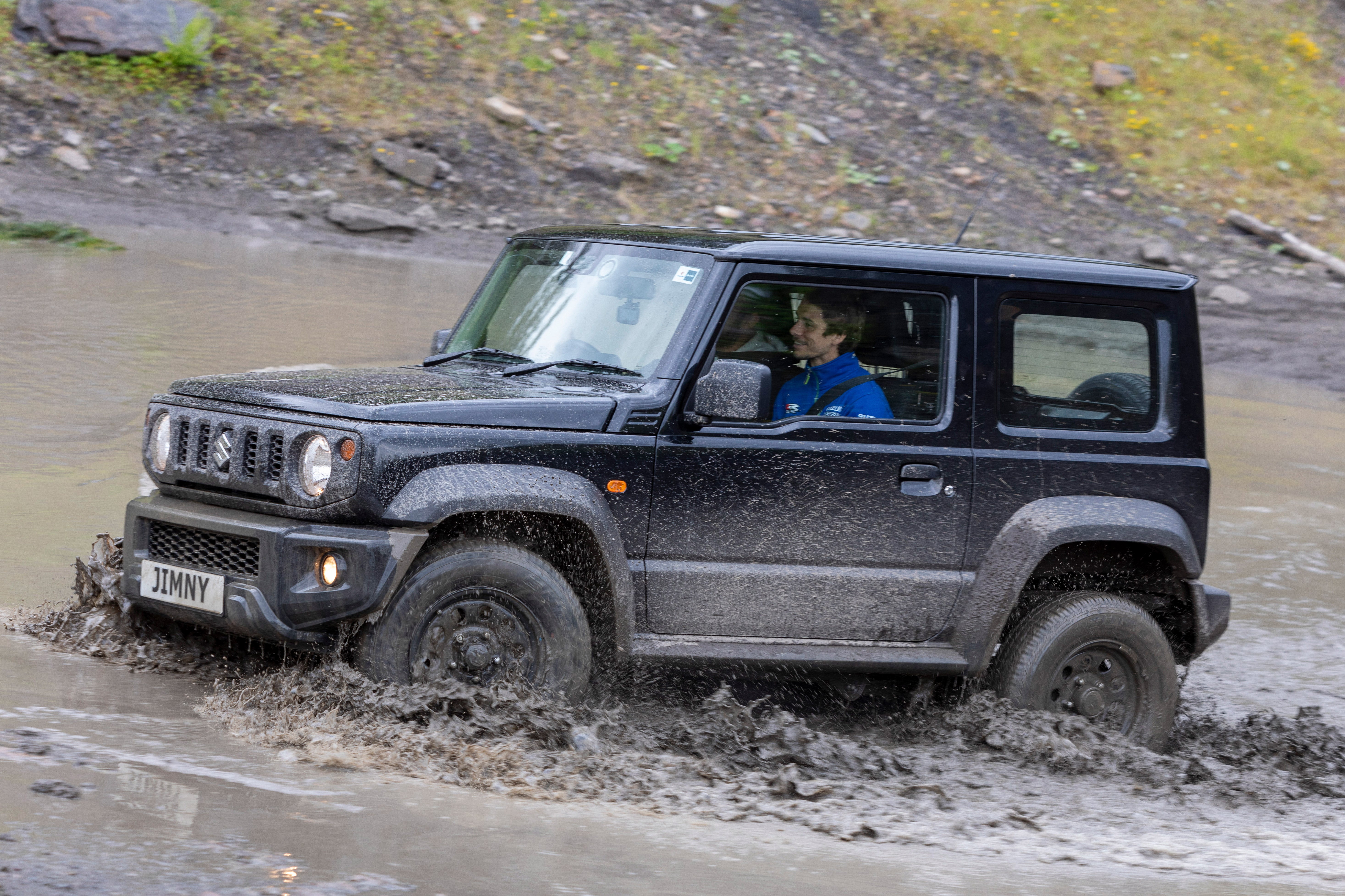 The latest Suzuki Jimny SUV is a victim of its own success. As soon as it was revealed in 2018, buyers were falling over themselves to register their interest in the boxy off-roader. The minute it arrived in the UK, speculators were flipping them for profits like a rare Italian supercar. And then Suzuki took it off sale.
One of the best 4x4s going, the Jimny is an old-school off-roader with the carbon footprint of an avocado – which, unbelievable, produces the same CO2s as half kilo of bananas. Without any hybrid technology, Suzuki can't afford to sell anywhere near as many as buyers would like; doing so would cost the brand a fortune in fines for failing to meet emission targets.
Suzuki confirmed that its quirky off-roader would be axed from the range in 2020. It came as the carmaker aimed to hybridise its model line-up and meet CO2 emissions regulations.
The future of the compact 4x4 was already up in the air after Suzuki UK said it would only be sold "in very limited numbers throughout 2020". The brand confirmed that "once existing and limited number dealer allocations to customers are fulfilled over the next 4-5 months", it will be axed from the range.
Non-electrified variants of all Suzuki models have been phased out and the Jimny is no longer available to order from new. This is mostly due to the adverse effect it has on the brand's fleet average CO2 emissions. Even the cleanest Jimny produces 154g/km of CO2 - which is well above the 95g/km fleet average Suzuki needs to meet.
However do not despair. Because after a brief hiatus, the Jimny returned to showrooms in 2021. It's now strictly a two-seater, badged the Jimny LCV (Light Commercial Vehicle), meaning it has to comply with less stringent emission regulations. Suzuki is still limiting sales, though, with each dealer allocated just two or three examples each year. This makes the £19,999 list price rather redundant – we've seen nearly-new examples changing hands for closer to £30,000.
The passenger-carrying Jimny and the commercial model are pretty much identical to drive. It's flawed, with a ladder-frame chassis (like an old Defender) meaning it ping-pongs down the road with all the precision of a drunken goose. There's just one engine available: a 1.5-litre petrol that produces just 101PS. An automatic gearbox was briefly offered with the four-seat Jimny, but most used examples feature a five-speed manual transmission.
What it lacks in on-road dexterity, it makes up for in off-road ability. Selectable four-wheel-drive is standard, as well as a low-range gearbox (great for low-speed technical manoeuvring) and hill-descent control. Extreme off-roaders will bemoan its lack of ground clearance, but the Jimny measures just 1645mm wide and this means it'll squeeze through narrow farm gates that'd leave a Land Rover owner wincing for their bodywork.
The Jimny was initially offered in SZ4 or SZ5 trim levels. We reckon the SZ5 is the one to go for, as it comes with desirable features like heated seats, a seven-inch media system and fancy LED headlights. Some prefer the more utilitarian look of the SZ4, though, with its steel wheels and black exterior door handles. Indeed, later models remove the element of choice – the Jimny LCV is based on the SZ4, with spec highlights including air conditioning, DAB radio and cruise control.
No matter which trim you choose, the interior is about as luxurious as a mountain bothy. There are lots of hard plastics that feel like they'll outlast the apocalypse, while the seats are back-to-basics affairs. It's pretty cramped in there, too. Adults will be OK in the front, while kids will put up with the rear seats for the fun factor. With the back seats in use, though, you won't even fit a couple of shopping bags in the boot.
That's why, in some ways, the Jimny makes more sense as a commercial vehicle. With the rear seats removed, you'll find a large boot with a flat floor and a 863-litre capacity. The LCV model also comes with a steel partition in front of the load area – great for keeping you safe from whatever you may be carrying, but not so great if you're more than six foot tall and need plenty of adjustment in the driver's seat.
Most people will be better looking elsewhere. Bigger off-roaders like the Land Rover Defender, Mercedes-Benz G-Class and Jeep Wrangler are all more practical, more comfortable and easier to drive. Alternatively, the Suzuki Vitara is a reliable crossover SUV that's available with four-wheel drive, while the Dacia Duster is an affordable alternative that's surprisingly capable off-road. There's nothing else quite like a Jimny, though – and high demand means you won't lose a lot of money if you decide it's not for you.
If you're looking for the older version, you need our Suzuki Jimny (1998-2019) review. Alternatively, read our first drive review of the Suzuki Jimny Commercial.
Is the Suzuki Jimny right for you?
It's easy to get charmed by the Jimny's cutesy appearance and, on the face of it, it might not offer bad value for money (certainly compared to bigger off-roaders like the Land Rover Defender). But it takes a sense of humour and surprising levels of commitment to drive a Jimny every day, especially if you plan to cover long distances.
If extreme off-roading isn't on the cards, most buyers will find a more conventional crossover SUV like the Suzuki Vitara will do the job a lot better than the Jimny. It'll be better to drive, cheaper to run and you won't need to decide between your children or the weekly shop.
On the plus side, if you do fancy a Jimny, Suzuki is limiting the number sold in the UK and demand is showing no sign of dropping. That means you could buy one, run it for a year or two, and you're unlikely to lose a significant amount of money when you come to sell it. There aren't many modern cars we can say that about.
What's the best Suzuki Jimny model/engine to choose?
Engine choice is easy as there's only one: the 1.5-litre petrol. Whether you should look for one with the manual or automatic gearbox comes down to personal preference, but we think the manual transmission suits the mechanical nature of the car. Besides, the four-speed automatic torque-converter gearbox isn't exactly civilised.
There are two trim levels to choose from on the used market. There's something really cool about the SZ4 model with its steel wheels, CD player and primary colour pallet, but most buyers opt for the SZ5. This means there are more available, and you can get the SZ5 in funkier colours, too. Plus, it means you get navigation rather than having to rely on traditional maps (or a TomTom stuck onto the windscreen). From 2021, the Jimny is only available in LCV flavour, based on the SZ4.
What other cars are similar to the Suzuki Jimny?
There's nothing else quite like the Suzuki Jimny. In some ways, it's a scaled-down version of rugged off-roaders like the Land Rover Defender, Mercedes-Benz G-Class and Jeep Wrangler. You could also compare it to small SUVs like the Suzuki Vitara and Honda HR-V - these are better to drive, more comfortable, yet don't quite have the same amount of character. If you'd like a small SUV that puts functionality over style, you should also look at the Dacia Duster.
Comfort and design: Suzuki Jimny interior
"It's a functional cabin. You can operate all the buttons, switches and levers wearing gloves, and the pedals are far enough apart for you to wear boots or even wellies for driving."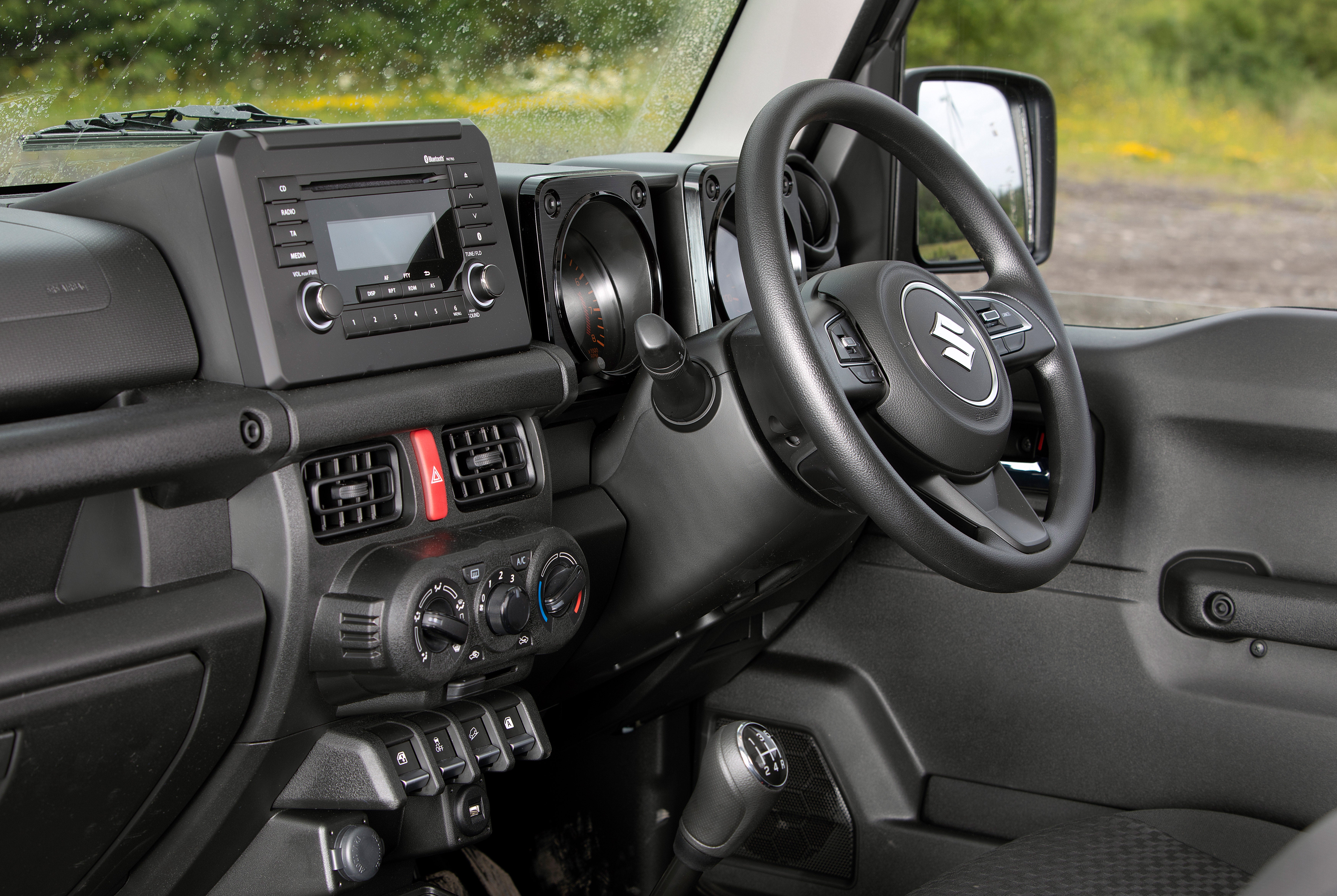 Most drivers will be able to find a seating position that suits. It's quite high up, while pulling a lever underneath the seat lets you slide the seat back and forth (although movement is limited on van models). The steering wheel can be dropped up or down, but it doesn't adjust for reach. This could be an issue if you've got long arms and short legs.
The seats themselves aren't exactly cosseting. They're quite firm, with a flat base and little in the way of side bolsters to hold you in place during cornering. There's no adjustable lumbar support, obviously, and you could well find yourself feeling a few aches after a long journey. That said, the heated seats on the SZ5 are a definitely nice to have.
The old-fashioned dials behind the steering wheel are easy to read (although would it have been too difficult for the speed to be displayed in 10mph increments?), and all the switchgear is pretty much where you'd expect to find it. The exception is the electric window buttons, which are down by the gear stick. You'll soon get used to that.
Quality and finish
If you plan to drive through a quarry at the weekend but need a car that looks presentable on Monday morning, carpeted surfaces and padded interior trim are a nuisance more than anything. The Jimny's cabin is functional yet little more.
There are hard plastics on the dashboard and door trims, designed to withstand harsh wear and tear while being easy to wipe down rather than look pretty. If you are looking for a taste of luxury from your AWD car then you may want to look elsewhere.
In the back, you'll find a lot of exposed metalwork finished in the same colour as the Jimny's exterior. Start to prod and poke around the cabin, and you'll soon come across exposed screw heads and hard edges.
It's not totally bleak. The leather-trimmed steering wheel (on SZ5 models) looks and feels pretty smart, as does the gear lever. There are some nice chrome interior trim highlights, too, which provide a small but much-needed lift in terms of style.
Infotainment: Touchscreen, USB, nav and stereo in the Suzuki Jimny
The infotainment system is probably the most appealing feature of the top-spec SZ5 model. It's a seven-inch system which does the job with little fuss. No, you don't get slick graphics or fast responses, but it does come with Apple CarPlay and Android Auto. That means you can connect your phone and mirror apps like Google Maps onto the car's screen display. This is useful as Suzuki's standard navigation system is a bit pants, frankly.
The display is positioned high up on the dash, which is great for glancing at while driving, although we'd appreciate some physical shortcut buttons rather than relying on the unresponsive touchscreen, which can get irritating when on the move - especially in a car as bouncy as the Jimny. At least you can do things like adjust the volume or skip tracks on the steering wheel, though.
Rather than the seven-inch touchscreen media display, SZ4 and Commercial models get a big slab of plastic in its place. In the centre of that is an old-fashioned CD player surrounded by buttons. This isn't an entirely bad thing - we like being able to use old-fashioned buttons to change the radio station, but you'll be relying on old-fashioned maps for navigation. Bluetooth is standard, as is DAB radio.
Space and practicality: Suzuki Jimny boot space
There's no tardis effect here: the Jimny's small on the outside and even smaller on the inside.
Things are OK in the front. There's plenty of headroom, although the Jimny's narrow dimensions (it measures 3.6m long and 1.6m wide) mean you'll get used to banging your arm on the (rather hard) door card.
The door bins are next to useless, although weekend adventurers will find you can just about fit a folded-up Ordnance Survey map in there. There are two cup holders between the front seats, awkwardly positioned for lifting up a cup of coffee without spilling it everywhere.
Getting into the back is tricky thanks to the Jimny's three-door body style. Kids will relish the challenge, though, and even adults will find it's surprisingly roomy once you get back there. Big windows and thin pillars mean it isn't too claustrophobic, either.
Legroom's a bit limited and most people won't be happy in the back of a Jimny for long journeys. It's strictly a four-seater - it doesn't make any pretence of squeezing an extra person in the middle rear seat. There are ISOFIX points for fitting a child seat, but access isn't the easiest.
With the rear seats in use, the Jimny's boot is comically small. Officially it'll carry 85 litres of luggage, which is a third of the Kia Picanto city car's capacity. In reality, most owners keep the rear seats dropped most of the time and use the Jimny as a two-seater.
The rear seats split 50:50 and can be folded really easily to provide an entirely flat floor. This leaves a usefully square boot, which can be protected by a rubber boot liner as an aftermarket accessory. Even with the rear seats dropped, the boot isn't huge - but then, this isn't a huge car.
From 2021, the Jimny is only sold as a van. You get more luggage room than a standard Jimny with the rear seats folded flat providing 863 litres of space. The Jimny van's load area measures 940mm long and 1295mm wide, which means it's suitable for professionals who need a compact 4x4 van that will, quite literally, go anywhere. If you are looking for more carrying capacity from your 4x4 then you may want to consider a pick-up truck.
Access to the boot is fairly easy via the side-hinged boot, although access could be tricky if you're parked close to other vehicles. Or a wall.
Handling and ride quality: What is the Suzuki Jimny like to drive?
"While you might expect the Jimny to be at home in the countryside, it's actually surprisingly fun in the city. Forward visibility is excellent, thanks to relatively big windows and thin windscreen pillars. You sit high up, while the Jimny's angular shape means you can easily see all four corners of the car."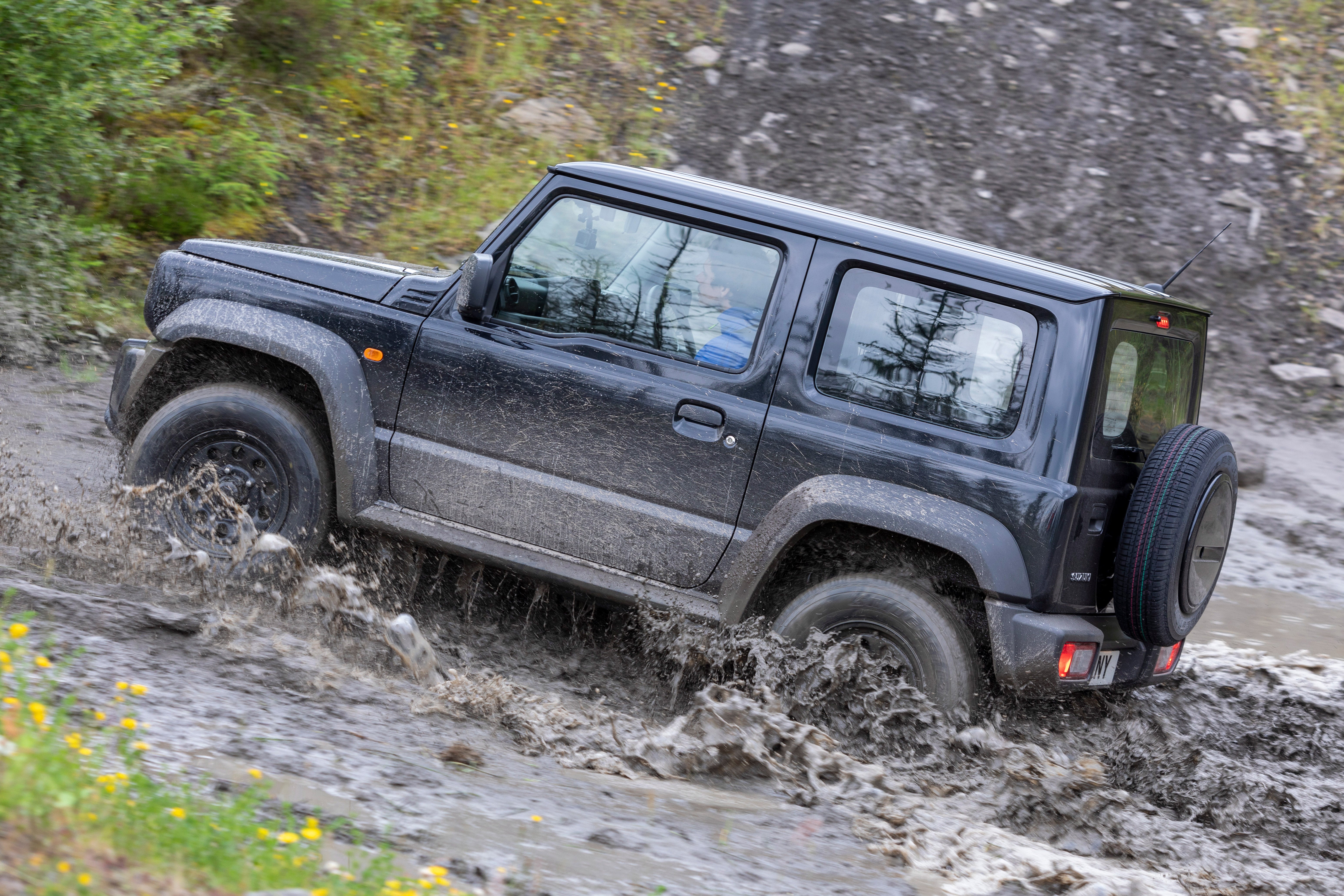 You can't see out of the back quite so well (especially with passengers squeezed into the rear), and the Jimny isn't sold with parking sensors or a reversing camera. That's a tad annoying.
Still, it fits into parking spaces easily and you won't worry about negotiating a multi-storey car park. You'll have to get used to flapping your arms around, though – not because it's a good car for doing the Macarena in (it isn't…), rather the steering is rather slow and takes a lot of turns lock-to-lock.
Out of town, it'll wander around at high speeds, needing lots of little inputs to keep it in a straight line. This is particularly true when it's a windy day, and it gets tiring on a long journey. When you reach a bend, it'll lean like a proper old-school 4x4 (which is exactly what it is). It'll come as a bit of a shock if you're used to car-like crossovers like the Suzuki Vitara.
The steering doesn't feel like it has a direct link with the front wheels, while there's a surprising lack of grip despite its four-wheel-drive system. That's because, most of the time, it's actually a rear-wheel-drive car. You'll have to shift a lever near the handbrake to enable four-wheel drive.
The same lever can be used to select low-range. This gives you a lot more control at much lower speeds - great when tackling off-road obstacles. While very few 4x4 buyers actually venture off-road, it's where the Jimny's in its element.
Whether you're dropping down a steep hill (Hill Descent Control is standard) or tackling an axle-twisting side slope, the Jimny makes light work of challenging conditions. If you really want to venture into the wildness, a Land Rover Defender's extra ground clearance and torquey diesel engine might prove useful, but the Jimny can more than hold its own.
What engines and gearboxes are available in the Suzuki Jimny?
There's just one engine available in the Suzuki Jimny: a four-cylinder 1.5 petrol. There's just 101PS on tap, and Suzuki doesn't even bother quoting a 0-62mph acceleration time. It's leisurely, that's for sure. Oh, how we wish Suzuki had offered the Jimny with its turbocharged BoosterJet engine.
The manual gearbox has very short ratios, too. That means you'll get into fifth at around 35mph, and there isn't a sixth gear. By 60mph, the engine will be screaming away at around 3000rpm and you'll have no desire to go any faster.
Searching for one with the automatic gearbox isn't going to help matters. It only has four gears and it'll hold onto each for as long as possible, not changing up until it reaches more than 4000rpm.
With that in mind, we'd stick with the manual transmission. You're not going to fool anyone into thinking you've bought a luxury car by letting it change gears on your behalf. The gear change is about as precise as a blancmange and you'll be changing gears a lot to maintain momentum, but at least the clutch pedal is light enough.
Refinement and noise levels
If you've read this far, you'll probably have already gathered that the Jimny isn't a refined choice. Its bluff dimensions mean there's quite a lot of wind noise, and it seems that Suzuki hasn't spent a penny on noise insulation to absorb that.
There's a considerable amount of tyre roar, too, while the engine needs working very hard to actually get anywhere - something which doesn't make for a relaxed drive. As a package, there probably isn't a less refined modern car you can buy today.
That said, there's a charm to it. Sure, you'll be cranking up the radio to drown out the background noise and a long journey will leave you exhausted, but some people like that. Some people buy classic cars because they enjoy the blunt driving experience.
Safety equipment: How safe is the Suzuki Jimny?
You might be surprised at some of the clever safety assist features provided in the Jimny. All models come with Suzuki's Dual Sensor Brake Support, which monitors the road ahead and alerts the driver if it detects a potential collision with the vehicle ahead or a pedestrian. If you don't respond in time, it'll even apply the brakes to mitigate, or even increase the braking force if you hit the brake pedal.
A Lane Departure Warning system will notify you if you start to stray from your lane on the motorway, while Hill Hold Control makes rolling back during a flustered hill start a thing of the past.
Despite these features, the Jimny scored a disappointing three out of five stars when it was crash-tested by Euro NCAP in 2018. It scored just 50% for its safety assist features, with testers criticising the lack of a lane keep assistance feature (the Lane Departure Warning notifies the driver rather than nudging the steering back into the lane).
They also noted that the autonomous emergency braking system could only operate in daylight, and couldn't react to faster-moving road users like cyclists. This contributed to the Jimny's 52% score for protecting vulnerable road users.
If you're looking to carry children in your Jimny, you'll be pleased to read that it scored a better 84% for protecting child occupants. The Jimny's protection of children in a crash is generally good, while the front passenger airbag can be disabled to allow the fitment of a rearward-facing child seat. ISOFIX child-seat mounting points are fitted to the outer rear seats.
NCAP gave the Jimny a 73% rating for adult occupants, saying there was insufficient pressure in the driver's airbag to prevent it from 'bottoming out', allowing the head to contact the steering wheel. It also noted that the Jimny's passenger compartment was extensively deformed in certain tests.
MPG and fuel costs: What does a Suzuki Jimny cost to run?
"Despite its tiny dimensions and diminutive 1.5-litre petrol engine, the Jimny's not a particularly frugal choice. Under official WLTP fuel economy tests, it returned a combined 35.8mpg. Opting for the automatic transmission drops that to 32.2mpg."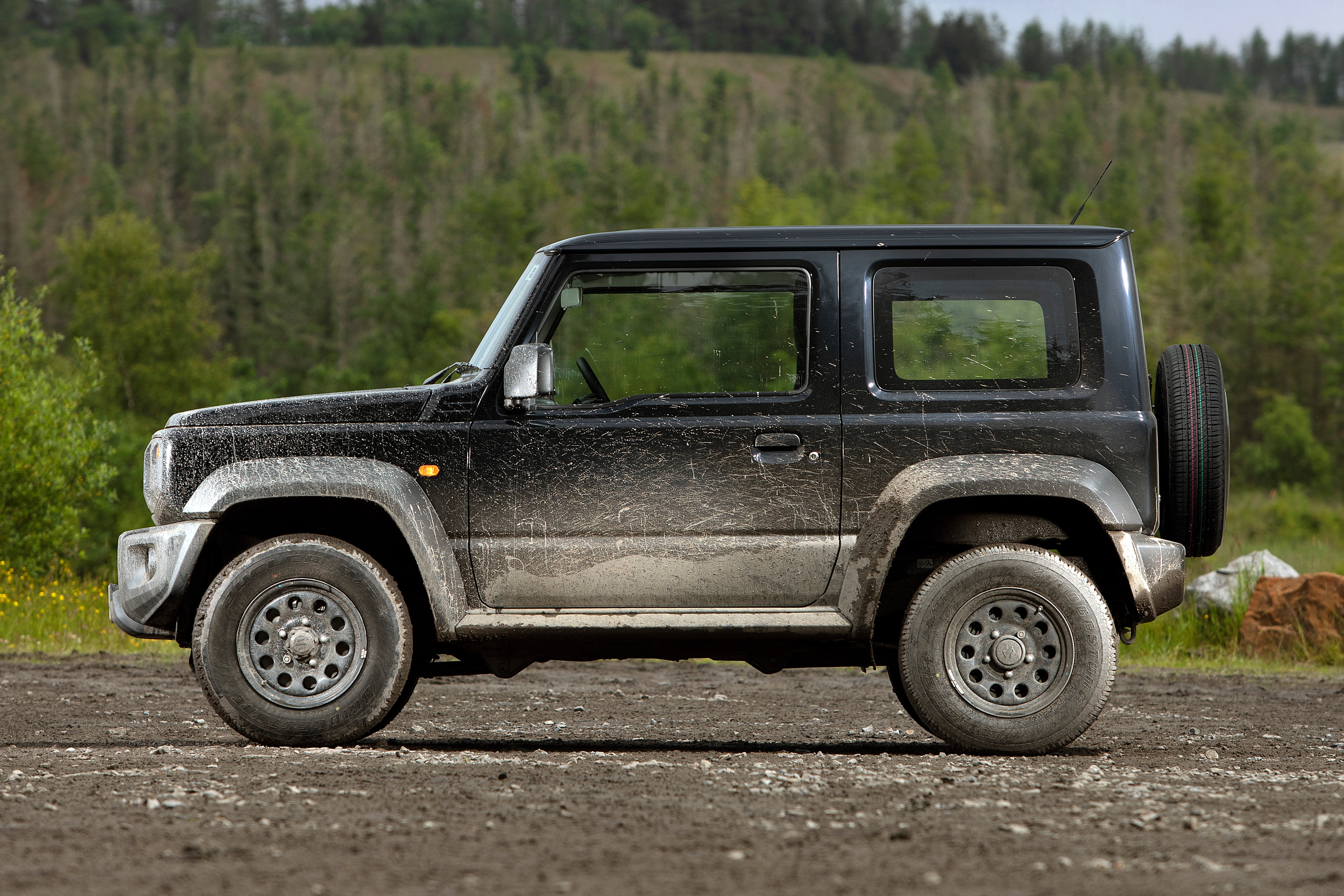 Despite its tiny dimensions and diminutive 1.5-litre petrol engine, the Jimny's not a particularly frugal choice. Under official WLTP fuel economy tests, it returned a combined 35.8mpg (or 36.7mpg for the LCV model). Opting for the automatic transmission drops that to 32.2mpg.
Still, Suzuki engines tend to achieve fairly close to their advertised economy in the real world. You should be able to see early-30s mpg fairly easily, although fairly low gearing and the lack of a sixth gear on the manual transmission means high-speed motorway driving won't help your average economy.
As well as having a small engine, the Jimny has quite a small 40-litre fuel tank. Don't expect to travel much more than 250 miles between fill-ups, which will get irritating if you live in a rural area or plan to cover long distances...
How reliable is the Suzuki Jimny?
The Suzuki Jimny sells in low numbers in the UK and this makes it difficult to judge its reliability, due to the fact there are so few on the road. However, that said, Suzuki has a very good reputation for reliability and the old Jimny was praised by 4x4 fans for its sturdy nature.
Suzuki was ranked as one of the best car manufacturers in the UK for reliability in the Honest John Satisfaction Index 2020 with a score of 9.51 out of 10.
Insurance groups and costs
The Suzuki Jimny is a fairly affordable little car to insure. The SZ4 falls into insurance group 13, while the SZ5 is insurance group 15. The difference in your annual premium is likely to be minimal, but new drivers may wish to shop around for quotes.
VED car tax: What is the annual road tax on a Suzuki Jimny?
After the first year, you'll pay a flat rate of £150 a year in VED car tax for the Suzuki Jimny.
How much should you be paying for a used Suzuki Jimny?
"The Suzuki Jimny's a car that's in demand, so they fetch very strong money on the used market. An advantage of this is that it should still be worth a considerable amount when you come to sell it."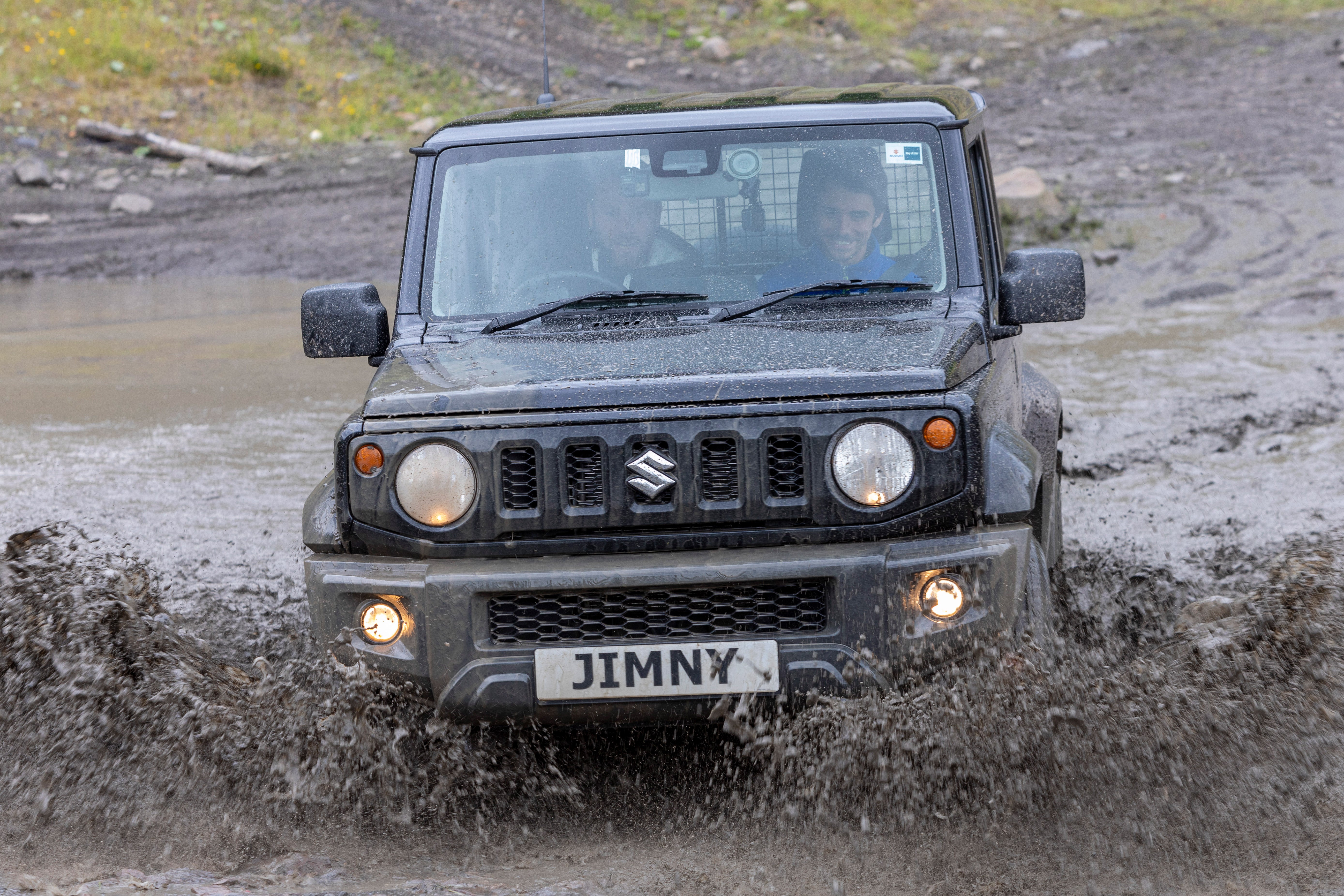 When orders first opened for the Jimny in November 2018, the SZ4 was priced from £15,499 and the SZ5 £17,999. An automatic SZ5 would set you back £18,999.
Today, a little-used Jimny SZ4 is unlikely to give you much change from £22,000. A year-old SZ5 will cost you more than £23,000. As-new pre-registered models start in the region of £25,000. Chuck in a few desirable aftermarket accessories, and you could be looking at a price tag approaching £30,000 for a nearly-new Jimny.
Trim levels and standard equipment
There were initially two Suzuki Jimny models sold in the UK: SZ4 and SZ5. The SZ4 was soon dropped, meaning most used Jimnys will be SZ5 trim, while the Suzuki Jimny LCV van is based on the SZ4.

The SZ4's kinda cool, in a rugged sort of way. Highlights include 15-inch black steel wheels, a CD player with Bluetooth connectivity (modern…) and air conditioning. Cruise control is a surprising standard feature, as well as automatic headlights with high-beam assist.
The SZ5 adds some desirable features, such as a navigation system with Apple CarPlay and Android Auto. There's heated front seats, too, as well as a leather-covered steering wheel and climate control. LED headlights look the part, as does the rear privacy glass, body-coloured food handles and 15-inch alloy wheels.
Ask the heycar experts:
common questions
Is the Suzuki Jimny back on sale in the UK?
Yes, the 2021 Suzuki Jimny has been reborn as a van in the UK. The Jimny LCV is a two-seater only, with the rear seats replaced with a flat loadspace. However, despite its compact size, the Jimny van punches above its weight with its load area that measures 940mm long and 1295mm wide.

Why was the Suzuki Jimny taken off sale in the UK?
Suzuki stopped selling the Jimny passenger car in the UK in 2020. It came as the carmaker hybridised its model line-up to meet CO2 emissions regulations. The Jimny returned in 2021, however, as a car-based van.

Do I have the choice between a manual and automatic Suzuki Jimny?
Yes. The automatic Jimny costs £1000 more than the standard manual, and only has just four forward speeds. It does make it easier to drive in traffic, but hampers faster progress.

Suzuki Jimny cars for sale on heycar
728
Number of cars available
£12K - £28K
Price bracket of these cars
Colours available on heycar
Keep me updated by email with the latest advice, news and offers from heycar
By submitting, you agree to our
privacy policy
.