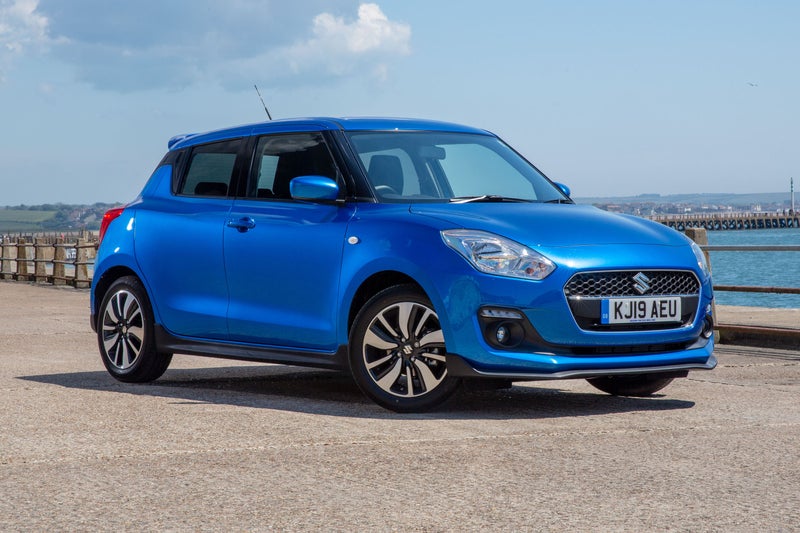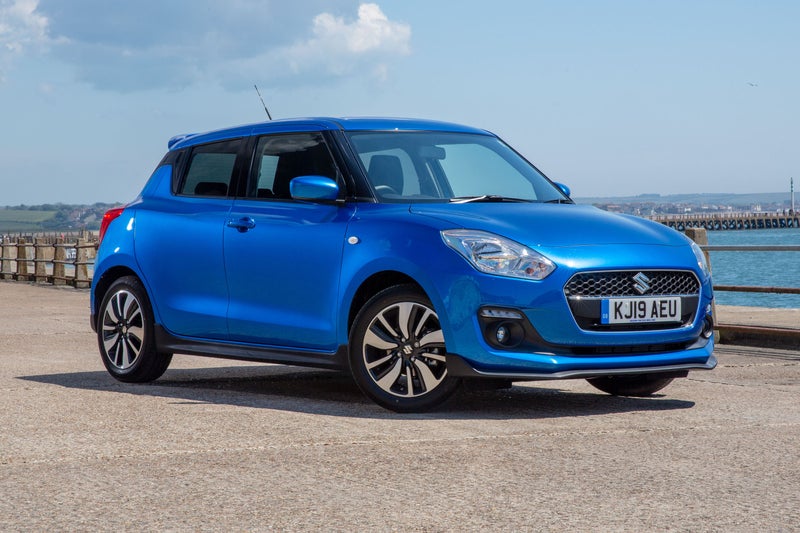 1/10
heycar rating
"Stylish hatchback, fun to drive"
Launched: 2017

Small hatch

Petrol
Quick overview
Pros
Stylish, with plenty of kerbside appeal
Really good fun on twisty roads
Engines are refined and economical
Cons
Ride is rather unsettled
Interior plastic feel a bit cheap
Small boot
Overall verdict
On the inside
Driving
Cost to run
Prices and Specs
Common questions
Overall verdict on the Suzuki Swift
"The Suzuki Swift isn't perfect, with a small boot, an unsettled ride, high insurance costs and an iffy safety record. However, it's a very likeable car thanks to its funky styling, thrill-a-minute handling and rev-hungry engines, and there's much more to like besides. Utterly charming."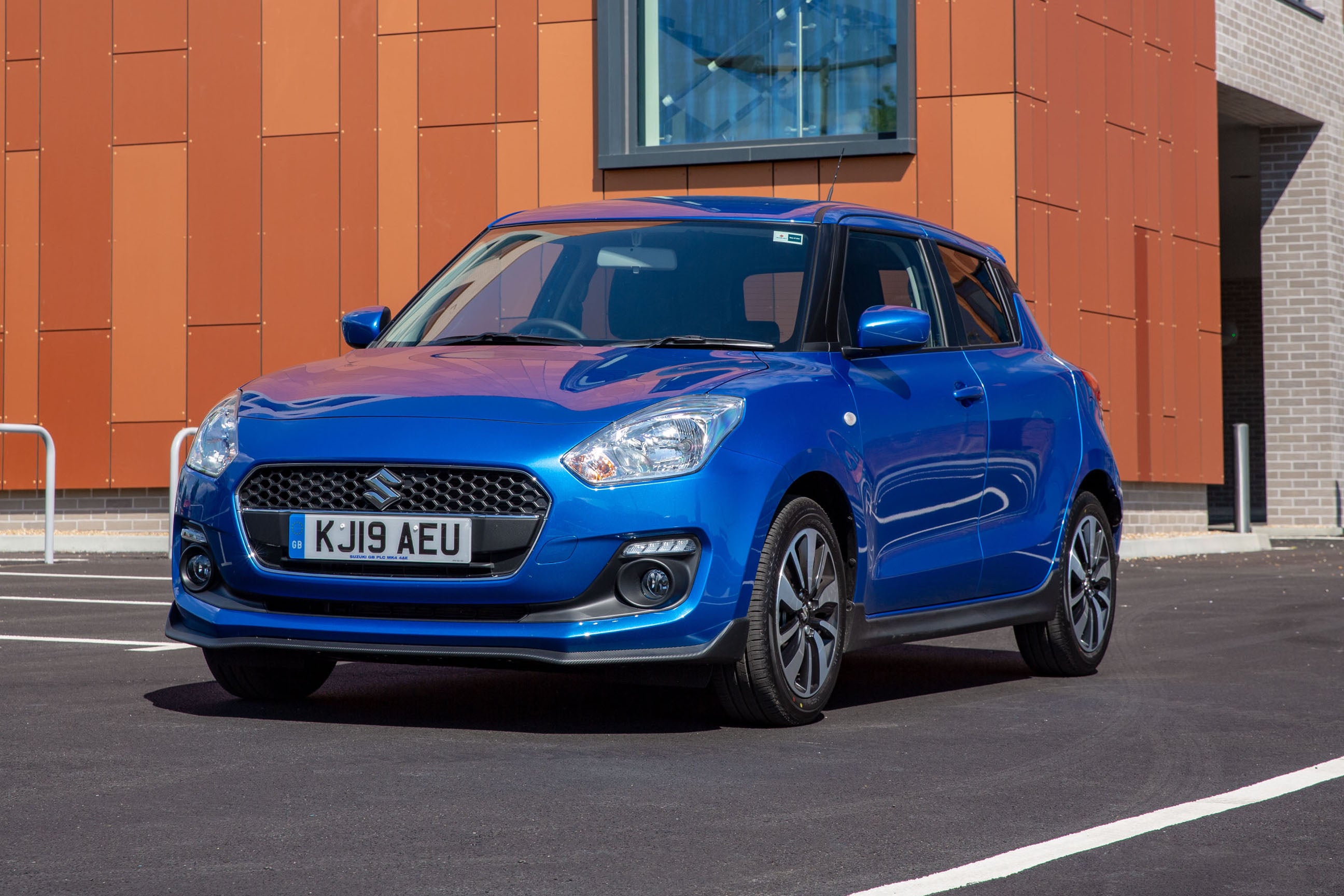 Fiesta. Polo. Corsa. There are some very familiar names in the hatchback market, not least because they're some of the best-selling cars in Britain. And for good reason. Smart to look at, comfortable and enjoyable to drive and practical enough for day-to-day use, they suit a very large number of drivers.
But what if you're not like most drivers? What if you value different things? What if you could have a car that focused much more on fun and style than comfort and luxury, and you could have it for much, much less cash than you'd pay for one of the usual suspects? If that's what you're after, then you'd be missing a trick if you didn't consider the Suzuki Swift.
This thing really is lots of fun. First off, it looks great thanks to its sleek lines and its cutesy features. Secondly, it's an absolute hoot on the road. The rev-hungry engines tempt you into thrashing them mercilessly, and when you chuch the car into a bend, it rewards you with good grip, meaty-feeling steering and really impressive balance. It's virtually impossible to drive this car without smiling.
It's good in other ways, too. The engines are smooth and quiet, and deliver good efficiency figures, there's decent room for four in the passenger compartment, and all but the entry-level version come with a decent amount of kit.
However, doubling down on fun does involve a few sacrifices in other areas. Some drivers will find the ride rather unsettled, the boot is quite small and the cabin feels pretty plasticky. Still, drivers who are young and care-free are unlikely to care too much about that. There's even a performance(esque) version in the form of the Suzuki Swift Sport.
Sadly, the Swift does have one more rather serious - not to mention strange - achilles heel that makes it completely unsuitable for young drivers, and that's it's preposterously and catastrophically high insurance groupings. Parents won't much like the fact that the Swift has struggled in Euro NCAP crash tests, either. It's such a shame, because otherwise, it's absolutely perfect for that audience.
Still, if you're not so young, but you're still young-at-heart, then there's a lot to like about the Swift. It's a very likeable car that's bursting with character, and the people it suits will absolutely love it.
If you're looking for the older version, you need our Suzuki Swift (2010-2017) review.
Is the Suzuki Swift right for you?
Are you a fun-loving type, but you need to buy a reasonably sensible car on a budget? If you are, then the Suzuki Swift might well be the perfect compromise.
The sensible box is checked by the fact that it's roomy for four, it's solidly built, it's impressively economical and it costs thousands less to buy than many rivals. It also has the fun bit covered thanks to its stylish looks, its chuckable handling and its raucous, rev-hungy engines.
It's not the comfiest car of its type, and not the best on interior quality, either, but many buyers won't mind too much about that. You'd think that all this would make the Swift great for young drivers, then, but hold your horses. Unfortunately, the Swift costs a comparatively huge amount to insure, which will rule it out for many. Parents won't like its iffy performance in Euro NCAP crash tests, either.
What's the best Suzuki Swift model/engine to choose?
There's merit in both the engine choices. The 1.2 is cheaper and more efficient, and its rev-hungry nature really suits the Swift's fun-loving character. However, if you can, we'd recommend spending the extra on the 1.0-litre turbo. Not only is it faster, it's more flexible, giving you an easier life for more of the time.
Trim-wise, entry-level SZ3 trim will be a little basic for some: it has steel wheels rather than alloys, and it only has a basic stereo. Our favoured trim is the next rung up the ladder, SZ-T, which gives you glitzier wheels and a 7.0-inch touchscreen with Apple Carplay/Android Auto, as well as front foglamps and a reversing camera.
What other cars are similar to the Suzuki Swift?
Despite the incessant rise of the SUV, the supermini is still the most popular type of car there is, so there are loads and loads of familiar names here. The most familiar include the Ford Fiesta, Vauxhall Corsa, Volkswagen Polo, Peugeot 208, Renault Clio, Toyota Yaris, Nissan Micra and SEAT Ibiza. However, the Swift sits at the more affordable end of the scale, so it's closer in price and feel to rivals like the Skoda Fabia, Citroen C3, Kia Rio, Hyundai i20 and Dacia Sandero.
Comfort and design: Suzuki Swift interior
"Look at the Swift's dashboard, and everything sits where you expect it to. Entertainment system top middle, ventilation controls below that, a few buttons on the steering wheel and a few more on the dash beside it."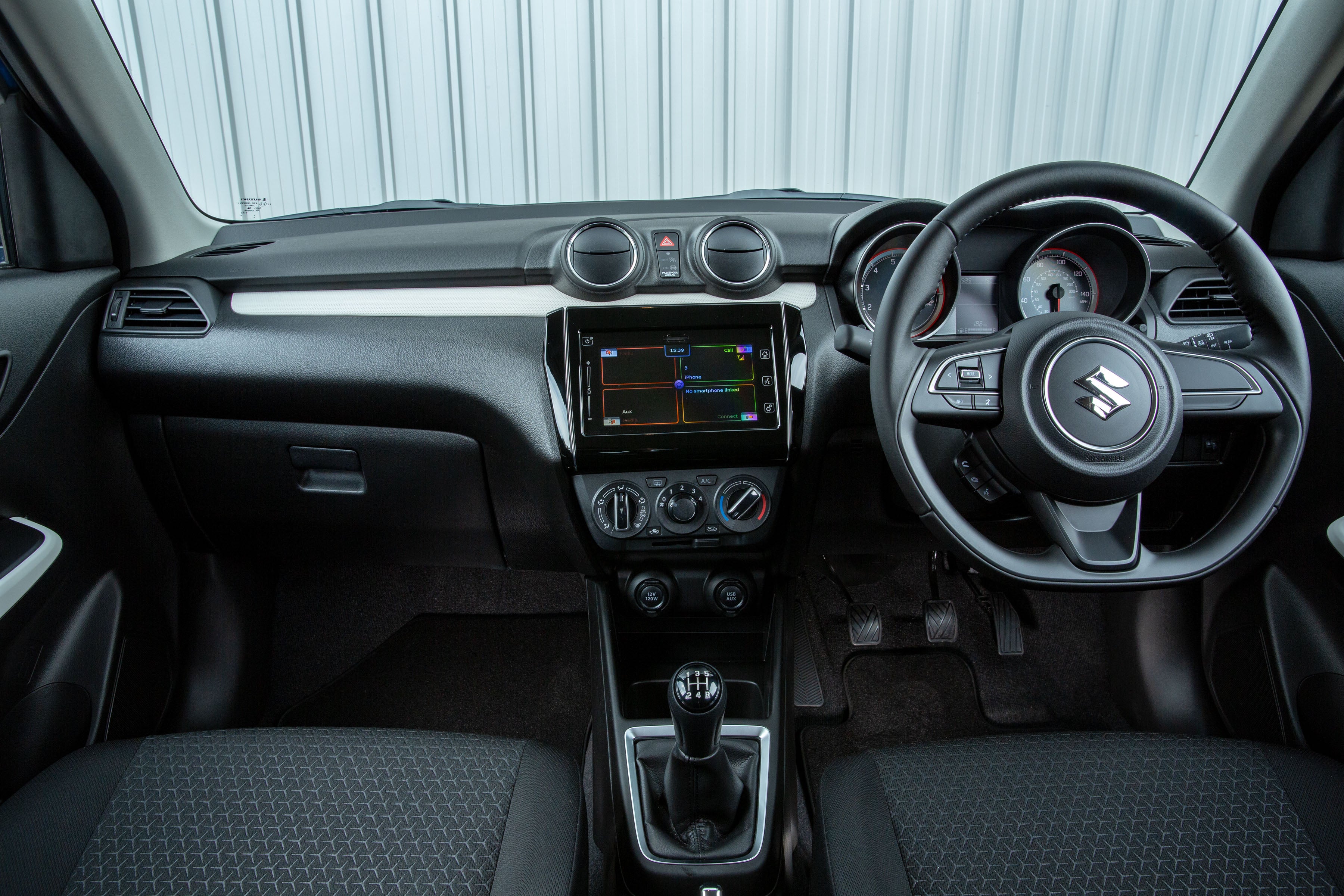 All very conventional stuff. What's more, pretty much all the controls - even the ones on the steering wheel - are comparatively large and well marked, making them easier to use at a glance. Ergonomically, then, there's not a lot wrong with the interior design."
Sadly, you can't say the same about the driving position. The driver's seat is pretty comfortable (although it may be a little flat for some tastes), the it has lots of movement to help you fine-tune your seating position, but unless you go for the range-topping SZ5 model, the steering wheel only moves up-and-down, not in-and-out.
It means some people might struggle to hit the position they want. What's more, the vast majority of rivals these days include this extra plane of adjustment in their standard kit.
The windscreen is big, tall and upright, and because it's flanked by skinny pillars, your view at the front is really good. Your rear screen is a decent size, too, but because the rear pillars are thick and the rear side windows are rather small, your over-the-shoulder view isn't as great as it might be. No version gets rear parking sensors, either, but don't panic: a rear-view camera is provided in SZ-T trim and upwards.
Quality and finish
When you first climb into the Swift, things don't look too bad at all on this score. The grey plastic that most of the interior is fashioned out of are broken up with various silvery or shiny black trims, adding a bit of visual variety and giving a fairly smart look. The stitched leather steering wheel feels nice and chunky in your hands, too.
Place your hands elsewhere, though, and the smart feeling quickly begins to deteriorate. Although they look smart at first glance, wandering fingers will detect that pretty much all the materials on show are hard, shiny and pretty short on tactile appeal.
Granted, hard plastics are by no means uncommon in the supermini class, but most rivals at least attempt to inject some lustre by putting some soft-touch surfaces in the places where your eyes and hands fall most often. No such attempts are made in the Swift, however. Having said that, the materials do appear very durable and the standard of assembly is much higher than the standard of the materials.
Infotainment: Touchscreen, USB, nav and stereo in the Suzuki Swift
If you go for the entry-level SZ3 trim, you'll get a stereo with a CD player (remember them?!), DAB radio, Bluetooth and four speakers, but with no central screen, it makes the interior feel a little bit basic by modern standards. From SZ-T trim upwards, though, you get a 7.0-inch touchscreen that comes with Apple Carplay, Android Auto and Mirrorlink, meaning you can use your phone's apps and navigation functionality through the car's screen. It makes the world of difference.
SZ5 trim adds a couple more tweeter speakers and built-in sat-nav, but to be honest, it's rather clunky to use, so you're probably better off sticking with your phone's software. The touchscreen system isn't ideal in other ways, either. Some of the on-screen icons are a little bit small and fiddly to hit without really concentrating, and the graphics aren't as crisp or as slick as they are in the best rivals.
Space and practicality: Suzuki Swift boot space
You wouldn't expect any supermini to be the last word in practicality, but you would at least expect it to do a decent job compared with its diminutive rivals. The Swift does, but nothing for than that.
There's very decent space up front, and a fairly average amount in the back by class standards. Six foot passengers will be able to sit comfortably behind a driver of a similar scale, with contact between their knees and the front seats, or their head and the headlining. Yes, the biggest superminis provide a bit more headroom and legroom, but even these are too narrow to sit three across the rear bench comfortably, a feat that the Swift also struggles with. Two bulky child seats will fit easily, though, and there are Isofix mounting points with which to secure them.
The boot is rather more disappointing, sadly. It's appreciably smaller than many others in the class: you'll have room for a weekly shop, but not much more. There's a big lip to haul items over, too, and when you drop the 60-40 split-folding rear seats to extend your cargo space, the backrests lie at an angle and the load area also has a large step in it.
Handling and ride quality: What is the Suzuki Swift like to drive?
"If you enjoy flinging your car around, you'll love the Swift, because it's very, well, flingable. The steering is quick and nicely weighted, and there's plenty of grip, so the front of the car turns quickly and eagerly."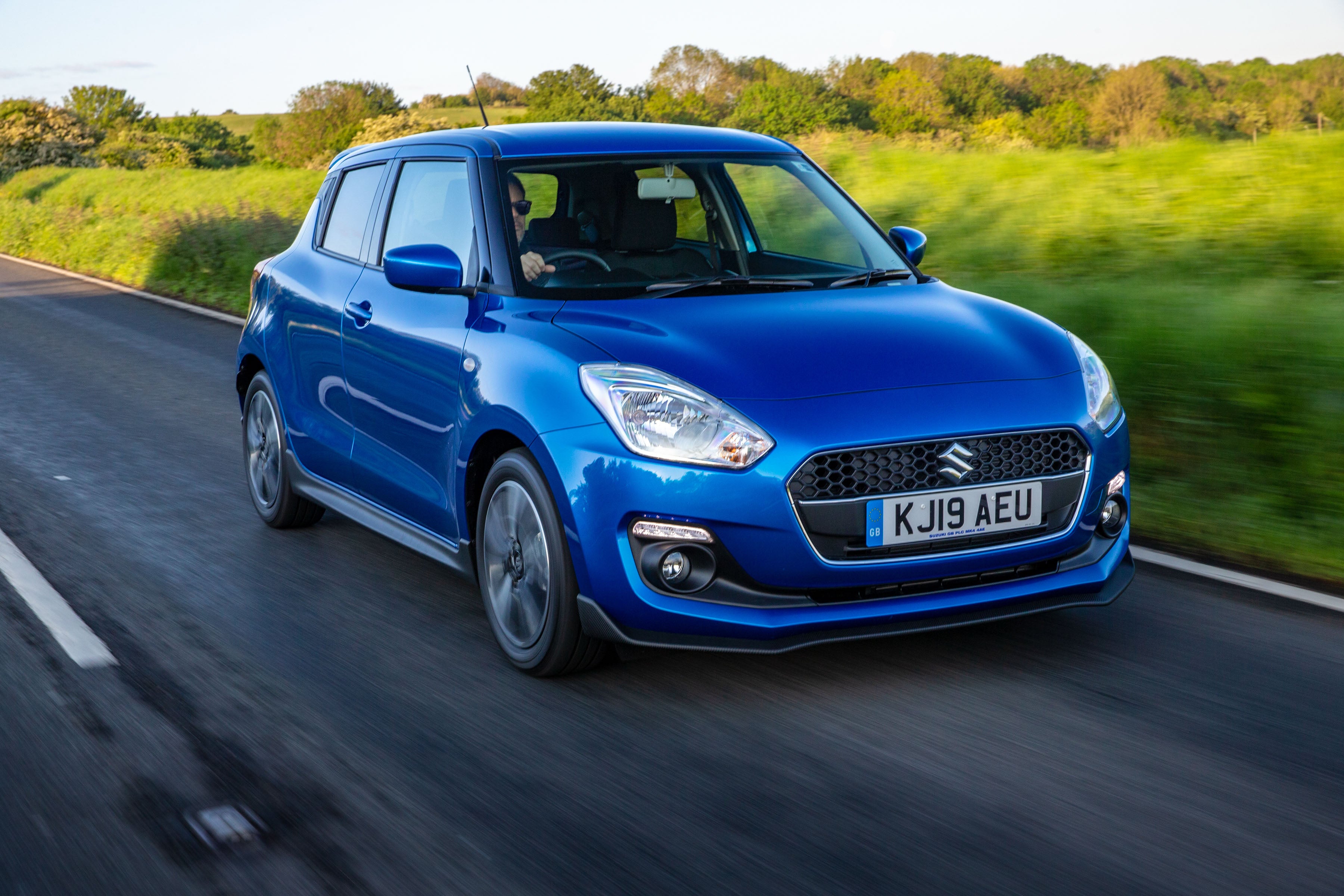 You will detect a bit of body roll when you turn in initially, but things feel more controlled after that.True, if you're looking for ultimate dynamic polish, the Ford Fiesta does it better, but the Swift's up-and-at-'em nature and neutral balance still make it a very enjoyable car to drive. And that's whether you go for the front-wheel-drive version or the four-wheel drive version: you'll actually notice very little difference between them on the road.
That said, it's not the most comfortable car of its type by any stretch. It stops short of being uncomfortable, but pockmarked urban streets will jostle you around more than they will in many other superminis, and sharped edged ruts and potholes will result in more of a thud. Things improve as you go faster, but the Swift still isn't as settled as many rivals on the motorway.
What engines and gearboxes are available in the Suzuki Swift?
All Swifts of this generation come with a petrol engine, the entry-level choice being a 1.2 with 90PS. That doesn't sound like a lot, but because the Swift is so light, it's enough to keep you rolling along at a decent rate. You'll need to keep a few revs on the dial, mind, because if you let them drop too low and you suddenly need to pick up speed, you might find yourself in the doldrums. However, make the most of the engine's revvy character, and you'll get on just fine.
If you can afford to, though, we'd recommend making the upgrade to the more powerful option, which strangely, is smaller. This 1.0-litre engine - tagged 'Boosterjet' - produces 111PS, but because it has a turbocharger, it has much more low-down urge than the 1.2, making your progress easier and more relaxed: you're not constantly thrashing the engine and snicking through the gears.
Both engines are also available with a hybrid system. Well, we say hybrid. It's basically a posh starter motor that can provide a small amount of assistance to the engine when you're pulling away. It makes barely any difference to your level of performance, and the marginal fuel gains aren't exactly going to win you a Nobel Peace Prize. The Boosterjet is also available with an automatic gearbox, although we haven't tried this yet.
Refinement and noise levels
Most of the time, the Swift does reasonably well. Even when you thrash it hard - which you often have to - the 1.2-litre engine stays reasonably quiet and composed, and sends very little vibration through to the cabin. The 1.0-litre is similarly quiet and smooth, and because its extra flexibility automatically gives it a less frenetic character, the experience is immediately more relaxed. Both stay reasonably muted at 70mph, too, but you will hear the tyres rumbling beneath you and the wind whistling around the door seals. Not the most civilised motorway cruiser, then, but it's nothing that'll trouble most buyers.
Safety equipment: How safe is the Suzuki Swift?
All Swifts get six airbags, electronic stability control, two Isofix child seat mounting points, tyre pressure monitoring and a pot of tyre sealant (no spare wheel, though). All except the entry-level SZ3 also get a reversing camera. However, only the range-topping SZ5 car comes with automatic emergency braking as standard, and you can't add it to more humble versions.. However, you do get all sorts of other safety kit on top, such as LED headlamps with high-beam assist, lane departure warning and adaptive cruise control.
Nevertheless, the SZ5 Swift still only received a Euro NCAP score of four (out of five) stars when the industry body smashed it to pieces. Lower-grade Swifts, meanwhile, scored just three stars due to their meaner safety kit. To be honest, that's pretty disappointing.
MPG and fuel costs: What does a Suzuki Swift cost to run?
"Hybrid or no hybrid, 1.2 or 1.0-litre turbo, all versions of the Swift are pretty efficient. The 1.2 Hybrid is the most efficient according to official WLTP figures, with a best average of more than 55mpg, but even the thirstiest of them, the 1.0-litre (non-hybrid) automatic, manages almost 47mpg."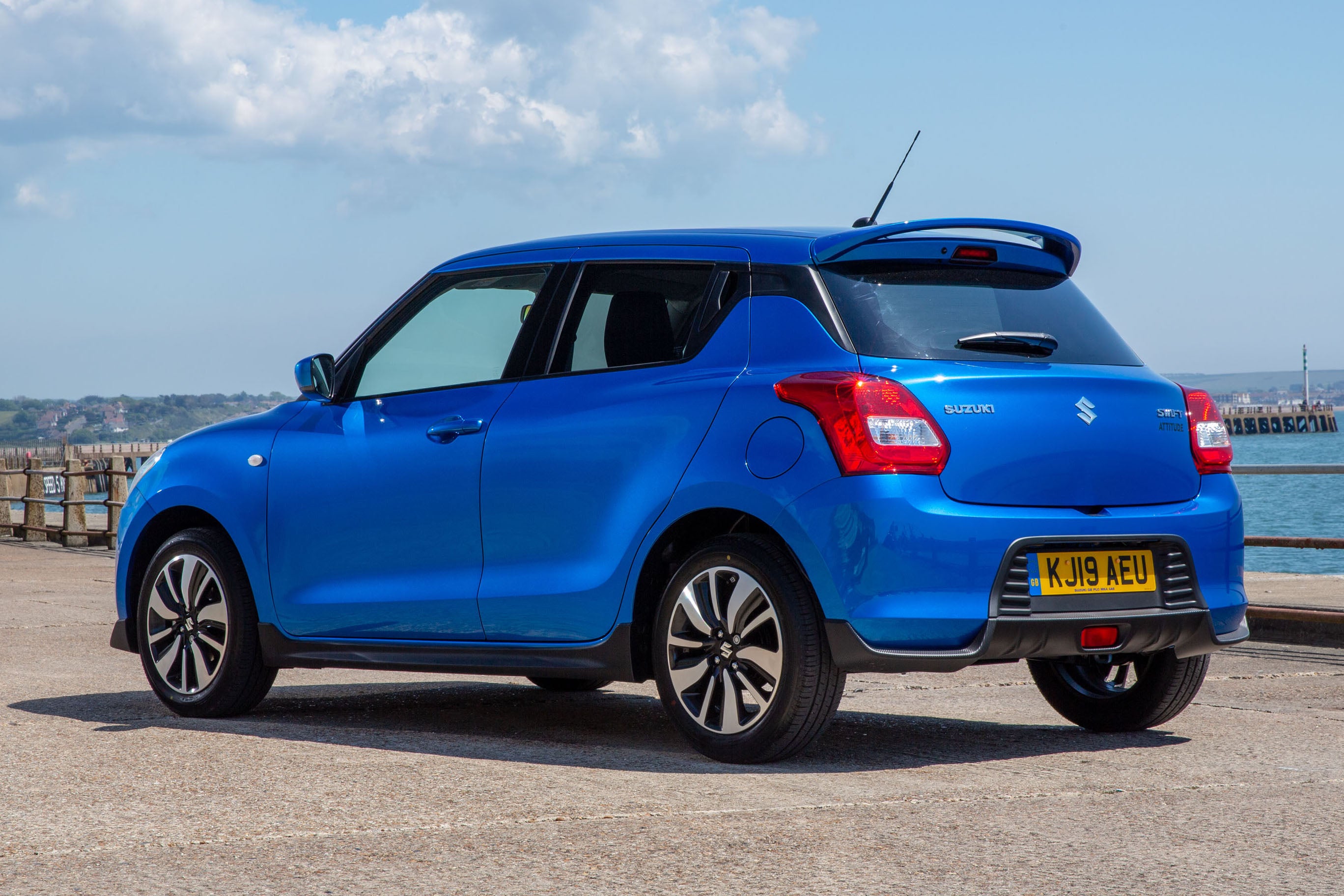 Bear in mind, though, that these are figures obtained from laboratory tests, and replicating them in the real world will be extremely difficult and will require extremely gentle driving. And in a car that's as fun and as flingable as the Swift, you're often tempted to not drive gently.
Insurance groups and costs
If you buy an affordable car, chances are you want it to be affordable to insure, too, and most superminis are. The Swift, however, isn't. First of all, let's get some context. A Ford Fiesta's insurance groupings range from 2 to 15 (group 1 being the cheapest and group 50 being the most expensive).
The Swift, meanwhile, starts at 22 and rises to 27, 35 if you count the most powerful Swift Sport model. These ludicrous rates are likely to be because of high repair costs and the difficulty of sourcing replacement parts, but that'll be of no consequence to those left paying hefty premiums. Shame, because otherwise, the Swift would be a really appealing car for young drivers.
VED car tax: What is the annual road tax on a Suzuki Swift?
This generation of Swift was released in 2017, after the Government announced new tax laws that applied a flat rate of annual tax to petrol and diesel cars. No version is expensive enough to be subject to the hefty £325 surcharge for expensive cars, and as such, you'll simply pay the flat rate of £150 per year on most versions. The exceptions are the hybrids. These don't earn you much of an advantage in terms of performance or economy, but they do earn you a tenner off your annual tax bill, meaning you pay £140 per year.
How much should you be paying for a used Suzuki Swift?
"Compared with more recognisable names like the Ford Fiesta, Volkswagen Polo and Peugeot 208, prices for new Swifts look very low indeed. At the time of writing, they started at just over £13,000 for the 1.2 SZ3, and rose to just over £18,000 for the 1.0-litre automatic."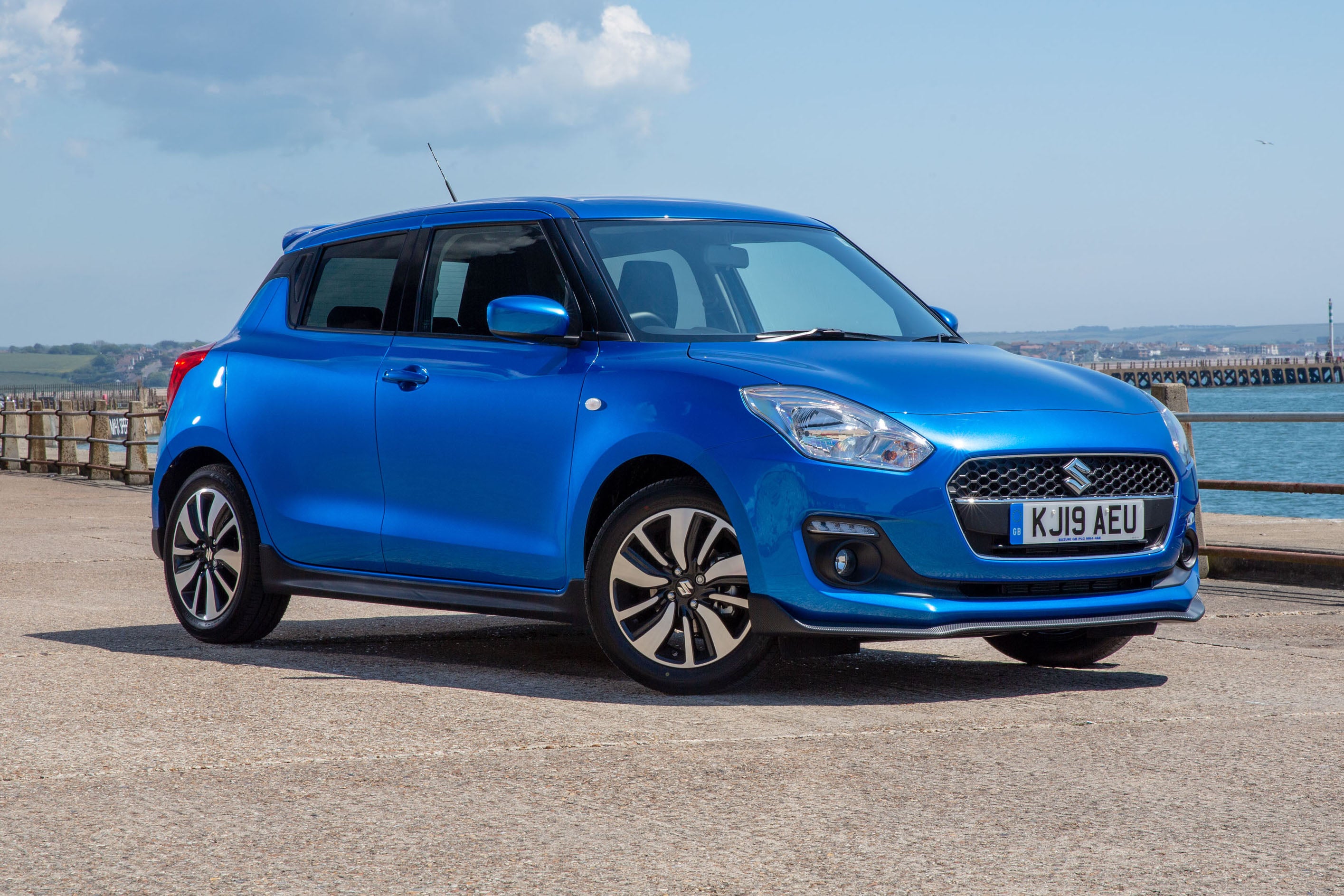 The 4x4 version cost a wee bit less than that, while the one we'd recommend for most buyers, the 1.0-litre SZ-T, stood at just over £15,000. Perhaps surprisingly, though, the Swift doesn't lose its value quite as quickly as many others in the class, meaning that the differences in used car prices are smaller, although a three-year-old Swift will still be a useful slice cheaper. Check out our listings, and you should find early examples of our favourite version going for around seven grand. That's a very decent saving against the new price.
Trim levels and standard equipment
The entry-level SZ3 will be a touch spartan for some tastes. You get manual air-con, electric front window, privacy glass, LED daytime running lights, remote locking and a leather steering wheel, but you have to make do with steel wheels. SZ-T trim checks that box, and is generally much more like it, with front foglamps, a rear-view camera, and smartphone linking for your stereo. The Attitude special edition took SZ-T trim and added some racy styling touches, while SZ5 trim earns you climate control, keyless go, powered rear windows and navigation.
Ask the heycar experts:
common questions
Is there a Suzuki Swift diesel?
Previous generations of the Swift were available with a very frugal 1.3-little DDiS diesel engine, which was capable of returning close to 70mpg. However, due to changing buyer tastes, this version is only available on the used market (and in India as the Maruti DZire).

Do I really need a Swift with four-wheel drive?
Honestly? Probably not, but the four-wheel drive Swift is very popular in places which regularly get very snowy winters, and it's nice to have the option for extra peace of mind.

What is the difference between the Swift and Swift Sport?
The standard Swift is a sensible small car, but the Sport model has its own engine (a 1.4-litre turbo), firmer suspension for better cornering, and aggressive styling to help it stand out.

Is the Suzuki Swift reliable?
Inside, the little Suzuki can feel a bit rough and ready, but the brand has an exceptional reputation for building robust and dependable cars. Take care of it, and it'll take care of you.

Can I buy a Swift with an automatic gearbox?
Yes, but only on the SZ5 trim level. It's decently smooth and quick when changing gear, but it has a negative impact on fuel economy and costs quite a bit more than the manual version.

Where is the Suzuki Swift made?
All over the world, including in Japan, India and (for the previous two generations) Hungary. However, if you buy a new one here in Europe then it was almost certainly built in Japan.

Suzuki Swift cars for sale on heycar
970
Number of cars available
£6.3K - £40K
Price bracket of these cars
Colours available on heycar
Keep me updated by email with the latest advice, news and offers from heycar
By submitting, you agree to our
privacy policy
.