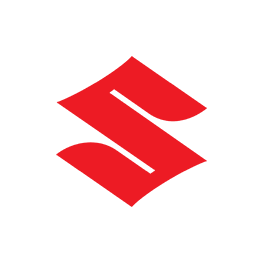 Suzuki Swift Sport Review

Written by
heycar editorial team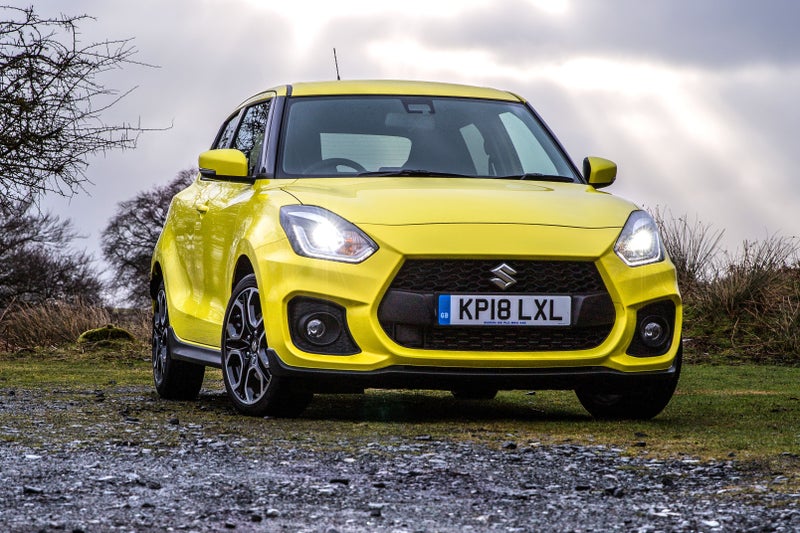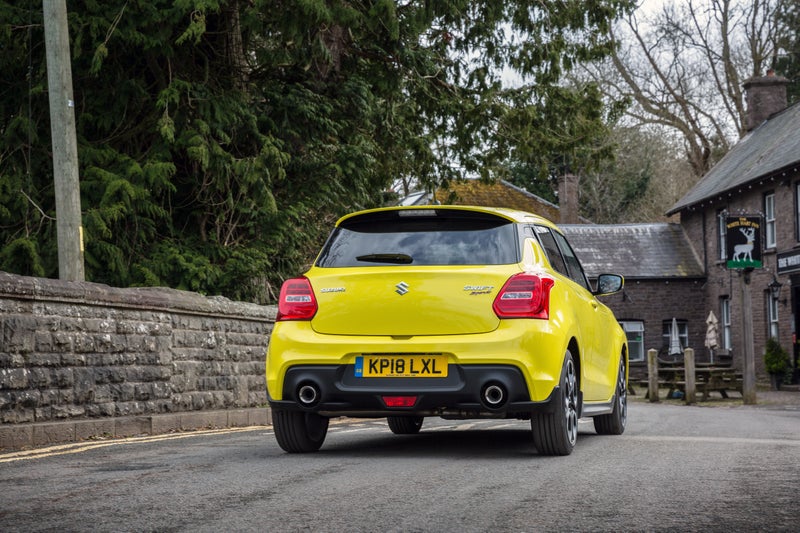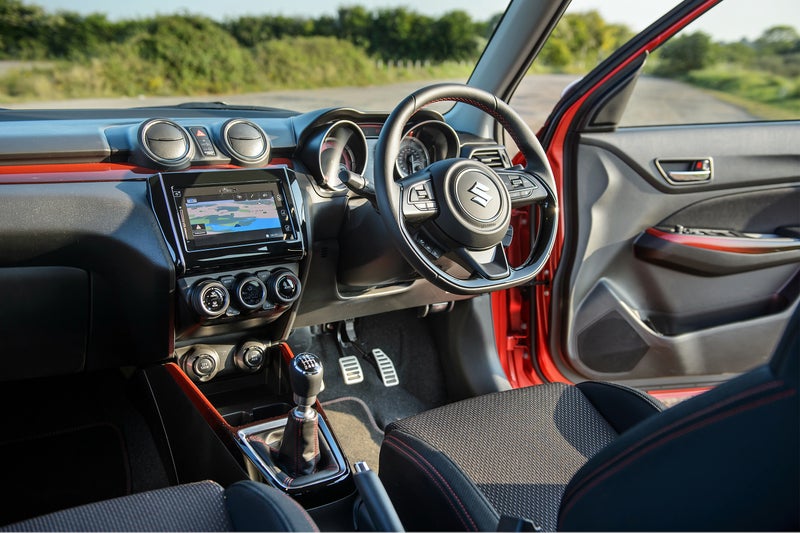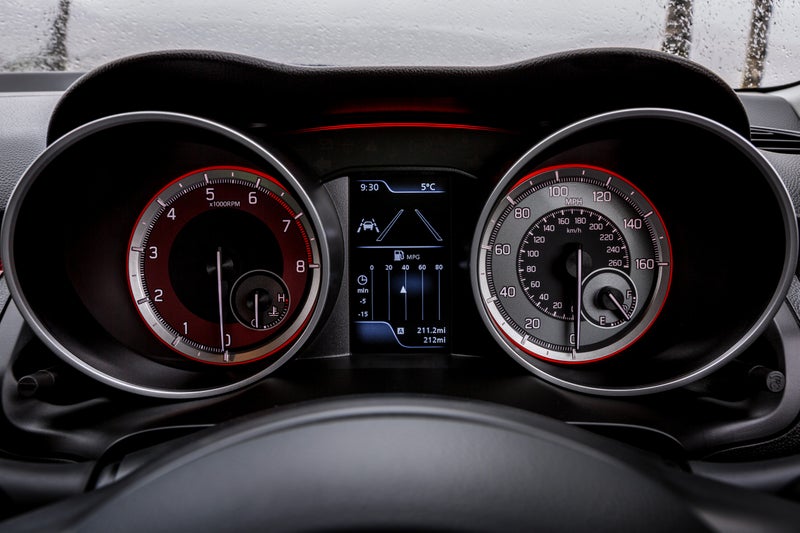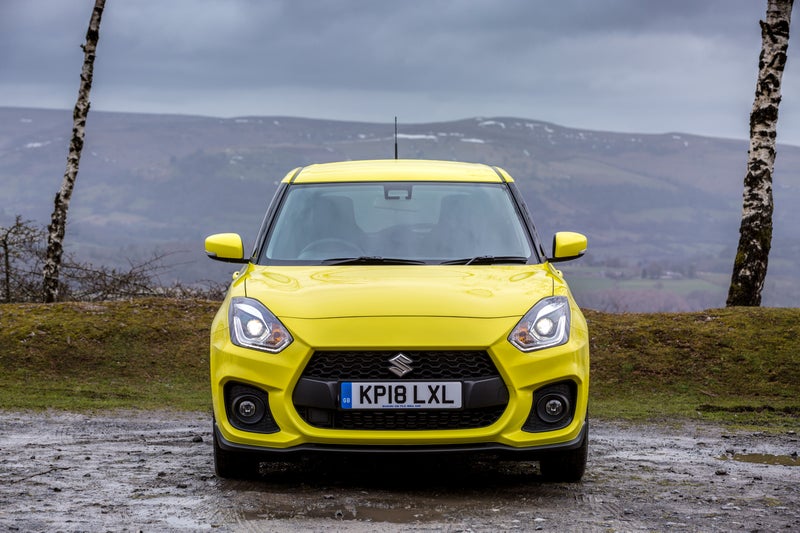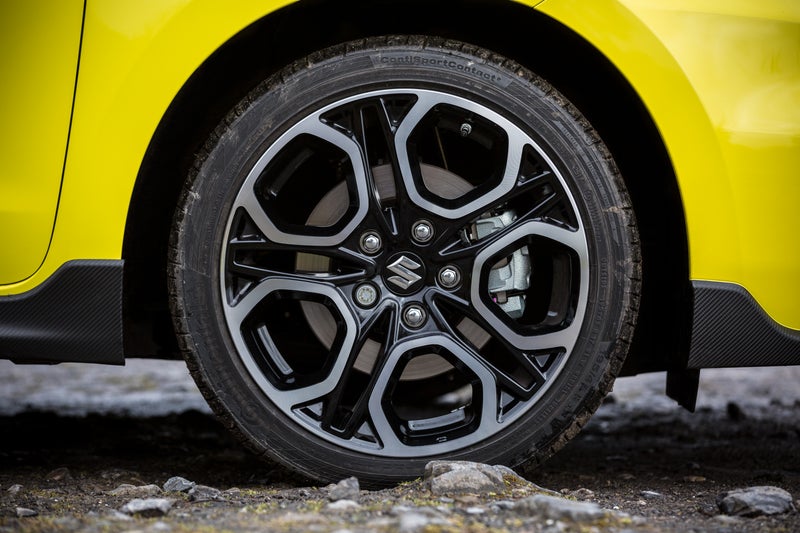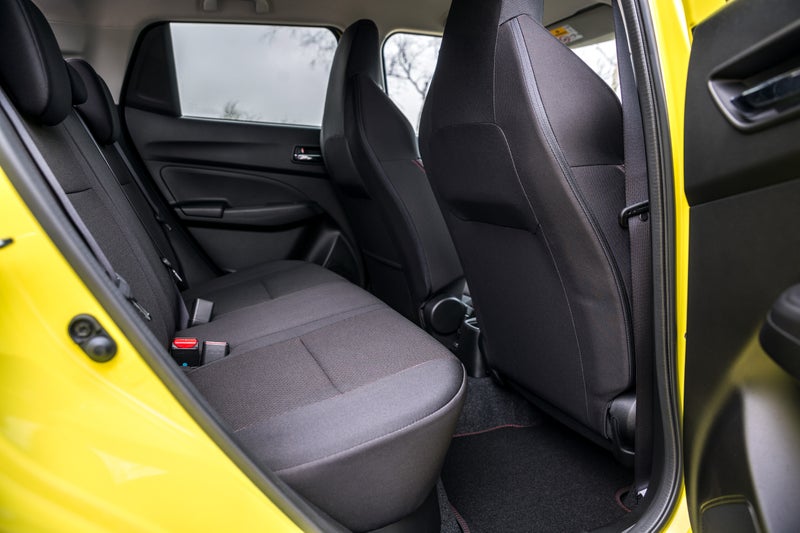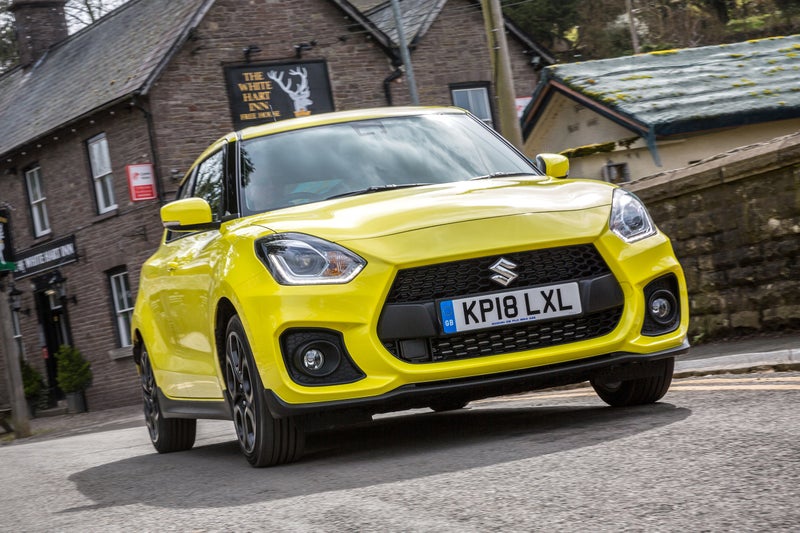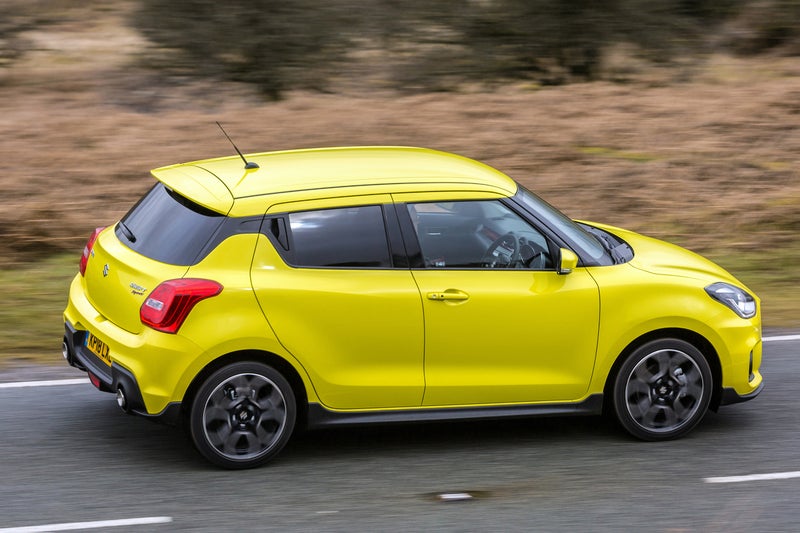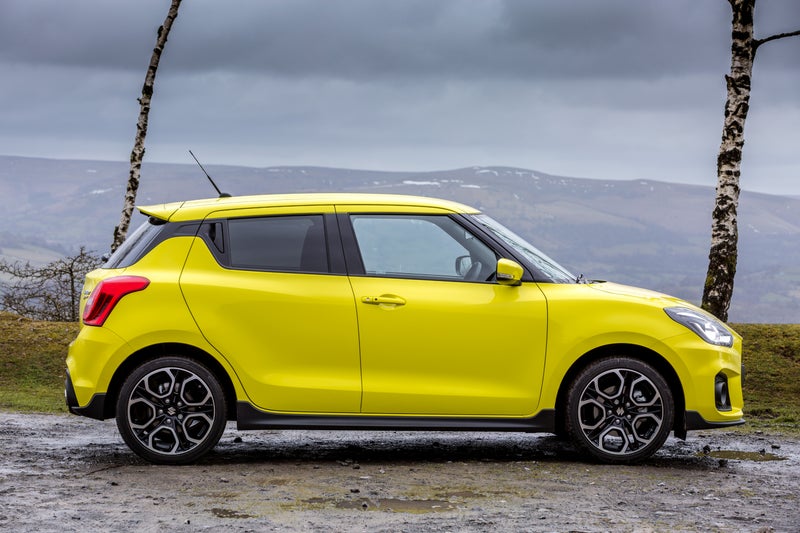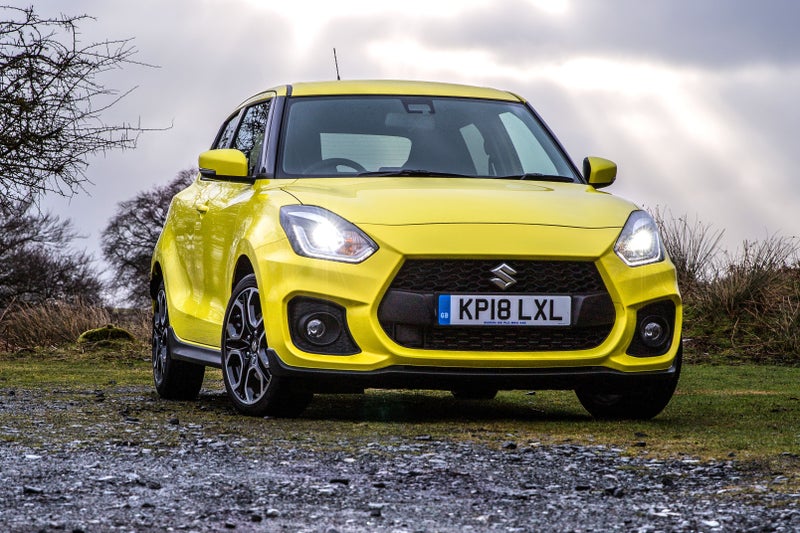 1/10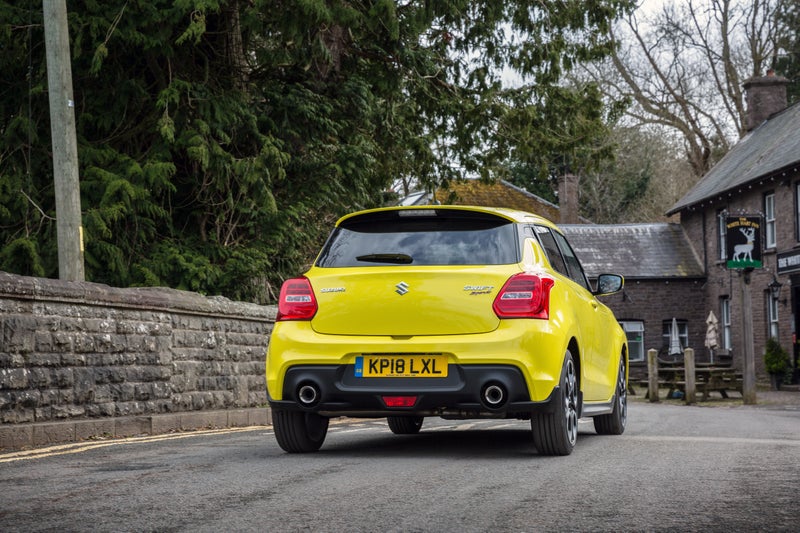 2/10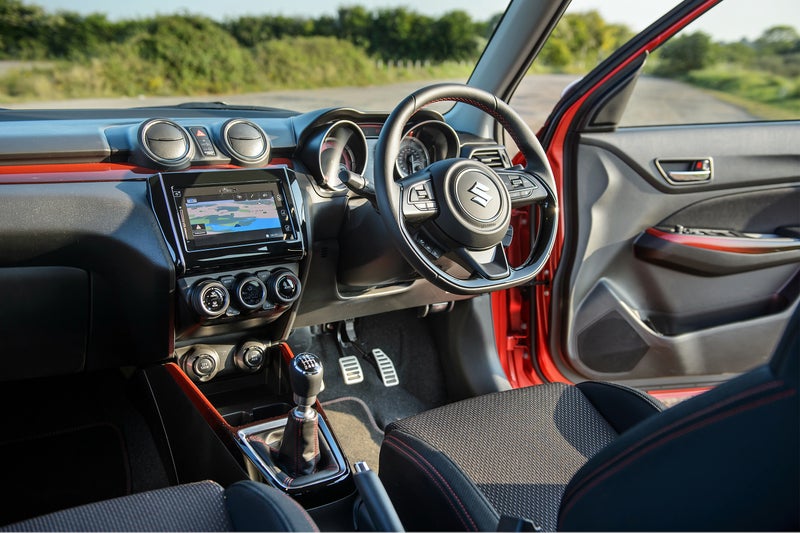 3/10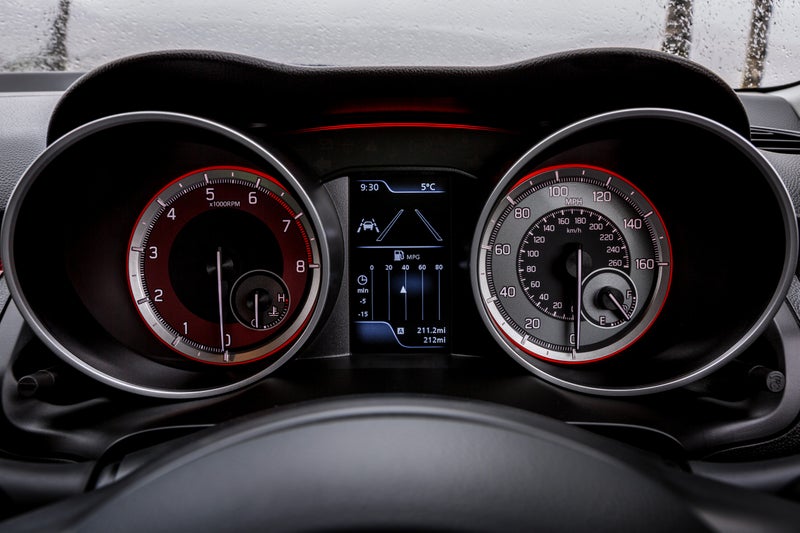 4/10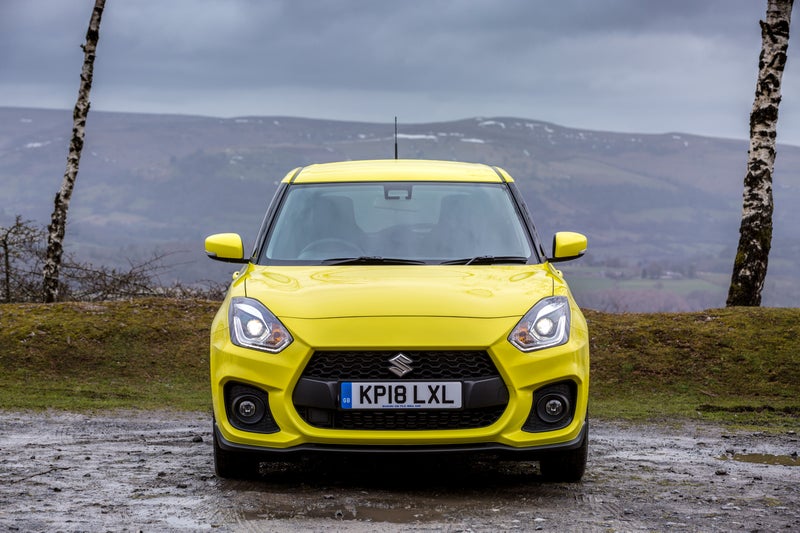 5/10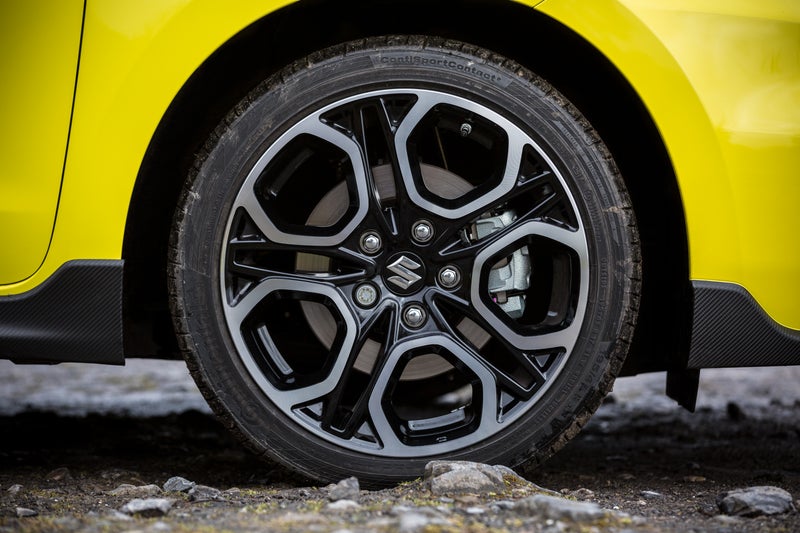 6/10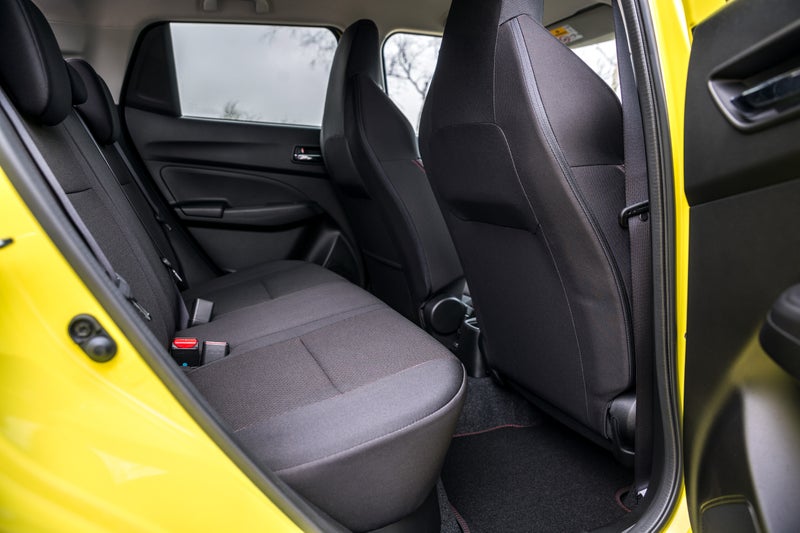 7/10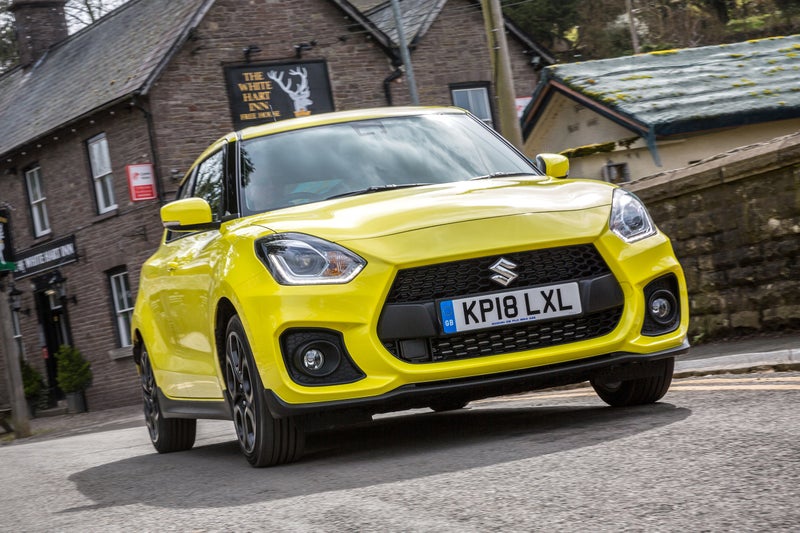 8/10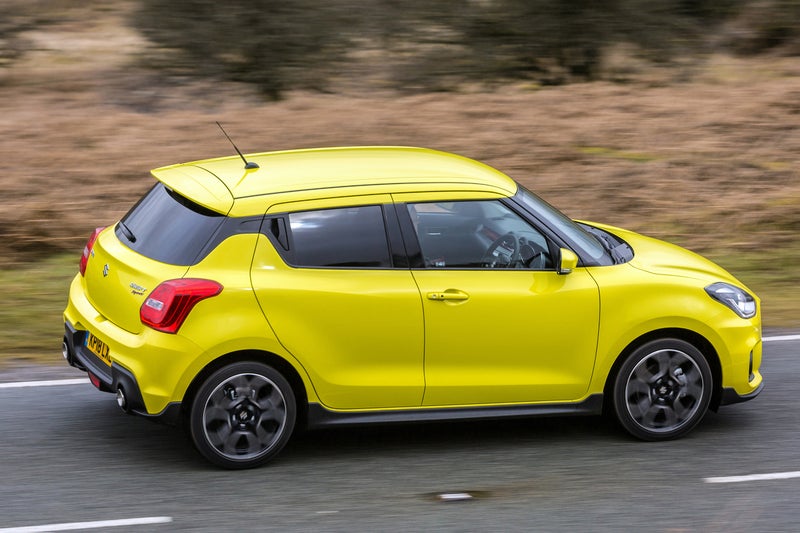 9/10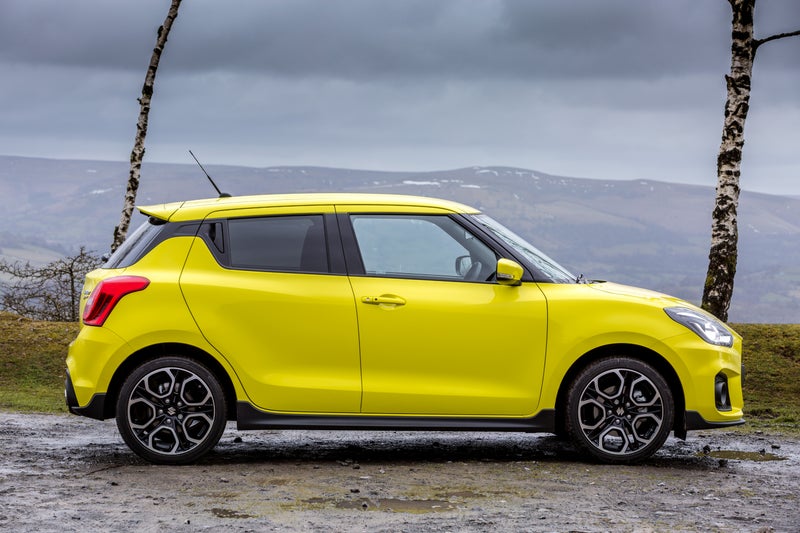 10/10

heycar rating
"Hybrid adds expense not pace"
Launched: 2018

Hot hatch

Petrol
Quick overview
Pros
Very well equipped
Nimble handling
Low running costs
Cons
Steep list price
Tardy performance
High speed refinement
Read by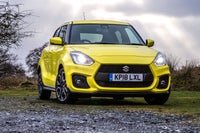 Overall verdict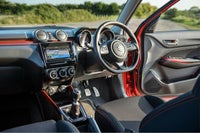 On the inside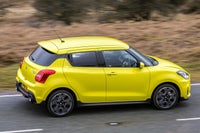 Driving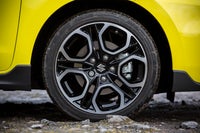 Cost to run
Prices and Specs
Overall verdict
"There have been two significant changes for the Suzuki Swift Sport since this generation arrived in 2018. Firstly, the car was launched with a turbo petrol engine, so saying goodbye to the older non-turbo motor that did so much to endear this mildly warm hatch to so many."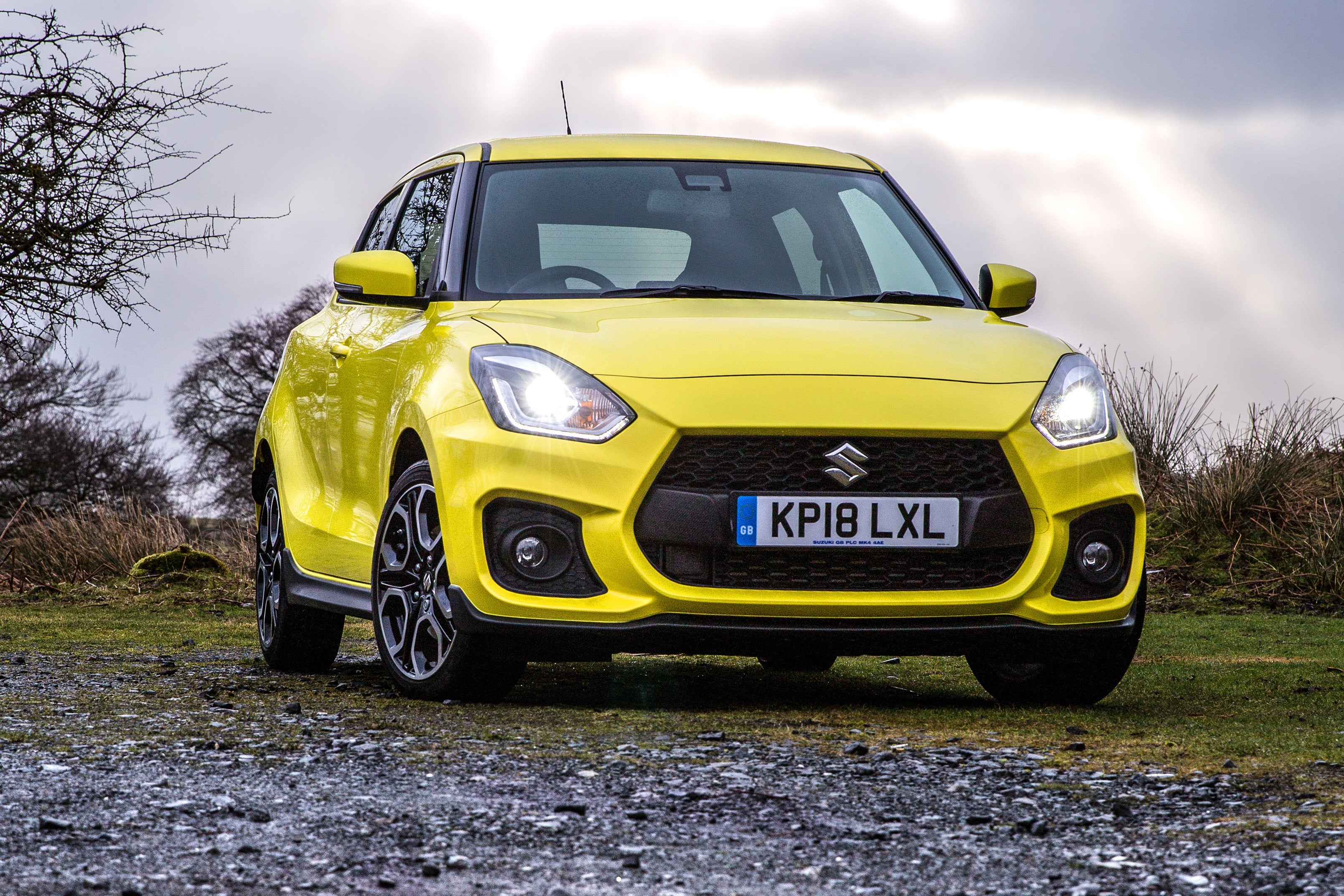 The new engine may have been smaller in capacity, toting 1.4-litres to the previous motor's 1.6-litre size, but the addition of the turbo boosted power to 140PS.
As a result, the Swift Sport was a much better drive without the need to thrash the engine just to access the power. It was far nicer at everyday speeds too with a less frantic nature and much stronger in-gear acceleration.
On paper it accelerated from 0-62mph in around 8.1 seconds, so wasn't quite a hot hatch, but did compete alongside 'warm' alternatives like the SEAT Ibiza FR 1.5 TSI Evo and Ford Fiesta ST-Line 1.0 EcoBoost 140.
So far, so good. Then Suzuki got all zeitgeist-y and made the Swift Sport a petrol-electric hybrid. Not a plug-in hybrid or one with an enormous electric motor, just a mild hybrid. Overall, it means power for the Swift Sport has dropped to 129PS while mid-rev shove has risen by a modest 5Nm to 235Nm at 2000rpm.
Fortunately, Suzuki has kept the six-speed manual gearbox as fitted to the old Sport, but performance has suffered and the Swift Sport now takes 9.1 seconds to get from a standing start to 62mph, while top speed is 130mph. Neither is going to blow the socks of performance car fans, especially when the Sport's price jumped by £3500 with the addition of hybrid tech.

Suzuki argues the latest Swift Sport comes with more standard equipment and that it's cleaner and more economical. All of this is undoubtedly, unequivocally true, but it's also a fact the far superior Ford Fiesta ST can be had for the same sort of money.
Take a look at the Swift Sport as a range-topping version of the Suzuki Swift small hatch and it's a more appealing prospect as it does have a lot of enticing kit as standard. It also looks good in a gently sporting manner and it still deals with corners in an enthusiastic fashion.
There's also the fact the Swift comes as a five-door only model, so it's more practical than other small hatchback-derived hot hatches.
Yet the problem remains that on scale of bang for buck, the Suzuki Swift has got worse not better with its latest revision. It's hard not to miss the earlier 1.4-litre non-hybrid model for its chirpily uncomplicated approach and appeal.
Comfort and design
"It's a comfortable cabin in the Suzuki Swift Sport that doesn't feel cramped even if you're six foot or more thanks to good legroom. The Sport gets all the essentials right with a good driving position, well positioned pedals and decent all round visibility. This is because of the relatively high sides that allow for an upright seating position rather than making the driving skulk and slink back in the seat in an attempt to make the car feel sporty."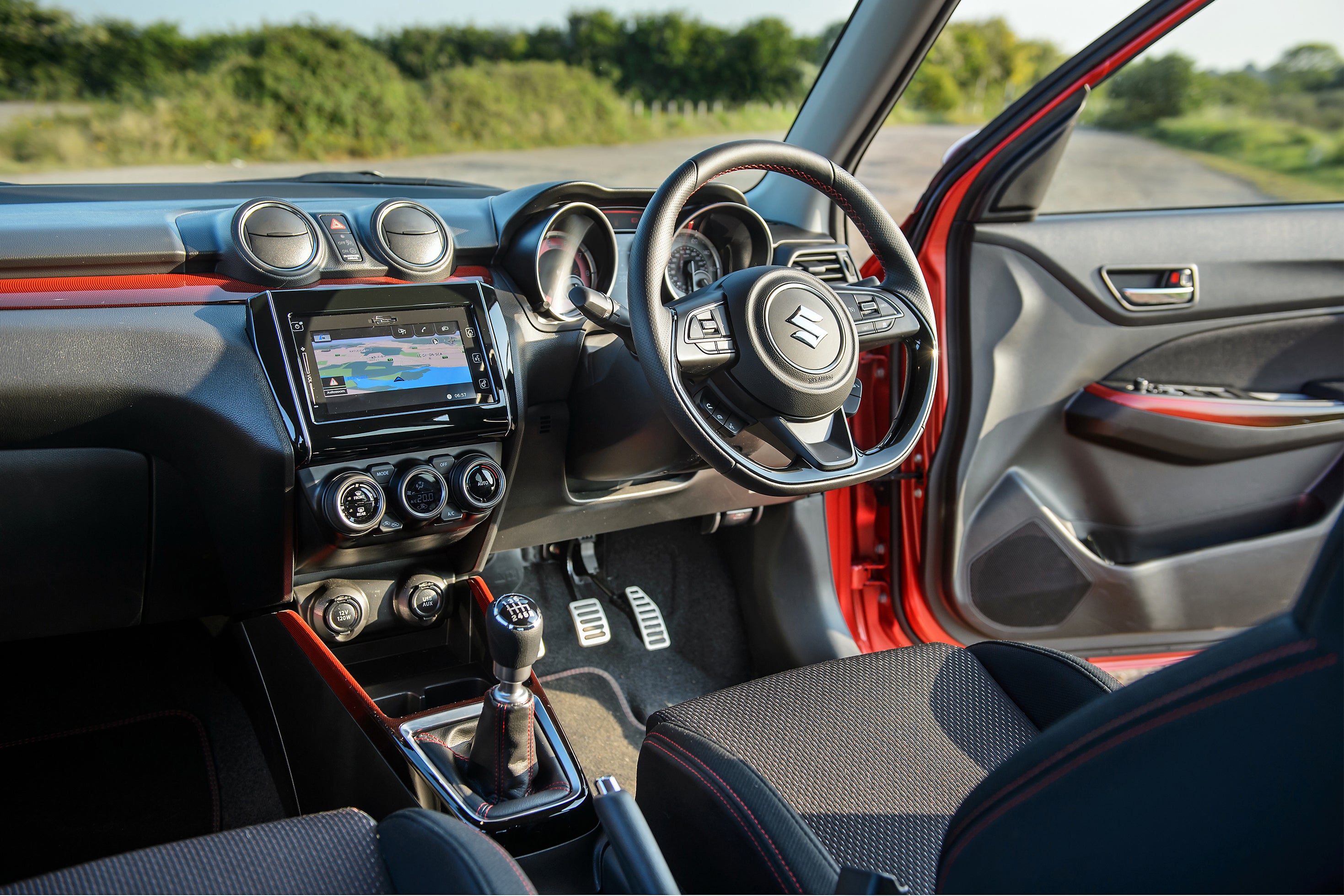 The driver also enjoys a steering wheel that adjusts for angle but not depth. This could be a serious demerit for the Sport's driving comfort, but the well padded and bolstered seat avoids this and you have seat height adjustment to help further fine tune the seating position.
In front of the driver, the main dash has a sporting style thanks red edging for the rev counter and speedo, and there are some more splashes of red on the dash, centre console and doors to lift the ambience.
It's practical too with large door pockets and two central cupholders although there's no centre armrest and the glovebox feels a little flimsy. The air conditioning is a little reluctant to get cold too and in normal driving can take 20 minutes to blow out properly cold air which is frustrating on a hot day when you're stuck in traffic.
What's impressive is the level of standard kit which includes DAB, a good navigation system plus Apple CarPlay, Android Auto and MirrorLink support.
Handling and ride quality
"The Suzuki Swift Sport may have taken a backward step in terms of performance with its transition to hybrid power, but the car remains a delight when you encounter a deserted twisty country road. This is where the Sport is at its very best as you don't need huge power to have a lot of fun. Instead, you need what the Swift has in abundance and that's poise."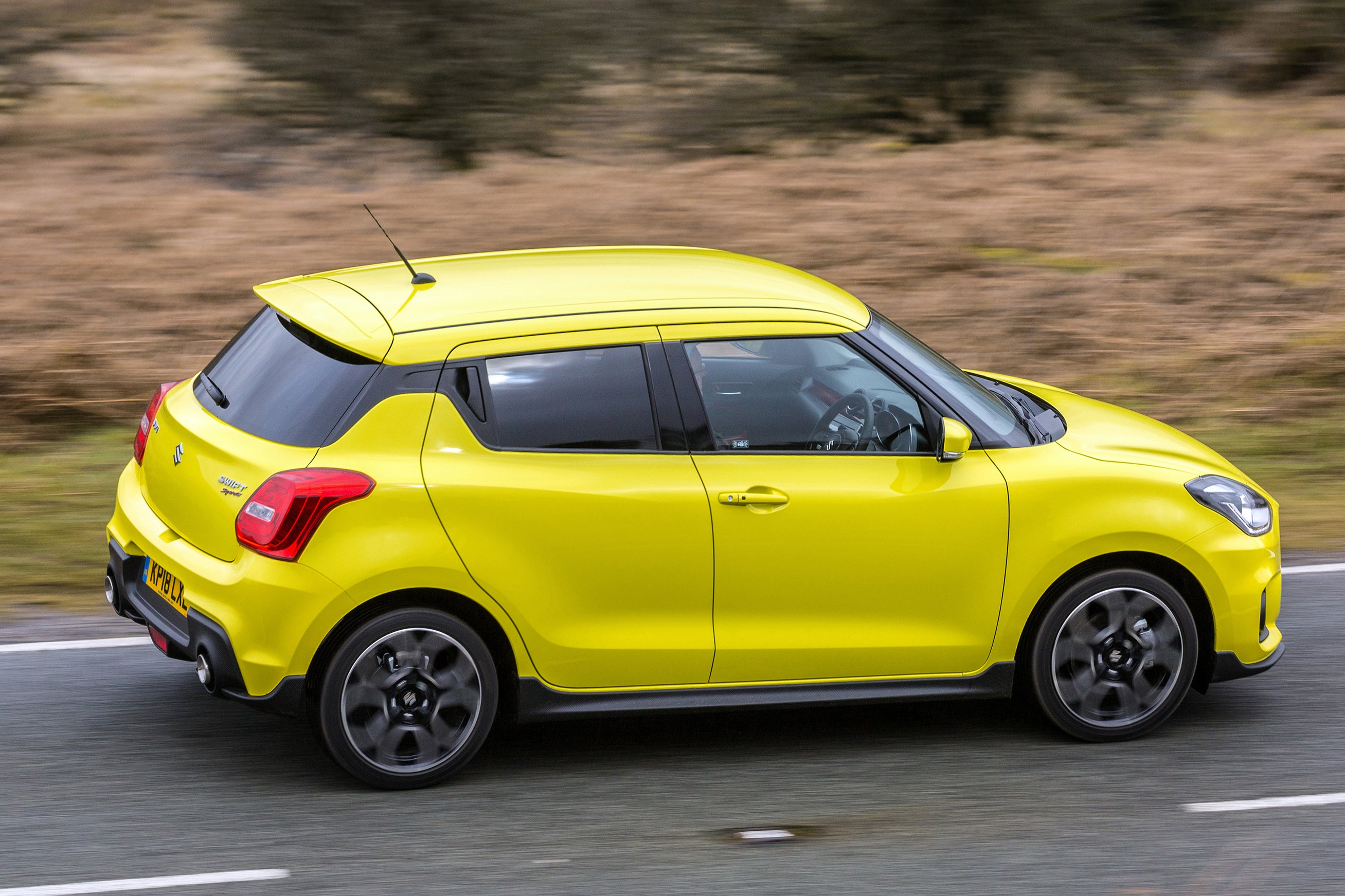 There is good grip from the tyres and the 17-inch alloy wheels are not so big that they are too easily wrong-footed by potholes or minor niggles in the road's surface. Rather, the Sport tends to flow with the road in a very contented, controlled manner that lets the driver feel what's going on and make use of all the available grip. In some hot hatches where you're clinging on for dear life as they go from one bend to the next at warp speed, the Suzuki just carries it slightly slower pace without the need to constantly dab the brakes or worry about going into a corner too quickly.
All of this is helped along by accurate, quick witted steering with ample feel and sensation. There's some lean from the suspension as you make the initial turn into a corner, but the car soon settles and happily holds its line and attitude.
We also find the Swift Sport's brakes are very well matched to the car's weight and performance. They have goo bite when you first press the middle pedal and they allow the driver to easily modulate how much speed is reduced with ease and accuracy.
Back on urban roads, the Swift Sport continues to feel very comfortable and at home with a supple ride. It's also easy to park thanks to the upright driving position, compact dimensions and minimal overhangs front and rear. You also get parking sensors and a reversing camera to help out.
On the motorway, the Swift is stable and deals with high-speed bumps as ably as it does everywhere else. Only the occasional side wind can remind you this is a small hatch with tall sides.
MPG and fuel costs
"The Suzuki Swift Sport with its mild hybrid petrol-electric set-up might not do wonders for performance, but it does now offer 50.1mpg combined economy under WLTP testing. This means it can cover up to a little more than 400 miles of mixed driving from full to the fuel warning light blinking."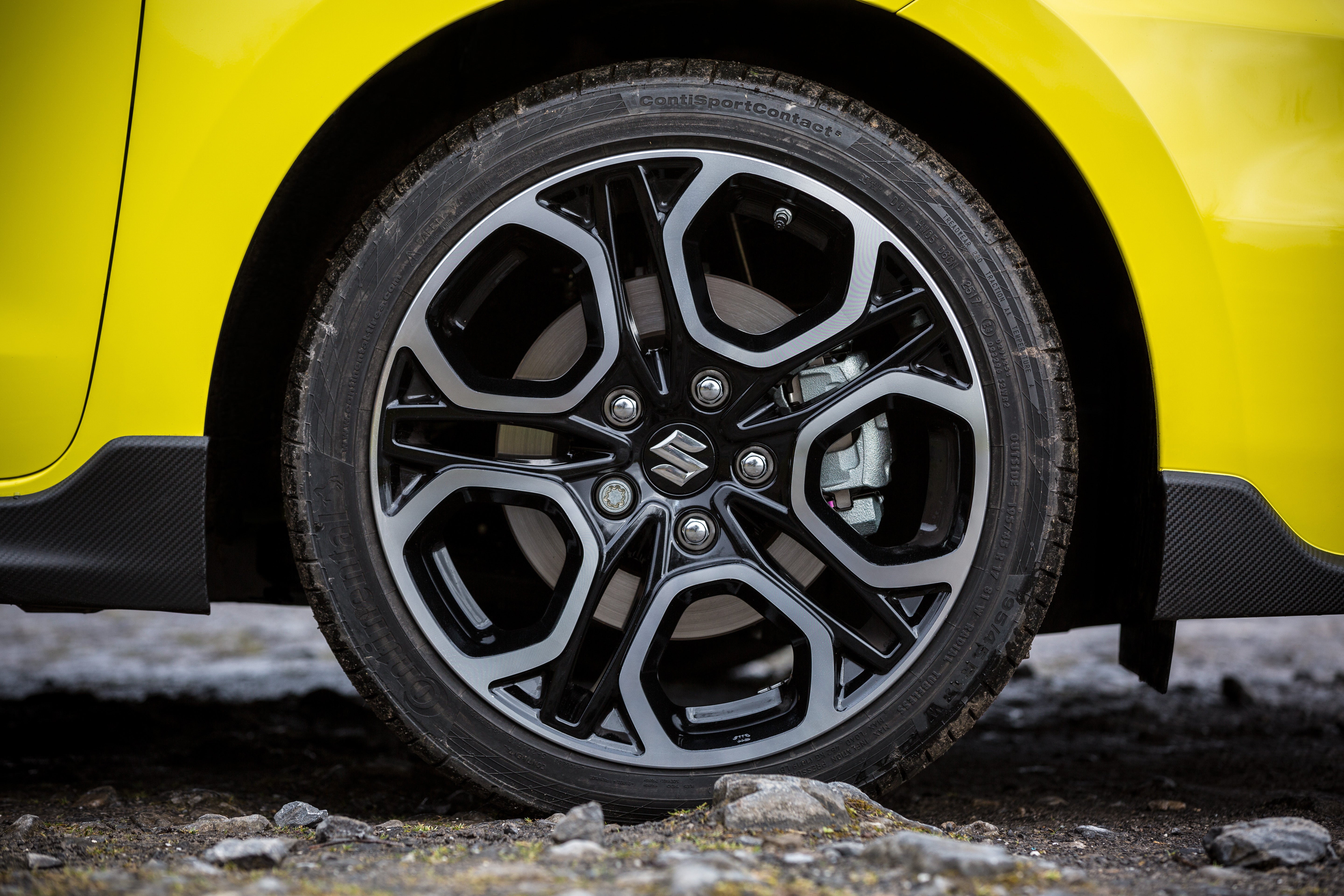 Real MPG figures for the non-hybrid Swift Sport show it is capable of 44.8mpg versus a claimed economy of 50.4mpg.
How much should you be paying for a used Suzuki Swift Sport?
"Sticking to the current generation of Suzuki Swift Sport with the 1.4-litre BoosterJet engine, a two-year old model with 20,000 miles on the clock could be yours from £11,500."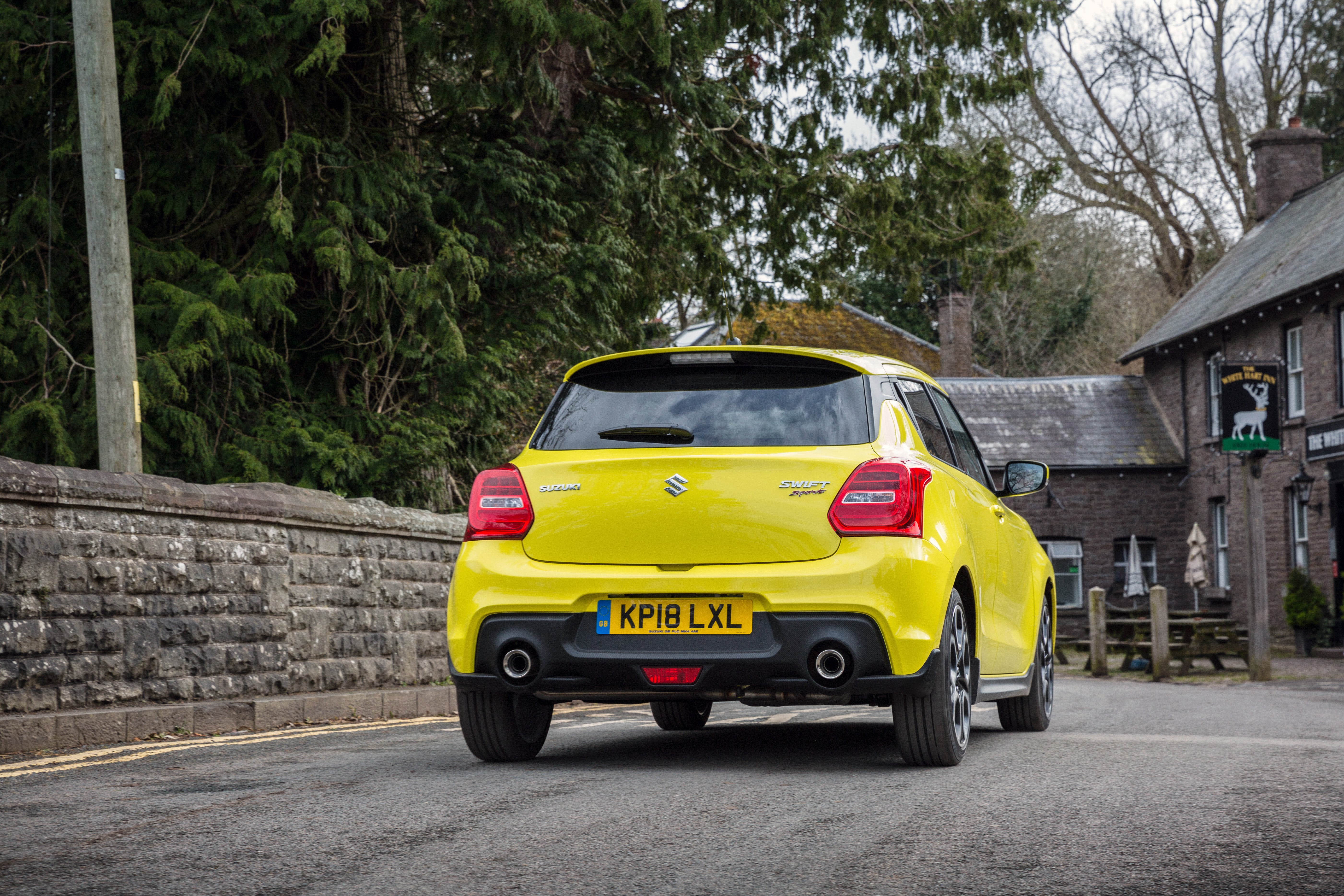 The increased list price of the latest hybrid model can be offset by choosing a pre-registered or nearly new example. If you don't mind being the second name in the logbook, you could drive off in a Swift Sport with only 2000 miles under its wheels from £14,000. That represents a saving of around £7000 on the list price, which makes the Swift Sport a much more appealing ownership prospect.
Is the Suzuki Swift Sport right for you?
Suzuki has pulled off a lot of good things with the Swift Sport over the years, offering those who want some fun in their daily drive an affordable dose of excitement. The Sport has always majored more on its handling prowess than outright speed, but the addition of the 1.4-litre turbocharged BoosterJet engine at this generation's launch in 2018 was a good omen.
The Swift Sport now had an engine that delivered decent pace at revs where the engine didn't feel it was about to make a bid for freedom from under the bonnet. It pulled well at higher revs too, so the BoosterJet motor was ideal
The Suzuki added mild-hybrid technology, which has added weight, blunted performance and upped the price considerably. It all means the Swift Sport is not painted into a corner against pricier and extremely talented opposition, such as the Ford Fiesta ST, which makes it very hard to see why anyone would choose the Suzuki.
What's the best Suzuki Swift Sport model/engine to choose?
As with most hot hatch derivatives of small hatchbacks, the Suzuki Swift Sport is offered with a single engine and trim. So, you get a 1.4-litre BoosterJet four-cylinder turbo petrol motor with six-speed manual gearbox. It comes with 129PS and 235Nm of low- and mid-rev shove, which is enough to see the Sport from 0-62mph in 9.1 seconds.
All Swift Sports are five-door models and they come with 17-inch alloy wheels, twin exhausts, rear privacy glass, and the usual array of spoilers for a hot hatch. You also get handy kit such as all-round parking sensors, adaptive cruise control, and keyless entry and ignition.
The interior offers air conditioning, electric windows all round, a parking camera, and a 7-inch infotainment system with touchscreen and sat-nav.
That's a fair bit of kit to cram into a small hatch, but then the Swift Sport is pricey when compared to most rivals of similar performance and power.
What other cars are similar to Suzuki Swift Sport?
Finding rivals to the Suzuki Swift Sport is tricky as anything at the same price is much quicker, while similarly performing competitors are cheaper. So, the Volkswagen Up GTI and Suzuki Abarth 595 are both notably less expensive and more fun to drive than the Sport.
At the same sort of money, the Ford Fiesta ST and Volkswagen Polo GTI are much faster and true hot hatches compared to the Suzuki's luke warm hatch status. All of which leaves the Swift Sport in No Man's Land rather than its own niche.
Quality and finish
Like the standard Suzuki Swift, the cabin of the Sport is functional and well built, but does make do with some hard plastics in places. It doesn't feel especially plush or upmarket, but on the plus side it should prove durable.
Suzuki has added some extras to make it stand out, so the Sport has red trim on the dash and doors, sportier instrument dials and aluminium pedals. There are also sport seats with more side support and red stitching which extends to the gear lever surround.
In all, it's just enough to lift the Swift Sport's cabin out of being humdrum, but it still misses the lure of a Volkswagen Polo GTI and its superb blend of materials, fabric and finishes. However, Suzuki also has a strong reputation for making cars that keep on working and we have no doubt the Swift Sport will fulfil this brief too.
Infotainment
Suzuki has made a decent effort to integrate the 7-inch infotainment touch screen into the Swift Sport's dash. It's well placed to be easy to reach from the driver's seat and there are remote buttons on the steering wheel to operate the stereo's volume and to answer phone calls while keeping your hands on the tiller. That sound control is very welcome as the one on the screen is fiddly to use and adjust accurately.
However, the screen's graphics and interaction both lag behind what is now considered the class norm. The screen is slow to react to inputs and the display looks very dated, especially the sat-nav map that can be difficult to read as it's too fussy and lacks definition.
It does come with Bluetooth and USB connection, so we'd recommend hooking the Swift Sport's infotainment up to your smartphone and using its apps in place of the embedded ones with the car's own system.
On the upside, sound quality is decent through the four standard speakers and Suzuki included DAB digital radio with the Swift.
Space and practicality
It may have some sporting pretensions, but the Suzuki Swift Sport impresses more with its practical and versatile virtues than it does with any ability to devour country roads. Thanks to the Swift's styling with a high roof line, the rear occupants mimic those in the front by sitting quite upright. With knees and hips set at 90-degree angles, it means every bit of available space is used and given over to keeping passengers comfortable.
As a result, the Swift is one of the few small hot hatches that you could seriously consider for carrying four adults on more than a quick jaunt across town. It even provides good shoulder and elbow room for this kind of escapade, though trying to fit three adults across the back bench would be a squeeze too far even if Suzuki does fit a trio of three-point belts back here.
Children will be very pleased with the amount of space on offer, though the high window line means they could feel hemmed in unless they are sat on a booster seat. Suzuki supplies Isofix child seat mounts on both outer rear seats.
Access to the back seats is good through the rear doors that are part of every Swift Sport of this generation. It also makes life much easier when loading and unloaded younger kids who use a child seat.
The 265-litre boot has decent enough room for a week's shopping or a pushchair and it's certainly an improvement over the previous Swift Sport. With the tailgate opened, the luggage aperture is wide and doesn't suffer from intrusion from the rear lights. However, the boot is not very long, so you may have to stack shopping bags one on top of the other to make them fit.
The rear seat backs fold down to free more space, but they don't fold flat and there's a bit step in the cargo floor when you do tip them forward.
Engines and gearboxes
The Suzuki Swift Sport is powered by a 1.4-litre BoosterJet engine and a small electric motor, which increases low-down shove by 5Nm to 235Nm over the previous petrol-only model. However, outright power takes a drip from 140PS to 129PS, and weight is up by 15kg due to the hybrid powertrain.
The result of all this is the latest Swift Sport is slower than the pre-hybrid version, which seems like a very retrograde step for a car with some hot hatch leanings. Now, the claimed 0-62mph time for the Swift Sport is 9.1 seconds, which is a whole second behind the earlier model that just used the 1.4-litre BoosterJet turbo petrol four-cylinder engine.
Still, the hybrid version is much like its predecessor and you don't have to rev the socks off it in order to get meaningful performance. The low rev urge of 235Nm peaks from just 2000rpm, which is 500rpm less than before, making the power more accessible. The result is strong in-gear performance and decent acceleration away from slow corners.
However, there's no getting away from the fact the Swift Sport is not that quick off the mark by hot hatch standards.
Suzuki has shortened the gear lever's throw by 10% with the hybrid model, addressing one of our few criticisms in this area where the old car's change could be a little notchy. It's odd that the rev counter goes up to 8000rpm when the engine redlines at just over 6000rpm. There's no warning on the dash of when you're close to that limit either, so if you're driving the Sport quickly, you'll often find yourself reaching the rev limiter sooner than you think.
Refinement and noise levels
There's lots of road noise at higher speeds, especially once you're up to motorway pace in the Suzuki Swift Sport. You'll find yourself turning the volume of the stereo up when you get on a multi-lane road in an attempt to drown out the wind whistle.
A fair amount of wind noise is generated by the upright windscreen, too, which adds to the general hubbub of travelling in the Swift sport at faster speeds. The ride is reasonably comfortable for a sporting hatch, but the dampers are firm and tend to thump motorway expansion joints.
As for the engine, Suzuki has made a good job of keeping it from being too rowdy or making itself heard in the cabin. There's a little growl at higher revs, but this isn't the most exotic or tantalising noise you'll ever hear in a hot hatch. The exhaust is fairly quiet, so if you're expecting a nice buzz or pop when you come off the power, you'll be disappointed.
As for the major controls, the steering, gearbox and pedals all work with the sort of resistance and feel to make the Swift Sport feel well put together and enjoyable to drive.
Safety equipment
The Suzuki Swift Sport is well equipped as standard with plenty of safety gear. It has twin front, side and curtain airbags, as well as three-point belts for all five occupants and Isofix child seat mounts on the two outer rear chairs.
Suzuki also fits its Dual Sensor Brake Support, which is the firm's own version of autonomous emergency braking to sport possible hazards and apply the full force of the brakes if the driver does not react. On top of this, the Swift Sport also has Hill Hold Control to stop it rolling back during a hill start and a Blind Spot monitor.
Swift Sport buyers are also treated to Lane Departure Warning as standard, along with Lane Departure Prevention, Weaving alert and Rear Cross Traffic Alert to tell the driver if vehicles are approaching from the side as you reverse.
And that's not all, because you also get traffic sign recognition, all-round parking sensors and a reversing camera. There's more too, with High Beam Assist to prevent dazzling oncoming drivers, a tyre pressure monitoring system, and ESP traction and stability control.
However, the Swift Sport does without a space saver or full-size spare wheel and, instead, makes do with a puncture repair sealant kit.
Insurance groups and costs
Getting insurance cover for the Suzuki Swift Sport could be one of the few hurdles to ownership of this car. It sits in group 35 for insurance, which is the same as a Renault Megane R.S. with twice the power output of the Swift. As a consequence, the Sport may be too pricey for many younger drivers who would otherwise be attracted to a warm hatch.
VED car tax
One of the main drivers for Suzuki option to fit the Swift Sport with a hybrid power set-up is to reduce the car's emissions under the latest WLTP tests. As a result, the hybrid model's 127g/km carbon dioxide emissions might not look much different from the previous Sport's but it means you'll save £10 a year in road tax with its £140 per annum tax burden.
Trim levels and standard equipment
Suzuki only sells the Swift Sport in a single trim version. As such, you get 17-inch alloy wheels, twin exhausts, rear privacy glass, body kit, and black-painted door pillars as standard. There are also front and rear parking sensors, reversing camera, and adaptive cruise control.
On the inside of the Swift Sport, you'll find all-round electric windows, keyless ignition, driver's seat height adjustment, and a 7-inch infotainment screen. This comes with DAB radio, Bluetooth, sat-nav and you can access smartphone apps through Apple CarPlay.
Automatic air conditioning takes care of the interior temperature, while heated door mirrors make light work of frosty mornings. You sit on sports front seats with Sport Exclusive upholstery front and rear, and the driver is treated to a leather-bound three-spoke sports steering wheel with remote control buttons for the stereo and cruise control.
Rounding off the Swift Sport's specification are unique main dials with red edging and a 4.2-inch digital display in the centre for onboard information.
Learn more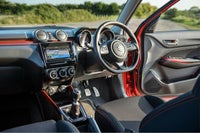 On the inside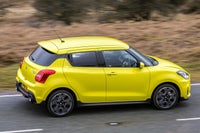 Driving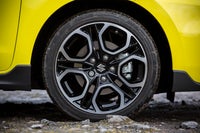 Cost to run
Prices and Specs
Reviews of similar cars
Quality checked, all cars less than 8 years old and warranty included
Looking for other Suzuki cars?
Quality checked, all cars less than 8 years old and warranty included
Keep me updated by email with the latest advice, news and offers from heycar
By submitting, you agree to our
privacy policy
.