Suzuki SX4 S-Cross Review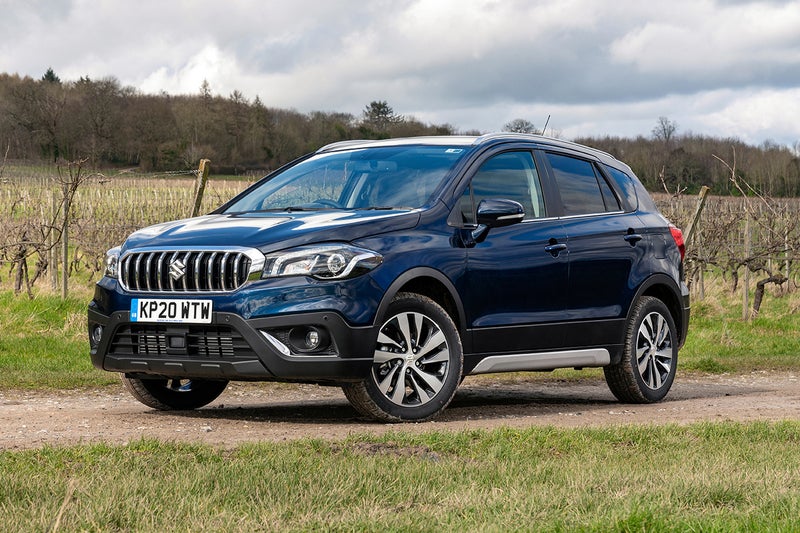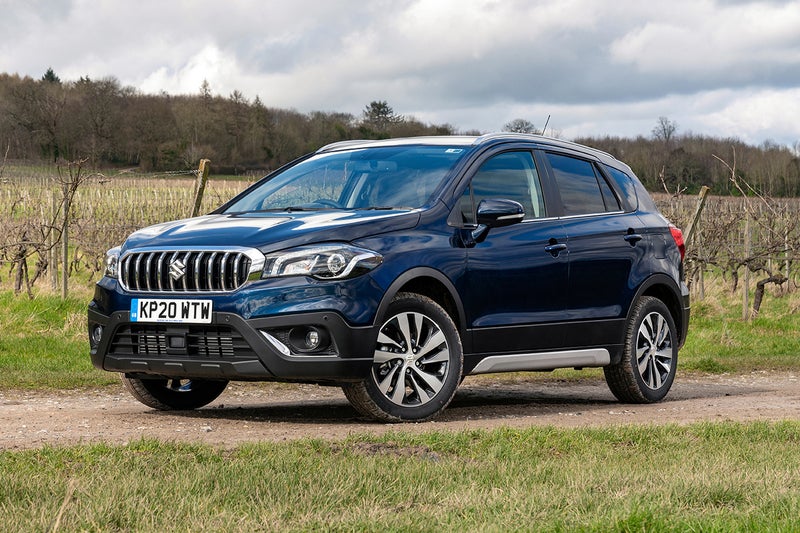 1/10
heycar rating
"Family-friendly practicality with 4x4"
Launched: 2013

Crossover

Petrol, Diesel
Quick overview
Pros
Well engineered, solidly built, option of four-wheel drive
Agile and good to drive
Perkey Boosterjet engines that are economical
Cons
Rear headroom on the tight side
Not as practical as some rivals
The 1.6-litre only has a five-speed gearbox
Overall verdict
On the inside
Driving
Cost to run
Prices and Specs
Overall verdict
"A convincing all-round package that marries practicality with decent engines and the option of all-wheel drive. It's reasonably priced, quite well equipped and as easy to drive in town like any other standard hatchback or estate. The Suzuki SX-4 S-Cross covers most of the small hatch bases with clinical ease and throws in supreme quality to ruffle its rivals."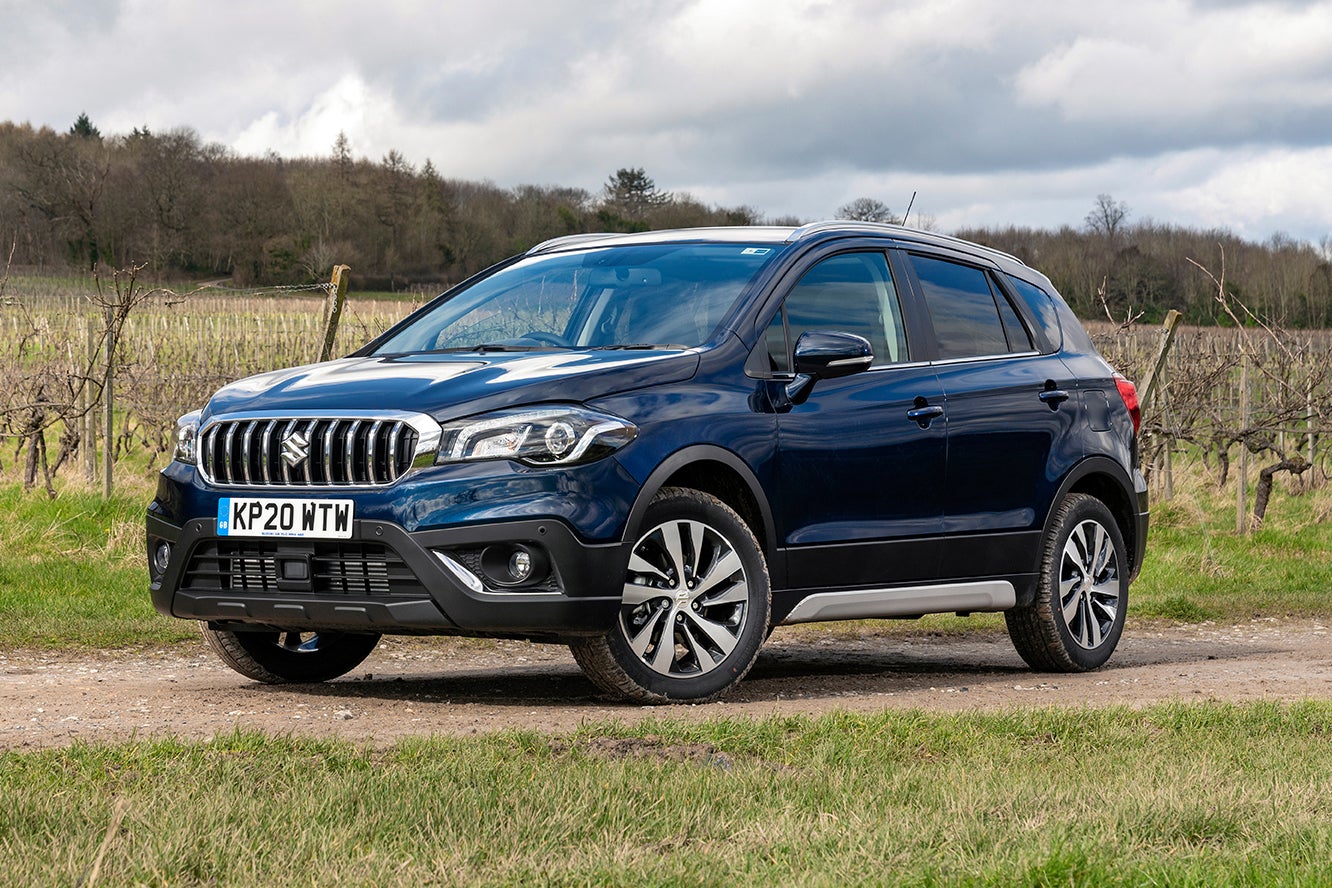 It's a case of 'Honey, I shrunk the Nissan Qashqai' with the Suzuki SX-4 S-Cross. So if you can see a few similarities, that's no accident - Suzuki wanted its family-friendly SUV to have the same attributes as the car that is the nation's best-selling crossover. And, to some extent, Suzuki has succeeded. The SX-4 S-Cross delivers the same sort of package as the Qashqai but it's more keenly priced and offers lower running costs.
Which begs the question - why don't you see more Suzuki SX-4 S-Crosses on the road and why is it still relatively rare on the used market when compared with something like a Nissan Qashqai or Ford Kuga?
The answer is simple, really: It's the Suzuki Vitara. This stalwart of the Suzuki range does everything that the SX-4 S-Cross does, but is slightly larger, slightly more practical, makes a better all-rounder and is better known. As a result, buyers in Suzuki showrooms have tended to plump for the Vitara, rather than the capable, but smaller SX-4 S-Cross.
And it's great that Suzuki buyers are now spoilt for choice, as Suzuki has a long history of making rugged off-roaders, but it hasn't always made family-friendly ones. The Suzuki SX-4 S-Cross falls firmly into the family-friendly category, with the choice of two or four-wheel drive in a car that's similar in size to a Ford Focus.
That means the SX-4 S-Cross is equally at home in towns and cities as it is taking on rough and muddy tracks in the countryside. And, come winter, the SX-4 S-Cross comes into its own, confident and sure-footed with snow and ice. In this regard, SX4 S-Cross competes with the likes of the Renault Captur and Skoda Yeti as well as its own stablemate, Vitara.
Power comes from the choice of 1.6-litre petrol and diesel engines in pre-facelift examples, while two turbocharged petrol engines - a 1.0 and 1.4 - were introduced in 2016 and replace the 1.6.
The diesel isn't much to write home about. It's a bit rough around the edges, both at idle and when accelerating, which is why you should opt for one of the petrol engines, which are smooth, even under heavy acceleration. The 1.0-litre and 1.4-litre turbocharged engines are great and much preferred over the older 1.6-litre. Both come with six-speed gearboxes, which means they have a bit more of a refined drive on the motorway over the 1.6-litre which only ever came with a five-speed transmission. That said, the 1.6-litre engine is eager and offers decent fuel consumption.
Where the SX-4 S-Cross really surprises is out on the road - it's surprisingly good to drive. It's nimble, agile and pleasing to drive, with responsive steering and well-controlled bodyroll. As you'd expect, grip is very good in Allgrip four-wheel drive versions. The only minor criticism with the way it drives is that the ride quality could be better. In keeping that bodyroll in check, the suspension has been firmed up.
It's a case of form over function inside. There's nothing wrong with the SX-4 S-Cross's interior, but it's a bit on the plain side and lacks much of the design flair that you'll find in other small crossovers. For some buyers, that simplicity will be part of the appeal. Although mid-range SX-T models and above get an infotainment system, it's not the speediest or most intuitive - it uses a touchscreen slider for volume, which can be tricky to use on the move.
A facelift came in late 2016. This made it look tougher, adding a distinctive chrome grille and a suite of styling changes, including raised suspension, chunky alloy wheels, new plastic cladding above the wheel arches and side skirts. It made the SX-4 S-Cross stand out more than ever, though these styling changes were not to everyone's taste.
Is the Suzuki SX-4 S-Cross right for you?
There's no shortage of alternatives to the Suzuki SX-4 S-Cross - indeed there's even competition from within Suzuki's own range of cars in the shape of the excellent Vitara.
The two things to consider when weighing up whether an SX4 S-Cross could be for you are: How much space do you need and is four-wheel drive important to you. If you need more load area - whether it's because you have a growing family or a hobby/business that requires room, then you may want to consider the larger Vitara. If space isn't a concern, you for the SX-4 S-Cross, as it's as easy to drive as any other regular hatchback. The same goes for four-wheel drive. If you don't need it then there are plenty of other options to consider and it's worth checking them out - particularly if an upmarket interior is important to you. this is one area where the SX-4 S-Cross falls down.
What's the best Suzuki SX-4 S-Cross model/engine to choose?
The facelifted SX-4 - from late 2016 onwards - is the one to go for. Although this didn't add much in the way of bells and whistles in terms of equipment and specification, it did introduce two very good turbocharged petrol engines: the 1.0-litre and 1.4-litre Boosterjets. These offer a tangible and noticeable difference over the previous 1.6, are great to drive and come with a six-speed manual gearbox, which makes life much easier on the motorway.
If budget allows, also consider the mild hybrids introduced from mid-2020 onwards. This is offered on the 1.4-litre Boosterjet and offers up to 20 per cent lower CO2 emissions, a greater level of pulling power from the engine and a 15% overall improvement in fuel consumption. It replaced the standard 1.4-litre with manual transmission in 2020.
What other cars are similar to the Suzuki SX-4 S-Cross?
The Suzuki SX-4 S-Cross is a size and shape that means everything from a Ford Focus hatchback to a Nissan Qashqai could be considered to be alternatives to it. Principally, the SX-4 S-Cross has rivals in the form of the Skoda Yeti, Renault Captur and Peugeot 2008.
The most obvious rival for the Suzuki SX4 S-Cross is the Nissan Qashqai, which feels a little more upmarket. But to get the same level of equipment it costs more appreciably more than the S-Cross.
Comfort and design
"Usually when a car gets a mid-life refresh, you can't really tell at a glance. But with the Suzuki SX4 S-Cross, there was a big styling difference between the Suzuki SX-4 S-Cross that was launched in 2013 and the car that was refreshed for 2016."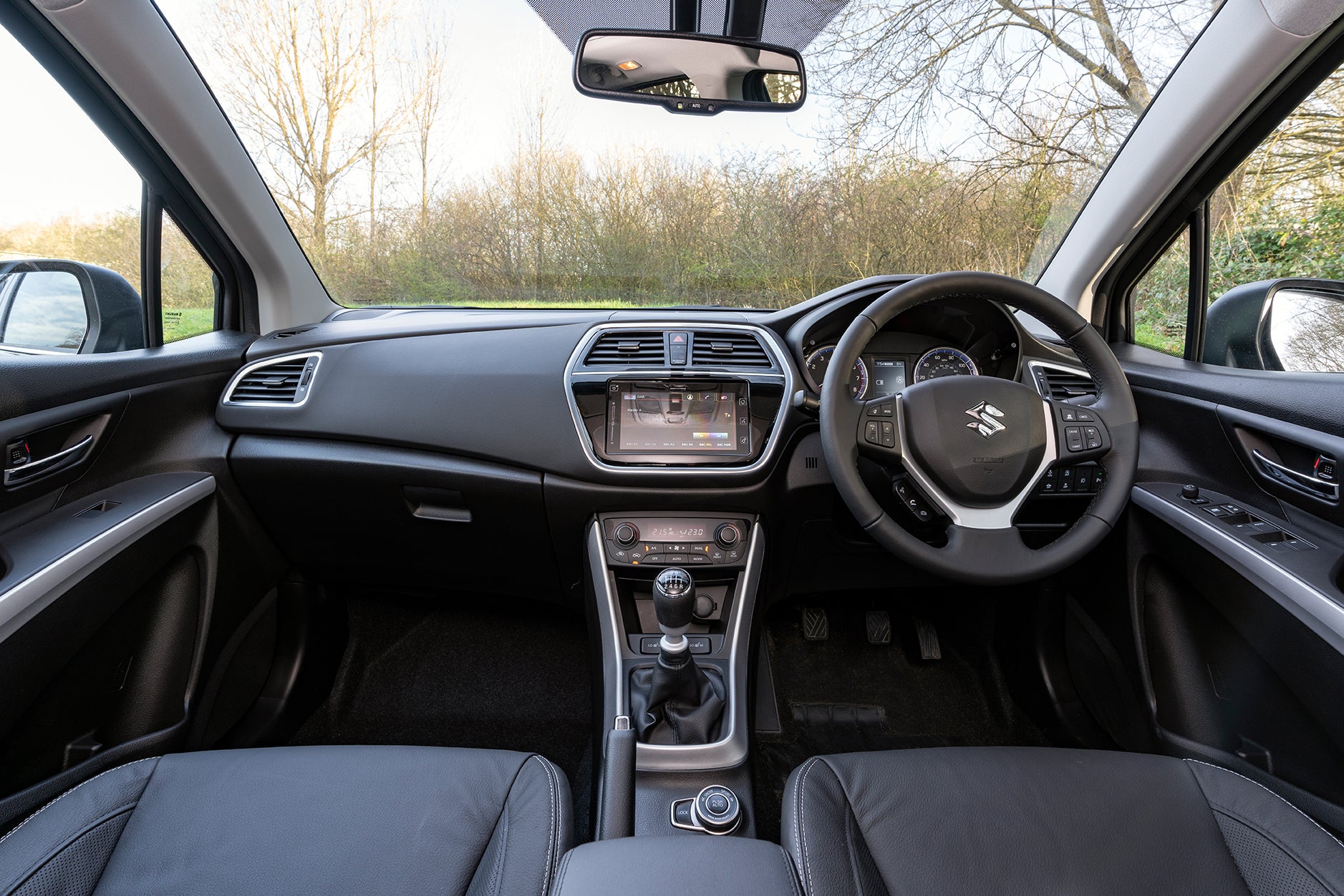 You could be forgiven for thinking it was a completely new model. The front is almost unrecognisable, with a new grille, a different bumper design and redesigned headlights, all designed to give it a more typical SUV look. It wasn't just a nip and tuck…
Not much changed inside the SX4 S-Cross. The dashboard layout is the same whether it's a facelifted SX-4 S-Cross or not and is finished largely in hardwearing but durable plastics, though there is a soft-touch inlay plus a new, easier to use touchscreen system on post-2016 cars. Back seat space is ample for children, but in top models the panoramic roof reduces the level of headroom, so taller occupants might struggle a little.
Quality and finish
The Suzuki SX-4 S-Cross is solidly engineered and well built. The interior may lack some of the smarter materials of its rivals, but it's well screwed together and attracts little in the way of reliability issues from people who have owned them. There's very little to say in the way of recalls, either. All these factors combined demonstrates that this is a car that is unlikely to cause you serious reliability headaches.
Infotainment
There's a reasonable provision of infotainment, with even the entry-level SZ4 trim gets DAB radio, USB port and Bluetooth connectivity. It's also the trim to go for if you must have a CD player - the simpler set up (compared to models higher up the range) means that it's the only trim that gets one. All other trims rely on phone/USB connectivity, as is becoming the norm.
SZ-T and SZ5 trim levels get a full touchscreen infotainment system from 2016. That means integrated sat-nav and Smartphone Link, which enables you to mirror a simplified version of your Apple or Android smartphone onto the screen. The system lags behind what you can get from other manufacturers, as it can be a little slow to respond and a bit on the fiddly side. These models also get a reverse-parking camera, though only SZ5 adds front and rear reversing sensors.
No Suzuki Vitara buyer should feel hard-done-by when it comes to on-board infotainment. Even the entry-level SZ4 trim gets DAB radio, USB port and Bluetooth connectivity. It's also the trim to go for if you must have a CD player - the simpler set up (compared to models higher up the range) means that it's the only trim that gets one. All other trims rely on phone/USB connectivity, as is becoming the norm.
SZ-T and SZ5 trim levels get a full touchscreen infotainment system. That means integrated sat-nav and Smartphone Link, which enables you to mirror a simplified version of your Apple or Android smartphone onto the screen. The system lags behind what you can get from other manufacturers, as it can be a little slow to respond and a bit on the fiddly side. These models also get a reverse-parking camera, though only SZ5 adds front and rear reversing sensors.
Space and practicality
As practical as ever with lots of space inside, the S-Cross is particularly good for passengers sat in the back. It also boasts a large boot that has a wide opening and is easy to get a pushchair into. The boot is a reasonable size at 430 litres (matching the Nissan Qashqai) and it can be expanded to 875 litres by folding the rear seats down. The load deck is flat, but quite high off the ground, which means lifting items up and in can be tricky. Fortunately getting them out is straightforward enough, though dog owners might struggle to encourage their pets to jump in unaided.
As a family car, it ticks all the boxes in a more compact package than the Vitara, helped by a longer wheelbase. A panoramic sunroof is offered on top-spec cars. while this creates a light and airy environment inside the SX4 S-Cross, it does rob it of some headroom.
Handling and ride quality
"In terms of driving, the SX4 S-Cross is surprisingly impressive. Body control is good in corners and the steering is precise with a decent weight, although as with most modern cars, there's little in the way of 'feel', not that it diminishes the way it drives."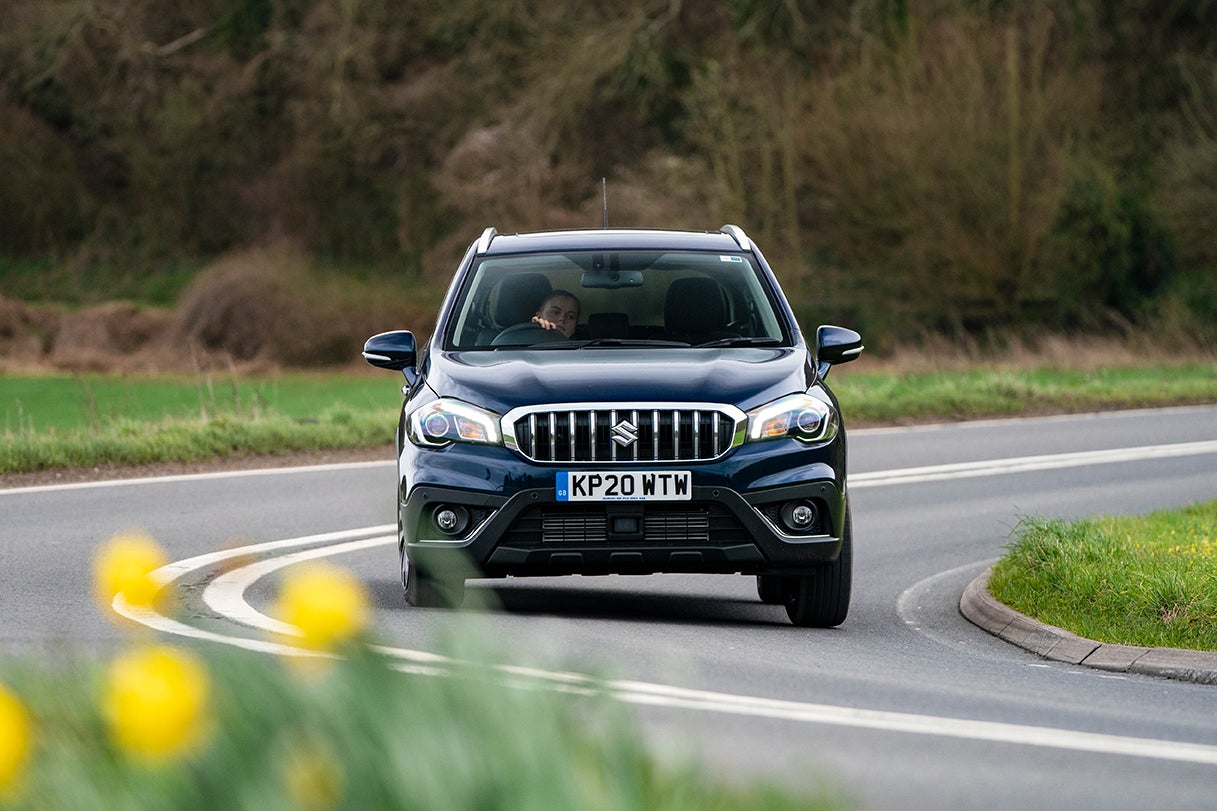 The ride is a touch on the firm side, particularly the rear suspension set-up which can be noisy over poor roads, but the majority of the time the S-Cross is comfortable and smooth.
Alongside the standard front-wheel drive models, the S-Cross also comes as a 4WD with Suzuki's AllGrip four-wheel drive system. This on-demand system is controlled by a neat dial on the central console and has different modes including snow, automatic and sport. In auto mode it runs as a front-wheel drive, only going into 4WD when needed while snow mode uses 4WD as a default. The Sport mode makes the accelerator pedal more responsive and sends more power to the rear wheels."
On the whole the suspension is good, providing comfortable ride quality over most road surfaces, albeit with the odd thump over manhole covers or potholes. The handling is neat and predictable, but there is some quite noticeable body roll when pressing on at higher speeds. The steering could provide a bit more weight and precision too.
But there are no complaints at lower speeds. In town, the S-Cross feels no bigger than a typical family hatchback, while on A- or B-roads it's relaxed and easy to get on with. On the motorway, there's enough power in reserve to make overtaking easy, albeit it with a bit of wind noise. Thankfully it's never obtrusive.
Engines and gearboxes
Originally offered with a 1.6-litre diesel and a 1.6-litre petrol. Both produce the same peak power figure of 120PS but the diesel has a significantly higher torque output – 320Nm as opposed to 156Nm – and it is available lower down the rev range.
Both were much improved from late 2016 onwards and these are the ones you should seriously consider.
The old 1.6-litre petrol was replaced by a 1.0-litre BoosterJet petrol. A small engine such as this may sound off-putting in what is a fairly big car, but there's no reason to be – the 111PS 1.0-litre is turbocharged to produce more torque and almost as much power. Crucially it's more economical than the outgoing engine.
It's available with a five-speed manual or six-speed automatic with front-wheel drive, plus there is an all-wheel drive manual. Even the least efficient all-wheel drive version is officially capable of 53.3mpg, so running costs should be low, while emissions range from 113g/km to 119g/km. It's a flexible and capable engine that picks up speed surprisingly well. It's a big step up from the 1.6-litre.
It's smooth and much quieter than the old engine, plus it's easier to use since peak torque of 170Nm is available from low engine speeds. Consequently, it's very forgiving of lazy gear changes.
The 2016 facelift also saw the introduction of a TCSS automatic gearbox for the SX-4 S-Cross. It is very impressive. Until that point, the only automatic in the S-Cross range has been the CVT with the 1.6-litre petrol, but the TCSS is far better and one of the best twin-clutch gearboxes on the market.
In the 1.6 DDiS diesel, it's well suited and offers plenty of pulling power thanks to the 320Nm of torque that's available from low revs. The shifts are quick and smooth with the S-Cross showing a surprisingly rapid turn of pace if required.
It also responds well if you ask it to kickdown a gear. The only minor criticism we have is that it can tend to hold onto a gear for a little too long at times, which makes things a bit noisy as the diesel clatters along towards the redline. There is a manual mode, plus there are also paddles on the steering wheel, but the gearbox works well enough for the most part, so there's no real need to use them. Instead, you can just leave it in D and let the transmission do the work.
Further changes came in 2020, with the introduction of a mild hybrid system on the 1.4-litre Boosterjet. Similar in basic principle to the 12V Hybrid system that Suzuki introduced in 2016 on smaller models, the newly developed 48V Hybrid Powertrain remains very lightweight in design and the components add less than 15kg to the overall weight of the vehicle.
The Suzuki SHVS (Smart Hybrid Vehicle by Suzuki) system consists of a 48V lithium-ion battery, Integrated Starter Generator (known as ISG) and 48V-12V (DC/DC) converter to power components requiring lower voltage including lights, audio and air conditioning. The ISG acts as both a generator and starter motor, is belt driven and assists the petrol engine during vehicle take off for a higher level of torque with 235Nm available from 2,000rpm.
The compact lithium-ion battery stores electrical energy recovered from deceleration and braking and incorporates an idle stop function operated via the Integrated Starter Generator. This battery, along with the DC/DC convertor unit, is located under the front seats to assist overall weight distribution.
A further benefit of the new 48V Hybrid system is the introduction of electric motor idling when the clutch is disengaged and the engine speed is approximately 1,000rpm. This feature essentially replaces fuel injection with power from the electric motor to then control and maintain engine idling at vehicle speeds below 10mph and when stationary.
Refinement and noise levels
The engine to really look out for is the 1.6-litre diesel. This is the engine that really stands out in the Suzuki SX-4 S-Cross range as being on the noisy side. It's loud at start up and, although some of this dies down as the engine warms up, it continues to be loud in most conditions.
The 1.0-litre and 1.4-litre Boosterjet petrol engines are far more refined. While their peppy nature means that they are rather thrummy under heavy acceleration, they settle down nicely out on the open road.
Wind and road noise is kept well in check and the SX-4 S-Cross is remarkably refined at speed.
Safety equipment
The Suzuki SX-4 S-Cross has a good list of safety features, ticking all the key boxes, but there's nothing to make you think that Suzuki has gone the extra mile. That said, there's not much to grumble about, either. Kit include up-to-date safety features like adaptive cruise control and automatic braking, as well as a high level of passive safety specification thanks to lightweight but strong bodywork. It scored five stars when it was crash tested by Euro NCAP in 2013.
All SX-4 S-Cross models come with a can of puncture repair foam and a compressor instead of a spacesaver or full-size spare wheel. A spare wheel is an option and there are third-party providers who can offer a 'spare wheel in a bag' option, if you consider that to be a must-have.
MPG and fuel costs
"If you want the most economical Suzuki SX-4 S-Cross, you need either the older diesel or the 1.0-litre Boosterjet five-speed manual."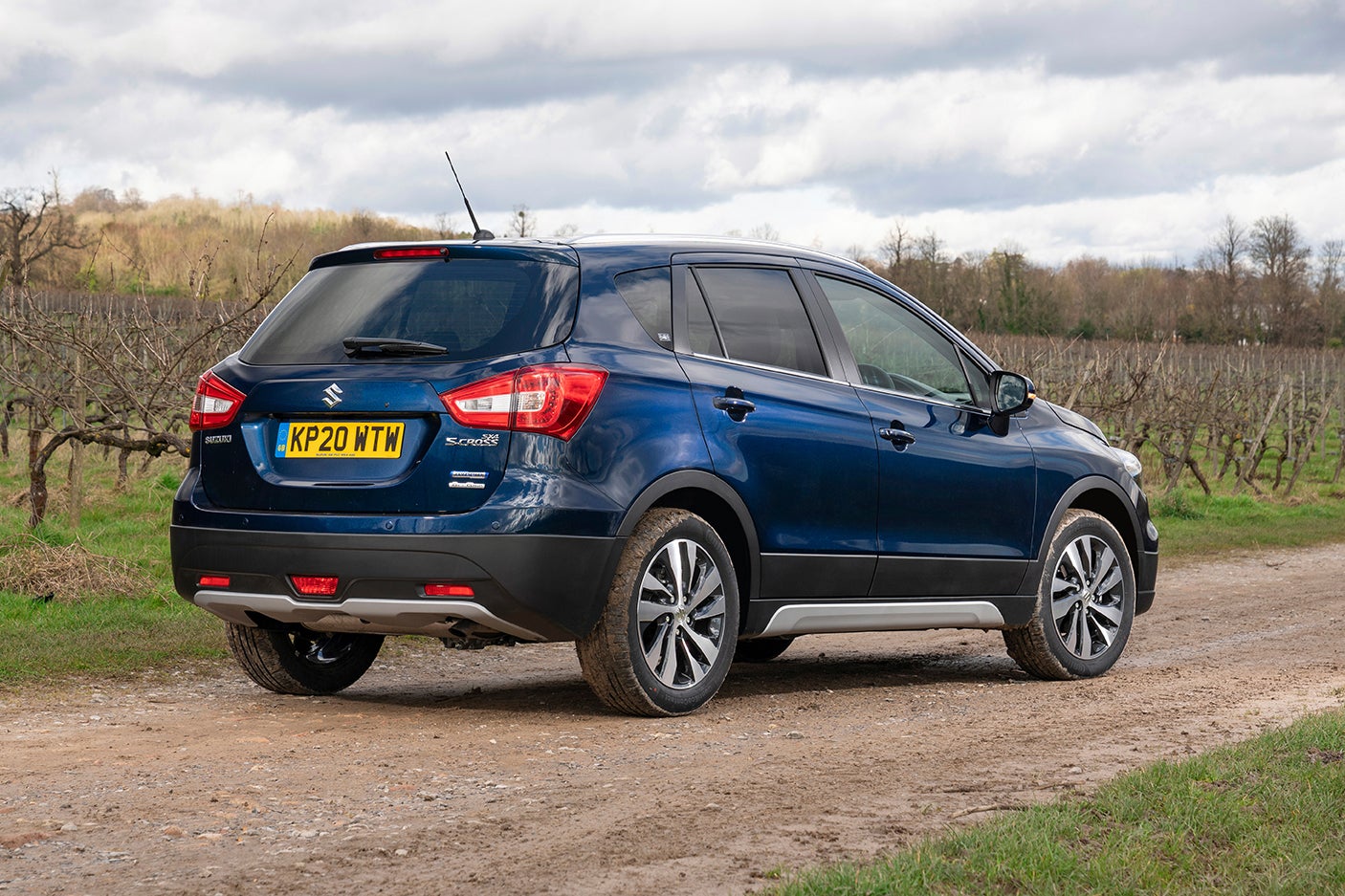 If you can, go for that 1.0-litre, as it's a really capable engine and a huge improvement on the diesel. In front-wheel-drive form, it will return 56.5mpg and gives CO2 emissions of 113g/km. The Allgrip four-wheel-drive option drops fuel economy down to 53.3mpg. The 1.4-litre Boosterjet engine only comes with Allgrip four-wheel-drive, and comes in at 50.4mpg, with emissions of 127g/km."
Insurance groups and costs
The SX-4 S-Cross is a little more expensive than its competitors when it comes to insurance. The updated SX4 S-Cross starts with the 1.0-litre SZ4 in group 16, but higher trim models can be up to group 21, with the 1.4-litre Boosterjet in insurance group 24. You'll find that the Skoda Yeti is in groups 15 to 22 and the Nissan Qashqai is 13 to 19.
Helping the SX-4 S-Cross insurance ratings are an immobiliser and Thatcham Category 1 standard alarm fitted as standard to all models.
VED car tax
Being around for so long means that the SX-4 S-Cross has road tax rates that are in both the pre- and post-20177 systems. That's an important thing to check when you're buying as for those cars registered before April 2017, it's possible to pay just £20 in annual VED, whereas the flat rate is considerably higher. You'll be looking at in excess of £145 a year to tax, after a CO2-weighted year-one payment in the on-the-road price.
How much should you be paying for a used Suzuki SX-4 S-Cross?
"The Suzuki SX-4 has been around for some time, which means that there's a wide spread of price points and something to suit almost any budget."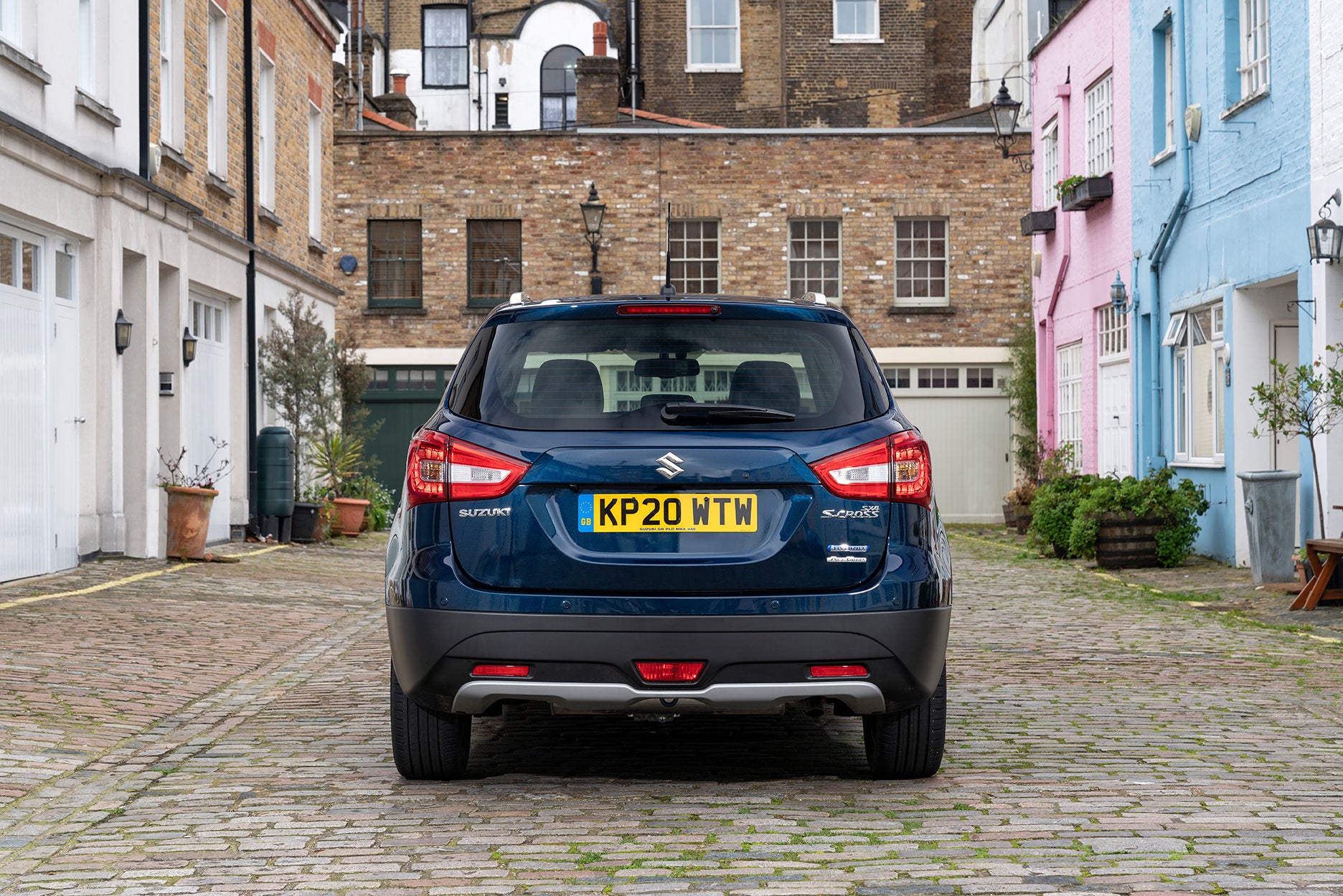 Those early 1.6-litre cars are the most affordable. Prices start from around £5,000, with dealers being slightly more expensive. Bear in mind that Suzuki dealers will have the best stock, with low mileage a good spec.

There are few SX-4 S-Cross bargains to be had when it comes to nearly-new. It's not unusual to see examples that are just a few months old to be retailing in excess of £20,000.
Trim levels and standard equipment
The range kicks off with SZ3. This has 16-inch alloy wheels with manual air conditioning, cruise control, CD audio with USB connector, body colour mirrors and handles, power-adjustable door mirrors, heated door mirrors plus tilt and telescopic steering wheel.
Next up is the SZ4, with 17-inch alloy wheels, silver roof rails, silver front, rear and side skid plates, front foglamps, dual-auto air conditioning, rear privacy glass, Bluetooth, leather steering wheel plus keyless entry and start.
Mid-range SZ-T adds DAB radio, rear parking camera, rear parking sensors and polished 17-inch alloy wheels.
The range-topping SZ5 gets leather seats, auto headlights and wipers, HID headlights, LED daytime running lights, power-folding door mirrors, panoramic glass roof, front parking sensors, auto-dim rear view mirror and heated front seats.
Suzuki SX4 cars for sale on heycar
952
Number of cars available
£7.4K - £26K
Price bracket of these cars
Colours available on heycar
Keep me updated by email with the latest advice, news and offers from heycar
By submitting, you agree to our
privacy policy
.