Suzuki Vitara Review 2022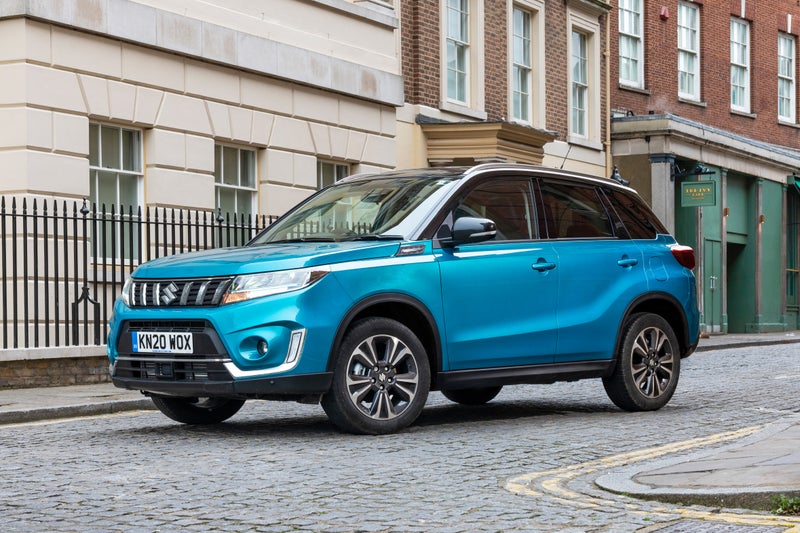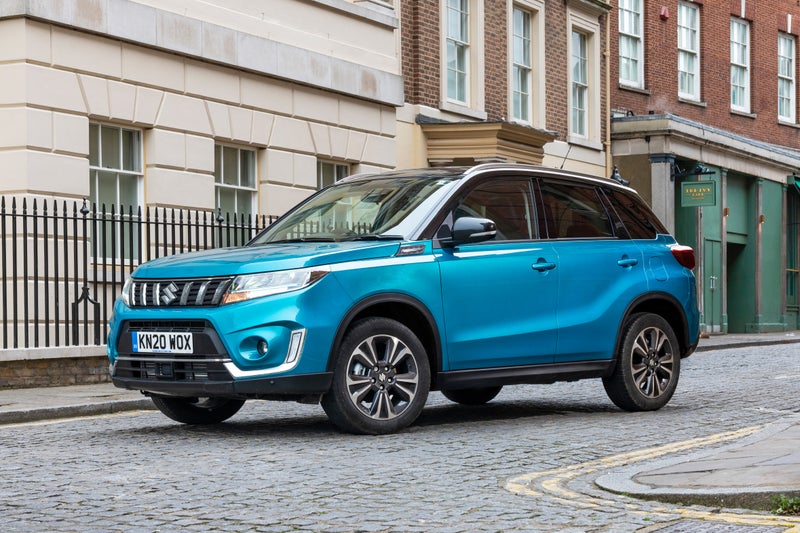 1/10
heycar rating
"All rounder and family favourite"
Launched: 2015

Small SUV

Petrol, Diesel
Quick overview
Pros
Good to drive
Well equipped
Easy to live with
Cons
Interior lags behind similar models
Kia and Hyundai offer longer warranties
Slightly thirsty older engines
Overall verdict
On the inside
Driving
Cost to run
Prices and Specs
Common questions
Overall verdict on the Suzuki Vitara
"The Suzuki Vitara was a small SUV long before it was cool. The original version was launched back in 1988 and caused something of a sensation, trailing a blaze for 'soft-roaders' and their 'small SUV' offspring ever since."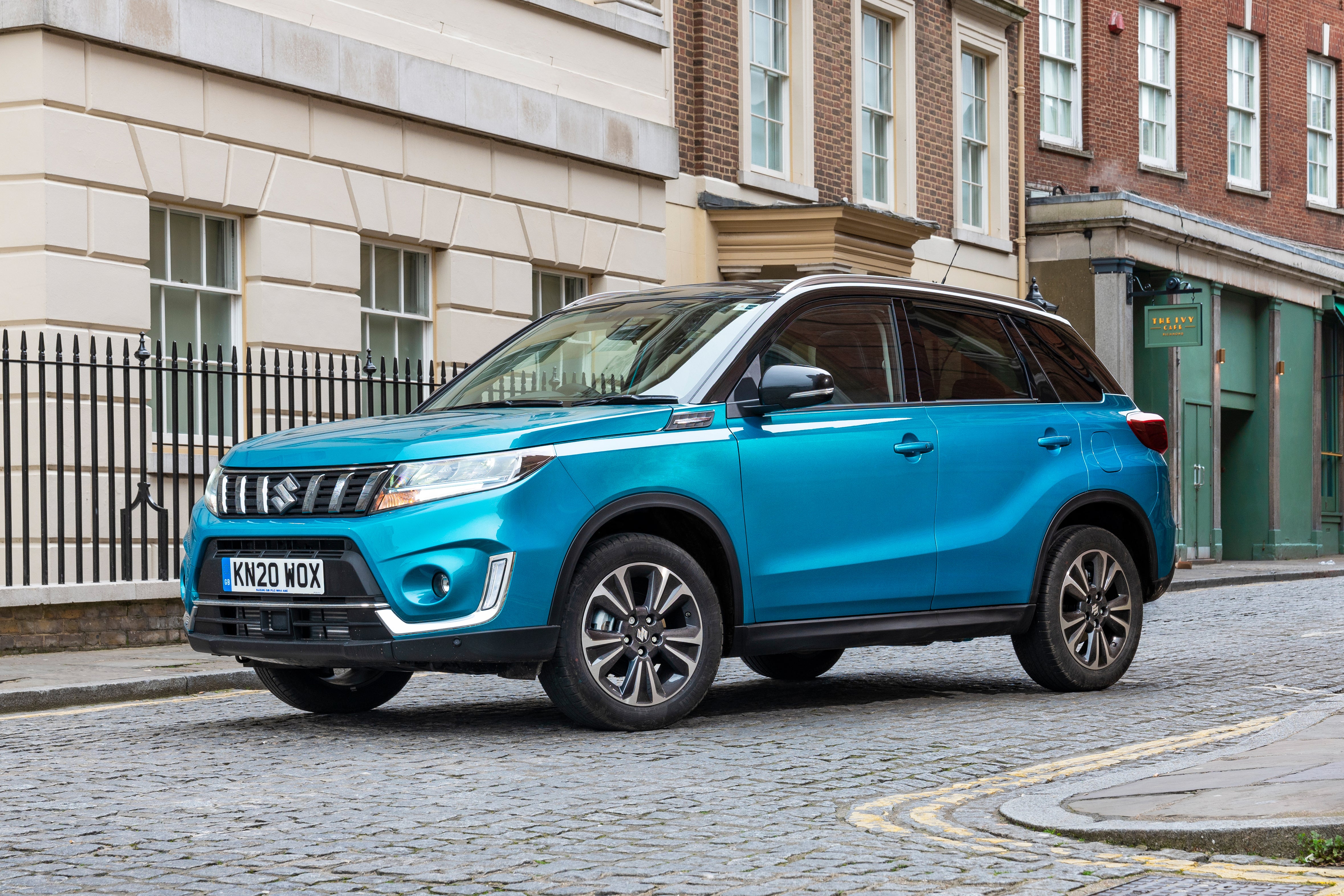 These days the Suzuki Vitara - which was relaunched with a brand new version in 2015 - has reinvented itself as an alternative to small SUVs, like the Nissan Juke and Renault Captur, as well as more left-field choices like the Kia Soul and Skoda Yeti. Let's take a closer look how this has been done with our 2022 Suzuki Vitara review.
The Suzuki Vitara's heritage shines through in the way it looks: chunky, rugged and exuding a go-anywhere confidence. This is one of the few small SUVs that walks the walk, too, as the Suzuki Vitara can genuinely hold its own off-road if you opt for one of the models with Allgrip four-wheel drive (although it stops short of being a serious off roader - that's the Jimny's party piece), while on the road it makes the Vitara always feels composed.
When it went on sale in 2015, this generation of Suzuki Vitara had three engine choices: 1.6-litre petrol and diesel units and a 1.4-litre turbocharged petrol 'Boosterjet' engine, which is the most powerful engine in the range, but was initially only available with four-wheel drive.
Following the 2019 facelift, the 1.6-litre diesel and petrol options were dropped from the range and a turbocharged 1.0-litre petrol was added, while the 1.4 Boosterjet got the option of both two-wheel drive and four-wheel drive and a choice of an automatic or manual gearbox.
There's a lot to like about Suzuki Vitara's engines, whether you go for pre or post-facelift. They're eager and responsive, but the 1.4 and 1.6-litre petrols aren't the most economical, while the diesel is a bit harsh under acceleration, even if it is the most economical of the lot.
Out on the road, Vitara is well mannered, something that will be particularly noticeable if you've previously owned an older Suzuki - this Vitara is good to drive, smooth, refined and the most car-like off-roader that the Japanese firm has ever built. Ride quality - often a Suzuki bugbear is actually very good in the Vitara.
Vitara drivers are treated to a comfortable driving position with good visibility and lots of room. The seat and steering wheel adjusts in numerous ways, too. And that focus on practicality is reflected elsewhere in the car, with plenty of space for passengers front and back and a decent-sized boot.
When it comes to choosing which Vitara to go for, the range is easy to understand and offers a decent choice of trims, including SZ4, SZ-T, SZ5 and 'sporty' S trim levels. The base-level Suzuki Vitara SZ4 has air con, cruise control, DAB radio, electric windows, front fog lights, USB/Bluetooth connectivity and 16 inch alloy wheels. Go for the Vitara SZ-T for sat nav, while the SZ-5 benefits from suede seat trim, LED headlights and a panoramic sunroof. The sporty Suzuki Vitara S gets stiffer sports suspension and black alloy wheels
Add to that up-to-date safety equipment including active systems like adaptive cruise control and automatic braking, as well as a high level of passive safety specification thanks to lightweight but strong bodywork. It scored five stars when it was crash tested by Euro NCAP in 2015.
The Suzuki Vitara offers great value for money. For 2019, it was brought up to date with an improved interior (you can tell the revised models by the chrome slats on the grille) making it more than a match for other small SUVs.
Is the 2022 Suzuki Vitara right for you?
The Vitara is Suzuki's DNA in metal form: it's well equipped, well engineered and has go-anywhere credentials. Even in a crowded market with some excellent alternatives, Vitara makes a great case for itself. If you need your small SUV to be me capable than not, this will probably edge it over the other options on sale. But it's more than just a capable set of wheels, the boot is a great size and easy to access. Flip down the seats and you have a large load area too - perfect for family life.
Models from 2020 add a mild hybrid system. While this is a substantial upgrade for Vitara, don't get it confused with something like a Renault Captur E-Tech PHEV. The Suzuki hybrid charges itself by harvesting otherwise wasted energy - you don't plug this hybrid in and as a result don't expect to go far on battery power at all. This hybrid is all about making the petrol engine more efficient.
What's the best Suzuki Vitara model/engine to choose?
Most Suzuki Vitara buyers opt for the two-wheel-drive version, however, which feels like a Swift-on-stilts (in a good way). It will grip and grip, although there's obviously more roll than the hatch due to the higher centre of gravity. Various engines have been available since it was launched, but the 1.0-litre turbocharged BoosterJet petrol, launched when the Vitara was facelifted for 2019, is our choice, thanks to smooth yet strong performance and little noise.
Even the entry-level Suzuki Vitara SZ4 gets air conditioning, cruise control, a DAB radio, electric windows, front fog lights, USB and Bluetooth connectivity and 16-inch alloy wheels, a surprisingly well-specced entry-level model. Higher up the range, the pick is the SZ-T with integrated sat nav and media system.
What other cars are similar to the Suzuki Vitara?
Buyers of small SUVs are spoilt for choice. If you're after something a bit older, you've got the Skoda Yeti, Ford EcoSport and Kia Soul, while new and nearly-new buyers can consider the SEAT Arona, Skoda Kamiq and Volkswagen T-Cross, offering popular SUV style at hatchback prices.
Then there's Nissan Juke, Peugeot 2008, Renault Captur and Toyota C-HR, although the Citroen C3 Aircross, and Hyundai Kona. All very good cars and all worth considering. The Dacia Duster is the value proposition, undercutting all of the above, even in top-spec form. If you want something with more of an off-road look, the Jeep Renegade is worth a look.
Comfort and design: Suzuki Vitara interior
"The design of the Vitara's cabin is functional and easy to use. Splashes of colour here and there really brighten it up and, if you've opted for a model with a panoramic sunroof, it's very light and airy too. "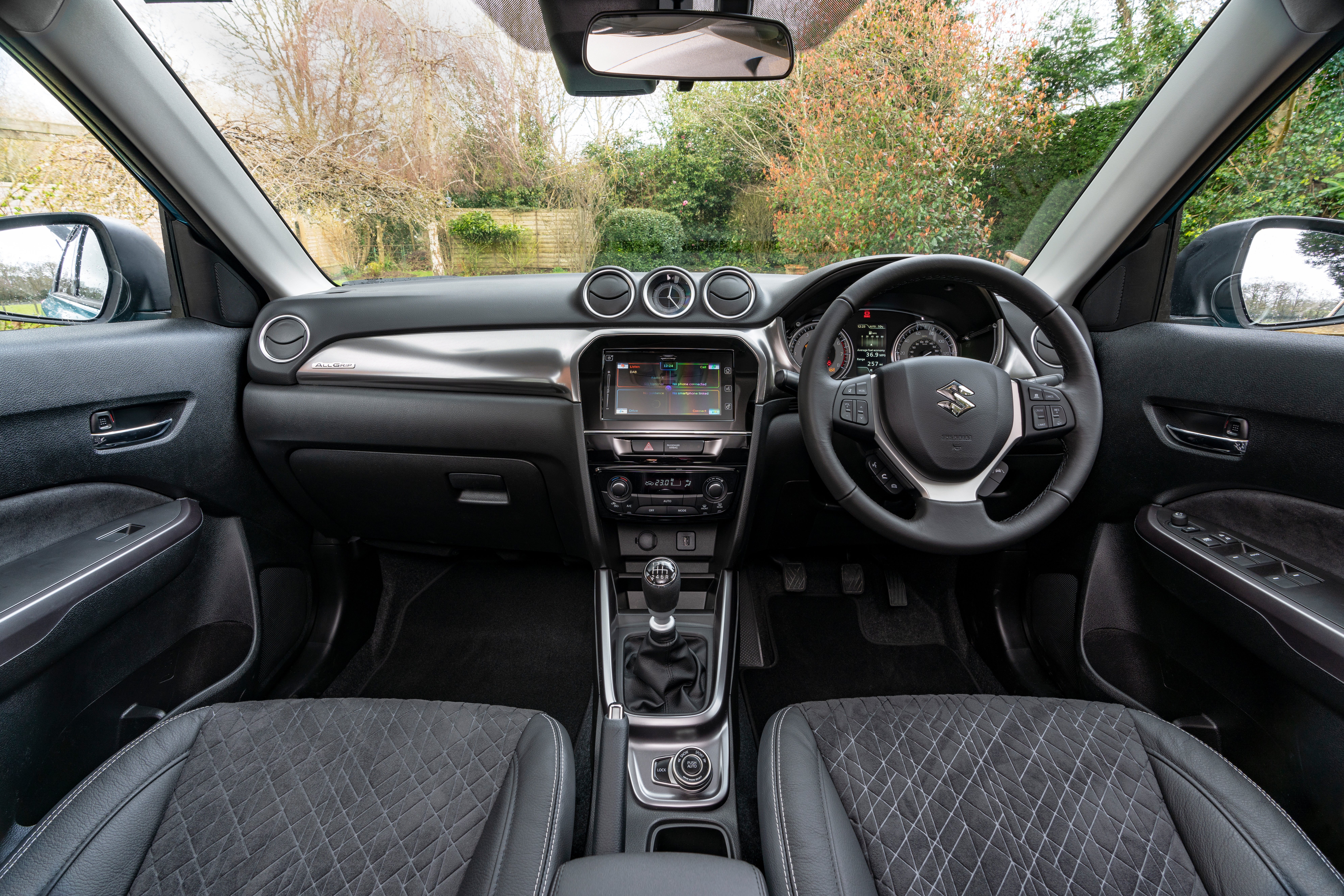 The suede seats fitted in Suzuki Vitaras higher up the range are particularly noteworthy. The material is soft, yet hardwearing, and the seats offer plenty of support and remain comfortable even on longer journeys.
Quality and finish
The Suzuki Vitara's interior feels well engineered and solid, though the doors and tailgate can sound a little tinny and some of the interior plastics lack the finesse of other small SUVs. but, some buyers will appreciate that utilitarian feel. Quality improved following the 2019 facelift, with the introduction of some soft-touch plastics to the top of the dashboard and a smarter-looking instrument cluster.
Vitara has been the subject of just a handful of recalls, a small number for a car of this sort. The first one was for unintended braking, where the car might brake unnecessarily in certain situations and the other was for rear axle bolts. There was an issue with the rear axle bolts, as they were mixed at the factory with bolts that have no anti-friction coating, making it possible for the axle bolts to work loose on some cars.
Infotainment: Touchscreen, USB, nav and stereo in the Suzuki Vitara
No Suzuki Vitara buyer should feel hard-done-by when it comes to on-bard infotainment. Even the entry-level Suzuki Vitara SZ4 gets DAB radio, USB port and Bluetooth connectivity. It's also the trim to go for if you must have a CD player - the simpler set up (compared to models higher up the range) means that it's the only trim that gets one. All other trims rely on phone/USB connectivity, as is becoming the norm.
Suzuki Vitara SZ-T and SZ5 trim levels get a full touchscreen infotainment system. That means integrated sat nav and Smartphone Link, which enables you to mirror a simplified version of your Apple or Android smartphone onto the screen. The system lags behind what you can get from other manufacturers, as it can be a little slow to respond and a bit on the fiddly side. These models also get a reverse-parking camera, though only SZ5 adds front and rear reversing sensors.
Space and practicality: Suzuki Vitara boot space
Compared to the latest breed of small SUVs, the Suzuki Vitara really is quite compact. It's 4175mm long, 1775mm wide and 1610mm high – smaller than a Nissan Juke, Skoda Kamiq or Honda HR-V.
Capable of swallowing up to 375 litres of luggage, the Vitara's boot isn't as big as alternatives, but it's easily accessed (although obviously higher than an estate or hatchback). There's a bag hook and an auxiliary socket in the load area, while underfloor storage could come in handy.
If you wish to drop the rear seats to create extra room, they don't fold entirely flat. Thanks to the Vitara's fairly boxy dimensions there is, however, plenty of space when the seats dropped. There are handy touches like plastic guides for the Isofix mounts - useful if you're fitting a child seat.
The useful underfloor storage area is perfect for storing valuables and loose items. There are two storage pockets in the boot too.
Handling and ride quality: What is the Suzuki Vitara like to drive?
"What may surprise some people is just how well the Vitara drives. Granted, it won't give you the same kind of driving thrills as a Porsche or Lamborghini, but what it will do is handle and ride very well for a car of this size and height. It's very reassuring in corners with responsive, albeit quite light, steering. True there's a fair bit of body roll, but there's also no shortage of front end grip."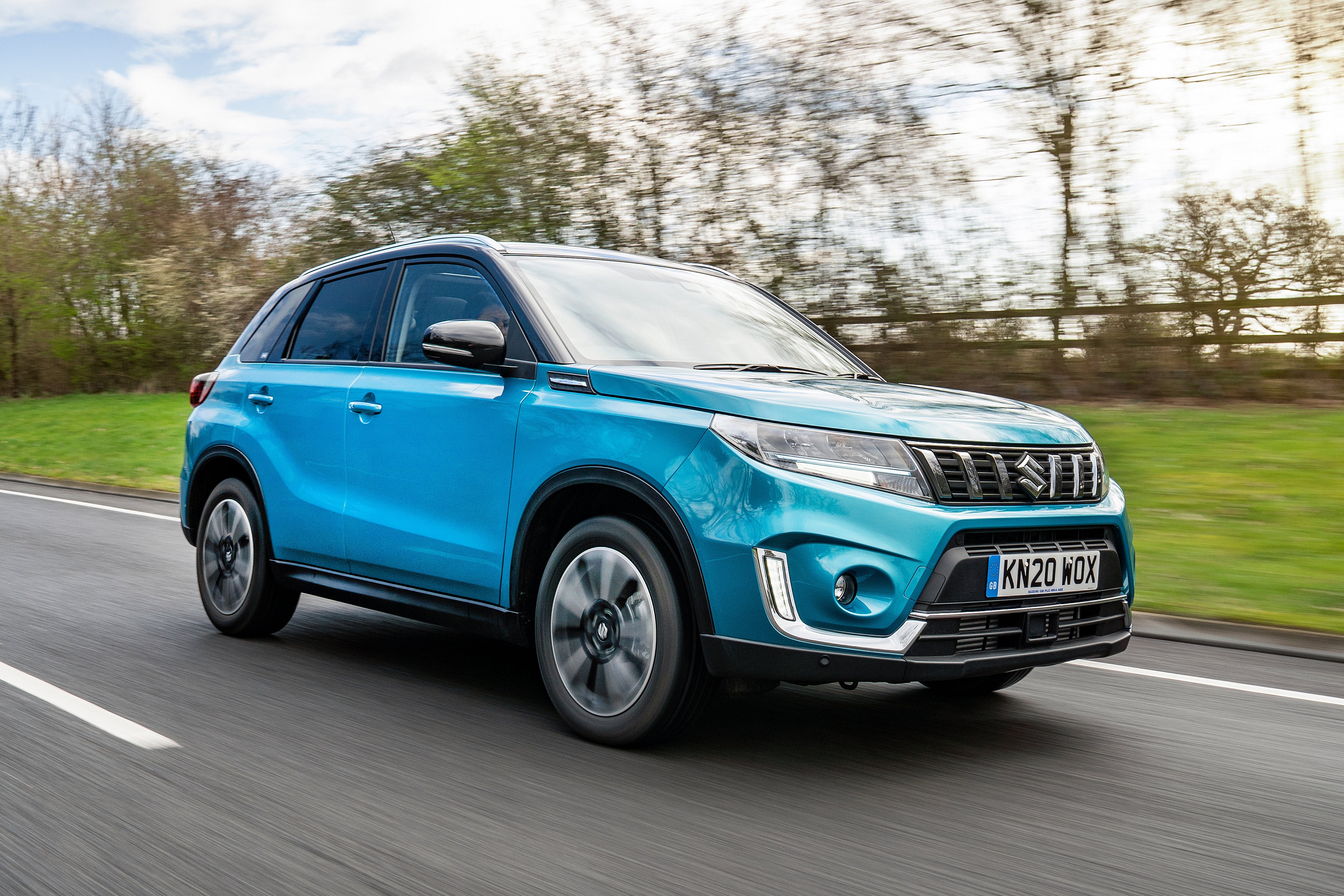 It's smooth with it, instead of crashing and banging over every pothole, it manages to absorb obstacles with ease. Even choosing the turbocharged Suzuki Vitara S with its firmed-up suspension doesn't create an uncomfortable ride.
Often the addition of a hybrid powertrain can have an impact on the handling. Not so with Vitara. Its system - introduced in 2020 - adds only 15kg of weight, so does nothing to upset the car's balance. In terms of handling, you'll struggle to notice any difference between a non-hybrid and hybrid Vitara.
What engines and gearboxes are available in the Suzuki Vitara?
The original engine line-up included a 1.6-litre petrol and diesel engine, both with 120PS, which provide adequate if not sparkling performance. The petrol was also available with an automatic gearbox.
Shortly after, the Suzuki Vitara S was launched which is powered by the brand's excellent 1.4-litre BoosterJet engine with 140PS and a six-speed manual gearbox. It gives the Vitara a real turn of pace and makes it genuinely fun to drive - not something we'd expect from a Vitara.
When the Vitara was facelifted in 2019, Suzuki dropped the 1.6-litre engines (not replacing the diesel) and introduced the 1.0 BoosterJet engine. For us, this is by far the best engine choice. It belies its small size and despite only having 111PS, feels much quicker in everyday driving.
It's a three-cylinder engine, so has that nice low down torque, yet at speed it's quiet and smooth. The only downside is that it's a five-speed rather than a six, but even at motorway speeds, it's quiet and doesn't feel strained.
Opt for the four-wheel-drive Allgrip model and you can flick between four driving modes. Leave it in automatic (which we think is the best mode) and it will run in front wheel drive before the rear wheels kick-in when required.
While the Vitara isn't an outright mud plugger, it's more capable off-road than most of its rivals. Muddy fields pose no issue for the Suzuki, while Hill Descent Control will take some of the fear out of steep decline.
A big step-change arrived in 2020 with the addition of a 48-volt mild hybrid model, based on the 1.4-litre Boosterjet. Similar in basic principle to the 12V Hybrid system that Suzuki introduced in 2016 on smaller models, the newly developed 48V Hybrid Powertrain remains very lightweight in design and the components add less than 15kg to the overall weight of the vehicle.
The Suzuki SHVS (Smart Hybrid Vehicle by Suzuki) system consists of a 48V lithium-ion battery, Integrated Starter Generator (known as ISG) and 48V-12V (DC/DC) converter to power components requiring lower voltage including lights, audio and air conditioning. The ISG acts as both a generator and starter motor, is belt driven and assists the petrol engine during vehicle take off for a higher level of torque with 235Nm available from 2,000rpm.
The compact lithium-ion battery stores electrical energy recovered from deceleration and braking and incorporates an idle stop function operated via the Integrated Starter Generator. This battery, along with the DC/DC convertor unit, are located under the front seats to assist overall weight distribution.
A further benefit of the new 48V Hybrid system is the introduction of electric motor idling when the clutch is disengaged and the engine speed is approximately 1,000rpm. This feature essentially replaces fuel injection with power from the electric motor to then control and maintain engine idling at vehicle speeds below 10mph and when stationary.
Refinement and noise levels
All of Vitara's engines are smooth, though can lack a little refinement under heavy acceleration - for example if you're overtaking on an A-road and need to drop down a gear. All models suffer from a bit of wind and road noise, too, especially at motorway speeds.
Safety equipment: How safe is the Suzuki Vitara?
The Suzuki Vitara has up-to-date safety equipment including active systems like adaptive cruise control and automatic braking, as well as a high level of passive safety specification thanks to lightweight but strong bodywork. It scored five stars when it was crash tested by Euro NCAP in 2015.
All Vitaras come with a can of puncture repair foam and a compressor instead of a spacesaver or full-size spare wheel. For those who want the peace of mind of a full-size spare for the Vitara, the well in which the spare sits is large enough to house one, which isn't always the case on models from other manufacturers.
MPG and fuel costs: What does a Suzuki Vitara cost to run?
"On paper Vitara's fuel consumption figures aren't great. However, Suzuki tends to play fair when it comes to consumption figures. You'll find that what the firm quotes is pretty close to what you'll see in real life. The 1.0-litre BoosterJet petrol Vitara with a manual gearbox has an official figure of 45.9mpg, dropping to 41.7mpg as an automatic. "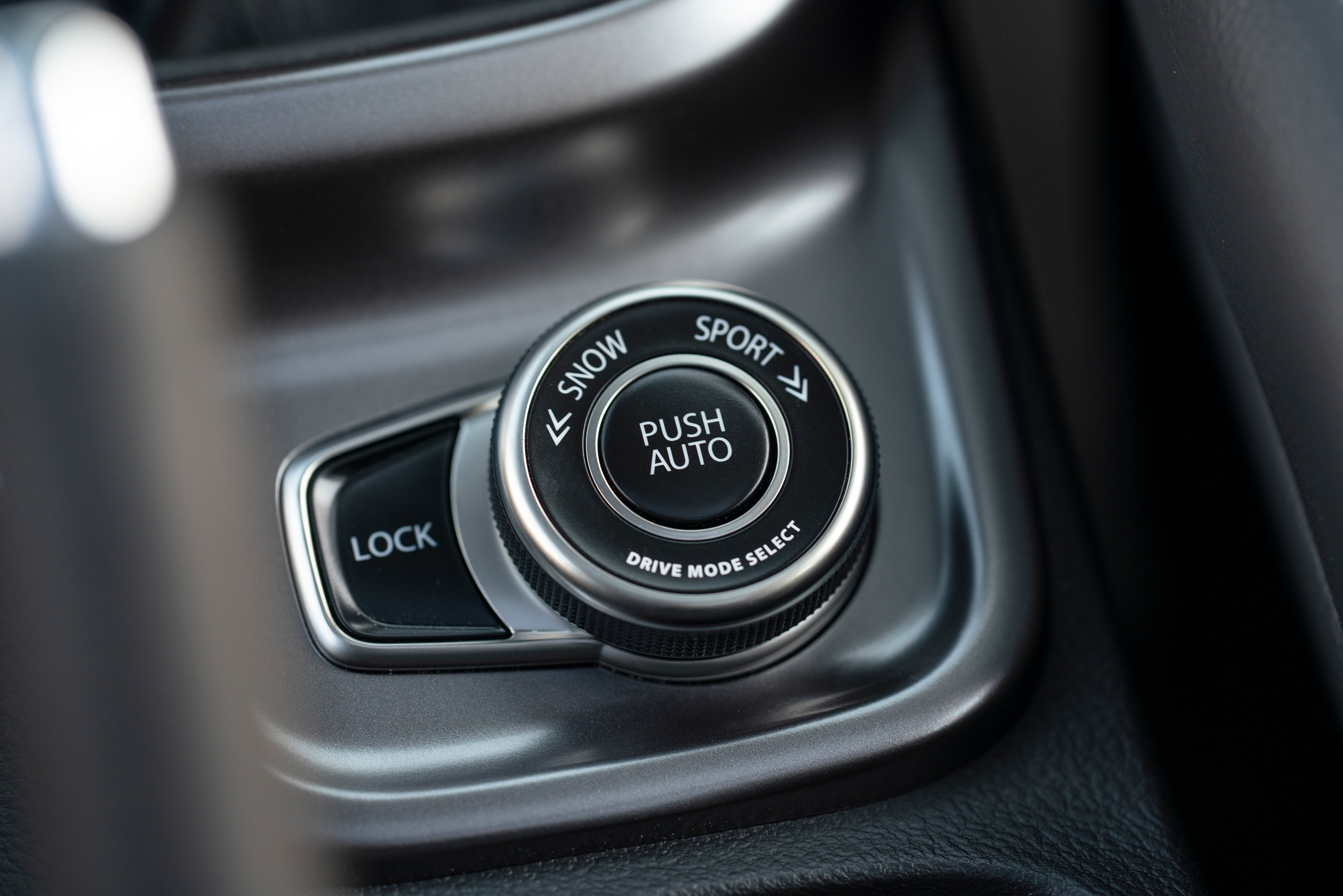 Go for an Allgrip four-wheel drive and that increases the fuel consumption to 39.4mpg.
Then there's the 1.4-litre turbo petrol engine, which returns up to 43.6mpg with a six-speed manual gearbox, or 39.8mpg with a six-speed automatic. Again, adding four-wheel drive drives down consumption, this time seeing it drop to 37.7mpg for the manual and 36.6mpg for the auto.
How reliable is a Suzuki Vitara?
We wouldn't go as far as describing the Suzuki Vitara as 'indestructable', but it's fair to say that it's unlikely to leave you stranded on the hard shoulder.
The Suzuki Vitara scored an impressive 9.47 out of 10 for reliability in the latest HonestJohn.co.uk Satisfaction Index. Reports of issues are few and far between – although uneven tyre wear is something to look out for, particularly on four-wheel-drive models. We've also heard of gremlins with the Radar Brake Support system.
Insurance groups and costs
Suzuki Vitara insurance costs are pretty reasonable compared to similar cars. It depends on your own personal circumstances, of course, but Vitara falls between groups 13 for more affordable versions of the 1.6-litre petrol and 19 for the 1.4-litre S. Basic versions of the Vitara's Nissan Juke rival start in a lower group 10, while the least powerful Renault Captur starts in group 9.
VED car tax: What is the annual road tax on a Suzuki Vitara?
Road tax for a Suzuki Vitara falls into the old system (based on CO2) and the newer system (flat rate). For those cars registered before April 2017, it's possible to pay just £20 in annual VED, whereas the flat rate is considerably higher. You'll be looking at in excess of £145 a year to tax, after a CO2-weighted year-one payment in the on-the-road price.
How much should you be paying for a used Suzuki Vitara?
"This generation of Vitara has been on sale since 2015, so there's a wide range of prices and specifications to choose from. "
Suzuki Vitara prices on the used market start at around the £6000 mark. Expect to pay a bit more from a Suzuki dealer - that's where the best examples tend to be.
Trim levels and standard equipment
With the Vitara, you have a choice of SZ4, SZ-T, SZ5 and sporty S trim levels, but all are well equipped. The Suzuki Vitara SZ4 has 16-inch alloy wheels, silver roof rails, a chrome front grille and side trim, DAB radio, a CD player, Bluetooth, steering wheel audio controls, a 60:40 folding rear seat, automatic air conditioning, halogen headlights, LED daytime running lights, fabric seats, stop/start, cruise control with speed limiter, electric front and rear windows and two ISOFIX points.
SZ-T adds 17-inch alloy wheels (dark silver finish), a seven-inch infotainment system including navigation and a rear parking camera.
The Suzuki Vitara SZ5 includes 17-inch alloy wheels (polished finish), electrically folding door mirrors, rain sensing windscreen wipers, automatic headlights, LED headlights with automatic levelling, suede seats, an analogue clock, adaptive cruise control, front and rear parking sensors, keyless entry and start, radar brake support with emergency brake signal. Vitara S comes with 17-inch alloy wheels (black finish), rear privacy glass, black fog light bezels and body side mouldings, aluminium pedals, red stitch interior accents, ALLGRIP four-wheel-drive and hill descent control.
In 2019, Vitara saw a light-touch facelift with various design updates, two new colours and the availability of new technology and advanced safety equipment.
For the exterior, new design alloy wheels were available, there's a redesigned front grille and lower bumper and the rear of the car features new design and distinctive LED combination lamps. For the interior, the upper instrument panel now incorporates a soft touch material for added quality and the instrument cluster has a new design with colour central information display.
Ask the heycar experts:
common questions
How efficient is the Suzuki Vitara?
Even though the engines are petrol only, the Vitara is surprisingly good on fuel. Both will return around 45mpg in front-wheel-drive manual form, dropping to high thirties as a 4x4. Its CO2 emissions are high for a car this size though, especially with the automatic gearbox.

Is the Suzuki Vitara a 4x4?
It's not as off-road focused as before, but the Vitara is definitely a 4x4. However, not every model comes with Suzuki's ALLGRIP four-wheel-drive system as standard, so always check.

Does the Suzuki Vitara have a separate chassis?
Many off-roaders (including the Suzuki Jimny) use a ladder frame (separate) chassis type that sits underneath the body to make the car tougher. The Vitara previously had this layout but switched to the more conventional unibody design (typical for most cars) back in 2005.

Is the Suzuki Vitara a reliable car?
Yes. The Vitara performs well in reliability surveys, as does Suzuki as a brand, consistently finishing inside the top ten. It uses engines that are tried and tested in its other models too.

How many body styles are there?
Previous generations of the Vitara had just three doors, there was even a convertible, but now this car is available as a five-door only, with five seats, and is a small SUV, not an estate.

Suzuki Vitara cars for sale on heycar
724
Number of cars available
£9K - £28K
Price bracket of these cars
Colours available on heycar
Keep me updated by email with the latest advice, news and offers from heycar
By submitting, you agree to our
privacy policy
.