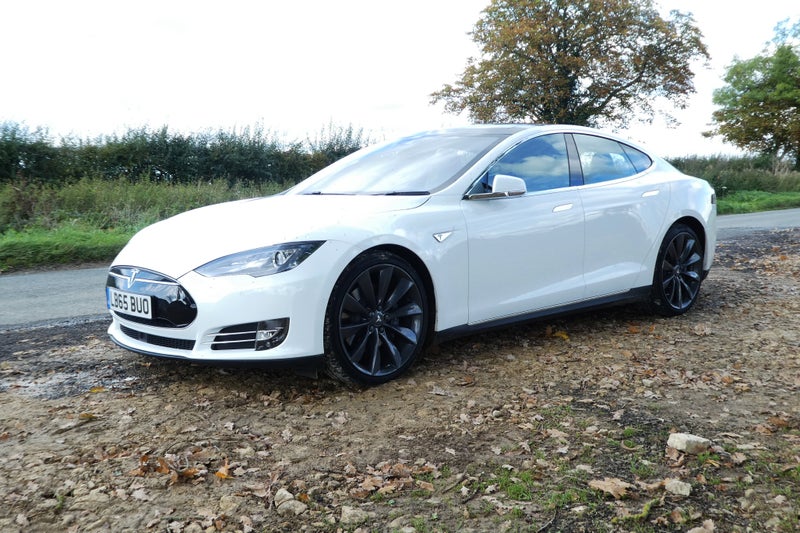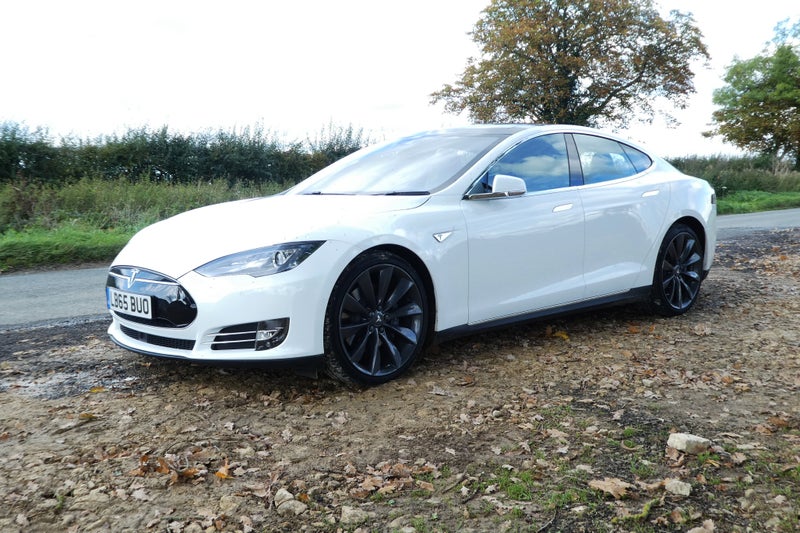 1/10
heycar rating
"Revolutionary, establishment-disrespecting electric car"
Quick overview
Pros
Even the Long Range model offers supercar-like acceleration
Huge potential range from both models, and a free (for now) national charging network
Super-cool touchscreen tech and wireless updates
Cons
For all the interior's cool tech, it's lacking in quality for the price
The cult-ish nature of some of the buyers
Reliability isn't what it could be
Overall verdict
On the inside
Driving
Cost to run
Prices and Specs
Overall verdict
"Quite simply Telsa caught the established, legacy car makers napping. And they're still all struggling to catch up with the Model S."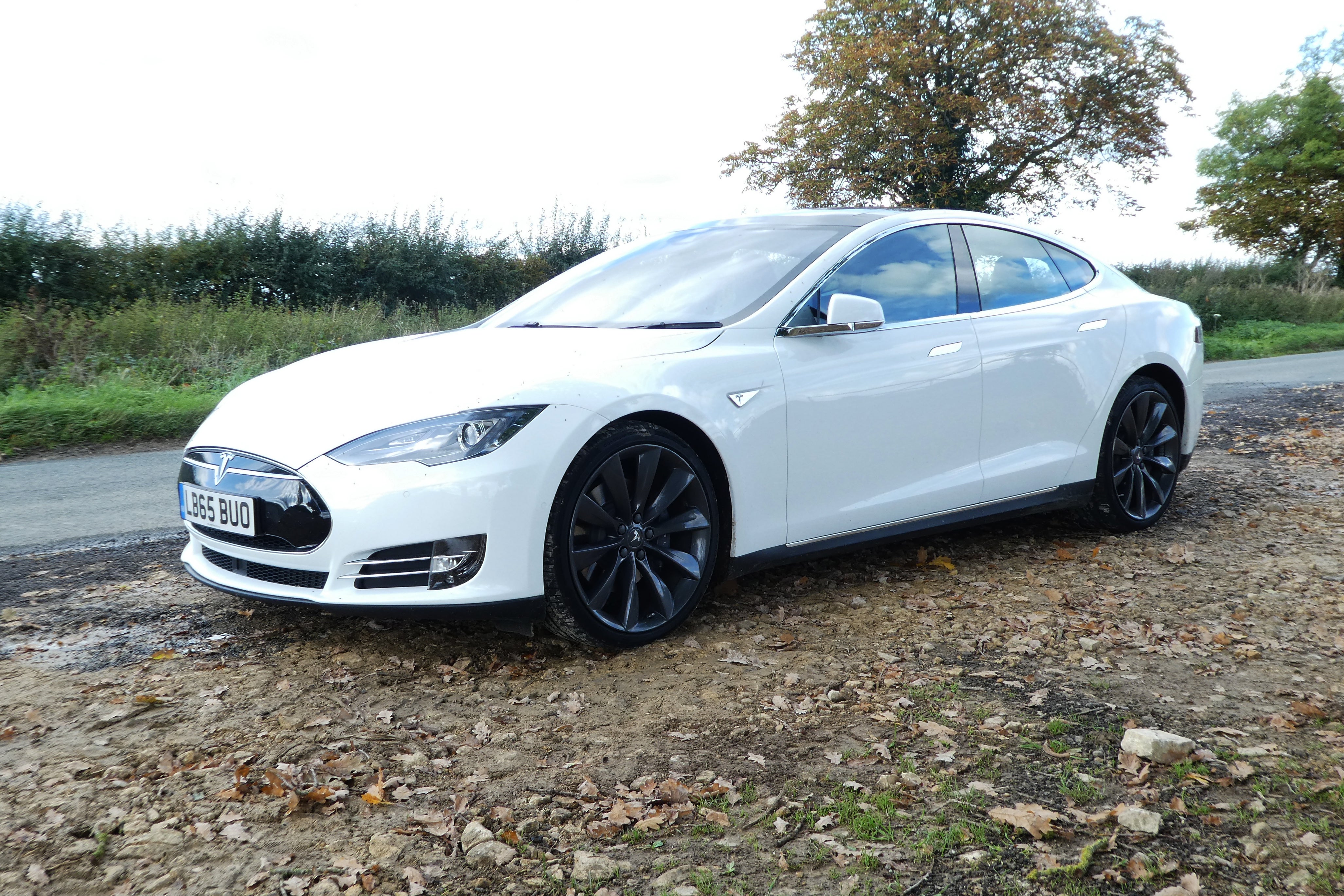 Tesla signalled its electric car ambitions with its Roadster, an electric model spun off Lotus Elise underpinnings, and few took them too seriously. That changed when the Model S arrived, this revolutionary saloon throwing out convention, and revealing all the existing car manufacturers weren't being particularly truthful when they said making electric cars with usable range is very difficult.
It helps if your new car company is backed by one of the richest people on the planet, Tesla being a PayPal founder's pet project, and for all his, and Tesla's detractors, it's difficult not to be impressed with what it's achieved in such a short period of time. The Model S was, until the arrival of the Model 3 in 2019, the company's mainstay. It was introduced in its native USA in 2012, and arrived in right-hand drive form in 2014.
Sensibly, Tesla hasn't just created a car, but it's also built a sizeable Supercharger network, which, combined to the Model S's impressive range, makes the Model S an electric car that really does bin the preconceived electric car compromises of hopeless long-distance ability and slow charging. Early Model S customers benefited from free charging for life too, this briefly removed, but having been added back to the Model S for the time being.
That's been done to accelerate sales, which have slowed now the cheaper Model 3 has arrived, the Model S is very much in the luxury car price sphere. There are a few choices with the Model S, either the Long Range or Performance options, the Long Range offering a WLTP tested range of 379 miles, the Performance dropping that back to 367 miles.
But adding the option of Ludicrous Mode, which allows the Model S to accelerate to 60mph in 2.3 seconds (62mph likely to add a tenth to that), that number better than super and even hypercars. Even Porsche's Taycan Turbo S, Tesla's only true high performance competitor takes longer to reach the benchmark sprint velocity, though you do have to go through quite a procedure for the Model S to achieve that incredible party trick.
Not a car that's defined by convention then, Tesla not bound by legacy manufacturing and what's come before it, and that's evident not just in the revolutionary drivetrain, but also the interior and infotainment.
Get in the Model S and it feels like you accelerated at Ludicrous Mode speeds into the future, the centre dash dominated by a huge touchscreen, which operates pretty much everything.
If there's a complaint about the interior, it's that for all the cool tech, it feels a bit low rent in regards to materials. Buyers seem to overlook that, happy to be driving the future, today. Indeed, the Model S, and the Tesla brand attracting a fanaticism borders on the obsessive, blind to the Model S's imperfections.
It's difficult not to be impressed with what Tesla has achieved, being hugely disruptive to the established premium car makers and disproving that electric cars are hugely compromised and niche vehicles only. The Model S isn't perfect, by any means, but it's still leagues ahead of its direct rivals when it comes to range.
The Model S will go down in history as the first credible, usable, low compromise electric vehicle, that it's still ahead of its rivals underlines just how revolutionary it remains.
Is the Tesla Model S right for you?
The Model S really is an electric car for anybody, assuming, of course, you've not got the insignificant outlay required to buy one. Its pricing puts it in the premium and luxury marketplace, however, it's not constricted by usual electric car foibles of low potential range, it's genuinely able to cover long distances, with that Supercharger network offering sizeable coverage throughout most of the UK and Europe.
That makes it a real alternative to cars like high-end performance and luxury saloons, whether they're powered by petrol, diesel or hybrids of either, as well as the small collection of pure electric rivals.
It might be the oldest model in the Tesla line-up, but it still looks fresh, gaining a slightly new look in 2016, and Tesla evolving the model gradually over time. If you're a business driver looking to save money, or just an environmentally concerned driver with a good budget, then the Model S might be just the thing.
What's the best Tesla Model S model/engine to choose?
In line with its defying the norm, Tesla keeps its Model S choices simple, giving you either the choice of the Performance model, or the Long Range model.
That Long Range has a 379 mile range, the Performance losing 32 miles from that for its greater accelerative ability. You'll nearly bend time with the acceleration in the Long Range model, so you're unlikely to really feel short changed if you opt for it, the additional 30 miles or so potential is more useful in real world use. That's the one we'd opt for, especially as you'll save yourself £14,000 in the process.
What other cars are similar to the Tesla Model S?
The closest rival is Porsche's Taycan, and that it's taken Porsche seven years to come up with a credible, direct electric car rival underlines how far ahead of the game Tesla really was. And remains, when you consider pure EV (Electric Vehicle) rivals can be counted on one hand, and none are able to deliver anything like the real-world range of the Tesla.
You could try Jaguar's I-Pace, or the Mercedes-Benz EQC or the Audi's e-tron, these premium manufacturers all perpetuating old-school sensibilities by being wedded to the SUV body style, which sell so well with internal combustion powertrains.
Comfort and design
"There's only so far Tesla can go with its interior design. Cars needing steering wheels, seats and various other controls, after all, though Tesla has dared to be different."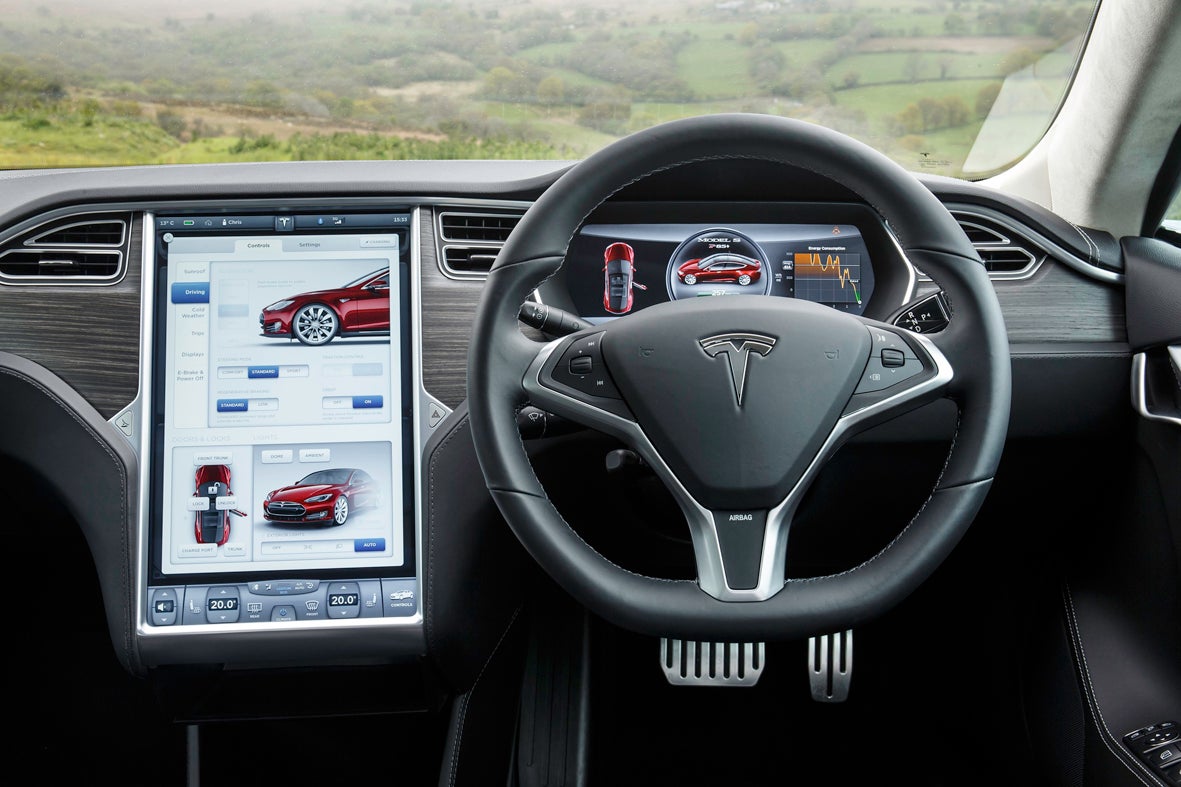 The interior styling is dominated by a 17-inch touchscreen in the centre of the dashboard, Tesla having this massive iPad-like screen in portrait position before some of its premium rivals could even offer touchscreens at all.
There's only so far Tesla can go with its interior design, cars needing steering wheels, seats and various other controls, after all, though Tesla has dared to be different. The interior styling is dominated by a 17-inch touchscreen in the centre of the dashboard, Tesla having this massive iPad-like screen in portrait position before some of its premium rivals could even offer touchscreens at all.
The rest of the interior is relatively conventional in comparison, with a simple, un-fussy steering wheel ahead of the driver, behind which sits a fully digital instrument pack which is configurable to show various drivetrain, info, mapping and entertainment elements, as well as the necessary things like a speedometer.
The layout which sees front and rear electric motors powered by large underfloor batteries, leaves a flat floor, which, allied to the lack of a huge combustion engine – electric motors being very compact in comparison – means the Model S really can maximise the cabin space.
That's obvious when you get in it, with it feeling generously proportioned inside, the relatively slim pillars and frame-less glass doors and the standard glass roof only increasing that airy, light effect. It's simply designed, with the obvious lack of buttons allowing for expansive surfacing, the Model S's interior having something of a futuristic movie prop look about it.
Quality and finish
We'd be unkind to say that it's built like a movie prop, all style with no substance, subterfuge rather than substance, but it's fair to say that for all the good looks, it lacks the sort of quality feel you'd expect in a car with a price, at its least expensive, of £82,000, and rising to just shy of £100,000.
Tesla really has gone its own way, mostly, but the Model S does borrow a few interior bits and pieces from Mercedes-Benz, things like column stalks and window switches - if you're going to find a quick fix, you might as well borrow from one of your better rivals. They're among the best feeling plastics in the Model S's interior, though it seems owners are happy to live with a cabin that's not got quite the deep, legacy quality feel exhibited by its premium and luxury car rivals.
And the huge touchscreen does a very good job at drawing the eye from the materials that don't live up to the premium pricing the Model S commands.
Infotainment
When the Tesla Model S arrived back in 2014, its infotainment system felt, and looked light years ahead of the competition. It's utterly dominated by a 17-inch touchscreen, which does absolutely everything, from mapping, to things like changing drive modes, radio stations, to heating and ventilation. There are sub-menus within it, but it's so vast a screen that some shortcut functions can remain on screen all the time, which eases its operation.
Premium Connectivity (free for the first year of ownership) includes live traffic with satellite maps via Google, DAB, in car music streaming (and video) Caraoke and an internet browser and Bluetooth connection.
It all works pretty slickly, and Tesla can update it wirelessly, and, on occasion add so-called 'Easter eggs' like Romance Mode, which pops a video of a roaring fire and ups the heat from the vents, various games – controlled by the steering wheel when parked, obviously. There's even an 'emissions mode' which can be set up to belch on demand, using steering wheel buttons or even the indicators. Silly stuff, but it'll amuse the kids, or your friends.
There's no support for Apple CarPlay or Android Auto, but the Tesla's infotainment is so absorbing and slick that you'll probably not miss it.
Space and practicality
With its great driving position, that feeling of space throughout thanks to the underfloor battery and the lack of the need to package a conventional, large internal combustion engine does mean the Model S is a practical machine. Four adults will find the interior very comfortable, adding a fifth making it a bit more cramped in the rear, but the absence of a transmission tunnel does at least mean there's decent foot room for a third rear-seat passenger.
As well as the interior's spacious cabin, there's vast boot space too. Tesla briefly offering that boot with rear-facing child seats, making the Model S a potential 7-seater, but the Model X fulfils the people-carrying brief these days, though it does underline just how big the S's boot is.
Accessed by a huge hatchback tailgate, Model S's boot volume is 804 litres, nearly double that of a Porsche Taycan and bigger than the seats-up load space in that pack mule of a machine, the Mercedes-Benz E-Class estate. Drop the rear seats, doing so in a 60/40 split, and that space increases to over 1600 litres, the Model S a hugely practical car, particularly given it's a mere hatchback, and not offered in estate guise.
Elsewhere, storage isn't quite so ample, there not being any door bins, for example, while there's a small shelf between the seats that you could chuck things on, though use the Model S's acceleration and you'll likely lose/break them. There is a decent-sized glove box and a pair of cup holders in the centre console between the driver and passenger. There's ISOFIX child seat mounts on the outside rear seats and the ability to fit a roof rack if your sports gear cannot be accommodated inside. Tesla doesn't offer the option of a tow bar if you wanted to tow with it, or fit a hitch-mounted bike or ski carrier.
Handling and ride quality
"If you've never driven an electric car before, be prepared for a shock. The performance is instantaneous, the electric motors providing all their power and torque from the first brush of the accelerator."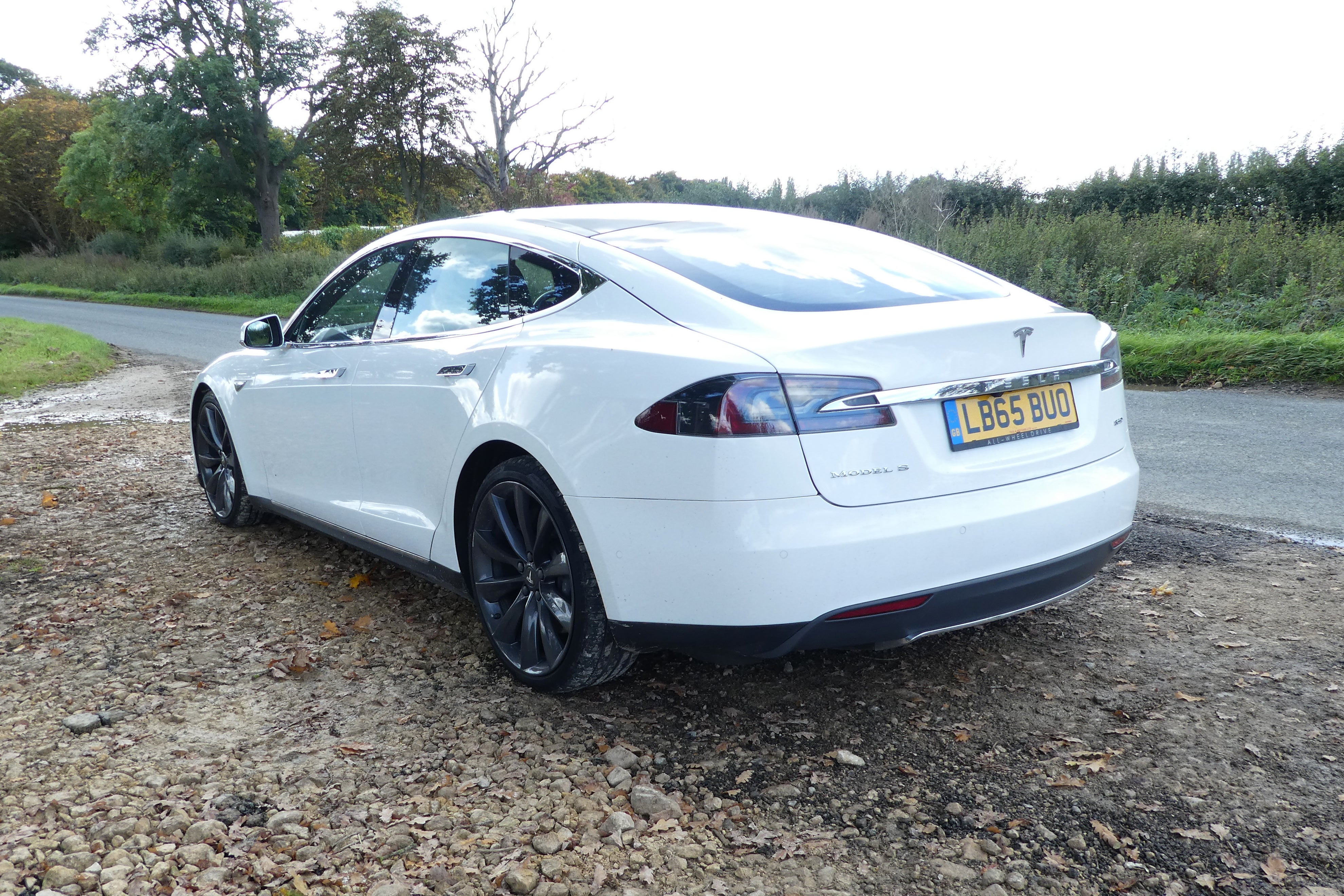 To put its power to the road it uses a pair of motors, making it four-wheel drive. Those motors, their quick response and the driving electronics, allied to the low centre of gravity thanks to the location of those batteries low and between the axles, means the Model S feels very agile, despite its weight.
The wide track, helps here, helping limit body roll, the Tesla managing to do a convincing job through the corners, the instantaneous response when exiting them, along with the four-wheel traction allowing it to slingshot out of bends. The steering is well weighted and direct, the grip levels high. Indeed, its biggest limiting factor isn't any deficiency in its dynamic make up, instead it being its size, it feels wide on tighter British country roads.
Even so, it lacks the handling finesse of the best of its conventionally-powered rivals, and its most direct rival, Porsche's Taycan is a far more engaging car when the roads get interesting, it also rides with greater sophistication. Given the Tesla Model S's age, and the fact that the company came from effectively nowhere, that it's even able to stand up to scrutiny alongside such established, esteemed competition is praise indeed. Obviously, thanks to its lower saloon body, it's sharper to drive than its SUV EV rivals like the Jaguar I-Pace, Mercedes-Benz EQC and Audi e-tron.
Once an option, the Tesla Model S is now fitted across the two-car choice with adaptive air suspension. That allows it to ride commendably well, even if it's fitted with the biggest 21-inch wheel choice.
Engines and gearboxes
There's no gearbox, or at least not what you'd conventionally consider one, the Model S being automatic - all you need to do is pop it in Drive and pull away. Two motors propel it, powered by a huge battery pack, those motors working on each axle to give it four-wheel drive, these allowing it its agility despite its sizeable weight.
It's the elastic response of those motors that's so compelling with the Model S, you might get used to the acceleration over time, but the way it'll just hurl itself forward will never, ever, fail to raise a smile. If you've passengers who have never experienced it before, prepare for an outburst of expletives if you push the accelerator to the floor.
The Performance model covers the 0-60mph time in a faintly ridiculous 2.3 seconds, while the Long Range Model S takes 3.7 seconds, both those numbers wouldn't shame hyper and supercars, indeed, that 2.3 seconds is about as fast as you'll get to 60mph in anything with wheels.
As headline-grabbing and YouTube dragstrip supercar-baitingly amusing as those figures are, it's the way the Model S accelerates when it's already moving that really impresses. If you need to overtake, or just move into a gap, it'll gain speed with alarming alacrity. The top speed for the Performance Model S is 162mph, while the Long Range doesn't trail it too much, with a 155mph maximum. Just don't expect the battery to be too long range if you do that in either of them.
Refinement and noise levels
As if the performance isn't eye-widening enough, the way that it achieves it with an almost complete absence of sound only heightens the experience. Without the distraction of a roaring engine, it feels like you're being catapulted into a vacuum, with only the merest chirp of protest from the tyres as they put the power to the road. Driven more sedately an EV's drivetrain becomes its biggest asset, because if comfort is measured in quietness then the Model S is hugely comfortable indeed.
That's particularly true at town speeds, but as speed rises there's a bit of tyre noise, but even here it's commendably hushed, particularly when you consider that with rivals those sounds would be competing with engine and driveline noise to distract you.
What's as noticeable as the lack of sounds, is the lack of vibration, there's none, which is completely at odds with any combustion engine rival, with even the most refined among them inevitably succumbing to the mechanical movement within their engines, and transmitting that as sounds and vibrations to the interior.
Safety equipment
Built from conception as an electric vehicle using high strength architecture to house the floor-mounted battery the Model S should be strong in impact. EuroNCAP tested it and it scored a five star rating. It's fitted with driver and passenger front and side airbags, side chest and pelvis airbags as well as an airbag cut-off switch if children are carried in the front seat. They shouldn't need to be, with two ISOFIX seat mounts in the rear.
Four-wheel drive as standard, electronic stability control come as standard too, while Tesla offers a well-publicised suite of driver assistance aids, which some say promises autonomy, or at least a degree of it.
That's a dangerous route to go down, as while the 'Autopilot' system offers driver assistance technology like emergency braking, collision warning and blind-spot monitoring, it's not 'driver replacing' as some people seem to think.
There's the option to select what Tesla claims as Full Self Driving Capability via a £5800 option, this future-proofing your Model S, with the promise of automatic city driving, traffic light recognition and response, as well as an enhanced summon, where you can have your Tesla come and meet you. This would be via a software upgrade when it's available, legally possible to do so. As it is, the Model S can currently auto park itself, and you can summon your Model S, but presently, it's only from close by.
Maximum EV range
Range is the limiting factor for most EVs, but the Tesla Model S has long been ahead of the pack in this regard. The Long Range model has a WLTP tested range of 379 miles, which suggests an easily attainable real-world range comfortably in excess of 300 miles, and more if you're gentle with it.
The Performance model doesn't actually trail too much, with its official WLTP tested range being 367 miles, again it's likely that around the 300 mile mark should be relatively easy to achieve. In this regard the Model S remains the EV benchmark, with only the Porsche Taycan getting close, and even then it's still about 50-100 miles off the best distance the Tesla can officially cover.
Charging times and cost
"As it stands the Tesla Model S will cost you nothing to charge if you're plugging it into the Tesla Supercharger network, which can, in perfect conditions fully top up your battery to 80% charge in around 30 minutes. "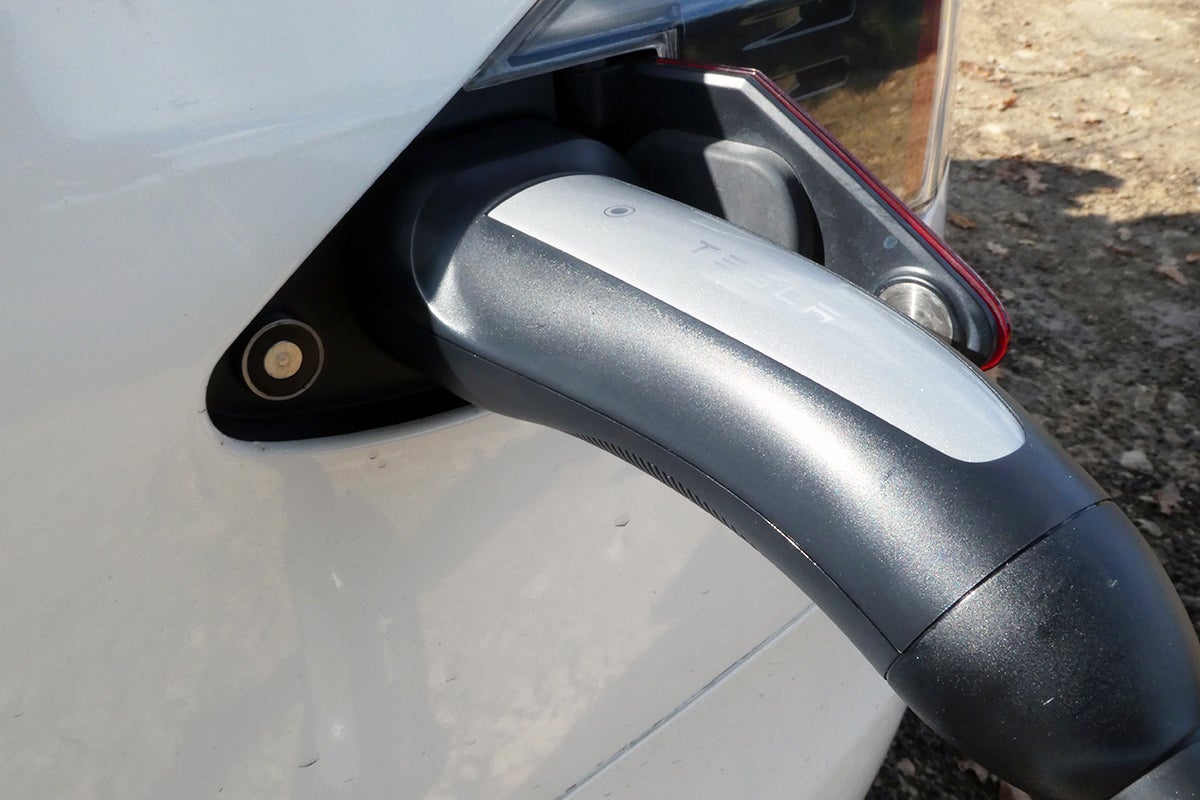 Plug it in at home and inevitably your electricity meter will start turning around a bit quicker, but it'll still be cheaper than buying conventional fuels, and if you've a solar panel or other renewable at home you could make it cost neutral.
Insurance groups and costs
Group 50 insurance for the Tesla Model S in the UK, which means you'll pay handsomely for your insurance. That's not really surprising given its supersaloon/supercar performance, while it's EV construction will make it expensive to repair should you bend it. Tesla does have a collaboration for insurance with Direct Line, offering preferential rates, because Tesla drivers 'value technology and safety'.
VED car tax
The Model S dodges VED luxury car surcharges, despite its lofty price point, therefore it's exempt from road tax. It's also eligible for free travel in the London Congestion Charge Zone, following a £10 registration fee, likewise it's compliant with Ultra Low Emissions Zones, again, saving you money if you regularly travel in these zones.
How much should you be paying for a used Tesla Model S?
"Used Teslas start at about the £30,000 mark, for early, high mileage cars. That some are in the classifieds with as much as 100,000 miles, and more, underlines that these are cars that you can wind serious mileages on."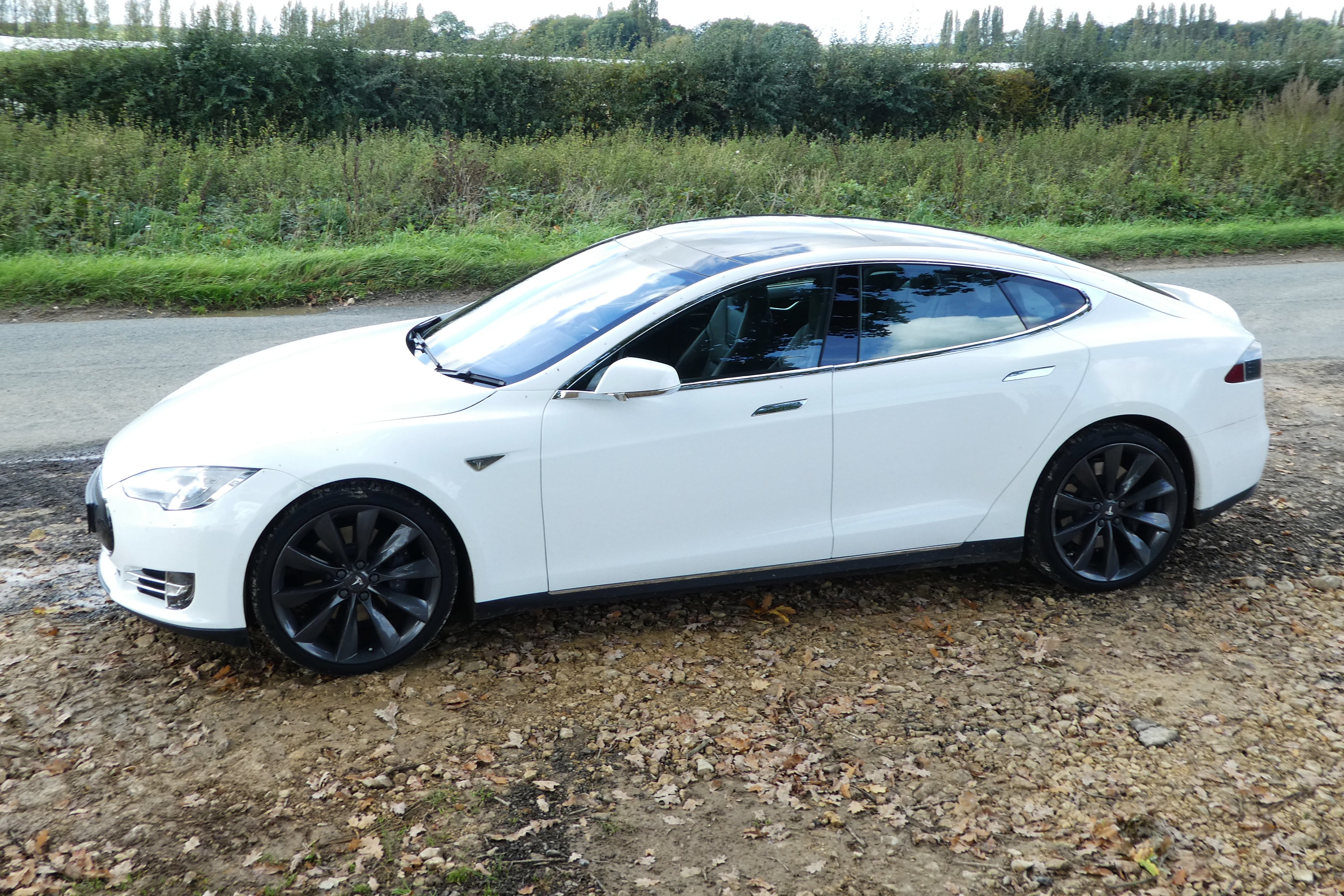 Most of those cars come with free Supercharging, too, so running costs will be negligible. Having been on sale since 2014 in the UK there's a decent used stock to pick from, with the £40,000-£50,000 range providing rich pickings for the canny used buyer.
Trim levels and standard equipment
A simplified choice of models from 2019 onwards, the Tesla Model S offered in two, somewhat unambiguous forms. There's the Long Range, or the Performance, and, they're all but identical technologically, the Performance only gaining things like a carbon fibre spoiler outside, enhanced interior styling and, of course, that quicker acceleration in 'Ludicrous Mode.'
All get four-wheel drive, a Premium Audio System, Cold Weather Features (heated seats for every passenger, heated steering wheel and washer nozzle heaters) Bluetooth connectivity and Wireless Charging in the centre console.
Tesla Model S cars for sale on heycar
209
Number of cars available
£39K - £78K
Price bracket of these cars
Colours available on heycar
Keep me updated by email with the latest advice, news and offers from heycar
By submitting, you agree to our
privacy policy
.