Tesla Model X Review 2022

Written by
heycar editorial team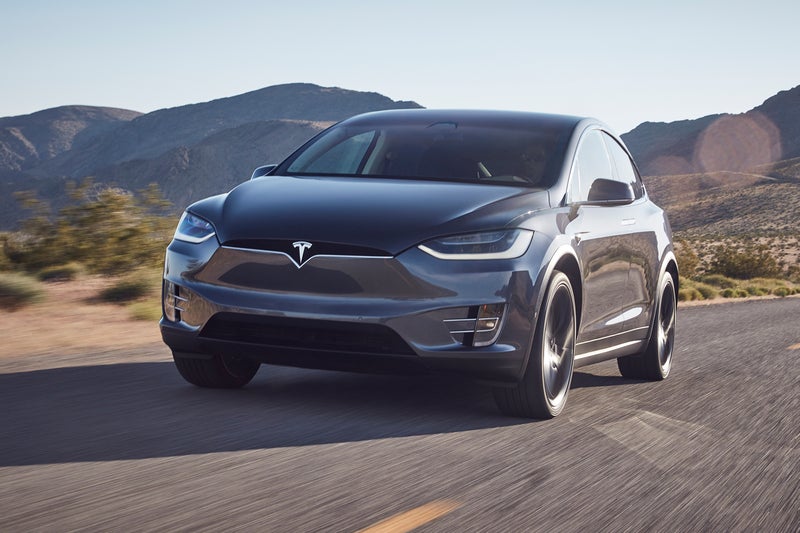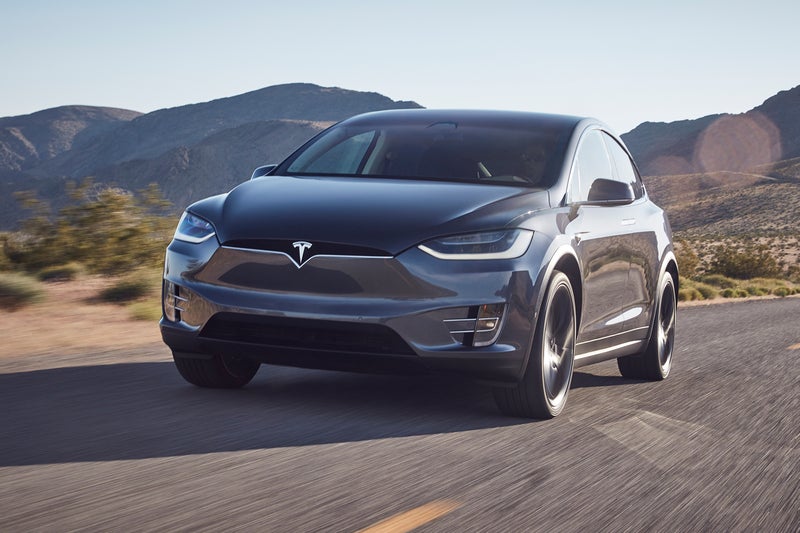 1/10
heycar rating
"Electric SUV with cool doors"
Quick overview
Pros
Exceptionally strong acceleration
Can seat up to seven people
Falcon Wing doors have real wow-factor
Cons
Rivals are better to drive
Interior quality is disappointing
Expensive to buy new and used
Overall verdict
On the inside
Driving
Cost to run
Prices and Specs
Common questions
Overall verdict on the Tesla Model X
"Powerful, stylish and packed with cutting edge technology, the Tesla Model X is the embodiment of the electric car revolution. Admittedly, it's not cheap, but the Model X is a fun and throughly engaging family-focused EV."
Elon Musk is the person who made electric cars cool. He made it cool to drive a socially-responsible EV. He made it cool to have pretty much every function controlled through a touchscreen. He made it cool to have a car that was so technologically advanced, it could receive updates and upgrades over wifi, rather than from a visit to the dealership. Things like these really struck a chord with technology fans the world over, and made Tesla the premium EV brand it is today.
The Tesla Model X is one of the brand's more aged offerings, and it's also the biggest. Yet aside from its techy image and desirability, what does it give you that other electric cars can't? Well, Falcon Wing doors, for one thing. These lift up, up and away from the car's body in dramatic fashion, meaning you're bound to get noticed when you're getting in or out. Another big tick for Tesla customers.
Unlike any of its rivals, it also has the ability to seat seven people, provided the right box on the options list has been ticked, that is. Interior space is pretty generous, too, although adults will only want to travel in the extra two chairs for short periods of time.
Where the big Tesla can't match its rivals, though, is on interior quality. The materials, and the precision with which they're assembled, simply can't live up to the incredible standards set by the Audi e-tron and Mercedes-Benz EQC, and that becomes even more galling when you consider how much more expensive than those cars the Model X is.
The Tesla trails the rest on the quality of its driving experience, too. It doesn't handle as keenly as the Jaguar I-Pace, while the jittery ride means it's not as comfortable as the BMW iX, either. And while an electric car will always be quieter than a combustion-engined car, it can't match its direct rivals for refinement, either.
That said, the Tesla does have the edge in a few areas. All of the cars in this class are fast, but choose the fastest version of the Model X, and you'll have one of the fastest cars on the planet, capable of doing 0-60mph in just 2.6 seconds. What's more, and importantly for EV buyers, the Model X's official range figures also have the beating of rivals'.
Is the Tesla Model X right for you?
If you're looking for a luxury electric vehicle (EV) that has the ability to seat seven people, then yes. It's about the only car on earth that has the ability to do that (the Nissan NV200 Evalia isn't exactly what you'd call 'luxurious', is it?), provided that the seven-seat option box has been ticked.
That's not the only reason to buy one, though. You might like the visual drama of those Falcon Wing doors, or you might like the high-tech-feel you get from the car's powerful electric drivetrain and enormous 17.0-inch touchscreen. Heck, you might just want to drive a Tesla. The brand has managed to cultivate an image of desirability and progressive thinking that seems to really resonate with tech-heads and early-adopters everywhere.
True, the Model X can't match its newer rivals in areas like interior quality, ride comfort or refinement, and it's considerably pricier. But if practicality is your priority, it's a great choice.
What's the best Tesla Model X model/engine to choose?
Being more of a technology company rather than a conventional car manufacturer, Tesla doesn't do things the way everybody else does, and that can lead to some confusion. You see, depending on the age of the car you're looking at, it'll have one of a variety of model names, and these chopped and changed pretty much constantly throughout the car's life. It'd take all day to take you through all the various minuscule iterations, so it's easier to just take you through how the naming convention works.
The most basic is the 60D. The D referred to the fact it is a dual-motor car (as all Model Xs are) while the 60 referred to the battery capacity in kW. Other models available included the 70D, 75D, 90D and 100D, and broadly speaking, the bigger the number, the longer the range and the higher the power output. See a model name with a 'P' on the front (P100D, for example), and that signifies that the model is a 'Performance' model that's as quick as Model Xs get at that particular point in time. Then later, just for good measure, Tesla abandoned that naming convention altogether, and the models available were called 'Performance' or 'Long Range'. Still with us? Hope so…
The usual convention of having different trim levels isn't really a thing with Teslas, either, as the amount of kit you get increases with the power/range of your car. Basically, all Model Xs are very quick, and all have driving ranges that lie somewhere between the good and the great. In short, we'd pick the one that gives you the range you need. From the bottom of the range to the top, that could be anywhere between 200 miles (not accounting for battery degradation) and 350 miles, according to official figures.
What other cars are similar to the Tesla Model X?
If you're looking for alternative all-electric luxury SUVs that have the ability to seat seven, then quite simply, there aren't any: on that score the Model X really is in a class of one.
If seven seats aren't a deal-breaker for you, though, the competition gets much, much tougher. The Audi e-tron is the closest of the current crop of prestige-badged electric SUVs in terms of size, but the Jaguar I-Pace and Mercedes-Benz EQC also have to be considered rivals.
Comfort and design: Tesla Model X interior
"Lots of manufacturers these days are moving away from having physical buttons and switches in their cars, instead looking to touchscreens to operate various functions. Tesla, however, takes this to a whole new level."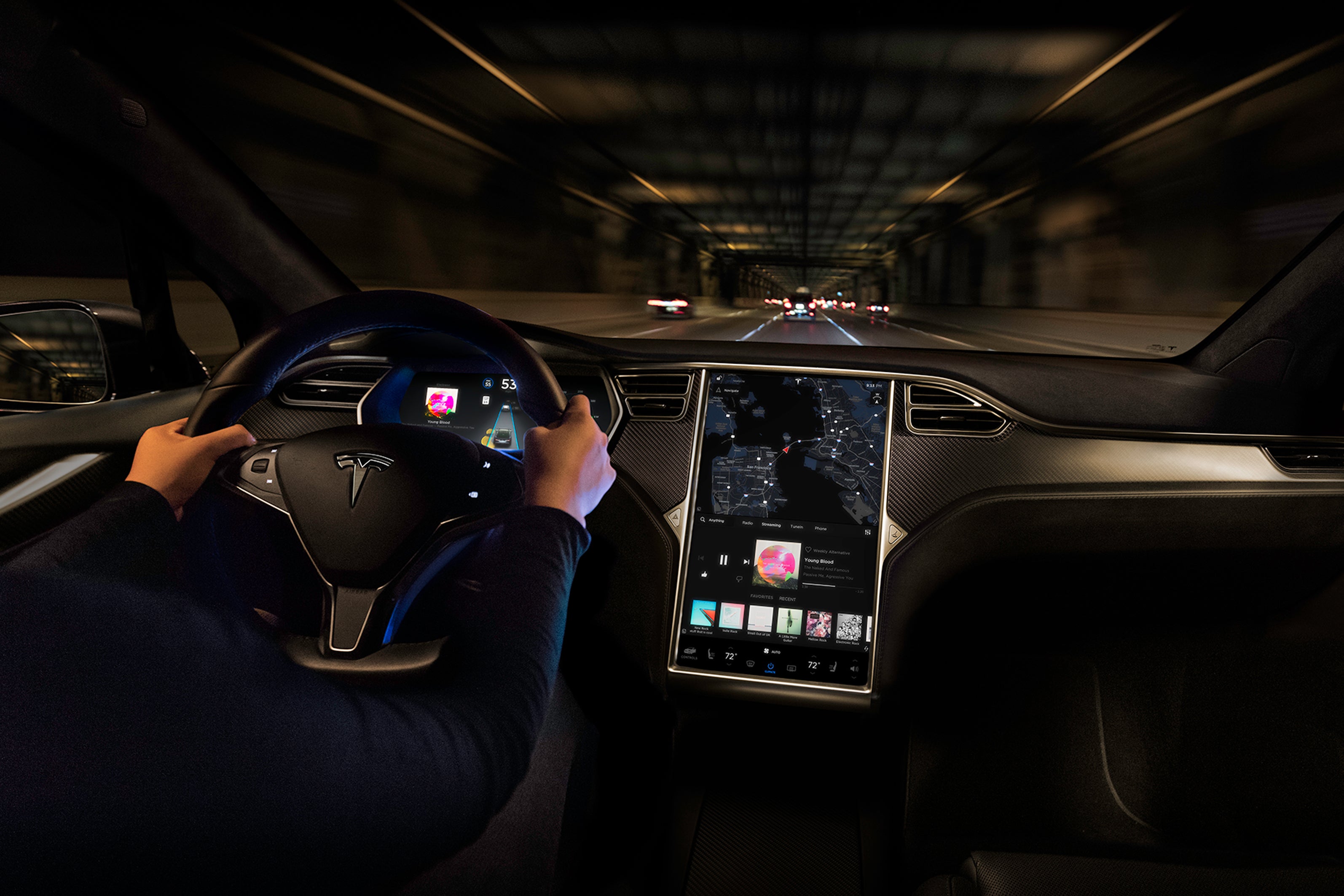 You still get switches on the doors to move your electric windows up and down, and a button on the dashboard for your hazard lights (that's a legal requirement), but that's about it. Everything else in the Model X is taken care of by the infotainment system - which we'll talk more about in a minute
There's lots of adjustment in the driver's seat and steering wheel, allowing drivers of all shapes and sizes to get comfy at the helm, and standard adjustable lumbar support should help you avoid backache on long journeys. The view at the front of the car is nice and clear, although a shallow rear window and super-beefy pillars either side mean your rear view is nowhere near as clear, especially if you have seven seats in place.
Quality and finish
In truth, this is an area in which the Tesla Model X really should do better. Judged in isolation, the interior looks fine. The minimalist design looks smart and progressive, while many of the materials have a pleasing finish. Many others, however, don't, and with panel gaps that are often large and inconsistent, there's a distinctly flimsy feel to the cabin. Well, to the whole car, actually, because you'll find these iffy panel gaps on the exterior bodywork, too.
This is especially disappointing given the lofty price of the car, and it becomes even more noticeable when you compare the Tesla directly with impeccably built rivals like the Audi E-Tron and Mercedes-Benz EQC, both of which are considerably cheaper to buy.
Infotainment: Touchscreen, USB, nav and stereo in the Tesla Model X
The Tesla Model X's cabin is dominated by the huge portrait-orientated 17-inch touchscreen, partly because of its size, and partly because there's so little other stuff to look at: everything is incorporated into the touchscreen system.
Considering how complex it is and the sheer number of functions it has to deal with, it's actually pretty easy to find your way through the menus without getting too lost. One or two functions are tucked away in some odd places, but overall, the system is fairly intuitive.
Like all touchscreens, though, it's not as easy to use on the move because you have to concentrate on pressing exactly the right bit of the screen, and that can be distracting. Some of the icons are a bit small, too, but there's no faulting the speed and responsiveness of the system, and the graphics look really smart. The same goes for the configurable digital instrument display - which replaces traditional dials - because it's clear and easy to read.
Most of the functionality you'd expect is covered, including Bluetooth, DAB radio and Google maps navigation. If you're a fan of Apple Carplay/Android Auto, though, you'll be disappointed, because Tesla refuses to support it.
Space and practicality: Tesla Model X boot space
In terms of outright dimensions, the Tesla Model X is one of the biggest (and therefore most practical) electric cars you can buy. It measures 5052mm in length, 1999mm in width and 1684mm in height.b
As standard, the car comes with five seats, and all of those get a generous amount of head and legroom, allowing all occupants - even tall ones - to get comfy. What's more, all of these seats slide and recline electrically, allowing passengers to easily play with their seating position until they get comfortable.
As an optional extra, the Tesla Model X can be specified with six seats (three rows of two) or seven seats (three in the middle row and two behind). This gives it an immediate practicality edge over rivals like the E-Tron, I-Pace and EQC, which all have five seats only. It was a very popular option, too, so you shouldn't have trouble finding a used example with the option fitted. Adults will fit in the rearmost chairs, but headroom and legroom are limited, so you'd only want to stay there for short hops.
Access to the rear is made easy by those theatrical Falcon Wing doors. The massive openings mean it's easy to clamber into any of the rear seats, and the cutout in the roof also means you don't have to stoop when fitting a child seat, or strapping your offspring into it.
Things aren't perfect, though. The doors can be rather slow to operate, and they stop moving automatically when they come too close to another car's bodywork, leaving the door hanging only half-open. If the parking space you're in is particularly tight, this might mean you need to limbo into your seat.
The boot is pretty big in five-seat mode, on par with its competitors, but it's pretty minuscule with seven seats in place: only a handful of shopping bags will fit. You can't fold the middle row down flat like you can in rivals, either, which limits your capacity when carrying big loads.
Handling and ride quality: What is the Tesla Model X like to drive?
"As well as the technological strides it's made, Tesla has also been (rightly) applauded for the way its cars drive. Unfortunately, the Model X isn't up to the standards of the Model S or Model 3 for dynamic polish, but it still does a decent enough job."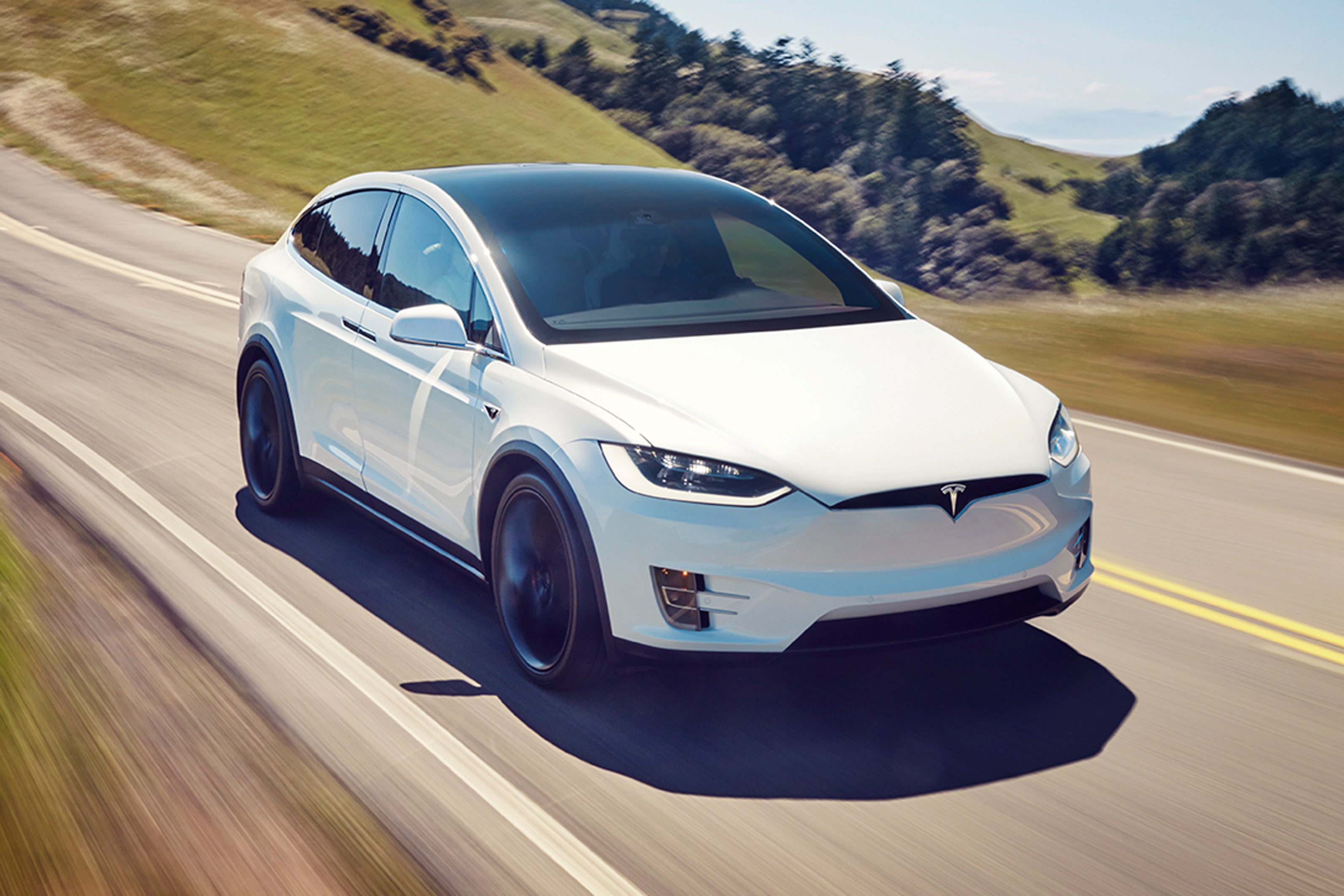 Inevitably, a car as big, tall and heavy as the Tesla Model X is going to pitch and roll significantly in corners, and it does, but it actually delivers better control over these things than you might think. The standard air suspension prevents the body lurching around too much, and that helps the car feel stable and secure, if not as much fun as, say, a Jaguar I-Pace. The steering isn't as nicely weighted as the Jag's, either.
The payoff for this control, though, is a rather unsettled ride. You constantly feel it fidgeting beneath you, even on roads that look billiard-baize smooth, and when the road gets rough, you get jittered around even more. It never thumps or crashes, so it's not what you'd call uncomfortable, but it's true that the Audi E-Tron and Mercedes-Benz EQC are much more civilised, on all kinds of roads, and at all speeds.
What engines and gearboxes are available in the Tesla Model X?
If you haven't already, we'd strongly urge you to read the 'What's the best Tesla Model X to choose' section, because it explains how the naming conventions of the various versions works, and what it means for their power/range. Because Tesla doesn't do things in the way that every other car company does, and because the model structure is so transient, figuring out which version is which is enormously complex and catastrophically confusing.
All versions do have a few things in common, though. All of them have two electric motors (one powering the front wheels and one driving the rears to give four-wheel drive), all have a single-gear transmission and all of them are fast. Even the slowest of them will smash from 0-62mph in around six seconds, and because electric motors deliver their full torque from the moment they begin spinning, there's barely any delay between pushing the go pedal with your foot, and the rest of your body being pushed back in your seat.
The quick ones, meanwhile, are among the fastest cars on the planet. Find an example of one of the later Performance models, and it'll catapult you from 0-62mph in just 2.6 seconds, quicker than most Ferraris or Lamborghinis. If anything, that level of acceleration, plus the explosive nature with which it's delivered, is such an assault on the organs that it's actually quite unpleasant. No beating it for bragging rights, though.
Refinement and noise levels
Compared with a regular petrol or diesel car, you'll be impressed by how quiet the Tesla Model X is. With no combustion engine clattering away, and only a faint whirr from the motors when you put your foot down, your progress along any type of road, at any speed, will be comparatively quiet.
Compare the Model X with its premium electric SUV rivals, though, and it's not as impressive. The motors are more audible when doing their thing - although they're still a million miles away from being annoying - and there's a good deal more wind-and road noise to be heard at a steady cruise on the motorway.
Safety equipment: How safe is the Tesla Model X?
The Tesla Model X has achieved the full five-star score in Euro NCAP crash tests, which should give you peace of mind that you'll be well protected if you become embroiled in a smash.
However, the car will do its very best to help you avoid a smash in the first place. All cars come with automatic emergency braking and blind spot assistance as standard, along with the capability to support two different levels of semi-autonomous driving. The first - known as Autopilot - will keep you a set distance from the car in front by speeding the car up or slowing it down accordingly, while the steering keeps you centred in your lane. The higher grade system also lets you change lanes automatically or summon your car out of a tight parking space using your smartphone.
Maximum EV range in the Tesla Model X
Yet another area of confusion, unfortunately. Not only has Tesla been changing things constantly since the Model X was launched, but the way ranges (and fuel consumption and CO2 emissions) are tested has also changed during that time.
For example, compare the old P100D's range of 351 miles with the latest Long Range version's figure of 314 miles, and you'd think that the older car goes further in the real world. It doesn't, though, it's just that it was tested under the older NEDC standard rather than the later - and more stringent - WLTP one.
Compared with other electric cars, though the official range figures (even the Performance version manages 301 miles) are significantly higher than those of most rivals. Like with any of them, though, you shouldn't bank on matching that figure in the real world. Assume a figure of around 280 miles is more realistic in good conditions, and that'll drop significantly in cold weather.
Charging times: How much does it cost to charge the Tesla Model X?
"We'd never advocate using a domestic three-pin socket to charge your electric car on a regular basis because it's not good for your home's electrics, but in the case of the Tesla Model X, it's also pretty pointless: trickling electricity in at such a slow rate would barely make a dent. Even if you use a 7kW wallbox charger, as most buyers will, then a full charge of the batteries takes around 15 hours."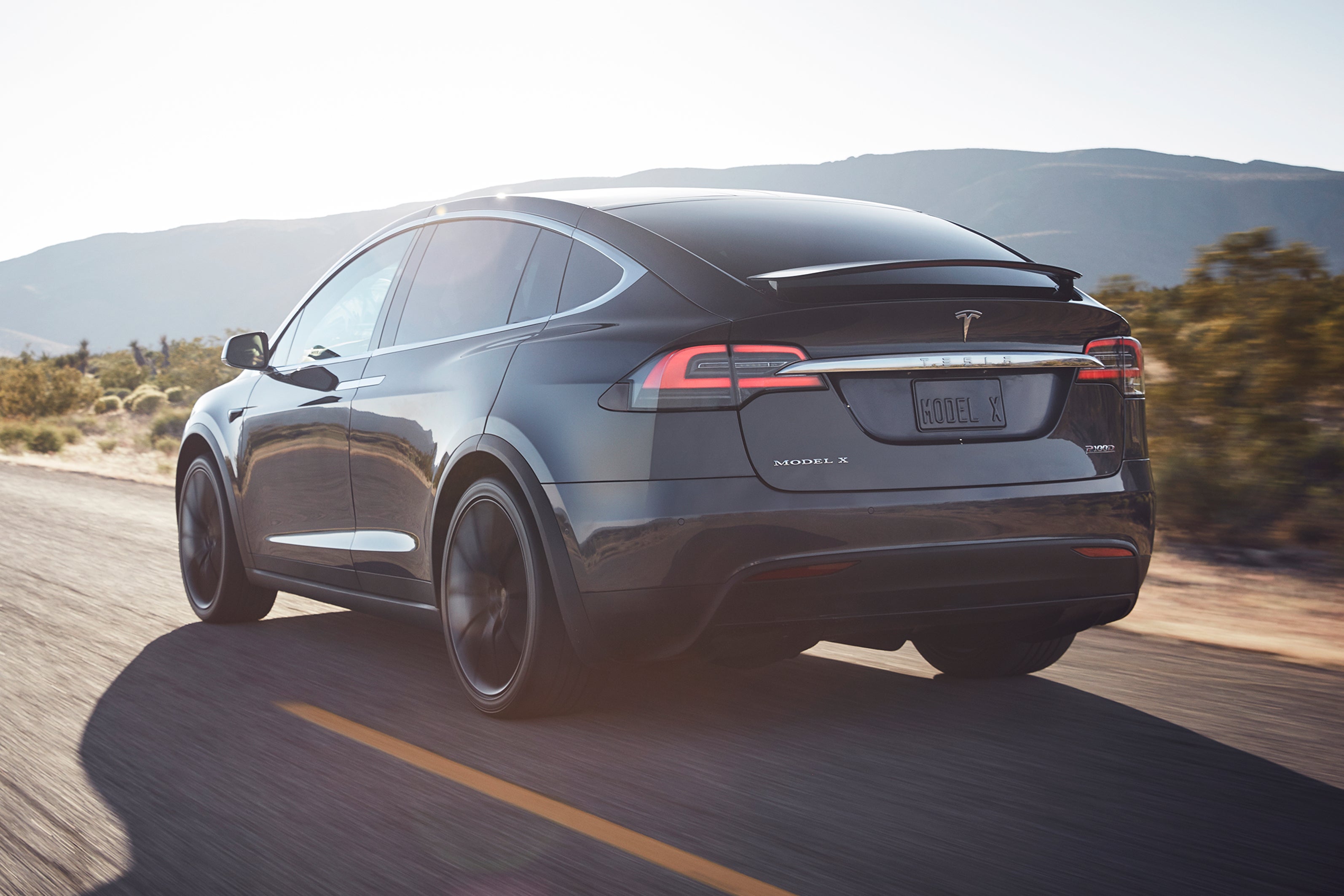 Obviously, rapid chargers will juice your car up even quicker, and the good news is that Tesla has its very own network of these dotted around the country for exclusive use by its customers. As ever with Tesla, there's some confusion around the terms of this, though. It was once completely free, then in 2017, Tesla changed its mind and began to start charging customers to use it, and then in 2019, the firm changed its mind again and made use of the network free once more for Model S and X customers. So, at the moment it's free.
How reliable is a Tesla Model X?
Tesla doesn't have the best build quality record – to put it simply, all its budget goes towards launching disruptives EVs with impressive performance. Screwing the cars together doesn't seem to be a priority. Common issues with the Tesla Model X include poor paintwork, damaged trim and even doors that get stuck open (or open when they feel like it).
Insurance groups and costs
Choosing an electric car offers buyers savings in a lot of areas, but insurance isn't one of them: it seems our friends in the underwriting world are less keen to encourage motorists into eco-friendly cars, and are more keen to get their cut.
As such, the Tesla Model X sits in insurance group 50, the most expensive group there is, which is hardly surprising given the astronomical cost of the car. That said, if you can afford to buy a Model X, you'll be wealthy enough that a steep insurance premium isn't going to put you off, and bills will be just as steep on the Model X's rivals.
VED car tax: What is the annual road tax on a Tesla Model X?
There's no first-year VED tax payment for the Tesla Model X. Electric cars are also exempt from the £325 'premium car' road tax rate, which means you pay nothing from the second year onwards. Company car drivers, meanwhile, will pay little or no Benefit-in-kind (BIK) tax until 2023 at the earliest.
How much should you be paying for a used Tesla Model X?
"At the time of writing, brand new examples of the Tesla Model X start at around £90,000 for the Long Range and rise to just over £100,000 for the Performance. That's considerably more than rivals including the Audi E-Tron, Jaguar I-Pace and Mercedes-Benz EQC, but in fairness, the Tesla is considerably bigger and none of the rivals can offer seven seats."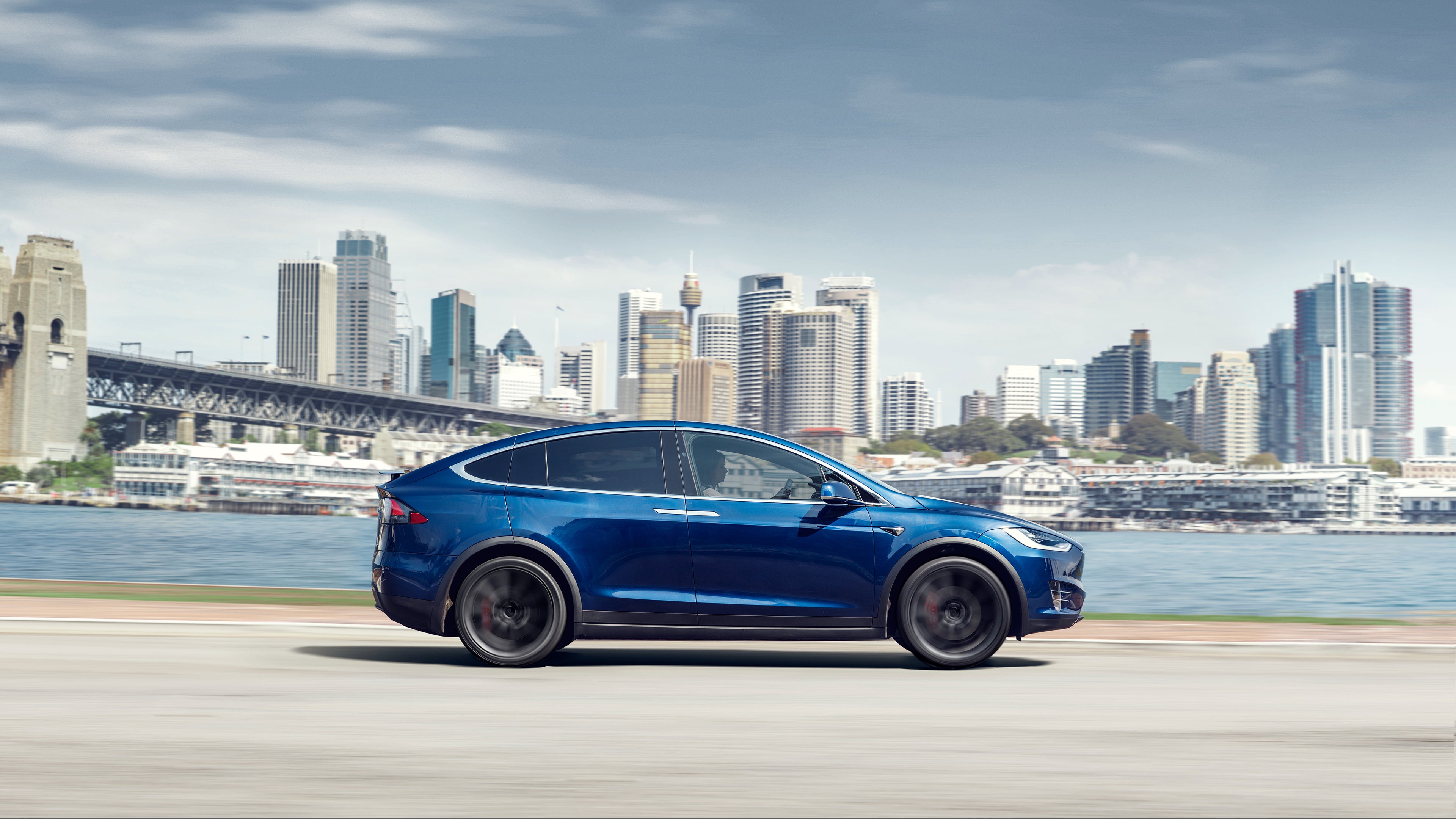 The Tesla Model X doesn't hold onto its value as well as its rivals, but while that could prove expensive for buyers of new Teslas, used buyers could be quids in.
The heavier depreciation means that the price difference is all but wiped out after three or four years, meaning you'll pay a similar amount across the board. And, the Model X has been around for a few more years than its rivals, so prices of used versions have had more time to fall.
Trim levels and standard equipment
Tesla doesn't really do trim levels as such. The amount of standard kit your car gets varies slightly version to version, but the bigger differences between versions come in the form of how much power and range they give you. And like with so many other things, Tesla makes changes to the spec of its cars on such a regular basis that the precise amount of kit you get will also depend greatly on exactly what point in time your car was built.
Most versions are well-equipped as standard and include climate control, cruise control, keyless entry, the funky Falcon Wing doors, a powered tailgate and all the infotainment and safety kit we've already talked about. The Performance has a few bits of spangly trim, but hardly anything in the way of extra luxury kit.
Ask the heycar experts:
common questions
How much is a Tesla Model X?
A new Tesla Model X starts from around £90,000, while a Tesla Model X Performance is more than £100,000. You can save money by picking up a used example from around £50,000.

What is the range of a Tesla Model X?
The Tesla Model X has an electric range of up to 314 miles.

Is the Tesla Model X better than a BMW iX?
The Tesla Model X is certainly bigger and more spacious than the BMW iX, but that doesn't necessarily mean it's better. It's not as well finished as the BMW, and we suspect the iX will be a more dependable choice.

Tesla Model X cars for sale on heycar
164
Number of cars available
£57K - £100K
Price bracket of these cars
Colours available on heycar
Keep me updated by email with the latest advice, news and offers from heycar
By submitting, you agree to our
privacy policy
.