Toyota Auris (2013-2019) Review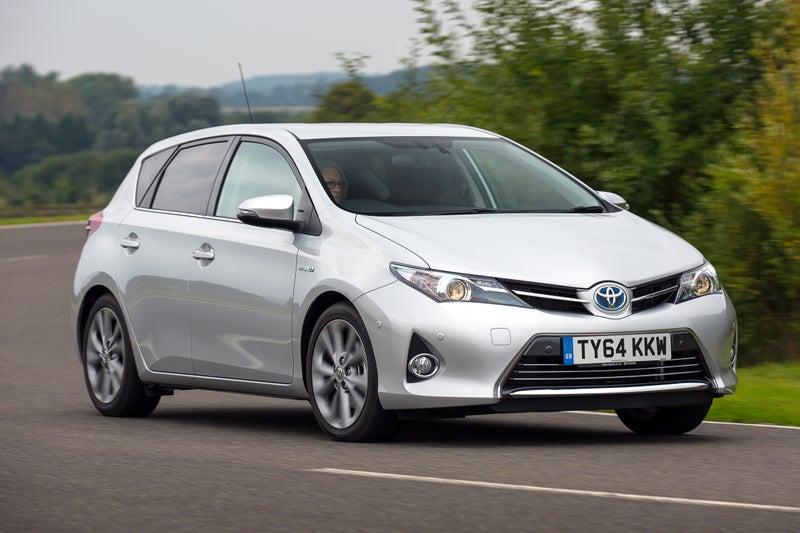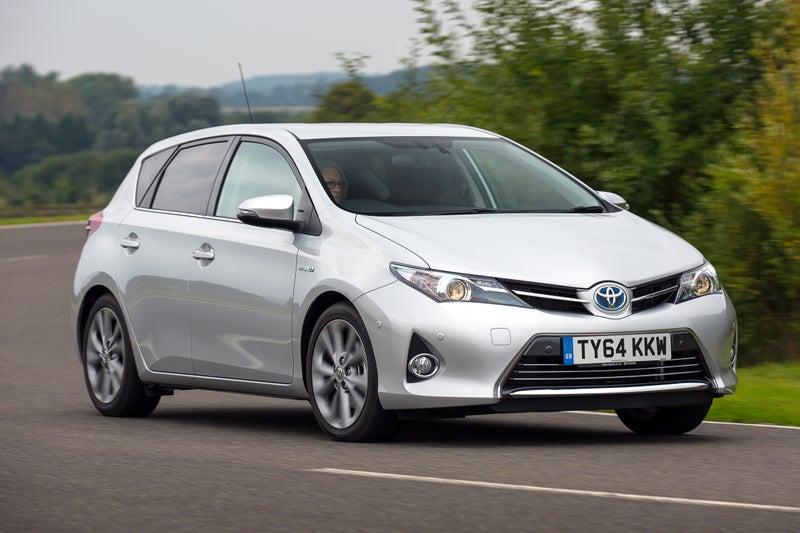 1/10
heycar rating
"Reliable, worthy, hybrid-centric hatchback"
Launched: 2013

Family hatch

Petrol, Diesel, Hybrid
Quick overview
Pros
Ultra-reliable
Hybrid version is affordable and economical
Effortless to drive
Cons
Dull design inside and out
Early engines are disappointing
Hybrid prices carry a premium over regular models
Overall verdict
On the inside
Driving
Cost to run
Prices and Specs
Common questions
Overall verdict on the Toyota Auris
"The Toyota Auris was hardly the most exciting family hatchback, which did limit its appeal to some. But on the second-hand market, reliability, value for money and fuel economy matter more, which is it enjoys renewed interest among used car buyers - particularly in hybrid form."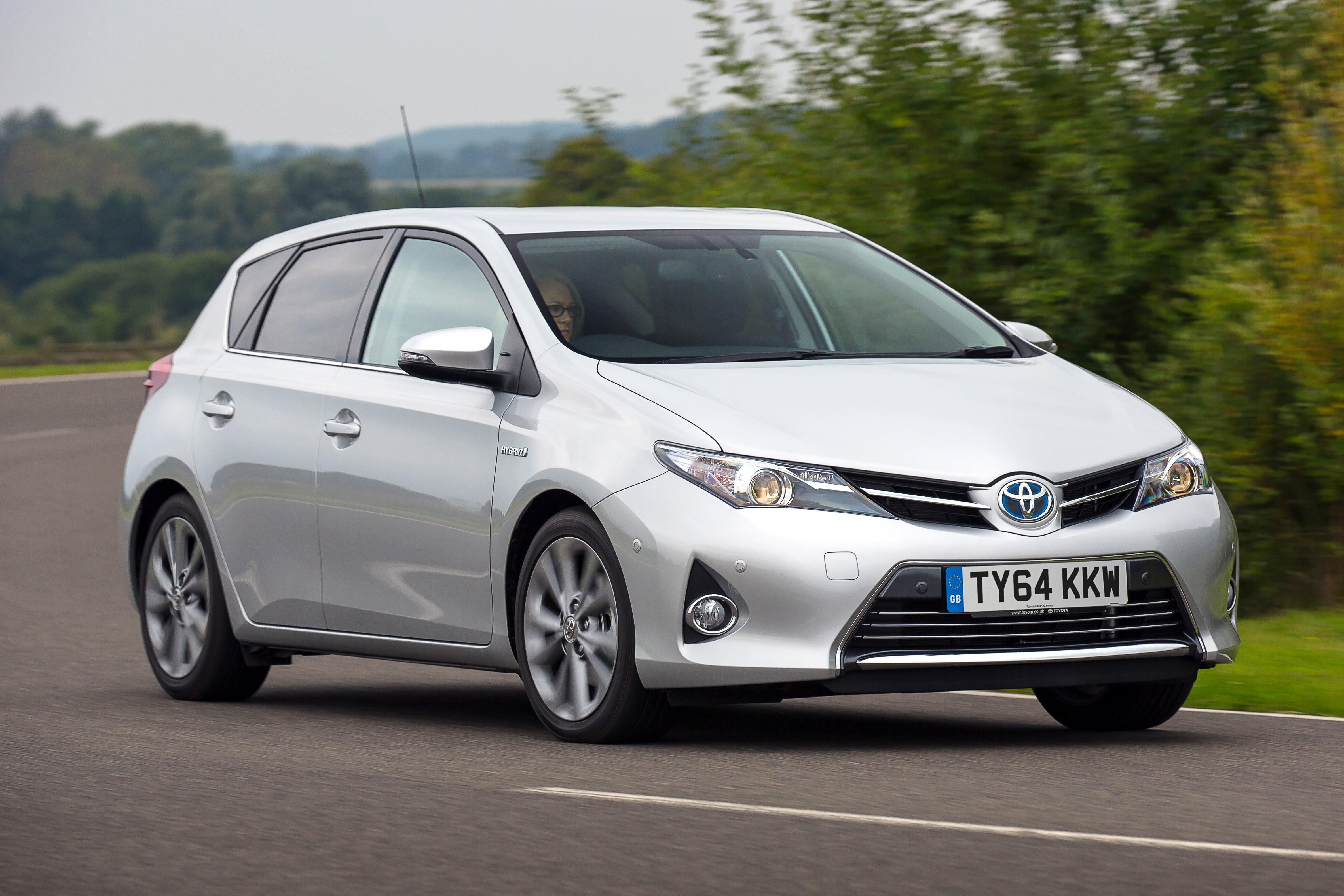 The second-generation Toyota Auris, which is detailed in this review, is a more appealing-looking car than its blobby-looking predecessor. Stung by criticism that the first version was merely a rounded-off facsimile of the older Corolla, Toyota went for a more straight-edged look for the this model. It still does little to excite, however, and the interior is about as interesting as a plate of beans.
The Auris name experiment didn't work, either, as after two generations Toyota went back to the storied Corolla nameplate with its much more imposing replacement, launched in 2019.
It's not for how it looks or the name that most people buy an Auris on the secondhand market, though. It could look like anything and its committed fans would still sign on the dotted line. Why? Two reasons: one, reliability, which Toyota has mastered like few other companies. And two: hybrid tech, as Toyota was a hybrid pioneer that has fully capitalised on its early mover status.
You can buy non-hybrid Auris. You can even buy diesel models, if you're keen to make Toyota bosses shuffle uncomfortably at the thought they actually once sold such a thing. But you're far better off buying an Auris Hybrid. You'll experience everything that makes the famous Toyota Prius such a landmark car, but in a more conventional and family-friendly package.
The Auris is a perfectly competent car to drive, as you'd expect. Handling is effortless and the ride isn't bad. The car doesn't set any new standards or feel particularly thrilling or luxurious, but it does exactly what you'd expect of it, without too much fuss or drama.
Inside, it's very plain-looking, with a tall and cliff-like dashboard made of gloomy (and mostly hard) dark plastic. It's very solidly built, though, and feels like it will last a long time. The layout is comfortable, with a good driving position and plenty of space for those in the rear. Even the hybrid model has a decent-sized boot.
Toyota revised the Auris in 2015 with new, downsized petrol engines and an improved hybrid. The diesel engine was also new, sourced from BMW instead of being a Toyota design. Inside, the dashboard was refreshed with new colours and the infotainment system was updated.
By the end of the 2013-generation car's life, most models sold were hybrids. Buyers were responding to the excellence of Toyota's Hybrid Synergy Drive system, which actually led to the firm rejecting diesel entirely.
Later Auris models were also notably well equipped – the firm even ditched the base-level Active grade and bolstered the amount of standard kit on other models within the range. The Auris was moving upmarket and this helped set the template for the car's even bolder-looking 2019 successor.
Is the 2013-2019 Toyota Auris right for you?
Every Toyota delivers an assurance of near-total reliability, and the British-built Auris is no different. If you're shopping in the family hatchback sector and want a car you can simply forget about, safe in the knowledge you won't have to worry about problems or breakdowns, it's a very sound choice indeed.
The fact it also comes with a petrol-electric hybrid option is a really good reason to choose one. This makes the Auris almost unique, with Toyota well ahead of the curve in making this fuel-saving tech mainstream. By the end of the car's life, more than three in four sold were hybrids, meaning there's plentiful choice on the second-hand market. It's a great-value way into your first electrified vehicle.
It may hardly get your pulse racing to look at inside or out, but at least it's a little more distinctive than its forgettable predecessor. You'll certainly consider it a genuine alternative to the default rivals such as the Volkswagen Golf and Ford Focus.
What's the best Toyota Auris model/engine to choose?
Naturally, we think the 1.8-litre Toyota Hybrid Synergy Drive version is the best Toyota Auris overall. All the expertise that went into the previous-generation Prius successfully transfers across to the Auris, simply in a more practical and conventional-looking package.
Drivers will be surprised at the low-speed electric-only running, and pleased by the fuel economy it's able to deliver, particularly in urban driving. The droning engine note when you drive it quickly is a less pleasing surprise, but it only becomes irritating when you're really pushing it, and the everyday extra refinement (and ease of use) should offset that.
Diesel Auris models are disappointing by comparison. You sense Toyota's heart simply wasn't in it. We do, however, like the later 1.2-litre four-cylinder turbo petrol engine, which is a cheaper and more conventional alternative to the hybrid that still serves up decent economy, but with slightly better performance and a more engaging feel for keen drivers.
What other cars are similar to the Toyota Auris?
There's no end of choice in the family hatchback sector to compete with the Toyota Auris. Best-sellers include the Volkswagen Golf, Ford Focus and Vauxhall Astra – none of which (other than the later performance-focused Golf GTE PHEV) offered a hybrid option back then. The Honda Civic and Mazda 3 are reliable Japanese alternatives, and Nissan offered the Nissan Pulsar until a lack of market interest forced its retirement.
Value alternatives include the SEAT Leon, Skoda Octavia, Kia Ceed and Hyundai i30, while it would be remiss of us not to also mention the Toyota Prius as an even more eco-focused (also five-door) alternative to the Auris.
Comfort and design: Toyota Auris interior
"The slightly boxy, angular look of the Auris on the outside is reflected by an upright and straight-lined interior. The dashboard is tall, with a cliff-like face containing the air vents, well-located infotainment screen and, below, the climate control settings. It's bland, but it all works pretty well."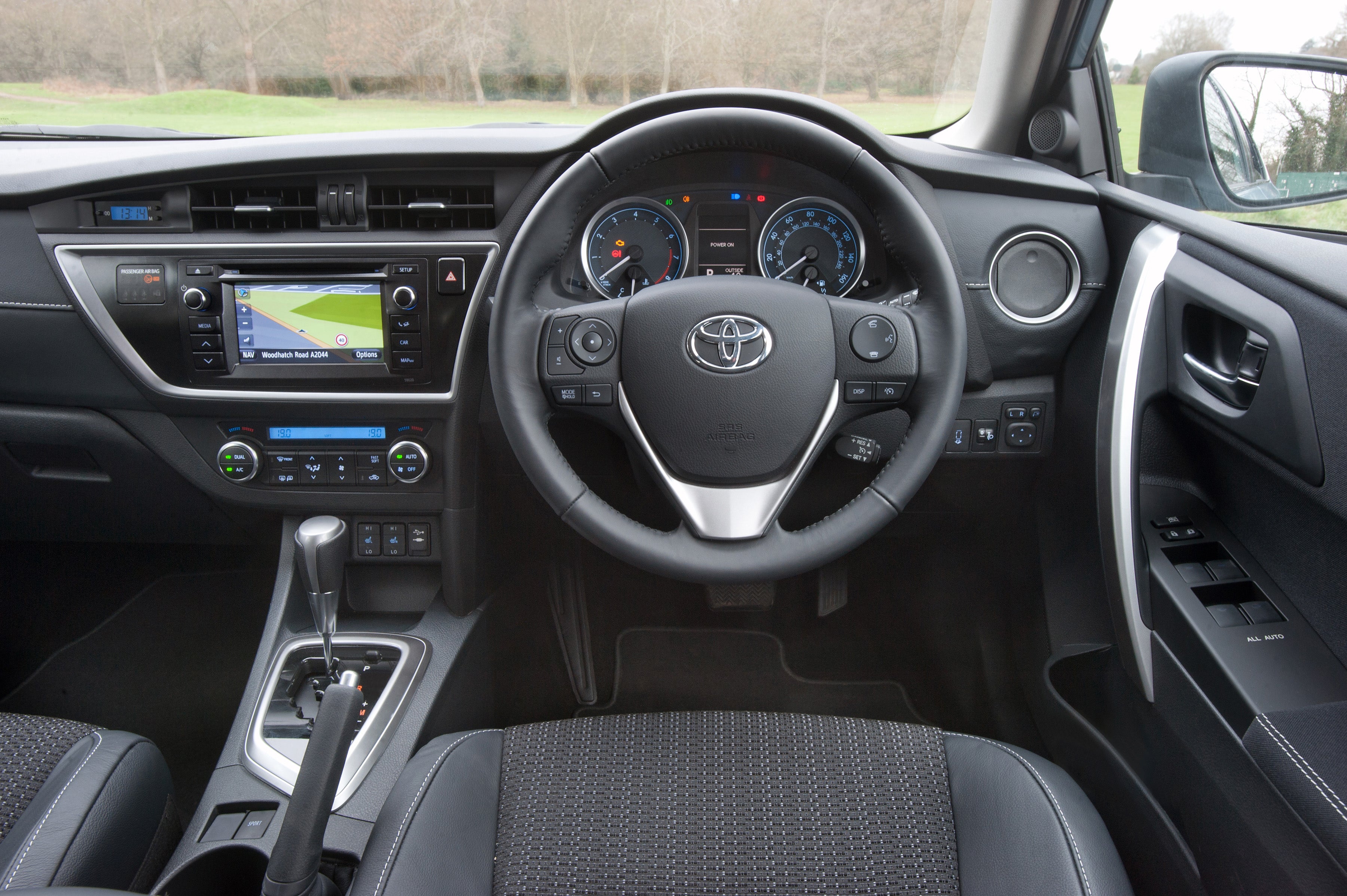 The Toyota Auris's interior is very typical of what Japanese brands were doing around a decade ago. Ergonomics and build quality took priority over design and plush-feeling materials.
The driver faces twin round instruments set within deep cowls, with a rather low-res screen in between (this became colour from 2015, but still looks dated). You get a rev counter in normal models, which is replaced by an energy usage dial in hybrids. Hybrids will also show energy flow, telling you if the car is being driven by the battery, engine or both.
Pre-facelift models were rather dark and gloomy. Toyota did brighten things up a little with the 2015 facelift, using slightly more colourful materials and a scattering of piano black trim and chrome highlights. The design is nevertheless rather plain, and even the steering wheel looks boring.
There are a few too many buttons scattered around the interior, with the steering wheel containing a particularly large array, but it's all generally rather easy and straightforward to use. The dials are clear and the car requires no special tricks to use. All the major controls are well-located, from the manual handbrake to the well-located pedals and gear lever. Hybrid models get a special gear lever that's unusual-looking at first, but child's play to use.
The front seats are firm and supportive – not overly hard, but comfortable enough not to bite on long journeys. It's user-friendly in the rear, too, with a decent bench seat that's well laid-out and comfortable. As an honest, straightforward family car or commuter car, it's entirely up to snuff.
Quality and finish
Toyota is renowned for the excellent quality of its cars and the Auris is no exception. This is a meticulously well-built car, with ultra-precise panel gaps and paint quality on the outside, plus millimetric assembly within. The lazy and somewhat approximate feel you sometimes find in other cars simply isn't acceptable for Toyota.
You sense the built-in quality from the solid noise made by the doors when you close them, and the firm click of all the buttons, stalks and dials. The Auris seems like it will take the most heavy-duty use and still keep coming back for more.
It isn't particularly lavish or indulgent in terms of material quality, though – not in the same way a Volkswagen Golf is. The plastics are sturdy and durable, but you don't get an excess of soft-touch materials or fancy satin-finish surfaces. This rather more workmanlike finish shouldn't be confused for any lack of quality, however. The Auris is almost guaranteed to last longer than its more decadent rivals.
Infotainment: Touchscreen, USB, nav and stereo in the Toyota Auris
Toyota built the dashboard of the Auris around a high, well-located infotainment screen. Most models are fitted with the system, which is called Toyota Touch. Only Active models lack it, replacing it with a conventional car radio instead.
The touchscreen itself is a rather rudimentary system, although it was improved from 2014 with the introduction of Toyota Touch 2 – sat nav is only standard on versions fitted with Toyota Touch 2 with Go. The 'Go' system included extra connectivity features, although these seem a bit dated these days.
For the 2015 facelift, the infotainment system got a smart new look with a one-piece panel using a smart piano-black surround. Buttons on the outside became touch-sensitive and the night-time lighting was crisper and more consistent. It's still arguably a bit basic, but does at least look more modern at first glance.
You can't get Apple CarPlay or Android Auto connectivity on any Auris, meaning your smartphone mirroring will have to be done in a more rudimentary way through Toyota's own navigation menus and displays.
Space and practicality: Toyota Auris boot space
The Toyota Auris is a competitively-sized family hatchback, with exterior dimensions of 4,330mm length, 1,823mm width and 1,475mm height. Newer models may be a bit larger still, but the Auris is not penalised for this inside as it makes good use of the space on offer.
It feels fine for drivers, with controls placed extremely well. The Auris Hybrid feels particularly spacious because it only has two pedals within a wide, open footwell. The steering wheel has a good range of adjustment and it all feels a bit more conventional than the rather upright, MPV-like Auris that came before. The seating position nevertheless offers a good view both to the front and side.
Excel models had the option of a further enhanced feeling of spaciousness, thanks to a large panoramic glass roof that measures 2.3 metres front to rear – and almost 1.3 metres wide.
In the rear, there's a good amount of legroom and ample headroom. The seat might be a bit of a squeeze for three people, but it's fine for two – and if you have to pack in three, the middle seat passenger will at least appreciate the flat floor, without too much intrusion from the central tunnel. This also adds to an airier, more open feel in the rear. The rear seat-back also reclines.
The regular Auris has a 360-litre boot. That's a little down on something like a Golf, but still a good size. More importantly, it's very well shaped, with a wide and useful layout. Toyota has even hollowed out some extra width behind the rear wheelarches, so you can squeeze in particularly awkward loads. The hybrid has slightly less space, due to the room taken up by the batteries, but it still manages 337 litres, which is a lot more than earlier hybrids which had tiny boots. With the rear seats folded, the Auris has up to 1200 litres of space, or 1176 litres in the Hybrid.
The Auris has Isofix mounts for the outer two rear seats, and it's fairly easy to get children or their car seats in and out, even if the door openings aren't quite as tall as the previous model. There are no Isofix mounts for the front passenger seat, but an airbag cut-off switch is standard.
Handling and ride quality: What is the Toyota Auris like to drive?
"Handling perhaps isn't high on the checklist for Toyota Auris drivers. This is not a car that enthusiasts flock towards, as Toyota had other priorities. But it's competent enough, and vice-free."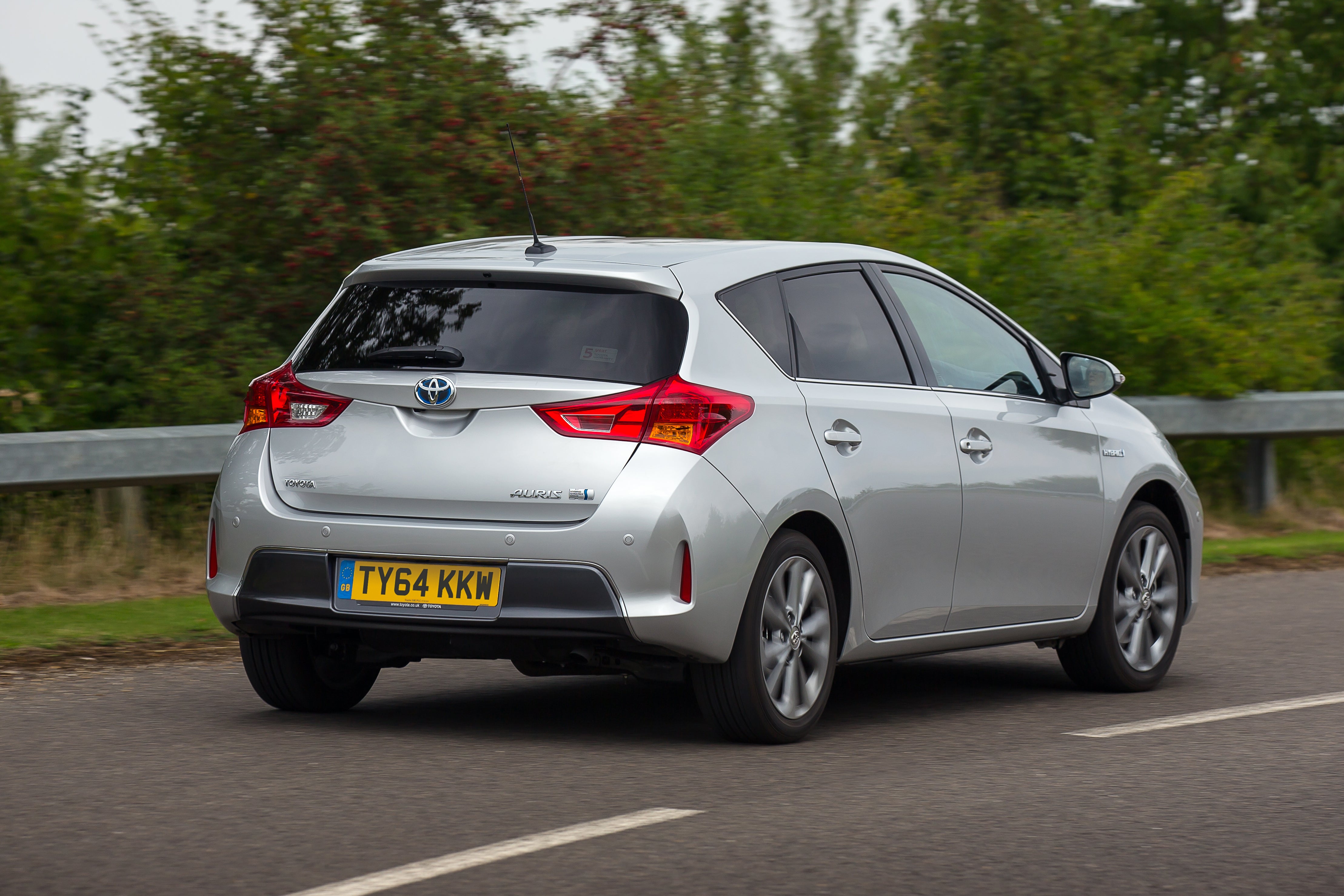 If you want the best-handling car in this sector, you should err towards something like a Ford Focus or Seat Leon. That's not to say the Toyota Auris is particularly flawed. It's perfectly competent and up to class standards – it's just not a very interesting car to drive.
The chassis is quite grippy, and holds on well through corners. You might notice a bit of squirm from the front wheels when accelerating hard in the hybrid, because of the electric motor's punchy response, but standard stability and traction control keeps things settled.
The steering is light and easy. You don't get much feedback through the wheel itself, but neither is it particularly uncertain or gloopy. Threading the Auris through a squeeze of bends won't have the hairs on the back of your neck standing up, but won't be an especially troublesome or uncertain experience either.
The ride is quite nice, soaking up lumps and bumps in town rather well. It is a good urban car, which feels nice and supple during low-speed use. It feels a bit choppier at higher speeds, as if the suspension isn't quite as sophisticated during more vigorous use – a Volkswagen Golf delivers a more pliant ride on the motorway or a fast A-road – but it's not a deal-breaker.
What engines and gearboxes are available in the Toyota Auris?
You're most likely to come across a Toyota Auris Hybrid on the used car market, particularly if you're looking at newer models. The system uses a 1.8-litre non-turbo petrol engine paired with a single-speed CVT gearbox, with an electric motor powered by a self-charging battery at the rear of the car, The battery is topped up by turning the motor into a generator when you lift off, and it also recovers energy when you brake.
Many people who are new to the hybrid experience will be surprised and impressed by the electric-drive. The Auris often starts off as a pure EV, and will frequently shut down its engine at low speeds if there's enough charge in the batteries. The engine kicks in automatically, so you don't need any particular changes to your driving style – simply let the engine cut in and out, saving petrol and cutting your emissions.
The battery is much smaller than in todays modern hybrids and (in particular) plug-in hybrids, however. It'll only run on pure electric power for a couple of miles at best, and keeping the engine off is an exercise in gingerly applying the throttle. But the Auris's electronic brain is constantly juggling petrol and electric power, so even if the engine is running it's more efficient than a pure petrol model.
The gearbox is a bit of an acquired taste. When the engine is running, the CVT transmission works by using a single gear and constantly varying the engine revs so the engine is always operating at peak efficiency. It's clever, but does mean it has a 'slipping clutch' effect that feels unusual. Also, when you want maximum power, the engine revs will soar right to the maximum and stay there until you lift off.
More conventional engines include a 1.33-litre non-turbo petrol and a 1.6-litre with more power, plus an automatic gearbox option. There was a 1.4-litre D-4D diesel, later replaced by a 1.6-litre D-4D. If you're not buying the Hybrid, we'd avoid the early engines and stick with post-facelift versions, where that 1.33-litre was replaced by a much improved 1.2-litre turbo. This also offered a CVT auto version, although the standard gearbox is super-light and easy.
Refinement and noise levels
The Toyota Auris Hybrid has extremely impressive refinement in electric-only use. They are appealing cars to drive in town, because the engine is able to shut down frequently and give a luxurious, silent-running drive. Pity it contrasts with the roar of the engine when you want sudden acceleration, though.
The early diesel engine wasn't very nice. The BMW diesel was better, but the Auris is still more refined as a petrol – preferably the 1.2-litre turbo as opposed to the 1.33-litre, which you have to work harder.
Wind and road noise are present, but they're not excessive. The Auris is particularly good in terms of tyre roar compared to some of its rivals, because the size of the wheels and tyres are not too extreme. This also helps it ride bumps with a bit more peace and quiet than some of its sportier alternatives.
Safety equipment: How safe is the Toyota Auris?
Back in 2013, Euro NCAP tested this generation of Auris and awarded it a full five stars for crash safety. Adult occupant protection was particularly good, with a 92 percent rating, although child occupant safety wasn't too far behind on 84 percent. Pedestrian protection was rated 68 percent and safety assist perhaps a touch disappointing, at 66 percent.
All Auris models are fitted with front, side and curtain airbags, although the side chest airbags only serve the front-seat occupants, not those in the rear. Seatbelt pretensioners and belt load limiters are also only on the front seats. The driver gets a standard knee airbag.
Stability control was standard and all five seats get a seatbelt warning reminder. A speed limiter was only optional, though, and this generation of Auris was a bit too old to have more advanced safety assist technology such as a lane-keep assist and autonomous emergency braking.
Toyota did introduce a Safety Sense pack for all models from late 2016, but it wasn't subsequently tested by Euro NCAP. It's still worth looking out for. Standard gadgets include autonomous emergency braking, plus road-sign assist to detect road signs and display them in the colour monitor within the instrument pack.
MPG and fuel costs: What does the Toyota Auris cost to run?
"The Toyota Auris was tested to the older, more lenient NEDC fuel economy test standard, and so delivers some extremely impressive on-paper figures. The 1.4 D-4D was rated at 72.4mpg, and even the 1.33 petrol could officially top 51mpg. It's not quite as impressive in the real world, but still decent."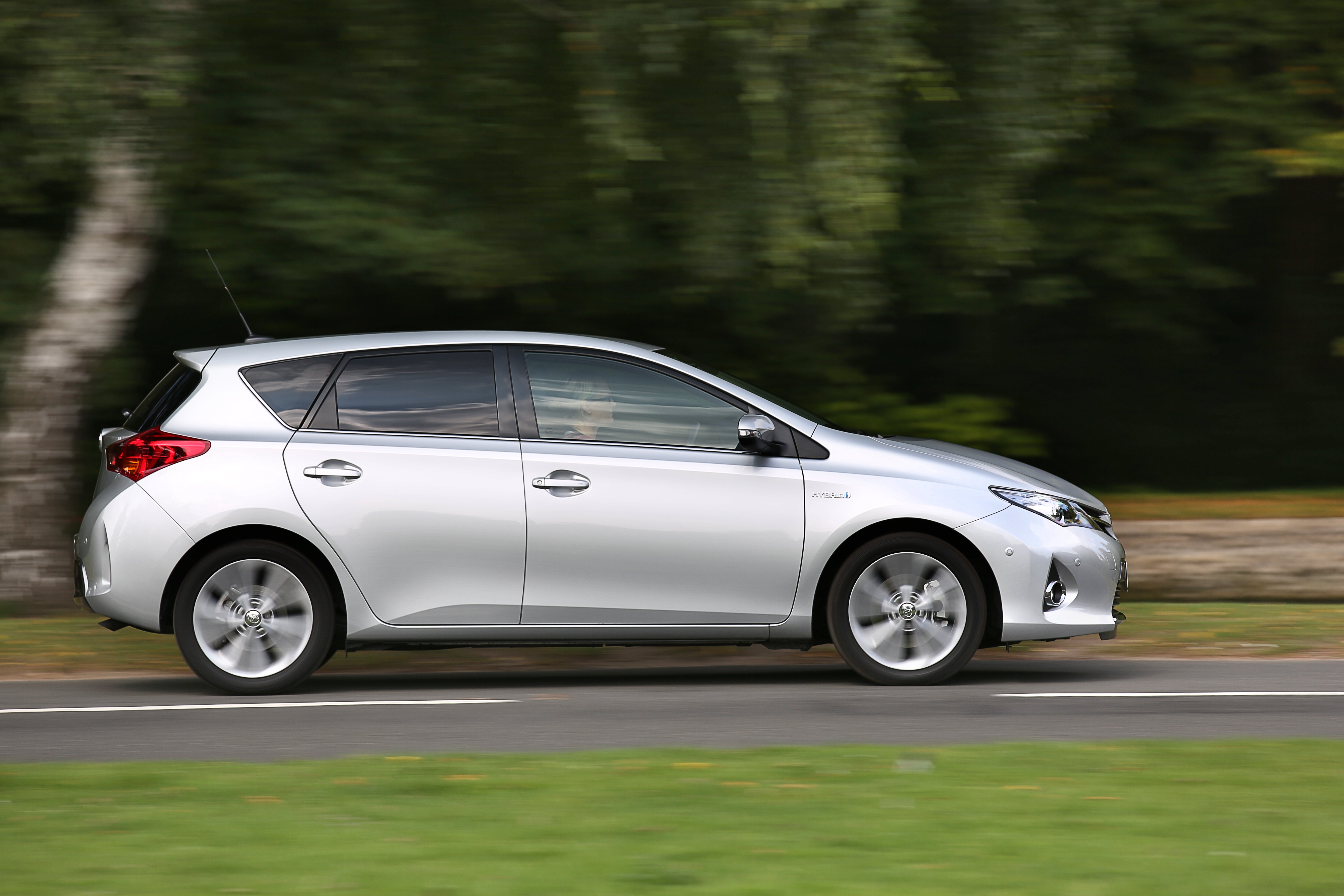 The Hybrid can return extremely impressive economy figures in town, thanks to its ability to operate frequently as a pure EV. On paper, it returns 72.4mpg, and you might be surprised at how high you can get the average economy if you drive it gently. The cheaper cost of petrol (versus diesel) will also help keep fuel costs down.
The 1.2-litre turbo serves up even better economy than the 1.33-litre, averaging as much as 58.9mpg as a manual, or 61.4mpg as a CVT auto. Economy does drop significantly on models with larger alloy wheels, though. In the real-world, expect 45mpg in mixed driving from the 1.2 petrol.
How reliable is the Toyota Auris?
Toyota finished in a strong 8th place in the latest HonestJohn.co.uk Satisfaction Index. Owners are generally very happy with their cars, and the company's powertrains are notoriously dependable.
The Auris should be one of the most reliable family hatchbacks on the used market regardless of which engine you go for. But its the Hybrid that again steals the show here: it uses the same system as the Prius, which has spent many years racking up hundreds of thousands of miles without issue and become the go-to weapon of choice for private hire vehicles in cities around the world.
Insurance groups and costs
Insurance groups start from group seven (out of 50) for the Auris. Other cars manage to go a bit lower, but it still shouldn't result in premiums that are too excessive. Some models with the optional Toyota Safety Sense pack actually have insurance a group lower as a result.
Surprisingly, it's 1.2-litre turbo models that sit at the upper end of Auris insurance rankings and costs, similar to the more tech-packed Hybrid. Most models will sit in groups 12-14, with the highest Auris scoring a group 15 insurance rating.
VED car tax: What is the annual road tax on a Toyota Auris?
Hybrid Auris drivers will be over the moon: they get free VED (road tax) as a reward for driving a 'green' alternative-fuel vehicle. Some 1.4 D-4D diesels also fall into group A for VED, while the 1.33-litre petrol is less impressive with a £125 a year annual cost.
You're better off picking the 1.2-litre turbo if you don't want a Hybrid. Low CO2 emissions mean annual tax of just £20 – and the CVT automatic is as cost-effective as the manual version here.
How much should you be paying for a used Toyota Auris?
"If you're happy not to have an Auris Hybrid, prices of early second-generation cars look tempting. You will be able to pick up a car for less than £5,000, using either a 1.4-litre D-4D diesel or 1.33 petrol engine. And these will be mid-range variants, with a decent amount of standard equipment."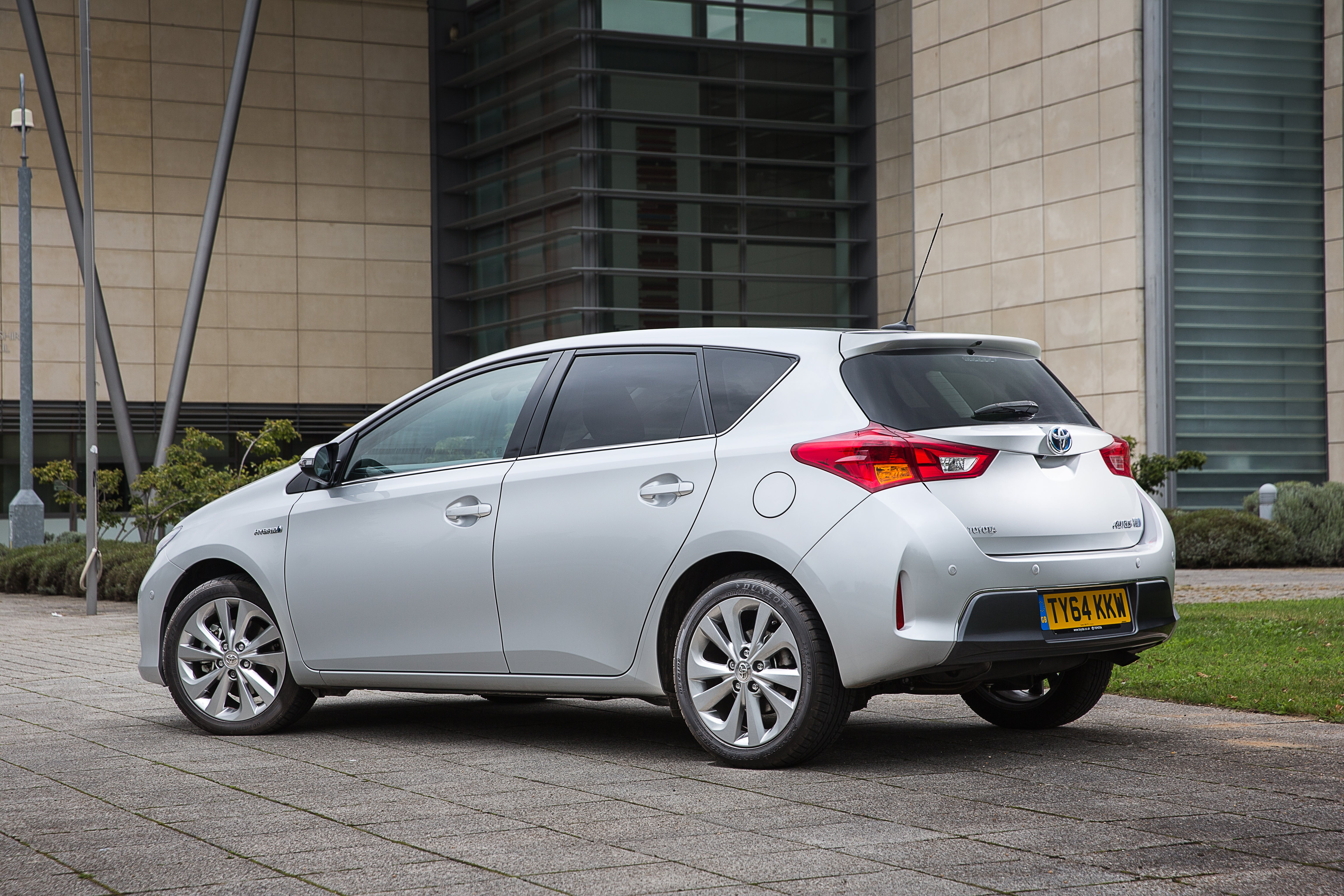 Hybrids are more expensive, as you'd expect. The cheapest cars today start from around £7,000, for a 2013 edition with high mileage. And there are lots around with mega miles because they are very popular with minicab and private hire firms. You need to budget around £10,000 to get a wider choice of lower-mileage models. This proves what a popular car it is.
Facelifted post-2015 cars start from around £8,500 and we think a 1.2-litre turbo in Business Edition spec is a great entry into the Auris range. Again, you need to up your budget by around £1,000 if you want more choice of lower-mileage models.
Trim levels and standard equipment
Toyota launched the Auris in Active, Icon, Sport and Excel grades. Active is pretty basic, and rare: the favoured Icon includes 16-inch alloys (15-inch on the Hybrid), DAB radio, Toyota Touch infotainment, all-round electric windows, Bluetooth and a rear-view parking camera. Sport does what it suggests, with 17-inch alloys (16-inch for the Hybrid), sports seats, rear privacy glass and a rear diffuser.
Excel also has 17-inch alloys, plus dual-zone climate control (the regular system is single-zone automatic air con), heated leather seats, cruise control, park assist with all-round parking sensors, plus automatic lights and wipers. In 2014, Icon became Icon Plus, with a few extra gadgets as standard.
The revised 2015 range had a similar span of equipment, and consisted of Active, Business Edition, Icon, Design and Excel. A later Icon Tech added Toyota Touch 2 with Go sat nav, while Business Edition was focused on company car users.
Ask the heycar experts:
common questions
Is the Toyota Auris a good car?
The Toyota Auris is a good car if you're not fussed about owning a desirable or exciting car and simply want dependable transport. It's one of the most reliable cars on sale, particularly in hybrid form, and does exactly what it says on the tin.

Which Toyota Auris is best?
That depends on what you want. If you want a simple, affordable and reasonably fun to drive Auris, go for the punchy 1.2-litre turbo petrol model. The Auris Hybrid is more expensive to buy, but it's smoother around town, more economical and is likely to be more reliable.

Has Toyota stopped making the Auris?
Toyota has stopped making the Auris, but only because the name for the newer model (launched in 2019) was changed back to Corolla. The Auris name has only lasted for two generations, whereas the first Toyota Corolla launched back in 1966.

Answered by
Lawrence Allan
Toyota Auris cars for sale on heycar
3,471
Number of cars available
£8K - £21K
Price bracket of these cars
Colours available on heycar
Keep me updated by email with the latest advice, news and offers from heycar
By submitting, you agree to our
privacy policy
.