Avensis (2015-2019) Review
Toyota Avensis (2015-2019) Review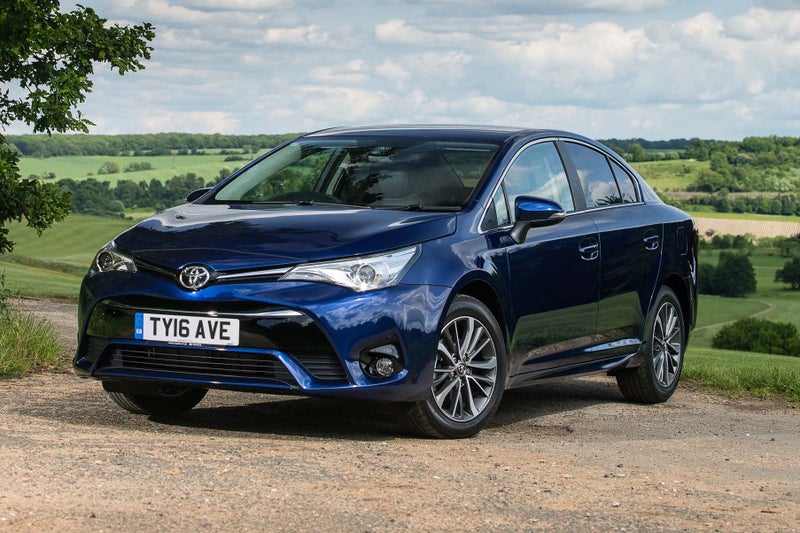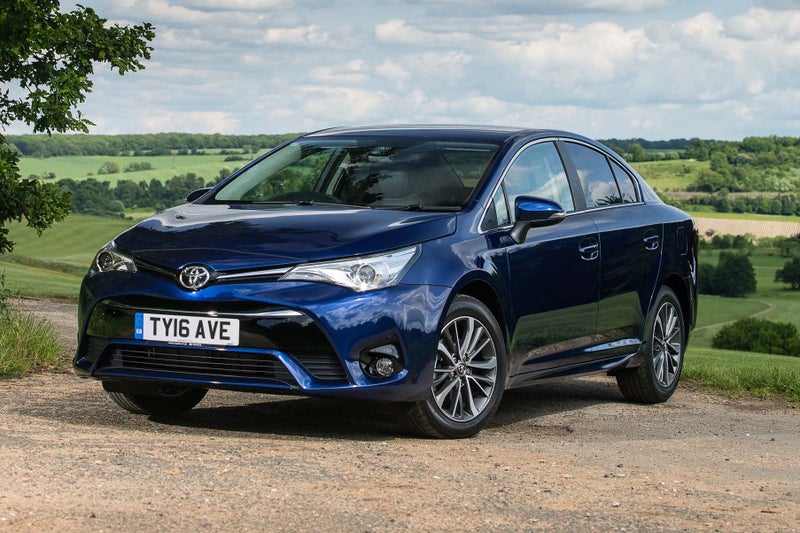 1/10
heycar rating
"Comfortable and efficient family car"
Launched: 2015

Large family car

Petrol, Diesel
Quick overview
Pros
Efficient BMW-sourced engines deliver excellent economy
Superb long-legged ride comfort and refinement
Long list of standard equipment
Cons
Drab interior lacks flair and imagination
Dull to drive
1.6 and 1.8 engines lack punch
Overall verdict
On the inside
Driving
Cost to run
Prices and Specs
Overall verdict
"Judged on what Toyota hoped to achieve with the Avensis, this is a car that's hard to fault. Not only does it offer exceptional value for money, it's also one of the most comfortable cars in its class. Throw into the mix the cheap running costs and excellent reliability and you've got the hallmarks of a great used car."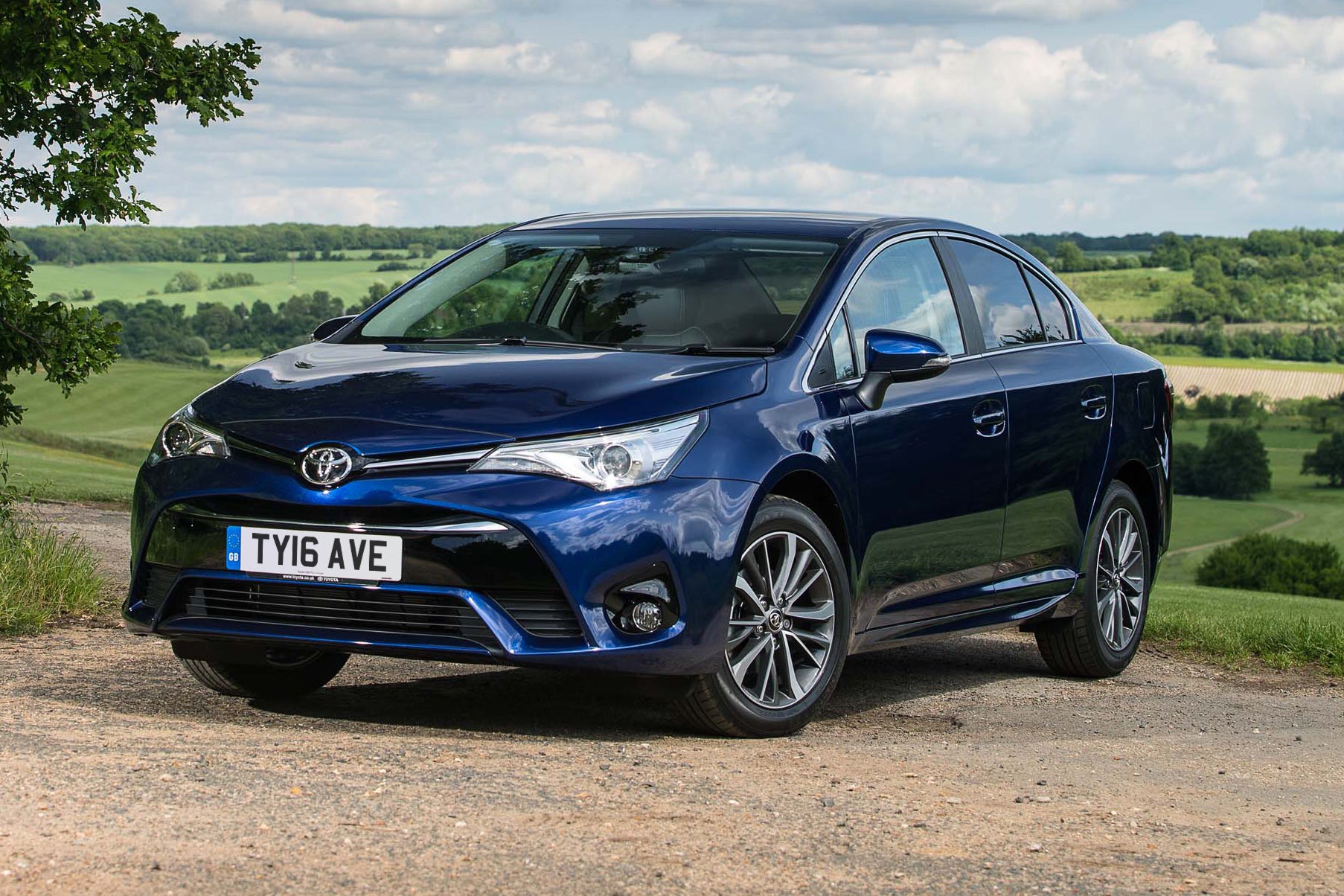 The Toyota Avensis is the car you buy when you've got little imagination, right? Wrong. It might not be the most dynamic, stylish or glamorous car out there, but as an efficient, reliable and comfortable family car, the Avensis is hard to beat.
Launched in 2015, the latest Avensis is a comprehensive reworking of the earlier car, with Toyota giving it a subtle facelift, an improved cabin, more standard equipment, efficient engines and an impressive suite of safety systems.
There are two versions available: a four-door saloon and a five-door Touring Sports (estate). Of the engines available, the BMW-sourced diesels are the pick of the bunch.
The 1.6 D-4D diesel offers excellent economy and is designed for fleet users who spend most of their time in sixth gear. The 2.0 D-4D offers improved performance with only a small drop in fuel economy, which makes it the best choice for family buyers or those who carry heavy loads.
Regardless of the engine, the Toyota Avensis is a car that prioritises comfort over handling. On motorways, the Avensis delivers the kind of long-legged feel and efficiency that's demanded by Europe's company car drivers. The flipside is that the Avensis feels woefully out of its depth when cornering, with a fair amount of body-roll and overly light steering.
You can make up your own mind on the styling, but there's no doubt that the cabin is a drab affair. The dashboard is a sea of grey, lifted by some welcome silver accents in key places.
Quality is actually very good, with the switches, dials and buttons feeling reassuringly solid. Although standard equipment is generous for a car of this price, we'd avoid the entry-level Avensis. The mid-range model offers the best blend of price and kit.
The list includes the full suite of the Toyota Safety Sense driver assistance systems, an eight-inch touchscreen, 17-inch alloy wheels, dual-zone climate control, a reversing camera, driver's seat lumbar support and a DAB digital radio. It's the most popular model in the Avensis range, so you shouldn't have any problems finding the right car for you.
Choosing the Toyota Avensis Tourer version will deliver the best practicality. Although the boot isn't the largest in its class, there's ample space for your luggage and for trips to the DIY store. The luggage capacity in the saloon is actually pretty generous, but practicality is hampered by the narrow boot opening.
The cabin offers sufficient room for four adults – five at a push – along with a huge central storage bin and a large glovebox. We doubt you'd require more practicality and comfort from a family car.
We know many people are turning to crossovers and SUVs, but this means that cars like the Toyota Avensis are becoming used car bargains. You could run this car for many years without a problem, enjoying the comfort and efficiency as you go along. Try it. You might like it.
If you're looking for the older version, you need our Toyota Avensis (2009-2015) review.
Is the Toyota Avensis right for you?
Not everyone is after precision handling, exhilarating performance and head-turning looks from a saloon or estate car. Indeed, most people would be happy with a comfortable ride, zero problems between each scheduled service and running costs that won't break the bank.
That's where the Toyota Avensis comes in. It might lack glamour and kerb appeal, but it's actually one of the most sensible cars you can buy. Europe's company car drivers can't be wrong, can they?
This final iteration of the Avensis is the best of the breed, with sharper styling, improved quality and a greater feeling of refinement. Of the two, the Touring Sports is the most practical and arguably the better looking, so it would be our choice.
If your idea of driving pleasure is measured in 0-62mph times and the way a car tackles a corner, the Avensis isn't for you. On the other hand, if you're after comfort and dependability, the Avensis is a hugely satisfying car.
What's the best Toyota Avensis model/engine to choose?
Whether you opt for the saloon or the Touring Sports, one of the BMW-sourced diesel engines makes most sense.
In the saloon, we'd recommend the 1.6 D-4D engine, especially if you spend most of the time covering long distances in glorious isolation. A 0-62mph time of 11.4 seconds tells you that it doesn't offer the last word in performance, but 112PS is just enough power to avoid it being a frustrating experience. Besides, you'll appreciate the claimed 68.9mpg.
Buying the Touring Sports suggests that you'll be carrying people and their gear, so the 143PS 2.0 D-4D makes more sense. The added punch gives the Avensis more urgency, which is handy when you're carrying a full load. Economy drops to 62.8mpg.
All versions of the Avensis come loaded with the kind of equipment that will keep a company car driver happy, but a mid-range trim makes more sense when you're buying used.
What other cars are similar to the Toyota Avensis?
The most obvious rivals are the Ford Mondeo and Mazda 6. Both are available as a saloon or estate, although the Ford and Mazda are much nicer to drive than the Toyota Avensis.
Alternatively, you could look at the Volkswagen Passat or Skoda Superb. Again, there are saloon and estate versions available, with the wagons offering greater practicality than the Avensis. In fact, the Skoda Superb estate is one of the best all-rounders you can buy at any price.
If you're buying used, take a look at the Hyundai i40 for its long warranty and the Vauxhall Insignia Grand Sport for its motorway comfort and low prices.
Comfort and design
"Although this final iteration of the Avensis is essentially a comprehensive facelift of the old version, Toyota made some significant changes in some key areas. As a result, this is the most comfortable Avensis you can buy."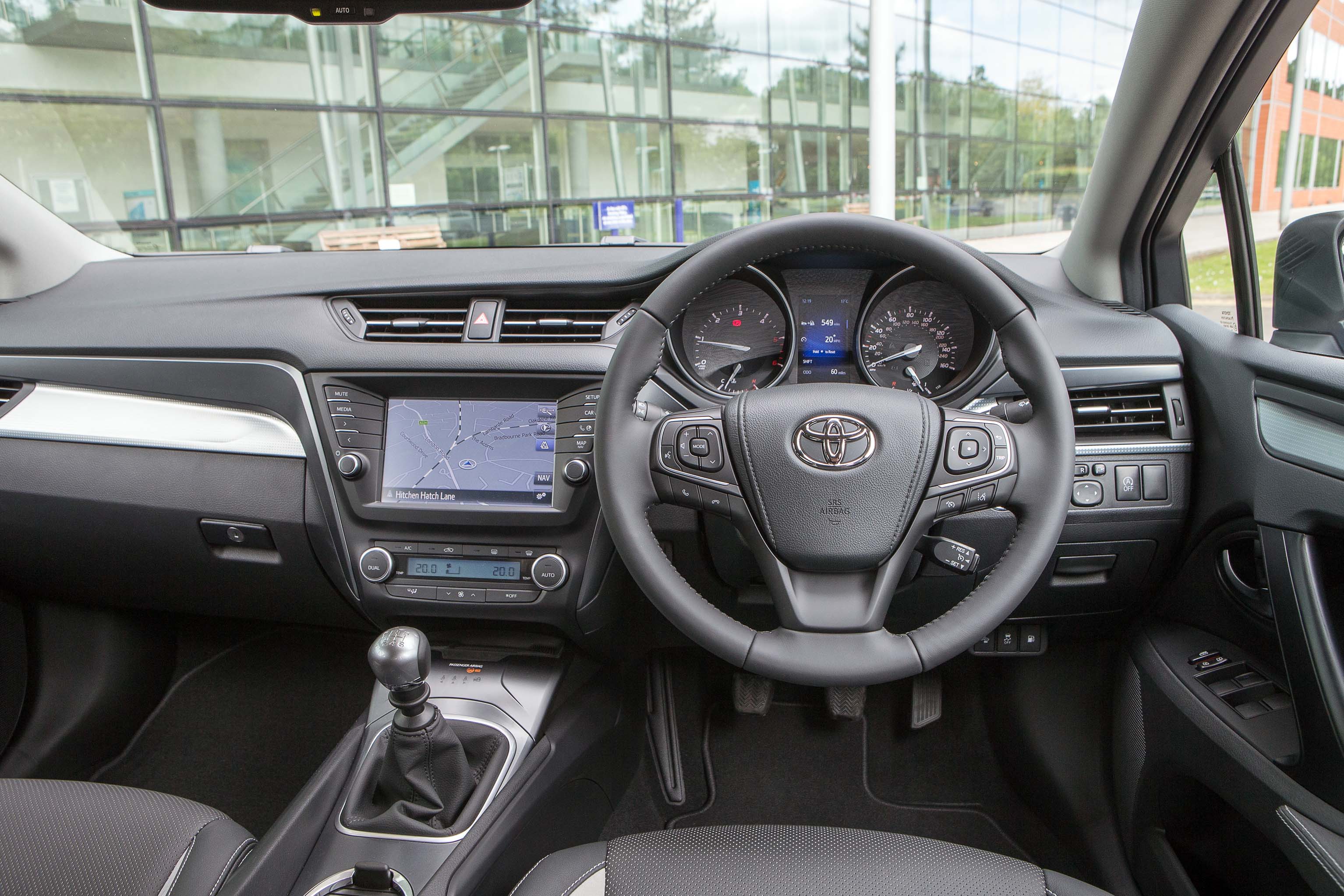 Take the seats, which feature a larger upper backrest, redesigned backrest bolsters, reshaped cushion side bolsters and tweaked seat suspension to provide greater long-distance comfort. It works. You could spend hours in an Avensis without feeling fatigued.
This is especially true of versions with lumbar support on the driver's seat, which is a good reason to upgrade from the entry-level trim. Air conditioning is standard on the base model, but other versions get dual-zone climate control for added comfort.
The dashboard is utterly conventional and free of distractions. There are two clear dials ahead of the driver, which flank a 4.2-inch TFT information display. This is monochrome on the base model and colour on the others.
Everything is arranged in a clear and logical manner, right down to the controls for the air conditioning, which aren't relegated to the touchscreen. Speaking of which, the screen is flanked by a set of large buttons, which makes it easy to operate on the move.
Flair is in short supply, but the satin chrome accents on the dashboard, steering wheel, centre console, air vents and gear level deliver a small touch of class. Look, you're not going to be uploading photos of the cabin to Instagram, but we rather like the refreshing simplicity that's on show.
Quality and finish
All versions get a leather-trimmed steering wheel, which is a clever move by Toyota. It's the one thing you're guaranteed to come into contact with on every journey, so it's great that it feels nice to hold.
Elsewhere, the Avensis might lack the soft-touch materials you'll find in some of its premium rivals, but you're not paying a premium price. Crucially, the switchgear feels tough and solid. We think quality has gone up or a notch or two over its predecessor.
The base model feels a little low-rent, thanks in part to the fabric seats and basic air conditioning. Upgrading to the next level adds Alcantara inserts to the cloth seats, which is just enough to raise the level of quality. It helps that you also gain dual-zone climate control and lumbar support for the driver's seat.
Moving up a level adds an appealing blend of Alcantara and leather upholstery, but it's a shame you have to select the flagship model to benefit from heated seats with electric adjustment.
It's important to remember that although the Toyota Avensis scores low for perceived quality, the actual quality is surprisingly good. Take a look at an example with 150,000 miles on the clock and you'll see that it looks as good as new.
Infotainment
The audio system in the entry-level Avensis is a bit basic, comprising a CD player, radio, Bluetooth and six speakers. Frankly, that's not enough in this day and age.
Other versions boast an eight-inch touchscreen infotainment system with Toyota Touch 2 and Go. This means you get DAB digital radio and satellite navigation. The flagship model boasts advanced connectivity functions, 3D mapping, voice recognition and 10 speakers.
Thanks to a logical layout, the touchscreen is easy to use on the move, while the display is crisp and clear. It's just a shame that the graphics look so dated. Modern Toyotas are much improved in this regard, but the Avensis was discontinued before the changes came into effect.
It also lacks Apple CarPlay and Android Auto connectivity, which will deter some buyers.
On the plus side, all versions come with audio controls on the steering wheel, while the 4.2-inch TFT display shows information relating to the audio, telephone, navigation and safety functions.
Space and practicality
Predictably, the Touring Sports is the hero when it comes to space. It offers a cavernous 543 litres of luggage capacity with the rear seats in place, which is more than you'll find in the Ford Mondeo estate (525 litres) and Mazda 6 Tourer (506 litres). That said, the Volkswagen Passat offers a generous 650 litres of boot space.
Fold the seats down and you're greeted with 1,609 litres of luggage space. There's a useful storage area below the boot floor, a ski hatch for long loads, plus rear seats that fold 60/40.
On paper, the 590-litre boot in the Avensis saloon sounds quite large, but the practicality is hampered by a narrow opening, a poorly shaped boot and a high boot lip. The seats fold 60/40, which is handy if you need to carry anything longer. One-touch flat-folding rear seats are fitted as standard.
The positive vibes continue in the front, where there's adequate space for four adults, or five at a push. That's because space in the middle rear seat isn't hampered by a transmission tunnel, which means legroom is fine for occasional use.
Headroom is good across the back row, while the outer seats benefit from excellent legroom, even if the front seats are occupied by tall people. Up front, the driver and passenger will have few complaints, with plenty of headroom and shoulder room on offer. The driver also benefits from excellent all-round visibility, although the long length of the car means that the reversing camera fitted to the mid-range Avensis is a must-have.
A word about children in the Avensis. Although the car comes with Isofix points on the outer rear seats, the narrow door openings mean it can be a struggle to fit child seats, which is something that could become a pain over time.
Speaking of children, the central storage bin is almost large enough to house one of your offspring – it's one of the biggest we've seen. It opens to reveal a cupholder to go with the one that's positioned next to the shift lever.
There's also a large glovebox, although the door pockets are a little on the small side.
Handling and ride quality
"If you've been paying attention, you'll know that the Toyota Avensis isn't going to set your pulse racing. In fact, the reverse is true, with the car configured to lower your heart rate as you while away the hours on a long drive."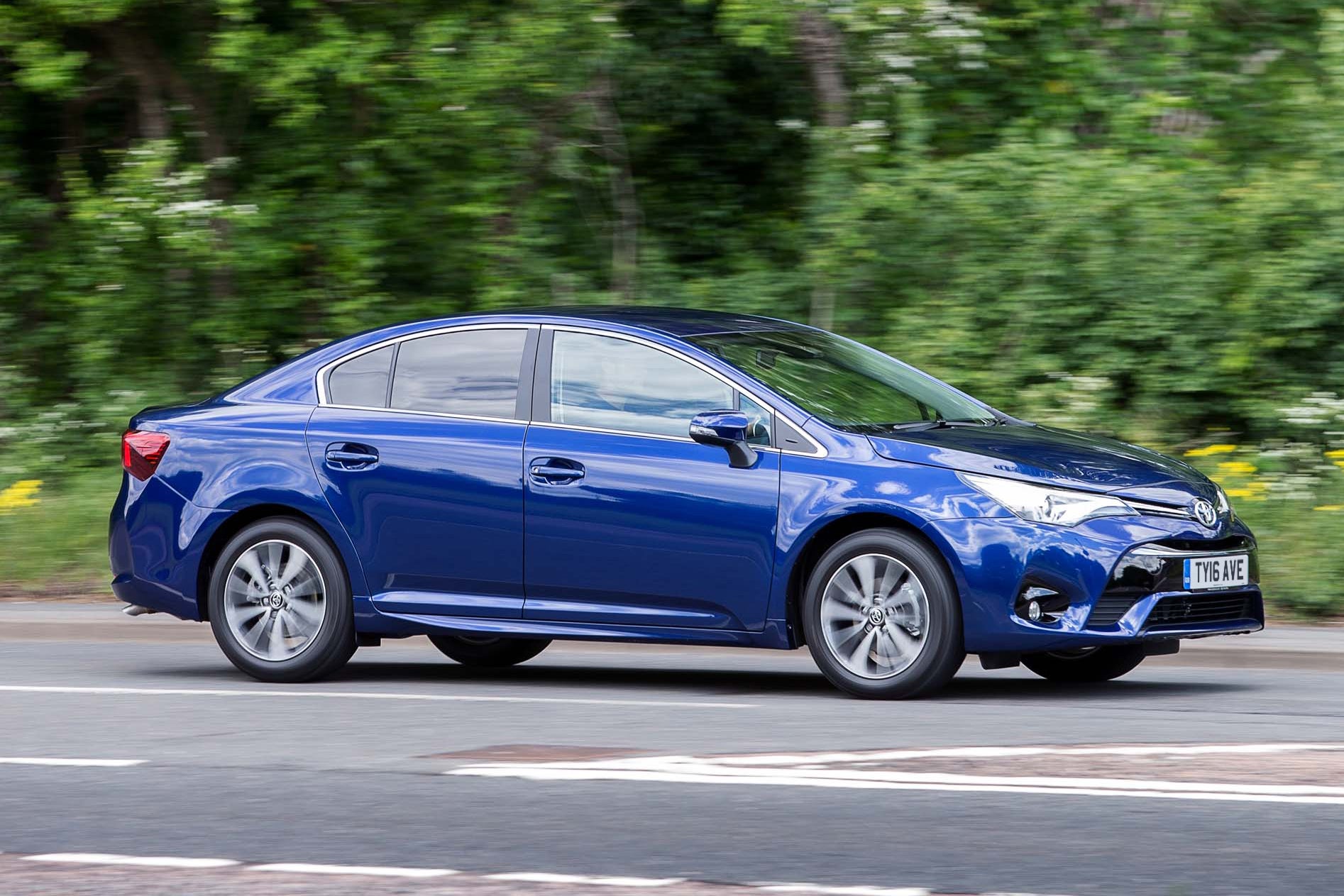 Toyota will argue that the improvements made to the 2015 Avensis give it greater dynamic appeal, but we're talking fine margins. The Ford Mondeo and Mazda 6 remain the default choices if you're looking for a car with sharp steering and fine handling.
That's fine, because the Avensis beats the pair of them when it comes to ride comfort. Short of buying something from the luxury class, you're unlikely to find a car that's as cosetting as the Avensis. The one exception is the Skoda Superb, especially if you opt for one of the higher trim levels.
Chuck the Avensis into a corner and it'll respond with a fair amount of body-roll and a general sense of heft. It doesn't help that the steering is too light, although this is useful when you're in the city or manoeuvring into a parking space.
It deals with road imperfections with aplomb, ironing out all but the worst potholes. It does this without the floaty and wallowing characteristics you might have felt if you've ever rented an American car on a fly-drive holiday.
That said, if you attempt to take too many corners in quick succession you might feel like you're in a boat.
It's best to sit back and revel in the comfort of the Avensis. Although the difference is negligible, the ride quality is slightly better on the 16-inch steel wheels and the 17-inch alloys, but not enough for us to advise against opting for a model with 18-inch wheels.
Engines and gearboxes
Although a petrol engine is available, we'd recommend one of the two BMW-sourced diesel units.
The entry-level 112PS 1.6 D-4D is perfectly adequate if you intend to spend most of your time cruising along motorways. A 0-62mph time of 11.4 seconds for the saloon and a top speed of 115mph highlights the lack of poke. However, the claimed 67.3mpg on a combined cycle is worth the sacrifice in performance.
For added punch, the 143PS 2.0 D-4D is worth a look, especially in the Touring Sports. The 0-62mph time is cut to 9.5 seconds in the saloon or 9.8 seconds in the estate, with the top speed increased to 124mph. Figures of 58.9mpg to 62.8mpg represent a small dent in fuel economy, but as the 2.0 requires less work to get it going, the actual difference could be negligible.
The 1.8-litre Valvematic petrol is only advised if you spend your entire time in the city or you want an automatic transmission. It's the quickest of the bunch, sprinting to 62mph in 9.4 seconds if you opt for the saloon with a manual gearbox, but it lacks the economy of the diesel units.
A 1.6-litre Valvematic petrol was available in some markets, but it's not powerful or efficient enough to make it a realistic prospect.
The six-speed manual is a satisfying gearbox, but it's worth noting that the automatic on the 1.8 petrol is a CVT unit. It's fine if you leave it to its own devices, but noisy and frustrating if you're hoping to make swift progress.
Refinement and noise levels
Toyota put a lot of work into improving the noise, vibration and harshness levels of the Avensis, so it feels more refined than its predecessor.
Thicker sound insulation helps, as does the increased thickness and width of the seals used throughout the vehicle. There's improved insulation below the bonnet, while diesel models also benefit from an underbody damping sheet. Toyota even reduced the noise of the air conditioning unit.
As you'd expect, there's still a gap between the Avensis and entry-level Lexus models, but this is a car that offers premium levels of refinement. It's not perfect. The diesel engines can be quite noisy when you push them, which is especially evident in the 1.6-litre version.
The CVT is refined and relaxed when you're cruising or accelerating without urgency, but it tends to rev too high and can be quite noisy when pressed hard. Overall, the 2.0-litre D-4D is the most refined option, so it's the version we'd recommend.
Safety equipment
The Toyota Avensis was awarded a maximum five-star safety rating when it was crash-tested by Euro NCAP in 2015.
It achieved an impressive set of results, including 93 percent for adult occupant protection, 85% for child occupant protection, 78% for pedestrian safety, and 81% for safety assist technology.
Central to this good result is the Toyota Safety Sense suite of driver assistance systems, which includes lane departure alert, pre-collision system, automatic high beam and road sign assist.
All models get driver and front passenger airbags, front side airbags, a driver's knee airbag, full-length curtain shield airbags, Isofix points for mounting child car seats, steering assist vehicle stability control, hill-start assist and automatic door locking.
Cruise control is standard across the range, as is an electronic parking brake and tyre pressure monitoring system. Rain-sensing wipers and dusk-sensing headlights are standard on all except the entry-level Avensis. The top trim model gets dusk-sensing LED headlights with an adaptive front-lighting system.
MPG and fuel costs
"Although the figures were achieved using the less reliable NEDC testing formula, the diesel engines in the Avensis should be very economical. For example, the 1.6 D-4D has the potential to achieve 67.3mpg on a combined cycle."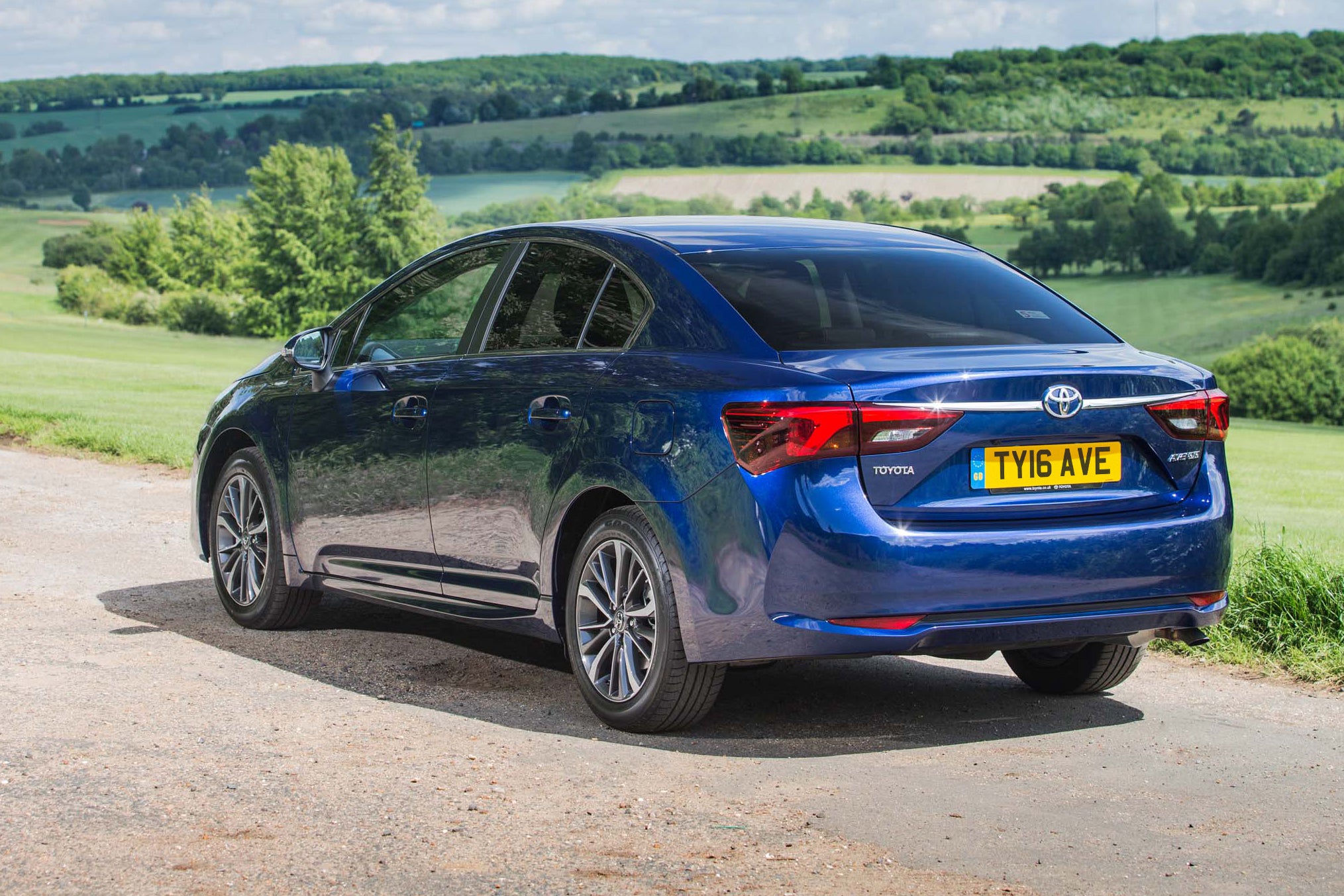 The figure for the 2.0 D-4D varies according to the size of the alloy wheels. An Avensis saloon riding on 17-inch rims could return 62.8mpg, but this drops to 58.9mpg on 18-inch wheels. The 1.8 petrol offers a claimed 46.3mpg to 47.9mpg, but the reality is likely to be lower.
According to Honest John Real MPG figures, a saloon with the 2.0 D-4D engine is the most economical, with a real-world figure of 47.1mpg.
Insurance groups and costs
Buying an Avensis saloon with a 1.6 D-4D diesel engine will ensure you spend the least amount on car insurance. It slots into insurance group eight (out of 50) in Active trim or group nine in Business Edition trim. The cost will be slightly higher if you opt for the Design model (group 11).
The cost of insurance for the Avensis Touring Sports is roughly the same as the saloon, with groups ranging from eight to 16. This makes it significantly lower than the BMW 3 Series Touring (group 20 to 40).
VED car tax
Buy a Toyota Avensis registered on or after 1 April 2017 and you'll pay a flat rate of £150 per year for Vehicle Excise Duty (VED, or road tax). Buying an Avensis registered on or before 31 March 2017 could make more financial sense, because the rate of VED was based on CO2 emissions.
For example, an Avensis in Active trim and powered by the 1.6 D-4D engine emits 108g/km to 109g/km of CO2, which means you'll pay just £20 a year in VED. The most you'll pay is £165 a year for an Avensis with the 1.8 V-matic petrol engine.
How much should you be paying for a used Toyota Avensis?
"The Toyota represents incredible value for money on the used car market, with 2015 saloons available for as little as £6,500. The majority of cars available are ex-fleet vehicles in Business Edition trim. Some may even benefit from the remainder of Toyota's excellent five-year warranty."
We've seen some 2015 and 2016 cars available for less than £6,000, but these tend to have around 150,000 miles on the clock. There's a slight premium for the Touring Sports (estate) model, but it's worth it for the additional practicality.
There's no need to pay more than £16,000 for even the newest example of the Toyota Avensis. For this price you'll get a car with up to 20,000 miles on the clock, most likely in Business Edition trim. Be warned: late cars are thin on the ground. Sales tailed off before the Avensis was replaced by the Camry.
Trim levels and standard equipment
The entry-level Active trim features 16-inch steel wheels, autonomous emergency braking, air conditioning, cruise control, hill-start assist, LED daytime running lights, an auto-dimming rear-view mirror, a six-speaker CD/radio system, Bluetooth and electric front windows.
Business Edition adds 17-inch alloy wheels, Toyota Safety Sense, automatic high beam, lane-departure warning, road sign assist, eight-inch touchscreen with Toyota Touch 2 and Go, DAB digital radio, a reversing camera, a colour TFT display, climate control, rain-sensing wipers, automatic headlights, all-round electric windows, cloth/Alcantra seats, driver's seat lumbar support, electric door mirrors and front fog lights.
The Design trim (introduced in 2016) features 18-inch alloys, Alcantara/leather seats and rear privacy glass. Meanwhile, Business Edition Plus models get 17-inch alloys, keyless entry and go, LED auto-levelling headlights and front fog lights with cornering function.
At the top of the range, Excel trim boasts advanced connectivity, voice control, 10 speakers, 18-inch alloy wheels, heated front seats with electric adjustment, adaptive front lights and a panoramic roof (on the Touring Sports estate).
Toyota Avensis cars for sale on heycar
3,555
Number of cars available
£10K - £16K
Price bracket of these cars
Colours available on heycar
Keep me updated by email with the latest advice, news and offers from heycar
By submitting, you agree to our
privacy policy
.