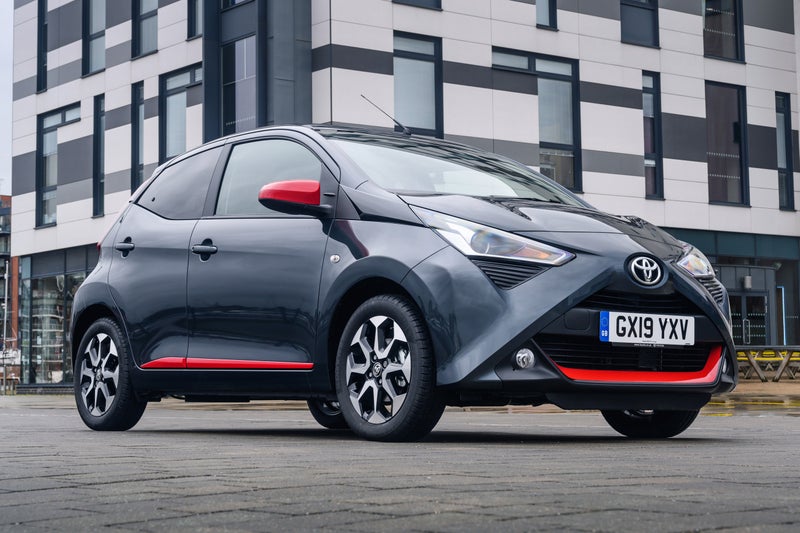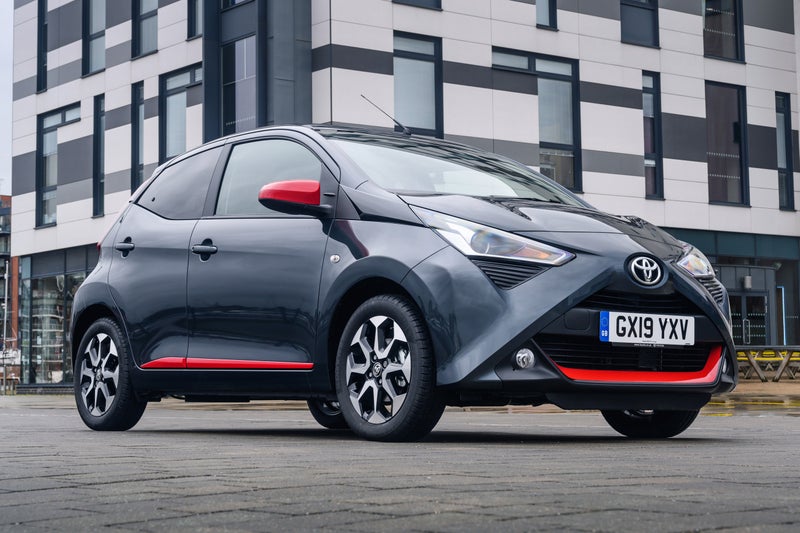 1/10
heycar rating
"Simple and sturdy city car"
Launched: 2014

City car

Petrol
Quick overview
Pros
Low effort to drive in the city
Good specification other than basic model
Low running costs
Cons
Not much space for rear seat passengers
Adequate motorway performance
Automatic hobbles the Aygo's performance
Overall verdict
On the inside
Driving
Cost to run
Prices and Specs
Common questions
Overall verdict on the Toyota Aygo
"There's not much to choose between the Toyota Aygo and its sibling rivals, but the Toyota is arguably the best-looking of the three and has good dealer performance to lean back on too. In x-play trim it is well-equipped, a breeze to drive and cheap to run."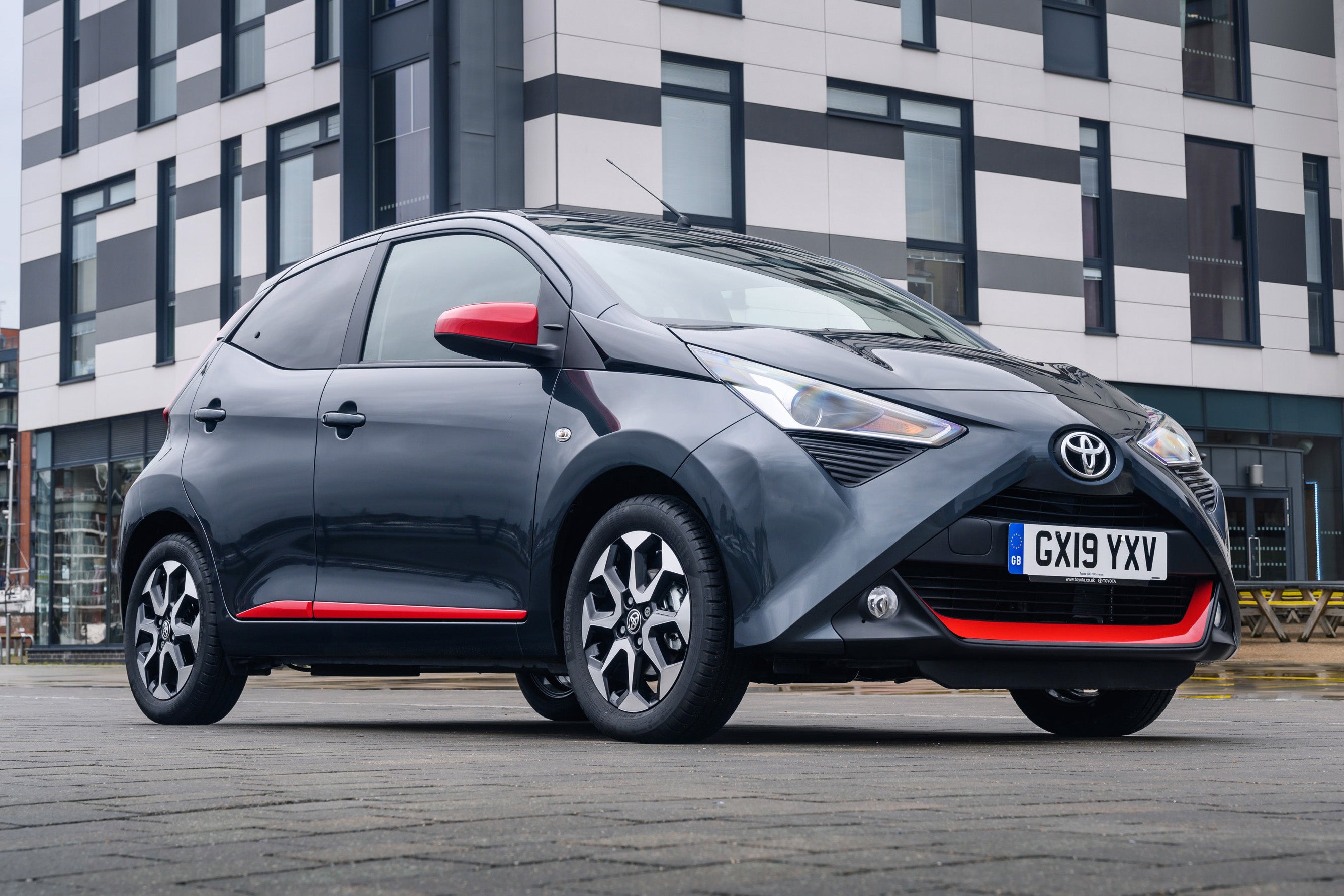 Modern city cars have a hard time these days. It used to be that they weren't suitable for anything other than urban dashes, but now the expectations of buyers are higher than ever before - and Toyota has played a big part in that.
The original Toyota Aygo appeared in 2005, and although it was still a cheap car, it felt more sophisticated than its key rivals and proved popular as a result. A second-generation car arrived in 2014 and brought with it significant upgrades including numerous safety features not available on the original model, making it one of our favourite city cars. We'll explain why in our Toyota Aygo review.
Both generations of Toyota Aygo were part of a collaboration between Peugeot, Citroen and Toyota, with each manufacturer producing their own version of the car, differentiated only by some design details and specification. Small cars cost almost as much as bigger cars to design and build, but have to sell for much less money, so the joint effort reduced development costs and allowed the final product to be more sophisticated and of better quality as a result.
The Toyota Aygo range is simple in terms of the big decisions - another element that helps keep prices low - with a single petrol engine option, three- or five-doors and a choice of manual or automated manual gearboxes. Of course, the Aygo is small in its exterior dimensions at under 3.5 metres in length, although it maximises the available interior space thanks to its tall body and short overhangs. To keep costs down and save a little space, the rear windows on all versions are hinged to open rather than rolling down in the conventional manner.
You may be surprised to discover how much space is available in the Toyota Aygo when you step inside. Front seat passengers are particularly well served, with generous legroom and decent headroom thanks to the height of the roof. There's considerably less legroom available in the rear, so adults using the back seats will want to keep journeys short. The boot is also relatively small, although far from the smallest in the class.
On the inside, the Toyota Aygo's interior is relatively simplistic in its design, but it is attractive and feels of decent quality for a car at this price point. Even in the basic Toyota Aygo x model with the least equipment and the most plain trim, there's still a strong sense that this is a car that has been well-designed and built to last. Move up the Aygo range however and the visual appeal increases; Toyota offers a wide range of personalisation options that allow you to put your own spin on the cabin.
The Toyota Aygo has a single engine option, a 1.0-litre petrol three-cylinder unit with a useful rather than towering 72PS. The upside is that the Aygo has been carefully built with low weight in mind, and tips the scales at only 840kg, so it offers decent performance despite the small engine.
Although it is best suited to town driving, there's enough performance available to make motorway journeys a viable prospect. It's also impressively economical, with a claimed fuel consumption figure of 57.7mpg under the tougher WLTP rules, so you should be able to achieve 50mpg in the real world.
Easy to drive, cheap to run and not very expensive to buy, the Toyota Aygo is a great example of the modern city car. It delivers everything you could reasonable need, but also manages to perform beyond its brief.
Is the Toyota Aygo right for you?
The Toyota Aygo in particular is aimed squarely at new drivers, and as well as meeting the specific requirements of that demographic - easy to drive, cheap to insure and cheap to fuel - it also manages to throw in a few bonus elements; it has a strong exterior design, plenty of scope for personalisation and a fun driving experience. There's a lot here to keep inexperienced drivers happy.
The Toyota Aygo doesn't have the same quality feeling as the Volkswagen Up, or the space efficiency and driving pleasure of the Hyundai i10, but it is very good value and is likely to be a reliable ownership prospect too.
What's the best Toyota Aygo model/engine to choose?
With only one engine to choose from, there's not much to consider in this department. Most models are fitted with a five-speed gearbox as standard, but there is an automated manual five-speed available as an option. It's acceptable if you really have to have an auto, but it blunts the modest performance even further.
The basic Toyota Aygo x really is basic - standard equipment amounts to electric windows, daytime LED running lights, and a USB connector for your phone - and that's about it. Best to at least move up to the x-play version, which is a mile away in terms of extra kit. You get manual air conditioning, height-adjustable driver's seat, leather steering wheel, heated door mirrors, a reversing camera, two extra speakers, Bluetooth phone integration and the x-touch media system.
The X-Press trim from 2017 livens things up with some fancy red styling bits, ten spoke alloy wheels finished in black and the interior has dashboard inlays match the exterior paint. The result is certainly distinctive, especially when paired to the pictured black paintwork. You won't have to spend much more though, since the level of standard equipment on X-Press is good. There is a seven-inch touchscreen infotainment system, reversing camera, Bluetooth connectivity, DAB radio, climate control, an AUX input, USB socket, steering wheel audio controls, auto lights and a speed limiter – pretty much all a driver could want.
There are still-fancier models above the x-play, but the extra kit you do get isn't particularly worth the extra financial outlay.
What other cars are similar to the Toyota Aygo?
There are two obvious candidates here that are more similar than anything else - the Citroen C1 and Peugeot 108 - which would be hard to tell apart other than the price tag and exterior looks. It's worth considering all three and seeing the best deal you can get to suit your needs.
The SEAT Mii and Skoda Citigo are Volkswagen Group spin-offs of the Volkswagen Up, and bring the solid engineering and efficiency you usually get, just with a smaller price tag than the Volkswagen version. Smart-looking and good to drive, both the Mii and Citigo are attractive options.
The Hyundai i10 is one of the best city cars in the class, with impressive space efficiency, a good driving experience and is good value too.
Comfort and design: Toyota Aygo interior
"Even if you're paying as little as possible for a small car like this, it doesn't mean you should have to forgo any semblance of comfort."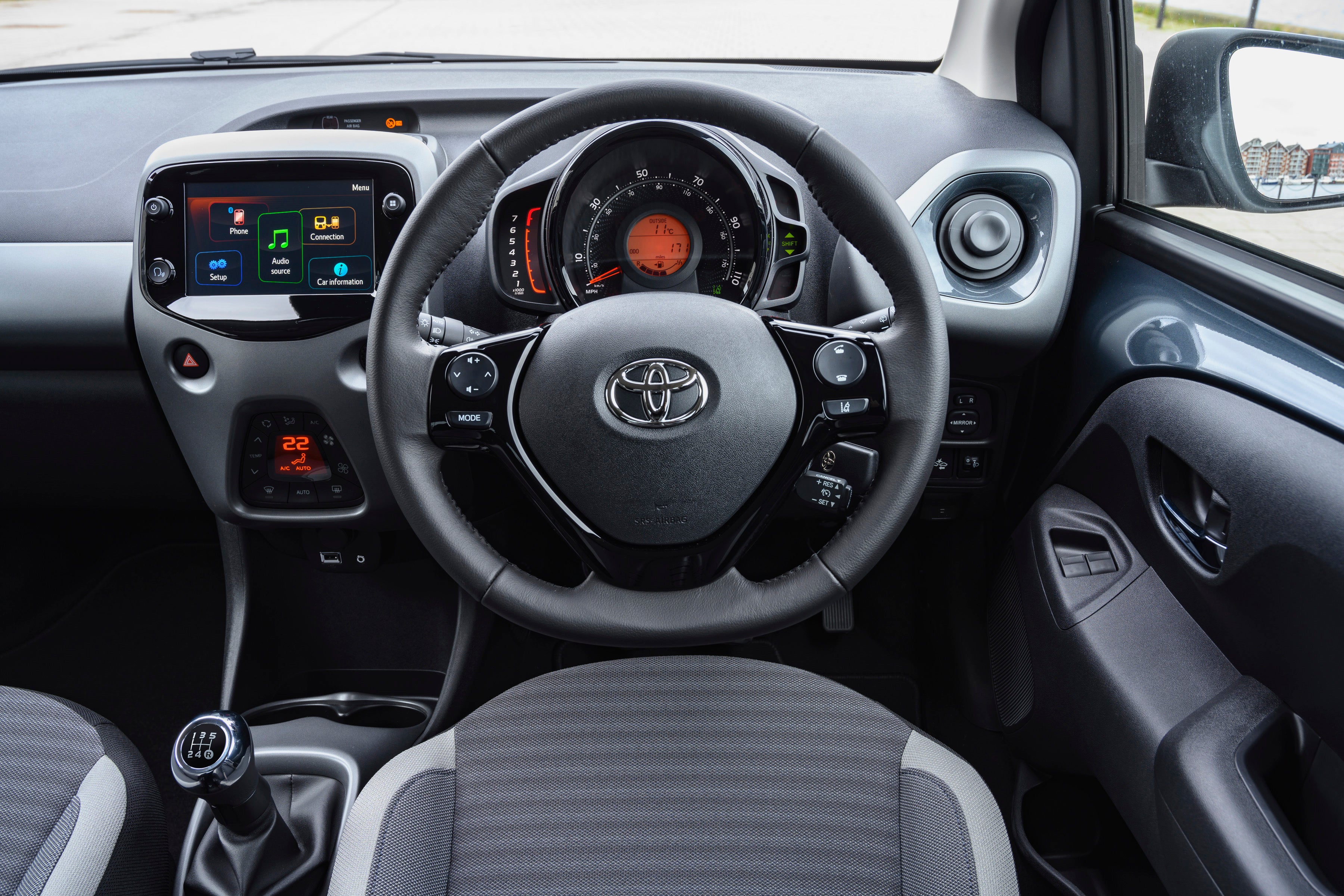 Happily the Toyota Aygo is amongst the better offerings, and is capable of accommodating all sizes and shapes with ease. As long as you choose a model other than the basic Aygo x, the driver's seat comes with height adjustment, and although the wheel only adjusts for height, no one should struggle to find a good driving position. The seats themselves are above the class standard too, with good support for a variety of body shapes and decent lateral support too, something that is frequently lacking in low-cost small cars.
The main controls and displays are straightforward but attractive too, and all grouped closely around the driver in an appealing fashion. A large central speedometer includes a digital display that shows fuel and outside temperature, while the rev counter and warning lights sit on the outside.
The pleasingly chunky steering wheel also holds controls for the infotainment system (depending on the model), which is also well-placed and easy to operate.
The driver also enjoys a good view out thanks to the generously-sized windows. The low nose means the end of the bonnet drops away quickly so shorter drivers may find it hard to judge when parking, but at the rear the near-vertical tailgate and very short overhang means reversing into a space is much easier.
Quality and finish
You shouldn't get into an Aygo and expect luxury, even if you stump up for the top-spec model. However, what you do get is a cabin that is built from (mostly) decent materials and is built well - it feels like it will stand up to pretty much whatever you could throw at it.
Go for the entry-level Aygo x though and there's not much to cheer about. Not only does that mean the least amount of equipment - expect to adjust your door mirrors with a stick rather than a button - but also a cabin that's largely devoid of colour. Pretty much everything is finished in grey, except for where the exterior paint is shown across the tops of the doors.
It's much better the further up the range you go. A single step upwards to the x-play gets you smarter seat fabric and more colour on the dashboard, and you can supplement this with a centre console pack that adds a coloured surround to the gearlever surround and the centre console in a choice of shades.
The materials are designed to be hard-wearing rather than particularly plush, but the mix of colours and textures means it doesn't feel like a solid lump of dark plastic, and it's clearly put together well. The whole car is designed to be lightweight but it never feels insubstantial, which is good news if you plan to hang on to it for a few years.
Infotainment: Touchscreen, USB, nav and stereo in the Toyota Aygo
Go basic, and your Toyota Aygo x comes with a very functional system amounting to an AM/FM radio with a USB input and two speakers. If you're hard of hearing that might be sufficient, but otherwise you might regret not spending a bit more for something a little more sophisticated.
Even more so, because every other model in the range gets a 7-inch touchscreen with lots of attractive functions. It comes with DAB, USB input, an extra pair of speakers to give you four in total and controls on the steering wheel. It's designed to work hand-in-hand with smartphones too.
There's Bluetooth for hands-free calling and streaming and the option of a companion app for sat-nav. You can skip that completely and take advantage of Apple CarPlay or Android Auto too, so it delivers everything you could reasonably expect at this price point.
It works well too - the screen feels tough and has a slightly matte finish which bodes well for thousands of miles of prodding fingers, while it's easy to navigate through the screens and it rarely suffers from lag. You can also download specific apps that work as navigation if you don't want to use the native apps on your smartphone.
Space and practicality: Toyota Aygo boot space
Realistic expectations are the order of the day here. The city car class is essentially a collection of the smallest cars that money can buy, but that won't stop people trying to load them to the gills with people and stuff. That said, the Aygo does offer a reasonable amount of space considering the context, particularly for those sat up front. For stats fans, the Toyota Aygo measures 3455mm long and 1615mm wide.
Big doors on the three-door version mean a massive aperture to climb through so getting in is a breeze. Even getting into the rear seats is almost as easy on the three-door as it is on the five-door, so there's a strong case for choosing the cheaper option depending on your needs - the lack of space in the footwell means it's not as easy as you might expect on the five door.
Elbow room is a little less plentiful, but unless both you and your passenger are bouncers or are particularly fond of 1980s fashion it shouldn't be a problem.
In the rear the news is less good, with legroom in particular lacking for adults and even older children. Even if you just have small children in the rear, add in the bulk of a car seat and you'll find them putting their feet up on the back of the front seats in no time. Headroom is acceptable in the rear although it's not quite as generous as in front. Choose the optional sunroof and headroom is reduced still further.
As for boot space, the Toyota Aygo offers 168 litres - considerably less than most of the competition and even less than the Citroen C1 and Peugeot 108 which are essentially identical - which can be an issue if you regularly need to carry stuff. Drop the rear seats and you have 812 litres on offer, which is at least closer to the class average.
Storage in the cabin is acceptable with a well-sized glovebox but relatively slim door pockets - not a surprise given how narrow the Toyota Aygo is. There are rivals that offer more space, in particular the Hyundai i10, but overall the Aygo is at least on par with the class average.
Handling and ride quality: What is the Toyota Aygo like to drive?
"It seems entirely appropriate that city cars are designed to mop up the worst that rubbish urban roads can throw at them rather than being B-road weapons, and so it is with the Toyota Aygo."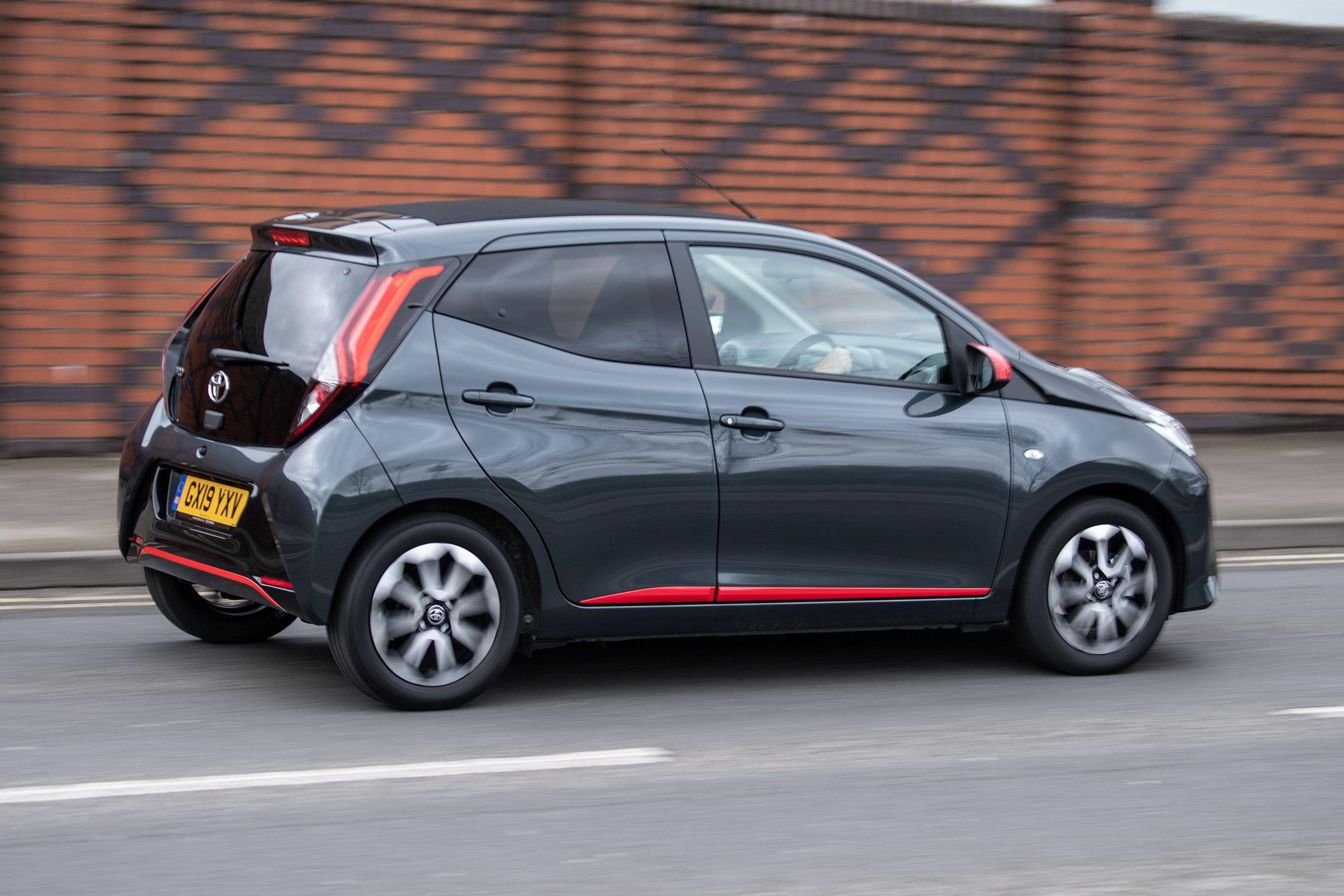 The steering is well-weighted, so it is light enough when parking but has enough weight at higher speeds to make for comfortable cruising. The gearing is good too, so if you're making tight turns in town you won't have elbows flying as you go from lock to lock. Like most cars of this size, you need a steady hand in strong crosswinds, but it's rare that the Toyota Aygo feels anything other than secure on the road.
As for ride quality, the Toyota Aygo does a pretty good job given its size and wheelbase. It's harder for shorter cars to deal with bigger bumps because the gap between the front and rear wheels (the wheelbase) is less, but the Aygo manages to cope with most conditions well. It's not a magic carpet, and bigger bumps tackled at speed do make their presence felt in the cabin, but for the most part you won't be upset by the ride quality.
Because it's quite rightly biased towards ride quality, should you choose to start chucking the Aygo around like you stole it, it quite clearly gets out of its comfort zone.
It will tolerate this kind of approach but there's a considerable amount of body roll, not helped by the fact that this is quite a tall car for its length, and the seats are not designed to cope with high cornering forces either. It feels safe and secure enough so it won't get the inexperienced driver into trouble, but this is unlikely to matter to most buyers interested in a car like this.
What engines and gearboxes are available in the Toyota Aygo?
The sole engine option in the Toyota Aygo is a trusty 1.0-litre, three-cylinder unit, willingly putting out 72PS and 93Nm of torque. That's not a great deal, but it is also pretty much what most of its rivals provide too, and because the Aygo is also light - 840kg is exactly 200kg less than the one-size-bigger Toyota Yaris - it's not quite as slow as the modes power output would suggest.
What also helps is that the three cylinder unit is characterful. It sounds much more engaging than four cylinder engines of a similar capacity, and although it makes its presence felt as it thrums away in front of you, it manages to avoid being overly raucous unless you thrash it to the maximum.
The Toyota Aygo is at its best in the city, where it can get away from the traffic lights smartly and is quick enough to keep up with urban traffic. Out on quicker country roads or the motorway you may need a little more patience, but wind it all the way up and it will do 99mph - more than enough to get you in trouble.
The standard five-speed manual gearbox won't cause you any problems either. It has a lightweight feel when you change gears and could be more accurate, but the actual gear ratios are well-chosen to give decent acceleration without running out of puff at higher speeds. There is an automatic option for the Aygo, but this is an automated manual gearbox rather than a torque converter or dual-clutch type, and is best avoided; the slow changes blunt the performance and leave the Toyota Aygo feeling slower than it really is.
Refinement and noise levels
For a car of this size and status, the Toyota Aygo does a decent job of keeping your ears and your sanity intact. For starters, that three-cylinder engine does create a little bit of noise when you start to exercise it, but it's a pleasing sound rather than a cacophonous one and doesn't become excessive unless you really wring it out.
Much the same applies to the levels of wind and tyre noise levels. The skinny tyres fitted to most models certainly help, and while the Aygo isn't big enough to pack in lots of sound deadening, you don't feel like you're rattling around inside. Wind noise picks up a little when you get to motorway speeds but the same goes for most of its rivals, and in truth this will likely be an occasional occurrence rather than being a frequent motorway hack.
The front seats, in particular, offer decent support even on longer journeys, but the rear seats are best left to the kids or for short hops. Further pluses for the cabin environment are the air conditioning and audio system, both of which do their bit to make you feel like you're in a bigger car.
Safety equipment: How safe is the Toyota Aygo?
The Aygo was last tested by Euro NCAP in 2017, and was given two separate ratings depending on the safety equipment provision. The basic version was awarded three stars overall, with 74% for adult protection, 63% for child protection, 64% for pedestrian mitigation and 25% for safety assist. The Aygo with the safety pack was given four stars overall, with increased scores of 82% for adult protection and 57% for safety assist.
As standard, all versions of the Toyota Aygo are fitted with LED daytime running lights, six airbags, a tyre pressure warning system, hill start assist and Toyota's version of ESC (called Vehicle Stability Control). Also fitted to all models are seatbelt pre-tensioners and load limiters, ISOFIX car seats fixings and seat belt reminders.
On the options list you'll find the Safety Sense pack, which includes the features EuroNCAP required for the four star overall rating. The pack adds lane departure warning with alert, but more crucially it includes automatic emergency braking. It's important to note this pack is not available on the basic Aygo x, but is standard on the top-spec x-clusiv. You can also add rear parking sensors on some models.
MPG and fuel costs: What does a Toyota Aygo cost to run?
Low running costs are one of the biggest plus points of running a city car, and the Toyota Aygo doesn't disappoint. As long as you go for a manual gearbox you should be able to crack 50mpg without trying - the official WLTP fuel consumption figures say it is capable of up to a combined 56.4mpg.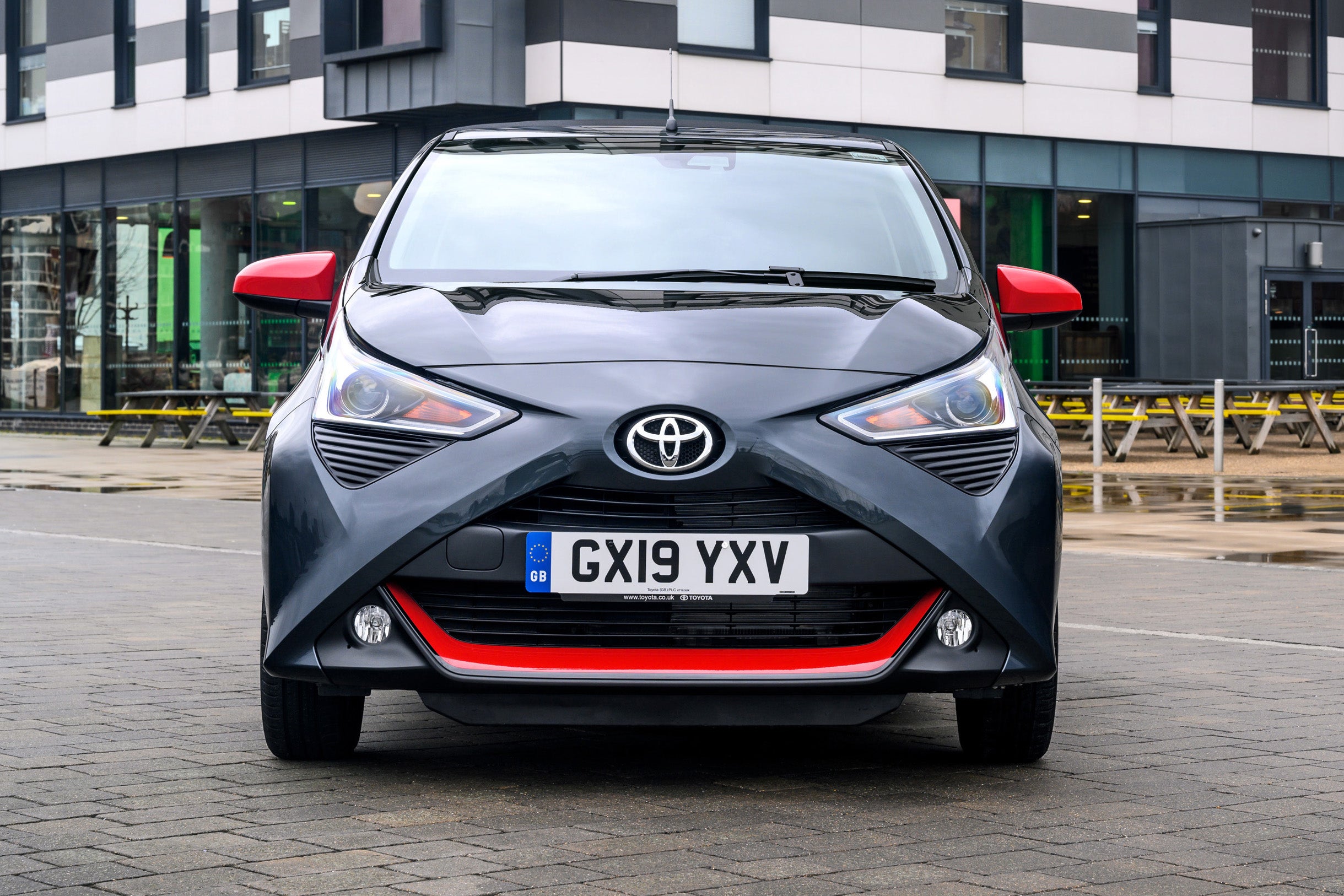 Driven with care, the Toyota Aygo will deliver impressive fuel consumption figures on a regular basis, but it's worth remembering that because of its modest performance, if you thrash to get where you're going more quickly it will drink more fuel as a result.
How reliable is the Toyota Aygo?
One of the big selling points of a Toyota is its reliability. If you're looking for many years of solid service, Toyota is the brand to go for. The Aygo sticks to that theme, with no common issues reported, making it a sensible buy if reliability is one of your top considerations.
Insurance groups and costs
Rather impressively, all versions of the Toyota Aygo drop into group 3E, putting it near to the lowest in the class so you can expect your premium to be about as low as it can go. No surprise then that the Aygo is a popular choice as a first car, and insurers can look favourably on buying something new because they are more likely to be fitted with key safety features like ESP. The Aygo also makes sense if you are a bit older and just need a runaround - your premium might end up being smaller than your fuel bill.
VED car tax: What is the annual road tax on a Toyota Aygo?
With the recent changes in VED and CO2 ratings, the Aygo is not as cheap to tax as it has been in the past. Some previous versions were rated at under 99g/km which meant zero road tax, but it has now moved up a band and so you can expect to pay £150 per year for most models. If the thought of buying a slightly used car instead of brand-new doesn't bother you it is possible to cut this cost - for example, most pre-March 2017 Aygos are in band A, which attracts the zero rate of VED.
How much should you be paying for a used Toyota Aygo?
"The Aygo is a very popular car, and even just looking at the second generation models from 2014, there are stacks to choose from, so you can be patient and find the exact model that suits your needs."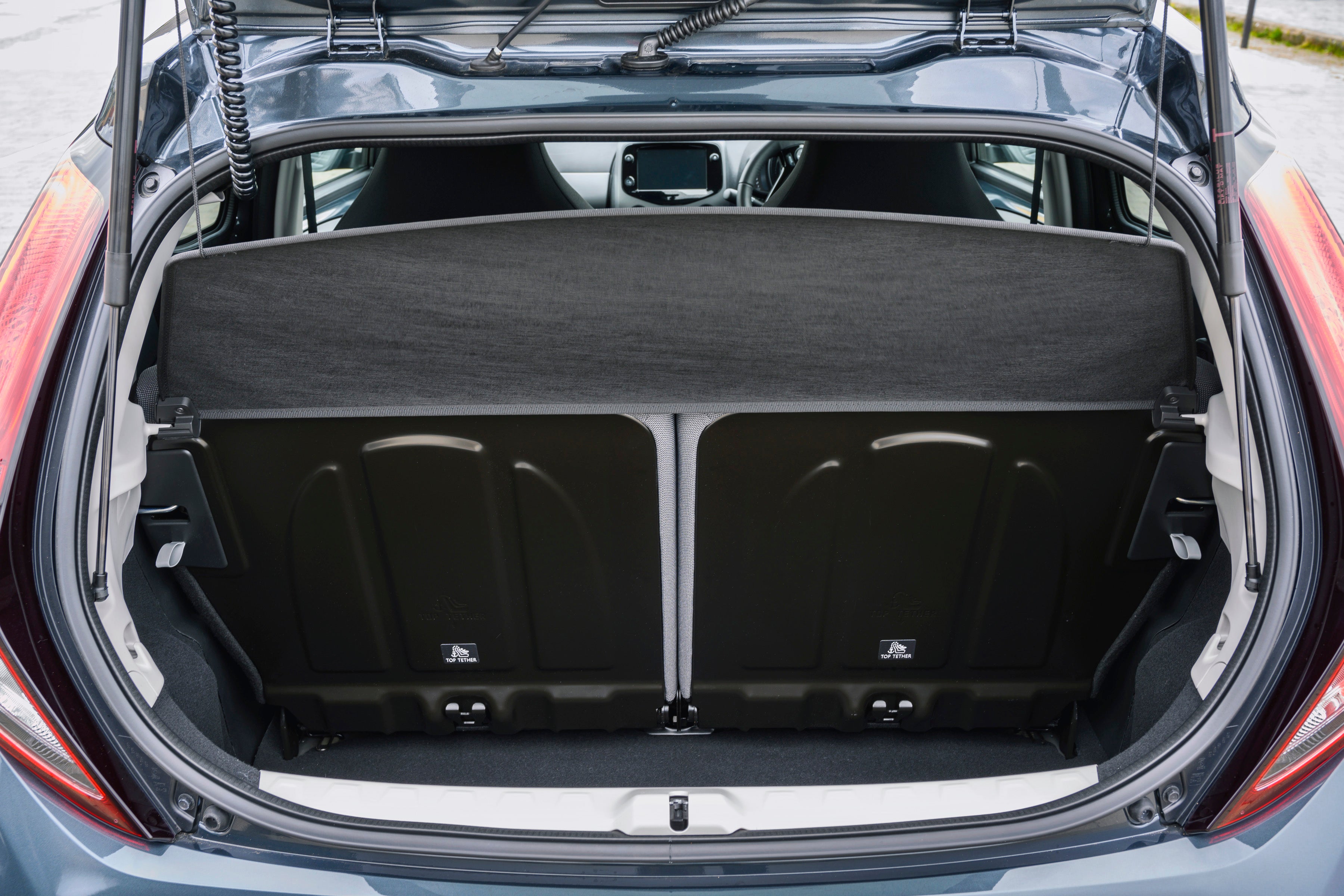 If you want a pre-registered example then you're in luck; a quick search of the HeyCar classifieds turned up many Aygos with very low delivery mileage, and lots in the desirable mid-level trims of x-play and x-trend. Expect to pay around £10,000 for a car like this, but with so much choice it pays to shop around.
The earliest examples from 2014 are now into affordable territory, although in terms of depreciation the Aygo actually performs very well. We found a 2015 example with 50,000 miles for a little over £4,000.
Trim levels and standard equipment
You can get into the basic Toyota Aygo x for around £10,000, and although it is perfectly serviceable it does do without some of the important features that will make it a much more enjoyable car to live with. As a minimum we would suggest going for the x-play trim, which is around £1500 more than the equivalent five-door Aygo x. Do so and you get air conditioning, the far more sophisticated touchscreen infotainment system, the height-adjustable driver's seat and heated door mirrors as standard.
Move up another grade to the Toyota Aygo x-trend model and you get alloy wheels, privacy glass on the rear window and body-coloured door mirrors - all very nice visual touches, but nothing that really adds a great deal to living with the Aygo, although it does also include automatic air conditioning.
Above that, the Toyota Aygo x-cite and x-clusiv include more visual upgrades than anything else and push the cost considerably upwards. Other than the standard fitment of the safety pack on the top-spec x-clusiv, it's better to pick and choose upgrades rather than spending big on a top of the line model.
Ask the heycar experts:
common questions
Is the Toyota Aygo automatic?
The Toyota Aygo is available with an x-shift automatic gearbox.

Is the Toyota Aygo a good car?
Reliability comes as standard in this fun to drive city car.

Who makes Toyota Aygo?
Toyota started making its Aygo in 2005.

Answered by
Georgia Petrie
Is the Toyota Aygo a hybrid?
No, but it does have a small economical engine.

Answered by
heycar editorial team
Toyota Aygo cars for sale on heycar
3,604
Number of cars available
£5.6K - £19K
Price bracket of these cars
Colours available on heycar
Keep me updated by email with the latest advice, news and offers from heycar
By submitting, you agree to our
privacy policy
.