Toyota Aygo X Review 2022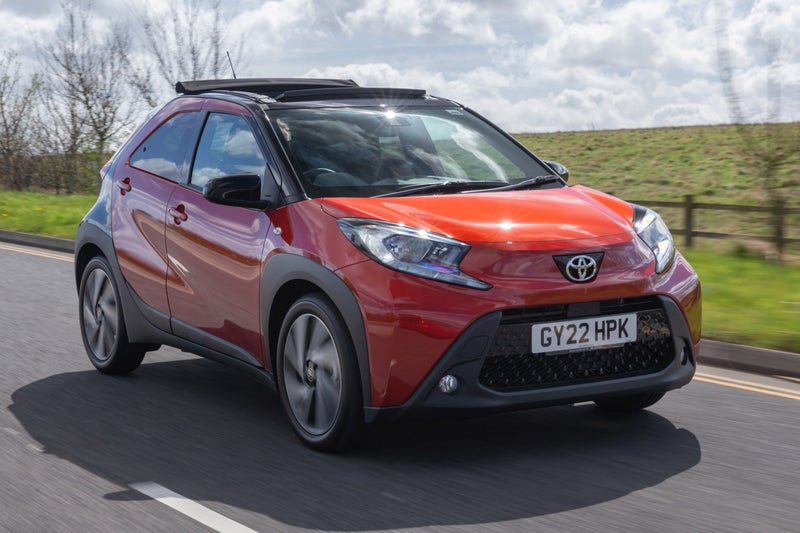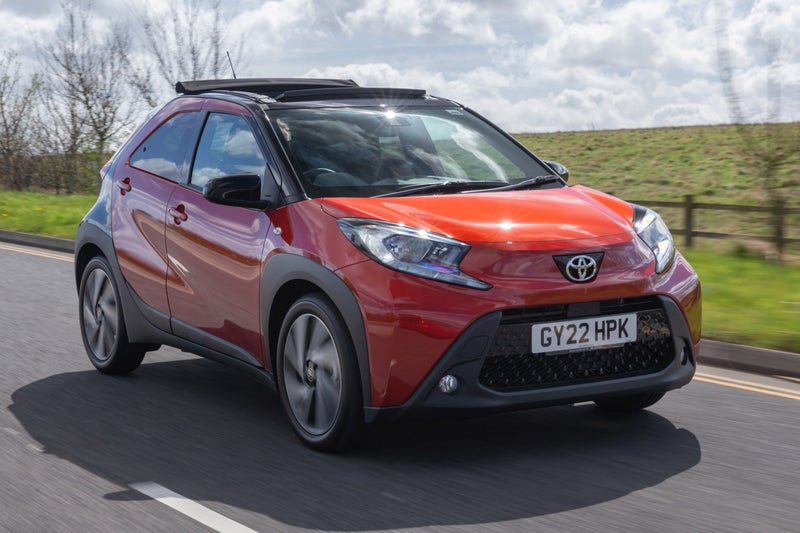 1/10
heycar rating
"Fun little jacked-up city car"
Launched: 2022

City car

Petrol
Quick overview
Pros
Likely to be very reliable and cheap to run
Funky styling inside and out
You can get it with a canvas roof
Cons
There are more spacious city cars
You might find the engine lacking a bit of grunt
No hybrid option, either
Overall verdict
On the inside
Driving
Cost to run
Prices and Specs
Common questions
Overall verdict on the Toyota Aygo X
"The city car market is shrinking rapidly. Carmakers are concentrating their efforts on bigger, more profitable models which means affordable runabouts like the Ford Ka, Peugeot 108 and Citroen C1 are no more. But, while you can no longer buy a conventional Toyota Aygo hatch, the new Toyota Aygo X combines everything we loved about the old car with rugged new looks and even a retractable canvas roof."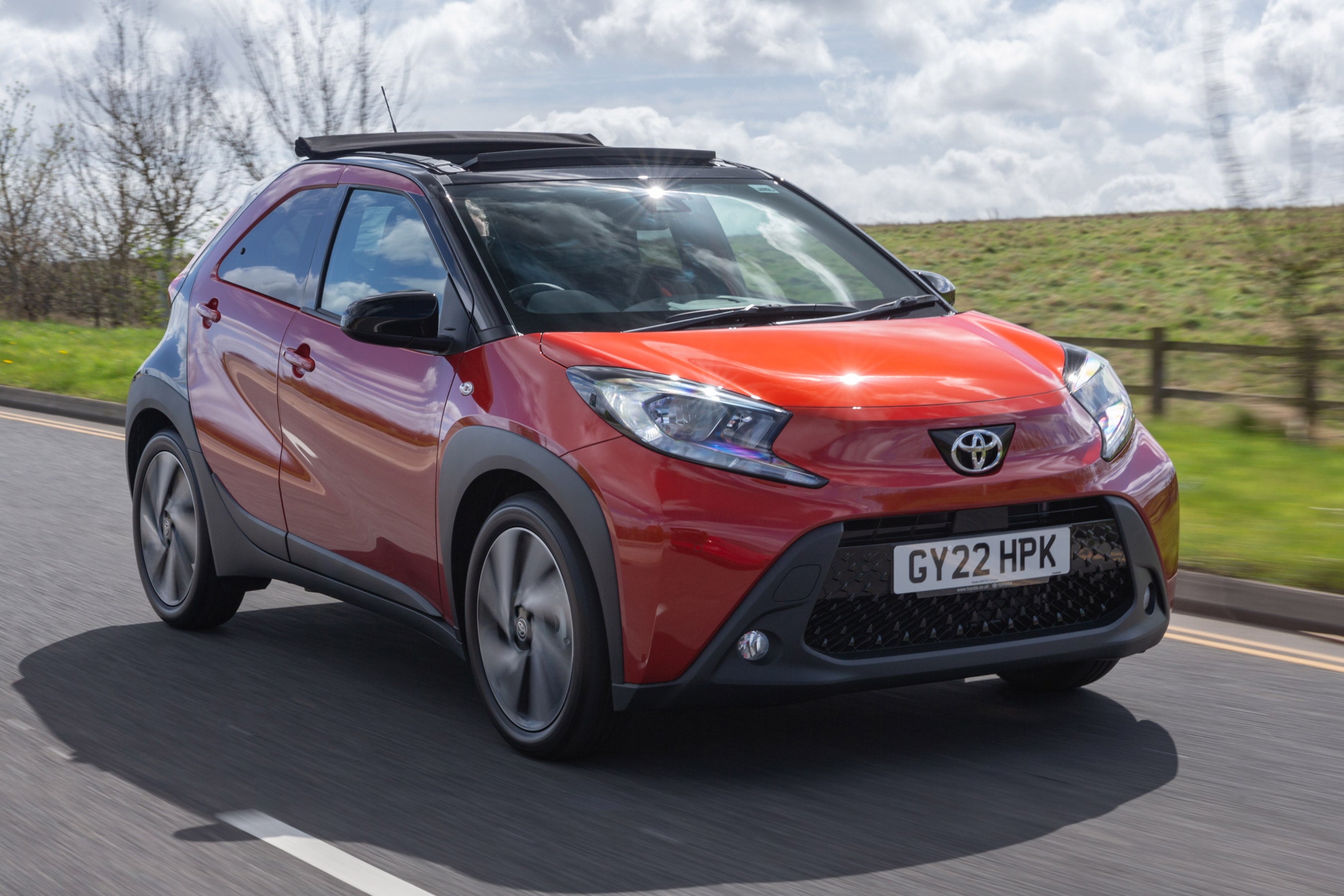 Tapping into the huge appetite for SUVs is the new Toyota Aygo X (the X stands for Cross, if you hadn't guessed). This pumped-up city car draws inspiration from the new Yaris Cross, with larger diameter wheels and tyres, a more rugged stance and a higher driving position. Its direct rivals and few and far between – the little Suzuki Ignis is probably its closest competitor, while cars like the Kia Picanto and Hyundai i10 are more conventional city cars.
You'd be forgiven for expecting the Aygo X to be a hybrid car, given almost every other car Toyota makes in Europe now is. But no; it's simply not possible to make a petrol-electric version and keep it affordable. So the engine is still a familiar – but upgraded – 1.0-litre, non-turbo three-cylinder petrol with just 72PS. Punchy it certainly isn't, but it'll punt the little Aygo X along at an acceptable pace if you're willing to give it some revs.
Despite its rugged looks, you can't buy a four-wheel-drive version of the Toyota Aygo X. Few buyers will be disappointed, though, and you do get the choice of a five-speed manual gearbox or a CVT automatic transmission (which is slightly more palatable than some CVT gearboxes). While the new car is still a pretty leisurely performer in a straight line, it feels more stable, planted and composed around the bends than any Aygo before this. It's even reasonably refined as long as you're not jamming the throttle to the floor to clear an incline, while the ride stays just on the right side of comfortable.
The new Toyota Aygo X's interior moves things on a bit from the old car, and this is part of the reason why it's more expensive to buy than ever. Even the entry-level Pure model gets a touchscreen infotainment system with proper smartphone connectivity, a reversing camera, adaptive cruise control and Toyota's full suite of active safety systems. No compromises here.
The cabin is also a nice place to sit. Yes, almost all of the materials are hard plastic, but so they are in every city car, while the design is attractive and funky and fit and finish seems good. One word of warning, though - space in the front is fine, but if you opt for one with the neat folding canvas roof rear headroom is severely compromised. Need more space than that? The Yaris will cater for your needs.
If you don't need to carry rear passengers, we reckon the canvas folding roof is an ultra-desirable option. It adds yet another element of fun to this likeable little car. You can open it within seconds at town speeds and, while you're not as exposed as in a 'proper' convertible (like the Mazda MX-5), nothing beats a topless drive on a sunny day.
If you're looking for the previous version, you need our Toyota Aygo (2014-2021) review.
Is the 2022 Toyota Aygo X right for you?
The Toyota Aygo X should appeal to the same buyers who favoured the old model. It's designed to appeal to a younger audience looking for a first car or a city runabout, but will no doubt also find favour with older drivers looking for an easy to drive, easy to park and cheap to run way of getting about.
Speed demons need not apply: unlike the Kia Picanto, there are no higher powered turbo versions available to make the Aygo X feel anything other than pretty gutless out of town. But it's still a fun driving experience if you drive around the lack of power, maintaining momentum and anticipating the road.
Family buyers will likely be better off with a more conventional small hatch like the Ford Fiesta or Volkswagen Polo. The boot is a reasonable size, but the Aygo X's tight rear seats and narrow rear door aperture means fitting and removing child seats may not be all that easy. Still, once your children are more grown up they'll be fine back there – and the Aygo X is probably the safest car in its class.
What's the best Toyota Aygo X model/engine to choose?
There isn't a particularly tricky decision to make with the Toyota Aygo X's engines, because there is just one. It's the 1.0-litre three-cylinder naturally-aspirated petrol engine that was also found in the old Aygo.
It's not just been carried over with no changes, however. Toyota says that while the basic design is the same, there are a number of new components and significant tuning to improved performance end efficiency. From behind the wheel, though, it feels pretty familiar, still needing to be kept on the boil to get the best out of it.
Whether you opt for the standard five-speed manual gearbox or optional CVT automatic should be down to your usage. If all you're doing is trundling around a town or city, the CVT's easy driving experience is the best bet. However, if you find yourself out on the open road a fair bit, the manual is more enjoyable (and less noisy) to drive.
In terms of trim level, no Aygo is sparsely equipped. The mid-spec Edge model brings more desirable styling add-ons and features such as climate control, automatic wipers and a slightly larger touchscreen, so it's probably the sweet spot in the range.
Top Exclusive and Limited Edition trim levels at launch come pretty fully loaded, with heated seats, part leather and LED headlights. The latter version also gets a full length canvas roof to let you make the most of the fleeting British sun.
What other cars are similar to the Toyota Aygo X?
Five or ten years ago there was a huge array of city cars for sale that gave the previous Toyota Aygos stiff competition. Now, things are a bit different.
Companies such as Citroen, Peugeot, Ford, Nissan and Vauxhall no longer make traditional city cars at all. That's not to say there isn't rivals for the Toyota Aygo X, but many of them are getting on a bit and may not be replaced.
The obvious choice is the Volkswagen Up, Seat Mii and Skoda Citigo trio. But the latter of those two are now electric-only, making them quite expensive, so the (still brilliant, but now a decade-old) Up is the only direct rival to the Aygo X.
There is also the Fiat Panda (also a decade old), while the retro Fiat 500 is ever popular and has recently been updated. Really, though, the only truly up-to-date rivals to the Aygo are the Kia Picanto and Hyundai i10. Both of those cars are extremely capable and roomy for their size, but aren't quite as youthful in terms of image as the little Toyota.
Comfort and design: Toyota Aygo X interior
"The Toyota Aygo X's cabin seems built to last, but also gets some splashes of colours and design flair. It's worth avoiding the canvas roof if you're planning to carry adults in the back, as it destroys headroom."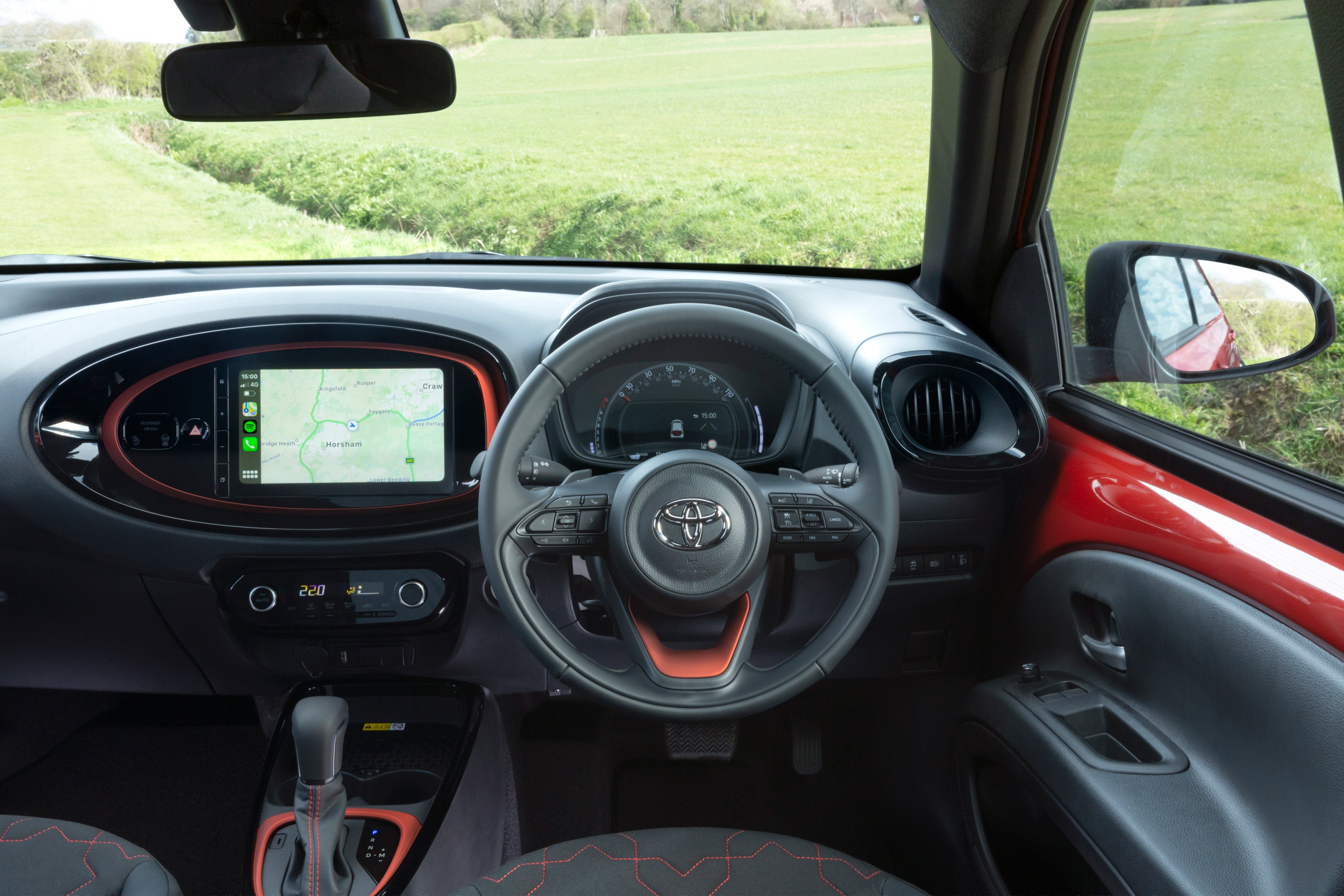 The interior of the Toyota Aygo X is a world away from the original Aygo of the mid-2000s. However, the same fundamental qualities remain intact.
Back in the day, some city cars were pretty grim inside. With hard plastics and little in the way of creature comforts, it really felt like they'd fall apart as soon as the warranty period was over. Not so the Aygo; you could never consider it luxurious, but it felt tough and built to last.
The new Aygo X is no different, but it has become less basic than it used to be. The dash design is dominated by a circular shape housing the infotainment system, with a separate panel for air-conditioning functions and an easy-to-read traditional speedo combined with a smaller digital trip display.
There are some funky elements, such as the splashes of colour on higher trims, and quirky air vent design, but it's a fairly conventional place to sit. Quality, though, is really good: the button-heavy steering wheel is nicked straight out of the Yaris, as is much of the switchgear. That wheel is a bit fiddly to operate because it houses functions such as the adaptive cruise control, but the rest of the cabin is simplicity itself.
The drivers seat is mounted about 5cm higher than it is in the previous Aygos, meaning all-round visibility is good and it's easy to place the car on the road. It also means your eyes are more in line with pedestrians and cyclists, making it safer for all to thread around the city.
Nevertheless, you don't feel too perched up high, with a decent amount of adjustment on the seat. It's just a pity that the steering wheel only adjusts for rake and not reach, meaning taller drivers might wish the wheel was a bit closer to them.
Quality and finish
You'll be hard pushed to find soft touch plastics of any sort in a city car, and indeed that's still the case with the Toyota Aygo X. Poke and prod anywhere you like except the seats and it's hard plastic everywhere.
Happily, none of it is scratchy or unpleasant to the touch. Even the door cards are shaped so you don't get sore elbows on the hard plastic. And we've no complaints at all with the fit and finish - it feels like everything would still be intact a decade and many thousands of miles from now. It's right up there with the Kia Picanto and Hyundai i10 in terms of solidity.
The design is neat, too, particularly because most versions get contrasting cabin trim to give a two-tone effect. It brightens up what might otherwise be a bit of a dark and dull environment. The latest Hyundai i10 looks a little bit more grown up inside, however.
Infotainment: Touchscreen, USB, nav and stereo in the Toyota Aygo X
Gone are the days when city cars got a radio and not much else. Even the entry-level Toyota Aygo X Pure gets a seven-inch infotainment touchscreen in the centre of the dash, featuring Apple CarPlay and Android Auto. There's even a reversing camera on that basic version, which is a feature that's optional on some cars costing more than twice the price.
Step up to Edge trim and that screen grows another inch, but remains largely the same in terms of features. Only Exclusive and Limited Edition models get a high-definition touchscreen, up to nine inches in size, with navigation, numerous connected car services and wireless smartphone integration.
We've only tried the latter and it's a decent system, and certainly better than the tiny, fiddly screen found in a Fiat 500. In fact it's the largest screen you'll find in any city car. It's responsive enough to the touch, has a reasonable feature tally and is pretty crisp and clear to look at. Given even posh versions of the Volkswagen Up don't get any touchscreen whatsoever, it's a good indication of the progress made in the last decade.
There are a few USB connections dotted about the car, while wireless smartphone charging comes as standard on the two top trims. Optional on Exclusive trim is a JBL Premium sounds system with four speakers and a subwoofer. The standard system isn't too tinny, but it's a worthwhile option if you like blasting your tunes at the typical volume that teenagers do.
Space and practicality: Toyota Aygo X boot space
Few city cars are exactly spacious by their very nature, but the old Toyota Aygo was particularly tight for more than two people. The extra width and length of the new Aygo X's cabin is beneficial here, but it's still no class leader.
In terms of exterior dimensions, the Aygo X measures 3,700mm long, 1,740mm wide and 1,525mm tall. That makes it a full 235mm longer than the old Aygo, although 90mm of that has gone into the wheelbase to benefit interior space. It's longer and wider than a VW Up, and a little bit bigger all-round than the latest Hyundai i10, making the Aygo one of the largest cars in its class.
That benefits both cabin space and the boot capacity. For front seat passengers the extra width means bulky people won't be bumping elbows, and even taller adults should find no complaints with headroom and legroom.
The rear is more compromised, and despite the length the Toyota Aygo X isn't the roomiest car in its class (the Hyundai i10 is more accommodating for two adults in the back). Still, adults could cope for short journeys, although it is a strict four seater and legroom is tight. It's also worth noting that the rear windows only pop out, rather than fully opening.
One thing that's important to note is the optional electric canvas roof (standard on Limited Edition trim) severely compromises headroom for those in the back. Six footers won't just find their heads brushing the roof: they'll be unable to sit up straight at all. Without the roof fitted, however, headroom isn't an issue.
The biggest benefit to the extra length is found when you open up the Aygo X's single piece glass tailgate. Boot capacity is up a healthy 60 litres over the old car to 231 litres, translating to a boot that's perfectly capable of transporting the weekly shop. The VW Up, Kia Picanto and Hyundai i10 all have slightly larger boots still, and are generally better packaged. The Toyota's seats fold easily enough, although there is quite a high load lip.
Handling and ride quality: what is the Toyota Aygo X like to drive?
"The Yaris platform makes the Toyota Aygo X feel like a grown up city car in terms of ride and handling. Even the surprisingly big 18in wheels don't make it uncomfortable, while its high speed composure and stability impress."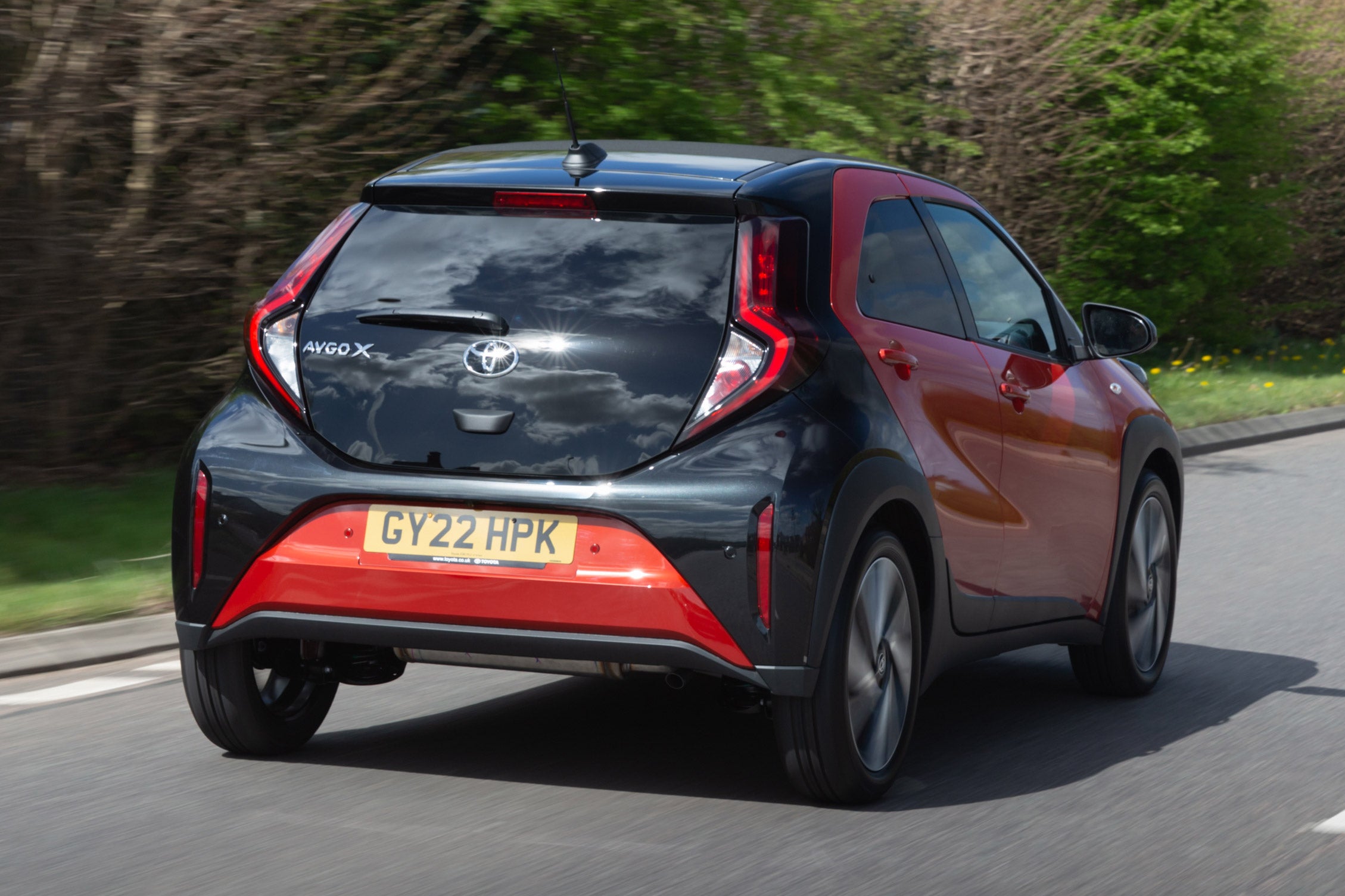 Often a narrow, short body and platform mean a city car can struggle with big potholes and speed bumps, while high speed stability is lacking. That's not really the case with the Toyota Aygo X.
A substantial increase in the track width (the space between the left and right wheels) and a longer wheelbase (the space between the front and rear wheels) gives the new car extra stability and composure when out of town, and a more settled ride within it.
The Aygo X's SUV-like styling elements resulted in Toyota fitting bigger wheels and tyres for a chunkier look. Entry-level cars get 17-inch wheels, rising to 18-inch on all other trim levels. The only other city car that gets 18-inch wheels as standard is the sporty Volkswagen Up GTI.
That could be a cause for concern, and we expected the Aygo X to be a bit crashy over big potholes. However, there's still a good amount of sidewall on the tyres, and it's actually surprisingly compliant over bumpy surfaces.
Around town, the dinky size, light steering and tight turning circle mean the Aygo X feels right at home, letting you dart about the streets with confidence. However, it's out on the open road where the new car impresses most: where the old version could be upset by crosswinds and felt out of its comfort zone in fast cornering, the new car feels stable and composed.
Body lean is kept reasonably well in check on twisty roads, and the steering is confidence inspiring. On the motorway, too, it feels rock solid, and other than the lack of power you don't feel as vulnerable as was once the case. It seems, on first impressions abroad at least, that the Aygo X is a match for the Kia Picanto, Hyundai i10 and Volkswagen Up on the handling front.
What engines and gearboxes are available in the Toyota Aygo X?
Toyota has kept things simple with the Aygo X. At launch there is just a single engine available, offered with either a five-speed manual or CVT automatic gearbox. It's possible that a more powerful motor (possibly with a turbo) will arrive later in the car's life, but that's unlikely for some time.
The 1.0-litre three-cylinder petrol engine is a carryover from the old Toyota Aygo, but it's been upgraded and retuned to suit the new car. However, with a mere 72PS on offer, and no turbo to boost it along, progress is pretty sedate once out of city limits.
Unlike the similar engine in the Volkswagen Up, which performs best in the middle of the rev range, the Aygo X needs revving to get the best out of it. 0-60mph is just under 15 seconds, while you'll be stirring the manual gearbox regularly to keep up with traffic out of town. Forget to change down before a hill and you'll be sorry.
Just because the Aygo X is very slow by modern standards doesn't mean you can't enjoy it, however. The fun comes from maintaining momentum on country roads; picking the right gear before an incline or a bend and taking the rorty little engine right to the redline. And actually, at a constant motorway cruise you won't need to keep changing down too much to keep up the pace, while the gearbox action is precise and the clutch is light and easy.
The CVT gearbox is a different kettle of fish. With no physical gears the revs rise and soar depending on your throttle input. This makes it super easy and smooth to drive around town, and we can recommend it if you'll spend all of your time there.
However, out on faster roads the CVT model can quickly grate. Even modest throttle inputs send the revs climbing as the engine tries to deliver its power, while there's a hesitation in the throttle response while the gearbox works out where the revs need to be.
Getting up to speed on motorway slip roads or up hills sends the revs screaming, as if the car is begging for mercy. There are paddle shifters behind the wheel to mitigate this, but they aren't all that effective. The same gearbox in the hybrid Toyota Yaris is much better suited, because the instant punch from the electric motors helps keep the engine from working too hard.
Refinement and noise levels
While the Toyota Aygo X's funky looks, underpowered engine and five-speed manual gearbox might hint at a less grown-up driving experience than the bigger Yaris, it's actually pretty refined. Sure, a sixth gear would take some of the edge off motorway driving, but you could take it on a long road trip without questioning your senses. That's not something we could say about city cars of the past.
Work the little three-cylinder engine hard and it'll get a bit buzzy, but it's quite characterful and no noisier than similar units found in rivals. For the ultimate in refinement, you might want to look at an electric city car alternative like the Fiat 500 Electric.
Safety equipment: How safe is the Toyota Aygo X?
The Aygo X is really impressive. Toyota has taken the step to make its Safety Sense package standard on all versions in all markets. It did the same with the Yaris, which was impressive in the supermini class, but it's doubly so in the city car class.
The Safety Sense package consists of a typical camera and radar system. The Aygo X gets an advanced autonomous emergency braking that operates at higher speeds, and can also detect pedestrians in the day and night, and cyclists during the day.
Further to that is lane departure warning with lane trace assist, a driver fatigue monitor and road sign assist. There's also intelligent adaptive cruise control and an adjustable speed limiter on all models, plus automatic headlights with auto high beam. The two higher trims also include front and rear parking sensors with auto braking to avoid low speed collisions.
Euro NCAP is yet to test the Toyota Aygo X for crash safety. But with all this safety kit as standard, six airbags and Isofix points for the rear seats, we'd expect it to be top of the class. If you're buying a first car for your kids, the Aygo X gives you real peace of mind.
MPG and fuel costs: What does a Toyota Aygo X cost to run?
"While there's a place for complicated hybrid or electric vehicles, small city cars don't get much cheaper to run than the simple petrol Toyota Aygo X."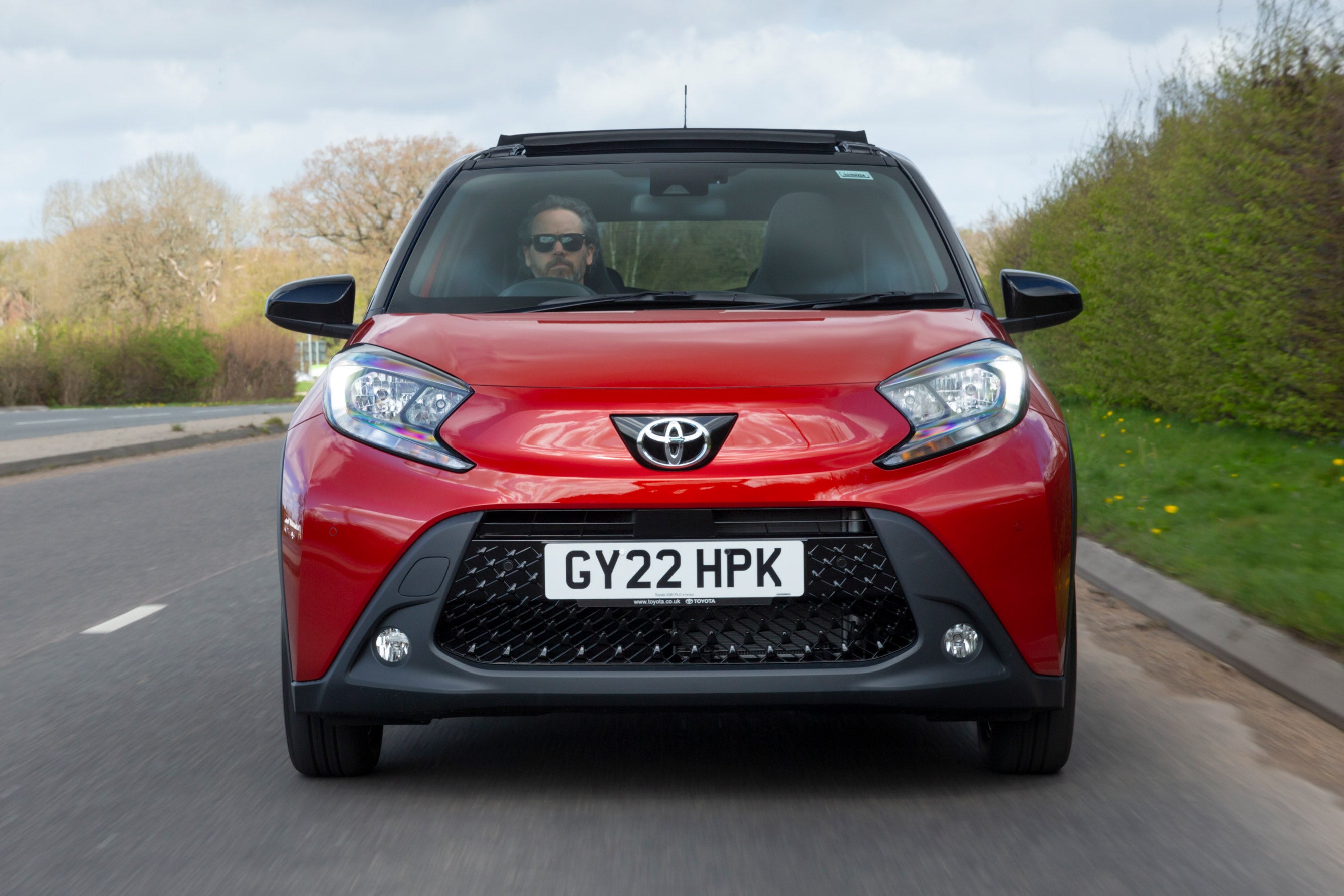 Officially, the Toyota Aygo's 1.0-litre petrol engine will return up to 58.9mpg (56.6mpg with the CVT gearbox). Work it hard and you'll see that figure drop – but its trip computer never showed less than 50.0mpg during our time with the car.
With its diddy 35-litre fuel tank, filling up the Toyota Aygo X won't cost a fortune (even with today's high petrol prices), and you should be able to travel 350 miles or so between fill-ups. If you're looking for something that'll be even better on fuel, consider the hybrid Toyota Yaris – or, even better, a pure-electric alternative like the Vauxhall Corsa-e.
How reliable is the Toyota Aygo X?
We reckon you'd be hard pressed to find a new car with more potential to be reliable than the Toyota Aygo X. Other than its safety systems, it's mechanically simple and not over-loaded with gadgets, while Toyota has built a reputation on making cars that last and withstand abuse. They certainly make some of the most reliable cars.
Toyota finished in a strong 8th place in the latest HonestJohn.co.uk Satisfaction Index. Owners are generally very happy with their cars, and the company's powertrains are notoriously dependable.
Insurance groups and costs
Is with reliability, the Toyota Aygo X could well be one of the cheapest new cars on sale to insure. Official insurance groups have yet to be outlined for the new car, however.
All the signs are good: the Aygo X's engine isn't very powerful at all, parts should be pretty cheap all-round, and with the extensive standard safety equipment on offer we'd expect to see it in amongst the lower insurance groups in the city car class.
VED car tax: What is the annual road tax on a Toyota Aygo X?
Because there's no hybrid version of the Toyota Aygo X, the road tax costs will be higher than the more expensive Yaris. That's because CO2 emissions range between 107-110g/km - a middling figure.
All versions of the Aygo X will cost £160 to tax for the first year after registrations, a figure which drops to £155 a year after that.
How much should you be paying for a used Toyota Aygo X?
"The Toyota Aygo X is fresh on the market, so there won't be any used models for sale for some time. However, city cars traditionally hold their value well, so there won't be many bargains."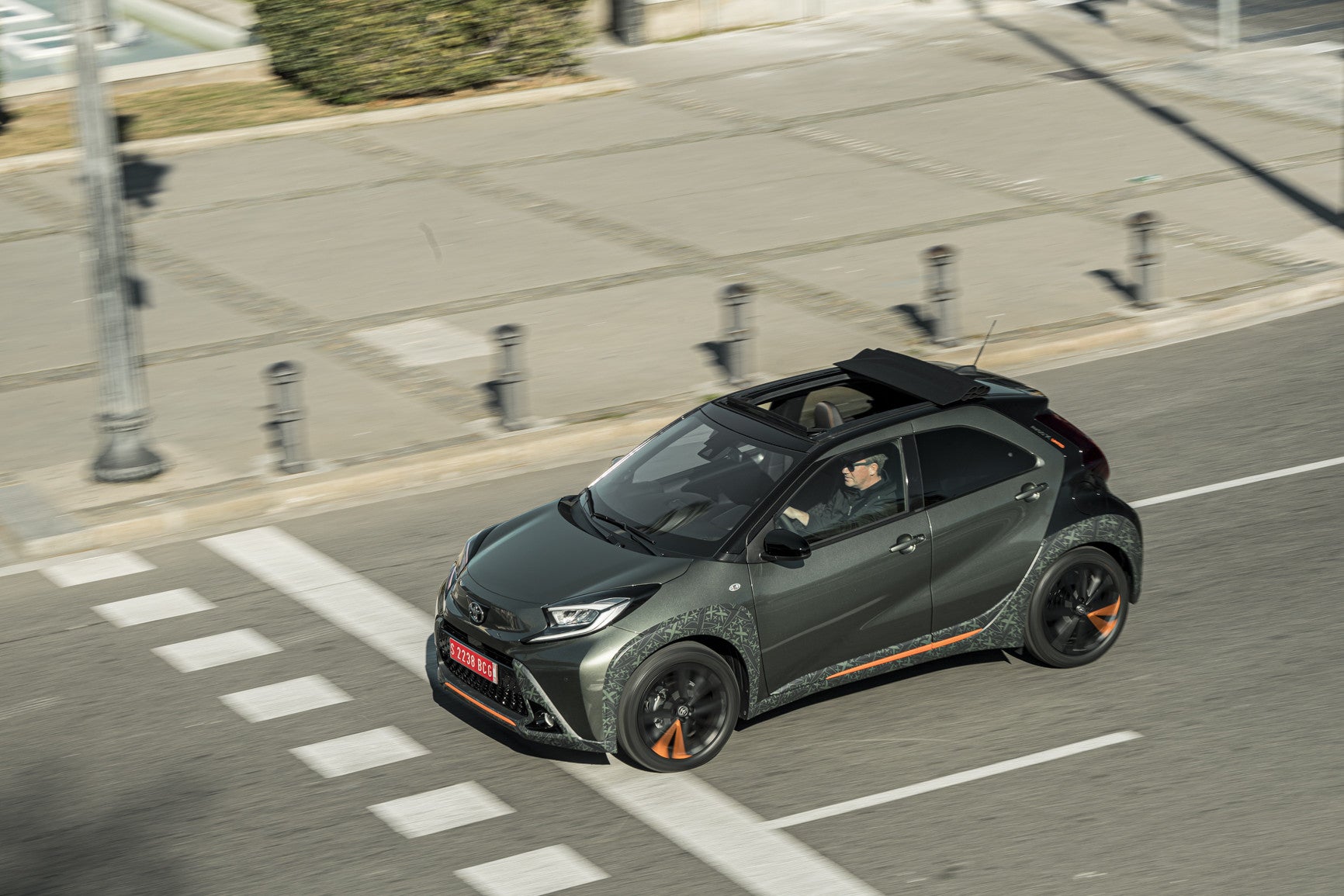 One sticking point for the Toyota Aygo X is its list prices, which are on the high side for a city car in higher trim levels.
Prices start at £14,795 for the base Aygo X Pure in manual form, with the automatic adding another £1,100. Mid-spec Edge starts at £16,495, while the flagship Limited Edition model is knocking on for £20,000 - enough to get you into an entry-level Toyota Yaris.
Of course, the vast majority will be bought on PCP or finance, so what really matters is the monthly payments. Toyota is claiming class-leading residual values, and the initial PCP offer seems highly competitive in the city car class.
We won't be seeing any used examples for several months yet. And with both Toyotas and city cars generally usually holding their value well, it may be a while before any juicy savings emerge.
Trim levels and standard equipment
There is no 'basic' version of the Toyota Aygo X, as even the cheapest model is surprisingly well equipped.
The range kicks off with the Pure model, which is the only version to come with the smaller 17in alloy wheels. It also gets a 7in touchscreen with Apple CarPlay and Android Auto, air-con, four electric windows, a reversing camera and an extensive suite of active safety features under Toyota's Safety Sense package. It's limited to three rather unexciting colours single tone colours, however.
Step up to Edge trim - which Toyota predicts will be the most popular - and you get two-tone metallic paint (with a contrasting roof and lower body kit), 18in alloys, a larger 8in touchscreen with Toyota Smart Connect, climate control, privacy glass and front fog lights.
Exclusive trim brings LED headlights, keyless entry and start, ambient lighting and illuminated entry, front and rear parking sensors, a wireless smartphone charger and a 9in HD touchscreen.
Finally, range-topping Limited Edition (which will only be on sale during the first year or so of the car's life) gets matt black alloy wheels, part leather seats, heated front seats and the electrically opening canvas roof that's optional on other trims.
Ask the heycar experts:
common questions
What is an Aygo X?
The Augo X is the new name for the Toyota Aygo. The X stands for Cross, because Toyota has given it a slightly raised driving position, bigger wheels and tyres and rugged styling cues to make it a bit like a crossover SUV.

What is the price of the Toyota Aygo X?
In terms of simple list price, the Toyota Aygo X starts at £14,795, rising to £20,740 for the top-spec automatic model. The first cars will be delivered to customers in Spring 2022.

Is the Toyota Aygo X electric?
No. Toyota wants the Aygo to be as affordable from the outset as possible, so it's powered by a 1.0-litre three-cylinder petrol engine. We don't expect an electric version to be offered any time soon.

Answered by
Lawrence Allan
Toyota Aygo cars for sale on heycar
3,604
Number of cars available
£12K - £21K
Price bracket of these cars
Colours available on heycar
Keep me updated by email with the latest advice, news and offers from heycar
By submitting, you agree to our
privacy policy
.