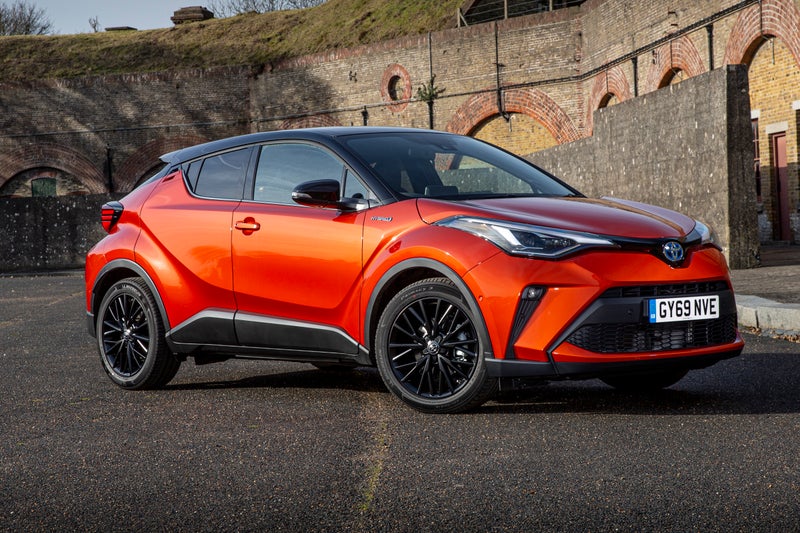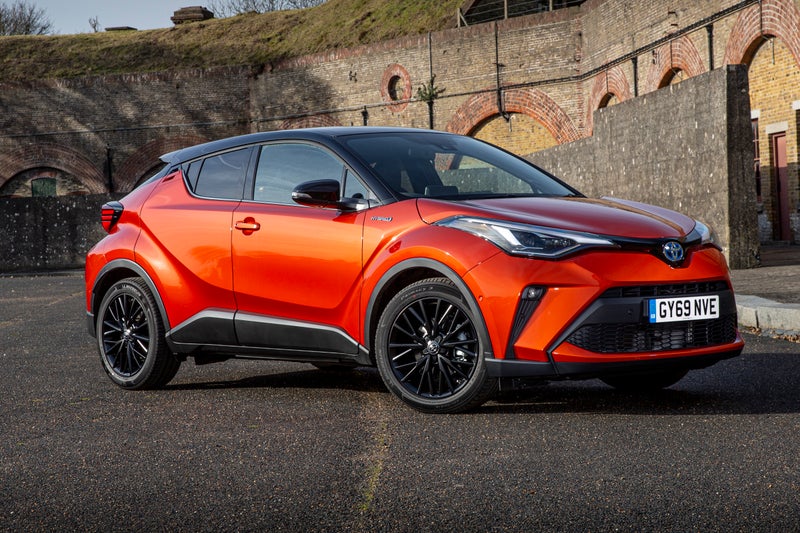 1/10
heycar rating
"Stylish SUV is very frugal"
Launched: 2016

Small SUV

Petrol, Hybrid
Quick overview
Pros
Excellent in-town fuel economy
Generous standard equipment
Spacious for a trendy car
Cons
Not as roomy as full-blown SUVs
2.0-litre model is expensive
CVT gearbox makes the engine drone when accelerating
Overall verdict
On the inside
Driving
Cost to run
Prices and Specs
Common questions
Overall verdict on the Toyota C-HR
The Toyota C-HR is a trendy SUV that's easy to drive and cheap to run, particularly if you go for one of the petrol-electric hybrid models.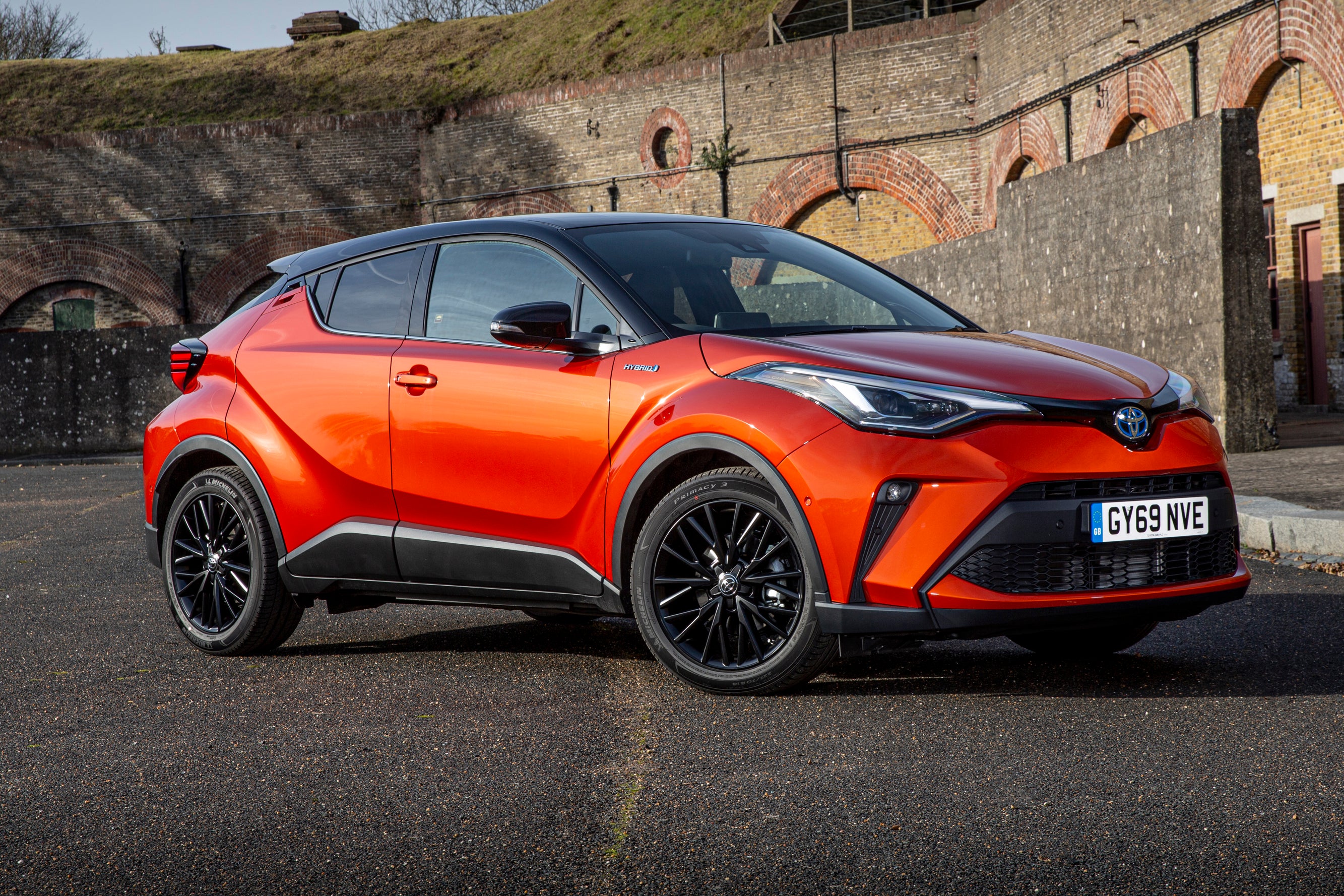 Hop aboard the Toyota C-HR and you'll find a stylish slim-line dashboard design which looks a little plasticky but feels very solid. The 2019 facelift swapped some of the cabin's harder plastics for softer materials but it still doesn't feel as plush inside as an Audi Q2.
The Q2 also has a better infotainment system with more logical menus than the system fitted to the Toyota, although this is only an issue in earlier cars because in 2019 Apple CarPlay and Android Auto were standard fit.
Another area the Toyota C-HR isn't quite up with the best in class is interior space. Yeah, you get loads of room up front but the coupe-style roof means headroom's not that generous in the back and the resulting small rear windows make it feel like you're sitting in a dungeon. The boot is also relatively small for a small SUV.
This compromised practicality might be harder to swallow if the Toyota C-HR's driving experience failed to live up to its sporty looks but have no fear, the C-HR corners keenly and with little body lean. It's not a sports car by any means, but it is a car you can drive quickly with confidence.
In town, the light steering makes it ideal for slow-speed manoeuvring and its tall ride height means you don't have to slow to a crawl going over speed humps. That said, the Toyota C-HR's raised driving position is compromised by its poor rearward visibility.
Despite this, the Toyota C-HR is a great town car thanks to its 1.8 and 2.0-litre petrol-electric hybrid engines. It can run for a few miles on electric power alone, slashing your running costs considerably if you're used to driving a normal petrol or diesel car in the city. Toyota used to offer a 1.2-litre petrol model but that was dropped in October 2019.
Whatever the age of the C-HR you buy, equipment levels are generous. All models get a large infotainment screen, active cruise control and a reversing camera.
That generous list of equipment does make up for the Toyota C-HR's high-ish price tag and is another reason why you should consider it if you're after a trendy car that's easy to live with. Okay, so some practicality has been sacrificed for its sporty looks, but the Toyota C-HR is more spacious than a normal coupe and combines nippy performance with eye-openingly low running costs.
Is the 2022 Toyota C-HR right for you?
You want a small car that looks cool but isn't completely impractical with space for four people and a boot that'll swallow more than a few bags of shopping.
The car has to be easy to drive in town and have running costs that won't burn a hole in your wallet at the petrol station, but it also needs to be nippy enough to deal with faster roads and have enough grip and composure to be fun when the opportunity presents. Oh, and you'd also like it to be built by a manufacturer that has an unparalleled reputation for reliability.
Answered yes to all of the above? Excellent, then the Toyota C-HR is a car you need to consider.
What's the best Toyota C-HR model/engine to choose?
While it's nice to have the extra power of the 184PS 2.0-litre petrol-electric hybrid, it's more expensive to buy than the 122PS 1.8-litre version and also a tad less economical on fuel – making the smaller hybrid engine the better allrounder. Check out our guide to the best hybrid SUVs for more options.
The conventional 1.2-litre petrol, meanwhile, makes a canny used car buy but can't match the economy of the hybrid models.
In terms of trim levels, we'd go for a C-HR Dynamic. To the standard car's generous list of equipment, Dynamic models add a moody black roof, 18-inch alloy wheels and LED headlights that make the most of the C-HR's looks.
What other cars are similar to the Hyundai Toyota C-HR?
The Toyota C-HR isn't short of rivals. If you want an SUV that's even more eye-catching but also more practical inside, then it's worth considering the Peugeot 3008 while if you're after hybrid power, the Kia Niro is an excellent small SUV that comes as a hybrid or PHEV.
The Skoda Karoq is a worthy alternative if you want a very spacious family car at an extremely competitive price, while the Ford Puma is as stylish as the Toyota and more fun to drive.
What none of these cars can rival is the Toyota's excellent reliability record and it's hybrid technology which provides brilliant fuel economy without it needing to be plugged in and charged.
Comfort and design: Toyota C-HR interior
"The C-HR's smart interior matches its sporty exterior. You get a slim-line dashboard with sporty cowled analogue dials and a centre console that points towards you – it's smart looking if not as outrageously cool as the infotainment heavy interior you get in the Peugeot 3008."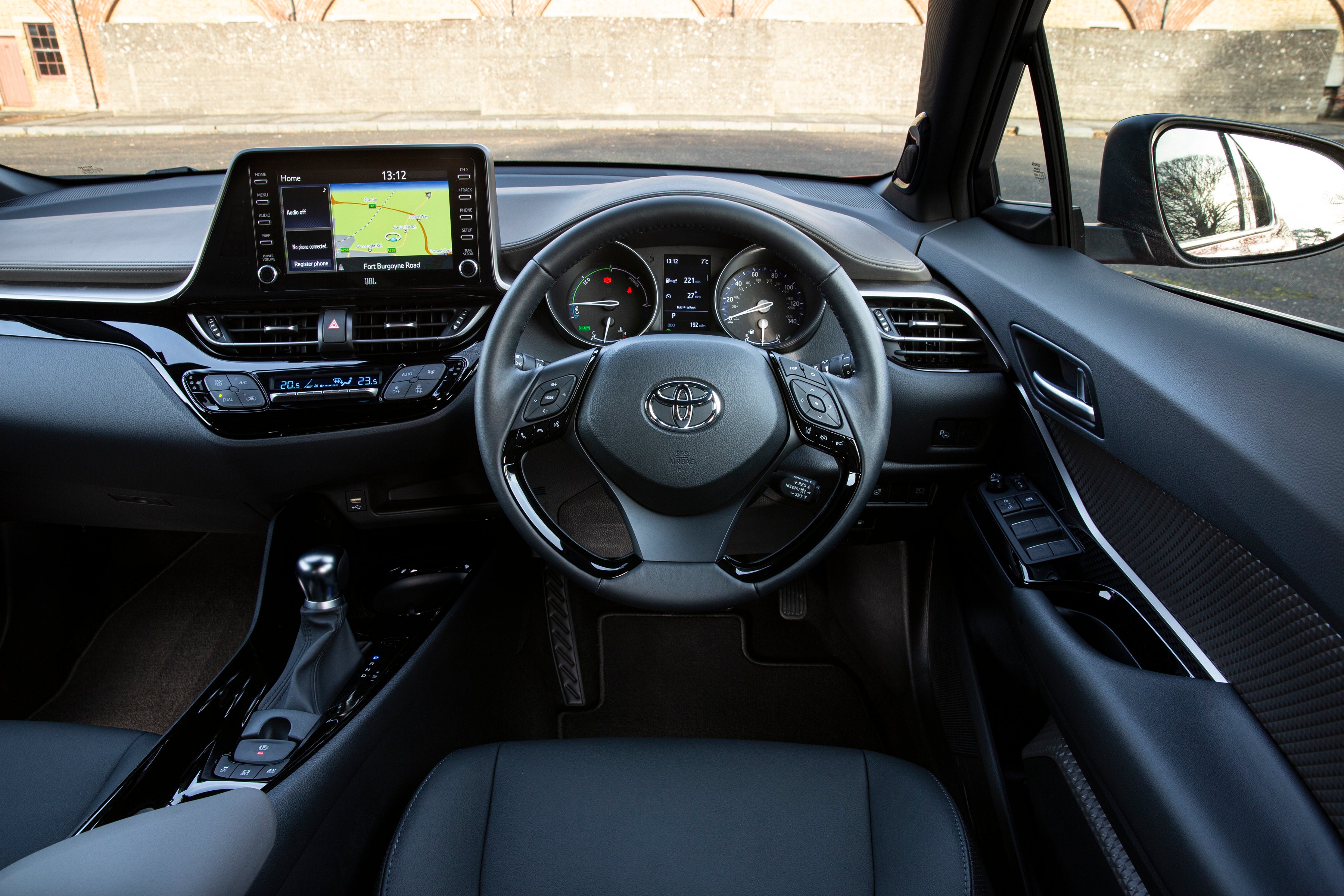 In the Toyota C-HR, you make do with one large infotainment screen plumped on top of the dashboard right in your eye line although it's thick frame looks a little bit old fashioned – think old-school TV versus a new LED model
There's nothing old school about the driving position, mind. The Toyota C-HR's Nappa leather-trimmed steering wheel has a wide range of adjustment for both rake and reach and you can crank the driver's seat up high to give yourself a bird's-eye view of the road ahead.
There's plenty of room in the pedal box even if you've got feet that belong at the circus and Toyota C-HRs are now all automatics so most of the time you can let the car do the gear shifting for you or push the gear lever to the side for 'manual' changes. Although, in something with sporty aspirations like the C-HR, it's odd that there's no option to have paddle gear shifters behind the steering wheel.
All the car's secondary controls – for the ventilation system and stereo – get conventional knobs and buttons which makes them easy to reach for when you're driving, although the layout isn't quite as intuitive as you'll find in a Skoda Karoq or SEAT Ateca.
Quality and finish
Toyota improved the C-HR's interior quality slightly when the car was facelifted in 2019 adding soft-touch plastics on the insides of the doors to complement the dashboard's spongy construction.
That said, it's still doesn't have the consistently high-quality feel that you get in a SEAT Ateca or a Skoda Karoq, but you get the sense that the Toyota's harder plastics might have stood the test of time better 10 years down the line, and there's no doubting that it feels solidly put together.
And it's easy on the eye thanks to a swoosh of trim that mimics the C-HR's diamond-style grille and flows from the doors to the dashboard. Icon models get flashes of grey trim and their soft but supportive seats get black upholstery with grey highlights.
Toyota C-HR Design models get blue details on their seats and satin trims, Excel cars have leather upholstery and silver trims, while Dynamic models get heavily bolstered sports seats with a line of blue trim that frames the top of the infotainment screen and stretches the width of the car.
Infotainment: Touchscreen, USB, nav and stereo in the Toyota C-HR
The Toyota C-HR comes as standard with an eight-inch infotainment display but it's neither as pretty to look at as the Peugeot 3008's displays nor as simple to use as the systems you get in the Skoda Karoq and SEAT Ateca.
The Toyota C-HR's screen is flanked on either side by a vertical row of buttons that look like they had a past life on a 90s stereo – a cheap one – but they're handy, letting you quickly jump between menus.
Meanwhile, the on-screen buttons take the form of large icons that are easy enough to press even if you don't get the haptic feedback offered on more expensive cars. What's harder to forgive is that the menus themselves aren't very logical so when you first get the car it'll take a while to work out where everything is.
Or you can just skip the hassle and use Apple CarPlay and Android Auto which was fitted to the C-HR in 2019. It means you can project your phone's display on the car's big screen and use its apps for things like sat-nav and music playback. It's easy to use and – because it's mirroring your phone – you're connected to the internet allowing your car to route around congestion in real-time.
It's much better than the factory-fit sat-nav that's standard in Excel and Dynamic models.
The standard stereo meanwhile is punchier than the entry-level system fitted to other SUVs this price, but it's not exactly the last word in power and clarity.
For that, you'll want the JBL Premium Sound System with six speakers, three subwoofers and 576W output. It's standard on Orange Edition cars but annoyingly is only available as an option on pricey Excel models.
Space and practicality: Toyota C-HR boot space
There's plenty of room in the front seats of the Toyota C-HR, although if you're tall you might have to stoop a little getting in to avoid cracking your head off the car's low roofline. Design models add heated front seats with manual lumbar adjustment for the driver, while Excel versions add a heated steering wheel and Orange Edition cars get electrical adjustment for both front seats.
All fine and dandy but what about the back? Well, the news isn't so good. Measuring 3585mm long and 1795mm wide, the Toyota C-HR's sloping roofline might make it look like a pretty coupe on stilts but it does nothing good for headroom. Tall adults will fit, but they'll feel claustrophobic and the tiny windows give you the sense that you're peering out of a WW2 pillbox.
At least there's room enough for adults legs and feet, plus the middle seat won't make a third passenger feel uncomfortably perched like they would in other cars like this. That said, if you want a car with more space, check out the Skoda Karoq.
You'll also find the Skoda's an easier car to fit a child seat to thanks to its taller roof. In the Toyota, you'll need to stoop down to get a seat fitted and the back doors don't open quite wide enough to give you plenty of room to get the seat into place. That said, the ISOFIX points are marked under removable covers.
Unfortunately, the C-HR's cool styling also eats into boot space. Its 377-litre capacity is smaller than you get in a normal hatchback like the Volkswagen Golf and all the Toyota's direct rivals offer more space. Although that being said, you should be able to get a couple of large suitcases in there and there's only a small load lip to lift them over.
Want to carry more? Then the Toyota C-HR's seats split 60:40 and fold flat into the floor to reveal a total capacity of 1160 litres, although that's a long way off the 1630 litres you get in the Skoda Karoq.
In terms of interior storage, the Toyota C-HR has a large cubby hidden under the front centre armrest, a couple of cupholders sitting in front of it, a big glovebox and large bins in the front doors. Storage in the back isn't so great, though, you don't even get door bins as they're replaced by a couple of shallow cup holders.
Handling and ride quality: What's the Toyota C-HR like to drive?
"It's not just the Toyota C-HR's stunning fuel economy that makes it an ideal city slicker, it's raised ride height means it shrugs off potholes and speed humps. That said, the more expensive models' 18-inch wheels do tend to amplify bumps in the road."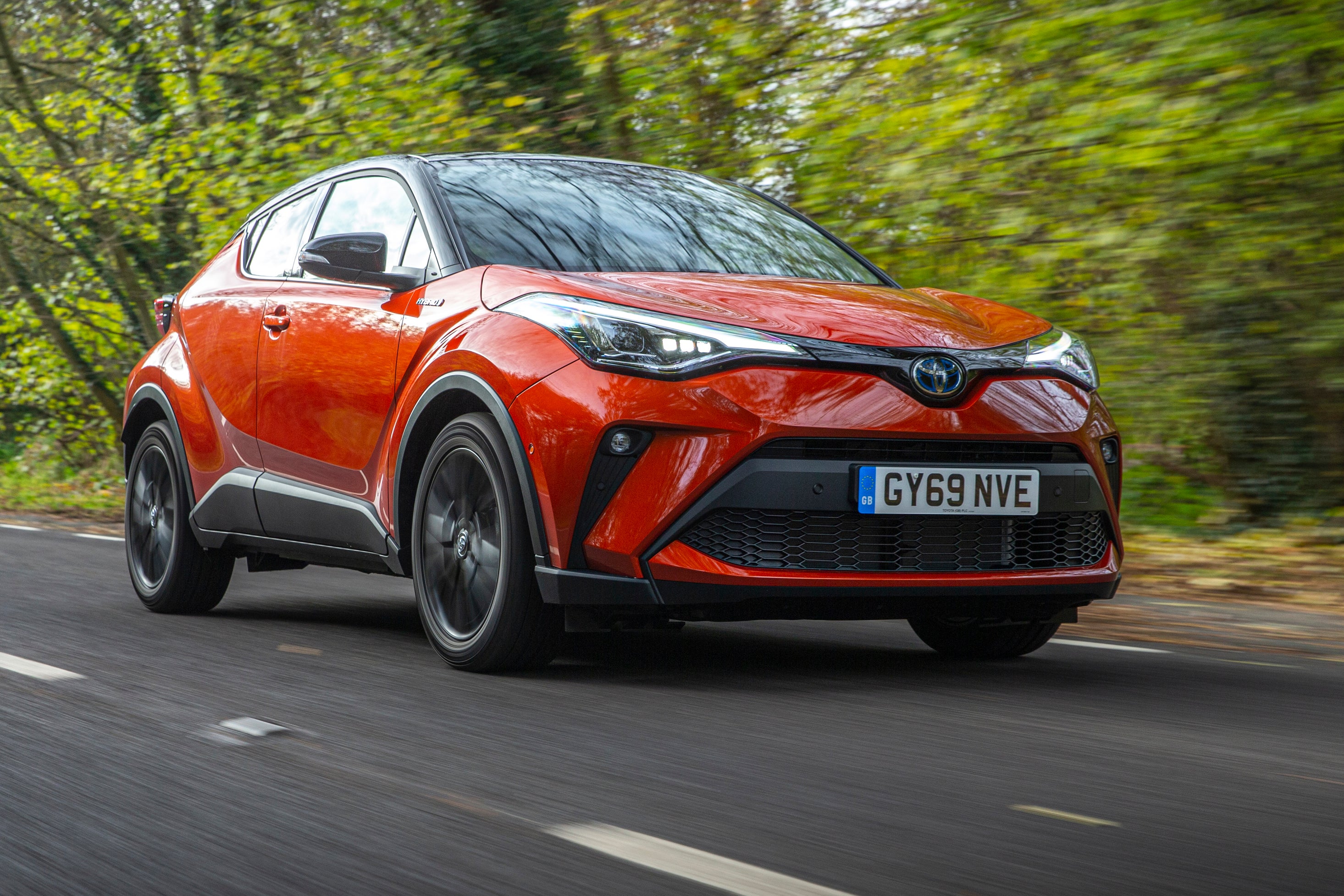 The steering is also light and the standard automatic gearbox means there's no clutch pedal to pump in stop-start traffic. That said, the regenerative brakes can be hard to modulate making it tricky to brake smoothly at traffic lights.
Okay, so you don't get the towering view out of the car that you get in other SUVs but forward visibility is still decent with a large enough glass area to ensure you get a clear view when pulling out of junctions.
Reversing is a different matter. Large pillars around the Toyota C-HR's rear windscreen obscure your view and the way the back of the car tapers down makes it hard to judge when you're parking.
That being said, all models get a rearview camera which doesn't offer the sharpest picture but gets the job done. Trade up to an Excel or Dynamic model and you also get a self-park feature and front and rear parking sensors that will brake the car if you're about to have a bump.
Hit more open roads and the Toyota C-HR copes well. It has plenty of grip if you're getting a move on and the body doesn't lean as if the car's going to topple over. Okay, so the steering doesn't give you a huge idea when the car's reaching its limits but it is accurate and direct enough to make it easy to position the Toyota exactly where you want it.
The biggest obstacle to fun is the CVT automatic gearbox which isn't always very responsive and makes the engine drone at a constant pitch under hard acceleration.
You'll also notice that on the motorway, although Toyota C-HR's standard active cruise control goes some way to making up for it. It means you can set your cruising speed and let the car handle accelerating and braking for you. It'll brake for slow-moving traffic ahead before returning to your pre-set speed when the road is clear all while the car's lane-assist gently steers you in the centre of your lane.
What engines and gearboxes are available in the Toyota C-HR?
The Toyota C-HR used to be offered with a tiny 116PS 1.2-litre turbocharged petrol engine that went off sale in 2019. Unlike the small petrols in most rivals which have three-cylinder engines, the Toyota gets a four-cylinder that's smoother under acceleration and it's nippy enough to cope in town and on the motorway. We'd avoid cars with the optional CVT gearbox because the standard six-speed manual's slick and easy to use.
We'd still go for one of the four-cylinder petrol hybrid models though. The 124PS 1.8-litre version is very good on fuel in town because it mostly runs on silent electric power, but it's not exactly quick, getting from 0-62mph in 11 seconds. It's slow acceleration also prolongs the engine drone caused by the car's CVT automatic gearbox.
The 184PS 2.0-litre model is a good deal quicker getting from 0-62mph in 8.2 seconds. It's also got a more advanced hybrid system with a larger battery which means it can run on electric power for longer periods than the 1.8. It's worth mentioning that neither hybrid is exempt from paying London's congestion charge.
Refinement and noise levels
The Toyota C-HR is at its most relaxing in town where most of the time it runs in silent electric mode, even when the petrol engine does kick in, it usually only hums in the background as it acts as a generator recharging the battery.
On faster roads, the Toyota C-HR isn't so good. There's a fair amount of wind noise when you get up to speed and plenty of tyre rumble, too, which is worse in cars fitted with 18-inch alloy wheels.
Safety equipment: How safe is the Toyota C-HR?
The Toyota C-HR was awarded five stars when it was crash-tested for safety by Euro NCAP.
The standard safety list is long and includes automatic emergency brakes that'll detect pedestrians and as well as cyclists and other vehicles, active cruise control and lane assist. Traffic sign recognition means the current speed limit is always displayed on the car's infotainment screen and you also get a speed limiter so you don't need to worry about going too fast.
Toyota's even gone to town on the Toyota C-HR's lights. They're all white and bright shining LEDs and you also get auto-dipping headlights as standard so you don't need to worry about blinding other road users.
Excel models and above get even more standard safety kit including automatic emergency brakes that work if you accidentally reverse into oncoming traffic from a perpendicular parking space. The blind-spot assist will also warn you if you try to pull out in front of someone hidden in your blind spot on the motorway.
Excel models get even cleverer adaptive LED headlights that follow the twists and turns of the road and allow you to keep using your full beams even in oncoming traffic – simply by creating a dark spot where the other vehicle is.
MPG fuel costs: What does the Toyota C-HR cost to run?
"The Toyota C-HR's party piece is its excellent in-town fuel economy possible because it can run on electric power alone most of the time at slow speeds and because stop-start traffic gets the most out of the car's regenerative brakes."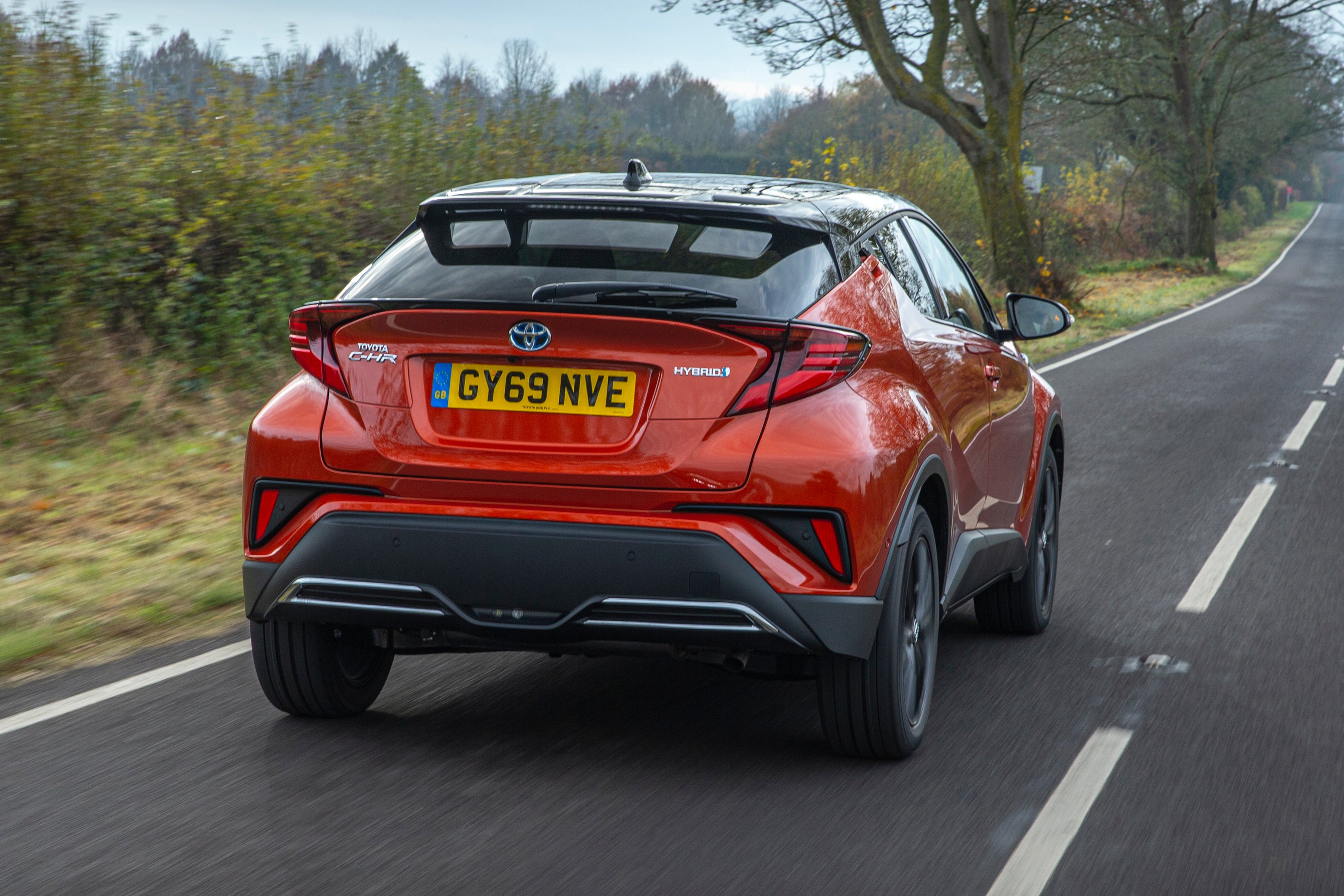 As a result, Toyota claims the 1.8-litre model will return up to 59mpg and the 2.0-litre will get around 54mpg and, in our experience, both figures should be possible in normal driving, giving the C-HR a range of more than 500 miles from its 43-litre tank.
The old 1.2-litre model does without the fancy hybrid tech and won't return much better than 40mpg.
How reliable is the Toyota C-HR?
The words Toyota and reliability go hand-in-hand and that's the same story with the C-HR. With the manufacturer one of the original pioneers of hybrid tech, it's no surprise to hear that despite the complexity of the system, there have been no common problems reported with the system.
Insurance groups and costs
The Toyota C-HR ranges from Group 14 to Group 16 insurance. Oddly, the 1.2-litre model costs more to insure than the more powerful 1.8-litre version – the former doesn't go lower than Group 15 while the latter starts from Group 14.
VED car tax: What is the annual road tax on a Toyota C-HR?
Thanks to their clean-running petrol-electric drivetrains, no Toyota C-HR is going to cost you a fortune to tax. Unsurprisingly, the 2.0-litre model is the most expensive, it'll set you back £165 in the first and £140 thereafter. The 1.8-litre model is a touch cheaper with a £145 year-one charge and the same bill as the 2.0-litre model thereafter.
How much should you be paying for a used Toyota C-HR?
"The Toyota C-HR is more expensive than other SUVs this size but it makes up for this with its healthy list of standard equipment. Prices start from just under £26,300 for a basic Icon model with a 1.8-litre engine and rise to about £33,200 for a top-of-the-range Orange Edition model with a 2.0-litre engine."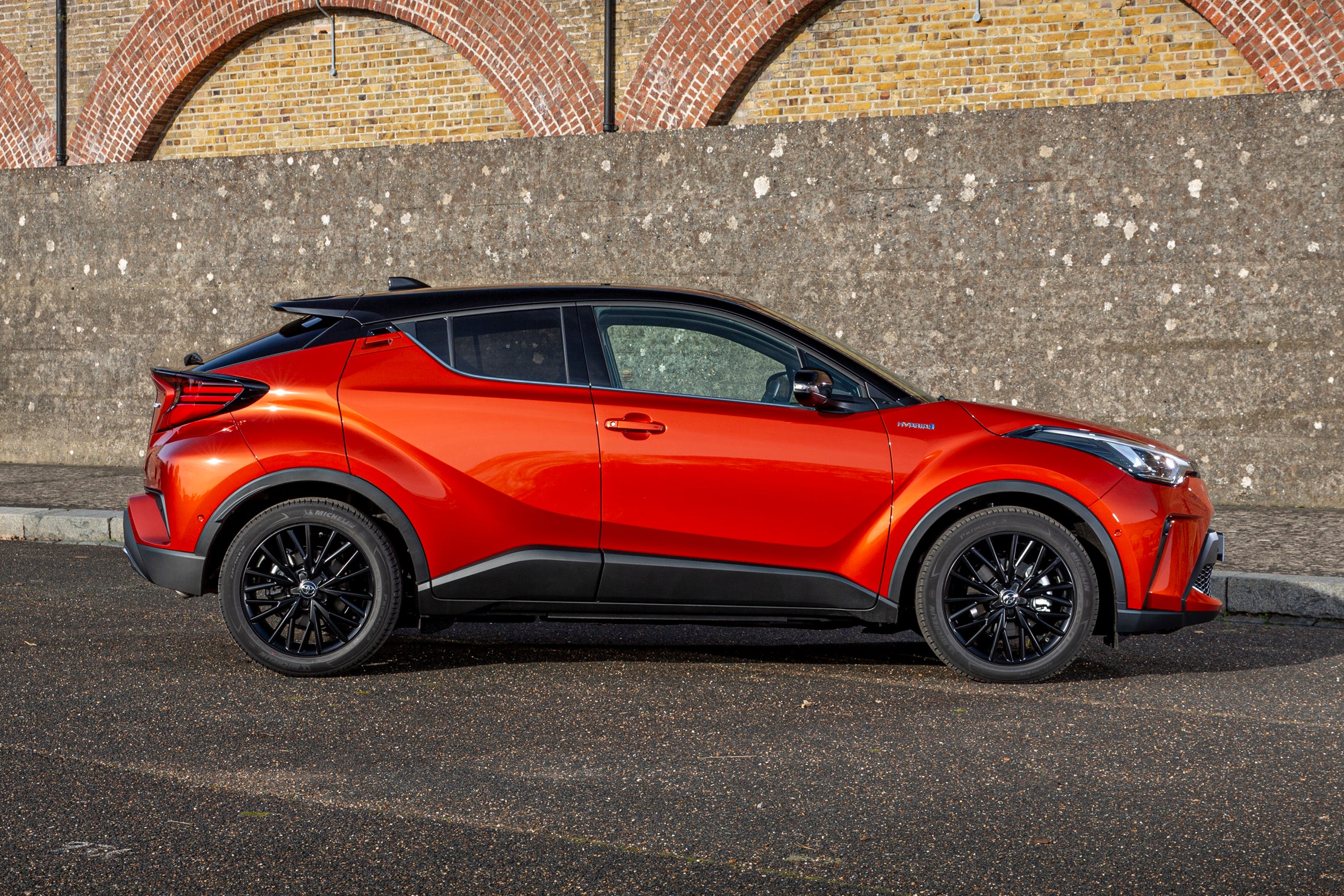 The most popular model is the Dynamic fitted with the 1.8-litre engine. It's significantly cheaper to buy than the 2.0-litre version and also a tad cheaper to run. Dynamic trim, meanwhile, makes the sporty C-HR look that bit racier thanks to its 18-inch wheels, black-painted roof and standard metallic paint. It costs from £28,500.
That all being said, you can have a nearly-new 2.0-litre model with fewer than 5000 miles on the clock for about the same. Its extra power and ability to run longer on electricity means it is arguably the more attractive option.
Trim levels and standard equipment
Even the basic C-HR Icon gets loads of standard equipment. It comes with 17-inch alloy wheels, a reversing camera, active cruise control, dual-zone climate control and auto LED headlights.
Design models get larger 18-inch alloy wheels and tinted rear windows that make them look cooler. You also get front and rear parking sensors, auto park, heated front seats, driver's seat lumbar support, built-in sat-nav, auto wipers and blue ambient lighting. Design models have wing mirrors that fold away so they don't get damaged when the car's locked up.
Excel cars are pretty posh inside. They get a leather interior with heated seats and a heated steering wheel, plus the climate control system has a Humidifying Nanoe feature that cleans the air and removes odours. Excel models even light up the ground around the car so you won't soak your shoes stepping in puddles.
Dynamic models focus on being sporty. They get 18-inch alloy wheels – with contrast black highlights – and a contrast black roof, while inside you get supportive sports seats with quilted upholstery. Like Excel models, Dynamic versions of the C-HR also get adaptive LED headlights that follow the road and can be used in full beam even around other road users.
Orange Edition models sit at the top of the tree and add to the kit offered by Excel cars, getting the upgraded JBL stereo as standard. They're the most distinctive looking of the lot thanks mostly thanks to their Scorched Orange paint and painted black 18-inch alloy wheels.
Ask the heycar experts:
common questions
Is the Toyota C-HR a good car?
The Toyota C-HR is a cool looking car but it also does sensible. It's well-equipped and reasonably spacious inside and it's hybrid engines offer rock-bottom running costs.

How much does a Toyota C-HR cost?
Prices for a new Toyota C-HR start at £28,175 for the entry-level Icon car, rising to £33,285 for the GR Sport variant.

Is the Toyota C-HR all-wheel drive?
There's no AWD option with the Toyota C-HR currently.

Toyota C HR cars for sale on heycar
3,624
Number of cars available
£13K - £40K
Price bracket of these cars
Colours available on heycar
Keep me updated by email with the latest advice, news and offers from heycar
By submitting, you agree to our
privacy policy
.