Written by
heycar editorial team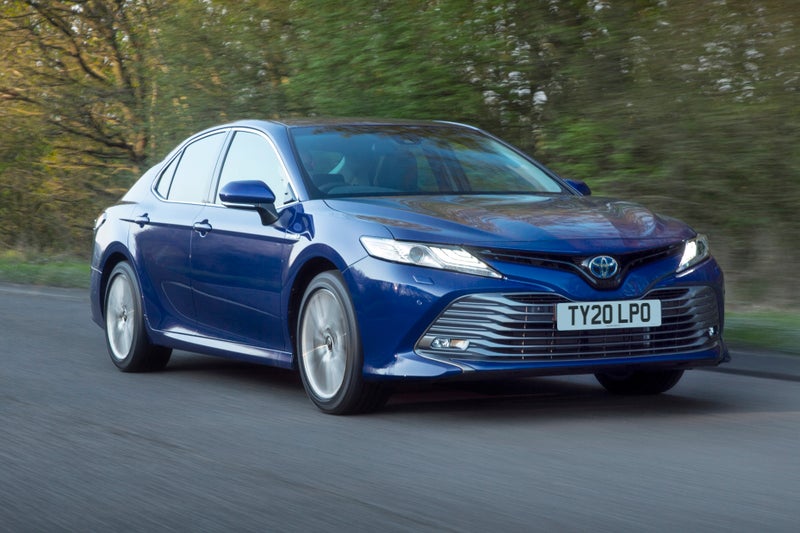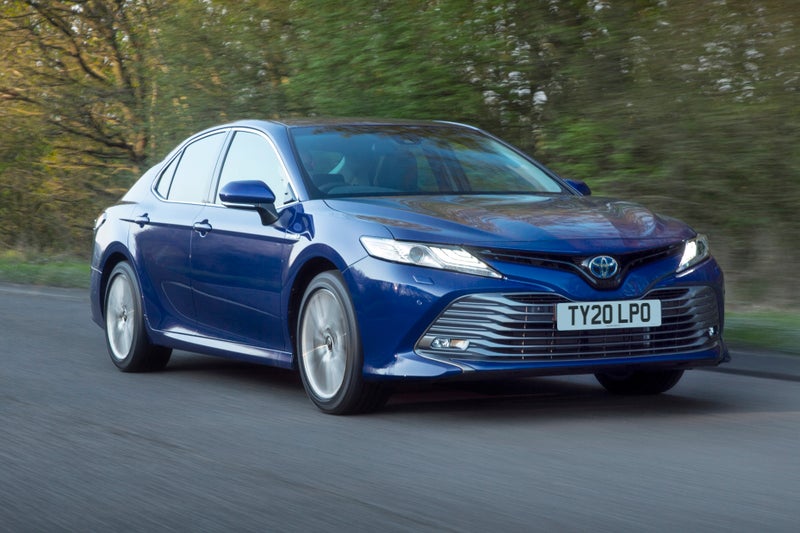 1/10
heycar rating
"Capable, hybrid large family saloon"
Launched: 2019

Large family car

Hybrid
Quick overview
Pros
Excellent standard equipment
Good economy and tax efficient if you're buying with company money
Toyota reliability and dealer service
Cons
The interior design is a bit fussy
No Apple CarPlay or Android Auto yet
Depreciation is likely to be pretty hefty
Overall verdict
On the inside
Driving
Cost to run
Prices and Specs
Overall verdict
"The Toyota Camry was re-introduced in 2019 in the UK to fill the gap left by the Avensis saloon, the fact that the Avensis itself wasn't replaced underlining the shift in the marketplace from saloons to SUVs and crossovers. T"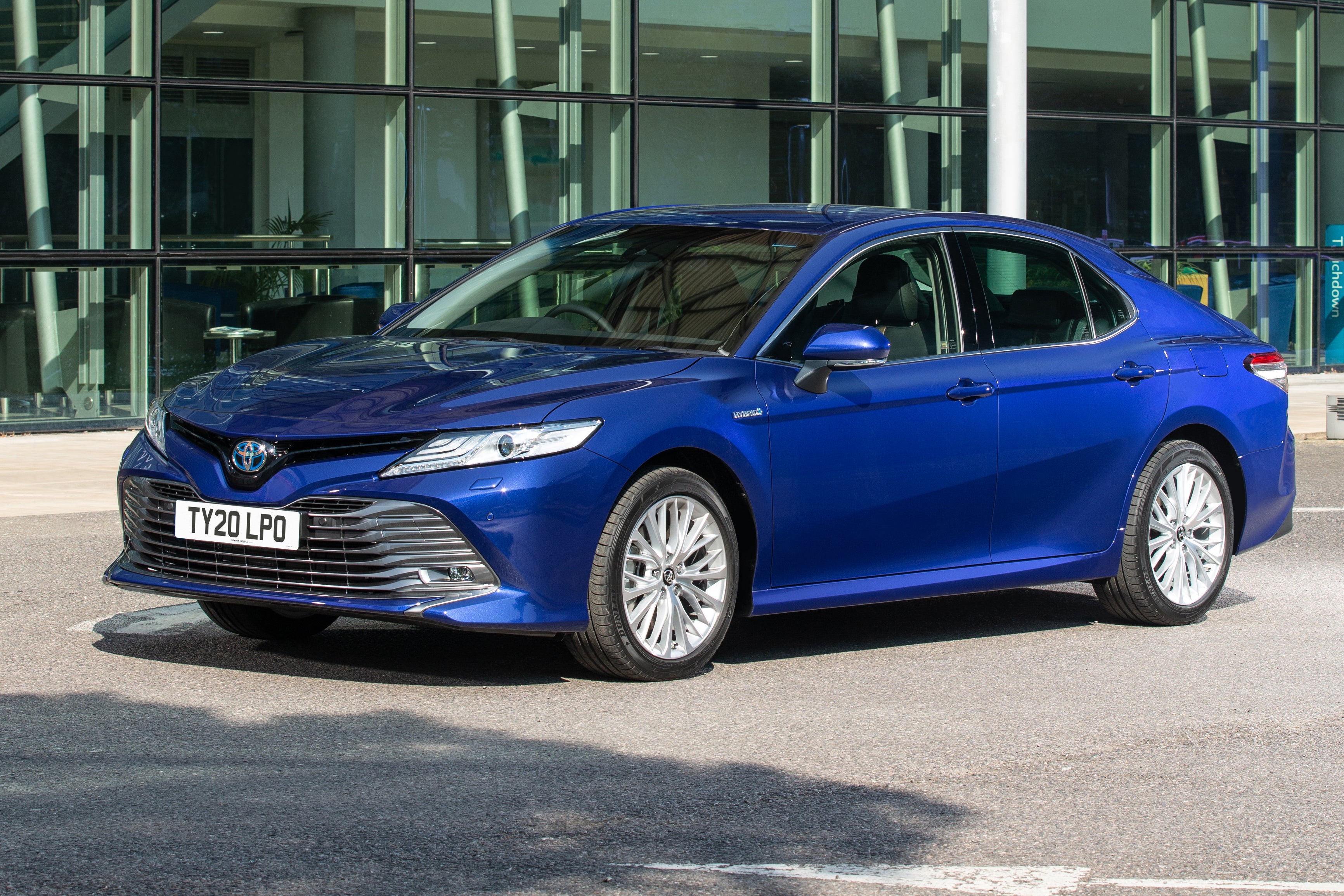 here are always a few dissenters, though, and for the hardcore saloon buyer, Toyota has drafted in the bigger Camry to sate their appetite for a big, uncomplicated saloon. It will never, ever, sell in big numbers here meaning you're unlikely ever to see one, but that alone is appealing to many, as is the Camry's unfussy, non-premium badge and promise of certain reliability.
Its obscurity in the UK is in complete contrast to its ubiquity in the USA, where the Camry isn't just locked into the top ten selling car charts, but raced in NASCAR - the Camry winning not just races, but championships in America's most emblematic race series. The huge sales volumes there mean you can walk into a Toyota dealer and drive out in a Camry in anything from L specification, to a range-topping TRD (Toyota Racing Development) model, powered by either a 2.5-litre hybrid, or a 3.5-litre V6 driving the front, or all four wheels.
Unsurprisingly, given Toyota UK's annual Camry sales aren't likely to match that of a single US dealership's, that breadth of choice is a good deal more limited here.
There's one engine choice, a 2.5-litre four-cylinder hybrid petrol, and a pair of trim levels. That hybrid system is, like that of the Prius and Corolla hybrids, 'self-charging,' using the car's motor and regenerative braking to keep the small onboard battery pack primed to take over and assist whenever possible. All that conspires to deliver a mix of decent economy and performance, without the hassle of plugging in.
Tapping into the current zeitgeist that's seeing buyers move away from diesels, and a small, but growing number of buyers taking backward glance at the sensibilities of conventional saloons, the Camry's return to the UK couldn't have been better timed.
For the canny customer it makes a lot of sense, not least because it's a good deal bigger than its key mainstream saloon car rivals, and comes very well specified as standard. It is resolutely not a car that can hope to compete against the sporting image, driver appeal and premium badges of the cars that dominate the saloon car arena in the UK.
Nor is it meant to, the Camry's qualities lie elsewhere, appealing to buyers utterly unconcerned about thrusting premium badges and instead wanting a lot of space, equipment and decent economy for their money. If that's you, then read on, if not, you can read about the BMW 3 Series here (INSERT LINK here).
Is the Toyota Camry right for you?
The Camry is right for over 300,000 people a year in the USA, and while we recognise that it's a different marketplace over there a lot of the Camry's sensibilities do translate well to the UK marketplace. Not least the space it offers, it easily accommodating both your family and their luggage without being a squeeze.
It's also well built and comes well equipped - with leather upholstery standard in both of the available trim levels. It offers the possibility of circa 50mpg if you're driving it sensibly, as you're almost certainly likely to be doing so, because, unlike virtually all its rivals, the Camry isn't weighed down by aspirations of sportiness, it a car that works well as an easy cruiser.
Throw in Toyota's excellent reputation for reliability and dealer service, and the Camry might be exactly the car for you, and the Toyota dealer will be only too happy to sell one to you.
What's the best Toyota Camry model/engine to choose?
There is only one engine on offer here, and it's an eminently sensible 2.5-litre petrol four-cylinder mated to an electric motor driving the front wheels through a standard automatic transmission.
The trim choices are similarly uncomplicated, with either Design or Excel, both coming with good levels of standard equipment, each including alloy wheels, leather powered and heated seats, dual-zone climate control and plenty more.
The parity of the pricing has us recommend the range-topping Excel, because it gains a few additional safety items, notably Blind Spot Monitoring and Rear Cross Traffic Alert, as well as ups the convenience with a wireless charging pad for your smartphone and a power adjustable (rather than manual of the Design) steering column, for just £1,200 extra.
What other cars are similar to the Toyota Camry?
The Camry might once have been able to list a number of large family saloons from mainstream rivals, but they're all largely gone now, or at least not available in all marketplaces now. Think Ford Mondeo, Vauxhall Insignia, Mazda 6, Volvo S60 and Volkswagen Passat as its main rivals, then, it more likely buyers will be coming from these volume brands rather than the premium ones so dominated by the German trio of BMW, Audi and Mercedes-Benz.
Comfort and design
"The Camry isn't rippling with sporting intent, and that's apparent in the cabin, it all well laid out and sensible in there, the seats being broad, relatively flat and covered in leather regardless of which trim level you pick."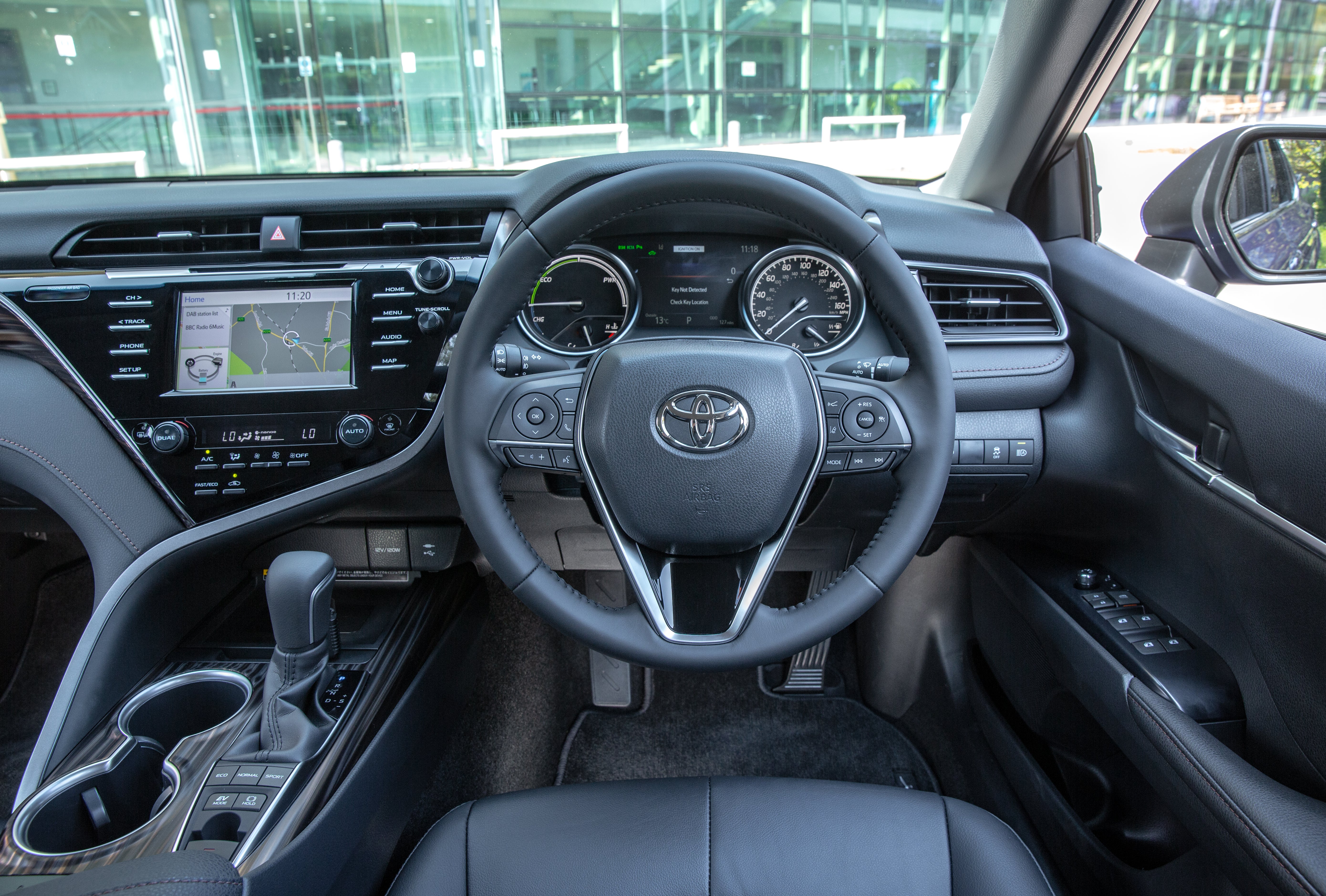 They're also heated and fully electrically adjustable in all, the Excel model benefitting from electrical adjustment to the steering column too, upping the ease over the manually adjusted one in the Design model. Comfort is pretty high on the agenda, then, and the Camry delivers.
A good deal of that is down to the sizeable standard equipment, with thinks like remote entry, push button starting, automatic wipers and headlights as well as adaptive cruise control all coming as standard. You'll pay extra for a lot of stuff like that on mainstream and premium rivals alike.
The design is a bit busy, but the conventional instrumentation is actually quite appealing as so many rivals go with screens instead. It's all very easy to use, and there's plenty of space, too, which is key in the Camry's comfort provision, as is the ease of its drivetrain.
Quality and finish
We've no doubts about the robustness and quality of the build exhibited in the Camry's interior, indeed, it's certain to remain less creaky as it ages than its owner's knees. For all its solidity ad certain reliability there's a mix of materials that struggle to pull off a feel and look that's upwardly mobile.
That's arguably fine for its mainstream positioning, Toyota after all, being happy to send you to their Lexus dealers if you want genuine premium quality, but if you're getting out of something like a Volkswagen Passat and into the Camry you'll be a little bit disappointed.
There's standard leather, though, which lifts things a bit, and the plentiful controls work with a well-considered weightiness but for all that the Camry feels a bit ordinary inside.
Infotainment
There's no difference in the infotainment offering with the Camry, with both the Design and Excel getting the same 7-inch Toyota Touch 2 with Go Navigation.
It features an aux-in connector, Bluetooth, 6 speakers, USB connection, voice control and WIFI connectivity and DAB audio. There's no possible upgrades, either, and for the time being the Camry isn't offered with either Apple CarPlay or Android Auto – though it's listed on the specification for US cars, so we expect it to arrive in the UK at some point. There are no stereo upgrades offered optionally, but most buyers will be happy with the sound from the standard system.

The 7 inch touchscreen looks a bit meagre in a world where larger screens are increasingly becoming the norm, and the graphics aren't the last word in slick, smooth detailed modernity. It's not the most sophisticated of systems, being a bit slow to react, meaning you need to be patient with it.
A good number of the main controls are replicated by steering wheel control buttons, though, so get the screen set up before you set off, and use those for things like volume. Choose the Excel specification if you want to be able to charge your compatible smartphone wirelessly, with a charging pad added to the Excel's specification.
Space and practicality
The Camry's larger than class average size means you'll be generously accommodated, whether you're sitting in the front of the back seats.
Those in the front have loads of space, with plenty of leg, head and shoulder room, the rear seats a bit tighter, with headroom limited for those over 6ft tall, but otherwise you'll be fine back there.
There are five seats, and three children can fit across the rear bench, but it'll be a bit tight if their car seats (these being a legal requirement until they're 12) are on the wider side, while the middle rear seat does without an Isofix mount, too. Fold down the armrest and use the Camry as a comfortable, spacious four-seater, then, and everybody will be happy.

There's a couple of small door bins in the rear and a pair of cupholders (located in the fold-down armrest), map pockets in the back of the front seats, those up front each having a cup holder each, and an armrest with a storage cubby beneath it.
There's a lockable glovebox, too. The boot is a decent size and shape, too, with a capacity of 524 litres with the seats in position, the rear seats folding in a 60/40 split to give more space. The boot lid is powered, though it's not got the widest opening if you're trying to load bigger items in there.
Handling and ride quality
"The Camry isn't going to set your pulses racing on the road, but that's rather the point, there being plenty of more engaging, exciting cars to drive if that's what you're after. "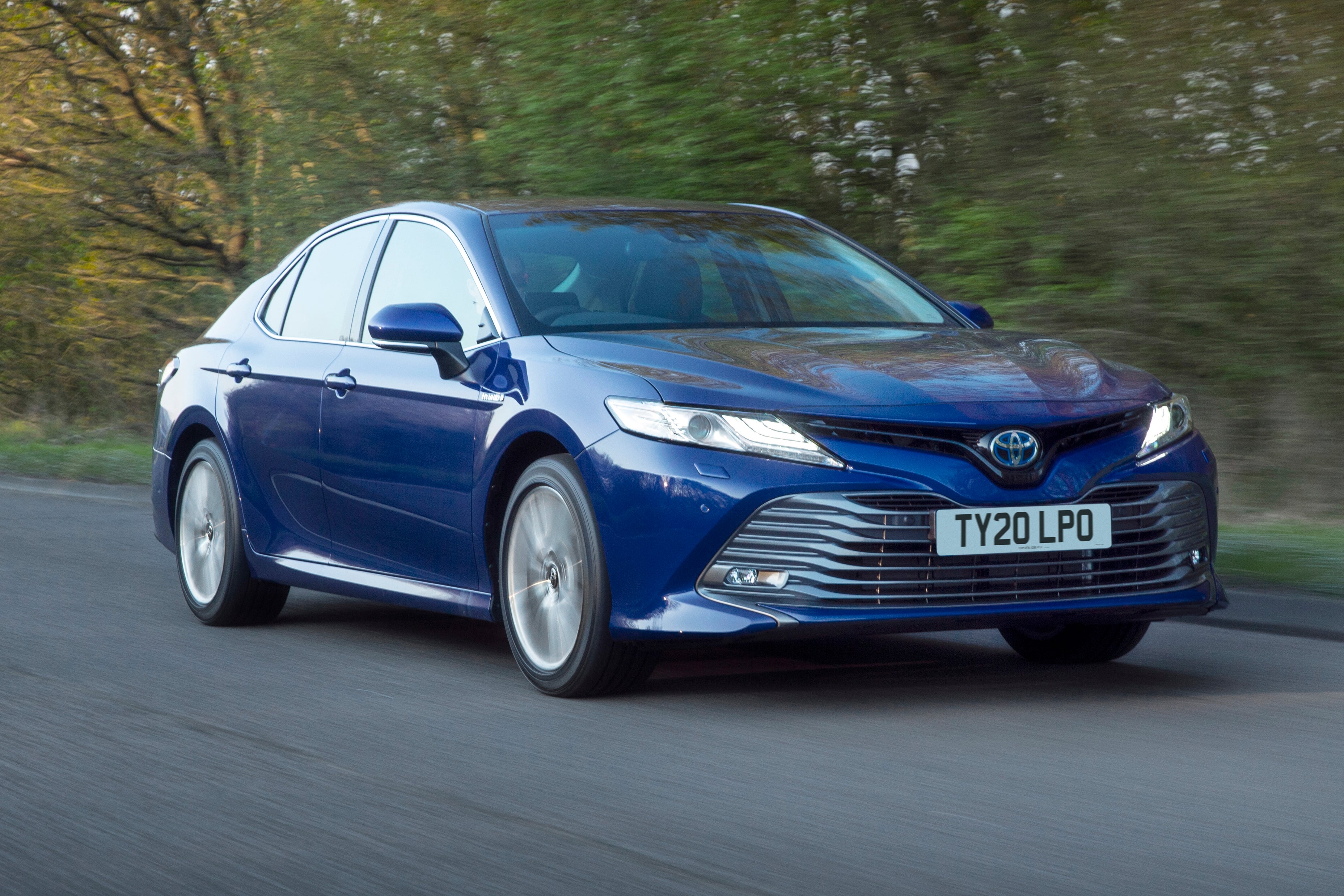 If it's not, then step right up because the Camry does a fine job of offering surefooted handling, combined with a ride quality that you'll be thankful of on any journey.
The steering is light and accurate, and grip levels high, it highly improbable that any drivers will be pushing the Camry hard enough to ever breach them. Comfort might be prioritised, but that's not to say the Camry is out its depth if you're in a bit of a hurry, it revealing good body control and decent agility should the need arise.
That the Camry's not offered with any sort of sports suspension, or variable damper systems with differing modes underlines that Toyota has no real aspirations in relation to delivering an exciting drive, and nor does it need to. Fundamentally, it's a nicely judged mix for its intended audience, with the focus on comfort rather than commitment, and it's all the better for it.
Engines and gearboxes
Global markets might be offered a V6 engine choice, but the UK makes do with a single option, and it's a hybrid. It mates a 2.5-litre four-cylinder engine with an electric motor, which work together to offer a combined output of 218PS and 221Nm of torque.
That's enough to allow the Camry to reach 62mph in a respectable 8.3 seconds, but we doubt any potential Camry driver will ever bother to test that. Not least because doing so sees the 2.5-litre engine hold high revs thanks to the standard fitment of a CVT automatic transmission, such gearboxes working best when they're not being pressed too hard.
Keep things sensible and the combined, or indeed separate, operation of the hybrid powertrain is impressive in its operation, the electric motor assisting the petrol engine when required, and relieving it of its job under light loads for short bursts of electric-only driving.
It's uncomplicated in doing so, too, it no more difficult than popping the automatic gear selector into Drive and just getting on with it. There is the potential to choose from a few driving modes, with Normal providing the best all-round balance of performance and economy, an EV mode for very short periods of electrically powered motoring, Eco prioritising economy at the expense of outright performance and a Sport mode, which puts more focus on the electrical assistance delivering performance.
Leave it in Normal, because the other options are basically compromises, in relation to either economy, or in Eco mode, performance. Speaking of which, the official combined consumption figures are between 50.4-53.2mpg on the official combined consumption cycle, with CO2 emissions ranging from 120-127g/km.
Refinement and noise levels
With its leanings towards comfort Toyota has gone to great lengths to make sure the Camry is as quiet as possible. The company's got form here, too, its upmarket Lexus division making impressively hushed cars, and the Camry shares some DNA with them.
There's very little road noise, while wind noise is contained, too, but it's the drivetrain that adds to the serenity, at least in normal driving. At town speeds and beyond the Camry will default to its electric motor whenever possible, that adding to the silence, and even when the 2.5-litre four-cylinder petrol does kick it, it does so very smoothly indeed.
That quiet, ease is disrupted a touch if you ask more from the hybrid powertrain, with full acceleration for overtakes or joining a fast-moving motorway, resulting in a bit of a commotion from under the bonnet, but that's rarely, and once settled into a cruise it all quietens down to a dignified silence.
Safety equipment
Both the Design and Excel models come with Toyota Safety Sense with a pre-collision system and pedestrian detection, full-range adaptive cruise control a lane departure alert with sway warning, automatic high beams for the headlights and road sign assist.
There's a tyre pressure monitoring system, ABS, stability and traction control systems, with the airbag count including driver and front passenger front and side airbags, curtain shield airbags running the front and rear passenger compartment, and a driver's knee airbag. Two Isofix child seat mounts are fitted on the outer seats in the rear. There's also an E-Call emergency system which calls the emergency services in the event of an accident.
Excel trim adds to that a Blind Spot Monitor with Rear Cross Traffic with brake assist, an auto dimming rear-view mirror and LED front foglights, indicators and brake lights. The Camry has yet to be tested by EuroNCAP, but it has been tested by its American equivalent, the NHTSA where it gained a five-star award.
Maximum EV range
The Camry's hybrid system is designed to assist with economy and performance, rather than be the sole power unit, as you'd have with plug-in alternatives. It can run on electricity alone, but it's only really able to do so for up to 2 miles, and even then you'll have to drive it very gently to achieve that.
MPG and fuel costs
"The Camry doesn't need its hybrid system charging, as it does so itself, it scavenging back power that would otherwise be lost to braking, or diverting some power from the engine under light loads or when coasting."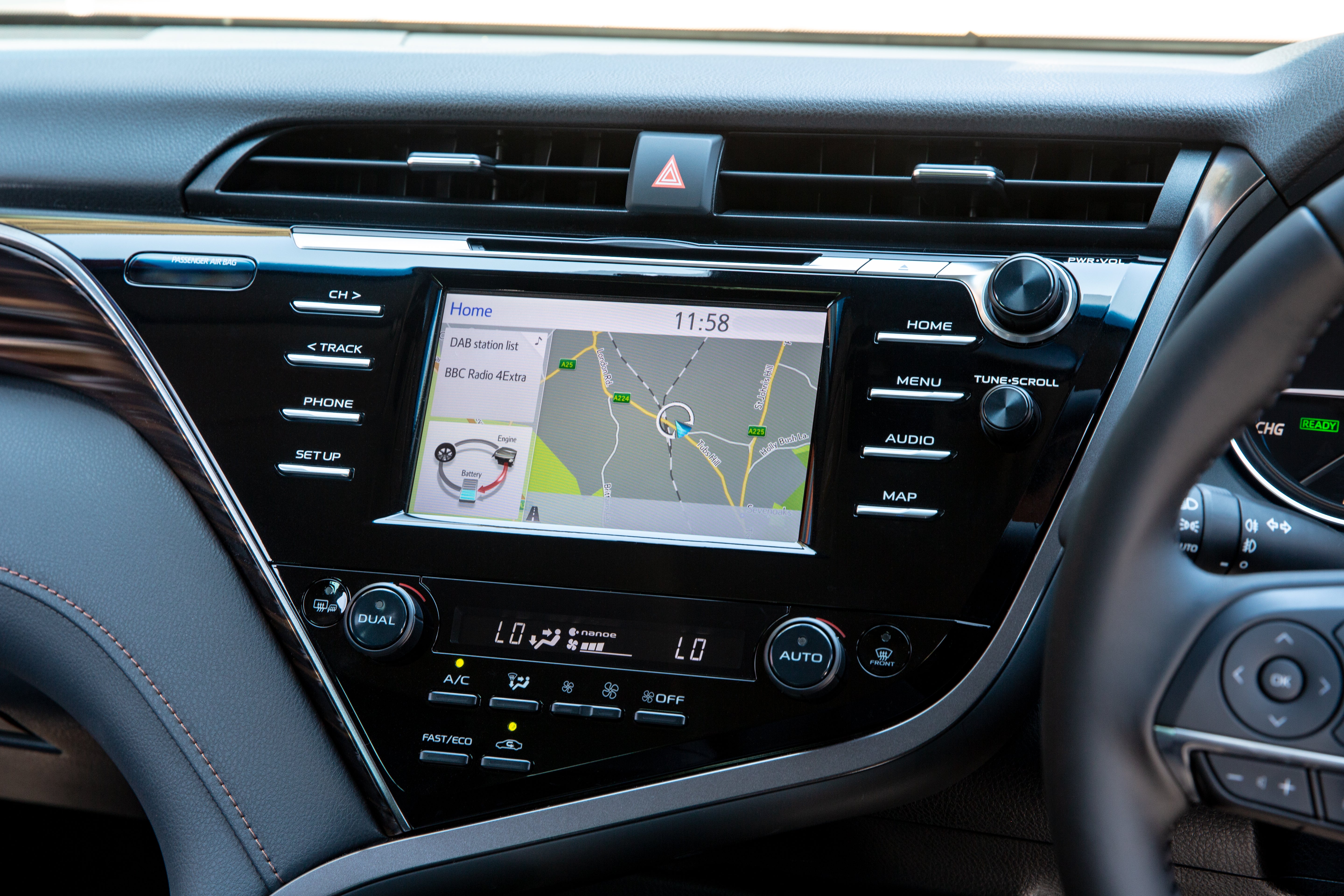 That allows the Camry to provide diesel-like rivalling economy of 50-53mpg, and, not being a diesel, means you're not hit with additional taxation charges.
Insurance groups and costs
The Toyota Camry is in either group 31 for the Design trim, or group 32 for the Excel model, which is the same group as you'll find cars like the BMW 320d or something like a Ford Mondeo 2.0-litre TDCI in top spec Vignale form.
VED car tax
The Camry costs £165 for its first year of VED, with payments of £140 a year thereafter.
How much should you be paying for a used Toyota Camry?
"New from 2019 and a small seller, there's not a great deal of used stock out there, but what does exist starts from around £24,000, for a car that's done under 10,000 miles."
That newness means all but a handful of used Camrys will be on Toyota dealers' forecourts, too.
Trim levels and standard equipment
The Design trim has 17-inch alloy wheels, LED headlights, Toyota Touch Media system with Sat Nav, dual-zone air conditioning, push button start, Toyota Safety Sense 2, electrically powered heated seats, leather upholstery, push button start and adaptive cruise control.
Excel models add 18-inch alloy wheels, LED fog lights, indicators and brake lights, Rear Cross Traffic Alert with Brake Assist, Blind Spot Monitor, wireless phone charging and a power adjusted steering column.
Toyota Camry cars for sale on heycar
3,584
Number of cars available
£25K - £32K
Price bracket of these cars
Colours available on heycar
Keep me updated by email with the latest advice, news and offers from heycar
By submitting, you agree to our
privacy policy
.