Toyota Corolla Review 2022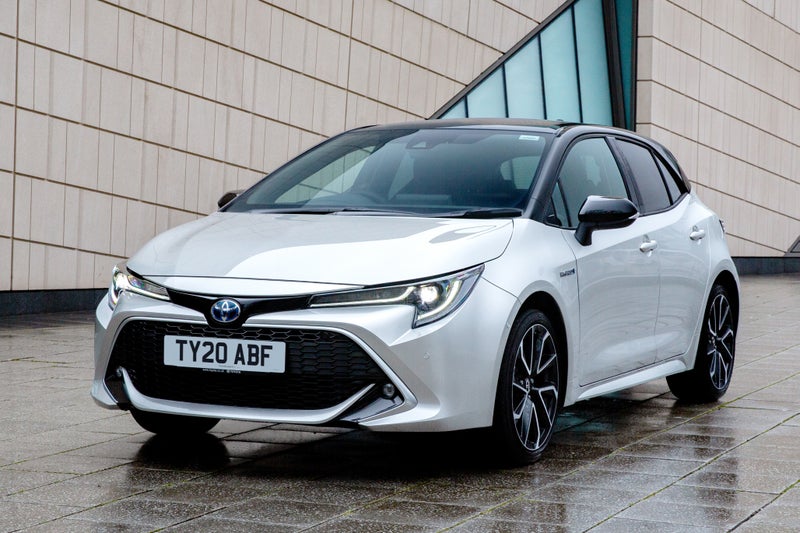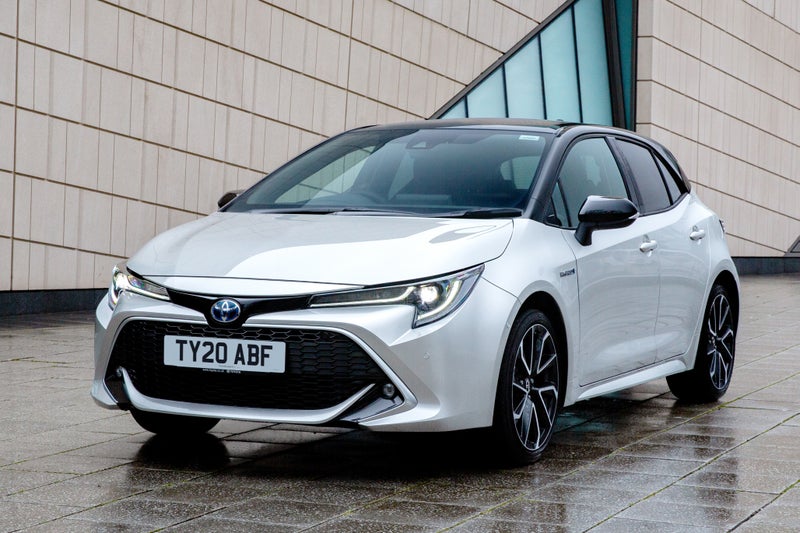 1/10
heycar rating
"Best hybrid hatch on sale"
Launched: 2019

Family hatch

Petrol, Hybrid
Quick overview
Pros
The best hybrid hatch around with strong performance
Comes with comprehensive five year warranty
Well equipped as standard and a high quality interior
Cons
Other hatchbacks are more practical when it comes to boot
No diesel in the range for high-mileage drivers
Improved infotainment still isn't as slick as rivals
Overall verdict
On the inside
Driving
Cost to run
Prices and Specs
Common questions
Overall verdict on the Toyota Corolla
"Toyota's expertise with hybrid technology has all come together in this Corolla. If you've been put off hybrids before, this will change your mind. It's not just good for a hybrid, it's a great car full stop. It blends performance with impressive economy and neat handling, plus of course being a Toyota it's going to be reliable."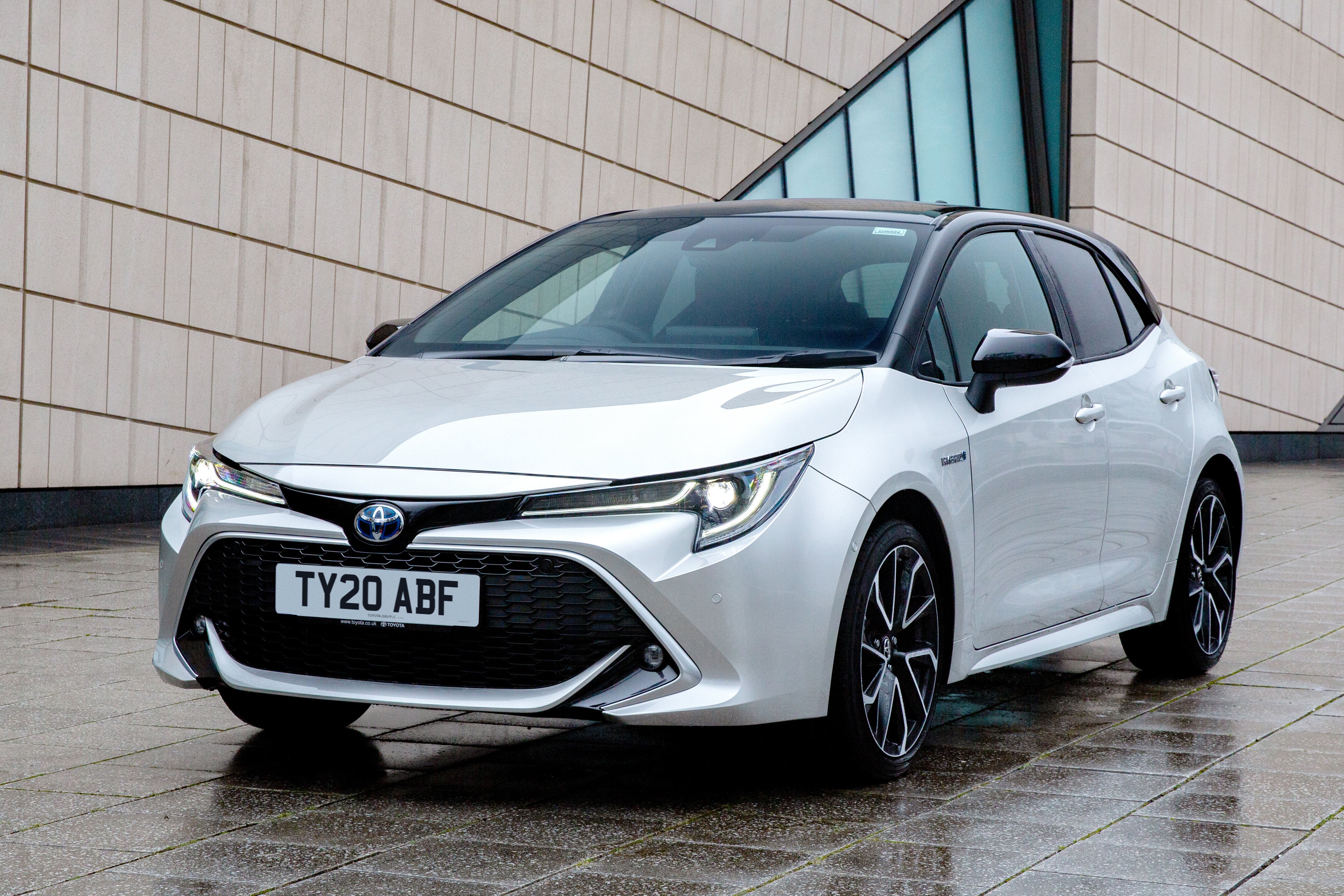 There was a time when choosing a hybrid meant having to compromise, but that's not the case with the Toyota Corolla. This isn't just one of the best hybrid cars you can buy, it's also one of the best hatchbacks around. We'll explain why in our 2022 Toyota Corolla review.
The Toyota Corolla has all the positive traits of a hybrid. It's quiet, smooth and great around town, plus of course it's very economical. You'll see more than 60mpg in everyday driving and that's a genuine figure rather than one created in a laboratory.
But it's perhaps the performance that impresses most. The Toyota Corolla is a relaxing car the majority of the time, but it also delivers when you ask it to accelerate. The standard 1.8-litre hybrid - found in the Prius and C-HR - feels plenty quick enough, not just from a standstill but at motorway speeds too.
There's also a more powerful 2.0-litre hybrid with around 50% more power but we think most people will find the 1.8 more than quick enough. Toyota did sell a 1.2-litre petrol for a short while but it was dropped in 2019.
The Toyota Corolla is not cheap, either as a new or a used buy. Toyota hybrids hold their value well and there's always strong demand. But it's very well equipped from the bottom of the range, with even base cars getting alloy wheels, climate control, a central touch screen, proper LED headlights and a full complement of safety features.
Many of these, including automatic lane keeping, are optional from Ford, Volkswagen and Vauxhall, for example and not cheap either.
The Toyota Corolla is not perfect. The boot is not that user-friendly and for practicality, a Honda Civic is much better. But there's enough space and even taller drivers won't have any room for complaint. And if you need more space, there's an impressive estate in the shape of the Toyota Corolla Touring Sports.
The quality of the interior is much improved over the old Auris and while the infotainment system feels a little dated and there's no Apple CarPlay or Android Auto, the Toyota Corolla still has a quality feel to rival the likes of the Volkswagen Golf.
Is the 2022 Toyota Corolla right for you?
If you want reliability, you've come to the right place. The Corolla is a Toyota after all. It's also very economical, cheap to insure and affordable to run. In short, it's pretty much the ideal hatchback.
True, the boot of the Toyota Corolla isn't the most user-friendly - a Honda Civic is more practical - so if you need space this may not work. But for many, this will make sense as a comfortable and dependable hatchback.
While there's a petrol, the hybrid is by far the better choice. If you've never considered a hybrid before or have memories of slow and noisy models from years ago, the Toyota Corolla will change your mind. It's smooth, quick and quiet.
What's the best Toyota Corolla model/engine to choose?
The 1.8-litre hybrid is the best choice in the Toyota Corolla range. While the 2.0-litre has more performance, the 1.8 never feels slow. In fact it's surprisingly quick. The 1.8 hybrid is also cheaper to run and insure and there are far more around on the used market.
The basic Icon comes well equipped but the smaller wheels do little for the looks. Instead we'd aim for a Toyota Corolla Design which gets more kit and feels that bit more upmarket.
What other cars are similar to the Toyota Corolla?
If you want a hatchback family car there's no shortage of quality to choose from. The Ford Focus is the big seller and an excellent car that sets the benchmark for handling. The latest Volkswagen Golf is all about quality with its superb interior while the Honda Civic is one of our favourites due to its excellent engines and sheer practicality.
But if you want a hybrid hatch the choice is much more limited. There's the Hyundai Ioniq Hybrid and the Volkswagen Golf GTE but that's a PHEV. The other choice of course is the Toyota Prius, the hybrid that arguably started it all.
Comfort and design: Toyota Corolla interior
"The Corolla is spacious inside for a hatchback this size. Even those north of 6ft who can sometimes feel cramped in a hatchback this size will have no issues with the Toyota. The seats are really comfortable with plenty of side support, which you'll appreciate during longer journeys."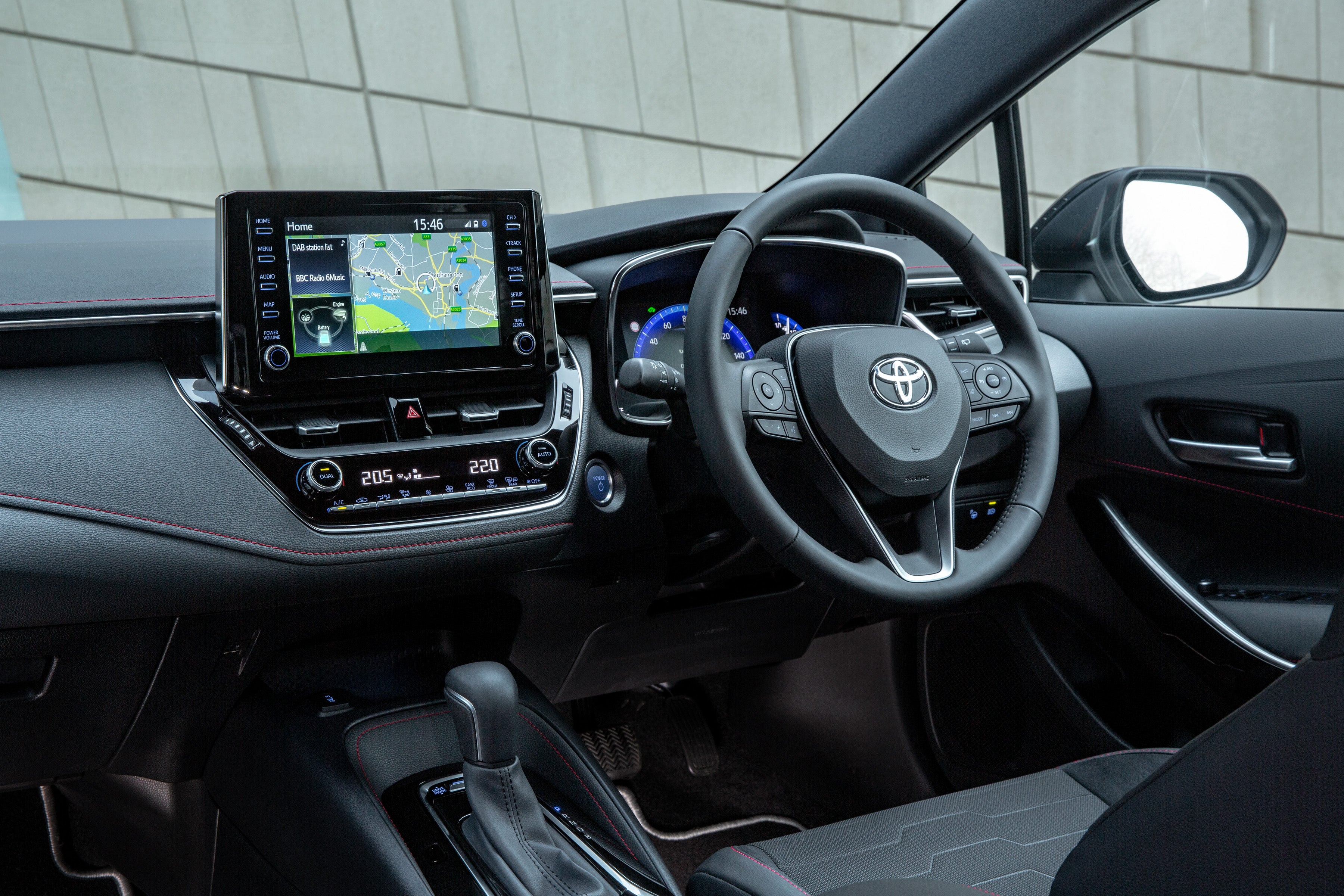 The Toyota Corolla's cabin looks lovely too, relatively simple but effective and with that much lauded sense of solidity, even down to the thunk that the doors make when you close them. Again though, it's not perfect – why Toyota insists on using '90s style rocker switches and LCD panels remains a mystery. However, the Corolla feels as nice as a Golf or a Focus, with soft touch materials, yet it's still hard wearing and solid.
Quality and finish
This is one area where the Toyota Corolla is head and shoulders above its Auris predecessor. Toyota has always made well engineered and solid cars, but interiors have never been a strong point. However, it's really upped its game with this Corolla.
There are no cheap plastics, even if you go looking in out of the way places, while the finish is top notch. So instead of clunky buttons and rough plastics, you get something that feels far more premium. There are no squeaks or rattles and all the buttons and controls feel solid, if not as nice to press as say a Volkswagen Golf. We're also not convinced by those little buttons around the touchscreen, but that's really a minor gripe.
Infotainment: Touchscreen, USB, nav and stereo in the Toyota Corolla
One mystery about the Toyota Corolla is why the infotainment system is still so unattractive and looks like it's from 10 years ago.
The 8.0-inch screen is bright enough with a high resolution display and it's simple enough to use but the menus and layout look dated. Our biggest gripe is the lack of Apple CarPlay or Android Auto. It means you can't quickly use Google Maps or Waze for navigation - instead having to rely on the far inferior Toyota system.
Finding a location such as a shop or restaurant via Google Maps is far simpler (and more accurate) than old school navigation systems. That wouldn't be too bad but it's not as if the Toyota system is nice to use or attractively designed.
Compare it to what you get in a Volkswagen Golf, which is one of the best infotainment systems around, and Toyota's seems two steps behind. You can at least connect your phone via a cable and listen to Audible or Spotify but youl have to control them through my phone.
Space and practicality: Toyota Corolla boot space
While space is important, it's the way this space is utilised that's more crucial to many. And the one thing that is a weak point in the Corolla is the boot. It's not the actual boot space itself that's the issue with the Toyota Corolla. That's actually a decent size at 361 litres which is more than a Ford Focus and not far short of a Volkswagen Golf.
The issue is with the rear design of the Corolla and in particular the angle of the tailgate. While it makes for a swoopy looking rear end look, it means you have to lean forward to get to the boot, which is further hindered by an oddly big back bumper.
Another consequence is that it's quite hard to shut the boot in one movement. The smooth shape and angle mean it's hard to push down from the outside while the inner handle requires some Houdini-esque joint movements in your wrist. A Honda Civic is far more practical in this respect.
The rear seats fold down but it's not a flat floor and there are intrusions from the side which mean it's not that easy to carry big or boxy things home from Ikea. That combined with a high load lip makes this a not especially user-friendly cargo area. There are also non-existent rear door pockets, replaced instead by a cupholder.
The Toyota Corolla's dimensions are 4370mm long and 1780mm wide, while if you like the sound of the Corolla but want a bigger boot, then take a look at the Toyota Corolla Touring Sports, the estate version of the Corolla.
Handling and ride quality: What is the Toyota Corolla like to drive?
"Plenty of hybrids suffer from crashy ride quality because of the necessity to stiffen the suspension to deal with the system's extra weight, but the Corolla all-but eradicates that."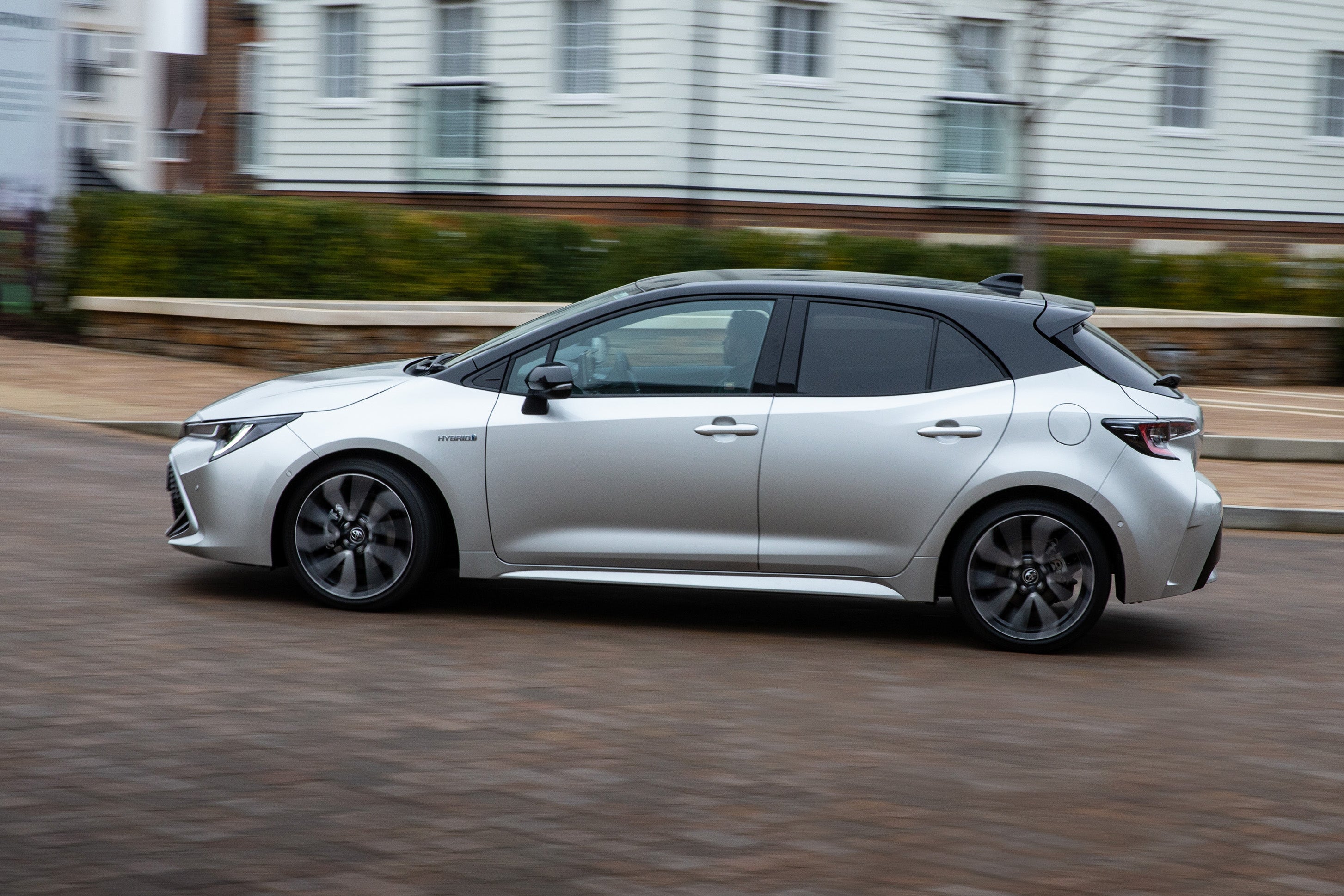 In addition, light steering and a general sense of refinement – the sort that just can't be attained in the average chuntering diesel hatchback – make the Toyota Corolla a very pleasant place to be. Especially at low speeds.
Based on a new chassis that's much stiffer than the Auris' before it, and sitting on sophisticated multi-link rear suspension, the Toyota Corolla is surprisingly convincing at the cornering thing – sharp initial turn in, lots of grip.
But with that it also has that beautifully judged ride quality, which simultaneously smothers the road while serving up a bit of feel through the tyres.
What engines and gearboxes are available in the Toyota Corolla?
The 1.8-litre hybrid is the mainstay of the range and we think it's the best in the line-up. The standard 1.8 rarely feels short of power, despite only having 120PS on paper. In fact it's surprisingly quick, but it's the synergy between the petrol engine and the electric motor that makes the Toyota Corolla so good.
Toyota has long been the champion of hybrid technology and that shows in the Toyota Corolla. It's smooth, quiet and quick. Thanks to the electric power motor, there's instant power away from a standstill and the engine comes on song so quietly that it's almost imperceptible in normal driving. Yes it can drone when you really plant your right foot, but even then it's never coarse
There is merit to the 2.0-litre though. With 180PS it's much more responsive, the engine is every bit as quiet at low speed, and in practical terms the extra power means you don't have to deal with the gearbox noise for anywhere near as long, because the car gets up to speed much more quickly.
The necessity of a CVT-type gearbox in these things means you'll never get as much enjoyment from a hybrid Corolla as you will from a well set up turbocharged petrol car with a twin-clutch automatic – a TSI and DSG equipped Volkswagen Group car, say. But the 2.0 hybrid Corolla is the closest any hybrid has ever come. And a CVT is likely to be much more reliable.
There's also an entry-level 115PS 1.2-litre petrol-only base model but this was discontinued in 2019. Only one in every 13 Toyota Corolla's sold was a petrol, hence why it was quietly dropped.
Refinement and noise levels
Thanks to the electric motor that powers the Toyota Corolla at low speeds, it's very refined around town and when the engine does kick-in, it's so smooth it's barely noticeable. It makes the Corolla one of the most refined cars around town this side of an EV.
Of course this isn't just about noise. The Corolla does a superb job of insulating the cabin from the vibrations and jolts caused by poor roads thanks to the excellent suspension set-up. Get up to motorway speeds and there's little wind or tyre noise either, making for very relaxed long distance progress.
And what of that CVT-resultant drone you often get with hybrids. Well yes, the engine will sit at high revs if you plant your right foot, but the noise isn't intrusive, although it's hardly pleasant either. But it remains better than most other hybrids in this respect.
Safety equipment: How safe is the Toyota Corolla?
All Corolla models come with Toyota's Safety Sense which has a pre-collision system, automatic high beam, lane departure alert, lane trace assist, sway warning and road sign assist. No surprise then that the Corolla was awarded the maximum five star rating in 2019 by those crash test people at Euro NCAP when they'd finished smashing it into a concrete block.
Tests on the front seats and head restraints demonstrated good protection against whiplash injuries in the event of a rear-end collision. The rear seats also indicated good whiplash protection.
The Toyota Corolla has driver and front passenger front and side airbags, driver's knee airbags and full-length curtain shield airbags as standard. The front seatbelts have a new-shape shoulder anchor which reduces the force needed to pull the belt.
MPG fuel costs: What does a Toyota Corolla cost to run?
"Fuel economy varies depending on what wheel size your Toyota Corolla has. The latest WLTP economy test has the 1.8 Hybrid returning anything up to 63mpg with the 2.0-litre around 54mpg, plus low CO2 emissions of just 76 to 89g/km CO2."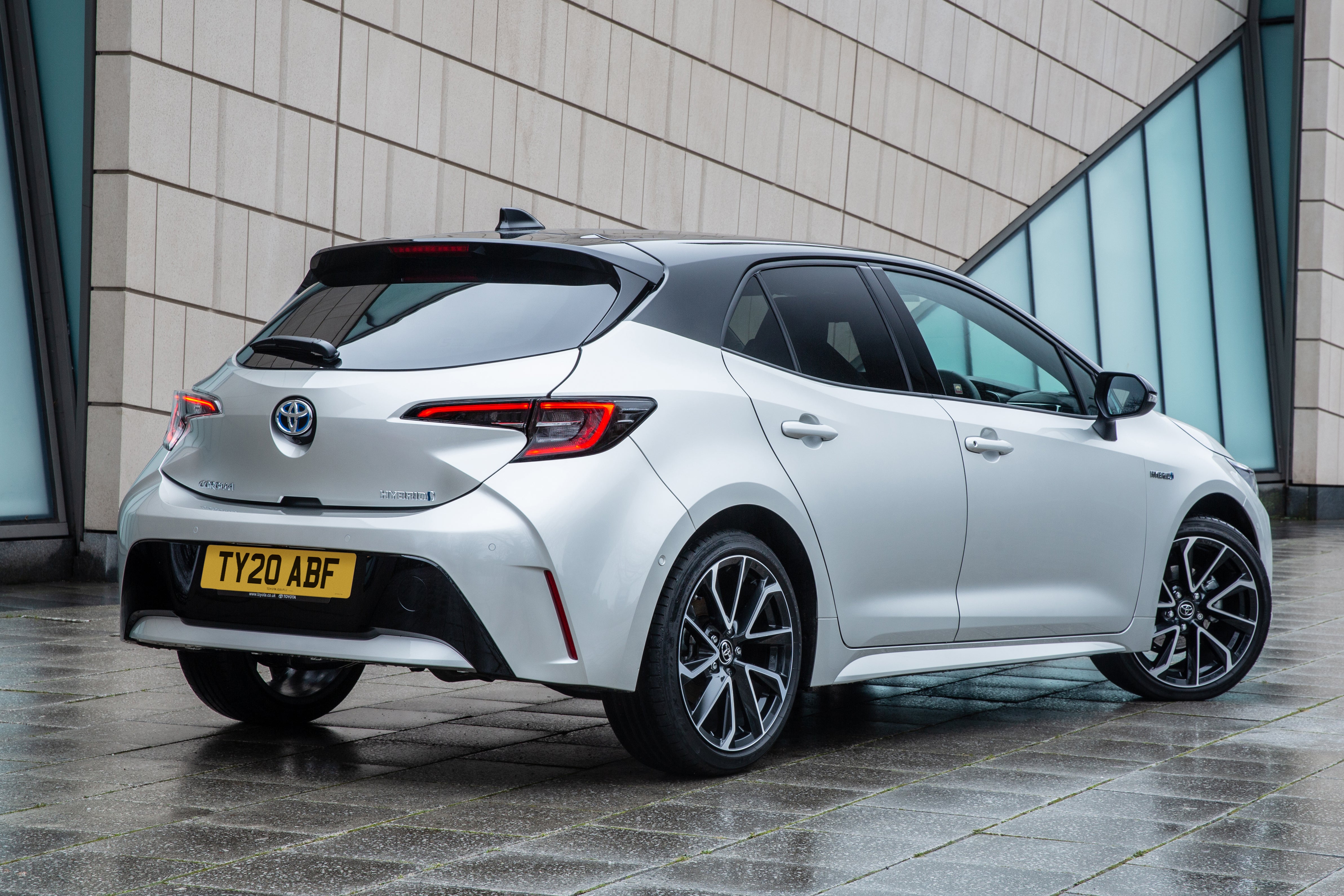 Nothing with a conventional petrol or a diesel engine can get close to those figures and the good news is that they're pretty accurate. In actual real world driving you're looking at 60mpg for the 1.8 and 48mpg for the 2.0-litre. The 1.2 petrol is still good at 47mpg.
How reliable is the Toyota Corolla?
Is you're looking for a reliable car, then you're not going to go wrong with a Toyota Corolla. As a manufacturer, Toyota enjoys an excellent reputation for reliability while the brand's been producing hybrid cars longer than most manufacturers. The Toyota Corolla doesn't appear to have any common issues reported since it arrived in 2019 and should prove to be an extremely reliable small hybrid car.
Insurance groups and costs
Insurance for hybrids can be more expensive than a conventional petrol or diesel. Insurers like to justify this with the fact they use more complex parts - we'll take that with a large portion of salt.
That said, the Toyota Corolla isn't especially expensive to insure with the 1.8 Hybrid in group 15, about the same as a 1.5 TSI Volkswagen Golf. The 2.0 Hybrid jumps to group 20 or 21 depending on the trim. Opt for the 1.2 petrol and it's group 17.
VED car tax: What is the annual road tax on a Toyota Corolla?
Thanks to low CO2 emissions, the first year tax on a Corolla if you're buying new is a manageable £110 if you go for a hybrid. The 1.2 petrol on the other hand is £215.
As it counts as an alternative fuel vehicle, both hybrid models are £140 a year VED rather than £150 if you choose the 1.2-litre. No Corolla comes near £40,000 so you don't have to worry about the 'showroom tax' expensive cars are penalised with.
How much should you be paying for a used Toyota Corolla?
"The cheapest Corolla models tend to be the 1.2-litre petrol so while you're not getting the benefits of the hybrid, this is still a well built and economical hatchback with used prices starting at around £16,000."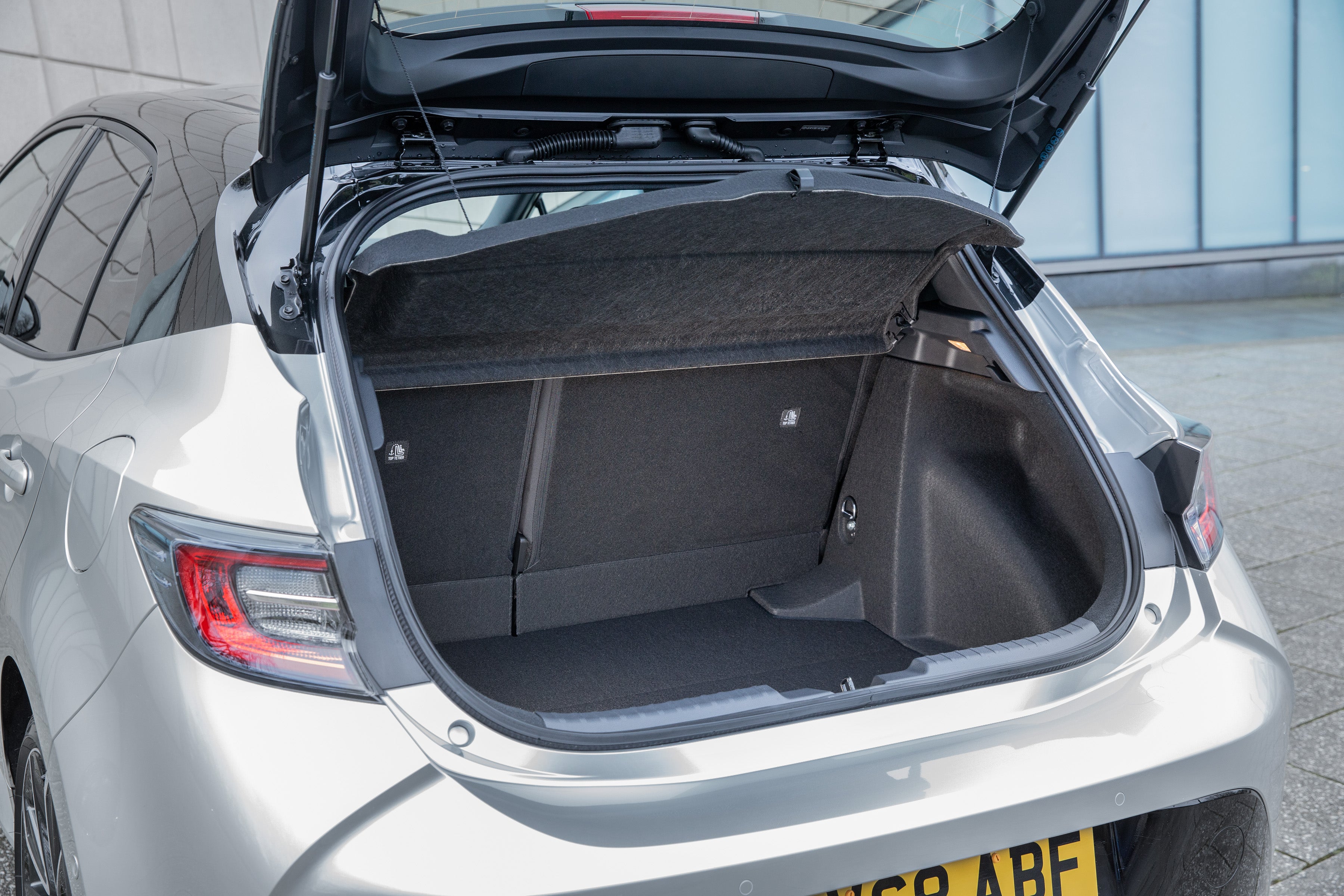 However, the Hybrid models are much more desirable and turn the Corolla from an everyday hatchback into an excellent one. As with all Toyota models, the hybrids hold their value better and prices start at £19,000 to £20,000.
Trim levels and standard equipment
The entry-level Icon is well equipped - there are no basic models in the Corolla range. It gets a 4.2-inch colour TFT information display, an electronic parking brake, electric windows, a reversing camera, the 8.0-inch infotainment system, Bluetooth, steering wheel audio controls.
There's also cloth upholstery, heated front seats and 16-inch alloy wheels, electrically adjustable heated door mirrors, LED headlights and daytime running lights.
The Icon Tech adds a 7.0-inch information display, intelligent park assist, rear parking sensors, navigation with voice activation. But we'd go for the Design which has rain-sensing wipers, 17-inch alloy wheels, electrically folding door mirrors, LED front fog lights and rear privacy glass. The Excel models come with part-leather upholstery and 18-inch alloy wheels.
Ask the heycar experts:
common questions
Is the 2022 Toyota Corolla a good car?
Very much so. The latest Corolla is a big step forward from its Auris predecessor. It looks great, has a nicely finished interior, and best of all, it's now much more rewarding to drive. If you want ultra-low running costs but also want to avoid buying a diesel, this is a great option.

When did Toyota stop making the Corolla?
Toyota never actually stopped selling the Corolla in the rest of the world, but did spend 12 years trying to convince European buyers that the Auris was a new model.

Which is the best Toyota Corolla model?
Our pick of the range would be the five-door hatchback in Icon Tech trim with the 1.8-litre hybrid engine. It's great value, has loads of kit, and will be the cheapest to run. The estate is not as roomy or practical as its rivals, and we think the car looks at its best in five-door guise.

What is the difference between the Toyota Corolla and the Corolla Verso?
These are actually separate models with similar names. So while the Corolla competes with the likes of the Ford Focus, the Corolla Verso was a spacious MPV that was designed as a people carrier. When Toyota dropped the Corolla name, it simply became the 'Verso' instead.

Answered by
heycar editorial team
Toyota Corolla cars for sale on heycar
3,659
Number of cars available
£16K - £37K
Price bracket of these cars
Colours available on heycar
Keep me updated by email with the latest advice, news and offers from heycar
By submitting, you agree to our
privacy policy
.