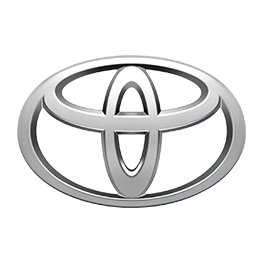 Toyota Corolla Touring Sports Review

Written by
heycar editorial team

heycar rating
Smart looking, fuel-sipping estate
Best bits
Sharp looker
Quiet, comfy and well built
Head-scratching fuel economy
Not so great
Limited engine range
Automatic gearbox dulls acceleration
It's not as spacious in the back as some rivals
Read by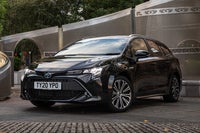 Overall verdict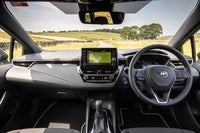 On the inside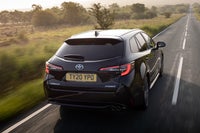 Driving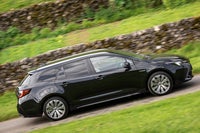 How much does it cost to run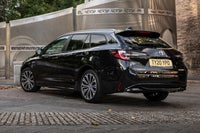 Prices, versions and specification
Overall verdict
"There's a lot to like about the Corolla Touring Sports. It can be a very relaxing car to drive, has an excellent specification and should be cheap to run too. It's not a thrilling drive and it could offer more space in the boot, but it's competent, likeable and likely to be reliable too."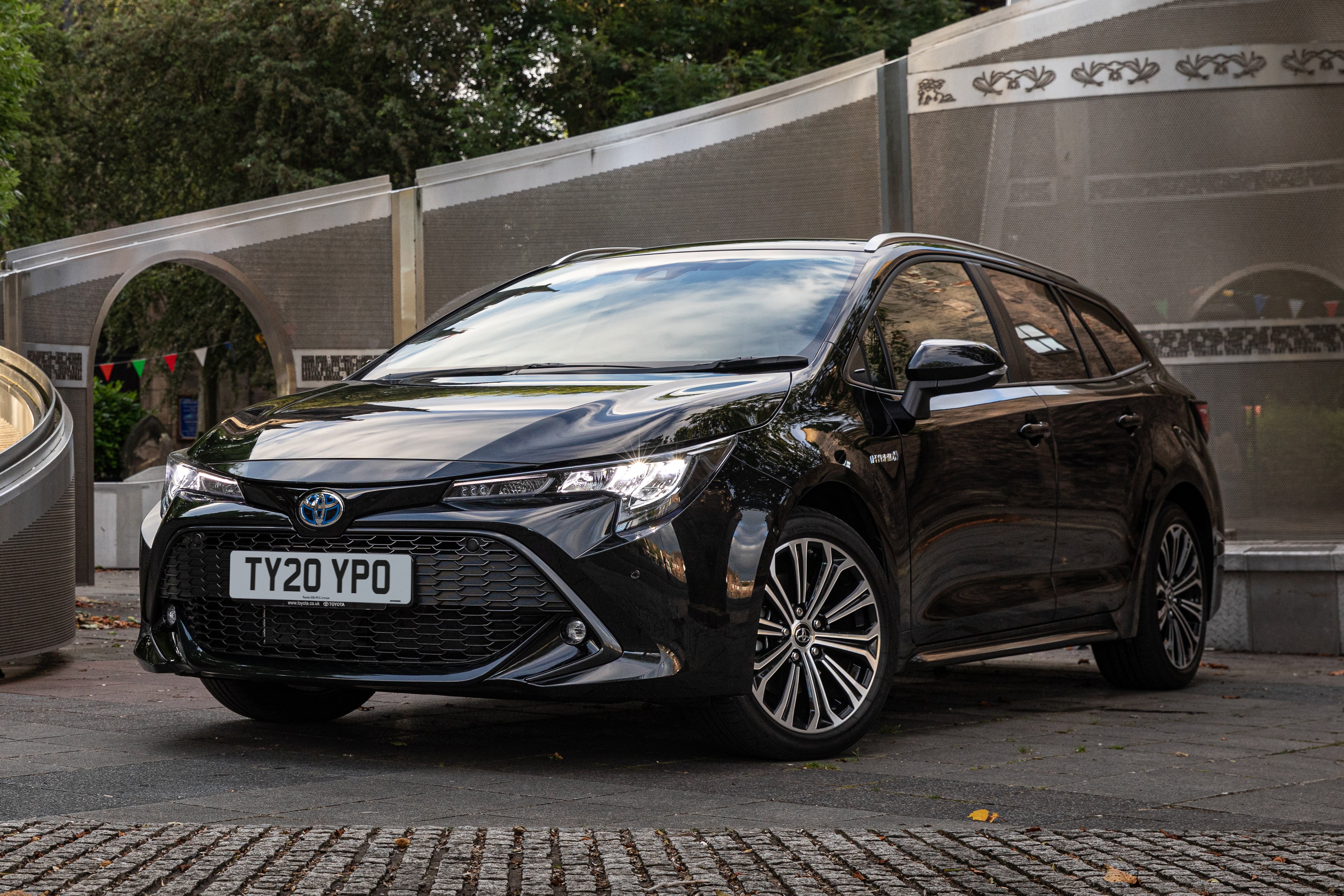 The Toyota Corolla Touring Sports was introduced to Europe in 2019 along with the Toyota Corolla hatchback it's based upon. It's got what no other Toyota this size had in a long time – desirability. It's a striking design with a mixture of curves and edges that's really rather appealing.
That carries through to inside. It's neat and minimalist, with a pin sharp construction. There's very little to see once you're passed the touchscreen and instrument display: no rows of buttons or switches, and the centre console and dashboard are separate elements, giving you a greater feeling of space.
The whole lot feels rock solid, too, but it isn't as high tech and it doesn't look or feel as posh as the interior you get in the Volkswagen Golf.
That's also true of the infotainment screen. Its fuzzy graphics are, pardon the pun, a graphic contrast to the crystal clear displays you get in the Volkswagen.
You can rest easy in the knowledge that the Toyota Corolla's infotainment is actually pretty easy to use and, more importantly, Apple CarPlay and Android Auto are fitted as standard to 2020 cars onwards.
These clever little apps can mirror your phone's display so you can use things like Spotify and Google Maps via the car's big screen, using the menus on your phone that, let's face it, you already know like the back of your hand.
What's not so great is interior space. Fine, there's plenty of room up front, but the back seat will be a little cramped for taller adults and the boot isn't the biggest – a Skoda Octavia Estate is better on both fronts.
Toyota was an early champion of hybrid power, and the Corolla Touring Sports embraces that fully. When launched, it was available with a choice of just three engines, one petrol – which was soon dropped from the lineup – and two petrol-electric hybrids.
The entry-level 1.8-litre hybrid has a modest 122PS and offers reasonable performance with exceptional in-town fuel economy, but if you plan on carrying significant loads then the more powerful 184PS 2.0-litre hybrid is the way to go. It's still cheap-to-run, but the additional performance gives noticeably more get-up-and-go.
The rest of the driving experience is not atypical for a mainstream Toyota. It is biased towards driver and passenger comfort rather than providing a thrilling drive. That said, its comfortable setup, allied to its quiet hybrid engines makes this one of the most relaxing family cars on the market.
Okay, so it's not going to leave you grinning like a patient on laughing gas, but it's direct steering and well-contained body lean means it's a car you can hustle about with complete confidence. Only the noisy and unresponsive CVT automatic gearbox – fitted as standard to hybrid models – spoils the fun. Still, it's the closest Toyota's got to matching the fun-to-drive Ford Focus.
And it's this all-round ability that makes the Toyota Corolla Touring Sports such a strong choice. It's nice to drive but comfortable, stylish to look at but also practical. Throw in Toyota's legendary build quality and the outstanding fuel economy of it's hybrid engines and you have an extremely strong contender if you're looking for a new family estate car.
Comfort and design
"Some of Toyota's offerings in the past have come with cabins that are perfectly usable but lacking in a great deal of character or much in the way of material quality. Thankfully the Corolla Touring Sports is a little more appealing in many ways."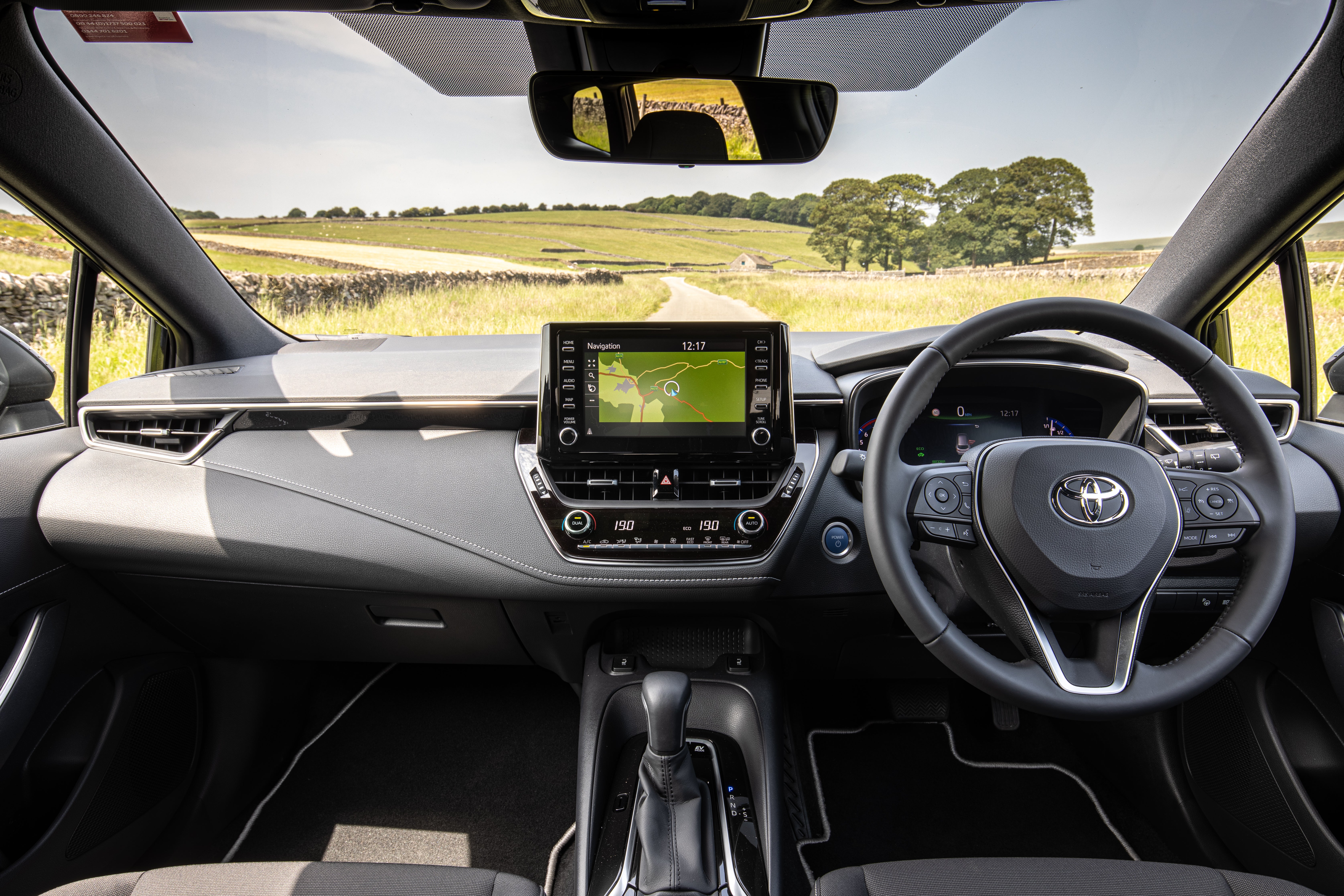 It's quite easy for the driver and passengers to get comfortable for starters. There's a good range of adjustment in the steering wheel and the seat, although the seatback adjustment is the lever type, which makes it more difficult to make minor adjustments than with the more common rotary knob.
The high level of standard equipment also comes to the fore here, with height adjustment for driver and passenger, electric lumbar support for the driver and head front seats standard even on the entry-level Icon grade.
Similarly, the design of the Corolla Touring Sports' cabin is attractive, if somewhat low-key. As with rivals, a central touchscreen dominates the dashboard, while the dashboard itself is relatively slim and falls away below the screen rather than flowing into the centre console. The effect is of a greater sense of space and that the key controls are front and centre to the driver.
It also means that the layout of the Corolla Touring Sports is quite simple to understand. Other than the controls for the heating and ventilation there are almost no buttons on the dashboard. It contributes to the fuss-free approach that makes the Corolla a car designed to make your journey less stressful.
Handling and ride quality
"Toyota has put a clear focus on comfort over handling for the Corolla Touring Sport. It offers an impressive level of comfort out on the road. "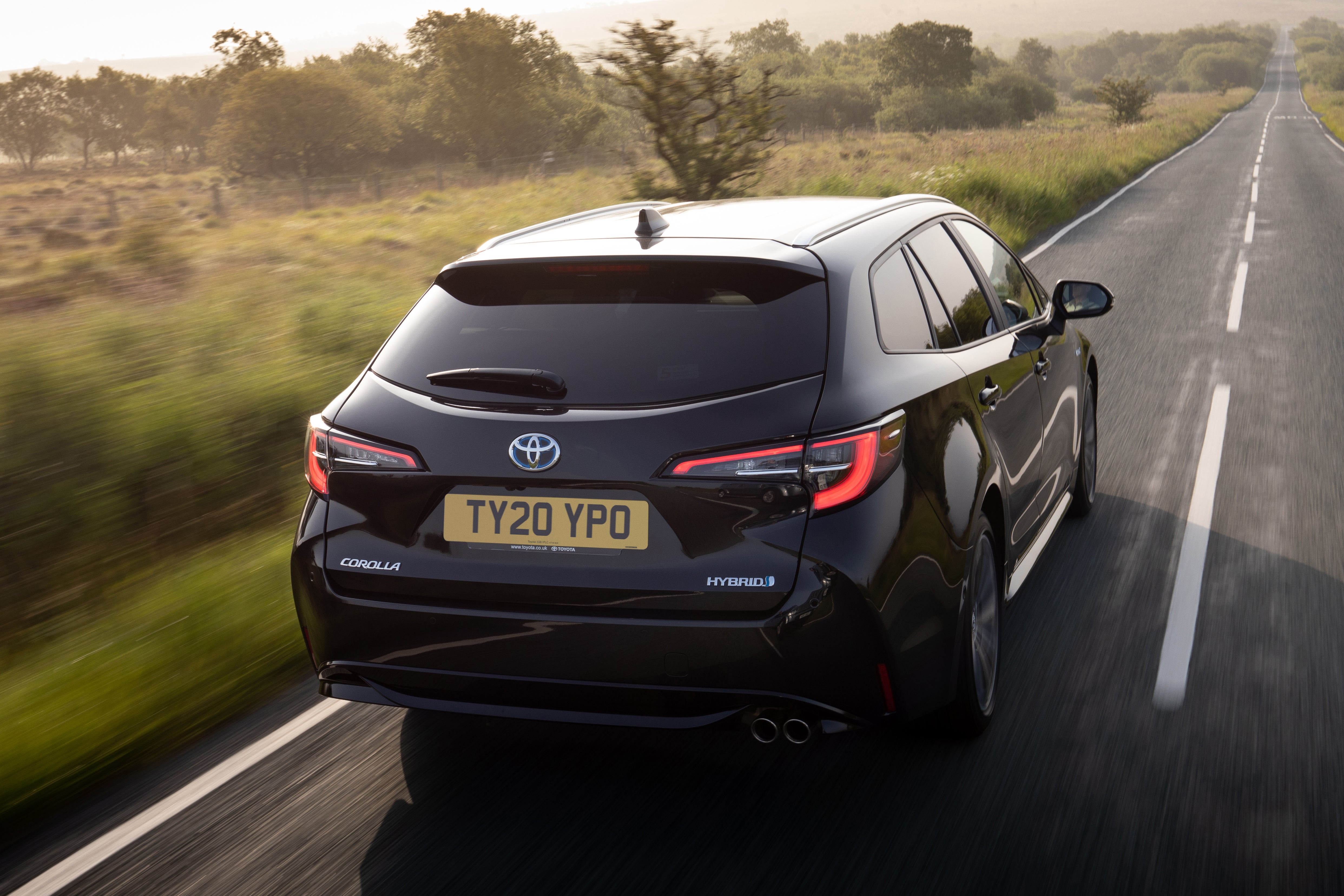 The suspension does an excellent job of smoothing out poor surfaces, and it takes a pretty substantial imperfection for it to cause a disturbance in the cabin. It makes the Corolla Touring Sports a comfortable car to travel in and makes long journeys less stressful and tiring.
The flip side of the softer suspension is that the Corolla Touring Sports is somewhat less capable than the best in class when it comes to handling. It is fair to say though that its performance in this respect is middling compared to its rivals, in normal driving it handles perfectly well, with steering that offers a reasonable degree of feel and a good weight, so the driver feels confident.
It is only when you start to push on that the Corolla is less willing to corner at speed, and the soft suspension results in a little body roll. For most buyers, this will rarely be an issue, but if you want a sporty family estate, the Ford Focus might be the better option for you.
MPG and fuel costs
"The official figures are a claimed maximum of 62.7mpg for the 1.8-litre model and 56.5mpg for the 2.0-litre, and you should find it possible to get pretty close to these figures."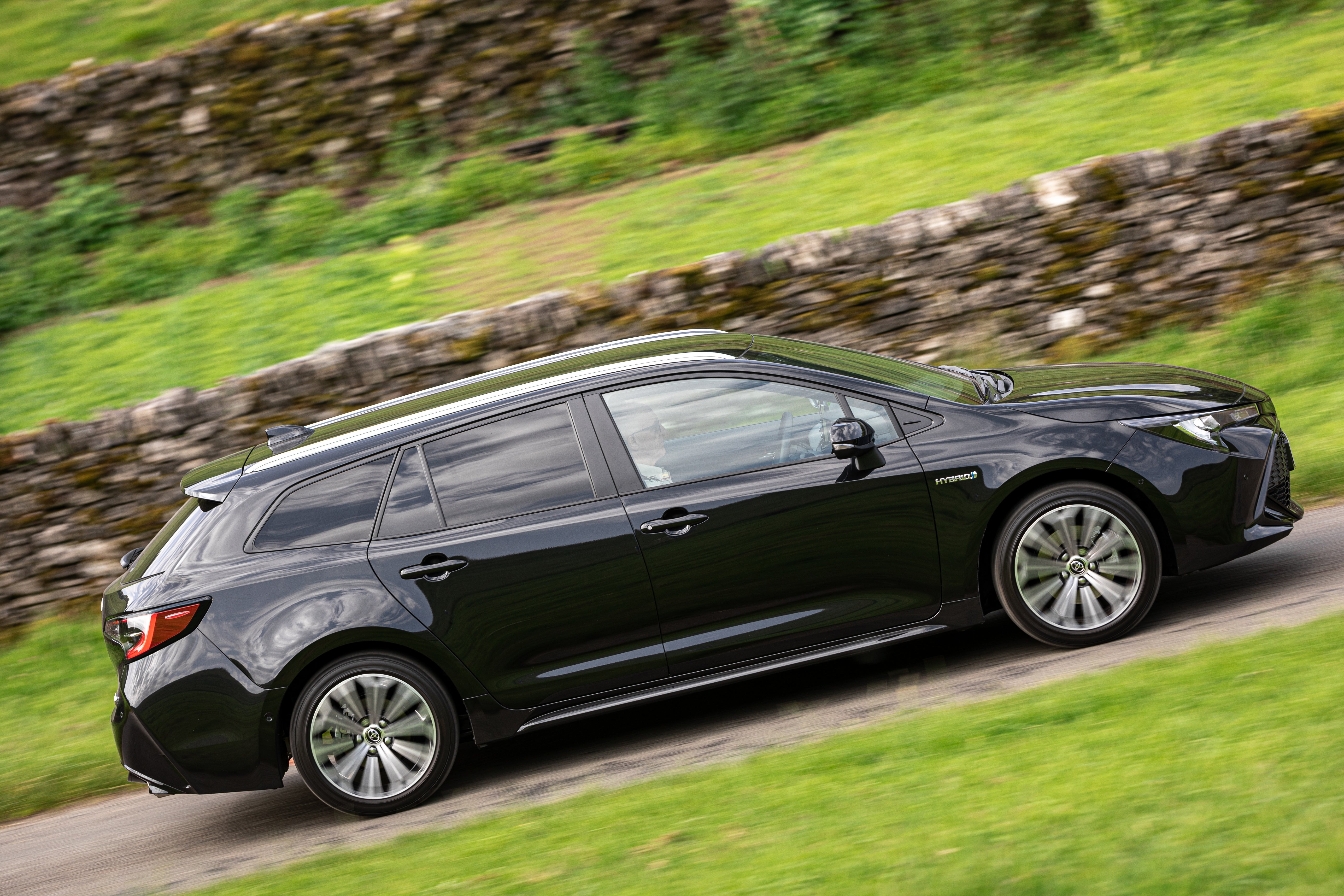 How you use the Corolla will affect its economy a great deal, as hybrids perform much better in traffic and low speeds where the regenerative brakes can do their thing when it comes to charging the battery. If you often do longer motorway journeys, a diesel model might be the better bet.
How much should you be paying for a used Corolla Touring Sports?
"The Corolla Touring Sports has not been on sale for many years, but is still being sold as a new car, so the amount of used stock will continue to increase as well as the availability of pre-reg bargains."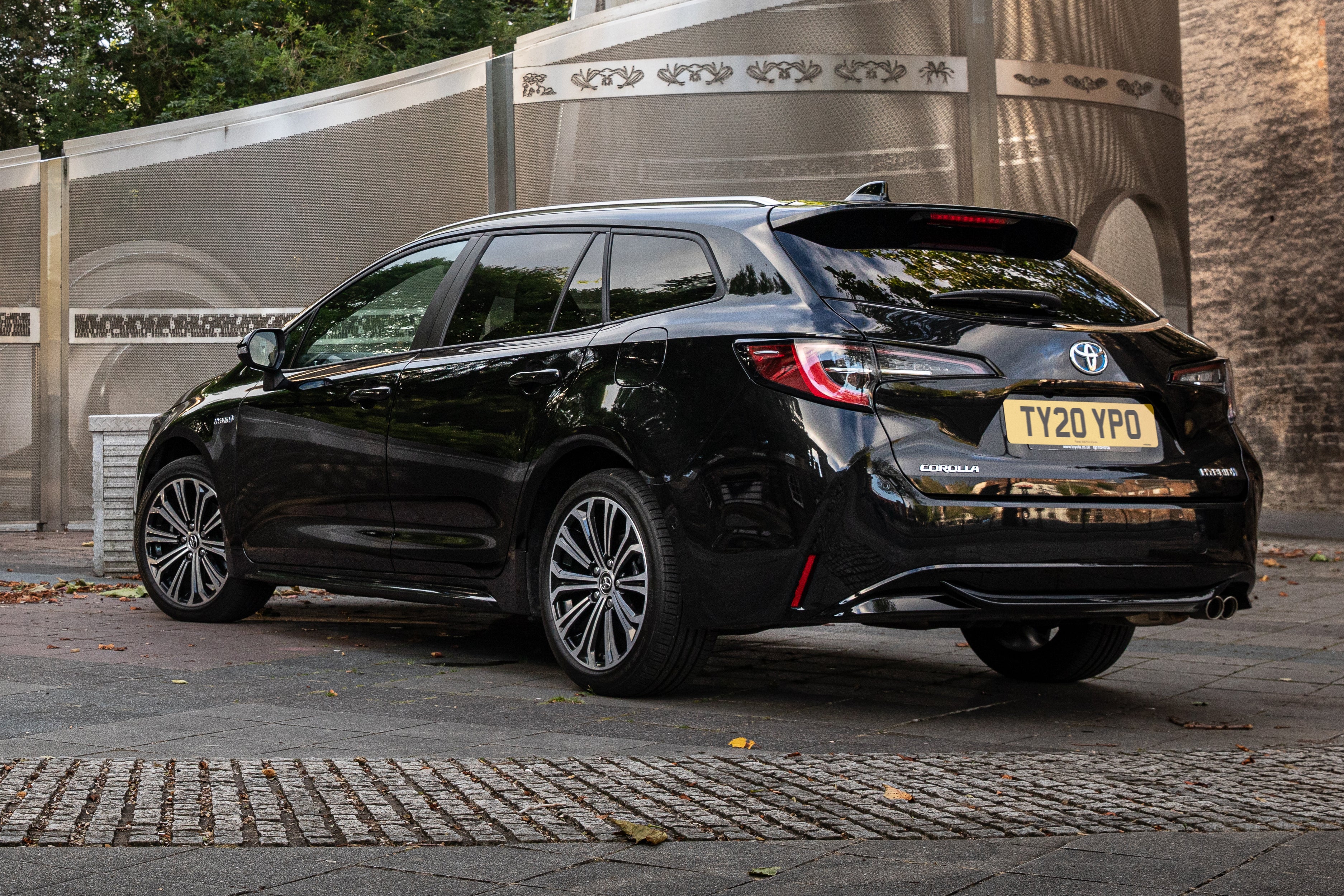 A quick search of the HeyCar classifieds brought up a number of very fresh 2020 models, we found a 1.8-litre Icon model with just 50 miles on the clock for £24,000, or a top-spec Excel model for £30,000.
At the other end of the scale, we found a 2019 Icon Tech with the old 1.2-litre petrol engine and just 7,000 miles on the clock for £16,000, or a 2019 Icon model with the 1.8-litre hybrid engine for £20,000.
Ready to get your top quality Toyota Corolla?
All cars come with a warranty
Selected dealers only
All quality checked
Toyota Corolla
1.8 VVT-i Hybrid Excel 5dr CVT
Manufacturer Approved
Listers Toyota Boston

Lincolnshire, PE216PA
PCP: £394.46/mo
Representative example: Contract Length: 36 months, 35 Monthly Payments: £394.46, Customer Deposit: £4,047.00, Total Deposit: £4,047.75, Optional Final Payment: £12,737.00, Total Charge For Credit: £3,605.85, Total Amount Payable: £30,590.85, Representative APR: 6.9%, Interest Rate (Fixed): 6.67%, Excess Mileage Charge: 4ppm, Mileage Per Annum: 10,000
Toyota Corolla
1.8 VVT-i Hybrid Design 5dr CVT
Manufacturer Approved
Steven Eagell Toyota Northampton

Northampton, NN39HX
PCP: £469.83/mo
Representative example: Contract Length: 36 months, 36 Monthly Payments: £469.83, Customer Deposit: £2,775.00, Total Deposit: £2,775.00, Optional Final Payment: £469.83, Total Charge For Credit: £1,188.88, Total Amount Payable: £19,688.88, Representative APR: 4.9%, Interest Rate (Fixed): 2.52%, Mileage Per Annum: 10,000
Is the Corolla Touring Sports right for you?
There are plenty of compact estate cars you can choose from, but the Corolla Touring Sports offers a different proposition to many of its rivals. It's big enough inside that it can be a good family car, although the rear seat space doesn't accommodate taller adults all that well and the boot isn't the biggest. But it is a comfortable car to travel in, which is always going to be good news if you are a parent.
Similarly, if you're not too concerned with how quickly your car can go around a corner, the Corolla Touring Sports is a sensible and solid choice. And don't even get us started on those brilliant, fuel-sipping hybrid engines.
What's the best model/engine to choose?
Of the two engine options, the 1.8-litre 122PS has everything you need, it's plenty quick enough and returns in-town fuel economy that'll take your breath away. That said, the 184PS 2.0-litre is a lot quicker and still very cheap to run.
As for trim levels, the standard specification is actually very strong. Basic Icon trim includes alloy wheels, adaptive cruise control, LED headlights, climate control, heated front seats, a touchscreen infotainment system with DAB, Bluetooth, Apple CarPlay and Android Auto, a reversing camera and a digital instrument display.
What other cars are similar to the Corolla Touring Sports?
Quality and finish
One aspect that has been pretty much a universal truth for many years now is that Toyota builds its cars to a high standard. The Corolla Touring Sports comes across as an attempt to retain this well-deserved reputation while adding a little more in the way of interest and luxury to make the cabin a more pleasant place to spend time.
Unlike in previous models, much of the dashboard and the key contact points are made from either soft-touch plastic or leather, which makes a significant difference to the ambience.
What hasn't changed is the solid feeling of the cabin itself. Everything still operates with assurance, and it feels like an interior that will happily cope with whatever gets thrown at it for some years.
Infotainment
Both versions of the infotainment system in the Corolla Touring Sports are very similar - they use an 8-inch touchscreen mounted high on the dashboard, and come with the Toyota Touch 2 multimedia system that incorporates USB input, Bluetooth, DAB and six speakers.
All versions also come with Apple CarPlay and Android Auto as standard, while Icon Tech models and above have inbuilt satellite navigation (not really needed from 2020 onwards when Apple CarPlay and Android Auto were fitted as standard).
The touchscreen itself is well-placed but the way it functions is a little less impressive. The graphics seem quite basic and a little blocky, while its response to finger prods it isn't always instant. If you're into your music, you'll also be annoyed to hear the eight-speaker 800W JBL stereo is only available as an option on top-spec Excel models.
Space and practicality
Unfortunately for the Corolla Touring Sports, it is someway behind its key competitors when you consider interior space. In the front, there is no cause for complaint. There is a good deal of space for both the driver and passenger, with a large range of adjustment in the seat for both fore and aft as well as height.
Adults over six foot should have no issues with headroom or legroom, and there is enough range of adjustment in the steering wheel that you can get comfortable and still have a clear view of the instruments. There's also a decent amount of shoulder room, so you won't feel squished together with your front seat passenger.
In the rear, it's less impressive. If you are an adult under 5'10 then you should have enough room to be reasonably comfortable, but headroom is an issue for anyone taller, and the same is true for legroom if someone tall's sitting upfront.
It's not helped by the fact that there is little room under the front seats for your feet. Plus, anyone sat in the middle gets a narrow and perched chair and, due to the transmission tunnel that runs down the centre of the car, there's less room for their feet.
As for boot space, the Corolla Touring Sports offers a reasonable amount of space for a car of this size, but once again it is some way behind the key competitors.
With the rear seats in place there is 581 litres of space available – that's less than the Skoda Octavia and Volkswagen Golf which can both offer more than 600 litres – but more than the Vauxhall Astra Sports Tourer (540 litres).
Fold the rear seats – by yanking a couple of convenient levers at the front of the boot – and the Toyota's capacity increases to 1,606 litres.
Engines and gearboxes
With the 116PS 1.2-litre turbo petrol consigned to the history books, you now get two petrol-electric hybrids to choose from. Both engines are four-cylinder units driving the front wheels through a CVT automatic gearbox with the 1.8-litre offering 122PS and the bigger 2.0-litre unit delivering 184PS.
In most circumstances the 122PS 1.8's performance is sufficient. It can deal with urban traffic with relative ease and is happy to cruise at higher speeds, but the lack of significant torque makes itself known when you try to accelerate briskly and you'll also have to put up with the engine roar caused by the CVT gearbox's keenness to hold revs.
The 184PS 2.0-litre is significantly quicker than the 1.8-litre version, and if you plan to fill the car regularly then it might be the better option. It's more relaxing to drive because you don't need to work it so hard to make progress.
Refinement and noise levels
The Corolla Touring Sports is very much a mixed bag when it comes to refinement and noise levels, and much of that is down to the hybrid powertrain. When it's operating on electric power only – which will be the vast majority of the time if you're driving in town – it's silent.
Even out of town the Corolla can run on electricity up to speeds of 70mph for short periods, which makes up somewhat for the sustained engine drone the CVT gearbox causes when you're accelerating.
Outside of the engines, road noise and wind noise levels are acceptable, with the usual issue that cars riding on larger alloy wheels tend to generate additional tyre noise.
Safety equipment
The Toyota Corolla hatchback was awarded five stars when it was crash tested by EuroNCAP in 2019, and those results can also be applied to the Touring Sports.
As standard, all Corollas get front airbags including a knee airbag for the driver, side chest and pelvis airbags for the front seat passengers and curtain airbags for front and rear passengers. Isofix child seat mounting points are fitted in the outer rear seats as well as an airbag deactivation switch for the front passenger seat.
All Corolla models also benefit from autonomous driving aids that mean they can accelerate, brake and steer themselves on the motorway. Meanwhile, their automatic emergency brakes can detect other vehicles as well as cyclists and pedestrians.
All versions are also fitted with hill start assist, a speed limiter and a reversing camera, while only Icon models do without standard front and rear parking sensors.
Insurance groups and costs
With just two engine options and no variations between trim levels, the insurance groupings for the Corolla Touring Sports are pretty straightforward. The 1.8-litre model falls into Group 15 whether it is the basic Icon trim or the top spec Excel model, while the 2.0-litre version is in Group 21 - even if you have the JBL sound system and the optional panoramic roof. That said, some rivals are cheaper to insure.
VED car tax
No Toyota Corolla Touring Sports costs the earth to tax. The 1.2-litre non-hybrid version is charged at £150 per year, while all current versions with the hybrid powertrain pay £140 per year.
Trim levels and standard equipment
Even the basic Toyota Corolla Touring Sports gets self-drive tech that means it can accelerate, brake and steer itself on the motorway and in traffic.
Icon is the entry-level trim, but you get an impressive amount of kit. Including (take a deep breath): 16-inch alloy wheels, bright-shining automatic LED lights, heated front seats, electronic lumbar adjustment for extra support on long journeys, dual-zone climate control that means you and your passenger can set your own temperature, automatic headlights, a reversing camera and DAB.
Icon Tech adds a seven-inch TFT display in the instrument binnacle, Toyota Park Assist, front and rear parking sensors, plus the infotainment screen gets built-in sat-nav.
Design models look sportier. They get 17-inch alloy wheels, LED front fog lights and tinted windows. They also add kit such as an auto-dimming rearview mirror that prevents glare, rain-sensing wipers, dark tint rear privacy glass and black side sills.
Excel models are the most luxurious. They add powerful bi-LED headlights, part-leather seats and electronically retractable door mirrors.
GR Sport models, meanwhile, are the sportiest. They get a distinctive body kit and 18-inch alloy wheels, while inside there's a fighter-jet style head-up display and body-hugging sports seats.
Learn more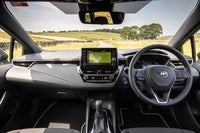 On the inside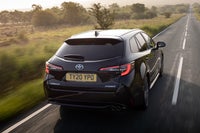 Driving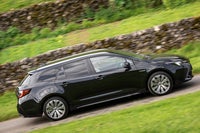 How much does it cost to run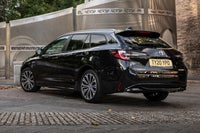 Prices, versions and specification
Reviews of similar cars
Quality checked, all cars less than 8 years old and warranty included
Looking for other Toyota cars?
Quality checked, all cars less than 8 years old and warranty included