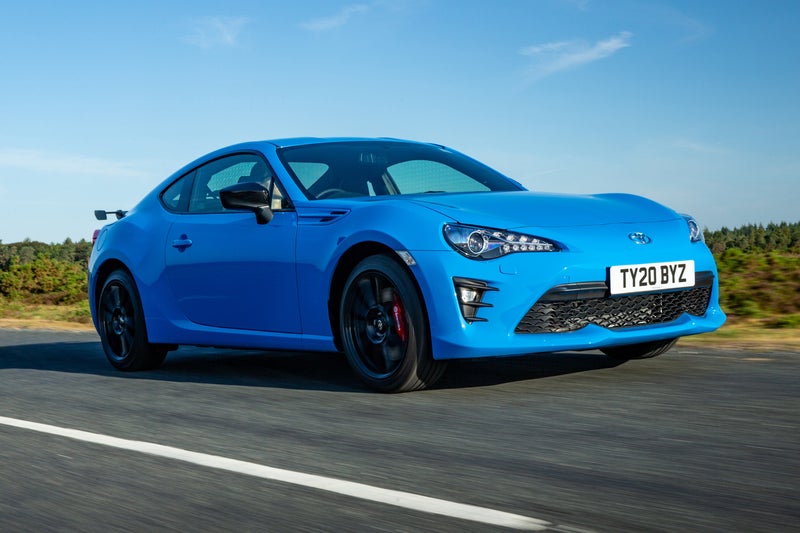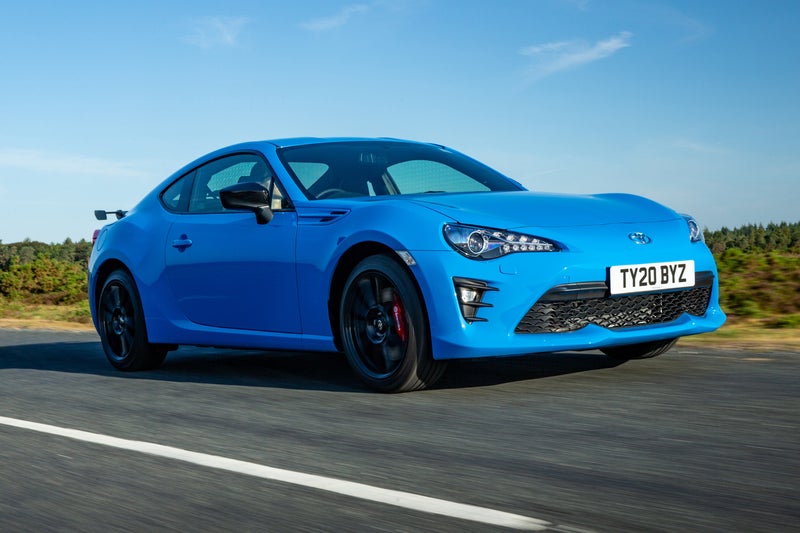 1/10
heycar rating
"Purist, joyous, Toyota sports car"
Launched: 2012

Coupe

Petrol
Quick overview
Pros
Singular driver focus not at the expense of usability, or specification
Hugely entertaining chassis and crisp manual transmission
Light weight aids not just performance and handling, but delivers decent economy too
Cons
The interior is pretty rudimentary
Choosing the auto blunts the performance
Those rear seats are seats in name only
Overall verdict
On the inside
Driving
Cost to run
Prices and Specs
Overall verdict
"We're not going to deny that we're big fans of the GT86 and what it represents, but realise, too, that it's not a car that'll appeal to everyone. If you love driving, then the GT86 is an absolute joy, if you like the idea of a coupe, but aren't so fussed on driving then you'll be better served elsewhere. Back to basics fun, which in today's digital, numbing and electronic driver aid interfering age is an absolute joy."
Fun and Toyota might not be obvious bedfellows but in 2012 the reliable automotive giant revealed its party spirit, serving up a light, compact and affordable sports car, the Toyota GT86.
Toyota has made enjoyable driver-focussed cars previously, the MR2, Celica and Supra spring to mind, but it had been years since the brand had had anything to tease an enthusiastic driver to visit a Toyota showroom, but that changed with the GT86.
Toyota's volume might be humdrum hatchbacks and virtue signalling hybrids, but the GT86 also exhibits the company's core engineering expertise, and obsession.
Indeed, the GT86's name not actually derived from the AE86 Corolla that was, and remains, an icon among Japanese Domestic Market (JDM) fans, but actually a hat tip to the cylinder bore diameter – and that of the Celica GT4 and MR2 before it.
Try mentioning that to even your most car-obsessed friends though and you'll be the bore in the discussion. Focus then on Toyota's attention to detail on keeping the weight low, the power sensible and the grip modest, all in the pursuit of exploitable, enjoyable driving dynamics.
The GT86 isn't a car that's all about power, indeed, the GT86's 200PS output is the same as you'll find in something like a Ford Fiesta ST, while the 7.6 second 0-62mph is beaten by something as crushingly sober-suited as a rep-spec BMW 320d. The fun is in the GT86's chassis, with rear-wheel drive, the handling is sharp and enjoyable, its a car that you can wring out on the road without fear for your licence, it's performance, and limits such that it's enjoyable at sensible speeds.
The GT86's conception is the result of a flirtation with Subaru, Toyota having bought a share in Subaru's parent company, and thus partly owns it. That explains the specification of the GT86's engine, it a flat-four, or boxer unit, which Subaru is famed for building. It also explains why Subaru builds the GT86 at one of its factories, and also sells its own BRZ, which is a GT86 wearing Subaru badges.
That unusual engine configuration fits perfectly with Toyota's goals with the GT86, it sitting low in the chassis, allowing for excellent weight distribution, and a low centre of gravity, all of which is to the benefit of how the GT86 responds to your inputs behind the wheel.
Lauded collectively by the automotive world when it arrived, its sales haven't exactly been stellar, but Toyota lightly face-lifted it in 2017.
There's still talk of a replacement, though with the Supra now back in Toyota showrooms that might have been canned. Fingers crossed it's not, as while sales might not be huge, Toyota's commitment to offering a purist, light, affordable and enjoyable driver's car is to be applauded, and it really is a hugely fun car to drive, and, being a Toyota, certain to be reliable, too.
Is the Toyota GT86 right for you?
We're not going to lie, the GT86's audience is limited, but if you've read through the above paragraphs, typed GT86 into your preferred search engine and browsed a brochure then carry on. It's a driver's car, and one that appeals to those out there who really appreciate proper driving.
There's no big hitting power to wow your friends with, the comparatively low output of the 2.0-litre flat-four engine needing working hard to produce its performance, but that's kind of the point.
The focus really is on its handling, the purity of its responses and the ability to exploit its fine balance, and if that appeals, then the GT86 should be at the top of your list for consideration.
If you want more pace spend your money on a decent hot hatch, you'll find more comfort in something like an Audi TT, too, but if a rear-wheel drive, light, fun car appeals, with a modicum of practicality – it being a 2+2, with tiny rear seats – then, yes, the GT86 is right for you.
What's the best Toyota GT86 model/engine to choose?
There are currently three models, in 2020, the GT86, GT86 Pro and the GT86 Club Series. All are powered by that naturally aspirated 2.0-litre boxer engine, mated to either a six-speed manual or a six-speed automatic transmission. We'd recommend that manual, as it's absolutely central to the driving experience, the automatic, while slick shifting enough, robbing the GT86 of its core enthusiast appeal as well as blunting the performance – adding a not insignificant 0.6 seconds to the 0-62mph time.
A basic GT86 loses nothing significant in relation to specification over its GT86 Pro alternative, save a few finer interior finishes and heated front seats, so it's really down to your budget. Even then there's not a huge leap in price, we're talking around £1000, so we'd suggest a GT86 Pro manual if we were buying one.
What other cars are similar to the Toyota GT86?
There are very few cars which we'd consider direct rivals, particularly at the GT86's price point, but it'd be remiss not to mention the Mazda MX-5 here, it too being Japanese, compact, light, rear-wheel drive and driver focussed.
It's also a roadster, the GT86 being coupe only. Alpine's A110 sings off the same hymn sheet as the GT86, but it's at least £20,000 more. The GT86 likely to tempt some drivers out of hot hatches, or older, used sports cars.
You could also buy something like and Audi TT, but it's a different proposition on the road, insomuch as it looks good, but the GT86 is significantly more fun to drive. Oh, and of course, the Subaru BRZ, which is the GT86's near identical twin.
Comfort and design
"Usual sports car compromises aside, it's comfortable. Those compromises include the low driving position, which makes getting in and out of it less easy than the hot hatches you might consider as an alternative, but it's unfair to criticise the GT86 for being low, as that's part of its appeal."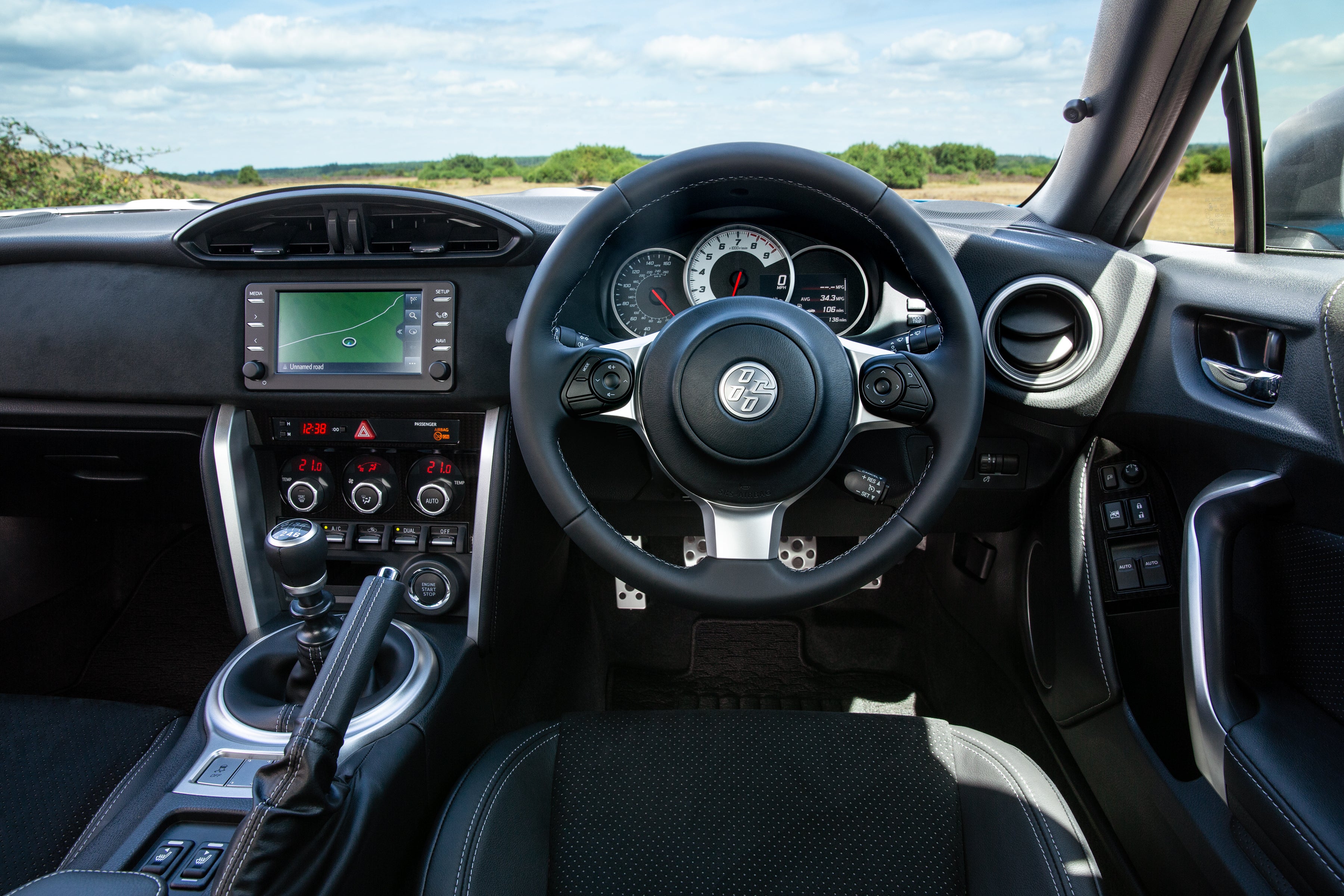 The design inside is best described as functional, it not exactly rippling with eye-pleasing style, but, then, that functionality works entirely with the GT86's clarity and purposeful goals.
Simple, unfussy and easy to operate, then, the dials are big and clear, all the controls sensibly positioned, and things like the ventilation and heating controls unambiguous in their operation, too.
Comfort inside is decent, then, the sports seats hold you in the correct places, their designed to hold you in when you're cornering briskly, but that also translates to excellent support on a longer drive. The driving position is spot-on, sat low, you feel connected to the GT86, while the steering wheel is small and actually round – eschewing the trend for chopped bottomed, or worse, squared-off steering wheels – the column it's attached to adjusting for both rake and reach.
It's a 2+2, too, which means there are seats in the back, but they, like all other 2+2s, are best reserved for emergency use, or occasional service for your smallest of children. Opt for the Pro model if you want those sports seats heated, though all come with dual-zone climate control, so both you and your passenger can seat your preferred temperature.
Quality and finish
You need to understand Japan's idea on quality before being overly harsh on the GT86. Hard plastics are seen as quality, because they'll wear well. Measured by that rationale, the GT86 is very high quality, but if your expectations are of soft-touch tactile materials then you'll be disappointed. It all feels incredibly well built, though, as well as feeling like it'll last forever.
The finishes have improved throughout the GT86's lengthy life, and go for the Pro model and you gain things like a suede on the dashboard, as well as the door trims, which does reduce the shininess and plastic finishes somewhat.
For all that, it does live up to its focussed billing, indeed, to overly criticise the simple interior and hard materials is to misunderstand the GT86's focus, it's fairly unapologetic in its goals, and it's evident in the 'quality', or at least the visual and tactile perception of it.
Sure, some of the materials feel laughably hard and look cheap when compared to something like an Audi TT, but on the road, actually driving it rather than poking around the interior, it'll be the GT86 driver who's wearing a far bigger grin, and that's absolutely the point here.
Infotainment
Like the rest of the interior, the infotainment feels a little bit previous era, so much so even its double-DIN (DIN being the old size standard for car stereos when you used to swap them out after they were pinched) sizing looks like an afterthought. The idea is that you'll be too immersed in your driving to be worried about messing about with your infotainment, but even so Toyota understands that there's some need for connectivity in the GT86.
That central touchscreen contains all you need, its 6.1-inch screen clear enough, if lacking the sort of sophisticated graphics and operation of rival's newer offerings, it having Bluetooth phone connection, DAB and aux-in and USB connectivity.
That all plays through six speakers. Navigation is a cost option in all, and around £800, so you might want to just buy a map, or fix your smartphone to a mount and use Waze or Google Maps instead. No Apple CarPlay, or Android Auto, sadly, but some aftermarket suppliers are able to rectify that if it's an essential.
Space and practicality
The driving position is excellent, and there's plenty space across the front seats. The rear seats are a different story, as they're limited by the proximity of the rear screen limiting the headroom, as well as the closeness of the front seatbacks.
You might squeeze a couple of small children in there, and there's ISOFIX mounts on both rear seats, but you'd not want to be doing so very often, or for anything other than the shortest of trips. Access to them, too, isn't great, and with the deep divide as a result of the transmission tunnel running between them, clambering over from one side to another to get out is particularly tricky.
Given most cars in this category are pure two seaters, though, the GT86's rear pews are a benefit, but more in relation to additional luggage space. That's useful, as the boot isn't overly generous in its volume, with 237-litres, access to it being the limiting factor, as the boot lid opening leaves a fairly narrow, and high opening. There's the possibility to fold the rear seatbacks, though for a volume of 391 litres, which does mean with a bit of wrestling you'll squeeze a surprising amount inside.
Oddment storage throughout the cabin isn't overly generous, there being a lidded compartment between the front seats, a small glovebox and door bins. No cup holders, though if you're driving the GT86 you'll not be needing a coffee to keep you awake.
Handling and ride quality
"The GT86's appeal is centred around its ride and handling, and that much is obvious the second you pull away in it. The steering offers fine weighting, quick, incisive response, while the rear-wheel drive layout of the drivetrain means they're uncorrupted by power, as you'll find in rivals like the Audi TT and all those hot hatches you might have considered instead."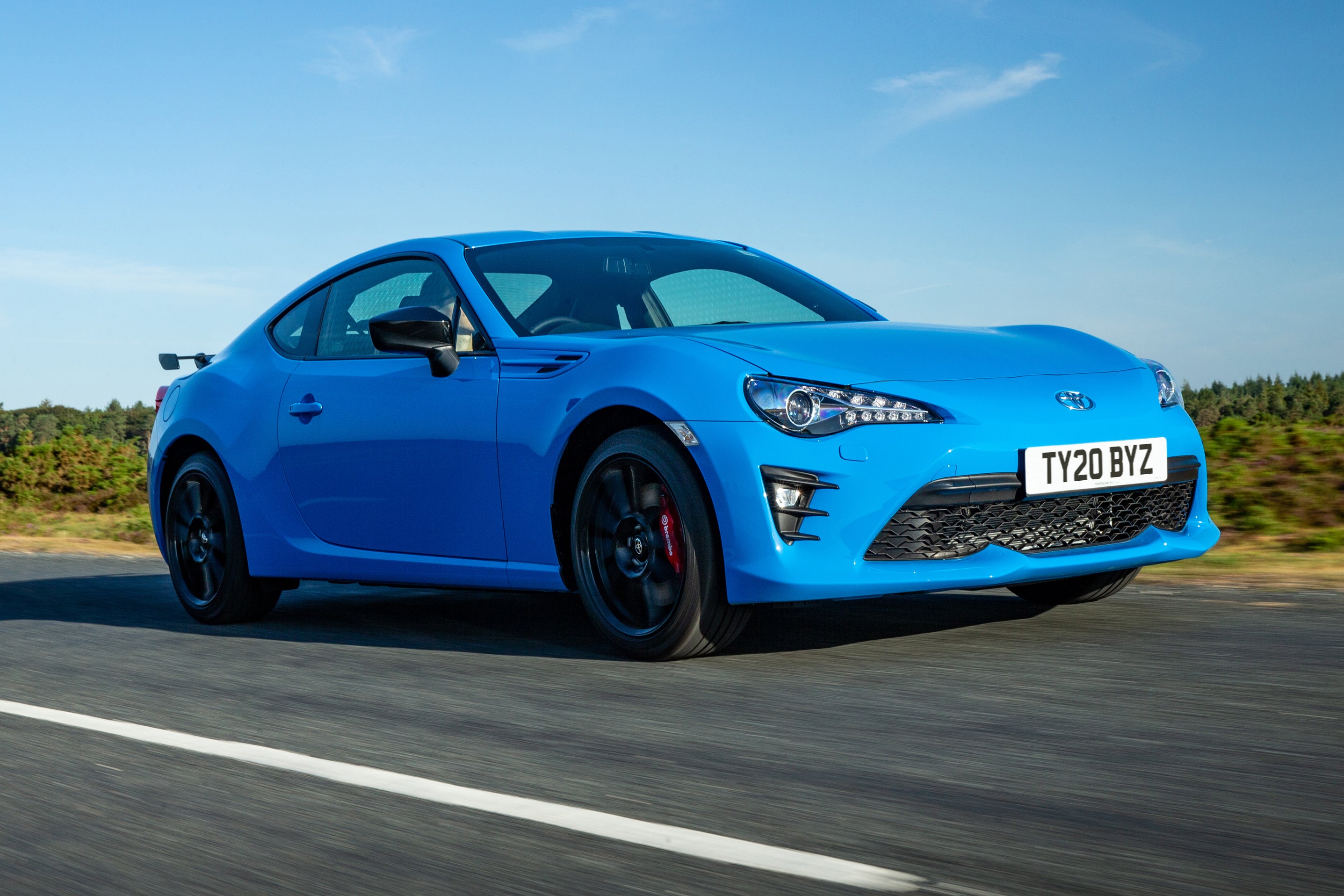 As purist driving goes, it's as good as it gets, without resorting to the sort of incredible compromises of something like a Caterham 7.
The fine balance of the chassis is clear with the handling accuracy and detailed feel it offers. It's very nimble, with quick, predictable turn-in, and real adjustability if you want it, or assured grip and traction if you're not.
The tyres, despite their comparatively small footprint on the road deliver good levels of lateral grip, and when they break away they do so in a very predictable and easily collected manner.
It all feels like it's moving around underneath you, but rather than that being something that should concern you, it all feels like it's something to be enjoyed, and exploited. Fun on the road, at all speeds, and, should you take it to a track, you can really revel in the chassis' playfulness up and beyond its levels of grip.
Riding firmly as a result of all that, the GT86's light weight does mean that it doesn't feel overly compromised as a result, the damping nicely judged, it a car that you can realistically drive everyday should you want to.
And, there's a good chance you will, as it really does turn every journey into something to be enjoyed, rather than endured. The standard brakes are more than up to the job of stopping it, but if you want greater stopping power the GT86 Pro and Club Series can optionally be specified with Brembo brakes and a Sachs suspension upgrade which sharpens up the handling a bit further, without being detrimental to the ride quality.
Engines and gearboxes
There's only one engine for the GT86, a 2.0-litre four-cylinder boxer unit which was designed by Subaru with some input from Toyota. It's not over-endowed in the power department, indeed, 200PS in any performance car these days is relatively low, but the GT86 isn't really about numbers, the 7.6 second 0-62mph time bettered by countless cars.
Here it's all about how it produces its performance. Without any turbocharging it's an engine that needs working hard, the response is relatively flat below 4,000rpm, with the power building towards 7,000rpm where it generates that 200PS peak output.
The maximum torque is similarly high up the rev-range, with 205Nm arriving at 6,400-6,600rpm, meaning if you're used to the easy flexibility of modern turbocharged engines you might find the GT86 lacking.
Hang in there, literally, holding onto gears, revving it out and it's a real thrill, the six-speed manual shifting with a mechanical precision, the throttle response being very good, too. It's not needing to shift much bulk, either, the GT86 a relative featherweight at under 1250kg.
There's an automatic option, it a conventional, torque convertor automatic with the ability to shift yourself via paddle-shifters, but however smooth its shifts prove, it robs the GT86 of its character, as well as its performance, adding to the 0-62mph time, for a time of 8.2 seconds. That auto also lops 10mph off the 140mph time of the manual car.
Refinement and noise levels
The pair of exhausts have a diameter of 86mm, that deliberate, though the attention to detail here could have gone further, as they're not the most melodious of pipes, which is why many owners end up specifying aftermarket exhaust systems.
Refinement inside is, unsurprisingly, not great, there's a fair amount of road and wind noise in the cabin, which Toyota could have removed by adding weighty sound-deadening, but evidently, and correctly, chose not to.
It's not a quiet car then, but neither would we expect it to be, though it's a shame some of the sounds aren't more pronounced like that exhaust, and others, the road and wind noise, a little bit better contained.
Safety equipment
Toyota might have taken a purist driving route with the GT86, but it's not done so at the expense of safety. All come with LED headlights, an anti-lock braking system with electronic brake force distribution, an emergency brake light signal – flashing under heavy braking – Vehicle Stability Control, Traction Control, Hill Start Assist, a tyre pressure warning system, Isofix seat fixings in the rear seats, driver and front passenger whiplash injury reducing seats with seatbelt pretensioners.

The airbag count is high, too, there being seven airbags inside, including driver and passenger front and side airbags, a driver knee airbag, as well as overhead airbags to protect occupants heads in the event of a rollover. Cruise control is also standard but you have to pay extra for rear parking sensors. American crash testing results, EuroNCAP having not tested a GT86 - demonstrate that Toyota and Subaru's sports car will protect you well, getting a four out of five star rating under their system.
MPG and fuel costs
"Tested to the latest, and reasonably achievable WLTP testing procedures the GT86 returns a credible 33.2mpg in manual form, and 32.8mpg with the automatic transmission."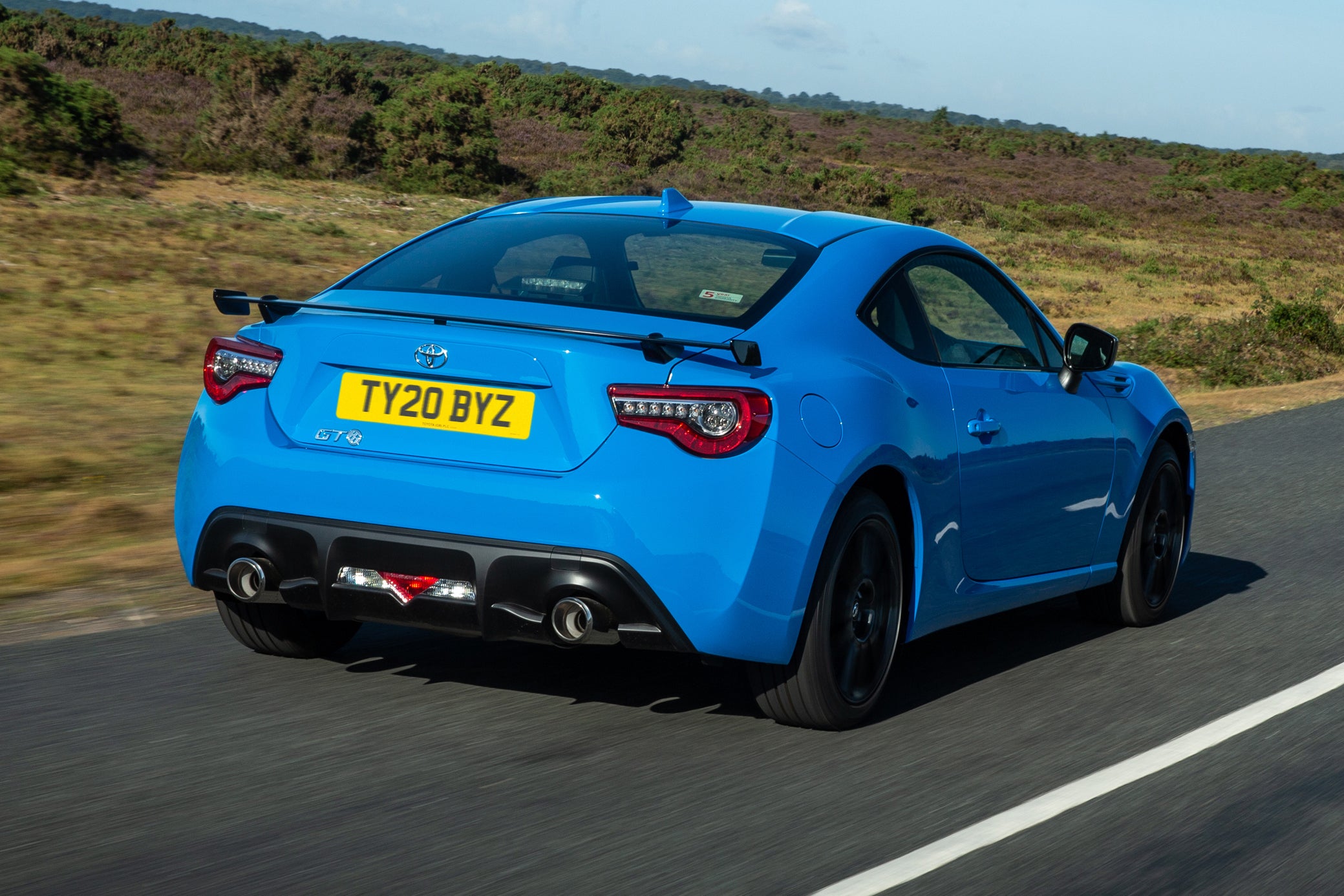 Even tested via the old mpg ratings the GT86 always did well, and driven sensibly it'll return decent economy. Think high 20s then in the real world, more on a long run, but it will dip below 20mpg if you're really enjoying it.
Insurance groups and costs
The GT86 sits in either group 34 for the manual car, or group 35 for the automatic, Toyota offering its own competitive rates on insurance. Servicing shouldn't break the bank, either, as the GT86 will be light on things like tyres and brakes, and even these aren't high cost items. There's fixed price servicing packages available from Toyota should you want to manage your costs with a monthly payment.
VED car tax
The manual GT86 emits 191g/km of CO2, with the automatic that rising to 193g/km. That's enough to put it in the 191-225g/km banding, which means an initial VED payment of £1,305, with that dropping to £150 annually thereafter. All come with a 5 year, 100,000 mile warranty (which can be extended by 12 or 24 months, up to 12 years and under 100,000 miles) and 12 months AA roadside assist in UK and Europe.
How much should you be paying for a used Toyota GT86?
"With the GT86 having been around for long time now, there's good availability of used stock, to suit all budgets. Very high mileage examples can be had under £10,000, but they're relatively rare."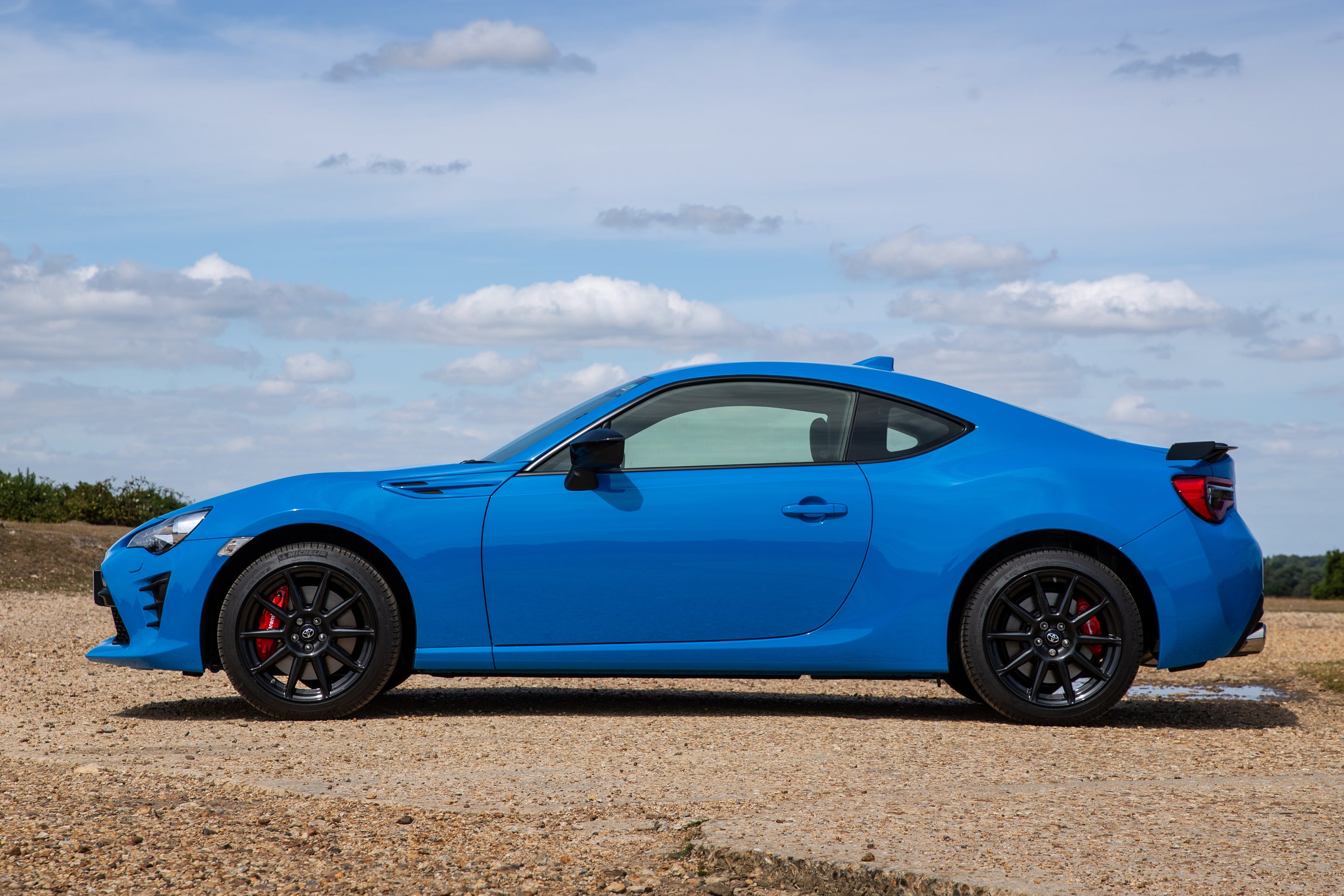 Instead, that same £10,000 can be considered the starting point for reasonable mileage, early GT86s. Automatics are a little bit cheaper used, though not so much that we'd suggest it over the more enjoyable manual cars. Toyota dealers have plenty of used examples if you'd prefer buying from there, its approved used scheme adding the peace of mind of a 12 month warranty. GT86s from Toyota's dealer used stock are available from about £15,000.
Trim levels and standard equipment
Three trim choices in 2020, the standard GT86, the GT86 Pro and the GT86 Club Series. With the standard GT86 you really want for nothing on specification, with the notable exception of rear parking sensors and sat nav.
The GT86 Pro gains heated seats covered in a choice of partial leather and suede, with either black or red accents, there's a leather centre armrest, suede wrapped dashboard and door trims as well as a rear spoiler on the bootlid. Again, it requires rear park assist and sat nav as options should you want them.
The GT86 is also presently offered as a Club Series, which is currently the Blue Edition. It gains Electric Blue paint and black styling accents outside over the GT86 Pro. Options available include that parking assist and sat nav, as well as – unique to the Club Series – a Performance Pack, which brings re-tuned Sachs suspension as well as higher performance Brembo Brakes.
Toyota GT86 cars for sale on heycar
3,509
Number of cars available
£15K - £30K
Price bracket of these cars
Colours available on heycar
Keep me updated by email with the latest advice, news and offers from heycar
By submitting, you agree to our
privacy policy
.