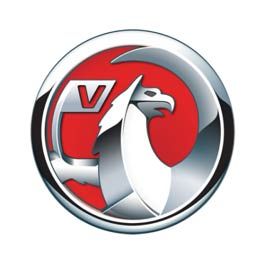 Vauxhall Astra Sports Tourer Review

Written by
heycar editorial team

heycar rating
Better than you might think
Best bits
Impressive engine range
Sharp driving experience
Attractive exterior design
Not so great
Ride quality is overly firm at times
Some cheap cabin materials
Better all-rounders in the segment
Read by
Overall verdict
On the inside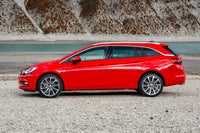 Driving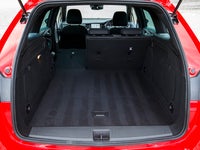 How much does it cost to run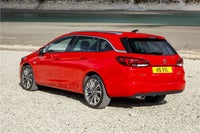 Prices, versions and specification
Overall verdict
"If you want to be a big player in the car market you have to have a few essentials. One of those is a compact hatchback- a Volkswagen Golf or Ford Focus competitor essentially, and almost as important is that you have an estate spin-off of that car too."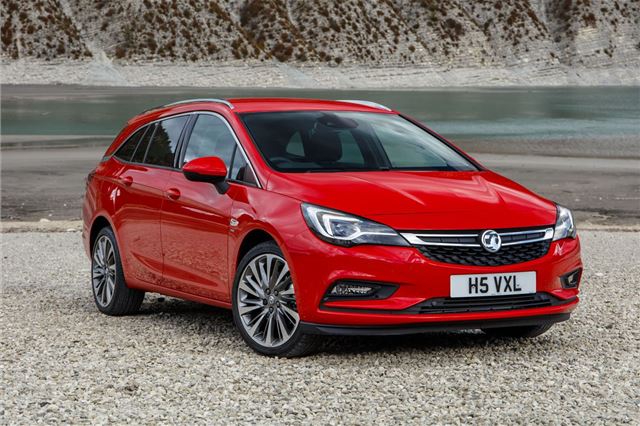 Vauxhall has long been the key rivals for the Ford, particularly in the UK, and just as its Vauxhall Astra hatchback is aimed squarely at the Focus, it also has the Sports Tourer version ready to take on all those other compact estate cars.
Using the Sports Tourer tag rather than plain-old Estate moniker suggests a bit more style and less a box on wheels, and you'd have to say that on balance this is a fair judgement on the Astra Sports Tourer.
There's a line that flows directly from the bonnet and rises along its waistline to the tailgate, and in many ways it's better looking than the hatchback that spawned it. Whether that means interior space is compromised as a result of this sacrifice to good looks is another matter.
Step inside the Astra Sports Tourer and the first impressions are good. You could almost say that it has a traditional approach in here. Rather than screens everywhere, you are presented with clear analogue dials, a modestly-sized touchscreen sat on the top of the dashboard and a series of buttons below it and down the centre console.
Whether that is a good thing or not is something of a personal preference, but at the very least you should be able to find the function you need pretty quickly.
In terms of engines, the Astra Sports Tourer is bang on trend with the downsizing movement. The largest capacity unit you can buy is a 1.5-litre. The core of the range is made up of a 1.2-litre three-cylinder unit available in three power outputs - 110PS, 130PS and 145PS, and there's also a 1.4-litre turbocharged petrol available with an automatic CVT gearbox only.
There are two diesel options also, a 1.5-litre three-cylinder unit available with 105PS or 122PS. If that doesn't sound like much, then the more powerful 1.5-litre diesel has more punch than you might expect, with 300Nm of torque it is certainly capable of pulling heavy loads and towing trailers.
Driving the Astra Sports Tourer may also spring a surprise or two, as it is one of the better handling cars in the class. The suspension is slightly on the firm side, which means it resists body roll very well and is willing to turn into a corner with great enthusiasm. The downside of this is that it is more sensitive to road imperfections - the ride isn't harsh, but neither does it offer quite the same balance of both ride and handling as the Ford Focus or Volkswagen Golf.
The Vauxhall Astra Sports Tourer is a highly-capable estate car, with an impressive range of engines, good space for passengers and luggage as well as an engaging driving experience. The main issue is the quality of the competition. The Sports Tourer is not exceptional in any one area, nor is it the best all-rounder.
Comfort and design
"Step inside the Astra Sports Tourer and you're greeted by a straightforward cabin. Like most modern cars it has a touchscreen system, but rather than dominating the whole cabin it is quite discreetly integrated into the dashboard, and if you're more of a traditionalist then this is a good thing."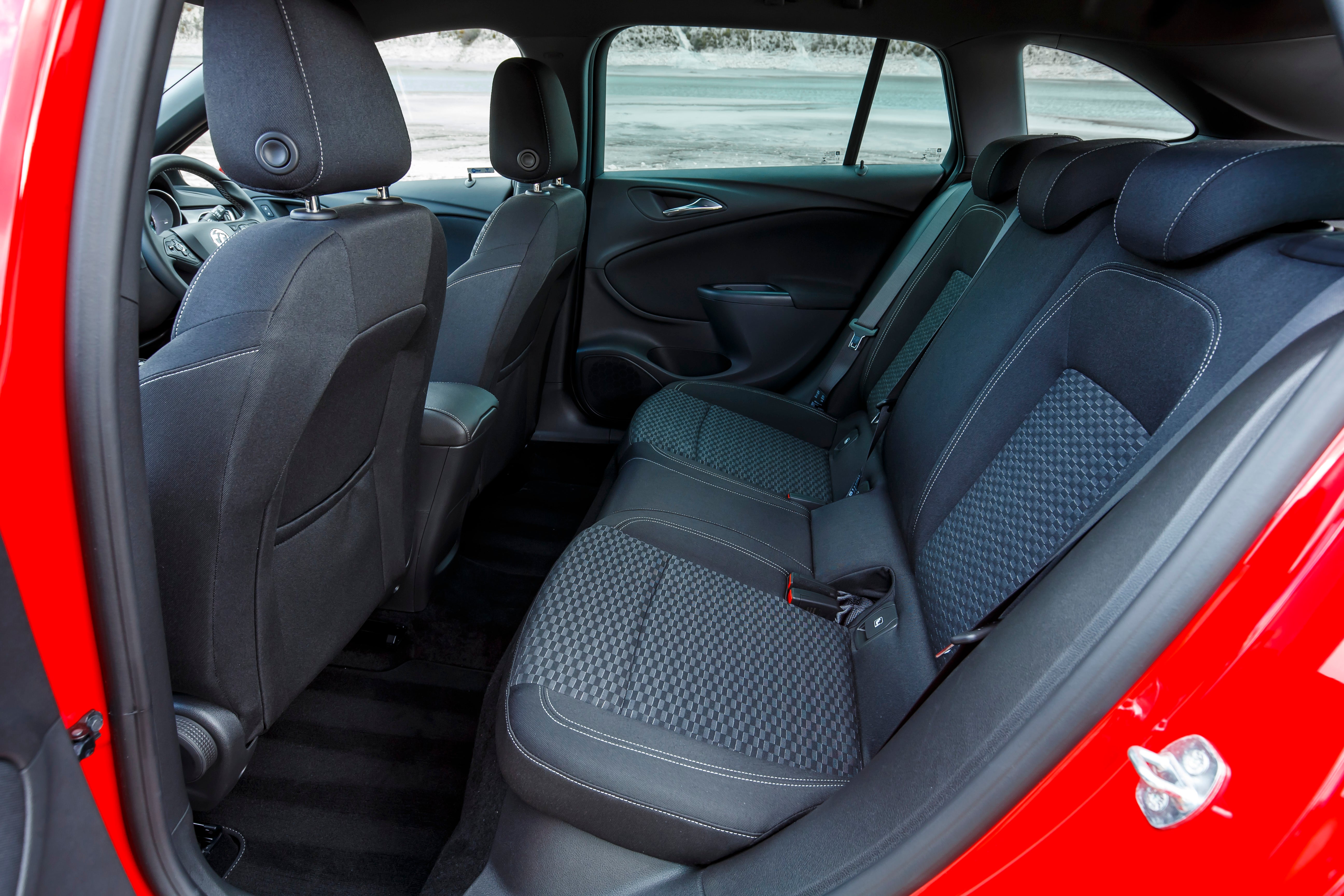 It's a similar story for the rest of the layout, with an obvious collection of buttons and switches flowing down the centre of the dashboard. This has both positive and negatives. At first it can be a little confusing as there are so many buttons to negotiate, but once you know your way around it can be easier to operate on the move than a touchscreen.
There's another button issue on the steering wheel - these auxiliary controls are quite common on the Sports Tourer's rivals but here there is a directional pad on each spoke, plus a central selection button, two further buttons on each side plus a rocker switch. It's quite intimidating at first and it takes a little while to get acquainted with all the different functions.
The driver should also find it easy to get comfortable. The driving position is good, with a low-set dashboard and slim windscreen pillars that give a good view forward. There's plenty of adjustment in the seat too, with a seat height mechanism included as standard although you have to pay extra or choose a higher spec model to get lumbar adjustment.
Handling and ride quality
"While the average estate driver may be less concerned about how well their car handles compared to the average hatchback driver, that does not mean there is no benefit in picking a car that is responsive and capable."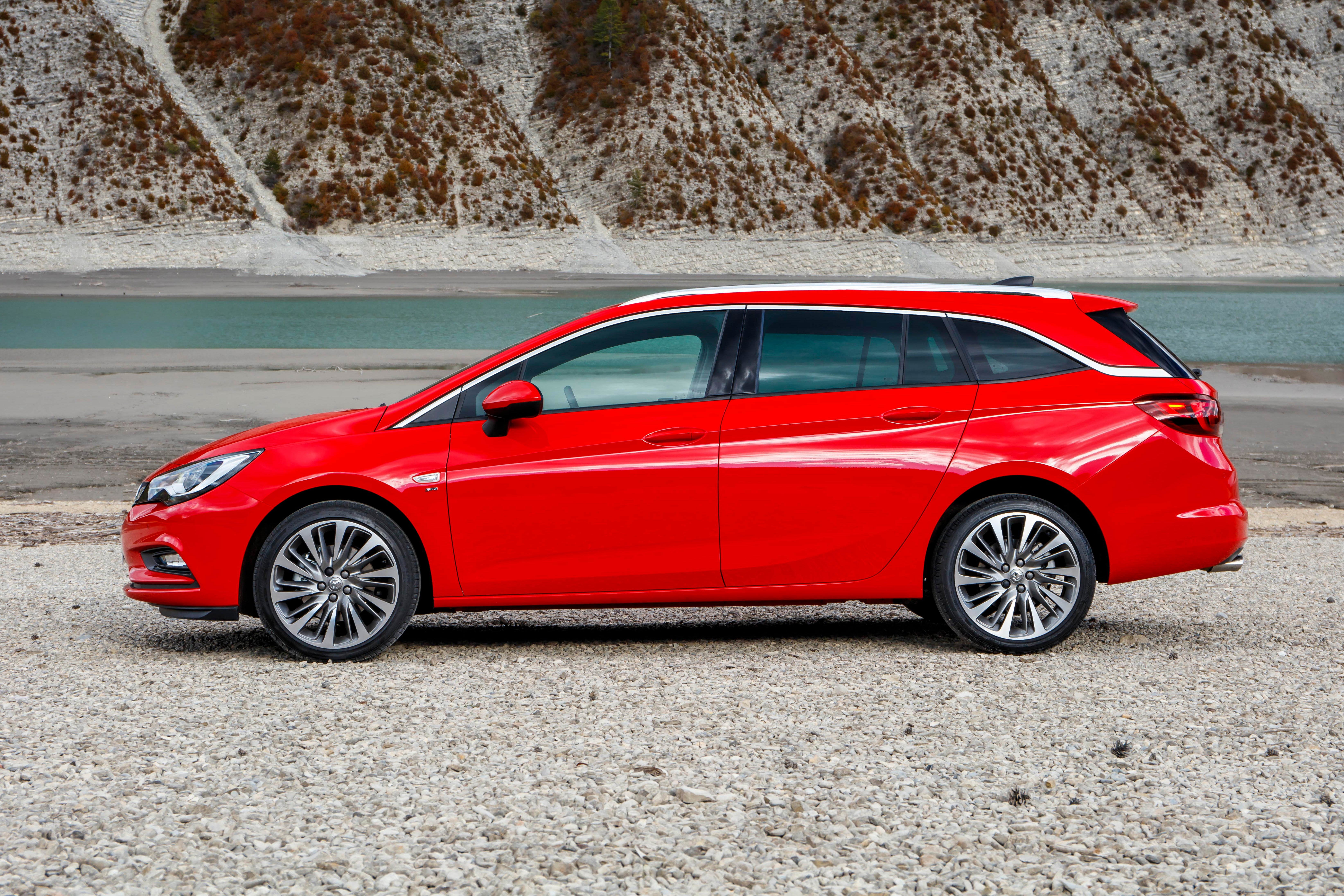 For some time Vauxhall has been producing cars that are above average in terms of their handling, and while it may not be able to topple the Ford Focus as the best in the class, the Astra Sports Tourer is good to drive.
The way the suspension has been tuned results in not much body roll when turning into a corner at speed, and it is quick to turn in when you do.
It's not a sports car of course, but you forget that it is an estate and it makes for an enjoyable drive down a suitable road. The steering is quick to react too, and although it is not blessed with huge amounts of feel you are still aware of what the front wheels are up to. You don't need a high-specification version with big alloy wheels to enjoy it either, even the most basic SE model grips and steers well, which can make any journey a bit more fun.
The price of this impressive cornering ability is that the Astra Sports Tourer's ride is not quite as forgiving as the best cars in this class. On poor roads there is more thump and fidget from the suspension than is ideal, and rather than shield the occupants from the disturbance the Sports Tourer gives you a little nudge to let you know what's going on.
It's not that the ride is poor, it just can't quite match the excellent balance between ride and handling on offer from the Ford Focus and Volkswagen Golf. It's very close, but it's a bronze medal for the Astra.
MPG and fuel costs
"Thanks to a modern engine range the fuel costs for almost all versions of the Astra Sports Tourer should be comfortably on the low side. Of the petrol options, all three have the same claimed maximum combined figure under WLTP rules of 54.3mpg."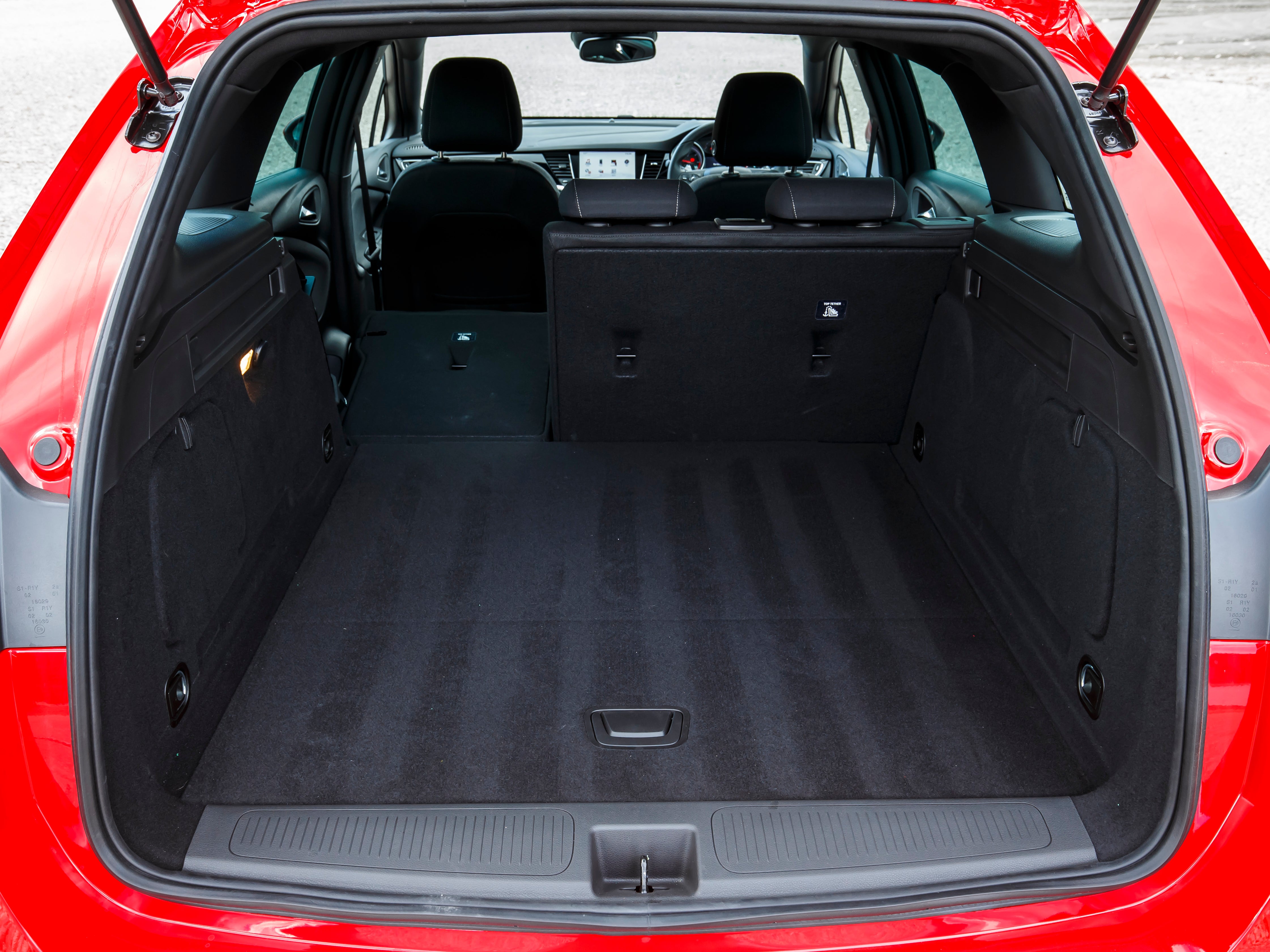 In the real world it is likely that the more powerful options will actually yield better results, but you should still get 40mpg and more.
The diesel options are even more impressive, with a claimed figure of 64.2mpg for the 122PS version and 65.7mpg for the 105PS versions, so the high end of 50mpg should be well within reach.
How much should you be paying for a used Vauxhall Astra Sports Tourer?
"The Astra has been a popular car for decades, and even though the Sports Tourer is less popular than the hatchback, you should still find plenty of used examples available. As it is still on sale as new vehicle too, there will be pre-registerted bargains to be had."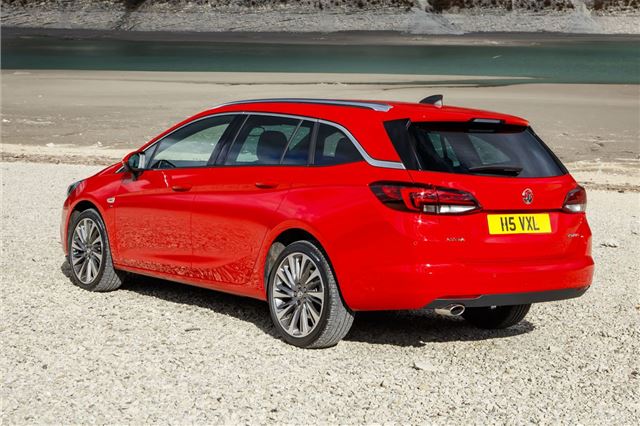 A quick search of the heycar classifieds revealed several examples still with delivery mileage. We found a 2020 1.5-litre diesel in SRi Nav trim with less than 50 miles on the clock for £18,000, a saving of more than £6000 on list price.
As for older models, the earliest 2016 cars are now down around the £7000 mark. We found an early 2016 1.6 CDTi in Tech Line trim with 70,000 miles for just £7000.
Is the Vauxhall Astra Sports Tourer right for you?
Anyone seeking a bit more space than a regular compact hatchback that doesn't want to upgrade to a massive wagon will find the Astra Sports Tourer a suitable choice. It's no more demanding to drive than the hatchback version, so it's a sensible purchase if you're trading up to a bigger car, especially if you have a growing family, and there's good space inside for everything that goes with being a parent.
Where the Sports Tourer may not be such a strong choice is if you are looking for the most comfortable option. Its ride quality can be quite niggly on some surfaces, and cars like the Ford Focus and Volkswagen Golf are better in this respect.
What's the best Vauxhall Astra Sports Tourer model/engine to choose?
All of the Astra Sports Tourer's engine options are impressive, with a good balance of performance and fuel economy. Of the petrol options, the 1.2-litre 130PS is the sweet spot - it has the same claimed fuel consumption as the 110PS version but the same torque figure as the more powerful 145PS version, so you're getting the best of both. As for the diesel options, the more powerful 122PS version is your best bet, as it has useful extra torque over the less powerful version and offers very similar levels of economy.
The standard specification SE model is well equipped, with the 7-inch touchscreen, DAB, Bluetooth, Apple CarPlay and Android Auto, air con, cruise control and automatic headlights, and for most people this would be enough. The Business Nav model simply adds navigation - which you don't necessarily need if you have a smartphone - which just leaves the most expensive SRi model.
What other cars are similar to the Vauxhall Astra Sports Tourer?
Quality and finish
Vauxhall has traditionally been somewhere in the middle when it comes to the quality of its cars. With brands like Volkswagen pushing upwards towards the premium brands it has meant the more traditionally mainstream rivals having to raise their game too, and the Astra Sports Tourer demonstrates where this trend has led to.
There's a lot of black plastic on show when you get inside - there's very little scope for brightening up the cabin with choices of trim or fabrics, but the upside is that helps to keep the sticker price down.
There's also a decent amount of soft touch surfacing in here, around the tops of the dashboard and where your hands would naturally fall, but rather than contrast this with straightforward harder plastics, the Sports Tourer has more piano black to fill in the gaps. It's moderately successful, but the interior feels quite business-like and functional rather than particularly luxurious.
The physical quality of the Astra Sports Tourer is good however. The switches and buttons may be mixed in terms of how tactile they feel, but it is clear that they are robustly put together which inspires confidence that it is a car that is built to last.
Infotainment
Both versions of the infotainment system fitted to the Astra Sports Tourer have touchscreen display, and are fitted with a DAB radio, Bluetooth for phone operation and audio streaming, Apple CarPlay and Android Auto and six speakers for audio output. Business Edition Nav and SRi Nav trim add a sat nav function to the system including European mapping and increase the screen size from 7-inches to 8-inches.
To use, the touchscreen system can be frustrating. At 7-inches it is reasonably sized but the colour scheme for the graphical display is quite pale, with black and red text on a white background.
You need to fiddle with the settings to generate much in the way of contrast within the image. The response of the screen to inputs is good, but as with many touchscreen system accurately hitting the button you want can be a challenge, and the ability to rest a steadying hand on the bezel surrounding the screen is frequently necessary. There are a useful number of shortcuts though, and you can perform a number of tasks via the steering wheel controls.
While the navigation system works well enough, it seems an unnecessary expense when you can use a native smartphone app for navigation through the cheaper standard system.
Space and practicality
This is probably the most important element of any estate car, but in the case of the Astra Sports Tourer it is trading on it more than most, as opposed to touting to be the best driving or most comfortable car in the class. Thankfully the news is good, and unlike some of those same rivals it offers a good balance of space for passengers and luggage.
Those in the front seats are very well catered for - there's seat height adjustment as standard so you can get into a comfortable driving position and there's plenty of legroom for taller people and if your passenger just wants to stretch out.
Headroom is also generous so you're unlikely to have any problems there, and the Astra Sports Tourer doesn't suffer from an overbearing centre console either, so shoulder and hip room is also good.
Almost more impressive is the space available in the rear. Legroom is competitive, if not up there with the best in the class but headroom is - arguably the more important of the two - so taller adults will be able to get comfortable in the back easily. The centre seat on the back row isn't quite as generous as the outer two but it's better than most, and it's able to take a child's car seat so in theory you could have three of them across the back row, something of a rarity in this class.
Head for the boot, and you have a space that is comparable to some rivals, but quite not big enough to be top of the three. There's 540 litres available with the rear seats in place - both the Volkswagen Golf and Skoda Octavia offer more than 600 litres - while this is increased to 1630 litres with the seats folded, still less than the Octavia but actually a little more than the Golf.
The boot space is a good shape too, but it's a little short on handy features you get elsewhere. There's no boot floor divider and the seat can only be split 60/40 - there is a 40/20/40 option on the hatchback but disappointingly it is not available on the Sports Tourer.
Engines and gearboxes
The Astra Sports Tourer isn't blessed with the widest choice of engines, but that really doesn't matter because all five of them are impressive.
The basic 1.2-litre turbocharged unit is a gem - it's pleasingly quiet even when worked hard, it is eager to respond to accelerator inputs from the driver and the performance is useful too. The basic 110PS isn't slow at all and is no poor relation, although the 130PS and 145PS versions are a little quicker thanks to the extra torque. If you want petrol over diesel then any one of these engines will do a good job.
On the diesel front both the 105PS and 122PS versions are also fine examples of what a diesel should be, with good torque from low engine speeds and of course, excellent economy. Of the two it makes sense to go for the more powerful version, as the price difference is not substantial and the fuel consumption is almost identical but the extra torque makes short work of pulling heavier loads.
All versions of the Astra Sports Tourer are fitted with a six-speed manual gearbox that gives comfortable cruising, but the shift action is adequate rather than pleasurable - it lacks weight adn can feel a little vague. The automatic gearbox option works well on the 1.5-litre diesel but is less impressive when paired with the 1.4-litre petrol, so if you need an auto we'd suggest the latter option.
Refinement and noise levels
As well as offering strong performance and economy, the fact that the engine range offered in the Astra Sports Tourer is relatively young also means they are quiet and refined. The 1.2-litre three-cylinder petrol has a lot of work to do to pull a car of this size, but it goes about that work with an impressive lack of fuss, even if you start to rev it hard.
There's a bit less refinement from the 1.5-litre diesels however - typically diesel engines dish out more vibrations, particularly at low engine speeds and when cold, and the Astra Sports Tourer suffers a little from this common affliction. All of the engines also offer quiet cruising, helped by the six-speed gearbox fitted as standard. The 1.4-litre petrol automatic model is not particularly quiet either - it's an older unit and is not quite as refined.
There's better news elsewhere, however. Road noise well suppressed on most models, although there is inevitably a little more grumble on higher specification models riding on bigger wheels and tyres. Wind noise is well contained though - the Sports Tourer's slippery aerodynamic shape negates much of the rustle you typically get at motorway speeds.
Safety equipment
The Vauxhall Astra was tested by Euro NCAP in 2015, and while it was the hatchback version that was tested the organisation decreed that the results could also be applied to the Sports Tourer model.
Euro NCAP awarded the Astra an impressive five star rating. It had an impressively consistent score across all the categories, achieving 86% for adult protection, alongside a score of 84% for child protection. Pedestrian mitigation was given a high 83% rating, while safety assist was recorded at 75%.
As standard, all Astras are fitted with front airbags including side chest and pelvis airbags for the front seat passengers and curtain airbags for front and rear passengers. A knee airbag for the driver or passenger is not available as standard or an option. Seat belt pre-tensioners are fitted to both front and rear seats, as are seat belt load limiters standard. Isofix child seat mounting points are fitted in all three rear seats as well as the front passenger seat, with an airbag deactivation switch for the front passenger seat too.
All versions of the Astra are fitted with ESC as standard, as well as cruise control with speed limiter. SRi models are also fitted with a driving assistance pack which includes features such as automatic city braking, following distance indicator and lane departure warning. The pack can also be upgraded with traffic sign recognition and pedestrian detection at extra cost.
Insurance groups and costs
The Astra Sports Tourer fits into a quite narrow band of insurance groups, partly due to the fact there are only three trim levels and relatively few engine options. The 110PS petrol and 110PS diesel in SE trim are both in group 16, as is the 1.4 petrol automatic in SRi Nav trim. The 145PS petrol and 122PS diesel in SRi Nav trim are in group 17, while the Business Edition Nav trim is in group 19 for the 130PS petrol and 20 for the 122PS diesel - the SRi Nav getting into a lower group thanks to the increased safety tech.
VED car tax
The Astra Sports Tourer went on sale in 2016, so it is a car affected by the April 2017 VED changes, so if you are buying used you can make a saving by purchasing an early car.
For example, lots of the early 1.6-litre diesel models came in at under 100g/km so qualified for the zero rate, while the more efficient versions of the 1.0-litre turbo model came in at zero or £20 for the annual VED bill. As for newer models however, despite their efficiency, they all attract the £150 annual rate.
Trim levels and standard equipment
SE models feature a 7-inch colour touchscreen, DAB radio, Bluetooth, Apple CarPlay and Android Auto, USB, air con, cruise control with speed limiter, 16-inch alloy wheels, automatic lights, heated door mirrors, and LED daytime running lights.
Business Edition Nav models add sat nav with European mapping, a leather covered steering wheel and adjustable front armrest.
SRi models add Sportss-style front seats, driver's ergonomic active seat, storage pockets on front seat backs, 17-inch alloy wheels, chrome-effect upper window surround, LED headlights, rain-sensitive windscreen wipers, automatic lighting control with tunnel detection, automatic anti-dazzle rear-view mirror, Driving Assistance Pack One featuring intelligent front camera system.
Learn more
On the inside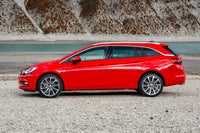 Driving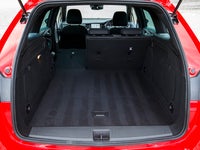 How much does it cost to run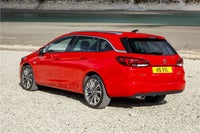 Prices, versions and specification
Reviews of similar cars
Quality checked, all cars less than 8 years old and warranty included
Looking for other Vauxhall cars?
Quality checked, all cars less than 8 years old and warranty included