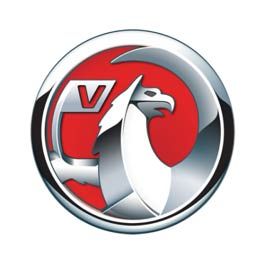 Vauxhall Cascada Review

heycar rating
Admirably competent convertible, undesirable badge
Best bits
Good looks
Lots of practicality for a drop-top
Should be cheap to buy and run used
Not so great
It's a Vauxhall...
Interior lacking in style
Smallest engine feels a bit overwhelmed
Read by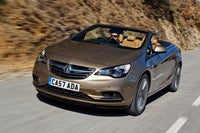 Overall verdict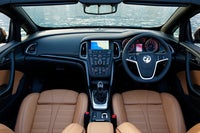 On the inside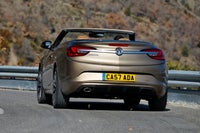 Driving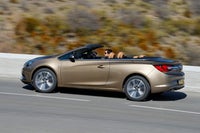 How much does it cost to run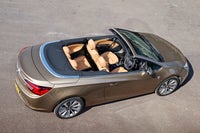 Prices, versions and specification
Overall verdict
"The Vauxhall Cascada is fairly unremarkable to drive, but good looks, low running costs and decent equipment make it about as sensible a non-sensible purchase as you could go for. You'll stand out from the premium cabriolet crowd, too, because the Cascada's quite a rare thing."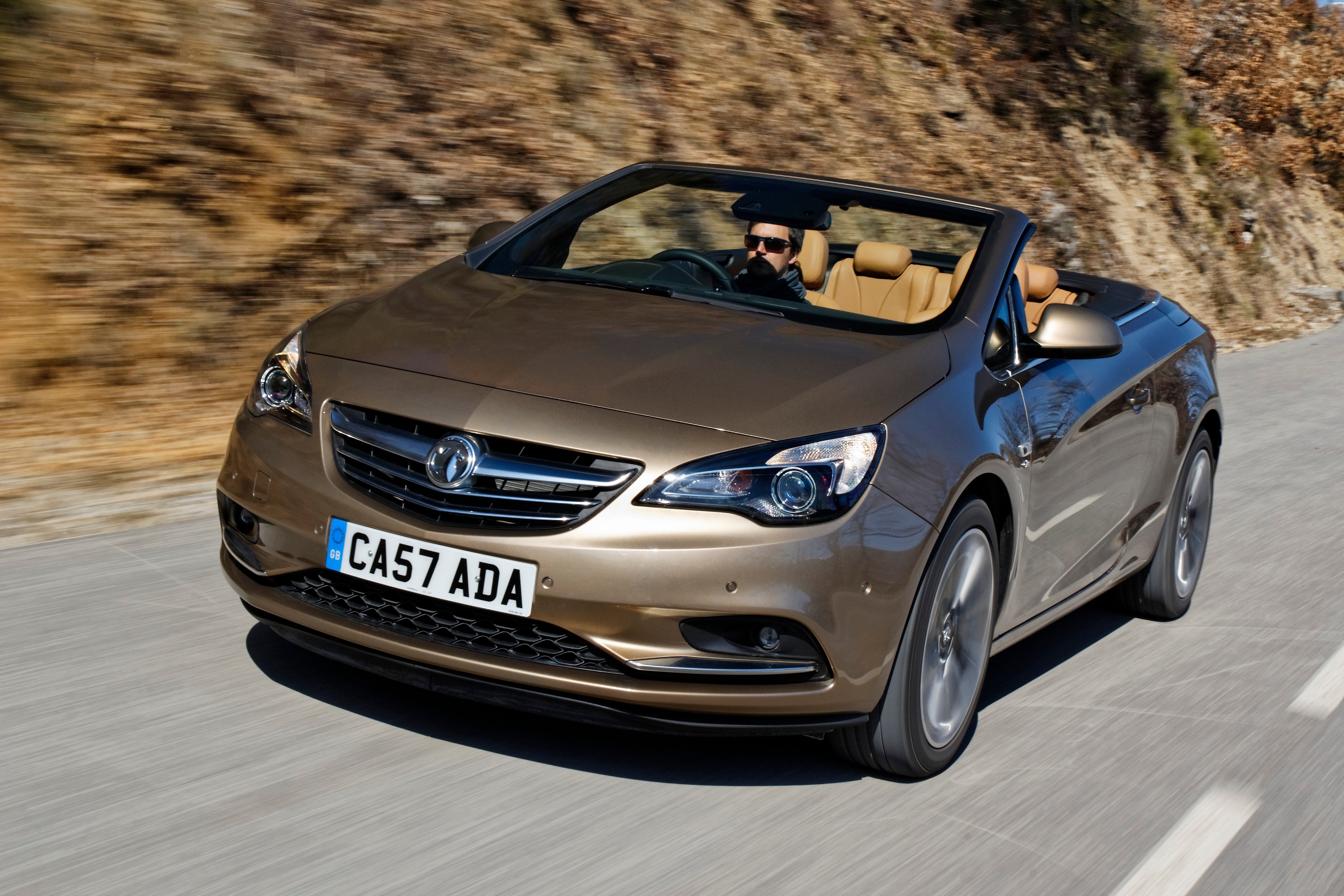 Introduced in 2013, and quietly bowing out in 2019, the Vauxhall Cascada demonstrates what a fickle marketplace the convertible one is. A smart-looking, fine-driving drop-top, with space to rival the segment above the price bracket it was sold in, the Cascada never sold particularly well against the premium rivals it hoped to steal sales from.
Admittedly, that was always an ambitious goal for Vauxhall, but the Cascada wasn't a bad car at all, indeed, it was rather a good one but one evidently wearing the wrong badge.
Where you bought it dictated what badge it wore on its grille. The Cascada was sold globally under GM's other brands, it being the Opel Cascada in Europe, Buick Cascada in the US and Holden Cascada in Australia. Regardless of where it was sold it was never a huge success, those mainstream badges just not cutting it against upmarket rivals, even if, on paper, the Cascada potentially offered buyers more for their money.
That's particularly true in relation to space, the Cascada was as long as cars like the Audi A5 convertible, but was priced more in the sphere of cars like the Golf Convertible. That Volkswagen, with its more desirable mainstream badge, has abandoned that Golf Convertible – instead offering a drop-top based on the T-Roc SUV, does somewhat underline how difficult the convertible market is. It's hardly surprising, then, that Vauxhall does not having any plans to replace the Cascada.
It'll be a used purchase then, and the virtues that made it a decent buy, badge aside, when available box-fresh from dealers, are arguably elevated as a pre-owned purchase. Good value, surprising practicality and a comfortable, unfussy drive, the Cascada should be cheaper to buy and run than its premium competitors, and rarer, too, which will help it turn heads – which, after all, is arguably the point with cars like these.
Comfort and design
"With its lines outside sharing a strong visual link to Vauxhalls elsewhere in the range it's no surprise that the interior, too, is largely lifted from the same shelves as those more ordinary relations."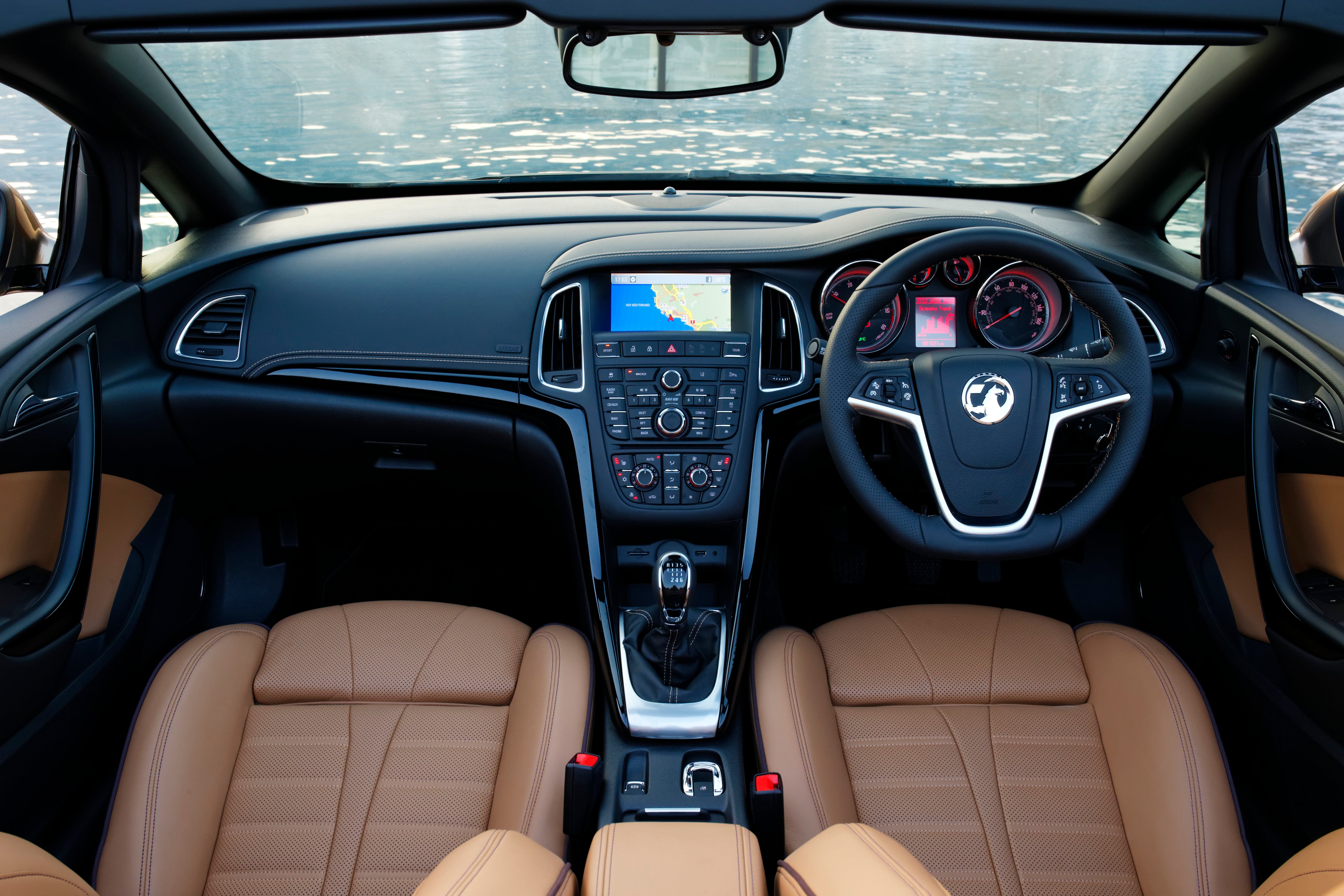 It might not be a surprise, but it is a little bit disappointing, because Vauxhall's not really gone to any effort to lift the interior's design above that of what you'll get in something like an Astra or an Insignia. A little bit more embellishment of flair would be welcome, or a steering wheel that doesn't look quite so awkward and ungainly.
For all its ordinariness inside it's comfortable enough, Vauxhall's usual stock in trade being making cars that'll keep you fresh after hours on the road, and that's evident in the Cascada's seat design. They're very comfortable and supportive, with the SE models getting standard sports seats, and Elite models getting ergonomic sports seats – pews that have been awarded a seal of approval by the AGR, a German 'centre of excellence' for ergonomics.
They're heated (as is the steering wheel) in the Elite model, too, and, if you opt for the Power Seat Pack with that Elite, you also gain an easy rear seat entry system which automatically moves the front seat forward to help ease access to the back – that's something worth having if you're likely to use those rear seats frequently.
Handling and ride quality
"All the adverts and brochures for the Cascada show it on mountain or coastal roads, though the joy you'll derive by doing the same won't be from the driving experience, but the views the Cascada affords you."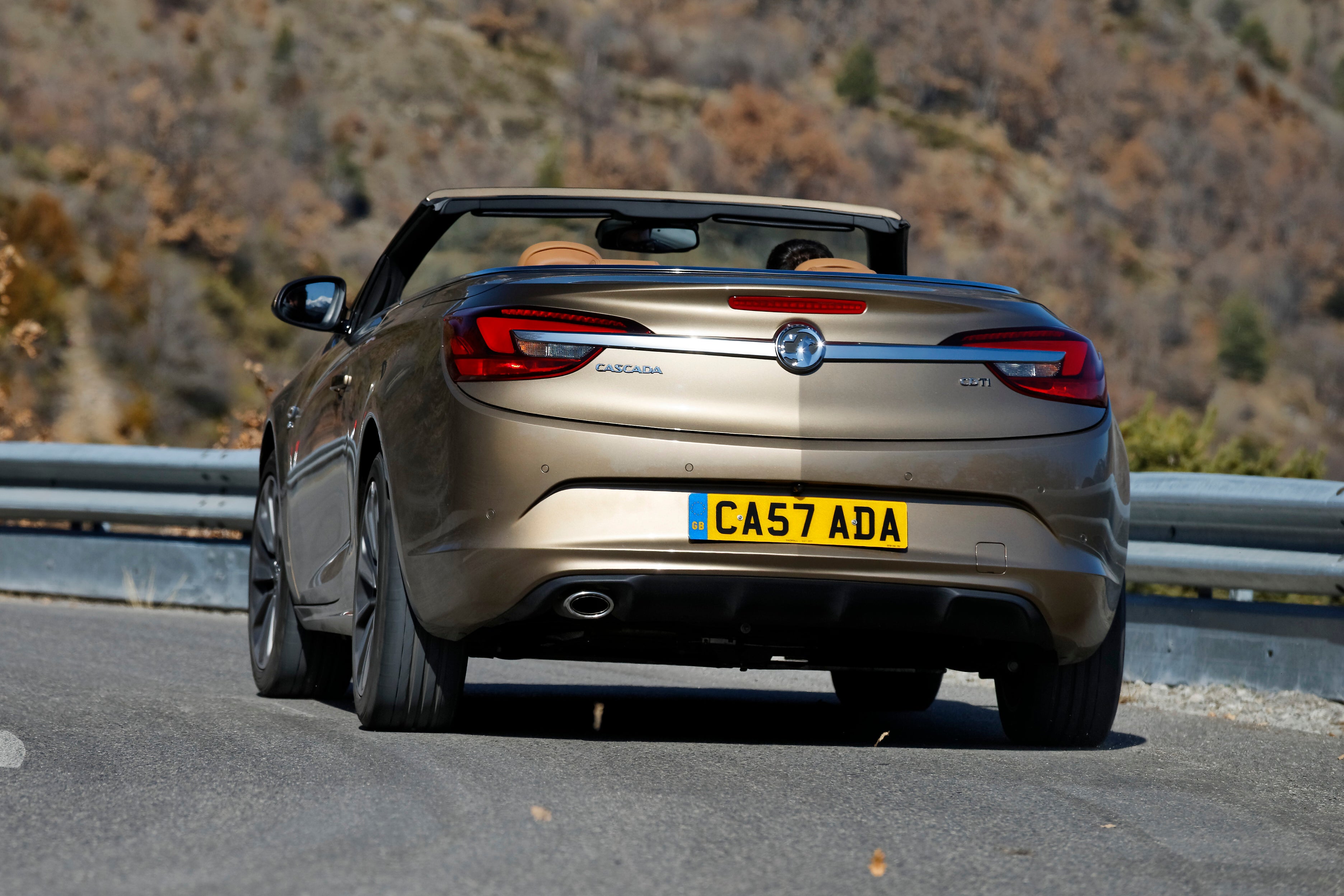 It's a competent handler rather than an engaging one, despite Vauxhall's talk of its sporting dynamics with HiPerStrut front suspension. If you want a properly sporting drive you'll be better served elsewhere, but the point of a four-seat isn't thrashing dynamic delight on backroads, but an easy, enjoyable cruise in comfort, which is something that the Cascada does commendably well.
Even the Elite, with its larger 20-inch alloy wheels rides commendably well, though the optional Flexride system, which offers three damping modes is pretty much unnecessary, Sport adding too much brittleness to the ride, Tour being a bit too soft, which means you'll leave it in Normal all the time anyway – which is pretty much identical to how non-FlexRide equipped models are, anyway. The steering is light and accurate, but not the most confidence inspiring when tackling corners at pace.
MPG and fuel costs
"The Cascada was tested to the old NEDC fuel consumption tests, and they're not particularly representative of real-world driving."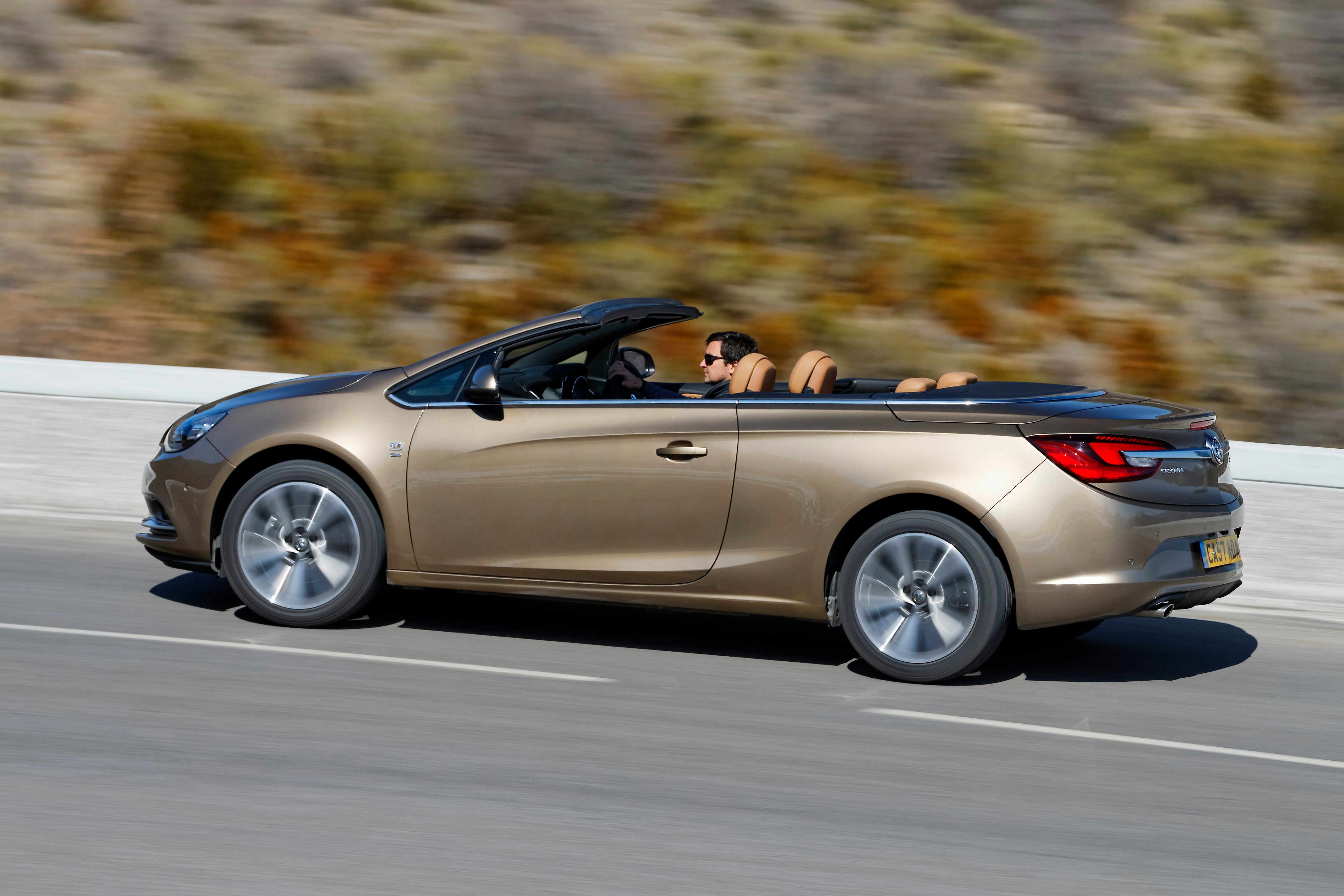 Even so, the turbodiesel will provide the best economy, think circa 45-50mpg if you drive it sensibly, with the petrol engines likely to be in the mid-high 30mpg range, again, if you're not pressing on.
How much should you be paying for a used Vauxhall Cascada?
"Browse the classifieds and you'll be offered tens, not hundreds of choices, that revealing that the Cascada was a relatively slow seller, and rare as a result."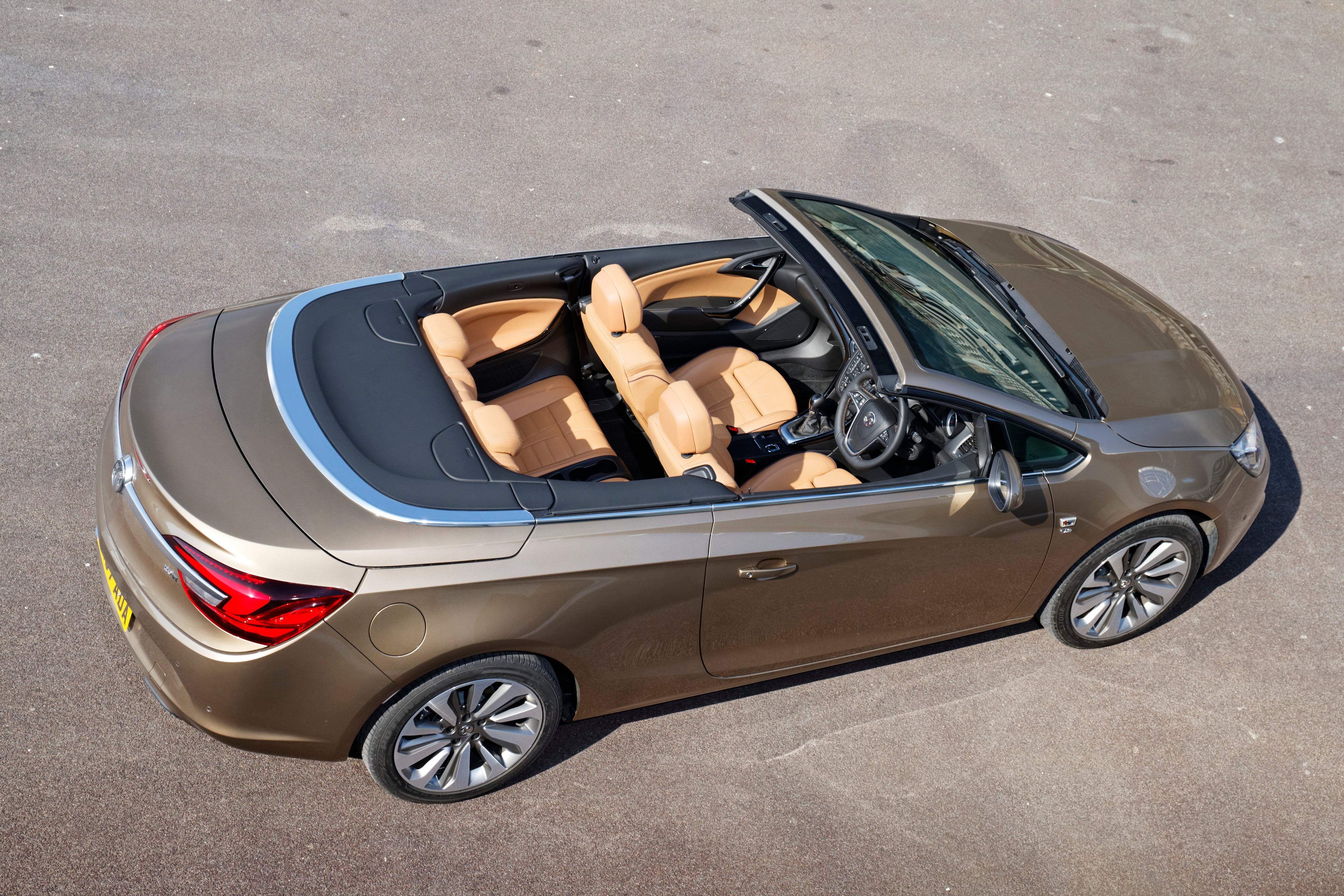 That presents an opportunity for you, as they're available from very little, with prices stating below £6,000, which is a lot of good looking drop top for the money. £8000-£10,000 represents the best opportunity, with relatively low mileage, one owner cars in this segment, again, these looking like a bargain.
Indeed, you'll be doing well to spend over £12,000, and at that level you'll be looking at the very best Cascadas, one we spotted, a 170PS automatic Elite, with just over 10,000 miles looking like an absolute steal. For a wise used car buyer, the Cascada's overlooked status is a real benefit.
Ready to get your top quality Vauxhall Cascada?
All cars come with a warranty
Selected dealers only
All quality checked
Vauxhall Cascada
1.4T Elite 2dr
Perrys Vauxhall Bury

Lancashire, BL81AL
HP: £254.29/mo
Representative example: Contract Length: 36 months, 35 Monthly Payments: £254.29, Customer Deposit: £1,348.00, Total Deposit: £1,348.50, Total Charge For Credit: £1,522.94, Total Amount Payable: £10,512.94, Representative APR: 12.9%, Interest Rate (Fixed): 6.6%
Is the Vauxhall Cascada right for you?
You might have admired it new, but you'll no longer be able to get one, which leaves you searching through the classifieds instead. As a used buy the Cascada makes a great deal of sense, the badge that limited its appeal when new suppresses its prices used. So, for a canny buyer looking for a classy, inexpensive-to-buy and run drop-top, that's surprisingly practical too, then the Cascada is worth seeking out.
What's the best Vauxhall Cascada model/engine to choose
The buying decisions change between new and used arenas, because things like BIK or VED payments aren't quite so front-of-house in your choices. That makes the your selection less pragmatic, and more on what you want.
We'd want an Elite specified one, and as it's a cruiser rather than something you're going to thrash down a favourite road, the 170PS version, which comes exclusively with an automatic transmission, would suit. If you're after the best fuel economy though, that's not the one to have, with the same power 2.0-litre turbodiesel offering the best mpg out of all Cascadas, so if you're likely to be putting big miles on it, then that's the one we'd have.
What other cars are similar to the Vauxhall Cascada?
Time was you could have walked into any car showroom and there would have been a cabriolet version available of something mainstream, be it a Ford Focus, Volkswagen Golf, Renault Megane or a whole host of others alternatives. The premium marques ate away at those though, as has a sizeable shift in the market to SUVs, leaving convertibles from mainstream companies a rare thing indeed.
The Cascada did rival cars like the Audi A3 Cabriolet, as well as the Volkswagen Beetle Cabriolet or MINI Convertible, too. Bigger inside than all of these, it's also the most practical, so if you've got kids and want at least a semblance of comfort for them in the back with the roof down, the Cascada is pretty much in a class of one, without going down the premium route.
Quality and finish
The interior might look a bit ordinary, but it all feels well built in there, with quality feeling materials used on all the touch points in the cabin.
It'll not wow, or give that deeply satisfying of rich material quality that you'll get in something like an Audi A3 or A5 convertible, but you'll derive your satisfaction from both driving something different to the premium norm, and the fact you'll have paid substantially less to do so. Elite models were offered with a Premium Nappa Leather package, with added brandy-coloured soft hides inside, the stitching on the seats with this option very reminiscent of Ferrari's Daytona-style seats, these lifting the interior ambience significantly.
Infotainment
Forget touchscreens, the Cascada was introduced when touchscreens were still relatively rare in car interiors. There's lots of buttons to work the 7-inch screen, then, but that's not necessarily a bad thing, as after working out what everything does they're unambiguous in their operation. There's a CD player, with DAB radio, an aux-in socket, USB connection and Bluetooth connection for your mobile phone.
There's standard sat nav, too, with the option of an upgraded 950 Intellilink system which adds European street-level mapping, and greater connectivity for your smartphone, as well as voice commands. Vauxhall's OnStar system is standard, though it needs a subscription for its 'personal connectivity service', which includes a 4G WIFI hotspot. The nav and infotainment feels a bit old-school, because it is, but you'll not be lacking the basics, while the stereo sounds good, too.
Space and practicality
Convertibles aren't bought with space and practicality as key considerations, but if you're a wind in the hair enthusiast who's got a line in pragmatism then the Cascada will do a good job satisfying your conflicting requirements.
That's to say, it's pretty usefully sized for a drop-top, with properly useable rear seats, of which there's a pair. They're fitted with Isofix child seat mounts, too. There's decent legroom back there, headroom's a bit tight with the hood up, but unlimited with it down, though if you want to use the wind deflector to reduce buffeting in the front seats, you're denied the ability to carry passengers in the rear.
The rear seats fold in a 50/50 format, allowing through loads from the usefully spacious boot. It's 380 litres with the roof up (and about 100 litres less with it dropped) that increasing to 750 litres with those seats folded away. There's decent stowage throughout the cabin, Vauxhall also offering the Cascada with a towbar – more likely to be used for hanging a bike carrier off than hauling a horsebox or caravan, though. The roof is electrically stowed at speeds up to 30mph, taking 17 seconds to open and 19 seconds to close.
Engines and gearboxes
A familiar range of engines from the Vauxhall family car line-up powers the Cascada. At the entry-point there's a 140PS 1.4-litre turbo petrol, with reaches 62mph in 10.2 seconds, though needs working pretty hard to do so – the Cascada not being light. The 1.6i turbo petrol, which has 170PS when mated to a smooth automatic transmission, or 200PS with a six-speed manual, feels a lot less lethargic.
The 200PS version is obviously quicker, with 62mph arriving in 8.2 seconds over 9.2 seconds for that 170PS auto, but the convenience of the automatic, particularly in a car like the Cascada makes it more appealing. The only negative to the automatic is its greater fuel consumption, thanks to both its gearbox and lack of an engine stop-start system.
If you're likely to be thumping out big mileages on motorways, rather than driving top-down through town, then the Cascada was also offered with a 170PS 2.0-litre CDTI turbodiesel, which offers the best economy out of all Cascadas.
Refinement and noise levels
All the petrol engines are smooth and quiet in normal driving, with the 1.4-litre being a bit boomy if you're asking for lots from it. The turbodiesel doesn't entirely hide its fuel type, being a bit noisier and delivering a few more vibrations than the petrol engines, but it's not so obvious as to be a real distraction.
Road noise in all is nicely suppressed, with the cabin also relatively draft-free with the roof down, and nicely hushed with the roof up. As standard the Cascada comes with a dual-layered roof, but a triple-layered acoustic roof, which not only keeps the cabin warmer in winter (and cooler in summer) but does damp out outside noises even further, was optional on all.
A wind deflector, which you put up manually, was standard on Elite models and optional on the SE, so check it's in the boot before buying.
Safety equipment
Electronic stability control, traction control and a suite of airbags all help either avoid a crash in the first place, or lessen the impact if you do have one.
There's automatic pop-up roll-over protection, too. With the Cascada being an older model, the sort of comprehensive active safety aids that are now more commonplace as standard fit, were cost options, with Traffic Sign Recognition, Lane Departure Warning and Following Distance Indication with Forward Collision Alert al coming as part of a Driver Assistance Pack. That's true, too, of Side Blind Spot Assist, it being an option on the Perimeter Protection Pack.
By the standards of its contemporaries, the Cascada is a safe car, and while it's not been tested by EuroNCAP, German and US crash tests of the Opel and Buick versions suggest it'll protect you well should the worst happen.
Insurance groups and costs
The 1.4 Turbo petrol Cascada is quoted at group 21, with the 1.6 automatic 24 and the 200PS 1.6-litre manual topping the insurance ratings here with group 26. The turbodiesel slots in a group under that, so group 25. Insuring the Cascada shouldn't cause any problems, or cost too much, though convertibles are more pricey than coupes and hatchbacks to insure because they're more costly/complex to repair should you have an accident.
VED car tax
Now no longer available new, the Cascada will cost you £150 annually for VED if you buy a model registered after April 2017. Prior to that the VED tax system was based on CO2 emissions with the diesels the cheapest to tax."
Trim levels and standard equipment
SE (only with 1.4i Turbo 140PS) – Dual layer remote folding roof, 18-inch alloy wheels, OnStar, air conditioning, cruise control, sports front seats, rear parking sensors
Elite (with all engines) – 20-inch bi-colour alloy wheels, dual-zone climate control, perforated solar heat reflective leather seat facings, heated front seats, ergonomic front seats with tilt and four-way electric lumbar adjustment, rain sensing wipers, front fog lights, wind break and ambient lighting in the doors.
Learn more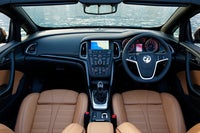 On the inside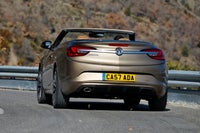 Driving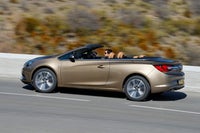 How much does it cost to run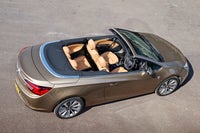 Prices, versions and specification
Reviews of similar cars
Quality checked, all cars less than 8 years old and warranty included
Looking for other Vauxhall cars?
Quality checked, all cars less than 8 years old and warranty included