Vauxhall Crossland Review 2022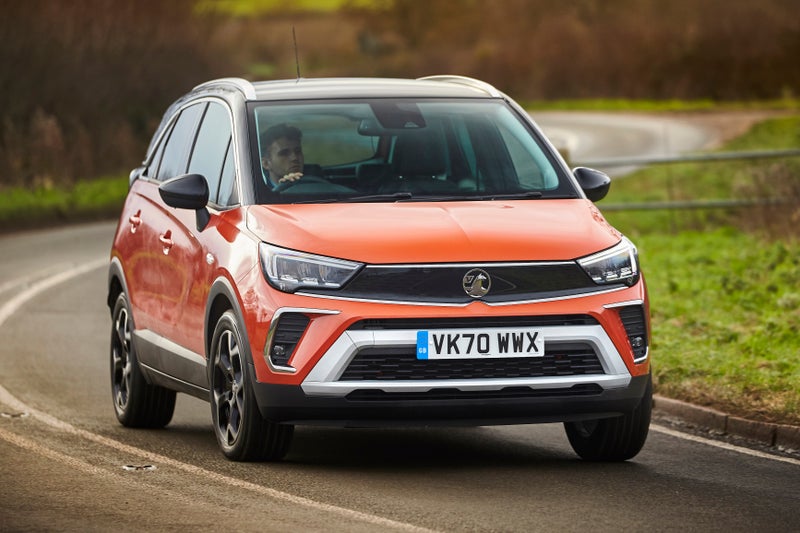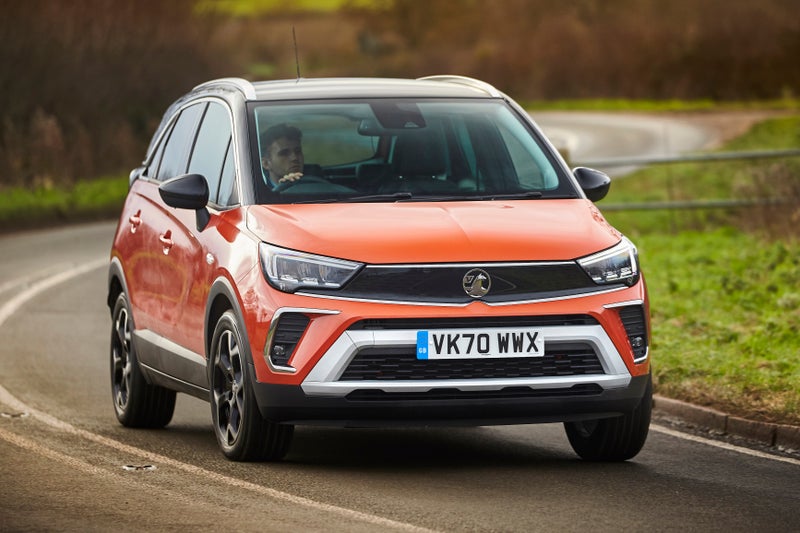 1/10
heycar rating
"Conservatively designed, practical small SUV"
Launched: 2017

Small SUV

Petrol, Diesel
Quick overview
Pros
Good value for money – especially on the used market
Generous amount of space
All models come with Apple CarPlay and Android Auto
Cons
Anonymous styling
Out of its depth on the motorway (especially the 83PS petrol engine)
Feels pretty mediocre in a very competitive sector
Overall verdict
On the inside
Driving
Cost to run
Prices and Specs
Common questions
Overall verdict on the Vauxhall Crossland
"Small SUVs often get wacky styling and colourful interiors designed to appeal to the trendy people that often buy them but what if you want a compact SUV that doesn't draw attention to itself? Well, the Vauxhall Crossland could be the car for you. "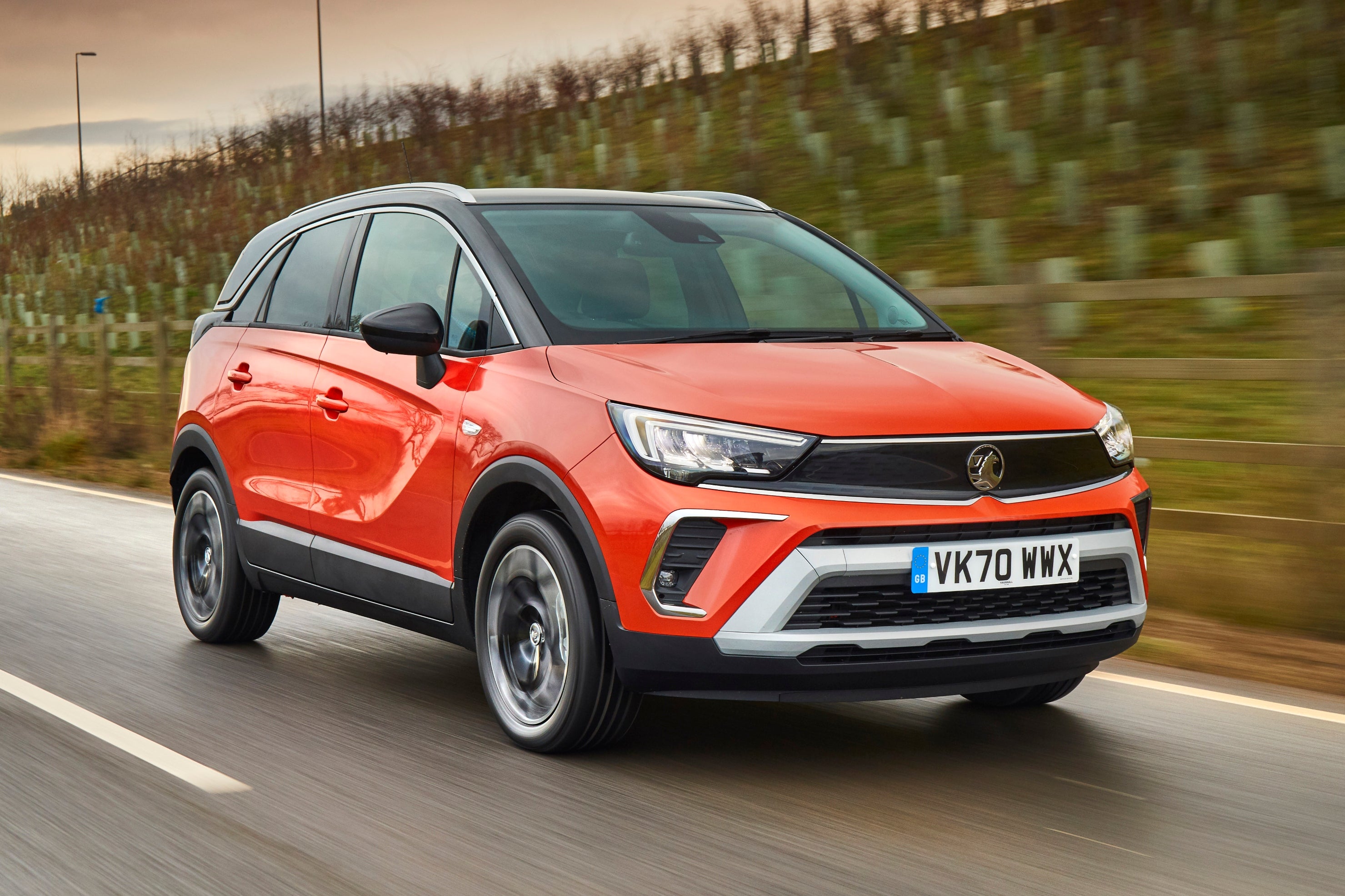 The Vauxhall Crossland first hit the market back in 2017. It was actually badged the Vauxhall Crossland X back then – sitting below other 'X' SUV models, namely the Mokka X and Grandland X. A mid-life revision early in 2021 led to the 'X' moniker being dropped, while the Crossland also received a few much-needed updates to give it a chance against an incredibly strong cohort of rivals – cars like the Peugeot 2008, Nissan Juke, Ford Puma, Renault Captur and Skoda Kamiq. Read our 2022 Vauxhall Crossland review to see what's changed.
The most noticeable of these revisions is the Vauxhall Crossland's fresh face. Vauxhall calls it the 'Vizor' front-end treatment, with a gap-less grille and LED headlights as standard across the range. We can't deny that it looks pretty smart, but it's not going to turn as many heads as fashionable alternatives like the Nissan Juke or Ford Puma.
Whether you buy a pre- or post-facelift Vauxhall Crossland, the interior doesn't have the same 'wow' factor as rivals. Sit behind the wheel of the Peugeot or Nissan and you could think you're on the flight deck of some sort of alien craft thanks to their striking cabins. If that's not for you, though, you'll love the Vauxhall Crossland. It has a simple design with analogue instruments and plenty of conventional buttons.
Even Vauxhall can't avoid fitting a modern infotainment screen, but the 7- or 8-inch system you get in the Crossland is easy to use with intuitive menus and a colourful, reactive display. Not all models have sat-nav, but they do have Apple CarPlay and Android Auto so you can use Google Maps via your smartphone instead. We reckon that actually works better than in-built navigation.
If you do want sat-nav, look for a model with 'nav' in its name (Vauxhall Crossland SRi Nav, Elite Nav etc). These come with the bigger display, as well as a European mapping system with over-the-air updates.
There's not much to grumble about in terms of practicality with the Vauxhall Crossland X. It might be a small SUV but the Crossland will fit four tall adults without too many complaints and the boot is pretty big too – large enough to swallow a set of suitcases.
While the Vauxhall Crossland's boxy shape is good for practicality, it's not so good for handling. Its top-heavy design means it rolls in corners and the light steering doesn't inspire lots of confidence. Vauxhall tweaked the suspension and steering when the Crossland X was updated in 2021, but it still feels a lot baggier to drive than a Ford Puma or SEAT Arona. The manual gearbox feels pretty poor, too, while the six-speed automatic gearbox is only marginally better.
The Vauxhall Crossland feels a bit out of its depth on the motorway, with a surprising amount of wind and road noise encroaching into the cabin. It's better around town, providing you can cope with the slightly bumpy ride. The light controls make it easy to manoeuvre, while standard rear parking sensors mean you can ease into tight spaces without worrying about damaging the back of the car and, if you want more help, front sensors and a reversing camera are optional.
In terms of engine choices, you get three petrol and two diesels to choose from. No Crossland is a particularly quiet cruiser, but the 83PS petrol model is the worst of the lot, it's five-speed manual gearbox means it has to work hard on the motorway.
The 110PS turbocharged petrol is a better bet with the Vauxhall Crossland, offering you more overtaking power and quieter cruising because it comes with a six-speed manual gearbox as standard. It doesn't even cost that much more to run than the 1.5-litre diesel models.
Choose your Crossland wisely and you'll end up with a small SUV that's cheap to run, nippy and spacious for a small car. Sure, it's not the most exciting machine on sale, but the Vauxhall's modest looks are sure to appeal if you're not looking to make a statement.
Is the 2022 Vauxhall Crossland right for you?
The Vauxhall Crossland is the perfect car for you if you want a small SUV that doesn't have the trendy look-at-me styling of other small SUVs such as the Nissan Juke and Peugeot 2008.
The Vauxhall Crossland feels roomy inside – particularly if you're trading up from a small family car – with space for adults in the back and a boot that's easy to load and will swallow a few suitcases.
Choose the 110PS petrol and you'll also get nippy performance combined with cheap running costs. Sure, the Vauxhall Crossland isn't going to have you grinning from ear to ear in corners and it's not the quietest motorway cruiser, but it's light controls do at least make it easy to drive in town.
So, if you want a car that does a job without making a fuss, the Vauxhall Crossland fits the bill so long as you avoid the basic petrol engine.
What's the best Vauxhall Crossland model/engine to choose?
The engine to go for is the 110PS petrol. Unlike the basic 83PS petrol, the 110PS is turbocharged, giving you a useful boost in performance, adding a sixth gear for quieter motorway cruising and also improving fuel economy. The 110PS model's so cheap to run, it's largely pointless choosing a diesel.
All models are well-equipped but we'd avoid the cheapest Vauxhall Crossland SE unless you're on a strict budget. Higher-spec models come with desirable features like parking sensors, larger alloy wheels and a sliding rear bench.
What other cars are similar to the Vauxhall Crossland?
If you're in the market for a small SUV then you have no shortage of choices and one of the best is the new Peugeot 2008 which has a striking design on the outside and an interior that looks and feels more stylish than you might expect from a car in this price bracket.
Another stylish alternative to the Vauxhall Crossland is the Nissan Juke, although it's not as spacious inside as the Vauxhall, while the SEAT Arona is just as roomy as the Crossland but feels better built inside and is more comfortable to drive. There's also the very spacious Skoda Kamiq which represents incredible value for money, while the Ford Puma is the small SUV of choice for keen drivers.
Finally, if you're looking for a small car with a great warranty, check out the Kia Stonic that comes with a seven-year 100,000-mile warranty that makes the Vauxhall's three-year/60,000-mile warranty look a little stingy.
Comfort and design: Vauxhall Crossland interior
"The Vauxhall Crossland has a plain and simple design that makes it easy to use. "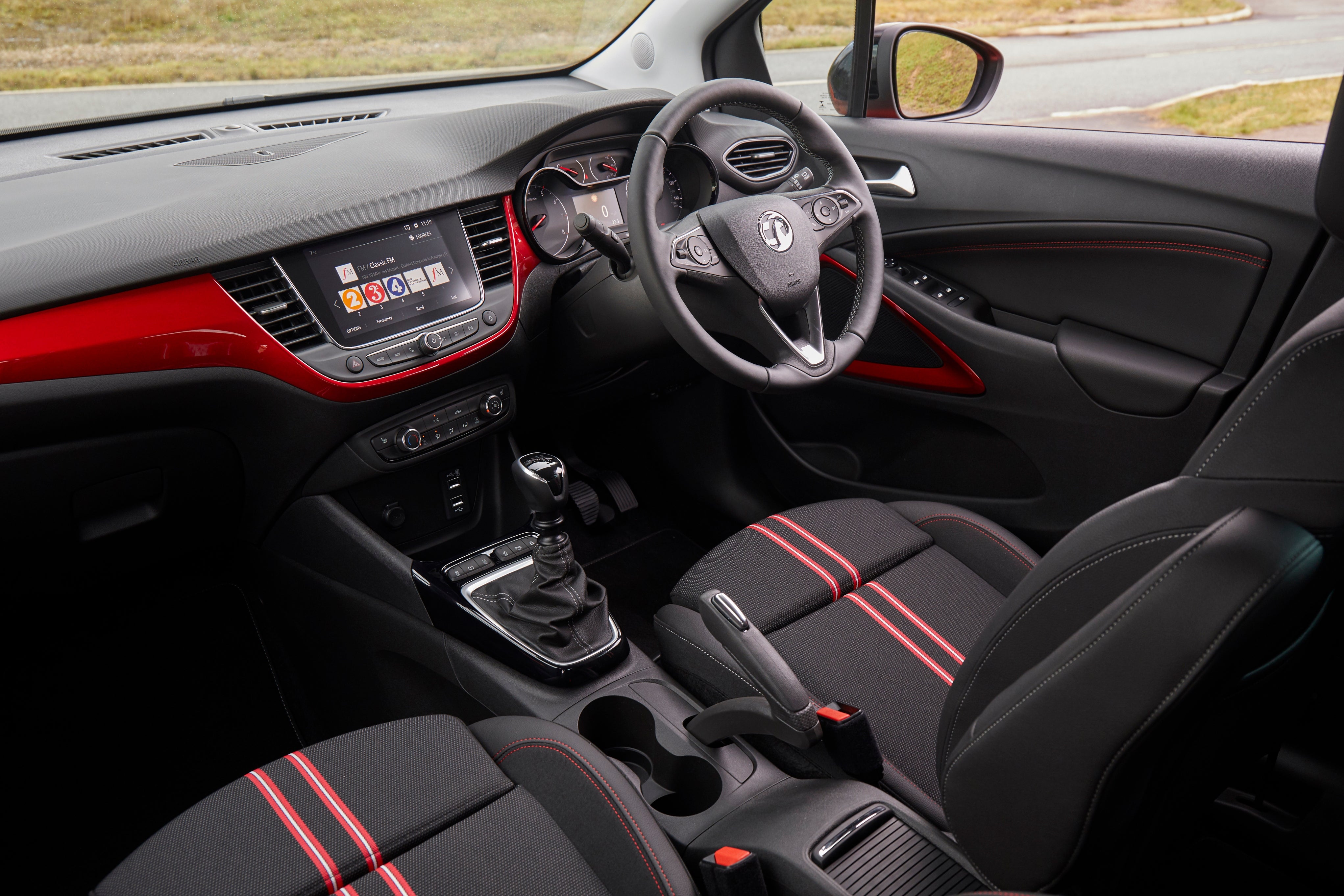 There's no digital instrument binnacle with pretty graphics and slick animations here, instead, you get white-on-black analogue dials and conventional buttons for the ventilation system and stereo so you don't have to go hunting through the infotainment screen.
That said, it's a decent system with a logical layout, responsive screen and clear graphics. It doesn't sit proud of the console as you get in some cars – so it's not quite so easy to read when you're driving – but you might prefer the way it is neatly integrated into the dashboard.
What you don't get, however, is any sense of style. The Vauxhall Crossland's dashboard has a plain design that makes it look overly plasticky and there's none of the eye-catching, sculpted mix of shapes found in the Peugeot 2008. Even the Vauxhall Crossland's shiny plastic trims are starting to look dated next to the carbon-effect finish and colourful flashes you get in a Peugeot 2008.
At least the driving position is good. The Crossland gets a height-adjustable driver's seat and a leather-trimmed steering wheel that moves for reach and height so you can get comfortable behind the wheel. It's also worth noting that floor mats come as standard, something some manufacturers cheekily charge extra for. The only oddity is the handbrake that rears up out the centre console like a hooded cobra.
That said, it's hard not to get a 'meat and two veg' theme to the way the Vauxhall Crossland provides the fundamentals you need in an uninspiring package.
Quality and finish
Quality and finish is another area that showcases Vauxhall Crossland's deft ability to be average.
Yes, you get some soft-touch plastics on the doors and the dashboard but the quality spirals the lower you nose into the cabin. You'll find plenty of hard and brittle plastic around your seat and the buttons on the centre console feel flimsy, you just don't get the sense it's as well built as the Peugeot 2008.
Higher-spec Vauxhall Crossland models get colourful dash coverings and door inserts which brighten up the cabin. The Ultimate Nav comes with Alcantara seat covers with leather-effect side bolsters, along with a smarter leather-covered steering wheel. It's better, but you're still not going to mistake the Crossland for a premium offering.
Infotainment: Touchscreen, USB, nav and stereo in the Vauxhall Crossland
Even the most basic Vauxhall Crossland models feature a seven-inch infotainment system, with Apple CarPlay and Android Auto as standard. Although sat-nav isn't standard, it's easy enough to link up your phone and use third-party apps like Google Maps or Waze instead. SRi Nav and Ultimate Nav models come with a slightly bigger eight-inch display, as well as navigation with European mapping.
Both systems are good to use, with fast responses to inputs and logical menu layouts. There's little to dislike about the Crossland's infotainment, really – it does the job with little fuss. Some drivers might prefer systems that aren't reliant on the touchscreen, though – the Mazda CX-3 has a rotary controller, for example, which is less distracting to use on the move.
Space and practicality: Vauxhall Crossland boot space
The Vauxhall Crossland's driver's seat has loads of adjustment so you'll easily get comfortable. If you want a height-adjustable passenger seat then you'll need to purchase the optional ergonomic front seats which are 16-way adjustable, including electrical tilt and lumbar support. This option also adds a 12V socket behind the front seats and a covered storage compartment in the centre console.
There are worthwhile upgrades available for the back seat, too. The Versatility Pack (standard on SRi Nav and Elite Nav models) adds back seats that move forwards and backwards on runners and also have adjustable backrests so your passengers can stretch out a bit on a long journey. It's handy to have but not necessary because the seat is spacious with enough head and knee room for tall passengers so long as there's no one tall sitting up front.
Getting a kid's seat into place is a problem, though. The Vauxhall Crossland's rear doors are small and they don't open 90 degrees to give you unrestricted access to the back seat, plus the ISOFIX points aren't neatly hidden under plastic covers.
There's better news on the Vauxhall Crossland's interior storage. Upfront you get large door pockets, a tray for your phone, to closable cubbies on the centre console and a couple of cupholders. That said, the glove box is small and so are the rear door pockets.
The Vauxhall Crossland's 410-litre boot is big, though, larger than you'll find in rivals such as the Renault Captur and you can increase that to 520 litres with the Versatility Pack that lets you slide the back seats forward. Loading is easy because the boot lid leaves a large opening, although there's a load lip you'll have to lift heavy luggage over.
The back seats fold 60:40 (or 40:20:40 with the Versatility Pack fitted) leaving you maximum boot space of 1,255 litres, or enough to get an adult's bicycle packed away without having to take the wheels off.
If you're wanting to squeeze your Vauxhall Crossland into a garage, you'll be pleased to know that its dimensions are barely any bigger than the Corsa hatchback. It measures 4212mm long and 1765mm wide (including door mirrors), while it's 1605mm high (inclusive of roof rails).
Handling and ride quality: What is the Vauxhall Crossland like to drive?
"The Vauxhall Crossland is an easy car to drive in town. Its raised body means you get a good view of the road ahead and you don't have to worry about damaging the car going over speed humps. The light controls are another bonus, that makes low-speed manoeuvring as hassle-free as possible and most models are available with a six-speed automatic gearbox. "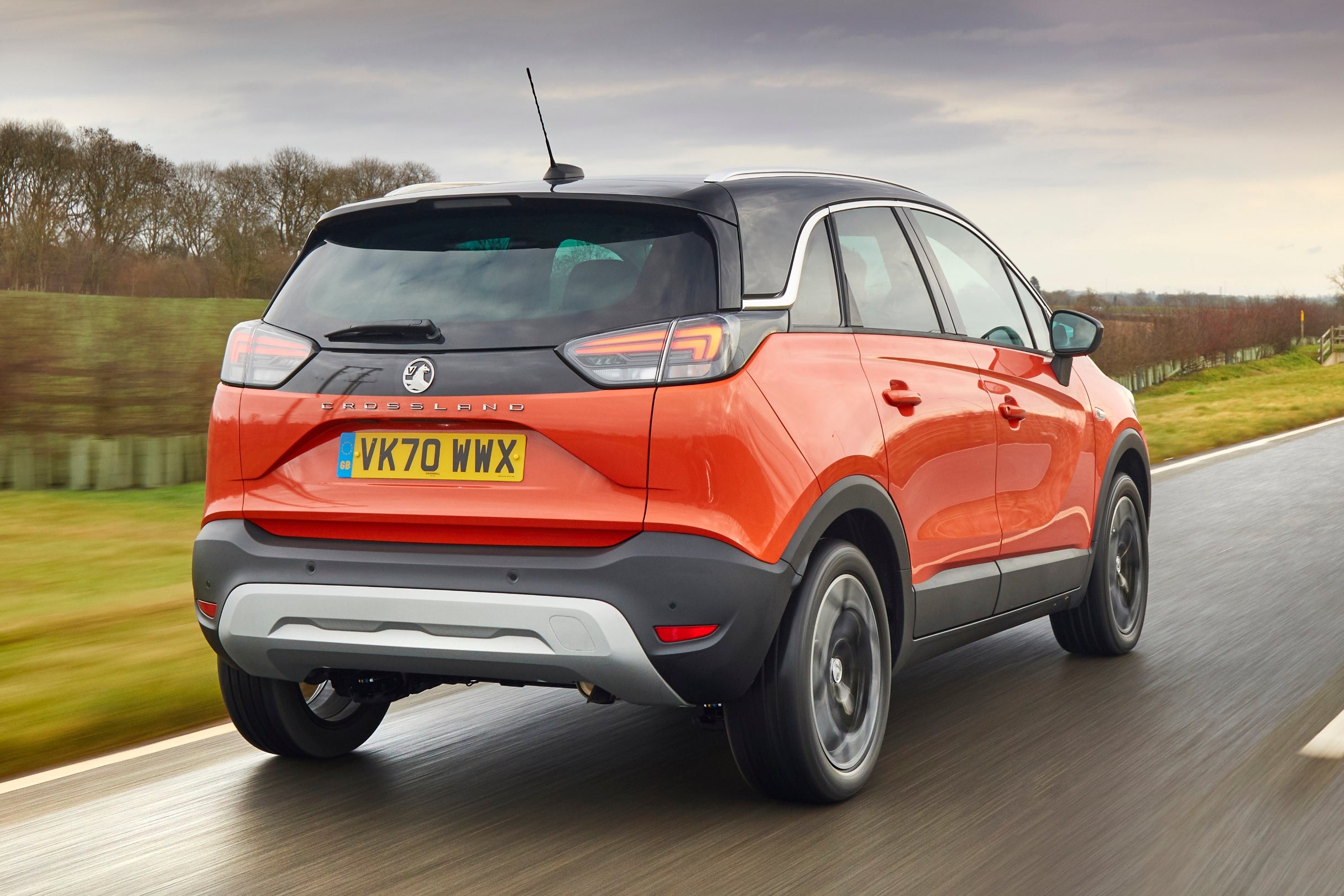 The Vauxhall Crossland's small dimensions make it relatively easy to park and Elite and Business models come with rear parking sensors as standard, which make it that bit easier to squeeze into really tight spaces. All Nav models are also available with the optional Rear View Camera Pack Plus which gets you front and rear parking sensors as well as a reversing camera.
One thing that's not great in town is the car's bouncy ride and it doesn't improve as you get up to higher speeds on the motorway, the way the Crossland pogos from one bump to the next can make it feel a touch unstable.
Unsurprisingly, it's not a lot better when you get onto a country road where you'll pay the price for the car's light steering. It makes it hard to place the Vauxhall going into corners and tricky to detect when the limits of grip are running out. Factor in significant body lean and a baggy-feeling manual gearbox and, it's fair to say, this isn't a car you're going to hustle about for fun.
It's also not a car you can use as a proper SUV. The Vauxhall only comes with front-wheel drive and you can't even get a version of the clever grip-finding traction control system fitted to the Peugeot 2008. Meanwhile, it's 870kg maximum towing weight is some way off the 1,100kgs a basic SEAT Arona can manage.
What engines and gearboxes are available in the Vauxhall Crossland?
The Vauxhall Crossland is available with a choice of three petrol and two diesel engines.
All three petrols are 1.2-litre three-cylinder engines. We'd avoid the basic 83PS version which does without a Turbo and feels ponderous as a result.
Your best bet is the 110PS turbocharged model which has useful performance at slow speeds and is quite smooth when worked hard. It gets from 0-62mph in 10.2 seconds – more than two seconds quicker than the 82hp version.
The 130PS petrol knocks an extra second of that 0-62mph time and gives the Vauxhall Crossland noticeably more punch for overtaking, but it's noisier than the 110PS model.
We'd also avoid both diesels. They're powered by a four-cylinder 1.5-litre engine with either 110 or 120PS but both are very noisy and not that much cheaper on fuel than the petrol cars.
Refinement and noise levels
Avoid the basic 83PS petrol version of the Vauxhall Crossland and you get a six-speed manual gearbox with a tall top gear that helps make the car quieter on the motorway. That's the idea, anyway, but you'll find both diesels rattle and rumble even when you're only pottering about in town.
The petrol models are pretty quiet and smooth considering they only have three cylinders. They sound sporty when you're accelerating and fade into the background when you're cruising on the motorway.
Unfortunately, the Crossland is not a quiet motorway cruiser. It suffers from plenty of wind noise both around the pillars at the windscreen and the wing mirrors. Road noise is also noticeable, particularly in models fitted with 17-inch alloy wheels (that's most of them).
One thing going in the Vauxhall Crossland's favour is that all models come fitted with cruise control, so you can maintain a set cruising speed without having to keep your foot on the accelerator pedal.
Safety equipment: How safe is the Vauxhall Crossland?
The Vauxhall Crossland was awarded five stars when it was crash tested for safety by Euro NCAP.
It comes as standard with a lane-departure warning system that uses a camera mounted in the windscreen to sense when you're drifting out of your lane at speeds of up to 37mph and sounds a buzzer to warn you.
Meanwhile, the Vauxhall Crossland's traffic sign recognition system uses the same camera to read road signs and flash up information – such as the current speed limit – on to the infotainment screen between the dials in the instrument binnacle. It's also worth noting that all models come with LED headlights as standard, which produce a more powerful bright-white light than standard filament bulbs.
Which makes it surprising that you don't get automatic emergency braking as standard like you do in a SEAT Arona. They're an option available on all but SE models and can detect people as well as other vehicles, warning of an imminent collision and applying the brakes hard if you do nothing to avoid it.
Specify the automatic emergency brakes and you also get a drowsiness detection system that monitors your driving and warns you to take a break when it detects you're not cruising arrow straight in lane.
MPG and fuel costs: What does a Vauxhall Crossland cost to run?
"Whichever Vauxhall Crossland you buy, it ought to be pretty easy on the wallet."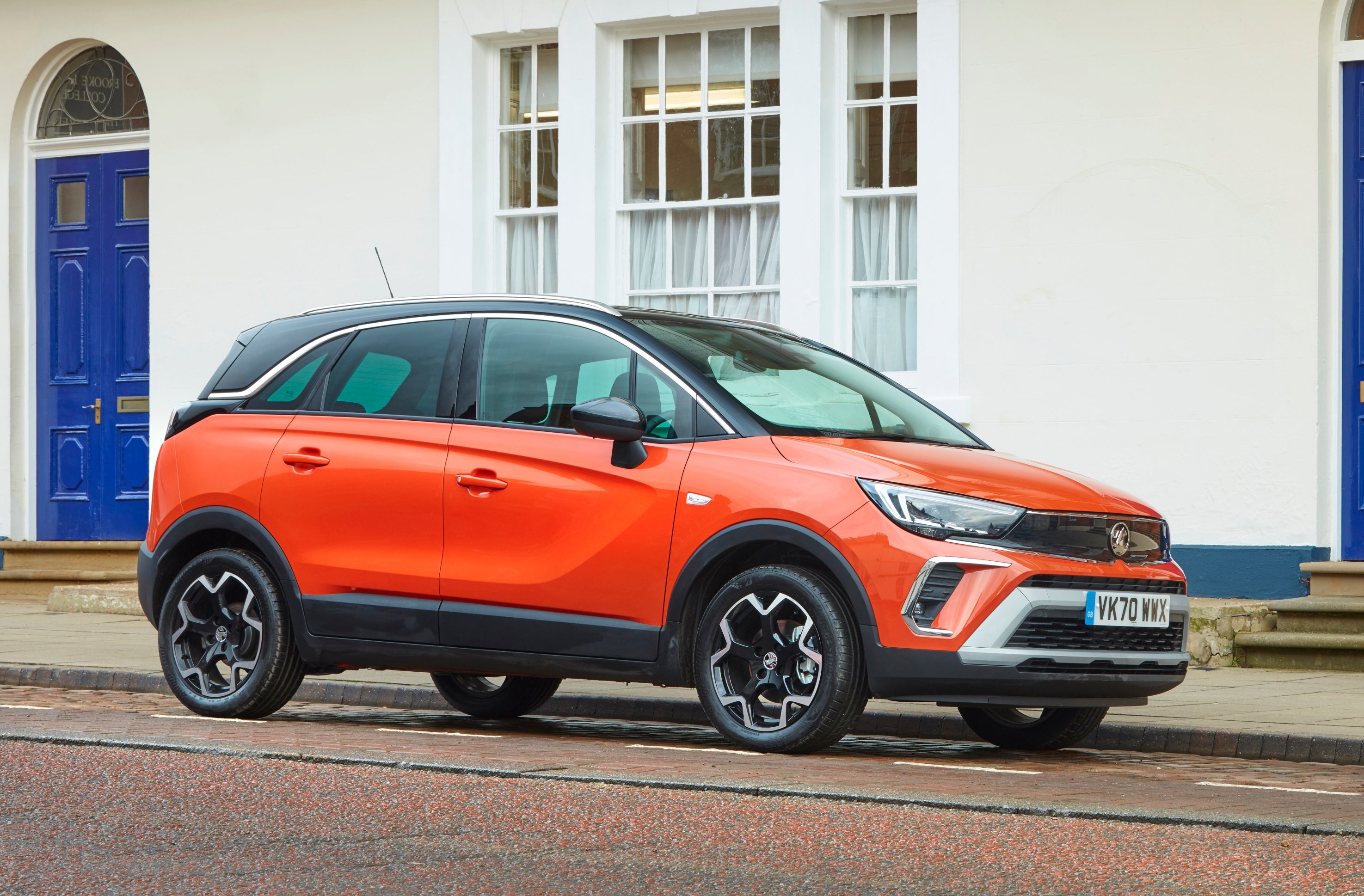 In the real world, we reckon the entry-level Vauxhall Crossland 83PS model will be the least efficient. You'll have to work it hard to get anywhere, and a lack of a sixth gear means it'll be screaming away at motorway speeds. Officially, though, it returns up to 47.9mpg.
The turbocharged petrol engines require less effort so are more likely to achieve close to their official figures, which range from 46.3 to 49.5mpg. That's pretty good, although mild-hybrid alternatives like the Ford Puma are marginally better on fuel.
If you're after a frugal small SUV, look at the diesel models. We wouldn't recommend these for town driving or lots of short journeys, but the 1.5 110 returns up to 61.4mpg while the more powerful version with the auto gearbox is rated up to 57.7mpg.
How reliable is a Vauxhall Crossland?
There aren't many common issues associated with the Vauxhall Crossland. That said, it ranks pretty poorly in the HonestJohn.co.uk Satisfaction Index. It scored an average rating of 7.71 out of 10 for reliability, which is only marginally better than the problematic old Vauxhall Meriva.
Parts should be relatively affordable, though, while most mechanics will be comfortable working on a Vauxhall Crossland.
Insurance groups and costs
Insurance is another cost that isn't going to break the bank with the Vauxhall Crossland.
The 83PS petrol model is the cheapest of the lot, qualifying for group 8E insurance. Choose the 110PS model and the Vauxhall sits in insurance group 14E, while the 130PS version pushes into insurance group 17 or 18E.
The diesel models fall into groups 16 or 17E depending on trim level.
VED car tax: What is the annual road tax on a Vauxhall Crossland?
The most expensive Vauxhall Crossland to tax is the 120PS diesel model. It will set you back £540 in the first year and £150 thereafter. The rest of the range only costs £215 to tax in the first year and £150 thereafter.
Buying your Crossland as a company car? Then you'll find BIK tax rates are affordable ranging from 30% (for the 130PS petrol) to 34% (in the 120PS diesel).
How much should you be paying for a used Vauxhall Crossland?
"A brand new Vauxhall Crossland can be picked up for a little over £19,000, which makes it a bit of a bargain in the world of small SUVs."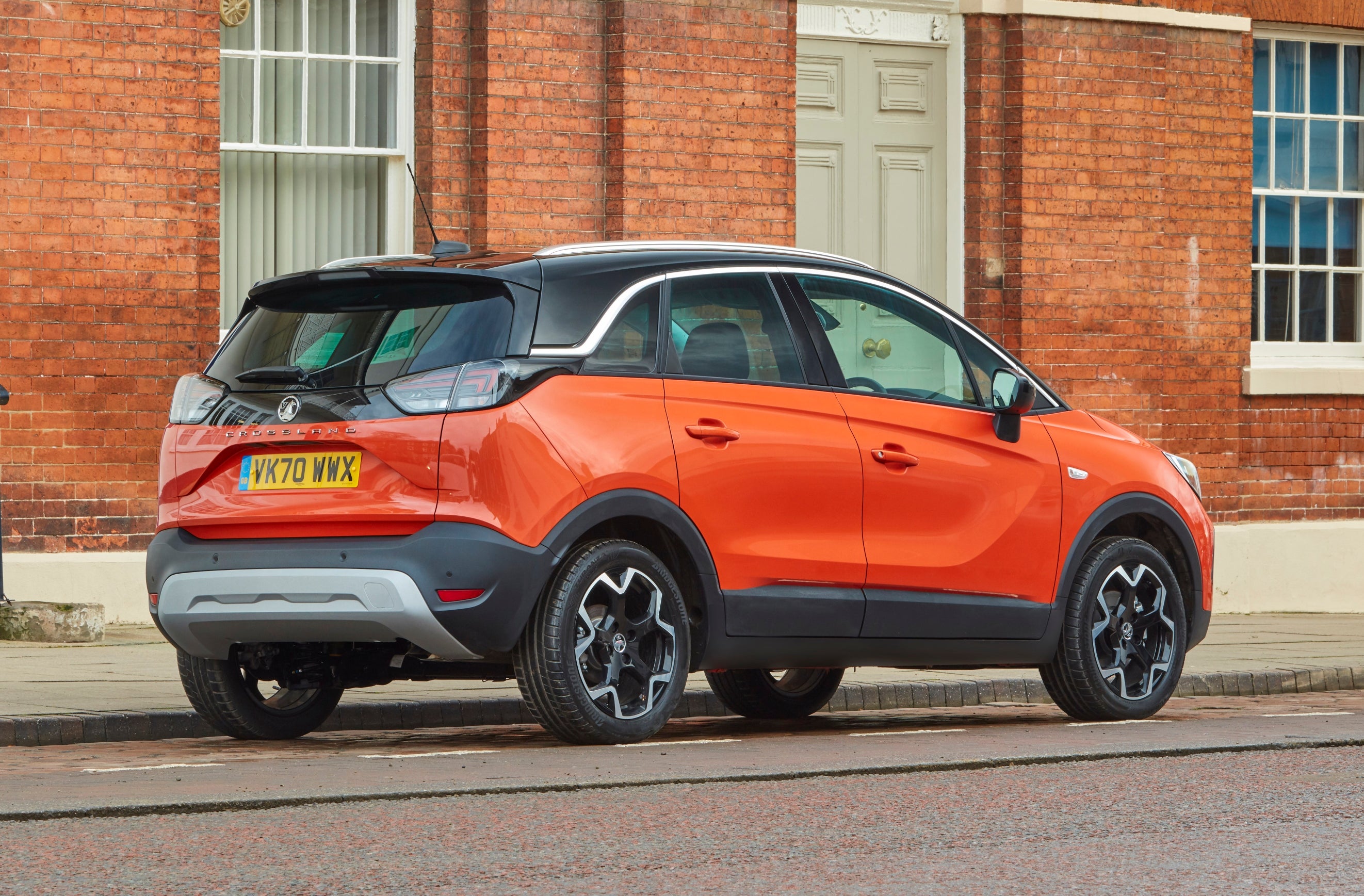 Your money will go further on the used market, though – and we're not necessarily talking about cars which are a few years old. Just £17,000 will get you a choice of pre-registered cars in desirable trim levels. This means you can be driving away in an as-new car from a Vauxhall dealer within a matter of days – and saving thousands of pounds in the process.
If your budget won't stretch that far, don't fear. A three-year-old Vauxhall Crossland represents excellent value for money, with early examples now available for just £8000. That gets you a Crossland X SE with the 1.2-litre petrol engine with lower than average miles on the clock.
Trim levels and standard equipment
The range starts with the Vauxhall Crossland SE which, actually, isn't that poorly equipped. Standard kit includes a seven-inch touchscreen media system (with Apple CarPlay and Android Auto), air conditioning, LED headlights and snazzy 16-inch diamond-cut alloy wheels. The rain-sensitive wipers will switch on automatically, as will the automatic headlights. Hill-start assist will give you a hand when setting off on an incline, while speed sign recognition will remind you of the speed limit. Lane departure warning alerts you if you stray from your lane on the motorway, too.
As its name suggests, the Vauxhall Crossland SRi Nav model builds on the SE's specification with an eight-inch sat-nav system. It also gets dual-zone climate control, rear parking sensors and stylish ambient lighting. The ergonomic active front seats should provide a bit more support on long journeys, while the sliding rear seats aid versatility. It's a more stylish choice, too, with 17-inch alloy wheels, a contrast colour roof, silver roof rails, LED rear lights and tinted windows.
The Crossland Elite is a posher choice with heated front seats and steering wheel, while a driver's seat armrest helps you find a more comfortable seating position. There's some extra chrome around the windows, while a reversing camera is a desirable feature.
Topping the range is the Vauxhall Crossland Ultimate Nav. As well as the eight-inch sat-nav system, this features a wireless mobile phone charger and keyless entry/start. The interior trim is finished in Alcantara, and there's a fancy panoramic rear-view camera as standard.
Ask the heycar experts:
common questions
Where is the Vauxhall Crossland made?
The Vauxhall Crossland is now built in Zaragoza, Spain. It is produced alongside the Opel Crossland, which is sold in Europe.

Does the Vauxhall Crossland have sat nav?
Yes. Look for Business Edition Nav, Elite Nav and SRi Nav specification for satellite navigation on the Vauxhall Crossland.

Is the Vauxhall Crossland 4x4?
There is no four-wheel-drive version of the Vauxhall Crossland.

Vauxhall Crossland X cars for sale on heycar
4,659
Number of cars available
£9K - £19K
Price bracket of these cars
Colours available on heycar
Keep me updated by email with the latest advice, news and offers from heycar
By submitting, you agree to our
privacy policy
.