Vauxhall Grandland Review 2022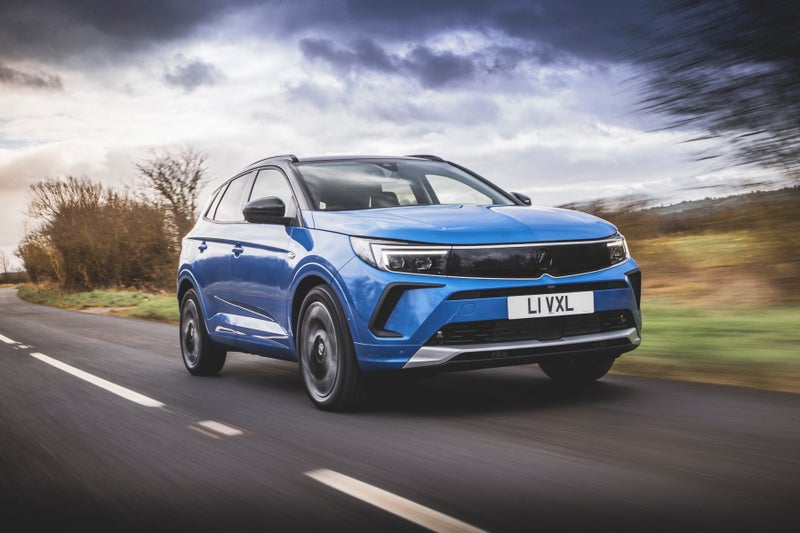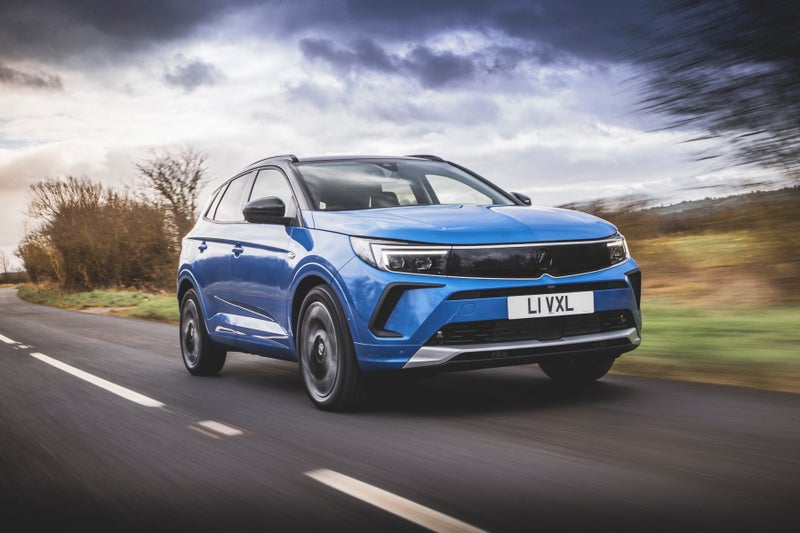 1/10
heycar rating
"A bit more stylish, but still the rational choice"
Launched: 2022

SUV

Petrol, Diesel, PHEV
Quick overview
Pros
Practical, kit-laden interior
Comfortable and refined
2022 facelift is a lot less bland
Cons
Still not exactly exciting
There are sharper handling SUVs
Simplified trim range has removed some key kit
Overall verdict
On the inside
Driving
Cost to run
Prices and Specs
Common questions
Overall verdict on the Vauxhall Grandland
"The Grandland X is now simply the Grandland. No, the name still isn't great, but with a much improved exterior design, nicer interior with better tech and a decent all-round driving experience it's more competitive. It's also pretty affordable - just don't expect it to thrill you in any way."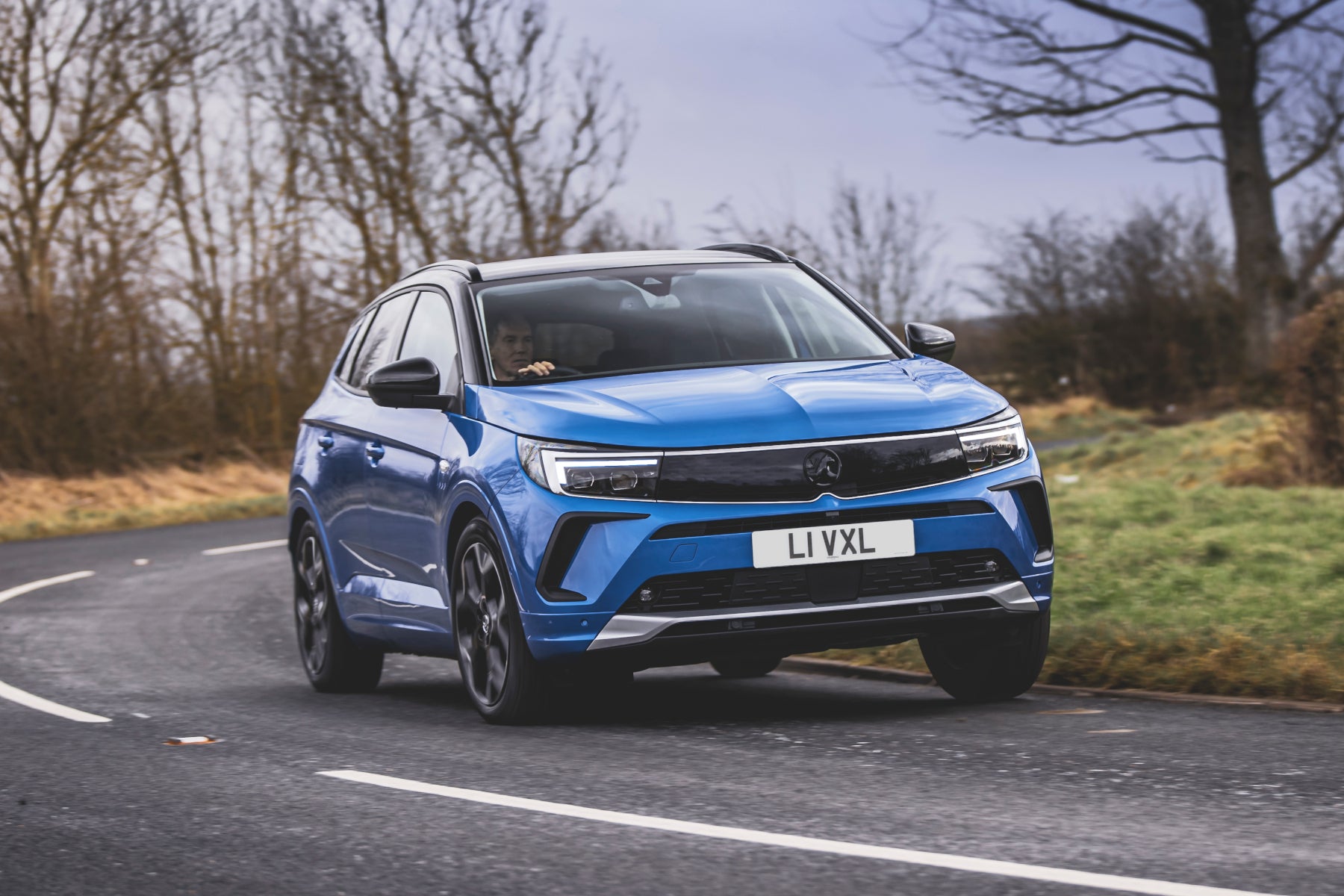 The newly updated Vauxhall Grandland proves that not every car needs to dazzle you with a bold design, a bewildering array of technology and sports car-like handling. Sometimes you just want an affordable car that ticks all the rational boxes. In this review, however, we'll see if the refreshed family SUV has more showroom appeal than before.
What's happened to the 'X' in the name? Well, the Vauxhall formerly known as the Grandland X follows the smaller Crossland and Mokka in ditching it in an effort to broaden its appeal. But Vauxhall has done much more than that: for starters, the new Grandland is noticeably more visually appealing. Which isn't hard, because the old car was as stylish as that dusty anorak in the back of your wardrobe.
Granted, it still won't make your neighbours' curtains twitch in the same way that its Hyundai Tucson or (closely related) Peugeot 3008 rivals might, nor does it have the premium air of the Volkswagen Tiguan, But its sharp new 'Vauxhall Vizor' face (inspired by the distinctive Mokka) tweaked rear-end and two-tone roof and body colours on most variants make it a fair bit less dreary to behold.
Step inside and, while it's not exactly colourful or elegant, fresh upholstery and a new twin-screen infotainment and digital dial setup on most models helps modernise things. Quality is generally pretty good, while the rational approach means that the layout is more intuitive to operate than its more eccentric 3008 cousin. The Skoda Karoq and SEAT Ateca have even easier-to-use interiors, however.
The old Grandland X was never particularly dazzling in terms of its technology, so the facelifted car brings a few new additions. Highway Integration Assist allows the car to steer, centre itself in the lane, brake and accelerate largely by itself even in slow traffic, while new 'Intellilux LED Pixel' adaptive headlights (standard on top spec) have 84 LEDs per headlight and multiple modes depending on conditions. There's even a night vision system on the options list, which displays in the digital dials and highlights potential hazards well before you'll see them.
Like the Peugeot, the Vauxhall has plenty of space for you and another tall adult to get comfortable in the front, while leaving plenty of room for a pair of towering specimens in the back. Even three up, adults won't feel terribly squashed, the boot is large and practical, too, and you get plenty of smaller storage spaces scattered about the place.
It's not just the interior space that makes the Vauxhall Grandland an ideal family car, it's also very comfortable. It might not have the fancy air suspension option of a premium SUV but the Grandland glides over the majority of bumps like they're not there and the cabin is quiet at speed. Seats designed for long-distance ergonomics mean it's a great long-distance cruiser, as does standard adaptive cruise control and lane positioning assist on all but the base model.
Thankfully, the Vauxhall Grandland's comfort doesn't come at the expense of turning it into a blancmange in corners – it doesn't roll excessively and the accurate steering inspires confidence on the move. Yes, there are sharper and more entertaining SUVs out there, but many of those are firmer riding.
These well-rounded road manners are a brilliant match for the Vauxhall Grandland's excellent 130PS 1.2-litre PureTech turbo petrol engine. It sounds worryingly small in a car this size, but you'll soon forget about its capacity when you sample its surprising punch and smooth delivery. Only when you're pulling away from the lights or overtaking in the wrong gear can it occasionally bog down while you wait for the turbo's slug of torque.
It's such a well-rounded engine that the 130PS diesel only makes sense if you live on the motorway. Meanwhile, the 225PS plug-in hybrid will appeal to business users because of its low benefit-in-kind tax, and isn't too overpriced for the private buyer. A 39-mile electric range is useful, but the PHEV makes less sense if you're not able to plug it in at home or at your destination.
Overall, the Vauxhall Grandland is very much still a head-over-heart purchase, but it is at least not totally undesirable and surprisingly well-rounded.
Is the 2022 Vauxhall Grandland right for you?
The Vauxhall Grandland is right for you if you're looking for a spacious, well-rounded family car that goes about its business without drawing attention to itself. It's no longer incredibly boring to look at, though, and while some rival SUVs have gone down the divisive design route, the Vauxhall treads a smart and sensible path.
With petrol, diesel and plug-in hybrid engine options there's something to suit most requirements. It's also comfort-focused (arguably more important in a car of this type than razor-sharp handling) and looks decent value next to increasingly expensive competition.
What's the best Vauxhall Grandland model/engine to choose?
The Vauxhall Grandland is seen in its best light when fitted with a 130PS PureTech petrol engine which delivers pretty strong performance – considering its tiny 1.2-litre capacity – and excellent fuel economy. Combined with a low list price, you should really question if you need the extra performance of the pricier plug-in hybrid.
In the transformation from Grandland X to Grandland the rather bewildering range of trims has been reduced to just three. Even base Design model is well-equipped, but misses out on the larger infotainment screens, adaptive cruise control and two-tone roof option. It also misses out on roof rails - and we reckon SUVs always look a bit dowdy without them. Mid-spec GS Line is probably the best compromise between cost and kit.
What other cars are similar to the Vauxhall Grandland?
Comfort and design: Vauxhall Grandland X interior
"The Vauxhall Grandland is a lot more conventional-looking inside than the Peugeot 3008. It's a bit dull still, but the facelift has improved the tech and kit levels and quality is still pretty good."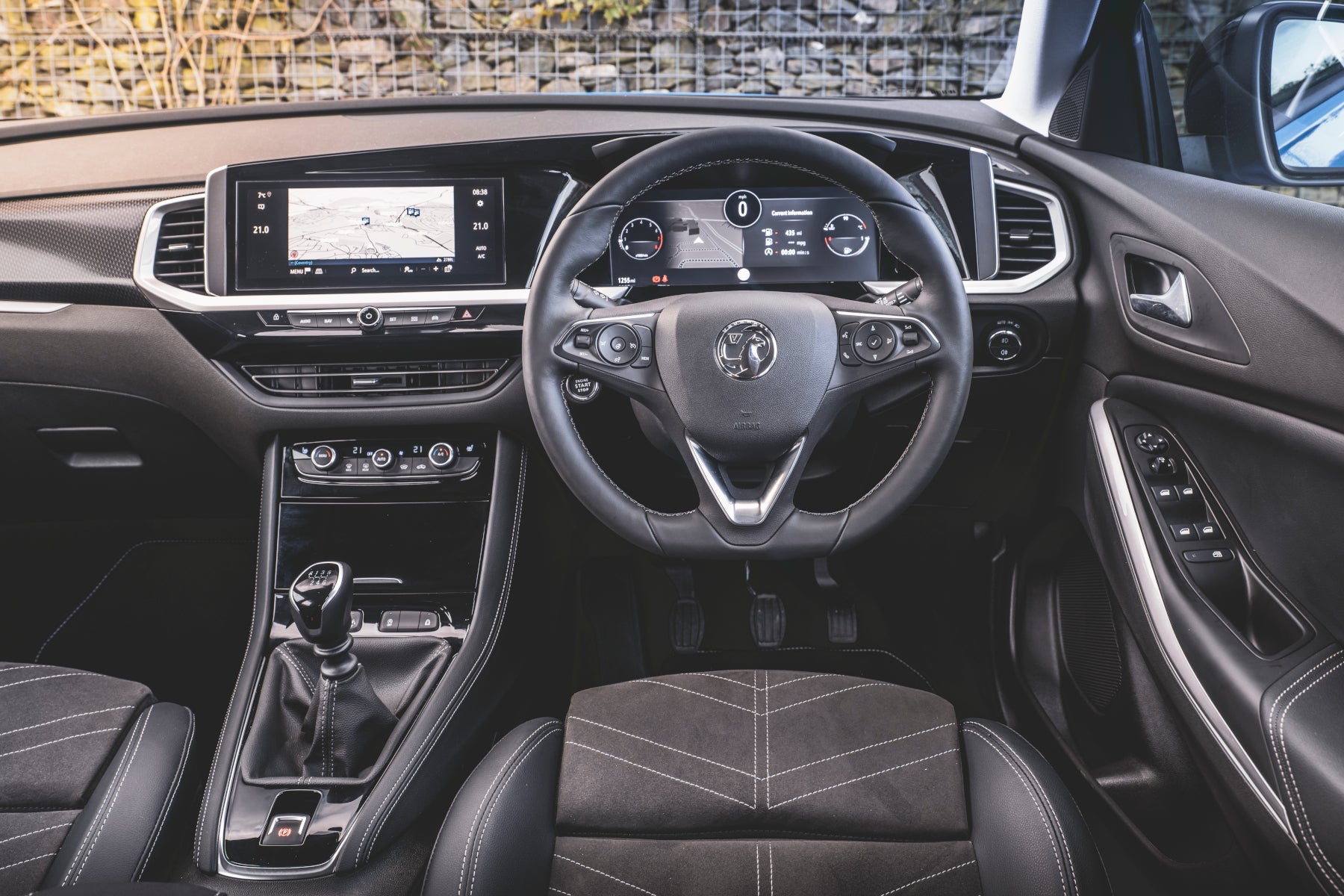 Inside, the Vauxhall Grandland is chalk to the Peugeot 3008's cheese. Like the outside, both platform-sharing models look very different inside, and it's clear that the Peugeot is the one that'll wow people in the showroom.
Stylish the Vauxhall's cabin isn't, even after the facelift. But look past the lack of excitement, and the Grandland's simpler, more user-friendly layout means it's appeal goes beyond glitz and glamour. Despite the bigger touchscreen, many physical buttons are retained, meaning tasks such as turning off lane keep assist, changing the fan speed and switching drive modes doesn't involve fiddling with the screen.
Fundamentally the Grandland's dash architecture is the same as the old Grandland X, but the key difference is the twin-screen infotainment and dial design. It's best appreciated on GS Line trim and above where both screens are larger.
Most of the things you poke and prod feel of decent quality, while storage is pretty good (apart from the tiny glovebox). There are some harder, shinier plastics, however. Mid-spec models and above get an ergonomically designed driver's seat said to be better for your back over long distances, although you only get the same for your front passenger if you step up to Ultimate trim.
Quality and finish
Plastic quality is decent enough in the Vauxhall Grandland. The majority of the dashboard is made from spongy plastics that feel dense and expensive and the tops of the doors are made from the same stuff.
It's not a clean sweep, the stalks behind the steering wheel don't work with the same oily damping of a Volkswagen Group car and there's some harder, shinier plastics dotted about the place. We're also not especially keen on the mass of gloss black trim on the dash, which is something the new Astra is similarly afflicted by.
Still, the half leather trim on higher end models feels of good quality, with Alcantara centres and nice stitching, and we didn't experience any major rattles or creaks on our test drive. Overall, it's apparent that the Grandland is one of the more affordable family SUVs in the Stellantis stable, but you're not constantly reminded of that.
Infotainment: Touchscreen, USB, nav and stereo in the Vauxhall Grandland
The old Vauxhall Grandland X came with an entirely acceptable infotainment setup, which comprised of a seven-inch screen on cheaper models and an eight-inch setup on higher-end trims. There were no digital dials, however.
Time moves on, and the new Grandland has advanced in this area. For starters, every model (even base Design trim) now gets digital dials as standard, with the entry-level infotainment system again using a seven-inch display. That comes complete with Apple CarPlay and Android Auto so you can use a variety of your phone's apps on the move.
Step up to mid-spec GS Line trim and that central screen becomes a ten-inch display, with the digital dials stepping up to an impressively girthy twelve inches. It also gets sat-nav unlike the base display. The graphics aren't particularly groundbreaking, but it all works with decent slickness and the central screen itself is responsive to inputs. The instrument display is nowhere near as customisable as the best VW Group system, however.
Oddly, only hybrid models come as standard with a subscription to Vauxhall Connect which, as well as having live traffic updates and automatic emergency calling, also allows you to connect to your car remotely, via an app, so you can do things like check its battery charge status and pre-condition the car's air-con remotely.
Wireless phone charging is only standard on top-spec Ultimate trim, which is a shame because the USB and 12V socket connections are tucked away in a little centre console cubby. Models fitted with the uprated infotainment and dials also get a rear USB connection - to be honest, that should just be standard across the range in a family car - while top spec Grandlands have a handy 230-volt accessory socket in the rear.
Space and practicality: Vauxhall Grandland boot space
You could be tall or small and still get a comfortable driving position in the Vauxhall Grandland because the driver's seat has a wide range of adjustment to match the rake and reach movement of the steering wheel.
There's one caveat to that: we've only driven the new Grandland with the ergonomic sports seats (standard on the driver's side in GS Line trim and also on the passenger side in Ultimate trim). These seats are certified by German organisation AGR (which translates to the Campaign for Healthier Backs), and certainly felt both comfortable and supportive.
Oddly, the trim simplification means that, while there used to be electric front seats on the top trim of the Grandland X, those have now been relegated to the options list. That's a shame, but mid and high-spec cars do get electric lumbar adjustment and top-spec Ultimate models get heated seats, wheel and windscreen. The panoramic glass roof, again previously standard on top trims, has been made optional too.
The advantages of the Grandland's SUV body are plain to see when you get in the back, because there's room for tall adults in the rear even if there are adults of a similar height sitting up front, and there's no shortage of headroom. Sure, with three in the back it's a bit of a squeeze, but there's room in the footwells for everyone's feet and you won't feel as squashed as you do in a similarly sized hatchback.
Passengers in the back also get their own air vent, although a centre armrest with two cupholders and a hatch to feed skis (or whatever else) through from the boot is now only standard on Ultimate trim. Meanwhile, you'll find two ISOFIX points for fitting child seats on the outer rear seats as well as on the front passenger seat.
The boot is just as practical as the back seat. Wiggle your foot under the bumper (on top-of-the-range Ultimate models) and the tailgate opens electrically – handy if your hands are full – to reveal a 514-litre load bay (390 litres in hybrids) that is boxy, wide and easy-to-load despite a small lip.
Folding the back seats is easy – you yank a couple of levers in the sides of the boot and they fall down under their own weight to reveal a completely flat floor and a total capacity of 1652 litres (1528 litres in the hybrid). There's also a small storage space to hide valuable under the floor, which disappears if you specify the optional spare wheel.
In terms of smaller storage areas, the Vauxhall has plenty. All the doors have large pockets that can swallow bottles of water, there's a deep cubby under the front seat centre armrest and there are two cup holders next to the gearstick. The only annoyance is the small glovebox which is split in half by the fusebox in right-hand drive cars - a common Stellantis quirk.
If you're looking to fit the Vauxhall Grandland into your garage, you'd be interested to note that it's 4447mm long, 1906mm wide (excluding door mirrors) and 1609mm high (including roof rails).
Handling and ride quality: What is the Vauxhall Grandland like to drive?
"We'd describe the Vauxhall Grandland as 'agreeably competent'. Some might read that as dull, but it's perfectly good in what is hardly a sparkling class of car for driving dynamics."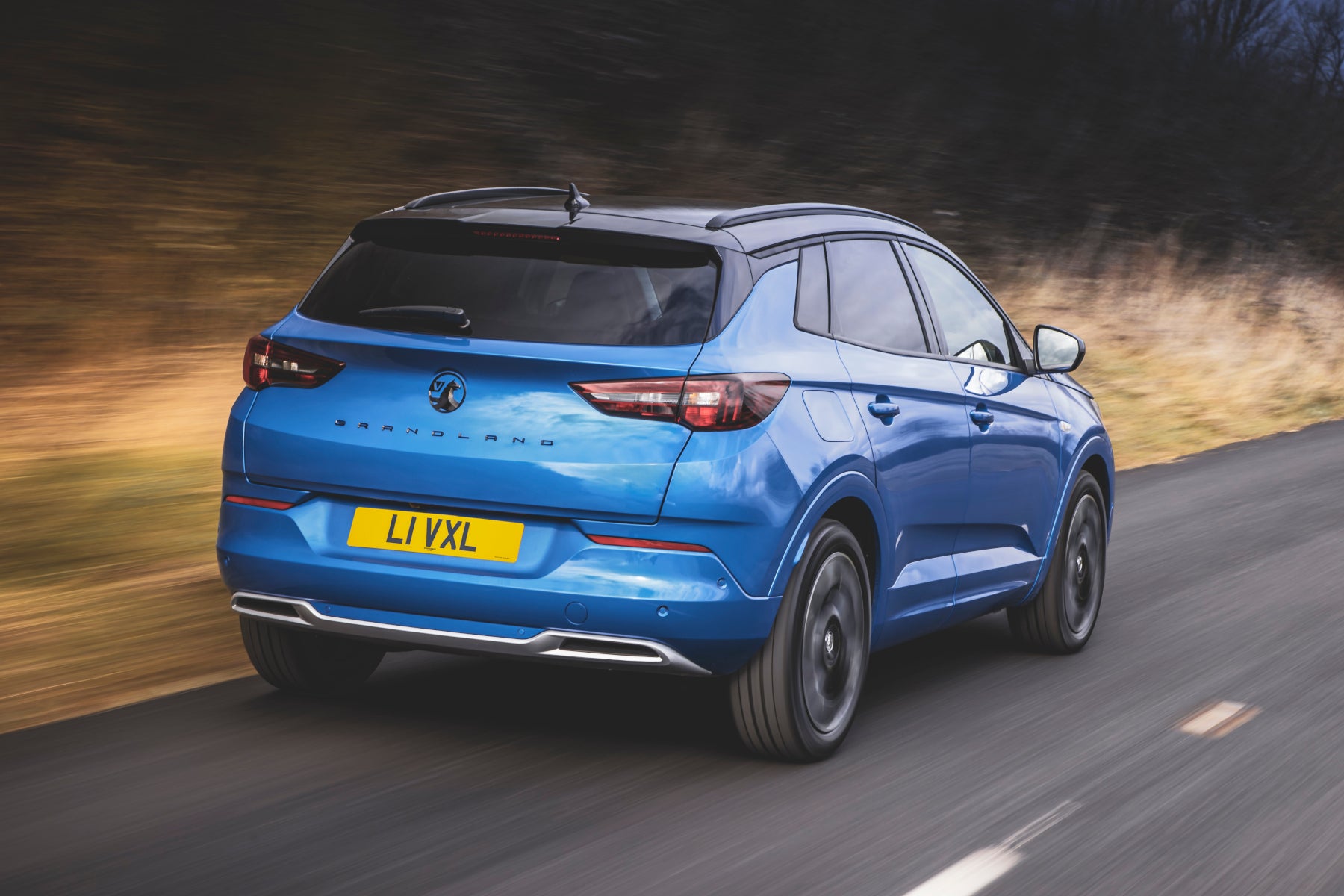 Will the new Vauxhall Grandland make the hairs on the back of your neck stand up with its emotive performance and thrill you in the bends? Well, no. It's a mainstream family SUV, what were you expecting?
The chassis and engines are largely unchanged after the Grandland's facelift. That means you get a pretty competent all-round SUV. It's not as engaging to hustle down a country lane as a SEAT Ateca or Mazda CX-5 , nor is it as wafty as its Citroen C5 Aircross cousin. It sits somewhere in the middle of the field, offering an agreeable and vice-free driving experience.
The base 1.2-litre turbo petrol is the lightest and keenest to change direction. The fairly light steering isn't brimming with feel, but it's confidence-inspiring enough and the Grandland doesn't feel totally out of its depth when pushing on. The brakes are a touch grabby at low speeds, though, while the manual gearshift isn't the most positive or slick around.
The suspension is clearly geared towards comfort, offering a pretty isolating ride that covers off the worst potholes in town. the 19in wheels of the Ultimate model introduce a bit more thumping at low speed, but it smooths out the faster you go, and all are comfortable on the motorway. That said, the relatively soft suspension means there's some pitch and roll if you fling it around a bit.
The hybrid models extra weight means it feels less nimble in quick driving, but when you're just mooching about (as most owners will be) it's competent enough, and the extra weight gives it a slightly more cosseting ride.
On the plus side, the light steering and the fact that even the basic model comes with front and rear parking sensors means it's easy to squeeze into spaces. Mid-spec models get a 180-degree rear view camera, which upgrades to a 360-degree all-round view on Ultimate trim. The Grandland's raised ride height also makes it ideal for traversing nasty speed humps.
The old Grandland X had few semi-autonomous driver aids to speak of, but it's now greatly improved on that front, with mid-spec GS Line getting adaptive cruise control, lane positioning assist and (on automatic hybrid models) the Highway Integration Assist for stop-and-go traffic.
What engines and gearboxes are available in the Vauxhall Grandland?
You can have your Vauxhall Grandland with one petrol engine, one diesel engine and, at launch, one hybrid. There will be a second hybrid following with a whopping 300PS, which we suspect will be a fairly expensive (and niche) buy.
The 130PS 1.2-litre three-cylinder petrol engine may be the proverbial runt of the litter, but it never feels it. It accelerates the Vauxhall from 0-60mph in a 10.2 seconds, which doesn't sound great, but it feels faster than that, and it has enough mid-range surge to feel perfectly adequate in normal driving. It doesn't get obnoxiously noisy if you ask more of it, either, with a reasonably endearing thrum.
The six-speed manual gearbox is fine - not super slick or positive, but not soggy and imprecise either - which is good because steep hills on the motorway might require you to drop down a gear or two for overtakes, although the flip side of this is that the engine's barely ticking over at a cruise.
We've not yet tried the now auto-only 130PS 1.5-litre four-cylinder diesel, which is a fair bit slower on paper than the petrol (0-60mph takes a yawning 12.3 seconds), but in the old Grandland X it was unwilling to rev and not particularly punchy. As a result, we'd advise you leave the diesel unless you do lots of motorway miles where you'll see the benefit of its improved fuel economy.
Or if you tow – the diesel will haul up to 1500kg compared to the 1400kg the petrol manages and the 1250kg the hybrids will shift.
The hybrid model, meanwhile, comes into its own if you have a short enough commute to get in and out of work on battery power alone. With up to 39 miles of electric range, that should be a decent chunk of motorists - although as always the caveat is that if you're not able to plug it in at home or at work it won't be a particularly cost-effective buy.
It uses 1.6-litre four-cylinder petrol engine that's boosted by an electric motor to produce 225PS. It's front-wheel drive, though - the 300PS version will have four-wheel drive, and in the old Grandland X managed an impressive 0-62mph time of 5.9 seconds. That's three seconds more than in the 225PS model, although it still feels pretty punchy and delivers impressive economy while it juggles petrol and electric power sources. It'll also get up to 84mph in electric mode alone, although it takes a while to get there.
Refinement and noise levels
If you're look for a family SUV that's quiet, then the Vauxhall Grandland is one of the best. It will lollop along the motorway while barely breaking sweat – even the petrol is muted at a cruise – and there's not much wind noise to speak of save for a flutter around the wing mirrors. Tyre roar is also well contained except over poorly surfaced motorway sections, though for best results we'd avoid models with 19-inch wheels.
It's also a very quiet car in town, and that's especially true of the hybrid models which can clear city centres and suburbs running on silent electric power.
Safety equipment: How safe is the Vauxhall Grandland?
The old Vauxhall Grandland X scored five stars for safety when it was crash tested by Euro NCAP, although it's worth noting that this was achieved under 2017's less stringent test conditions.
Happily, the updated Grandland's increase in standard active safety kit should mean it's competitive with newer models in this area. Entry-level models now get autonomous emergency braking, speed sign recognition, a drowsiness alert and lane departure warning with lane keep assist.
Also standard across the range is cruise control with a speed limiter, auto-dip headlights and six airbags, while standard front-and rear parking sensors help you avoid low-speed shunts. Isofix mounts on the front passenger seat and outer rear seats are also standard.
Stepping further up the range gets you the lane position assistant (which subtly keeps you centred within your lane) as well as adaptive cruise control. The stop and go function only works on the plug-in hybrid model, however.
MPG and fuel costs: What does a Vauxhall Grandland cost to run?
"No Vauxhall Grandland costs a fortune to run for a mid-sized SUV, but the hybrid model is worth considering if it works for you "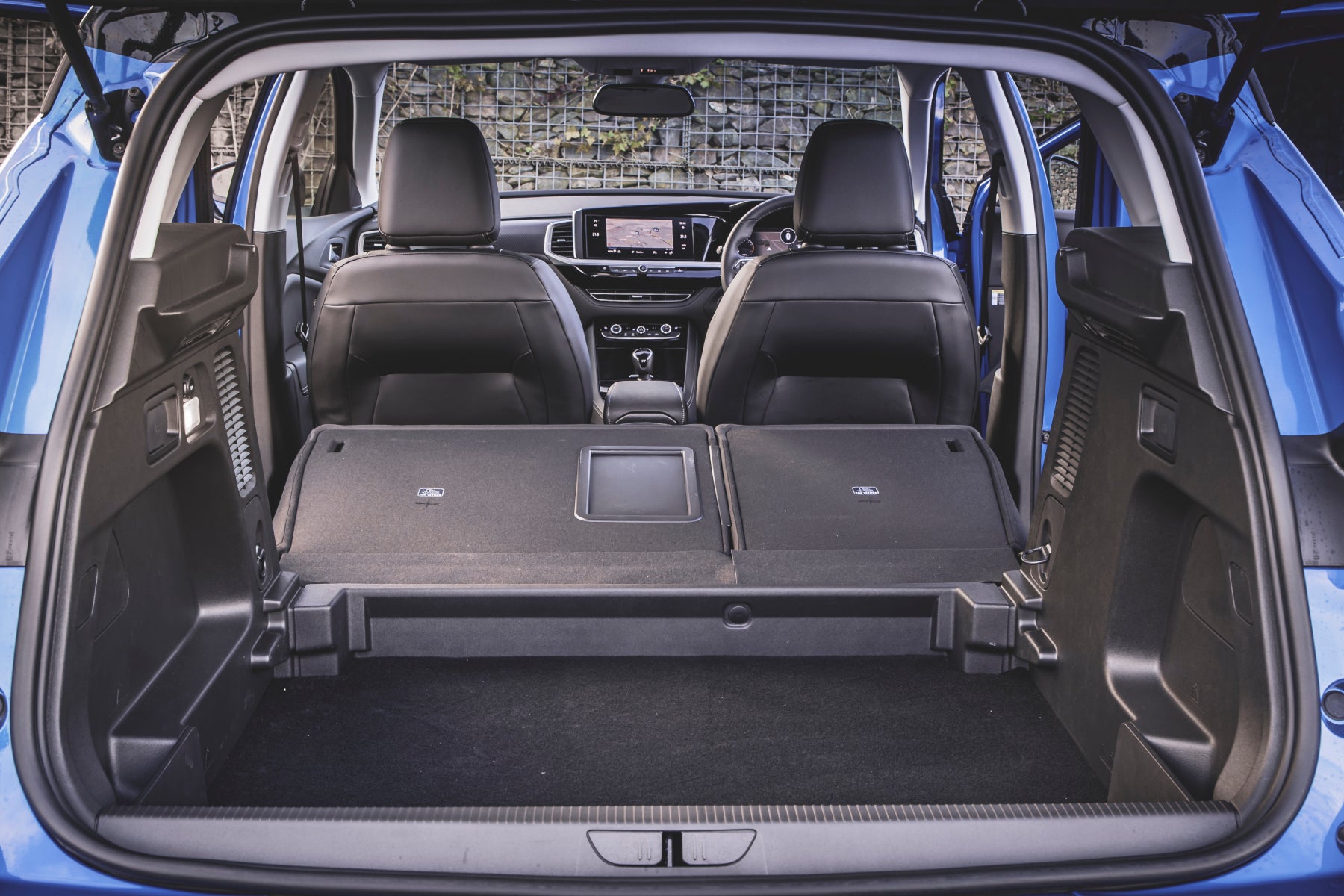 The model with the highest running costs on paper is the 130PS petrol, which will achieve up to 45mpg according to accurate WLTP testing procedures. That drops a couple of MPG if you fit the optional automatic gearbox. The 130PS diesel model will get over 50mpg and its fuel economy is unaffected if you fit the auto.
The hybrid models can travel up to 39 miles on battery power alone and take as little as 1hr 45 min to recharge from flat using a 7.4kW wall charger. That requires a £500 6.6kW on-board charger, though - otherwise its 3hrs 30 min via a wallbox, or 5hr 45 min via a three-pin socket. It also promises low benefit-in-kind tax rates, making it the default choice for company car users.
Official fuel economy for the hybrid is into three-figure MPG, which sounds extremely impressive. But regular charging is key, and the economy benefits are less obvious on longer journeys as, once the battery is drained, it uses more fuel than the standard petrol model. Blame the substantial weight of the battery for that.
How reliable is a Vauxhall Grandland?
Vauxhall doesn't enjoy the best reliability record, although that is partly because of the huge numbers of cars it sells. It's inevitable that some will go wrong, but it's probably fair to say that an equivalent Hyundai or Toyota will be more dependable.
The 1.2-litre petrol engine did have some early issues, while electrical gremlins aren't unheard of. As is often the case, it's worth avoiding the diesel unless you cover enough miles to keep the DPF (diesel particulate filter) clear of blockages.
Insurance groups and costs
Insurance groups for the updated Vauxhall Grandland haven't been released yet, but the old Grandland X started from Group 14E insurance for a Business Edition model fitted with the 130PS petrol engine
That rose to 32E for an Ultimate Hybrid4 with all the kit – thanks to its complex technology and, of course, because it has plenty of performance courtesy of its 300PS powertrain.
Interestingly, the basic SE Premium model wasn'tthe cheapest to insure, presumably because it didn't come fitted with automatic emergency brakes.
VED car tax: What is the annual road tax on a Vauxhall Grandland?
The Vauxhall Grandland models that cost the least to tax for private users are the 130PS petrol or the 130PS diesel – they'll set you back £220 in year one, £155 every year thereafter, regardless of gearbox choice.
CO2 emissions of between 29-31g/km mean the hybrid versions are a mere £10 to tax for the first year, but £145 to tax every year thereafter. The 225PS hybrid's list price is under the £40,000 threshold to pay the 'premium car' tax, but we suspect the 300PS model coming later won't be.
How much should you be paying for a used Vauxhall Grandland?
"The Grandland is reasonably priced when new, ranging from £25,810 to £37,375 for the top-spec hybrid. Depreciation for the old car was fairly steep, meaning there are some good used buys out there. "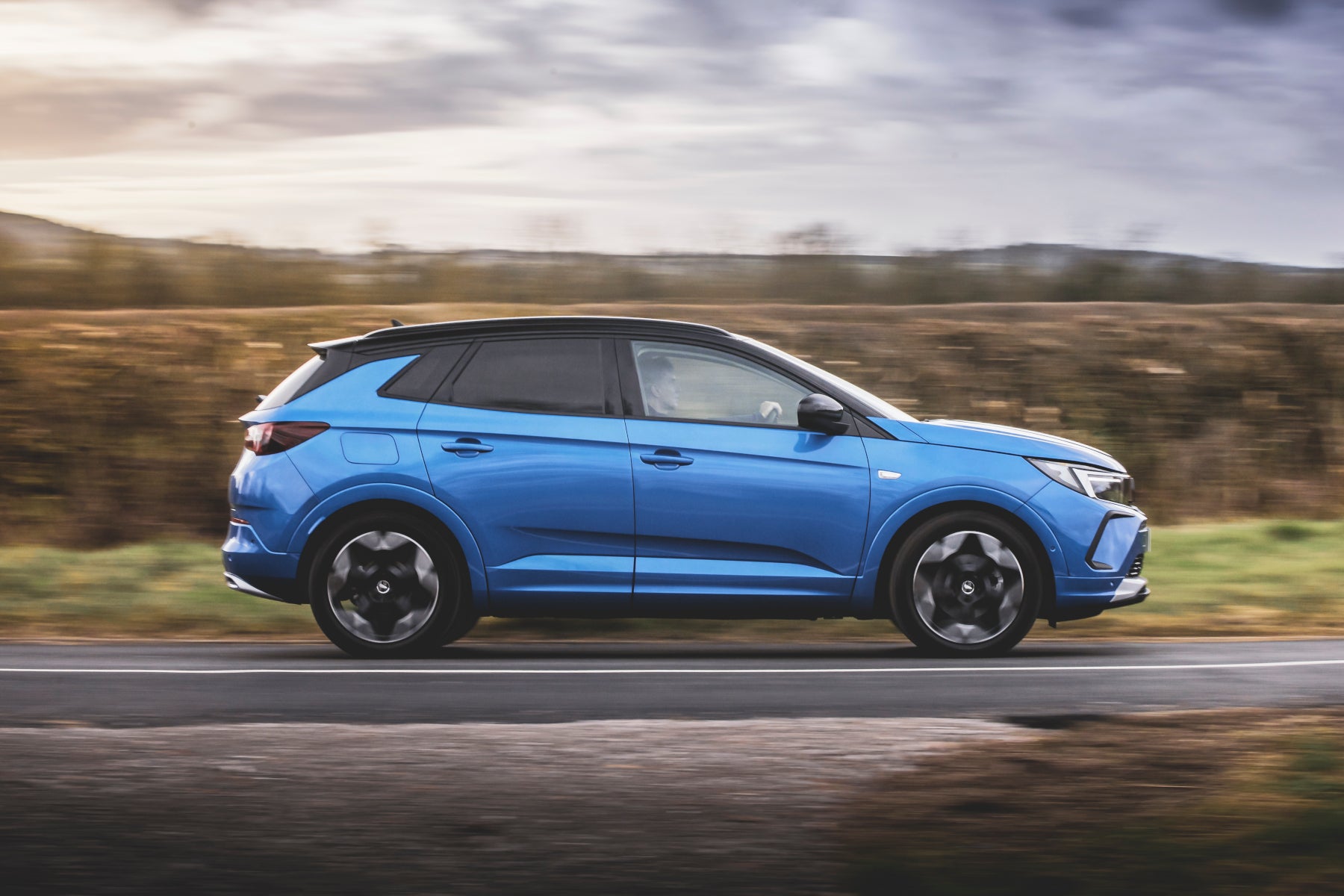 Of course, there won't be any used examples of the new Grandland any time soon, so it's the old Grandland X you'll be shopping for. Vauxhall claims the updated car has improved residuals, which is good because the Grandland X depreciated pretty heavily for the class.
The upside of that is that there are some affordable used buys around. Prices start from just over £13,000 for a 2018 1.2 petrol SE with 50,000 miles on the clock, while diesels are now similarly priced. A 2021 SE Premium petrol is £19,000 with just 8,000 miles on the clock.
The hybrid, meanwhile, arrived later in the car's life, and was a lot less popular, so there's less used examples to choose from. The cheapest, a 2020 Business Edition with just 4,000 miles on the clock, is £26,000.
Trim levels and standard equipment
Whereas the old Vauxhall Grandland X was available in no less than 13 trim levels (unlucky for some, particularly you if you have to make sense of them), the new car's range is much more simple. There's three trim levels, although the plug-in hybrid can't be had in entry-level Design trim.
Design spec has a (generally speaking) higher kit tally than the previous base model. It gets LED head and taillights with auto high beam, front and rear parking sensors, a greater suite of driver assists (as detailed in the safety section) plus a seven-inch infotainment system with seven-inch digital dials. You also get 17in alloys and dual-zone climate control.
Step up to GS Line trim for 18in black wheels, black exterior detailing and gloss black roof rails, plus tinted windows (it's worth doing, as Design models look quite bland). You also get the upgraded 10-inch infotainment system with 12-inch digital dials, sat-nav, adaptive cruise control, a rear view camera, uprated front seats and an anti-dazzle rear view mirror. Features specific to the hybrid model include the Vauxhall Connect subscription, thermal pre-conditioning and the Highway Integration Assistant.
Flagship Ultimate trim gets the IntelliLux adaptive LED headlights plus LED front fogs, a 360-degree parking camera, advanced park assist, blind spot alert and keyless entry and start. There's also further upgraded front seats Alcantara trim and heating, a heated steering wheel and windscreen, an electric tailgate, a centre rear armrest and 19in diamond cut wheels.
Ask the heycar experts:
common questions
Is the Vauxhall Grandland a good car?
The Vauxhall Grandland is a great choice if you want a practical family car that's very comfortable to drive, especially if you're not swayed by flashy styling or a posh badge.

Is the Vauxhall Grandland bigger than the Mokka?
Yes, the Vauxhall Grandland is the biggest SUV Vauxhall sells, it slots on top of the smallest-of-all Mokka and mid-sized Crossland.

Is the Vauxhall Grandland four-wheel drive?
Currently the Vauxhall Grandland is front-wheel drive only, although a four-wheel drive hybrid model is due to arrive later.

Does the Vauxhall Grandland have a reversing camera?
The Vauxhall Grandland X doesn't have a reversing camera fitted on the base model, but it does on mid-spec GS Line trim, while the top-spec Ultimate model gets a 360-degree parking camera.

Answered by
heycar editorial team
Vauxhall Grandland cars for sale on heycar
4,651
Number of cars available
£12K - £35K
Price bracket of these cars
Colours available on heycar
Keep me updated by email with the latest advice, news and offers from heycar
By submitting, you agree to our
privacy policy
.