Grandland X (2017-2021) Review
Vauxhall Grandland X (2017-2021) Review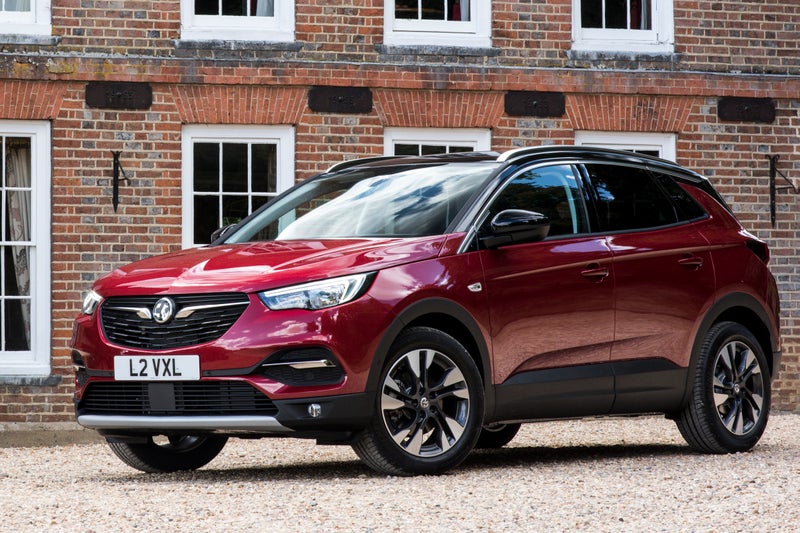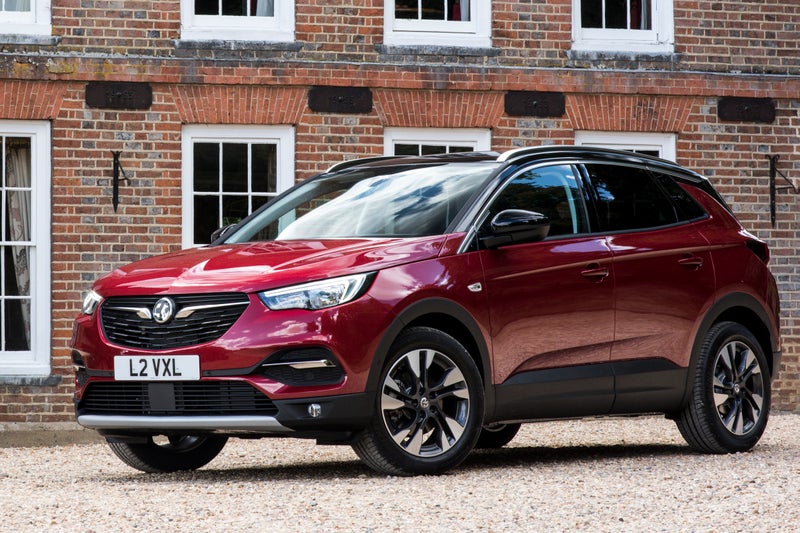 1/10
heycar rating
"Meat and two veg motoring"
Launched: 2018

SUV

Petrol, Diesel, PHEV
Quick overview
Pros
Practical interior
Comfortable and refined
Perky and smooth PureTech petrol engine
Cons
Hard to drive smoothly in the city
Uninspiring interior
Play-safe looks
Overall verdict
On the inside
Driving
Cost to run
Prices and Specs
Common questions
Overall verdict on the Vauxhall Grandland X
"If the Vauxhall Grandland X was a pair of shoes, it would be a pair of Clarks – a firm that's daggy image clouds the fact that it produces quality footwear. The Grandland X, meanwhile, has an uninspiring exterior and boring interior that mask what is fundamentally a decent family car – even if the OTT name smacks of low self-esteem."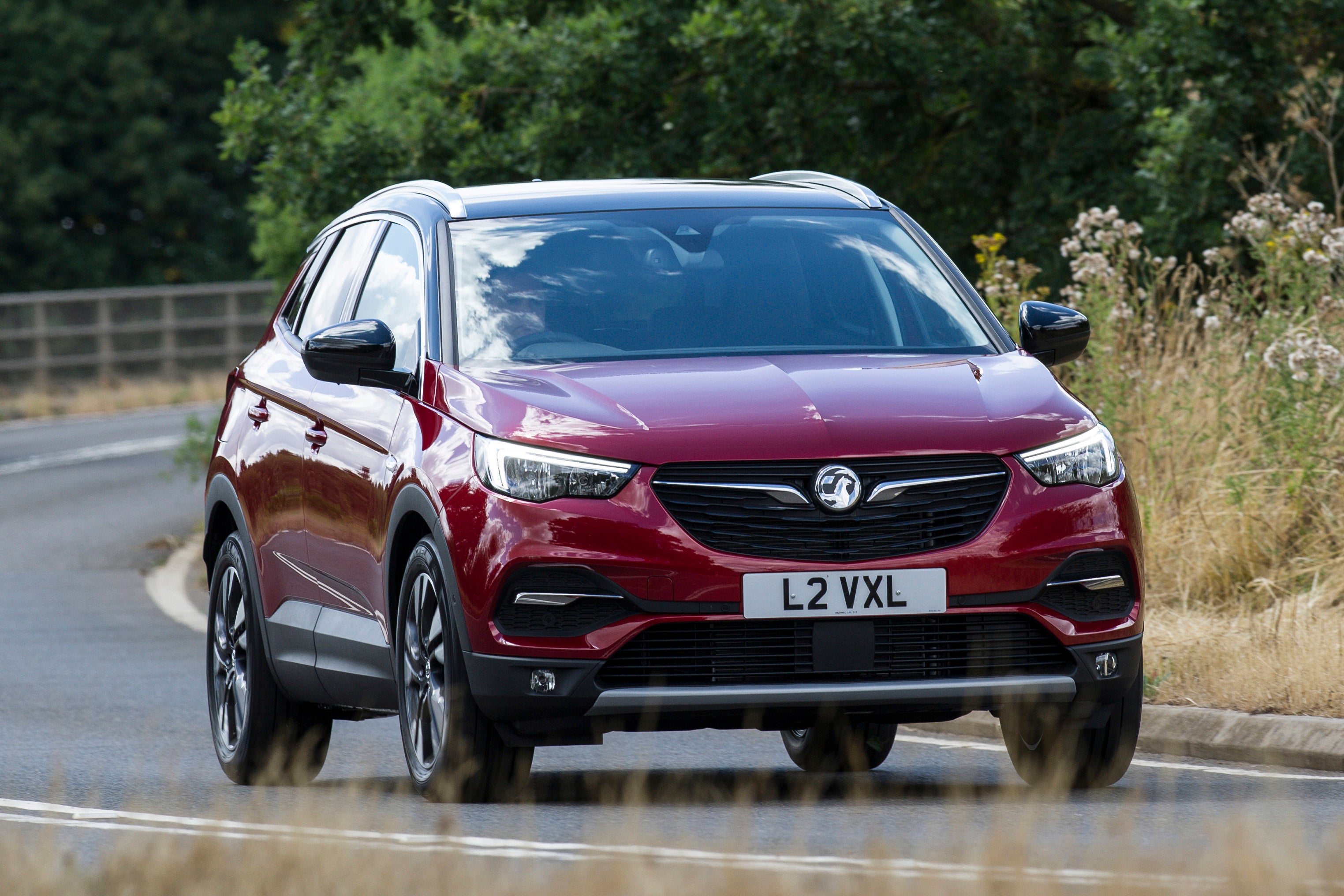 And it's easy to see why the company lacks the courage of its convictions because the mechanically identical Peugeot 3008 outsold the Vauxhall Grandland X at a rate of more than 2:1 in 2019, a gap that was even bigger the year before. Our Vauxhall Grandland X review explores why.
You might not like the 3008's look-at-me styling and unconventional cabin, though, and if you fall into that category, keep reading because the Vauxhall Grandland X should be right up your street. Okay, it isn't a dazzling car to look at but it's not ugly either and there are plenty of positive to be taken from the inside, too.
From its heavy doors to its abundant soft-touch plastics, Vauxhall's biggest SUV feels like a quality product, although a few lazy details let it down compared to its Volkswagen Group rivals – the Volkswagen Tiguan, Skoda Karoq and SEAT Ateca – and its interior layout isn't as intuitive as in those cars. That said, its cabin isn't as intimidatingly eccentric as a Peugeot 3008's, either.
Like the Peugeot, the Vauxhall has plenty of space for you and another tall adult to get comfortable in the front, while leaving plenty of room for a pair of towering specimens in the back. Even three up, adults won't feel terribly squashed, the boot is large and practical, too, and you get plenty of smaller storage spaces scattered about the place.
It's not just the interior space that makes the Vauxhall Grandland X an ideal family car, it's also very comfortable. It might not have the fancy suspension of a premium SUV but the Grandland X creams over the majority of bumps like they're not there and the cabin is quiet at a cruise, which makes up for the fact that autonomous driving aids are glaringly thin on the ground.
Thankfully, the Vauxhall Grandland X's comfort doesn't come at the expense of turning it into a blancmange in corners – it doesn't roll excessively and the accurate steering means it's fun to hustle about in.
These well-rounded road manners are a brilliant match for the Vauxhall Grandland X's excellent 130PS 1.2-litre PureTech engine. It sounds worryingly small in a car the Grandland X's size , but you'll soon forget about its capacity when you sample its surprising punch and smooth delivery. Only when you're pulling away from the lights or overtaking in the wrong gear can it occasionally bog down while you wait for the turbo's slug of torque.
It's such a well-rounded engine that the 130PS diesel only makes senses if you live on the motorway – where it will return better fuel economy – and you should only choose one of the two plug-in hybrid options if you have somewhere to charge the car and a short commute that'll take advantage of its decent electric-only range.
It all adds up to an extremely well rounded car that's let down by its uninspiring packaging.
Harsh? Well, you only need to look at the sharp-suited new Mokka (and Mokka-e) to know that Vauxhall thinks exactly the same thing – if you like your Vauxhalls to have a Clarks-like indifference to fashion – you best buy one now, because they won't be around for much longer.
If you're looking for the updated new version of this car, you'll need our Vauxhall Grandland review.
Is the Vauxhall Grandland X right for you?
The Vauxhall Grandland X is right for you if you're looking for a spacious family car that goes about its business without drawing attention to its self. Though some might say it's boring. The Vauxhall's a nice car to drive on open roads and its PureTech petrol engine is excellent, while you can also choose from two petrol-electric hybrids that are ideal in town and a diesel model that's best if you often drive on the motorway.
What's the best Vauxhall Grandland X model/engine to choose?
The Vauxhall Grandland X is seen in its best light when fitted with a 130PS PureTech petrol engine which delivers fizzy performance – considering its tiny 1.2-litre capacity – and excellent fuel economy. Its worth avoiding basic Vauxhall Grandland X SE Premium like the plague, but we'd be tempted to reap the rewards of the huge discounts available to get behind the wheel of a high-end Elite Nav car which come with a leather interior and a panoramic glass roof.
What other cars are similar to the Vauxhall Grandland X?
Comfort and design: Vauxhall Grandland X interior
"The Vauxhall Grandland X shares its underpinnings with the Peugeot 3008 although there's very little giving that away from behind the steering wheel"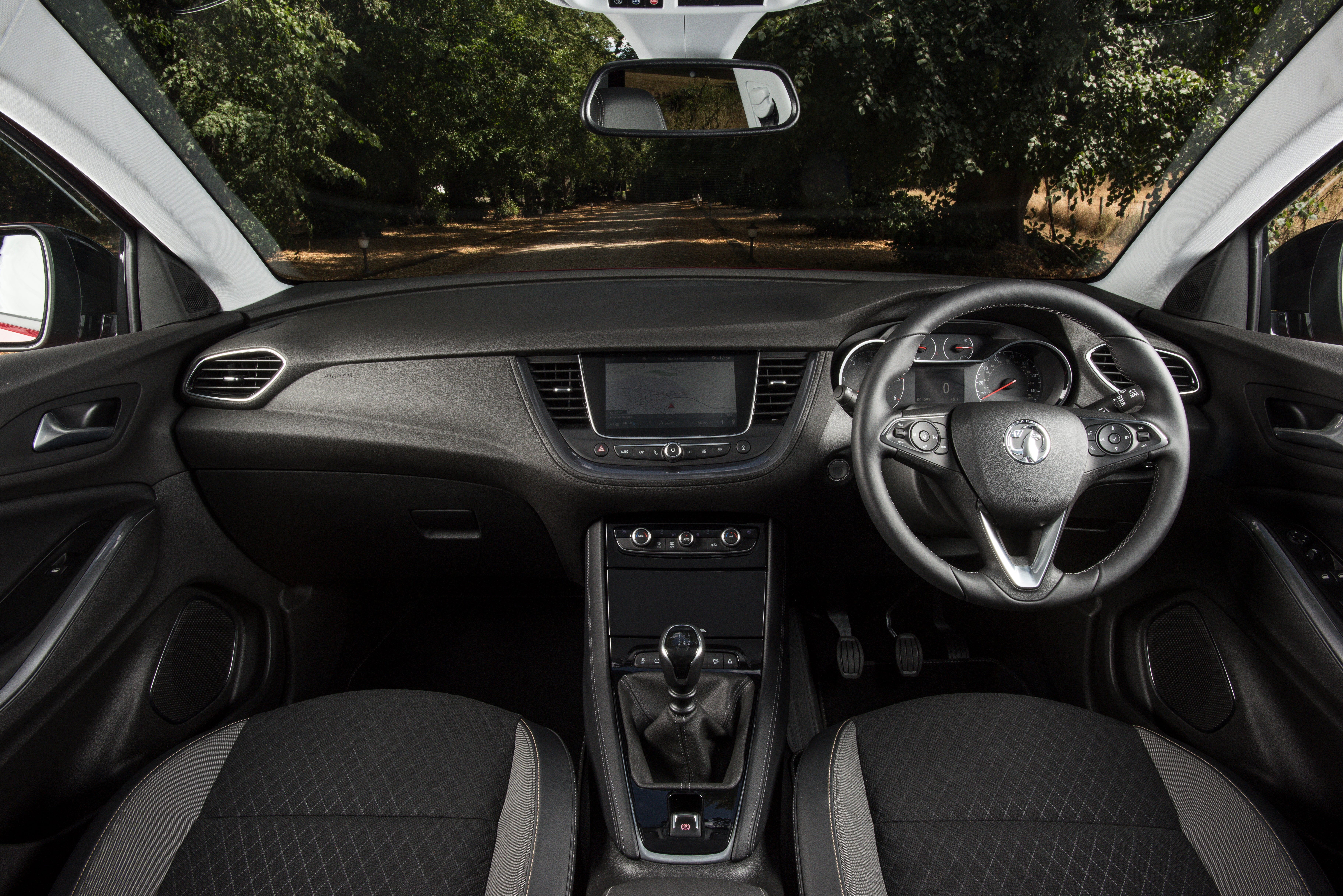 Where the Peugeot oozes style from every orifice the Grandland X plays things a lot safer. Out goes the 3008's mix of shapes and interesting trim pieces and in comes the dashboard equivalent of a 'meat and two veg' dinner. It's smart and sensible but not exactly stylish.
What's more annoying is that the bits that don't work so well in the Peugeot are carried over to the Vauxhall. So, if you want to do anything other than turn up the temperature of the air-con, you'll need to venture onto the infotainment screen - turning a simple job into a series distracting button presses.
Get underway and there are a couple of other annoyances. While the the clutch foot rest is a welcome addition, it does tend to get in the way when you are depressing the clutch – that could be a problem that's unique to the big-footed – and, while you get extendable leg rests that make the Vauxhall feel like a mobile La-Z-Boy, the air-bagged adjustable lumbar support is feeble, you need to concentrate hard to even know it's working.
What's most frustrating of all – not least for Vauxhall – is that these relatively minor niggles do their best to disguise what is fundamentally a very comfortable car to travel in.
Quality and finish
Plastic quality is hard to fault in the Vauxhall Grandland X. The majority of the dashboard is made from spongy plastics that feel dense and expensive and the tops of the doors are made from the same stuff.
It's not a clean sweep, the stalks behind the steering wheel don't work with the same oily damping of a Volkswagen Group car, the leather seats on the Vauxhall Grandland X Elite Nav model we tried didn't feel, well, very leathery and the commotion made when you turn on the ventilated seats makes you wonder if a tiny WW2 air raid siren is being spooled up deep in the seat.
Meanwhile, shining a phone torch on the centre console (plugging in a USB, more on that later) revealed exposed cables between the cracks in the trim and, finally, neither the heated seats nor the steering wheel are capable of generating significant warmth, despite the former having three settings to choose from.
In fairness, these are all minor complaints, but ones you won't have to put up with in the likes of the Skoda Karoq.
Infotainment: Touchscreen, USB, nav and stereo in the Vauxhall Grandland X
Vauxhall Grandland X SE Premium models (entry-level, despite the name) get a seven-inch infotainment screen that comes complete with Apple CarPlay and Android Auto so you can use your phone's navigation and music playback apps (and many more) on the car's big screen. It's easy to navigate using the same menus you're used to on your phone and it also uses your handset's voice activation system so you can do almost everything without having to take your hands of the steering wheel.
The rest of the range comes with an eight-inch centre screen which has Vauxhall's own navigation and voice activation (neither of which you'll ever use if your phone's compatible with Android Auto/Apple CarPlay). This system comes with a three-year subscription to Vauxhall Connect which, as well as having live traffic updates, also allows you to connect to your car remotely, via an app, so you can do things like (on the hybrid model) check its battery charge status.
Wireless charging is only fitted as standard to hybrid models (it's a £180 option on other models), which is annoying because plugging a cable into the USB or the 12V socket – which are recessed in a dark centre console cubby – is almost impossible to do at night without a torch. It's the natural place to put your phone, so it's also odd most large-screened handsets won't fit.
Space and practicality: Vauxhall Grandland boot space
You could be tall or small and still get a comfortable driving position in the Vauxhall Grandland X because the driver's seat has a wide range of adjustment to match the rake and reach movement of the steering wheel. Elite X models are the first to add an electrically adjustable driver's seat which makes getting comfortable that bit easier and they also add the less-than-potent heated front seats and steering wheel.
The advantages of the Grandland X's SUV body are plain to see when you get in the back because there's room for tall adults in the rear even if there are adults of a similar height sitting up front and, even with the space-eating panoramic roof fitted, there's no shortage of headroom. Sure, with three in the back it's a bit of a squeeze, but there's room in the footwells for everyone's feet and you won't feel as squashed as you do in a similarly sized hatchback.
Passengers in the back also get their own air vent as well as a 12V socket and USB plug, plus a centre armrest with two cupholders and a hatch to feed skis through from the boot. Meanwhile, you'll find two ISOFIX points for fitting child seats on the outer rear seats as well as on the front passenger seat.
The boot is just as practical as the back seat. Wiggle your foot under the bumper (on top-of-the-range Elite Nav models) and the tailgate opens electrically – handy if your hands are full – to reveal a 514-litre load bay (390 litres in hybrids) that is boxy, wide and easy-to-load despite a small lip.
Folding the back seats is easy – you yank a couple of levers in the sides of the boot and they fall down under their own weight to reveal a completely flat floor and a total capacity of 1652 litres (1528 litres in the hybrid). There's also a small storage space to hide valuable under the floor, which disappears if you specify the optional £110 spare wheel.
In terms of smaller storage areas, the Vauxhall has plenty. All the doors have large pockets that can swallow bottles of water, there's a deep cubby under the front seat centre armrest – you'll find the wireless charging pad here in cars that have it – and there are two cup holders next to the gear stick. The only annoyance is the small glovebox which is split in half by the fusebox in right-hand drive cars.
If you're looking to fit the Vauxhall Grandland X into your garage, you'd be interested to note that it's 4477mm long, 1856mm wide (including door mirrors) and 1609mm high (including roof rails).
Handling and ride quality: What is the Vauxhall Grandland X like to drive?
"If you were to use a football analogy to describe how the Vauxhall Grandland X drives you could call it 'a game of two halves'.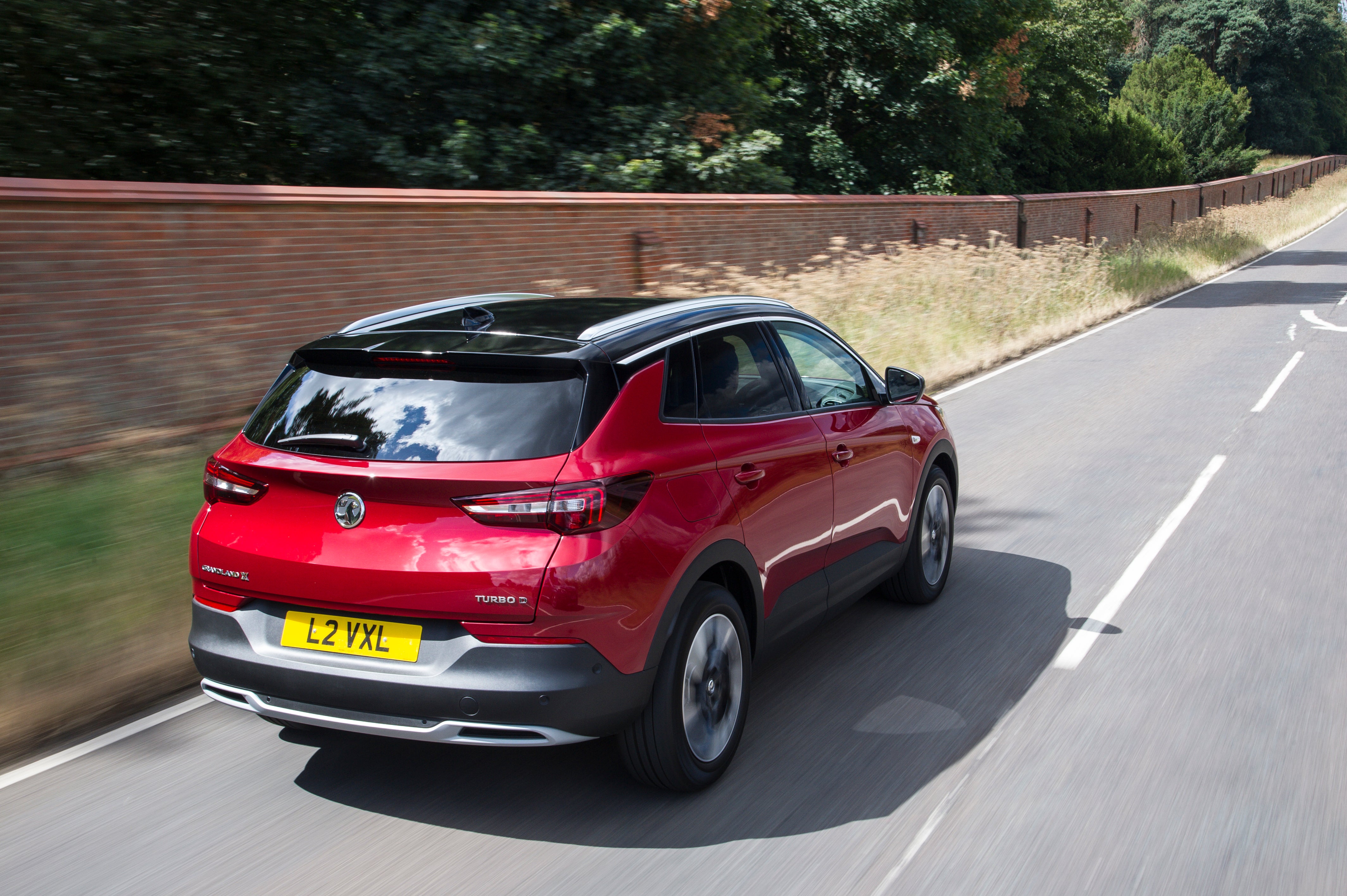 That because in town, it's not that great. Making off, the 1.2-litre PureTech petrol engine can feel gutless before its turbocharger chimes in which, in combination with the tall gears and high biting point of the clutch, can make it an easy car to stall. Another bugbear are the brakes that can send you through the windscreen if you so much as breath on them, you soon learn to use them like you're driving barefoot with a tack superglued to the pedal.
On the plus side, the steering isn't overly heavy and all but the basic model come with front and rear parking sensors so you can squeeze into spaces, although it's odd that a rearview camera is a £341 option on all but the top of the range hybrids. The Grandland X's raised ride height also makes it ideal for traversing nasty speed humps and that doesn't come at a cost of clumsy handling in corners.
No, the steering is direct and accurate – if far from laser quick – and while there's some lean in bends, it's in no way excessive. It's in this second half that the Grandland X makes a much better account for itself, away from stop-start traffic you don't need to worry about making off smoothly, the brakes aren't quite so grabby at slow speeds and the standard LED lights produce a bright, white well defined beam.
The suspension, while comfortable in town, is even better at ironing out bumps on A roads and motorways, plus the car feels stable, tracks true and doesn't suffer from overly light steering at a cruise. That said, the Vauxhall misses out on an extra layer of comfort on long hauls because it doesn't have autonomous driving aids that can accelerate, brake and steer the car for you on the motorway.
What engines and gearboxes are available in the Vauxhall Grandland X?
You can have your Vauxhall Grandland X with one petrol engine, one diesel engine and a choice of two hybrids, one of which has four-wheel drive.
The 130PS 1.2-litre three-cylinder petrol engine may be the proverbial runt of the litter, but it never feels it. It accelerates the Vauxhall from 0-62mph in a nippy 9.5 seconds and it has enough mid-range surge to feel perfectly adequate in normal driving and it doesn't get obnoxiously noisy if you ask more of it.
The six-speed manual gearbox's slick and light shifts mean you don't resent using it, which is good because steep hills on the motorway might require you to drop down a gear or two for overtakes, although the flip side of this is that the engine's barely ticking over at a cruise. All of which makes the eight-speed automatic seem like a needless extravagance.
The 130PS 1.5-litre four-cylinder diesel is a tad slower than the petrol (0-62mph takes 10.2 seconds) which manifests itself in its unwillingness to rev – it's all out of puff at 3750rpm, while the petrol gives maximum power at a comparably heady 5500rpm. As a result, we'd advise you leave the diesel unless you do lots of motorway miles where you'll see the benefit of its improved fuel economy.
Or if you tow – the diesel will haul up to 1500kg compared to the 1400kg the petrol manages and the 1250kg the hybrids will shift.
The hybrid models, meanwhile, come into their own if you have a short enough commute to get in and out of work on battery power alone. Both use a 1.6-litre four-cylinder petrol engine that's boosted by an electric motor to produce 225PS (Hybrid) or 300PS (Hybrid4). Thanks to that extra power – and the additional traction of its four-wheel-drive system – the Hybrid4 gets from 0-62mph in just 5.9 seconds – almost three seconds quicker than the standard model.
Refinement and noise levels
If you're look for a family SUV that's quiet, then the Vauxhall Grandland X is one of the best. It will lollop along the motorway while barely breaking sweat – even the petrol is well muted at a cruise – and there's not much wind noise to speak of save for a flutter around the wing mirrors. Tyre roar is also well contained except over poorly surfaced motorway sections, though for best results we'd avoid models with 19-inch wheels.
It's also a very quiet car in town and that's especially true of the hybrid models which can clear city centres and suburbs running on silent electric power. That being said, the 130PS petrol model we tried did suffer from a very faint whine – like you were driving an old car in reverse – at slower speeds.
Safety equipment: How safe is the Vauxhall Grandland X?
The Vauxhall Grandland X scored five stars for safety when it was crash tested by Euro NCAP although it's worth noting that this was achieved under 2017's less stringent test conditions.
Basic versions do without automatic emergency brakes and will be more likely to be involved in low-speed shunts as a result. However, they do get kit like auto-dipping headlights, lane departure warning and six airbags.
Vauxhall Grandland X Business Edition models and above get the all-important automatic emergency brakes as well as kit like lane assist and attention assist, which warns you when you should take a break from driving.
MPG and fuel costs: What does a Vauxhall Grandland X cost to run?
"No Vauxhall Grandland X costs a fortune to run for a mid-sized SUV but you could save a fair wedge on fuel by choosing a hybrid version if you have a short commute and a place at home to charge it."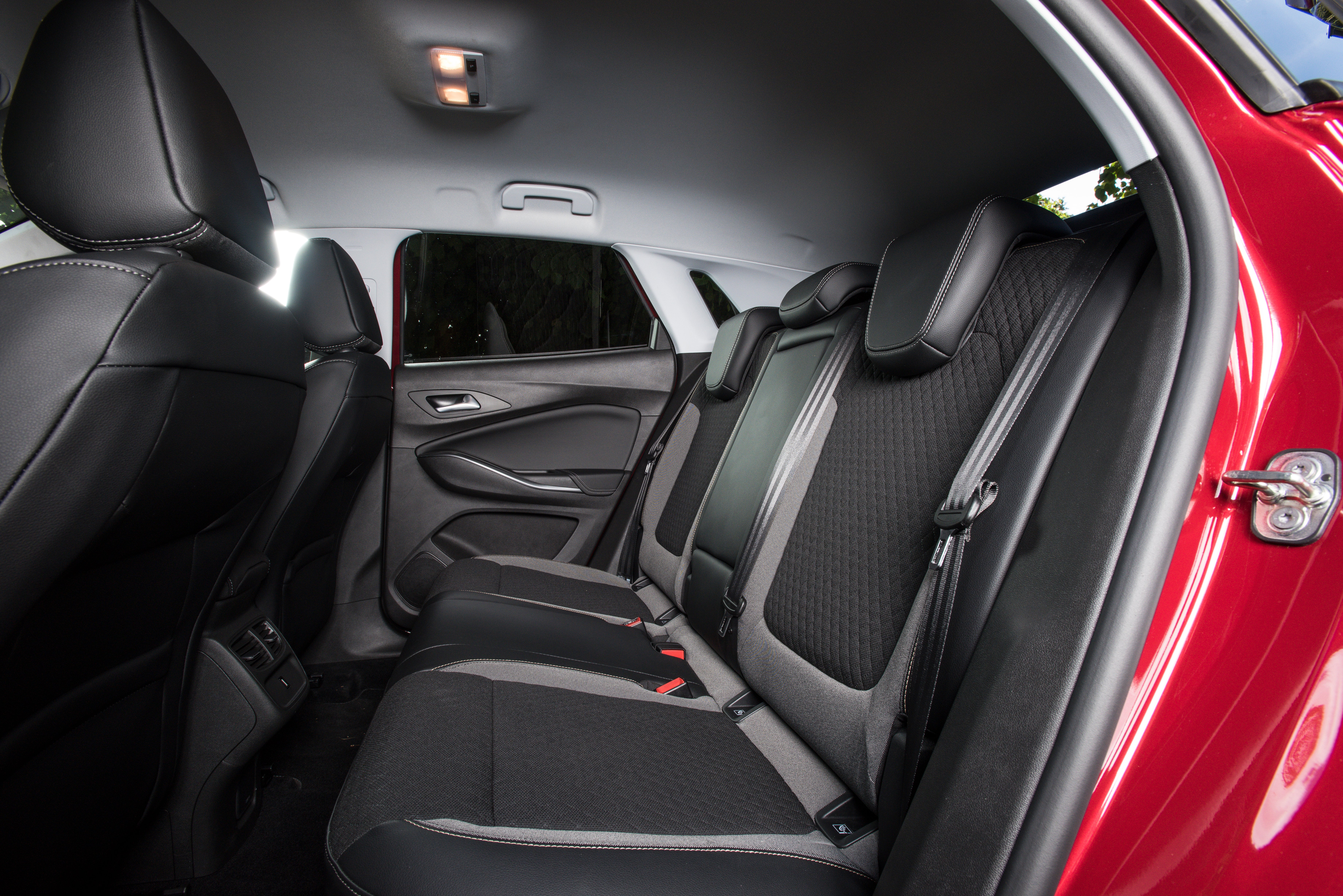 The model with the highest running costs on paper is the 130PS petrol, which will achieve up to 45mpg according to accurate WLTP testing procedures. That drops a couple of MPG if you fit the optional automatic gearbox. The 130PS diesel model will get closer to 50mpg and its fuel economy is unaffected if you fit the auto.
The hybrid models can travel up to 35 miles on battery power alone and take as little as 1hr 45m to recharge from flat using a 7.4kW wall charger – they post economy figures of 192mpg and 204mpg for the front-wheel drive Hybrid and four-wheel drive Hybrid4 models respectively.
It's worth remembering that the hybrids will only save you money over short distances – on a long motorway run, where they soon run down their battery and will easily burn more fuel than the standard petrol. Blame the substantial weight of the battery for that.
How reliable is a Vauxhall Grandland X?
Vauxhall doesn't enjoy the best reliability record, although that is partly because of the huge numbers of cars it sells. It's inevitable that some will go wrong, but it's probably fair to say that an equivalent Hyundai or Toyota will be more dependable.
The 1.2-litre petrol engine did have some early issues, while electrical gremlins aren't unheard of. As is often the case, it's worth avoiding the diesel unless you cover enough miles to keep the DPF (diesel particulate filter) clear of blockages.
Insurance groups and costs
The Vauxhall Grandland X ranges from Group 14E insurance for a Business Edition model fitted with the 130PS petrol engine to 32E for an Ultimate Hybrid4 with all the kit – thanks to its complex technology and, of course, because it has plenty of performance courtesy of its 300PS powertrain.
Interestingly, the basic SE Premium model isn't the cheapest to insure, presumably because it doesn't come fitted with automatic emergency brakes.
VED car tax: What is the annual road tax on a Vauxhall Grandland X?
The Vauxhall Grandland X models that cost the least to tax are the 130PS petrol in manual form or the 130PS diesel in auto or manual – they'll set you back £215 in year one, £150 every year thereafter. Thanks to its relatively high CO2 emissions, the automatic 130PS petrol sits in a higher tax bracket so you'll pay £540 in year one and £150 every year after.
CO2 emissions of between 29-31g/km mean the hybrid versions are free to tax but four-wheel-drive Hybrid4 models – all of which have a list price of more than £40,000 – fall foul of the premium car tax rate, they'll cost £465 a year to tax for the first five years of ownership.
How much should you be paying for a used Vauxhall Grandland X?
"Prices start from £27,000 for a Vauxhall Grandland X SE Premium model and you'll pay a whopping £46,500 for a top-of-the-range Ultimate Nav Hybird4 model – thankfully, there are savings to be made buying nearly new or used."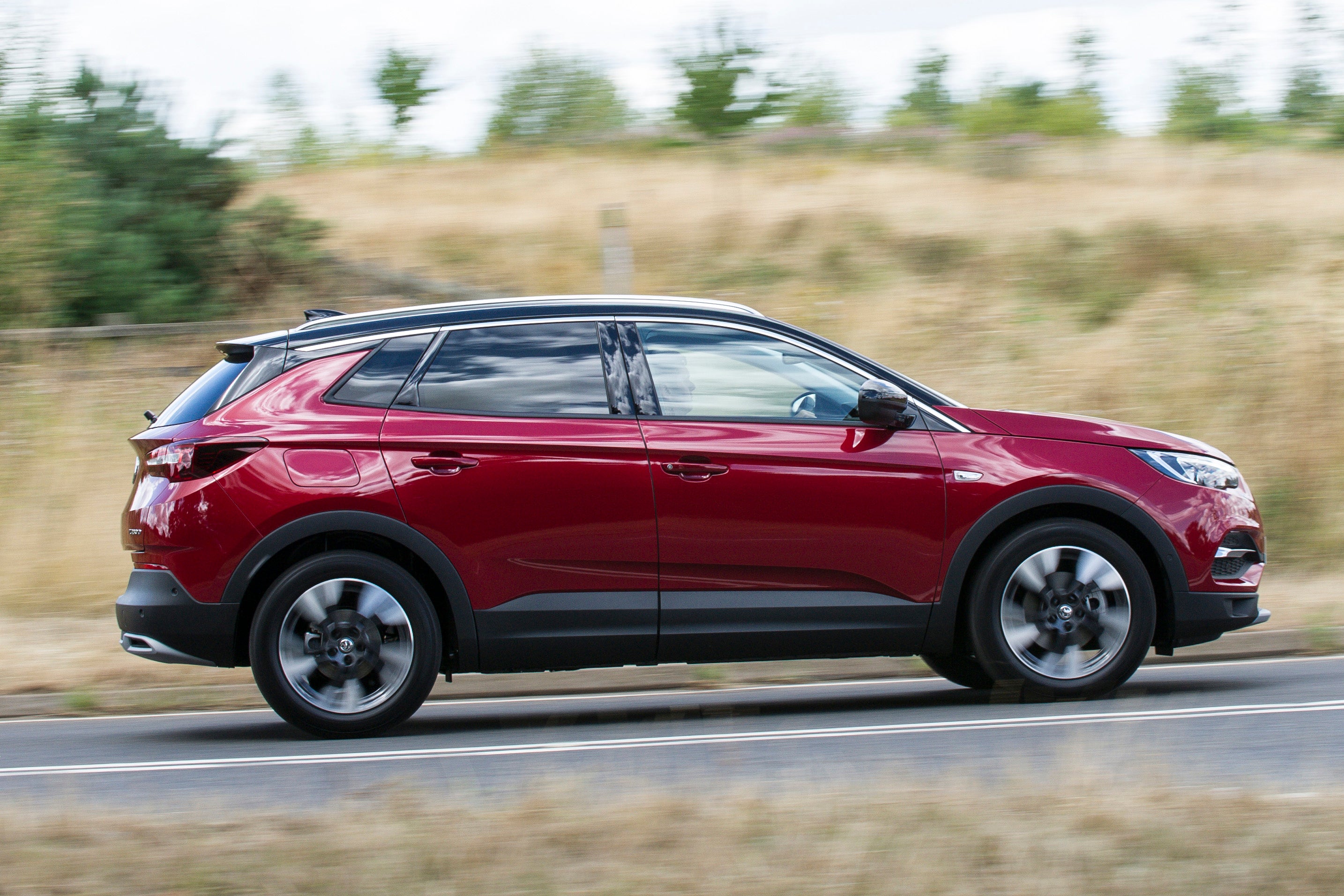 We've seen pre-registered examples of the top-of-the-range car carrying savings of up to £3000 and – while it's a relatively new car now – you can expect to make a sizeable discount once it's a year old or more.
Proof of that can be found in the lower reaches of the range where a 2018 Vauxhall Grandland X SE Premium with 6,000 miles on the clock and fitted with the sought after 130PS petrol engine can be picked up for less than £12,000. Fancy a newer car with more kit? Then you can have a pre-registered Grandland X Elite Nav with the same engine for £24,500 – more than £5000 less than you'll pay new.
Trim levels and standard equipment
The Vauxhall Grandland X is available in no less than 13 trim levels (unlucky for some, particularly you if you have to make sense of them), which are split six models to seven between standard and hybrid cars, respectively.
We'll start with the former which kicks off with the basic (but grandly named) Vauxhall Grandland X SE Premium. It's well equipped with kit like dual-zone climate control – with individual settings for the driver and front passenger – cruise control, a leather-trimmed steering wheel, auto-dipping LED headlights, front and rear parking sensors and auto wipers, although the lack of automatic emergency brakes is a glaring omission. Chrome trim around the windows, tinted rear glass and 18-inch alloy wheels mean it looks smart on the outside.
Grandland X Business Edition models feature even more interior gizmos including the upgraded infotainment screen, ambient lighting, a rear centre armrest and electrically folding door mirrors with puddle lights. You also get a raft of safety features – including the all-important automatic emergency brakes – and a set of jazzier multi-spoke alloy wheels.
Sporty looking Vauxhall Grandland X SRi Nav models get all the aforementioned kit plus a black contrast roof and diamond-cut alloy wheels, while Griffin models go another step adding keyless entry and start, plus an electrically operated tailgate.
Luxurious Grandland X Elite Nav cars, meanwhile, have leather upholstery, an electrically adjustable driver's seat, front seats and a steering wheel that are heated, a panoramic glass roof and a heated windscreen, plus 19-inch alloy wheels on the outside. Elite Nav Premium models add keyless entry and an electrically operated tailgate.
The Hybrid models consist of the two-wheel drive Grandland X SE Nav hybrid, SRi Nav Hybrid and Business Edition Nav Hybrid, while the four-wheel drive versions are called the SRi Nav Hybrid4, Elite Nav Hybird4 and Business Edition Hybird4. Hybrid models all come with the upgraded infotainment screen, but otherwise closely follow the specification of the standard Grandland X.
The exception is the Vauxhall Grandland X Ultimate Nav Hybrid4, which is the only model to come fitted with a 360-degree camera, a premium stereo, premium LED headlights and auto park.
Ask the heycar experts:
common questions
Is the Vauxhall Grandland X any good?
The Vauxhall Grandland X is a great choice if you want a practical family car that's very comfortable to drive, especially if you're not swayed by flashy styling or a posh badge.

Is the Vauxhall Grandland X bigger than the Mokka?
Yes, the Vauxhall Grandland X is the biggest SUV Vauxhall sells, it slots on top of the smallest-of-all Mokka and mid-sized Crossland.

Is the Vauxhall Grandland X four-wheel drive?
The Vauxhall Grandland X Hybrid4 is four-wheel drive, while the rest of the range is front-wheel drive only.

Does the Vauxhall Grandland X have a reversing camera?
The Vauxhall Grandland X doesn't have a reversing camera fitted as standard – except on top-of-the-range Hybrid4 models – but it is a £341 option.

Answered by
heycar editorial team
Vauxhall Grandland X cars for sale on heycar
5,263
Number of cars available
£12K - £31K
Price bracket of these cars
Colours available on heycar
Keep me updated by email with the latest advice, news and offers from heycar
By submitting, you agree to our
privacy policy
.