Insignia Grand Sport Review 2022
Vauxhall Insignia Grand Sport Review 2022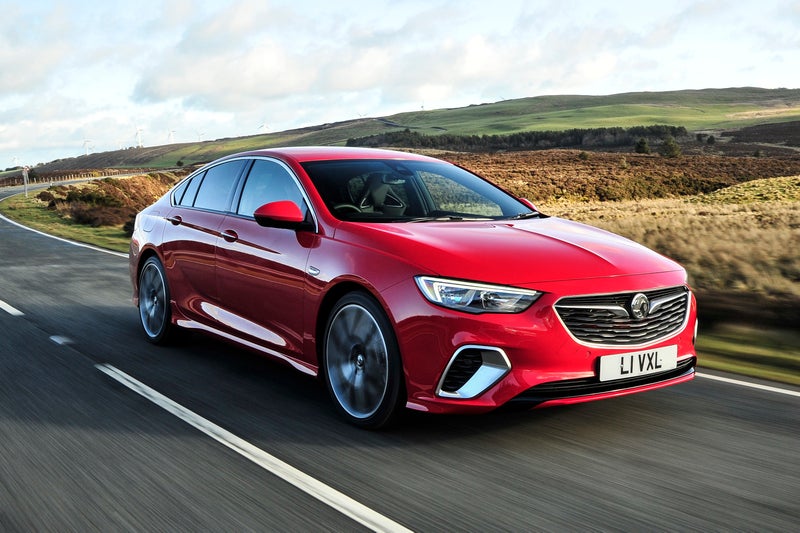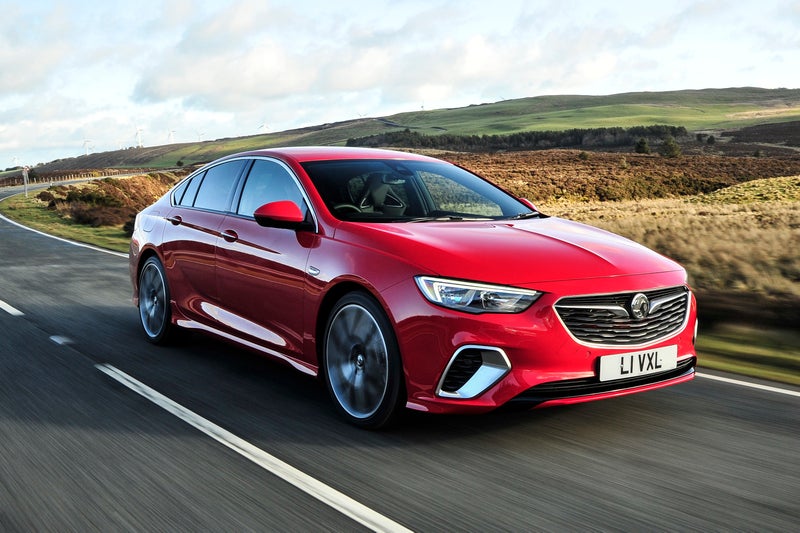 1/9
heycar rating
"Mainstream mainstay is impressive all-rounder"
Launched: 2017

Large family car

Petrol, Diesel
Quick overview
Pros
Genuinely head-turning good looks
1.6-litre 136PS turbodiesel delivers good performance allied to excellent economy and emissions
Huge standard equipment list, and admirable active safety equipment, from the base Design model up
Cons
That badge kills its appeal to many
No plug-in, or even mild hybrid models on offer
Larger alloy wheels look fantastic, but reduce the Insignia's fine ride quality
Overall verdict
On the inside
Driving
Cost to run
Prices and Specs
Common questions
Overall verdict on the Vauxhall Insignia Grand Sport
"If the Vauxhall Insignia Grand Sport is lacking in one area it's badge appeal. Chuck in competition from the SUV market and it's no wonder it's selling in rapidly declining numbers. But, for the wise buyer, it's an undeniably good car available at a very affordable price with an extensive amount of standard kit. It's massive, too, which makes it a very versatile family car."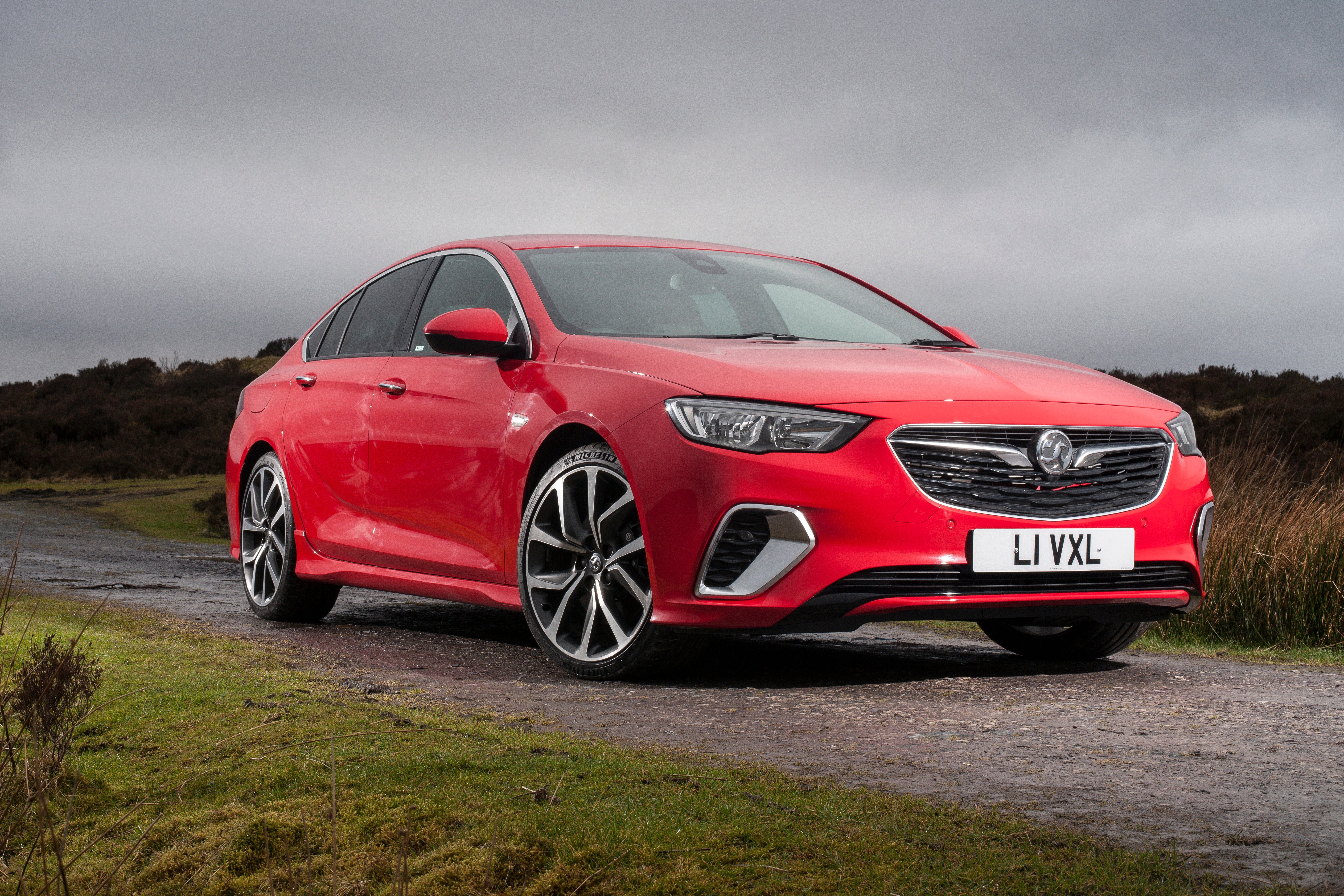 The Vauxhall Insignia family hatchback used to be a huge seller. Fleet customers bought them by the tens of thousands, but things have changed, with the Insignia now battling with premium players like the BMW 3 Series, Audi A4 and Mercedes-Benz C-Class – and losing. That's not to say the Insignia isn't worth considering. Indeed, as you'll read in our full 2022 Vauxhall Insignia Grand Sport review, the Insignia represents exceptional value for money.
With buyers moving away from mainstream family cars like the Vauxhall Insignia Grand Sport (and now axed Ford Mondeo), the brand is chucking standard kit at its once-popular model. A scan through the price list reveals that it's incredibly affordable, too, while the used market is flooded with very reasonably priced examples.
For just shy of £21,000 you can have an Insignia with 17-inch alloy wheels, a 7-inch touchscreen with fully integrated sat nav, Bluetooth, a leather covered steering wheel, air conditioning and Apple CarPlay and Android Auto as standard.
To even get into the showroom of one of those premium rivals you'll need a minimum of £8000 more in your pocket, before you've even ticked a single option box. Stretch to the starting price of those Germans and you'll be able to drive an Insignia with more toys inside than Santa's sleigh on Christmas eve.
It should still be everywhere, then, right? Residual values do play their part in explaining why more people don't buy them, with the Insignia worth a good percentage less used than their upmarket alternatives after a typical three-year ownership cycle. Some rivals, Renault, Citroen, among others have abandoned the class altogether. Indeed, Vauxhall discontinued the estate version - the Vauxhall Insignia Sports Tourer – after just two years due to slow sales.
That means, doing the maths as business buyers inevitably do, those aspirational Germans are actually as cost effective, and often more so, than the cheaper Vauxhall. Factor in all those SUVs and crossovers, so tempting to the Insignia's traditional heartland buyer and the Insignia will never sell in the numbers it used to, however good it might be.
And it is good, indeed, in some forms it's right up with the class best, and certainly better than its most obvious direct competitor, the Ford Mondeo. For the canny new buyer, it represents a good buy, while those after a nearly new or used Insignia will be able to snap up a big, classy, capable car for not much money at all.
If you're looking for the older version, you need our Vauxhall Insignia (2008-2017) review.
Is the Vauxhall Insignia Grand Sport right for you?
If, like so most of us, you grew up being ferried around in your parents' large family hatchback or saloon, and you're now the parents, then the Insignia really should be for you.
Yes, those premium alternatives are tempting, but you want all of that with fully-loaded specifications in a handsome, head-turning package, then the Insignia is well worth considering. Being a hatchback (some key rivals only being saloons) it's hugely practical if you really can't bring yourself to buying an estate version (Sports Tourer in Vauxhall's parlance), and there's good space in those rear seats.
Add a low emitting, economical, but usefully powerful 1.6-litre turbodiesel into that equation, in one of the middling, but comprehensively equipped, specifications and you might just find the Insignia shooting up your list of potential buys, and even reaching the top of it.
What's the best Vauxhall Insignia Grand Sport model/engine to choose?
Pick of the engine range is undoubtedly the 1.6-litre 136PS turbodiesel, which blends fine all-round performance with excellent economy and emissions, its performance so close to the more expensive 2.0-litre turbodiesel, despite conceding 34PS to it. You could have that engine with either a six-speed manual or automatic transmission in entry-level Insignia Grand Sport Design specification for under £23,000 and want for nothing in specification.
That said, the Vauxhall Insignia Grand Sport SRI above it adds a couple of thousand pounds to that and adds some useful conveniences like AGR approved front seats, front and rear parking sensors, front foglights, rain sensitive windscreen wipers, dual-zone climate control, ambient LED lighting and a sprinkle of smarter kit like 17-inch alloy wheels, sports pedals and a rear boot spoiler.
To that you could add the Vauxhall Insignia Grand Sport SRI Nav if you want built in navigation, but with Apple CarPlay and Android Auto as standard, the additional outlay isn't necessary as everyone uses Google maps and Waze these days. A 136PS 1.6 SRI automatic would be our pick, and should be yours.
What other cars are similar to the Vauxhall Insignia Grand Sport?
The Vauxhall Insignia, and its Vectra and Cavalier have long diced with the Ford Mondeo (and Sierra before it) for buyer's money. Add cars like the cut above Volkswagen Passat, Volvo S60 and Mazda 6 into the mix and there's plenty of choice from its traditional rivals, but these days you can also add cars like the Skoda Superb and Peugeot 508.
At a push you could even include used versions of the likes of the BMW 3 Series, Audi A4, Mercedes-Benz C-Class and Jaguar XE. Many buyers will consider similar money SUVs as more practical alternatives, but height aside, they're not, consume more fuel, emit more and aren't as nice to drive, either.
Comfort and design: Vauxhall Insignia Grand Sport interior
"The smart, handsome lines exhibited by the exterior are carried through into the cabin's design, which is not only good to look at, but well considered in its use."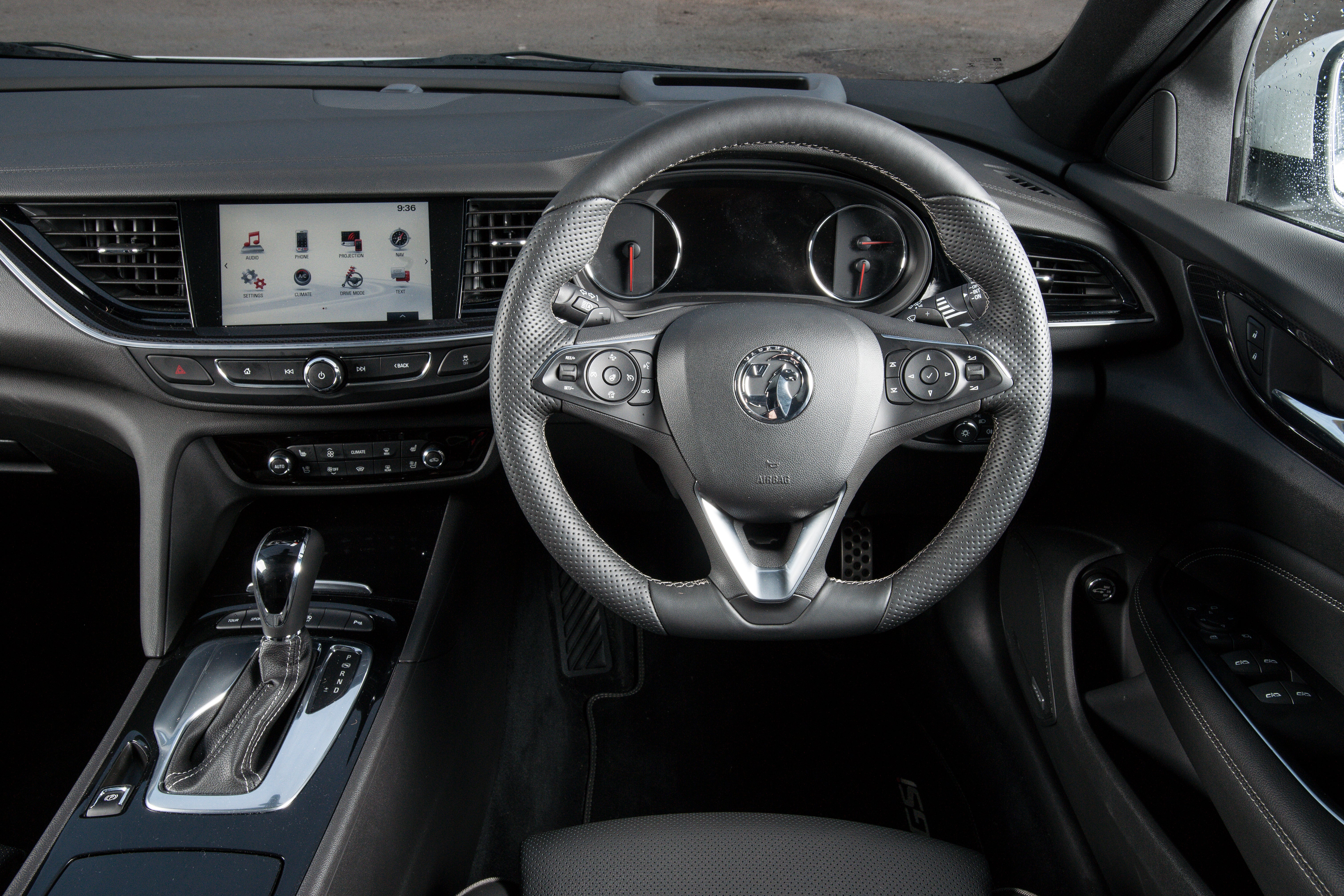 There's a high centre console and low seats, giving a cockpit feel to the driving position, with clear instruments up ahead of you, and easily operated controls for the heating and ventilation system. Those seats are very comfortable and supportive, with Vauxhall going as far as seeking approval from the AGR, an independent committee of back health professionals, for the ergonomic AGR active front seats that come as standard in every model - with the exception of the entry-level Vauxhall Insignia Grand Sport Design.
There's standard air conditioning on all, that becoming dual-zone electronic climate control from SRI upwards, while seat and steering wheel heating is offered either optionally as part of a Winter Pack, or as you climb the trim levels – range-topping GSI Nav models having heated rear outer seats.
The steering column adjusts for reach and rake, which combined with the plentiful range of movement from the driver's seat allows you a comfortable driving position, while those seats get ever more electrical adjustment as you head up the range, or pay for them optionally.
Quality and finish
You'll not get in the Insignia and be blown away by the interior quality as you might something like an Audi A4 or Volkswagen Passat, but, likewise, neither are you likely to be disappointed.
The materials all feel of good quality, with all the touch points around the interior being soft, with the obvious exception of things like the door handles. Some of the piano black plastics around the centre console are a bit shiny, not in an indulgent expensive manner, but in a slightly cheap way, but all the switchgear works with a pleasingly weighted slickness which isn't really that removed from the best of its premium rivals.
Indeed, the only real issue inside is the big Vauxhall badge in front of you on the steering wheel, as however good the quality and finish inside feels, Vauxhall's mainstream, and if we're being cruel here, undesirable, image carries a lot of negative baggage with it. If you can see past that, and you should, then the Insignia is a neat, well-built driving environment to find yourself in.
Infotainment: Touchscreen, USB, nav and stereo in the Vauxhall Insignia Grand Sport
Vauxhall's product planners know a thing about specifying a car to appeal to those buyers where every penny counts in running costs, and in a bid to sway them out of the option box ticking necessity of those premium rivals they've thrown loads of standard equipment at the Insignia.
It's little surprise, then, that the first items to be listed in the Insignia's specification relates to the infotainment. All come with a 7-inch touchscreen as standard, it having a seven speaker stereo system that, in all, can be connected to Apple CarPlay and Android Auto. That negates the need for sat nav, but if you want fully integrated sat nav each trim has that option, but we'd not bother.
DAB features in all, as does Bluetooth and USB connection, and if you've gone for that integrated Nav system, then you get Traffic Sign Recognition as standard, too. Elite Nav and GSI Nav benefit from a larger 8-inch touchscreen that adds voice control, an 8-inch colour screen in place of the conventional instruments and European 3D mapping as well as wireless charging for your smartphone – this a £160 option elsewhere in the range.
Space and practicality: Vauxhall Insignia Grand Sport boot space
When it was introduced in 2017 Vauxhall made a lot of noise about how much bigger the new Insignia was, and it wasn't wrong. That's to the benefit of interior space, with the cabin being notably bigger than the premium rivals it hopes to take sales away from, particularly in relation to rear seat space, with shoulder and legroom notably better over such competition.
That's true even if you've got the driver and front passenger seat in their most pushed back position, the only failing in the Insignia's rear seat space being headroom, which, thanks to the Insignia's steeply raked rear styling does mean taller adults might find their heads touching the roof.
There's plenty of space for children, though, even if the third, middle seat is best left for occasional use, not least because (like all its rivals) there's no Isofix child seat mounts for it, these reserved for the outermost rear seats.
There's a good-sized arm rest in the middle, while most models, with the exception of Design and Design Nav come with a useful 40/20/40 split-fold rear seatback, for longer loads – those Design models making do with a 60/40 fold. Combined with the huge hatchback opening for the boot, that offers a volume ranging from 490 litres with the seats in place, or 1450 litres with them folded – that is just 5 and 50 litres off the luggage space for a BMW 3 Series Touring (estate) – but a Skoda Superb, the class champion dwarfs the Insignia's boot space, with 610 litres with the seats in position, and 1760 litres seats folded.
There's decent cubby space provision throughout the Insignia's cabin, too, with all four doors getting door bins, there's a large lidded centre cubby between the front seats, as well as a smaller pair of lidded recesses and a good-sized glovebox.
The exterior dimensions of the Vauxhall Insignia Grand Sport are fairly large, making it a squeeze in the typical UK parking space. It measures 4906mm long and 2093mm wide (1863mm without mirrors), while it's 1455mm in height.
Handling and ride quality: What is the Vauxhall Insignia Grand Sport like to drive?
"There are more sporting choices in the large family hatchback marketplace, but with the Insignia Grand Sport Vauxhall sensibly leaves them to it, instead focussing on assured, stable and predictable handling mated to decent ride comfort."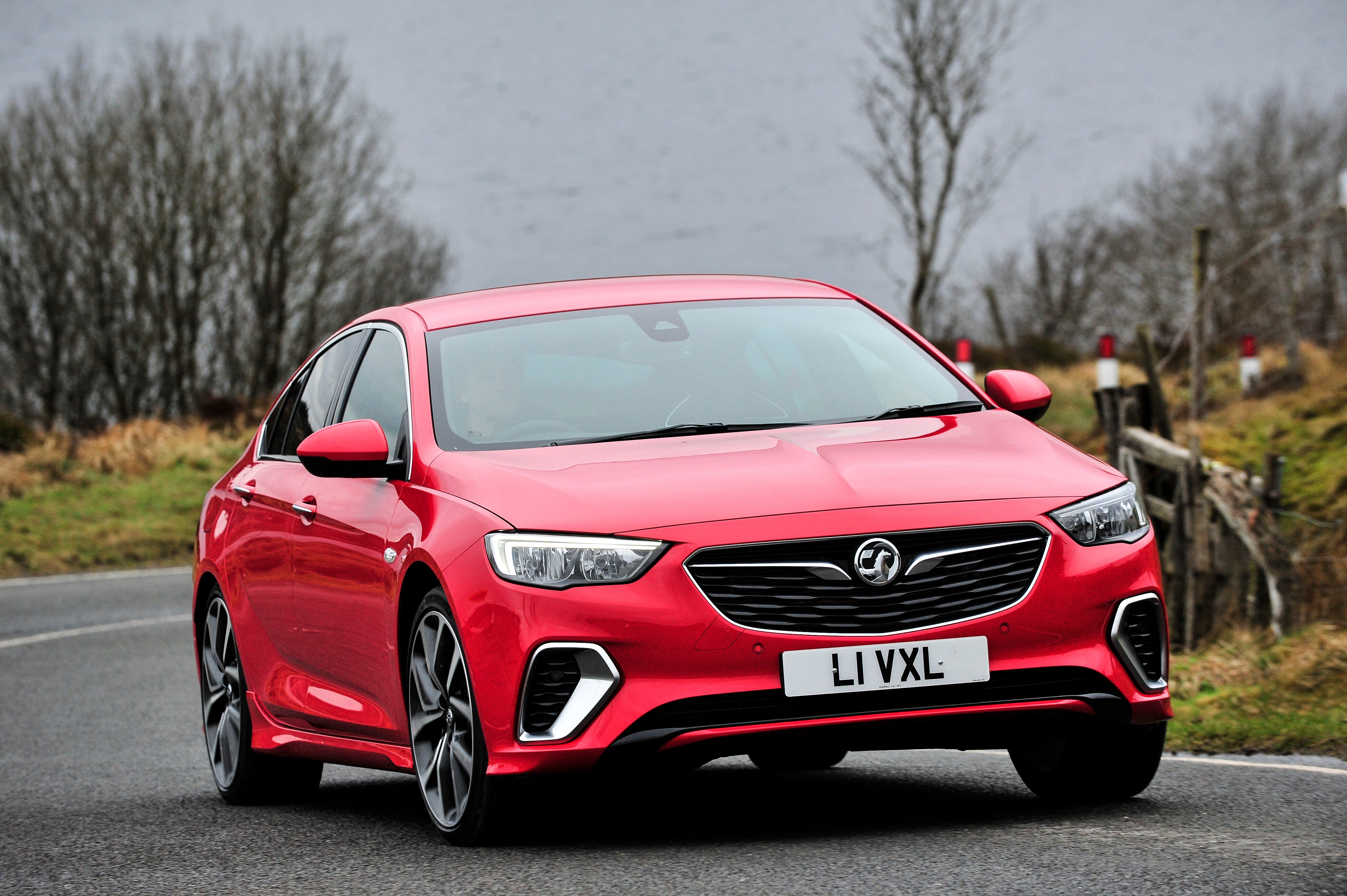 A good portion of the line-up from the base models up ride on standard 17-inch alloy wheels, with 18-inches on Insignia Grand Sport SRI VX-Line Nav and Elite Nav models, and the range topping GSI Nav getting a 20-inch alloy wheel with higher performance tyres than the standard low rolling resistance tyres elsewhere.
The Vauxhall Insignia Grand Sport GSI Nav also features a Sports Chassis and FlexRide, a variable damping system with a choice of Sport, Tour and Competition modes. It all works well enough, but it's really not why the majority of buyers will opt for an Insignia.
There's the option on some models to up the wheel size to either those 18-inch wheels or the 20-inch ones, but however much they enhance the Insignia Grand Sport's looks as the wheels get larger the ride comfort deteriorates. That's a trade-off you'll likely accept as standard equipment, but it seems counter-intuitive to actually pay for it optionally.
Leave it well alone, then, and the Insignia is a competent, composed all-rounder, with a ride that's supple enough to take the edge off the worst road surfaces, but enough stability to ensure it feels fine in the bends.
Not a car that you'll come away enthralled by, but that's kind of the point, the Insignia at its best on a long haul, where it'll while away miles with impunity.
Drivers are more likely to be concerned about things like the average fuel consumption than worrying about how sharp the steering may or may not be – it's nicely weighted, accurate enough but lacking in feel in case you're asking – or whether they could have carried more speed through a corner. If you want that, you'll be buying something else, for the rest of you, an Insignia is a polished, capable car.
What engines and gearboxes are available in the Vauxhall Insignia Grand Sport?
Vauxhall offers a range of engines including two decent 1.5-litre turbocharged petrols of 140 and 165PS, but, unsurprisingly given the Insignia's traditional fleet customers, the bulk of the line-up comprises of turbodiesel choices. There are no hybrid powertrains like you'll get with rivals like the Passat or Volvo S60, start-stop technology being about as advanced the Insignia's concession to fuel savings currently is.
There are two choices with the 1.6 Turbo D, a 110PS version that's badged ecoTEC, but it's no more economical than the same capacity 136PS version of the same engine, with both having exactly the same emissions figures, and sharing the same best WLTP combined consumption, which does rather suggest that you'll want the greater power of the 136PS version.
It's the engine we'd pick in preference to any in the range, regardless, the 1.6-litre 136PS engine having enough power and good flexibility to make it the best all-rounder.
Throw in that excellent economy and it's even more so, its CO2 emissions making it a fiscally wise choice, too, and one that doesn't feel like you're making any real sacrifices, in relation to performance, for. It reaches 62mph in 9.9 seconds, which is only 1.7 seconds slower than the 170PS 2.0 turbodiesel. That's with the manual transmission, all engines offered with either a six-speed or eight-speed automatic, the slight penalty each brings in relation to economy, being worth it for the ease it brings. The manual, if you're really watching the emissions, is a slick, easy shift though, so picking it isn't a hardship, either.
Refinement and noise levels
Built to cruise up and down motorways, the Insignia does a convincing job when it comes to refinement. The engines are all nicely damped for sound, with only a hint of raucousness apparent if you rev the diesels hard, which you really don't need to such is their low rev flexibility and easily gained pace.
Wind noise is hushed too, while road noise is contained nicely on smoother surfaces, with some sounds transmitted into the cabin on rougher, textured surfaces, that becoming more apparent with the bigger wheeled models as you climb up the range.
Safety equipment: How safe is the Vauxhall Insignia Grand Sport?
The standard safety equipment on the Insignia really is commendable, with Vauxhall fitting all with driver, front passenger front airbags, a pair of side airbags and full-sized curtain airbags for the driver, front passenger and rear outer passengers.
There's a pair of Isofix mounts in the rear seats, while the front passenger side airbag can be deactivated to allow a child seat to be carried. Pedestrian safety includes an active bonnet, which moves to help prevent injuries to pedestrians in an impact. There's electronic stabilty control, traction control, cornering brake control, ABS, emergency brake assist, electronic brake force distribution and hill start assist.
A range of Driver Assistance Packs are offered, Pack One coming as standard with all, it including forward collision alert with city emergency braking, Traffic sign recognition, a following distance indicator and lane departure warning with lane assist – this often a cost option. If you've chosen a Nav model you can up the Driver Assistance Pack to Pak Four, it including Lane Change Assist with blind spot alert, a rear view camera, rear cross traffic alert and front and rear parking distance sensors.
MPG and fuel costs: What does a Vauxhall Insignia Grand Sport cost to run?
"The best for fuel consumption is that 1.6-litre turbodiesel, it able to comfortably return real-world economy in the late 40mpg to mid 50mpg sphere without too much effort. CO2 emissions of 106g/km make it a tax champion, too. That does raise to 121g/km if you opt for the auto, which will cost you a little more to run, but for the convenience it adds it's arguably worth it."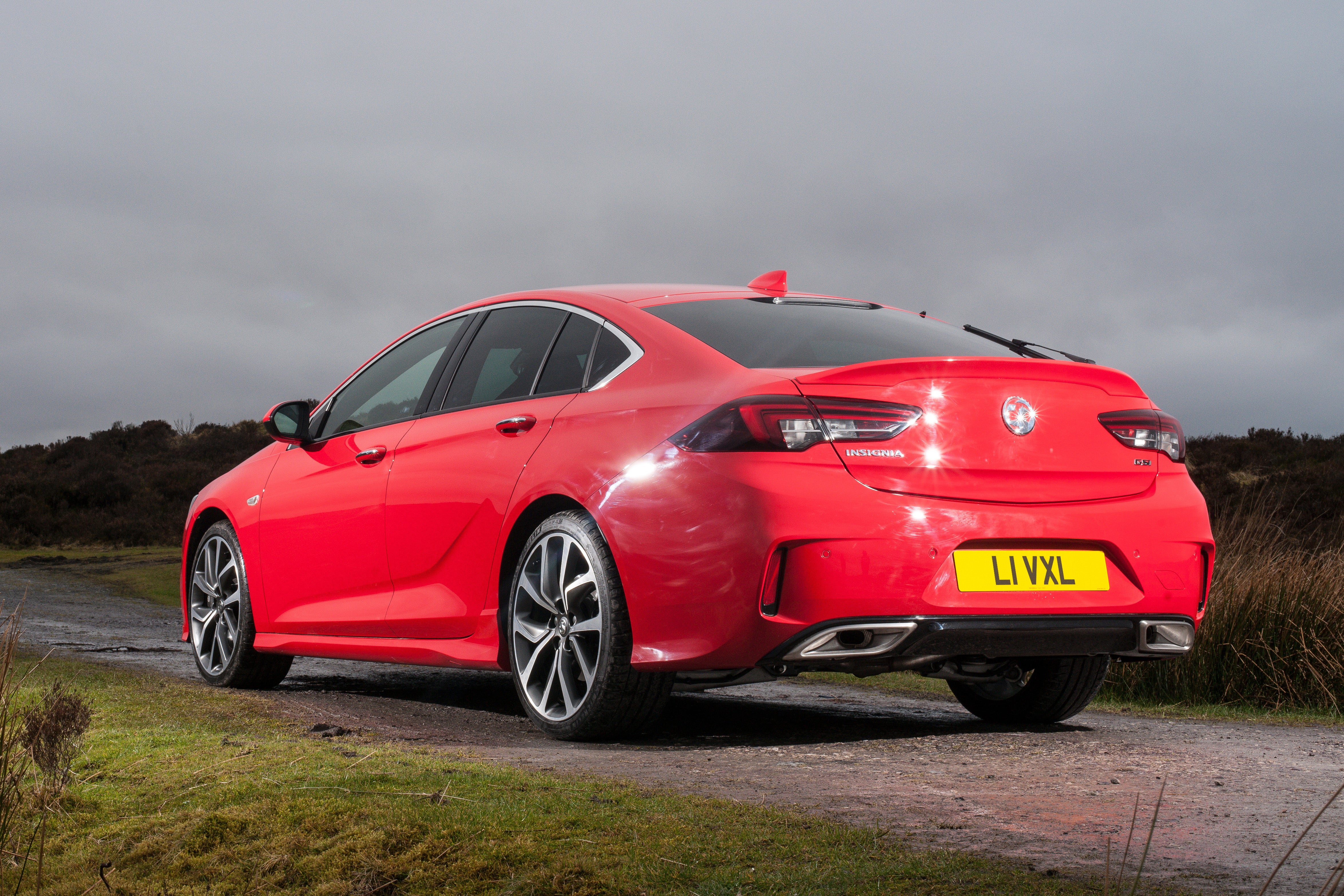 The highest cost to run will be the top-line 210PS BiTurbo 2.0 D which comes with four-wheel drive and in automatic only, it only managing 36.7mpg and emitting 187g/km.
How reliable is a Vauxhall Insignia Grand Sport?
Vauxhall doesn't have the strongest reliability record, performing pretty poorly in the annual HonestJohn.co.uk Satisfaction Index. Owners of the Vauxhall Insignia Grand Sport seem a pretty happy bunch, though, and we've heard of very few common issues.
Insurance groups and costs
The Insignia Grand Sport Designpr with the desirable 1.6-litre turbodiesel 136PS choice is insurance group 15E, with only the base petrol and the 110PS 1.6 turbodiesel bettering that. Pick SRI, SRI VX-Line Nav, Tech Line Nav and that increases to 16E, with Elite Nav bumping it up to 18E. The highest insurance rating is for the GSi Nav, at 28E, but all those are very competitive, and finding inexpensive insurance should be easy.
VED car tax: What is the annual road tax on a Vauxhall Insignia Grand Sport?
Our favourite Vauxhall Insignia Grand Sport is also the cheapest to tax, the VED first year payment for the 1.6 turbodiesel being just £170 for the manual, or £210 for the automatic version. After that they attract a payment of £145 annually.
How much should you be paying for a used Vauxhall Insignia Grand Sport?
"Having been around since 2017 there's plenty of used choice out there, with the earliest high mileage examples starting at about £7500."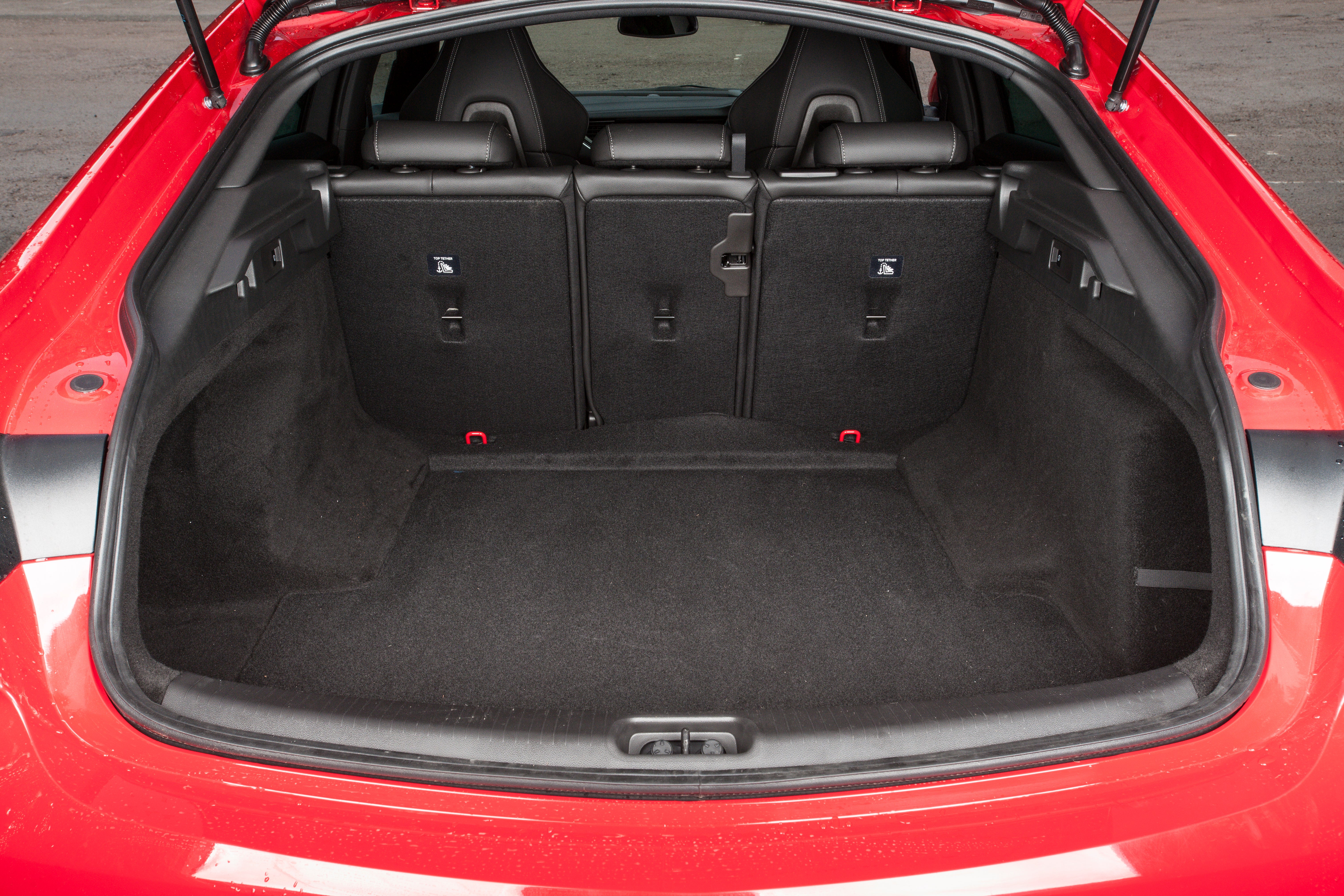 Realistically, around the £10,000 mark is the starting point for the current Insignia, and you'll be in rich pickings from £12,000 upwards.
Trim levels and standard equipment
The Vauxhall Insignia Grand Sport Design has a 7-inch multimedia display, Bluetooth, Apple CarPlay Android Auto, air conditioning and 17-inch alloy wheels with the Design Nav adding an integrated navigation. SRI gets, dual zone climate control, front fog lights, rain sensitive wipers, front and rear and parking sensors with the SRI Nav adding, yes you've guessed it, navigation...
The Insignia Grand Sport SRI VX-Line Nav adds dark headlining, a VX-Line steering wheel and the VX-Line styling pack while the Tech Line Nav comes with nav, dual zone climate control, auto dimming rear mirrors, rain sensitive wipers and front and rear parking sensors
The Vauxhall Insignia Grand Sport Elite Nav adds an 8-inch Navi Pro system, leather seat facings, wireless charger, heated front seats, 17/18/20-inch alloy wheels depending on engine choice, twin USB sockets and LED matrix headlights.
Go for the Vauxhall Insignia Grand Sport GSI Nav and this gets the 8-inch Navi Pro system, leather seat facings, wireless charger, heated front seats, 20-inch alloy wheels depending on engine choice, twin USB sockets and LED matrix headlights, FlexRide dampers, sports chassis, torque vectoring system, plus GSI exterior and interior styling.
Ask the heycar experts:
common questions
Is the Vauxhall Insignia Grand Sport a good car?
The Insignia Grand Sport is great value for money, has good passenger space and generous equipment regardless of the trim level you choose, and is an accomplished cruiser. However there are any number of rivals that combine these attributes into a more appealing package.

What engines are in the Vauxhall Insignia Grand Sport?
The petrol range is fairly easy to understand with a 1.5-litre turbo in two different versions, either 140PS or 165PS, and a choice of manual or automatic transmissions. On the diesel side there is more choice, with a 1.6-litre with either 110PS or 136PS. Climb up the range and a 2.0-litre diesel with 170PS becomes available, while the range-topping diesel has the same capacity, but two turbos, four-wheel drive and eight-speed auto transmission.

Does the Vauxhall Insignia Grand Sport make a good used car?
The Insignia Grand Sport is a far more polished and premium ownership experience than its predecessor, but the original is a lot more affordable on the second hand market. Its massive popularity means there's a wide choice of low miles used examples for sale, but as with any second hand car, overall condition and a detailed service history should help you to choose.

Answered by
heycar editorial team
Vauxhall Insignia cars for sale on heycar
4,714
Number of cars available
£7K - £41K
Price bracket of these cars
Colours available on heycar
Keep me updated by email with the latest advice, news and offers from heycar
By submitting, you agree to our
privacy policy
.