Insignia Sports Tourer (2017-2019) Review
Vauxhall Insignia Sports Tourer (2017-2019) Review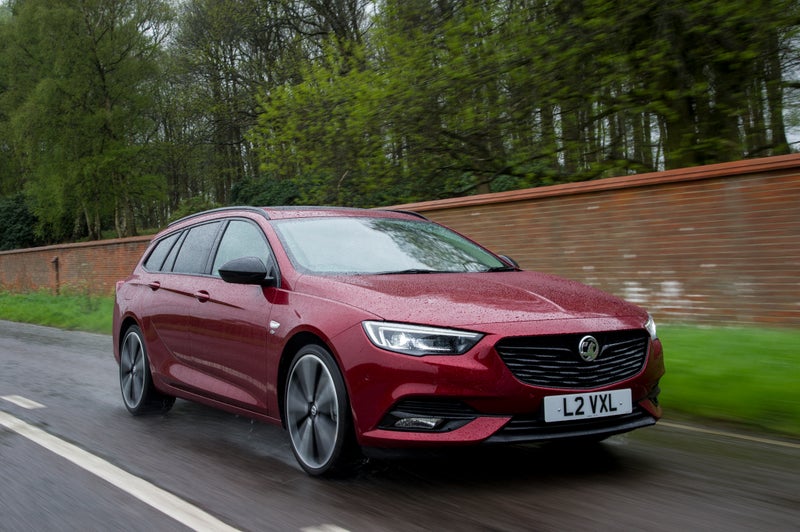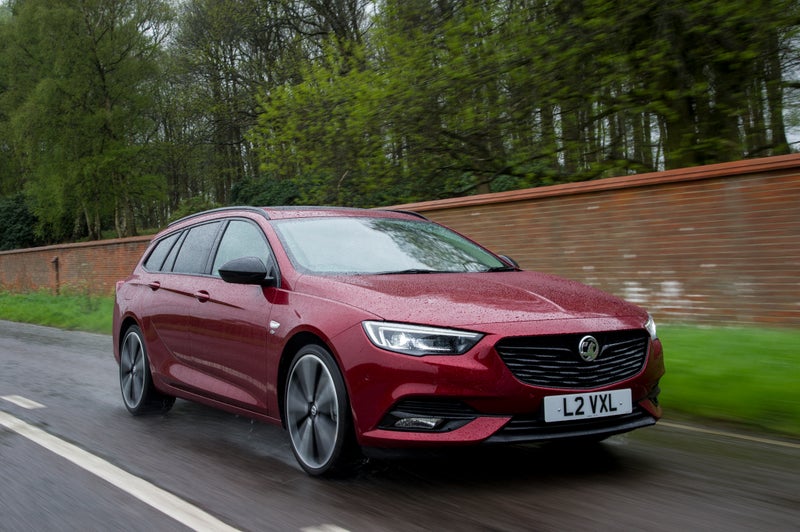 1/10
heycar rating
"Big value wagon, now discontinued"
Launched: 2017

Estate

Petrol, Diesel
Quick overview
Pros
Appealing exterior looks
Some powerful and efficient engines
Strong basic specification
Cons
Neither comfortable or sporty
Uninspiring interior
Thirsty top-spec models
Overall verdict
On the inside
Driving
Cost to run
Prices and Specs
Overall verdict
"The Insignia Sports Tourer fails to perform particularly well in one area. That said, it's good value if you go for the base specification and comes with a decent range of engines."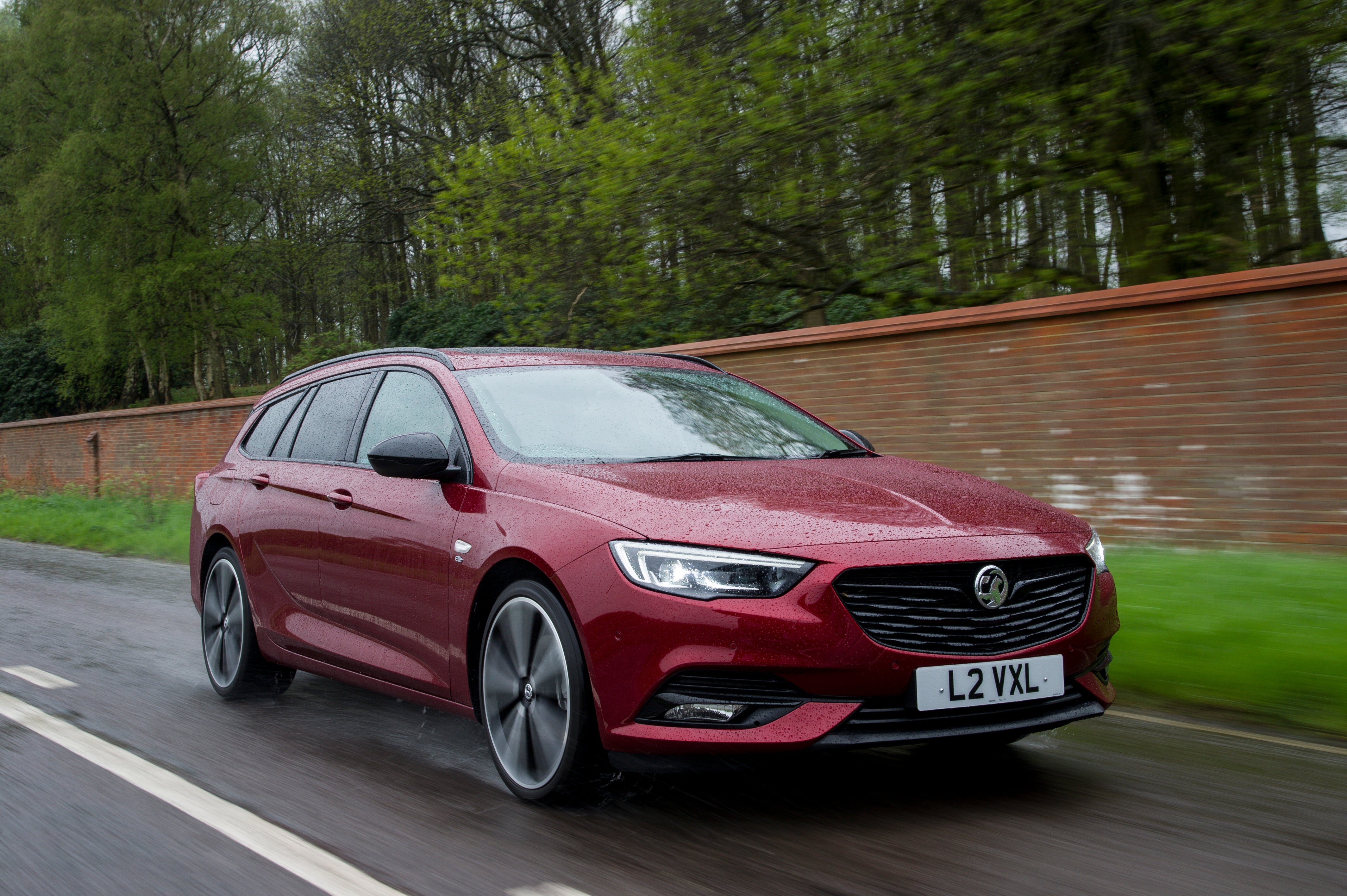 Vauxhall's Insignia Sports Tourer is very much the last of a long line of large estates, following on from the Vectra and Cavalier before it. Having been introduced in the UK in 2017, Vauxhall withdrew it from sale in 2019, with the hatchback Vauxhall Insignia Grand Sport version continuing.
The Insignia Sports Tourer follows the big estate template to the letter. Based on the Insignia hatchback that was introduced in the same year, the Sports Tourer combines a clean, modern and even slightly sporty design with a giant load area.
On the inside the Sports Tourer borrows heavily from the regular Insignia in terms of interior fixtures and fittings. It's quite a simple layout in comparison to some of its competitors, with a conventionally sized touchscreen and an analogue instrument display rather than a multitude of screens.
Not that the Sports Tourer isn't well equipped. Even the basic trim has a swathe of kit that would be more than enough for most people. The Insignia Sports Tourer is also big inside of course, with room enough for four or five adults and, as we said, a generous boot.
On the engine front, the Sports Tourer kicks off with a 1.5-litre petrol available in 140PS and 165PS forms – the latter is one of our favourites thanks to its mixture of performance and economy. Above that there is a 1.6-litre with 200PS, and at the top of the Insignia Sports Tourer tree there's a 2.0-litre with 260PS and four-wheel-drive.
On the diesel front, there is a 1.6-litre available in 110PS or 136PS forms – the latter is our pick of the diesels – or a bigger 2.0-litre unit with 170PS or 210PS.
To drive, the Insignia Sports Tourer offers something of a mixed bag. You would hope that it either offered a sporty driving experience or a high level of comfort – or ideally a little of both – but if anything it manages to fall a little short of doing either. As it is, the suspension struggles to cope with poor surfaces whether you have the setup on small wheels or the more sophisticated active damper system in tandem with larger wheels.
Yet it can also be a bit wallowy in corners and never feels particularly happy being hurried. Drive sedately on the motorway and it is controlled and quiet, but you'd expect that from any of its direct rivals.
So the Vauxhall's more of a near miss than a direct hit on the large family car class, keep reading for a more detailed explanation for why that is.
Is the Insignia Sports Tourer right for you?
If you're looking for a big estate that you can chuck loads of luggage in and carry people at the same time, then the Insignia Sports Tourer will likely be on your shortlist.
It would suit a family who needs the space for older children and their luggage, although if that's the case you might also want to consider an MPV or SUV.
For business users the Sports Tourer's boot space will make it an appealing option, although some of the engines have relatively high fuel consumption and emissions, so it is important to choose carefully.
What's the best Insignia Sports Tourer model/engine to choose?
Even though there is a wealth of engines to choose from, some of the units are best ignored.
The most powerful 260PS 2.0-litre petrol will barely manage 30mpg while the 2.0-litre 210PS diesel is also disappointingly thirsty for its type. The 165PS petrol makes the most sense for those who don't want a diesel, while the 135PS 1.6-litre diesel is the best compromise for performance and economy. Consider the lower-output 170PS 2.0-litre diesel if you plan to tow regularly, though.
As for the trim levels, the basic Design trim is a good choice that's packed with useful kit like keyless start, cruise control, DAB, Bluetooth, Apple CarPlay, Android Auto and automatic emergency braking.
What other cars are similar to the Insignia Sports Tourer?
The key players in this segment are both from the Volkswagen Group – the Skoda Superb Estate and the Volkswagen Passat Estate. Both are huge inside, offer a high level of interior quality and a strong engine range. The Superb is the biggest estate in the class and a bit cheaper, whereas the Passat is slightly less spacious but posher.
Ford's Mondeo Estate is another obvious rival, while Volvo's V90 is another large estate that offers generous boot space and excellent accommodation for passengers. There's also the Peugeot 508 SW.
Comfort and design
"Step into the Insignia Sports Tourer and if you've recently experienced the contemporary Astra, it'll feel very familiar. "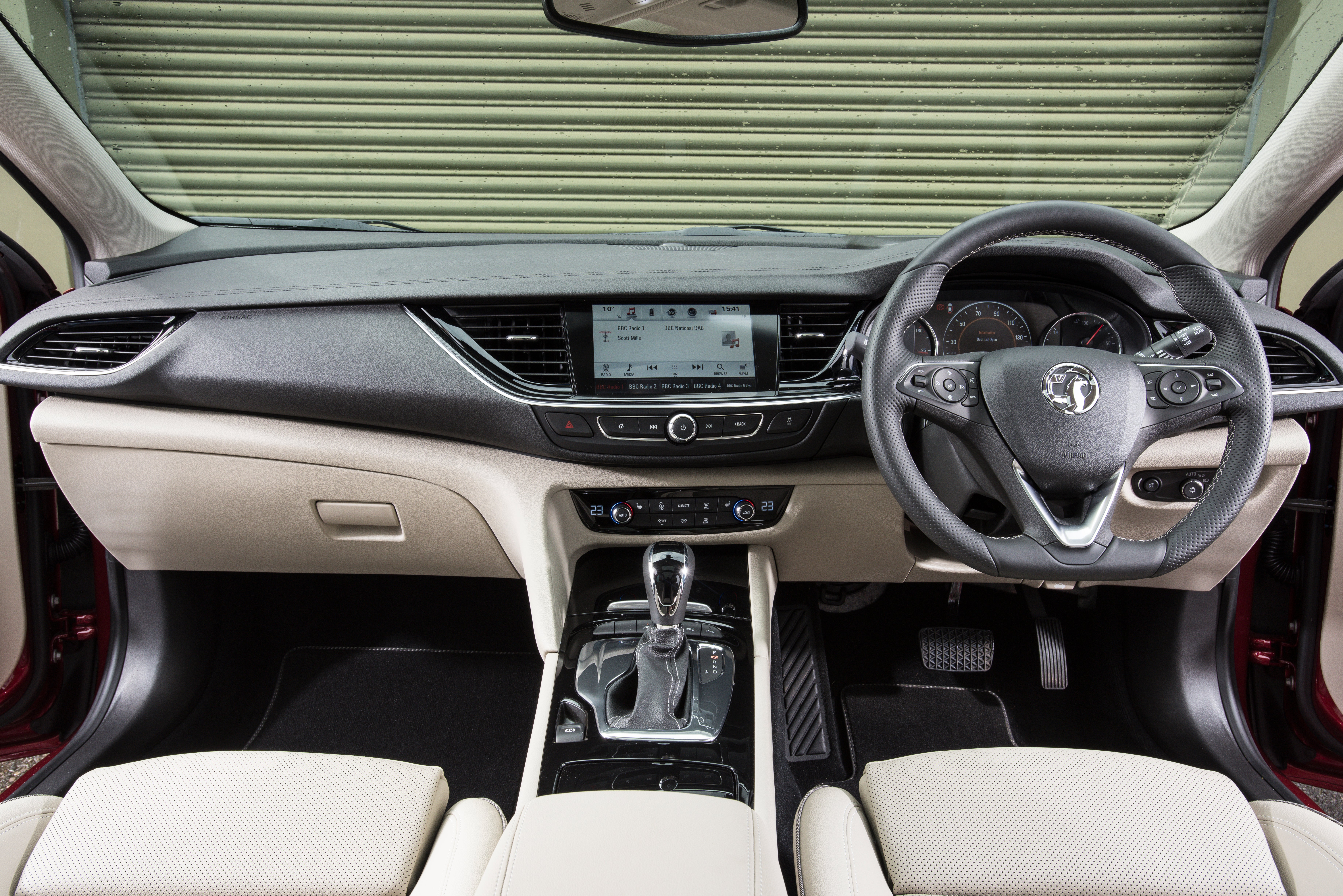 There are some positives to this approach, particularly in that the dashboard is quite slim and doesn't dominate the cabin, the top of the fascia is relatively low, increasing the amount of light entering the cabin and giving a good view out.
The standard touchscreen arrangement comes with a 7-inch screen. If you prefer your interiors to look more conventional this should appeal, you can jump in and get going without having to have a degree in computer science like you do in some of the Vauxhall's high-tech rivals.
You should also find it easy to find a good driving position. There's a good range of adjustment for height and reach on the steering wheel, while the driver's seat also has height adjustment as standard. Tech Line Nav models and above get further adjustments for even more comfort.
The Sports Tourer's cabin is quite conventional in others ways too, particularly when it comes to colour schemes and interior decor. You can have leather seats as an option but their dark colour sucks light out of the cabin.
Quality and finish
There are a good number of soft touch surfaces inside the Vauxhall Insignia Sports Tourer. There are hard plastics in here of course, but they are better hidden than in some competitors, though the Skoda Superb and Volkswagen Passat are noticeably nicer. Their buttons and switches have an oily smooth operation that's absent in the Vauxhall.
There are also some flashes of chrome effect and a lot of gloss black surfaces to mix things up a little, but it doesn't feel particularly special in comparison to the competition or even less expensive Vauxhall models.
Infotainment
As standard, Insignia Sport Tourers are fitted with a 7-inch touchscreen infotainment system, featuring DAB radio, Bluetooth for phone operation and audio streaming. You also get Apple CarPlay and Android Auto so you can use your phone's apps on the car's big screen.
To use, the touchscreen system is not always as intuitive as you might hope. The basic 7-inch screen is reasonably sized but the colour scheme for the graphical display is quite pale, with black and red text on a white background, you need to fiddle with the settings to generate much in the way of contrast within the image. The response of the screen to inputs is good, but as with all touchscreen systems it can be tricky to operate as you bump down the road.
Nav models upgrade this system to an 8-inch screen and, as you'd have guessed, add sat nav with European mapping as standard. Elite Nav models also include a BOSE premium audio system and a digital instrument display.
Space and practicality
There's no doubt that the Insignia Sports Tourer is a big car, so you'd expect there to be a decent amount of space inside.
For front seat passengers it is luxuriously spacious. There's a wide range of seat adjustment so you can roll them back for long legs or crank them up for a better view out.
It's similarly spacious in the rear too. In fact, the Insignia Sports Tourer is not far behind the Skoda Superb in terms of rear space. Headroom is excellent as the roofline doesn't really dip down until it has passed the rear seats, while legroom is so generous that you can place one six-footer behind another without any concerns of discomfort.
The Sports Tourer also manages to have a decent centre seat too; it's not quite as wide as the outer two nor as well sculpted, but you can fit an adult on it in reasonable comfort.
Head for the boot, and you're greeted by a large and square load area. It offers 560 litres with the rear seats up and 1,665 litres with them down, which can't compete with the Skoda Superb or Volkswagen Passat, but is comparable with the Ford Mondeo.
The Vauxhall's floor is flush with the back bumper, so there's no load lip to overcome when loading it up. Some models are fitted with a 40/20/40 split rear seat which is more useful than the regular 60/40 split on the Design and Tech Line Nav cars.
Handling and ride quality
"Go for a low-specification Vauxhall Insignia Sports Tourer like the Design model and you get a conventional suspension setup and modestly-sized wheels, and on smooth roads it is comfortable and controlled."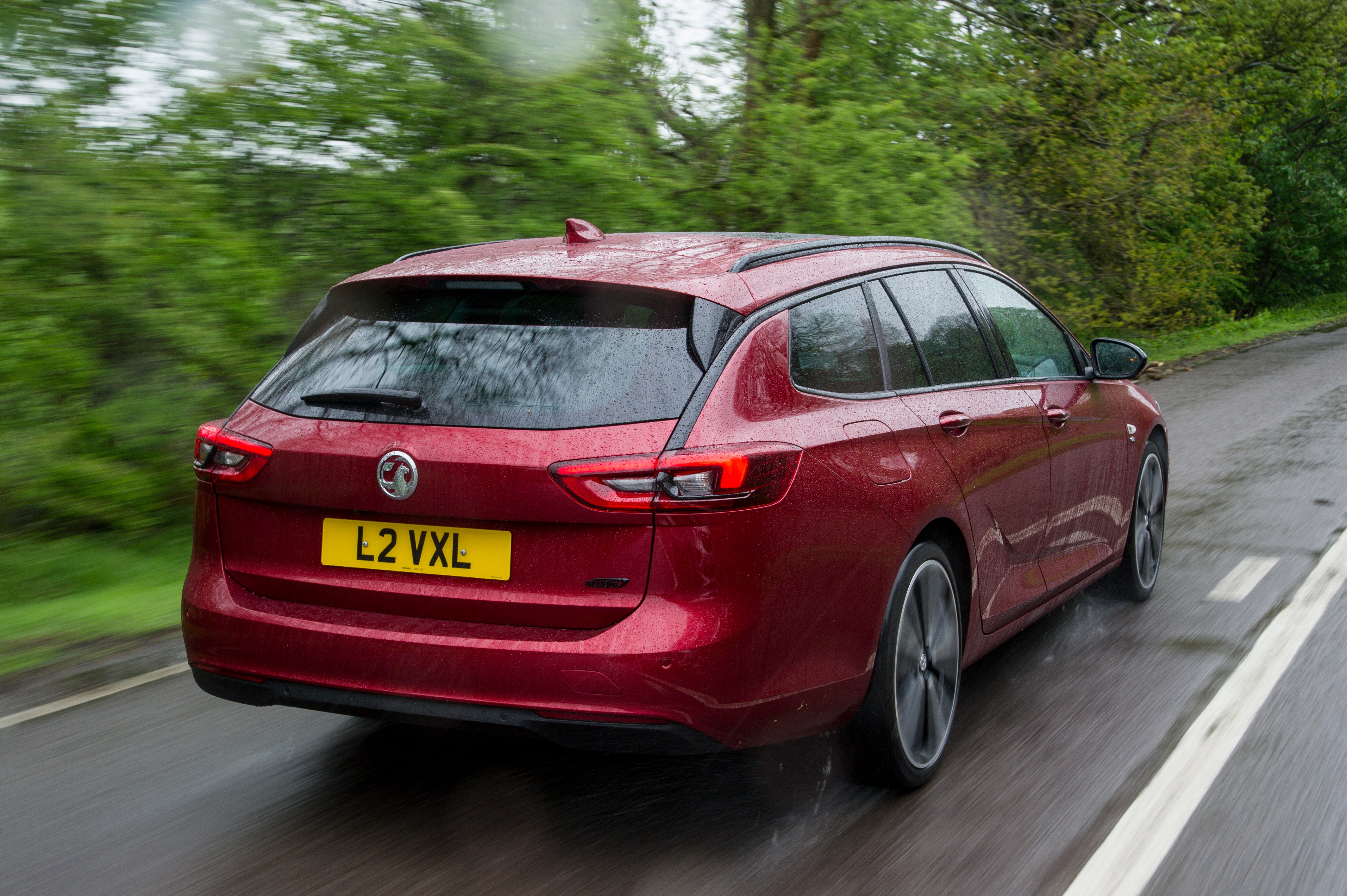 However, as the road surface deteriorates so does the ride, nibbling at smaller imperfections and failing to soften out bigger bumps in the way that some rivals do.
You can specify Flexride on most models, which brings adaptive dampers with a comfort mode into the equation, but the added comfort is offset by the larger alloy wheels that come as standard on high-end models. That said, in Sport mode the dampers firm up to give you extra control in corners.
Stick with the standard suspension and the Sports Tourer will turn into a corner quite readily, although there is more body roll than is ideal, and there's plenty of grip.
Engines and gearboxes
The 1.5-litre turbocharged units might seem way too small for a car of this size, but they certainly punch above their weight. The 140PS is sufficiently quick and frugal with it, but the 165PS makes more sense, giving you a bit more flexibility in terms of carrying loads and long journeys with little in the way of an economy penalty.
The 1.6-litre and 2.0-litre petrols offer yet more performance, but they're also considerably more thirsty, so unless you don't care about fuel bills the trade off isn't worth it.
On the diesel front it is once again the smaller engines that offer the best compromise between power and efficiency. Of the two 1.6-litre options the more powerful 136PS version is the one to go for, as it has a significant slug of extra torque and is strong enough to cope with bigger loads and a full passenger load.
The 2.0-litre diesels offer more performance, but the 210PS is not so economical.
Refinement and noise levels
All the engine options available in the Sports Tourer are pleasingly refined.
The petrols are quiet at a cruise and the same is true of the diesels, which avoid the clatter and rumble that often comes with a cold start and when idling. It's a big contributor to the comfort of the car and can help to reduce driver fatigue on longer journeys.
At lower speeds the Sports Tourer is quite refined, but out of town it generates quite a lot of tyre roar, particularly on poor surfaces and on models with bigger wheels. Similarly, wind noise picks up considerably with a rustle around the windscreen and the door mirrors.
Safety equipment
EuroNCAP awarded the Insignia hatchback an impressive five-star rating and this also applies to the estate.
It had strong scores across all categories, achieving a highly impressive 93 per cent for adult protection and 85 per cent for child protection. Pedestrian mitigation was also given a strong 83 per cent rating, while safety assist was the lowest score recorded at 69 per cent.
As standard, all Insignias get a full complement of air bags, seat belt pre-tensioners are fitted front and rear, as are seat belt load limiters. Isofix child seat mounting points are fitted in the outer rear seats, with an airbag deactivation switch for the front passenger seat too.
All versions of the Insignia are fitted with a comprehensive suite of additional driver safety systems including an active bonnet, automatic emergency braking for city and inter-urban speeds with pedestrian detection and lane assist that can steer the car gently in lane.
MPG and fuel costs
"Of the Insignia Sport Tourer's petrol options, the 1.5-litre versions are the best performers, both the 140PS and the 165PS versions claim the same combined maximum of 42.8mpg, so a real world figure in the high 30s should be possible. "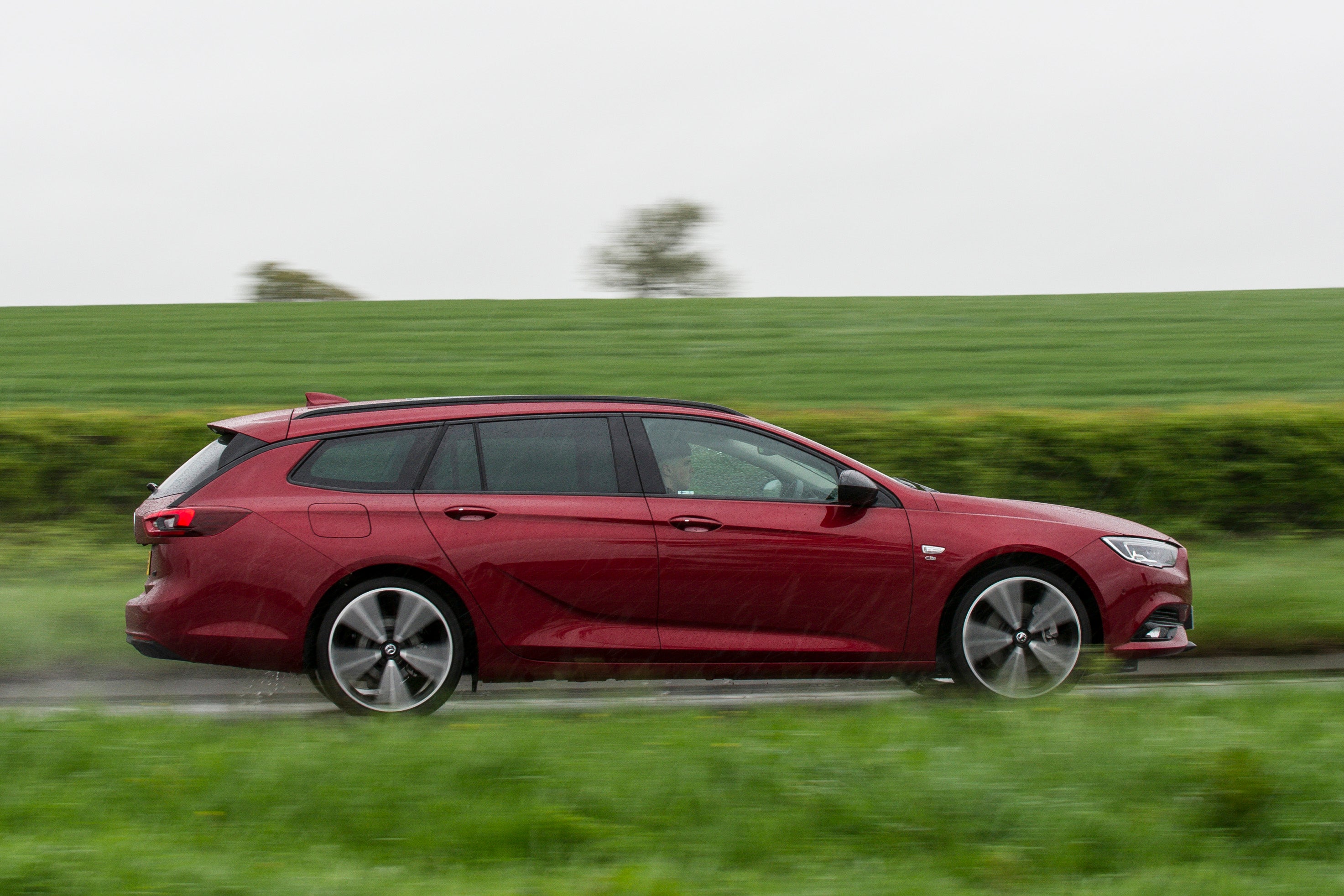 Of the 2.0-litre models, the 200PS petrol claims 39.2mpg, so low 30s is a more realistic prospect, while the 260PS GSi claims 32mpg under the old NEDC rules, so expect to be paying a lot out in fuel costs.
For the diesels, the 110PS 1.6-litre is the best of the bunch with a claimed 55.4mpg. The 136PS version is not far behind Vauxhall reckons it'll get 52.3mpg, a small price to pay for the increased performance.
Insurance groups and costs
Given its size and purchase price, the Insignia Sports Tourer manages to get into relatively low insurance groups. The 1.5-litre 140PS petrol in basic Design trim is only in Group 14, while the most powerful diesel only gets as high as Group 20.
Higher trim levels such as SRi and Elite tend to move up a group for the same engines, while the most powerful GSi Nav model is up in Groups 27 and 28.
VED car tax
All versions of the Sports Tourer attract a VED rate of £150 – with the notable exception of the comparatively rare GSi Nav 210PS Bi-Turbo diesel, which costs £475 for the first five years after registration thanks to the over-£40,000 list price levy.
How much should you be paying for a used Insignia Sports Tourer?
"Although Vauxhall discontinued selling the Insignia Sports Tourer in the UK, many dealers will still have had vehicles in stock which are for sale. That also means there are potential bargains to be had, as a quick search of the HeyCar classifieds reveals."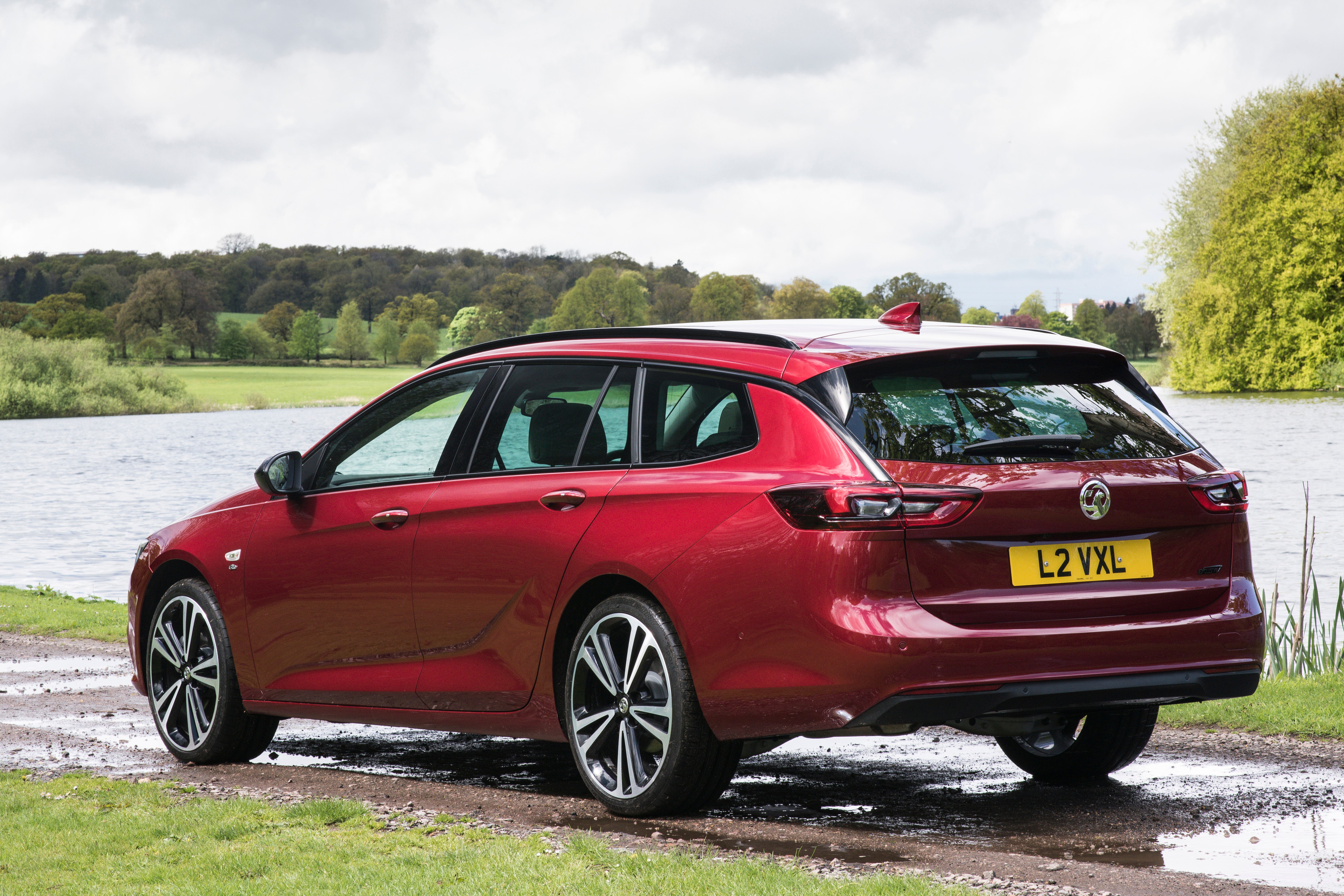 We found a number of 2020-registered examples with delivery mileage available for sale – how about a 1.5 Turbo SRi Nav with less than 50 miles on the clock for £20,000. That's a saving of £5,000 on the original price.
As for older examples, we found a 2018 1.6 D Turbo in Design Nav trim with under 60,000 miles on the clock for £11,000 – half what it would have cost to buy new despite being just two years old.
Trim levels and standard equipment
Design versions of the Vauxhall Insignia Sport Tourer come with 17-inch wheels and you get plenty of features including auto lights, electric windows, keyless entry and start, air conditioning, cruise control and a leather-covered steering wheel. You also get the basic infotainment system with a 7-inch screen with Bluetooth, DAB, Apple CarPlay and Android Auto.
Meanwhile, Design Nav models get all of the above as well as the upgraded navigation system with an eight-inch screen.
Sporty SRi Nav models add smarter looking 17-inch alloy wheels, front fog lights, dark-tinted rear windows and a rear spoiler. SRi VX-Line Nav models get larger 18-inch alloy wheels and a VXR styling pack on the outside, while inside you'll find a heated flat-bottom steering wheel and dark fabric headlining. Tech Line Nav cars gain front and rear parking sensors.
Elite Nav is the top trim and features LED matrix headlights, leather seat upholstery, heated front and rear outer seats, and a Bose stereo.
Keep me updated by email with the latest advice, news and offers from heycar
By submitting, you agree to our
privacy policy
.