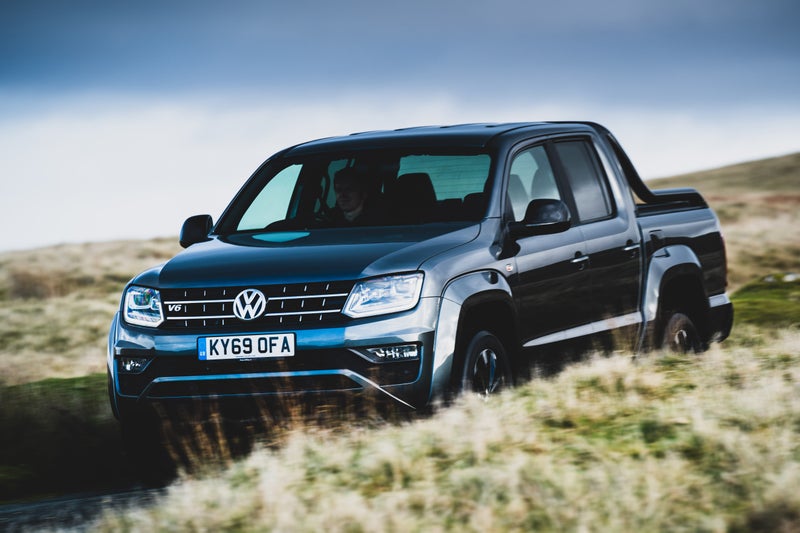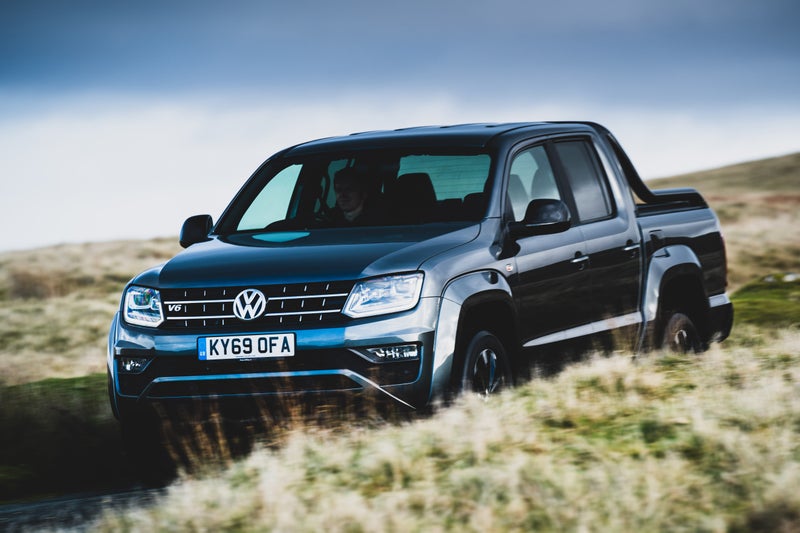 1/10
heycar rating
"Upmarket, but rugged pick-up"
Launched: 2011

Pick-up

Diesel
Quick overview
Pros
Powerful 3.0-litre V6 engine
Excellent off-road
Comfortable car-like cabin
Cons
Nissan Navara and Mercedes-Benz X-Class are more refined
Older 2.0 TDI versions can feel strained under heavy loads
High fuel costs
Overall verdict
On the inside
Driving
Cost to run
Prices and Specs
Overall verdict on the Volkswagen Amarok
"Volkswagen may not be the first name that springs to mind when you think about pick-ups but with such a strong line-up of commercial vehicles including the Transporter and Caddy, it's no surprise the German brand branched out with its first pick up - the Amarok."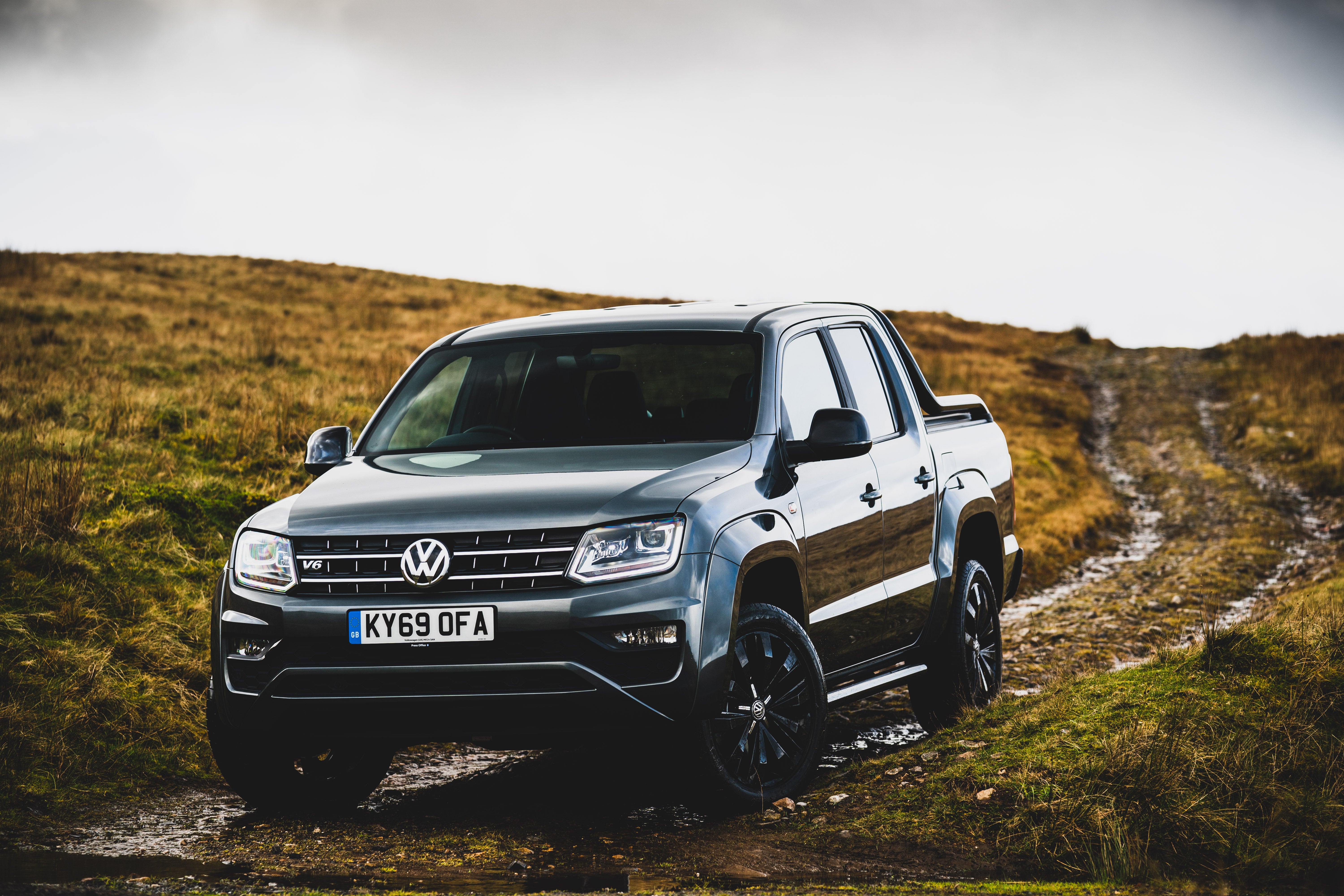 Launched in 2011, the Amarok was unusual for a pick-up in that it was originally powered by a 2.0-litre diesel engine - Volkswagen's familiar common rail TDI that's used in a huge variety of van models.
Volkswagen added a powerful 3.0-litre V6 in 2018 and this gave it the powerful injection it needed to push itself to the top table in the pick-up market. This V6 gives the Amarok the much needed grunt it needs to tackle tough off-road conditions. It'll also tow up to 3.1 tonnes, while its large and practical loadbay will carry over a tonne.
The automatic gearbox isn't a Volkswagen DSG unit as you might expect - this couldn't cope with the demands of off-road terrain that the Amarok needs to be capable of dealing with - instead it's fitted with an eight-speed ZF automatic - just like the one that's used in the Jaguar XF and Range Rover, among others. It may seem excessive having eight speeds, but it's been designed to be efficient and responsive.
It works well too. It's smooth and the shifts are pretty seamless in everyday driving, making the Amarok relaxed and easy to drive. The first gear is set for off-road use and towing while eight is an overdrive gear for the motorway. And as there are so many ratios the engine rarely has to work hard, instead it can maximise the torque which peaks from 1250rpm. As a result it's a very quiet pick-up but it's not as good when you push it. It tends to kick down too readily which results in lots of noise and little in the way of performance, only to shift back up again.
The Amarok is impressive inside, too, with an interior that's similar to Volkswagen's car range. It's well finished and upmarket for a pick-up, yet it still feels robust and hard wearing . The double cab body has good space in the back with more than enough leg room for three strapping adults in the back.
The one big advantage the Amarok has over its rivals is that you can fit a Euro pallet sideways in the load bay which is more than 1.5 metres long and has a capacity of 2.5 square metres. The wide tailgate means easy access for a forklift and the load area is plastic lined as standard too. There are plenty of options available like tonneau covers and a lockable toolbox.
The Amarok is capable off-road with lockable central mechanical differential that automatically acts on all wheels to increase traction by directing power to the wheels with the best grip. There's also an off-road button that includes an automatic hill descent that holds a set speed down even the steepest hills, without the need to put your feet on any pedals.
Is the Volkswagen Amarok right for you?
The Volkswagen Amarok is a rugged 4x4 that bridges the gap between cars and commercial vehicles. This makes it perfect for tradespeople or active outdoor types who need a tough but refined vehicle that can tow or carry bulky loads.
The Amarok isn't as refined as a typical family SUV, but it gets close. The cabin is well-made, comfortable and spacious. Admittedly, the ride-quality is a little hard on rough roads, but the Amarok's shortfalls in refinement are eclipsed by its all-round usability.
The large loadbay and double-cab design will make the Amarok an appealing choice for builders who need a one-size-fits-all works vehicle that will double as a family car at the weekend.
What's the best Volkswagen Amarok model/engine to choose?
The 3.0-litre V6 diesels strike the best balance between performance and running costs. This engine is available with 204PS or 258PS - both provide good levels of refinement, especially on the motorway, where engine noise is kept to a low hum at 70mph.
The 204PS version of the 3.0-litre V6 will be sufficient for most drivers, with the 0-62mph sprint taking a respectable 9.1 seconds. The eight-speed automatic gearbox has been standard across the V6 range since 2019 and is a good match for the 3.0-litre's punchy low-gear acceleration.
The powerful 258PS V6 gives the Amarok a notable punch in the performance stakes, with 0-62mph taking 7.4 seconds. This provides effortless acceleration and is well-suited for towing or travelling off-road, with higher levels of low-gear acceleration in all of the gears.
The Highline trim line is the best for standard equipment, with leather seats and touchscreen navigation included. However, if you're a tradesperson, you might be better suited with the Trendline version - this features hardwearing cloth seats and smaller 17-inch wheels that are less susceptible to damage.
What other cars are similar to the Volkswagen Amarok?
The Amarok sits at the premium end of the pick-up market. This means it goes up against the Nissan Navara N Guard, Mercedes-Benz X-Class, Ford Ranger Wildtrak and Toyota Hilux Invincible. The Amarok isn't as refined as the Navara or X-Class, but it's more than a match for the Ranger and Hilux.
The Amarok isn't as comfortable to drive as the Navara or X-Class, but it gets very close. With its powerful V6 powertrain, we rate the Volskwagen higher than Ford and Toyota for all-round performance.
Comfort and design: Volkswagen Amarok interior
"The Amarok's utilitarian cabin won't win any prizes for colourful design - almost everything is finished in a dull grey or black material. It's plastic heavy too, which might disappoint SUV drivers who are thinking of swapping their family car for a pick-up."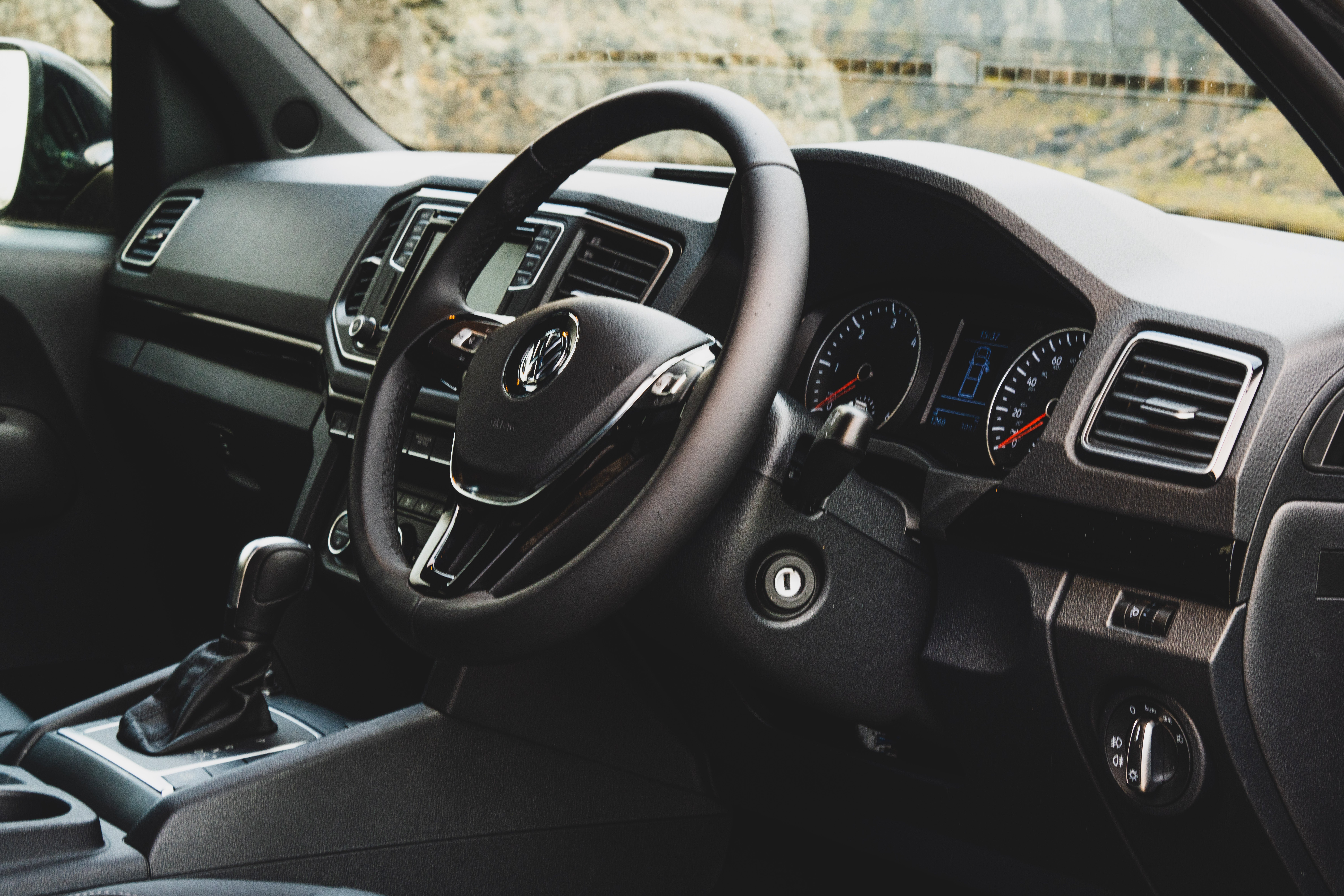 That said, the cabin is thoughtfully laid out and comfortable for long distance travel. The dashboard has lots of useful pockets and storage points for cups, bottles or loose bits of paper. A touchscreen infotainment system is standard on most models, too, and many of the in-car functions can be accessed via the buttons on the steering wheel.
There's lots of space in the front and rear of the cabin. The Amarok will carry five large adults, but legroom is limited for the middle rear passenger. The centre storage box doubles up as an arm rest for the driver and the wide doors makes access easy for those getting in or out.
Basic models get firm and supportive cloth seats, with lots of adjustment to find a comfortable driving position. High-spec models get leather seats that are more comfortable but not as durable as the cheaper cloth alternative. That said, you do get heated front seats on Highline models which makes them better in the winter months. However, you'll have to pay £170 extra to get lumbar support. Electric seat adjustment was never fitted as standard to any version of the Amarok, with buyers having to pay a hefty £1300 to have this option fitted.
Quality and finish
If you are switching from a family SUV to the Amarok, you might find the cabin finish to be a little rough 'n' ready. The quality is good but there are a lot of hard and scratchy plastics that wouldn't be seen anywhere in a high-spec Volvo, Audi or Lexus.
Despite its utilitarian feel, the cabin is finished to a high standard. There are no worrying squeaks or creaks from the dashboard or seats. The doors also close with a satisfying suppressed thud.
For a working commercial vehicle, the cabin layout is perfect. The hardwearing plastics are easy to clean and extremely tough. There are also lots of useful storage pockets and cupholders This means the interior won't get damaged by light scuffs from planks of wood or copper pipes (or anything else you need to carry for work).
Trendline models are fitted with seats that are covered in a hard wearing grey cloth. Highline trim replaces the standard seats with leather that might be more comfortable but are more susceptible to damage from harsh materials.
Infotainment: Touchscreen, USB, sat nav and stereo in the Volkswagen Amarok
Touchscreen infotainment has been standard on the Amarok for a number of years now. Volkswagen's infotainment systems are excellent. Easy to use, with a bright display and prompt screen changes, we rate them as the best in any vehicle on sale right now. The system is lifted straight from Volkswagen's car range and superior to anything you'll find in the Toyota Hilux, Ford Ranger or Nissan Navara.
Trendline models get a high mounted 6.3-inch screen with DAB audio and full Apple CarPlay and Android Auto connectivity. This means you can plug your phone into the USB socket and mirror the display on the bright dashboard screen. Highline models add navigation and off-road information to the infotainment system, which shows the direction of the front wheels, vehicle elevation and ramp angle.
Space and practicality: Volkswagen Amarok load space
The Amarok might be a premium pick-up, but at its core it's still very much a commercial vehicle. This means it's designed to carry one-tonne payloads and tow heavy trailers.
Maximum payloads range from 1070kg to 1146kg. Towing capacities peak at 3100kg for the powerful 3.0-litre V6 models and 3200kg for the 2.0-litre BiTDI. The loadspace is large and practical. The load bed is 1555mm long and 1620mm wide. You also get a useful 1222mm between the rear wheelarch housings, which means you can fit a Euro pallet between them.
The tailgate can hold 200kg, which means you can use it as an extension of the load platform. The side panels of the load bed are 508mm high, while all versions get lashing rings that make it easy to secure payloads.
The Amarok is offered as a double-cab pick-up only (there is no single-cab bodystyle). This means you get a decent-sized interior, with lots of shoulder and leg room for those in the front and rear.
Volkswagen offers a range of options for the load area. A 12V power socket can be fitted, along with LED loadspace lighting. We'd strongly recommend the loadspace cover. These are usually finished in a grippy plastic that prevents the metal undertray and sides from getting damaged or scratched from shifting loads.
Handling and ride quality: What is the Volkswagen Amarok like to drive?
"The Volkswagen Amarok is huge in size. All versions exceed five metres in length and two metres in width. If you're planning to swap your family SUV for a pick-up then you should prepare yourself for some sacrifices when it comes to handling and ride comfort."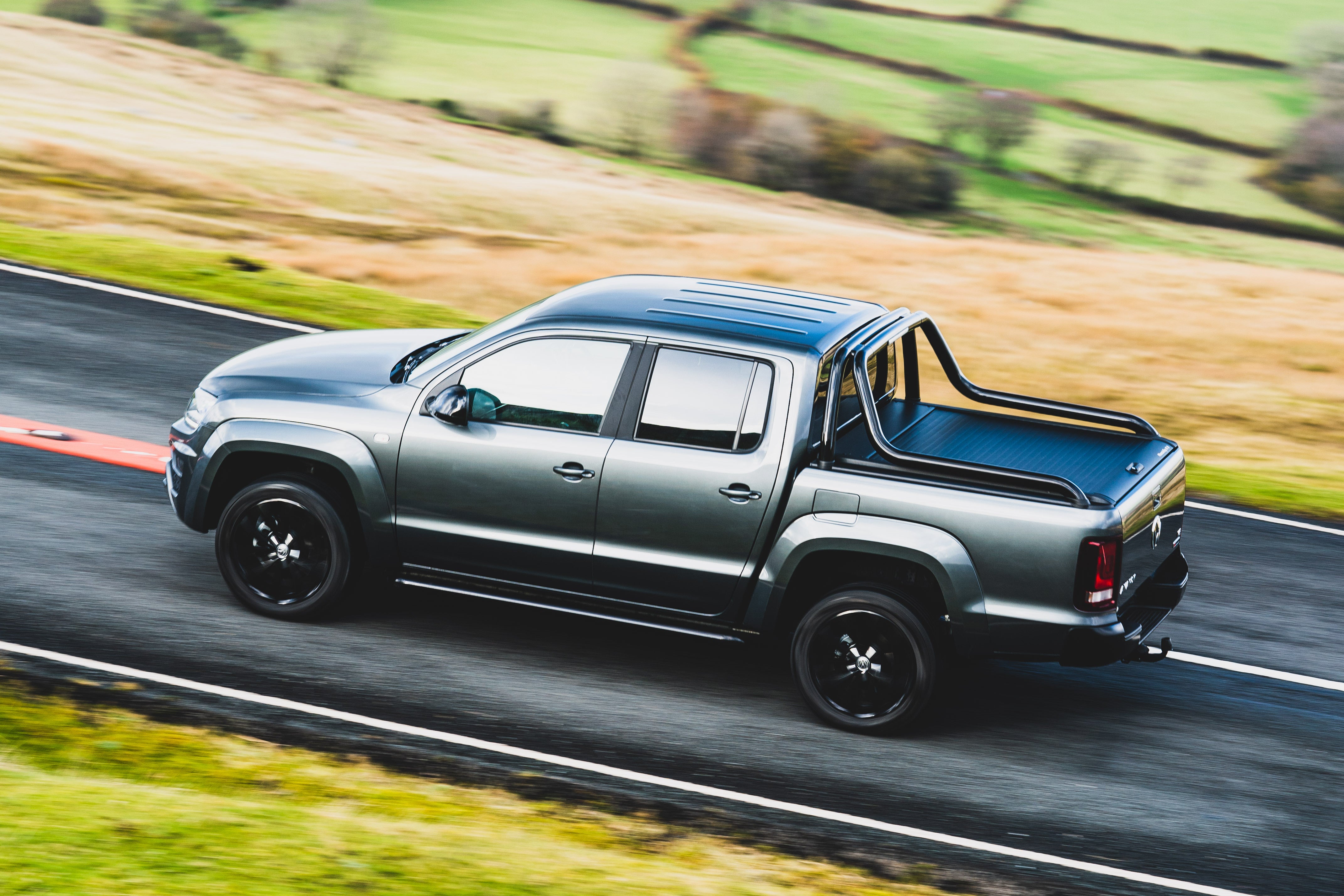 Like many of its pick-up rivals, the Amarok uses leaf rear suspension that's designed to carry big payloads. And like many of its rivals, the Amarok is prone to becoming uncomfortably bouncy when the payload area is empty and the road surfaces are less than perfect.
Loading up the vehicle's one-tonne payload will dampen the ride quality issues, but if you're planning to buy an Amarok and not utilise its load area then you should be warned that the ride quality can get a little bumpy from time-to-time. It is a commercial vehicle, after all.
In town the Amarok is something of a mixed bag. It's elevated driving position provides excellent viability, as you peer over cartops and get a bird's-eye view of your surroundings. However, due to its gargantuan size, parking is seldom a pleasant experience. And getting the Amarok in and out of a city-centre multi-story carpark will test your driving powers to the fullest. The Amarok does get a lot of useful driver tech, with things like parking sensors and a rear-view camera fitted as standard to high-spec models.
That said, on the open road, the Amarok handles itself pretty well. The steering is light and responsive and engine noise is generally low. The leaf rear suspension works well on the motorway and this means you can cover long distances with good levels of comfort.
Early versions of the Amarok were sold with the choice of selectable or permanent four-wheel drive. We rate the latter as the best, with the full time 4Motion all-wheel drive giving the Amarok excellent all-weather, all-road handling. The latest models of the Amarok get permanent four-wheel drive as standard.
What engines and gearboxes are available in the Volkswagen Amarok?
At launch, the Amarok was offered with a range of single or twin-turbocharged 2.0-litre diesel engines. These were linked to either a six-speed manual or eight-speed automatic gearbox.
The best engine for the Amarok is the turbocharged 3.0-litre V6 diesel, which was added to the range in late-2016 and gives the Amarok the punch that's lacking with the older four-cylinder units, which can feel breathless on the motorway or when towing.
The 3.0-litre V6 was launched with the choice of 204PS or 224PS (240PS with overboost for overtaking). Early 2018 would see Volksagen add a 258PS version, featuring an overboost function for 272PS.
The latest versions of the Amarok use permanent four-wheel drive and are fitted with an automatic gearbox as standard. The six-speed manual was slowly phased out in 2018.
The V6 is the best for heavy duty work. The 3.0-litre engine has a lot of low-gear acceleration that makes it apt for towing heavy loads and navigating hilly off-road terrain. It also feels more refined on the motorway at 70mph, with the engine running along at 2500rpm.
Unlike some of its rivals, you don't need to be a 4x4 expert to get the most out of the Amarok off-road. Most versions have buttons to activate the lockable diff or the vehicle's off-road mode. This will automatically optimise the engine, brakes and ABS for all-terrain conditions. The latest versions of the Amarok also have a wading depth of 500mm.
Refinement and noise levels
The Volkswagen Amarok is one of the most refined pick-ups you can buy. From the inside, you'd be forgiven for thinking you are driving an upmarket SUV. The doors close with a rewarding thud and there is very little engine or road noise in the cabin.
The Nissan Navara and Mercedes-Benz X-Class are better for comfort, due to the Amarok's leaf sprung suspension transferring a few noticeable bumps into the cabin. Both the Nissan and Mercedes-Benz use a sophisticated five-link set-up with coil springs in place of the traditional leaf suspension.
That said, the Amarok is better than the Ford Ranger and Toyota Hilux for comfort. The body doesn't pitch or roll to the sides when you make a sharp turn. The Amarok doesn't roll forwards or backwards uncomfortably when you apply moderate levels of throttle or brake, either.
Safety equipment: How safe is the Volkswagen Amarok?
The Volkswagen Amarok was awarded a four-star (out of five) Euro NCAP rating for safety. This isn't as good as its SUV rivals, with the Amarok getting 86% for adult protection and just 64% for child safety. Due to its size and boxy design, the Amarok was marked down heavily by Euro NCAP for pedestrian safety. It was given just 47%, with poor ratings for leg and pelvic protection.
Every model comes with a driver, passenger and side airbags. The Amarok also gets Isofix child seat fixing points, including two across the rear bench.
Over the years the Amarok has been given a number of revisions. This includes an automatic post-collision braking system, which uses a camera and sensors to detect a potential impact. If the driver doesn't take action, the vehicle will automatically apply the brakes to minimise the impact of a collision. All versions get hill start assist as standard, which prevents the vehicle from rolling backwards when you lift your foot off the brake - useful for hill starts or navigating stop-start traffic.
In 2018, Volkswagen added a trailer stabilisation system to the Amarok range. This monitors the trailer and applies the brakes and reduces engine power if it detects the trailer snaking or destabilising the vehicle.
All versions of the Amarok get anti lock braking as standard and a sophisticated electronic stabilisation program that prevents the wheels from slipping in wet or wintery road conditions.
MPG fuel costs: What does a Volkswagen Amarok cost to run?
"Like all pick-up trucks, the Amarok is big, heavy and expensive to fuel. According to the latest WLTP fuel economy test, the 3.0-litre V6 turbodiesel will return around 26-28mpg. "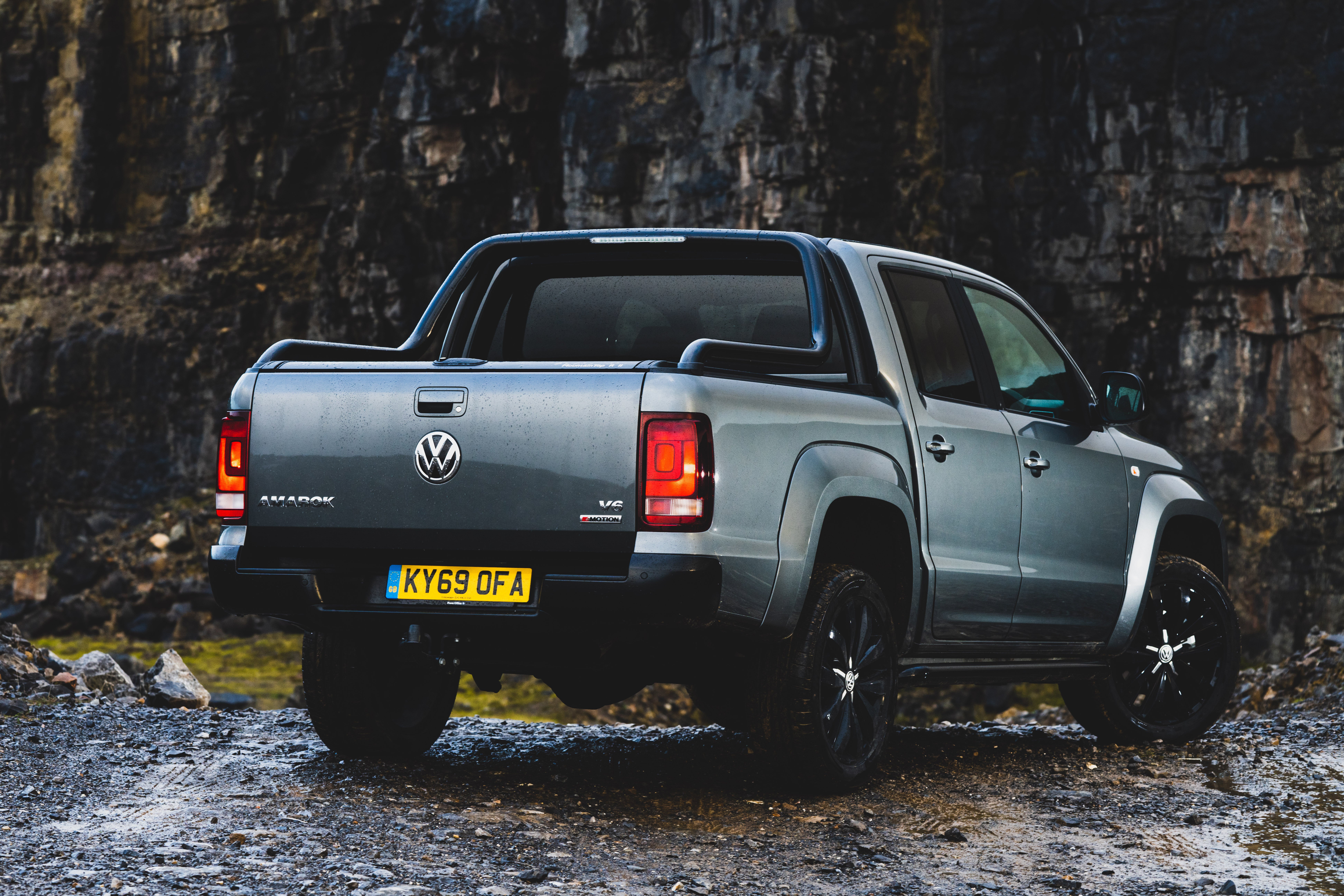 The 2.0-litre in the older versions of the Amarok will officially return 36–37mpg; however,in real world driving conditions, both the selectable and permanent 4Motion versions will return figures closer to 30mpg.
Insurance groups and costs
The Amarok sits in insurance groups 41E to 46E. The cheapest is the 204PS versions of the 3.0-litre V6, while the higher output 258PS in the limited edition trim levels is the most expensive at 46E.
VED tax: What is the annual road tax on a Volkswagen Amarok?
The Volkswagen Amarok is classed as a commercial vehicle for road tax VED purposes. This is because it's designed for professional work and has a payload that exceeds 1000kg. Twelve months road tax VED is £265. If you do not want to pay a lump sum then you can cover the cost over 12 months via Direct Debit, but this pushes the total price up to £278. You can also purchase six months tax, which costs £143.
How much should you be paying for a used Volkswagen Amarok?
"The Volkswagen Amarok is pitched squarely at the premium end of the pick-up market. This upmarket appeal is reflected in its list price, which starts at £35,500 (including VAT). "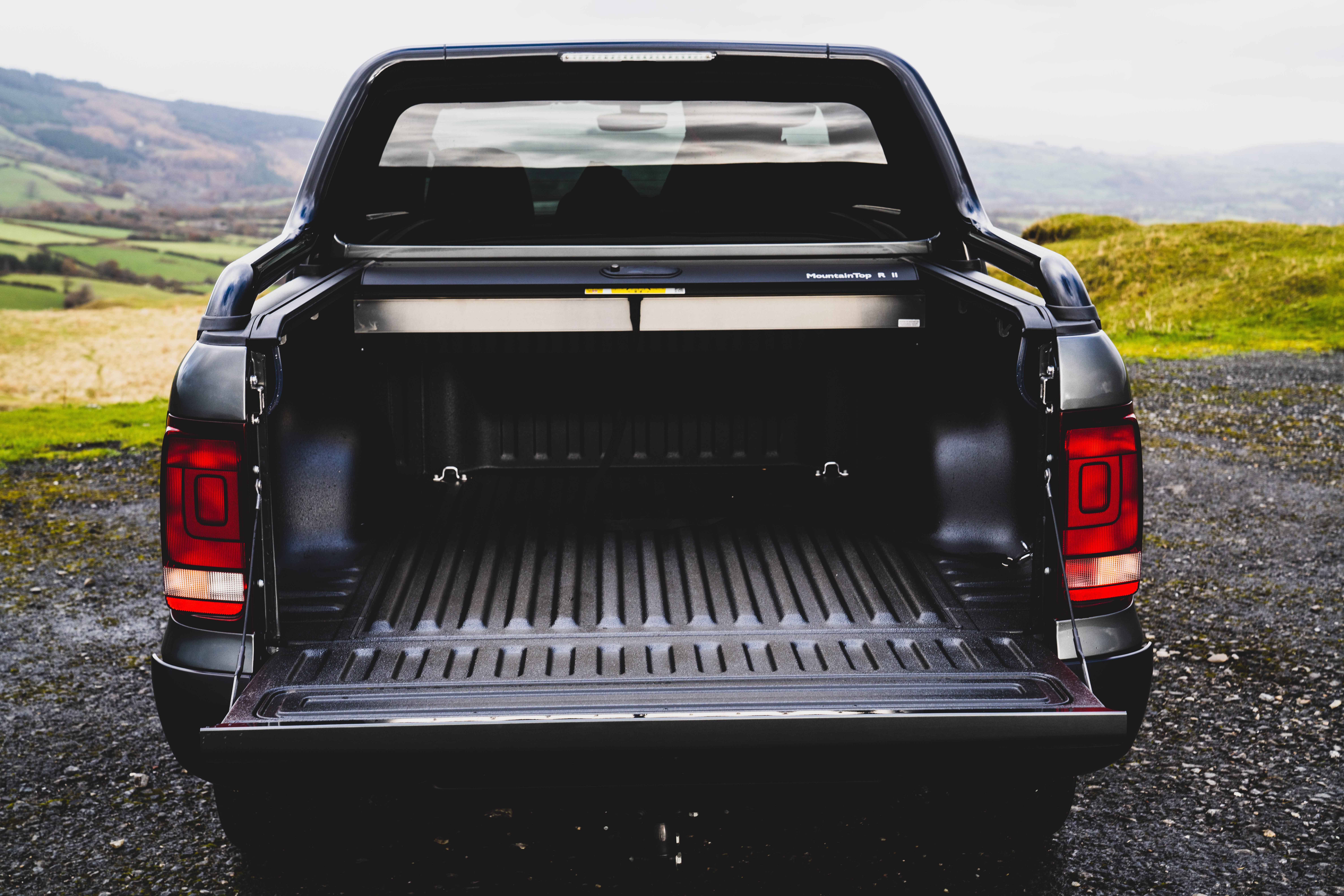 The Highline model starts at £40,000 and a handful of optional extras will easily push this to £45,000. The special editions are the most desirable version of the Amarok, and the most expensive. The Aventura Black Edition, for example, starts at £53,000.
Dealers usually offer discounts for nearly-new and pre-reg stock. If you are not fussy about the colour or spec, you can make big savings on a delivery mileage Amarok.
The Amarok has been on sale since 2011, which means there is a huge level of choice on the used market. A budget of £20,000 will give you access to a wide range of three and four-year-old models that are well-kept and sold with a full dealer-stamped service history.
Trim levels and standard equipment
The Amarok is mostly offered in two trims, Trendline and Highline. Used buyers can also get Volkswagen in a basic work-focussed Startline model, which was phased out in 2019.
Highline offers the best level of standard of equipment. It features leather seats, parking sensors, rear-view camera, xenon headlights and two-zone air conditioning for the driver and front passenger.
The Trendline model strikes a good balance between comfort and practicality. It has cloth seats and deeper profile tyres with 17-inch alloy wheels that are less susceptible to damage and scuffing compared to the Highline's 18-inch wheels.
Volkswagen has produced a number of limited editions over the years. These versions of the Amarok are usually distinguishable by enhanced exterior styling that includes black load bars, 19 or 20-inch alloy wheels and a protective coating for the load area.
Volswagen provides a comprehensive array of optional extras. If you plan to use your pick-up for towing then the fixed ball towbar (with 13-pin socket and electrics) will be essential, at £384.
Cargo area lighting can be added for £30, which will make it easier to load/unload the Amarok at night. If you plan to use your pick-up for heavy duty off-roading then a lockable rear differential can be added to improve the vehicle's handling for £324.
Volkswagen Amarok cars for sale on heycar
13,608
Number of cars available
£19K - £48K
Price bracket of these cars
Colours available on heycar
Keep me updated by email with the latest advice, news and offers from heycar
By submitting, you agree to our
privacy policy
.