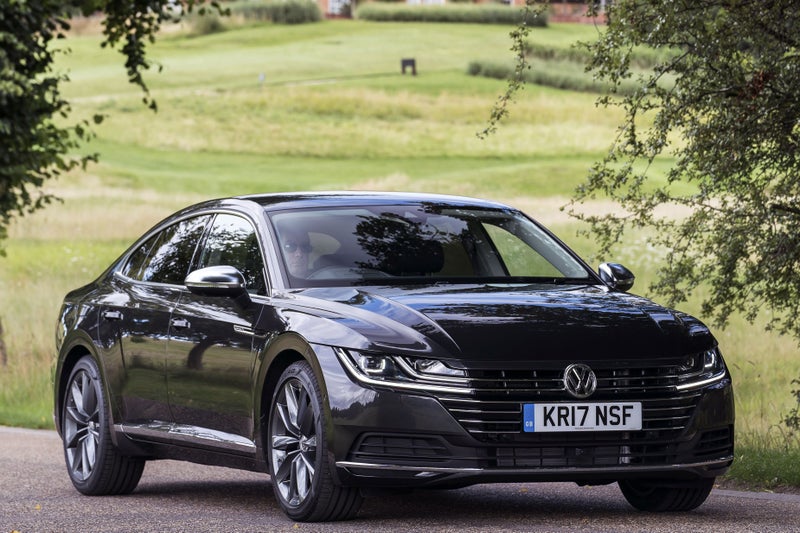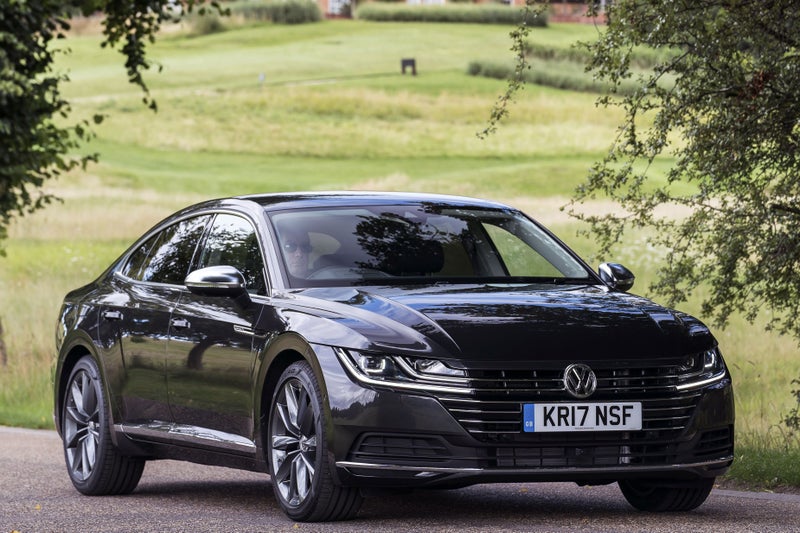 1/10
heycar rating
"Elegant and upmarket people's car"
Launched: 2017

Premium

Petrol, Diesel
Quick overview
Pros
Elegant looks, inside and out
Huge practicality, comfort and space
Comprehensive equipment across the range
Cons
No hybrid option for now
Residual values not as good as premium rivals which impacts running costs
Upmarket infotainment system from Elegance not as intuitive as the SE's version
Overall verdict
On the inside
Driving
Cost to run
Prices and Specs
Overall verdict on the Volkswagen Arteon
"If there were a BMW roundel or a Mercedes-Benz three-pointed star on its smart grille nobody would question the validity of the Arteon's claim to operate in the premium class, but some brand snobbery, even towards Volkswagen, does mean some can't see past the badge, particularly at the price point that the Arteon occupies. Elegant, comfortable and spacious, there's a great deal to like about the Volkswagen Arteon."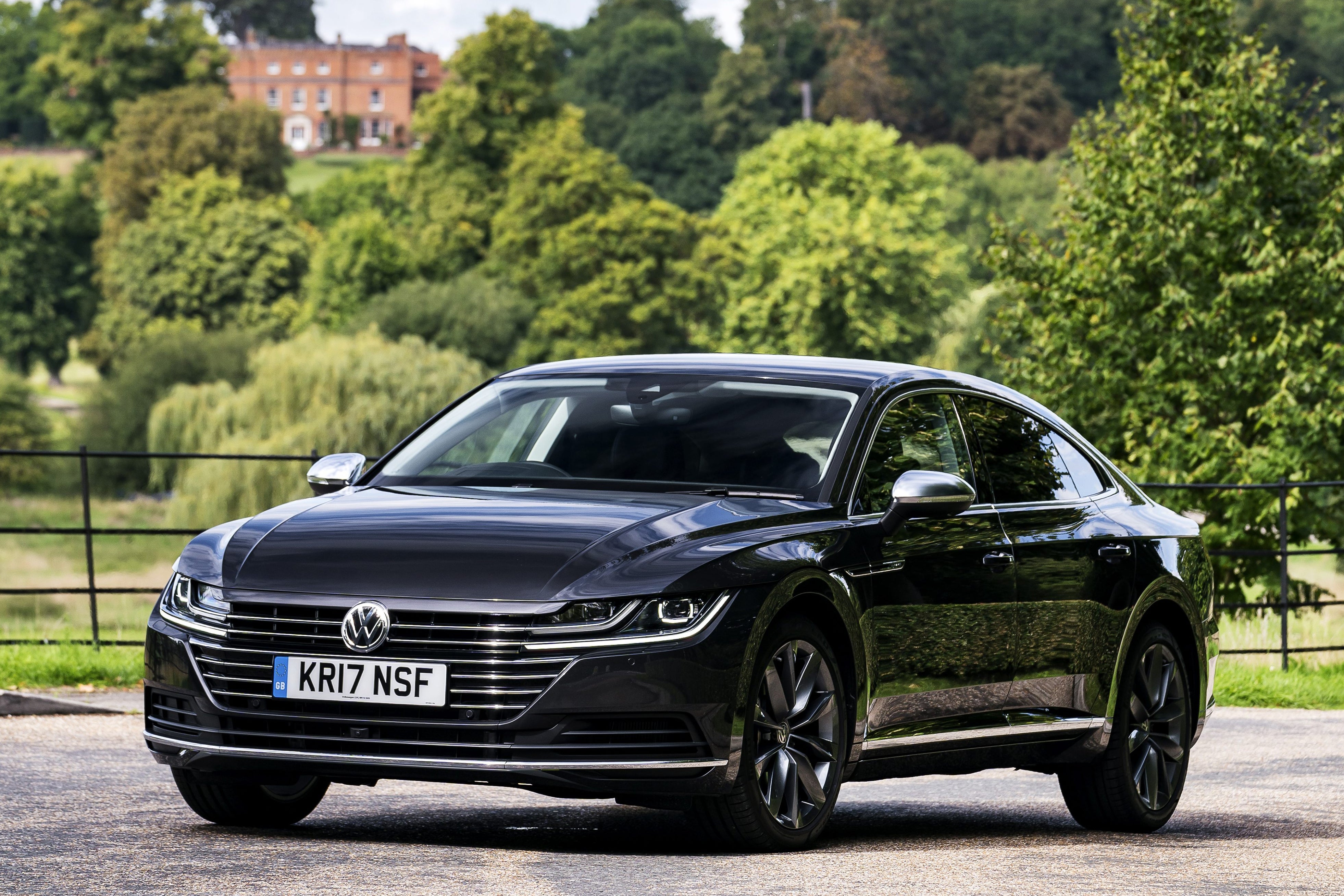 Volkswagen might translate to people's car, but the brand equity is strong enough that it's not just for the mainstream masses, with cars like the Arteon competing in the premium sector. It arrived in 2017, Volkswagen denying it was a replacement for the previous Passat CC, even if the timing suggests otherwise, instead that the Arteon is a model that's more distinct from its Passat relation, which goes some way to explaining the new name.
The Arteon is to be seen as a rival for cars like the BMW 4 Series Gran Coupe and Audi A5 Sportback, cars which manufacturers somewhat uncomfortably refer to as four-door coupes, when in fact they're simply elegant hatchbacks – or inelegant, in the case of the 2020 BMW.
The word hatchback conjures up mainstream sensibilities and practicalities though, so Volkswagen would prefer to describe the Arteon as a fastback.
Nomenclature aside, there's no denying the Arteon is a fine-looking thing. Far wider and more rakish in its lines than the Passat it's based on, it's certainly got the looks to cut it among its premium branded contemporaries, indeed, their ubiquity works in the Arteon's favour, making the big Volkswagen the stand-out car among them. It's undeniably an elegant car, regardless of its trim level, but for the greatest impact the R-Line really stands out in the company car park.
The exterior looks aren't subterfuge to an interior that's not up to the lofty standards witnessed in the class that the Arteon aspires to. Yes, the cabin is largely lifted from the Passat, but given it's a car we consider to be at the top of its class, and indeed capable of rivalling and in some cases bettering, the interiors of cars in the premium sector above, that really is no complaint.
It might lack the flair of some inside, but there's a lot to be said for the Arteon's understated elegance, its simplicity here a virtue, especially in relation to longevity – it's still certain to look good in years to come.
That interior doesn't just exude a feeling of neat classiness, but plentiful space and comfort, the Arteon's cabin being big, which means there's space for four adults in real comfort, even with its rakish rear profile. There's practicality, too, the Arteon sharing that with its Passat relation, only here the massive, good shaped boot is accessed by a large hatchback, making the Arteon a useful load carrier.
Underlining its upmarket status is an engine range that does without the smaller 1.6-litre turbodiesel and 1.5-litre TSI engines from the Passat, instead only featuring 2.0-litre turbocharged petrol and diesel choices.
There are no six-cylinder options like those premium rivals, nor, for now at least, is there a plug-in hybrid version, despite the Passat being offered in GTE plug-in form. That looks certain to change, as from mid-2020 Volkswagen will refresh the Arteon line-up, with a plug-in hybrid and range topping R performance version set to join the range, likewise an Arteon shooting brake (estate) is set to be offered, for those upmarket buyers wanting a little more practicality from their stylish Volkswagen.
Is the Volkswagen Arteon right for you?
There are a number of ways you can look at the Arteon, and whichever path you take it's undoubtedly attractive. As an anti-premium machine you can revel in all the luxury and style that you'd usually have to go to an upmarket showroom for, and enjoy it all with a badge that doesn't irk the hoi polloi.
There's something inherently appealing about the Volkswagen badge and the sensibilities and design that comes with it, that redouble when applied to such a big, elegant car.
So, yes, there's a good chance the Arteon is for you, it's arguably the thinking person's upmarket car, and one that comes without any of the negative – perceived or real – baggage that some of those upmarket brands are burdened with. No, it's not as sharp to drive as those premium machines, which when your daily reality is more likely to be mundane motorway monotony and cursed commuting its more comforting bent is actually a good thing.
What's the best Volkswagen Arteon model/engine to choose?
There's choice in the line-up, but then we reckon there's only really one to go for, at least when it comes to the engine. We'd go for the long-legged ease and economy of the 2.0-litre TDI SCR turbodiesel in 190PS form. Why not the 150PS version with its even better economy?
Because the Arteon deserves the easier nature of the bigger output version. With it you get the seven-speed DSG automatic as standard, which is, again, correct for a car like this. Regarding trim, it's a toss-up between the Elegance or the R-Line, the decision down to whether you prefer the more overt assertive style of the R-Line over the Elegance's relative understatement. We'd go R-Line, but that's just us.
What other cars are similar to the Volkswagen Arteon?
The Arteon's pitched as a classier, more rakish alternative to the mainstream premium saloons, which means it's up alongside cars like the BMW 4 Series Gran Coupe and Audi A5 Sportback, but the reality of its, sorry, posh Volkswagen Passat status, does mean it's arguably a rival for any of the premium players in the saloon marketplace, too. So, think BMW 3 Series, Audi A4, Mercedes-Benz C-Class and Jaguar XE. Against its intended four-door coupe rivals it's appealing, against the premium saloon norm it's even more so.
Comfort and design: Volkswagen Arteon interior
"You'll hear criticism levelled at the Arteon's interior for a lack of flair relating to its styling, and while we admit it's not a dramatic cabin, it's arguably better because of that. Yes, it's lifted almost wholescale from its Passat relation, with some even more upmarket trim inserts to elevate its status further, and it's a superbly considered design, that pleases with its simplicity."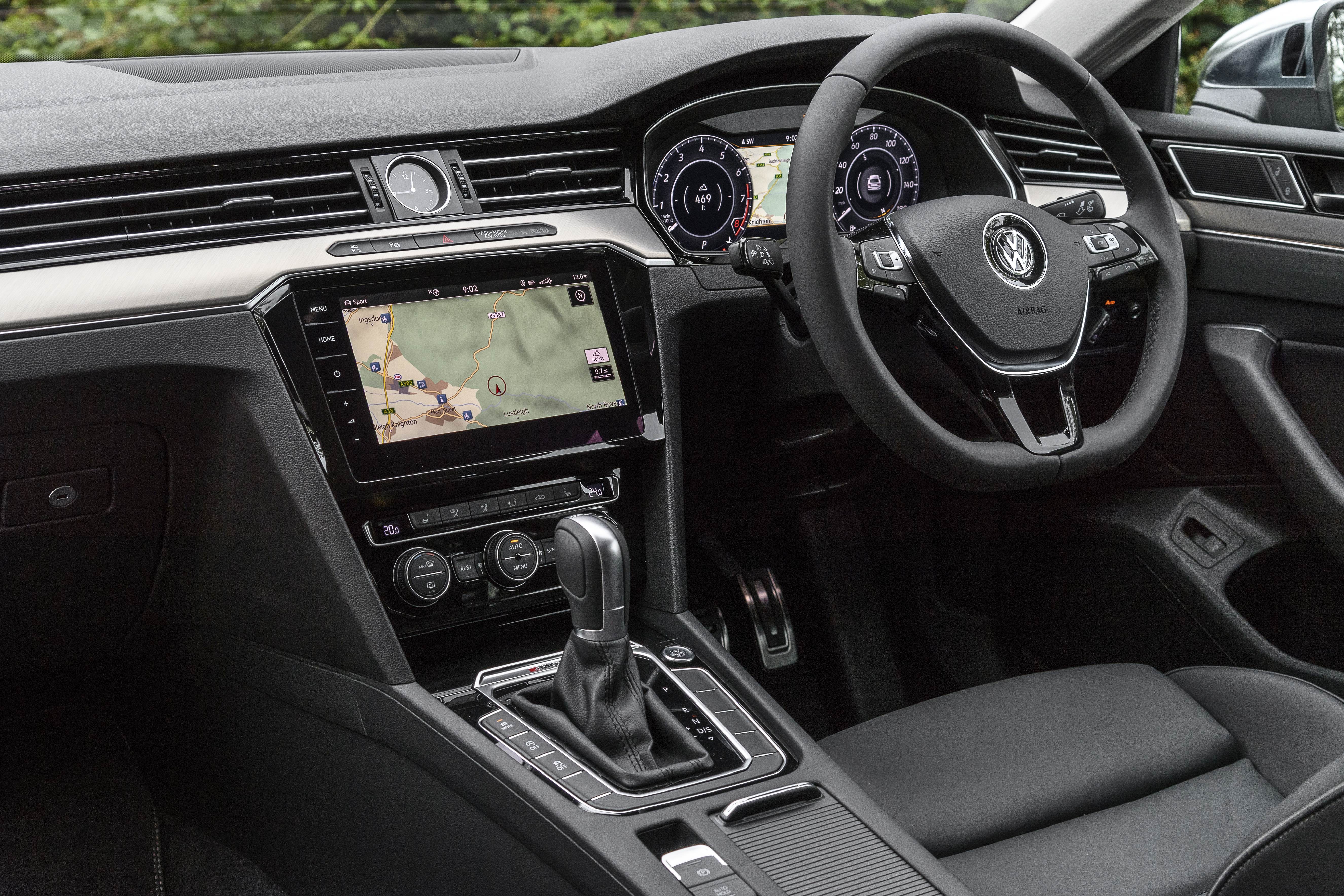 The impression (and reality) of the Areton's width are ably described by the neat visual of stretching the air vents vanes across the entire span of the dashboard, with a nice analogue clock situated in the centre of it.
In the SE model you'll have crisp, clear conventional instruments ahead of you, Elegance and above buyers getting the Active Info Display instead, which adds a 12.3-inch TFT screen in place of those dials, which adds to the Arteon's upmarket look.
Standard specification sees even the entry-level SE model feature six-way electrical adjustment for the driver's seat, with four-way electrically adjustable lumbar support. The steering wheel is adjustable for rake and reach, which makes finding a comfortable driving position easy.
Those front seats are heated as standard with all, while also featuring three-zone electronically controlled climate control. There's automatic windscreen wipers, electric, heated rear-view mirrors and active cruise control on all too.
From Elegance upwards the cloth upholstery is replaced by leather, while the options list allows Arteon buyers to add things like a heated steering wheel, rear-seat heating (outer pair), either 12 or 14-way electronic adjustment to the front seats and massage function, a rear-view camera and keyless entry.
Quality and finish
The interior design pleases with the Arteon, and so does the material quality throughout. If anything, Volkswagen's aspiration to elevate its status to premium is advantageous, as it's really worked hard to ensure that every surface, even those you might never touch, feels of a quality that's befitting of the upmarket arena that Volkswagen covets.
That status is a little bit blighted in entry-level SE specification, with the absence of leather upholstery and the standard instrumentation, but elsewhere in the range the quality is easily as good as those rivals in the premium class.
The finish, too, is rock solid, with the gaps all tight, the Arteon's interior feeling, and looking exceptionally well-constructed throughout. That feeling of assured weight and substance is evident not just in things like how the controls operate, but when doing things like dropping the rear seats, the overall feeling being one of expense, which, actually, isn't always the case with the cars the Arteon rivals.
Infotainment: Touchscreen, USB, sat nav and stereo in the Volkswagen Arteon
The SE features an eight-speaker stereo system with a DAB receiver, with the Discover Navigation System featuring an 8-inch touchscreen with a 2d or 3D map view.
There's a single CD player, USB connection and Bluetooth telephony and music streaming, the touchscreen enabling two smart devices to be connected simultaneously.
There's also Apple CarPlay and Android functionality with the base system up. It works well, indeed, it's arguably better than the Discover Navigation Pro Infotainment system that arrives with Elegance and R-Line models, thanks to the slightly smaller screen having physical volume and zoom buttons on them, making quick adjustments on the move easier.
Most Arteon owners will buy Elegance and R-Line models, though, which brings that larger 9.2-inch screen without any knobs, which does impact on its ease of use.
There's gesture control, but it feels a bit gimmicky, and indeed, doesn't work brilliantly in practice. Optionally you can add a Dynaudio Confidence soundpack, which features 11 speakers and a subwoofer, powered by a 700 watt amplifier, only offered on Elegance and R-Line models.
These too gain the 12.3-inch Active Info Display in place of conventional instruments. Like all such displays, it's configurable to show things like consumption or mapping, entertainment information, it adding to the Arteon's upmarket feel and, like most of the functions within the central display, can be controlled via steering wheel-mounted buttons.
Space and practicality: Volkswagen Arteon boot space
Volkswagen might have given the Arteon a wide stance in a bid to give it dynamics and a stance to rival its premium rivals on the road, but it's paid dividends in interior space, too. There's loads of it, for both passengers and loads. Those in the front have masses of space, while rear-seat passengers, so often mired with compromises, are similarly generously accommodated with plenty of leg and shoulder room.
Indeed, the Arteon's cabin is wide enough that you're not committing an act of cruelty to subject an adult to sitting in the rear middle seat, such is the shoulder room on offer.
We'd only recommend that for a shorter trip as the rear middle seat's cushion is, like most cars in this class, an afterthought, being sculpted more as a raised division for the outer rear seats, and thus making perching your posterior on it less than ideal. That's true of all the Arteon's rivals, so it's no real complaint. There are two ISOFIX child seat mounts on those outermost rear seats for fitting baby and toddler seats securely.


There's good oddment storage throughout the interior, with all doors having decent-sized bins, a deep glovebox and a lidded cubby between the front seats.
It's the boot though that really marks out the Arteon as hugely practical, because it's huge. The measured volume with the seats up is 563 litres, while dropping them via a 60/40 split – increases that load space to an estate car rivalling 1,557 litres. There's a ski hatch, through-load facility as well, should you need it.
The boot is a useful shape, too, being long and wide, while access to it is excellent thanks to the huge hatchback boot lid, which is powered if you opt for the Keyless entry option on Elegance and R-Line models.
Handling and ride quality: What is the Volkswagen Arteon like to drive?
"Stable and secure rather than engaging and adjustable is pretty much how the Arteon's handling can be described. That might not appeal to the more demanding drivers out there, but there's BMWs for you lot, the Arteon going about its business with unflustered ease, which is appealing for its target audience. It's sharper than the Passat it's based on, largely because it's got a wider footprint, meaning it's a bit more resistant to roll in the bends, while grip levels are huge too."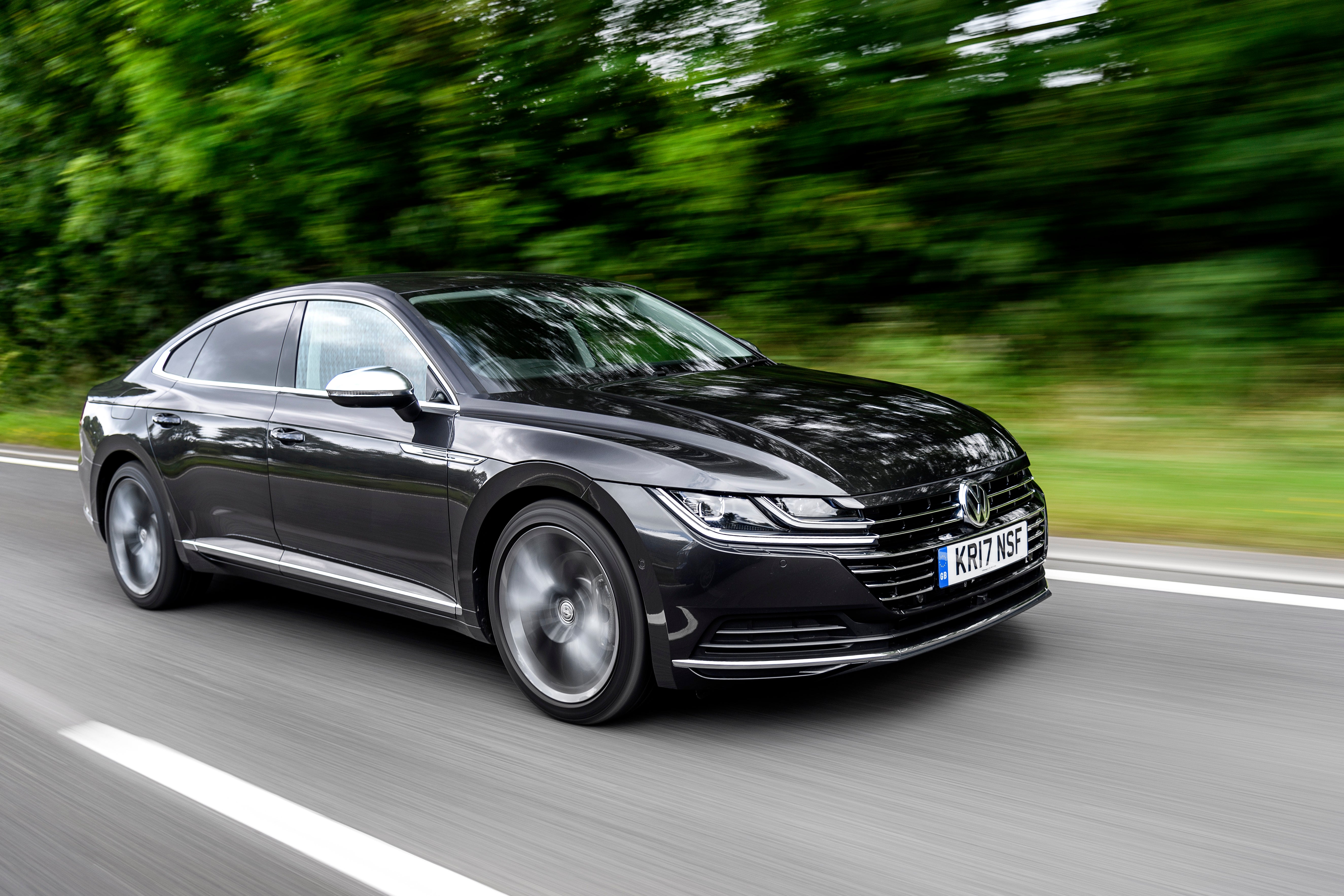 There's the choice of front or four-wheel drive versions, but unless you're planning to take regular trips to the snowy mountains in it – and even then you'll need winter tyres – there's little real need to go for a 4Motion model.
All models apart from the limited R-Line Edition make do with conventional passive dampers with its suspension, that range topping model getting Volkswagen's Dynamic Chassis Control (DCC) as standard. It's available optionally, and it brings a choice of damper settings, from Normal, Comfort, Sport and Individual.
Option it on an Elegance or a R-Line and DCC also drops the chassis by 15mm as standard, or, with the 4Motion models a 20mm lowering. It's a £840 option that many buyers tick, that Comfort mode helping with the ride of the larger 19-inch standard wheels of the R-Line which can otherwise be a bit busy at low speeds on rough surfaces.

Rounded, then, rather than exceptional dynamic, but that's a good thing, the Arteon is able and stable, with decent ride comfort, which works well with the easy nature of the powertrains it's fitted with.
What engines and gearboxes are available in the Volkswagen Arteon?
Befitting of the Arteon's more upmarket positioning is the fact that it does without the entry-level engines of the Passat it's related to – at least now, as the model is run out before a significant technical overhaul.
Instead every engine is a 2.0-litre in capacity, and turbocharged, whether it's petrol or diesel. The petrol choices are 190PS and 272PS, while the turbodiesels options are 150PS, 190PS and 240PS. Smooth and responsive as those petrol engines are, it's the turbodiesels that make the most sense here, their easier delivery and low-rev punch, allied to excellent economy make them able cruisers, which works with the Arteon's grand touring gait.
Of those diesels it's the 190PS version that's the best all-round choice, its 8.0 second 0-62mph time respectable rather than sparkling. It's got enough pace to make the Arteon feel brisk, without asking too much of its chassis.
All, bar one 2.0 TDI 150PS model comes with a seven-speed DSG automatic, that sole manual being a six-speed gearbox, and the lowest emitting Arteon in the line-up. The quickest? If that's your thing, then the 272PS 2.0 turbo petrol with 4Motion, manages a sub-6.0 seconds 0-62mph time, the fastest diesel taking 6.5 seconds.
Unlike its Passat relation there's no tax-dodging, conscience-saving plug-in hybrid, but we anticipate one joining the line-up in 2020 as part of the Arteon's mid-life revisions.
The seven-speed automatic makes for an easier life, but hurry it and it can be a little bit keen to hang onto ratios. That manual gives a nice clean shift, but in this class of car the expectation is of an auto, and if you pick the manual you'll pay for it when you come to sell it, as it'll reduce the Arteon's appeal to most buyers.
Refinement and noise levels
Refinement is good in the Arteon, with the engines all working away quietly, the petrol choices smoother here, without some of the background sounds of the diesels.
It's never intrusive, though, and rarely even apparent, meaning the Arteon provides a mostly hushed drive. There's a bit of road noise on rougher surfaces, exacerbated by the largest wheel choices and the lowered suspension of some models.
Wind noise is nicely suppressed, too, which is an impressive feat, as the Arteon features frameless doors, which while adding a real sense of sophistication, are often prone to producing greater wind noise. That's not evident here, particularly if you option the Acoustic Pack which brings sound-insulating laminated glass and additional interior noise suppression, indeed with it, the Arteon's a nicely quiet place in which to wind away some big miles.
Safety equipment: How safe is the Volkswagen Arteon?
The Arteon was independently crash tested by Euro NCAP at its launch in 2017 and it scored a maximum five-star overall score.
That's hardly surprising given the standard list of safety equipment, with all Arteons coming with ABS brakes with Brake Assist and Electronic Brake Force Distribution, an Active Bonnet that pops up to lessen pedestrian injuries, Electronic Stability Control, Traction Control, Engine Drag Torque Control with trailer stabilisation, a pair of Isofix child seat mounts, tyre-pressure loss indicator, Adaptive Cruise Control with City Emergency Braking and road recognition, the list goes on.
There's the possibility to add to that from the options list, with things like a rear-view parking camera, Side Assist with Rear Traffic Alert, a Head-up Display and Emergency Assist – a system that intervenes if the car detects the driver is incapable of driving.
MPG and fuel costs: What does a Volkswagen Arteon cost to run?
"For the lowest emitting, best consumption Arteon you'll need to go for the 2.0 TDI 150PS with the manual transmission, it emitting just 126-129g/km and returning as much as 70.6mpg on the official combined cycle. "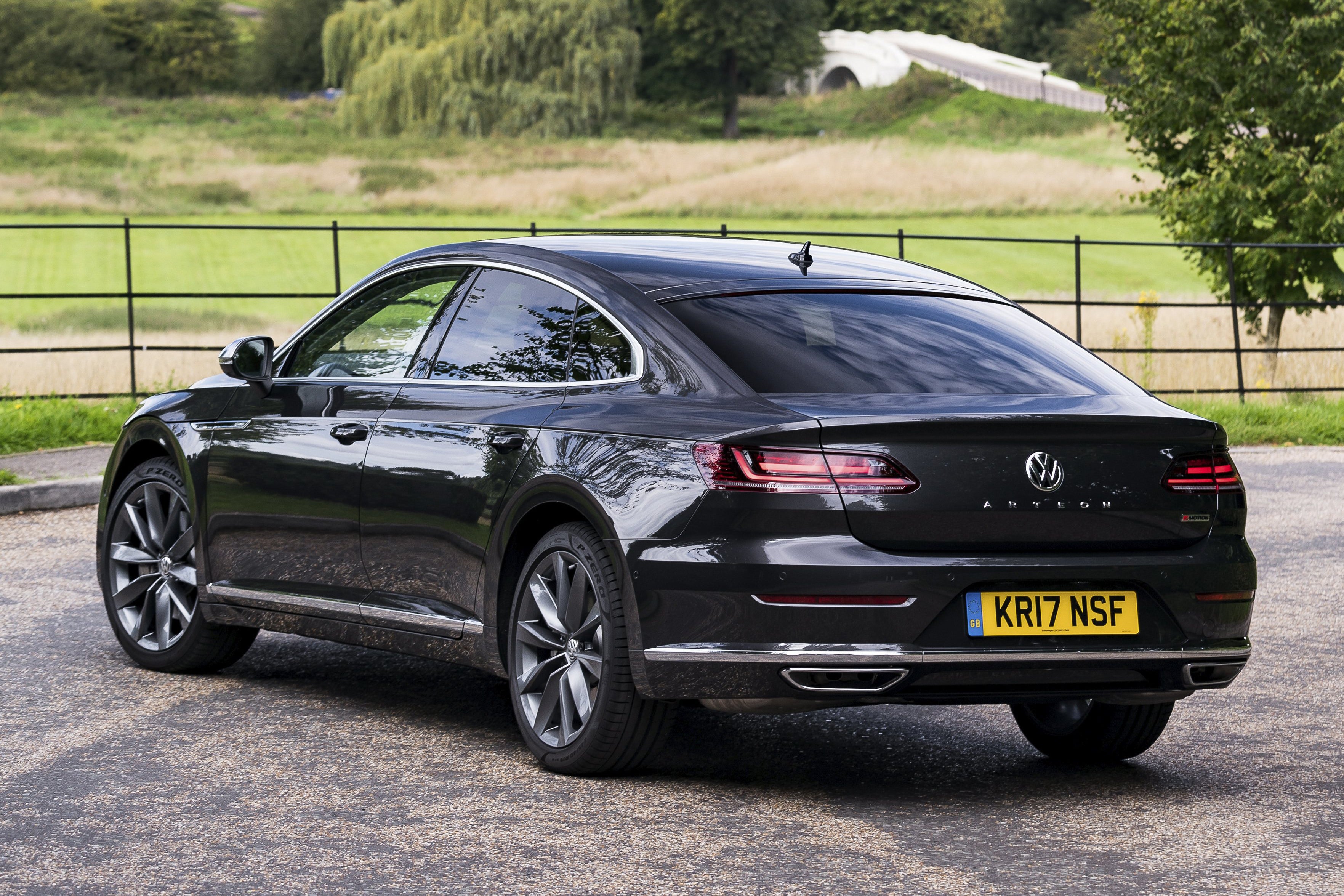 Nobody will, though, the same engine with the 7-speed DSG achieves consumption in the low-mid 50mpg sphere, and CO2 emissions of 133-136g/km. The 2.0-litre petrol with 190PS consumes between 35.8-38.2mpg depending on specification. Obviously, the higher figures relate to the bigger wheeled models, so check when you're ordering if you've an eye on emissions and mpg.
Insurance groups and costs
The insurance group ratings for the Arteon span from 21E for the entry-level SE with the 150PS turbodiesel, right up to 32E for the 2.0 BiTDi 4Motion model in R-Line Edition trim. The likely best seller, the 2.0 TDI 190 DSG spans groups 25E to 28E, that highest grouping for the R-Line Edition model with 4Motion four-wheel drive.
VED car tax: What is the annual road tax on a Volkswagen Arteon?
VED rates for all are competitive, so you'll not be being punished unduly for your Arteon's road tax. Our preferred model, the 190PS 2.0 TDI with the seven-speed automatic transmission emits enough to put it in the first year £870 tax category, though sneaks under the £40,000 penalty tax threshold, so you'll pay just £150 annually thereafter.
How much should you be paying for a used Volkswagen Arteon?
"The Arteon is now nearly four years old, and there's a decent selection of used examples out there now."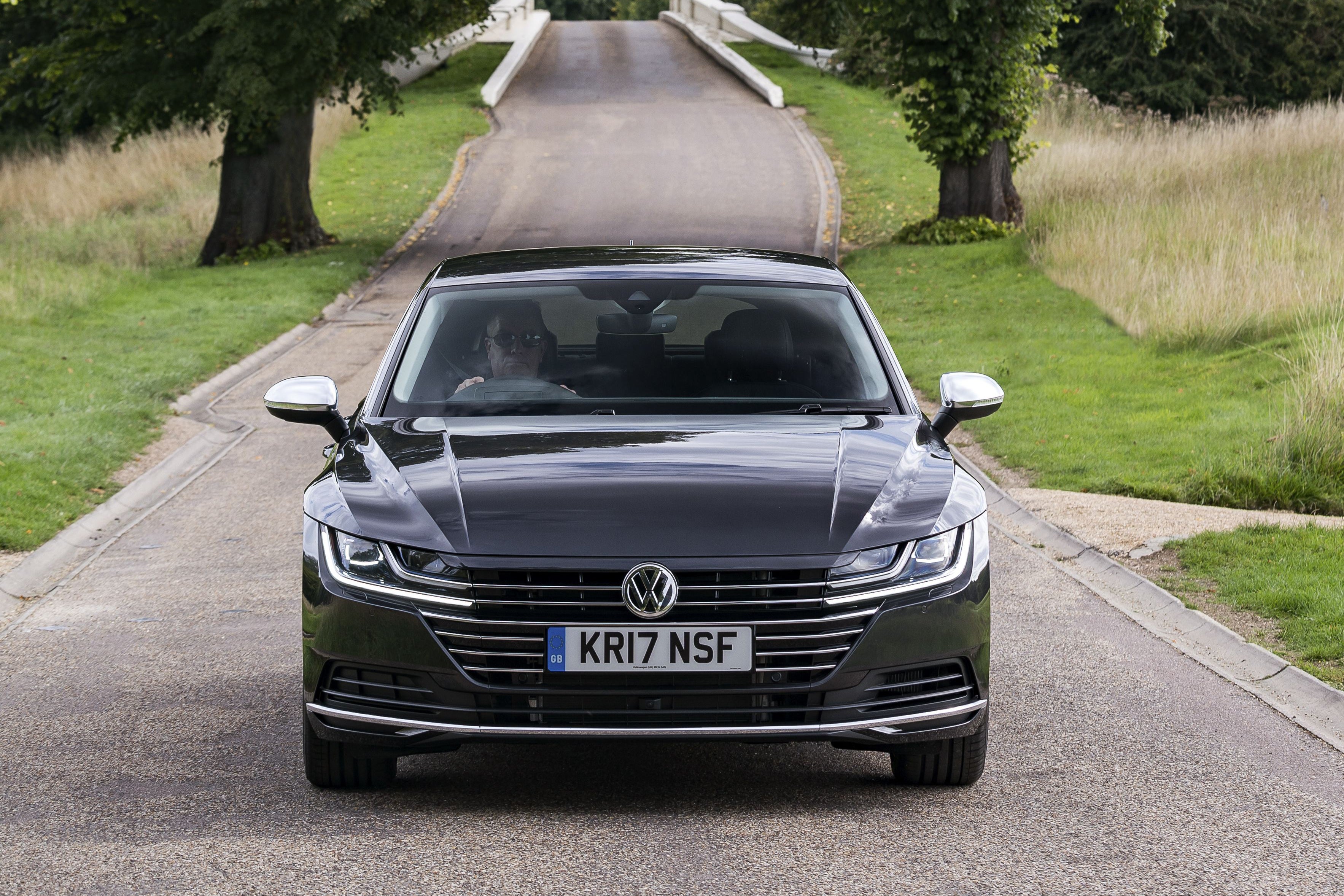 Starting prices for the earliest are around the £16,000-£17,000 mark, with a good number of these being 2.0-litre TSI models in R-Line specification. The greatest choice is between there and around £25,000, again, the 2.0 TSI is popular. You might discover a few 1.5 TDI turbocharged petrols, too, this engine discontinued at the time of publication.
Trim levels and standard equipment
SE has 18-inch alloy wheels, LED headlights, 6-way electrically adjusted driver's seat, 3 Zone climate control, heated front seats, Discover Navigation Infotainment with DAB, Apple CarPlay and Android Auto, Adaptive Cruise Control and Parking sensors front and rear.
Elegance adds Dynamic Light Assist, Leather Upholstery, Body coloured side skirts with chrome detailing, Discover Navigation Pro with 9.2-inch touchscreen, Active Info Display 12.3-inch high resolution screen for instrumentation.
R-Line models have 19-inch alloy wheels and R-Line specific exterior styling while the R-Line Edition comes with 20-inch alloy wheels, Dynamic Chassis Control, Keyless Entry, 360 degree camera view, Park Assist and Side Assist Plus with rear traffic alert.
Volkswagen Arteon cars for sale on heycar
13,608
Number of cars available
£18K - £59K
Price bracket of these cars
Colours available on heycar
Keep me updated by email with the latest advice, news and offers from heycar
By submitting, you agree to our
privacy policy
.