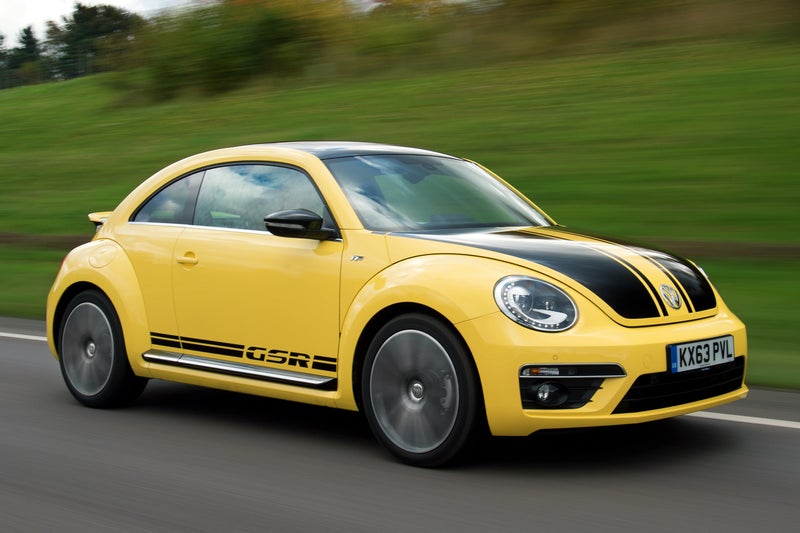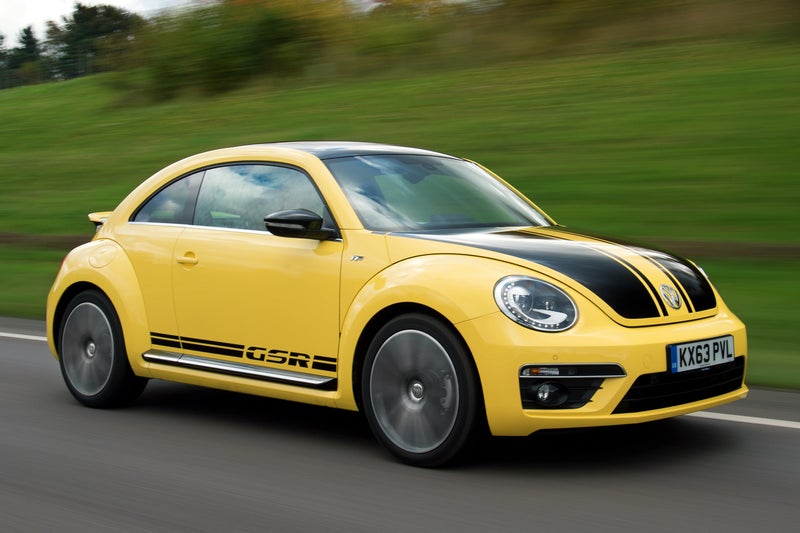 1/10
heycar rating
" Iconic Beetle looks, Golf mechanicals"
Launched: 2012

Family hatch

Petrol, Diesel
Quick overview
Pros
A charming, happy car
Decent range of engines
Impractical compared to that Golf, but not against a Fiat 500 or Mini
Cons
The Beetle would have made the perfect EV or hybrid, Volkswagen didn't make it as one though
It's really just a Golf in a retro frock
Just two rear seats and a relatively small boot, too
Overall verdict
On the inside
Driving
Cost to run
Prices and Specs
Common questions
Overall verdict on the Volkswagen Beetle
"A happy car, that might not have sold in significant numbers, but the Golf was there to do that. That it's no longer on sale makes us sad, as the Beetle was a ray of joy in a sometimes far too serious world. Easily dismissed as cutesy and pointless, the Beetle's humour and charm is a sizeable part of its appeal, and if you 'get' it, then you'll not need us to convince you either way."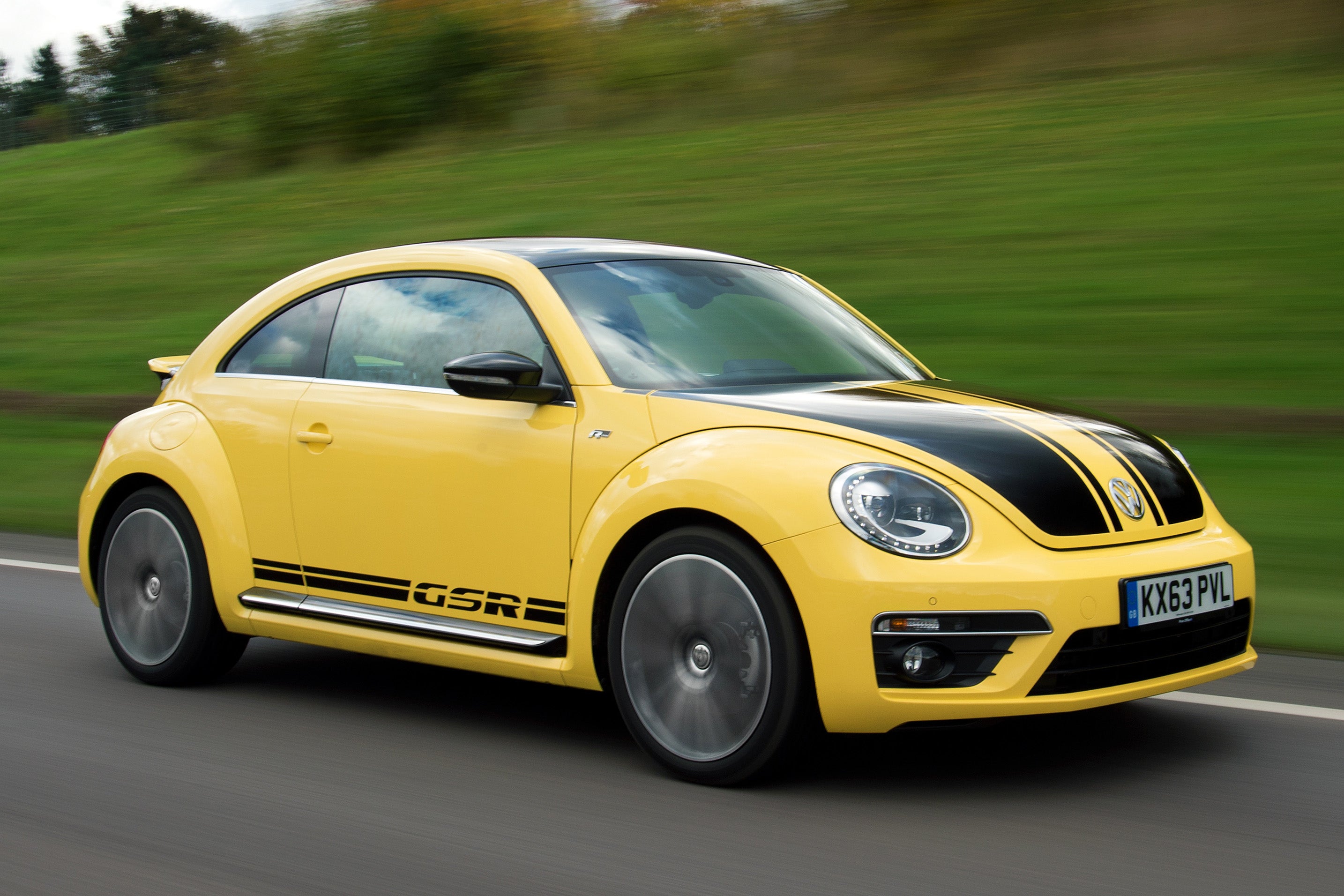 Back in the late 1990s someone at Volkswagen was having pangs of nostalgia, and the Concept One was born, it showing the world how a new Beetle could look. It was put into production, that first 'New Beetle' arriving for the 1998 model year and staying in showrooms until Volkswagen replaced it with this model in 2012.
Like its predecessor, the new, new Beetle, dubbed the A5 by some, is based on its contemporary Golf relation, sharing much of its chassis and mechanical components, though topping them with a retro-looking body that shares its iconic shape with Volkswagen's original people's car.

That shape might ape its multi-million selling predecessors, but with it comes some compromises, its hatchback body only offering two doors, and room in the back (and boot) is pretty tight.
That does limit its appeal to those buyers sold entirely on how it looks, which is a small marketplace. The Beetle was a heart-over-head purchase, then, because if practicality is what you're after then that Golf will serve you better, while if you like nostalgic styling in a fun to drive package then you'd be better off in a Mini.
For all that the Beetle has masses of charm, and while some might consider things like the dash-mounted flower badge as twee, it's a hard-hearted individual who can't look at a Beetle and find cause to raise a smile. That's true inside, which, like the exterior, is a modern interpretation of the classic Beetle.
There are clear instruments housed in a cool body-coloured dash panel, a pair of gloveboxes and limited room in the back, the rear only seating two, with a retro nod, large glasshouse and a genuine sense of happiness that's undeniably appealing.
All that wasn't enough to convince Volkswagen to replace it, and in 2019 Volkswagen finally crushed the Beetle, announcing production of it would end, the Beetle badge now consigned to history. For the first time in Volkswagen's history it's no longer possible to buy a brand new Beetle (unless you find an unregistered example languishing somewhere in a dealer's stock) and while most people won't miss it, we can't help but lament the passing of Volkswagen's most iconic model.
If you're looking for the convertible version, you need our Volkswagen Beetle Cabriolet review.
Is the Volkswagen Beetle right for you?
If ever there were a car that defined the clichéd expression of being a Marmite choice then the Volkswagen Beetle is it. While the original, rear-engined air-cooled Beetle was the inexpensive tool of necessity for mobilising millions, the 2012-2019 Beetle is something bought by people wanting something that looked different and was fun, even if its shape was, by virtue of its retro styling, entirely familiar.
It's the automotive equivalent of a SMEG fridge, looking old, but using current mechanicals, though being compromised as a result of its retro looks.
You'll either be sold on the idea of one, or not, but for all the talk of compromise here, it's not so unutterably hopeless to not work as a daily driving family car, so if you like those curvaceous lines and the undeniable happy demeanour that they bring, and like to name your car, then read on.
What's the best Volkswagen Beetle model/engine to choose?
Powered by much the same choice of engines as the Golf, the Beetle can be had with anything from a 105PS 1.2-litre petrol, to a 2.0-litre petrol with over double that output borrowed from the GTI. The Beetle's not tearaway though, it at its best when it's unhurried, which means the smaller, less powerful engines are just fine.
If you're doing mostly city driving then that 105PS 1.2 will do fine, though if you're likely to doing lots of motorway mile commutes, then the leggy ease and economy of the turbodiesels make more sense. There's the choice of a Convertible or the hatchback, too, the Convertible losing some of the practicality of the hatchback to accommodate its folding fabric roof. As to trim, Design is the one that comes with the body coloured dash as standard, so that's what we'd recommend.
What other cars are similar to the Volkswagen Beetle?
Similar, as in being heavily retro-nodding takes in a disparate group of alternatives, including the MINI Hatch, Fiat 500 and even something like the Citroen DS3. It's impossible not to mention the Volkswagen Golf, as underneath the Beetle's curvaceous body it's essentially a Golf, even if it doesn't look like one. The Cabriolet takes that wide reach even further, it entirely possible that a buyer might look at any of those models above in open-topped guise, but also something like an Mazda MX-5, too.
Comfort and design: Volkswagen Beetle interior
"It's all about design, inside and out, the Beetle harking back to an era where the bodywork was visible inside the car, with body-coloured trim covering the dashboard area and door tops to evoke that to excellent effect – Sport models having a gloss black here as standard, but optionally it's available body coloured."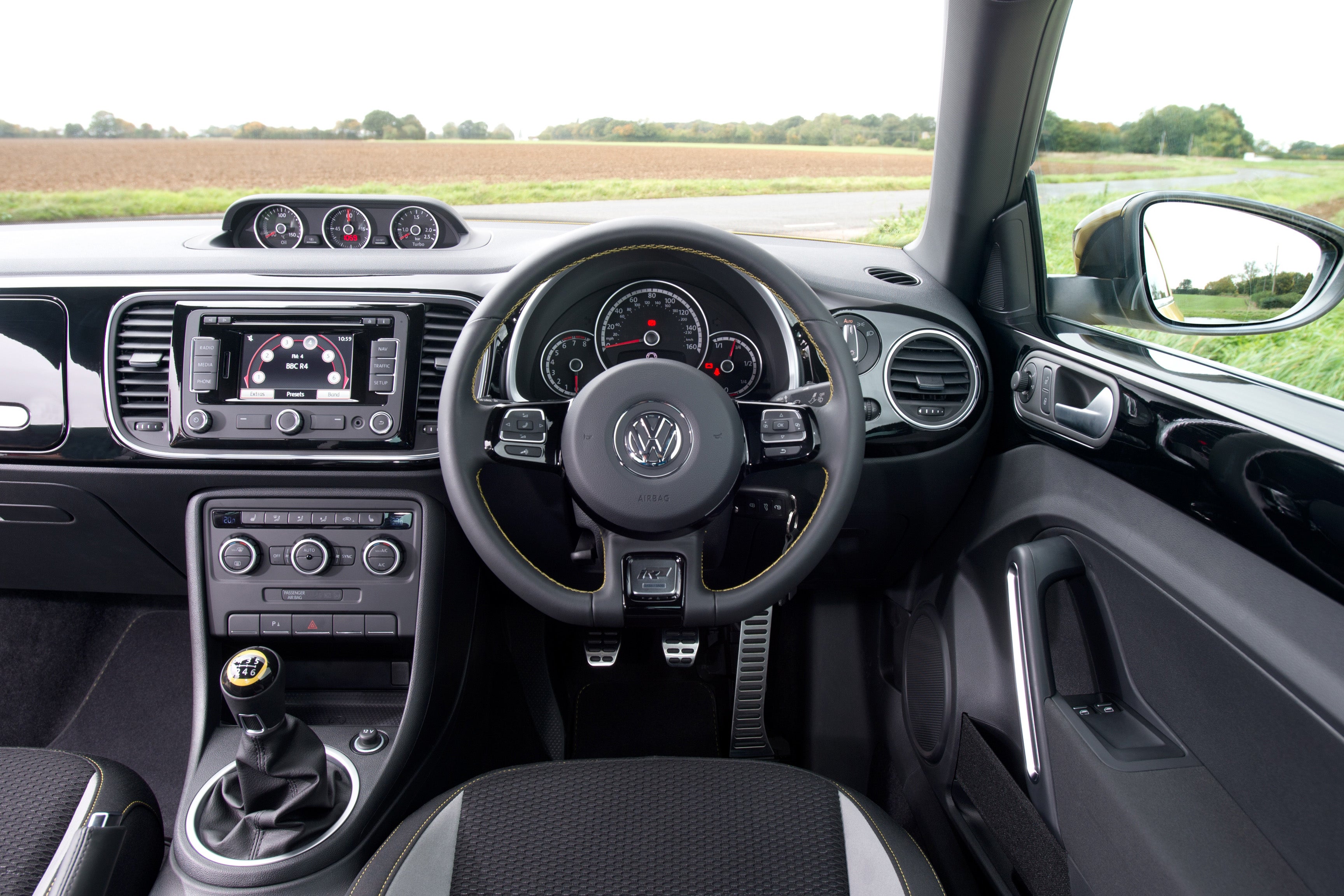 The Beetle is unapologetic in its retro styling, and rightly so, though arguably it's not as cool as rivals like the Mini or Fiat 500 here, with some all-too-obvious lifted parts from elsewhere in the Volkswagen parts bin betraying its re-dressed Golf status.
It's comfortable, though, the driving position's good, the view out decent thanks to the large glasshouse – though the over the shoulder view is a little restricted in the Cabriolet with the roof up. All have manual air conditioning as a minimum (2-zone climate control from Sport upwards) height adjustable front seats and adjustable steering column.
Sport models come with deeper bolstered seats to embrace you that little bit more tightly, its not really to your benefit in the bends as you're unlikely to be in a hurry, but if you want to feel like you're being hugged by your bug then you might just like them.
Quality and finish
It's a Volkswagen, which means you can be assured that the build quality is good throughout, and you'd be right, too, the Beetle feeling solidly built. The materials are good too, with the majority of the plastics feeling nice to the touch, with only the odd harder surface betraying that Volkswagen might have saved a few Euros developing the interior where they might have spent more on something bigger selling like its Golf relative.
Overall, the interior feels of high quality, that even more apparent if you've got a metallic paint finish outside, as it's replicated across the dash, brightening up the interior further, and making it feel different and special from virtually every other car out there.
Infotainment: Touchscreen, USB, sat nav and stereo in the Volkswagen Beetle
Introduced in 2012 when infotainment touchscreens were still in their infancy, the 5-inch colour touchscreen that comes as standard with the Beetle looks pretty small by current standards.
It's functional, though, the side shortcut buttons making it very easy to use – indeed, in this respect its better than many more modern systems. There's an aux-in socket, an SD card reader, CD player in the dash and DAB. What you don't get is Apple CarPlay or Android Auto, indeed, if you want Bluetooth connection you'll need the Composition Media system – with a larger 6.5-inch screen - that's standard on everything but the base Beetle and Beetle Cabriolet models.
Above that there's the option of Discover Navigation, which, again, isn't the last word in modernity, but works. If you want Apple CarPlay or Android Auto, you'll likely be able to find a solution from an aftermarket unit. Get yourself on Amazon.
The standard audio system could be upgraded, too, with a Fender premium soundpack offered, it also adding LED illuminated speaker surrounds on the door trim.
Space and practicality: Volkswagen Beetle boot space
We've banged on about the Beetle being compromised over its Golf relation, and, yes, it is, to the tune of about 40 litres of luggage space in the boot (of its contemporary Golf relation), as well as lacking a third seatbelt in the rear seats – oh, and the opportunity to have two extra doors to access them.
That's forgivable, really, because the Beetle's 310 litres of boot space isn't too bad, and the rear seats are comfortable enough, indeed, removing the possibility of a third rear seat actually makes them more comfortable, if still a bit tricky to get into and lacking a bit in headroom – that's more notable with the Cabriolet (roof up, obviously).
The boot is accessed by a big hatchback (with the Cabriolet getting a far smaller boot opening under the hood) with the rear seats folding down in a 50/50 spilt for bigger loads. Elsewhere around the interior there's decent cubby storage, including two gloveboxes and some decent-sized cupholders. The rear seats also have Isofix mounts, if you're planning on popping some child seats in the back.
Handling and ride quality: What is the Volkswagen Beetle like to drive?
"Given its DNA, it shouldn't come as any surprise to hear that the Beetle drives much like a Golf. That means you'll have surefooted, predictable handling, with light, easy steering and decent ride comfort, too."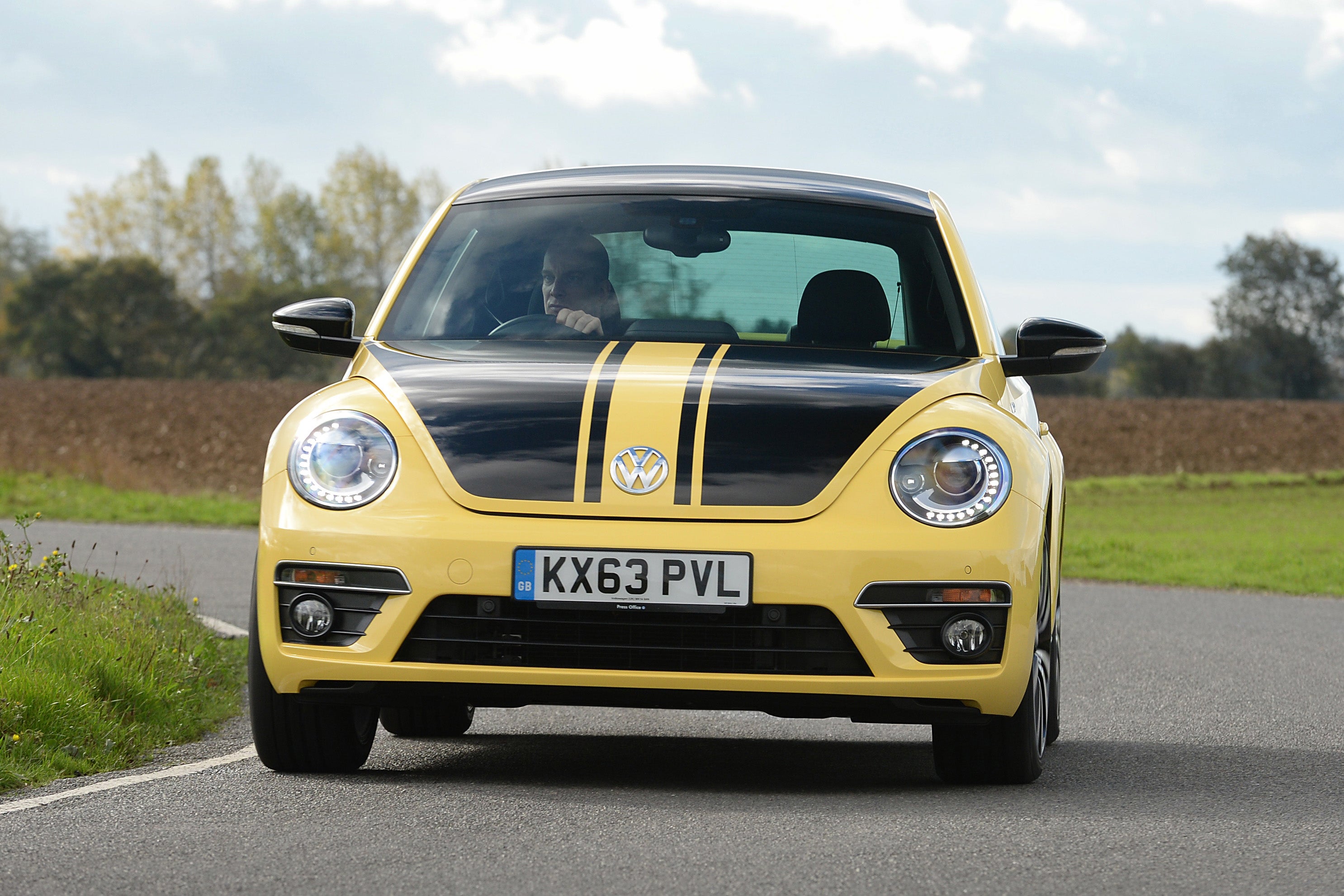 In the unlikely event you're emulating Herbie and going bananas in the bends there's also plenty of grip, with the more powerful petrol engines getting Volkswagen's XDS electronic differential to better control their power while cornering.
It's improbable though, that you'll be buying a Beetle for thrashing around in, it rolling more in the bends than a Golf, while there's precious little feel through the steering, but it's all competent, if lacking in the dynamic delight of something like a Mini. That's even more true with the Cabriolet, which lacks the stiffness of the hatchback's body, so feels even less sharp through the bends.
Given that it should ride a little bit better than it does, the suspension can be a bit brittle on rougher surfaces, that's something that's exacerbated by larger alloy wheel options – best stick to the smaller alloys wheels and bigger side-walled tyres, which actually suit the Beetle's retro looks, too.
There's Sport Suspension on some models – the 220PS 2.0-litre and optionally on the 150PS 1.4 petrol and 2.0-litre TDI choices – which does little to add any agility and only upsets the ride further, while the cool-looking Dune model, with its bigger wheels also impacts on the ride comfort.
Not as fun to drive as its Golf, dynamically, at least, the Beetle's charm will have you smiling regardless.
What engines and gearboxes are available in the Volkswagen Beetle?
Tried and tested powertrains and transmissions from Volkswagen, the Beetle in its final A5 form was offered with three petrol choices of 1.2, 1.4 and 2.0-litre capacities, these all badged TSI, with the diesel offerings being a pair of 2.0-litre TDI badged options with either 110PS or 150PS. The petrol engines offer 105PS, 150PS and 220PS respectively, that highest output model being the same engine as you'll find in the Golf GTI.
Tempting as that most powerful engine is, the Beetle doesn't feel like it needs it, so the middling output engines suit the Beetle's relaxed gait more convincingly. Unlike the original they're under the bonnet, not slung out back.
All will reach 62mph in under 11 seconds, with that 220PS a bit of a tearaway, taking just 6.7 seconds and able to reach a top speed of 144mph. The petrols make sense if you're city-bound, with the TDI diesels being better for eating up motorway miles with ease.
All are front-wheel drive, and the transmission depends which engine you've got. The 110PS turbodiesel comes with a 5-speed manual as standard or a 7-speed DSG automatic optionally, the 105PS petrol engine seeing the manual become a 6-speed unit though the DSG auto option remains the same 7-speed transmission.
The 1.4-litre TSI with 150PS can only be had with a 6-speed manual, while the 2.0-litre 220PS TSI comes with either a 6-speed manual or 6-speed DSG automatic – that true, too, with the 150PS 2.0-litre TDI. The DSG autos as slick and quick shifting, and the manuals too are light and easy to use.
Refinement and noise levels
It might look like a Beetle of old, sort of, but this isn't a rattling, gasping machine that'll shake you to your core, the modern Beetle being incredibly refined in comparison. There's very little engine noise, the petrol choices being smooth and quiet, only being apparent in the cabin if you rev them right out, and even then it's not too intrusive.
The turbodiesels provide more of a soundtrack more of the time, with some background noise, but it's not unwelcome, and actually in keeping with the Beetle's retro appeal.
Road noise is decently contained, though the upright windscreen does mean there's a bit of wind noise at sustained motorway speeds, but overall, the Beetle's not so noisy that it's tiring or annoying, which isn't necessarily something you can say about the car its looks ape. All that's for the hatchback, with the Cabriolet gaining a bit more wind noise thanks to its fabric roof, but it's decently insulated compared to rivals.
Safety equipment: How safe is the Volkswagen Beetle?
ESP electronic stability control, ABS brakes, airbags, a pair of Isofix child seat mounts in the rear, a tyre pressure loss indicator, rollover protection for the Cabriolet and Volkswagen's Post Collision Braking – which lock the brakes after an accident to prevent a secondary collision – all come as standard. Being an older model and off sale, there's none of the latest active safety aids, like autonomous braking, lane keeping assist and
blind-spot monitoring, though when it was independently crash tested in 2011 by EuroNCAP it scored the maximum 5 star result, putting it up there with its contemporaries in relation to crash protection.
MPG and fuel costs: What does a Volkswagen Beetle cost to run?
"Tested to the previous NEDC combined fuel consumption tests the figures Volkswagen quotes for the Beetle will be some way off the actual reality in daily use."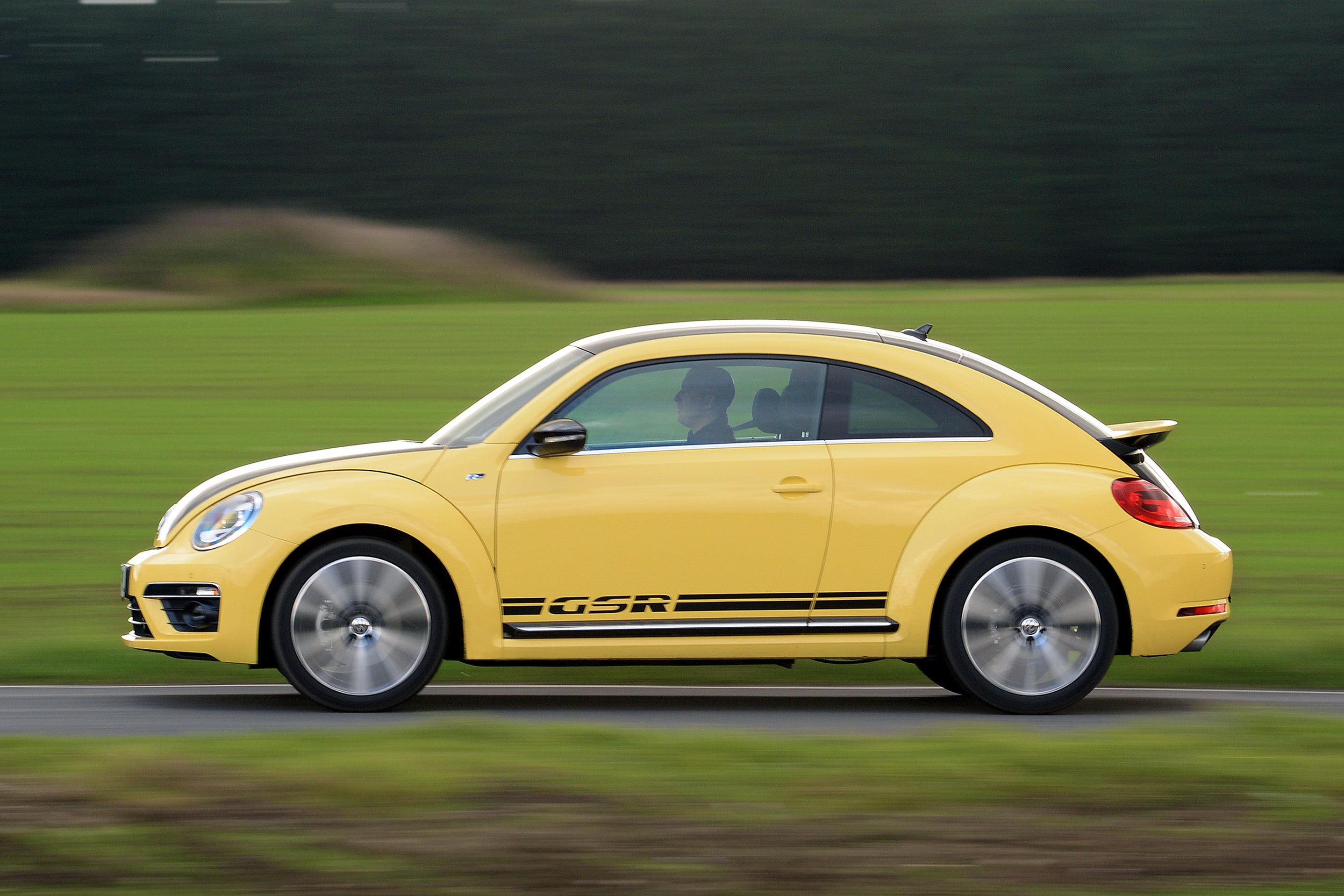 With the diesels those numbers suggest as much as 65mpg with the lowest powered models, with around 58mpg for the highest power engines. In daily driving that will be more like 40-45mpg, with longer trips seeing that rise.
The same is true for the petrol engines, but with those the best is quoted at 54mpg and the worst (the 220PS 2.0-litre automatic) around 42mpg. Expect consumption to be around 35-40mpg for the lower-powered petrols, and in the high 20s and low 30s if you're driving the most powerful, automatic Beetle.
Insurance groups and costs
The Beetle spans a wide range of performance, with the insurance groups reflecting this. The 105 and 110PS models are typically in the group 13-14 range, with the middle models being around group 14-20. The highest powered, most expensive models with the 2.0-litre 220PS engine are rated in group 27.
VED car tax: What is the annual road tax on a Volkswagen Beetle?
No new, first registration costs as it's no longer available new, the Beetle will cost you £150 a year to tax.
How much should you be paying for a used Volkswagen Beetle?
"Under £6000 gets you into the earliest of the last Beetles, though you'll be looking at circa 80,000-100,000+ mile examples at this price point."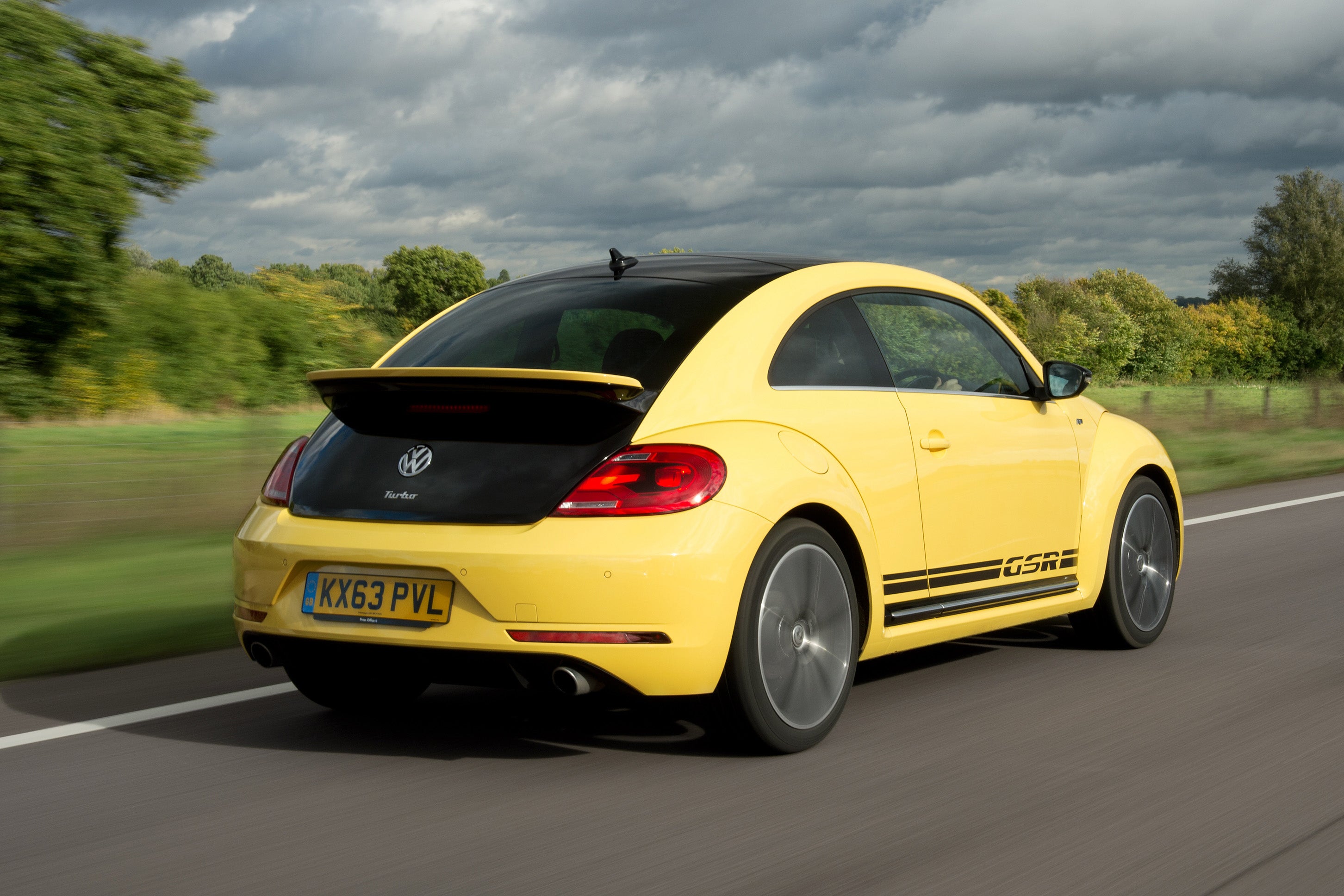 The model mix is predominantly Design spec, with the engines typically the 1.2-litre TSI or the lower-powered 2.0 TDI, with a few 1.6 TDI models – which were offered at the start of the Beetle's on-sale date.
Up the budget to around £9000-£10,000 and there's loads of choice, of low mileage, one-owner cars, the Beetle the kind of car that'll likely have been cherished, so you can afford to be picky, it's here you'll start to find Cabriolets for sale, too, the open-topped Beetle following the hatchback to market about a year or so later.
Prices go up to around £16,000 in the used market, and here you'll be buying a low mileage, late model example, which may still be under manufacturer warranty – or have a dealer-supplied warranty.
Trim levels and standard equipment
Beetle models come with manual air conditioning, a 5-inch colour touchscreen and DAB radio. Beetle Design adds a 6.5-inch touchscreen, Bluetooth, 17-inch alloy wheels, exterior trim inserts in body colour.
The Sport has 18-inch Twister alloy wheels, 2-zone climate control, cruise control, sports instruments, front and rear parking sensors, sports suspension while if you go for the Turbo Black and Turbo Silver version you get 19-inch Tornado alloy wheels, rear diffuser, chrome exhausts, gloss black, or silver exterior trim. Beetle Dune has raised (by 10mm) suspension, 18-inch Mythos Alloy Wheels, silver mirrors and a rear diffuser.
Ask the heycar experts:
common questions
Why did they stop making the VW Beetle?
The main reason Volkswagen took the Beetle off sale was that it shared its chassis platform and engines with the Golf Mk 5. This ageing design meant it was well behind current emissions targets, and sales weren't strong enough to justify the expense of renewing the car. Volkswagen may revive the Beetle in the future as an electric only model, but this hasn't been confirmed.

How many different body styles of Beetle are there?
Just two. The three-door 'fastback' hatch, and the more expensive convertible, which just like on the original Beetle, had a folding fabric roof which stowed behind the rear seats.

What is the Beetle Dune?
The Dune was a tougher looking version with off-road styling inspired by the desert racing exploits of the original 'Baja Bugs'. What that meant was a 10mm raised suspension, wider track and more equipment than standard, plus some unique styling cues. However, like the rest of the Beetle range, it was front-wheel drive only, so its capability was rather limited.

Is the Beetle a good used car?
The Beetle used a proven range of engines and components from the Golf, and it has only had a few recalls in its lifetime, mostly for minor issues. If you find a relatively low mileage petrol version in a mid-tier Design trim for sale you'll be in good hands.

Can I get the Beetle with an automatic gearbox?
Yes. In fact there are four different transmissions. Entry-level diesels come with a five-speed manual (most other variants feature a six-speed 'box) but the 1.2-litre petrol has an optional seven-speed dual-clutch automatic, and the most powerful cars get an older six-speed auto.

Answered by
heycar editorial team
Volkswagen Beetle cars for sale on heycar
13,576
Number of cars available
£10K - £21K
Price bracket of these cars
Colours available on heycar
Keep me updated by email with the latest advice, news and offers from heycar
By submitting, you agree to our
privacy policy
.