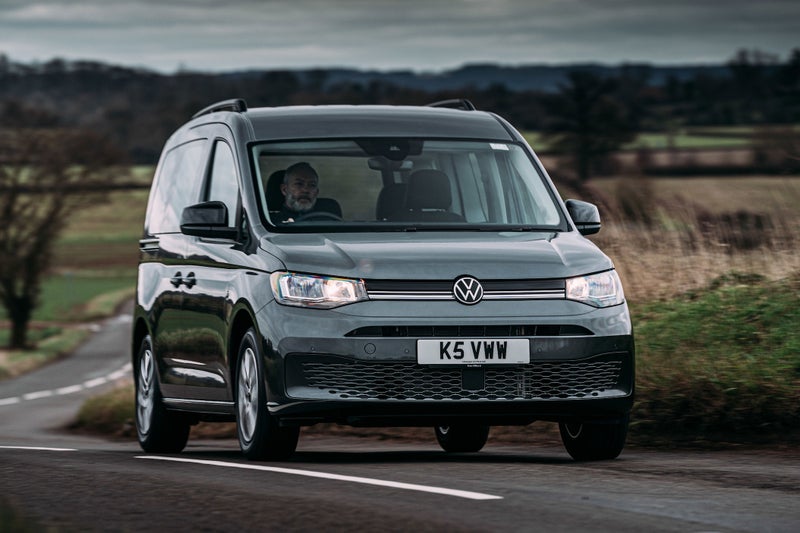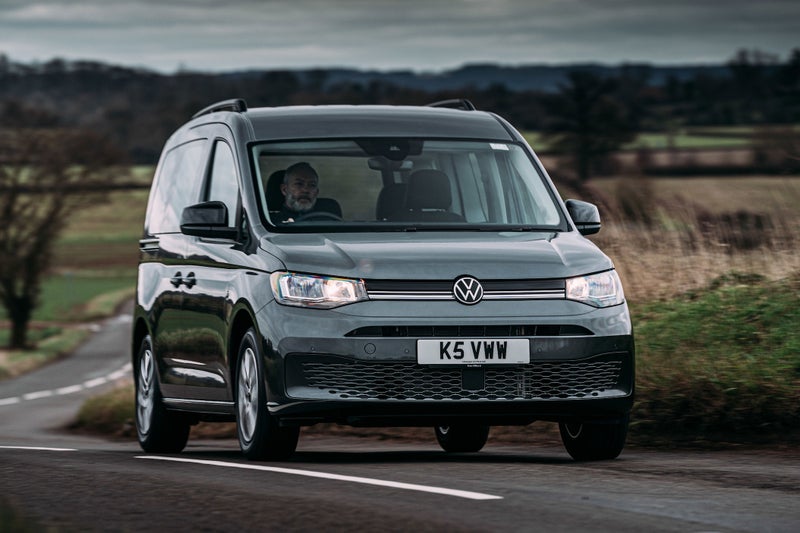 1/10
heycar rating
"More car-like than ever before"
Launched: 2021

MPV

Petrol, Diesel
Quick overview
Pros
Incredibly comfortable and versatile interior
Easy to drive with excellent visibility
Strong value for money
Cons
Not as stylish as an SUV alternative
Rear windows don't open
Entry-level models are pretty basic
Overall verdict
On the inside
Driving
Cost to run
Prices and Specs
Common questions
Overall verdict on the Volkswagen Caddy
"Forget about SUVs. Sure, they might account for nearly a quarter of all new cars sold in the UK, but if you want a genuinely practical family vehicle that won't break the bank, we reckon you should be looking at the new Volkswagen Caddy."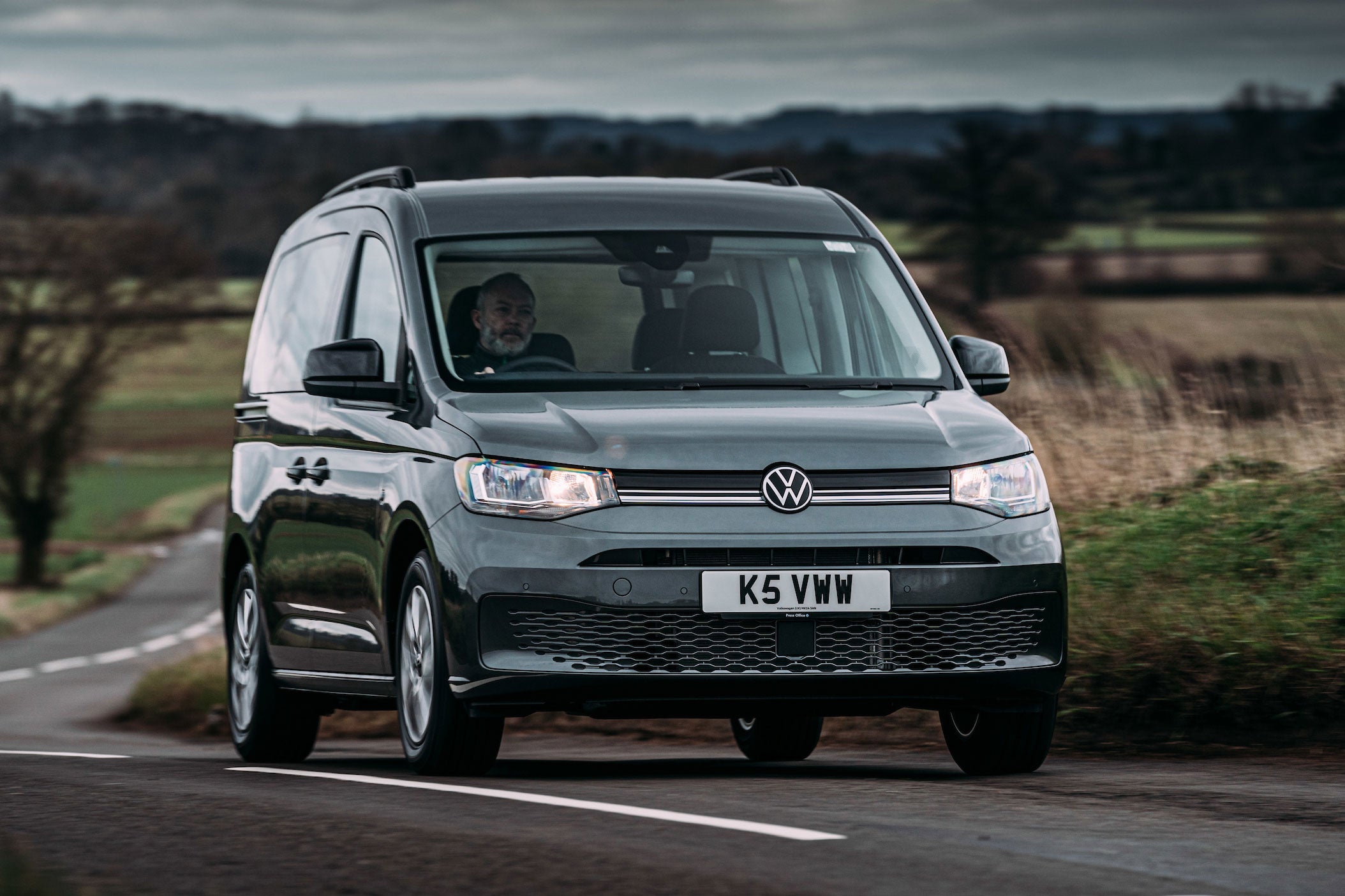 Just like the Citroen Berlingo and Ford Tourneo Connect, the Volkswagen Caddy is a small van-based people carrier with a huge boot and the kind of versatility that Nissan Qashqai buyers can only dream of. And the best thing about it is, it isn't really van-based.
How so? Well, the new Volkswagen Caddy sits on the brand's MQB platform. In plain English, that means its oily bits are lifted straight from cars like the Volkswagen Golf and Audi A3. And that means it's better to drive than a boxy people carrier has any right to be.
Volkswagen has also changed the line-up. So the passenger model is now simply called the Volkswagen Caddy (formerly the Caddy Life) while Life is now a trim level in the range. Yes, it's confusing. The van version has been renamed the Caddy Cargo.
With a tiny turning circle, you can dart around town with all the confidence of a Deliveroo rider, while the car-like suspension means things won't get too crashy if you take a speed bump at pace. You can pick from 2.0-litre diesel and 1.5-litre petrol engines, while buyers are also offered the choice of a six-speed manual or seven-speed DSG automatic transmission. We've only sampled the latter and reckon it's the one to go for, unless you really (really) like changing gears yourself.
It feels like a car inside, too. That's because the dashboard has been lifted almost entirely from the latest Volkswagen Golf, while the high-spec Caddy Life model comes with loads of desirable features including a touchscreen media system with Apple CarPlay and Android Auto. There's a load of driver-assistance technology that's been lifted from the Golf, too – the Caddy can practically drive itself (disclaimer: don't try it).
You can get the Caddy in two different sizes: the short-wheelbase standard Caddy, and the long-wheelbase Caddy Maxi. Both are available with seven seats, but it's the smaller five-seat model we've been driving.
We're not exaggerating when we say you could live in the boot. Indeed, some people probably do. Staycations are on trend these days and the Caddy's more than up to the job, whether you want to sleep in it (there's a Caddy California camper on its way) or just carry a van-load of buckets and spades.
There are a few giveaways that the Caddy is essentially a van with windows. In fact, the windows are one of them – you can't open the rear ones, which won't appeal to kids who like fresh air. And then there's the rear doors, which slide open – but once you've sampled these in a tight car park, you'll never want to go back to a conventional car again.
Sure, there's nothing particularly sexy about a van-based people carrier. If you're looking for a car that's going to impress your neighbours, you should look at a Volkswagen Tiguan instead. But the Caddy's one of the smartest-looking examples on offer, and its interior really does exceed all expectations.
The new Caddy is yet to filter down onto the used market, but you're looking at around £23,000 for a new entry-level model. You'll want the Life, though, which starts from £27,500 and soon starts to nudge £30,000 by the time you've gone through the options list. That's expensive compared to a Vauxhall Combo Life, but the PCP payments between this and a Tiguan probably won't be that different.
Is the Volkswagen Caddy right for you?
If you want as much space as possible but don't want to compromise on the driving experience, a Volkswagen Caddy sounds like the perfect choice. It's not as cool as an SUV, but it's got a huge amount more room, while it's better to drive than other van-based people carriers.
What's the best Volkswagen Caddy model/engine to choose?
The standard Volkswagen Caddy is fairly basic, so we'd recommend looking for a Caddy Life. This is a bit more car- than van-like, with things like alloy wheels, parking sensors and an actual infotainment system.
Choosing between the standard Caddy and the long-wheelbase Caddy Maxi will depend on how much stuff (and how many people) you wish to carry. Unless you really need to transport a football team, the standard Caddy should be sufficient.
What other cars are similar to the Volkswagen Caddy?
If you're in the market for a van-based people carrier, you should also have the likes of the Peugeot Rifter, Citroen Berlingo and Vauxhall Combo Life on your shortlist. These are all very similar, sharing a platform and various parts between them. Then there's the Ford Tourneo Connect, a people carrier based on the award-winning Transit Connect van which we rate very highly.
Comfort and design: Volkswagen Caddy interior
"The Volkswagen Caddy's cabin will look awfully familiar to anyone who's sat in the latest Golf hatchback. It's a stylish and un-van-like affair, with only a few giveaways that the vehicle you're driving is based on a commercial vehicle."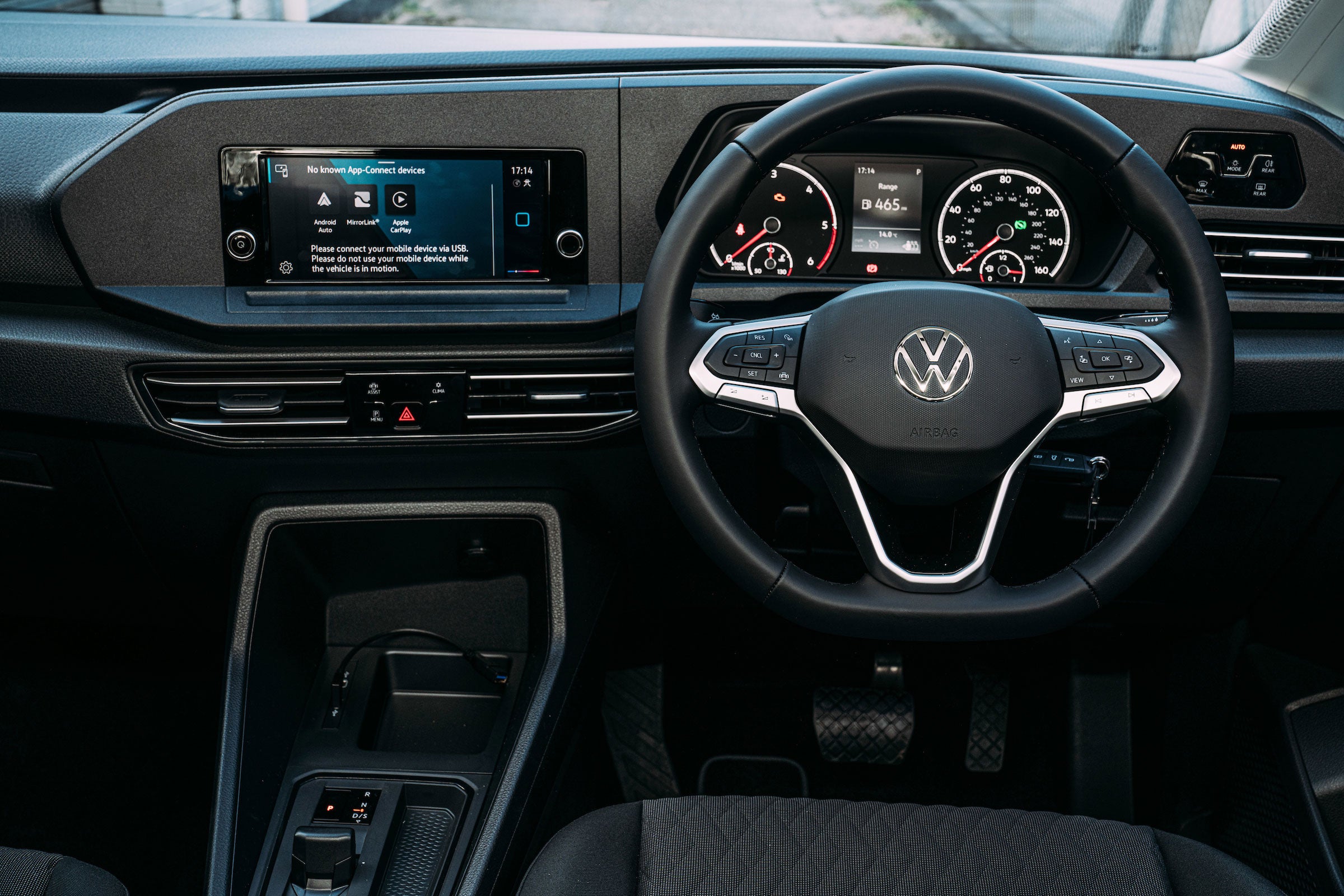 The dashboard is almost as stylish as that you'd find in more expensive Volkswagen models, with only the slab of plastic around the infotainment (at least in our test vehicle with its medium-sized 8.25-inch display) letting it down in the style stakes.
As is the trend, especially in the latest VW models, you won't find many buttons on the Caddy's dashboard. Everything's operated via the infotainment system or touch-sensitive pads, such as those for the lights on the right-hand side of the dashboard. This provides a clean look but it's not as user-friendly as twiddling a knob to adjust the temperature of the climate control.
In terms of comfort, the Volkswagen Caddy performs very well. We found the seats of our Caddy Life test car to be very supportive, with manual lumbar adjustment as standard on this model. There's loads of adjustment in the seats, while the steering wheel can be pulled in and out (as well as up and down), which helps when finding a comfortable driving position.
Quality and finish
How happy you'll be with the Volkswagen Caddy's interior quality probably comes down to your expectations. If you're trading in a mid-range crossover SUV, you might be disappointed with the slightly hard finish of the dashboard, or the flimsy door bins. But it doesn't feel a great deal cheaper than the latest Volkswagen Golf and it's certainly plusher than some van-based people carriers.
The leather-trimmed steering wheel (on DSG models) helps lift the cabin, as does the silver accents on things like the air vents and door handles. It's all pretty good for a van-based people carrier, really, but like the latest Golf, it's hardly the last word in soft-touch materials.
Infotainment: Touchscreen, USB, nav and stereo in the Volkswagen Caddy
There are various different infotainment systems available in the Volkswagen Caddy. The standard Caddy makes do with a simple 6.5-inch display which won't do a great deal more than play the radio or stream music from your phone via Bluetooth.
The Caddy Life comes with a bigger 8.25-inch display, which also brings with it Apple CarPlay and Android Auto. Navigation isn't available on this system but, once you get used to using Google Maps from your phone, that isn't a big problem.
A bigger 10-inch unit is available as an optional extra. It's quite pricey (nearly £1000 on the Caddy Life) but it's an option box worth ticking if you really want your Caddy to feel like a Golf. Or if you just want built-in sat-nav.
Another desirable (and, again, expensive) feature is the Digital Cockpit. This replaces the dials with a 10.25-inch digital display which can be configured to show things like audio information or even navigation information including a map of your location.
Space and practicality: Volkswagen Caddy boot space
If you're looking for outright practicality, no crossover SUV will come close to the versatility offered by the Volkswagen Caddy. For a start, its boot is simply huge, able to carry 1213 litres of luggage. That's nearly three times the luggage space you'd get in a Nissan Qashqai.
Access to the boot is nice and low, without a noticeable lip – great for loading bulky items or encouraging a dog to jump in. Make sure you can close the boot easily before parting with your money, though. There's no electrical assistance and it's quite high – although power latching is available as an option, meaning you don't have to slam it quite so hard.
It's a usefully square luggage area, too, with tie-down points in the floor and an optional 12V socket (great for plugging in a cool box). If you need more space, the rear seats split 60/40 and drop easily, providing the kind of practicality you'd expect from a van.
Our test vehicle was fitted with just five seats, although you can get an extra pair of seats that pop up from the boot floor. We suspect these will be for occasional use only – particularly as, with them in use, you won't have much room left for luggage. If you need more space, Volkswagen sells a long-wheelbase model badged the Volkswagen Caddy Maxi.
There's plenty of room for rear passengers in the second row of seats. Access is via sliding doors, which are great in tight parking spaces, while fitting child seats should be a piece of cake (Isofix mounting points are provided on the outer rear seats). There's enough space for three adults to sit side by side although, while the middle seat is sufficiently wide, a lump in the floor combines with the centre console to eat into foot space. Picnic tables fitted to the back of the front seats are great for trips to your fast food establishment of choice.
The front is equally spacious, with an almost infinite amount of headroom and plenty of space between the driver and passenger. There are useful storage areas aplenty – the Life model comes with drawers under the seats, and even a useful bin within the door storage pocket. If we were to nitpick, we'd like a slightly bigger storage tray on the centre console to prevent your phone from sliding around when connected to the USB charger.
Handling and ride quality: What is the Volkswagen Caddy like to drive?
"Basing the latest Caddy on Volkswagen's passenger car platform has done wonders for how it drives. The electrically-assisted power steering is pleasantly light, while the turning circle is incredible – you can spin the Caddy around with all the deft of a ballerina."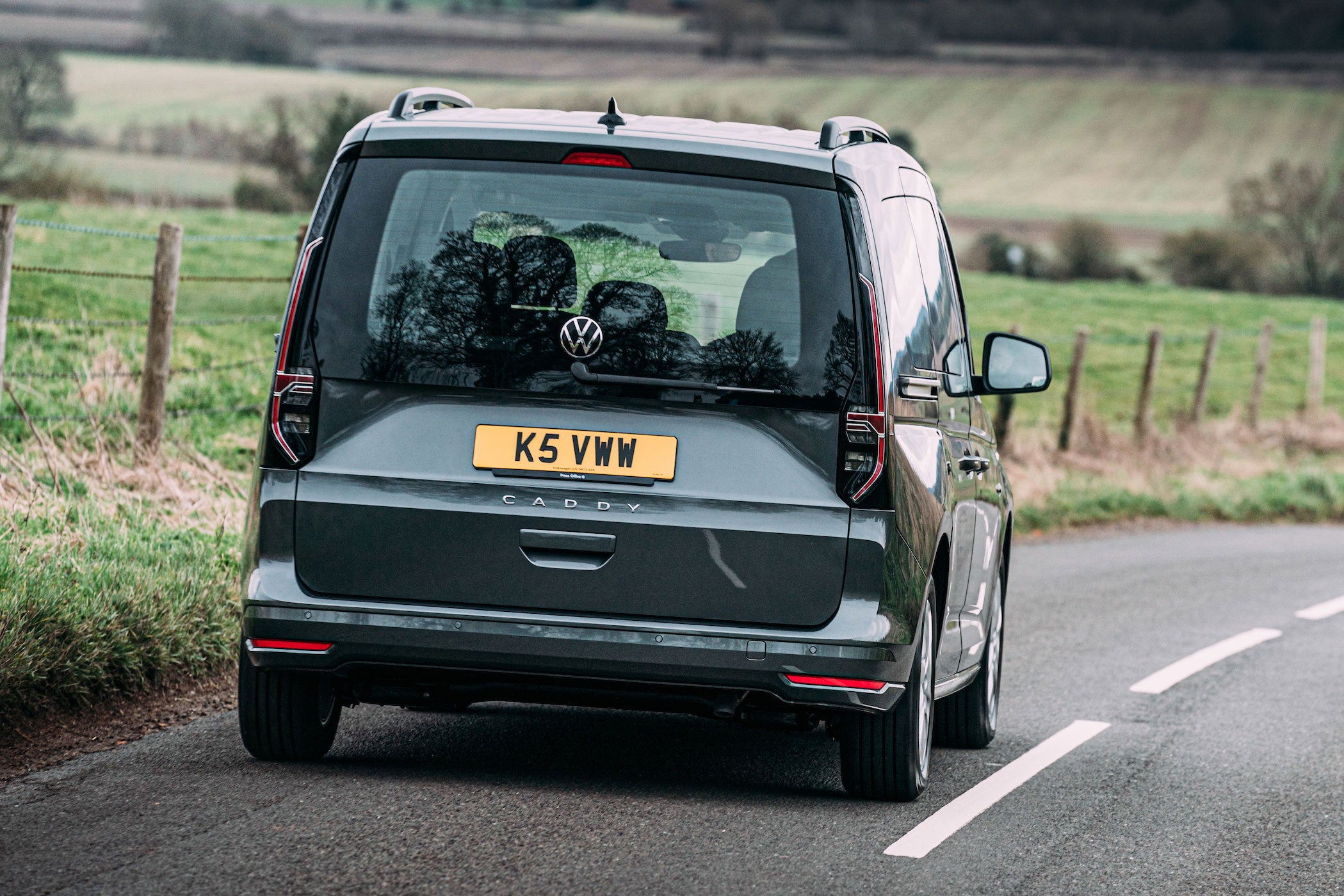 It doesn't feel at all intimidating to drive around town. While the Caddy might be lacking the high-up driving position of an SUV, visibility is excellent, with big mirrors and narrow windscreen pillars. Front and rear parking sensors are standard on Caddy Life models, while a reversing camera is available as an affordable (and desirable) optional extra.
Out of town, the Volkswagen Caddy stops short of being entertaining, but it's certainly more car- than van-like. That new steering system means it's easy to position on the road, without the need for constant tiny inputs to keep you on the straight and narrow. Gone is the old leaf-sprung suspension, replaced by the kind of coil springs you'd find in a car. That means it won't bounce around like an old van on potholed roads.
What engines and gearboxes are available in the Volkswagen Caddy?
Most Caddy buyers will find the diesel engine will suit their needs best. This is a 2.0-litre TDI unit, available with 102PS or 122PS. The less powerful engine comes with a six-speed manual gearbox, while the more powerful motor comes with a seven-speed DSG automatic transmission.
While we're yet to try the entry-level unit, we've sampled the 122PS diesel in the Caddy Cargo van and found it to have plenty of guts. The auto gearbox can be a little hesitant at low speeds – a typical DSG trait – but it changes gear surprisingly rapidly once you up the pace. While we're yet to try a manual Caddy, the automatic gearbox adds to the car-like vibe and is a worthwhile option, in our opinion.
If you live in a city centre or don't cover many miles each year, a petrol might be a better option. The sole offering in the Caddy is Volkswagen's 1.5 TSI which provides 114PS and can be paired with the manual or automatic gearbox.
We've spent time in a Caddy Life featuring this engine and the automatic transmission and it's great. Acceleration to 62mph takes around 12 seconds, which isn't going to keep up with a Golf GTI but it doesn't feel out of breath when joining a motorway and will happily cruise at 70mph.
Refinement and noise levels
We've driven the standard Caddy back-to-back with a Caddy Cargo, and it's surprising how refined the passenger model is compared with the van version. This might be a car that's based on a commercial vehicle, but it does an incredible job of hiding it in terms of refinement.
Wind and road noise is kept to a minimum, while the engine note of our 1.5 TSI test vehicle remained extremely subdued. Sure, if you stamp on the throttle and demand the automatic gearbox drops a gear or two, there'll be a bit of a thrum, but it's no worse than in something like a Volkswagen Golf.
Based on our experience with the 2.0 TDI Caddy Cargo, the diesel engine has a slightly more obvious engine note. It's not likely to be intrusive, though, and certainly no worse than rivals like the Ford Tourneo Connect.
Safety equipment: How safe is the Volkswagen Caddy?
The latest Volkswagen Caddy is yet to be crash tested by Euro NCAP but Volkswagen claims that the Caddy's fitted with no fewer than 19 safety and assistance systems, including five fitted to the Caddy for the first time ever.
Highlights include Emergency Assist (which will help bring the car to a safe stop if it detects a lack of response from the driver), Travel Assist (the car can centre itself in its lane and use adaptive cruise control to adjust the speed), and Trailer Assist (a very useful system which will take over the steering when reversing a trailer while you control the brakes and accelerator).
All of this makes the Volkswagen Caddy feel like a very safe car to travel in. Attempt to stray from your lane or perform a slightly dodgy manoeuvre, and the car's in-built brain will, at the very least, suggest it's probably not a very good idea.
MPG and fuel costs: What does a Volkswagen Caddy cost to run?
"Buy a Caddy with a diesel engine and you'll be surprised how infrequently you have to visit a petrol station."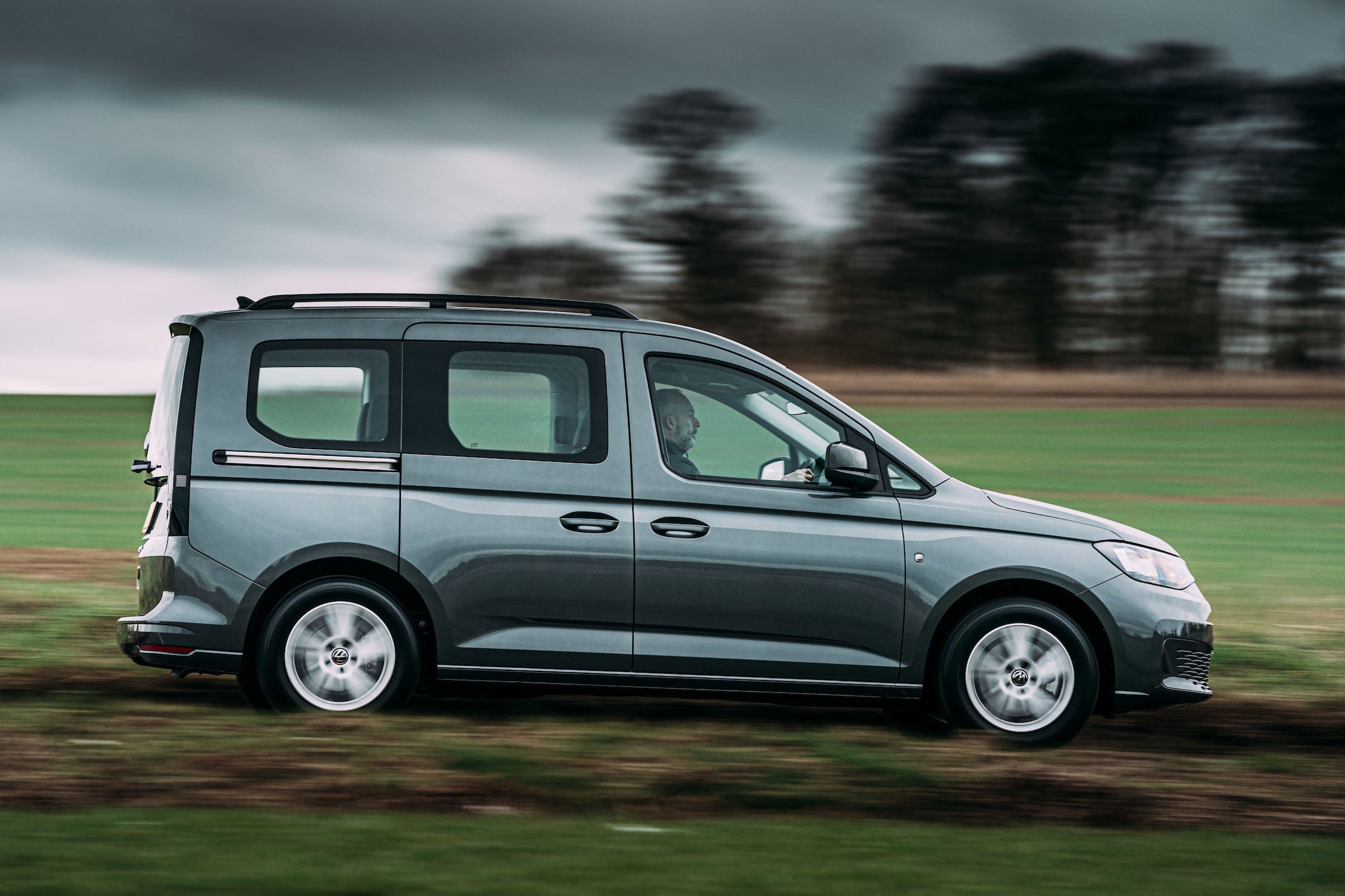 The entry-level 102PS 2.0-litre TDI officially returns up to 58.9mpg in short-wheelbase Caddy form, while a Caddy Maxi with the same engine is capable of a still-very-impressive 56.5mpg. Combine that with a 50-litre fuel tank and, with some careful driving, you'll theoretically be able to cover more than 500 miles between fuel station visits.
The more powerful diesel engine paired with an automatic gearbox is marginally less efficient, but still capable of returning up to 55.4mpg. You should be able to see between 40.9mpg and 44.1mpg from the 1.5 TSI petrol engine, depending on the size of your Caddy and whether you choose the manual or automatic gearbox. That's pretty good for a petrol engine in a car of this size.
Insurance groups and costs
Insurance groups for the Volkswagen Caddy are yet to be confirmed, but we'd be surprised if they were prohibitively expensive for the majority of drivers. If in doubt, shop around for a few insurance quotes before parting with your cash.
VED car tax: What is the annual road tax on a Volkswagen Caddy?
There's no hybrid tech here so you'll pay a flat rate of £155/year to tax the Volkswagen Caddy.
How much should you be paying for a Volkswagen Caddy?
"At the time of writing, the Volkswagen Caddy is still very new and yet to drip down onto the used market. A brand new one represents good value for money, though, and it won't be long before ex-demonstrator examples are available with big savings."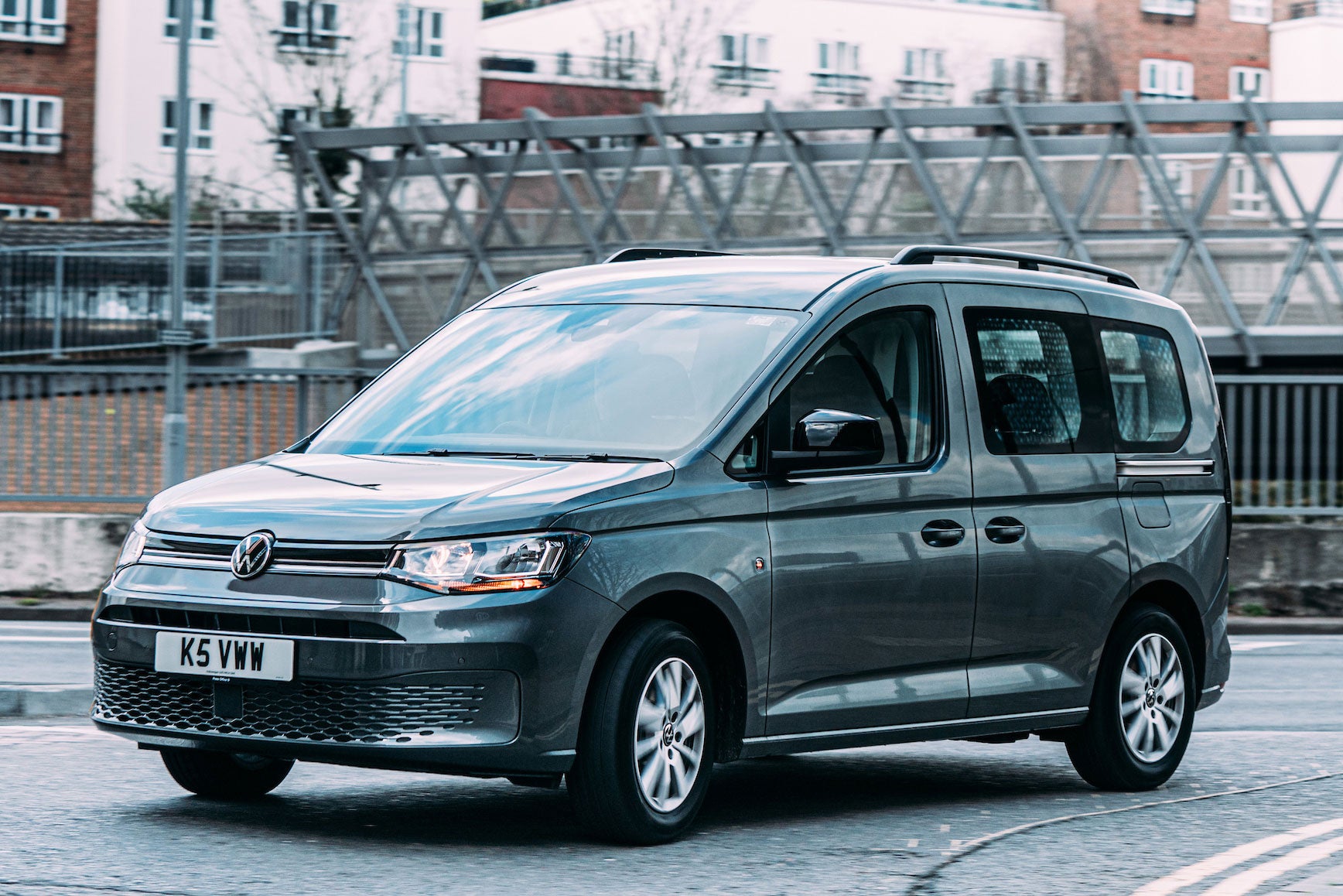 In true Volkswagen form, you'll pay a smidgen more for a Caddy compared to the equivalent Citroen Berlingo or Ford Tourneo Connect. But, just like its rivals, the Caddy provides a lot of bang for your buck compared to SUV alternatives.
The entry-level Caddy with the 1.5 TSI 114PS petrol engine starts from £23,610, while the bigger Caddy Maxi is priced from £24,930. The Caddy Life starts from £27,420 for the 2.0 TDI 102PS model while the Maxi Life is priced from £28,740. The range tops out with the 2.0 TDI 122PS Caddy Maxi Life, which is priced at £31,884.
Trim levels and standard equipment
There are two main trim levels in the Caddy range. There's the standard Caddy, which covers all the basics, and the Caddy Life – which adds the kind of nice-to-have features you'd probably want if you're trading in your family car.
Standard kit on the regular Caddy reads like a brochure for an early-noughties Volkswagen Polo. Highlights include electric front windows, 16-inch steel wheels and air conditioning. A high point is the small 6.5-inch infotainment display with DAB radio.
The Volkswagen Caddy Life adds 16-inch alloy wheels, LED rear lights and black roof rails. On the inside, you'll find drawers under the front seats, adjustable lumbar support and a removable waste bin in the door pockets. There's also a bigger 8.25-inch infotainment system with Bluetooth and App Connect (featuring Apple CarPlay and Android Auto). Front and rear parking sensors are on hand to help you slot the Caddy into tight spaces.
Ask the heycar experts:
common questions
What's the difference between the Volkswagen Caddy, Caddy Cargo and Caddy Life?
The Volkswagen Caddy line-up has been shaken up for 2021. The passenger vehicle (with seats and windows) is now badged simply the Caddy, while the van is known as the Caddy Cargo. The Volkswagen Caddy Life is essentially a posher version of the standard Caddy – with desirable features like alloy wheels and parking sensors. There are also two lengths to choose from – the standard SWB (short wheelbase) model and the longer Maxi grade.

Is the Volkswagen Caddy based on a Golf?
The fifth-generation Volkswagen Caddy is based on the brand's MQB platform, making it more car-like to drive than ever before. This chassis underpins a wide variety of Volkswagen Group vehicles – including the Volkswagen Golf, Skoda Octavia and even the Audi A3.

Is the Volkswagen Caddy a van?
The Volkswagen Caddy Cargo is a compact van that sits beneath the Transporter in the firm's line-up. The Caddy is also available as a passenger car, competing against the likes of the Citroen Berlingo and Ford Tourneo Connect.

Volkswagen Caddy cars for sale on heycar
10,812
Number of cars available
£8.9K - £38K
Price bracket of these cars
Colours available on heycar
Keep me updated by email with the latest advice, news and offers from heycar
By submitting, you agree to our
privacy policy
.