Volkswagen Caravelle Review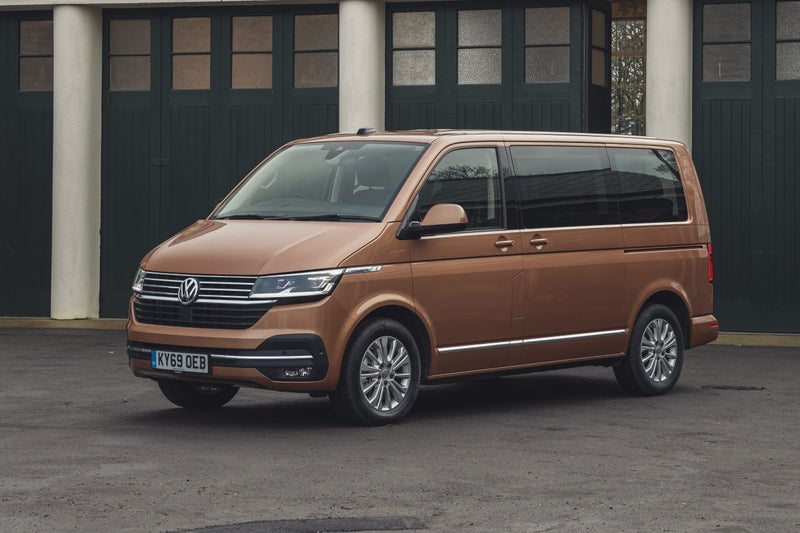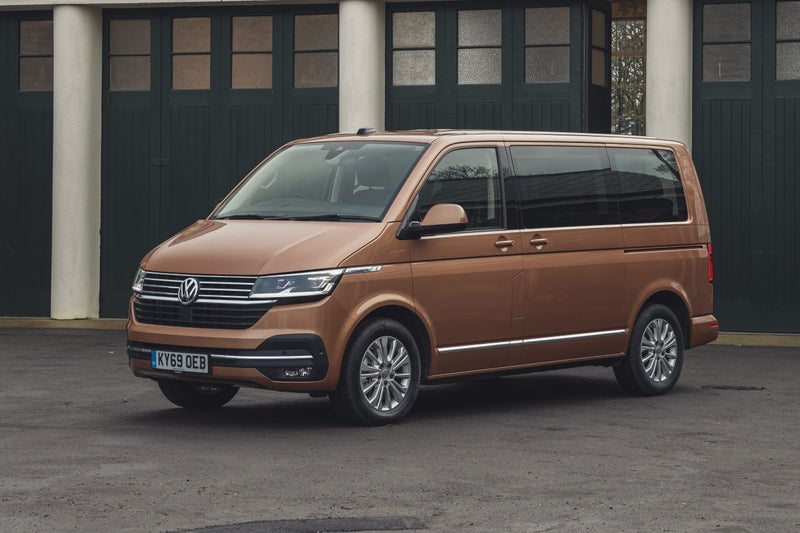 1/10
heycar rating
"Comfortably spacious, can carry eight"
Quick overview
Pros
Quiet and refined on the move
Excellent amounts of technology
Space for seven and all their luggage
Cons
The seats are heavy and awkward to move around
Ride can get a bit bumpy
Expensive to buy brand new
Overall verdict
On the inside
Driving
Cost to run
Prices and Specs
Overall verdict
"The Volkswagen Carevelle is posh, practical and comfortable for multiple adults, but you pay for the privilege and you never totally escape the van roots."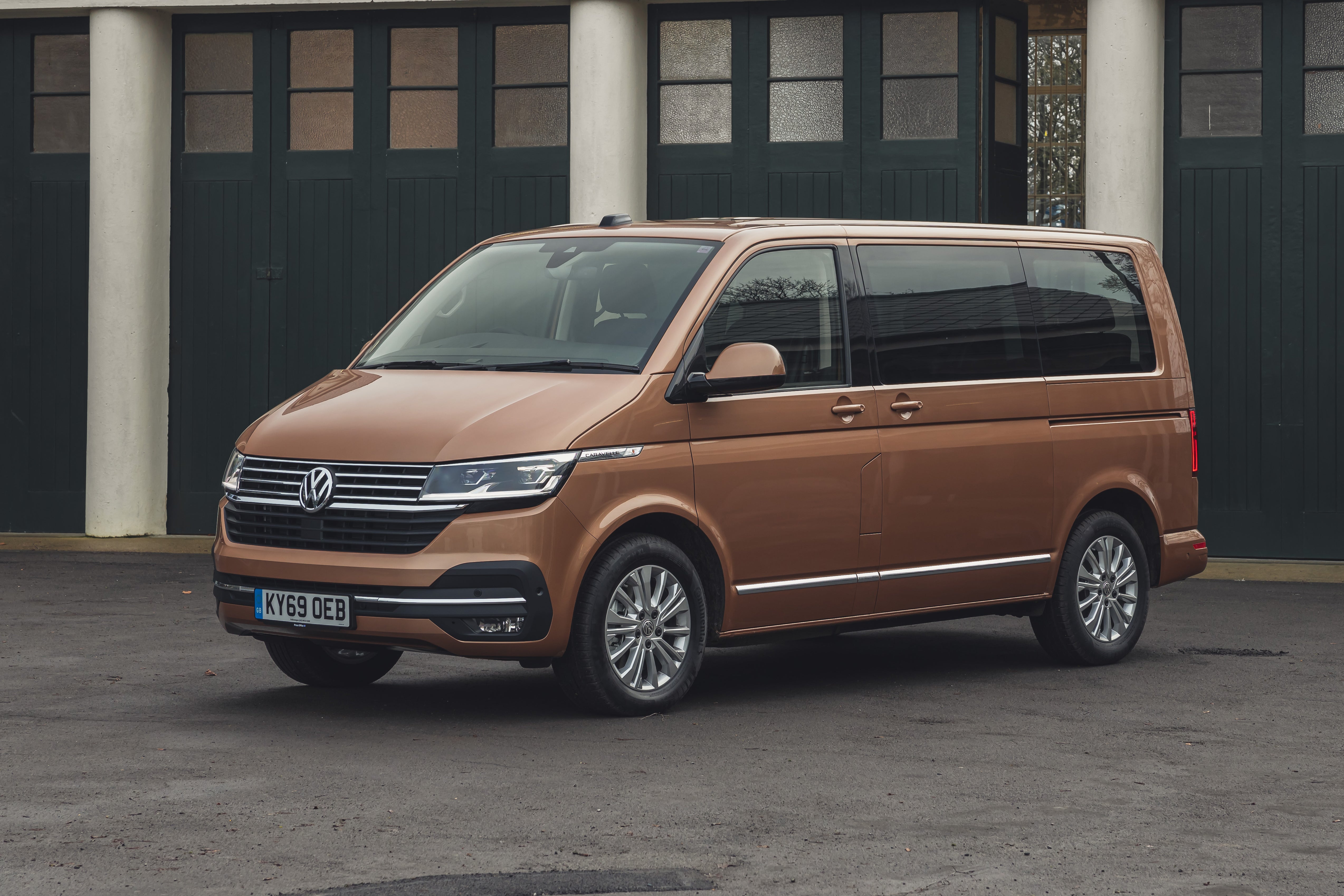 The Volkswagen Caravelle is a large, comfortable and practical way of carrying up to eight adults without having to argue about who squeezes into the part-time seats in the boot.
It comes with proper grown-up sized seats for everyone and, because the Caravelle is based on Volkswagen's medium panel van, the Transporter, it offers a great deal of space for luggage, too.
There is a huge amount of flexibility, meaning that you don't have to treat the Caravelle like it is a school minibus and nothing else – the two seats in the second row can swivel around to face the rear for example. This makes travelling with friends far more sociable as you can have a face-to-face conversation rather than one where several of you are simply staring at the back of your compatriots' heads.
You can, should you wish, remove all the seats completely, though, which means you get to treat the Caravelle as a van. Doing this isn't a quick and easy job, though, and you're better off enlisting a friend to help. Whether you're using the rear of the Caravelle for people or big boxes the big sliding side doors and top-hinged tailgate mean that getting everyone and everything in is easy.
The benefits of the Volkswagen Transporter underpinnings extend beyond just practicality, though, with the strong engine range and keen handling both a bonus. The engines are all diesel at the moment, with the 2.0-litre coming with a choice of 150PS or 199PS. The 150PS is the pick, as it has plenty of punchy performance for overtaking and pulling away from a standstill, but it doesn't come with the price premium of the higher-powered version. There is very little difference between the two in terms of economy, though.
The gearbox choice is simple, though, as you can only get the Caravelle with a smooth-shifting automatic. This is a bit of a nod to the kind of customer at which the Caravelle is aimed – it's designed to appeal more to the executive chauffeur and airport taxi market than large families. This is reflected in the level of kit and the dashboard finish, too. Rather than simply offering the same cabin as the van, for example, the Caravelle gets the digital cockpit that is also found in several of Volkswagen's passenger cars.
There are two trim levels on offer – SE and Executive – but both come with a generous amount of stuff. SE gets a 6.5-inch touchscreen with App Connect and seven seats as standard. Executive adds that digital cockpit, satellite navigation, wireless App Connect and electric side doors and tailgate, amongst other things.
There are also two lengths on offer, with both coming with seven seats as standard, although you can upgrade this to eight seats in four rows of two in the longer wheelbase model. It maxes out at just under two metres tall on both versions, so you shouldn't have any issues with the urban height restrictions that pop up on car parks and the like.
With prices starting at just shy of £39,000 excluding VAT (for the commercial users – retail buyers will have to shell out just under £50,000) this is not a cheap vehicle, however. Those wanting to impress passengers on corporate journeys, or provide a luxurious airport taxi will find it well suited, but large families can get better value in more conventional MPVs.
If you're looking for the Caravelle's successor, you need our Volkswagen Multivan review.
Is the Volkswagen Caravelle right for you?
The Caravelle will absolutely fit into your life if you need to transport seven adults and luggage, with both versions providing an excellent amount of room for people. Compared to a standard MPV you will be able to carry fully grown adults without the awkward contorting that is necessary to squeeze into the back row of, say, a Volkswagen Sharan.
The problem comes when you consider the price – the Caravelle is easier to justify if it is earning you money rather than costing you with every mile you cover. If you need to transport colleagues, and particularly those who might not be as flexible as teenage passengers. Being able to sit five occupants facing one another in the back is a real bonus – it means that your rear-most passengers can have a pre-meeting meeting without having to talk over their shoulders or twist around.
What's the best Volkswagen Caravelle model/engine to choose?
The SE trim is the pick of the two versions, not least because it is the only one that is available with the choice of both short and long wheelbases. If you plan on being able to carry a full complement of passengers and their luggage then that is the one to go for, so if you are running a posh holiday transfer service then the shorter model won't cut it.
The more powerful 199PS engine adds more than £2000 to the price, too, and the lower powered version is perfectly strong enough to cope with a full load and hilly routes so there isn't a vast amount of reason to upgrade.
The Executive trim might add some nice toys, but the SE comes well enough equipped that you are unlikely to feel hard done by.
What other cars are similar to the Volkswagen Caravelle?
Comfort and design
"The van roots are a blessing and a hinderance in several ways when it comes to the cabin of the Caravelle. The steering wheel and seating position are more commercial vehicle-esque than you get in most cars, but it doesn't take long to get used to it if this is unfamiliar. This means a high-up seating position which affords you an excellent view of the road and a slightly more angled wheel that is a touch more horizontal than in a car. "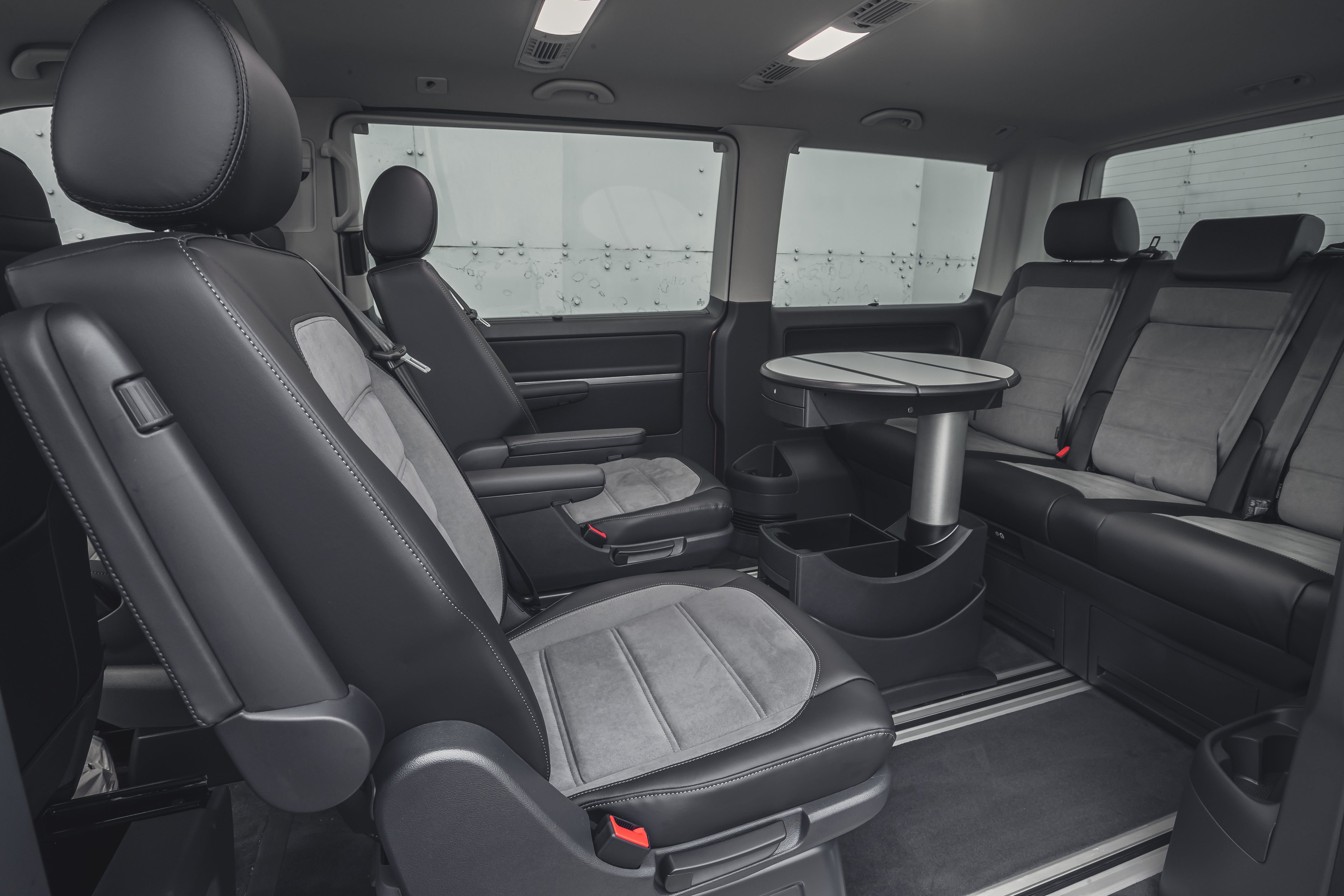 The seats in the cockpit are adjustable for height and lumbar and both come with armrests as standard so long cruises will be comfy and relaxed.
Elsewhere on the dash, the Caravelle betrays its van origins once again, with a high-set gear lever that is attached to the dash just below the infotainment screen rather than positioned on the floor. This means that you can reach it easily from the steering wheel without leaning down. Not that you'll need to too often in the latest models as they are all automatic as standard.
The dash is easy to navigate, too, with the buttons all relatively large and clearly labelled, so they are simple to hit on the move.
There are plenty of cup and bottle holders, too, so stashing drinks will be easy, although they are tucked up on the top of the dash so you won't want to leave a cold drink up there on a hot day for too long.
Quality and finish
The quality of the materials is definitely a fair few steps up from the Transporter van, and is more akin to the California campervan. There are a variety of different materials, which helps break up the look of the dash. The basic SE model gets brushed grey trims, chrome details, a carpeted floor and a leather-trimmed steering wheel.
Step up to Executive and you get a touch more of a premium feel, with a two-tone micro-fleece upholstery covering for the seats where the SE gets a plain cloth. You also get heated front seats and the digital cockpit that really elevates the look from the driver's perspective.
Those in the back get tinted windows for increased privacy and electric side sliding doors so they can be opened with a simple prod of a button.
Everything feels well screwed together in every version of the Transporter and this translates to the Caravelle, too. Even though the big people carrier isn't likely to be pressed into dealing with hard-wearing loads it still feels as though it will be up to the task should you need to.
Infotainment
Infotainment is one area where the Caravelle takes a marked step up over its van cousin, as, as of the 2019 facelift, it is possible to get the full digital cockpit that comes in several of the Volkswagen passenger car range. This is only available as standard on the Executive version, but it brings a really high-tech feel to the information display in front of the driver.
It means that the display is easily configured to show various different screens, with driving data and satellite navigation all possible. The central screen is really impressive, too, with a 10.25-inch display that has a few shortcut buttons down the side. It is slick and fast to operate, and allows you to use several of the gestures that will be familiar if you have had a smartphone in the last few years.
By comparison the standard version is not as slick looking, but is still decent, with a 6.5-inch touchscreen, Bluetooth, Apple Carplay and Android Auto and USB connections. Those USB connections are relatively modern USB-C ones, though, which means you might need an adaptor unless your phone is one of the very latest. The top-of-the-range version allows you to charge your phone and connect to Apple Carplay and Android Auto wirelessly, though, if your phone allows it.
Space and practicality
There is no actual listed boot capacity for the Caravelle, which is down in part to it being a commercial vehicle rather than a passenger car, but it is safe to say that the long-wheelbase model is the one to go for if you plan on taking loads of big suitcases on a regular basis.
The shorter version has a decent amount of room behind the rear seats, but if you plan on sliding them all the way back then the space left is more suited to soft bags or upright cabin suitcases than big holdalls. Because of the shape of the Caravelle, it is a relatively upright space, too, so you won't be able to get loads in unless you are able to store things on their end.
If you need to make the most of the Caravelle's space then there are a couple of ways of doing so. The rear three-seater bench is mounted on rails so you can slide it forward or backwards to get more room for luggage should you need, but you can go even further and take all five (or six if you go for the eight-seater) rear seats out completely.
However, this isn't a job of a moment, and not really one for a solo person. The seats are heavy and quite cumbersome, not to mention the fact that you have to have somewhere to store them when you have got them out. If you do so, then you get almost as much space as you would get if you had bought a Transporter van, but with slightly posher carpets.
The easier solution, if you need to slide longer items in, is to fold the seats down – they go almost flat, if not totally.
Getting child seats in is as easy as it comes, though, with Isofix points on the two individual middle-row seats and the outer two of the third, bench seat, meaning you can get four car seats in the back. The raised height of the Caravelle, and the sliding side doors, mean that it will be much easier to get smaller occupants in and out, too.
Adult passenger space is excellent, too, with loads of legroom for all in the back. This is especially true if you spin the middle seats around to face backwards. The bigger issue is the legs of other passengers, but it is possible to move your feet around without bashing them into your fellow travellers.
Handling and ride quality
"The Caravelle might be shaped like a van, but it is a remarkably easy and stress-free vehicle to drive. The pedals are well weighted and the steering is light, which means that you never feel like you have to haul it around, despite its hefty weight."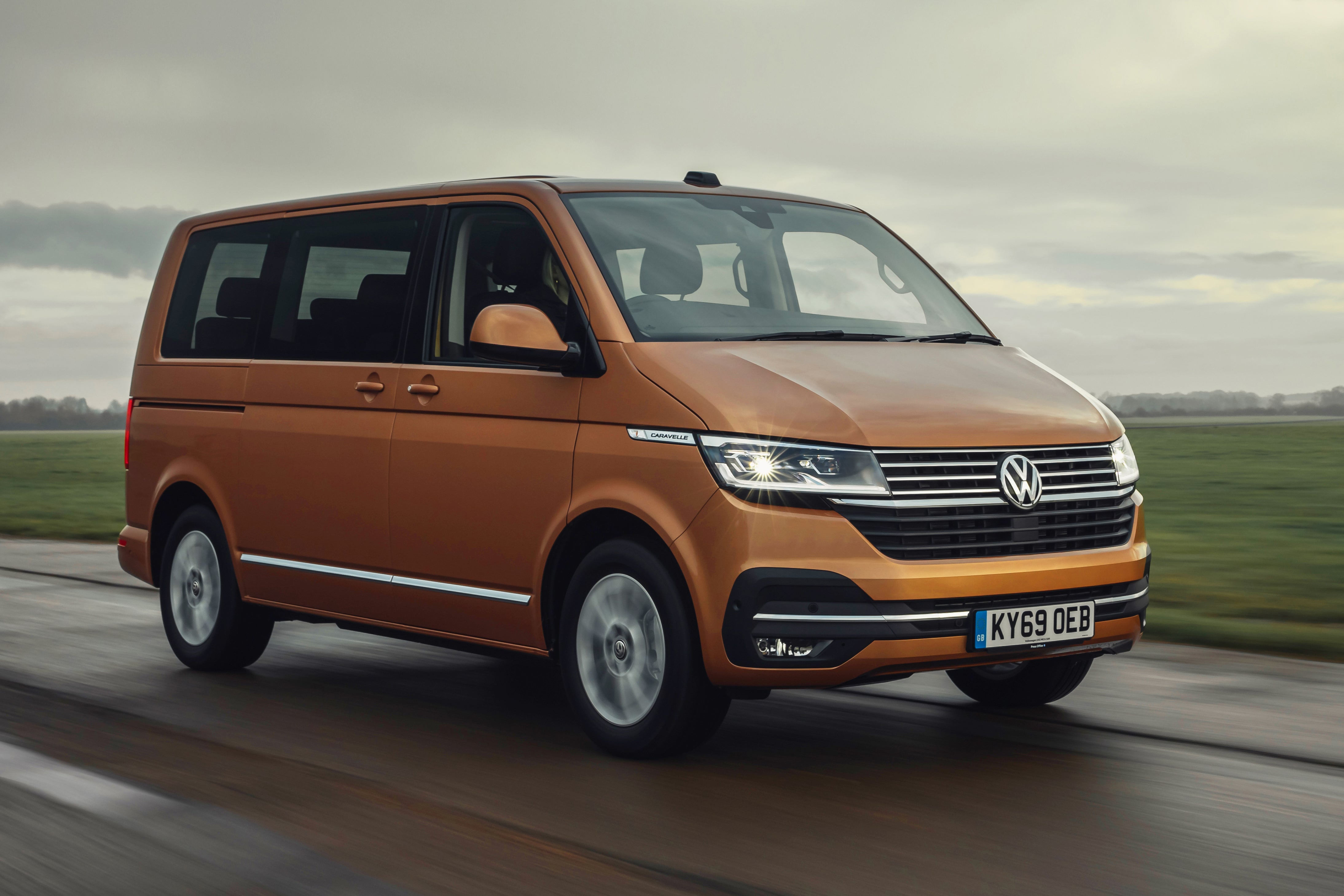 A new steering system joined the range at the most recent facelift, with the more conventional power system replaced by an electromechanical system. Both are progressive in how much resistance you get, being light at lower speeds and more resistant when you need it to be on the motorway. The latest version is particularly easy to handle at town speeds, which means that it is super light when it comes to pulling off parking moves in town.
This system also enables a selection of safety systems that help make the Caravelle less intimidating to drive. These include Crosswind assist as standard, which will keep you in a straight line when you are caught by a sudden gust. The Executive model adds more, including park assist, which helps steer you into a space.
The suspension generally does a good job of keeping the Caravelle settled, although the odd bigger pothole will send a bit of a jolt through the cabin. It is otherwise calm and comfortable, though, with the smaller 16-inch alloys marginally comfier than the 17-inch ones on the Executive. There is little in it though.
Unusually for a vehicle like this, there is even the option of Dynamic Chassis Control, which allows you to tweak the damper settings. Sport will reduce the body roll that you inevitably get when heading around corners at speed in a tall-sided vehicle, but it will make the ride a little firmer. There isn't so much body roll that passengers will feel queasy, however.
Engines and gearboxes
Following the 2019 facelift there are just two engine options in the Caravelle, both 2.0-litre diesels. The two power outputs are 150PS and 199PS.
For the vast majority of users, the 150PS will be more than sufficient, with a hefty 340Nm of torque available from just 1500rpm, meaning that it will be able to pull off overtakes and standstill departures without too much trouble.
Stepping up to the 199PS model almost feels gratuitous, but it will reward you with even more torque – 450Nm at 1400rpm – and an impressive turn of pace. It's unlikely you will wish to blast from 0-62mph too often in this vehicle but it is reassuring to know that it is capable of doing so in 10.1 seconds should you wish.
The gearbox option is restricted to just the one – a DSG automatic unit. This is as smooth as you would hope, although in some older versions it has been found to hold onto lower gears a little longer than you might like. Older versions also came with a six-speed manual.
Previous engines have included a pair of petrols – both 2.0-litre units with 150PS and 204PS. They're smooth to drive and the latter was surprisingly quick for a big van, but they were only offered for a short period of time so they will be rarities on the used market. Their relatively high fuel consumption meant that they struggled to find favour in the market.
Refinement and noise levels
The van shape and dimensions don't mean that this is a noisy vehicle. The cabin gets extra insulation over the van, and you can get laminated windows that up the levels of insulation even further.
Without this, the Caravelle is still an impressively refined vehicle to drive, though. The modern diesels are both impressive in how quiet they are, even under relatively heavy acceleration. There is a bit of engine grumble when you sit at idle, but it is all very impressive for such a large vehicle with lots of space for noise to bounce around in. The short-lived petrol models were even quieter still, although the nature of how they operate means that you have to rev them a bit more at times to get them to accelerate.
All this is with the caveat that this is a van-based MPV – a more conventional passenger car is slightly more refined and smoother. There is inevitably a bit of wind noise given the shape of the Caravelle, and those door mirrors particularly kick up a bit of resistance. All things considered, though, it is an impressively refined vehicle and even relatively hushed business conversations will be possible in the back.
Safety equipment
The airbag offering in the Caravelle isn't quite as comprehensive as it is in a passenger car – you get a front airbag for the driver and the passenger but have to pay extra for curtain airbags in the rear passenger compartment.
Safety comes in other forms, though, as the latest update to the Caravelle brought about a new steering system that brought with it lots of potential as far as driver assistance systems. The Crosswind assist comes as standard and will be welcome to those unused to driving a higher-sided vehicle in gusty conditions while the adaptive cruise control is also included on all models. Driver alert, auto lights and wipers and Volkswagen's eCall system that alerts the emergency services in the case of an accident are all included too.
Executive adds a few more things, too, with park assist, front and rear parking sensors and a rear-facing camera all included.
If you want more then it's off to the options list for you, with active lane-keep assist, trailer assist and hill descent control all available.
The Caravelle hasn't been crash tested by Euro NCAP, and the last time the Transporter was assessed was back in 2013. This was the previous version and the newer systems mean that it should at least match the four-star score from then, despite the tighter assessments that have come in since then.
MPG and fuel costs
"The two most recent engines match one another almost exactly in terms of fuel economy, although there is some variation if you go for a longer model."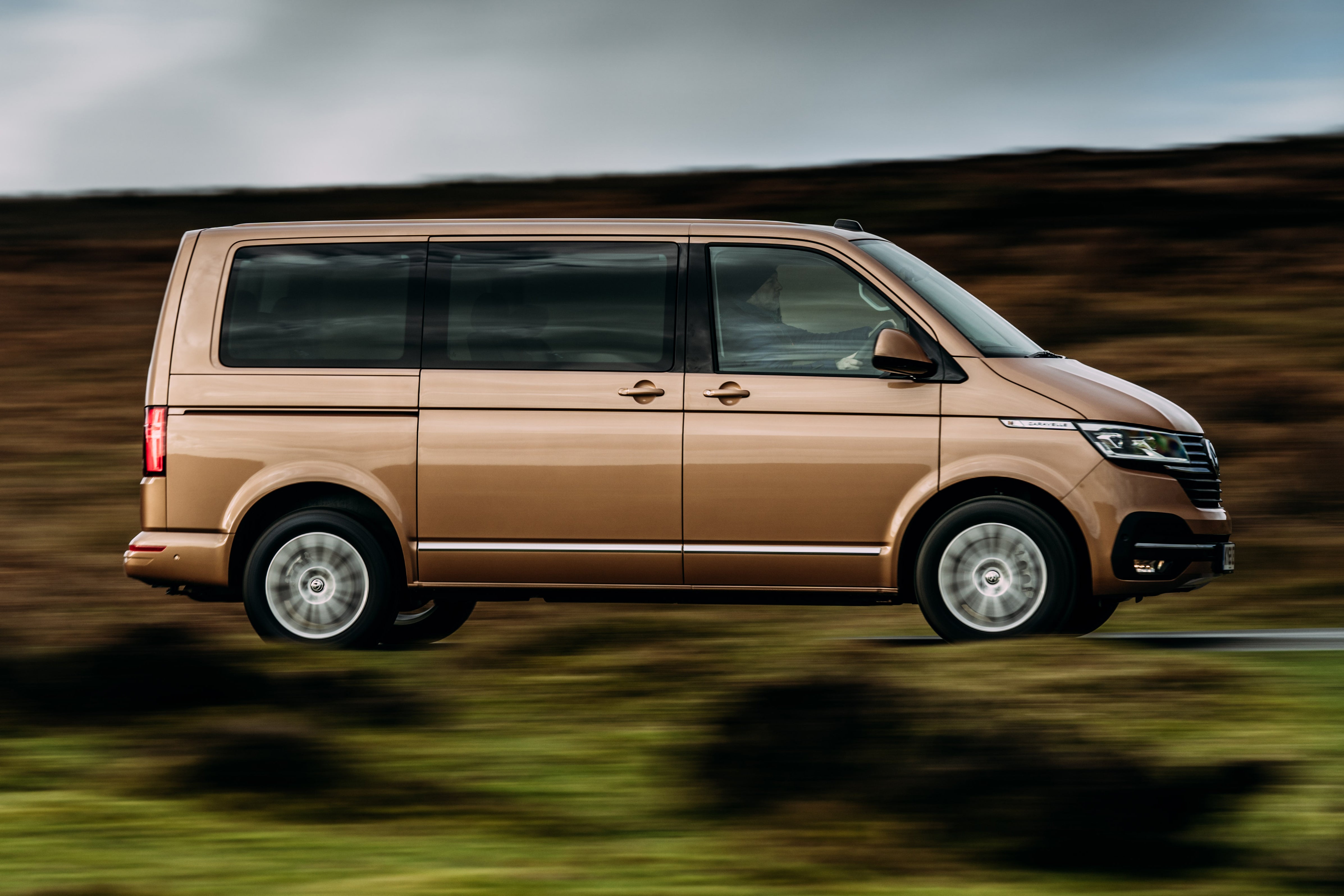 The short-wheelbase 150PS model claims up to 34.4mpg but all the versions claim over 30mpg. Going for a long-wheelbase 150PS reduces economy by less than one mpg, and there is just 0.4mpg difference between the two engines.

Going for the 4WD 4Motion model has the biggest impact on economy, but it still only knocks less than 3mpg off the official figure.

If you're going for a used model then these figures should be representative for the diesel engines – there is little difference between these engines and the most recent. This is obviously not the case for the petrol models, though, where an mpg figure in the 20s is a more realistic reality.
Insurance groups and costs
The Caravelle insurance groups are relatively wide spread, with the range going from group 24 to 34.
The one to go for to keep insurance costs in check is, unsurprisingly, the short-wheelbase 150PS in SE trim. Going up to Executive only moves it up a couple of groups to 26, while it is the most powerful model with the 4WD drivetrain that takes you up to group 34.
VED car tax
Because of the relatively high CO2 emissions, the Caravelle commands a high first-year VED tax bill, and this goes up even higher on the 4WD model, taking it above £2000 for that version.
The high purchase price means that the Caravelle suffers from the expensive-vehicle tax surcharge in its first five years, too. This is an expensive vehicle to tax from any angle.
How much should you be paying for a used Volkswagen Caravelle?
"The Caravelle is an expensive vehicle to buy up front, with the cheapest version starting at just short of £50,000 once VAT is factored in. "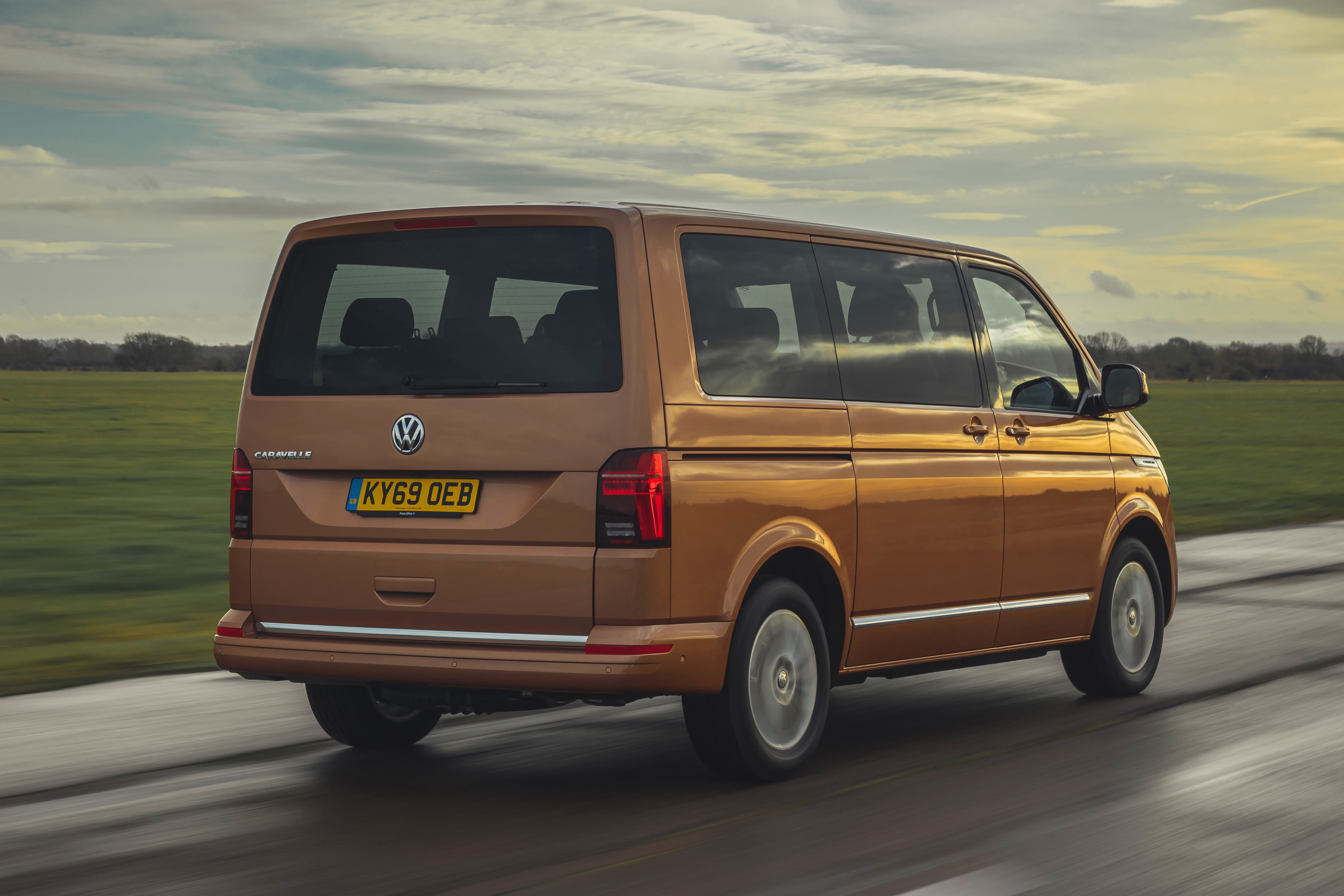 The most expensive model is £11,000 more than that, too, so the costs can easily stack up. Even the cheapest model is a fair bit more than range-topping versions of rivals such as the Citroen Spacetourer.
The good news is that the Volkswagen holds onto its value relatively well – three-year-old models can be had for around £35,000. Pre-reg versions can be picked up with a slight saving, though, with prices starting from around £45,000.
Volkswagen Caravelle cars for sale on heycar
13,664
Number of cars available
£39K - £67K
Price bracket of these cars
Colours available on heycar
Keep me updated by email with the latest advice, news and offers from heycar
By submitting, you agree to our
privacy policy
.