Volkswagen Crafter Review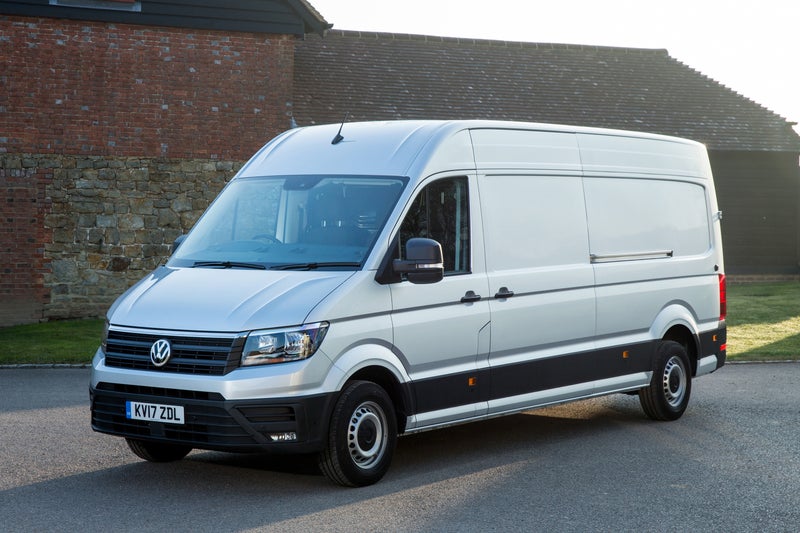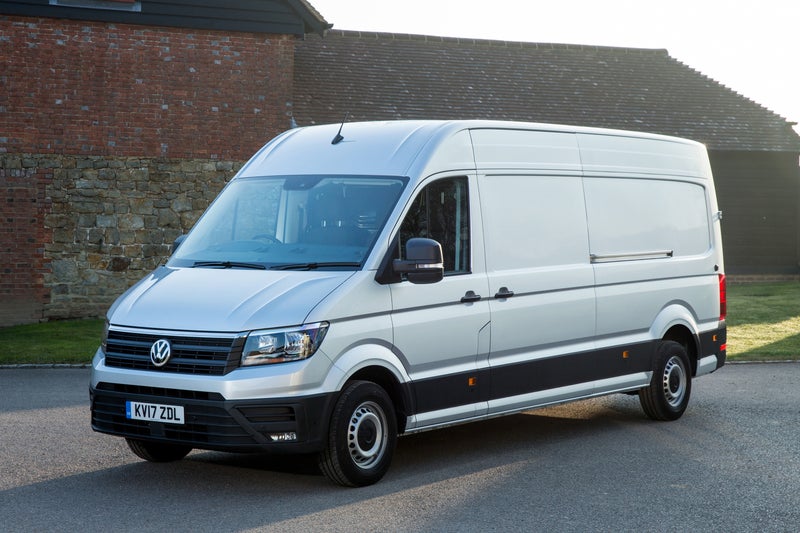 1/10
heycar rating
"Versatile, large Volkswagen panel van"
Quick overview
Pros
Really easy to drive for such a big van
Comfortable and refined, making long journeys more relaxed
Excellent cabin design and features
Cons
Noisy rear-wheel drive models
Not the most efficient in the class
Lots of the great tech costs extra
Overall verdict
On the inside
Driving
Cost to run
Prices and Specs
Overall verdict on the Volkswagen Crafter
"The Crafter is Volkswagen's headline act in the van world. It's the biggest Volkswagen commercial vehicle you can buy and one of the most flexible in terms of the sheer different versions on offer."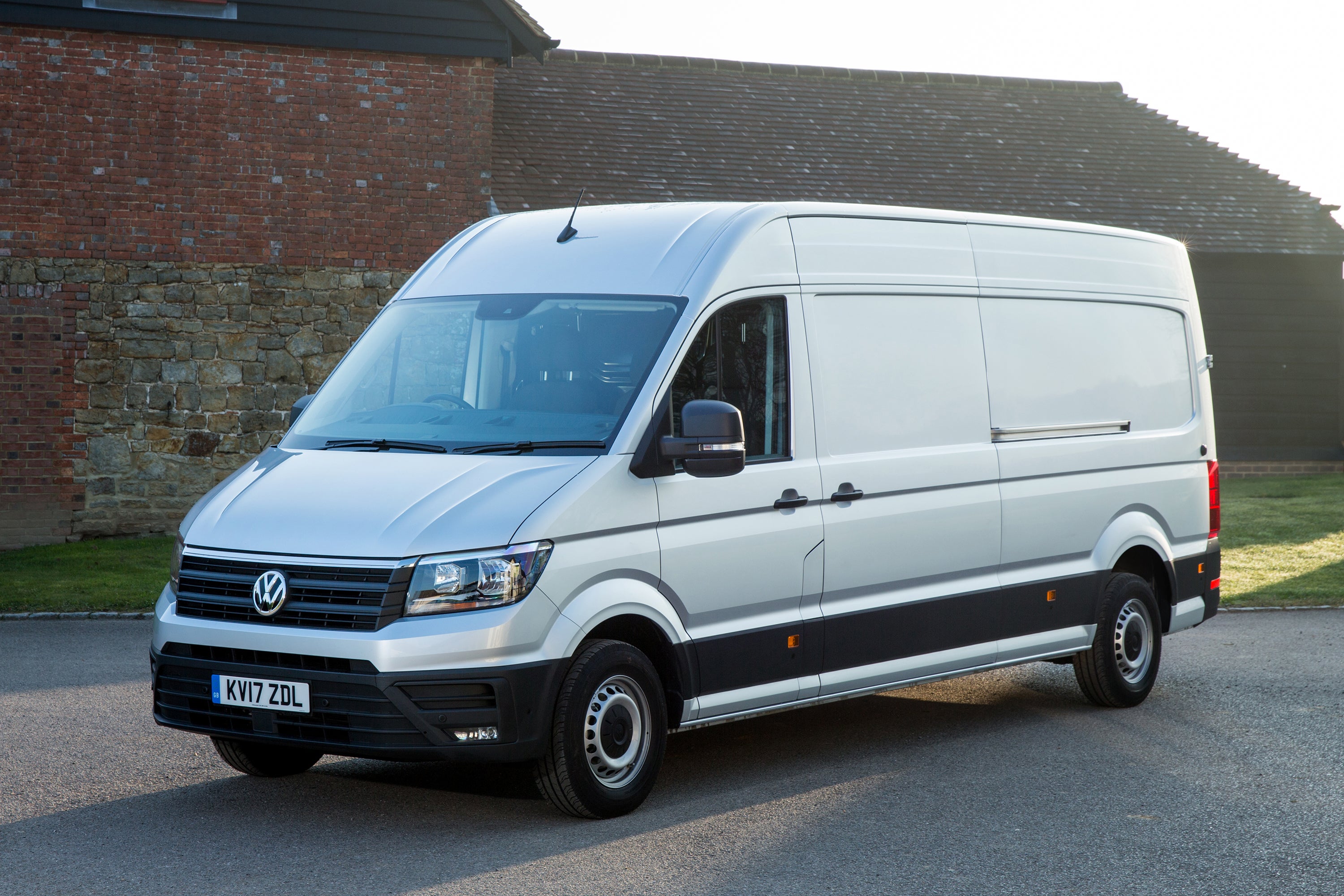 In years to come, this generation of Crafter will be a bit of a rarity as it was developed solely by Volkswagen. The previous model was built by Mercedes-Benz, alongside the Sprinter, while, since the launch of this version, Volkswagen has signed a partnership with Ford to create commercial vehicles in the future.
Because of the solely Volkswagen basis for the Crafter that was launched in 2017, the engines and gearboxes are all familiar to anyone that is a student of the brand's other models. There are four versions of a 2.0-litre TDI diesel engine that also features in vehicles such as the Transporter. It comes with a choice of four different power outputs with 102PS, 122PS, 140PS and 177PS.
In addition to these four engines, there are a dizzying array of different options available on the Crafter. You can choose between front-, rear- or four-wheel-drive versions, manual or automatic gearbox and between three different heights and three lengths. If you can't find what you need among that lot then an electric version and a crew cab are on the way, to join the numerous conversions on offer.
It's a very practical van, too, with an impressive load-carrying capacity with the ability to carry up to six Euro pallets and a payload of up to 1,456kg on the 3.5-tonne version. The heavier 5.0-tonne model can carry up to 2,516kg. The load volume goes up to 18.4 cubic metres, too.
There are just the two trims available for the Crafter – Startline and Trendline – but they can be upgraded and personalised in a wide variety of ways thanks to an options list that runs to multiple pages on the official brochure. You still get a decent amount of kit on the Startline, so an options list raid isn't necessarily a requirement.
You get a single side sliding rear door, a full-height steel bulkhead, Bluetooth and USB connections, hill-hold control, crosswind assist a driver alert system and city emergency braking as standard. Trendline adds an eight-inch touchscreen with Apple Carplay and Android Auto, cruise control with a speed limiter, a multi-function steering wheel and a wooden load floor cover.
The Crafter's cabin is a wonderful place, with comfort and quality both available in abundance. However, the driving experience is the real high point. It is surprisingly easy to drive for such a big van, with the steering and visibility making it much more accessible than its size suggests. Technology such as a parking assist system and a rear cross-traffic alert will help reduce the anxiety points for many unfamiliar with driving a van further.
The comfort and technology in the Crafter means that it is a very strong contender in a class that got some very impressive vans on offer in the form of the Ford Transit and Mercedes-Benz Sprinter. The Crafter is a worthy rival to both these, and is an excellent large panel van.
Is the Volkswagen Crafter right for you?
The Crafter is one of the most technologically advanced vans available, with an excellent array of equipment on offer. What is particularly good is that some of this important kit comes as standard. You get crosswind assist and autonomous emergency braking as standard on all Crafters. Others have since started to offer this, but Volkswagen was one of the first to make it standard.
If you don't want to spend your entire working day in an austere and workmanlike environment then the Crafter shines in this regard, too. The cabin is full of comfortable materials, is well designed and the seats are fantastically supportive. If you are after a large van with all the practical benefits that brings, but that is easy to drive and doesn't feel that big then the Crafter is nigh-on perfect.
What's the best Volkswagen Crafter model/engine to choose?
Our choice of engine/trim, why we recommend it and what is best value for money
The engine range is wide and varied in the Crafter but the pick of the bunch for its all-round ability and strength is the 140PS version. It feels less strained than some of the lesser versions and feels well up to the task of hauling a heavy load and towing a trailer.
In terms of the trim, the Crafter shines when it is fitted with some of the excellent technology that it has at its disposal. To really appreciate this van for what it can do, it is better with a few more items fitted to it. The higher Trendline version brings these, and adds a few more things like an upgraded driver's seat, the eight-inch screen with App Connect and wider opening doors.
What other cars are similar to the Volkswagen Crafter?
The Mercedes-Benz Sprinter is the Volkswagen's nemesis, with a similar array of technology and equipment available to it. If you want the most modern vans on the market then your shortlist should include these two for sure.
The Ford Transit should certainly be on that list, too, with the most recent update bringing it close to these two in terms of tech and ability.
If you want out-and-out value then the older models in the class will offer more along these lines – the likes of the Renault Master, the Vauxhall Movano and Fiat Ducato are not as modern but will do a good job of hauling loads of stuff for not much cash.
Finally, the MAN TGE is the Crafter with a different badge. MAN is a truck manufacturer first and foremost, though, so you can get a different and perhaps more out-of-hours service offering from it.
Comfort and design: Volkswagen Crafter interior
"The Crafter's cabin looks familiar to many other Volkswagen models, with a clean and efficient design that is easily navigated. The standard seat offers a large amount of adjustment and has loads of support for your lower back and upper parts of your legs. If you step up to the Trendline then you get a little more adjustment for the lumbar support, but the Crafter has seats that go even further than that on offer."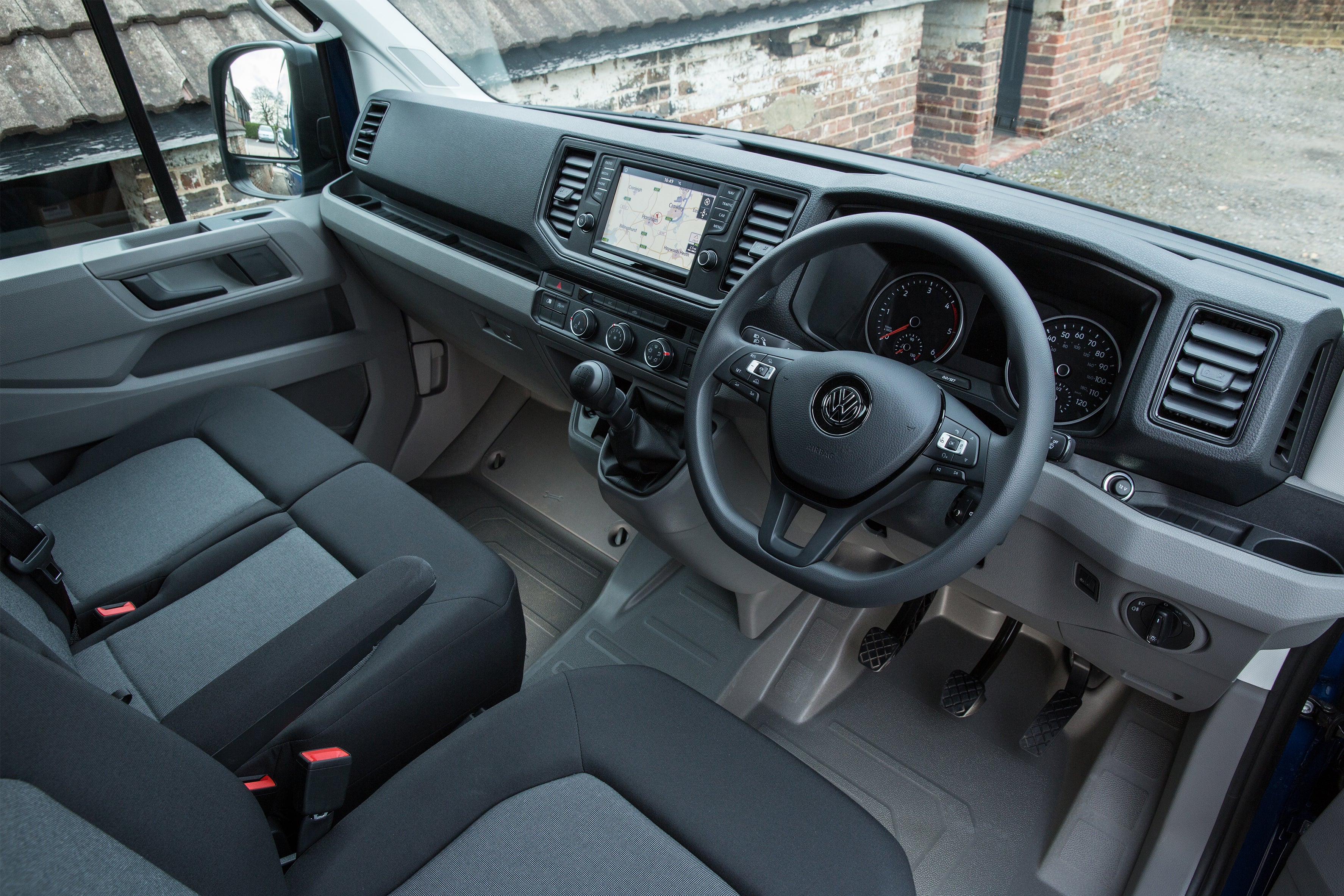 The ergoComfort seat lets you adjust it in a staggering 20 different ways, while the ergoActive adds a massage function – the sort of kit normally only found on luxury saloon cars.
However, the Crafter has something that even a high-level limo doesn't offer – the seat itself has suspension, which counters the movement of the road and uses shock absorbers to cushions your backside. It takes a little getting used to, and can sometimes bounce a little which might make you feel a little odd on twisty roads, but it stops your back from taking a battering from the road.
The rest of the dash is simple and logically laid out. It is dominated somewhat by the touchscreen in the Trendline, but it fits in cleanly. The gear lever sits high up and just below the bottom of the dash, and close enough to the steering wheel that there is enough room for the middle passenger to get a decent amount of legroom.
There are plenty of storage points all over the dash, but the downside is that few of them have lids.
Quality and finish
The solidity and quality of the Crafter's interior is simply fantastic. The build quality feels better than anything else in the class and in any other van. The plastics feel a little hard and scratchy in places, but this is to be expected in a vehicle that is designed to take a battering rather than wow its inhabitants with its comfort and luxury.
There isn't much of a difference between the two trims, but the one notable upgrade is the steering wheel. The Startline comes with a basic version while the Trendline gets a multi-function wheel.
Unlike many vans, you can upgrade the upholstery, with a different fabric, leatherette or a harder wearing cloth covering all available. None are particularly expensive, although adding heated seats costs a little more.
Infotainment: Touchscreen, USB, sat nav and stereo in the Volkswagen Crafter
The basic model gets a simple screen and radio setup, with a five-inch display and USB and phone interface.
It's the Trendline that gets the more comprehensive system, with an eight-inch touchscreen and more functionality. As standard it gets USB connectivity, Bluetooth and App-Connect, which brings Apple Carplay and Android Auto. Unlike the most modern systems it can't offer the latter wirelessly, though. Because it isn't the latest version it can seem a touch slow from time to time, too, but it is far superior to the offerings in several of the much more dated large vans.
There are several upgrades you can add, with road-sign recognition, full telematics and even WiFi so you can connect your phone or a tablet to the van when you are out and about. These options can get very pricey, though, so upgrading to them shouldn't be done absent mindedly.
Space and practicality: Volkswagen Crafter load space
All Crafters get a front bench with space for two. Because of the width of the Crafter it is possible to fit three in relatively comfortably, although there is always going to be a bit of shoulder bumping for the two passengers. The middle one does get a decent amount of legroom, considering that they are tucked up against the dash, because the gear lever is close enough to the steering wheel.
If you are certain you'll not be needing the double seat you can downgrade it to a basic single passenger seat or a comfort single passenger seat. Considering both reduce the price of the Crafter it's hard to work out why you would not go for the comfort version.
You can upgrade the passenger seat, too, with the suspension and massage function available on the top-spec model as a cost option.
The space in the back of the Crafter is easily accessed thanks to the large and light sliding side door with an opening of 1,311mm and the twin rear doors that open out 180 degrees as standard to provide a gap that's 1,552mm wide (you can up the door opening to 270 degrees, but only as a cost option.)
The smallest model will be able to take four Euro pallets, while the longest model will take six. You can't have every combination of length and height – the short wheelbase only comes with the low and high roof with the latter the standard offering, while the long wheelbase and long wheelbase maxi come with the high roof with the super high roof as an optional extra, making six different sizes in total.
The longest and highest provides an internal length of 4,855mm and an interior height of 2,196mm and a total load volume of 18.4 cubic metres. Payloads go up to 1,415kg, on the medium wheelbase with the high roof, which is decent but not amazing. This can go up to 2,572kg if you go for the heavy-duty version, but you can't drive that on a standard licence.
Handling and ride quality: What is the Volkswagen Crafter like to drive?
"The Crafter is an excellent van to drive, with its ride superbly comfortable whether you have a full loading bay to settle the suspension down or not. It doesn't need that suspension-equipped driver's seat to make it comfortable either."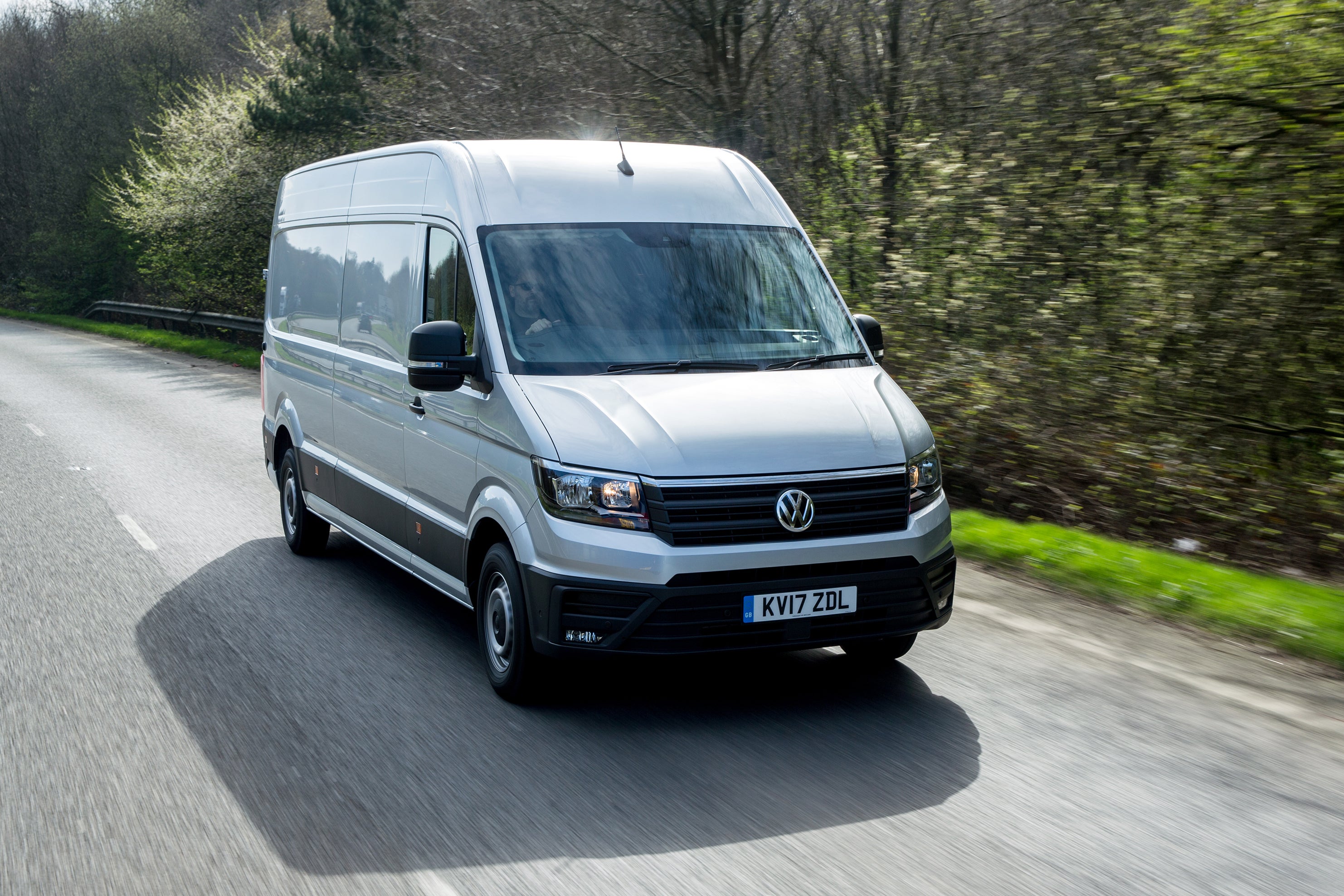 Because of this it is a really settled and composed long-distance cruiser. The suspension is controlled enough that there isn't too much in the way of body lean around corners, although the sheer size of the van means that some is inevitable. It's very hard to unsettle the Crafter, though.
The steering is an electromechanical setup, which allows Volkswagen to offer a load of safety kit, but it is another reason why the Crafter doesn't feel as big as it is. It is light at lower speeds, which makes the last few miles of a delivery in town feel less stressful. Despite it weighting up at higher speeds it doesn't feel quite as natural as some of the older and more conventional steering setups in some rivals, but it is worth the trade-off for all the technology you get.
When it comes to on-road handling there is little discernible difference between the three types of Crafter, be it front-wheel drive, four-wheel drive or rear-wheel drive. The four-wheel drive version doesn't come with any form of rugged cladding or raised ride height so the all-wheel drive system is mainly only of benefit for those needing a little extra traction to get around building sites and across the occasional field – it's not up to tougher off-roading.
What engines and gearboxes are available in the Volkswagen Crafter?
The engine range in the Crafter consists of a 2.0-litre diesel in four different states of tune. Some van owners might feel that 2.0-litres sounds a little small given the proliferation of bigger engines in the past, but the power outputs of 102PS, 122PS, 140PS and 177PS suggest that the Crafter has enough power to service what you need.
That said, the 102PS version is more geared at lower speed routes, and the fact that it is only offered with the front-wheel drive model suggests that you shouldn't be buying this one if you want to really push the boundaries of the payload. The 122PS is not likely to be a common choice, either, as it is only offered in rear-wheel drive on the heavy-duty version – you can't drive said van on a normal licence.
The version that most will gravitate towards, therefore, is the 140PS engine. This is a good thing, as this is certainly the pick of the range. It has plenty of power to take on a wide range of duties, and only those who will want to tow regularly will feel the need to upgrade to the 177PS version.
As standard, the Crafter comes with a six-speed manual gearbox, which means that there aren't any instances of the big Volkswagen feeling like it has run out of gears on the motorway. It helps keep revs down when cruising and it is a smooth and slick 'box.
Arguably even smoother is the eight-speed automatic, which is well worth considering if you are going to spend a lot of time on stop-start urban deliveries.
Refinement and noise levels
Because the engines are all 2.0-litre units, there is little fundamental difference between them all when it comes to noise and how they behave. The 102PS version will kick up a little more noise if you ask it to work harder, but that's about it. On the whole they are impressively quiet and relaxed engines, helped by that six-speed manual gearbox that means they sit at lower revs at higher speeds.
The cabin does a wonderful job of keeping out wind and road noise, too, with the Crafter a very relaxing place at higher speeds.
The exception to all of this is the rear-wheel drive version, which is much noisier than the front-wheel drive models. This is likely because of the drivetrain running underneath where you sit in the cab, but it is much louder, particularly when you put your foot down.
It's not only noisier but you can feel more in the way of vibrations. There are many other reasons to choose the front-wheel drive version over the rear-wheel drive if you don't need the latter for practical purposes, but the noise is a strong one to tip you in the FWD's favour if you are wavering between the two.
Safety equipment: How safe is the Volkswagen Crafter?
The safety kit on the Crafter is really excellent, with several features offered as standard that don't appear at all on rival vans.
King among these is the Crosswind assist, which uses the electromechanical steering to guide the van back onto its path if it gets hit by a gust of wind from the side. It does intervene noticeably, which could strike you as being odd to start off with, but once you are used to it, it will do a great job of keeping you pointing in the right direction.
Autonomous emergency braking is the other standard-fit piece of kit, as is post-collision braking.
There are loads of other systems, too, but to get them you have to delve into the options list. Side protection monitors the side of the van and lets you know if you are getting too close to anything, trailer assist will help you with reversing while towing, while rear-traffic alert will let you know if something is approaching when you reverse out of a space. Park assist, lane keep assist, automatic high-beam lights and adaptive cruise control are all offered too.
It's a shame you have to pay extra for so many of them, although there are several packs on offer to help bring the price down a little.
You get a single airbag as standard, with passenger and curtain 'bags on the options list, too. It hasn't been tested by Euro NCAP. While a spare wheel comes as standard, this can be deleted in favour of a tyre inflation kit for no cost, so double check whether the wheel is there or not if you are being a pre-owned model.
MPG and fuel costs: What does a Volkswagen Crafter cost to run?
"The Crafter isn't quite as efficient to run as some of its rivals, certainly on paper at least."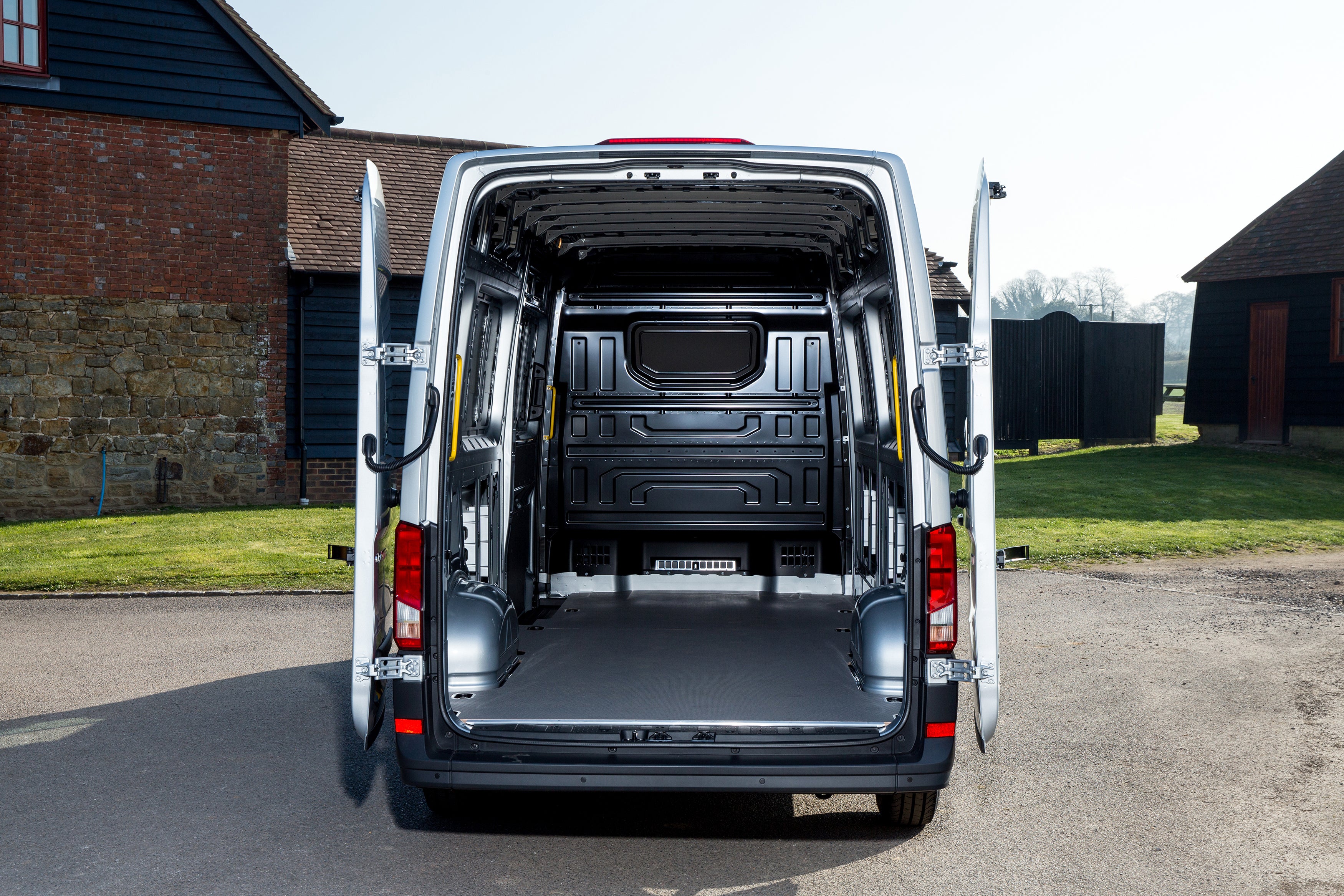 All of the versions offer official fuel economy ratings in the high 30s, with none bettering the 140PS version with the eight-speed auto – it claims 38.2mpg.

Given several rivals claim to be able to offer in excess of 40mpg, this doesn't look that impressive, but you should be able to realistically reach mid 30s in the real world.
Insurance groups and costs
Insurance groups for the Crafter spread a relatively wide range, going from 34 to 43. The core model, the 2.0-litre 140 in Startline trim on the medium wheelbase sits about in the centre of this, too, in group 38.
The bigger the van, the more you have to pay, with the long and maxi models both sitting in higher groups.
VED car tax: What is the annual road tax on a Volkswagen Crafter?
The Crafter doesn't cost any more to tax than even the smallest vans, thanks to the flat-rate commercial vehicle taxation system that keeps costs relatively low.
It also enjoys a flat-rate BIK rating, so it will be much cheaper to run as a company vehicle than a car with similar emissions.
How much should you be paying for a used Volkswagen Crafter?
"A basic Volkswagen Crafter is not too pricy, with prices starting at just over £27,000 not including VAT with the 140PS medium wheelbase at just over £31,500."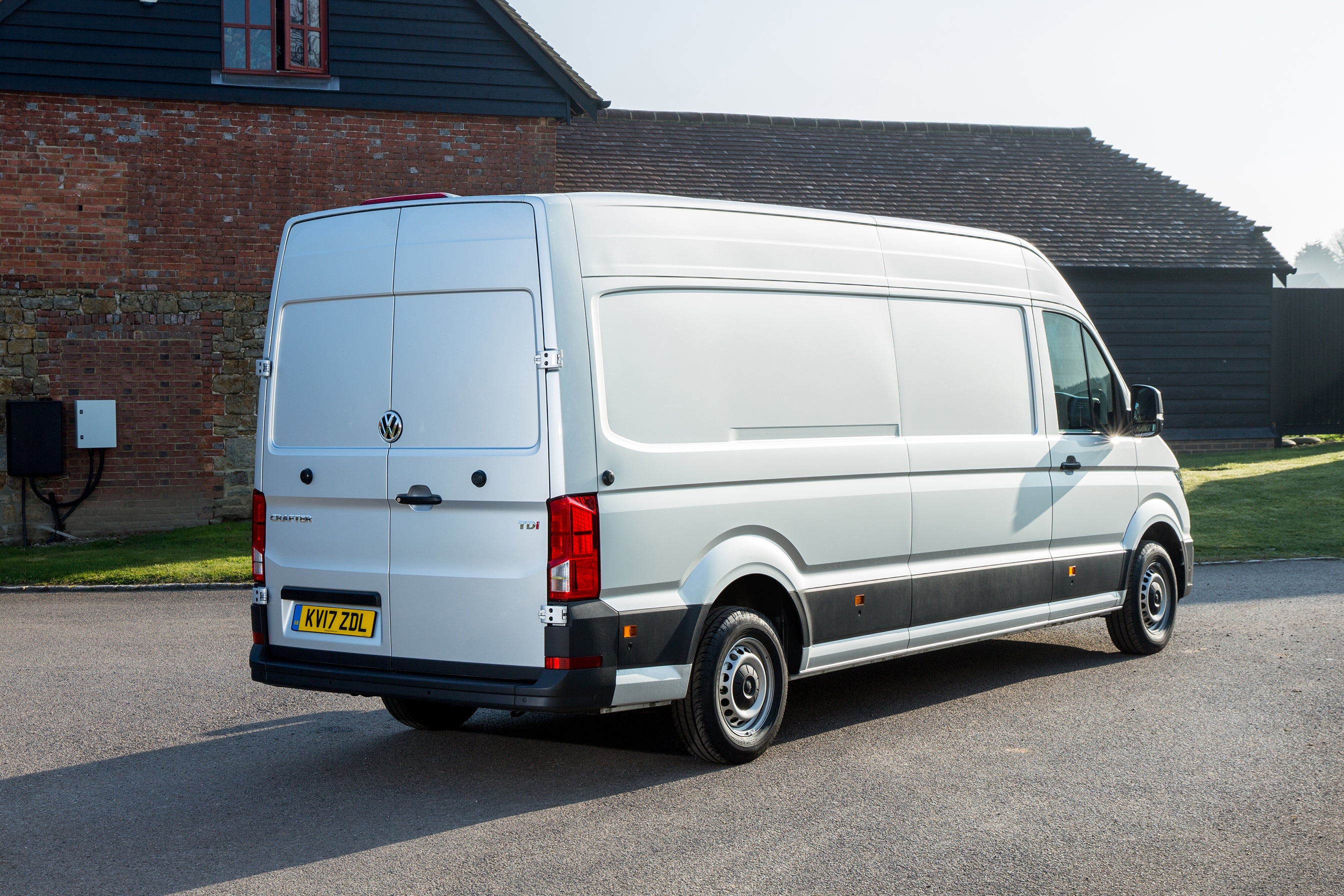 These versions can be picked up at about a year old for around £21,000, but the key consideration with the Crafter is the optional extras that have been added on. With so many variants available it is likely that two vehicles may not be the same as one another.
In any case, as with many vans, expect their value to take a bit of a hit in the first three years so prices should be affordable for those looking for a used bargain – around a third of their original value.
Trim levels and standard equipment
Hands down the pick of the engine range is the 140PS diesel – it is not only the best all-rounder in terms of performance and torque but it is the most efficient too. The automatic gearbox adds a couple of thousand pounds to the price, but it is a worthwhile investment if you are going to be spending time in town.
Of the two trims the Trendline is the more desirable but it is the optional kit that will really make the Crafter a brilliant vehicle. Pick wisely, but a few well-placed options will be worthy additions. The Business Pack, with an alarm, air conditioning and front and rear parking sensors is particularly beneficial.
Volkswagen Crafter cars for sale on heycar
13,552
Number of cars available
£21K - £100K
Price bracket of these cars
Colours available on heycar
Keep me updated by email with the latest advice, news and offers from heycar
By submitting, you agree to our
privacy policy
.