Volkswagen Golf Review

Written by
heycar editorial team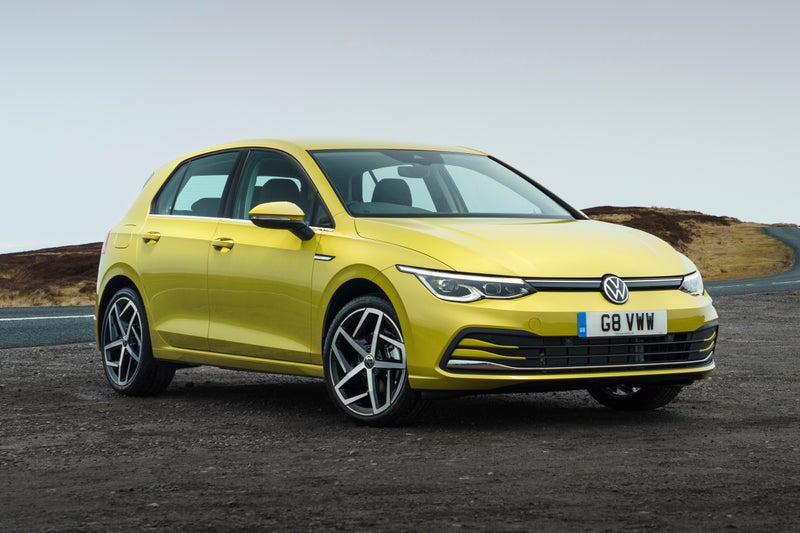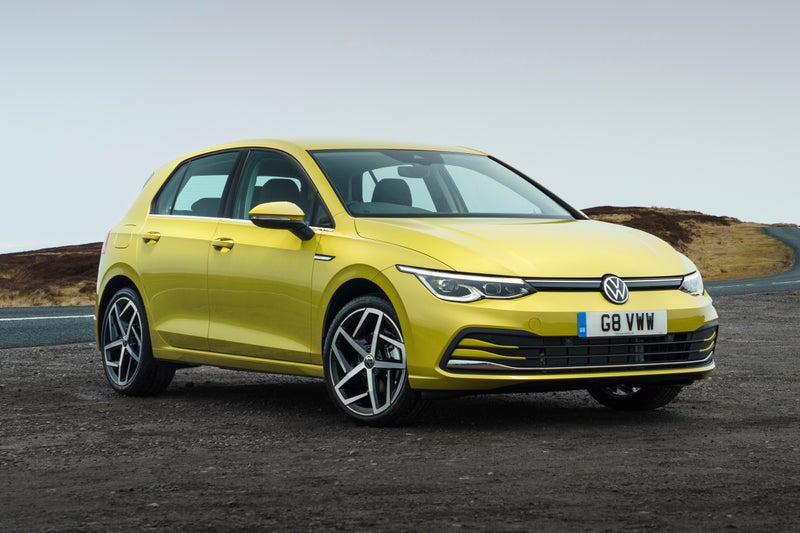 1/10

heycar rating
"Classy, very competent family car"
Launched: 2020

Family hatch

Petrol, Diesel
Quick overview
Pros
Stylish, comfortable and spacious interior
Even the most affordable models are well-equipped
Running costs won't break the bank
Cons
Media system is irritating to use on the move
Some surprisingly flimsy interior plastics
Pricier than a Ford Focus
Overall verdict
On the inside
Driving
Cost to run
Prices and Specs
Overall verdict on the Volkswagen Golf
"The Volkswagen Golf has more competition than ever, yet it remains at the top of its class. It's good to drive, has a sharp interior and we quite like how it looks, too. It's loaded with standard equipment, including a navigation system which looks brilliant but is a little irritating to use on the move. Still, that's one of the few things we can find wrong with it..."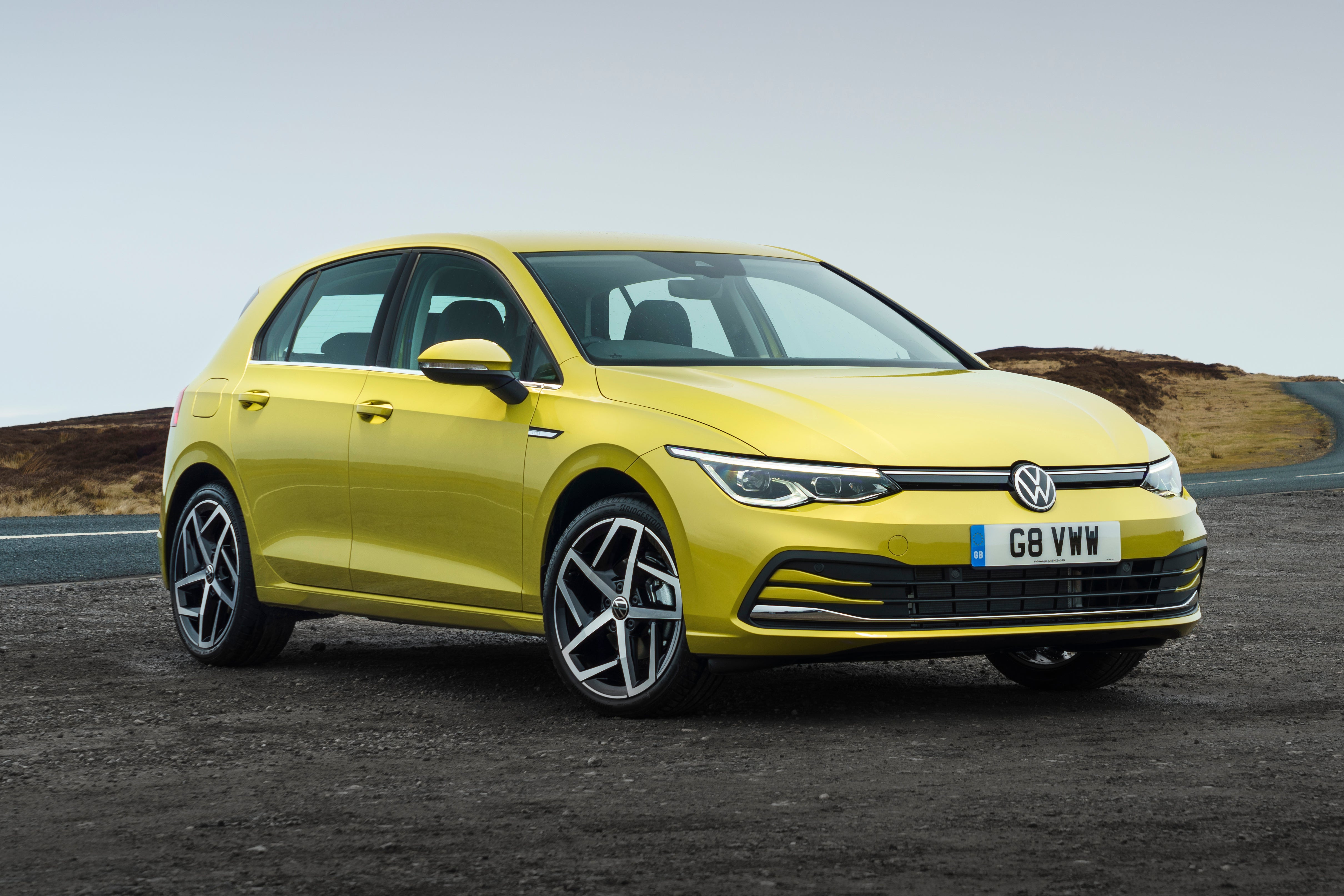 The Volkswagen Golf has been the default choice of family car buyers for decades. Now in its eighth generation, the latest model is packed with digital tech and has a stylish cabin that could rival more expensive rivals. There's a wide range of engines on offer and even the most affordable models are loaded with standard equipment.
So what's the catch? Prices for a new Golf start at more than £23,000 - which is a chunk more than competitors like the Ford Focus, Honda Civic and Mazda 3. But it feels like a premium product, very nearly in the same league as the Mercedes-Benz A-Class, Audi A3 and BMW 1 Series. And, thanks to the wonders of depreciation, you can pick one up for Vauxhall Astra money…
The standard Golf range is made up of three models: the Life, Style and R-Line. The Life really doesn't feel like an entry-level model (but neither does it have an entry-level price tag, you could argue). Standard equipment includes a 10-inch media system (we'll come onto that shortly…), an impressive digital instrument cluster and fancy ambient interior lighting.
The higher-spec models really start to knock on the doors of those premium alternatives. The Style gets various cosmetic upgrades including 17-inch alloy wheels and some chrome exterior trim, while the R-Line features a host of bespoke exterior detailing, selectable drive modes and sports seats embossed with the R-Line logo.
All Golf models get a superb interior, with classy chrome finishes and a minimalist appearance. The media system really looks the part, with instant wow factor thanks to its sharp graphics and smartphone-like useability. It loses favour as soon as you try to use it on the move, however - a lack of conventional buttons means it can be distracting and awkward to operate on a bumpy road.
Buyers on a budget are catered for with a diddy little 1.0-litre turbocharged engine. It punches well above its weight in terms of performance, while - like all of the Golf's engine line-up - it'll pretty economical, too.
The 1.5-litre petrol will sell in bigger numbers. It's available with a variety of power outputs and manual or automatic gearboxes - the latter with mild-hybrid technology to improve efficiency. There's also the usual ultra-efficient 2.0-litre diesel engines which will suit high-mileage drivers well.
Just like every other Volkswagen Golf before it, the latest model feels solid and competent to drive. You can't chuck it around like a Mazda 3 or Ford Focus, but it feels reassuringly solid - leaning less in the bends than crossover SUV alternatives like the T-Roc.
You'll pay more for a Volkswagen Golf over most family hatchbacks, but it's worth every penny. Sure, it's not without its faults, but nothing really beats it as an overall package.
If you're looking for the older version, you need our Volkswagen Golf (2013-2020) review.
Is the Volkswagen Golf right for you?
The Volkswagen Golf is so good at what it does yet totally inoffensive with it, it's hard to imagine a buyer it wouldn't suit down to the ground. From aspirational go-getters to family buyers looking for a touch of class, the Golf will look good on anyone's driveway.
Not that it's perfect for everyone. If you like to use a physical button to adjust the temperature or change the volume, you might wish to look elsewhere. And, like most hatchbacks of this size, it might be a bit of a push to use as your main family car - it's going to feel pretty cramped with two adults, a pair of children and luggage for a weekend away. But then, there is an estate version on its way...
What's the best Volkswagen Golf model/engine to choose?
The Volkswagen Golf is so well-equipped that most buyers won't really need anything more than the most affordable Golf Life. It ticks all the boxes, really: a flashy infotainment system, the digital dash and bits of chrome trim to lift the cabin. Sure, the Style and R-Line models look a bit flashier, but only you can decide if that's worth paying extra for.
In terms of engines, the 1.5-litre petrol will suit the majority of buyers. It's available with a variety of power outputs and manual or automatic gearboxes. There isn't a bad choice, really - it comes down to personal preference. The diesels are fine if you cover lots of miles but don't bother if most of your journeys are around town.
What other cars are similar to the Volkswagen Golf?
The Volkswagen Golf might be one of the best family cars on the market, but there's no shortage of very good alternatives for your consideration.
We'd recommend a look at the latest Mazda 3. It's not the most practical choice and its engines aren't as good as the Golf's, but it has a superb cabin and is more rewarding to drive. There's also the Ford Focus, which has always lived in the shadow of the Golf in terms of quality, but the latest model is very good and - like the Mazda - it's fun to drive. You could also look at Volkswagen Group alternatives, like the very similar SEAT Leon and the bigger (and more practical Skoda Octavia).
The Volkswagen Golf isn't far off competing with more premium rivals, too. It's very nearly in the same league as the pricier Audi A3, while we reckon it's as good as the BMW 1 Series in many ways. If you'd like a more upmarket choice, the Mercedes A-Class is definitely worth a look.
Comfort and design: Volkswagen Golf interior
"The cabin is what really elevates the Golf over mainstream rivals like the Ford Focus. Even the most affordable Life trim has an interior that feels like a totally classy affair, with chrome dash inserts and quality materials."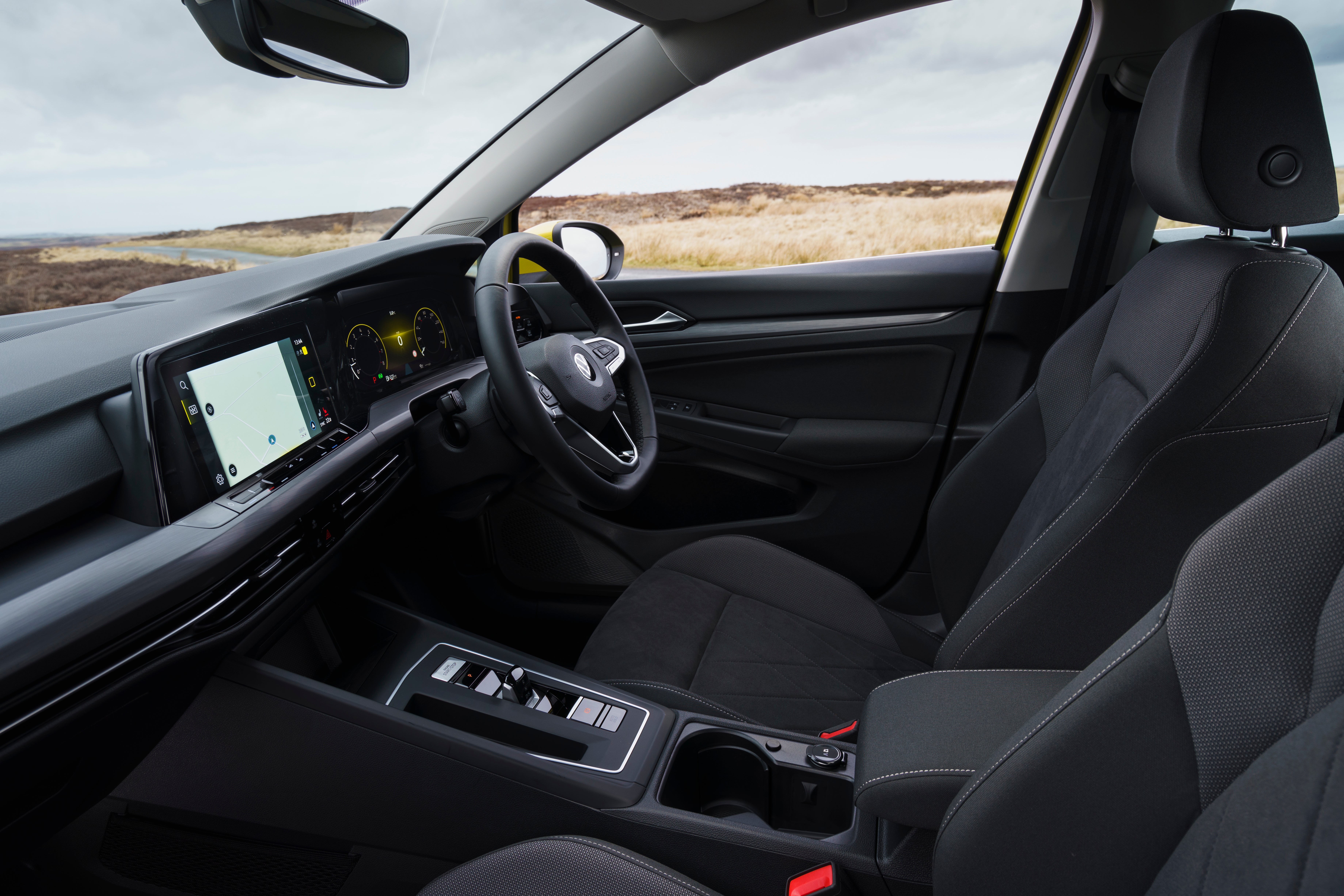 It's a very minimalist layout, with the 10-inch infotainment screen and 10-inch high-res digital instrument cluster taking centre stage. There are lots of touch-sensitive buttons for things like the climate control and even controlling the car's lights. These look pretty swish but are a little frustrating to use, especially on the move. Maybe we're a little old fashioned, but we'd like a few more knobs and buttons for adjusting the temperature or changing the volume.
Some buyers are apprehensive about digital dials - and rightly so. They can sometimes overload you with information, when all you want is to know how fast you're going. Fortunately, the Golf's system is excellent. It has crystal clear graphics and you can choose from a number of different displays, allowing you to choose which suits you best. It's easily customised, too.
The Golf is a very easy car to get comfortable in. The front seats are very supportive, with manual lumbar adjustment across the range, and there's plenty of adjustment in the seats and steering wheel. Indeed - we were surprised how far the steering wheel could be pulled towards the driver. It's great if you've got long legs and short arms.
Quality and finish
The Volkswagen Golf has always been a byword for high quality, and this is still the case for the eighth-generation model. To an extent, anyway.
It feels very well finished, and certainly a step above the Ford Focus. Its minimalist design feels very premium, helped by things like the touch-sensitive buttons and bright digital screens for both the infotainment and instrument cluster.
You can sense the 'but' coming. Start prodding around the cabin, and it's a little surprising how many harsh plastics can be found. The lower half of the door cards (surrounding the door bins) feel a bit flimsy, while a big chunk of plastic on the centre console is anything but soft-touch and will start to show up dirt and scratches.
We're being quite picky because of the Golf's reputation as a quality product. Its doors still close with a satisfying thud and it'll no doubt wear very well indeed. But it's almost like Volkswagen's had to reign it back, in order to give buyers a reason to pay more money for an Audi A3.
Infotainment: Touchscreen, USB, sat nav and stereo in the Volkswagen Golf
All Golfs come with the same 10-inch media system which is positioned high up on the dash in a good position for glancing at on the move. It's keen to respond, with ultra-quick responses and sharp graphics. It looks like a smartphone, with a tiled home screen and swipeable menus.
It also operates like a smartphone, in that it's a touchscreen system. There are no shortcut buttons, which is frustrating, and it's very easy to tap the wrong thing when the car's moving. You'll find yourself resting your fingers on the ledge below it and accidentally turning the heating up. It's safest to leave it well alone until you're a standstill. The Mazda 3's rotary controller is much easier and safer to use.
Apple CarPlay and Android Auto are standard, which is good thing as this means you can access apps from your phone on the move. There's also DAB radio, Bluetooth and navigation with European mapping.
Space and practicality: Volkswagen Golf boot space
No one's going to find a lack of space in the front of the Golf. There's loads of headroom, particularly if you drop the seat to its lowest setting. The pedals are nicely separated, meaning you won't accidentally mash more than one if you have big feet, and there's space to rest your left foot when it's not in use.
A wide centre console separates the driver and front-seat passenger, although you might find yourself clashing elbows on the armrest.
Still, there are loads of handy storage spaces. You'll find big carpet-lined door pockets and a handy space in front of the gear lever to store your phone (and wirelessly charge it). The cup holders are big enough for more uses, while there's a small cubby area underneath the arm rest.
In the back, there's a reasonable amount of room, although it's not as spacious as the massive Skoda Octavia. Legroom is OK, rather than astounding, but there's plenty of headroom. The child seat ISOFIX mounting points are easy to get at, and the large side windows mean kids shouldn't feel too claustrophobic.
As is usually the case in cars of this size, the middle rear seat is for occasional use only. It's not as narrow as some, but you'll still be rubbing shoulders with other passengers. There's quite a significant lump in the floor meaning you'll be fighting for somewhere to rest your feet, too.
Still, there are handy door pockets for storing odds and ends, and some nifty little pockets in the backs of the front seats. With the middle seat not in use, an armrest drops down and provides a pair of useful cup holders.
At 381 litres, the boot is fine for a car of this size. It's pretty much on a par with the Ford Focus and bigger than a Mazda 3 although - again - lacks behind the Skoda Octavia. There's a little bit of a lip for hoisting things over but access is nice and wide, and the boot is usefully square in shape. Dropping the rear seats is easy, although they're not entirely flat. There's also a useful ski hatch in the middle of the rear bench should you need to transport something long and thing like, er, skis.
All models come with a spare wheel, which is a satisfying sight in the case of a puncture rather than a tyre repair kit. That said, it does mean there isn't a useful underfloor storage compartment in the boot.
Handling and ride quality: What is the Volkswagen Golf like to drive?
"The Volkswagen Golf is available with a variety of suspension setups. Fortunately, we're yet to try a bad one."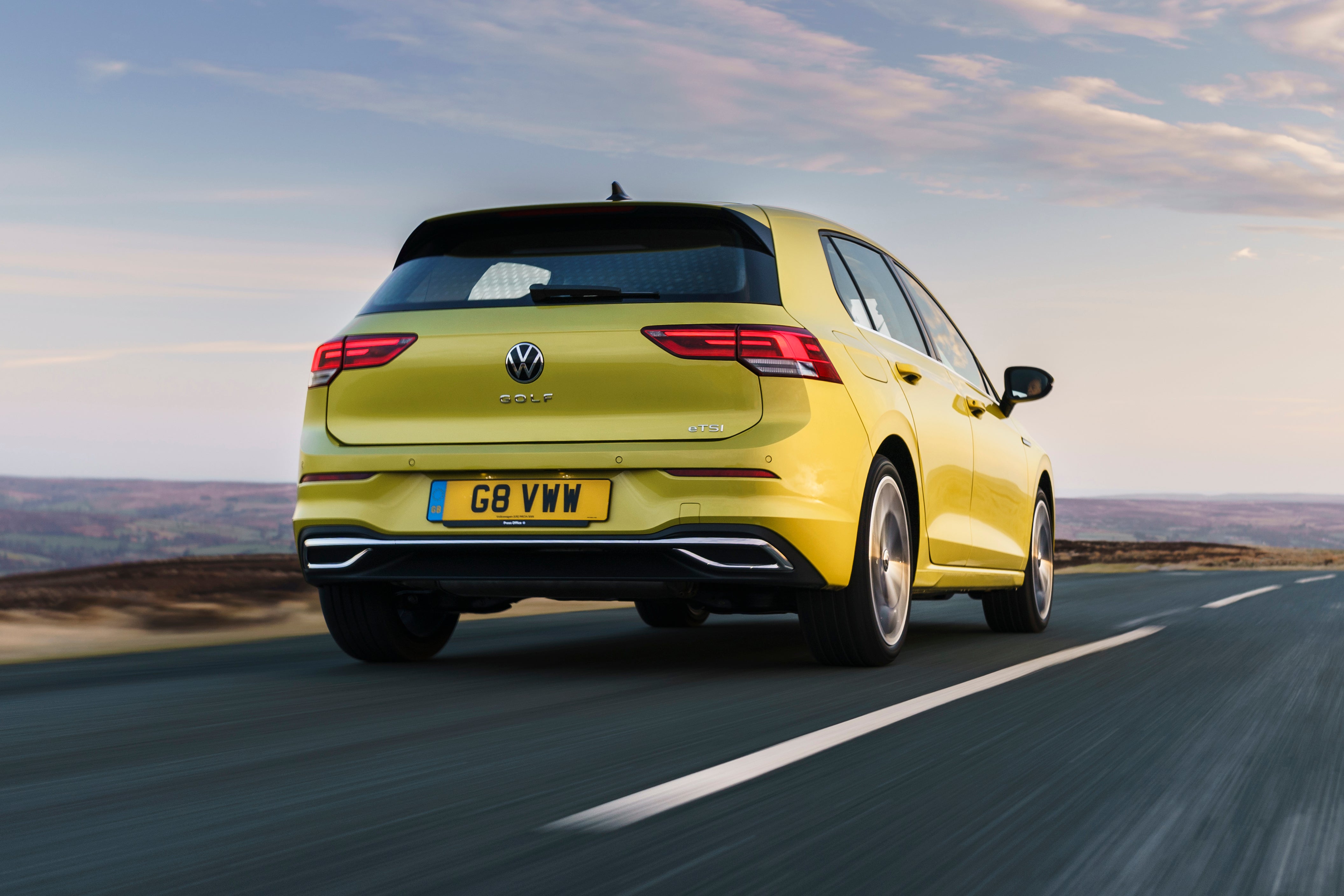 The standard suspension - used on Life and Style models - is pretty compliant, soaking up bumpy roads without being too floaty. This is especially true with the smaller 16-inch alloy wheels. Sure, you might prefer the look of bigger wheels, but the smallest alloys provide an almost magic carpet ride.
R-Line models come with sports suspension which lowers the ride height slightly. As you'd expect, this provides a slightly firmer ride - especially with the bigger wheels fitted to the R-Line. It's far from uncomfortable, though.
Look for a Golf with the optional Dynamic Chassis Control if you wish to tweak the suspension to your liking. Also known as adaptive suspension, this can increase the firmness of the suspension's dampers in Sport mode, or soften them in Comfort mode. With Comfort mode selected, the Golf rides beautifully over broken roads.
Thanks to the Golf's rather compact dimensions and decent visibility, it's a very easy car for negotiating congested streets. You might not get the high-up seating position that attracts many buyers towards SUVs, but no one's going to feel intimidated behind the wheel.
Front and rear parking sensors are standard across the range, but it's worth looking for an example with the optional rear-view camera if you're daunted by tricky reversing manoeuvres. Light, progressive steering helps in tricky situations, although it doesn't feel quite as agile on the open road as a Ford Focus.
It does feel secure and planted, though, even in poor weather conditions. And it doesn't dart around too much at motorway speeds. Look for a Golf with the optional driver profile selection (standard on R-Line) for drive modes which add extra heft to the steering when you're feeling sporty.
What engines and gearboxes are available in the Volkswagen Golf?
The Golf's engine line-up is pretty standard: there are three petrol and two diesel engines on offer.
The smallest petrol is a little 1.0-litre three-cylinder unit, producing 110PS. It's only available in Life trim and with a manual gearbox. While it might not sound like a particularly powerful engine for a car the size of the Golf, it's actually a really peppy little turbocharged motor, allowing the Golf to accelerate to 62mph in 10.2 seconds. If most of your driving is around town or you're on a budget and want to keep running costs to a minimum, the 1.0-litre will be absolutely fine.
Most petrol Golfs will be powered by a 1.5-litre engine, available with 130 or 150PS. This is better suited to motorway driving, although both are only offered with a six-speed manual gearbox. The 1.5 is a rapid enough car, especially the 150PS, eager to join motorways and perform the odd overtake - providing you don't mind dropping down a gear or two when required.
If you're after an auto, you'll need the eTSI mild-hybrid engine. This is essentially the same 150PS unit with a small electric motor and battery on hand to recuperate a small amount of energy and allow the car to coast to a stop with the engine off. It's not a 'proper' hybrid, so don't go expecting to glide around town under electric power, but the seven-speed DSG automatic transmission provides pleasingly quick responses.
Diesel offerings are made up of a 2.0-litre TDI with 115 or 150PS. The former comes with a six-speed manual gearbox; the latter a seven-speed auto. The entry-level diesel isn't particularly quick, although its low-down torque makes it pretty effortless to drive, while the more powerful version is an ideal long-distance companion.
Refinement and noise levels
The Volkswagen Golf has the levels of refinement you'd expect from a more expensive car like the Audi A3 or Mercedes-Benz A-Class. At high speeds, it'll isolate passengers from the outside, doing a commendable job of quashing road and wind noise.
No one's going to mistake either of the diesels for an electric car, that's for sure. There's the usual distinctive rumble, especially from the 115PS model when you worked it hard. Both settle down into a refined thrum at speed, though.
The petrol models can be a bit noisy if you work them hard, but they generally have enough torque that this isn't necessary. Even the 1.5 130 is powerful enough to accelerate from 40 to 70mph without having to drop down from sixth gear, although you'll have to be a bit more prepared to shift gears in the 1.0-litre.
The DSG automatic gearboxes help with refinement, changing gears with little hesitation and no noticeable jerkiness.
The eTSI mild-hybrid can use the battery and electric motor to switch the engine off before you come to a complete standstill - making stop-start traffic a very refined affair.
Safety equipment: How safe is the Volkswagen Golf?
As you'd expect, the Volkswagen Golf is a very safe car to drive and it's loaded with safety equipment as standard, even on the most affordable models.
All Golfs come with adaptive cruise control which, as well as making your life easier on congested motorways, also brings with it a second pair of eyes - in a sense. The Front Assist system will measure the distance between your car and the vehicle ahead, warning you if you get to close. If it detects an impending collision, it'll warn you again and prime the brakes ready for emergency braking. At speeds of up to 19mph, the City Emergency Braking System will automatically brake for you if you don't react in time - and boost the pressure on the brakes if you do react.
Other standard safety equipment includes many airbags, automatic headlights and an active bonnet which pops up to provide extra cushioning if you strike a pedestrian.
All models get Volkswagen's Car2X wireless communication feature. This can exchange information with other vehicles as well as the traffic infrastructure. If there's an incident or a hazard on the road ahead, for example, it can warn you in advance. You could even get alerts of approaching emergency vehicles.
When the Volkswagen Golf was crash tested by Euro NCAP in 2019, it received a maximum five-star safety rating. It scored an impressive 95% for adult occupants and 89% for children. It received 76% for protecting vulnerable road users, while its safety assist features scored 78%.
MPG and fuel costs: What does a Volkswagen Golf cost to run?
"If you're looking for outright fuel efficiency, the 115PS 2.0-litre diesel will be the best option. Officially, it can return between 62.8 and 68.9mpg. That's under the latest WLTP fuel economy tests, too, so it should be fairly realistic in the real world."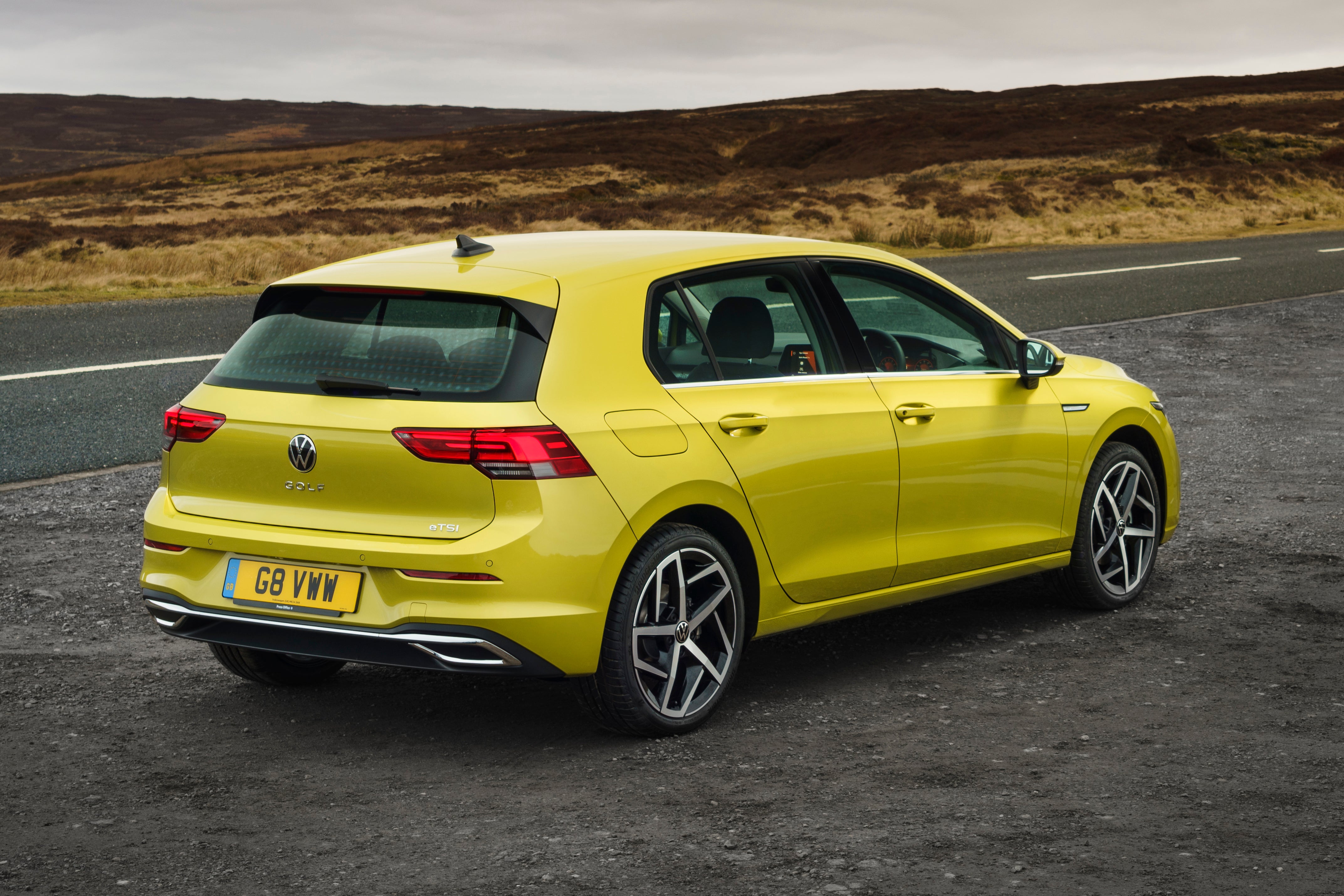 The more powerful 150PS 2.0-litre diesel with its seven-speed DSG automatic gearbox is only marginally less efficient, returning 60.1 to 62.8mpg.
The most efficient petrol is the three-cylinder 1.0-litre petrol, which can officially achieve between 49.6 and 53.3mpg. The 130PS 1.5-litre TSI pretty much matches that, returning between 49.6 and 52.3mpg. We suspect, as it'll need working less to keep up with traffic, the 1.5 might actually be more efficient in the real world.
The slightly more powerful 150PS 1.5 sees economy drop very slightly to between 47.9 to 51.4mpg.
Despite being a mild-hybrid model, the eTSI engine with its DSG automatic gearbox is the least efficient, returning 44.8 to 49.6mpg.
Insurance groups and costs
Volkswagen Golf insurance groups, at the time of writing, range from 17 to 23. The Life is the cheapest model to insure, with either the 130PS 1.5 petrol or 115PS 2.0 diesel engine. The priciest is the top-spec R-Line with the 150PS diesel engine and DSG automatic gearbox.
For comparison, the least powerful Ford Focus models fall into group 11 - but insurance groups for the new Golf 1.0-litre are yet to be announced. It's expected to offer cheaper insurance than the current line-up.
VED car tax: What is the annual road tax on a Volkswagen Golf?
After the first year (which is dependent on CO2 emissions), you'll pay a flat rate of £150 a year in car tax. The mild-hybrid eTSI model, however, is classed as alternatively-fuelled, so you'll say £10 a year in VED - bringing your annual bill down to £140.
How much should you be paying for a used Volkswagen Golf?
"The eighth-generation Volkswagen Golf is still a very new car, yet there are still some strong savings on offer."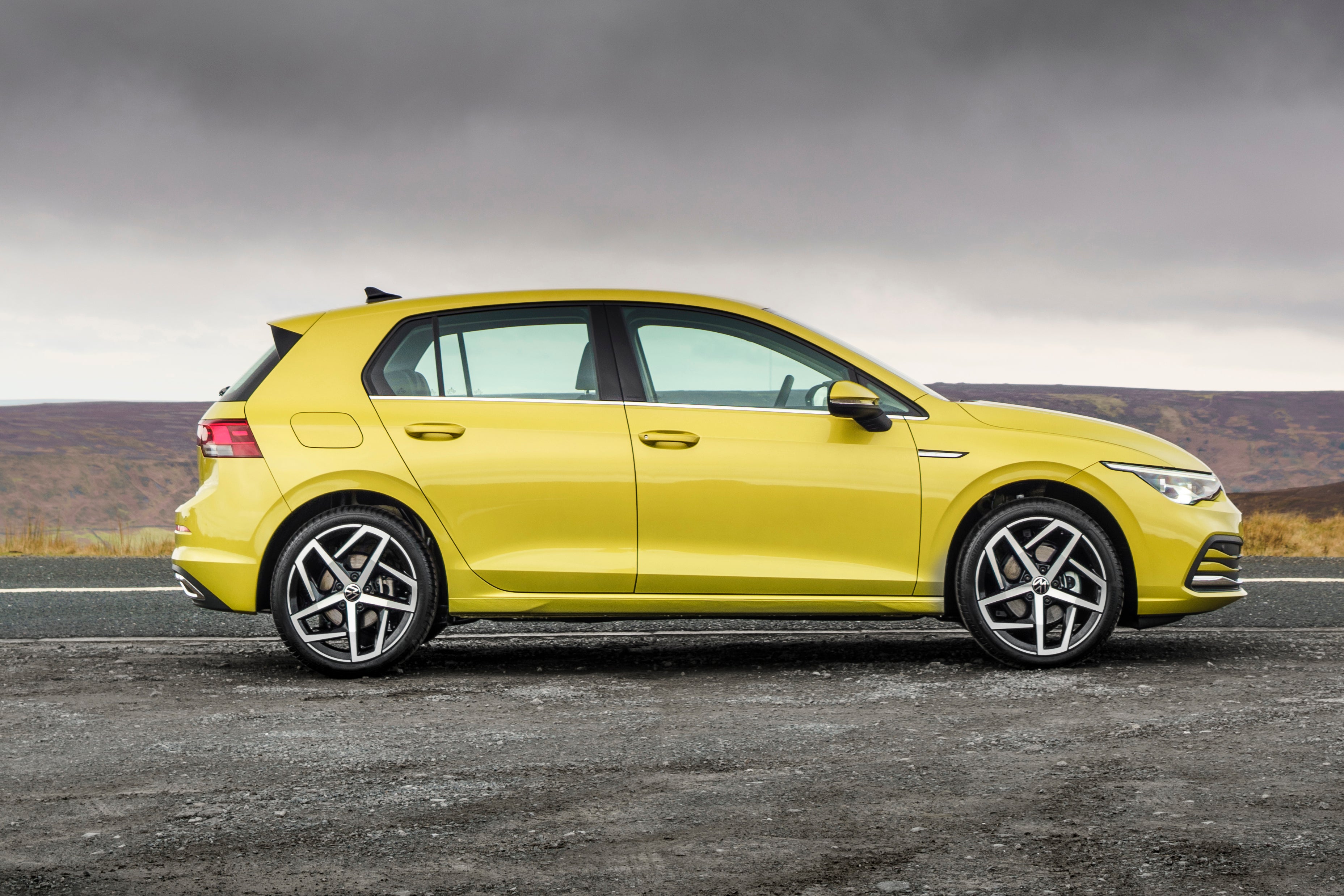 If you're not fussed about choosing options or picking a colour, you can drive away today in a pre-registered model. These are cars that have been registered by dealers and offered below retail prices.
We've seen mid-spec Style models with the eTSI engine on sale for just £25,000 - a saving of more than £3000 compared to list price. There are similar savings available on the more affordable Life trim - you an pick up an as-new entry-level 1.5 petrol for less than £21,000.
Trim levels and standard equipment
The standard Golf line-up in the UK is a very simple one. Ignoring sportier models like the GTI, there are just three core trim levels: Life, Style and R-Line.
The most affordable Life models are pretty well equipped. Standard equipment includes a 10-inch navigation system with Apple CarPlay and Android Auto. There's a 10-inch digital instrument cluster, wireless phone charger, climate control and fancy ambient interior lighting with a choice of 10 colours. The seats are finished in cloth, while the gear knob (on manual models) and steering wheel are trimmed in leather.
Outside, the Golf Life gets LED headlights and 16-inch alloy wheels. There's a host of standard safety and driver assistance technology, including adaptive cruise control and front and rear parking sensors.
Style upgrades the alloy wheels to 17-inch rims, while there's some extra chrome exterior detailing. LED Plus headlights have a cornering function.
Inside the Style, the ambient lighting gives you a choice of 30 colours to choose from, while the climate control now provides three separate zones. There are brushed dark metal decorative inserts on the dash and door panels, while the steering wheel gets matt aluminium surrounds. Front sport seats with height and lumbar adjustment are standard, with microfibre side bolsters. High-beam assist will take care of dipping your headlights in the dark.
Topping the range is the sporty and stylish R-Line model. This adds sportier 17-inch alloy wheels, various bits of bespoke exterior detailing (such as the bumpers and side skirts) and tinted rear windows. There's lowered sports suspension, while drivers can select from a multitude of different drive modes. The front sport seats now featured integrated head restraints and embossed R-Line logos.
Volkswagen Golf cars for sale on heycar
2,129
Number of cars available
£8.4K - £65K
Price bracket of these cars
Colours available on heycar
Keep me updated by email with the latest advice, news and offers from heycar
By submitting, you agree to our
privacy policy
.