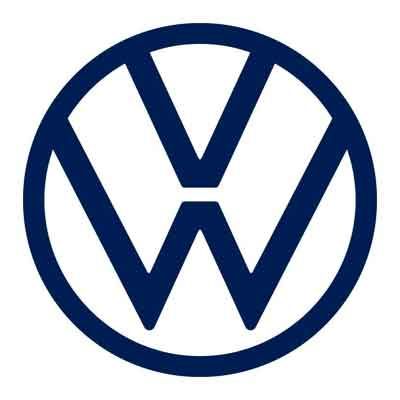 Volkswagen Golf (2013-2020) Review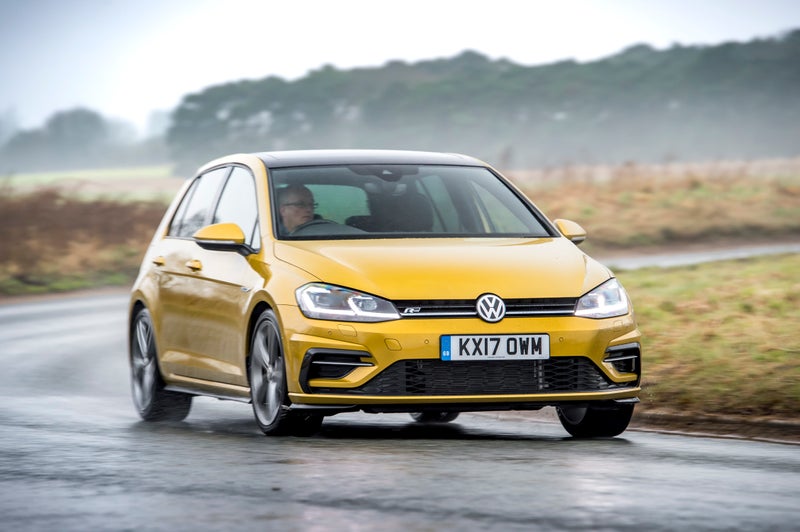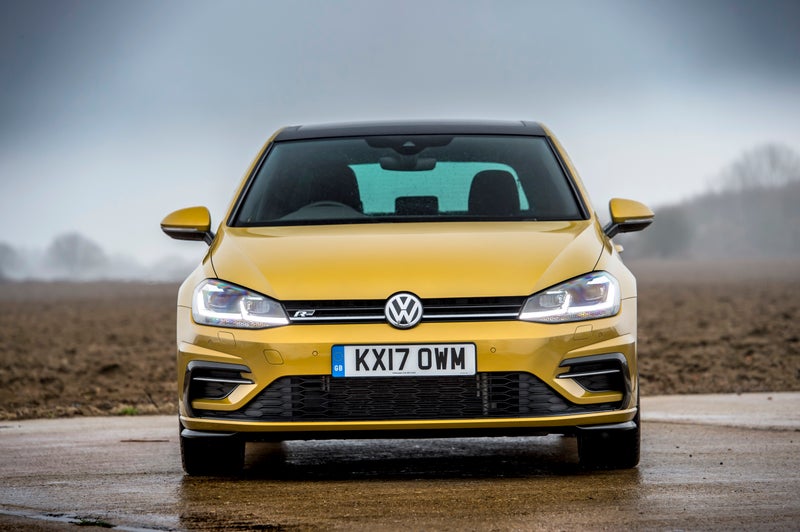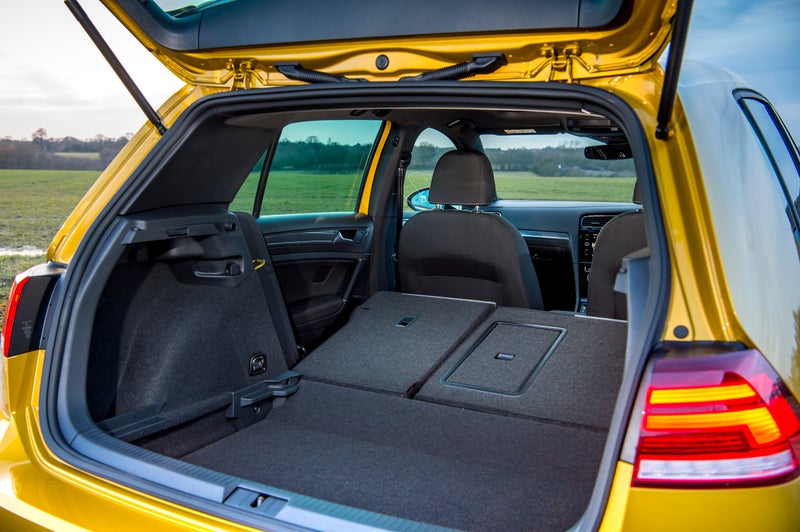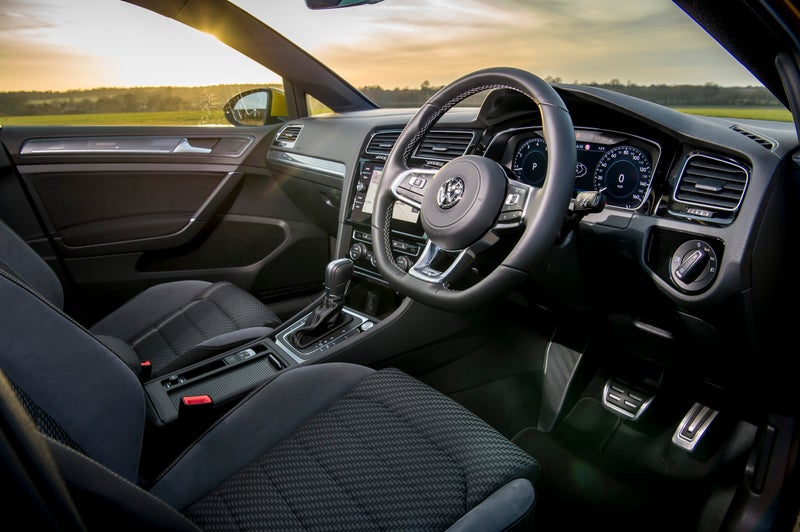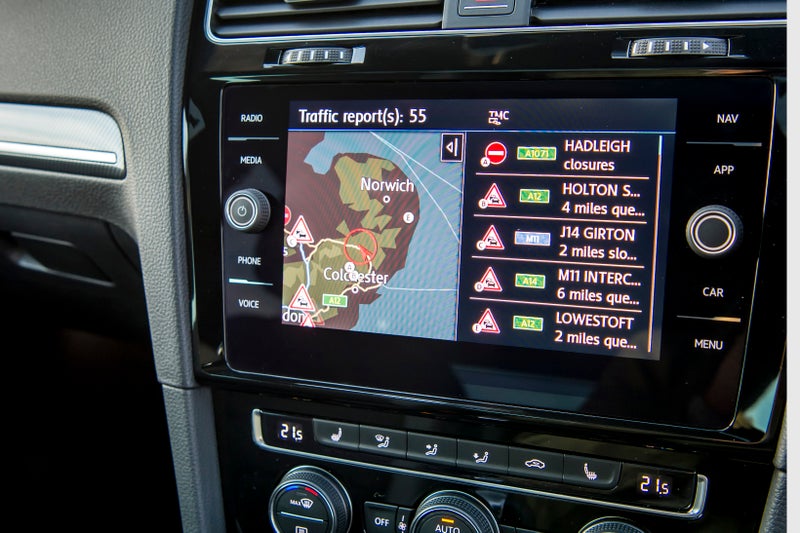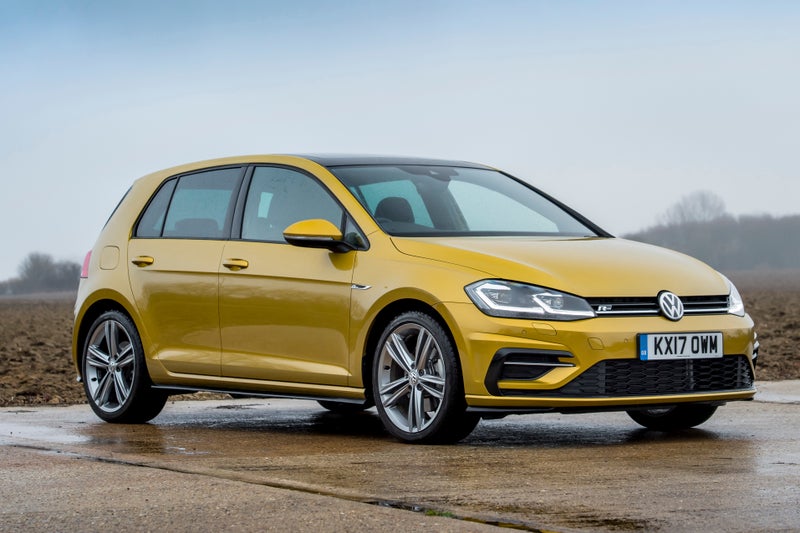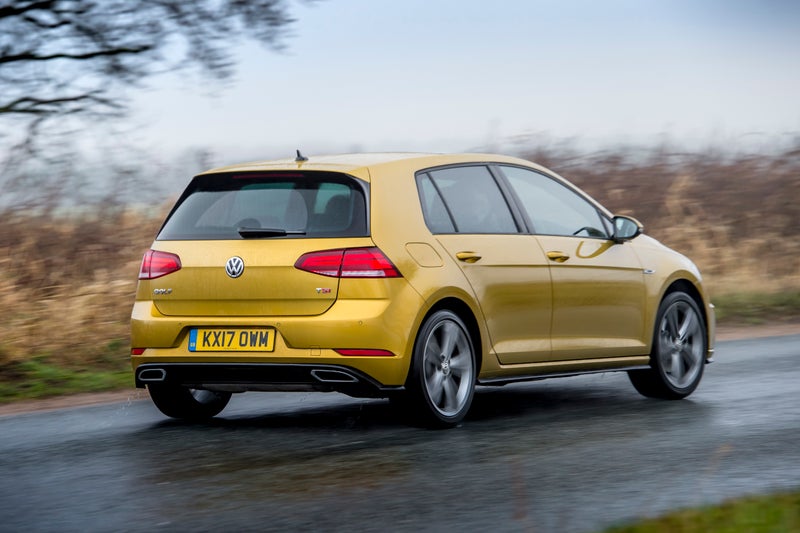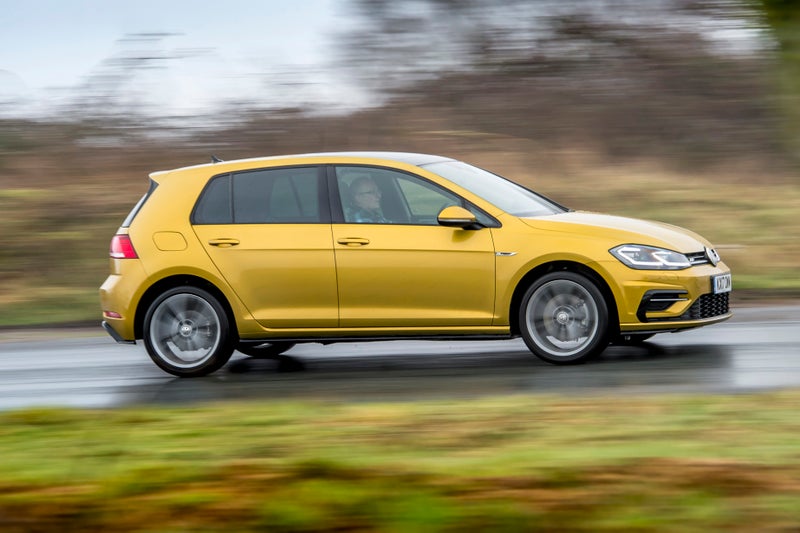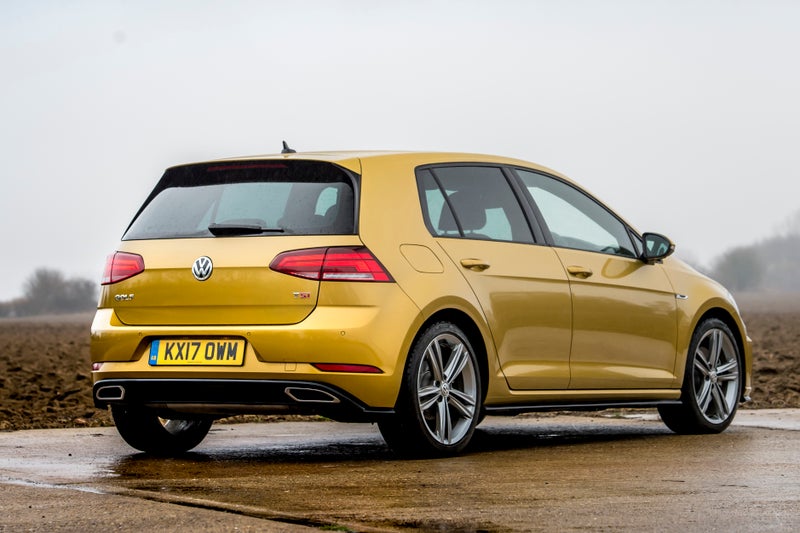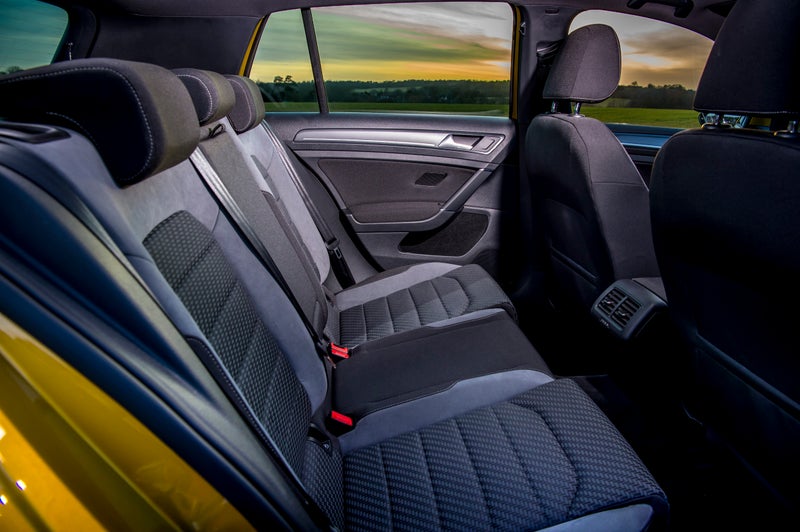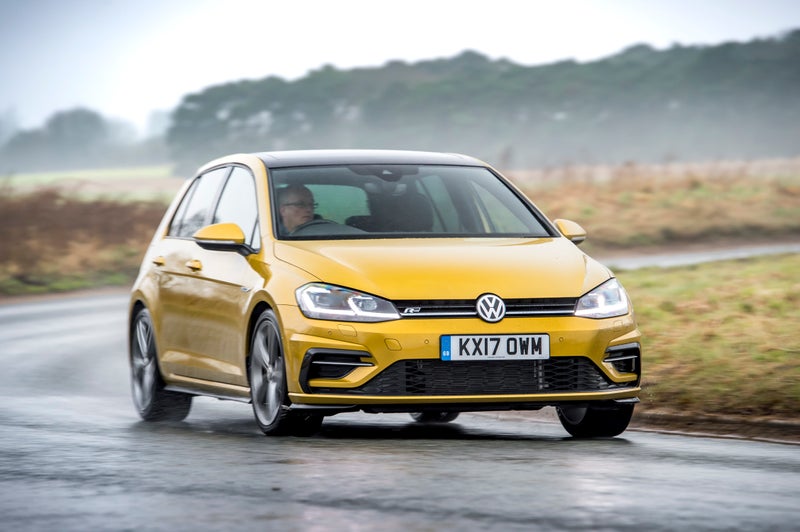 1/10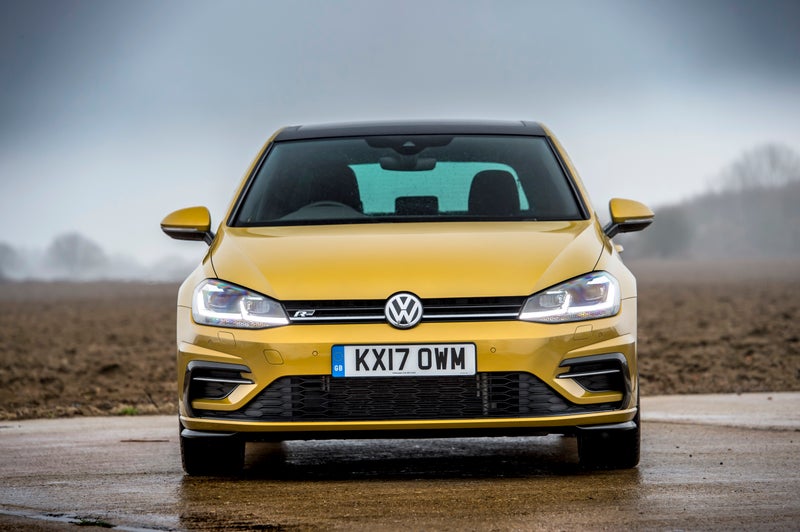 2/10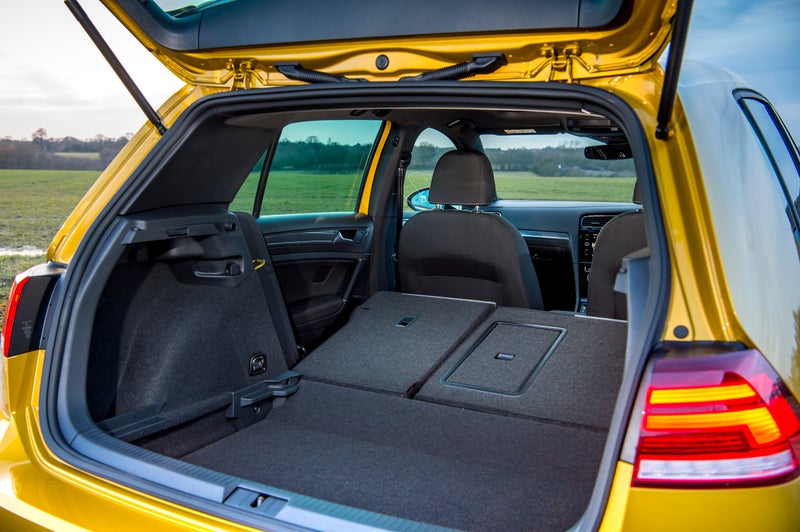 3/10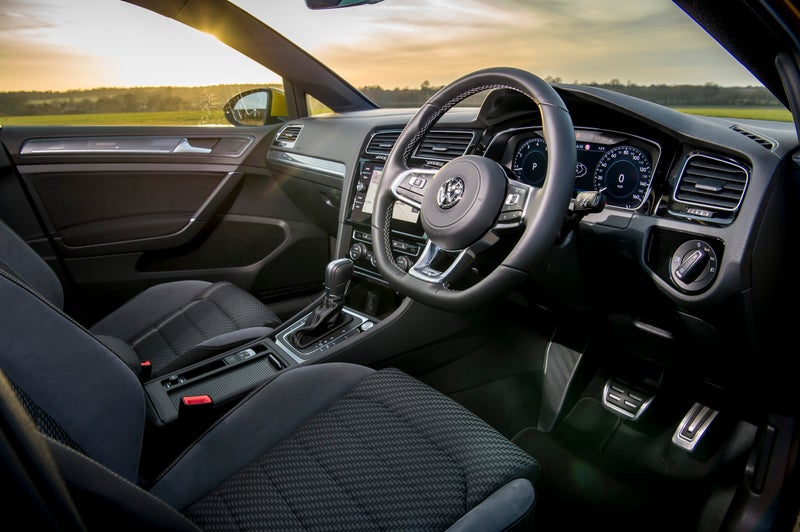 4/10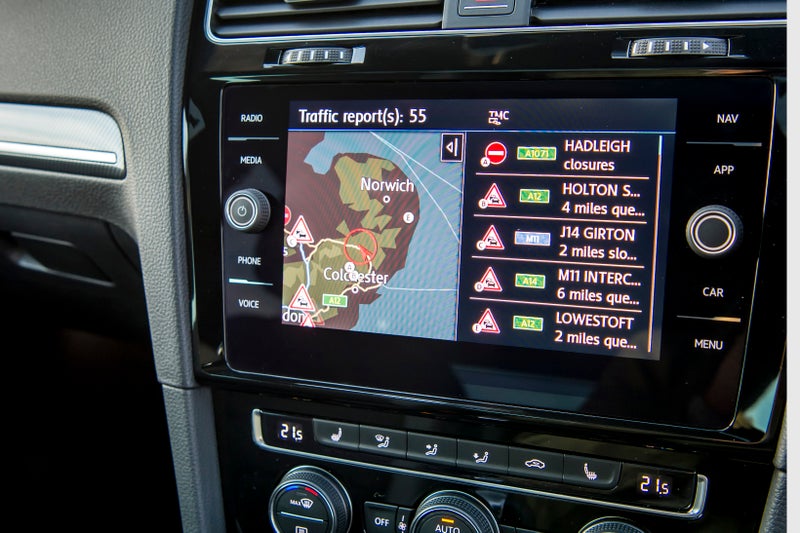 5/10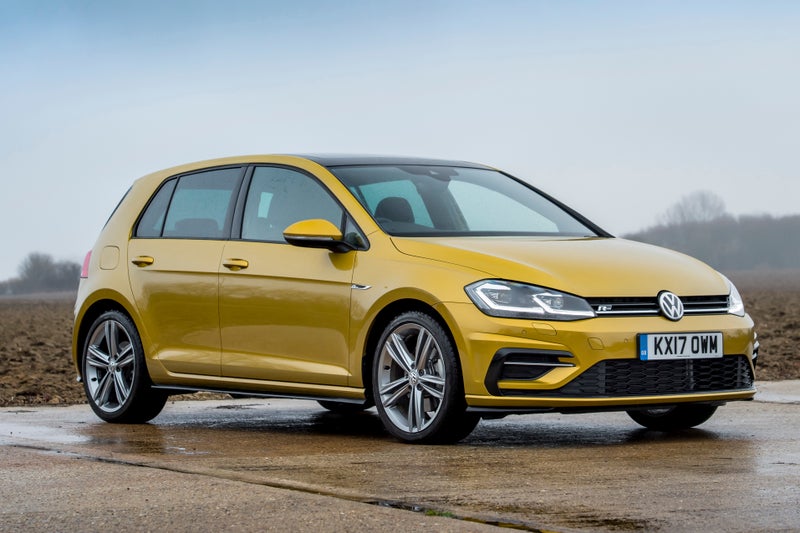 6/10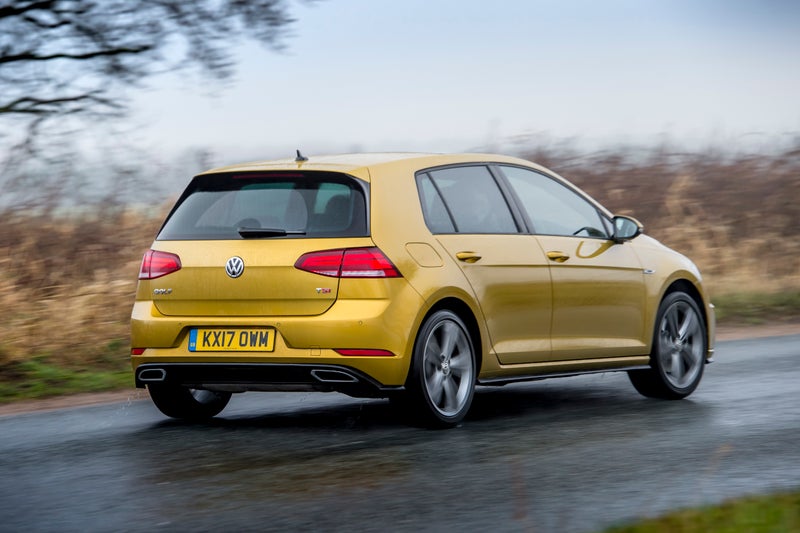 7/10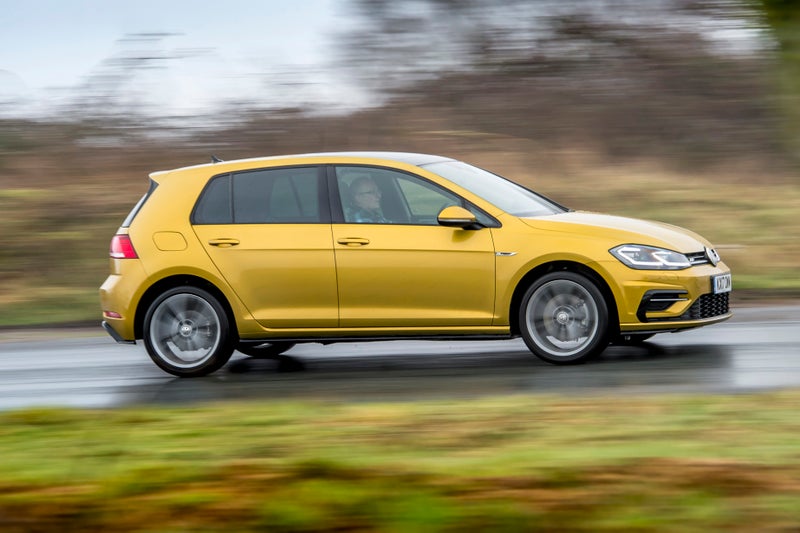 8/10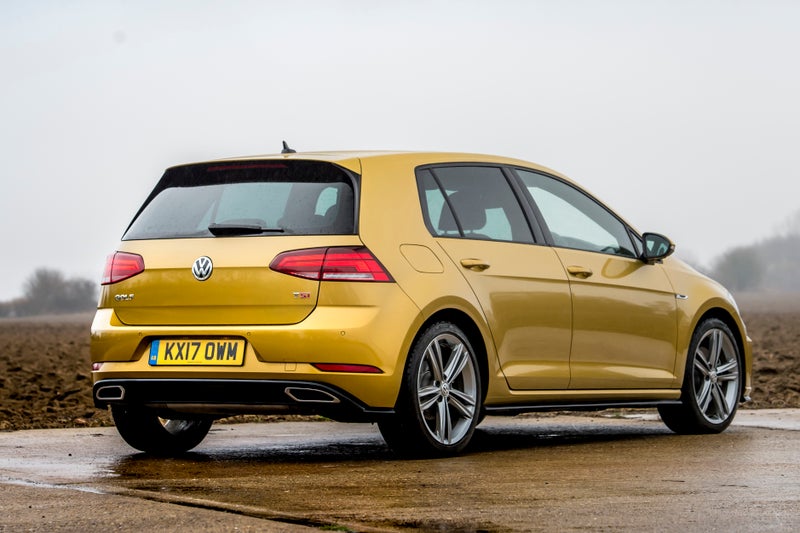 9/10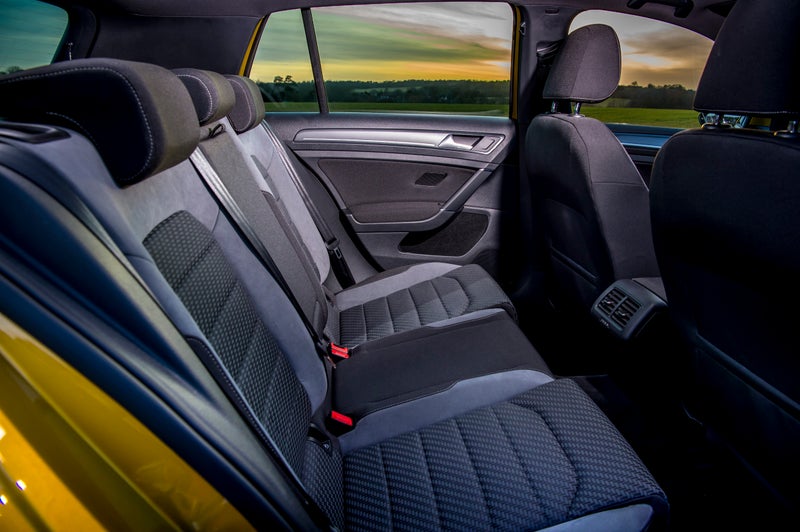 10/10
Launched in 2013

Family hatch

Petrol, Diesel, PHEV, EV
Launch year

2013

Body type

Family hatch

Fuel type

Petrol, Diesel, PHEV, EV

Written by
heycar editorial team

heycar rating
The best family hatch, period
Best bits
The standard by which other hatchbacks are measured
Plenty of choice with a wide range of engines and trims
Interior is a cut above the norm
Not so great
Costs a bit more than other hatchbacks
It satisfies, rather than excites
Choice can be a bit bewildering for the uninitiated
Read by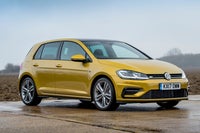 Overall verdict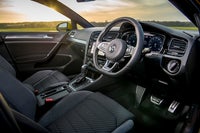 On the inside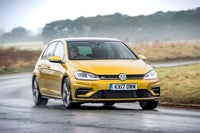 Driving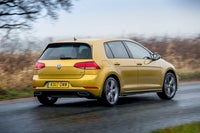 How much does it cost to run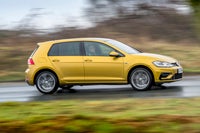 Prices, versions and specification
Overall verdict on the Volkswagen Golf?
"The Volkswagen Golf is so good, it's almost the default choice in the family hatchback class. It won't surprise or stand out, but will satisfy for years to come. It's a safe bet and you can never go wrong by choosing a Golf."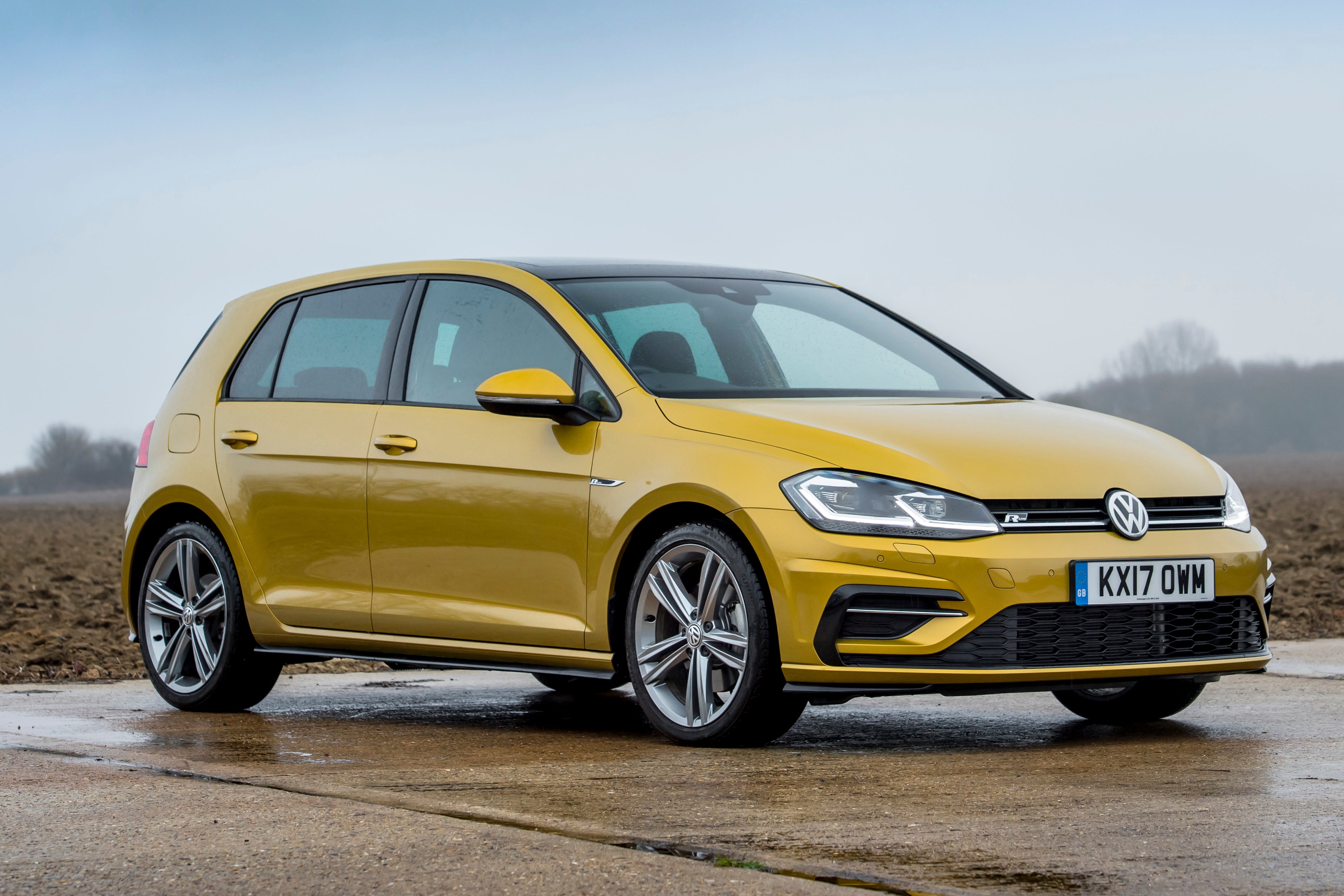 The Volkswagen Golf is the family hatchback by which all rival cars are judged. It is the standard-setter. And so high are the standards it sets, few can measure up to its broad range of abilities. No wonder it's consistently a European best-seller. It is the people's car that does it all.
Volkswagen launched the core models first: TSI petrol and TDI diesel engines, with S, SE and GT trims. Performance Golf GTI and economical Bluemotion versions followed later, along with a GTD performance diesel. There was a rip-roaring Golf R too. Both three- and five-door hatchback versions were available, with the Volkswagen Golf Estate following a little later. Unlike with its predecessor, Volkswagen didn't build a convertible version of this generation of Golf.
Frankly, there's not a duffer among them. The small petrol engines are smooth and efficient, diesel versions are extremely economical and GT trim has just enough extra sportiness to make it feel a bit different to the norm. Volkswagen enhanced this in 2015 with a new R-Line model, which mimicked the style of the Golf R range-topper (but not its engine power).
Space and practicality are excellent. Front-seat passengers will have no cause for complaint, there's plenty of room in the rear and the boot is extremely flexible. It has a good amount of space, but it's also well shaped to help owners maximise this.
To drive, the Golf is a class act. No, it doesn't slice through corners with quite the verve of a Ford Focus, but it still handles confidently and with precision, while the ride is quiet and supple. There's plenty of refinement and the Golf is a flawless long-distance cruiser. It's comfortable as well, with great seats and stable suspension.
The Golf still manages to feel that bit more premium than most rivals. Interior plastics are nice to the touch, all the controls and buttons have a precise feel and it really does seem built to last. You'll sense this from the first time you close the door and hear that reassuring 'thunk'. You'll also notice how, on the move, there are no rattles or rumbles.
Unusually for a popular model, the mid-life facelift in 2017 was extremely comprehensive, with many nicknaming it the 'Golf 7.5'. There was a new front end design, overhauled interior and some excellent new engines. This only added to the Golf's popularity and pushed it further ahead of its rivals. It's the version you really want, if you're able – a car so perfectly honed, it sold strongly right up until its replacement in 2020.
If you're looking for the newer version, you need our Volkswagen Golf (2020-) review.
Comfort and design: Volkswagen Golf interior
"The interior of the 2013 Golf is an ergonomic masterclass. Everything is simple and easy to use, from the big, clear instruments - crisply backlit in white - to the big, chunky heater dials and user-friendly switches. All models came with a colour touchscreen in the dashboard, which is easy to use, with logical buttons and menus."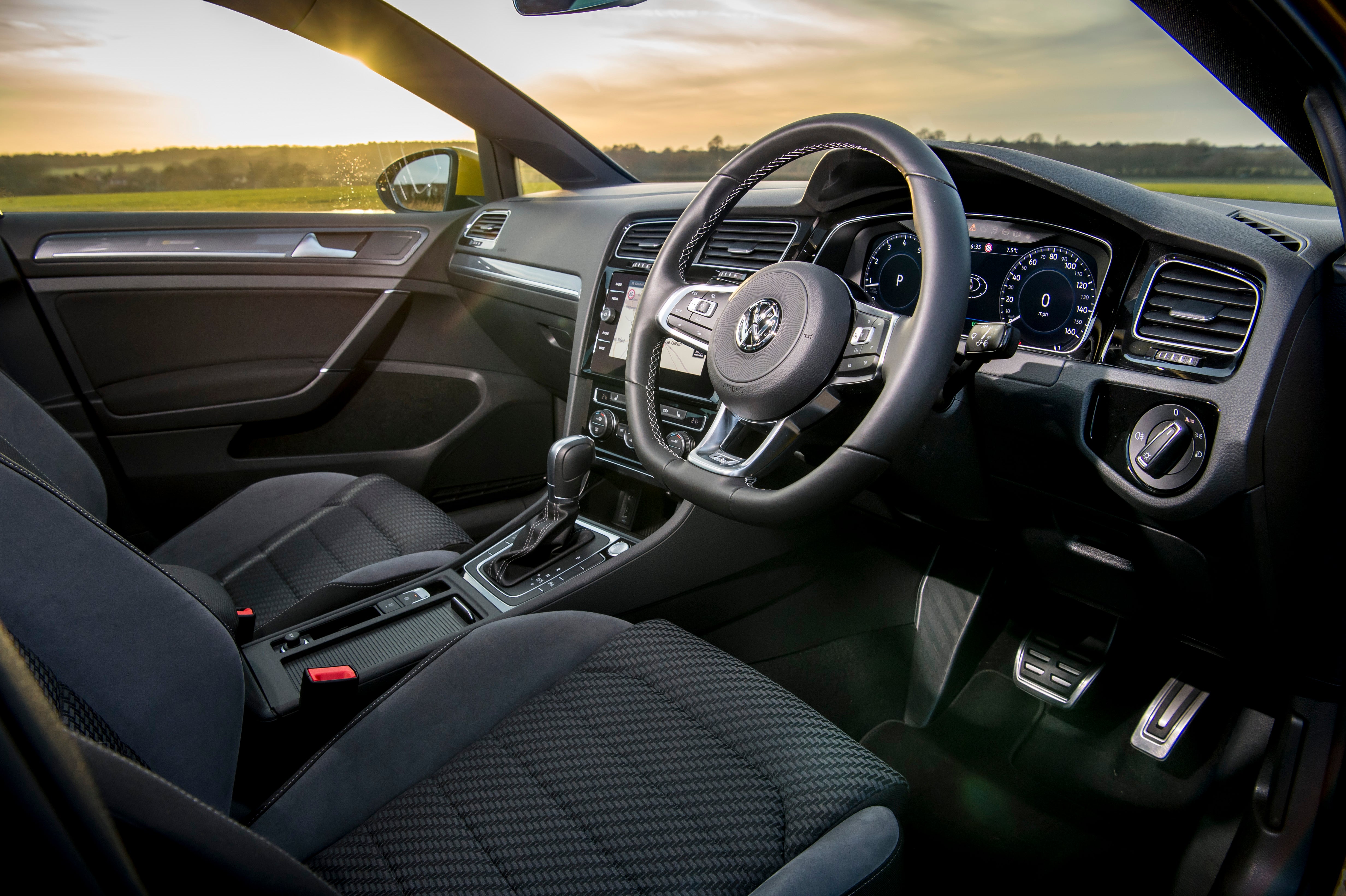 It's not the most exciting of designs, but this shouldn't be seen as a bad thing. The Golf is more timeless than the fussier layouts of some rivals. It won't age as badly or start to look 'of its time' for years to come. Tasteful seat upholstery and trim inlays help here, too. The Golf is known for being sober and discreet.
The seats are quite firm. They're very well shaped, though, with good all-round support, while the more bolstered seats of sportier versions are particularly impressive. The driving position is flawless, with a perfectly placed steering wheel and pedals (although some might miss the floor-hinged accelerator pedal of earlier Golfs). The seats offer plenty of adjustment, including a surprisingly large range of movement for height.
Another Golf plus-point is good visibility. Some hatchbacks of this era are tricky in this respect, with thick windscreen pillars and poorly-located rear pillars. The Golf, however, has large, deep windows and slimmer front pillars than the norm (with extra little windows at their bases). And while its rearmost pillars are chunky, it's still easy to see out from the driver's seat.
Handling and ride quality: What is the Volkswagen Golf like to drive?
"There's a relaxed reassurance to driving the Volkswagen Golf that can't help but make you feel good. It probably won't excite you in the way a Ford Focus might, but its deep-down integrity is hard to fault. This is a genuinely premium-feeling car with a very broad range of talents."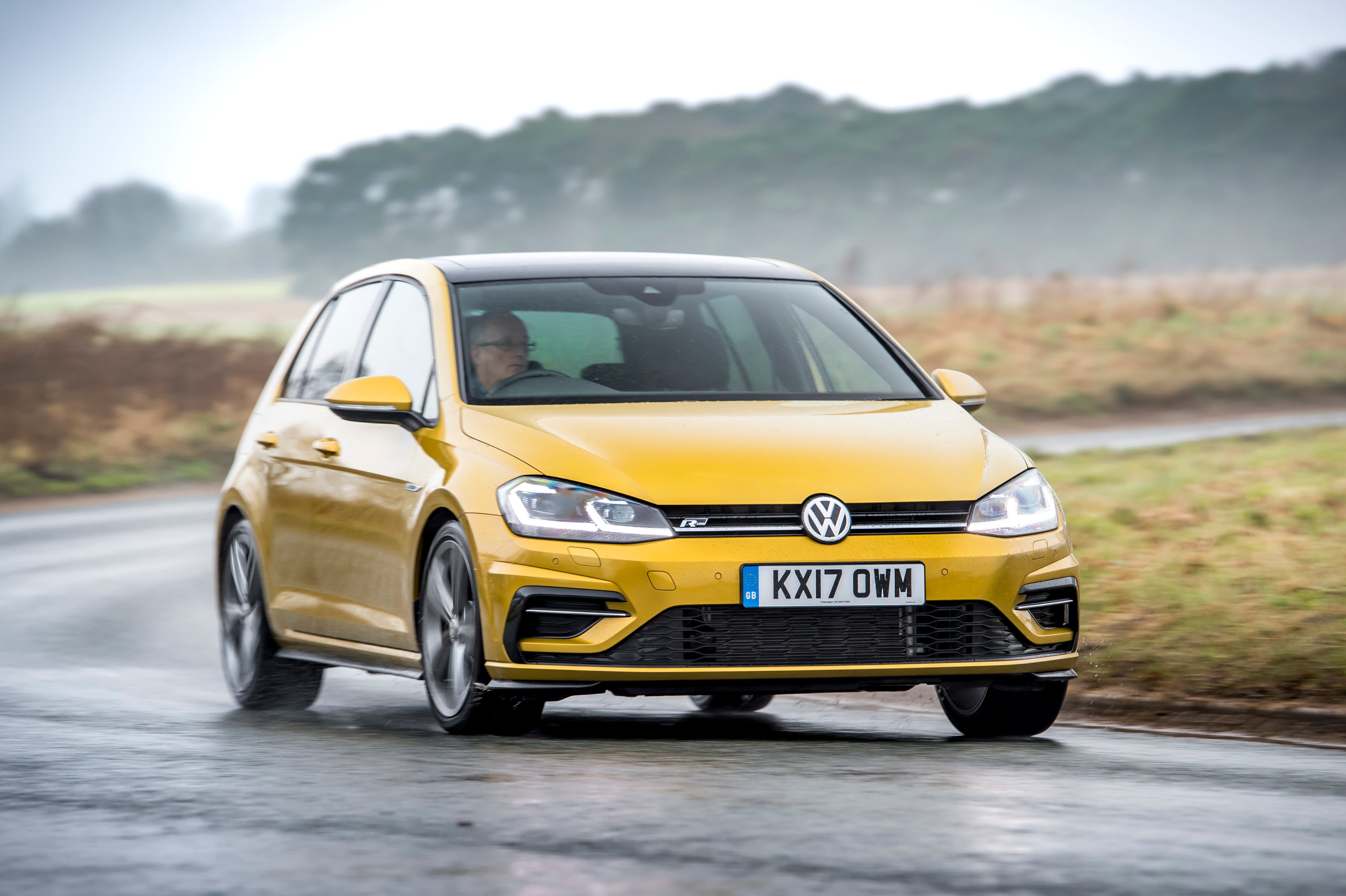 Ride quality is, by and large, excellent. Bumps are cushioned smoothly and quietly, and the Golf won't be knocked off course if you encounter potholes at higher speeds. It's only versions with larger alloy wheels that can feel a touch knobbly in town, or thwack over motorway expansion joints, but otherwise they're almost as good as those on smaller wheels.
The sportier-looking Golfs have crisp handling,and R-Line models have 10mm lower suspension with firmer settings. But while standard Golfs will roll a little more through corners, all prove stable and respond precisely to steering inputs. You don't get masses of fingertip-pleasing feedback, but there's enough to feel safe and reassured.
The steering is light, too, and is matched by a smooth gearbox, particularly in the case of DSG automatic versions. Brakes are strong, the electronic parking brake makes life simpler and the easygoing turbocharged pull of the petrol and diesel engines makes progress easy.
It's worth noting that less powerful models – the 1.2 TSI and 1.6 TDI – had a more basic form of rear suspension than other versions. It's generally hard to tell the difference, but it does mean cars won't cope in quite the same unflappable way when the going gets tough.
MPG and fuel costs: What does a Volkswagen Golf cost to run?
"So long as you steer clear of the GTI and R models, there's no such thing as an uneconomical Golf. Even the entry-level 1.2 TSI will average 47mpg in real world driving while you'll see close to 50mpg with the newer and more powerful 1.0 TSI."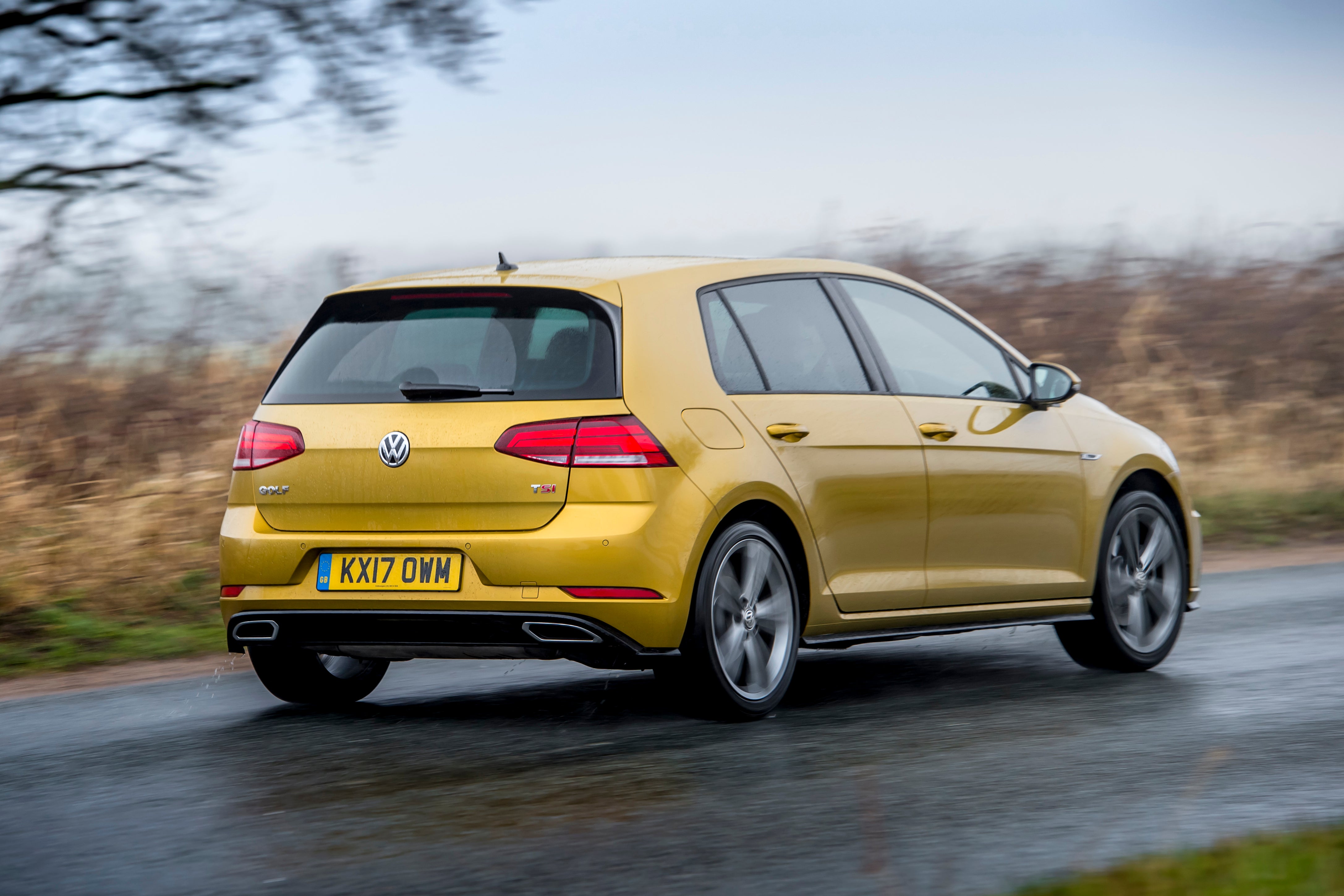 Diesels are a further step up. The basic 1.6 TDI 110 manages 58mpg and is the most economical in the range but the 2.0 TDI isn't far behind and drivers in the real world (as oppose to those in a laboratory) will see 53mpg with a manual gearbox. It's still a credible figure given the strong performance it offers.
How much should you be paying for a used Volkswagen Golf?
"Golfs from 2014 and 2015 are starting to look extremely good value for money. It's possible to find a 1.6 TDI S or SE for less than £7000 now, if you're prepared to accept higher miles. Less than £8000 will get you a 1.6 TDI or even a 1.2 TSI with plenty of life left – maybe even a 1.4 TSI if you're patient."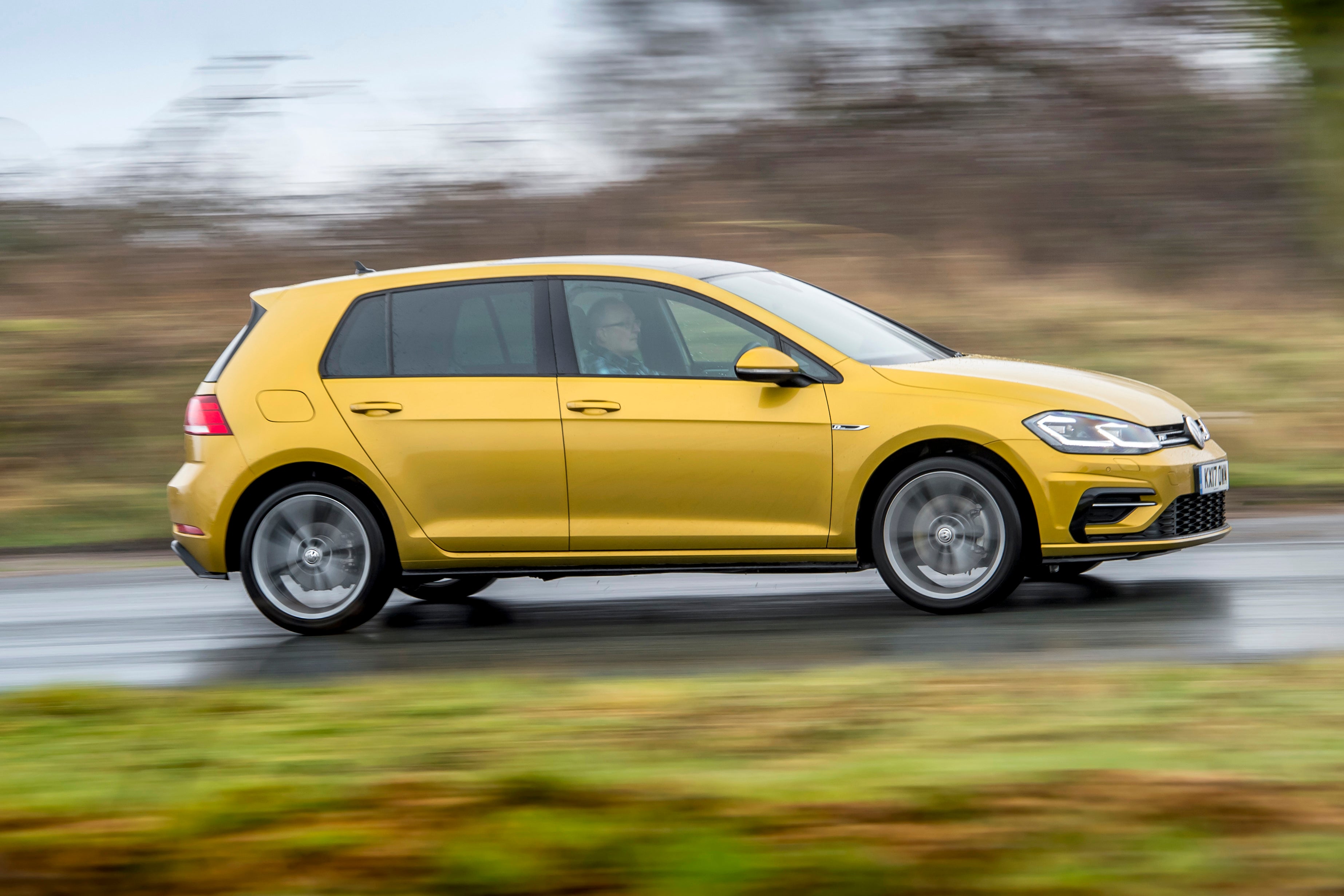 The 2.0 TDI diesels start from around £9000 with a decent spec, and 2017 facelift models are generally priced upwards of £12,000. At the other end of the range, it's possible to spend over £35,000 on a nearly-new Golf R or collectable GTI TCR. A good selection of 1.5 TSI Evo post-facelift Golfs can be found from around £15,000.
Is the Volkswagen Golf right for you?
There aren't many people the Golf isn't right for. The range of engines and model variants is enormous for starters, from 88mpg diesels to 300PS hyper-hatchbacks in the shape of the Volkswagen Golf R. There's something for everyone, with each one demonstrating the core qualities that help make the Golf so popular. Plus don't forget the Volkswagen Golf GTI.
They all feel a cut above the norm, a little more special than the alternatives. Even the most basic Golf will seem right, with fewer of the little irritations you may find in other cars. Volkswagen engineers have spent years ironing out the flaws to make sure there should be few faults with their global best-seller.
Yes, the Golf may cost a little bit more than some of the alternatives, but it's not hard to see why when you get up close. This is why, for many, the Golf is the only family hatch they ever consider.
What's the best Volkswagen Golf model/engine to choose?
The range of TSI petrol engines are all pretty good. Even the 1.2 TSI is fine, while the 1.4 TSI ACT and 1.5 TSI Evo found in the facelifted Golf (from 2017) are particularly excellent. You'll be surprised at how much pulling power they have, given their strong real-world fuel economy.
The diesel models are, of course, much more fuel efficient, particularly the 1.6 TDI. This isn't the fastest model against the clock, but performs surprisingly well when cruising, and is perhaps a bit smoother and quieter than the more powerful 2.0 TDI options. Even so, we'd still pick the 2.0 TDI 150 as our best overall choice, thanks to its combination of performance, emissions and economy.
As for model trims, we like the later R-Line versions, with their hot hatch-inspired trims, and also suggest looking out for the value-packed Match versions as a step up from the core SE. The base S is rare and, for all the Golf's inbuilt quality, does seem a little too plain and spartan.
What other cars are similar to the Volkswagen Golf?
Quality and finish
Quality is a watchword for Volkswagen. It's why many people choose a Volkswagen time and again – because the brand lives up to its reputation for making cars that feel just a little more upmarket than the mainstream norm. Indeed, the existence of SEAT and Skoda forces Volkswagen to engineer a bit more luxury into its cars. Without stepping on the premium toes of Audi, that is.
You notice it in the details. The carpet seems a bit thicker than you might be used to. The plastic door handles have a soft rubber coating that's nice to the touch. The seat upholstery is robust and good quality. The plastics used for the dashboard are soft-touch and it's only as you move your hands lower down will you spy the hard, scratchy materials used by some rivals.
It also looks well made, with materials showing a classy, textured finish, rather than a cheap and shiny one. Panel gaps are tight and the paint is rich and deep. This also helps the Golf shrug off age-related tiredness much better than some alternatives, so it should keep looking good for years to come.
Infotainment: Touchscreen, USB, sat nav and stereo in the Volkswagen Golf
Many Golfs came with a 5.8-inch colour touchscreen. Not all were fitted with navigation, though: you need to look out for the larger 8.0-inch system. For its era, even the more basic infotainment system is simple to use. The graphics might look a bit dated these days, but there's no doubting their clarity – and models with navigation offer easy data entry and quick mapping.
Bluetooth was standard on all cars, as was DAB digital radio and a set of auxiliary sockets including a USB plug.
Enhanced Golfs, built from 2017, offered an improved set of infotainment options, from the base 6.5-inch screen to an eye-catching 9.2-inch system called Discover Pro. By now, Apple CarPlay and Android Auto phone connectivity were offered, and the high-spec setup could be combined with digital instruments instead of the familiar analogue dials. This allowed drivers to choose from a range of displays, including the navigation map. It's a worthwhile feature to look for.
Space and practicality: Volkswagen Golf boot space
No question here, the Golf is a very practical car. It doesn't offer the mammoth space of a Skoda Octavia – no car in this sector does – but compared to its more obvious rivals, it stacks up very well. You'll be impressed at how much the seat slides back and forth, while eager drivers will like how low they can position the seat, leaving what feels like acres of headroom above. Top hat wearers and even fools in tribies will be in heaven.
So long as you don't have the front seats slid right back, there's a good amount of space in the rear. Passengers will find room for their feet beneath the front chairs, their knees won't be too tightly constrained and headroom is again fine. It's best for two, but will accommodate three without too much difficulty.
The Golf has big door bins that are felt-lined to stop rattles. The front ones will have no trouble swallowing large water bottles. The centre console has a neat concertina-style sliding cover and the push-button handbrake frees up space to slide the armrest back and forth plis there's a hidden cubbyhole there, too.
The boot is a plentiful 380 litres with the split-fold rear seats in place, stretching to 1270 litres with them folded flat. This is very competitive and underlines the Golf's family-friendly nature. Whereas on a Skoda you get a cheap rubber strap to pull the boot closed, Volkswagen fits nicely-shaped grab handles. That attention to detail again.
The rear seats have Isofix child seat mounting points and access is easier than some rivals thanks to wide-opening doors. Regular models came with a space-saver spare wheel, although this wasn't available for Golfs with larger alloy wheels.
What engines and gearboxes are available in the Volkswagen Golf?
Fitting a turbo to even the basic 1.2-litre TSI petrol with 85PS means that, although it's hardly quickest against the clock, the 2013 entry-level engine has enough guts for everyday use. Even so, the 105PS version has a better combination of power and economy, with the 1.4 TSI engines starting to feel slightly sporty.
The 1.5 TSI Evo that arrived with the 2017 facelift is an exceptional engine, proving quiet, powerful, economical and clean. It started to make people question diesel, although it ultimately couldn't match the low CO2 emissions of the 1.6 TDI and 2.0 TDI diesel engines.
The 1.6 TDI will, like the basic 1.2 TSI, surprise some with what it's able to deliver, but the 2.0 TDI is a better bet for everyday use. Most came in 150PS guise, with the GTD using a tuned 184PS version that offered enough go to justify its GTI-inspired styling.
Bluemotion engines are the most economical. The 1.6 TDI diesel Bluemotion was offered first, boasting specific tweaks to eke out economy never before seen in a Golf. But the later 1.0 TSI petrol Bluemotion was a surprise, too – it really did deliver diesel-like fuel economy, yet wasn't underpowered on the road. This engine was later extended to non-Bluemotion variants, producing up to 115PS and replacing the earlier 1.2-litre.
Cheaper Golfs had a five-speed gearbox. This was a shame, as the six-speed transmissions are better for motorway driving. Or you could take the automatic DSG transmission, which always seems to be in the right gear at all times. You'll barely feel it actually changing gear, either.
Refinement and noise levels
Refinement is excellent in the Golf. Even the TDI diesels, which can be a bit clattery in other cars, are less rattly here. The TSI petrol engines are very hushed, with the smaller motors almost silent around town. The only complaint with less powerful motors is their lack of a six-speed gearbox, which would make motorway use even more hushed.
Wind and road noise are kept at bay, apart from a bit of a whistle from around the door mirrors at higher speeds, and even when the Golf hits a pothole, it smothers it without fuss. The integrity runs deep, too: the windscreen wipers are quiet and even the climate control system is hushed when cooling the cabin.
The only thing you might notice is the extra road roar Golfs with larger alloy wheels can generate. This means you might have to turn up the stereo another a notch or two, but it's no hardship, particularly as the audio systems are pretty decent.
Safety equipment: How safe is the Volkswagen Golf?
The Golf has an excellent safety profile. Independent safety organisation Euro NCAP rated it five stars after crash tests, with a whopping 94 percent for driver protection, 89 percent for child protection and 71 percent for safety assist features. Only pedestrian protection looked below average, with the Golf getting a 65 percent rating.
All models came with six airbags and ESP stability control, with SE versions and above getting a city emergency braking system that automatically applies the brakes at low speeds when obstacles are detected – such as pedestrians stepping in front of the vehicle, or another car suddenly braking hard. Owners could also add on lane-keep assist, drowsy driver warning and a camera that reads traffic signs and displays them on the instrument panel.
The emergency braking system was enhanced with the 2017 facelift, thanks to a repositioned sensor that made it even more effective.
Insurance groups and costs
Sporty versions of the Golf are more expensive to insure, but the core range is very reasonable. The 1.2 TSI engine is rated at just group 11, for example, and the later Golf Bluemotion 1.6 TDI is group 10. Non-Bluemotion 1.6 TDI models are rated group 13 and the 2.0 TDI 150 carried the highest insurance rating for non-hot Golfs, at group 18.
Following the facelift, the same appealing insurance group ratings remained. The 1.0 TSI BMT 110 is group 12, the 1.6 TDI BMT 115 is group 13 and the 1.4 TSI BMT 125 is group 15. The car's extra active safety features might also be rewarded by some insurers, which keeps costs down.
VED car tax: What is the annual road tax on a Volkswagen Golf?
The most fuel-efficient Golfs have the most appealing VED car tax bills of all: zero. Pre-April 2017 Bluemotion models benefit from this, both the 1.6 TDI and 1.0 TSI (even the early non-Bluemotion 1.6 TDI managed to be zero-rated for VED, though).
Rates for other versions were hardly punitive, with a £20 rating for the 2.0 TDI 150 and £30 a year to tax even the sporty 1.4 TSI ACT. The Golf R-Line carried over the same tax rates, too.
Facelifted Golf variants came in just before the April 2017 VED car tax changes. Early models will have some beneficial rates, particularly the 1.6 TDI BMT, but most will carry £150 a year charge.
Trim levels and standard equipment
The Golf range opens with basic S trim, which has 15-inch wheels, manual air conditioning, front electric windows and a colour touchscreen with both DAB and Bluetooth. The wheels grow to 16-inch alloys on SE grade, which gets automatic emergency braking, all-round parking sensors and, from 2017, Apple CarPlay and Android Auto. SE Nav models add sat nav.
Earlier GT versions get 17-inch alloys, an improved navigation system and neat ambient interior lighting. The sporty effect was ramped up further with R-Line, which gained a more aggressive bodykit, distinctive R-Line interior trim with lots of R-Line badges, plus a more focused suspension setup. Bluemotion models, in contrast, drew from S trim with a few choice extras and wind-cheating lowered suspension.
Learn more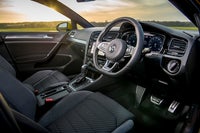 On the inside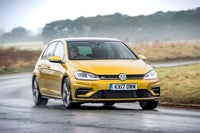 Driving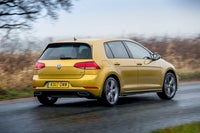 How much does it cost to run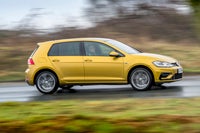 Prices, versions and specification
Reviews of similar cars
Quality checked, all cars less than 8 years old and warranty included
Looking for other Volkswagen cars?
Quality checked, all cars less than 8 years old and warranty included
Keep me updated by email with the latest advice, news and offers from heycar
By submitting, you agree to our
privacy policy
.