Volkswagen Golf Estate Review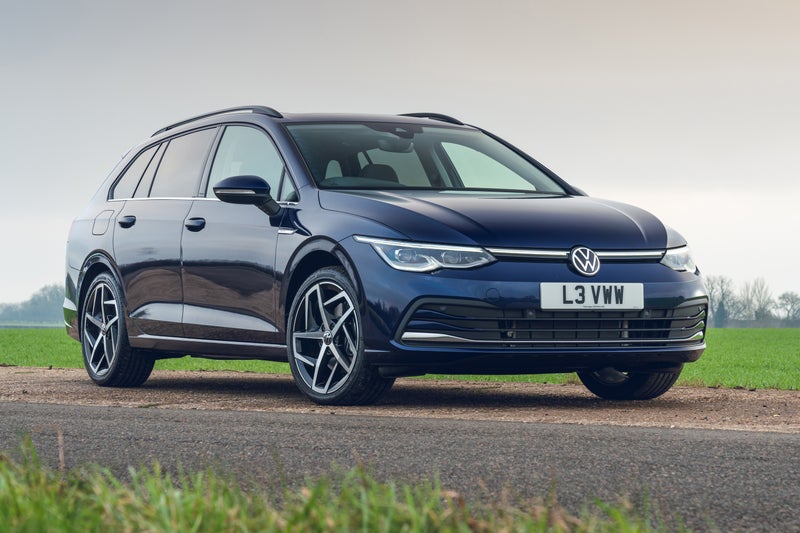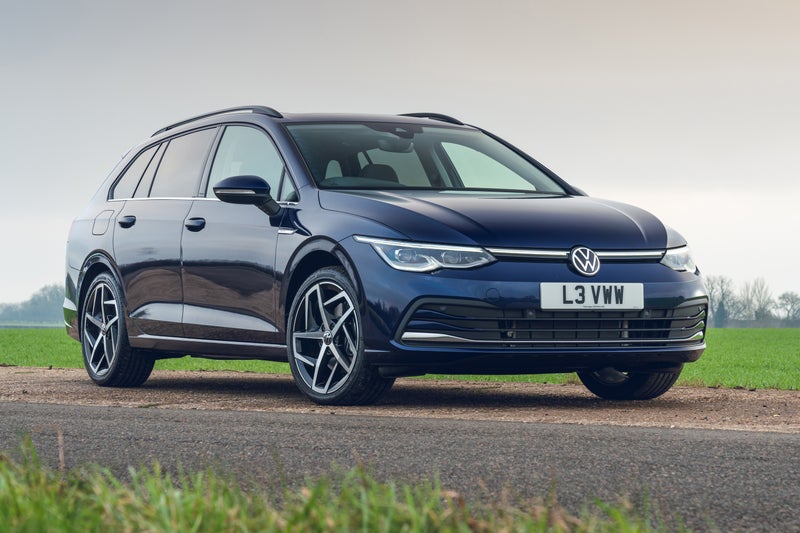 1/10

heycar rating
"Very refined and classy estate"
Launched: 2020

Estate

Petrol, Diesel
Quick overview
Pros
Even 'entry-level' models are very well equipped
Cheap to run with economical engines
Very quiet and refined with an excellent ride
Cons
Interior not as plush as we'd like from a Volkswagen
Hardly the most exciting thing to drive
The Skoda Octavia is bigger and cheaper
Overall verdict
On the inside
Driving
Cost to run
Prices and Specs
Common questions
Overall verdict on the Volkswagen Golf Estate
"If you want a compact estate car, then the latest Volkswagen Golf Estate should be high up in your list. It's arguably one of the best estates on sale at the moment, blending refinement with comfort and the usual quality we've come to expect from Volkswagen. Only the frustrating infotainment system lets it down."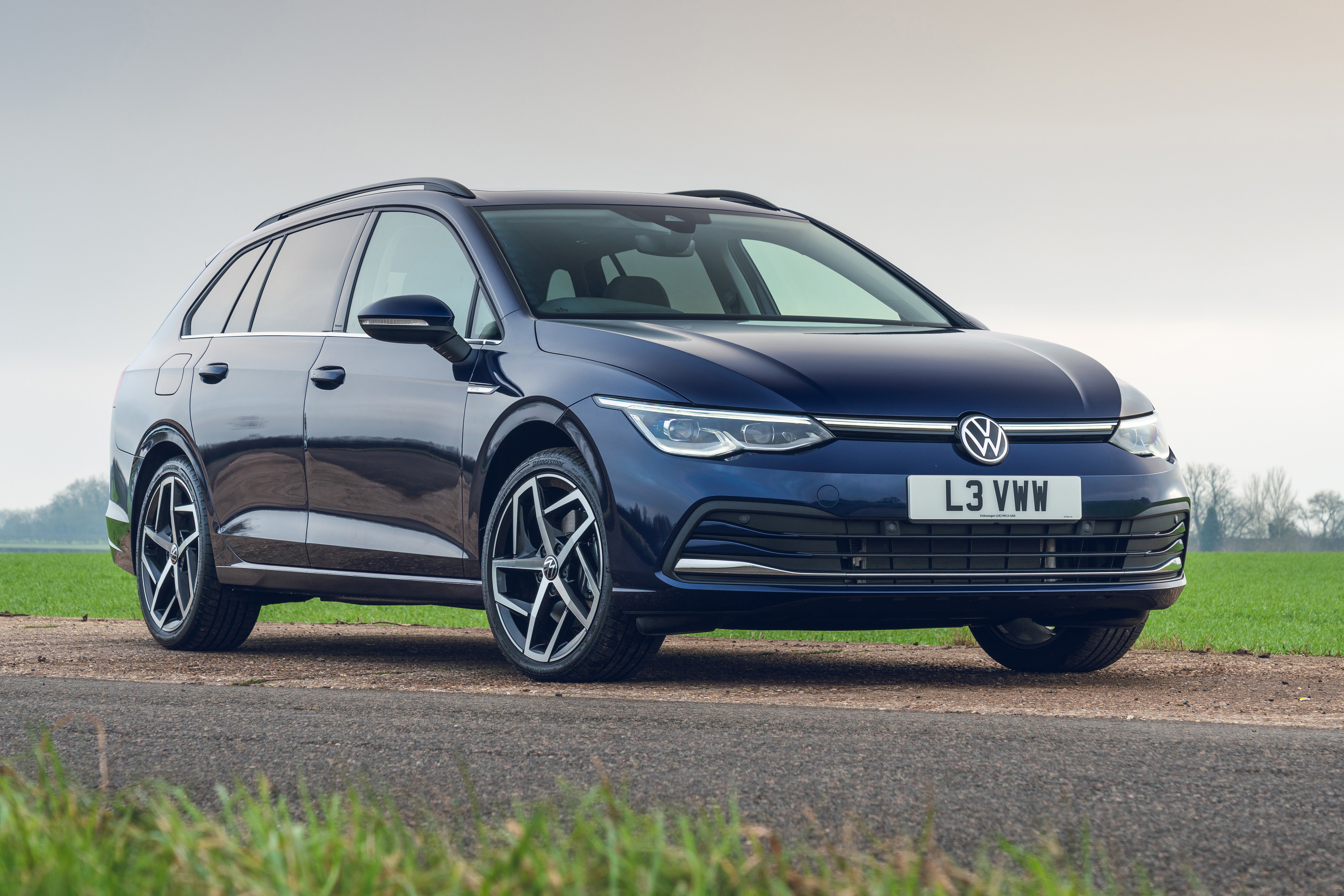 With everyone and their uncle wanting an SUV these days, you may think that the humble estate car is out on its ear. But that's not the case. For many people, the practicality of an estate car - they still offer more useable boot space than an equivalent SUV - is a key reason in buying one. When you've got kids, pushchairs, bikes and the dog to move, that extra space makes all the difference.
The good news is that choosing an estate car doesn't mean having to compromise. As the Volkswagen Golf Estate proves. It's just as comfortable and as quiet as the Volkswagen Golf it's based on with the same engines available. There's even a performance Golf R version and a rugged Golf Alltrack with four-wheel drive and chunky wheelarches.
It's not cheap though. Volkswagen hasn't introduced a basic version of the Golf Estate so the 'entry-level' version is the Life which comes with plenty of equipment including alloy wheels, a virtual instrument cluster, the 10-inch touchscreen with navigation plus climate control. That does go some way to justifying the high list prices, but you'll find the competition, even from within Volkswagen Group, cheaper.
So aside from equipment, what does the Golf Estate do to justify its price tag? Well few cars this size can match the comfort and refinement it offers. It's an easy car to drive with effortless controls, but it's the impeccable ride which really stands out. It's wonderfully smooth on the motorway and irons out rough surfaces while still coping with lumps and bumps. The steering could be better, a Ford Focus is more enjoyable to drive, but the Golf is nonetheless very capable in corners.
It's certainly still a high quality car too, especially inside with lots of top notch materials used. But that said, the competition has never been stronger and the Golf Estate doesn't especially stand out - in fact we'd say the cheaper Skoda Octavia actually has a better interior. Shocker.
Our main gripe is with the infotainment system. Volkswagen has gone for a uncluttered dash design, getting ride of most physical buttons - instead you use the touchscreen to control most functions. The problem? It's not very intuitive at all. Sometimes it's like a robot rather than a human designed it and so proves not only frustrating but also distracting.
On the plus side, the boot of the Golf Estate is huge - bigger than a Focus Estate and beaten only by the Skoda Octavia Estate. There's loads of room for pushchairs plus a double level boot floor. This Golf Estate also has more rear legroom than before, although it's still a bit tight with the front seats slid all the way back - a trait of most estates this size.
It's cheap to run with all the engines proving very economical. The 1.0 TSI is our pick of the bunch as it provides a lot more get up and go than you'd expect but will still return more than 50mpg. There are no hybrid or PHEV versions but Volkswagen has launched a mild hybrid, badged eTSI, that comes with a seven-speed DSG. If you want big economy, there's still the 2.0 TDI while the 1.5 TSI has enough performance if you want a bit sportier.
At the top of the range there's the Volkswagen Golf Alltrack, essentially a jacked up version of the Golf Estate with a more powerful 2.0 TDI, a raised ride height and four wheel drive thrown in for good measure. Think Audi A4 Allroad but scaled down.
The VW Golf Estate still stands out as one of the best compact estate cars around. Its closest rival comes in the form of the Skoda Octavia Estate which we think is better value for money. But that doesn't detract from how good the Golf Estate is. It still sets the benchmark in this class thanks to its excellent engines, large boot space and sheer comfort.
If you're looking for the older version, you need our Volkswagen Golf Estate (2015-2020) Review.
Is the Volkswagen Golf Estate right for you?
If you want the practicality of an estate but don't want a big car, the Volkswagen Golf Estate is perfect. It's not the biggest load lugger out there, if it's outright carrying space you want you'd be better off with a Volkswagen Passat Estate. But the Golf Estate is still impressive with a boot that will happily carry your posh Bugaboo pushchair (other brands of baby transportation are available) and have plenty of space left over.
Being a Golf means it's easy to drive and comfortable, plus of course that Volkswagen badge on the bonnet gives it that extra dash of class when you're pulling up outside the school gates. It's not cheap, but it does hold its value well and you'll never have problems selling one.
If you want performance, there's the rapid Golf R while if you're after the rugged outdoorsy vibe, the Golf Alltrack is the one for you with its chunky bodykit and raised ride height. Roofbox here you come.
What's the best Volkswagen Golf Estate model/engine to choose?
There are no 'basic' models in the Golf Estate line up, so even the entry-level Life models comes with things like alloy wheels, a touchscreen with navigation, climate control and Volkswagen's Digital Cockpit Pro. This does go someway to justifying the high list price.
What that does mean is that you don't have to go for a mid-level Style model just to get some half decent kit in your car. Indeed, we think the Life model with the 1.0 TSI engine and manual gearbox has plenty of appeal, plus it's cheap to run.
If you do want a bit more oomph, the 1.5 TSI engine is the one to go for and the R Line trim gives you the sporty looks to go with it.
What other cars are similar to the Volkswagen Golf Estate?
Smaller estate cars may not be as common as they once were - Honda no longer has a Civic Tourer for instance - but if you're looking for something similar to the Golf Estate there's still plenty of choice.
We'd suggest the Ford Focus Estate as one the best estate cars around, thanks to its comfort and engine line-up, ranging from frugal diesels up to a hot ST version. The latest SEAT Leon Estate is another excellent choice and we'd suggest these are the closest rivals to the Volkswagen Golf Estate. If you want more space for your money, there's the cavernous Skoda Octavia Estate of course.
The ever-reliable Toyota Corolla Touring Sports, which is now hybrid-only, may not be the most spacious estate car but it is cheap to run. There is also the Hyundai i30 Tourer and Kia Ceed Sportswagon - both with excellent reliability and long warranties. And don't overlook the MINI Clubman, it's boot might not able to quite compete with the Golf's, but it's got bags of style.
Older estate cars of a similar size include the Vauxhall Astra Sports Tourer, Peugeot 308 SW and Renault Megane Sports Tourer but these aren't in the same league as the Volkswagen Golf Estate for quality and refinement.
Comfort and design: Volkswagen Golf Estate interior
"The latest Volkswagen Golf Estate interior layout combines a clean minimalist design with lots of soft touch materials and plenty of tech thrown in."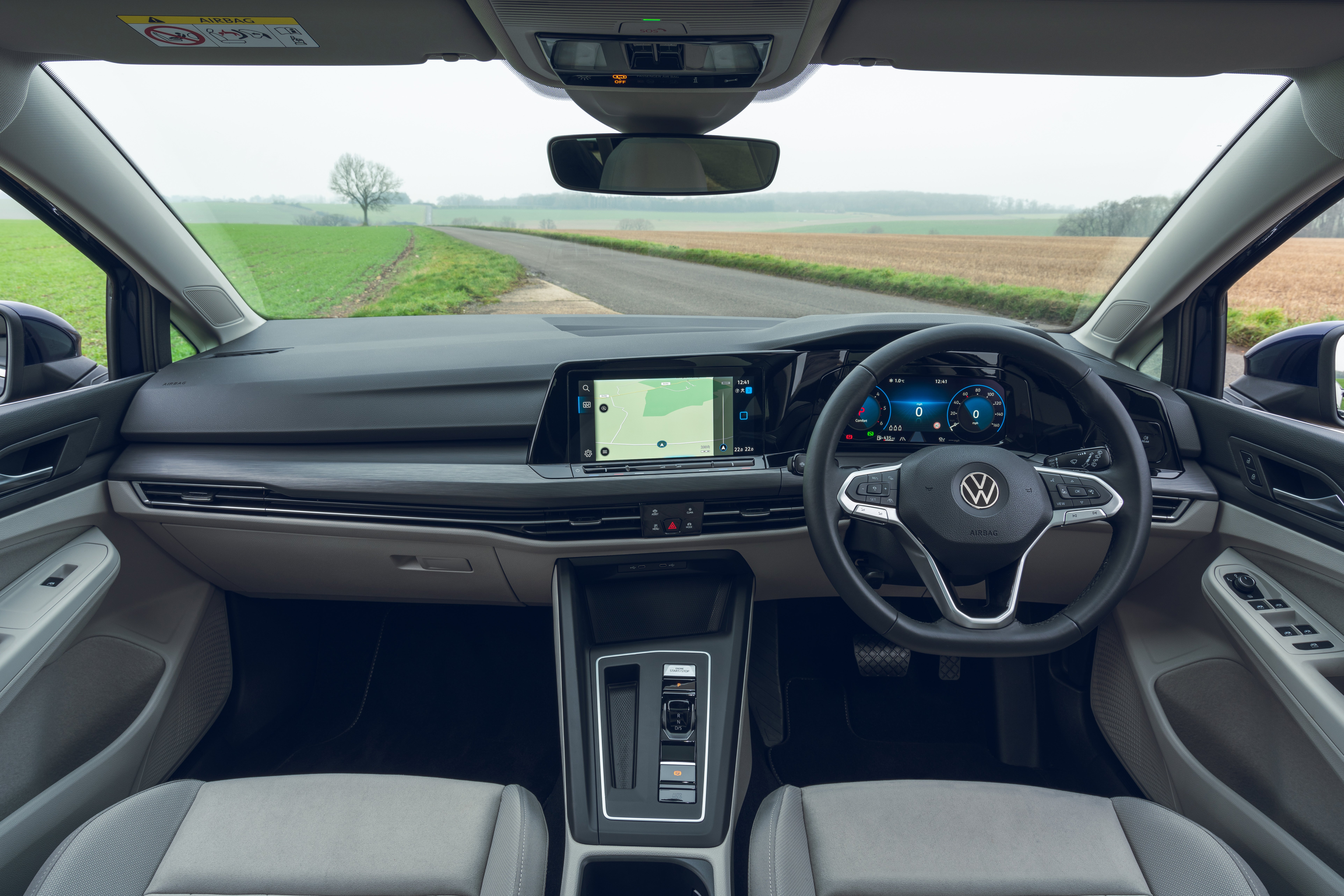 The result is a modern and uncluttered dash that at first glance has lots of appeal. Indeed get in the driver's seat and you'll have no issues finding a good driving position thanks to lots of adjustment in the seat and steering column. You can even slide the centre armrest forward and back so it's in the right place.
All Golf Estates get adjustable lumbar support as standard but the seats fitted to Life models are a little lacking in support. Those on the Style and R Line are better with more side support. There's certainly plenty of room up front and you won't be smacking elbows with your passenger.
One thing that helps give the interior that modern feel is the Digital Cockpit Pro - a 10.25-inch high resolution display that replaces the conventional instrument dials. It's customisable too so you can pick the info you want on show or display the navigation map. It's something we first saw on Audi models and really works well.
However, while we like the clean design, the lack of actual buttons, there are hardly any aside from those on the steering wheel - can be an issue. The problem is that while the idea of controlling everything through the touchscreen is great, the system itself isn't the best. In fact we'd say it's a step backward compared to the old model.
It just makes simple things, such as changing the temperature or turning down the radio, more fiddly than they need to be. Yes, touch buttons for the volume control look fancy, but when you have shouting kids in the back and are late for the school run, a simple volume knob is so much easier. If it ain't broke etc. It doesn't help that the infotainment system itself isn't that great but more on that further down.
Quality and finish
We wouldn't say this is an area that lets the Volkswagen Golf Estate down but the interior of the latest generation Golf is no longer class leading. The competition has caught up (and in some cases passed) the quality benchmark that Volkswagen once set.
Ironically, that competition comes mainly from within the Volkswagen Group so while the Golf feels more plush than a Ford Focus for instance, we prefer the interior of the latest Skoda Octavia which arguably has a higher quality feel. Odd we know.
It's not as if the Golf Estate is no a longer a quality car, but given its high starting price and the fact it has a VW badge, we'd expect a bit more. Some of the plastics are only so-so and it feels little different from a SEAT Leon.
Infotainment: Touchscreen, USB, nav and stereo in the Volkswagen Golf Estate
With Volkswagen not really doing a 'basic' Golf Estate model, all models get a large 10-inch touchscreen system that sits in the middle of the dash. It features the Discover Navigation system, DAB, Bluetooth and App-Connect which includes Apple CarPlay, Android Auto and MirrorLink. The display is nice and bright so first impressions are good.
The problem is, the more you use the system, the more frustrating it becomes. We liked the simplicity and clarity of the older generation Volkswagen infotainment system, but this latest version seems counter-intuitive. It's difficult to get from one menu function to another quickly and the whole design seems clunky rather than user-friendly.
One plus is the wireless charging tray that sits in front of the gear lever and works on the vast majority of modern smartphones.
Space and practicality: Volkswagen Golf Estate boot space
If you're choosing a Golf Estate over a standard VW Golf, the boot really is the money shot. On paper, it's very competitive. The Golf can carry 611 litres of stuff, which is seven litres more than the old model and ahead of the Ford Focus Estate with 575 litres. That said, neither can compete with the huge Skoda Octavia Estate boot with 640 litres.
Still, this isn't always about numbers. Just as important is how useable that space is and the Golf Estate has a wide opening tailgate and a deep, square boot space, which is ideal for pushchairs, kids scooters and lots of shopping. There is a bit of a boot lip but you can reduce that thanks to the adjustable boot floor. However, we find the extra depth more useful while the low height of the rear bumper means it's ideal for dogs to jump in (and out) of.
Those sitting in the back will find more space than the old model - a longer wheelbase means more than 4cm extra legroom for those in the back. It doesn't sound much but it makes a big difference, especially if you have things like rear-facing childseats. That said, slide the front seats all the way back and there's very limited space or those behind.
At least Isofix is standard fit of course and is I-size compatible. There's also plenty of headroom so growing teenagers needn't be concerned about their quiffs. The rear seats don't do anything fancy like recline, but they do at least split 60/40 and fold down via handles in the boot.
Up front, there's plenty of storage with big door pockets, those funny Volkswagen cupholders in the centre, a cubbyhole under the centre armrest and a usefully air conditioned glovebox so your Kit Kat won't melt. The VW Golf doesn't have any of the clever features of the Skoda Octavia, but you aren't left short of storage space for phones, wallets and of course your face mask...
Handling and ride quality: What is the Volkswagen Golf Estate like to drive?
"The Golf Estate is an easy and undemanding car to drive. So very much like a Golf hatchback then. It's not the best handling estate, but it is very quiet and refined."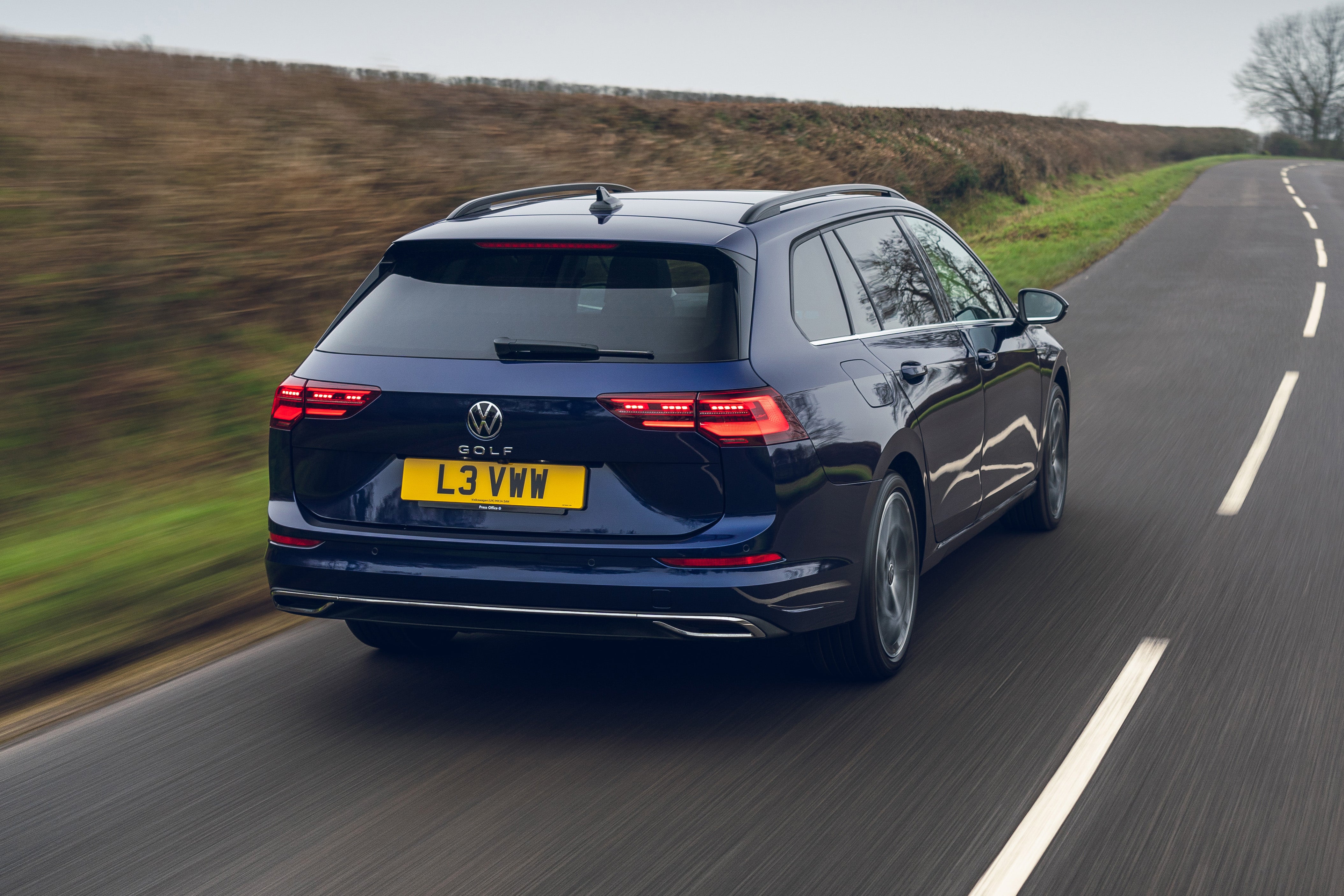 What the Golf Estate may lack in sparkle, it makes up for in the way it's such an effortless car to drive. It's what we'd call a sensible and safe choice, a bit like Eamonn Holmes. Relaxed is the order of the day here and like many Volkswagen models, the Golf Estate's real strength is its refinement.
It doesn't handle corners with the same zest as a Ford Focus Estate or the similar SEAT Leon Estate, but it's capable and reassuring nonetheless, despite the rather light steering. If you want a car that feels more responsive, go for the Leon, but the Golf Estate wins when it comes to comfort.
The ride is impeccably good and we'd say this is the most comfortable compact estate car on the market, perhaps only the Skoda Octavia Estate can better it, but the Golf bounces less over the ups and downs than the Skoda.
If you want to mix things up, the Golf Estate is available with Dynamic Chassis Control (or DCC as Volkswagen calls it) as an option. This alters the suspension through different settings. The softest setting is incredibly forgiving while you can stiffen things up in sports mode (although it's not that sporty). It's a clever system but it's also expensive and we think the standard suspension setup is good enough.
R Line models get sports suspension, which although makes the ride firmer, is still comfortable enough. All models get 17-inch alloy wheels as standard and they help with that ride comfort. We'd avoid the optional 18-inch wheels which only detract from that ride quality.
Parking the Golf Estate is easy thanks to the vertical rear end and lots of glass. All models come with front and rear parking sensors while there's a rearview camera as an option.
What engines and gearboxes are available in the Volkswagen Golf Estate?
While there are no hybrid or PHEV models in the Golf Estate range, Volkswagen has introduced mild-hybrid models. Badged eTSI, these are petrol engines with an added 48v battery that powers the car electrics and recharges through braking energy. It can't power the car alone but it does give a boost at low speeds. As you'd expect, emissions are lower and economy better.
If you want a petrol automatic, it will be an eTSI, the technology available exclusively with the seven-speed DSG. The standard TSI engines are all six-speed manuals.
The DSG models are certainly smooth, but we think the six-speed manual gearbox is so slick (and cheaper) that we'd save the money and stick with the manual. Indeed, for us the 1.0 TSI is the sweet spot in the range. It may be a small capacity engine but it has plenty of get up and go while the 110PS is more than enough on the motorway. It certainly never feels underpowered.
That's not to say the 1.5-litre engine doesn't have its merits. Indeed it's a superb engine and the 150PS version (there's also a 130PS model) feels very quick when you want it to be. If you want a sportier Golf Estate, this is the one to go for.
Volkswagen still offers diesel power in the Golf Estate with the trusty 2.0 TDI available in two versions, a low powered 115PS model and the popular 150PS - both available with either a manual or seven-speed DSG. Fortunately, the dull-as-dishwater 1.6 TDI has been dropped.
The TDI engine is ideal for long motorway trips and quieten down at cruising speeds while the strong economy - the official figures show around 62mpg for both versions - make it cheap to run.
If you want to tow some sort of trailer or carry a full load of people and their stuff, then the Golf Alltrack could fit the bill. It not only comes with 4Motion four-wheel drive as standard but also has a 200PS version of the 2.0 TDI engine and the seven-speed DSG gearbox.
Refinement and noise levels
The Golf really excels when it comes to refinement and suppressing noise which makes it an ideal long distance car. The refined ride means it's great on the motorway where we think the the Golf Estate really excels. The supportive seats, excellent ride and quiet cabin making it a restful way to cover those big journeys.
Even on the motorway, there's little in the way of wind noise although you will notice a touch of road noise from the tyres. That said, this feels as smooth as a Passat Estate at a cruise while the engines, both the petrols and even the diesels, are unintrusive at 70mph thanks to good sound insulation.
The 1.0-litre unit has the usual three-cylinder character but it's quiet compared to rival engines and there's no vibration through the pedals or gear lever. The 1.5 TSI is smoother still being a four-cylinder, although it can get a little noisy at high revs, which is the same story for the 2.0 TDI. That said, the TDI is still a lot quieter than other 2.0-litre diesels.
Safety equipment: How safe is the Volkswagen Golf Estate?
While the estate version of the Golf hasn't specifically been tested by Euro NCAP - those people with the orange dummies who like crashing cars into pillars - the standard Volkswagen Golf was awarded the maximum five star rating in safety tests including an 89% rating for child occupants and 95% for adult safety.
The good news is that this rating also applies to the estate and the tests showed good protection against whiplash injuries in the event of a rear-end collision for both those in the front and back. All models get a curtain airbag system for front and rear passengers including side airbags in the front plus of course there are Isofix mounts in the back and the front passenger seat, all compatible with I-size.
MPG and fuel costs: What does a Volkswagen Golf Estate cost to run?
"While the diesels would usually be the default choice for economy, the modern petrols in the Golf Estate are so efficient, they make a strong case for themselves in place of the TDI models."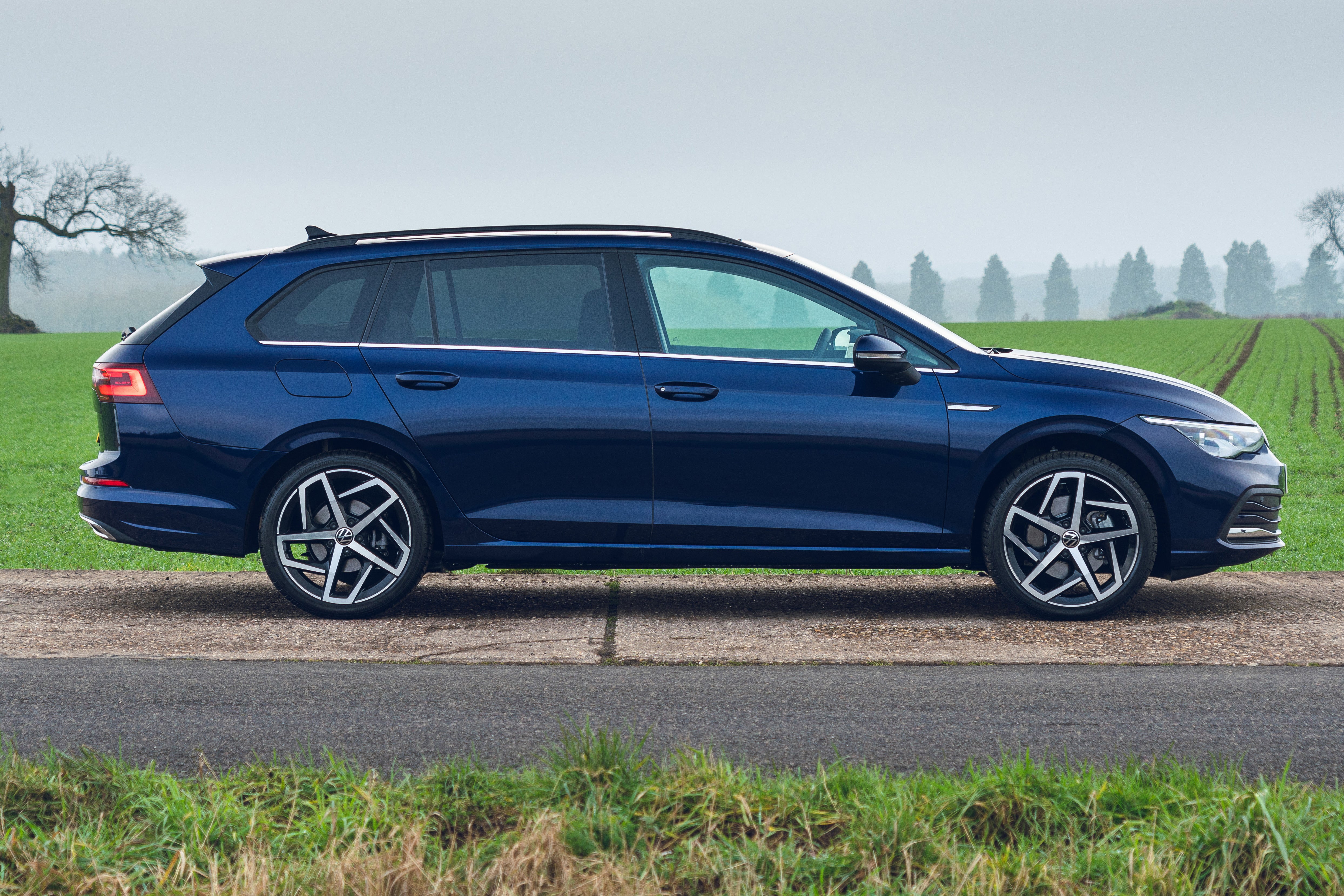 There are no electric or PHEV versions of the Golf Estate as yet. What Volkswagen has done is introduce a mild hybrid. Badged eTSI, this is a normal petrol engine with a 48V mild-hybrid system, which supplies energy to all the important systems. So while the eTSI can't move under electric power alone, the battery, which is charged by braking energy, powers the electrics, the starter motor and also works as an electric motor that instantly adds boosts when moving off.
So what this means in the real world is better fuel economy. According to the latest WLTP figures, the 1.0 eTSI returns an average of 54mpg. That said, the standard 1.0 TSI with the six-speed manual will still see close to 52mpg.
Of course the diesels still reign supreme for fuel economy and the 2.0 TDI 115PS will return 62mpg according to the official figures.
Insurance groups and costs
The cheapest Golf Estate model to insure is the Life version with either the 1.0 TSI or 2.0 TDI engine - both sitting in group 14. That's competitive with a similarly powered Ford Focus Estate and means that for most owners, insurance premiums should be very reasonable, especially if you have several years no claims discount.
Move up to the 1.5 TSI and insurance ratings go up to group 17 while the sporty looking R Line models start at group 20.
VED car tax: What is the annual road tax on a Volkswagen Golf Estate?
While the Golf Estate isn't the cheapest estate car on the market, you'd do well (and be a bit bonkers) to spend more than £40,000 on one unless you're looking at a Golf R version. So you won't need to worry about the 'showroom' tax.
This means that you'll pay the standard annual VED rate on any Golf Estate model, regardless of engine and trim. All models are RDE2 compliant. There is a different charge for the first year of tax depending on CO2 emissions so be aware of that if you're buying new. The lowest CO2 emitting models in the range are the 2.0 TDI 115PS and the 1.0 eTSI, both with 119g/km.
How much should you be paying for a Volkswagen Golf Estate?
"As with most Volkswagen models, you'll be hard pressed to find many discounts, even on new models. But look for pre-reg or nearly new models and you can save on the list price."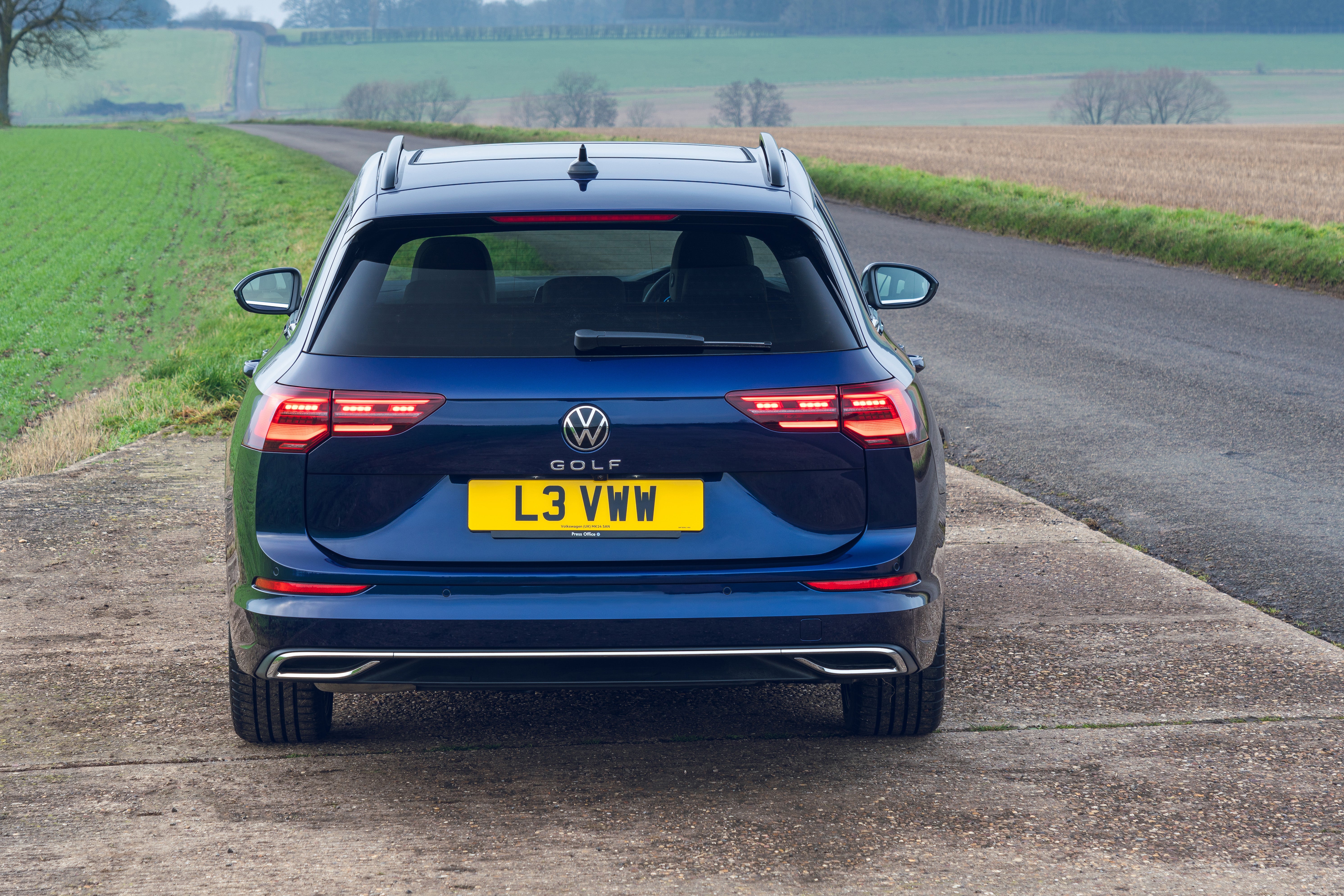 There aren't many Volkswagen Golf Estate models on the market as pre-reg or nearly-new but if you can track one down, you'll find healthy savings over list prices. We've seen models for sale with more than £3000 off the list price yet with only 99 miles on the clock. Sure you may not be able to pick the colour and the exact specification, but that's a big saving in both money and time.
Trim levels and standard equipment
The entry-level Life gets automatic LED headlamps with separate LED daytime running lights, dynamic headlight range control, tail lights incorporating LED technology, a body-coloured rear spoiler, 'Norfolk' 16-inch alloy wheels, interior ambient lighting with 10-colour adjustment, leather trimmed gear knob and multifunction steering wheel, Discover Navigation system with 10-inch colour touchscreen, FM and DAB digital radio receiver with six speakers, Bluetooth connectivity, App-Connect and the Volkswagen eCall emergency SOS call service.
Life also gets the Active Info Display Digital Cockpit Pro - a 10.25-inch high resolution TFT dash display screen with customisable menus, Dynamic Road Sign Display, Front Assist and Adaptive Cruise Control plus Lane Assist and parking sensors front and rear.
Style models have 'Belmont' 17-inch alloy wheels, LED 'Plus' headlights, High Beam Assist, front sports seats, 30-colour interior ambient lighting, 3-Zone climate control air conditioning, Side Assist and Traffic Jam Assist plus and Lane Change Assist.
The R-Line adds 17-inch Valencia grey metallic alloy wheels, R-line body-coloured bumpers, tinted glass from the B pillar backwards, R-Line door and side trim panels, an R-Line three-spoke heated leather steering wheel, sports suspension, Driving Profile Selection and progressive steering.
The more rugged Golf Alltrack comes with 17-inch 'Ronda' alloy wheels, illuminated front grille and silver roof rails plus 3Zone climate control.
Ask the heycar experts:
common questions
Where is the VW Golf estate built?
The Volkswagen Golf Estate is built alongside the Volkswagen Golf at VW's huge plant in Wolfsburg which also builds the Volkswagen Touran and Tiguan. More importantly, the Wolsburg factory is also where Volkswagen's currywurst is made. Part number 199 398 500A if you're interested.

What is the most reliable VW Golf?
Volkswagen has dealt with many of the reliability issues of the previous generation VW Golf, particularly those issues surrounding the dual clutch DSG gearbox on smaller engined models. The most reliable Golf models tend to be manual diesels, as long as they are driven long enough distances for the DPF to regenerate.

Is the Golf Estate a good car?
If you want comfort and refinement, the Volkswagen Golf is a very good estate car. The Skoda Octavia Estate may be bigger, but the Golf Estate has a more upmarket image and will always hold its value well.

Answered by
Russell Campbell
Keep me updated by email with the latest advice, news and offers from heycar
By submitting, you agree to our
privacy policy
.